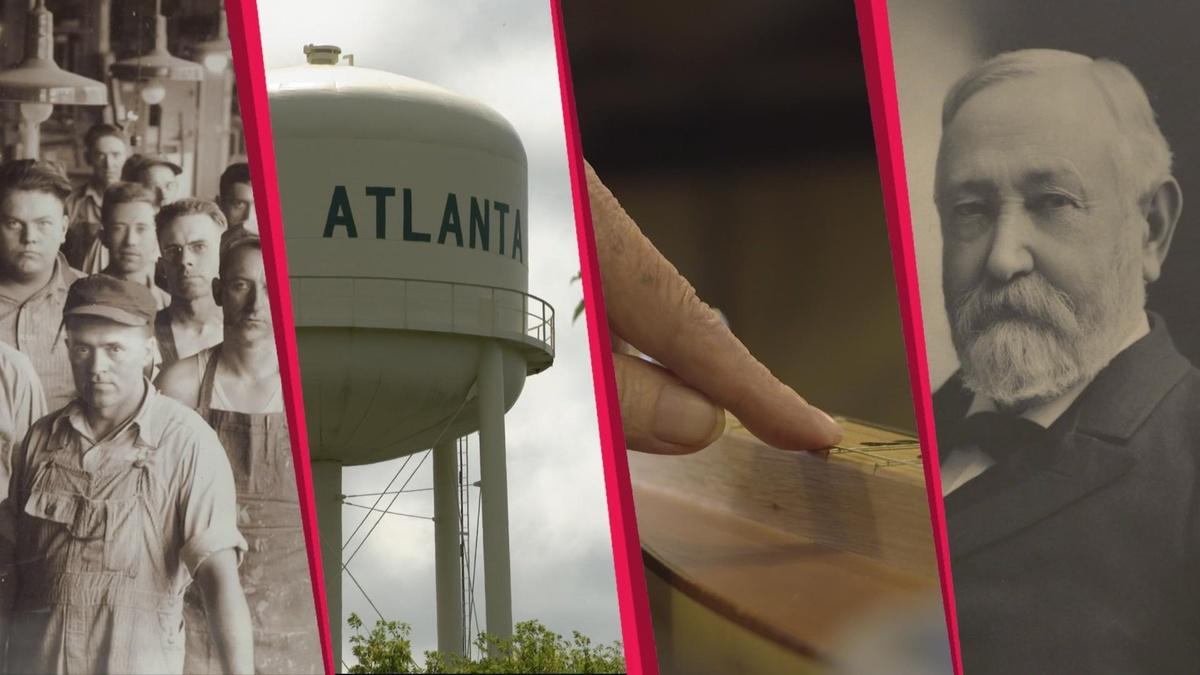 S2 E9 | FULL EPISODE
Episode 209
Coming to you from the Benjamin Harrison Presidential Site in Indianapolis...learn all about an Indiana icon with a trip to the Hoosier Cabinet Museum in Nappanee; travel to Atlanta, Indiana for a look at Mr. Muffin's trains; and take a listen to Kara's Silver Strings.
TRANSCRIPT

>> PRODUCTION SUPPORT FOR

"JOURNEY INDIANA" IS PROVIDED

BY...

>> COMING UP,.

>> LEARN ALL ABOUT AN INDIANA

ICON WITH A TRIP TO THE HOOSIER

CABINET MUSEUM.

>> TRAVEL TO ATLANTA, INDIANA,

FOR A LOOK AT MR. MUFFINS'

TRAINS.

>> LISTEN TO SILVER STRINGS.

>> THAT'S ALL ON THIS EPISODE OF

"JOURNEY INDIANA!"

♪♪

OTHER

>> WELCOME TO "JOURNEY INDIANA."

I'M ASHLEY DILLARD.

>> I'M BRANDON.

TODAY WE'RE COMING TO YOU FROM

THE BENJAMIN HARRISON

PRESIDENTIAL SITE IN

INDIANAPOLIS.

THIS WAS HOME TO THE ONLY UNITED

STATES PRESIDENT ELECTED FROM

THE STATE OF INDIANA.

BUILT IN 1875, THE HOME FEATURES

MANY OF HARRISON'S PAINTINGS,

POLITICAL MEMORABILIA, FURNITURE

AND MORE.

>> AND SPEAKING OF FURNITURE,

OUR FIRST STORY IS ABOUT A TRUE

FURNITURE ICON.

THE HOOSIER CABINETS.

PRODUCER JASON PAIR HAS THE PEAR HAS THE

STORY.

>> TODAY ALMOST EVERYBODY KNOWS

THESE CABINETS AS HOOSIER

CABINETS.

♪♪

>> FOR WOMEN IN THE EARLY 20th

CENTURY, THEY WERE BY ANY NAME A

GAME CHANGER.

>> IT IS PERFECTLY LEGITIMATE

AND APPROPRIATE TO SAY THAT THE

HOOSIER CABINET REVOLUTIONIZED

KITCHENS IN AMERICA.

>> THE EARLY KITCHEN WAS

BASICALLY A TABLE, THE HOUSEWIFE

WORKED ON IT, THE FAMILY ATE AT

IT, THE FOOD PREPARATION WAS

DONE ON THE TABLE.

STORAGE MAY HAVE BEEN A SHELF,

BOXES ON THE FLOOR.

NOT REALLY ORGANIZED.

>> IF YOU HAD A HOOSIER CABINET,

THE IDEA WAS YOU COULD

CONSOLIDATE THE KITCHEN INTO A

MUCH SMALLER SPACE AND SAVE

STEPS.

IT WAS FREQUENTLY REFERRED TO AS

A STEP-SAVER, LITERALLY.

>> THE MARKETING OF HOOSIER

CABINETS ALSO UTILIZED MONIKERS

SUCH AS KITCHEN PIANO, CUPBOARD

WITH BRAINS, AND SCIENTIFIC

PANTRY.

IT WAS INGENIOUS AND EFFECTIVE.

>> WE KNOW OF 65 OTHER COMPANIES

THAT MADE CABINETS THAT I CALL

HOOSIER CABINETS.

THEY'RE ALL ACROSS THE COUNTRY.

>> THE LARGEST, BY FAR, WAS

NEWCASTLE'S HOOSIER

MANUFACTURING COMPANY.

THEY'RE REPORTED TO HAVE MADE

MORE THAN 2 MILLION CABINETS BY

THE 1920S.

NEARLY 700 PER DAY AT THEIR

PEAK.

IN THE 1930s, BUILT-IN

CABINETS, MORE OR LESS WHAT

YOU'D SEE IN KITCHENS TODAY,

STARTED TO BECOME THE NORM.

>> EVENTUALLY THAT STYLE OF

CABINET TOOK OVER, BUT WE WERE

IN BUSINESS WITH THIS TYPE OF

CABINET FOR APPROXIMATELY 40

YEARS.

>> AND ALTHOUGH THEY WERE NO

LONGER BEING MANUFACTURED, THEY

DIDN'T DISAPPEAR.

IN FACT, TODAY MORE THAN A

CENTURY AFTER THEY FIRST HIT THE

MARKET HOOSIER CABINETS ARE

COLLECTED, RESTORED AND OFTEN

PASSED DOWN FROM GENERATION TO

GENERATION.

>> THERE ARE LITERALLY MILLIONS

OUT THERE IN KITCHENS, IN

GARAGES AND BARNS.

PROBABLY NO LONGER BEING USED,

BUT THEY ARE STILL OUT THERE.

>> HERE THEY ARE ON DISPLAY IN

GREATER NUMBERS THAN PROBABLY

ANYWHERE IN THE WORLD.

IT'S AND I DEAL LOCATION BECAUSE

FOR DECADES STARTING IN THE LATE

1800s HOOSIER CABINETS WERE

CONSTRUCTED IN THIS VERY

BUILDING.

>> WE COLLECT JUST ABOUT

ANYTHING RELATED TO HOOSIER

CABINETS.

THE BRAND THAT WE MADE, DUTCH

KITCHENETTES, AND IF THEY ARE

AFFORDABLE AND NICE WE PICK UP

OUR COMPETITION.

WE HAVE SEVERAL CABINETS IN THE

CORNER OF THE ROOM, WHICH I

CALLING THE COMPETITION CORNER.

WE HAVE HOOSIER, SELLERS,

DEARBORN DESK MANUFACTURING

COMPANY, WHICH IS SORT OF AN ODD

BRAND.

WE GET THEM EVERYWHERE.

IF THEY ARE UNIQUE AND EXTREMELY

INTERESTING, WE WILL PURSUE

THEM.

BUT MOST OF THEM CAME LOCALLY

WITHIN, I'D SAY, 50 MILE RADIUS.

>> AND ON OCCASION THEY JUST GET

LUCKY.

>> I WAS HERE SHOWING PEOPLE

AROUND THE 3450U SEEM

APPROXIMATELY 4 YEARS AGO AND A

YOUNG COUPLE CAME IN AND WERE

TALKING TO ME AND SAID, OH, I

HAVE A CABINET.

IT'S IN MY STORAGE UNIT.

MY EARS PERKED UP.

AND APPROXIMATELY THREE YEARS

LATER I WAS ABLE TO PURCHASE

THAT CABINET AFTER GOING AND

LOOKING AT IT AND REALIZING IT

WAS A VERY UNIQUE DUTCH

KITCHENETTE CABINET MADE IN

1904, WHICH IS ONE OF OUR VERY

EARLIEST ONES, IN ORIGINAL

CONDITION, AND IT IS ONE OF THE

HIGHLIGHTS OF THIS MUSEUM, AND

WE GOT IT BASICALLY BY ACCIDENT

FOLLOWING UP ON A LEAD.

IF THOSE PEOPLE HAD NOT BEEN

HERE AND TOLD US ABOUT IT, WHO

KNOWS WHERE IT WOULD HAVE GONE.

THAT>> YOU CAN'T POSSIBLY REDUCE THE

DEFINITION OF THE HOOSIER

CABINET'S EFFECTIVENESS TO

WHETHER THEY ACTUALLY SAVED

STEPS, BECAUSE IT GOES SO FAR

BEYOND THAT.

I MEAN, ANYTHING THAT GIVES YOU

THAT MUCH PLEASURE -- LOOK, IT'S

LIKE MARIE CONDO TODAY.

DOES IT SPARK JOY?

THE HOOSIER CABINET SPARKED A

TON OF JOY FOR ITS USERS PARTLY

BECAUSE OF THE HYPE.

YOU HYPE IT ENOUGH, YOU'RE

CLEVER ENOUGH IN YOUR MARKETING,

AND PEOPLE WILL LOVE IT.

>> I ONCE LOOKED INTO REDOING

THE CABINETS IN MY HOUSE, AND IT

WAS SO EXPENSIVE.

IF I JUST NEEDED ONE CABINET, I

COULD HAVE SAVED MYSELF A LOT OF

MONEY.

>> AND THINK ABOUT HOW LARGE

YOUR KITCHEN IS.

HOW MUCH SPACE DOES SOMETHING

LIKE THAT SAVE.

>> IF YOU WOULD LIKE MORE

INFORMATION, PERHAPS REGISTER

YOUR OWN CABINETS, GO TO...

CHECK OUT THE HOOSIERS AND

HISTORY SECTION.

>> NOW WE ARE JOINED BY CHARLIE

HYDE PRESIDENT AND CE OMPLET OF

THE BENJAMIN HARRISON

PRESIDENTIAL SITE.

I GUESS THE NAME OF THIS PLACE

GIVES AWAY A LITTLE BIT, AT

LEAST THE PRESIDENTIAL SITE, BUT

WHO WAS BENJAMIN HARRISON.

>> THIS IS THE HOME OF AMERICA'S

HOOSIER PRESIDENT, BENJAMIN

HARRISON, 23rd PRESIDENT OF

THE UNITED STATES.

LOOKING AT BENJAMIN HARRISON, HE

WAS THE ONLY PRESIDENT ELECTED

FROM THE STATE OF INDIANA, AND

IT'S JUST A PHENOMENALLY

RESTORED HISTORIC PROPERTY.

THE HARRISONS ACTUALLY BUILT

THIS HOUSE IN 1874, MOVED HERE

IN 1875, AND BENJAMIN HARRISON

HIMSELF CONTINUED TO LIVE HERE

UNTIL HIS DEATH IN 1901.

>> NFSN'T HIS CHILD HOD HOME,

CORRECT?

>> NO.

HE AND HIS WIFE CAROLINE, FIRST

LADY OF THE UNITED STATES, BUILT

THE HOME TOGETHER.

THEY DID HAVE THREE CHILDREN

TOGETHER THAT SURVIVED INTO

ADULTHOOD.

SO ONE OF THOSE THREE CHILDREN

WAS ACTUALLY BORN HERE AT THE

HOUSE, BUT TWO OF HIS CHILDREN

WERE BY HIS FIRST WIFE CAROLINE

AND HIS DAUGHTER ELIZABETH BORN

HERE IN THE HOUSE, WAS ACTUALLY

BORN BY A SECOND WIFE.

>> COMING HERE TO VISIT NOW, YOU

ARE RIGHT OFF OF 65, BUT CAN YOU

TELL US A LITTLE BIT WHAT IT

MIGHT HAVE BEEN LIKE WHEN

HARRISON LIVED HERE, WHAT THE

NEIGHBORHOOD WAS LIKE?

>> RIGHT NOW IT'S VERY MUCH AT

THE CROSSROADS OF THE

CROSSROADS.

I-65 AND 70 INTERSECT RIGHT AT

OUR DOORSTEP, BUT IN HAIR 61'S

OWN ERA, THIS WAS AN

INTERSECTION, TOO.

SO THINKING ABOUT THE WAY TRAINS

CAME INTO THEIR OWN NATIONALLY,

TRAINS ARE ORIGINALLY WHAT MADE

INDIANAPOLIS THE CROSSROADS.

AND SO IT REALLY PLAYED INTO

HARRISON'S OWN TIME PERIOD AND

HIS NOMINATION FOR THE

PRESIDENCY IN 1888, BECAUSE HE

DIDN'T HAVE TO TRAVEL ACROSS THE

COUNTRY TO CAMPAIGN.

THE COUNTRY CAME TO HIM.

SO HE GAVE A FRONT PORCH

CAMPAIGN.

HE GAVE OVER 80 SPEECHES TO OVER

300,000 PEOPLE.

THAT POINT IN IN INDIANAPOLIS,

THIS WOULD HAVE BEEN THE FURTHER

OUTSKIRTS.

YOU WOULD HAVE HAD FARMLAND NOT

TOO MUCH FURTHER BEYOND BUT IT

WAS STILL VERY ACCESSIBLE BY

TRAIN, BY HORSE, BY CART, AND

PEOPLE JUST TURNED OUT BY THE

THOUSANDS TO HEAR HARRISON

SPEAK.

>> AND SO YOU SAY THERE ARE A

LOT OF EXHIBITS AND ARTIFACTS

AROUND, WHICH THEY'RE REALLY

BEAUTIFUL.

WHAT ARE SOME OF YOUR FAVORITES.

>> IT'S INTERESTING.

BECAUSE YOU TOUR THROUGH THE

MUSEUM, AND IT'S STRUCTURED AS A

GUIDED TOUR.

IT'S ABOUT A 75 MINUTE GUIDED

TOUR.

BUT WE LIKE TO BE ABLE TO SHARE

THAT COLLECTION AS BROADLY AS

POSSIBLE.

SO SOME OF THE FAVORITES WOULD

INCLUDE THE -- INAUGURAL HORN

CHAIR.

IT'S MADE OUT OF TEXAS

LONGHORNS, A GIFT FROM A TEXAS

RANCHER, AND IT HAS AN EXOTIC

FUR SEAT AND GOLD PLAQUES AND

HIS NAME IS WRITTEN IN DIAMONDS

ACROSS THE BACK.

IT'S A TRUE PIECE OF

PRESIDENTIAL BLING.

OVER THE TOP.

WHAT DO YOU GET FOR A PRESIDENT

WHO HAS EVERYTHING?

SO WE WERE ABLE TO EXPLORE THAT

AS YOU TOUR THROUGH THE MUSEUM

AND SPECIAL EXHIBITS WE HAVE

THROUGHOUT THE YEAR.

>> THANKS SO MUCH FOR HAVING US

TODAY AND WE WILL BE BACK TO

TALK TO YOU A LITTLE MORE ABOUT

THIS PRESIDENTIAL SITE.

BUT UP NEXT WE'RE HEADED TO

ATLANTA, INDIANA, JUST NORTH OF

NOBLEVILLE TO CHECK OUT ONE OF

THE MOST EXOTIC TRAINS I'VE

SEEN.

THE STORY OF MR. MUFFIN'S TRAIN.

[TRAIN SOUNDS]

♪♪

>> HIGH GOT INTO THE HOBBY

ACTUALLY WHEN I WAS A KID.

I SPENT A LOT OF TIME AT ED

SHOCK'S T TOY AND HOBBY SHOP IN

GLENDALE.

I STARTED WORKING THERE WHEN I

WAS 14.

I HAVE BEEN AROUND THE HOBBY A

LONG TIME.

AND I REALLY LOVED HELPING

CUSTOMERS WITH THEIR HOBBIES.

I MEAN, THAT SERVICE ATTRIBUTE.

SO I WAS VERY INTERESTED IN

MODEL RAILROADING, AND I JUST

ENJOYED COLLECTING THEM AND

WORKING ON A LAYOUT IN MY HOME

PRETTY MUCH EVERY DAY, GET AWAY

FROM WORK, GO DOWN AND PAINT

FIGURINES FOR 30 MINUTES OR

BUILD A BUILDING OR WHATEVER.

MY KIDS SET UP MY EBAY ACCOUNT,

AND THEY MADE IT MR. MUFFIN'S

TRAINS BECAUSE I USED TO TELL

THEM STORIES ABOUT THE MUFFINS

WHEN THEY WERE LITTLE.

THEY THOUGHT THEY COULD GET EVEN

WITH ME.

I HAD SHIRTS MADE, I GO TO TRAIN

SHOWS AND EVERYBODY KNEW WHO MR. MUFFIN WAS.

I SAID TO MY WIFE WOULDN'T IT BE

NICE IF WE COULD PUT MY TRAIN

LAYOUT IN A PUBLIC SPACE SO

OTHER PEOPLE COULD ENJOY IT.

SHE THOUGHT THAT WAS A 88 IDEA.

SO WE RENTED 1800 SQUARE FEET IN

CARMEL.

WE OPENED IT TO THE PUBLIC, VERY

POPULAR.

WE BECAME CONSTRAINED IN CARMEL

IN THE SECOND LOCATION AS WE

BOUGHT SEVEN ACRES WEST OF

ATLANTA, INDIANA.

ALREADY HAD A HOUSE ON IT.

MOVED UP HERE.

WE STARTED TO BUILD A BUILDING.

MY WIFE WHO IS A LOT SMARTER

THAN ME SAID, THERE'S ALREADY

BIG BUILDINGS FOR SALE IN

ATLANTA.

THERE IS NOTHING IN DOWNTOWN

ATLANTA.

WHY DON'T WE BUY A BUILDING IN

DOWNTOWN ATLANTA.

SO WE BOUGHT THIS BUILDING BUILT

IN THE LATE 1800s.

IT WAS ORIGINALLY A MILL.

THE LAYOUT WE HAVE HERE IS 60

FEET LONG AND 40 FEET WIDE.

IT'S A LOT MORE TRACK THAN WHAT

WE HAD IN CARMEL.

WE HAVE 13 INDEPENDENT LOOPS OF

TRACK.

I BELIEVE WE HAVE THE LARGE --

THIRD LARGEST LAYOUT IN THE

UNITED STATES.

WE HAVE HOSTED SCENERY WORKSHOPS

HERE.

SOME OF THE SCENERY YOU SEE WAS

MADE BY PEOPLE WHO CAME WHERE WE

COULD TEACH THEM HOW TO DO

SCENERY TECHNIQUES AND THEY

COULD PRACTICE IN OUR LAYOUT.

SO WE HAVE A LOT OF TRAINS HERE.

WE RUN THEM ALL DIGITALLY USING

iPADS, AND THAT'S HOW WE CAN

RUN THE TRAINS.

WE CAN PULT MULTIPLE TRAINS ON

THE SAME TRACK AT THE SAME TIME.

WE RUN OUR TRAINS ON SATURDAYS.

I'M IN HERE ON SUNDAYS AS WELL.

DURING THE WINTER MONTHS WE GET

300, 400 PEOPLE ON A SATURDAY

COME.

>> OH, ATLANTA, LET'S GO BACK TO

THE EARLY 1800.

MICHAEL SHIELDS GOT A LAND GRANT

TO THE WEST OF TOWN HERE, AND

THAT WAS GOING TO BECOME

SHIELDSVILLE AND IT DID BECOME

SHIELDSVILLE.

THEN IN THE 1850s THE RAILROAD

TRACK CAME THROUGH, BUT IT CAME

THROUGH OVER HERE ABOUT HALF A

MILE FROM WHERE THIS TOWN WAS.

AND THIS IS WHERE THE TOWN GREW

FROM BECAUSE OF THE RAILROAD.

THEN IT WAS CALLED BUENA VISTA.

WHEN THEY WENT TO APPLY FOR A

POST OFFICE, WELL, THERE IS

ALREADY A BUENA VISTA IN

INDIANA.

THEY HAD TO GET ANOTHER NAME.

THEY VOTED AND SAID, LET'S CALL

IT ATLANTA.

BACK IN THE EARLY '70s IT

BECAME RATHER BUSINESS ORIENTED,

AND THEN IT JUST SORT OF DROPPED

OFF WITH THE -- LIKE THE ARTS

AND CRAFTS SORT OF FADED AWAY

AND ANTIQUES, AND IT BECAME

BASICALLY JUST A FEW OF US HERE

ON MAIN STREET THAT WERE EVEN

OPEN FOR BUSINESS.

THE ATLANTA MUSIC HALL, IT

STARTED BACK IN 1887 AS A --

1987 AS A WHIM OF MY HUSBAND.

HE PLAYED A TENOR JAZZ BANJO.

THE BUILDING HAS BEEN FOR RENT.

IT HAD BEEN AN ART GALLERY.

THEY CLOSED IT DOWN.

THE RENT WAS PAID.

THEY SAID IF YOU WANT TO USEETTE

FOR THAT, THAT'S FINE.

AFTER THREE MONTHS THE GUY SAID,

I'M SELLING IT.

DO YOU WANT TO BUY IT?

WE BOUGHT IT AND HERE WE ARE.

IT WAS THE ONLY FUNCTIONING

PUBLIC BUILDING YOU MIGHT SAY

WHERE PEOPLE COULD COME IN AND

GO, COME IN AND GO.

>> BASICALLY THE ENTIRE MAIN

STREET WAS VACANT.

THE ONLY THING WE HAD GOING FOR

US IN ATLANTA WAS THE ATLANTA

MUSIC HALL, AND THEY HAD

PERFORMANCES EVERY SATURDAY

NIGHT AT 7:00.

LIZ AND I WOULD COME AND HAVE

DINNER AND THEN COME UP AND SEE

ATLANTA MUSICAL.

BUT THAT'S ALL THERE WAS HERE.

THIS BUILDING IS THE BIGGEST

BUILDING IN ATLANTA.

BRINGING IT BACK ONLINE, THE

PEOPLE ONLINE HAVE BEEN

SUPPORTIVE.

WE'VE NOW GOT FLOWERS IN ALL THE

FLOWER POTS, A LOT OF THE

SIDEWALKS HAVE BEEN REPAIRED.

WE HAVE DONE AN AWFUL LOT TO

DOWNTOWN ATLANTA.

IN MY VISION, SOME POINT IN THE

IN THE FUTURE, EVERYTHING IN

DOWNTOWN ATLANTA IS GOING TO BE

PART OF THE DESTINATION.

THE NICKEL PLATE EXPRESS IS AN

EXCURSION.

THE TRACK THAT'S OUTSIDE OUR

DOORWAY HERE IS THE HISTORIC

NICKEL PLATE TRACK.

IT'S-OUT THE NICKEL PLATE

RAILROAD GOT INTO INDIANAPOLIS.

THE TRACK IS WITHIN THE FIRST 75

MILES OF TRACK THAT WAS LAID IN

INDIANA, HAVING IT RIGHT HERE IS

PRETTY COOL.

BASICALLY A COALITION CAME

TOGETHER AND WON THE RIGHTS TO

RUN A TRAIN ON THERE.

SO IT'S SOMETHING THAT LIZ AND I

ARE REAL PROUD TO BE PART OF

STARTING.

WE CARE AN AWFUL LOT ABOUT

ATLANTA SINCE WE'VE COME UP HERE

AND WE LIVE UP HERE.

I'M REALLY PROUD THAT THESE

ACTIVITIES THAT STARTED AS A

HOBBY HAVE GROWN TO THE POINT

THAT WE'RE PROVIDING EMPLOYMENT

FOR PEOPLE AND THAT WE'VE GOT

PEOPLE THAT HAVE GOT GOOD JOBS

AND SOMETHING TO DO.

WE ENJOY BEING A DESTINATION.

WE ENJOY ENTERTAINING PEOPLE.

IT JUST MEANS A LOT TO US.

>> ON THE WEEKENDS PARTICULARLY

MAIN STREET IS MUCH BUSIER THAN

WHAT IT USED TO BE WHEN THE

BUILDINGS WERE ALL MORE OR LESS

SHUT UP AND NOTHING IN THEM.

HE OPENED A CAFEÉ DOWN HERE, THE

CHOO-CHOO CAFEÉ, AND THAT GOT US

ANOTHER LITTLE RESTAURANT IN

TOWN, SOMEPLACE TO EAT.

PEOPLE CAN -- OH, YEAH, YOU'LL

SAY SOMETHING TO THEM.

HAVE YOU SEEN THE TRAIN LAYOUT?

NO.

COME ON DOWN.

THEY WILL DO IT AND THEY'LL TALK

ABOUT HOW MUCH THEY ENJOYED

WATCHING IT AND BEING THERE ALL

AFTERNOON PRACTICALLY SOME OF

THEM.

>> I THINK WE HAVE A SHARED

VISION FOR WHAT WE WOULD LIKE TO

DO IN ATLANTA.

WE'VE HELPED ORGANIZE A CIVIC

LEAGUE CALLED ATLANTA ON TRACK.

WE'RE A BUNCH OF ATLANTA PEOPLE

THAT COME TOGETHER THAT TALK

ABOUT HOW WE WOULD LIKE TO

DEVELOP ATLANTA AND WHAT

ADDITIONAL THINGS WE WOULD LIKE

TO DO.

I THINK WE'RE GOING TO CONTINUE

ON THE THEME OF MAKING ATLANTA A

DESTINATION FOR FAMILIES.

WE HAVE LOTS OF IDEAS, LOTS OF

SUGGESTIONS.

I THINK IN THE LONG RUN WE'LL

HAVE A LOT MORE TO DO AND SEE IN

ATLANTA THAN MR. MUFFIN'S TRAINS

AND THE CHOO-CHOO CAFEÉ.

>> ACTUALLY, I HAVE TO SAY, IT

IS AMAZING WATCHING ALL THOSE

PEOPLE ENJOY THOSE TRAINS AND

HOW SOMEONE'S HOBBY CAN BRING SO

MUCH JOY TO OTHER PEOPLE'S LIVES

IF THEY DECIDE TO SHARE IT.

>> IT'S REALLY INCREDIBLE.

>> WANT TO SCHEDULE YOUR OWN

VISIT, THEY'RE OPEN YEAR-ROUND.

HEAD OVER TO...

>> NOW WE ARE JOINED ONCE AGAIN

BY CHARLIE HYDE.

THANK YOU SO MUCH FOR HAVING US.

WE TALKED A LOT ABOUT THIS

BEAUTIFUL HOUSE, THE INSIDE OF

IT, BUT THE GROUNDS R PRETTY

REMARKABLE HERE, TOO.

CAN YOU TELL US A LITTLE ABOUT

WHAT VISITORS CAN SEE ON THE

OUTSIDE?

>> THE GROUNDS ARE METICULOUSLY

MAINTAINED BY MASTER GARDENERS.

NOT ONLY DO WE HAVE AN ABUNDANCE

OF TREE COVER HERE ON GROUNDS,

THE HARRISONS ORIGINALLY HAD A

DOUBLE LOT IN DOWNTOWN

INDIANAPOLIS BUT THOSE HISTORIC

GAR DUNS HAVE BEEN WELL

MAINTAINED AS WELL.

WITH THE MASTER GARDENERS AND

THAT DAILY CARE AND MAINTENANCE

THAT GOES INTO THE ENTIRE

PROPERTY, IT'S A STUNNING

EXAMPLE OF ARCHITECTURE FROM

THAT ERA AND CERTAINLY WITH THE

LANDSCAPING.

>> AND AS I UNDERSTAND, ALL OF

THE MASTER GARDENERS ARE

VOLUNTEERS, IS THAT CORRECT?

>> THAT IS CORRECT.

SO WE'RE BLESSED TO BE WELL

SUPPORTED ACROSS THE

ORGANIZATION BY AN ABUNDANCE OF

VOLUNTEERS.

SO WE HAVE OVER 150 VOLUNTEERS

THAT MAKE OUR WORK POSSIBLE.

>> SO, IN ADDITION TO

MAINTAINING THE GROUNDS AND

GIVING TOURS, I UNDERSTAND YOU

ALSO GIVE YOUTH LEADERSHIP

SEMINARS, IS THAT RIGHT.

>> IT'S REALLY IMPORTANT TO US

THAT YOU DON'T JUST HAVE THE

ABSTRACTION OF HISTORY, THIS

IDEA OF APPLIED HISTORY AND

APPLIED CIVICS I THINK IS

ESSENTIAL TO A PRESIDENTIAL SITE

LIKE OURS AND SO WE FOUND WAYS

TO ENGAGE HARRISON STORIES THAT

ARE RELEVANT TO TODAY.

IT HELPS CONNECT STUDENTS TO

THESE IDEAS THAT CONTINUE ON

INTO CONVERSATIONS WE'RE HAVING

NOW.

>> IS THAT JUST IN INDIANAPOLIS

OR DO YOU HAVE STUDENTS FROM RND

A THE STATE COMING?

>> WE HAVE HAD STUDENTS FROM AS

FAR AS OHIO AND WE'RE LOOKING AT

EXPANDING THE PROGRAM BEYOND THE

BORDERS OF INDIANA.

RECOGNIZING THIS AS A MODEL OF

SUCCESS.

>> CHARLIE, IF PEOPLE WANT TO

GET MORE INFORMATION, WHERE CAN

THEY GO TO FIND OUT ABOUT THE

BENJAMIN HARRISON PRESIDENTIAL

SITE.

>> IT'S EASY.

GO TO

PRESIDENTBENJAMINHARRISON.ORG.

YOU CAN FIND OUT MORE ABOUT THE

HOUSE, THE COLLECTION.

I ENCOURAGE YOUR VIEWERS TO GO

TO OUR WEBSITE AND YOU CAN

ACTUALLY SEE ITEMS FROM OUR

COLLECTION.

SO NOT JUST FLAT PHOTOS BUT YOU

CAN SEE THEM IN THE ROUND.

SO WE HAVE A DIGITAL INITIATIVE

TAKING 3-D OBJECTS AND BEING

ABLE TO CAPTURE THEM FULLY.

IF YOU HAVE A 3-D PRINTER, YOU

CAN PRINT FROM OUR COLLECTION.

>> THANK YOU SO MUCH FOR HAVING

US AGAIN, CHARLIE.

>> THANK YOU.

FINALLY, WE'RE HEADED ON A

MUSICAL JOURNEY.

PRODUCE ARE JASON PEAR HAS THE

STORY OF KARA'S SILVER STRINGS.

>> THE SILVER STRINGS PROGRAM IS

DESIGNED TO MEET THE PERSON THAT

IS AFTER RETIREMENT OFTEN

ALREADY LIVING IN AN ASSISTED

LIVING FACILITY.

THE TYPICAL SILVER STRING

STUDENT HAS NEVER TOUCHED AN

INSTRUMENT OR AT ONE POINT IN

TIME THEY HAVE BEEN A MUSICIAN

AND BECAUSE OF THEIR DIFFERENT

ABILITIES AS THEY HAVE AGED,

THEY ARE NO LONGER TO PULL UP TO

THE PEA AN OR.

>> SO INSTEAD PARTICIPANTS ARE

FITTED WITH SOMETHING SIMPLER.

>> HOW DOES THAT FEEL?

>> THAT'S FINE.

>> ALL RIGHT.

THE DULCIMER IS AN APPALACHIAN

INSTRUMENT AND IT'S TUNED TO AN

OPEN TUNING.

>> IT'S BEEN PLAYED IN HUNDREDS

OF DIFFERENT WAYS OVER THE

YEARS.

>> HERE WE GO.

>> IT ULTIMATELY IS A SIMPLE BOX

WITH A BUNCH OF STRINGS ON IT.

WE ARE USING IN AND ITS

SIMPLICITY TO MAKE IT A GREAT

TOOL FOR THE ASSISTED LIVING

RESIDENTS.

THESE DAYS KARA AND ERIC ARE

BUILDING THEIR OWN DULS MERS.

THEY HAVE MOVED STRINGS TO HELP

OLDER PLAYERS MORE EASILY

DISCERN THE MELODY.

THEY HAVE CHANGED THE SHAPE TO

BETTER FIT THE ARMS OF A

WHEELCHAIR AND PERHAPS MOST

IMPORTANTLY THEY HAVE ADDED

NUMBERS TO THE FRET BOARD THAT

CORRESPOND TO THE SILVER STRINGS

LESSON BOOK.

>> THE BEAUTY IS AS MY STUDENTS

PLAY THESE NUMBERS, IF THEY

ACCIDENTALLY HIT A WRONG NUMBER,

THEY'RE PLAYING ARM KNEE.

IF THEY DON'T WANT TO PRESS DOWN

ON THE FRET AT ALL AND STRUM THE

OPEN STRINGS, THEY ARE THE

RHYTHM SECTION.

THAT'S THE BEAUTY OF THE WHOLE

THING.

THAT'S WHY THE MOUNTAIN DULCIMER

IS PERFECT FOR THIS DEMOGRAPHIC

THAT.

>> THEY HAVE LEARNED ALL THIS

AFTER YEARS OF STUDY AND

EXPERIMENTATION.

>> BIG WIDE TURKEY FEATHERS,

HUGE WIDE TURKEY FEATHERS.

>> THEY HAVE NOW TAKEN THEIR

SHOW ON THE ROAD PARTNERING WITH

FACILITIES AROUND INDIANA AND

BEYOND.

>> DO YOU FEEL YOUR FINGERS

STRETCH?

THIS IS BRAND-NEW TERRITORY.

I AM PRETTY SURE WE ARE THE ONLY

PEOPLE EVER TO HAVE DONE THIS.

ALL THE CURRICULUM, EVERYTHING I

HAVE WRITTEN, IS ALL FOR THESE

PEOPLE SPECIFICALLY.

SOAR MANY YEARS I PURSUED BEING

A PROFESSIONAL MUSEUM AND DID

RECORDINGS AND STUDIO SESSIONS,

BUT WHEN IT ALL COMES DOWN TO

THE END OF THE DAY, THE THING

THAT I ENJOY THE MOST IS

TEACHING PEOPLE TO DO WHAT I DO.

BECAUSE IT BRINGS ME SO MUCH JOY

AND I GET TO SEE IT HAPPENING

FOR OTHER PEOPLE, AND THERE'S

NOT A BETTER FEELING ON THE

PLANET.

>> PUSH DOWN RIGHT THERE ON THAT

ONE.

THAT'S THE ONE.

>> I'M SEEING PEOPLE'S LIVES

CHANGED, AND I HAVE JUST A GUT

FEEL THAT WE CAN CHANGE A LOT OF

LIVES THROUGH THIS.

WE CAN CHANGE THE WAY PEOPLE SEE

ASSISTED LIVING.

>> 3, 4, STRUM.

>> WE'VE GOT ALL THESE FOLKS

THAT HAVE INCREDIBLE DESIRES,

THEY HAVE GOALS, BUT THEY'VE

NEVER HAD A CHANCE.

AND WHAT I'M TRYING TO DO IS

MAKE IT POSSIBLE FOR THEM TO

HAVE THAT CHANCE.

>> THAT'S OKAY.

YOU WANT TO STRUM DOWN HERE.

THERE YOU GO.

>> THE PROCESS OF MAKING MUSIC

IS THE JOY IN AND OF ITSELF.

>> WHAT DO YOU THINK?

IT'S NOT ABOUT GOING TO CARNEGIE

HALL WITH THIS MUSIC.

IT'S ABOUT HAVING A REALLY FUN

TIME GETTING THAT EXERCISE,

EXERCISING OUR MINDS, LEARNING

HOW TO REFOCUS IF WE'VE LOST

THAT ABILITY, BUT JUST COMING

TOGETHER IN A COMMUNITY, THE

SOCIAL INTERACTIONS BETWEEN THE

FOLKS THAT ARE PLAYING TOGETHER.

IT'S A BEAUTIFUL THING.

>> THAT IS SO INCREDIBLE,

BRANDON, BECAUSE I HAVE TRIED TO

LEARN AN INSTRUMENT, AND I

ALWAYS KICKED MYSELF I DIDN'T DO

IT WHEN I WAS YOUNG BECAUSE YOUR

BRAIN CHANGES, AND IT'S REALLY

DIFFICULT TO LEARN IT WHEN

YOU'RE OLDER.

>> THE ONLY INSTRUMENT I KNOW

HOW TO PLAY IS THE MOUTH HARP.

TWANG, TWANG, TWANG.

>> YOU CAN FOLLOW ALONG AT

FACEBOOK.COM/KARASSILVERSTRINGS.

AS ALWAYS WE ENCOURAGE YOU TO

STAY CONNECTED WITH US.

>> JUST HEAD TO

JOURNEYINDIANA.ORG.

THERE YOU CAN SEE FULL EPISODES

AND SUGGEST STORIES FROM YOUR

NECK OF THE WOODS.

>> BEFORE WE SAY GOOD-BYE, LET'S

HOWLT TO McCORMICK CREEK STATE

PARK AND LOOK AT THE LAST BIT OF

FALL.

4

PRODUCTION SUPPORT FOR "JOURNEY

INDIANA" IS PROVIDED BY...