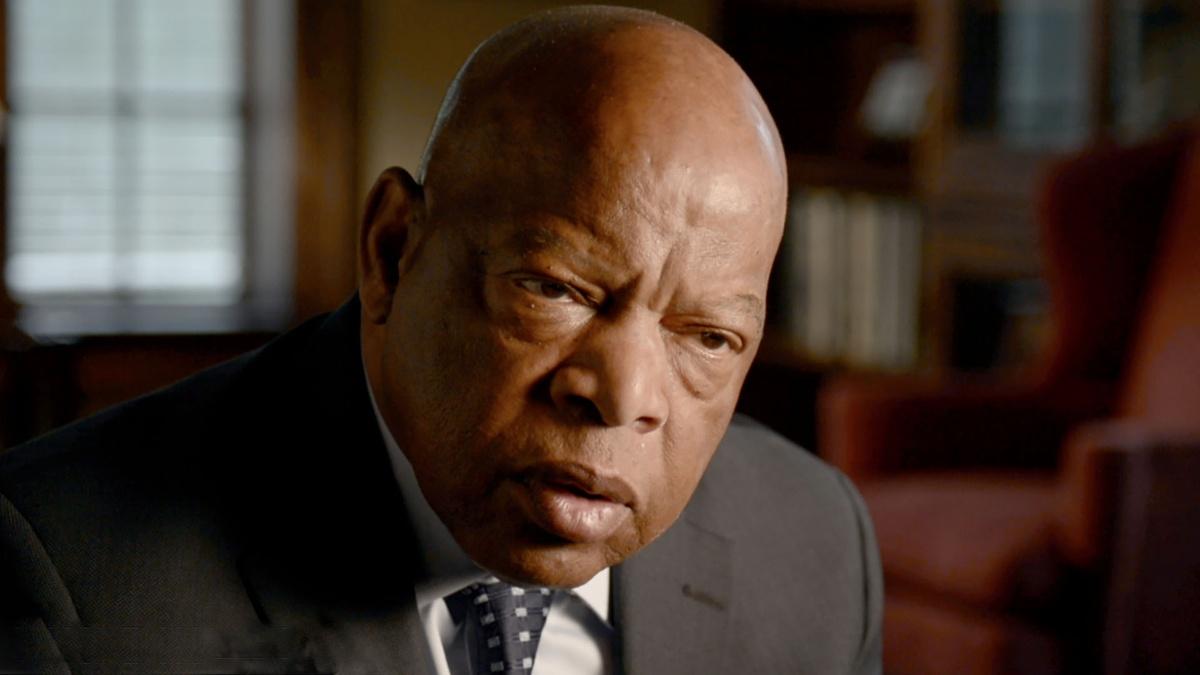 FULL EPISODE
John Lewis - Get in the Way
Follow the journey of civil rights hero, congressman and human rights champion John Lewis. At the Selma March, Lewis came face-to-face with club-wielding troopers and exemplified non-violence.
TRANSCRIPT

HENRY LOUIS GATES JR: John Lewis

has crossed over the final bridge.

The last of the Big Six civil rights leaders is gone.

If courage had a name, it was his.

He leaves us at a time when

the stakes of all for which he struggled couldn't be higher.

For John Lewis, voting was sacramental.

He shed his blood for us to

exercise this most fundamental of rights.

Forevermore, generations, starting with this one,

will honor him by casting their ballots.

A secular communion meant to strengthen our democracy.

His roar as the conscience of the Congress

will echo down through history.

Few who ever lived have done more to inspire change.

His truth goes marching on.

[REPRESENTATIVE JOHN LEWIS] I JUST HAPPEN TO BELIEVE THAT IN EVERY PERSONALITY

THERE'S SOMETHING GOOD, THERE'S SOMETHING DECENT, THERE'S SOMETHING SACRED.

AND WE DON'T HAVE A RIGHT TO GO AROUND DAMAGING ANOTHER PERSONALITY.

SO I BELIEVE IN NONVIOLENCE

AS A WAY OF LIFE, AS A WAY OF LIVING.

DR. MARTIN LUTHER KING, JR.

ASSASSINATED MEMPHIS, TENNESSEE,

APRIL 4TH, 1968.

[LEWIS] TELL THE STORY. TELL THE STORY.

AND TELL IT OVER AND OVER AGAIN.

WE MUST FREE OURSELVES, THE WAY OF VIOLENCE, THE WAY OF DIVISION.

WE CAN LAY DOWN THIS HEAVY BURDEN.

HATE IS TOO HEAVY A BURDEN TO BEAR.

WITH MOST PEOPLE,THEY JUST DON'T SEE JOHN LEWIS GIVING A SPEECH,

THEY FEEL JOHN LEWIS IN TERMS OF WHAT HE'S DONE

AND THE IMPACT ON THIS COUNTRY, SO THEREFORE THEY LISTEN.

HERE IS SOMEBODY WHO WALKED INTO FIRE HOSES AND CATTLE PRODS

AND BEATINGS AND REMAINED ABSOLUTELY NONVIOLENT.

WHAT JOHN LEWIS DID,MOST AMERICANS COULD NEVER DO,

TO BE BEATEN AND NOT FIGHT BACK.

[PRESIDENT BARACK OBAMA] IT IS A RARE HONOR IN THIS LIFE

TO FOLLOW ONE OF YOUR HEROES.

AND JOHN LEWIS IS ONE OF MY HEROES.

HIS EXPERIENCE IS SEARED INTO OUR COLLECTIVE MEMORY.

PEOPLE DIED FOR THE RIGHT TO VOTE.

FRIENDS OF MINE. COLLEAGUES OF MINE.

JOHN PUT HIS FORCE OF HIS SOUL AGAINST THE SYSTEM.

ENOUGH IS ENOUGH.

WE MUST BRING THIS WAR TO AN END.

AND HE HAS NOT, UM--

HE'S NOT WAVERED.

[APPLAUSE]

[LEWIS] THERE'S SOMETHING DEEP DOWN WITHIN ME, MOVING ME,

THAT I COULD NO LONGER BE SATISFIED

OR GO ALONG WITH AN EVIL SYSTEM.

[LEWIS] I WOULD ASK MY MOTHER, I WOULD ASK MY FATHER,

MY GRANDPARENTS, "WHY? WHY THIS? WHY THAT?"

THEY SAID "DON'T GET IN TROUBLE. DON'T GET IN THE WAY."

[ANNOUNCER] "JOHN LEWIS: GET IN THE WAY" WAS MADE POSSIBLE

[MUSIC PLAYING]

[MICHAEL COLLINS] THE CONGRESSMAN AND I HAVE THIS RUNNING JOKE

ABOUT HOW I THINKHE'S A NICER PERSON IN ATLANTA

THAN HE IS IN WASHINGTON.

-I'M GOING BACK TO ATLANTA. -ALL RIGHT, THANK YOU.

HE'S MORE FUN-LOVING

AND GOING, GOING, GOING, GOING, ALL THE TIME.

[LEWIS] IF WE CAN WORK IT OUT, IT'D BE GOOD TO GO THERE.

TRY TO SAVE THOSE TWO SEATS.

YEAH, BUT YOU GO TO LAS VEGAS.

THIS THURSDAY?

-NO, THURSDAY THE 21ST. -RIGHT.

♪ WE CAN LEAVE OUR SORROW BEHIND ♪

♪ EVERYBODY NEEDS A LITTLE TIME TO SHINE... ♪

YOU DON'T HAVE ANY INSURANCE.

THERE'S A LOT OF HOT DOGS, EAT THE HOT DOGS.

[LEWIS] ALL THE PEOPLE THAT ARE IN THIS DISTRICT,

THEY CALL ME THEIR SON, THEIR BABY.

-HEY, NICE SEEING YOU. -GOOD TO SEE YOU NOW, TAKE IT EASY.

JERRY, YOU KNOW HOW TO DO THE BLACKBERRY, DON'T YOU?

YEAH, I KNOW HOW TO DO BLACKBERRY.

THEY WALK UP AND THEY SAY, "I'M SO PROUD OF YOU."

I MEAN, I FEEL LIKE I WALKED WITH DR. KING

-JUST IF I CAN STAND NEXT TO YOU. -THANK YOU.

[LEWIS] AND IT MAKES YOU FEEL GOOD, REALLY.

SO THAT'S WHY IT'S IMPORTANTTO COME HOME TO THAT RESERVOIR

AND COME BACK TO GET A LITTLE STRENGTH.

I COME FROM SOUTHEAST ALABAMA.

I GREW UP ON A FARM.

MY FATHER WAS A SHARECROPPER.

BUT THAT WAS LIFE GROWING UP

IN RURAL ALABAMA IN THE '50S.

GROWING UP THERE, I SAW THOSE SIGNS THAT SAID, "WHITE MEN."

I SAW THOSE SIGNS THAT SAID, "COLORED MEN."

WHEN I WAS IN SCHOOL, I WAS BUSSED LONG DISTANCES OVER UNPAVED ROADS,

DUSTY IN SUMMER AND MUDDY IN WINTER,

TO ATTEND OVERCROWDED, POORLY STAFFED,

SEGREGATED SCHOOLS.

THE EVIL SYSTEM OF SEGREGATION

HAVE BEEN BUILT ON A FOUNDATION OF RACISM,

GREED, HATRED,AND THE DENIAL OF HUMAN NEEDS.

IT WAS A CLOSED SOCIETY, AND EVERYWHERE I TURNED...

HI, LOLA, HOW YOU DOING? HOW YA DOING?

-GOOD TO SEE YOU. YOU HAVEN'T CHANGED ONE BIT. -NEITHER HAVE YOU.

BABY, YOU MAY HAVE PUT ON A POUND OR TWO.

[LAUGHS]

[LOLA FELTON] HE ALWAYS WANTED TO BE A PREACHER.

AND HE WOULD CARRY HIS BIBLE ALL AROUND WITH HIM.

AND WE'D HAVE HIM PREACHIN', AND COURSE HE WAS SINCERE,

BUT WE WERE NOT, YOU KNOW. WE WOULD JUST LAUGH.

AND I'M GONNA TELL THE CHICKEN STORY TODAY.

I FELL IN LOVE WITH RAISIN' CHICKENS.

AND I RAISED THOSE CHICKENS LIKE NO ONE ELSE COULD RAISE CHICKENS.

SEE, I GREW UP WITH THE IDEA OF BECOMING A PREACHER.

-THAT'S RIGHT. -I WAS GONNA BE A MINISTER.

AND I USED TO RAISE CHICKENS.

I USED TO PREACH TO THE CHICKENS.

HE DID. IT WAS GREAT.

ONE OCCASION, I TRIED TO BAPTIZE A CHICKEN.

I TRIED TO SAVE THE SOUL OF A CHICKEN.

SO WHAT YA ALL FEED THESE CHICKENS?

[WOMAN] WE FEED THEM CORN. CRACKED CORN.

AND ON OCCASION, A CHICKEN WOULD GET SICK

AND A CHICKEN WOULD DIE.

WE BURIED THEM.

WE BURIED THEM. WE HAD A CHICKEN CEMETERY.

-I DELIVERED A EULOGY AT THE FUNERAL. -RIGHT.

AND HE WOULD PREACH SO, AND HE'D MAKE US FEEL LIKEWE WERE AT AN ACTUAL FUNERAL.

WE'D BE CRYING AT SOME CHICKEN'S FUNERAL.

HE WAS A SLOW BUILD.

THIS IS MY UNCLE, JAMES CARTER.

THIS IS MY MOTHER'S BROTHER.

AND THIS IS A COUSIN, JAMES BOSWITH.

[LEWIS] I HAVE SIX BROTHERS

AND THREE SISTERS.

HAD MANY, MANY FIRST COUSINS THAT LIVED NEARBY.

MAKE IT LEVEL.

AND THIS IS SAM.

THIS IS-- TAKE YOUR HAT OFF, SAM.

YOU SEE? THIS IS JOHN'S IMAGE.

SOMETIMES SHE CALLS ME HIM AND CALLS HIM ME.

[TYNER LAUGHS]

[LEWIS] MANY OF THE VALUES THAT I ACQUIRED

CAME FROM MY MOTHER AND FROM MY FATHER.

THEY BELIEVED THAT YOU SHOULD TREAT PEOPLE FAIR

AND YOU SHOULD BE KIND TO EVERYBODY.

IT'S A GOOD SEASON OF THE YEARTO HAVE A GOOD MEAL TOGETHER.

EVERYBODY EAT, AND EAT ALL OF THIS FOOD.

ALL OF THAT WAS FIELD. WE GREW COTTON,

AND ON THE TERRACE, WE HAD TOMATOES AND PEAS.

IT'D BE SO HOT OUT THERE SOMETIMES, IN THE HOT SUN,

AND I WOULD JUST PRAY FOR ITTO RAIN OR A CLOUD TO COME OVER.

[TYNER] HE DIDN'T WANT TO WORK.

-IT'S NOT THAT I DIDN'T WANT TO WORK, -ALL RIGHT.

IT WAS I DIDN'T LIKE THE WHOLE IDEA WORKING IN THE FIELD.

I USED TO ARGUE WITH FATHER AND WITH MY MOTHER,

SAYING THEY WAS JUST GAMBLING.

-REALLY, THAT THEY THEY WAS... -SLAVERY.

SLAVERY.

THEY WAS TAKING CHANCE.

THEY GO AND THEY BORROW HERE AND BORROW THERE,

AND THEN AT THE END OF THE YEAR THEY DIDN'T MAKE ANYTHING.

IT WAS THE ORDER OF THE DAY, AND MOST PEOPLE SORT OF ACCEPTED IT.

THEY DIDN'T WANT TO ROCK THE BOAT.

[MARTIN LUTHER KING, JR.] WE, THE DISINHERITED OF THIS LAND.

WE, WHO HAVE BEEN OPPRESSED SO LONG

ARE TIRED OF GOING THROUGH THE LONG NIGHT OF CAPTIVITY.

[LEWIS] IN 1955, I HEARD MARTIN LUTHER KING, JR.

SPEAKIN' ON THE RADIO.

AND I FELT LIKE HE WAS SPEAKING DIRECTLY TO ME,

SAYING JOHN LEWIS, JOHN ROBERT LEWIS,

YOU TOO CAN DO SOMETHING.

[KING] AND WE, THE NEGRO CITIZENS OF MONTGOMERY, ALABAMA

DO NOW AND WILL CONTINUETO CARRY ON OUR MASS PROTEST.

[CHEERING]

[ANDREW YOUNG] THE BUS BOYCOTT

WAS NOT A CONFRONTATION WITH SEGREGATION.

IT WAS A WITHDRAWAL OF SUPPORT FROM SEGREGATION.

AND BACK DURING THAT TIME,

BLACKS HAD TO SIT IN THE REAR OF THE BUS

AND WAS NOT ABLE TO RIDE AT FRONT SEAT OF THE BUS.

THEY WOULD PUT THEIR MONEY IN THE SLOT UP FRONT

AND WOULD HAVE TO WALK TO THE BACK OF THE BUS

TO BOARD AT THE BACK DOOR,

AND OFTEN BEFORE THEY COULD GET BACK THERE,

THE DRIVER WOULD PULL OFF.

SO WHEN ROSA DECIDED SHE WAS NOT GONNA GIVE UP HER SEAT

THAT SET OFF THE BOYCOTT.

NOBODY RODE THE BUSES.

50,000 PEOPLE STOOD TOGETHER.

WE WALKED IN THE RAIN, THE SNOW--

AND IT SNOWED IN MONTGOMERY--

THE SLEET, AND THE HEAT

FOR 381 DAYS.

[LEWIS] ROSA PARKS, MARTIN LUTHER KING, JR.,

THE MONTGOMERY BUS BOYCOTT,

HAD A PROFOUND IMPACT ON ME.

IT GAVE ME A WAY OUT.

IT INSPIRED ME TO FIND A WAY TO GET IN THE WAY.

JOHN LEWIS LIT UP,BECAUSE THAT'S WHAT HE'D BEEN WAITING TO HEAR.

SOMEBODY TO MAKE A DIRECT REFERENCE TO THE PROBLEMS OF HIS LIFE.

[LEWIS] AND WHEN I LEFT AND TOOK THAT GREYHOUND BUS

TO NASHVILLE, TENNESSEE, AS A STUDENT,

MY MOTHER SAID, "BE PARTICULAR."

I WOULD TELL HIM JUST LIKE I TELL HIM NOW,

I WOULD TELL HIM TO BE PARTICULAR

WHEREVER HE GO AND WHATEVER HE DO.

[LEWIS]SHE WAS SAYING, "BE WATCHFUL. BE MINDFUL. BE CAREFUL.

DON'T GET INTO ANY TROUBLE."

BUT I GOT IN TROUBLE.

GOOD TROUBLE.

NECESSARY TROUBLE.

TO GO TO NASHVILLE TO SCHOOL,

IT WAS A DIFFERENT WORLD, IT WAS A NEW WORLD.

TO BE IN A INTEGRATED SETTING, DESEGREGATED SETTING,

FOR THE FIRST TIME IN MY LIFE,

REALLY, IT WAS A DIFFERENT WORLD.

[REVEREND C.T. VIVIAN] WE WERE IN SEMINARY

AND I FIRST KNEW JOHN THERE.

JOHN CAME TO SEMINARY

AND JOHN WAS NOT ABLE TO TALK WELL.

AND YOU EXPECTED THAT FROM MINISTRY.

YET, THERE WAS SOMETHING DEEPER THAN THAT ABOUT JOHN.

IT WAS NOT IN THE FINISH,

IT WAS NOT IN THE VOCABULARY, PER SAY,

IT WAS IN, IN FACT, THE FORCE OF THE PERSONALITY

THAT YOU WERE LISTENING TO.

[LEWIS]SEGREGATION, YOU JUST COULDN'TGO INTO A LARGE DEPARTMENT STORE

AND TAKE A SEAT AT A LUNCH COUNTER.

YOU COULDN'T TRY ON CLOTHING.

YOU DIDN'T LIKE THE CONDITIONS

BUT YOU DID WHAT WAS REQUIRED.

AND WE FELT IT WASA AFFRONT TO OUR OWN DIGNITY,

TO OUR OWN WORTH.

EVERY TUESDAY NIGHT,

I STARTED ATTENDING THESE NONVIOLENT WORKSHOPS,

AND IT WAS THERE THAT I MET JIM LAWSON.

WE SAW A WRONG, AND WITH OUR BODIES,

WE WENT INTO THE SITUATION TO CORRECT IT.

AND HE KEPT SAYINGWHAT WE COULD DO AS STUDENTS,

AS YOUNG PEOPLE.

HE TOLD US ALL ABOUT WHAT GANDHI ATTEMPTED TO DO

IN SOUTH AFRICA.

WE WERE TRAINED IN NONVIOLENT DIRECT ACTION

FOCUSED ON THE LUNCH COUNTERS.

AND THAT'S WHAT OUR TRAINING WAS ABOUT.

-NIGGER! -NIGGER!

THE ROLE PLAYING WAS CONDITIONING US,

PREPARING US, 'CAUSE WE WERE GONNA FACE OPPOSITION.

POSSIBILITY OF US BEING BEATEN.

WE HAD TO BE PREPARED.

THE FIRST MORNING THAT WE WENT DOWNTOWN

TO PARTICIPATE IN THE SIT-INS,

I WAS ASSIGNED TO GO TO WOOLWORTH'S,

AND WE WOULD GO IN AND TAKE OUR SEAT.

ORDERLY, PEACEFUL, READING A BOOK,

WRITING A PAPER.

ALL DAY. AND THEN WE WOULD COME BACK THE NEXT DAY

WAITING TO BE SERVED.

THE WHITE PEOPLE IN NASHVILLE WERE STUNNED.

I MEAN, THEY WERE MORE THAN STUNNED.

THEIR WAY OF LIFE, THEY FELT, WAS BEING DISREGARDED.

THERE WAS SOMETHING DEEP DOWN WITHIN ME,

MOVING ME,

THAT I COULD NO LONGER BE SATISFIED

OR GO ALONG WITH AN EVIL SYSTEM--

THAT I HAD TO BE MALADJUSTED TO IT.

AND IN SPITE OF ALL OF THIS,

I HAD TO KEEP LOVING THE PEOPLE WHO DENIED ME SERVICE.

[LAFAYETTE] WE KNEW THAT WE WERE STICKING OUR NECKS OUT,

REALIZED THAT YOU COULD GET BLIND

OR YOUR TEETH COULD GET KNOCKED OUT.

[LEWIS] WE HAD TO MAKE THE POINT

THAT SOMETIMES YOU HAVE TO PUT YOURSELF

IN HARM'S WAY.

AND IN THE PROCESS, YOU MAY STIR UP SOME VIOLENCE,

BUT YOU WOULD NOT ENGAGE IN THE VIOLENCE.

WE WERE ATTACKED.

PEOPLE WERE BEATEN.

LIGHTED CIGARETTES PUT OUT DOWN PEOPLE'S BACKS,

POURED KETCHUP AND HOT SAUCE ON PEOPLE.

THE POLICE OFFICIALS CAME IN AND ARRESTED ALL OF US.

HOLDING MY HEAD HIGH, I FELT SO FREE.

I FELT LIBERATED.

I FELT LIKE I CROSSED OVER.

[MAN]♪ THIS LITTLE LIGHT OF MINE

♪ I'M GONNA LET IT SHINE ♪

♪ THIS LITTLE LIGHT OF MINE

♪ I'M GONNA LET IT SHINE... ♪

[LEWIS] MY MOTHER FELT THAT IT WOULD BRING SHAME AND DISGRACE

ON THE FAMILY NAME FOR SOMEONE TO BE ARRESTED.

♪ LET IT SHINE, LET IT SHINE, LET IT SHINE... ♪

[LEWIS] I WILL NEVER FORGET THE LETTER SHE WROTE

SAYING, "YOU NEED TO GET OUT OF THAT MESS,"

AND THAT'S WHEN I WROTE HER BACK

AND TOLD HER THAT I WAS DOING WHAT I THOUGHT WAS RIGHT.

[MAN] ♪ OVER MY HEAD

♪ OH, LORD

♪ I SEE FREEDOM IN THE AIR. ♪

[LEWIS] YES, MY MOTHER, MY FATHER

TOLD ME OVER AND OVER AGAIN

WHEN I ASKED THEM ABOUT THOSE SIGNS

THAT SAID, "WHITE MEN, COLORED MEN."

THEY SAID, "THAT'S THE WAY IT IS."

YOU ARE THE LEADERS OF THE 21st CENTURY.

YOU MUST LEAD.

YOU MUST BE A HEADLIGHT...

AND NOT A TAIL LIGHT.

YOU MUST FIND A WAY TO GET IN THE WAY.

[APPLAUSE]

OH, I DO REMEMBER MY GRADUATION FROM COLLEGE.

YEARS AGO, WHEN I WAS SUPPOSED TO BE GRADUATING

IN 1961.

I HAD MY ROBE. HAD MY CAP.

BUT I MISSED THE GRADUATION.

I WAS IN JAIL IN MISSISSIPPI

DURING A FREEDOM RIDE.

FOR MANY YEARS, I HAD TRAVELED

FROM TROY TO NASHVILLE

AND I'D SEEN AND FELT THE STING OF SEGREGATION.

IN THE WAITING ROOM.

GOING TO THE BACK OF THE BUS.

IN THE FALL OF 1960,

THE UNITED STATES SUPREME COURT

HAD ISSUED A DECISION BANNING DISCRIMINATION

IN PUBLIC TRANSPORTATION,

BUT IT WAS NOT BEING ENFORCED.

NO SOUTHERN STATES WERE ABIDING

BY THE SUPREME COURT RULING.

THEY WERE ORDERED TO CEASE AND DESIST,

BUT NO ONE WAS DOING THAT.

[LEWIS] AND SO WHEN THE IDEAOF THE FREEDOM RIDES CAME ALONG,

THAT WAS MY MOMENT.

THAT WAS MY MOMENT.

WE HAD BEEN WARNED

THAT IT WAS A DANGEROUS MISSION,

AND WE HAD TO BE PREPARED

TO GO TO JAIL, BE BEATEN,

OR TO DIE.

[THOMAS] THE STRATEGY WAS ALWAYS BLACKS AND WHITES

WOULD SIT TOGETHER TOWARD THE FRONT OF THE BUS.

THE INTENDED ROUTE WAS TO GO

FROM WASHINGTON, D.C. TO NEW ORLEANS,

AND, OF COURSE, WE DIDN'T GET THAT FAR.

[BILL HARBOUR] THE BUS AT ANNISTON WAS SET AFIRE.

I ALSO FOUND OUT THE BUS THAT WENT INTO BIRMINGHAM,

THE RIDERS WAS BEATEN,

AND A LOT OF 'EM WAS IN BAD SHAPE.

AND WE WAS TOLD THATTHE FREEDOM RIDE HAD STOPPED.

[LEWIS] BUT BECAUSE OF THE VIOLENCE, I MADE A DECISION

WITH SOME OF THE LOCAL SIT-IN-ERS

THAT WE SHOULD FIND A WAY

TO PICK UP THE RIDE AND CONTINUE.

EVERYBODY TOLD US THAT IT WAS TOO DANGEROUS.

WE SHOULD NOT TAKE UP THE FREEDOM RIDE.

[LEWIS] WE FELT WE COULD NOT ALLOW THE THREAT OF VIOLENCE

STOP A NONVIOLENT CAMPAIGN.

[LEWIS]WE LEFT A GREYHOUND BUS STATION IN BIRMINGHAM.

WE'LL MAKE SURE THAT PEOPLE TRAVELING

IN INTERSTATE COMMERCE ARE TRAVELING ACROSS...

WE HAD BEEN ASSURED BY ROBERT KENNEDY

AND THE DEPARTMENT OF JUSTICE

AND THE OFFICIALS OF THE STATE OF ALABAMA

THAT PROTECTION WOULD BE PROVIDED.

[HARBOUR] I COULD SEE FOUR POLICEMAN MOTORCYCLES

IN FRONT OF THE BUS.

A HELICOPTER WAS FLYING ON TOP OF THE BUS.

HAD STATE TROOPERS BEHIND THE BUS

AND EVERY FOUR OR FIVE MILES DOWN THE HIGHWAY.

[LEWIS]BUT WHEN WE GOT ABOUT 15 OR 20 MILES OUTSIDE OF MONTGOMERY,

ALL SIGN OF THE PATROL CARS DISAPPEARED.

[HARBOUR] AND WE PULLED INTO THE BUS STATION.

I REMEMBER JOHN SAYING,"BILL, IT'S A LITTLE TOO QUIET."

[LEWIS] IT WAS SO EERIE.

ALMOST LIKE TIME WAS STANDING STILL.

WE STARTED OFF THE BUS,

AND THE MOMENT WE GOT ON THE GROUND,

A MOB CAME OUT OF NOWHERE.

AND WENT STRAIGHT TOWARDS THE MEDIA.

AND THEY START SWINGING ON THE REPORTERS

AND KNOCKING PEOPLE DOWN AND TAKING THEIR CAMERAS

AND SMASHING 'EM, AND...

HUNDREDS AND HUNDREDS OF PEOPLE.

ACTING JUST WILD.

AND SO WE KNEW WE WERE GONNA BE NEXT.

AND I SAID TO THIS GROUP

THAT WE SHOULDN'T RUN-- WE SHOULD STAND STILL.

SO THAT'S WHAT WE DID.

WE ALL JOINED HANDS AND WAITED FOR THE MOB TO COME.

AND THEY DID.

PEOPLE FROM EVERYWHERE.

AXE HANDLES, STICKS, PITCHFORKS, AND EVERYTHING ELSE.

BEATING US TO DEATH.

I WAS BEATEN.

I WAS HIT IN THE HEAD WITH A WOODEN CRATE.

I THINK I WAS KNOCKED UNCONSCIOUS.

MY SEAT-MATE JIM ZWERG

WAS SO SEVERELY BEATEN HIS TEETH WAS KNOCKED OUT.

I MEAN, THEY WERE JUST VICIOUS.

IT WAS PROBABLY 15 OR 20 MINUTES

BEFORE ANY POLICEMEN SHOWED UP.

[LEWIS]WE WAS TRYING REALLY TO APPEAL

TO THE PEOPLE THAT WERE BEATING US,

APPEAL TO THE PEOPLE THAT DIDN'T PROTECT US.

NONVIOLENCE IS LOVE IN ACTION.

IN SAVING THE OTHER PERSON,

IN RESCUING OR REDEEMING THE OTHER PERSON,

YOU'RE RESCUING, YOU'RE SAVING YOURSELF.

IT WAS ALMOST 50 YEARS AGO

WHEN ELWIN WILSON AND HIS FRIENDS

ATTACKED A BLACK MAN AT A BUS STATION

IN SOUTH CAROLINA.

THAT YOUNG BLACK MAN WENT ON TO BECOME A CONGRESSMAN,

CONGRESSMAN JOHN LEWIS.

I'D ALREADY TRIED...

AND DID CHANGE MY LIFE.

[BRIAN WILLIAMS] HE SAYS HE WAS A RACIST FOR YEARS.

HE TOOK PART IN MULTIPLE BEATINGS,

HE JOINED THE KKK.

HE SAYS IT WAS...

[LEWIS] IT WAS VERY MOVING

AND VERY TOUCHING FOR ME

FOR HIM TO COME TO WASHINGTON

AND SAY, "I'M SORRY FOR WHAT I DID,"

AND I SAID, "I'LL FORGIVE YOU,"

AND I DON'T HAVE ANY BITTERNESS OR HATRED.

IT'S A GREAT FEELING.

IT SAYS SOMETHING ABOUT THE DISTANCE WE'VE COME.

THAT'S WHAT THE MOVEMENT WAS ALL ABOUT--

TO CREATE A DIFFERENT SOCIETY,

A BETTER SOCIETY,

TO BE RECONCILED TO EACH OTHER.

IT IS IMPOSSIBLE TO IMAGINE

A SUCCESSFUL CIVIL RIGHTS MOVEMENT

THAT DID NOT HAVE THAT STUDENT WING.

NOW, YOU'RE TALKING ABOUT BASICALLY YOUNG PEOPLE

FROM THE AGE OF 15 TO PROBABLY ABOUT 24 YEARS OF AGE.

WE'RE YOUNG, IDEALISTIC.

WE HAD A VISION OF A BETTER AMERICA.

[LEWIS] WE AFFIRMED A PHILOSOPHICAL, A RELIGIOUS IDEAL

OF NONVIOLENCE.

[LAFAYETTE] THROUGH NONVIOLENCE,

COURAGE DISPLACES FEAR.

LOVE TRANSFORMS HATE.

[HOLMES NORTON]ACCEPTANCE DISSIPATES PREJUDICE.

PEACE DOMINATES WAR.

[LEWIS] FAITH RECONCILES DOUBT.

HOPE ENDS DESPAIR.

JOHN BECAME THE CHAIRMAN OF S.N.C.C.

IN VERY LARGE PART OUT OF SHEER COURAGE.

THERE WERE THOSEWHO WERE MUCH MORE ARTICULATE,

BUT THE VOTE WAS TAKEN

BASED ON JOHN'S CLEAR REPUTATION

OF BEING COURAGEOUS AND ALSO TAKING ACTION.

OF BEING COURAGEOUS AND ALSO TAKING ACTION.

AND IT WAS A ACTION-ORIENTED GROUP.

[LEWIS] WE WERE THE GUERRILLAS OF THE MOVEMENT.

AND WE DELIBERATELY WOULD PUT OURSELVES IN HARM'S WAY

TO TRY TO ENCOURAGE BLACK PEOPLE TO STAND OUT.

NEXT WEEK, I SHALL ASK

THE CONGRESS OF THE UNITED STATES TO ACT,

TO MAKE A COMMITMENT

IT HAS NOT FULLY MADE IN THIS CENTURY

TO THE PROPOSITION THAT RACE HAS NO PLACE

IN AMERICAN LIFE OR LAW.

I CAME HERE, 23 YEARS OLD,

THE CHAIR OF THE STUDENT NONVIOLENT COORDINATING COMMITTEE

TO PARTICIPATE IN A MARCH FOR FREEDOM,

MARCH FOR JOBS, A MARCH FOR EQUALITY.

WELL, I WAS VERY THRILLED AND MOVED

BY BEING ASKED TO BE ONE OF THE SPEAKERS

AT THE MARCH ON WASHINGTON.

[HOROWITZ] I THINK ABOUT A WEEK BEFORE THE MARCH,

JOHN CAME INTO THE MARCH OFFICE

WITH HIS SPEECH IN HIS HAND

AND SHOWED IT TO PEOPLE,

AND WE ALL LOVED IT.

IT WAS MILITANT.

IT WAS UNCOMPROMISING.

[LEWIS] I HAD A GREAT DEAL OF ADMIRATION

FOR THE OLDER LEADERS OF THE MARCH,

BUT, IN A SENSE, I FELT LIKE THEY WERE--

I WAS ON EQUAL FOOTING.

I CAME FRESH FROM THE STRUGGLE.

FRESH FROM THE FRONT LINE OF THE BATTLE.

I WAS NOT IN NEW YORK IN A BIG OFFICE.

WHEN WORD GOT BACK TO US

THAT THERE WERE SOME PROBLEMS WITH--

NOT THE WHOLE SPEECH,

BUT, FRANKLY, WITH A VERY SMALL PORTION OF HIS SPEECH,

AND OUR FIRST RESPONSE WAS DEFENSIVENESS.

AND THIS WAS A VERY RADICAL, POLITICAL SPEECH.

THEY DIDN'T WANT THE ADULTS

TO HAVE ANYTHING TO SAY ABOUT IT.

THE WORD AROUND WASHINGTON

AND THE THING THAT MOST PEOPLE FEARED

WOULD BE THAT THE MARCH WOULD CAUSE VIOLENCE.

PEOPLE WERE VERY CONCERNED

ABOUT HOW THIS MARCH WOULD LOOK,

HOW IT WOULD AFFECT THE CONGRESS.

I THINK THERE WERE POWERFULFORCES WITHIN THE ADMINISTRATION

PUTTING PRESSURE ON SOME OF THE MOVEMENT LEADERS.

WE FELT THAT WHAT PRESIDENTKENNEDY HAD PROPOSED IN HIS BILL

WAS A LITTLE TOO LATE.

[MAN] ♪ WE SHALL OVERCOME...

[LEWIS] IT WAS 250,000 PEOPLE OUT THERE,

AND WE WERE MAKING THESE CHANGES,

TAKING OUT A WORD HERE,

CHANGING A WORD THERE.

AND I WAS STEAMING A LITTLE INSIDE.

OUR MAJOR CONCERN, AS I RECALL IT,

WAS THAT WE'D DO WHATEVER CHANGES HAD TO BE DONE

AND THAT THEY'D MEET OUR STANDARDS

SO THAT WE WOULD NOT FEEL THAT WE HAD SOLD OUT.

[RANDOLPH]I HAVE THE PLEASURE TO PRESENT TO THIS GREAT AUDIENCE...

[LEWIS]MR. RANDOLPH, HE WAS THE DEAN OF BLACK LEADERSHIP.

HE SAID, "JOHN, LET'S CHANGE THIS FOR THE SAKE OF UNITY.

WE COME THIS FAR TOGETHER. LET'S STAY TOGETHER."

[YOUNG] JOHN AGREED WITH A. PHILIP RANDOLPH

JUST OUT OF RESPECT FOR WHO HE WAS.

[HOLMES NORTON] IN SOME SENSE,

WE RECOGNIZED THAT THE WHOLE POINT OF THE MARCH

WAS TO DRAW PEOPLE TOGETHER.

[SELLERS] SO WE HAD TO MAKE THAT COMPROMISE,

AND WE DID IT,

BUT THAT ALWAYS LEFT A QUESTION

IN THE BACK OF OUR MINDS ABOUT COMPROMISES.

[LEWIS] AND I WILL NEVER FORGET THAT MOMENT

WHEN A. PHILIP RANDOLPH

SAID, "I NOW PRESENT TO YOU THE NATIONAL CHAIRMAN

OF THE STUDENT NONVIOLENT COORDINATING COMMITTEE..."

...COORDINATING COMMITTEE, BROTHER JOHN LEWIS.

[APPLAUSE]

[LEWIS] AND I TOOK DEEP BREATH,

AND I SAID, "WE MARCH TODAY FOR JOBS AND FREEDOM."

THE TIME WILL COME

WHEN WE WILL NOT CONFINE OUR MARCHING TO WASHINGTON.

WE WILL MARCH THROUGH THE SOUTH.

THROUGH THE STREETS OF JACKSON.

THROUGH THE STREETS OF DANVILLE.

THROUGH THE STREETS OF CAMBRIDGE.

THROUGH THE STREETS OF BIRMINGHAM.

[CHEERS AND APPLAUSE]

WE DO NOT WANT OUR FREEDOM GRADUALLY,

BUT WE WANT TO BE FREE NOW.

FIVE DECADES AGO TODAY

AMERICANS CAME TO THIS HONORED PLACE.

THEY CAME BY THE THOUSANDS.

WILLINGLY, THEY WENT TO JAIL TO PROTEST UNJUST LAWS.

THAT WAS THE SPIRIT YOUNG PEOPLE LIKE JOHN LEWIS

BROUGHT TO THAT DAY.

[SINGING INDISTINCTLY]

♪ WE ARE THE REVOLUTION...

[LEWIS] WE ARE TIRED.

WE ARE TIRED OF BEING BEAT BY POLICEMEN.

WE ARE TIRED OF SEEING OUR PEOPLE

LOCKED UP IN JAIL OVER AND OVER AGAIN.

AND THEN YOU HOLLER, "BE PATIENT."

HOW LONG CAN WE BE PATIENT?

50 YEARS LATER, WE CANNOT WAIT.

WE CANNOT BE PATIENT.

WE MUST STAND UP AND FIGHT THE GOOD FIGHT

AS WE MARCH TODAY.

[LEWIS] MEMBERS OF MY OWN ORGANIZATION,

THE STUDENT NONVIOLENT COORDINATING COMMITTEE,

CAME HERE TO ORGANIZE

VOTER REGISTRATION DRIVES.

DO YOU HAVE ANY BUSINESS IN THE COURTHOUSE?

[LEWIS] AND WE HAD THE RESISTANCE OF A SHERIFF

WHO WOULD NOT ALLOW PEOPLE

TO EVEN ENTER THE COURTHOUSE DOOR

TO TAKE THE LITERACY TEST.

THEY COULDN'T REGISTER TO VOTE.

ON ONE OCCASION, A MAN WAS ASKED

TO COUNT THE NUMBER OF BUBBLES ON A BAR OF SOAP.

ON ANOTHER OCCASION,

A MAN WAS ASKED TO COUNT

THE NUMBER OF JELLYBEANS IN A JAR

AND WERE TOLD THEY COULDN'T READ OR WRITE WELL ENOUGH.

TODAY MARKS THE BEGINNING...

[LEWIS] DURING THIS SELMA CAMPAIGN,

DR. MARTIN LUTHER KING, JR. CAME TO SELMA.

[YOUNG] THE COMMUNITIES INVITED US,

SO WE AGREED THAT WE WOULD COME

TO WORK WITH THE COMMUNITY.

S.N.C.C. SAW THIS

AS US COMING IN TO INVADE THEIR TERRITORY,

BUT JOHN NEVER GOT UPSET ABOUT THAT.

JOHN WAS WITH US.

[LEWIS] AFTER A SERIES OF ARRESTS AND JAILINGS

AND BEATING ON THE PART OF THE ELECTED OFFICIALS,

THE SHERIFFS AND OTHER LAW ENFORCEMENT PEOPLE IN SELMA,

A YOUNG BLACK MAN BY THE NAME OF JIMMIE LEE JACKSON,

HE WAS SHOT IN THE STOMACH BY A STATE TROOPER,

AND A FEW DAYS LATER, HE DIED.

AND WE SAID THEN THAT WE HAD TO MARCH

FROM SELMA TO MONTGOMERY.

THERE WILL BE NO MARCH BETWEEN SELMA, ALABAMA AND MONTGOMERY,

AND I HAVE SO INSTRUCTEDTHE DEPARTMENT OF PUBLIC SAFETY.

[LEWIS] THE LOCAL PEOPLE IN SELMA WANTED TO MARCH,

BUT THE NATIONAL S.N.C.C. OFFICE

WERE OPPOSED TO THE IDEA

OF PEOPLE WALKING FROM SELMA TO MONTGOMERY.

I DISAGREED.

[SELLERS] JOHN WAS JUST MORALLY COMMITTED.

HE MADE A PERSONAL COMMITMENT TO SELMA.

[LEWIS] THERE WAS A FEELING THAT DR. KING AND S.C.L.C. PEOPLE

WOULD BE THERE FOR A WHILE,

LOT OF PEOPLE WOULD GET HURT,

THEN THEY WOULD LEAVE AND GO ON SOMEPLE ELSE.

S.N.C.C. HAD TAKEN A POSITION

THAT IT WAS NOT GOING TO BE A PART

OF THE SELMA DEMONSTRATIONS.

THEY FINALLY CONCLUDED THAT IF I WANTED TO MARCH

I COULD MARCH AS AN INDIVIDUAL

BUT NOT AS CHAIR OF THE STUDENT NONVIOLENT COORDINATING COMMITTEE.

HE DID NOT ARGUE WITH THEM.

HE LET THEM TAKE THAT POSITION.

HE WAS A PERSON OF CONVICTIONS-- PERSONAL CONVICTIONS.

SO HE TOOK A STAND

AND DID WHAT HE THOUGHT WAS RIGHT.

[WOMAN] THAT DAY, THAT SUNDAY WAS THE FIRST SUNDAY.

MY HUSBAND AND MARTIN WERE GOING THAT MONDAY.

AND THE CALL CAME TO EBENEZER

TO SPEAK TO DR. KING ABOUT MARCHING,

BECAUSE WHEN THEY GOT THERE,

JOHN AND THOSE,THE PEOPLE WERE READY TO MARCH.

[LEWIS] AND SO IT WAS MY RESPONSIBILITY

TO WALK WITH HOSEA,

AND THEY ASKED ME TO LEAD IT ON BEHALF OF S.N.C.C.

THEY DIDN'T KNOW THAT I HAD BEEN TOLD NOT TO REPRESENT

THE STUDENT NONVIOLENT COORDINATING COMMITTEE.

TO ME, IT WAS A VERY PRAYERFUL, ORDERLY,

PEACEFUL, SILENT PROTEST.

IT REMINDED ME OF GANDHI'S MARCH TO THE SEA.

SO THEY MARCHED.

AND, OH, MY GOD.

[LEWIS] WHEN WE GOT TO THE APEX

OF THE EDMUND PETTUS BRIDGE

CROSSING THE ALABAMA RIVER,

LOOKING DOWN, YOU SAW A SEA OF BLUE.

IT WAS ALABAMA STATE TROOPERS--

THE SHERIFF AND HIS POSSE ON HORSEBACK.

IT WAS A VERY EERIE FEELING,

THE MOMENT THAT WE STOOD THERE.

YOU COULD SEE THE DEBRIS.

YOU COULD SEE THE WIND JUST BLOWING SOMEONE'S COAT.

[OFFICER] I'M SAYING THAT THIS IS AN UNLAWFUL ASSEMBLY.

YOU'RE ORDERED TO DISPERSE.

GO HOME OR GO TO YOUR CHURCH.

THIS MARCH WILL NOT CONTINUE.

[LEWIS] WE STOOD THERE.

I LOOKED AT HOSEA. HOSEA LOOKED AT ME.

SAID, "LET'S KNEEL.

AND PRAY."

BEFORE WE COULD PASS THE WORD BACK

TO THE GROUP TO KNEEL AND PRAY,

THE MAJOR SAID, "TROOPERS, ADVANCE."

I WAS HIT IN THE HEAD BY A STATE TROOPER

WITH A NIGHTSTICK.

MY LEGS WENT FROM UNDER ME.

I THOUGHT I SAW DEATH.

I DIDN'T ASK TO BE BEATEN ON THE BRIDGE.

I DON'T LIKE PAIN.

I DON'T LIKE TO SUFFER IN A HOSPITAL.

BUT IF THAT'S THE PRICE YOU HAVE TO PAY

TO MAKE THINGS BETTER FOR OTHERS,

I WAS WILLING TO PAY THAT PRICE.

THAT HAPPENED ON A SUNDAY.

BY THAT TUESDAY, THERE WAS DEMONSTRATION

IN 80 MAJOR CITIES IN AMERICA.

NOW JOIN ARMS.

YOU WERE DOWN THERE COMING THIS WAY?

RIGHT. WE WERE WALKING RIGHT OVER THERE,

IN TWO, ORDERLY--

-ON THE SIDEWALK. -ON THE SIDEWALK.

NO ONE SAYING A WORD.

[MAN] THE FORCES CAME THIS WAY?

THEY CAME...

[SENATOR HARRY REID] THOSE ARE THE THINGS WHERE HE GETS

VERY, VERY SERIOUS,

AND YOU CAN TELL HE'S, AT LEAST IN MY WORDS,

SAYING, "I SURVIVED THAT."

[LEWIS]EIGHT DAYS AFTER BLOODY SUNDAY

WHEN LYNDON JOHNSON SPOKE TO THE NATION,

SPOKE TO THE JOINT SESSION OF THE CONGRESS,

HE CONDEMNED THE VIOLENCE IN SELMA,

INTRODUCED THE VOTING RIGHTS ACT.

BEFORE HE CONCLUDED THAT SPEECH,

HE SAID, "AND WE SHALL OVERCOME."

SITTING NEXT TO DR. KING WITH ANDY

C.T. VIVIAN AND OTHERS,

I LOOK AT DR. KING.

TEARS STARTED FLOWING FROM HIS EYES.

WE ALL CRIED A LITTLE.

AND DOCTOR KING SAID THE VOTING RIGHTS ACT

WOULD BE PASSED.

[SELLERS] JOHN'S COMMITMENT TO SELMA

WAS DIRECTLY LINKED TO JOHN'S PERSONAL COMMITMENT

TO SELMA AS OPPOSED TO A POLITICAL DECISION.

NOW THE QUESTION IS COULD HEMAKE THAT PERSONAL COMMITMENT

AND STILL BE THE SPOKESPERSON OF S.N.C.C.?

[DISTANT SINGING]

IN THE COUNTRY AT THAT TIME,

THERE WAS A GREAT MOVEMENT TOWARD BLACK CONSCIOUSNESS.

BLACK NATIONALISM.

[MALCOLM X]TODAY IT'S TIME TO STOP SINGING AND START SWINGING.

WE GOT A NEW GENERATIONOF BLACK PEOPLE IN THIS COUNTRY.

YOU ALSO HAVE THE WATTS AND HARLEM REBELLIONS,

AND NOW PEOPLE ARE BEGINNING TO LOOK AT THE CONCERNS

OF BLACKS WHO ARE CAUGHT IN THE GHETTOS.

[MAN] WHAT'S YOUR PROBLEM? WHAT'S YOUR PROBLEM?

WE HAVE BEEN TOO NONVIOLENT! TOO NONVIOLENT.

[LEWIS] THERE WAS A MOVE IN S.N.C.C. AT THAT TIME

TO MOVE ALL OF THE WHITE PEOPLE OUT.

IT WAS A MOVEMENT TOWARD

GIVING UP ON THE PHILOSOPHY OF NONVIOLENCE.

THERE WAS SOME PEOPLE WHO WANTED ME TO TAKE ON DR. KING.

I WAS NOT ANY WAY GONNA GET ON A FIGHT

WITH MARTIN LUTHER KING, JR.

I THINK THAT STOKELY WAS PROBABLY

KINDA WAITING IN THE WINGS

FOR HIS OPPORTUNITY TO BECOMECHAIRMAN OF THE ORGANIZATION.

[LEWIS] PEOPLE FELT THAT I WAS NOT MILITANT ENOUGH,

NOT RADICAL ENOUGH.

IT WAS TIME FOR ME, IN A SENSE, TO LEAVE.

BUT THAT WAS A VERY DIFFICULT MOMENT,

BECAUSE S.N.C.C. HAD BEEN MY FAMILY.

THESE YOUNG PEOPLE HAD BEEN MY BROTHERS AND SISTERS.

IT WAS ONE OF THE MOST DIFFICULT PERIODS FOR ME IN THE MOVEMENT.

IT WAS LIKE BREAKING UP.

IT WAS LIKE BEING PUT OUT.

[KING] OH, YES, I PRAYED A PRAYER.

AND I PRAYED OUT LOUD THAT NIGHT.

I SAID, "LORD, I'M DOWN HERE TRYING TO DO WHAT'S RIGHT."

[AUDIENCE CHEERING]

JOHN LEWIS NEVER, EVER DOUBTED, QUESTIONED,

OR DISRESPECTED ANYTHINGTHAT MARTIN LUTHER KING SAID.

MARTIN FELT THAT JOHN LEWIS WAS HIS TRUE, SPIRITUAL SON.

HE REALLY LOVED HIM LIKE HIS OWN CHILD.

THE REST OF US, MARTIN WAS PRETTY ALOOF.

BUT WITH JOHN, HE JUST--

HE WAS REALLY COMFORTABLE WITH JOHN,

BECAUSE JOHN WANTED TO LISTEN.

JOHN WANTED TO HANG ON HIS EVERY WORD.

HE WAS LIKE A BIG BROTHER.

HE WAS MY FRIEND.

HE WOULD ASK ME SOMETIMES JOKINGLY,

"JOHN, DO YOU PREACH SOMETIME?"

AND I SAID, "YES, DR. KING, WHEN I'M TAKING A SHOWER."

AND HE WOULD JUST LAUGH.

HE WOULD LAUGH. HE THOUGHT IT WAS SO FUNNY.

I GOT INVOLVED IN THE PRESIDENTIAL CAMPAIGN

OF ROBERT KENNEDY IN '68.

[ROBERT KENNEDY] WE CAN WORK TOGETHER...

AND THAT WHAT HAS BEEN GOING ON WITHIN THE UNITES STATES...

[LEWIS] WHEN I SAW WHAT ROLE THAT--

INDIVIDUAL POLITICIAN COULD PLAY

IN BRINGING PEOPLE TOGETHER--

AND MORE THAN ANYTHING ELSE,

I THINK AFTER THE ASSASSINATION

OF DR. KING AND ROBERT KENNEDY,

I FELT LIKE MAYBE I COULD BE PART OF AN EFFORT

TO PICK UP WHERE THEY HAD LEFT OFF.

[LEWIS] ALL THESE YOUNG PEOPLE...

[REPORTER] AS PAST CHAIRMAN OF THE STUDENT NONVIOLENT COORDINATING COMMITTEE,

LEWIS WAS ARRESTED AND BEATEN DURING THE 1960s.

TODAY, AS DIRECTOR OF THE ATLANTA-BASED

VOTER EDUCATION PROJECT,

LEWIS IS STILL TRYING TO REGISTER BLACKS TO VOTE.

PEOPLE ARE AFRAID TO GO TO THE COUNTY COURTHOUSE.

THEY'RE AFRAID TO TALK TO VOTER REGISTRATION WORKERS.

THEY'RE AFRAID THAT THEY MAY LOSE THEIR JOBS.

FRIENDS OF MINE STARTED SAYING TO ME,

"YOU SHOULD RUN FOR SOMETHING.

YOU SHOULD RUN FOR SOMETHING."

AND THE TIME CAME.

[REPORTER] JOHN LEWIS AND JULIAN BOND,

TWO BONA FIDE HEROES OF THE BLACK STRUGGLE FOR CIVIL RIGHTS.

THE POWER BROKERS IN ATLANTA

IN THE KINDA BACK ROOM, SMOKY ROOM,

DECIDED JULIAN BOND SHOULD RUN FOR CONGRESS.

AT STAKE WAS MUCH MORE THAN JUST WHICH MAN

WILL BE THE DEMOCRATIC CANDIDATE FOR CONGRESS

FROM GEORGIA'S FIFTH DISTRICT.

[REPORTER] LEWIS AND BOND MET DURING THE DAYS

OF THE LUNCH COUNTER SIT-INS IN NASHVILLE.

WE HAD GREAT TIMES TOGETHER.

WE LAUGHED TOGETHER. WE PLAYED TOGETHER.

I'M NOT GONNA LET A SIX-MONTH POLITICAL CAMPAIGN

DISRUPT A FRIENDSHIP I'VE HAD WITH JOHN LEWIS

FOR ALMOST 30 YEARS.

JULIAN BOND IS VERY GOOD-LOOKING

AND VERY WELL-SPOKEN.

JOHN KEPT SAYING, "DO YOU WANT A SHOW BOAT OR A TUG BOAT?"

[REPORTER] THE RUNOFF HAS BEEN NASTY.

THERE WERE NO SERIOUS ISSUE DIFFERENCE BETWEEN THE TWO

UNTIL LEWIS MADE ONE.

HE TOOK A DRUG TEST

AND CHALLENGED BOND TO DO THE SAME.

MY TEST CAME OUT CLEAN.

BOND CALLED THE DRUG TEST A CHEAP POLITICAL TRICK.

SO QUICKLY I RESPONDED

AND SAID, "MR. BOND, MY FRIEND,

WE WERE ASKED TO TAKE A DRUG TEST."

I TOOK MY TEST, AND HERE'S THE RESULTS.

SOME PEOPLE SEEM TO HAVE THOUGHT THAT THAT WAS VICIOUS.

JULIAN RELUCTANTLY TOOK THE TEST,

AND IT DIDN'T COME OUT GOOD NEWS FOR HIM.

THAT WAS REALLY DEMISE OF JULIAN

AND A REAL STRAIN IN THEIR RELATIONSHIP.

THAT PROBABLY WAS A LOW BLOW.

PROBABLY IF I HAD TO DO THAT OVER AGAIN,

I PROBABLY WOULDN'T DO IT.

YOU DID IT WELL!

[REPORTER] IT WAS A SURPRISING, COME FROM BEHIND VICTORY

FOR JOHN LEWIS IN HIS BITTER,

DEMOCRATIC CONGRESSIONAL PRIMARY RUNOFF

AND LONGTIME FRIEND AND CIVIL RIGHTS ALLY JULIAN BOND.

THERE WAS THAT FEAR THAT HE WAS NAIVE,

THE FEELING THAT IF YOU BELIEVE

STRONGLY IN RIGHTEOUSNESS AND JUSTICE, YOU'RE NAIVE.

THAT WAS MY PERSONAL FEAR,

THAT JOHN'S INTEGRITY WOULD BEA NEGATIVE FOR HIM IN CONGRESS.

YEAH.

UH, THEY MAY NOT HAVE IT.

[REPRESENTATIVE ANDRE CARSON] JOHN AND I BOTH ARE HOUSED IN THE CANNON BUILDING,

AND I WAS RUNNING LATE FOR VOTES,

AND ONCE I GOT ON THE ELEVATOR,

THE ELEVATOR HAD TO STOPAT, I THINK, THE THIRD FLOOR.

I'M LIKE, "OKAY, WHO COULD THIS BE?"

I'M GONNA BE LATE FOR VOTES, AND IT'S JOHN.

I SAID, "HEY, JOHN." HE WAS LIKE, "CAN I CATCH A RIDE?"

I SAID, "LET'S DO IT."

AND SO WE GOT OFF ON THE SECOND FLOOR,

AND WE WALKED OUTSIDE...

[REPRESENTATIVE STENY HOYER] WE WERE CONSIDERING THE HEALTHCARE BILL

AND IT WAS TO COME UP FOR A VOTE,

AND THE DAY BEFORE WE HAD A CAUCUS ON THAT BILL,

UH, JOHN LEWIS AND OTHERS HAD BEEN WALKING.

[ALL CHANTING "KILL THE BILL"]

HUNDREDS AND HUNDREDS,

MAYBE THOUSANDS OF PEOPLE HAD COME TO WASHINGTON

FOR THE PURPOSE OF BEING DISRUPTIVE.

JOHN LEWIS, ANDRE CARSON,

EMANUEL CLEAVER AND OTHERS, BARNEY FRANK,

ON THEIR WAY OVER THROUGH CROWDS THAT WERE JEERING

AND HURLING ETHNIC VULGAR SLURS.

[LEWIS]THIS MAY BE THE MOST IMPORTANT VOTE THAT WE CAST

AS MEMBERS OF THIS BODY.

WE HAVE A MORAL OBLIGATION TODAY

TO MAKE HEALTHCARE A RIGHT AND NOT A PRIVILEGE.

EMANUEL CLEAVER WAS TOGETHER WITH JOHN LEWIS.

THEY WERE WALKING OVER TO THE CAPITOL

WHEN SOMEBODY SPIT ON CONGRESSMAN CLEAVER

AND YELLED THE "N" WORD AS CONGRESSMAN LEWIS.

I WATCHED JOHN LEWIS

SO THAT I COULD CHOREOGRAPH MY ACTIONS

IN A MANNER CONSISTENT WITH HIM,

BECAUSE I KNEW THAT JOHN LEWIS HANDLED IT

THE WAY CIVIL RIGHTS ACTIVISTS WERE SUPPOSED TO HANDLE IT.

[LARSON] BY THE TIME OF SUNDAY'S CAUCUS,

PEOPLE WERE VERY EDGY ABOUT THIS.

[REPORTER] BUT I HAVE TO TELL YOU,WHEN YOU LOOK BEHIND THE SCENES,

THIS IS WHITE-KNUCKLE TIME.

THEY DO NOT HAVE THE VOTES YET.

I ASKED JOHN IF HE WOULD SPEAK AT OUR CAUCUS,

AND HE DID, AND HE SAID,

"WHAT TRANSPIRED YESTERDAY IS NOT IMPORTANT.

THE IMPORTANT THING FOR US

IS TO KEEP OUR EYE ON THE PRIZE."

[CROWD CHANTING]KILL THE BILL! KILL THE BILL!

[REPRESENTATIVE NANCY PELOSI]WHEN WE WERE IN THE ROOM AND WE WERE ABOUT TO LEAVE,

I WANTED TO WALK ACROSSTHE STREET WITH MY COLLEAGUES.

THE WHOLE CAUCUS WAS WALKING TOGETHER.

AND THE SECURITY FOR THE LEADERSHIP,

ESPECIALLY FOR NANCY PELOSI,

SAID, "YOU CANNOT DO THAT. YOU CANNOT WALK--"

IT WAS AN ANGRY CROWD. "YOU CANNOT."

AND JOHN, WHO HAD BEEN

REALLY INSULTED BY THESE PEOPLE

IN THE COURSE OF THIS DEBATE,

WE JUST LOCKED ARMSAND WALKED ACROSS THE STREET.

[REPORTER] A REMARKABLE SCENE.

A REMARKABLE STATEMENT.

THE SPEAKER AND DEMOCRATIC LEADER

WALKING HAND IN HAND TO GO VOTE TODAY

WITH REPRESENTATIVE JOHN LEWIS.

[REPORTER] THE CULMINATION OF THE EPIC,

14-MONTH FIGHT OVER HEALTHCARE CAME LATE IN THE NIGHT.

[LEWIS] WE WALKED INTO THE CAPITOL

WITH PRIDE AND DIGNITY, AND WE PASSED THAT BILL.

IT WAS THE RIGHT THING TO DO.

[CROWD SHOUTING]

[SPEAKS SPANISH]

[CROWD CHANTING] SI SE PUEDE! SI SE PUEDE!

IF ANY ONE OF US IS ILLEGAL,

THEN WE ALL ARE ILLEGAL!

[CHEERING]

SO KEEP IT UP.

IF ANY OF YOU GET ARRESTED AND GO TO JAIL,

I'M PREPARED TO GET ARRESTED

AND GO TO JAIL WITH YOU.

[CROWD CHEERS]

THE JAILS OF AMERICA ARE NOT LARGE ENOUGH

TO HOLD ALL OF US!

I MEAN, WHEN JOHN LEWIS SAID,

"THIS IS MY FIGHT, AND I FEELTHE SAME FIGHT FROM THE '60S,"

WHO ELSE CAN PUT THAT KIND OF IMPRIMATUR ON A MOVEMENT

AND SAY IT'S A CIVIL RIGHTS MOVEMENT?

IF ONE OF THE LEADERS,

ICONS OF THE CIVIL RIGHTS MOVEMENT,

AN AFRICAN-AMERICAN MAN FROM THE SOUTH

SAYS IT IS, THEN GUESS WHAT? IT IS.

[REPORTER] D.C. POLICE ARRESTEDDEMOCRATIC MEMBERS OF CONGRESS

AT AN IMMIGRATION RALLYON THE NATIONAL MALL TUESDAY.

THIS ARREST WAS THE 45TH

FROM THE LONGTIME REPRESENTATIVE FROM GEORGIA.

DO I NEED TO SEND ANY NOTICE OUT OR ANYTHING LIKE THAT?

[ARYC MOSHER] HAVING HIM SPEAK ON BEHALF

OF GAY AND LESBIAN AND TRANSGENDER ISSUES

RAISES OUR VOICE TO A DEGREE

WHICH WE COULD NOT REACH WITHOUT HIM.

ARYC GOT CONGRESSMAN LEWIS

TO SIGN THIS FOR ME AS A BIRTHDAY PRESENT,

AND I WAS JUST REALLY TAKEN ABACK BY IT.

[JOAN GARNER] BELIEVE ME, HE STEPPED OUT WHEN OTHERS WOULDN'T,

AND SO HE'S BEEN CONSISTENT ON EVER ISSUE

THAT'S COME BEFORE THE CONGRESS.

HE WAS THERE WHEN HATE CRIMES LEGISLATION PASSED.

ALSO BEEN THERE FOR PEOPLE LIVING WITH H.I.V. AND AIDS.

IT DOESN'T MATTER WHETHER WE ARE STRAIGHT OR GAY.

[ALL CHEER]

I WILL NOT BE SATISFIED, I WILL NOT BE PLEASED...

UNTIL WE END DISCRIMINATION

BASED ON SEXUAL ORIENTATION...

[CROWD CHEERS]

[KENNETH SAMUEL] CONGRESSMAN LEWIS MAKES THE CONNECTION

THAT CIVIL RIGHTS IS ABOUT EQUAL RIGHTS FOR EVERYONE.

THAT WAS DR. KING'S PLEA,

THAT A THREAT TO JUSTICE ANYWHERE

IS A THREAT TO JUSTICE EVERYWHERE.

-I SHOULD GO THE WAY LIKE I GO TO YOUR OFFICE, RIGHT? -[WOMAN] YES.

OKAY.

-UH, ABOUT HIS POLICY... -MM-HMM.

THE VOTE IS PRECIOUS. IT IS ALMOST SACRED.

IT IS THE MOST POWERFUL NONVIOLENT TOOL

THAT WE HAVE IN A DEMOCRACY.

[HORN HONKING]

I'M JOHN LEWIS. I'M A MEMBER OF CONGRESS.

I WORK IN WASHINGTON WITH PRESIDENT OBAMA.

YOU WANNA GIVE ME SOME OF YOUR HAIR?

-[LAUGHTER] -HUH?

GOOD TO SEE YOU. MAY GOD BLESS YOU.

[AMINA KHAN] IT REALLY MAKES A DIFFERENCE TO ME

THAT HE STARTED WHEN HE WAS MY AGE,

BECAUSE A LOT OF THE TIMES

I FEEL LIKE I CAN'T MAKE A DIFFERENCE

'CAUSE I'M ONLY 16.

[COLLINS] ELECTION DAY IS A GREAT DAY.

FOR HIM, JUST HISTORICALLY,

THE POWER TO VOTE AND TO CAST THAT VOTE

IS JUST SO SACRED.

GOOD MORNING.

HOW YOU DOING?

JUST A WONDERFUL FEELING TO BE ABLE TO GO IN

AND CAST A VOTE

WHEN SO MANY PEOPLE THAT I KNEW NEVER HAD A CHANCE,

NEVER HAD AN OPPORTUNITY.

[REID] REALLY IMPORTANT.

HE CONTINUES TO TELL PEOPLE OF AMERICA

THINGS HAVEN'T ALWAYS BEEN THE WAY THEY ARE NOW,

AND UNLESS WE KEEP OUR GUARD UP,

THINGS COULD ALWAYS BE BAD AGAIN.

[REPORTER] ...ON THE AIR RIGHT NOW,

BECAUSE THE SUPREME COURT HAS JUST MADE A MAJOR DECISION...

[REPORTER #2] ...COURT STRUCK DOWN A KEY SECTION

OF THE 1965 VOTING RIGHTS ACT.

[WILLIAMS #3] ONE OF THE MOST SUCCESSFULCIVIL RIGHTS LAWS EVER PASSED...

[REPORTER] TOOK THE TEETH OUT OF A LAW

ENACTED NEARLY 50 YEARS AGO.

[REPORTER #4] ...BLUNTLY DECLARED THAT TIMES HAVE CHANGED

AND THE LAW MUST TOO.

I MUST TELL YOU I WAS DISAPPOINTED,

BECAUSE I THINK WHAT THE COURT DID TODAY

IS STABTHE VOTING RIGHTS ACT OF 1965

IN ITS VERY HEART.

[REPORTER] TEXAS RESPONDED IMMEDIATELY,

SAYING IT WOULD START ENFORCING ONE OF THE NATION'S...

[REPORTER #2]...NEEDS TO HAVE A PHOTO I.D., AND IF POTENTIAL VOTERS...

[REPORTER #3]...MOVED TO TOUGHEN ITS LAWS,

INCLUDING A REDUCTION IN EARLY VOTING HOURS.

[LEWIS] ONLY HOURS AFTER THE DECISION WAS ANNOUNCED

BY THE SUPREME COURT,

STATES BEGAN TO PUT INTO FORCE

EFFORT TO SUPPRESS PEOPLE'S VOTING RIGHTS.

IT IS A DUTY AND A RESPONSIBILITY OF CONGRESS

TO RESTORE THE LIFE AND SOUL OF THE VOTING RIGHTS ACT,

AND WE MUST DO IT, AND WE MUST DO IT NOW.

WE'RE CALLING ON THE LEADERSHIP

TO BRING GUN CONTROL LEGISLATION

TO THE HOUSE FLOOR.

GIVE US A VOTE. LET US VOTE.

WE CAME HERE TO DO OUR JOB! WE CAME HERE TO WORK.

[LEWIS] WE HAVE TO OCCUPY THE FLOOR OF THE HOUSE

UNTIL THERE'S ACTION.

[REPORTER] SCORES OF DEMOCRATS FLOODED THE HOUSE FLOOR

CHANTING "NO BREAK, NO BILL."

[LEWIS] WE LOST TOO MANY OF OUR CHILDREN, OUR BABIES.

TOO MANY OF OUR MOTHERS AND FATHERS TO GUN VIOLENCE.

[CHANTING]

WE'RE NOT GIVING UP THE FIGHT.

THE FIGHT IS AN ONGOING FIGHT.

[LEWIS] I CANNOT EXPLAIN IT.

IT'S IMPOSSIBLE FOR ME TO SAY

WHY AND HOW I GOT INVOLVED

IN THE CAUSE AND THE MOVEMENT.

I HAPPEN TO BELIEVE THAT

MAYBE THERE'S SOMETHING IN THE UNIVERSE

OR MAYBE IN THE ENVIRONMENT

OR MAYBE IN THE SPIRIT OF HISTORY,

AND YOU HAVE TO SORT OF ALLOW YOURSELF TO BE USED.

I'M GONNA BE ON THE ROAD--

I'LL BE ON THE ROAD RIGHT BEHIND YOU.

WE MUST NEVER, EVER BECOME BITTER OR HOSTILE.

YOU SHOULDN'T TAKE ANYTHING PERSONAL.

THIS IS POLITICS. THIS IS A BUSINESS.

THIS IS A JOB THAT SOME OF US ASKED FOR.

SOMETIMES WE GET BRUISED.

SOMETIMES WE GET KNOCKED DOWN.

BUT WE HAVE THE WILL,

THE COURAGE, THE ABILITY,

AND THE CAPACITY TO GET UP.

TO FIND A WAY TO GET IN THE WAY.

TO GET PEOPLE TO SEE

WHAT IS HAPPENING.

THAT WILL ONLY COME BY PEOPLEBUILDING AND WORKING TOGETHER.

WE'RE TALKING ABOUT BUILDING A LASTING PEACE--

A COMMUNITY AT PEACE WITH ITSELF.

[MUSIC PLAYING]

[ANNOUNCER] "JOHN LEWIS: GET IN THE WAY" IS AVAILABLE ON DVD.

TO ORDER, VISIT SHOPPBS.ORG

OR CALL 1-800-PLAY-PBS.

THIS PROGRAM IS ALSO AVAILABLE FOR DOWNLOAD ON ITUNES.
More Episodes (1)
Video Clips (6)