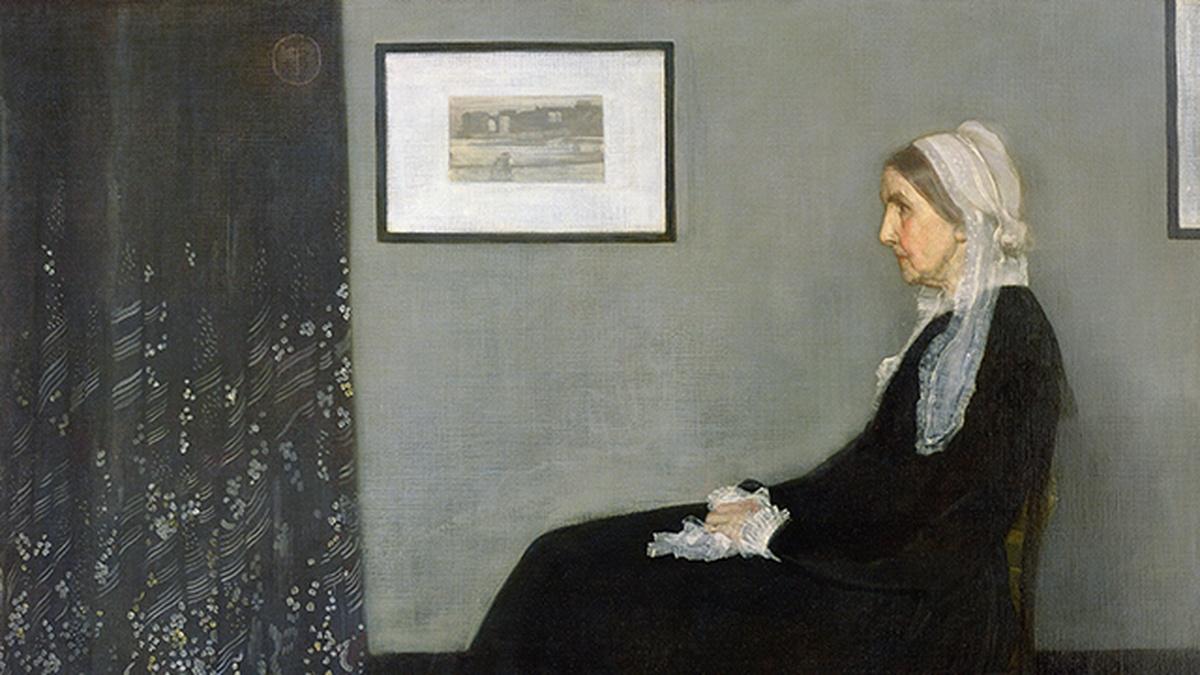 FULL EPISODE
James McNeill Whistler and the Case for Beauty
The original art star, Whistler was a caustic wit and man-about-town. For the first time, a film examines the biography of the man and the course of his career. Best known for his painting popularly called "Whistler's Mother," by his death, Whistler was one of the most recognized artists in Europe and is today placed in the first rank of modern painters.
TRANSCRIPT

Woman: IT'S MONUMENTAL.

THAT WAS TRUE FROM THE VERY BEGINNING.

Woman: OF COURSE THE PEOPLE AT THE TIME

SAID SHE WAS THINKING ABOUT HER SON.

SHE WAS THINKING ABOUT HER SON.

SHE WAS PRAYING FOR HIM.

Man: WHISTLER WAS FUN TO BE AROUND.

Woman: A GADFLY.

Woman: A BARBED WIT THAT COULD CUT PEOPLE TO SHREDS.

Man: HE WAS A VOLATILE PERSON.

Woman: YOU KNOW, I REALLY CAN'T SAY

ANYTHING VERY NICE ABOUT HIM.

Man: YOU DIDN'T KNOW WHAT YOU WERE GOING TO GET WITH WHISTLER,

WHICH WAS MAYBE PART OF THE FUN.

Man: WHISTLER'S BRAND IS THE TOTAL PACKAGE.

Woman: I LOVE HIS HAIR.

HE HAS THIS MOP OF THICK, WILD BLACK CURLS.

Man: BUT WITH A BRILLIANT ONE WHITE LOCK.

Woman: AND THEN OF COURSE THERE WAS THE MONOCLE.

YOU KNOW...

Man: MAKING HIMSELF FAMOUS FOR BEING FAMOUS WAS A PRELUDE

TO ACTUALLY BEING FAMOUS AS A GREAT PAINTER.

Woman: THERE WAS NO ONE LIKE WHISTLER.

Man: HE IS DETERMINED TO MAKE BEAUTY OUT OF THE EVERYDAY.

HE THEN TURNS IT INTO ARTISTRY.

Woman: THE REMARKABLE THING ABOUT HIM

WAS THAT HE PAINTED THE AIR.

YOU CAN'T REALLY PAINT THE AIR,

BUT THAT'S EXACTLY WHAT HE WAS TRYING TO DO.

Narrator: IN ART AND IN LIFE,

JAMES McNEILL WHISTLER WENT HIS OWN WAY,

A PAINTER WHO RADICALLY CHANGED THE COURSE OF MODERN ART.

THE PICTURE OF HIS MOTHER WAS JUST THE BEGINNING.

Announcer: MAJOR FUNDING

FOR JAMES McNEILL WHISTLER AND THE CASE FOR BEAUTY

WAS PROVIDED BY THE NATIONAL ENDOWMENT FOR THE HUMANITIES.

ADDITIONAL FUNDING WAS PROVIDED BY...

BY THE FOLLOWING...

AND BY VIEWERS LIKE YOU.

THANK YOU.

Narrator: DANDY, WIT, MAN-ABOUT-TOWN,

JAMES McNEILL WHISTLER WAS THE ORIGINAL ART STAR.

Stephen Calloway: THERE'S SOMETHING ABOUT WHISTLER

THAT REALLY FASCINATINGLY FITS INTO THE IDEA

THAT YOU ARE A SELF-CREATED CHARACTER,

THAT YOU PRESENT A BRILLIANT IMAGE,

THAT YOU ASTONISH, YOU SURPRISE PEOPLE,

YOU ENTERTAIN THEM.

AND I THINK THAT'S SOMETHING WHICH WE CAN SEE

IN WHISTLER'S PERSONALITY AND CHARACTER.

Lee Glazer: HE SEEMED TO RECOGNIZE THAT HE WAS LIVING

IN THE NEW MODERN MOMENT FOR ARTISTS.

YOU CAN SEE HIM TREATING HIS OWN PERSONA

AS IF IT WERE A WORK OF ART, CRAFTING HIMSELF,

BRANDING HIMSELF SO THAT HE WOULD BE A DISTINCT PLAYER

IN THIS VERY CROWDED ARTISTIC MARKETPLACE.

Sarah Burns: HE HAS THIS MOP OF THICK, WILD BLACK CURLS

AND ONE WHITE LOCK OF HAIR.

SOMETIMES HE WOULD TIE IT UP WITH A LITTLE BOW.

AND OF COURSE THEN THERE WAS THE MONOCLE.

YOU KNOW...

YOU KNEW YOU WERE WITH WHISTLER

WHEN YOU SAW THE WHITE PLUME AND THE MONOCLE,

THE ELEGANTLY FITTED SORT OF SLIGHTLY OLD-FASHIONED CLOTHES.

AND THE BAMBOO WAND.

Daniel Sutherland: HE ALTERNATES BETWEEN

THIS ENORMOUS SELF-CONFIDENCE AND ENORMOUS SELF-DOUBT.

AND I THINK THAT'S WHAT MAKES HIM SO INTRIGUING.

HIS PUBLIC IMAGE IS OF SOMEONE WHO NEVER DOUBTED HIMSELF.

HE PURPOSELY CREATES THIS OTHER WHISTLER.

HE TALKS ABOUT THE OTHER WHISTLER

AS APART FROM HIMSELF.

William Merritt Chase: THERE WERE TWO DISTINCT SIDES

TO WHISTLER.

ONE WAS WHISTLER IN PUBLIC--

THE BRILLIANT, FLIPPANT, CARELESS IDLER;

THE OTHER WAS WHISTLER OF THE STUDIO--

THE EARNEST, TIRELESS, SOMBER WORKER.

WILLIAM MERRITT CHASE.

Narrator: JAMES McNEILL WHISTLER WAS BORN IN 1834

IN LOWELL, MASSACHUSETTS.

BUT HE SPENT HIS YOUTH

IN THE RUSSIAN CITY OF ST. PETERSBURG.

Linda Merrill: HE SPOKE OF ST. PETERSBURG

AS HIS RUSSIAN CRADLE.

THAT'S WHERE HE IMAGINED HIS LIFE BEGAN.

THAT'S WHERE IT ALL HAPPENED FOR HIM.

HIS FIRST ART LESSONS, HIS FIRST EXPOSURE TO GREAT ART,

TO AN ARISTOCRATIC LIFESTYLE, TO ELITISM AND SNOBBERY.

THINGS THAT WOULD COME BACK AND AFFECT HIM LATER IN HIS LIFE.

Sutherland: THERE'S A STRONG SENSE OF EGOTISM IN WHISTLER,

AND YOU SEE THAT EARLY ON.

AS A BOY HE'S A HANDFUL.

Jemie: NO, NO, NO!

Sutherland: BUT HE ALWAYS WAS SOMEONE

WHO FROM AN EARLY AGE DECIDED

THAT HE WAS GOING TO GO HIS OWN WAY,

AND IN TIME THIS SIMPLY BUILDS INTO A SELF-CONFIDENCE

THAT HE KNOWS WHAT'S RIGHT.

Narrator: JEMIE LIKED NOTHING BETTER THAN TO DRAW.

HE TOOK LESSONS AT THE IMPERIAL ACADEMY OF FINE ARTS,

FILLING NOTEBOOKS WITH IMPRESSIONS OF HIS YOUNG WORLD.

Merrill: PEOPLE WOULD SAY THAT HE WAS A PRODIGY

AND HE GOT AN IDEA OF HIMSELF AS A PRIVILEGED CHILD.

HE OBVIOUSLY HAD NATURAL GIFTS. HE WAS SPECIAL.

Narrator: WHISTLER'S FATHER,

MAJOR GEORGE WASHINGTON WHISTLER,

A WORLD-FAMOUS ENGINEER,

HAD BEEN CHOSEN BY TSAR NICHOLAS I

TO SUPERVISE CONSTRUCTION OF THE RAILROAD

BETWEEN MOSCOW AND ST. PETERSBURG.

JEMIE WAS NINE YEARS OLD WHEN THE FAMILY ARRIVED IN RUSSIA.

Sutherland: FOR MUCH OF HIS LIFE

HE THOUGHT HE WANTED TO BE A PROFESSIONAL SOLDIER.

LIVING IN ST. PETERSBURG,

ON THE FRINGES OF THE TSAR'S COURT,

HE AND HIS FAMILY WERE INVITED TO WITNESS

THESE GRAND MILITARY REVIEWS,

AND, OF COURSE, THIS 11- OR 12-YEAR-OLD BOY,

YOU'RE CAUGHT BY THE SPLENDOR AND POMP AND CIRCUMSTANCE

OF ALL OF THAT.

BUT BY THE AGE OF 14

WITH THE DRAWING LESSONS HE HAD RECEIVED,

HE REALLY WAS THINKING HE WANTED TO BE AN ARTIST.

AND THERE IS A SERIES OF LETTERS

IN WHICH HE TELLS HIS FATHER, "I WANT TO BE AN ARTIST."

James McNeill Whistler: I HOPE, DEAR FATHER,

YOU WILL NOT OBJECT TO MY CHOICE, A PAINTER,

FOR I WISH TO BE ONE SO VERY MUCH

AND I DON'T SEE WHY I SHOULD NOT,

MANY OTHERS HAVE DONE SO BEFORE.

Narrator: WHEN WHISTLER WAS 14,

HIS FATHER DIED FROM THE CHOLERA EPIDEMIC

THAT SWEPT ST. PETERSBURG.

Sutherland: LITTLE JEMIE WHISTLER DID OPENLY WEEP,

AND FOR DAYS AT A TIME.

HE AND HIS FATHER WERE BEGINNING TO TALK THE SAME LANGUAGE.

HIS FATHER IS BEGINNING TO UNDERSTAND HIS SON,

AND THEN JUST LIKE THAT THE FATHER'S GONE.

Narrator: NEWLY WIDOWED, ANNA McNEILL WHISTLER

LEFT RUSSIA FOR AMERICA WITH HER FAMILY.

WITHIN TWO YEARS,

JEMIE WAS ACCEPTED AT HIS FATHER'S ALMA MATER,

THE UNITED STATES MILITARY ACADEMY AT WEST POINT.

HE RECEIVED TOP MARKS IN DRAWING

BUT EXCELLED AT VERY LITTLE ELSE.

HIS MOTHER CAUTIONED HIM TO PAY ATTENTION TO HIS STUDIES.

Anna McNeill Whistler: I DELIGHT IN YOUR CHEERFULNESS,

MY DEAR BOY.

I ONLY WARN YOU NOT TO BE A BUTTERFLY

SPORTING ABOUT FROM ONE TEMPTATION TO IDLENESS

TO ANOTHER.

Narrator: BUT HER SON FAILED TO FOLLOW THE RULES.

Anna McNeill Whistler: YOU SAID TO ME, MY DEAR CADET,

THAT YOU WOULD TRY TO HAVE NO MORE DEMERITS.

WILL IT NOT BE A GOOD TIME TO TURN OVER A NEW LEAF?

Narrator: HE DID NOT AND WAS DISMISSED.

WITHIN A YEAR WHISTLER WAS BACK IN EUROPE,

NEVER RETURNING TO THE UNITED STATES,

LIVING THE ROMANTIC LIFE OF A BOHEMIAN ARTIST IN PARIS.

Merrill: I THINK IT WAS LIKE A FAIRY TALE TO HIM.

HE WAS UNHAPPY SINCE THEY LEFT RUSSIA;

HE NEVER FOUND A NICHE FOR HIMSELF.

AND I THINK THIS WAS A STORY

OF ESCAPE AND FREEDOM AND NON-CONFORMITY.

HE WENT TO PARIS TO LIVE THAT BOHEMIAN LIFE.

HE DIDN'T GO FOR ARTISTIC TRAINING,

THE WAY SO MANY AMERICANS DID.

THAT WAS SORT OF SECONDARY FOR HIM.

Narrator: HE FIT RIGHT IN WITH THE RHYTHMS OF PARISIAN LIFE.

HE ATTENDED ART CLASSES, BUT DID NOT TAKE THEM SERIOUSLY.

HE HAD ENOUGH NATURAL TALENT TO SKATE THROUGH,

WORKING WHEN AND WHERE IT SUITED HIM.

Gordon Cooke: HE WAS ONE OF THE FIRST AMERICANS IN PARIS.

IT MUST HAVE BEEN EXCITING TO HIM.

AND I THINK HE LOOKED AT THE THINGS THAT HE SAW

WITH THE EYES OF SOMEBODY WHO IS YOUNG,

SOMEBODY WHO IS AN ARTIST,

AND SOMEBODY WHO HAS JUST ARRIVED.

Narrator: CHARLES BAUDELAIRE, THE INFLUENTIAL POET AND CRITIC,

DARED ARTISTS TO PORTRAY EVERYDAY LIFE,

NOT ITS GRAND HEROES.

GUSTAVE COURBET SHOCKED THE PUBLIC

WITH HIS NEW STYLE OF REALISM.

Sutherland: WHISTLER HAD NOT REALLY PAINTED AS SUCH.

AND SO IT WAS PAINTING THAT HE CAME TO PARIS TO LEARN.

Narrator: WHISTLER'S FIRST SERIOUS PAINTINGS

COMBINED BAUDELAIRE'S SUBJECTS AND COURBET'S STYLE.

Cooke: I THINK THAT TO BE A REALIST IN PARIS IN THE 1850s

IS IN ITSELF AN AVANT-GARDE ACT.

AND I THINK HE WAS ALWAYS AN ARTIST

WHO WAS ON TO THE LATEST THING.

HE WAS A NATURAL DRAFTSMAN,

AND HE WAS THERE

WHEN SUDDENLY THE YOUNG WERE INTERESTED IN ETCHING.

Narrator: FROM PARIS, HE JOURNEYED UP THE RHINE,

MAKING ETCHINGS OF VILLAGE LIFE ALONG THE RIVER.

ONE DAY HIS ETCHINGS WOULD BE COMPARED TO THOSE BY REMBRANDT.

Cooke: THEY WERE REALLY THE WORK OF SOMEBODY

WHO HAS ABSORBED EVERY ASPECT OF THE ETCHER'S CRAFT.

Narrator: ON HIS RETURN TO PARIS,

WHISTLER MET ARTIST HENRI FANTIN-LATOUR,

WHO BECAME HIS CLOSE FRIEND AND CONFIDANT.

THEY WERE YOUNG AND TALENTED--

EACH EAGER TO FIND A DISTINCTIVE STYLE.

FANTIN-LATOUR IN PARIS; WHISTLER IN LONDON.

David Park Curry: HE GOES TO BRITAIN

BECAUSE HE THINKS HE CAN DO BETTER THERE.

BRITAIN WASN'T NEARLY AS ADVANCED AS FRANCE

IN ITS SOPHISTICATION ABOUT HOW TO PAINT,

IN ITS AUDIENCES.

SO HE READ THOSE TEA LEAVES

AND HE THOUGHT HE'D JUST DO A LOT BETTER IN BRITAIN.

Tim Barringer: LONDON IN THE 1850s

WAS THE CAPITAL CITY OF THE PLANET.

THE STOCK MARKET WAS THE CENTER OF THE WORLD ECONOMY

AND THE CITY WAS THE CLEARINGHOUSE

FOR PEOPLE AND IDEAS FROM ALL OVER THE WORLD, TOO.

IT WAS A CITY OF ENERGY AND EXCITEMENT.

James McNeill Whistler: MY DEAR LITTLE FANTIN,

IT IS ENGLAND WHICH WELCOMES YOUNG ARTISTS WITH BOTH HANDS.

COME AND SEE HOW YOU CAN EARN MUCH MORE HERE IN ONE MONTH

THAN YOU WOULD THERE IN A YEAR!

WHISTLER.

Sutherland: YOU HAVE THE RISE OF THE REALLY WEALTHY MIDDLE CLASS.

IT'S NO LONGER THE LANDED GENTRY BUYING WORKS OF ART.

IT'S THE PEOPLE WHO LIVE IN LIVERPOOL, IN MANCHESTER,

WHO WORK IN THE CITY, WHO ARE IN COMMERCE OR IN TRADE.

THOSE ARE THE PEOPLE WHO,

IN ORDER TO BE ACCEPTED BY THE OLD ARISTOCRACY,

WANT TO TAKE ON THE TRAPPINGS OF ARISTOCRACY.

AND ONE OF THOSE TRAPPINGS IS TO SHOW HOW CULTURED YOU ARE

AND TO INVEST IN ART.

Narrator: WHISTLER BEGAN SEARCHING FOR SUBJECTS

THAT MIGHT SELL IN THIS EXPANDING MARKETPLACE,

CHOOSING A SITE ALONG THE RIVER KNOWN AS THE "DOCKLANDS."

Barringer: THE RIVER THAMES IS THE ABSOLUTE HEART OF LONDON.

IT'S A BIG, WIDE COMMERCIAL RIVER.

IT'S COVERED WITH FILTHY BARGES, WITH SHIPPING OF ALL KINDS.

THE RIVER IS A KIND OF ARTERY.

BUT THE RIVER IS ALSO A SEWER.

THIS IS THE STINKING MESS PRODUCED BY TWO MILLION PEOPLE.

THIS WOULD CAUSE AWFUL, AWFUL PROBLEMS FOR THE CITY.

IN THE WINTER THERE WOULD BE TERRIBLE FLOODING.

IN THE SUMMER THERE WAS THE GREAT STINK, IT WAS CALLED,

THIS SMELL THAT EMERGED FROM THE RIVER.

AND YET IT WAS ALSO

THIS ULTRAMODERN KIND OF SUPERHIGHWAY

OF COMMERCE AND TRADE.

Margaret MacDonald: THIS WAS DIRTY, DANGEROUS,

THE BIGGEST PORT IN THE WORLD.

IT WAS A VERY DODGY PLACE TO LIVE AND WORK.

BEING AN AMERICAN, HE WAS OUTSIDE SOCIETY.

IT MADE HIM COMFORTABLE WITH LOWER CLASS AND UPPER CLASS.

HE REALLY LOOKED AS THOUGH HE WAS SETTLING THERE.

THE PEOPLE THERE MUST HAVE FELT THAT HE WAS ONE OF THEM.

HE WOULD SIT IN A PUB AND DRAW THE VIEW.

HE LIKED DRAWING SHIPS.

HE WAS RATHER GOOD AT DRAWING SHIPS.

James McNeill Whistler: MY DEAR FANTIN,

I WOULD LIKE YOU TO BE HERE IN FRONT OF A PICTURE

WHICH I AM JOLLY CERTAIN MUST BECOME A MASTERPIECE.

I HAVE NEVER ATTEMPTED SUCH A DIFFICULT SUBJECT.

THE SKY IS SPLENDIDLY PAINTED.

ROPES AND PULLEYS GO ACROSS THE WHOLE PICTURE.

A SAILOR IS CHATTING TO A GIRL WHO IS JOLLY DIFFICULT TO PAINT!

HUSH! NOT A WORD TO COURBET!

Narrator: THE "GIRL" WAS JOANNA HIFFERNAN,

WHISTLER'S MODEL AND MISTRESS,

THE WOMAN WITH WHOM HE WOULD LIVE FOR SIX YEARS.

WHISTLER SUBMITTED HIS RIVER PICTURE

TO LONDON'S EXCLUSIVE ART COMPETITION.

Barringer: THE ROYAL ACADEMY

WITH ITS ANNUAL SUMMER EXHIBITION

WITH THOUSANDS OF PAINTINGS,

HANGING FROM FLOOR TO CEILING,

THIS ENORMOUS, HEAVING, CROWDED MARKETPLACE OF ART.

THAT WAS THE MOST IMPORTANT EVENT IN THE ARTISTIC YEAR.

IF YOU GOT YOUR PAINTING IN THERE, YOU WERE A SUCCESS.

IF YOU DIDN'T, YOU WERE A FAILURE.

IT WAS VERY SIMPLE.

Narrator: HIS REALISTIC PICTURES OF LONDON LIFE

WERE ACCEPTED BY THE ACADEMY.

Burns: HE REALLY, REALLY, REALLY WANTED TO GET NOTICED

AT THE ROYAL ACADEMY.

THAT WAS THE PRESTIGE SHOW.

IT WAS LIKE WHISTLER, HE'S ON HIS WAY.

Narrator: COCKSURE AND CONFIDENT,

HE BEGAN A NEW PAINTING.

HE WANTED IT TO BE A SHOWSTOPPER,

TO BE "INDEPENDENT OF ALL CLAPTRAP,"

AND "APPEAL TO THE ARTISTIC SENSE."

THE MODEL: JO HIFFERNAN.

Merrill: IT TAKES PLACE IN A STUDIO,

AND IT'S A MODEL WHO'S DROPPED HER POSE.

SHE'S WEARY. IT'S THE END OF A LONG DAY.

HE'S ABLE TO PRESENT HIMSELF AS A REALIST,

BUT ALSO IT'S ABOUT ART-MAKING,

AND THAT IS A SIGN

THAT HE'S ABOUT TO MOVE IN A DIFFERENT DIRECTION,

THAT HE'S INTERESTED IN ART FOR ITS OWN SAKE.

Narrator: VICTORIAN AUDIENCES EXPECTED A PAINTING

TO TELL A STORY, TEACH A LESSON, CONVEY A MORAL.

WHISTLER'S PICTURE DID NONE OF THAT.

Burns: WHISTLER ESPOUSED THIS VERY MODERN,

QUITE REVOLUTIONARY DOCTRINE OF ART FOR ART'S SAKE.

THAT A WORK OF ART IS SOMETHING OF BEAUTY

AND THAT THAT'S ITS SOLE REASON FOR EXISTING.

Narrator: CERTAIN OF HIS NEW DIRECTION,

THE ARTIST SENT THE WHITE GIRL TO THE ROYAL ACADEMY.

Burns: SO HE WAS VERY PROUD OF THE PICTURE.

HE WORKED HARD ON IT.

BUT IT WAS REJECTED.

AND YOU CAN IMAGINE HE MUST HAVE BEEN, YOU KNOW,

ABSOLUTELY FLUMMOXED AND OF COURSE ANGRY.

HOW COULD THEY REJECT MY BEAUTIFUL MASTERPIECE?

James McNeill Whistler: THE VAST MAJORITY OF ENGLISH FOLK

CANNOT AND WILL NOT CONSIDER A PICTURE AS A PICTURE,

APART FROM ANY STORY WHICH IT MAY BE SUPPOSED TO TELL.

Glazer: THE RECEPTION OF THE WHITE GIRL

WAS DEFINITELY A KIND OF AH-HA MOMENT FOR HIM

IN THAT IT CRYSTALLIZED FOR HIM THIS NEED TO DISTINGUISH HIMSELF

FROM SORT OF THE MAINSTREAM,

AND THEN HE SORT OF TOOK IT FROM THERE.

Burns: HE BEGAN TO WRITE LETTERS TO THE MAGAZINES,

LETTERS TO THE NEWSPAPER,

EXCORIATING CRITICS OR JUST SORT OF CORRECTING THEM.

YOU KNOW, SORT OF SAYING, NO, YOU'RE WRONG ABOUT MY PICTURE.

BECAUSE, YOU KNOW, YOU'RE A STUPID PHILISTINE.

HE REALIZES THAT PEOPLE ARE READING WHAT HE'S WRITING.

AND THAT THIS IS A WAY TO DRAW ATTENTION

BOTH TO HIMSELF AND TO HIS PICTURES.

Man: SYMPHONY IN WHITE NO. 3

IS NOT PRECISELY A SYMPHONY IN WHITE.

ONE LADY HAS A YELLOWISH DRESS AND BROWN HAIR.

THERE IS A GIRL IN WHITE ON A WHITE SOFA,

BUT EVEN THIS GIRL HAS REDDISH HAIR;

AND OF COURSE THERE IS THE FLESH COLOR OF THE COMPLEXIONS.

THE SATURDAY REVIEW.

James McNeill Whistler: HOW PLEASING THAT SUCH PROFOUND PRATTLE

SHOULD INEVITABLY FIND ITS PLACE IN PRINT!

BON DIEU!

DID THIS WISE PERSON EXPECT WHITE HAIR AND CHALKED FACES?

AND DOES HE THEN, IN ASTOUNDING CONSEQUENCE,

BELIEVE THAT A SYMPHONY IN F CONTAINS NO OTHER NOTE,

BUT SHALL BE A CONTINUED REPETITION OF F, F, F?

FOOL!

Narrator: LONDON'S NEW RESIDENT SETTLED ALONGSIDE THE THAMES

IN THE VILLAGE OF CHELSEA.

HIS NEIGHBORS INCLUDED

PRE-RAPHAELITE PAINTER DANTE GABRIEL ROSSETTI,

WHO WHISTLER INTRODUCED TO THE BEAUTY

OF JAPANESE WOOD BLOCK PRINTS.

FEW IN LONDON HAD PAID ATTENTION TO THEM BEFORE.

Calloway: PEOPLE PARTICULARLY LIKE WHISTLER

ABSOLUTELY LOVED THESE THINGS.

WHISTLER OF COURSE HAD QUITE A GOOD COLLECTION

OF JAPANESE ARTIFACTS HIMSELF.

HE'D BROUGHT MOST OF IT FROM PARIS,

BUT THESE THINGS WERE COMING THROUGH ABOUT THAT TIME.

ARTISTS SORT OF SEIZED UPON THEM AS AN INFLUENCE.

Narrator: WHISTLER'S PASSION FOR ASIAN OBJECTS

EXTENDED TO BLUE-AND-WHITE PORCELAINS FROM CHINA,

WHICH BOTH HE AND ROSSETTI COLLECTED.

Barringer: NEITHER OF THE TWO ARTISTS REALLY HAD ANY MONEY.

BUT WHENEVER THEY DID

THEY WOULD IMMEDIATELY CONVERT IT INTO CERAMICS,

AND THEY VIED WITH EACH OTHER TO CREATE THE GREATER COLLECTIONS.

Calloway: WE KNOW THAT THEY WOULD SET OUT

AND SPEND A WHOLE DAY HUNTING IN JUNK SHOPS,

WALKING ALL THE WAY ALONG THE RIVER,

RIGHT OVER TO THE EAST END

TO WHERE SAILORS SHOPS MIGHT THROW UP UNLIKELY TREASURES.

I THINK LOOKING FOR BLUE-AND-WHITE CHINA

WAS A COMPETITIVE SPORT IN THEIR EYES.

AND THERE ARE LOTS OF WONDERFUL STORIES ABOUT THE RIVALRY...

AND ABOUT EACH STEALING PIECES FROM THE OTHER.

WE'RE TALKING ABOUT A WONDERFUL, VERY, VERY MUCH BOHEMIAN CIRCLE.

Barringer: CHELSEA WAS FUN.

CHELSEA WAS CERTAINLY LESS SUBJECT

TO THE SORT OF REGIME OF POLITE BEHAVIOR.

IT WAS A LITTLE BIT MORE FREE AND EASY.

Calloway: ALL THE FASCINATING PEOPLE

LIVED WITHIN QUITE A SMALL AREA.

THEY ALL KNEW EACH OTHER.

YOU'RE TALKING ABOUT A KIND OF QUITE RACKETY WORLD

OF UNUSUAL FIGURES

WHO ARE REALLY JUST SO ALMOST OUTSIDE NORMAL LONDON SOCIETY.

Narrator: WHISTLER'S CHELSEA FRIENDS DESCRIBED HIM

AS BEING "EMINENTLY ENDOWED WITH GOOD FELLOWSHIP,"

BUT THEIR COMPANION WOULD SOON BE "UTTERLY MISERABLE,"

LIVING "IN RESPECTABILITY" AT THE AGE OF 29.

HIS MOTHER WAS COMING.

James McNeill Whistler: WELL! GENERAL UPHEAVAL!

I HAD A WEEK OR SO TO EMPTY MY HOUSE

AND PURIFY IT FROM CELLAR TO ATTIC!

FIND LODGING FOR JO--

GO TO PORTSMOUTH TO MEET MY MOTHER!

WELL, YOU SEE THE GOINGS-ON!

SOME GOINGS-ON!

GOINGS-ON UP TO MY NECK!

Merrill: HE WAS VERY CLOSE TO HIS MOTHER.

I THINK SHE UNDERSTOOD HIM VERY WELL.

WHEN HE FIRST WENT TO PARIS AND HE WROTE BACK

AND HE SAID HE WAS LIVING

THE DISCIPLINED LIFE OF AN ART STUDENT,

SHE DIDN'T BELIEVE IT AT ALL.

AND SHE SAID, "I CAN ONLY PRAY FOR JEMIE."

I THINK SHE KNEW EXACTLY.

BUT SHE ALSO SAID YOU CAN IMAGINE HOW HE'S IN HIS ELEMENT.

Glazer: SHE REALLY UNDERSTOOD HIS DRIVING AMBITION.

AND I THINK REALLY THAT'S WHY SHE DECIDES

THAT SHE NEEDS TO MOVE IN

AND KEEP HIM ON A REGULAR SCHEDULE

SO THAT HE CAN WORK HARD.

MacDonald: THERE WAS A MARKET FOR PICTURES OF THE THAMES.

AND THERE'S A LOVELY LITTLE PAINTING OF OLD BATTERSEA BRIDGE

IN GRAYS AND BROWNS.

AND IT WAS SO REALISTIC

THAT PEOPLE SAID IT'S LIKE A WINDOW ONTO THE WORLD.

Merrill: HE COULD HAVE JUST CONTINUED TO PAINT REALIST WORKS

AND PROBABLY WOULD HAVE BEEN FAIRLY SUCCESSFUL.

BUT HE WASN'T EVER CONTENT.

WHENEVER HE GOT TO THE POINT

WHERE HE REALLY HAD SUCCEEDED AT SOMETHING,

HE CHALLENGED HIMSELF TO GO FARTHER,

TO DO SOMETHING DIFFERENT.

AND THAT'S WHEN HE DECIDED

THAT HE HADN'T HAD THE EDUCATION THAT HE NEEDED.

James McNeill Whistler: AH, MY DEAR FANTIN,

IT'S THAT DAMNED REALISM

WHICH MADE AN IMMEDIATE APPEAL TO MY VANITY AS A PAINTER!

WHAT A TERRIBLE LACK OF EDUCATION I FEEL I HAVE HAD!

I'M SURE I WILL MAKE UP FOR THE TIME I'VE WASTED--

BUT WHAT A PUNISHMENT!

Sutherland: HE'S TELLING FANTIN "I'M LOST. THIS ISN'T WORKING."

AND IT'S AT THAT TIME THAT HE AND FANTIN WORK OUT THIS IDEA

THAT THEY'RE CAPTIVES OF COLOR

AND THEY NEED TO BREAK AWAY FROM THAT.

HE BEGINS TO CLARIFY HIS THOUGHTS

AND BEGINS TO PRODUCE THE PAINTINGS

THAT WE WOULD RECOGNIZE AS WHISTLERS.

Narrator: HE BEGAN MAKING THE ACADEMIC DRAWINGS

HE HAD NEGLECTED AS A STUDENT,

AND A SERIES OF DELIBERATELY EXPERIMENTAL STUDIES.

Glazer: I THINK THAT INTENSE PERIOD HELPED HIM THINK

ABOUT HOW TO COMPOSE A BEAUTIFUL PICTURE.

IT WAS THIS IDEA OF PURE BEAUTY THAT DIDN'T SEEM TO BELONG

TO THE MUNDANE REALITIES OF EVERYDAY LIFE.

Narrator: HE RAISED THE HORIZON LINE,

AS THE JAPANESE DID.

HE DEVELOPED A RIBBON-LIKE BRUSH-STROKE

AFTER STUDYING THE DRAPERY ON GREEK SCULPTURES.

HE STRUGGLED WITH THE STUDIES FOR THREE YEARS,

BUT DID COMPLETE ANOTHER RELATED PAINTING

THAT HE CALLED "THE BALCONY."

Curry: I LOVE THAT PAINTING.

WE SEE HIM MOVING

TOWARDS THIS AESTHETIC, JAPONESQUE APPROACH

THAT WILL COME TO DOMINATE HIS WORK.

Narrator: WHISTLER POSED MODELS IN JAPANESE DRESS

ON THE BALCONY OF HIS CHELSEA STUDIO,

WHICH LOOKED ACROSS THE RIVER

TO THE INDUSTRIAL REGION CALLED BATTERSEA.

Merrill: IT WAS UGLY.

YOU TRIED NOT TO LOOK AT IT,

AND YET WHISTLER FOUND THE BEAUTY IN IT.

WHAT HAPPENED WITH THE BALCONY IS HE DISCOVERED

THAT HE COULD CONTINUE TO FOLLOW BAUDELAIRE'S ADVICE

AND PAINT THE MODERN WORLD,

BUT HE HAD TO FIND THE BEAUTY IN IT

AND STYLIZE IT.

HE COULDN'T PAINT IT AS HE FOUND IT,

WHICH IS WHAT COURBET WANTED TO DO.

I THINK THAT DISCOVERY CAME TO HIM

AS HE WAS WORKING ON THAT PAINTING.

AND HE BRANDED THE LANDSCAPE VIEW WITH HIS BUTTERFLIES

AS IF TO SAY "THIS IS MY SUBJECT NOW."

Narrator: THE "BUTTERFLY" BECAME WHISTLER'S TRADEMARK.

HIS NICKNAME.

HIS ARTISTIC SIGNATURE.

AND STAMPED HIM AS A UNIQUE PRESENCE ON THE LONDON SCENE.

Burns: ARTISTS WANTED TO BE NOTICED IN THAT WAY.

THEY HAD TO BE.

BECAUSE OTHERWISE HOW WOULD THEY CONNECT WITH PATRONS?

HOW WOULD THEIR NAMES BECOME PUBLIC?

Narrator: WHISTLER WAS NOW A REGULAR GUEST

AT THE LIVERPOOL HOME OF FREDERICK LEYLAND,

A WEALTHY SHIPPING MAGNATE.

THE ARTIST BEGAN STUDIES

FOR A FULL-LENGTH PORTRAIT OF HIS PATRON.

Merrill: HE HAD NEVER PAINTED A FULL-LENGTH PORTRAIT.

AND HE WASN'T REALLY GETTING ANYWHERE WITH IT.

HE WAS AFRAID THAT HE WOULDN'T BE ABLE TO PLEASE LEYLAND.

BUT WHISTLER COULD ALWAYS PLEASE HIS MOTHER.

AND THAT'S WHEN HE HAD THE BREAKTHROUGH.

Anna McNeill Whistler: JEMIE IS NEVER ILL,

HIS TALENT IS TOO EAGER,

SO I WAS NOT SURPRISED AT HIS PREPARING A LARGE CANVAS

LATE THO' IT WAS,

BUT I WAS SURPRISED WHEN THE NEXT DAY HE SAID TO ME:

"MOTHER, I WANT YOU TO STAND FOR ME!

IT IS WHAT I HAVE LONG DESIRED TO DO,

TO TAKE YOUR PORTRAIT."

Narrator: HIS BREAKTHROUGH CAME WITH THE USE OF COLOR.

WHISTLER LIMITED THE PIGMENTS ON HIS PALETTE TO JUST A FEW.

James McNeill Whistler: LOOK AT HOW THE JAPANESE UNDERSTAND IT.

THE SAME COLOR REAPPEARING CONTINUALLY

LIKE THE SAME THREAD--

THE WHOLE FORMING AN HARMONIOUS PATTERN.

Man: IT IS ASTONISHING HOW MUCH MR. WHISTLER

HAS HERE ACCOMPLISHED WITH TWO COLORS,

AIDED BY TOUCHES OF RED ON THE FACE AND HANDS,

AND OF YELLOW IN THE CARPET, FOOTSTOOL,

AND CARDBOARD OF THE DRAWING ON THE WALL.

THE EXAMINER.

Merrill: HE DISCIPLINED HIMSELF TO CREATE THIS MASTERFUL WORK

WITH A MINIMUM OF COLOR.

AND ONCE HE SAW THAT HE COULD DO THAT,

HE FELT THAT HE COULD MOVE ON.

HE DIDN'T HAVE TO DO THESE STUDENT EXERCISES ANYMORE.

Narrator: HE GAVE THE PICTURE A MUSICAL TITLE, "ARRANGEMENT,"

TO EMPHASIZE THE HARMONIOUS EFFECT

OF COLOR, LINE AND COMPOSITION HE WAS SEEKING.

"ARRANGEMENT IN GRAY AND BLACK:

PORTRAIT OF THE ARTIST'S MOTHER."

Merrill: IT'S MONUMENTAL.

I THINK EVERYBODY FEELS A SENSE OF PEACE AND REPOSE

WHEN THEY LOOK AT IT.

AND THAT WAS TRUE FROM THE VERY BEGINNING.

Glazer: THE IMAGE OF HIS MOTHER IS WHAT HE'S BEST KNOWN FOR,

AND IT'S REALLY WHAT ACHIEVED IMMORTALITY FOR HIM,

EVEN IN HIS OWN LIFETIME.

MacDonald: IT WAS EXHIBITED EVERYWHERE.

IT WENT TO EUROPE, IT WENT TO AMERICA.

IT WAS A VERY IMPORTANT STATEMENT FOR HIM.

Merrill: IN THE VERY SAME YEAR

THAT HE WAS WORKING ON THE PORTRAIT OF HIS MOTHER,

HE DISCOVERED THE NOCTURNE FORM,

JUST BY LOOKING OUT THE WINDOW AT THE RIVER ON FOGGY EVENINGS.

Narrator: THE VIEW FROM HIS WINDOW SUGGESTED A SETTING

FOR THE BEAUTIFUL PICTURES WHISTLER WANTED TO PAINT

OF THE MODERN WORLD--

THE URBAN LANDSCAPE.

THE NEW AND ORIGINAL FORM WAS THE RESULT

OF HIS DISCOVERIES ABOUT THE HORIZON LINE,

AND COLOR, APPLIED IN BROAD BANDS ACROSS THE CANVAS.

Sutherland: HE'S TRYING TO FIND A WAY

TO DEPICT NATURE AS HE SEES IT.

IT'S NOT A LITERAL DEPICTION OF NATURE.

THE PAINTER ADDS HIS OWN SENSE OF ATMOSPHERE,

HIS OWN SENSE OF EMOTION, IF YOU WILL.

AND WHISTLER WAS CONSTANTLY STRUGGLING,

TRYING TO FIND THAT WAY.

Curry: HE IS DETERMINED TO MAKE BEAUTY OUT OF THE EVERYDAY.

HE SAW WHAT WAS BEFORE HIM, BUT HE THEN TURNS IT INTO ARTISTRY.

Sutherland: I REMEMBER AS AN 11- OR 12 YEAR-OLD BOY

WALKING THROUGH THE GALLERIES AND SEEING THAT

AND JUST STOPPING AND SAYING, "AH, THAT'S DIFFERENT."

AND THAT'S EXACTLY THE REACTION WHISTLER WAS TRYING TO ACHIEVE.

GET PEOPLE TO SAY, "AH, THIS IS DIFFERENT.

THIS IS A DIFFERENT WAY TO SEE THE NIGHT.

THIS IS A DIFFERENT WAY TO SEE THE THAMES."

Merrill: HE LETS GO OF WESTERN PERSPECTIVE.

IT ALLOWS HIM TO MAKE THESE PAINTINGS

THAT ARE FUNDAMENTALLY DECORATIVE.

NOW, SOME PEOPLE WOULD SAY THAT WAS A PROBLEM WITH THEM,

THEY WERE TOO SUPERFICIAL, THAT THEY DIDN'T HAVE ANY MEANING.

BUT THAT'S WHAT HE WAS AFTER.

Curry: THERE IS NO DESTINATION IN THE PICTURE.

HE LETS THOSE ELISIONS AWAKEN YOUR OWN IMAGINATION.

IF YOU'VE NEVER BEEN IN A FOG, YOU MIGHT HAVE A LITTLE TROUBLE,

BUT MOST OF US HAVE.

CERTAINLY THE LONDON AUDIENCE KNEW THAT.

Merrill: THOSE IDEAS ABOUT LIBERATING ART FROM SUBJECT MATTER,

WHISTLER WAS ONE OF THE FIRST TO DO THAT.

THAT'S HOW HE WAS SEEN, AS A PRECURSOR OF ABSTRACTION.

Curry: HE PREFERS AMBIGUITY TO INFORMATION.

HE NEVER, EVER, I DON'T THINK, COMPLETELY ABANDONS REALITY.

THAT IS TO SAY THERE IS NO SUCH THING

AS A COMPLETELY ABSTRACT WHISTLER.

THAT WILL COME AFTER HIM.

Burns: UNIQUE VISION. BEAUTY.

AND AT THE SAME TIME THAT THE NOCTURNES

ARE ADMIRED IN THIS WAY,

THERE'S ALSO THIS ANXIETY THAT, WELL, BUT WHAT'S IN THEM?

THEY LOOK SO EASY.

WHAT'S THE STORY?

WHERE'S THE SETTING?

IS THIS ART?

Glazer: WHEN YOU WERE BUYING A WHISTLER,

YOU WERE BUYING THE WHOLE PACKAGE.

YOU WERE BUYING NOT NECESSARILY A PARTICULAR OBJECT,

BUT MAYBE YOU WERE BUYING INTO A STYLE, AN IDEA,

A CONCEPT OF ART THAT WAS SPECIAL,

THAT WAS DIFFERENT.

Narrator: ON "PICTURE SUNDAYS," LONDON'S ARTISTS

OPENED THEIR STUDIOS TO SHOW THEIR NEWLY FINISHED WORK.

WHISTLER'S SUNDAYS WERE EXCLUSIVE

AND INCLUDED BREAKFAST.

THE BREAKFASTS WERE TO AMUSE AND EDUCATE,

SOMETIMES TO SHOCK,

ALWAYS TO SELL--

BOTH WHISTLER AND HIS ART.

THE SUNDAY BREAKFASTS ENSURED

THAT WHISTLER REMAINED THE TALK OF THE TOWN.

Curry: PEOPLE CAME AND THEY HAD RATHER A MARVELOUS TIME

EATING WHAT WAS I GUESS FAIRLY EXOTIC IN LONDON--

AMERICAN FOOD.

AND CHITCHATTING ABOUT THE ARTS AND SO FORTH.

HE WAS GOOD AT THE SALON.

HE WAS FUN TO BE AROUND, YOU KNOW,

HE WAS A WITTY, WITTY MAN.

Woman: NOT THE FISH!

[GASPS]

[LAUGHTER]

Curry: BUT IT COULD TURN SHARP.

YOU DIDN'T KNOW WHAT YOU WERE GOING TO GET WITH WHISTLER,

WHICH WAS MAYBE PART OF THE FUN.

Burns: ARTISTS WERE SUPPOSED TO BE HIGH-MINDED.

THEY WEREN'T SUPPOSED TO PICK FIGHTS WITH CRITICS

AND WITH ACTUAL PEOPLE.

WHISTLER WAS SO BELLIGERENT, HE WOULD PUNCH PEOPLE.

THERE'S THAT STORY ABOUT PUNCHING HIS BROTHER-IN-LAW

THROUGH A PLATE GLASS WINDOW.

YOU KNOW, WHAT REFINED SPIRITUAL ARTIST DOES SUCH A THING?

Glazer: WHISTLER DEFINITELY WAS THIN-SKINNED

AND ALMOST EVERY RELATIONSHIP THAT HE ENTERED INTO

ENDED BADLY, WITH HIM FEELING LIKE HE WAS THE WRONGED PARTY,

THAT HIS TRUST HAD BEEN BETRAYED,

THAT PEOPLE WEREN'T LIVING UP TO HIS VERY HIGH EXPECTATIONS.

Narrator: ONE OUTCOME WAS A BREAKUP WITH JO.

YOUNG MODEL MAUD FRANKLIN BECAME HIS MISTRESS

AND TOOK CHARGE OF THE HOUSEHOLD

SO WHISTLER COULD CONCENTRATE ON MAKING ART.

Merrill: HE WAS REALLY, REALLY HAPPY.

HE WAS SEEING THE WORLD OPENING TO HIM IN THE 1870s.

Joyce Hill Stoner: HE WORKS OUT HIS MATURE STYLE

AND HIS BEST SOUNDING BOARDS, BESIDES HIS MOTHER,

IN THAT PERIOD, ARE THE LEYLANDS.

FREDERICK AND FRANCES LEYLAND.

Narrator: FREDERICK LEYLAND COMMISSIONED WHISTLER

TO DECORATE THE STAIR HALL IN HIS NEW LONDON MANSION,

THEN ASKED HIM TO ADD A FEW FINAL DETAILS

TO THE DINING ROOM.

Stoner: HE HAS ALREADY BOUGHT

WHISTLER'S "PRINCESS IN THE LAND OF PORCELAIN."

WHISTLER IS VERY CONCERNED

ABOUT WHOLE SETTINGS FOR HIS PAINTINGS.

SO WHAT HAPPENS?

HE DECIDES TO REPAINT THE WHOLE THING, STEM TO STERN.

Narrator: HE WORKED OVER EVERY INCH,

GILDING THE WOODEN SHELVING,

CREATING ELABORATE DESIGNS INSPIRED BY PEACOCK FEATHERS.

James McNeill Whistler: MY DEAR MRS. LEYLAND,

NEARLY DONE NOW-- FOR I AM AT IT EVERY DAY--

THREE OR FOUR DAYS MORE AND I SUPPOSE I WILL HAVE FINISHED--

I AM NEARLY BLIND WITH SLEEP AND BLUE PEACOCKS FEATHERS.

Glazer: HE TALKS ABOUT BEING UP ON THE SCAFFOLDING

PRACTICALLY BEFORE THE SUN COMES UP

AND NOT COMING DOWN TILL NINE O'CLOCK AT NIGHT.

AND IT'S CLEAR THAT HE BEGINS TO REALLY THINK OF THE ROOM

AS A TOTAL WORK OF ART.

James McNeill Whistler: MON CHER LEYLAND--

THE DINING ROOM IS REALLY ALIVE WITH BEAUTY--

BRILLIANT AND GORGEOUS, WHILE AT THE SAME TIME DELICATE

AND REFINED TO THE LAST DEGREE.

BUT DON'T COME UP--

I HAVE NOT YET QUITE DONE!

THERE IS NO ROOM IN LONDON LIKE IT.

Merrill: WHISTLER WAS ESPECIALLY PROUD OF THE SHUTTERS.

THE SHUTTERS WITH THE BEAUTIFUL FULL-LENGTH PEACOCKS.

HE THOUGHT THOSE WERE THE CROWNING GLORY OF THE ROOM.

Sutherland: WHISTLER WANTS TO CHARGE HIM 2,000 GUINEAS.

BUT LEYLAND BALKS AT THE PRICE.

AND LEYLAND IS ONLY WILLING TO PAY HALF THAT,

AND THAT'S ALL THAT WHISTLER GETS.

Merrill: HE HAD BEEN WORKING ON THE PEACOCK ROOM

TO THE EXCLUSION OF EVERYTHING ELSE.

SO HE HAD NO NEW WORKS TO SELL.

HE SHOULD HAVE BEEN PAID FOR HIS TIME.

HE SAID TO LEYLAND THAT THE SHUTTERS ALONE

WERE WORTH WHAT HE WAS ASKING FOR THE ROOM.

AND LEYLAND SAID, "WELL, THEN TAKE THE SHUTTERS."

ALL HIS RESPECT FOR LEYLAND JUST DISINTEGRATED,

AND HE NO LONGER CARED WHAT LEYLAND THOUGHT.

THE ROOM WENT FROM BEING LEYLAND'S TO BEING WHISTLER'S.

Narrator: HE ADDED TWO QUARRELING PEACOCKS:

"ART," A SILVER-PLUMED WHISTLER,

AND "MONEY," HIS PATRON, ATOP A PILE OF SILVER COINS.

AFTER EIGHT MONTHS OF WORK,

LEYLAND BANISHED HIM FROM THE HOUSE,

YET HE NEVER CHANGED THE PEACOCK ROOM.

[FIREWORKS EXPLODING]

Crowd: OOH! AAH!

[ACCORDION PLAYING]

THE CREMORNE PLEASURE GARDEN,

NOT FAR FROM WHISTLER'S CHELSEA HOME,

OFFERED MANY AMUSEMENTS, INCLUDING A FIREWORKS DISPLAY

WHICH WHISTLER CAPTURED IN A NOCTURNE,

"THE FALLING ROCKET."

Merrill: PEOPLE DIDN'T HAVE THE VOCABULARY FOR IT.

THEY COULDN'T DESCRIBE WHISTLER'S PAINTINGS

AS NEARLY ABSTRACT

BECAUSE THAT WORD JUST WASN'T PART OF THE LEXICON YET.

SO IT WAS DIFFICULT FOR THEM TO KNOW WHAT IT WAS

EXACTLY ABOUT WHISTLER'S PAINTINGS

THAT SEEMED SO AVANT-GARDE,

BUT THEY RECOGNIZED THAT HE WAS SOMEHOW OUT IN FRONT.

Narrator: THE PAINTING WAS SHOWN AT THE OPENING EXHIBITION

OF A POSH LONDON GALLERY.

WHISTLER'S ASKING PRICE, 200 GUINEAS--

$20,000.

Barringer: IT'S A FANTASTIC PARTY.

JOHN RUSKIN, OF COURSE, IS IN ATTENDANCE.

RUSKIN WAS THE MOST IMPORTANT WRITER ON ART

IN THE ENGLISH LANGUAGE IN THE 19th CENTURY.

A GOOD REVIEW FROM RUSKIN

WAS THE BEST THING FOR AN ARTISTIC CAREER.

RUSKIN'S IDEA OF ART MAKING

WAS THAT THE HARDER YOU WORK ON IT,

THE BETTER IT BECOMES.

THAT YOU SHOULD ACTUALLY BE ABLE TO SEE THAT PROCESS

IN THE FINISHED CANVAS.

TURN TO WHISTLER, AND HE MIGHT HAVE TAKEN JUST AN HOUR OR TWO

TO CONJURE UP THIS IMPRESSION.

AND FOR RUSKIN THAT WAS ALMOST BLASPHEMY.

Calloway: RUSKIN IS THE MOST FAMOUS ART CRITIC OF THE DAY.

INCREDIBLY HIGHLY RESPECTED.

HE ABSOLUTELY HATES WHAT WHISTLER DOES.

AND HE WRITES THIS TERRIBLE REVIEW.

John Ruskin: I HAVE SEEN, AND HEARD,

MUCH OF COCKNEY IMPUDENCE BEFORE NOW;

BUT NEVER EXPECTED TO HEAR A COXCOMB ASK 200 GUINEAS

FOR FLINGING A POT OF PAINT IN THE PUBLIC'S FACE.

Barringer: FLINGING A POT OF PAINT IN THE FACE OF THE PUBLIC.

WHISTLER WAS INCLINED TO IGNORE IT INITIALLY.

BUT A TRIAL

WITH THE MOST FAMOUS ART CRITIC IN THE ENGLISH LANGUAGE

WOULD OBVIOUSLY BE A WONDERFUL OPPORTUNITY

FOR HIM TO ACTUALLY ADDRESS SOME OF HIS IDEAS

TO A MUCH BROADER AUDIENCE.

AND HE WENT AHEAD AND SUED JOHN RUSKIN FOR LIBEL.

Sutherland: INTERESTINGLY ENOUGH ASKING FOR DAMAGES

OF A THOUSAND POUNDS,

WHICH WAS THE AMOUNT LEYLAND OWED HIM.

WHISTLER WAS REALLY GOING TO BE HURT IN THE POCKETBOOK

IF HE DIDN'T RESPOND IN SOME WAY.

Burns: THERE WAS CERTAINLY A FILTHY LUCRE ELEMENT

IN THE LAWSUIT,

BUT IT ENABLED WHISTLER TO GAIN A PLATFORM

WHERE HE COULD LAY OUT HIS IDEAS ABOUT ART AND HIS OWN ART,

AND WHY IT WAS WORTH SOMETHING.

Curry: THE WHISTLER-RUSKIN TRIAL WAS IMPORTANT IN SO MANY WAYS.

ESSENTIALLY IT WAS AESTHETICS THAT WAS ON TRIAL.

IT WAS THE ARTIST'S ABILITY TO CHOOSE THAT WAS ON TRIAL.

Narrator: IN COURT, HE WAS EXAMINED BY SIR JOHN HOLKER.

Sir John Holker: HOW LONG DO YOU TAKE

TO KNOCK OFF ONE OF YOUR PICTURES?

James McNeill Whistler: OH, I "KNOCK ONE OFF" POSSIBLY

IN A COUPLE OF DAYS--

ONE DAY TO DO THE WORK AND ANOTHER TO FINISH IT.

Sir John Holker: THE LABOR OF TWO DAYS IS THAT FOR WHICH YOU ASK 200 GUINEAS?

James McNeill Whistler: NO, I ASK IT FOR THE KNOWLEDGE

I HAVE GAINED IN THE WORK OF A LIFETIME.

Merrill: IN TALKING ABOUT THE NOCTURNES,

HE MADE IT CLEAR THAT THEY WEREN'T SUPPOSED TO SEE THEM

AS A PORTRAIT OF A PLACE.

THEY WERE MEANT TO APPRECIATE THE ARRANGEMENT

OF COLOR AND FORM ON THE CANVAS.

AND THAT WAS A VERY NEW WAY OF LOOKING AT ART.

Barringer: THE NEWSPAPERS THOUGHT WHISTLER WAS RIDICULOUS

AND SAID SO IN NO UNCERTAIN TERMS.

AND SO IN FACT HE CAME OUT OF IT BRUISED AND BATTERED,

EVEN THOUGH HE WON.

Narrator: THE JURY SIDED WITH WHISTLER,

BUT AWARDED HIM A MERE FARTHING IN DAMAGES--

LESS THAN A QUARTER OF A PENNY.

MUCH LESS THAN THE THOUSAND POUNDS HE SOUGHT.

IT WAS A VICTORY THAT BORE

"A VERY STRIKING RESEMBLANCE TO A DEFEAT."

Barringer: WHISTLER WAS VERY BITTER

BECAUSE THIS WAS GOING TO BE HIS ONE GREAT MOMENT OF TRIUMPH,

BUT THAT WASN'T WHAT HAPPENED.

HE HAD TO PAY COSTS.

HE HAD TO PAY FOR HIS OWN LAWYERS.

SO IN FACT WHISTLER WAS SUCCESSFUL, VINDICATED,

AND BANKRUPTED.

Burns: I THINK THAT IT DID SUCCEED

IN DRAWING A LOT OF ATTENTION TO HIS WORK.

HOW COULD YOU NOT BE INTERESTED?

IT DIDN'T TAKE HIM SIX MONTHS TO PAINT THIS,

BUT IT TOOK HIM A LIFETIME OF KNOWLEDGE

TO REACH THIS POINT, TO CREATE THIS NEW BEAUTY.

Barringer: LOOKING BACK ON THE WHISTLER-RUSKIN TRIAL,

WE CAN SEE IT AS ONE OF THOSE GREAT LINES IN THE SAND,

ONE OF THOSE MOMENTS WHEN SUDDENLY IT BECOMES CLEAR

THAT THINGS HAVE CHANGED, THAT THE WORLD OF ART HAS MOVED ON,

THAT A CERTAIN KIND OF MODERN PAINTING WAS EMERGING

FROM THIS WORLD OF MID-VICTORIAN LONDON.

Narrator: THE FARTHING IN DAMAGES HAD DONE NOTHING

TO SETTLE WHISTLER'S MOUNTING DEBTS--

500,000 POUNDS OWED ALL AROUND TOWN.

AT AGE 44, THE "BUTTERFLY" WAS A PAUPER.

HE WAS FORCED TO SELL NEARLY EVERYTHING HE OWNED.

HE HAD BEEN GREATLY PRAISED FOR HIS ETCHINGS OF THE THAMES.

A SHARP NEEDLE AND A COPPER PLATE

COULD BE THE WAY TO START OVER.

WHEN LONDON'S FINE ART SOCIETY REQUESTED A DOZEN ETCHINGS

OF RECOGNIZABLE VENETIAN LANDMARKS,

WHISTLER AND MAUD LEFT FOR ITALY.

IT WAS AN OPPORTUNITY, HE WROTE HIS MOTHER,

"TO TURN SOME COPPER INTO GOLD."

Cooke: IT'S IMPORTANT TO REMEMBER

WHAT AN EVENT THIS WAS IN HIS LIFE.

HE'D RECENTLY BEEN BANKRUPTED AND HUMILIATED.

HE WENT TO VENICE WITH THE IDEA OF REBUILDING HIS LIFE.

Calloway: WHISTLER GOES THERE

AND CREATES AN ENTIRELY DIFFERENT VISION OF VENICE

IN A FEW BEAUTIFULLY ETCHED LINES.

THE ETCHINGS ARE SO FAR AND AWAY

UNLIKE ANYTHING ELSE THAT'S BEEN DONE,

THAT THEY ARE, YOU KNOW, A MOMENT OF SHEER GENIUS.

James McNeill Whistler: VENICE WILL BE SUPERB--

AND YOU MAY DOUBLE YOUR BETS ALL AROUND...

I HAVE LEARNED TO KNOW A VENICE IN VENICE

THAT THE OTHERS NEVER SEEM TO HAVE PERCEIVED...

THE WORK I DO IS LOVELY,

AND THESE OTHER FELLOWS HAVE NO IDEA!

OF WHAT I SEE WITH CERTAINTY.

Narrator: THE VENICE ETCHINGS WERE DISPLAYED

IN NOT ONE, BUT TWO EXHIBITIONS AT THE FINE ART SOCIETY.

EACH ETCHING ON VIEW WAS PRINTED BY WHISTLER HIMSELF,

REWORKED AND REWORKED AGAIN

UNTIL HE WAS SATISFIED WITH THE RESULT.

Curry: WHISTLER'S SENSE OF A PERFORMANCE

EXTENDED TO THE PACKAGING OF AN EXHIBITION

AT WHICH, OF COURSE, HE WOULD APPEAR

IN HIS SIGNATURE OUTFIT AND CANE AND WHATNOT.

HE ADVISED WOMEN WHAT TO WEAR TO HIS SHOWS

BECAUSE HE DIDN'T WANT THEM TO RUIN THE COLOR SCHEME.

IT WAS LIKE AN ENVIRONMENT WITH A PERSONA,

AND YOU WOULD GO AND EXPERIENCE THE WHOLE,

AND TO ME THAT REALLY PRESAGES THE PERFORMANCE ART

OF THE 20th CENTURY.

Narrator: THE SHOW FOR THE SECOND SET OF VENICE ETCHINGS

WAS A SENSATION.

WHITE FELT WALLS.

WHITE FRAMES.

YELLOW FURNITURE.

YELLOW SKYLIGHT COVER.

YELLOW FLOORING.

HE TITLED THE EXHIBIT

"ARRANGEMENT IN WHITE AND YELLOW."

HE EVEN WORE YELLOW SOCKS TO THE PRIVATE VIEW.

Cooke: IT WAS ONE OF THE EARLY EVENTS

IN THE DEVELOPMENT OF MODERN ART

AND THE IDEA OF THE ARTIST BEING IN CONTROL

FROM BEGINNING TO END.

Curry: HE DID MATURE AS AN ARTIST IN VENICE

IN INTERESTING WAYS,

BUT HE'S ALSO A MOVIE STAR THAT NEEDS TO RESTART HIS CAREER.

Narrator: HIS FINANCIAL LIFE, AT LAST, WAS STABLE.

SALES OF HIS VENICE WORK HAD GIVEN WHISTLER AN INCOME.

FURTHERMORE, HE WAS PAINTING PORTRAITS,

AN ARTIST'S STOCK-IN-TRADE.

Sutherland: THE PEOPLE WHO WERE WILLING TO BE PAINTED BY HIM

WERE PEOPLE WHO THOUGHT LIKE HIM,

WHO WERE A LITTLE ECCENTRIC.

THEY KNEW IN GETTING A WHISTLER

THAT THEY WERE GETTING SOMETHING A LITTLE OFF THE BEATEN TRACK.

Curry: WE HAVE QUITE A FEW ACCOUNTS OF SITTERS THINKING,

"ARE WE DONE YET?"

LITTLE CECILY ALEXANDER CRIED.

I'VE FORGOTTEN HOW MANY SITTINGS SHE HAD.

HE HAD TO GET IT RIGHT IN HIS OWN MIND,

AND ONLY HE COULD SAY WHEN IT WAS FINISHED.

IT WASN'T ABOUT THE FACE OF THE SITTER

WHEN WHISTLER PAINTED YOUR PORTRAIT.

IT WAS ABOUT THE ARRANGEMENT.

IT WAS ABOUT THE COLOR SCHEME,

IT WAS ABOUT POSITIONING YOU AS SOMETHING SORT OF IMMORTAL.

IF YOU WERE SMART ENOUGH OR TOUGH ENOUGH

TO SURVIVE SITTING TO WHISTLER,

YOU HAD A LOT BETTER CHANCE OF IMMORTALITY WITH HIM.

Narrator: WHISTLER WAS ONCE AGAIN ALL OVER TOWN,

CARICATURED IN THE SMART MAGAZINES,

FLAUNTING HIS VIEWS ON ART,

COMMANDING PUBLIC ATTENTION WITH HIS OLD STANDBY--

LETTERS TO THE PRESS.

James McNeill Whistler: ATLAS!

YOUR ART GENTLEMAN SAYS

THAT MR. WHISTLER EXHIBITS 12 ETCHINGS

"SLIGHT IN EXECUTION AND UNIMPORTANT IN SIZE."

AN ETCHING DOES NOT DEPEND, FOR ITS IMPORTANCE, UPON ITS SIZE.

LOOK TO IT, ATLAS.

BE SEVERE WITH YOUR MAN.

AND IF NEED BE, IN CASE OF HIS DISMISSAL,

I OFFER MY SERVICES.

YOURS JOYOUSLY.

WHISTLER.

Calloway: WHISTLER LIKED NOTHING MORE THAN A GOOD BATTLE, EFFECTIVELY.

HE SOUGHT OUT DISAGREEMENTS AND ARGUMENTS.

WHISTLER SAW HAVING A PUBLIC ARGUMENT WITH SOMEBODY

AS A MARVELOUS WAY OF DISPLAYING HIS WIT.

Sutherland: ALL OF HIS PERSONAL QUARRELS WITH PEOPLE

CAN ALMOST ALWAYS BE TRACED BACK

TO SOME INFRINGEMENT OF HIS PERSONAL HONOR

OR SOME BREAK WITH WHAT HE CONSIDERS GENTLEMANLY BEHAVIOR,

SUCH AS SOMEONE LIKE COURBET PAINTING HIS MODEL,

HIS MISTRESS, IN THE NUDE.

THAT'S ENOUGH TO, TO END THE FRIENDSHIP RIGHT THERE.

Stoner: HE REALLY WAS A DIFFERENT PERSON

WITH EACH OF HIS FRIENDS,

AND A DIFFERENT PERSON WITH EACH OF HIS WOMEN.

WHISTLER HAD MANY MORE THAN THREE,

BUT BASICALLY THREE WOMEN IN HIS LIFE.

Narrator: JO HIFFERNAN, WITH WHOM HE LIVED FOR SIX YEARS,

AND MAUD FRANKLIN, HIS COMPANION FOR 15.

Merrill: I THINK HE FELT THAT HE COULDN'T MARRY

EITHER JO OR MAUD.

WHISTLER WAS SORT OF A SNOB,

AND THEY WERE NOT OF THE SOCIAL CLASS

THAT HE THOUGHT THEY NEEDED TO BE TO MARRY.

BUT THEY BOTH CONSIDERED THEMSELVES MARRIED TO HIM,

IN ONE WAY OR ANOTHER, FOR QUITE A WHILE.

AND MAUD CALLED HERSELF MRS. WHISTLER.

Stoner: MAUD IS HIS PARTNER, BUSINESS MANAGER.

SHE'S THE EVER-FAITHFUL MAUD.

AND HE REWARDS HER

WITH MARRYING SOMEONE ELSE WITHOUT TELLING HER.

WITH BEATRICE, IT'S A DIFFERENT WHISTLER.

HE WAS A FAITHFUL, LOVING HUSBAND.

BEATRICE WAS WITTY AND FUN AND A LITTLE BIT OVERWEIGHT.

SO HE'S CAREFUL WHEN HE DEPICTS HER

THAT IT'S NOT UNFLATTERING.

Narrator: AT AGE 54, WHISTLER HAD MARRIED BEATRIX GODWIN,

WIDOW OF A PROMINENT LONDON ARCHITECT.

THE NEWSPAPERS PROCLAIMED, "BUTTERFLY, CHAINED AT LAST!"

Merrill: AFTER ALL THESE YEARS,

HE FINALLY FINDS THE LOVE OF HIS LIFE.

HE'S IN HIS FIFTIES.

HE MARRIES HER, AND THEY HAVE LESS THAN TEN YEARS TOGETHER.

THEY ARE SO HAPPY.

HE'S SELF-CONFIDENT, HE FEELS THAT HE'S COME INTO HIMSELF,

AND THEN SHE GETS SICK.

Narrator: BEATRIX WAS DIAGNOSED WITH CANCER,

DYING AFTER A LONG ILLNESS AT THE AGE OF 38.

Merrill: HE CAN'T BOUNCE BACK FROM THAT.

THAT WAS TOO, TOO DEEP A GRIEF FOR HIM.

I THINK HE HAD SAID WHAT HE HAD TO SAY.

Narrator: BY THE TIME JAMES McNEILL WHISTLER DIED,

AT AGE 69, HE WAS REVERED AS A MODERN MASTER

WHO HAD RADICALLY CHANGED THE COURSE OF MODERN ART.

Merrill: HE WAS OFTEN CALLED THE ARTIST OF THE FUTURE.

HE WAS OFTEN COMPARED TO THE IMPRESSIONIST PAINTERS IN PARIS,

WHO WERE CONSIDERED VERY MODERN.

HE WAS TRYING VERY HARD, I THINK,

NOT TO DO WHAT THEY WERE DOING.

HE WAS JUST OUT THERE, ON HIS OWN.

Curry: THE THING THAT'S INTERESTING ABOUT WHISTLER

IS THE DEGREE TO WHICH HE WAS AN AVANT-GARDE THINKER.

YOU CAN FIND ECHOES OF HIS IDEAS MUCH LATER,

NOT NECESSARILY ATTRIBUTED TO HIM.

HE DROPS A PEBBLE IN A POOL, AND OUT IT GOES.

HE WAS THE ARTIST WHO PROVIDED THE MODEL

FOR BOTH AESTHETIC FREEDOM AND ARTISTIC BEHAVIOR.

ALL THOSE THINGS WORKED TOGETHER TO MAKE HIM A VERY BIG DEAL

AT THE TURN OF THE 20th CENTURY.

Glazer: ONE OF THE THINGS THAT'S IMPOSSIBLE TO RECONCILE, REALLY,

IS THE RETICENT, BEAUTIFUL, SUBDUED SURFACE

AND THEN THE ACERBIC, EVEN EMBITTERED, SOMETIMES,

PERSONALITY.

THERE'S NOT A PERFECT MATCH

BETWEEN THE BRAND THAT WAS THE PERSONA

AND THE BRAND THAT WAS THE ART.

Cooke: I'VE SPENT YEARS LOOKING AT HIS WORK AND STUDYING HIM.

FROM TIME TO TIME PEOPLE BRING ME PICTURES

THINKING THAT THEY MAY BE BY WHISTLER,

AND OFTEN I JUST TAKE ONE LOOK AT IT, AND IT'S NOT BEAUTIFUL.

AND SO I KNOW IT ISN'T BY HIM.

Merrill: THE REMARKABLE THING ABOUT HIM

WAS THAT HE PAINTED THE AIR.

AND YOU CAN'T REALLY PAINT THE AIR,

BUT THAT'S EXACTLY WHAT HE WAS, WHAT HE WAS TRYING TO DO.

James McNeill Whistler: AS THE LIGHT FADES

AND THE SHADOWS DEEPEN,

ALL PETTY AND EXACTING DETAILS VANISH,

EVERYTHING TRIVIAL DISAPPEARS;

THE SHADOW IS LOST, BUT THE PICTURE REMAINS.

AND THAT, NIGHT CANNOT EFFACE FROM THE PAINTER'S IMAGINATION.

Announcer: DISCOVER MORE

ABOUT JAMES McNEILL WHISTLER

AND VIEW THE FILM ONLINE

AT pbs.org.

JAMES McNEILL WHISTLER

AND THE CASE FOR BEAUTY

IS AVAILABLE ON DVD.

TO ORDER, VISIT shopPBS.org

OR CALL 1-800-PLAY-PBS.

MAJOR FUNDING

FOR JAMES McNEILL WHISTLER AND THE CASE FOR BEAUTY

WAS PROVIDED BY THE NATIONAL ENDOWMENT FOR THE HUMANITIES.

ADDITIONAL FUNDING WAS PROVIDED BY...

BY THE FOLLOWING...

AND BY VIEWERS LIKE YOU.

THANK YOU.