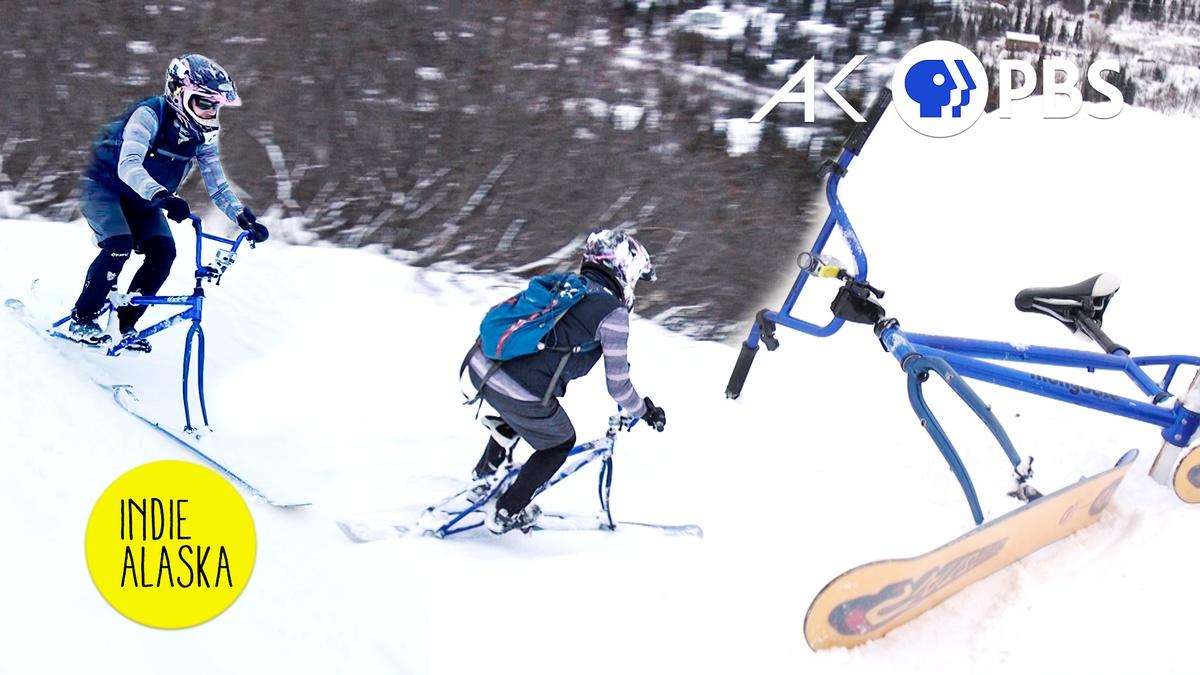 S10 E4 | FULL EPISODE
What is ski biking? And why is it so fun?! | INDIE ALASKA
Ski bikes are becoming more common at ski resorts across Europe and in some parts of the U.S., but Claudine Haynes is on a mission to bring it to Alaska. Inspired by her love of the easy-to-learn sport, she is building her own ski bikes and even inviting strangers to her house in Eagle River, AK to try it out themselves.
TRANSCRIPT

I invite everyone like I tell everybody about it. I have a notice up on the board at work.

I'm like please come try the ski bike it's so amazing. (you've got skis on your bike, oh fun).

Well, ski biking is the most fun I've had in a long time for one thing. (See what happens here).

(Laughing) Holy moly. Holy moly.

There is no way, no way I was gonna ride that out.

This is every bit as fun, if not way more so than sledding is when you go out and go with

your friends and do some crazy sledding. I think it's more fun than that. Here we go!

All right it's fresh snow. It does go quite fast

if you let it. You know honestly I just kind of want to put on a hockey outfit sometimes.

You can do a lot of really fun things like hitting a jump. It's just like mountain biking but with

maybe a shorter course. You're turning, you're putting your weight like you would bicycling.

When it comes to slowing down, that's different. There's no breaks. Certainly on a groomer you're

gonna sort of throw your back end around and that feels a lot like a dirt bike when you're a kid.

Oh look I stopped! The other way you slow down is you hit the deeper snow and I still do get

into a little panic and start leaning way back on the bike I'm like that's not working

so then I throw myself sideways. I ate it so bad!

You just have skis instead of wheels and it's a gravity sport so

I get a lot of exercise by pushing the ski bike back up the hill.

So born and raised here. We were raised commercial fishing. I'm also Alaska native Tlingit on my mom's

side... and I have a wife and her name's Carrie and we have a son Ricky Ray and his donor is

Ricky Tagaban and he lives in Juneau. All right Ricky! So I feel very connected to this land.

So having been raised that way I want my physicality to be in the world and so I want my

activities to keep me healthy. I think we're an outdoor species.

We've become an indoor species just like a cat has and I don't

get that. You know, but I'm an outdoor person. I'm outside as much as I can possibly be even in the

middle of a snow storm I'll be outside around a fire because I just like being outside... but I know

that having a light shine into my eyes like when I'm reading my phone

or on a computer screen that does something to me. I don't actually feel a kind of a

sinking feeling of lack of accomplishment being outside ever. I never get that feeling.

So I like physical things and it was just a real fit for me taking a woodworking course too.

I have an attention to detail that fits in with ski biking because there's a lot of finicky

stuff going on with this. Ski bikes are a different geometry than bicycles. You know a bicycle is sort

of longer and a ski bike is more of a triangle. I was able to create that by adding a longer fork to

the front of a BMX bike... and screw them to a ski that you have presumably cut off and then after

that you just attach it to the bike just like you would any axle on a bike. After you've done that

you pretty much have a ski bike. I'm literally telling anyone who will listen, I just go 'hey

I like to do this, have you heard of ski biking?' and I'll show them a picture of a ski bike. (So now you

sit on it and you push with your feet? You want to try it for a sec?) Anyone who gets on the ski bike

generally enjoys it and it's so easy. I'm trying to create a community for myself that's for sure!

Let's try this jump.

That's so fun.