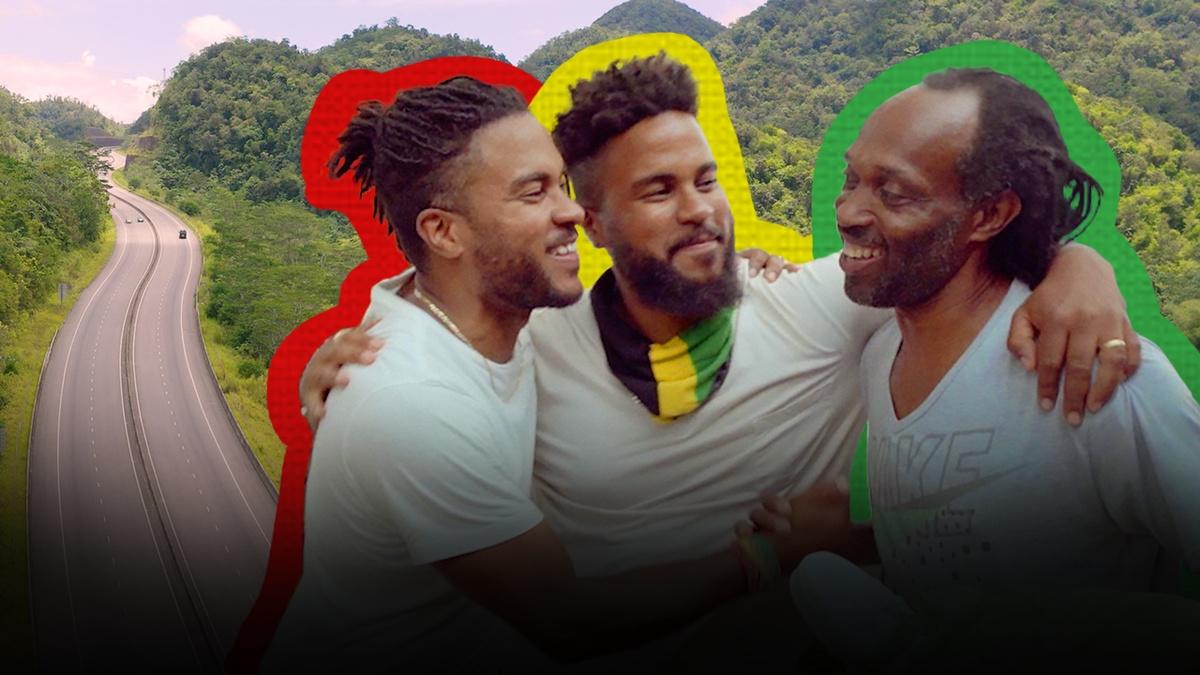 FULL EPISODE
Then vs. Now: How Driving in Jamaica Has Changed | Ep. 2
The Brodie brothers reunite with an old acquaintance named Orville, a local jack-of-all-trades (DJ, beekeeper, driver, you name it) who has taken up driving an unregistered taxi as a supplemental source of income. They recreate a road trip the Brodies used to take as children in Jamaica, except a trip that used to take all day now takes 90 minutes with a new highway cutting through the island.
TRANSCRIPT

-Best Dub ever!

-Best Dub ever!

er.

Nobody ever did that. I did that!

I'm talking (about) all the top dogs.

I will play dubs for hours.

Custom -- cut specially for me.

We call it Specials.

♪♪

-We're Ron and Don Brodie, first generation "Jamericans".

When we were little, our parents would bring us to Jamaica

to learn about our heritage.

-You think this one is good? -Yeah!

-Now, we're back to navigate our own route

with the help from local drivers along the way.

This is "Driver Radio Jamaica."

♪♪

-My name is Orville,

everybody, like, 'round town calls me "Villa."

-Original Rude Bwoy!

♪♪

I've been away 'bout 37 years.

Now I'm back in Jamaica.

I'm an electronic tech, but, you know, here in Jamaica,

it's a different game,

so, I have to take on a different hustle.

-Best Dub ever!

Right now, it's not taxi, I'm just more like a tour guide.

-Orville feels like family.

Kind of like an influential figure

that you could go and navigate the world with.

-Let me tell you, that's Portland.

-He's someone who comes with a world of experience

and ready to share information.

-I mean, you wanna see my scar? I just did my operation.

That was last year.

They say my appendix burst.

I got an infection.

I couldn't lift, I couldn't do anything.

So that's when I start doing the little driving thing

because that's the easiest thing I could do.

In Jamaica, taxi driver is like a little hero.

Everybody, you know, looks up to him.

You get out.

You get away.

New scenery, different things, different people.

You get all the girls.

You are a driver, hey, you got [Bleep] going on!

♪♪

You a do a good ting.

-Best Dub ever!

There is public transportation but it is not enough.

Everybody wants to be in the city.

Some drivers, they have their documents, some don't.

It is politics.

I'm hustling the JUTA market.

I owe you. I ain't got no change right now.

-Best Dub ever!

♪♪

-I'll catch up with you.

♪♪

This is where I'm at.

♪♪

You guys could come in.

Check out my crib.

-This is nice, man.

-I got a lotta bee in the back.

-You collect honey from the bees?

-Yes, let me show you!

-You collect honey from the bees?

-The supermarket buys them from me.

I mean, the neighbors complain sometimes but [Bleep] them!

Who gives a [Bleep]

You gotta do business, right?!

[ Laughs ]

-If you spend enough time with a driver,

you become fast friends.

-Today, we doing a little fish fry/party.

We invited a couple of people.

Doing the food, music is in the back,

the liquor.

-Can you tell me how much time has gone by

since we got to hang out?

-Yeah. Well, it's been quite a while.

Last year was like a tour.

-Last year, we hired Villa

to take us on a tour of the north coast.

We wanted to meet the friends that cared for him

while he was healing.

-Basically where we're going is another little village.

Same fishing and local farming.

Friends of mine, we're gonna check them out

and see how they get things done.

-Decided on an updated route, we took the opportunity

to visit a few childhood memories along the way.

-Best Dub ever!

-We're gonna go over this bridge here.

Listen out for the sound.

-Back then, there was little option

than to take narrow windy roads.

However, on the other side of the millennium,

Jamaica brokered a deal with the Chinese

to develop the Highway 2000.

♪♪

The toll costs 1,400 Jamaican dollars.

That's roughly $10.39 one way.

♪♪

-This is the main route from Ocho Rios, Montego Bay

to Kingston.

-This could go in the Howard alum's newsletter.

-[ Laughs ] -I gotta represent.

They don't know me.

[ Siren chirps ] -Oh the police.

How are you doing Sir?

-We've been speeding up and down this highway all day

for this moment. -We gotta get the shot.

-Watch out for this guy.

He's lookin' at us.

-Best Dub ever!

[ Laughs ]

-We remember this trip taking all day.

Now you can get it done in under 90 minutes.

-If you have the money, you ain't gonna sit down

in your car driving 3 hours

when you could do it in an hour and a half or an hour.

Some people just don't have it.

-Best Dub ever!

-On the way to Port Antonio, took a detour to check out

a stop we use to make as children.

-Back in the 90's, this jerk center was jumping.

Now...

-It's Like a ghost town.

-Because of the highway,

Faith's Pen is virtually ignored.

-Every one of these stands used to be full of vendors,

pulling you in to buy their chicken.

This is what it is now.

-Best Dub ever!

People will do strange things to get attention.

As teenagers, we did strange things too.

[ Rock music plays ]

-Growing up Jamerican can make it hard to fit in.

On the other side, Villa can relate to this struggle.

-After 37 years in a country and then come back home,

you gotta fit in.

They could, like, pick you out.

You know? "Oh, you from America."

And I'm saying, "Well, I am Jamaican."

-So what happened to the Jamaican in my blood, man?

-Well, you know, it's a little watery,

but, you know, the dreads just gotta fully mature.

[ Laughs ]

-Best Dub ever!

[ Laughter ]

-Best Dub ever!

-What's the contingency plan if it rains, just in case?

-If it rains, we got a tent.

Nothing gonna stop the party, we gonna party on!

♪♪

Living in America, you can get thrown off.

Build a little family.

You know, you get attached.

One day, immigration just come and pick you up and say,

"three misdemeanors gets you deported."

-Best Dub ever!

-You have people that came back to Jamaica

and it's just a down hill.

I've lived it. You know what I'm saying?

Only the fittest of the fittest will survive.

-Considering the hustle and how easy

it may have been for Villa to slip up,

Don and I had a mutual thought.

If mom and dad never left Jamaica,

would we be driving taxis?

-Best Dub ever!

-I was still down after a while.

I was, you know, healing.

A lot of people thought I wouldn't make it.

Then it was like a blessing!

You guys just came in, and I got hired!

♪♪

♪♪

Big friend of mine came out here a few years ago,

and this is it.

This is Marlese Seafood.

-Marlese and Jason go way back in Villa's history.

-We grew up in New Jersey.

She's like family.

-Best Dub ever!

-Yeah! -Yeah!

♪♪

-You know, it's close.

-Becoming acquaintances with Villa in the States,

Marlese returned to Jamaica and soon after met Jason.

The couple became good friends with Villa at his return

and cared for him during his recovery.

-Best Dub ever!

-For a minute, I was a little stressed.

Like, you know, how am I gonna do this?

Medication, pay off this hospital.

Marlese would call me, "Yo, Villa you need anything?

Car full of groceries.

Every week she would call.

"What you need? What you need?"

♪♪

-Shortly after we reached, Jason took us out on the water.

He wanted to break down a fisherman's perspective

on the country's development.

-Best Dub ever!

Considering what we've seen at Faith's Pen,

we wondered how the development of new roads

might impact this area.

-Best Dub ever!

-[ Laughs ]

-Best Dub ever!

[ Engine starts ]

-Jason's optimism is a common trait found around the island.

New development means a chance to thrive

instead of simply surviving.

-Best Dub ever!

♪♪

-You know, the economy is growing.

I mean things getting better.

Progressing more business wise, social wise,

spiritual wise also, you know, because my spirit is up.

Hey!

-Best Dub ever!

I have my old job coming back into place.

DJ'ing, renting equipment.

I'm back at my bench again, doing what I love -- repairing.

So the driving is put on pause,

not that I'm throwing it away because it helped me a lot.

-When we had the chance to reconnect with Villa,

we were happy to see that things were better.

-Best Dub ever!

-♪ I said, "Crown you my king

♪ You offer me everything

♪ Dedicate this song to you, I say ♪

♪ Ask me to be your wife

♪ I'll wear that ring with pride ♪

♪ Bright man like you been needing in me life ♪

♪ You're my Caribbean boy

♪ Oh, yeah

-When I just met you, that was business,

but now we are like family!

-Best Dub ever!

-It was like a tour, for me too, you know.

The whole thing, it was beautiful,

and I'll do it again.

Any time y'all ready.

[ Laughs ]

♪♪

-Best Dub ever!

♪♪

-Best Dub ever!