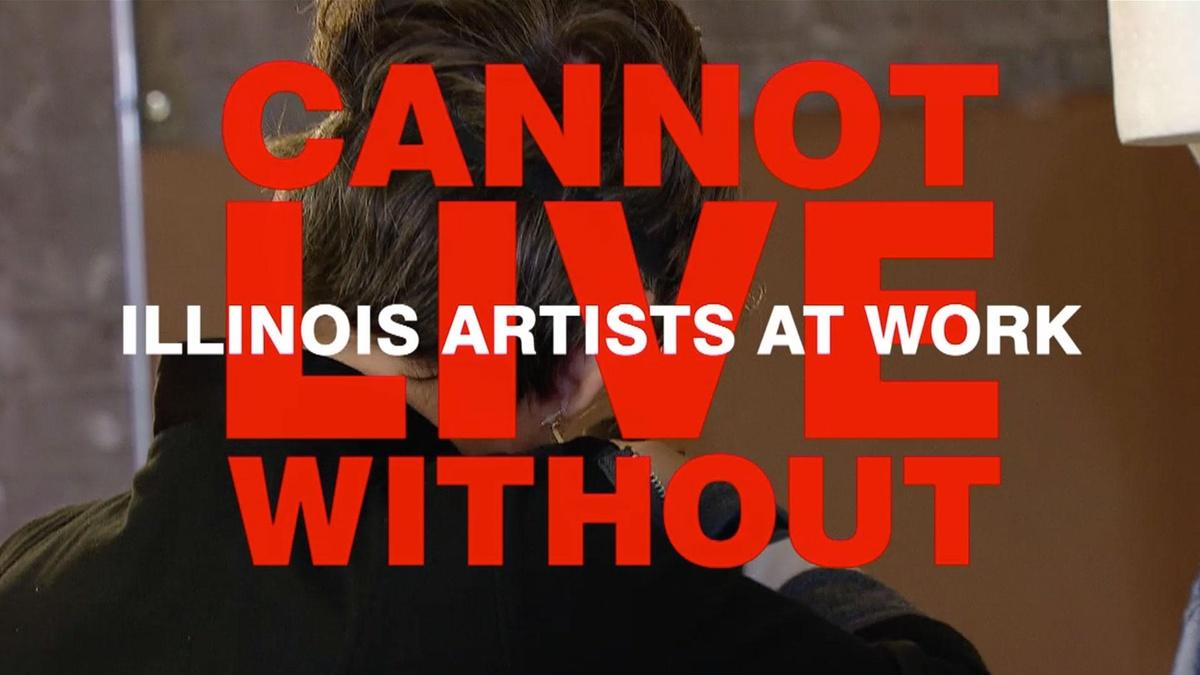 FULL EPISODE
Illinois Artists at Work: Cannot Live Without
A new documentary featuring five artists' work, methods, and ruminations on their craft and the world. Featured are poet Daniel Borzutzky, visual artist Allison Ruttan, project-based artist Jeremiah Hulsebos-Spofford, choreographer/performer Cynthia Oliver; and composer Kathleen Ginther. Airdates.
TRANSCRIPT

ANNOUNCER: THIS PROGRAM

IS PARTIALLY SUPPORTED

BY A GRANT FROM THE

ILLINOIS ARTS COUNCIL AGENCY.

DAN ANDRIES: IN 2014,

THE ILLINOIS ARTS COUNCIL AGENCY

CHOSE 18 ARTISTS

TO BE A PART OF THEIR

THESE ARTISTS WERE CHOSEN

FOR THEIR FANTASTIC TRACK RECORD

AND THEIR POTENTIAL FOR GROWTH,

AND THEY WERE GIVEN

UNRESTRICTED GRANTS.

I CHOSE TO FOCUS

ON FIVE OF THEM.

WHILE THEY DO REPRESENT

A CROSS-SECTION

OF ARTISTIC DISCIPLINES,

MORE IMPORTANTLY,

THEY ARE ALL THE REAL DEAL.

THEY'RE THE KIND OF THE PEOPLE

WHO PUSH THE EDGES

OF THEIR ART FORM.

WHO ASK QUESTIONS

RATHER THAN PROVIDE ANSWERS.

WHO PROVOKE,

RATHER THAN REASSURE.

I ANTICIPATED MEETING THEM

WITH A CAMERA CREW

AND A LIST OF QUESTIONS

ARTISTS' FELLOWSHIP PROGRAM.

WOULD BE REMARKABLE.

I WAS NOT DISAPPOINTED.

[MUSIC]

[MUSIC]

[MUSIC]

ALISON: WE LIKE THINGS TO BE

MESSED UP TO SOME DEGREE.

ANYTHING IS POSSIBLE.

CYNTHIA: EXHAUSTION,

IMPERFECTION,

THOSE ARE THINGS THAT I AM

COMPLETELY ENGAGED WITH.

[GUN SHOT]

I'M NOT INTERESTED

IN THE POLISH, THE FINISH.

[MUSIC]

AT THE POINT OF EXHAUSTION,

THERE'S A TRUTH THAT COMES.

DANIEL: EVERY BOOK HAS SENTENCES

IN IT THAT THE WRITER HATES,

THAT THE WRITER CANNOT

GET RID OF, THAT THE WRITER

CANNOT LIVE WITHOUT.

ANY WRITER WHO CUTS OUT

EVERY SENTENCE HE HATES

IS A WRITER NOT WORTH READING.

[MUSIC]

[MUSIC]

KATHLEEN: ISN'T THAT CRAZY?

DAN ANDRIES: THIS DOCUMENTARY IS

A LIMITED LOOK AT FIVE ARTISTS.

I SPENT A DAY OR TWO

WITH EACH OF THEM.

I MET UP WITH THEM

AFTER A PREMIER,

AFTER A RETIREMENT,

IN THE MIDDLE OF A SEMESTER,

PREPARING FOR WORK

THAT WOULDN'T BE READY MONTHS.

JEREMIAH: YOU WANT ME TO SPELL

MY ENTIRE NAME?

CAMERA MAN: YES.

DAN ANDRIES: THEY WERE NOT

AT THE POINTS

OF PUBLIC PRESENTATION.

THEY WERE IN BETWEEN.

ALISON: CAN I TAKE

A BATHROOM BREAK?

CAMERA MAN: SURE.

DAN ANDRIES: ARTISTS IN ILLINOIS

ARE FROM A LOT

OF DIFFERENT PLACES, LIKE EXILES

OR MIGRANTS, RELOCATED.

ALISON: I LIVED IN THE

PHILIPPINES AS A KID.

I WENT TO ELEMENTARY SCHOOL

IN BERKELEY.

CYNTHIA: I WAS BORN

IN BOOGIE DOWN BRONX.

I LIVED IN WASHINGTON, D.C.

DURING BAY OF PIGS.

DANIEL: I GREW UP

IN PITTSBURGH, PENNSYLVANIA.

KATHLEEN: WELL ALL OF MY MUSICAL

EDUCATION WAS IN CHICAGO.

CYNTHIA: THE REST OF MY

GROWING UP YEARS,

I DID IN ST. CROIX,

U.S. VIRGIN ISLANDS.

DANIEL: MY PARENTS WERE MIGRANTS

FROM CHILE.

ALISON: MY FATHER WAS

AN ECONOMIST WORKING

JEREMIAH: I GREW UP IN RURAL

VERMONT AND IT'S A PRETTY WELL

WONDERFUL PLACE,

A VERY SHELTERED PLACE.

WITH THIRD WORLD COUNTRIES.

[MUSIC]

I CAME TO CHICAGO

AND IT WAS A LOT MORE GRITTY

AND PEOPLE WERE THROWN AROUND

LIKE SOCIAL PRACTICE

AND LIKE COMMUNITY ENGAGEMENT.

AND THROWN AROUND

LIKE AN APARTMENT GALLERY.

AND I JUST WAS BLINDSIDED

BY THIS IDEA THAT ART

COULD MARCH RIGHT AT THE DOOR.

SO I WAS IMAGINING

SOMETHING PRETTY HUGE.

MALE: IT'S NICE.

IS THERE ANOTHER ONE?

MALE: SO I JUST GOT

THE TWO PRINTED.

JEREMIAH: WE'RE GOING TO BE

BUILDING SORT OF

A RECREATION

OF THE DUSABLE MUSEUM

OF AFRICAN AMERICAN HISTORY

AND MOVING IT AROUND

TO A COUPLE OF DIFFERENT SITES

ON THE SOUTH SIDE,

FLOATING IT DOWN

THE CHICAGO RIVER

AND HOPEFULLY SITING

IN THAT, HOPEFULLY SOON TO BE

DUSABLE PARK, BUT RIGHT NOW

GREEN SPACE DOWNTOWN IN CHICAGO.

JEREMIAH: WELL HERE'S

A QUESTION:

RIGHT NOW WE'VE GOT RENDERING,

IT'S LIKE A SIMPLIFIED DUSABLE.

ARE YOU GUYS FEELING LIKE

WE WANT TO CHANGE THE APPEARANCE

SO THAT IT LOOKS QUITE DIFFERENT

FROM THE ORIGINAL MUSEUM?

MALE: I LIKE THE IDEA

OF HAVING A FOOTPRINT.

JEREMIAH: I VISITED

THE DUSABLE MUSEUM.

I LIVE VERY CLOSE TO IT.

I'M THINKING ABOUT ITS POSITION

ON THE SOUTH SIDE OF CHICAGO.

IT'S THE FIRST MUSEUM

OF AFRICAN AMERICAN HISTORY

IN THE COUNTRY.

AND THEN ALSO HOW OFTEN

WHEN I GO THERE

I MIGHT BE THE ONLY PERSON

IN THE GALLERY.

AND I JUST THOUGHT ABOUT

ARCHITECTURAL MOVERS

BECAUSE THAT EXISTS.

PEOPLE MOVE BUILDINGS.

AND I WAS THINKING ABOUT

WHAT WOULD THAT MEAN

IF THE MUSEUM WAS TRANSPOSED,

IF IT WAS FLOATED,

IF IT WAS MOVED,

IF IT WAS DROPPED

INTO A NEW SITE.

JEREMIAH: I MEAN, IT DEPENDS ON

WHETHER IT'S GROUNDED TO A BARGE

OR IF IT'S MOBILE BEFORE THAT.

I HAVE NO IDEA

WHAT A BARGE STRUCTURE

IS ACTUALLY LIKE.

MALE: THANK YOU.

JEREMIAH: I THINK OBVIOUSLY,

THAT WOULD CUT DOWN ON WEIGHT.

MALE: YOU MAY WANT TO TALK

TO A STRUCTURAL ENGINEER.

JEREMIAH: I THINK ALSO,

HOW FUTILE IT IS FOR AN ARTIST

TO QUESTIONS JUST THESE

HUGE POWER STRUCTURES,

IF IT MIGHT BE

HISTORICAL POWER STRUCTURES,

POLITICAL POWER STRUCTURES,

AND HOW A GESTURE WORKS

IN RELATION TO THESE

MONOLITHIC POWER STRUCTURES

AND THE ABSURDITY IN THAT.

PRETTY INTERESTED IN THAT.

I WAS THINKING ABOUT

ARCHITECTURE PROGRAMS

IN THE CITY.

I'VE BEEN WORKING WITH

FLOATING SCULPTURE FOR A WHILE

AND SORT OF NOTION OF WHAT

BUOYANCY DOES TO WEIGHT.

SO IF YOU'VE GOT A HEAVY THING

AND YOU SLIDE IT ON TO WATER,

SYMBOLICALLY WHAT HAPPENS,

THE HISTORICAL WEIGHT ON WATER

AND THE POETICS OF THAT.

I REENACTED THE BAY OF PIGS

INVASION WITH THESE WILD PIGS.

IT WAS A BIG OF A DEBACLE.

BUT THE INVASION WAS A DEBACLE,

RIGHT?

KATHLEEN: I WORK OFTEN WITH

LEAVING AND THEN RETURNING

TO SOMETHING BECAUSE THE IDEA

OF MEMORY IN MY MUSIC,

AND THE IDEA OF DEPARTURE

REQUIRES A KIND OF RETURN.

BUT THAT DOESN'T MEAN

YOU JUST GO AND COME RIGHT BACK.

YOU MIGHT TAKE MANY DETOURS

ALONG THE WAY.

[SINGING]

I THINK THAT'S THE WATERY THING

IN MY MUSIC.

[PIANO MUSIC]

KATHLEEN: MUSIC IS A VERY

PHYSICAL THING.

WRITING IS FOR ME, TOO.

BECAUSE I'M JUST FEELING IT

IT'S SO COOL.

IN MY BODY AS IT TAKES SHAPE.

IT'S REALLY A FUN TO DO.

THERE'S NOTHING MORE FUN REALLY.

[PIANO MUSIC]

WHEN I WAS LOT YOUNGER,

I ALWAYS THOUGHT MUSIC

WAS JUST FOR PLEASURE

AND ENJOYMENT.

I DIDN'T REALLY TAKE IT

SERIOUSLY AS SOMETHING

YOU COULD BUILD

YOUR LIFE AROUND.

[PIANO MUSIC]

THEN ONCE YOU GET ON THAT TRACK

YOU HAVE TO HAVE MORE.

[PIANO MUSIC]

SO MANY COMPOSERS,

AND I WOULD PUT MYSELF

IN THIS GROUP,

ARE WORKING TO EXPAND

THE CAPACITY OF INSTRUMENTS

SOUND-WISE;

TO JUST HAVE A BIGGER SOUND ROLE

FOR EACH INSTRUMENT.

[PIANO MUSIC]

THERE ARE LOOSE RHYTHMS IN THIS.

[PIANO MUSIC]

SHE HAS TO BRING

SOMETHING OF HER OWN

MUSICAL SOUL TO THE PROCESS.

[PIANO MUSIC]

I ACTUALLY WROTE IN THE SCORE

HOW I WANTED HER

TO LIFT HER FINGERS UP

IN A CHORD

TO KIND OF REVEAL AN UNDER CHORD

THAT WAS PART OF THE BIG CHORD,

BUT YOU MIGHT NOT HEAR IT

SEPARATELY WHEN YOU'RE HEARING

THE COMPOSITE AND THE MORE

COMPLEX SOUND OF THE CHORD.

AND I LIKE THE IDEA OF REVEALING

SOMETHING THAT WAS OBSCURED,

BUT IT'S BEEN THERE

THE WHOLE TIME;

YOU JUST COULDN'T HEAR IT.

[PIANO MUSIC]

WELL IT DOES SOUND VERY FLUID.

IT DOES DEFINITELY SOUND

LIKE A RIVER.

I DON'T LIKE THE IDEA

THAT THERE IS ONLY ONE

ABSOLUTE VERSION OF SOMETHING.

PERFECTION,

IT'S NEVER ACHIEVABLE

AND IT'S KIND OF WASTE OF TIME

TO TRY TO ACHIEVE THAT.

CYNTHIA: I'M INTERESTED

IN IMPERFECTION.

EVERY TIME I MOVE OVER

HE MOVES OVER TOO.

CAMERA MAN: I SURE DO.

SOMETIMES I'LL DO THIS

SOMETIMES I'LL DO THIS.

AND SOMETIMES I'LL DO THIS.

CYNTHIA: OH, WE ARE DANCING.

I CAN DO THAT, TOO.

CAMERA MAN: YEAH!

CYNTHIA: I'M A MIDDLE-AGED

DANCER.

EXPRESSING THE CHALLENGES

OF EVERYDAY LIFE

FOR PARTICULARLY WOMEN;

FOR MANY YEARS,

I'VE BEEN COMMITTED TO

WOMEN OF COLOR, IN PARTICULAR.

CYNTHIA: YES, SEE IF YOU CAN

KEEP UP WITH ME NOW.

I AM A PROFESSOR

IN THE DANCE DEPARTMENT

AT THE UNIVERSITY OF ILLINOIS.

THE WAY MOST FOLKS THINK ABOUT

A SABBATICAL THAT ARE NOT

IN THE UNIVERSITY SYSTEM,

THINK OF IT AS A PAID HOLIDAY.

[BACKGROUND DIALOGUE]

CYNTHIA: THIS SABBATICAL

HAS BEEN ABOUT

COMPLETING THIS PIECE

WITHOUT THE DISTRACTION

OF COMMITTEE WORK, OF TEACHING,

OF ALL THE OTHER THINGS THAT GO

WITH A UNIVERSITY POSITION.

[MUSIC]

THE PIECE IS CALLED, "BOOM",

BECAUSE YOU GO ALONG

IN YOUR LIFE

AND ALL OF A SUDDEN,

[CLAP] BOOM,

S--- HAPPENS.

FEMALES: I'M A PUNISHER.

I'M GONNA KNOCK IT DOWN!

I'M GONNA KICK WHILE YOU'RE OUT!

[LAUGHTER]

CYNTHIA: I THINK THE GREATER

POWER FOR BEING THIS AGE

AT THIS STAGE OF MY LIFE

AND PERFORMING, IS WEIGHT.

THERE IS A WEIGHTINESS THAT

COMES WITH LIFE EXPERIENCE.

[MUSIC]

CAMERA MAN: ACTION.

CYNTHIA: I WAS DIAGNOSED

WITH BREAST CANCER

IN THE FALL OF 2010

AND IT WAS A VERY AGGRESSIVE

BREAST CANCER.

SO WE NEEDED TO ACT FAST.

I DIDN'T KNOW IF I COULD DANCE

FULLY AGAIN.

I WANTED TO TEST THE LIMITS

OF WHAT I COULD DO.

BUT I ALSO WANTED TO SPEAK

TO THE DESIRE TO KEEP GOING,

THE NEED TO KEEP GOING,

AND ITS RELATIONSHIP BETWEEN

THAT AND ENDURANCE

AND THE RELENTLESSNESS

OF OUR LIVES.

[MUSIC]

YOU HAVE TO GET YOUR ASS UP

AND KEEP GOING.

[MUSIC]

I THINK DANCE SAVED MY LIFE.

[MUSIC]

IT WAS THE INSPIRATION FOR ME

TO COME BACK FROM

THE BRINK OF DEATH

TO TRY TO FIND IT AGAIN,

TO TRY TO GET STRONG.

CANCER IS AN OBVIOUS

BIG LOW POINT.

THERE ARE OTHER KINDS

OF LOW POINTS

THAT FOLKS HAVE ALL THE TIME.

DANIEL: IT CAME.

WORDS SMASHED OUT OF THE SKY

AND FROM THE MOUTHS

AND FROM THE FLESH AND BLOOD

OF THE BODIES

AND WORDS HIT READERS

AND WERE DESTROYED

LIKE MORE BODIES

AND OFF THE PAGES

WHERE LITTERED BODIES AND DEAD.

CARCASS LOVE, THEY CALLED IT.

CARCASS ECONOMY, THEY CALLED IT.

AND THE FIELDS IN A NATION

TO ME, WRITING IS KIND OF AN ACT

AND THE READERS FOUND--

THE CARCASSES

FELL ONTO THE PAGES

AND WERE TAKEN AWAY

IN WAGONS AND TRUNKS AND--

RATHER THAN DREAMING,

ACTUALLY IN MY SLEEP

I WAS ACTUALLY DREAMING

ON THE PAGE.

--TIME TO FESTER

FALSE CARCASS ECONOMY!

PERHAPS ARTICULATING NIGHTMARES,

RIGHT?

WILL THE SOULS OF THE CARCASSES

MISS THEMSELVES WHEN THEY DIE?

WILL THE BODIES WHOSE LIPS

SLURP OUT THE SOULS

OF THE CARCASSES MISS THEMSELVES

WHEN THEY DIE?

WILL THE WORDS FROM THE BODIES

WHO SLURP OUT THE SOULS

OF THE CARCASSES CEASE TO EXIST

WHEN THE BODIES THEMSELVES DIE?

WHEN I'M THINKING ABOUT

OF GIVING WORDS TO DREAMS.

THE ROTTEN CARCASS ECONOMY,

I'M THINKING ABOUT CHICAGO.

THIS PLACE WHERE THERE

IS GREAT VIOLENCE.

MILES AND MILES, AND MILES

OF ABANDONED COMMUNITIES.

WHERE THERE'S A MASSIVE

ECONOMIC INEQUALITY.

I THINK IT'S PERFECTLY

REASONABLE TO CALL CHICAGO

A LATIN AMERICAN CITY.

AND I THINK IT'S REASONABLE

TO CALL CHILE

A CHICAGOAN COUNTRY

IN SOME FORM OR ANOTHER.

[BACKGROUND SPANISH DIALOGUE]

ONE OF THE THINGS

THAT I'M THINKING ABOUT

IS THE INTERCONNECTEDNESS

BETWEEN MY LIFE AND CHICAGO,

AND MY PERHAPS IMAGINARY LIFE

IN CHILE.

[TYPING SOUND]

CHILE IS KIND OF INFLUENCING

CHICAGO IN VERY ODD WAYS,

IN INTERESTING WAYS.

[MUSIC]

IT BEGINS RIGHT BEFORE

THE MILITARY COUP IN 1973.

WITH THE GROUP OF ECONOMISTS

WHO WERE CALLED THE CHICAGO BOYS

FROM THE UNIVERSITY OF CHICAGO.

WHO WERE INVOLVED

IN MILITANT FREEDOM

AND OTHER TOP ECONOMISTS.

AND THEY VERY MUCH PLANNED

THE ECONOMIC POLICIES

THAT WERE THEN ENACTED

UNDER THE PINOCHET REGIME.

KIND OF EXTREME

AUSTERITY MEASURES,

PRIVATIZING EVERYTHING

FROM HEALTH CARE,

SOCIAL SECURITY, EDUCATION,

NATURAL RESOURCES.

WE SEE SIMILAR THINGS HAPPENING

IN CHICAGO.

WE SEE OF COURSE, THE ISSUES

WITH THE PARKING METERS,

DIFFERENT PUBLIC SERVICES.

AND SO I THINK PART OF THE IDEA

THAT I'M THINKING ABOUT IS THAT

THIS IDEA STARTED IN CHICAGO.

IT WAS EXPORTED TO CHILE.

BUT PERHAPS THE END GAME

WAS TO BRING IT BACK TO CHICAGO

IN ORDER TO ENACT SOME OF THESE

PRETTY DRASTIC

AUSTERITY MEASURES HERE.

I CRAWL ACROSS THE PAGE

AND I DON'T KNOW

IF I'M DYING OR DEAD.

DID YOU HEAR THE ONE ABOUT

THE BOY IN CHICAGO

WHOSE EAR WAS BITTEN OFF

WHEN HE CROSSED A BORDER

HE DID NOT KNOW EXISTED?

[LOADING GUN]

ALISON: YOU MIGHT SAY,

I BECAME KIND OF OBSESSED

WITH WATCHING THE NEWS.

THESE IMAGES IN THE LAST

TEN YEARS HAVE BEEN COMING

ACROSS THE AIRWAVES

AND THERE IS JUST

THIS OVERWHELMING WAY IN WHICH

WE TAKE IN THESE IMAGES.

[GUN SHOT]

WE'RE BOTHERED BY THEM.

I THINK MOST AMERICANS JUST

IT ALSO GIVES

A KIND OF SHREDDED LOOK THAT

SOME OF THESE BUILDINGS HAVE.

DON'T KNOW WHAT TO DO WITH THEM.

I'M WORKING ON TWO LARGE SERIES

RIGHT NOW.

FOR THIS PROJECT,

THERE'S ALMOST NO CAR

THAT COMES OUT WRONG.

BOTH OF THEM ARE BASED ON

CONFLICTS THAT HAPPENED

IN THE MIDDLE EAST

IN THE LAST 25 YEARS.

ONE IS CALLED,

"HIGHWAY OF DEATH".

I'M RECREATING A SECTION

OF THE HIGHWAY OF DEATH,

WHICH WAS FROM THE GULF WAR.

AND THIS IS WHEN

SADDAM HUSSEIN'S ARMY

WAS RETREATING FROM KUWAIT.

AND THERE'S GOING TO BE

ABOUT 500 OF THEM.

THE SECOND INSTALLATION

IS RECONSTRUCTION

OF A NEIGHBORHOOD IN BEIRUT

THAT WAS SEVERELY DAMAGED.

AT LEAST 15,000 PEOPLE

WERE DISPLACED IN THIS BOMBING

AND IT'S A REAL TRAGEDY.

MAYBE I FEEL A LITTLE BIT GUILTY

HAVING THOSE FEELINGS

OF INTEREST

IN LOOKING AT THE DESTRUCTION.

YOU SENSE THAT YOUR OWN INTEREST

MIGHT BE VOYEURISTIC

AND YOU LOOK AT YOURSELF

LOOKING, IN THE SENSE OF SAYING

THAT AT LEAST I'M WATCHING,

THAT I'M PAYING ATTENTION.

[MUSIC]

I'M VERY MUCH A BELIEVER

THAT THERE'S A RELATIONSHIP

BETWEEN ME AND MY VIEWER

THAT THEY UNDERSTAND

THAT THIS IS RECIPROCAL.

THAT I'M STARTING A CONVERSATION

AND I WANT IT TO START

[GUN SHOT]

CYNTHIA: I MEAN YOU MAKE ART,

AND YOU NEVER KNOW

HOW IT'S GOING TO RESONATE

FROM A POINT OF GENEROSITY.

WITH AN AUDIENCE.

KATHLEEN: THESE THINGS

ARE ENTIRELY SUBJECTIVE.

YOU DON'T KNOW WHAT ANYBODY

IS GOING TO THINK EVER

ABOUT ANYTHING YOU DO.

YOU CAN JUST DO WHAT YOU

HAVE TO DO AND WHAT YOU HEAR.

DANIEL: I THINK YOU CAN'T REALLY

BE TOO CONCERNED ABOUT

WHAT IMPACT YOU'RE GOING TO HAVE

ON THE READER.

YOU HOPE THAT PEOPLE DIG IT.

AT LEAST FOR ME,

WHEN I BEGIN

TO WORRY ABOUT THAT,

I THINK WHEN YOU,

JEREMIAH: I TEACH AT

THE ART INSTITUTE

IN THE CONTEMPORARY PRACTICES

DEPARTMENT IN SCULPTURE

AND I ALSO TEACH

AT THE CHICAGO HIGH SCHOOL

FOR THE ARTS.

IT PARALYZES ME A LITTLE BIT.

I ACTUALLY DID A PROJECT

WITH MY CHI ART STUDENTS

WHERE I REALIZE THAT THERE ARE

UNDOCUMENTED STUDENTS

IN THE CITY OF CHICAGO

AND IN CHICAGO PUBLIC SCHOOLS.

I HAD A LOT OF CONVERSATIONS

ABOUT IMMIGRATION ISSUES

AND I INVITED MY CHI ARTS KIDS

TO BUILD RAFTS WITH ME.

[GUN SHOT]

AND I WANTED TO HAVE

AN IMMIGRANT LANDING

ON THE GOLD COAST DURING

BEACH VOLLEYBALL SEASON.

UNFORTUNATELY, THE PARK DISTRICT

DENIED OUR PERMIT

FOR THE LANDING.

WELCOMED US WITH OPEN ARMS.

SO WE SAILED SOUTH

TO GARY, INDIANA.

DANIEL: ONCE I DREAM WROTE

THAT I FOUND MY OWN REMAINS

IN A DESERT

THAT WAS PARTIALLY IN CHILE

AND PARTIALLY IN ARIZONA.

HOWEVER, GARY, INDIANA

TOSSED OUT OF AN AIRPLANE

BY A DICTATORSHIP

OR WAS I A MIGRANT BODY

WHO DIED FROM DEHYDRATION WHILE

CROSSING THE INVISIBLE LINE

BETWEEN ONE CIVILIZATION

TO ANOTHER?

EDWIN DESCRIBES HIMSELF

AS A LINGUALIST.

HIS POETIC BIRTH CAME THROUGH

THE NUYORICAN POETS CAFé.

I WOULD SAY HE BOTH DOES NOT

SHY AWAY FROM HIS HERITAGE

AND CLAIMING IT AS SOMETHING

TO WRITE ABOUT,

WAS I A DISAPPEARED BODY

BUT IN NO WAY DOES HE LET IT

DEFINE HIM.

EDWIN: BIENVENIDO

TO THE BICOASTAL LINGUA,

FORKED TONGUE MANDALA,

SPEECH SO TRUE,

[APPLAUSE]

BICOASTAL LESIONS AS AMERICA

TRIES HARD TO PERFECT

HER ASS-CENT... HER ACCENT.

DANIEL: WHY DON'T WE START

JUST BY HAVING EVERYBODY

INTRODUCE THEMSELVES.

MALE: MY NAME IS STEVEN WADELL.

I LIKE TO WRITE POETRY.

I LOVE READING POETRY A LOT.

I'M PLANNING ON BECOMING

A COLLEGE ENGLISH PROFESSOR.

MALE: I THINK WHERE I WANT TO GO

WITH WRITING IS MAYBE WRITE

A BOOK OF POETRY OR SOMETHING.

MALE: I MAINLY WRITE MUSIC.

I DON'T REALLY WRITE POEMS.

BUT I THOUGHT MAYBE

A POETRY CLASS COULD HELP ME

ADD SOME DEPTH

INTO THE WAY THINGS FLOW.

DANIEL: SO EDWIN AND JULIA--

WRIGHT IS ONE

OF THE CITY COLLEGES.

YOU CAN BE A CLASSROOM WITH

A WHOLE RANGE OF STUDENTS

FROM SEVERAL DIFFERENT

COUNTRIES,

SEVERAL DIFFERENT AGE GROUPS.

MANY OF THEM HAVE COME FROM

CHICAGO PUBLIC SCHOOLS,

WHICH WERE NOT PARTICULARLY

WELL SUPPORTED.

MALE: BOTH OF YOU

BEING PUBLISHED AUTHORS,

HOW DID THAT COME ABOUT?

WERE YOU LIKE,

I'M GOING TO WRITE A BOOK

SO I CAN MAKE MONEY?

EDWIN: THERE'S NO MONEY.

[BACKGROUND DIALOGUE]

DANIEL: THEY'RE NOT NECESSARILY

EXPECTED TO GO TO COLLEGE

AND DO WELL.

I THINK THERE'S A VERY

POLITICAL SPIRIT TO THE WORK

THAT WE DO AS TEACHERS THERE.

THE STUDENTS DESERVE

A CLASSROOM EXPERIENCE

THAT IS AS GOOD

OF A CLASSROOM EXPERIENCE

THAT THEY'RE GOING TO GET

AT OTHER TYPES

OF MORE ELITE INSTITUTIONS.

GETTING CHANCES THAT

THEY MIGHT NOT NORMALLY GET.

EDWIN: I LOOK UP AT YOU,

TALL, PROUD, BEACON.

I, TOO, AM TOWER.

IT'S MY LAST NAME IN SPANISH.

DANIEL: WE ALL HAVE THESE

PATTERNS THAT WE GET INTO

AND WE KIND OF NEED

SPLITS THE TONGUE INTO

TO TRICK OURSELVES

TO GET OUT THEM.

[KNOCKING]

ALISON: WELL I TEACH

IN CONTEMPORARY PRACTICES,

WHICH IS THE FRESHMAN PROGRAM,

AND ALSO DO GRADUATE ADVISING.

I LIKE THAT MIX

BECAUSE BOTH FRESHMAN

AND GRADUATE STUDENTS ARE OFTEN

ASKING REALLY BIG QUESTIONS

ABOUT WHAT ART CAN BE.

[BACKGROUND DIALOGUE]

I WALK TO THE INSTITUTE

AS PART OF MY JOB AND I AM OFTEN

IN THE CHINESE

WINGS OF THE MUSEUM,

AND THE HAN DYNASTY PIECES

THAT THE MUSEUM HAS

ARE BEAUTIFUL PIECES.

AND THERE ARE THESE

FUNERARY MODEL THAT

WERE BURIED WITH THE DEAD,

BUT THEY'RE A VERY

INTIMATE SCALE.

THEY'RE ALSO ALMOST

MODERN LOOKING.

SO WHEN I FIRST STARTED

THIS PROJECT THAT WAS THE MODEL

I WAS LOOKING AT.

AND I LIKED THAT THERE WAS

SOMETHING THAT ALREADY HAD TO DO

WITH DEATH.

[DOOR OPEN]

KATHLEEN: SO I'M IN THIS

NEW PHASE OF MY LIFE

CALLED RETIREMENT.

[DOOR CLOSE]

VERY, VERY EMPTY OFFICE.

MIXTURE OF FEELINGS HERE.

BYE OFFICE.

I'VE SPENT THE NIGHT HERE

MORE THAN A FEW TIMES,

MORE THAN I PROBABLY CARE

TO ADMIT.

I'VE BEEN HERE ALL NIGHT.

IT'S EASIER TO FUNCTION

SOMETIMES IN A COMPLETELY

ISOLATED PLACE.

[MUSIC]

THIS IS AN OPPORTUNITY FOR ME

FINALLY TO PUT

ALL MY BEST ENERGY,

MY FIRST ENERGY INTO WRITING

AND GETTING MY STUFF OUT THERE.

[MUSIC]

THERE ARE THINGS THAT FLOAT

AROUND IN YOUR BRAIN

FOR A LONG TIME

BEFORE THEY LATCH ON.

[PIANO MUSIC]

CYNTHIA: IT'S INTERESTING

TO THINK ABOUT ROUTINE

BECAUSE ROUTINE SORT OF IMPLIES

SOMETHING IS THE SAME,

AND I FIND THAT I HAVE

TO IMPROVISE ON A DAILY BASIS.

ELIAS!

ONE OF THE LADIES

WHO TOOK CARE OF ME

WHEN MY PARENTS WERE AT WORK,

WHEN I CAME HOME FROM SCHOOL,

A LADY NAMED MISS EBBIE,

SHE LIVED AROUND THE CORNER

FROM US.

ELIAS: HI!

CYNTHIA: THERE WAS ALL THIS

MYSTERY AROUND HER.

THEY USE TO CALL HER

OBEAH WOMAN.

[BACKGROUND DIALOGUE]

MISS EBBIE HAD SPECIAL POWERS.

SO THIS IS WARM ENOUGH?

ELIAS: YEAH,

BUT THAT'S WARMER THOUGH.

CYNTHIA: YEAH, I KNOW.

THAT'S WHY I GAVE IT TO YOU.

ELIAS: BUT IT'S HARDER TO MOVE.

[STRUGGLING NOISE]

CYNTHIA: ONE OF THE THINGS THAT

SHE DID TO ENTERTAIN ME

WAS TO TEACH ME

HOW-TO TIE A HEAD-TIE.

"AND YOU TAKE IT SO,

AND YOU FOLD IT SO."

I IDENTIFY

AS A CARIBBEAN PERSON.

ELIAS: BYE, SEE YOU.

CYNTHIA: I COULD NEVER HAVE

ANTICIPATED THAT THIS WOULD BE

THE KIND OF PLACE

THAT I WOULD END UP

OR THAT I WOULD BE INTERESTED

IN BEING IN,

BUT IT'S BEEN REALLY PRODUCTIVE

AND A GREAT PLACE TO BE.

I STILL PERFORM AND PRESENT

MY WORK IN OTHER PLACES.

I DO OTHER PEOPLE'S WORK

IN OTHER PLACES.

AND I'M ALWAYS HAPPY

TO COME BACK.

SO YOU GUYS ARE RECOMMENDING

BOOKS TO EACH OTHER.

ELIAS: YEAH, AND IF WE WANT

TO READ THEM, THEN WE CAN.

CYNTHIA: I SEE.

DAN ANDRIES: IS THERE ANYTHING

THAT YOU WOULD LIKE TO SAY

OR TALK ABOUT TODAY

THAT I HAVE NOT TOUCHED ON?

CYNTHIA: I DON'T KNOW.

I PROBABLY WON'T KNOW

UNTIL TOMORROW.

DANIEL: NO, I DON'T THINK SO.

DAN ANDRIES: OK.

I THINK WE ARE GOOD.

THANK YOU.

[MUSIC, SINGING]

ANNOUNCER: THIS PROGRAM

IS PARTIALLY SUPPORTED

BY A GRANT FROM THE

ILLINOIS ARTS COUNCIL AGENCY.