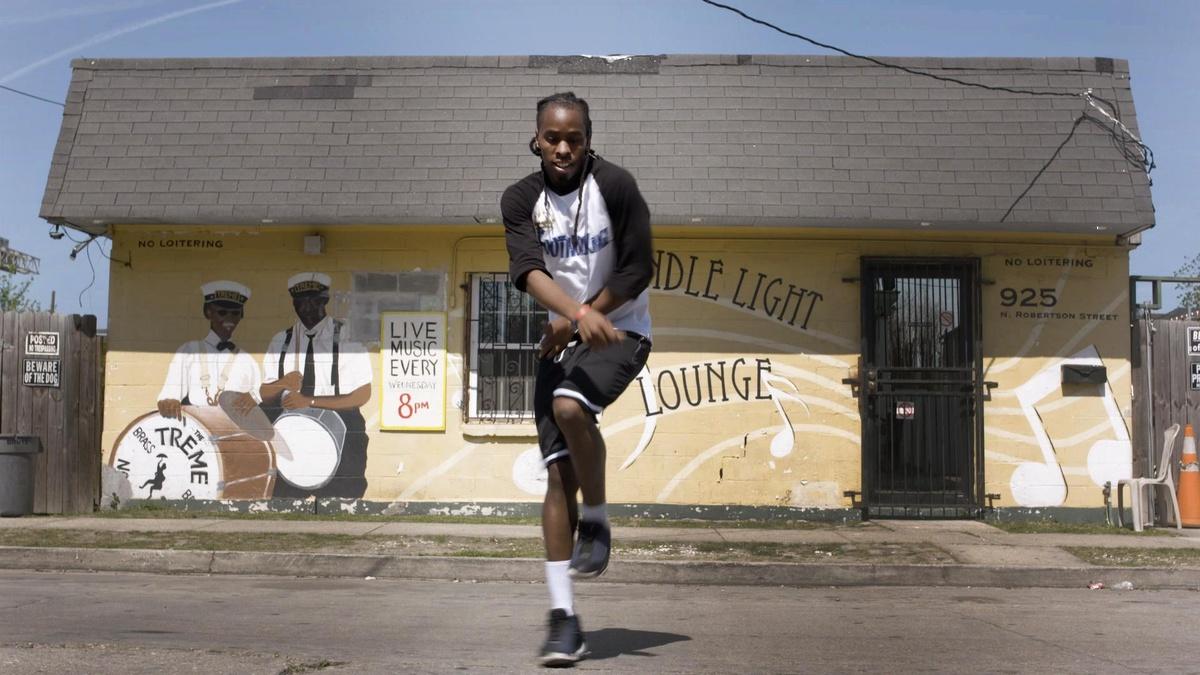 S1 E3 | FULL EPISODE
High-Stepping Moves on New Orleans' Second Line Parades
Watch Rodrick "Scubble" Davis, known for his exuberant, athletic footwork, as he dances his way through the historic Tremé neighborhood, known as the birthplace of jazz and center of the second line tradition.
TRANSCRIPT

This being New Orleans,

every Sunday, we take over the streets.

Parading, partying, people dancing.

The style of second line dancing,

there's no wrong or right way.

But the footwork,

that's what separates a really good dancer.

It's all about putting on a show.

It started generations before me.

Even my grandmother got footwork.

It's just part of my blood. It's part of my culture.

It's part of the way I live.

My biological name is Rodrick,

but everyone calls me Scubble.

I'm a cook by day, and I second line sun-up (to) sundown.

Energy and stamina-wise,

like, not too many people are gonna out-dance me.

I grew up in the Treme area.

It's one of the oldest neighborhoods.

Jazz and the second line, it originated in the Treme area.

I mean, (if) you grew up around here,

you walk with a certain pep in your step.

When I was like four,

my mama introduced me to second line.

I was always a hyped-kid. I couldn't keep still.

Anytime I hear the band, I was moving.

When my mother passed when I was like 17,

the day before she passed, she just was like,

"When I go, I don't wanna hear all that crying and stuff.

You just gotta roll for me."

'Cause she loved it just as much as me.

Every time I hear that beat,

most of all I'm dancing for my mother

'cause I know she watching.

That smile, I feel that's

her smiling through me.

You can have six bad days,

Monday through Saturday. You have six terrible days,

and get up Sunday and go to (the) second line,

and you're gonna forget.

Just that one day gonna made your whole week.

- Everyone says, "Nothing like New Orleans."

And just something about the trombones, the trumpets.

The music, when it goes through you,

it touches your soul.

You see a lot of people that you haven't seen

in a long time.

You get hugs, kisses. You get some that come dance with you.

It's just a great feeling.

- It's no negativity. Like, everyone out there,

they coming together, and they treat everybody like family.

From my dancing, I just want people to know that

the kids are watching, and I tell them, like,

"You a young king yourself."

Or, "You a young queen yourself."

I can't go this long forever, like,

we all gotta get old.

Somebody gotta replace me.