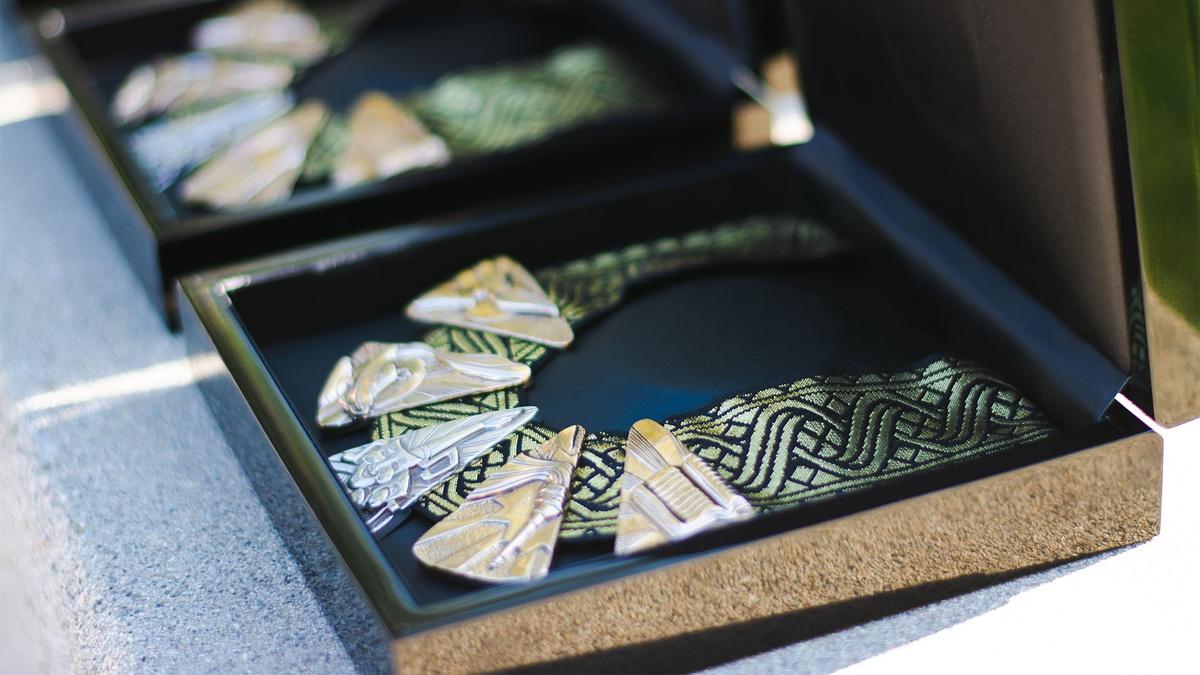 S2021 E1 | CLIP
The Hispanic Heritage Awards Honors Latina NASA Engineers
The Hispanic Heritage Awards honors three Latina NASA Engineers – Christina Hernández, Clara O'Farrell, and Diana Trujillo – for their contributions to human space exploration and the Mars 2020 Perseverance Mission.
TRANSCRIPT

LEGUIZAMO: In February,

the Perseverance Rover touched down on the surface of Mars.

The largest and most advanced rover NASA's ever put

on another planet,

Perseverance represents a major leap forward in

human space exploration and

the search for extraterrestrial life.

And while it takes hundreds of scientists and engineers

all over the world to pull off a mission like this,

we wanted to highlight three Latinas who were integral

in making this historic moment possible.

Let's learn more about our 2021 STEM Award Honorees,

Clara O'Farrell,

Christina Hernández and Diana Trujillo.

O'FARRELL: My name is Clara O'Farrell and I am

a Guidance and Control Engineer working on

the Mars 2020 Perseverance Rover.

TRUJILLO: My name is Diana Trujillo and currently I am

a Technical Mission Manager for the Perseverance Mission.

HERN ÁNDEZ: My name is Christina Diaz Hernández.

My pronouns are she, her and ella and

I am a Payload Systems Engineer on the Perseverance Mission.

O'FARRELL: I grew up in Buenos Aires.

When I was in first grade, my grandma took me to

Tierra Del Fuego,

which is the southernmost province

of Argentina to see the penguins.

You know, when I got to high school,

I realized that being a marine biologist was more than

just playing with penguins and I realized that I

really liked solving problems and I like math and physics,

so I decided to become an engineer.

HERN ÁNDEZ: My parents were actually going to college when

I was in Elementary school.

And my dad was studying to be an engineer and he'd bring home

his calculus books and all of his little wires and gizmos

and I would watch him as I was doing my own homework.

I loved asking, "Why?"

"Why this? Why that? Well, why are we going here?"

And they really helped grow that curiosity by just

enabling that behavior.

TRUJILLO: I was born and raised in Colombia.

I came to the US when I was 17.

I knew very little English.

I had $300 in my pocket.

And at that point in my life, I was looking for,

I was in a survival mode.

So, I was going through my English classes,

I would never look at my transcript,

I would never look at my grades.

And then one time an English teacher came to me and said,

"you know you have really good grades?"

and I said, "no I don't."

And then my teacher is later on

like, "no, you're not understanding.

You should go and go register for honors classes

and go do this other things.

I was afraid of being a failure,

turns out that I wasn't a failure

and when she pointed that to me,

I realized that I could actually learn and

I could push myself and I was actually

smart and I hadn't realized that.

2006, I was admitted to the NASA Academy program,

which is an internship in Goddard in Maryland.

We went and saw a space shuttle launch.

We got together with scientists that I remember thinking,

"I want your job!

I want your job!

I want your job!"

And it opened up this idea of like,

here's everything you can do with space exploration,

which I used to think, like, only this people can do it.

And now it's like no, there's all of this jobs.

O'FARRELL: And I happened to be here in Pasadena

in 2012 when Curiosity rover landed.

One of the things that I found out was that one of the

main players also happened to be from Argentina.

So, we talked, he gave me advice and he also believed in me

and he took a chance on me and he, you know helped me,

introduced me to the right people.

And here I am today.

HERN ÁNDEZ: I remember the recruiter at CalPoly,

my university, they said, "this is the resume of somebody

who already works at JPL."

And so, they gave me a shot!

You know, they said, you know

"We want you to come to JPL and interview,"

and I just really gave it my all.

So, I was a part of the team, the payload team,

that was basically in charge of building the seven

different instruments that are now on the rover.

O'FARRELL: The rover is very heavy.

It weighs over 2,000 pounds and when it arrives at Mars,

it's going at 12,000 miles an hour and we have seven minutes

to take it from that speed to less than one mile an hour so

that we can touch down safely on the surface.

We designed a new supersonic parachute.

It was 70 feet in diameter and it was stronger than any

parachute we'd designed before.

So, I was a part of the team that was tasked

with testing this parachute.

TRUJILLO: Before we launch, we just need to hurry up and

make it to the launch vehicle,

make sure that everything is integrated.

But then before we land,

I switch into the Operational Readiness Test Lead,

which meant that from the surface standpoint,

we were putting together four huge tests where

we were actually putting the team to the test.

Now we're on Mars, I'm actually the Flight Director while we're

trying to do the deployment, which is crazy awesome.

And then after that, I had the pleasure to also be flight

director for the deployment of the helicopter.

O'FARRELL: The moment that we heard that the parachute

had deployed successfully, that was so exciting, but also,

such a huge relief 'cause we'd been working on that

for years and that feeling like, "I didn't screw it up!"

TRUJILLO: For the first time we had done the first planetary

landing broadcast in Spanish.

And I had the honor to have been the host of that broadcast.

My culture, my heritage got to join in with the party at the

right time when it was happening and did not miss anything.

O'FARRELL: I'm a regular person who's

had tremendous opportunity.

And who's been helped out along the way

by some fantastic people.

So, it's our responsibility to create those opportunities

for the next generation.

HERN ÁNDEZ: This award is gonna now introduce, you know,

everybody, to the next generation of Latinas and

the ones that are really creating change and trying,

not just to get to a place of visibility,

but to bring up communities,

to bring up students who believe that they don't belong.

TRUJILLO: Hopefully people will hear my story and realize,

not only comes from you know the dreams and hopes when

you're an immigrant and you come to a different place where

you don't know anything about it,

you don't have any families,

but that's not going to stop you.

Because we as Latinos have that in our blood.

We don't give up.

We don't back down.

We fight through it.

And fight through it means you can make it to another planet

and still fight through it and keep breaking barriers.

Do it in Spanish.

Bring in the next generation.

Do all of these things so that next time that we talk about

going to another planet, it's not five or six Latinos,

it's like it doesn't matter anymore because we're so many

that we can all go.

So, now it's truly the Blue Planet going to another planet

and not just a few people.