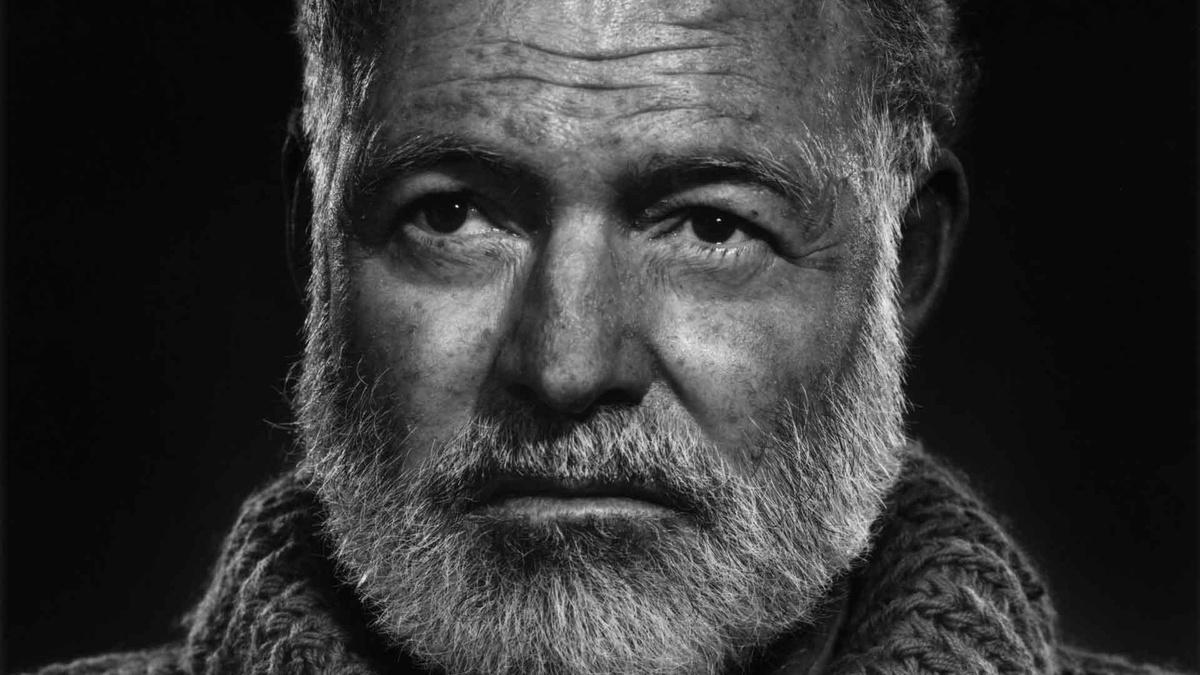 S1 E3 | FULL EPISODE
The Blank Page (1944-1961)
Hemingway follows the Army as they advance through Europe. Afterwards, he tries to start a life with Mary Welsh, but is beset with tragedies. He publishes The Old Man and the Sea to acclaim but is overcome by his declining mental condition.
TRANSCRIPT

ANNOUNCER: MAJOR FUNDING FOR "HEMINGWAY"

WAS PROVIDED BY THE BETTER ANGELS SOCIETY

AND BY ITS MEMBERS:

THE ELIZABETH RUTH WALLACE LIVING TRUST,

JOHN AND LESLIE McQUOWN,

JOHN AND CATHERINE DEBS,

THE FULLERTON FAMILY CHARITABLE TRUST,

KISSICK FAMILY FOUNDATION, GAIL ELDEN,

GILCHRIST AND AMY BERG,

ROBERT AND BEVERLY GRAPPONE,

AND MAUREE JANE AND MARK PERRY.

ADDITIONAL FUNDING WAS PROVIDED BY THE ANNENBERG FOUNDATION,

THE ARTHUR VINING DAVIS FOUNDATIONS,

THE CORPORATION FOR PUBLIC BROADCASTING,

AND BY CONTRIBUTIONS TO YOUR PBS STATION

FROM VIEWERS LIKE YOU.

THANK YOU.

♪

MAN, AS HEMINGWAY: WHEN HE AWOKE, HE KNEW HE HAD BEEN

OUT OF HIS HEAD IN THE NIGHT,

AND AFTER EATING HIS BREAKFAST, HE UNLOADED HIS PISTOL

AND PLACED THE LOADED MAGAZINE IN ONE DRAWER

AND THE PISTOL IN ANOTHER.

AFTER THIS, HE COMMENCED WRITING.

AT NIGHTS NOW HE WAS ON THE BOAT, MOSTLY,

ALTHOUGH ON SOME NIGHTS HE WAS IN UPPER MICHIGAN,

WHERE HE HAD LIVED AS A BOY.

THIS WAS THE FIRST TIME WHEN HE HAD BEEN REALLY AWAKE IN THE NIGHT

AND STILL UNABLE TO LEAVE THE DREAM.

HE KNEW HE HAD BEEN OUT OF HIS MIND,

BUT HE DID NOT CARE AS LONG AS HE COULD WRITE IN THE DAYTIME.

[KEYS CLICKING]

WHATEVER HAPPENED TO HIM NOW HE CONSIDERED OF NO IMPORTANCE

AS LONG AS HE COULD WRITE.

HE WROTE WELL THAT DAY.

♪

NARRATOR: ON MAY 17, 1944, ERNEST HEMINGWAY ARRIVED IN LONDON,

ASSIGNED BY "COLLIER'S" MAGAZINE TO COVER

THE ALLIED INVASION OF FRANCE, NOW LESS THAN 3 WEEKS AWAY.

HE WAS 44 YEARS OLD BUT SEEMED MUCH OLDER AND FELT THAT

THE LUCK THAT HAD KEPT HIM ALIVE THROUGH TWO WARS WOULD LIKELY

NOT CONTINUE THROUGH ANOTHER

AND BLAMED HIS THIRD WIFE, MARTHA GELLHORN,

FOR FORCING HIM TO COME.

GELLHORN WAS STILL AT SEA, ON HER WAY TO ENGLAND

TO COVER THE CONFLICT.

ONCE HEMINGWAY SETTLED INTO HIS SECOND-FLOOR ROOM

AT THE DORCHESTER HOTEL IN THE FASHIONABLE MAYFAIR DISTRICT,

HE FOUND HIMSELF THE CENTER OF ATTENTION AND HIGH-SPIRITED

GOOD TIMES.

FELLOW CORRESPONDENTS, RAF PILOTS, AND OPERATIVES ENLISTED

IN THE CLANDESTINE U.S. OFFICE OF SPECIAL SERVICES--THE OSS--

ALL GRAVITATED TOWARDS HIM.

ONE DAY AT LUNCH, HE STOPPED BY THE TABLE OF THE PLAYWRIGHT

IRWIN SHAW AND ASKED TO BE INTRODUCED TO HIS COMPANION,

A 36-YEAR-OLD CORRESPONDENT FOR "TIME" AND "LIFE" NAMED

MARY WELSH.

HER SECOND HUSBAND, AN AUSTRALIAN REPORTER,

WAS OUT OF THE COUNTRY, AND IN WARTIME LONDON SHE WAS

BEING PURSUED SIMULTANEOUSLY BY SHAW AND A NUMBER OF OTHER MEN.

HEMINGWAY JOINED THE PACK.

[AIR RAID SIREN]

ONE NIGHT, RETURNING BY CAR FROM A PARTY THROUGH THE

BLACKED-OUT LONDON STREETS, HEMINGWAY'S DRIVER FAILED TO

SEE A WATER TANK AND CRASHED INTO IT.

HEMINGWAY'S KNEES WERE INJURED.

HIS HEAD SMASHED THROUGH THE WINDSHIELD, CAUSING

ANOTHER CONCUSSION.

"HIS SKULL WAS SPLIT WIDE OPEN," HIS FRIEND ROBERT CAPA REMEMBERED,

"AND HIS BEARD WAS FULL OF BLOOD."

WHEN MARTHA GELLHORN FINALLY ARRIVED IN LONDON AND CAME TO

SEE HIM IN THE HOSPITAL, SHE BURST INTO LAUGHTER

AT THE SIGHT OF HIM HOLDING COURT AND DRINKING WHISKY

IN HIS ROOM, HIS HEAD SWATHED IN BANDAGES.

SHE WAS SURE NOTHING SERIOUS COULD BE WRONG.

"HE DID NOT LOOK THE LEAST ILL," SHE REMEMBERED.

THIS WAS NO WAY TO BEHAVE WHEN THE WORLD WAS AT WAR.

"WE'RE THROUGH," SHE SAID, AND STORMED OUT OF THE ROOM.

HE WROTE TO HIS SON PATRICK.

MAN, AS HEMINGWAY: "WHEN HEAD WAS ALL SMASHED

"AND TERRIBLE HEADACHES, ET CETERA,

"SHE WOULD NOT DO ANYTHING FOR A MAN

"THAT WE WOULD DO FOR A DOG.

"I MADE A VERY GREAT MISTAKE ON HER, OR ELSE SHE CHANGED VERY MUCH.

"I THINK PROBABLY BOTH, BUT MOSTLY THE LATTER.

"I HATE TO LOSE ANYONE WHO CAN LOOK SO LOVELY AND WHO

"WE TAUGHT TO SHOOT AND WRITE SO WELL,

"BUT HAVE TORN UP MY TICKETS ON HER AND WOULD BE GLAD TO

NEVER SEE HER AGAIN."

KALE: HE JUST--HE COULDN'T DEAL WITH THE FACT THAT SHE LEFT HIM.

HEMINGWAY REALLY, UH, NEVER GOT OVER HER.

HE RETAINED HIS ANGER AT HER FOR THE REST OF HIS LIFE.

NARRATOR: MARY WELSH, WHO ARRIVED AT THE HOSPITAL

WITH A BOUQUET OF TULIPS AND DAFFODILS, PROVED FAR

MORE SYMPATHETIC.

IN FACT, HEMINGWAY'S INJURY WAS MUCH MORE SERIOUS THAN IT

SEEMED AT FIRST-- A SUBDURAL HEMATOMA,

BLEEDING BETWEEN THE BRAIN AND THE SKULL.

AS A RESULT OF IT, FOR 11 MONTHS, DURING ALL

THE FIGHTING HE WOULD COVER IN EUROPE, HE WOULD SUFFER FROM

BLURRED VISION, RINGING IN HIS EARS, AND CONSTANTLY RECURRING

HEADACHES, AND WOULD HAVE TROUBLE RECALLING WORDS

AND WRITING LEGIBLY.

NONETHELESS, HEMINGWAY WAS RELEASED FROM THE HOSPITAL

AFTER JUST 4 DAYS AND CONTINUED HIS PURSUIT OF MARY WELSH.

"I DON'T KNOW YOU, MARY.

BUT I WANT TO MARRY YOU," HE TOLD HER, BEFORE BOARDING

THE TROOP CARRIER THAT WOULD FERRY HIM ACROSS

THE ENGLISH CHANNEL ON D-DAY.

"I WANT TO MARRY YOU NOW, AND I HOPE TO MARRY YOU SOMETIME.

SOMETIME, YOU MAY WANT TO MARRY ME."

♪

MAN, AS HEMINGWAY: AS WE MOVED IN TOWARD LAND IN THE GRAY EARLY LIGHT,

THE 36-FOOT COFFIN-SHAPED STEEL BOATS TOOK

SOLID-GREEN SHEETS OF WATER THAT FELL ON THE HELMETED HEADS

OF THE TROOPS PACKED SHOULDER TO SHOULDER

IN THE STIFF, AWKWARD, UNCOMFORTABLE, LONELY

COMPANIONSHIP OF MEN GOING TO BATTLE.

[DISTANT GUNFIRE]

MAN: FIRE! [EXPLOSION]

NARRATOR: DESPITE HIS THROBBING HEAD AND BATTERED KNEES,

HEMINGWAY CLIMBED DOWN A ROPE LADDER INTO A LANDING CRAFT

WALLOWING OFF THE LEFT FLANK OF OMAHA BEACH,

WHERE 34,000 SOLDIERS WERE ABOUT TO LAND...

[RAPID GUNFIRE]

BUT NO WAR CORRESPONDENTS WERE PERMITTED TO GO ASHORE.

HE HAD TO STAY ABOARD THE LANDING CRAFT AND WATCH FROM THE BOAT

AS MEN WADED THROUGH THE SURF UNDER DEADLY GERMAN FIRE.

MAN, AS HEMINGWAY: ON THE BEACH ON THE LEFT WHERE THERE

WAS NO SHELTERING OVERHANG OF SHINGLED BANK, THE FIRST,

SECOND, THIRD, FOURTH, AND FIFTH WAVES LAY WHERE THEY

HAD FALLEN, LOOKING LIKE SO MANY HEAVILY LADEN BUNDLES

ON THE FLAT PEBBLY STRETCH BETWEEN THE SEA

AND THE FIRST COVER.

[GUNFIRE]

NARRATOR: 1,000 ALLIED TROOPS WOULD DIE THAT DAY.

BY EVENING, HEMINGWAY WAS BACK IN HIS LONDON HOTEL ROOM.

HE WAS NOT PLEASED TO LEARN THAT MARTHA GELLHORN WOULD

MANAGE TO DO WHAT HE HAD NOT--

GET ONTO OMAHA BEACH.

SHE SLIPPED ABOARD A HOSPITAL SHIP, THEN LOCKED HERSELF

IN A BATHROOM AND WENT ASHORE WITH THE AMBULANCE TEAMS,

HELPING BRING BACK THE WOUNDED.

SHE HANDED IN HER PIECE BEFORE HE DID AND HAD SEEN

AND EXPERIENCED FAR MORE OF THE CARNAGE THAN HE HAD.

BUT WHEN THE NEXT ISSUE OF "COLLIER'S" APPEARED,

ONLY HIS NAME WAS ON THE COVER.

IN THE WEEKS AFTER D-DAY,

HEMINGWAY ACCOMPANIED RAF PILOTS ON BOMBING MISSIONS,

BUT DESPITE THE ENEMY FLAK THROUGH WHICH HE FLEW,

HE FELT TOO FAR FROM WHAT WAS HAPPENING ON THE GROUND IN FRANCE.

HEMINGWAY GOT HIMSELF ASSIGNED BRIEFLY

TO GENERAL GEORGE PATTON'S THIRD ARMY,

BUT HE DISLIKED ITS SHOWY COMMANDER

AND HAD LITTLE INTEREST IN TANK WARFARE.

THEN HE MANAGED TO LIBERATE A GERMAN MOTORCYCLE WITH A SIDECAR,

AND TRAVELING ALONG AN UNSECURED ROAD...

[EXPLOSION] WAS FIRED UPON BY A GERMAN ANTITANK GUN.

THE EXPLOSION HURLED HIM INTO A DITCH,

WHERE HIS HEAD HIT A ROCK

AND HE SUFFERED YET ANOTHER CONCUSSION.

ENEMY TROOPS WERE SO CLOSE, HE COULD HEAR THEM TALKING.

HE HAD TO STAY HIDDEN TILL DARK FOR FEAR OF CAPTURE.

HE EVENTUALLY FOUND A HOME WITH THE 22nd REGIMENT

OF THE 4th INFANTRY DIVISION-- THE "DOUBLE DEUCES"--

COMMANDED BY COLONEL CHARLES "BUCK" LANHAM, WHO WOULD

BECOME HIS LIFELONG FRIEND.

LANHAM REMEMBERED HIS FIRST SIGHT OF HEMINGWAY

WATCHING THE STREET FIGHTING IN A NORMAN VILLAGE.

"ERNEST WAS STANDING POISED AS ALWAYS ON THE BALLS OF HIS FEET,

"LIKE A FIGHTER, LIKE A GREAT CAT--

"EASY, RELAXED, ABSORBED, INTENT, WATCHFUL.

MISSING NOTHING."

WHEN TOWNSPEOPLE MISTOOK HEMINGWAY FOR AN OFFICER

AND TOLD HIM THREE SS MEN WERE HIDING IN A CELLAR,

HE SHOUTED DOWN A WARNING,

THEN TUMBLED 3 GRENADES DOWN THE STAIRS.

[EXPLOSION]

GRATEFUL VILLAGERS REWARDED HIM WITH TWO MAGNUMS

OF CHAMPAGNE.

FOR A TIME, HE AND A CONSTANTLY CHANGING CAST

OF CORRESPONDENTS OCCUPIED A HOTEL AT MONT ST. MICHEL,

DRIVING OUT TO WATCH THE WAR DURING THE DAY

AND DRINKING AND DINING TOGETHER IN THE EVENING--

CHARLES COLLINGWOOD OF CBS RADIO,

THE "NEW YORKER's" A.J. LIEBLING,

AND THE MOVIE DIRECTOR JOHN FORD AMONG THEM.

THE GENEVA CONVENTION BARRED CORRESPONDENTS FROM

BECOMING COMBATANTS.

HEMINGWAY PAID LITTLE ATTENTION TO THE RULES.

WITH PRIVATE "RED" PELKEY AT THE WHEEL, HE TRAVELED

EVERYWHERE IN A JEEP FILLED WITH MAPS, RIFLES,

AND GRENADES.

SOME REPORTERS ADMIRED HIM FOR IT.

OTHERS COULDN'T STAND HIM.

"HE WAS ONLY A REPORTER SAME AS US," ONE SAID,

"BUT HE THOUGHT HE WAS THE SECOND COMING."

IN LATE AUGUST 1944, AS AMERICAN FORCES MOVED

TOWARD PARIS, HEMINGWAY RAN INTO COLONEL DAVID BRUCE,

AN OLD FRIEND NOW SERVING IN THE OSS,

AND SOMEHOW PERSUADED BRUCE TO LET HIM TAKE COMMAND OF A BAND

OF FREE FRENCH RESISTANCE FIGHTERS IN THE VILLAGE

OF RAMBOUILLET, WHICH CONTROLLED ONE OF THE TWO MAIN ROADS

LEADING TO PARIS.

["LE MARSEILLAISE" PLAYING]

ON AUGUST 24th, HEMINGWAY JOINED THE FRENCH ARMY AS IT BEGAN

ITS TRIUMPHAL MARCH INTO THE CAPITAL,

ARMED WITH THE INTELLIGENCE HE, BRUCE,

AND THEIR IRREGULARS HAD GLEANED ABOUT GERMAN DEFENSES.

[CROWDS CHEERING]

AT HIS FIRST GLIMPSE OF PARIS, HEMINGWAY REMEMBERED, "I HAD

"A FUNNY CHOKE IN MY THROAT AND HAD TO CLEAN MY GLASSES

"BECAUSE THERE, NOW BELOW US, GRAY AND ALWAYS BEAUTIFUL,

WAS SPREAD THE CITY I LOVE BEST IN ALL THE WORLD."

WOMAN: WE WERE LIBERATED BY ERNEST HEMINGWAY.

ERNEST HEMINGWAY WAS THE FIRST AMERICAN THAT WE SAW, THAT WE

KNEW WHO ARRIVED IN PARIS.

HE ARRIVED WITH THE FIRST ONES WITH GENERAL LECLERC.

I HEARD A NOISE OUT IN THE STREET IN THE RUE DE L'ODEON

AND LOOKED OUT THE WINDOW AND I SAW A STRING OF JEEPS

WITH THESE MEN IN THEM AND THEN I HEARD PEOPLE CALLING

AND CALLING, "SYLVIA, SYLVIA," AND I HEARD THIS BIG VOICE

SAYING, "SYLVIA, SYLVIA," AND IT WAS ERNEST HEMINGWAY

AND HIS MEN, AND I RUSHED DOWN THE STAIRS AND HE PICKED ME UP,

YOU KNOW, AND SWUNG ME AROUND AND SWUNG ME AROUND.

[GUNFIRE]

NARRATOR: BUT THERE WERE STILL POCKETS

OF GERMAN RESISTANCE.

[MAN SHOUTING INDISTINCTLY]

[GUNFIRE]

BEACH: THEN HE SAID, "WHAT CAN I DO FOR YOU?"

AND WE SAID, "OH, LIBERATE US! LIBERATE US!"

BECAUSE THESE--THE ENEMY WERE STILL FIRING FROM THE ROOFS

AND THE RESISTANCE WAS FIRING ALSO FROM THE ROOFS, AND THIS

SHOOTING WAS GOING ON ALL THE TIME, DAY AND NIGHT.

SO, ERNEST HEMINGWAY SAID, "OH, YES."

AND SO HE BROUGHT HIS MEN UP,

AND THEY ALL WENT UP ON THE ROOF AND WE HEARD

GREAT DEAL OF SHOOTING GOING ON FOR A FEW MINUTES AND THEN

THE SHOOTING STOPPED FOREVER.

WE HAD NO MORE SHOOTING AFTER THAT.

THEN WE ASKED ERNEST HEMINGWAY IF HE WOULDN'T STAY AND HAVE

SOMETHING WITH US, SOME DRINK AND HE SAID, "OH, NO.

I HAVE TO LIBERATE THE CELLAR OF THE RITZ."

NARRATOR: HEMINGWAY, COLONEL BRUCE, AND THEIR OUTFIT HEADED

FOR THE RITZ, WHICH HAD BEEN HEMINGWAY'S FAVORITE HOTEL

BEFORE THE WAR.

THERE, THEY WERE GREETED BY THE BARTENDER WITH 50 MARTINIS,

FOLLOWED BY WHAT BRUCE REMEMBERED AS "A SPLENDID DINNER."

AS SOON AS SHE COULD, MARY WELSH ARRIVED FROM LONDON

AND MOVED INTO HIS ROOM IN THE RITZ.

HEMINGWAY WROTE HIS SON PATRICK THAT HE HAD A NEW

COMPANION NOW, A "FINE GIRL," WHO HAD LOOKED AFTER HIM,

"IN WORST TIME EVER HAD. THINK YOU WOULD LIKE HER."

HE TOOK HER AROUND PARIS TO SEE THE PLACES HE AND HIS

FIRST WIFE, HADLEY, HAD LOVED, TOLD HER THAT NO MATTER HOW

MANY MEN HAD LOVED HER HE LOVED HER MORE, AND TALKED

ABOUT THE NEW FAMILY HE HOPED TO START WITH HER.

HE HAD 3 SONS, HE SAID,

AND BADLY WANTED A DAUGHTER, TOO.

MARY WAS LESS CERTAIN OF THEIR FUTURE TOGETHER.

ERNEST WAS SO ARDENT

AND INSISTED ON SUCH COMPLETE DEVOTION, SHE REMEMBERED,

THAT SHE SOMETIMES FELT OVERWHELMED.

HE COULD BE GENTLE AND KIND, BUT HE WAS ALSO UNPREDICTABLE

AND EASILY ANGERED.

AND HE DRANK TOO MUCH.

WHEN SHE COMPLAINED THAT HE AND HIS DRUNKEN FRIENDS

FROM THE 22nd REGIMENT WERE MAKING TOO MUCH NOISE,

HE SLAPPED HER, THEN APOLOGIZED AND SWORE IT

WOULD NEVER HAPPEN AGAIN.

BUT ANOTHER EVENING, HE PLACED A PHOTOGRAPH OF HER ABSENT HUSBAND

IN THE TOILET BOWL AND SHOT IT TO PIECES

WITH A MACHINE PISTOL, SHATTERING THE PORCELAIN

AND FLOODING THE FLOORS BELOW.

MARY AGREED ONLY TO TRY LIVING WITH HIM

WHEN THE WAR WAS OVER.

BEEGEL: HE ALWAYS HAD TO HAVE A WIFE.

HE HATED TO BE ALONE.

AND THAT MARY WASN'T SURE, THAT SHE REALLY WANTED HIM TO

STOP DRINKING BEFORE SHE WOULD COMMIT.

SHE CALLED IT "OVER-DRINKING."

NARRATOR: ONE DAY THAT AUTUMN, A STAFF SERGEANT WHO HAD

WRITTEN SOME SHORT STORIES KNOCKED ON THE DOOR

OF HEMINGWAY'S HOTEL ROOM.

HE'D NEVER MET HEMINGWAY AND DIDN'T KNOW HOW HE'D BE RECEIVED,

BUT HE WAS USHERED IN AND GIVEN A DRINK.

HEMINGWAY HAD SEEN ONE OF HIS PUBLISHED STORIES, ASKED TO

SEE ANOTHER, LIKED IT, AND WROTE HIM A LETTER SAYING SO.

AFTERWARDS, THE YOUNG MAN TOLD A FRIEND HOW THRILLED HE'D BEEN.

HEMINGWAY WAS A "GOOD GUY" HE SAID, MODEST ABOUT HIS OWN EMINENCE,

AND SURPRISINGLY "SOFT" DESPITE THE HARDNESS

OF HIS CELEBRATED STYLE.

JEROME DAVID SALINGER WOULD NEVER FORGET HEMINGWAY'S

KINDNESS AND GENEROSITY.

IN LATE FALL, HEMINGWAY REJOINED BUCK LANHAM'S

22nd REGIMENT AS IT MOVED TOWARD THE FIERCELY DEFENDED

GERMAN BORDER.

ONE EVENING, HE, LANHAM, AND 10 OTHERS WERE HAVING DINNER

TOGETHER IN A FARMHOUSE WHEN AN .88 SHELL SMASHED THROUGH

ONE WALL AND OUT THE OTHER WITHOUT EXPLODING.

THE MEN RUSHED TO THE CELLAR, FEARFUL ANOTHER ROUND WAS

HEADED THEIR WAY.

HEMINGWAY CONTINUED EATING.

IN MID-NOVEMBER, THE 22nd ENTERED THE HURTGEN FOREST.

THE BATTLE FOR THIS DENSE, 70-SQUARE-MILE EVERGREEN WOODS,

SOUTH OF THE GERMAN CITY OF AACHEN, HAD BEEN GOING ON

FOR 2 MONTHS.

IT WAS A FRIGHTFUL PLACE TO FIGHT--TREES 100 FEET TALL

AND ONLY A HANDFUL OF ROADS, HEAVILY MINED AND METICULOUSLY

TARGETED BY ENEMY GUNNERS... [EXPLOSION]

AND GERMAN SHELLS THAT EXPLODED

AMONG THE TREETOPS, SENDING SHRAPNEL AND SHARDS OF WOOD

INTO THE MEN HUDDLED BELOW.

MAN: TAKE COVER!

MAN, AS HEMINGWAY: THE WOODS WERE CLOSE-PLANTED FIR TREES,

AND THE SHELL-BURSTS TORE AND SMASHED THEM,

AND THE SPLINTERS FROM THE TREE BURSTS WERE LIKE JAVELINS

IN THE HALF-LIGHT OF THE FOREST, AND THE MEN WERE SHOUTING

AND CALLING NOW TO TAKE THE CURSE OFF THE DARKNESS

OF THE FOREST AND SHOOTING AND KILLING KRAUTS

AND MOVING AHEAD NOW.

NARRATOR: AMERICAN LOSSES WERE STAGGERING.

LANHAM'S REGIMENT WAS ASSIGNED TO CAPTURE A SINGLE VILLAGE

AND 6,000 YARDS OF FOREST.

IN DOING SO, THEY WOULD LOSE 2,733 MEN.

DURING ONE ESPECIALLY SAVAGE FIREFIGHT, LANHAM REMEMBERED,

"MEN WERE FIRING AND ADVANCING AND DROPPING AND FIRING.

"THEN I SAW ERNEST. HE WAS MOVING WITH THE MOVING WAVE,

"BUT I NEVER SAW HIM HIT THE GROUND.

AND THIS TIME THERE WAS NO QUESTION AT ALL," LANHAM SAID,

"THAT HE WAS ARMED AND USING THOSE ARMS."

HEMINGWAY HAD WITNESSED SEVERAL WARS FIRSTHAND,

BUT THIS WAS THE FIRST IN WHICH HE ACTED

AS A FULL-FLEDGED COMBAT SOLDIER.

FIRING A MACHINE GUN ALONGSIDE THE TROOPS EXHILARATED HIM.

THAT NIGHT, HE WROTE MARY THAT THE DREAD HE'D FELT

AT RETURNING TO THE BATTLEFIELD HAD SUDDENLY LIFTED.

MAN, AS HEMINGWAY: "YOU KNOW HOW I WAS SPOOKED OF THE BATTLE

"BEFORE IT STARTED.

"BUT THEN ABOUT YESTERDAY

"AND THE DAY BEFORE, JUST LIKE A GIFT,

"I GOT THE OLD FEELING OF IMMORTALITY BACK I USED TO HAVE WHEN I WAS 19,

"RIGHT IN THE MIDDLE OF A REALLY BAD SHELLING,

"NOT THE CAGEY ASSESSMENT OF CHANCES,

"NOR THE ANGRY, THE HELL-WITH-IT FEELING,

"NOR THE THROW-EVERYTHING- AWAY FEELING.

JUST THE PURE OLD THING WE USED TO OPERATE ON."

NARRATOR: BUT HE HAD HAD ENOUGH.

HE LEFT THE WAR AND WENT HOME TO CUBA.

THE SIGHTS HE'D SEEN IN THE HURTGEN FOREST--A DOG TEARING

AT A CHARRED GERMAN CORPSE,

A GI's BODY FLATTENED BY TANKS AND OTHER VEHICLES--

WOULD HAUNT HIS DREAMS FOR THE REST OF HIS LIFE.

MAN, AS HEMINGWAY: "APRIL 2, 1945. DEAR BUCK.

"IT IS A HELL OF A THING GOING AWAY FROM THE 22nd.

"IT PROBABLY SOUNDS WET, BUT I WAS AND AM

"ABSOLUTELY HOMESICK FOR THE REGIMENT,

"AND I MISS YOU VERY BADLY, BUCK.

"I DON'T GIVE A DAMN ABOUT WRITING.

"WILL HAVE TO GET OVER THAT. I GUESS I WILL.

"HAVE GOTTEN OVER EVERYTHING ELSE.

"CERTAINLY HAVE THE BLACK ASS TODAY.

"I MISS MARY SO MUCH, IT MAKES ME SICK.

"ALWAYS BEFORE, WE HAD OUR DOUBLE DEUCE PROBLEMS AND SOME

"SORT OF FIGHT GOING ON WHEN I WAS AWAY FROM HER AND I HAD

YOUR COMPANIONSHIP."

NARRATOR: IN THE SPRING OF 1945, WAITING FOR MARY WELSH

TO JOIN HIM AT THE FINCA, HIS HOME IN THE HILLS

OVERLOOKING HAVANA, ERNEST HEMINGWAY FEARED HE WOULD

NEVER BE ABLE TO WRITE AGAIN.

BEEGEL: WHEN HE CAME HOME FROM THE WAR,

I THINK HE HAD JUST LOTS AND LOTS OF TRAUMA AND HE HAD SEEN

SO MANY THINGS THAT HE COULD NOT UN-SEE.

AND THEN, HE'S AN ALCOHOLIC. SO WHAT DO ALCOHOLICS DO WHEN

THEY HAVE THINGS IN THEIR LIVES THAT THEY CAN'T UN-SEE

IS THEY DRINK, AND HE WRITES TO BUCK LANHAM LIKE,

"I'M DRINKING TO GO TO SLEEP AT NIGHT.

"I'M DRINKING WHEN I WAKE UP.

"I GOT TO STOP DRINKING OR MARY WON'T COME AND MARRY ME."

BUT I MEAN, IT'S-- IT'S A DISASTER.

KARR: THE PROBLEM WITH ALCOHOLISM, AND I DON'T KNOW

WHY IT WORKS LIKE THIS.

IT MAKES YOU A LIAR, PRIMARILY TO YOURSELF.

YOU'RE ALWAYS LYING TO YOURSELF.

AND YOU'RE TRYING ALL THESE DIFFERENT METHODS

TO TRY TO QUIT.

YOU'RE ONLY DRINKING BEER. YOU'RE ONLY DRINKING WINE.

YOU'RE ONLY DRINKING AFTER 5:00.

YOU'RE ONLY DRINKING BEFORE 5:00.

BUT WITH THAT MASCULINITY, WITH THAT STOICISM,

HEMINGWAY WAS DOOMED, IN A WAY.

[PIANO PLAYING "I CAN'T GIVE YOU ANYTHING BUT LOVE"]

NARRATOR: MARY EVENTUALLY ARRIVED IN HAVANA, HAVING

REQUESTED A YEAR'S SABBATICAL FROM HER JOB AT "TIME."

SHE WAS IN LOVE WITH HEMINGWAY BUT STILL UNSURE WHETHER SHE

SHOULD MARRY HIM.

UNA MAE CARLISLE: ♪ I CAN'T GIVE YOU ANYTHING

♪ BUT LOVE, BABY

♪ THAT'S THE ONLY THING I'VE PLENTY OF, OH, BABY ♪

FATS WALLER: YEAH, WHAT AM I SUPPOSED TO DO?

♪ DREAM AWHILE, SCHEME AWHILE ♪

WALLER: YOU'RE WRONG.

♪ YOU'RE SURE TO FIND

WALLER: THAT'S WHAT YOU THINK. I'M SURE TO FIND.

♪ HAPPINESS AND I GUESS

♪ ALL THOSE THINGS YOU'RE SURE TO PINE FOR... ♪

NARRATOR: HE SAW TO IT THAT SHE HAD SPANISH LESSONS SO THAT

SHE COULD RUN THE FINCA, TAUGHT HER DEEP-SEA FISHING SO THAT

SHE COULD BE HIS COMPANION, ENCOURAGED HER TO QUIT HER JOB

ALTOGETHER SO THAT SHE COULD DEVOTE HERSELF FULLY TO HIM

AS HIS FIRST AND SECOND WIVES HAD DONE

AND MARTHA GELLHORN HAD NOT DONE.

HEMINGWAY WANTED HIS WIFE TO BE BOTH "COMPLETELY OBEDIENT

AND SEXUALLY LOOSE," SHE CONFIDED TO HER DIARY.

SHE ENJOYED THE SEXUAL PART, CUT HER HAIR SHORT

AND BLEACHED IT PLATINUM BECAUSE IT EXCITED HIM,

AND SOMETIMES PRETENDED THAT SHE WAS A BOY

AND HE WAS A GIRL.

HE DYED HIS HAIR, TOO.

WALLER: ♪ I CAN'T DISH OUT ANYTHING BUT LOVE ♪

♪ BABY...

DEARBORN: I THINK IT'S VERY BRAVE TO SAY

WHAT YOUR SEXUAL PREFERENCES ARE.

HE REALLY HAD A THING ABOUT ANDROGYNY,

AND HE LIKED TO SWITCH SEX ROLES IN BED.

AND HE TELLS MARY, YOU KNOW, "LET'S PLAY AROUND."

"I'M GONNA CALL YOU 'PETE.'

YOU CALL ME 'CATHERINE,'"

YOU KNOW, AND THEY GO BACK AND FORTH ON THIS.

AND THEY PLAY AROUND WITH IT, AND I'M NOT SURE WHAT THEY

DO IN BED, BUT SOMEHOW SHE'S SATISFYING THAT INTENSE DESIRE

OF HIS TO PLAY WITH SEX ROLES THAT WAY.

WALLER: ♪ OH, TILL THAT LUCKY DAY... ♪

DEARBORN: IT TOOK A LOT OF GUTS FOR HIM.

AND IN A WAY, HE WANTED TO BE A WOMAN WHO LOVED

ANOTHER WOMAN.

NOW THIS KIND OF THING, IT'S ALL ON A SPECTRUM, RIGHT?

BUT THEN, IT WAS UNHEARD OF.

NARRATOR: "IN BED," SHE WROTE, "HE HAS CERTAINLY BEEN BETTER

FOR ME THAN ANY OTHER MAN,"

BUT SHE CHAFED UNDER WHAT SHE CALLED HIS "DICTATORSHIP."

SHE DISLIKED HIS LECTURES ON HOW THINGS MUST BE DONE,

DETECTED THE GHOSTLY PRESENCE OF MARTHA GELLHORN IN EVERY

ROOM OF THE HOUSE, FELT CUT OFF FROM HER FRIENDS

AND FORMER LIFE.

"NOTHING IS MINE," SHE WROTE.

"THE MAN IS HIS OWN WITH VARIOUS ADJUNCTS--

"HIS WRITING, HIS CHILDREN, HIS CATS.

THE STRIP OF BED WHERE I LIE IS NOT MINE."

WOMAN AS WELSH: "CAN ONLY CONCLUDE THAT I'D BE AN IDIOT

"TO STAY HERE AND MARRY PAPA.

"I'D BETTER GO WHILE THE GOING IS POSSIBLE

AND CAN BE WITHOUT TOO MUCH BITTERNESS."

NARRATOR: BUT SHE STAYED, AND IN THE SPRING OF 1946,

AFTER BOTH HAD LEGALLY SHED THEIR SPOUSES, MARY WELSH

MARRIED ERNEST HEMINGWAY.

BEFORE THE WEDDING, SHE HAD BEEN "AN ENTITY," SHE REMEMBERED.

AFTERWARDS, SHE BECAME "AN APPENDAGE."

OVER AND OVER AGAIN, THEIR UNION FOLLOWED THE SAME

TURBULENT PATTERN.

HE WOULD INSULT OR HUMILIATE HER.

SHE WOULD THREATEN TO LEAVE.

HE WOULD BEG HER TO STAY AND SOMETIMES THREATEN

TO KILL HIMSELF IF SHE DIDN'T.

THEY WOULD RECONCILE IN BED AND THEN START THE CYCLE

ALL OVER AGAIN.

MARY SOMETIMES LIKED TO CALL HERSELF "THE SHORT, HAPPY WIFE

OF ERNEST HEMINGWAY."

EDNA O'BRIEN: MAYBE WRITERS DISIMPROVE AS THEY AGE

BECAUSE THEY LIVE WITH A PERMANENT FEAR THAT

THE GIFT HAS GONE.

IT GETS WORSE WITH AGE.

WHAT HAPPENS IN MID-LIFE, IN YOUTH AND THEN MID-LIFE,

THE SPASMS OF, YOU KNOW, THE FAMOUS CLICHE, "THE BLANK PAGE,"

HAPPENS WITHIN ONE MORNING, A WRITER GETS UP

AND THINKS, "AH, ONE LINE, JUST ONE LINE

AND OFF YOU ARE."

IT DOESN'T HAPPEN AS MUCH IN OLD AGE.

IT DOES NOT.

ONLY BY SHEER PERSEVERANCE.

NARRATOR: HEMINGWAY'S WRITING WAS NOT GOING WELL.

IT HAD BEEN 6 YEARS SINCE HE'D PUBLISHED "FOR WHOM THE BELL TOLLS."

IT WOULD BE 4 MORE YEARS BEFORE HE MANAGED TO PUBLISH

ANOTHER NOVEL.

[TYPEWRITER KEYS CLICKING]

HE WAS ONLY 46 BUT HAD BEGUN TO BE SEEN BY CRITICS AS

A RELIC OF THE 1920s.

WHEN WOULD-BE BIOGRAPHERS CONTACTED HIM,

HE FENDED THEM OFF.

HE RESENTED THE IMPLICATION THAT HIS CAREER WAS

NEARING ITS CLOSE.

HE HAD AMBITIOUS PLANS-- A 3-VOLUME WORK

ENCOMPASSING THE WAR YEARS THAT WAS TO BEGIN ON BIMINI

IN 1936 AND END WITH THE BATTLE FOR THE HURTGEN FOREST.

BUT NOVELS ABOUT THE WAR BY YOUNGER WRITERS--IRWIN SHAW,

JOHN HORNE BURNS, NORMAN MAILER, ALL OF WHOM HAD BEEN

INFLUENCED BY HIM--SOON MADE HIM WONDER IF READERS WOULD

WANT TO READ ABOUT HIS WAR.

HIS PLANS FOR A NEW FAMILY DIDN'T WORK OUT EITHER.

MARY SUFFERED AN ECTOPIC PREGNANCY, AND NEARLY

BLED TO DEATH.

HEMINGWAY WAS TOLD TO SAY GOOD-BYE.

INSTEAD, HE FORCED AN ATTENDANT TO OPEN A NEW VEIN

AND ADMINISTER PLASMA.

MARY SURVIVED BUT WAS TOLD SHE COULD NOT BEAR CHILDREN.

HEMINGWAY WOULD NEVER HAVE THE DAUGHTER HE'D HOPED FOR.

THERE WERE NOW PROBLEMS WITH HIS BOYS, TOO.

BEEGEL: THEY HAD A VERY GOOD TIME WITH PAPA

AND THEY LOVED HIM DEARLY.

BUT AT THE SAME TIME, THEY WERE DEPRIVED OF THEIR FATHER

FOR WHOLE STRETCHES OF THEIR LIVES.

HE WAS INCREDIBLY EXACTING AND DEMANDING AND COULD TURN SOME

OF THAT VERBAL ABUSE ON THEM.

NARRATOR: HE WAS PROUD OF HIS OLDEST SON JACK'S WAR RECORD:

BUMBY HAD JOINED THE OSS, PARACHUTED INTO OCCUPIED FRANCE,

HAD BEEN WOUNDED AND SPENT TIME IN A GERMAN PRISON CAMP,

BUT HIS FATHER GREW IMPATIENT WITH HIS APPARENT INABILITY TO

DECIDE WHAT HE'D LIKE TO DO IN PEACETIME.

GREGORY, THE YOUNGEST, HAD A SECRET.

IT HAD BEGUN WHEN GREGORY WAS A SMALL BOY.

HE'D FOUND BOTH SOLACE AND EXCITEMENT DURING HIS PARENTS'

FREQUENT ABSENCES, FIRST BY TAKING HIS MOTHER'S STOCKINGS

FROM HER DRESSER AND RUBBING THEM AGAINST HIS CHEEK,

THEN BY PULLING THEM ON.

HIS FATHER KNEW ABOUT IT. "HE HAS THE BIGGEST DARK SIDE

IN THE FAMILY EXCEPT ME AND YOU," HE TOLD GREGORY'S

MOTHER, PAULINE, BUT HOPED HE'D GROW OUT OF IT SOMEHOW.

PATRICK: MY BROTHER EXPLAINED TO ME ONCE WHAT A WONDERFUL THING

IT WAS TO BE IN DRAG, YOU KNOW.

IT WAS JUST MARVELOUS,

THE GREATEST THING YOU COULD EXPERIENCE.

AND I THOUGHT, WELL, NOT FOR ME, YOU KNOW.

NOT THAT I DIDN'T SYMPATHIZE,

BUT IT WAS AN INTOLERABLE SITUATION FOR HIM BEING THE

SON OF WHO HE WAS THE SON OF.

I THINK THAT WAS WHAT MADE IT SO AWFUL.

I MEAN THESE DAYS, WHO WOULD GIVE A DAMN?

NARRATOR: BUT HIS MIDDLE SON PATRICK WAS OF EVEN MORE

IMMEDIATE CONCERN.

WHILE VISITING HIS FATHER IN CUBA IN THE SUMMER OF 1947,

HE HAD A SEVERE PSYCHOTIC EPISODE.

HE HAD RECENTLY SUFFERED A CONCUSSION WHICH DOCTORS

THOUGHT MUST HAVE TRIGGERED IT.

PATRICK TORE OFF HIS CLOTHES, REFUSED TO EAT, CURSED

AND STRUCK OUT AT ANYONE WHO CAME NEAR HIM.

PATRICK: IT IS PRETTY HARD TO TELL WHAT HAPPENED TO ME.

IF YOU WOULD GO BY THE SYMPTOMS...

EXTREME SCHIZOPHRENIA.

HA.

BUT YOU KNOW PEOPLE DON'T GET OVER SCHIZOPHRENIA,

DO THEY, AS FAR AS I KNOW?

NARRATOR: HEMINGWAY REFUSED TO HAVE HIS BOY

INSTITUTIONALIZED, AND FOR 3 MONTHS SERVED AS HIS

TENDER AND SUPPORTIVE NURSE, GETTING BY ON 4 HOURS OF SLEEP

ON THE FLOOR OUTSIDE PATRICK'S DOOR.

PATRICK'S MOTHER, PAULINE, CAME TO CUBA TO NURSE HIM, TOO,

AND SHE AND MARY BECAME FRIENDS AS "ALUMNAE" OF WHAT

THEY CALLED "HEMINGWAY UNIVERSITY."

WITH THE HELP OF A GERMAN PSYCHIATRIST, WHO PRESCRIBED

ELECTROSHOCK THERAPY, PATRICK EVENTUALLY RECOVERED.

[BELLS TOLLING]

♪

IN DECEMBER, 1948, THE HEMINGWAYS WERE STAYING

HALF AN HOUR'S BOAT RIDE FROM VENICE, FOR WHAT MARY HOPED

WOULD BE A MUCH-DELAYED HONEYMOON.

BUT HEMINGWAY--GREY-BEARDED AND BATTERED, STILL DRINKING

FAR TOO MUCH, WITH CONSTANT RINGING IN HIS EARS

AND DANGEROUSLY HIGH BLOOD PRESSURE--

MET AN 18-YEAR OLD ITALIAN GIRL FROM AN OLD, ARISTOCRATIC FAMILY--

ADRIANA IVANCICH--AND FELL OBSESSIVELY IN LOVE WITH HER.

SHE WAS FRESH FROM CONVENT SCHOOL AND WELL-READ, THOUGH

SHE'D NEVER READ ANYTHING BY HEMINGWAY, AND SHE ENJOYED

LISTENING TO HIM TALK AT HARRY'S BAR AND WHILE THEY

AMBLED TOGETHER THROUGH VENICE.

HE CALLED HER "DAUGHTER" AND ASKED HER TO CALL HIM "PAPA,"

BUT HE ALSO TOLD HER THAT HE WOULD BEG HER TO MARRY HIM

IF HE DIDN'T KNOW SHE'D SAY NO.

DEARBORN: AND IT WAS A GREAT BLOW TO HIM THAT SHE DIDN'T

FALL IN LOVE WITH HIM.

EVERY TIME BEFORE THIS, WHEN HE'S WANTED A WOMAN,

THAT'S IT. SHE'S HIS.

HE CAN DISCARD THIS WIFE, TAKE THE NEW ONE.

F. SCOTT FITZGERALD SAID HE "WANTED A NEW--A NEW WIFE

FOR EVERY BOOK."

BUT, ADRIANA, THAT'S DIFFERENT TO HIM, OK?

NARRATOR: MARY WORRIED THAT HER HUSBAND WAS "WEAVING

A MESH WHICH MIGHT ENTANGLE AND PAIN HIM," BUT ADRIANA

BECAME THE MODEL FOR THE LOVE INTEREST IN THE NOVEL HE HAD

FINALLY BEGUN WORKING ON, "ACROSS THE RIVER AND INTO THE TREES."

ITS PROTAGONIST, INSPIRED IN PART BY BUCK LANHAM,

IS A DYING 50-YEAR-OLD AMERICAN INFANTRY COLONEL

FILLED WITH MEMORIES OF THE HORRORS HE HAS WITNESSED

IN TWO WARS.

HE SPENDS HIS LAST 3 DAYS IN VENICE WHERE HE MAKES LOVE

TO AN 18-YEAR-OLD GIRL WHOM HEMINGWAY NAMES "RENATA"--

ITALIAN FOR "REBORN."

WHEN HE GOT BACK TO CUBA, HE WROTE LIKE A MAN POSSESSED.

HE WAS ALMOST 50, BUT HE TOLD HIS PUBLISHER THAT SUMMER HE

WAS WRITING AS IF HE WERE 25 AGAIN.

WOLFF: I DON'T THINK HE WAS EVER UNHAPPY TO HAVE US

CONFUSE HIM WITH HIS CHARACTERS.

BUT BY THEN, I THINK HE ASSUMED THE IDENTIFICATION WAS

SO COMPLETE THAT HE HAD TO MAKE A ROMANTIC,

MANLY FIGURE OF COLONEL CANTWELL

WITH THE ITALIAN MISTRESS.

[KEYS CLICKING]

MAN, AS HEMINGWAY: SHE CAME INTO THE ROOM, SHINING IN HER

YOUTH AND TALL STRIDING BEAUTY, AND THE CARELESSNESS

THE WIND HAD MADE OF HER HAIR.

SHE HAD PALE, ALMOST OLIVE- COLORED SKIN, A PROFILE THAT

COULD BREAK YOUR, OR ANYONE ELSE'S HEART, AND HER DARK HAIR,

OF AN ALIVE TEXTURE, HUNG DOWN OVER HER SHOULDERS.

NARRATOR: HEMINGWAY HAD CONVINCED HIMSELF THAT HE WAS

WRITING BETTER THAN EVER.

HE WAS NOT.

MAN, AS HEMINGWAY: THE WIND WAS VERY COLD AND LASHED

THEIR FACES, BUT UNDER THE BLANKET THERE WAS NO WIND NOR

NOTHING; ONLY HIS RUINED HAND THAT SEARCHED FOR THE ISLAND

IN THE GREAT RIVER WITH THE HIGH STEEP BANKS.

"PLEASE DON'T MOVE," THE GIRL SAID.

"THEN MOVE A GREAT AMOUNT."

THE COLONEL, LYING UNDER THE BLANKET IN THE WIND, KNOWING

IT IS ONLY WHAT MAN DOES FOR WOMAN THAT HE RETAINS, EXCEPT

WHAT HE DOES FOR HIS FATHERLAND OR HIS MOTHERLAND,

HOWEVER YOU GET THE READING, PROCEEDED.

DEARBORN: HE THOUGHT HE WAS REACHING A KIND OF PERFECTION

AND ABUNDANCE IN HIS PROSE.

AND WHAT HE WAS WRITING WAS "ACROSS THE RIVER AND INTO THE TREES."

NARRATOR: HE WAS ALSO ACTING STRANGELY, FIRING OFF LETTERS

FILLED WITH INCREASINGLY TALL TALES AND IRRATIONAL BOASTING.

"ALL WRITERS ARE LIARS," HE LIKED TO SAY, ESPECIALLY

WHEN THEY'D HAD A FEW DRINKS.

BUT HE NOW CLAIMED 4 OF HIS ANCESTORS HAD FOUGHT

IN THE CRUSADES, THAT HIS GREAT-GREAT-GRANDMOTHER WAS

A NORTHERN CHEYENNE, THAT HE HIMSELF WAS CONDUCTING

SIMULTANEOUS AFFAIRS WITH 4 VENETIAN COUNTESSES, HAD BEEN

WOUNDED 22 TIMES AND HAD KILLED 122 ARMED MEN IN NOW

5 DIFFERENT WARS.

FRIENDS WORRIED ABOUT WHAT SEEMED TO BE HAPPENING TO HIM.

HIS MOODS HAD ALWAYS SHIFTED.

NOW THEY WILDLY SWUNG UP AND DOWN.

DEARBORN: HE WAS, SO FLORIDLY MANIC, THINKING THIS TERRIBLE

BOOK IS HIS BEST BOOK AND FALLING IN LOVE

INAPPROPRIATELY, BUT YOU WERE ALSO SEEING THESE DEPRESSIONS.

AND WHEN HE WAS DEPRESSED, HE WAS MEAN.

NARRATOR: HE DISAPPEARED INTO HAVANA ONE DAY

AND THEN TURNED UP FOR LUNCH ON THE "PILAR"

WITH A 17-YEAR-OLD PROSTITUTE ON HIS ARM.

WOMAN, AS WELSH HEMINGWAY: "DEAR ERNEST, AS SOON AS IT

"IS POSSIBLE FOR ME TO MOVE OUT, I SHALL MOVE.

"MAYBE IT IS AMBIGUOUS FOR ME TO EXPLAIN MY REASONS FOR LEAVING,

"BUT I WRITE THEM DOWN BECAUSE I THINK THIS TIME YOU SHOULD

"HAVE THE OPPORTUNITY OF KNOWING PRECISELY HOW I FEEL

"ABOUT THIS MARRIAGE.

"IT BEGAN IN 1944 IN BED IN THE RITZ HOTEL IN PARIS AND MY OWN

"REASONS FOR IT WERE TWO: I THOUGHT YOU WERE A STRAIGHT

"AND HONORABLE AND BRAVE MAN AND MAGNETICALLY

"ENDEARING TO ME.

"AND BECAUSE, ALTHOUGH I WAS SUSPICIOUS OF YOUR OVER-DRINKING,

"YOU SAID SO OFTEN THAT YOUR CHIEF DESIRE WAS TO BE GOOD

"AND ADULT AND TO LIVE YOUR ONE AND ONLY LIFE INTELLIGENTLY.

"I BELIEVED YOU AND IN YOU.

"YOUR PRINCIPAL FAILURE IS THAT,

"PRIMARILY BECAUSE OF YOUR ACCUMULATING EGO

"AND YOUR INCREASING LAPSES INTO OVER-DRINKING, YOU HAVE

"NOT BEEN THE GOOD MAN YOU SAID YOU INTENDED TO BE.

"BOTH PRIVATELY AND IN PUBLIC, YOU HAVE INSULTED ME AND MY

"DIGNITY AS A HUMAN BEING AND A WOMAN DEVOTED TO YOU AND HAVE

"DEBASED MY PRIDE IN YOU IN FRONT OF FRIENDS.

"I THINK WE MUST NOW BOTH ADMIT THAT THIS MARRIAGE IS A FAILURE.

THEREFORE LET US END IT."

NARRATOR: "STICK WITH ME KITTEN," HEMINGWAY RESPONDED.

"I HOPE YOU WILL DECIDE TO STICK WITH ME."

MARY DID STICK WITH HIM, BUT NOTHING WAS SETTLED

BETWEEN THEM.

A FEW WEEKS BEFORE HIS LONG- AWAITED NOVEL ABOUT VENICE WAS

TO BE PUBLISHED, HE LOST HIS FOOTING ABOARD THE "PILAR"

AND HIT HIS HEAD AGAIN.

AFTERWARDS, HE WROTE A FRIEND THAT HE HAD REACHED WHAT HE

CALLED A "BAD LOW."

HE'D TAKEN "A LONG DEEP DIVE IN THE GULF STREAM," HE SAID.

"IT WAS AWFULLY NICE DOWN THERE AND I WAS TEMPTED TO

"STAY THERE,

"BUT YOU HAVE TO SET A GOOD EXAMPLE TO YOUR

CHILDREN AND ET CETERA."

WHEN "ACROSS THE RIVER AND INTO THE TREES" WAS PUBLISHED

IN SEPTEMBER OF 1950, IT BECAME AN INSTANT

BEST-SELLER,

BUT IT WAS NOT THE GREAT NOVEL OF THE SECOND WORLD WAR

CRITICS WERE EXPECTING AND HE RECEIVED THE WORST REVIEWS

OF HIS CAREER.

THEY CALLED THE BOOK SENTIMENTAL, EMBARRASSING,

EVEN PITIABLE.

"IT IS NOT ONLY HEMINGWAY'S WORST NOVEL,"

SAID THE "SATURDAY REVIEW OF LITERATURE," "IT IS

"A SYNTHESIS OF EVERYTHING THAT IS BAD IN HIS PREVIOUS WORK

AND IT THROWS A DOUBTFUL LIGHT ON THE FUTURE."

THE BOOK MADE MARTHA GELLHORN "SICK," SHE TOLD A FRIEND,

"SHIVERING SICK."

IT HAD THE "SOUND OF MADNESS AND A TERRIBLE SMELL,

AS OF DECAY."

BEEGEL: "ACROSS THE RIVER AND INTO THE TREES" COMES OUT,

AND IT RECEIVES THE WORST IMAGINABLE REVIEWS.

PEOPLE CALL IT "MAUDLIN," THEY SAY HEMINGWAY IS

FINISHED, THIS BOOK IS SO BAD THAT IT CALLS INTO QUESTION

HIS ENTIRE CAREER SO FAR.

HEMINGWAY'S DONE, IT'S OVER, YOU KNOW.

IT'S A DISASTER. IT'S A DISASTER.

NOT TO MENTION THE LOVEMAKING IN THE GONDOLA

WITH THE BIRDS FLYING. HA HA!

KATAKIS: SOMETHING IS STARTING TO HAPPEN IN THE 1950s--

CALL IT FAME, CALL IT TOO MUCH DRINKING, TOO MUCH OF TOO MUCH.

THERE IS A CONSTANT CHECK OF BLOOD PRESSURE.

THERE IS A CONCERN FOR MORTALITY IN HEMINGWAY

THAT HE ALWAYS KNEW WAS THERE, AS WE ALL DO,

BUT AT THE SAME TIME DON'T KNOW UNTIL ILLNESS OR

SOMETHING BEGINS TO SHOW ITSELF.

TO SOME EXTENT, SOMEONE AS VIBRANT AS THIS, I THINK THAT

CAME AS A BIT OF A SHOCK.

AND THE DRINKING AND THE HISTORY OF MENTAL ILLNESS

IN THE FAMILY HAD TO BE ON HIS MIND.

HIS FATHER HAD TO BE ON HIS MIND.

NARRATOR: IN EARLY 1951, HEMINGWAY'S PUBLISHER CHARLES SCRIBNER

SENT HIM GALLEYS OF A WORLD WAR II NOVEL CALLED,

"FROM HERE TO ETERNITY," BY A YOUNG WRITER NAMED

JAMES JONES IN THE HOPE HEMINGWAY MIGHT WRITE A BLURB.

AFTER SEEING COMBAT IN THE PACIFIC, JONES HAD GONE AWOL

DURING THE SECOND WORLD WAR AND BEEN GIVEN AN HONORABLE DISCHARGE

FOR PSYCHIATRIC REASONS; HIS PROTAGONIST WENT AWOL, TOO.

HEMINGWAY TOLD SCRIBNER HE HATED THE BOOK.

THOUGH HIS OWN HERO OF "A FAREWELL TO ARMS" HAD DESERTED,

JONES WAS A COWARD, A WHINER, A "BATTLE-FATIGUE TYPE,"

HE WROTE, LIKELY TO COMMIT SUICIDE ONCE "THINGS

CATCH UP WITH HIM."

HIS BOOK WAS SURE TO "DO GREAT DAMAGE TO OUR COUNTRY."

MAN, AS HEMINGWAY: "PROBABLY I SHOULD RE-READ IT AGAIN TO

"GIVE YOU A TRUER ANSWER.

"BUT I DO NOT HAVE TO EAT AN ENTIRE BOWL OF SCABS TO KNOW

"THEY ARE SCABS; NOR SUCK A BOIL TO KNOW IT IS A BOIL;

"NOR SWIM THROUGH A RIVER OF SNOT TO KNOW IT IS SNOT.

"I HOPE HE KILLS HIMSELF AS SOON AS IT DOES NOT DAMAGE HIS

"OR YOUR SALES.

"IF YOU GIVE HIM A LITERARY TEA, YOU MIGHT ASK HIM TO DRAIN

"A BUCKET OF SNOT AND THEN SUCK THE PUSS OUT OF A DEAD [BLEEP] EAR.

"WOULDN'T HAVE BROUGHT HIM UP IF YOU HADN'T ASKED ME.

NOW I FEEL AS UNCLEAN AS WHEN I READ HIS [BLEEP]-OFF BOOK."

YEAH.

IT'S--IT'S ANOTHER MYSTERY WHY THIS MOST

FAMOUS WRITER OF WRITERS, UH...

WOULD HAVE FELT SO, UH...

UNSAFE IN HIS POSITION AND EMBATTLED IN IT

AND NEEDING TO FEND OFF ALL OTHER WRITERS AS IF THEY WERE

CHALLENGING HIM.

WHY DIDN'T HE JUST SAY, "I, YOU KNOW, I DIDN'T WARM UP TO THIS BOOK,

I DON'T KNOW WHAT I WOULD SAY ABOUT IT," AND LET IT GO?

BUT NO.

DUDLEY: THE FACT THAT HE WOULD REVILE A FELLOW WRITER DOESN'T

SHOCK ME AT ALL, BUT THE HARSHNESS OF IT, YEAH.

THE RACIAL EPITHETS HERE, SOMETHING THAT HE KNEW WOULD

PROBABLY SEE THE LIGHT OF DAY AT SOME POINT.

YEAH. IT COMPLICATES THINGS IMMENSELY.

I'M NOT REALLY SURE WHAT TO SAY ABOUT THIS,

TO EXPLAIN IT AWAY.

I DON'T KNOW IF YOU CAN EXPLAIN IT AWAY.

VERGHESE: WE'RE ALL DEEPLY FLAWED.

AND HEMINGWAY'S YOU KNOW COMPLEX NATURE IS SOMETHING

THAT WE'LL NEVER SOLVE WITH ONE PITHY PHRASE.

WE WON'T EXPLAIN THESE AWFUL LETTERS HE WROTE.

WE WON'T EVER BE ABLE TO FORGIVE HIM FOR THE AWFUL

THINGS HE SAID ABOUT PEOPLE, THE WORDS HE USED THAT HAD NO,

NO REASON BUT HURT, BUT THERE IT IS.

♪

ANDREW FARAH: IN CUBA, HE WOULD ACTUALLY REHEARSE

A SUICIDE FOR FRIENDS.

HE WOULD HAVE FRIENDS OVER FOR DINNER AND THEN HE WOULD,

UH, PUT HIS SHOTGUN ON THE FLOOR AND PUT HIS BIG TOE

IN THE TRIGGER AND PUT THE BARREL IN THE ROOF OF HIS MOUTH,

AND EVERYONE WOULD LISTEN TO IT GO "CLICK."

AND HE WOULD LIFT HIS MOUTH OFF THE BARREL, GRINNING.

NARRATOR: "I HAVE NOTHING IN MY HEAD," HEMINGWAY TOLD

AN OLD FRIEND.

"I'M FED UP WITH LIVING. I CAN'T WRITE.

I LOVE ONLY ADRIANA. I'M GOING TO COMMIT SUICIDE."

HE TOOK OUT HIS DESPAIR AND FRUSTRATION ON MARY, CALLING

HER A "WHORE, BITCH, LIAR, MORON."

SHE TOLD HIS PUBLISHER SHE FEARED SHE WAS WITNESSING

"THE DISINTEGRATION OF A PERSONALITY."

[CATS MEOWING]

BEEGEL: IT'S A VERY TRAGIC THING, AND I BELIEVE THAT

RELATIONSHIP DID GET PHYSICAL.

SHE'S JUST LITTLE AND HE'S THIS HULKING, YOU KNOW,

6-FOOT-SOMETHING MAN. IT'S--IT'S DANGEROUS.

FARAH: MARY HAD THREATENED TO LEAVE HIM MANY TIMES.

THEY WERE VIOLENT TOWARDS EACH OTHER.

HE WAS VIOLENT TOWARDS HER.

AND AT ONE POINT, THEIR CUBAN DOCTOR TOOK THE

SHOTGUNS OUT OF THE HOME; THEY WERE THREATENING EACH OTHER

WITH SHOTGUNS.

THEY WOULD GO AT EACH OTHER, TOOTH AND NAIL.

BEEGEL: HE KNOWS HE'S STRUGGLING TO WRITE.

HE'S GOT TO DO SOMETHING. EVERYTHING HE'S LIVED FOR,

EVERYTHING HE'S WORKED FOR, THE WHOLE IDEA OF BEING

AN IMMORTAL AMERICAN WRITER IS AT STAKE.

[SHIP'S HORN BLOWS]

NARRATOR: THEN IN OCTOBER OF 1950, ADRIANA AND HER MOTHER

CAME TO CUBA FOR AN EXTENDED VISIT.

HEMINGWAY WAS ELATED.

BEEGEL: HE GOES INTO TRAINING.

HE TALKS ABOUT GOING INTO TRAINING LIKE A BOXER.

AND FOR A PERIOD OF WEEKS, HE LOSES WEIGHT, HE STOPS

DRINKING EVERYTHING EXCEPT A LITTLE BIT OF WINE, HE EATS

CELERY STICKS, LOTS OF PROTEIN LIKE RAW WILD DUCK.

HE SWIMS LAPS IN THE POOL, HE GETS INTO SHAPE.

DEARBORN: HE IDEALIZED LOVE SO MUCH AND IT GAVE HIM

SO MUCH ENERGY.

IF YOU REMEMBER BEING IN LOVE AS A TEENAGER,

YOU'RE SO HAPPY.

ADRIANA ALLOWED HIM TO RE-CREATE THAT.

SHE MOVES MUCH MORE FROM BEING A POTENTIAL LOVE RELATIONSHIP

TO BEING A KIND OF MUSE.

NARRATOR: INSPIRED BY ADRIANA, HEMINGWAY BEGAN A NEW STORY.

MAN, AS HEMINGWAY: THE OLD MAN WAS THIN AND GAUNT WITH DEEP

WRINKLES IN THE BACK OF HIS NECK.

THE BROWN BLOTCHES OF THE BENEVOLENT SKIN CANCER THE SUN

BRINGS FROM ITS REFLECTION ON THE TROPIC SEA WERE

ON HIS CHEEKS.

THE BLOTCHES RAN WELL DOWN THE SIDES OF HIS FACE AND HIS

HANDS HAD THE DEEP-CREASED SCARS FROM HANDLING HEAVY FISH

ON THE CORDS.

BUT NONE OF THESE SCARS WERE FRESH.

THEY WERE AS OLD AS EROSIONS IN A FISHLESS DESERT.

EVERYTHING ABOUT HIM WAS OLD EXCEPT HIS EYES AND THEY WERE

THE SAME COLOR AS THE SEA AND WERE CHEERFUL AND UNDEFEATED.

NARRATOR: IT WAS A FICTIONALIZED VERSION

OF AN ARTICLE HE'D FIRST PUBLISHED IN "ESQUIRE" MAGAZINE

15 YEARS EARLIER.

HE WROTE THE NEW NOVEL IN JUST 8 WEEKS.

"THE OLD MAN AND THE SEA" TOLD THE STORY OF AN OLD CUBAN FISHERMAN

ALONE IN A SKIFF, WHO HOOKED A GREAT MARLIN THAT

TOWED HIM FAR OUT TO SEA BEFORE HE COULD HARPOON

AND LASH IT ALONGSIDE.

BUT AS HE STRUGGLED TO RETURN TO LAND,

SHARKS DEVOURED MOST OF HIS PRIZE.

IN THE EVENINGS, HEMINGWAY WOULD LET MARY READ WHAT HE

HAD WRITTEN THAT DAY.

"LAMB," SHE TOLD HIM AFTER FINISHING THE MANUSCRIPT,

"I AM PREPARED TO PARDON YOU FOR ALL THE DISAGREEABLE

THINGS YOU HAVE DONE TO ME."

WOMAN, AS WELSH HEMINGWAY: THOSE WERE SWEET HOURS.

ONLY THE SIGHS OF A BREEZE IN THE PALMS OR THE FARAWAY CHUFF

OF A LORRY ON THE MAIN ROAD CAME THROUGH THE OPEN WINDOWS.

IF I MADE SOME INVOLUNTARY WHISPER

OF APPROVAL, HE CAME OVER TO READ, PEERING OVER

MY SHOULDER.

THIS WAS SIMPLE LINE-DRAWING BEAUTY, I THOUGHT.

IT REMINDED ME OF BACH FUGUES AND PICASSO DRAWINGS WITHOUT

CLUTTER OR FRILLS.

NARRATOR: HEMINGWAY HAD ORIGINALLY PLANNED TO INCLUDE

THE STORY AS THE CODA TO A LONGER NOVEL, BUT HE NOW

WANTED IT TO STAND ON ITS OWN.

"PUBLISHING IT NOW," HE TOLD SCRIBNER'S, "WILL GET RID

"OF THE SCHOOL OF CRITICISM THAT I AM THROUGH AS A WRITER,

"THAT CLAIMS I CAN WRITE ABOUT NOTHING EXCEPT MYSELF

"AND MY OWN EXPERIENCES.

"IT COULD EVEN SERVE AS AN EPILOGUE TO ALL MY WRITING

"AND WHAT I HAVE LEARNED OR TRIED TO LEARN, WHILE WRITING

AND TRYING TO LIVE."

MOST READERS SEEMED TO AGREE.

"THE OLD MAN AND THE SEA" APPEARED FIRST IN "LIFE" MAGAZINE

ON SEPTEMBER 1, 1952 AND SOLD WELL OVER 5 MILLION COPIES.

THE HARD-COVER BOOK, WHEN IT WAS PUBLISHED, WOULD REMAIN

ON THE BEST-SELLER LIST FOR 26 WEEKS.

[SPEAKING SPANISH]

NARRATOR: MOST REVIEWERS LOVED THE BOOK, TOO.

"THE OLD MAN AND THE SEA" PROVED, THE CRITIC

MARK SCHORER WROTE, THAT "HEMINGWAY'S ART,

"WHEN IT IS ART,

"IS ABSOLUTELY INCOMPARABLE.

"HE IS UNQUESTIONABLY THE GREATEST CRAFTSMAN IN THE AMERICAN NOVEL

IN THIS CENTURY."

EDNA O'BRIEN: THE TEST OF A BOOK FOR ME IS HOW MANY TIMES YOU

WANT TO RE-READ IT.

IT DOESN'T WORK FOR ME BECAUSE IT'S SO ORDINARY.

IT'S ADOLESCENCE. IT'S SCHOOLBOY WRITING.

I'M SORRY.

IT'S THE WRITER. HE'S THE BLOODY FISH.

HE'S STRUGGLING TO DO IT.

AND I FEEL, IN SOME WAYS, SYMPATHETIC BECAUSE I KNOW HOW

HARD IT IS TO WRITE EVEN ONE GOOD SENTENCE.

THIS IS NOT THE BOOK THAT WOULD BE THE FINEST FLOWER

ON HIS GRAVE. IT'S NOT.

VERGHESE: WITH "THE OLD MAN AND THE SEA," YOU SEE THE

AGONY OF THIS OLD MAN, YOU SEE HIS BRAVERY, YOU SEE HIS

DESIRE TO REDEEM HIMSELF AND YOU SEE HIM SORT OF ARRIVE

WITH THE PRIZE, BUT THE PRIZE IS IN TATTERS.

AND ISN'T LIFE LIKE THAT?

I MEAN, ULTIMATELY LIFE IS SO IRONIC YOU KNOW.

YOU GET THE BIGGEST DAMN FISH OUT THERE, YOU REDEEM YOUR

REPUTATION, BUT BY THE TIME YOU GET IT TO SHORE, IT'S GONE

AND SO ARE YOU.

[LLOSA SPEAKING SPANISH]

CUSHMAN: THE REFRAIN, AS HE'S TRYING TO COME IN

AND THE SHARKS KEEP HITTING THE FISH AND KEEP TAKING IT AWAY,

AS HE SAID, "THE THING I DID WRONG IS, I WENT

OUT TOO FAR."

I WENT BEYOND WHAT I CAN CONTROL.

I WENT BEYOND WHAT I CAN COMPENSATE FOR.

AND I HEAR THAT AS JUST BEAUTIFUL AND AWFUL, AND FULL

OF PATHOS, AND THAT IS HEMINGWAY.

MAN, AS HEMINGWAY: HE WAS PAST EVERYTHING NOW AND HE SAILED

THE SKIFF TO MAKE HIS HOME PORT AS WELL AND AS

INTELLIGENTLY AS HE COULD.

IN THE NIGHT, SHARKS HIT THE CARCASS AS SOMEONE MIGHT PICK UP

CRUMBS FROM THE TABLE.

THE OLD MAN PAID NO ATTENTION TO THEM AND DID NOT PAY ANY

ATTENTION TO ANYTHING EXCEPT STEERING.

HE ONLY NOTICED HOW LIGHTLY AND HOW WELL THE SKIFF SAILED.

NOW THERE WAS NO GREAT WEIGHT BESIDE HER.

HE COULD FEEL HE WAS INSIDE THE CURRENT NOW

AND HE COULD SEE THE LIGHTS

OF THE BEACH COLONIES ALONG THE SHORE.

HE KNEW WHERE HE WAS NOW AND IT WAS NOTHING TO GET HOME.

IT IS EASY WHEN YOU ARE BEATEN, HE THOUGHT.

I NEVER KNEW HOW EASY IT WAS.

AND WHAT BEAT YOU, HE THOUGHT.

"NOTHING," HE SAID ALOUD.

"I WENT OUT TOO FAR."

♪

NARRATOR: IN JUNE OF 1951, ERNEST'S MOTHER, GRACE HALL HEMINGWAY

HAD DIED AT THE AGE OF 79.

SHE'D BEEN LIVING IN MEMPHIS, TENNESSEE WITH ONE

OF HIS SISTERS.

HEMINGWAY HAD BEEN SUPPORTING HIS MOTHER BUT HAD NOT

SEEN HER IN YEARS.

"I HATE HER GUTS," HE EXPLAINED TO A FRIEND,

"AND SHE HATES MINE."

HE DID NOT ATTEND HER FUNERAL EITHER, BUT HE DID SOFTEN

A LITTLE AT HER DEATH.

"I HAVE BEEN THINKING ABOUT HOW BEAUTIFUL SHE WAS WHEN SHE

WAS YOUNG," HE WROTE, "BEFORE EVERYTHING WENT TO HELL IN OUR

"FAMILY AND ABOUT HOW HAPPY WE ALL WERE AS CHILDREN

BEFORE IT ALL BROKE UP."

MORE FAMILY HELL HAD FOLLOWED.

IN SEPTEMBER OF THAT YEAR, 19-YEAR-OLD GREGORY HEMINGWAY

WAS ARRESTED IN THE LADIES ROOM OF A LOS ANGELES

MOVIE THEATER WEARING WOMEN'S CLOTHES.

AFTER HIS ARREST, HIS MOTHER, PAULINE, HEMINGWAY'S SECOND WIFE,

RUSHED TO LOS ANGELES TO BAIL HIM OUT, THEN SPOKE BY PHONE

WITH HEMINGWAY IN CUBA.

EACH BLAMED THE OTHER FOR WHAT HAD HAPPENED TO THEIR SON.

THERE WAS SHOUTING AND TEARS.

PATRICK: THE TWO OF THEM WENT AT EACH OTHER TOOTH AND NAIL

ABOUT WHO WAS RESPONSIBLE FOR THIS.

MY DAD AND MY MOTHER REALLY HAD A TERRIBLE TELEPHONE

CONVERSATION ABOUT IT.

NARRATOR: THAT NIGHT, PAULINE WAS RUSHED TO THE HOSPITAL IN AGONY.

A RARE AND UNDIAGNOSED ADRENAL TUMOR HAD BURST.

SHE DIED ON THE OPERATING TABLE.

PATRICK: IT WAS A DISASTER ALL AROUND.

AND FROM THAT TIME ON, THE RELATIONSHIP BETWEEN GREG

AND MY DAD WAS TERRIBLE.

NARRATOR: HEMINGWAY TOLD GREGORY THAT THE SHOCK OF HIS ARREST

HAD CAUSED HIS MOTHER'S DEATH.

GREGORY RESPONDED WITH FURY.

MAN, AS GREGORY: "WHEN IT'S ALL ADDED UP, PAPA, IT WILL BE...

"HE WROTE A FEW GOOD STORIES, HAD A FRESH APPROACH TO REALITY,

"AND HE DESTROYED 5 PERSONS--HADLEY, PAULINE,

"MARTY, PATRICK, AND POSSIBLY MYSELF.

"WHICH DO YOU THINK IS THE MOST IMPORTANT, YOU SELF-CENTERED [BLEEP],

"THE STORIES OR THE PEOPLE?

"I SUPPOSE YOU WONDER

"WHAT HAS HAPPENED TO ALL MY FILIAL RESPECT FOR YOU.

"WELL, IT'S GONE, ERNESTINE, DEAR, IT'S GONE!

"IT'S GONE WITH THE HUNDRED THOUSAND CRUELTIES YOU HAVE

"INFLICTED ON PEOPLE FOR THE LAST 10 YEARS AND WITH THE

"THOUSAND RIGHTEOUS DRUNKS OF THAT PERIOD.

"YOU'LL NEVER WRITE THAT GREAT NOVEL BECAUSE YOU'RE A SICK MAN--

"SICK IN THE HEAD AND TOO [BLEEP] PROUD AND SCARED TO ADMIT IT.

"IN SPITE OF THE CRITICS, THAT LAST ONE WAS AS SICKLY

"A BUCKET OF SENTIMENTAL SLOP AS WAS EVER SCRUBBED

"OFF A BARROOM FLOOR.

"THERE'S NOTHING I'D RATHER SEE THAN YOU WRITE A BEAUTY

"AND THERE'S NOTHING I'D RATHER SEE THAN YOU ACT INTELLIGENTLY,

"BUT UNTIL YOU DO, I'M GONNA GIVE YOU JUST

"WHAT YOU DESERVE, AND IN EXTRA-LARGE HANDFULS TO MAKE UP

FOR THE TROUBLE YOU'VE CAUSED ME."

MAN, AS HEMINGWAY: "I HAVE LEARNED FROM YOUR LETTERS,

"IF I DID NOT KNOW IT BEFORE, THAT I AM NOT ALWAYS

"A CHARMING CHARACTER.

"BUT I AM NOT A GIN-SOAKED MONSTER GOING AROUND RUINING PEOPLE'S LIVES.

"YOUR MOTHER WROTE ME BEFORE SHE DIED THAT

"YOU STILL HAD FLASHES OF YOUR OLD CHARM AND DECENCY

"AND THAT WE SHOULD NEVER GIVE UP HOPE THAT YOU WOULD COME

"THROUGH WHATEVER WAS HAPPENING TO YOU.

"RIGHT NOW, I COULD USE A GOOD FLASH OF YOUR OLD CHARM AND DECENCY.

I CANNOT USE ANY MORE OBSCENE OR THREATENING LETTERS."

NARRATOR: GREGORY WOULD LATER APOLOGIZE.

"I DIDN'T MEAN TO SAY THOSE THINGS," HE WROTE TO HIS FATHER.

HEMINGWAY WROTE BACK, "NOW EVERYTHING IS STRAIGHT...

"NOT CHICKEN[BLEEP] LIKE FORGIVENESS.

"RUBBED OUT.

ANY TIME YOU WANT TO SHOW UP, SHOW UP."

THAT IT IS DANGEROUS TO BE THE CHILD OF A WRITER IS

CERTAINLY SUSTAINABLE.

I THINK MY YOUNGER BROTHER IS AS GOOD AN EXAMPLE AS ANY.

I MEAN, THE MOST GRAPHIC REPRESENTATION OF THIS

IS A GOYA PAINTING "CRONUS EATING HIS CHILDREN."

IT'S PRETTY GOOD, YOU KNOW.

[ROAR]

MAN, AS HEMINGWAY: THAT NIGHT WHEN WE HAD GONE TO OUR OWN BEDS

BUT WERE NOT YET ASLEEP, WE HEARD THE LION ROAR.

HE WAS NORTH OF THE CAMP AND THE ROAR CAME LOW AND MOUNTING

IN HEAVINESS AND THEN ENDED IN A SIGH.

"I'M COMING IN WITH YOU," MARY SAID.

WE LAY CLOSE TOGETHER IN THE DARK UNDER THE MOSQUITO BAR,

MY ARM AROUND HER, AND LISTENED TO HIM

ROAR AGAIN.

[LION ROARS]

"THERE'S NO MISTAKING WHEN IT'S HIM," MARY SAID.

"I'M GLAD WE'RE IN BED TOGETHER WHEN WE HEAR HIM."

NARRATOR: IN THE SUMMER OF 1953, 20 YEARS AFTER HIS FIRST VISIT,

HEMINGWAY RETURNED TO EAST AFRICA WITH MARY.

FOR A MONTH, THEY WERE THE SOLE FOREIGNERS PERMITTED

IN THE SOUTHERN GAME RESERVE, 40 MILES SOUTH OF NAIROBI.

PATRICK: THE KENYA GOVERNMENT HAD SET HIM UP ON THIS.

THEY JUST HAD A MAJOR INSURRECTION.

IT WAS AFFECTING TOURISM.

THEY WANTED HIM TO HAVE A GOOD TIME.

AND BOY WAS HE HAVING A GOOD TIME!

NARRATOR: PATRICK NOW OWNED A FARM IN EAST AFRICA AND WORKED

AS A GUIDE AND HUNTER, DESPITE A GUERRILLA UPRISING AGAINST

WHITE COLONIAL RULE.

[GUNSHOT]

THEY HUNTED FOR A TIME, BUT HEMINGWAY WAS DRINKING EVEN

MORE HEAVILY THAN USUAL, SHOT POORLY, ONCE FELL

FROM HIS JEEP.

HE FINALLY STOPPED SHOOTING ALTOGETHER, DRIVING OUT FROM

CAMP INSTEAD EACH MORNING WITH MARY, JUST TO SEE

AND PHOTOGRAPH THE ANIMALS.

"HE LOVED AFRICA," A MEMBER OF HIS PARTY REMEMBERED.

"HE LOVED TO SIT IN IT AND WATCH IT.

HE HAD NATURAL KNOWLEDGE OF WHAT ANIMALS DO AND WHERE

THEY SHOULD BE."

BEEGEL: HEMINGWAY, I THINK, WAS ALSO REALLY INTERESTED

IN THE PEOPLE AND WHO THEY ACTUALLY WERE, A LOT MORE

INTERESTED THAN HE WAS IN THE THIRTIES WHEN HE WAS JUST THERE

REALLY TO HUNT AND NOT PAYING ATTENTION TO WHAT WAS

ACTUALLY GOING ON.

DUDLEY: WHEN HEMINGWAY COMES BACK, EAST AFRICA

IN COLONIALISM, IS LITERALLY UNDER ATTACK.

AND HE SEES AN AFRICA THAT IS LESS TOLERANT OF SOME OF THE...

BEHAVIOR THAT HE EXHIBITED EARLY ON.

IT WAS WRONG TO CALL, SAY, THOSE GROWN MEN WHO WERE

SERVING HIM, "BOYS" AND NOT WANTING TO ACTIVELY GET TO

KNOW THEM.

NARRATOR: HE NOW CONSIDERED THE KENYAN GUIDES AND SERVANTS

"FRIENDS AND BROTHERS."

HE WROTE, "EVERYONE HAD HIS DUTIES AND EVERYONE

HAD A NAME."

BUT WHEN MARY WENT OFF TO NAIROBI TO DO SOME CHRISTMAS SHOPPING,

HE SOMEHOW PERSUADED HIMSELF THAT IN HER ABSENCE

HE SHOULD JOIN THE WAKAMBA PEOPLE AND MARRY A YOUNG WOMAN.

HE SHAVED HIS HEAD, DYED HIS CLOTHES TO IMITATE THEIRS,

AND TRIED HUNTING A WARTHOG WITH A SPEAR.

DESPITE HIS BIZARRE BEHAVIOR, IN AFRICA, HE AND MARY WERE AS

CLOSE AS THEY HAD EVER BEEN.

MAN, AS HEMINGWAY: MARY IS A PRINCE OF DEVILS,

AND ALMOST ANY PLACE YOU TOUCH HER IT CAN KILL BOTH

YOU AND HER.

SHE HAS ALWAYS WANTED TO BE A BOY AND THINKS AS A BOY

WITHOUT EVER LOSING ANY FEMININITY.

IF YOU SHOULD BECOME CONFUSED ON THIS, YOU SHOULD RETIRE.

SHE LOVES ME TO BE HER GIRLS, WHICH I LOVE TO BE, NOT BEING

ABSOLUTELY STUPID.

IN RETURN, SHE MAKES ME AWARDS

AND AT NIGHT WE DO EVERY SORT OF THING WHICH PLEASES HER

AND WHICH PLEASES ME.

I LOVED FEELING THE EMBRACE

OF MARY WHICH CAME TO ME AS SOMETHING QUITE NEW

AND OUTSIDE ALL TRIBAL LAW.

ON THE NIGHT OF DECEMBER 19th, WE WORKED OUT THESE THINGS

AND I HAVE NEVER BEEN HAPPIER.

NARRATOR: AS A CHRISTMAS GIFT FOR HIS WIFE, HEMINGWAY HIRED

A SMALL PLANE THAT FLEW THEM OVER THE NGORONGORO CRATER,

THE MOUNTAINS OF THE MOON, AND THE MIGHTY MURCHISON FALLS

IN UGANDA.

AS THE PLANE DIPPED LOW ABOVE THE GORGE SO MARY COULD TAKE PHOTOGRAPHS,

THE PILOT ENCOUNTERED A FLOCK OF BIRDS,

DOVE TO AVOID THEM, AND HIT A TELEGRAPH LINE.

THE PLANE PLUNGED INTO THE BUSH.

MARY WAS KNOCKED UNCONSCIOUS, TWO RIBS BROKEN.

HEMINGWAY SUFFERED A TORN SHOULDER.

THEY SPENT THE NIGHT HIGH ABOVE THE BANK OF THE NILE

FOR FEAR OF ELEPHANTS, FORTIFIED BY A BOTTLE

OF SCOTCH THAT HAD SOMEHOW SURVIVED THE CRASH

AND LISTENING TO THE CRIES OF HYENAS.

A SEARCH PLANE SPOTTED THE WRECKAGE BUT FAILED TO SEE

THE SURVIVORS.

WORD QUICKLY SPREAD AROUND THE WORLD THAT THE GREAT WRITER

ERNEST HEMINGWAY WAS DEAD.

MEANWHILE, HEMINGWAY HAD FLAGGED DOWN A PASSING LAUNCH

AND WHEN THEY REACHED A LANDING ON THE EASTERN SHORE

OF LAKE ALBERT, A POLICEMAN AND A BUSH PILOT OFFERED TO

FLY THEM ON TO THE UGANDAN CAPITAL, ENTEBBE.

THEY CLIMBED ABOARD.

BUT AS THE ANCIENT PLANE RATTLED DOWN THE RUTTED RUNWAY,

THE FUEL TANK EXPLODED IN FIRE.

[ENGINE SPUTTERING; EXPLOSION]

THE PILOT HELPED MARY AND THE POLICEMAN GET OUT THROUGH

THE WINDOWS.

HEMINGWAY WAS TOO BIG TO FOLLOW THEM.

TWISTED METAL BARRED THE DOOR.

FLAMES WERE RISING.

HEMINGWAY WAS TRAPPED.

HE HURLED HIS HEAD AGAINST THE DOOR AGAIN AND AGAIN UNTIL

HE BATTERED IT OPEN.

HE INSISTED TO NEWSMEN GATHERED IN ENTEBBE THAT HE

HAD NEVER FELT BETTER.

"MY LUCK, SHE IS STILL GOOD," HE SAID.

AND HE LOOKED FORWARD TO READING ALL THE PREMATURE

OBITUARIES THAT HAD ALREADY BEEN PUBLISHED

AROUND THE WORLD.

MAN, AS HEMINGWAY: IN ALL OBITUARIES, OR ALMOST ALL,

IT WAS EMPHASIZED THAT I HAD SOUGHT DEATH ALL MY LIFE.

CAN ONE IMAGINE THAT IF A MAN SOUGHT DEATH ALL OF HIS LIFE

HE COULD NOT HAVE FOUND HER BEFORE THE AGE OF 54?

BEEGEL: WHO ELSE GETS IN TWO PLANE CRASHES IN TWO DAYS IN AFRICA,

HAS THE WORD GO OUT ALL OVER THE WORLD THAT HE'S DEAD,

AND READS HIS OWN OBITUARIES?

NO ONE DOES THAT.

NEWSREEL NARRATOR: SURVIVING TWO AIRPLANE CRASHES

IN THE INTERIOR OF AFRICA, ERNEST HEMINGWAY AND HIS PILOT

ROY MARCH RETURNED TO NAIROBI IN HIGH FETTLE.

ON THE SECOND CRASH, HEMINGWAY SUFFERED A BAD BUMP

ON THE HEAD.

MRS. HEMINGWAY, HOWEVER, CAME THROUGH UNSCATHED.

[NEWSREEL MUSIC]

NARRATOR: DESPITE HEMINGWAY'S BRAVADO, DOCTORS CONFIRMED

THAT HE HAD NEARLY DIED.

HIS SKULL WAS FRACTURED AND HE HAD SUFFERED STILL ANOTHER

TRAUMATIC BRAIN INJURY,

SLURRED SPEECH, DOUBLE-VISION,

RECURRING DEAFNESS.

HE HAD FIRST-DEGREE BURNS ON HIS HEAD, FACE,

AND HAND, TOO,

TWO FRACTURED VERTEBRAE,

INTERNAL INJURIES,

RIGHT SHOULDER AND ARM AND LEFT LEG BADLY SPRAINED.

KATAKIS: HE'S NEVER REALLY QUITE THE SAME AGAIN.

DEPRESSION, HALLUCINATIONS, AND THEN A KIND OF REPRIEVE.

HE'S ABLE TO DO MORE WORK.

HE'S TRAVELING ABOUT, BUT WE'RE AT THE BEGINNING

OF WHAT IS GOING TO BE THE END.

NARRATOR: HE MANAGED TO DICTATE A 15,000-WORD ACCOUNT

OF WHAT HAD HAPPENED FOR "LOOK" MAGAZINE, THEN TRAVELED

WITH MARY TO SHIMONI, A CAMP ON THE KENYA COAST WHERE HE

HAD PLANNED TO FISH WITH HIS SON, PATRICK.

BUT HIS PAIN PROVED TOO GREAT.

DOCTORS WARNED HIM THAT HE WAS RISKING HIS LIFE BY

CONTINUING TO DRINK.

AND SOMETHING ELSE WAS WRONG, AS WELL.

"DUE TO THE CEREBRAL THING," HE WROTE TO A FRIEND.

"I SAY TERRIBLE THINGS AND HEAR MYSELF SAY THEM.

IT IS NO GOOD."

HEMINGWAY WAS FEARFUL, SHORT-TEMPERED, IMPATIENT,

SO ABUSIVE TO MARY THAT SHE AGAIN THREATENED TO LEAVE HIM,

SO VICIOUS TO HIS SON THAT PATRICK DID LEAVE.

PATRICK: THE ATMOSPHERE AT SHIMONI WAS BAD.

I MEAN MY DAD REALLY...

[SIGHS] I DON'T KNOW.

I MEAN, IT WAS LIKE KING LEAR.

AND HE'S JUST, "WHAT IS GOING ON HERE?

AREN'T I KING?" YOU KNOW.

I SYMPATHIZED WITH HIS PROBLEMS,

BUT YOU HAVE TO SHOW SOME RESTRAINT.

THE LAST FEW WEEKS IN AFRICA, HE JUST LOST ALL RESTRAINT.

AND FOR SOMEONE AS POWERFUL AND AS...

HE--I REALLY HAD ENOUGH.

AND WE NEVER SAW EACH OTHER AGAIN.

[DUKE ELLINGTON'S "I LET A SONG GO OUT OF MY HEART" PLAYING]

NARRATOR: THE HEMINGWAYS EVENTUALLY MADE THEIR WAY

HOME TO CUBA.

IT WAS THERE, ON THE EVENING OF OCTOBER 28, 1954,

THAT ERNEST RECEIVED A CALL FROM A REPORTER

FOR UNITED PRESS INTERNATIONAL.

HEMINGWAY HAD WON WHAT HE CALLED "THE SWEDISH THING"--

THE NOBEL PRIZE FOR LITERATURE.

HIS HEALTH WOULD NOT PERMIT HIM TO ATTEND THE CEREMONY

IN STOCKHOLM OR EVEN TRAVEL TO THE SWEDISH EMBASSY

IN WASHINGTON TO ACCEPT THE PRIZE, SO THE SWEDISH

AMBASSADOR CAME TO HIM, IN CUBA.

PRIVATELY, HEMINGWAY BELIEVED, "NO SON OF A BITCH WHO EVER

WON THE NOBEL PRIZE EVER WROTE ANYTHING WORTH

READING AFTERWARDS."

TELL ME, DO YOU PLAN TO GO TO SWEDEN TO

RECEIVE THE AWARD?

I'M SORRY THAT I WILL NOT BE ABLE TO GO TO SWEDEN

ON THE ORDERS OF MY DOCTOR WHO SAYS

I'M DOING VERY WELL AFTER...

NARRATOR: HE HAD ALWAYS BEEN TERRIFIED

OF SPEAKING IN PUBLIC, BUT HE RELUCTANTLY AGREED

TO BE INTERVIEWED BY NBC, PROVIDED QUESTIONS WERE

SUBMITTED IN ADVANCE AND HE COULD READ OUT HIS ANSWERS

FROM CUE CARDS. ...BAD FOR ME.

DO YOU HAVE A NAME FOR YOUR NEW NOVEL?

I NEVER HAVE ANY NAMES FOR ANYTHING THAT

I PUBLISH UNTIL IT IS TIME TO PUBLISH IT.

AS I SELECT A GREAT MANY NAMES AND THEN REJECT THOSE,

WHICH ARE WORTHLESS. PERIOD.

MOST OF THEM ARE WORTHLESS. PERIOD.

COULD YOU TELL ME A SHORT DESCRIPTION OF WHAT

YOUR NEW NOVEL IS ABOUT?

UH...THE BOOK THAT I AM WRITING ON AT PRESENT IS

ABOUT AFRICA...

ITS PEOPLE, IN THE PARK THAT I KNOW THEM,

THE ANIMALS,

COMMA, AND THE CHANGES IN AFRICA

SINCE I WAS THERE LAST. PERIOD.

NARRATOR: MUCH LATER, HE WAS PERSUADED TO RECORD HIS

ACCEPTANCE SPEECH OFF-CAMERA.

EDNA O'BRIEN: WHEN HE WAS GIVEN THE NOBEL PRIZE, AND HE COULDN'T

GO UP 'CAUSE OF ILLNESS, IT WAS SO STRANGE.

WHAT HE WROTE, IT'S SO PERFECT.

IT'S LIKE A PRAYER.

VOICE OF HEMINGWAY: NO WRITER WHO KNOWS THE GREAT WRITERS

WHO DID NOT RECEIVE THE PRIZE CAN ACCEPT IT OTHER THAN

WITH HUMILITY.

WRITING, AT ITS BEST, IS A LONELY LIFE.

ORGANIZATIONS FOR WRITERS PALLIATE THE WRITER'S

LONELINESS BUT I DOUBT IF THEY IMPROVE HIS WRITING.

HE GROWS IN PUBLIC STATURE AS HE SHEDS HIS LONELINESS,

AND OFTEN HIS WORK DETERIORATES.

FOR HE DOES HIS WORK ALONE AND IF HE IS A GOOD ENOUGH WRITER,

HE MUST FACE ETERNITY, OR THE LACK OF IT, EACH DAY.

IT IS BECAUSE WE HAVE HAD SUCH GREAT WRITERS IN THE PAST THAT

A WRITER IS DRIVEN FAR OUT PAST WHERE HE CAN GO, OUT TO

WHERE NO ONE CAN HELP HIM.

I HAVE SPOKEN TOO LONG FOR A WRITER.

A WRITER SHOULD WRITE WHAT HE HAS TO SAY AND NOT SPEAK IT.

AGAIN, I THANK YOU.

NARRATOR: REQUESTS FOR INTERVIEWS NOW POURED IN.

MAGAZINES FEATURED HIM ON THEIR COVERS.

HOLLYWOOD RUSHED TO MAKE A REMAKE OF "A FAREWELL TO ARMS,"

A MOVIE OF "THE SUN ALSO RISES" AND ANOTHER

OF "THE OLD MAN AND THE SEA."

BIOGRAPHERS AND MOVIE STARS AND AUTOGRAPH-SEEKERS

FLOCKED TO SEE HIM.

HE COMPLAINED THAT SIGHTSEERS WERE TURNING UP AT THE FINCA,

CLAMORING FOR A GLIMPSE OF WHAT HE CALLED

"THE OLD ELEPHANT IN THE ZOO."

HE WAS TOLD AGAIN AND AGAIN TO STOP DRINKING.

KARR: THE THING I KNOW ABOUT ALCOHOLISM, FROM PERSONAL EXPERIENCE,

IS THAT IT'S PROGRESSIVE AND IT'S FATAL.

AND THAT MEANS THAT IT GETS WORSE AND WORSE,

AND THEN YOU DIE.

YOU EITHER KILL YOURSELF, YOU GET PUT IN JAIL, OR YOU GO TO

THE LOONY BIN, BUT THAT'S IT.

THOSE ARE YOUR 3 CHOICES, OR YOU GET SOBER.

FARAH: WHEN YOU HAVE HEAD INJURY, YOUR MIND IS--

AND YOUR BODY--ARE LESS WELL-EQUIPPED TO TOLERATE

THE EFFECTS OF ALCOHOL.

IT MAGNIFIES THE DISINHIBITION AND THE PROBLEMATIC BEHAVIORS,

BUT YOU JUST TOLERATE IT LESS WELL.

NARRATOR: DOCTORS PRESCRIBED A BEWILDERING ARRAY OF DRUGS TO

COMBAT HIGH BLOOD PRESSURE, LOWER CHOLESTEROL,

CALM ANXIETY, ENCOURAGE SLEEP, LIFT HIS SPIRITS.

FRIENDS OFFERED HIM UNAUTHORIZED PRESCRIPTION DRUGS, AS WELL.

THEIR INTERACTIONS WITH ONE ANOTHER AND WITH ALCOHOL

LIKELY EXACERBATED HIS DEPRESSION AND DELUSIONS

AND PARANOIA.

HE'S SELF-MEDICATING WITH PRETTY MUCH ANYTHING HE

CAN LAY HANDS ON.

HE'S USING SYNTHETIC TESTOSTERONE, WHICH IS

A STREET DRUG IN SPANISH CULTURES 'CAUSE HE'S

STRUGGLING WITH IMPOTENCE BECAUSE OF ALL THE WAYS HE'S

ABUSED HIS BODY.

HE'S BOUNCING FROM DOCTOR TO DOCTOR.

THERE'S NOT A DOCTOR HE DIDN'T SEE

WHO WOULDN'T GIVE HIM SOMETHING.

IT'S BAD. YOU KNOW, PEOPLE SAY

THAT THE PEOPLE IN THIS WORLD THAT GET

THE WORST MEDICAL CARE ARE EITHER THE VERY POOR

OR CELEBRITIES BECAUSE CELEBRITIES CAN HAVE WHATEVER

THEY ASK THE DOCTOR FOR AND THE DOCTOR WON'T SAY "NO"

OR DISCIPLINE THEM, SO HE'S IN BIG TROUBLE.

IT DOESN'T SOUND LIKE THE DOCTOR SAID, "LOOK,

YOU SEEM TO BE MANIC,"

OR "LOOK, YOU SEEM TO BE

"REALLY A LITTLE CRAZY NOW.

I'M GONNA GIVE YOU THIS TO HELP WITH IT."

NOBODY SAYS ANYTHING.

THERE'S A HUGE TABOO SO THAT A HUSBAND AND WIFE DON'T EVEN

TALK ABOUT IT.

THERE'S SO MUCH STIGMA ATTACHED TO IT THAT

NOBODY GETS HELP FOR HIM.

[GUNFIRE]

NARRATOR: MEANWHILE, REVOLUTIONARIES,

LED BY FIDEL CASTRO,

WERE WAGING WAR AGAINST THE CUBAN DICTATOR

FULGENCIO BATISTA.

A GOVERNMENT PATROL CAME ONTO HEMINGWAY'S PROPERTY SEARCHING

FOR REBELS AND BLUDGEONED TO DEATH ONE OF THE FAMILY DOGS.

THROUGH IT ALL, HEMINGWAY CONTINUED TO WRITE, BUT NOW

SEEMED UNABLE TO COMPLETE ANYTHING.

A NOVEL ABOUT SAILING OFF BIMINI, THAT AFTER HIS DEATH WOULD

BECOME "ISLANDS IN THE STREAM;"

800 PAGES OF A BOOK

INSPIRED BY HIS SECOND AFRICAN SAFARI, PARTS OF WHICH WOULD

ONE DAY BE PUBLISHED AS "TRUE AT FIRST LIGHT;"

AND 42 CHAPTERS OF "THE GARDEN OF EDEN", A NOVEL HE HIMSELF

THOUGHT TOO SEXUALLY ADVENTUROUS TO BE PUBLISHED

DURING HIS LIFETIME.

KATAKIS: THE FACT THAT HEMINGWAY ONCE AGAIN,

THE ARTIST, IS REALLY PUSHING OUT, IS EXPERIMENTING,

IS DOING THINGS THAT SOME PEOPLE WOULD FIND SHOCKING

ABOUT ERNEST HEMINGWAY-- THE FETISH ABOUT HAIR,

THE "YOU BE ME, I'LL BE YOU," THE SWITCHING OF ROLES.

AND HE'S NOT HIDING HIMSELF VERY MUCH IN IT.

I THINK THIS IS REALLY QUITE SOMETHING FOR A MAN WHO HAS

BEEN TRYING TO MAINTAIN A CERTAIN PERSONA

FOR THE MAJORITY OF HIS LIFE.

MAYBE HE WASN'T TRYING TO MAINTAIN IT, YOU KNOW.

HERE WE GO WITH THE ENIGMA AGAIN.

WHERE ARE WE AND WHAT'S HAPPENING AND WHERE ARE YOU, ERNEST?

WHERE ARE YOU WITH ALL OF THIS?

WHAT'S GOING ON?

MAN, AS HEMINGWAY: I SAT IN A CORNER WITH THE AFTERNOON

LIGHT COMING IN OVER MY SHOULDER AND WROTE

IN THE NOTEBOOK.

THE WAITER BROUGHT ME A CAFE CREME, AND I DRANK HALF OF IT

WHEN IT COOLED AND LEFT IT ON THE TABLE WHILE I WROTE.

WHEN I STOPPED WRITING, I DID NOT WANT TO LEAVE THE RIVER

WHERE I COULD SEE THE TROUT IN THE POOL, ITS SURFACE PUSHING

AND SWELLING SMOOTH AGAINST THE RESISTANCE OF THE

LOG-DRIVEN PILES OF THE BRIDGE,

BUT IN THE MORNING THE RIVER WOULD BE THERE.

ALL I MUST DO NOW IS STAY SOUND AND GOOD IN MY HEAD

UNTIL MORNING WHEN I WOULD START TO WORK AGAIN.

IN THOSE DAYS, WE NEVER THOUGHT THAT ANY OF THAT COULD

BE DIFFICULT.

NARRATOR: IN EARLY 1957, HE RETURNED TO YET ANOTHER

PROJECT, A SERIES OF LOVING SKETCHES OF PARIS

IN THE 1920s, WHEN HE WAS YOUNG AND EVERYTHING STILL

SEEMED POSSIBLE.

IN IT, HE ALSO SETTLED SCORES WITH OLD FRIENDS--

SCORES THAT DIDN'T SEEM TO NEED SETTLING--

ATTACKING GERTRUDE STEIN, RIDICULING SCOTT FITZGERALD,

BOTH OF WHOM HAD HELPED HIM, EACH OF THEM LONG DEAD.

HEMINGWAY WAS THE HERO OF HIS BOOK, HIS FIRST WIFE HADLEY,

THE UNBLEMISHED HEROINE,

PAULINE PFEIFFER, HIS SECOND WIFE,

THE WOMAN WHO CAME BETWEEN THEM.

HEMINGWAY WOULD NEVER COMPLETE THE MANUSCRIPT, BUT, EDITED BY MARY,

IT WOULD BE PUBLISHED AFTER HIS DEATH.

FOR MANY READERS, "A MOVEABLE FEAST," A COMBINATION OF WHAT

HAD REALLY HAPPENED AND WHAT HEMINGWAY WISHED HAD HAPPENED,

WOULD BE HIS FINAL MASTERPIECE.

MAN, AS HEMINGWAY: PARIS WAS A VERY OLD CITY AND WE WERE YOUNG

AND NOTHING WAS SIMPLE THERE, NOT EVEN POVERTY,

NOR SUDDEN MONEY, NOR THE MOONLIGHT, NOR RIGHT

AND WRONG, NOR THE BREATHING OF SOMEONE WHO LAY BESIDE YOU

IN THE MOONLIGHT.

♪

NARRATOR: IN THE SPRING OF 1959, THE HEMINGWAYS TRAVELED

BACK TO HIS BELOVED SPAIN AND SETTLED INTO THE OPULENT

HACIENDA OF A WEALTHY CELEBRITY-LOVING AMERICAN

ON THE COSTA DEL SOL.

THE TWO FINEST MATADORS IN SPAIN WERE TO COMPETE AGAINST

ONE ANOTHER IN BULLRINGS ALL ACROSS THE COUNTRY.

HEMINGWAY HOPED THEY WOULD PROVIDE MATERIAL FOR A REVISED

EDITION OF "DEATH IN THE AFTERNOON," BUT WHEN THE

EDITORS OF "LIFE" GOT WIND OF HIS TRIP, THEY ASKED HIM TO

WRITE A STAND-ALONE PIECE.

[APPLAUSE]

VALENCIA, GRANADA, BILBAO,

LINARES, CORDOBA--

THE BULLFIGHTS WENT ON AND ON, WITH HEMINGWAY AND A CAVALCADE

OF HARD-DRINKING FRIENDS AND HANGERS-ON FOLLOWING

IN THEIR WAKE.

EVERYWHERE HE WENT, THE AUTHOR OF "THE SUN ALSO RISES"

WAS TREATED AS SOMETHING LIKE A PATRON SAINT,

BUT THE FRENZIED SEASON EXHAUSTED HIM.

AFTER THE BULLFIGHTS HAD ENDED, A FRIEND REMEMBERED,

HE SEEMED LIKE "AN OLD MAN, WORLD-WEARY,

HIS EYES HALF-CLOSED."

WHEN HE FINALLY GOT BACK TO CUBA AND TRIED TO WRITE

ABOUT HIS EXPERIENCES, HIS OLD-TIME DISCIPLINE SEEMED

TO HAVE DESERTED HIM.

"LIFE" HAD ASKED FOR 40,000 WORDS.

HE PRODUCED 120,000 AND THEN HAD TO ASK A FRIEND

TO DO THE CUTTING.

ERNEST HEMINGWAY, WHO HAD ONCE BEEN HIS OWN MOST UNFORGIVING

EDITOR, NO LONGER SEEMED ABLE TO SEPARATE WHAT MATTERED

IN HIS WRITING FROM WHAT DID NOT.

[NEWSREEL FANFARE]

NEWSREEL NARRATOR: HAVANA, BEARING 26th OF JULY BANNERS,

JOYOUS FOLLOWERS OF FIDEL CASTRO SWEEP TRIUMPHANTLY

THROUGH THE CUBAN CAPITAL HOURS AFTER THEIR REBELLION

HAD TOPPLED THE REGIME OF FULGENCIO BATISTA.

NARRATOR: HEMINGWAY SYMPATHIZED WITH CASTRO'S REVOLUTION.

IT REMINDED HIM OF THE LOYALIST CAUSE HE HAD

SUPPORTED IN SPAIN.

NEWSREEL ANNOUNCER: ...THAT BROUGHT BATISTA TO POWER.

NARRATOR: STILL, BEFORE LEAVING FOR SPAIN,

HE AND MARY HAD BOUGHT A HOUSE IN KETCHUM, IDAHO,

WHERE ERNEST HAD HUNTED AND FISHED FOR YEARS.

IT WAS MEANT AS A FALL-BACK IN CASE IT BECAME DIFFICULT TO

RETURN TO CUBA.

MAN, AS HEMINGWAY: I AM A GOOD AMERICAN AND HAVE BEEN TO BAT

FOR MY COUNTRY AS OFTEN AS MOST, WITHOUT PAY

AND WITHOUT AMBITION.

BUT I BELIEVE COMPLETELY IN THE HISTORICAL NECESSITY

OF THE CUBAN REVOLUTION.

I DO NOT MIX IN CUBAN POLITICS. I KEEP MY MOUTH SHUT ABOUT IT

AND HAVE NOT GIVEN AN INTERVIEW TO AN AMERICAN NEWSPAPER MAN.

THERE IS NOTHING I CAN SAY THAT

WOULD NOT BE MISINTERPRETED OR TWISTED.

NARRATOR: ONE EVENING IN JANUARY 1960, THE HEMINGWAYS

DINED WITH FRIENDS IN KETCHUM.

FROM THEIR DINING TABLE, HEMINGWAY SAW THAT THE LIGHTS

IN THE BANK DOWNTOWN WERE ON.

HE BECAME AGITATED.

"THEY'RE CHECKING OUR ACCOUNTS," HE SAID.

THEY TRIED TO REASSURE HIM IT WAS JUST THE CLEANING LADIES.

"NO," HE SAID. "THEY'RE TRYING TO CATCH US.

THEY WANT TO GET SOMETHING ON US."

"WHO'S 'THEY?'" MARY ASKED.

"THE FBI," HE REPLIED.

MARY HAD NEVER SEEN HIM SO FEARFUL.

DEARBORN: HE DEVELOPS DEPRESSION THAT'S SO EXTREME,

I DON'T THINK IT'S SOMETHING

THAT MOST PEOPLE SEE IN THEIR LIFETIME.

HIS FATHER HAD IT, TOO.

AND I THINK IT'S A KIND OF PSYCHOTIC DEPRESSION.

NARRATOR: HE BEGAN AGAIN TO SPEAK OF KILLING HIMSELF,

BUT REFUSED TO GO TO A PSYCHIATRIC HOSPITAL.

DEARBORN: HE WANTED IT HIDDEN. HE WOULDN'T GO TO ANY KIND

OF PSYCHIATRIC PLACE, WHICH WOULD HAVE BEEN

A BETTER PLACE.

HE WENT TO THE MAYO CLINIC.

THE STORY WENT OUT THAT HE WAS THERE GETTING TREATED

FOR HIGH BLOOD PRESSURE.

WELL, HE MIGHT HAVE BELIEVED THAT, EVEN, YOU KNOW?

TO SOME EXTENT, MARY MIGHT HAVE BELIEVED IT.

BUT HE WAS BEING TREATED FOR MENTAL ILLNESS AND NOBODY WAS

ADMITTING IT.

NARRATOR: HE REGISTERED UNDER AN ASSUMED NAME BECAUSE,

HE SAID, HE DIDN'T WANT THE WORLD TO THINK "I WAS LOSING

MY MARBLES."

BUT SOON, HE HAD A SIGN HUNG ON HIS DOOR SAYING,

"FORMER WRITER. DO NOT DISTURB."

FARAH: IT'S GOT TO BE DISTRACTING TO HAVE

THE CELEBRITY PATIENT.

I THINK THAT'S WHY THE BOUNDARIES GOT BLURRED, WHY HE

WAS ALLOWED TO DRINK WINE IN THE HOSPITAL AT MAYO,

WHY HE WAS ALLOWED OVER TO THE HOMES OF THE DOCTORS

FOR DINNER, OR TO GO SHOOTING WITH THE DOCTORS--

THINGS THAT WOULD BE COMPLETELY OFF-LIMITS NOW

AND A REAL VIOLATION OF BOUNDARIES.

NARRATOR: HEMINGWAY'S DOCTORS REPEATEDLY ADMINISTERED THE

STANDARD TREATMENT FOR SEVERE DEPRESSION--

ELECTRO-SHOCK THERAPY, ECT.

FARAH: YOU COULD SEE THE IMPULSE TO TREAT HIM

WITH SHOCK THERAPY, WHICH IS A GREAT THERAPY IF ALL YOU HAVE

IS MAJOR DEPRESSION WITH PSYCHOTIC FEATURES.

CERTAINLY, HE HAD DEPRESSION. CERTAINLY, HE HAD PSYCHOSIS.

BUT THEY WERE JUST MANIFESTATIONS

OF A LARGER ILLNESS.

NARRATOR: HEMINGWAY HAD ALSO SURVIVED SEVERAL CONCUSSIONS,

WHICH MAY HAVE PERMANENTLY INJURED HIS BRAIN, ALTERING

HIS PERSONALITY AND CORRUPTING HIS REASONING.

HIS MIND WAS ALREADY MUDDLED BY DECADES OF DRINKING TOO MUCH

AND BY A JUMBLE OF MEDICATIONS MEANT TO COMBAT

ALL THE DAMAGE ALCOHOL HAD DONE TO BOTH HIS BODY

AND HIS MIND.

HE HAD ENTERTAINED THOUGHTS OF SUICIDE SINCE AT LEAST HIS

LATE TEENS, LONG BEFORE HIS FATHER TOOK HIS OWN LIFE.

BUT HEMINGWAY COULD STILL SUMMON ENOUGH OF HIS OLD CHARM

TO REASSURE HIS DOCTORS THAT AFTER JUST 6 WEEKS

IN THE HOSPITAL HIS PARANOIA AND DELUSIONS HAD ABATED,

THAT HIS DEPRESSION HAD LIFTED.

IN JANUARY OF 1961, HE WAS RELEASED FROM THE HOSPITAL

AND RETURNED TO KETCHUM.

HE WENT TO HIS WRITING TABLE EACH MORNING, ORDERING

AND REORDERING THE CHAPTERS THAT WOULD BECOME

"A MOVEABLE FEAST."

IN THE AFTERNOONS, HE WOULD TAKE A LONG WALK AND WAVE

AT LOCAL CHILDREN ON THEIR WAY HOME FROM SCHOOL.

BUT THE CLOUDS SOON CLOSED IN AGAIN.

A COMMON SIDE-EFFECT OF ELECTROSHOCK THERAPY WAS LOSS

OF SHORT-TERM MEMORY.

THE DOCTORS HAD ASSURED HIM IT WAS ONLY TEMPORARY.

HE DID NOT BELIEVE THEM.

WRITING WAS WHAT HE WAS BORN TO DO,

AND HE HAD HOPED ONE DAY TO DO MORE OF IT,

BUT HE NO LONGER BELIEVED HE EVER WOULD.

MAN, AS HEMINGWAY: WHEN HE FINALLY GAVE UP WRITING

THAT DAY, IT WAS AFTERNOON.

HE HAD STARTED A SENTENCE AS SOON AS HE HAD GONE INTO HIS

WORKING ROOM AND HAD COMPLETED IT BUT HE COULD WRITE

NOTHING AFTER IT.

HE CROSSED IT OUT AND STARTED ANOTHER SENTENCE AND AGAIN

CAME TO THE COMPLETE BLANKNESS.

IT WAS IMPOSSIBLE FOR HIM TO PUT DOWN THE NEXT

SENTENCE ON PAPER.

AT THE END OF TWO HOURS IT WAS THE SAME.

HE COULD NOT WRITE MORE THAN A SINGLE SENTENCE,

AND THE SENTENCES THEMSELVES WERE INCREASINGLY SIMPLE

AND COMPLETELY DULL.

HE KEPT AT IT FOR 4 HOURS BEFORE HE KNEW THAT RESOLUTION

AS POWERLESS AGAINST WHAT HAD HAPPENED.

KARR: HE HAD BEEN SO GROUND DOWN THAT HE LACKED THAT...

JUST THE STRENGTH, THE PSYCHIC STRENGTH.

HE DESCRIBES IN THE BULLRING THE BULL'S JOURNEY OF KNOWLEDGE.

INITIALLY, THEY GO FOR THE CAPE.

AND THEN, BY THE END OF THE BULLFIGHT, THEY'VE LOST

SO MUCH BLOOD THEY CAN'T LIFT THEIR HEAD TO CHARGE.

AND I WAS THINKING ABOUT HIM AS THIS TRAGIC FIGURE.

HE MUST HAVE FELT VERY CORNERED.

NARRATOR: IN LATE FEBRUARY, HE WAS ASKED TO WRITE A LINE

OR TWO OF TRIBUTE TO THE NEW PRESIDENT, JOHN F. KENNEDY.

IT TOOK HIM A WEEK TO PRODUCE 4 LINES.

WHEN HIS DOCTOR CAME TO TAKE HIS BLOOD PRESSURE, HE FOUND

HEMINGWAY WEEPING WITH FRUSTRATION.

IN MARCH, HE TELEPHONED HIS FIRST WIFE, HADLEY.

THEY HAD NOT SEEN ONE ANOTHER FOR 22 YEARS.

THERE WAS NOTHING DISTURBING IN WHAT HE SAID,

SHE REMEMBERED.

HE ASKED IF SHE COULD REMEMBER THE NAME OF SOMEONE

THEY'D KNOWN IN PARIS AND SHE COULDN'T RECALL IT.

BUT HIS VOICE SEEMED SO SAD, SO WEARY,

THAT WHEN THEY HUNG UP, SHE FOUND HERSELF IN TEARS.

[GUNFIRE]

IN APRIL OF 1961, THE CIA SPONSORED AN INVASION OF CUBA

AT THE BAY OF PIGS, IN AN ATTEMPT TO OVERTHROW

THE REVOLUTIONARY GOVERNMENT OF FIDEL CASTRO.

IT FAILED, ENDING ANY POSSIBILITY OF NORMAL

RELATIONS BETWEEN THE UNITED STATES AND CUBA.

THE BAY OF PIGS IS REALLY THE COUP DE GRACE, ISN'T IT?

THERE IS NOW NO ILLUSION, IF THERE WAS ANY IN THE BEGINNING,

ABOUT "MAYBE THIS WILL BLOW OVER AND I CAN GET BACK THERE."

THAT'S NOW DONE.

THAT'S NOW DONE.

JOHN F. KENNEDY: IT IS CLEAR THAT THE FORCES

OF COMMUNISM ARE NOT TO BE UNDERESTIMATED IN CUBA.

BEEGEL: HE HAD LOST HIS HOME,

HE HAD LOST EVERYTHING IN THAT HOME...

KENNEDY: ...WILL NOT ACCEPT MR. CASTRO'S ATTEMPTS TO BLAME THIS NATION...

BEEGEL: HE LOST HIS BOOKS...

HE LOST HIS ART,

HE LOST HIS PETS,

HE LOST HIS COMMUNITY...

KENNEDY: ...LESSON FOR US ALL...

BEEGEL: HE LOST HIS BOAT "PILAR,"

HE LOST THE LIFESTYLE WHERE HE COULD GO FISHING.

HE LOST EVERYTHING THAT HE HAD,

AND HE KNEW IN THAT MOMENT THAT HE COULD NOT GO BACK,

THAT THAT WAS DONE.

AND HE WAS MAROONED IN THIS VERY SPARE LITTLE BLOCK HOUSE IN IDAHO.

NARRATOR: ON APRIL 21st, MARY FOUND ERNEST

IN THE VESTIBULE HOLDING A SHOTGUN.

TWO SHELLS WERE WITHIN REACH ON THE WINDOW-SILL.

SHE MANAGED TO TALK HIM DOWN, TELLING HIM HOW MUCH HE MEANT

TO HER AND HIS BOYS, HOW BRAVE HE'D BEEN DURING THE WAR,

HOW MUCH THEY BOTH WANTED TO GO BACK AGAIN TO AFRICA.

SHE INSISTED HE RETURN TO THE MAYO CLINIC.

WHEN THE PRIVATE PLANE SHE HAD ARRANGED TO TAKE HIM THERE

STOPPED TO REFUEL IN RAPID CITY, HE TRIED TO WALK INTO

A SPINNING PROPELLER.

THIS TIME, HE WAS GIVEN A ROOM IN THE LOCKED WARD.

HE UNDERWENT A SECOND SERIES OF ELECTRO-SHOCK TREATMENTS.

HIS MEMORY DETERIORATED FURTHER.

A.E. HOTCHNER: ONE OF THE LAST CONVERSATIONS THAT I HAD

WITH ERNEST, I HAD A RENTED CHEVY AND GOT PERMISSION THAT

HE COULD LEAVE THE HOSPITAL.

AND WE DROVE TO A LITTLE PLACE THAT WAS A SORT OF A LITTLE

PARK-LIKE PLACE.

HE GOT OUT SO THERE WAS NO QUESTION THAT THERE WAS

ANYTHING BUGGED.

AND I WAS TRYING TO-- TO BE POSITIVE.

AND I SAID, "LISTEN, SOON AS YOU FINISH UP HERE, WHY DON'T WE

GO FISH DOWN THERE?"

AND HE TURNED ON ME.

HE SAID, "YOU DON'T SEEM TO UNDERSTAND."

HE SAID, "WHAT HAVE I GOT TO BE HANGING AROUND FOR?"

[TELEPHONE RINGS] NARRATOR: IN LATE JUNE,

MARY GOT A PHONE CALL FROM THE MAYO CLINIC.

THE DOCTOR TOLD HER HE HAD GOOD NEWS.

ERNEST WAS READY TO GO HOME.

WHEN SHE ARRIVED, HER HUSBAND WAS ALREADY DRESSED

IN HIS STREET CLOTHES, SHE REMEMBERED,

"GRINNING LIKE A CHESHIRE CAT."

MARY WAS NOT CONVINCED,

BUT SHE DID NOT PUT UP A FIGHT.

AN OLD FRIEND DROVE THEM BACK TO KETCHUM.

HEMINGWAY'S PARANOIA QUICKLY MANIFESTED ITSELF AGAIN.

ON SATURDAY EVENING, JULY 1st, THE HEMINGWAYS AND A FRIEND

DROVE INTO TOWN FOR DINNER.

ERNEST WAS SURE TWO STRANGERS SITTING AT THE BAR WERE

FEDERAL AGENTS.

MARY COULDN'T CONVINCE HIM OTHERWISE.

BUT WHEN HE WENT TO HIS BEDROOM THAT EVENING

AND CALLED OUT TO HER, "GOOD NIGHT, MY KITTEN,"

"HIS VOICE WAS WARM AND FRIENDLY,"

SHE REMEMBERED.

MARY HAD LEFT THE KEYS TO THE BASEMENT CABINET WHERE HIS

GUNS WERE KEPT OUT IN THE OPEN IN THE KITCHEN, JUST AS

THEY HAD ALWAYS BEEN.

SHE CONSIDERED HIDING THEM, SHE LATER RECALLED,

BUT "DECIDED THAT NO ONE HAD A RIGHT TO DENY A MAN

HIS POSSESSIONS."

AT ABOUT 7:00 THE NEXT MORNING, SUNDAY, JULY 2, 1961,

MARY WAS AWAKENED BY A LOUD BANG.

HEMINGWAY, STILL WEARING HIS BATHROBE AND SLIPPERS,

HAD SLIPPED DOWN TO THE BASEMENT, RETRIEVED A SHOTGUN

AND TWO SHELLS, AND CLIMBED BACK UP TO THE VESTIBULE.

THERE, HE HAD BENT OVER, PLACED THE TWIN BARRELS

AGAINST HIS FOREHEAD AND PULLED THE TRIGGER.

HE WAS 61 YEARS OLD.

EDWIN NEWMAN: GOOD EVENING.

THE NOVELIST ERNEST HEMINGWAY IS DEAD.

THE REPORTS FROM HIS HOME IN KETCHUM, IDAHO ARE SPARSE

AND NOT VERY CLEAR, BUT WE KNOW THAT HE KILLED HIMSELF,

THE SHERIFF SAYS ACCIDENTALLY, WITH A 12-GAUGE SHOTGUN.

HEMINGWAY ONLY LAST WEEK WAS DISCHARGED FROM THE MAYO CLINIC

IN ROCHESTER, MINNESOTA, WHERE HE HAD BEEN TREATED

FOR HIGH BLOOD PRESSURE.

THIS MORNING, THE NOBEL PRIZE-WINNING NOVELIST WAS ALONE

IN HIS ROOM, PREPARING TO GO HUNTING, WHEN THE FATAL

ACCIDENT OCCURRED.

HE WAS A LITERARY MAN WHO PROBABLY HAD MORE INFLUENCE

ON THE STYLE OF THE WRITING OF NOVELS THAN ANY OTHER WRITER

IN THE 20th CENTURY.

THAT WAS PARTLY BECAUSE OF THE WAY HE WROTE, THE TERSE,

OFTEN FLAT AND SARDONIC STYLE, ALMOST PAINFULLY MASCULINE.

HE WAS LESS AN INDIVIDUAL THAN A CHARACTER, LESS A PERSON

THAN AN INSTITUTION.

HE WORSHIPPED VIRILITY AND A SMALL RELIGION GREW UP

ABOUT HIM.

HEMINGWAY'S PLACE IN LITERATURE, I THINK CANNOT NOW BE FIXED.

WE DON'T KNOW WHICH OF HIS BOOKS WILL LIVE.

WE SUSPECT THAT "A FAREWELL TO ARMS," THE TENDEREST AND MOST

MOVING OF THEM WILL LIVE.

WE BELIEVE THAT SOME OF HIS SHORT STORIES WILL,

PARTICULARLY "THE SNOWS OF KILIMANJARO"

AND "THE SHORT HAPPY LIFE OF FRANCIS MACOMBER."

HE WAS, NEVERTHELESS, AN INTENSELY AMERICAN WRITER.

HIS OWN CONTRIBUTION WAS VERY LARGE, AND NOT ONLY TO

AMERICAN LETTERS, BUT TO THE EXCITEMENT AND COLOR

OF THE LAST 4 DECADES.

EDWIN NEWMAN. GOOD EVENING.

McCAIN: I WAS PAINED AND GRIEVED,

BUT, YOU KNOW, I THINK THERE ARE TIMES WHEN--

I DON'T AGREE WITH IT-- BUT IT'S UNDERSTANDABLE

WHY HE DECIDED

TO END HIS LIFE WHEN HE HAD--

HIS TALENT HAD LEFT HIM.

WE SOMETIMES TALK ABOUT PEOPLE AND WE IDOLIZE THEM AND WE

GIVE THEM EVERY VIRTUE AND NO VICE.

HE HAD LOTS OF VICES. HE HAD LOTS OF VICES.

HE WAS A HUMAN BEING.

AND THAT, MY FRIEND, ERASES A WHOLE LOT OF OTHER

WHAT MAY BE FAILINGS IN LIFE.

KATAKIS: HE KEEPS SPEAKING TO US BECAUSE HIS WRITING WAS

BASICALLY HUMAN WITH ALL THAT WE ARE--

THE DARK, THE LIGHT, THE PASSIONATE, THE PETTY,

THE UGLY, THE BEAUTIFUL, THE KIND, THE CRUEL.

I--I--JUST--HE JUST WAS WRITING ABOUT HUMAN BEHAVIOR

AND HUMAN BEINGS.

AND I THINK HE WAS ABLE TO DO IT BECAUSE HE SO LOVED THE WORLD.

"WHAT A SHAME IT'S GOING TO BE

TO HAVE TO LEAVE IT," HE SAID.

EDNA O'BRIEN: HE HAS IMMORTALITY,

AND HE DESERVES IT.

NOT MANY WRITERS GET THAT, AND HE DESERVES IT.

MAN, AS HEMINGWAY: AND THEN INSTEAD OF GOING ON TO ARUSHA,

THEY TURNED LEFT.

HE EVIDENTLY FIGURED THAT THEY HAD THE GAS.

AND LOOKING DOWN, HE SAW A PINK SIFTING CLOUD MOVING OVER

THE GROUND, AND IN THE AIR, LIKE THE FIRST SNOW

IN A BLIZZARD, THAT COMES FROM NOWHERE, AND HE KNEW

THE LOCUSTS WERE COMING UP FROM THE SOUTH.

THEN THEY BEGAN TO CLIMB,

AND THEY WERE GOING TO THE EAST, IT SEEMED,

AND THEN IT DARKENED AND THEY WERE IN A STORM,

THE RAIN SO THICK IT SEEMED LIKE FLYING THROUGH A WATERFALL.

[THUNDER]

AND THEN THEY WERE OUT AND COMPIE TURNED HIS HEAD

AND GRINNED AND POINTED AND THERE AHEAD, ALL HE COULD SEE,

AS WIDE AS ALL THE WORLD, GREAT, HIGH, AND UNBELIEVABLY

WHITE IN THE SUN, WAS THE SQUARE TOP OF KILIMANJARO.

AND THEN HE KNEW THAT THERE WAS WHERE HE WAS GOING.

ERNEST HEMINGWAY.

[WIND BLOWING]

♪

♪

♪

♪

VO: Stay tuned for a special preview

of the next film from Ken Burns: MUHAMMAD ALI.

ANNOUNCER: DIVE DEEPER INTO THIS FILM

BY VISITING PBS.ORG/HEMINGWAY

AND THE PBS VIDEO APP.

JOIN THE CONVERSATION WITH HASHTAG #HEMINGWAYPBS.

TO ORDER "HEMINGWAY" ON DVD OR BLU-RAY

OR THE BOOK "THE HEMINGWAY STORIES,"

VISIT SHOP PBS OR CALL 1-800-PLAY-PBS.

THE CD IS ALSO AVAILABLE.

"HEMINGWAY" IS ALSO AVAILABLE WITH PBS PASSPORT

AND ON AMAZON PRIME VIDEO.

♪

♪

♪

ANNOUNCER: MAJOR FUNDING FOR "HEMINGWAY"

WAS PROVIDED BY THE BETTER ANGELS SOCIETY

AND BY ITS MEMBERS:

THE ELIZABETH RUTH WALLACE LIVING TRUST,

JOHN AND LESLIE McQUOWN,

JOHN AND CATHERINE DEBS,

THE FULLERTON FAMILY CHARITABLE TRUST,

KISSICK FAMILY FOUNDATION, GAIL ELDEN,

GILCHRIST AND AMY BERG,

ROBERT AND BEVERLY GRAPPONE,

AND MAUREE JANE AND MARK PERRY.

ADDITIONAL FUNDING WAS PROVIDED BY THE ANNENBERG FOUNDATION,

THE ARTHUR VINING DAVIS FOUNDATIONS,

THE CORPORATION FOR PUBLIC BROADCASTING,

AND BY CONTRIBUTIONS TO YOUR PBS STATION

FROM VIEWERS LIKE YOU.

THANK YOU.