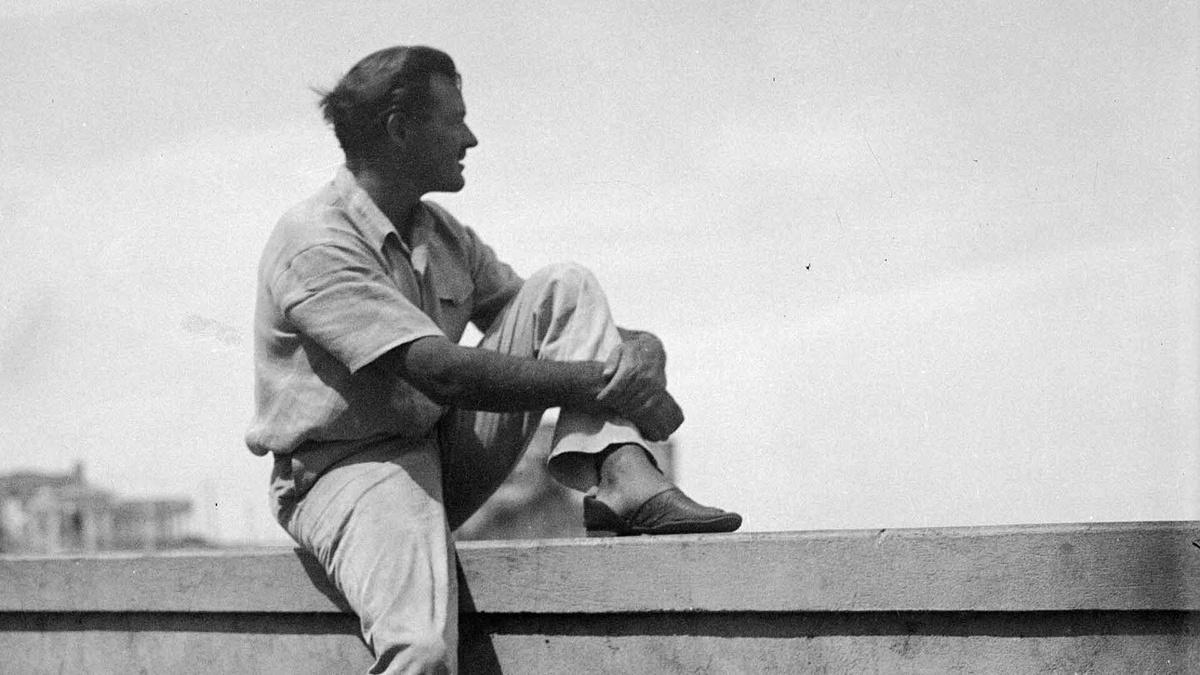 S1 E2 | FULL EPISODE
The Avatar (1929-1944)
Hemingway, having achieved a level of fame rarely seen in the literary world, settles in Key West with Pauline Pfeiffer but can't stay put for long. He reports on the Spanish Civil War and begins a tempestuous romance with Martha Gellhorn.
TRANSCRIPT

ANNOUNCER: MAJOR FUNDING FOR "HEMINGWAY"

WAS PROVIDED BY THE BETTER ANGELS SOCIETY

AND BY ITS MEMBERS:

THE ELIZABETH RUTH WALLACE LIVING TRUST,

JOHN AND LESLIE McQUOWN,

JOHN AND CATHERINE DEBS,

THE FULLERTON FAMILY CHARITABLE TRUST,

KISSICK FAMILY FOUNDATION, GAIL ELDEN,

GILCHRIST AND AMY BERG,

ROBERT AND BEVERLY GRAPPONE,

AND MAUREE JANE AND MARK PERRY.

ADDITIONAL FUNDING WAS PROVIDED BY THE ANNENBERG FOUNDATION,

THE ARTHUR VINING DAVIS FOUNDATIONS,

THE CORPORATION FOR PUBLIC BROADCASTING,

AND BY CONTRIBUTIONS TO YOUR PBS STATION

FROM VIEWERS LIKE YOU.

THANK YOU.

[LOUIS ARMSTRONG AND HIS HOT FIVE'S "BASIN STREET BLUES" PLAYING]

WOMAN AS DOROTHY PARKER: HE HAS THE MOST PROFOUND BRAVERY

THAT IT HAS EVER BEEN MY PRIVILEGE TO SEE.

HE HAS HAD ABOUT 8 TIMES

THE NORMAL ALLOTMENT OF RESPONSIBILITIES.

IT TAKES COURAGE.

HE REFERRED TO THE QUALITY AS "GUTS."

HE WEIGHS ABOUT 200 POUNDS,

AND HE IS EVEN BETTER THAN THOSE PHOTOGRAPHS.

THE EFFECT UPON WOMEN IS SUCH THAT THEY WANT TO

GO RIGHT OUT AND GET HIM AND BRING HIM HOME, STUFFED.

DOROTHY PARKER.

NARRATOR: BY THE TIME "A FAREWELL TO ARMS"

TOPPED THE BEST-SELLER LISTS IN 1929,

COLORFUL STORIES HAD ALREADY BEGUN TO CIRCULATE

ABOUT ERNEST HEMINGWAY,

MANY OF THEM TOLD BY THE WRITER HIMSELF.

HE'D ONCE PLANNED TO BE

A PROFESSIONAL BOXER, HE CLAIMED.

HE'D FOUGHT IN THE ITALIAN ARMY DURING THE GREAT WAR,

BEEN WOUNDED 7 SEPARATE TIMES,

AND BEEN AWARDED A CHEST-FULL OF MEDALS

ABOUT WHICH HE SAID HE WAS TOO MODEST TO SPEAK.

AND HE'D NEARLY STARVED TO DEATH IN PARIS

WHILE LEARNING TO WRITE.

NONE OF THESE STORIES WAS TRUE.

EDNA O'BRIEN: HE MYTHOLOGIZED HIMSELF.

WHY DO PEOPLE MYTHOLOGIZE?

TO WOO OTHER PEOPLE

AND ALSO TO KEEP THEM AT A DISTANCE.

TO FEEL INADEQUATE, BUT TO BOAST ABOUT BEING OVER-ADEQUATE.

KATAKIS: HEMINGWAY CONSTRUCTED HIS MYTH TO A LARGE DEGREE

AND HE MADE THE MISTAKE THAT ALL MYTH-MAKERS DO--

HE THOUGHT THAT HE COULD CONTROL IT.

AND THERE COMES A TIME THAT YOU CAN'T ANYMORE.

IT'S TAKEN ON A LIFE OF ITS OWN.

IT BECAME VERY EXHAUSTING TO BE HEMINGWAY.

THE HEMINGWAY THAT THE PUBLIC THOUGHT.

AND LET'S FACE IT, WHEN HE WAS IN THE PUBLIC,

HE WAS ALWAYS IN THE PUBLIC EYE

AND THE PEOPLE EXPECTED HEMINGWAY TO BE HEMINGWAY.

[JOHNNY GANDELSMAN'S "THE GARDEN OF EDEN MIX 3" PLAYING]

NARRATOR: HIS ART AND THE GAUDY MYTHS THAT GREW UP AROUND HIM

WERE ALREADY BECOMING CONFUSED IN THE PUBLIC MIND.

AT FIRST, HE HIMSELF WAS EMBARRASSED

BY SOME OF THE TALL TALES WHEN HE SAW THEM IN PRINT.

BUT AS HIS FAME GREW OVER THE COMING YEARS,

IT BECAME HARDER AND HARDER TO TELL THE REAL HEMINGWAY

FROM THE ONE HE HAD CREATED.

WOLFF: THERE'S A CHINESE PROVERB BY THE SAGE ZHUANGZI

AND HE HAS IT THIS WAY. HE SAYS,

GOOD FORTUNE IS AS LIGHT AS A FEATHER

AND FEW ARE STRONG ENOUGH TO CARRY IT.

WHEN YOU THINK OF THE WEIGHT

THAT HIS FAME MUST HAVE LAID ON HIM,

EVEN WHEN HE WAS YOUNG,

AND THE ANXIETY THAT WOULD PRODUCE OF

HOW CAN I LIVE UP TO THIS?

HOW CAN THE NEXT BOOK BE BETTER?

WHAT IS IN ME TO MAKE THIS REAL?

IT'S VERY HARD, I THINK, TO BE A PUBLIC PERSON LIKE THAT.

AND SO, I THINK EVERY PUBLIC PERSON

CREATES SOME KIND OF AVATAR, IF YOU WILL, OF THEMSELVES,

SOME HOLOGRAPH OF THEMSELVES TO PRESENT PUBLICLY

TO SAVE WHATEVER IS PRIVATE IN THEM.

THE PROBLEM IS THAT EVENTUALLY YOUR AVATAR

WILL CONSUME YOU.

[FATS WALLER'S "AIN'T MISBEHAVIN'" PLAYING]

MAN AS HEMINGWAY: WE HAVE A FINE HOUSE HERE

AND THE KIDS ARE ALL WELL.

ALSO 4 RACCOONS, A POSSUM, 18 GOLDFISH, 3 PEACOCKS,

AND A YARD WITH FIG TREE AND A LIME TREE.

VERY FINE THE WAY PAULINE HAS FIXED IT.

WE HAVE BEEN, AND ARE, DAMNED HAPPY.

I COULD STAY HERE DAMNED NEAR ALL THE TIME

AND HAVE A FINE TIME WATCHING THE THINGS GROW

AND BE HAPPIER THAN I UNDERSTAND.

MAN: ♪ NO ONE TO TALK WITH, ALL MY MYSELF ♪

♪ NO ONE TO WALK WITH BUT I'M HAPPY ON THE SHELF ♪

♪ AIN'T MISBEHAVIN'...

NARRATOR: THE BIG ANTEBELLUM HOUSE

ON WHITEHEAD STREET IN KEY WEST, FLORIDA

WAS A GIFT FROM HIS SECOND WIFE PAULINE PFEIFFER'S

WEALTHY UNCLE GUS, WHO BELIEVED DEEPLY IN HEMINGWAY'S WRITING

AND WHO WOULD PROVIDE FINANCIAL HELP TO MAINTAIN

THEIR EXPENSIVE AND EXTRAVAGANT WAY OF LIFE.

DAY TO DAY COSTS WERE COVERED BY PAULINE'S TRUST FUND.

3 HEMINGWAY CHILDREN WOULD SOON BE SEEN THERE:

JACK, KNOWN AS "BUMBY,"

THE OFFSPRING OF HEMINGWAY'S FIRST MARRIAGE,

SPENT MOST OF EACH YEAR WITH HIS MOTHER HADLEY,

WHO WOULD HAPPILY REMARRY AND SETTLE NEAR CHICAGO.

BUT HE SUMMERED IN FLORIDA WITH HIS FATHER AND PAULINE.

PATRICK, ERNEST AND PAULINE'S FIRST-BORN,

CALLED "MOUSE," WAS IN PERMANENT RESIDENCE.

SO WAS GREGORY, NICKNAMED "GIGI," BORN IN 1931.

MAN: ♪ AIN'T MISBEHAVIN', SAVIN' ALL MY LOVE FOR YOU ♪

NARRATOR: MOTHERHOOD WAS ALWAYS LESS IMPORTANT TO PAULINE

THAN WHAT SHE SAID WAS HER FIRST DUTY--

TO REMAIN ALWAYS "A LOVELY, UNHARRIED WIFE."

ERNEST LONGED FOR HER WHEN EVEN BRIEFLY AWAY

AND DELIGHTED IN HER WILLINGNESS TO PLEASE HIM

BY DYEING HER HAIR--

LIKE HAVING "A NEW WIFE EVERY DAY," HE TOLD A FRIEND.

DEARBORN: HER NUMBER-ONE GOAL IN LIFE

IS MAKING HEMINGWAY HAPPY.

SHE, SHE WANTS HIM TO KEEP WRITING.

SHE WAS THE REAL PROTECTOR OF HIS TALENT.

AND SHE WANTED TO FACILITATE THAT IN ANY WAY SHE COULD.

AND SHE SUBMERGED HERSELF, HER IDENTITY.

SHE LEFT HER INFANT CHILDREN, ONE IS 3 MONTHS OLD

AT ONE POINT, TO GO HUNTING WITH HEMINGWAY.

AND SHE'D SAY, "YOU'RE MORE IMPORTANT THAN THEY ARE."

AND HE WAS HER PRIORITY.

NARRATOR: THE HOUSE ON WHITEHEAD STREET WOULD BE

HEMINGWAY'S COMFORTABLE HOME FOR THE NEXT 8 YEARS.

WHEN HE WAS NOT WRITING, HE FISHED THE NEARBY GULF STREAM

FOR TUNA AND SAILFISH, MAKO SHARK AND BLUE MARLIN,

REFEREED BOXING MATCHES ON FRIDAY NIGHTS,

AND HUNG OUT IN A FAVORITE KEY WEST SALOON

CALLED SLOPPY JOE'S.

IN KEY WEST, HE ALSO MAINTAINED

THE STRICT WRITER'S DISCIPLINE HE HAD FOLLOWED SINCE PARIS.

[JOHANN SEBASTIAN BACH'S "CELLO SUITE NO. 1 IN G MAJOR, BWV 1007: COURANTE" PLAYING]

MAN AS HEMINGWAY: I WRITE EVERY MORNING AS SOON

AFTER FIRST LIGHT AS POSSIBLE.

THERE IS NO ONE TO DISTURB YOU

AND IT IS COOL OR COLD AND YOU COME TO YOUR WORK

AND WARM AS YOU WRITE.

PATRICK: HE DIDN'T WORK ALL DAY.

I THINK THAT'S THE MOST ILLUMINATING THING

ABOUT DESCRIBING HIS WRITING HABITS.

AFTER LUNCH, HE ENJOYED HIMSELF.

AS A CHILD GROWING UP, YOU JUST TAKE

THE CIRCUMSTANCES OF YOUR LIFE AS BEING NORMAL.

AND SO...HE WAS A STRANGE PERSON IN THE SENSE THAT

HE WAS INACCESSIBLE IN THE FIRST HALF OF THE DAY

AND OVER-ACCESSIBLE IN THE SECOND.

BUT I REALLY ENJOYED THE FACT

THAT HE WAS ALWAYS GAME FOR SOMETHING IN THE AFTERNOON

AND THAT WE WERE INCLUDED.

UNLIKE SOME ARTISTS THAT I'VE HEARD ABOUT,

MY DAD WAS A VERY GOOD FATHER.

MAN AS RALPH ELLISON: I PRACTICED WRITING AND STUDIED JOYCE, DOSTOYEVSKY,

STEIN, AND HEMINGWAY.

ESPECIALLY HEMINGWAY. I READ HIM

TO LEARN HIS SENTENCE STRUCTURE AND HOW TO ORGANIZE A STORY.

I GUESS MANY YOUNG WRITERS WERE DOING THIS,

BUT I ALSO USED HIS DESCRIPTION OF HUNTING

WHEN I WENT INTO THE FIELDS THE NEXT DAY.

I HAD BEEN HUNTING SINCE I WAS 11,

BUT NO ONE HAD BROKEN DOWN THE PROCESS

OF WING-SHOOTING FOR ME, AND IT WAS

FROM READING HEMINGWAY THAT I LEARNED TO LEAD A BIRD.

WHEN HE DESCRIBES SOMETHING IN PRINT, BELIEVE HIM.

HE'S BEEN THERE.

RALPH ELLISON.

NARRATOR: ERNEST HEMINGWAY HAD TRANSFORMED

THE AMERICAN SHORT STORY

AND REMADE THE AMERICAN NOVEL,

BUT HE WAS NOT SATISFIED.

NOW HE WANTED TO DEMONSTRATE HIS MASTERY OF NONFICTION AS WELL.

RUNNING ALWAYS THROUGH HEMINGWAY'S WRITING--

AND HIS LIFE--WAS A SINGLE DARK THREAD:

HIS FASCINATION WITH DEATH.

"ALL STORIES IF CONTINUED FAR ENOUGH," HE WROTE,

"END IN DEATH."

VERGHESE: HOW CAN YOU NOT BE OBSESSED ABOUT DEATH?

AND I THINK IT DROVE EVERYTHING THAT FOLLOWED IN HIS WRITING.

YOU KNOW, IT WAS ALL FUELED BY THE SENSE THAT

WE'RE GOING TO DIE AND WHY NOT?

ISN'T THAT THE REASON FOR US TO

BRING OUR BEST TO THIS MOMENT?

NARRATOR: "A GOOD WRITER SHOULD KNOW

NEAR TO EVERYTHING AS POSSIBLE,"

HEMINGWAY WROTE.

"NATURALLY HE WILL NOT,"

BUT HE SHOULD BE CAPABLE OF LEARNING SO FAST

AND REMEMBERING SO MUCH THAT HE SEEMS TO HAVE

BEEN BORN WITH KNOWLEDGE NONETHELESS.

HE LIKED TO CALL HIMSELF PAPA

AND HIS APPARENT EXPERTISE IN EVERYTHING

WAS PART OF HIS MAGIC ON THE PRINTED PAGE,

THOUGH IN REAL LIFE, SOME OF HIS FRIENDS

WEARIED OF WHAT ONE CALLED HIS "TENDENCY TO BE AN ORACLE."

HEMINGWAY SAW IT AS HIS DUTY TO PASS ON TO THE WORLD

AS MUCH OF WHAT HE'D LEARNED

ABOUT THE RIGHT WAY TO DO THINGS AS HE COULD--

HOW TO ORDER A GOOD FRENCH MEAL,

FIRE A MACHINE GUN, BAIT A HOOK,

MAKE LOVE TO A WOMAN--

OR APPRECIATE WHAT A MATADOR

WAS DOING IN THE BULLRING.

[JOHNNY GANDELSMAN'S "EL TORITO MIX 3" PLAYING]

MAN AS HEMINGWAY: THE BULLFIGHT IS NOT A SPORT

IN THE ANGLO-SAXON SENSE OF THE WORD.

THAT IS, IT IS NOT AN EQUAL CONTEST

OR AN ATTEMPT AT AN EQUAL CONTEST

BETWEEN A BULL AND A MAN.

RATHER, IT IS A TRAGEDY; THE DEATH OF THE BULL,

WHICH IS PLAYED, MORE OR LESS WELL, BY THE BULL

AND THE MAN INVOLVED

AND IN WHICH THERE IS DANGER FOR THE MAN

BUT CERTAIN DEATH FOR THE ANIMAL.

[CROWD CHEERING]

[VARGAS LLOSA SPEAKING SPANISH]

NARRATOR: THE BOOK HEMINGWAY WAS WORKING ON

WHEN HE AND HIS FAMILY MOVED INTO THEIR NEW HOUSE IN KEY WEST

WAS "DEATH IN THE AFTERNOON."

IT WAS A NEW KIND OF JOURNALISM,

IN WHICH HE WAS THE CENTRAL CHARACTER, "THE AUTHOR,"

WHO EXPLAINS TO A FICTIONAL "OLD LADY"

EVERYTHING HE HAS LEARNED OVER THE YEARS

ABOUT THE RITUAL OF BULLFIGHTING--

AND ABOUT SPAIN, THE COUNTRY HE'D COME TO LOVE

AS MUCH AS HE LOVED HIS OWN.

[DAVID CIERI'S "QUE RICO" PLAYING]

MANDEL: BACK WHEN HE FIRST BECAME ATTACHED

TO SCRIBNER'S PUBLISHING HOUSE,

HIS VERY FIRST LETTER TO HIS EDITOR WAS,

"I WANT TO WRITE A BIG BOOK

ABOUT THE BULLFIGHT, WITH PICTURES."

HE READ AND READ AND READ AND READ

AND READ ABOUT BULLFIGHTING,

IN ENGLISH AND IN SPANISH.

AND HE LEARNED TO READ THE BULL.

THE BULL IS A TEXT. YOU HAVE TO READ IT

AND SAY, "THESE ARE HIS STRENGTHS."

"THESE ARE HIS WEAKNESSES."

"THIS IS WHERE I CAN USE IT."

"THIS IS WHERE I CAN DOMINATE IT."

"THIS IS WHAT I BETTER STAY AWAY FROM."

NARRATOR: HEMINGWAY UNDERSTOOD THAT MANY AMERICANS

WOULD FIND BULLFIGHTING ABHORRENT,

CONVINCED OF ITS CRUELTY.

HE WANTED TO HELP THEM GET BEYOND THAT, HE SAID,

SO THAT THEY COULD EXPERIENCE "TRULY WHAT YOU REALLY FELT

RATHER THAN WHAT YOU WERE SUPPOSED TO FEEL."

MANDEL: THE BULLFIGHTER GETS TO USE ALL OF HIS INTELLIGENCE

AND ALL OF HIS CRAFT ON THE BULL.

AND, IF IT ALL WORKS VERY, VERY WELL,

IT MAKES A VERY BEAUTIFUL BULLFIGHT

WHERE THE MAN IS TRIUMPHANT AND THE BULL GETS KILLED.

THAT'S THE MAIN THING THAT HAPPENS IN THE BULLFIGHT,

IS THAT THE BULL HAS TO GET KILLED.

THAT'S PREDESTINED. SO, YOU HAVE PREDESTINATION

AND YOU HAVE A POWERFUL FORCE THAT'S BROUGHT FROM

A HIGH PLACE TO A LOW PLACE.

YOU HAVE TRAGEDY.

THAT'S THE CLASSICAL DEFINITION OF TRAGEDY.

[MANUEL PONCE'S "FOLIES D'ESPAGNE" PLAYING]

MAN AS HEMINGWAY: I KNOW ONLY THAT WHAT IS MORAL

IS WHAT YOU FEEL GOOD AFTER

AND WHAT IS IMMORAL IS WHAT YOU FEEL BAD AFTER

AND JUDGED BY THESE MORAL STANDARDS,

WHICH I DO NOT DEFEND,

THE BULLFIGHT IS VERY MORAL TO ME

BECAUSE I FEEL VERY FINE WHILE IT IS GOING ON

AND HAVE A FEELING OF LIFE AND DEATH

AND MORTALITY AND IMMORTALITY,

AND AFTER IT IS OVER, I FEEL VERY SAD BUT VERY FINE.

NARRATOR: WRITING "DEATH IN THE AFTERNOON" TOOK HEMINGWAY

THE BETTER PART OF 5 YEARS--

AND HE SAID HE'D WISHED HE'D HAD 10.

HE BELIEVED IT WAS "MAYBE THE BEST BOOK YET,"

HE TOLD A FRIEND, AND IT WAS GENERALLY WELL-RECEIVED:

H.L. MENCKEN CALLED IT

"AN EXTRAORDINARILY FINE PIECE

"OF EXPOSITORY WRITING...

"FULL OF THE VIVIDNESS OF SOMETHING REALLY

SEEN, FELT, EXPERIENCED."

BUT OTHER CRITICS WERE DISAPPOINTED.

IN A DISMISSIVE "NEW REPUBLIC" REVIEW TITLED

"BULL IN THE AFTERNOON,"

THE CRITIC MAX EASTMAN

DISMISSED BULLFIGHTING AS NOTHING MORE THAN

RITUALIZED CRUELTY--

AND SUGGESTED HEMINGWAY HIMSELF

WAS INSECURE IN HIS MANHOOD, GUILTY OF

"WEARING FALSE HAIR ON HIS CHEST."

HEMINGWAY WAS LIVID. 4 YEARS LATER,

HE WOULD CORNER EASTMAN, TEARING OPEN HIS OWN SHIRT

TO SHOW HOW MUCH HAIR GREW ON HIS CHEST,

AND SHOUTING, "WHAT DO YOU MEAN ACCUSING ME OF IMPOTENCE?"

BEFORE SLAPPING THE CRITIC WITH A BOOK.

[KOPEÉ TIATIE CAC'S "AKAMBA" PLAYING]

MAN AS HEMINGWAY: IT IS PLEASANT TO HUNT SOMETHING

THAT YOU WANT VERY MUCH

OVER A LONG PERIOD OF TIME,

BEING OUTWITTED, OUTMANEUVERED,

AND FAILING AT THE END OF EACH DAY,

BUT HAVING THE HUNT AND KNOWING

EVERY TIME YOU ARE OUT THAT, SOONER OR LATER,

YOUR LUCK WILL CHANGE AND THAT YOU WILL GET

THE CHANCE THAT YOU ARE SEEKING.

[GUNSHOT]

NARRATOR: EVER SINCE HE WAS A BOY,

HEMINGWAY HAD HOPED TO GO

ON A HUNTING SAFARI IN EAST AFRICA,

JUST AS HIS HERO THEODORE ROOSEVELT HAD.

IN LATE 1933, PAULINE'S GENEROUS UNCLE GUS

PROVIDED THE ENORMOUS SUM WITH WHICH TO MAKE IT HAPPEN.

TO SERVE AS THE HEMINGWAYS' GUIDE,

THEY HIRED PHILIP PERCIVAL, WHO AS A YOUNG MAN

HAD BEEN PART OF THE ROOSEVELT EXPEDITION.

CHARLES THOMPSON, A FRIEND AND FISHING COMPANION

FROM KEY WEST, CAME ALONG AS WELL.

DURING THE TWO-MONTH SAFARI, THE HEMINGWAY PARTY

WOULD SHOOT 5 LIONS, 4 CAPE BUFFALO,

TWO RHINO, TWO LEOPARDS,

5 CHEETAHS, A HOST OF GAZELLES AND ANTELOPE

WITH WHICH TO FEED THE CAMP,

AND 44 HYENAS FOR WHAT

HEMINGWAY CALLED "AMUSEMENT."

DUDLEY: AFRICA, FOR HEMINGWAY, PROVIDED THE PERFECT SPACE

WITHIN WHICH HE COULD EXERCISE HIS HYPER-MASCULINE MUSCLES;

WHERE HE COULD BE THE "GREAT WHITE CONQUERING HERO," UH,

AT A TIME WHERE, AT LEAST, IN SOME SENSE,

THAT WHOLE PERSONA WAS COMING UNDER FIRE HERE,

BACK HERE IN AMERICA.

WOLFF: I THINK IN SOME WAYS HE ESCAPED INTO HUNTING.

I THINK HE REALLY LOVED IT FROM HIS EARLIEST DAYS

AND I BE...BELIEVE THAT, THAT PASSION WAS SINCERE

AND NOT JUST A, A POSE.

BUT I WILL ADMIT THAT IT PUZZLES ME A BIT

THAT HAVING SEEN SO MUCH VIOLENCE, SO MUCH KILLING,

NOT JUST DEATH BUT KILLING,

THE PLEASURE IN KILLING IS A MYSTERY TO ME.

I DON'T--I, I DON'T UNDERSTAND IT.

MAN AS HEMINGWAY: I DID NOTHING THAT HAD NOT BEEN DONE TO ME.

I HAD BEEN SHOT AND I HAD BEEN CRIPPLED AND GOTTEN AWAY.

I EXPECTED, ALWAYS, TO BE KILLED BY ONE THING OR ANOTHER

AND I, TRULY, DID NOT MIND THAT ANY MORE.

SINCE I STILL LOVED TO HUNT, I RESOLVED THAT I WOULD ONLY SHOOT

AS LONG AS I COULD KILL CLEANLY,

AND AS SOON AS I LOST THAT ABILITY, I WOULD STOP.

NARRATOR: THINGS DID NOT ALWAYS GO WELL,

[GUNSHOT] AND HE OFTEN SHOT BADLY.

HE SUFFERED AN ATTACK OF AMOEBIC DYSENTERY SO SEVERE

HE HAD TO BE AIRLIFTED PAST THE SNOW-CAPPED PEAK

OF MOUNT KILIMANJARO TO NAIROBI

AND KEPT THERE FOR A WEEK UNDER A DOCTOR'S CARE.

BUT DESPITE IT ALL,

EVERYTHING ABOUT THE CONTINENT

ENTHRALLED HIM

AND HE TOOK DETAILED NOTES,

PLANNING TO TURN THEM INTO

ANOTHER WORK OF NONFICTION.

"I NEVER KNEW OF A MORNING IN AFRICA

"WHEN I WOKE THAT I WAS

NOT HAPPY," HE WOULD WRITE.

HE LOVED THE LANDSCAPE, THE BLUE OVER-ARCHING SKY,

THE TEEMING WILDLIFE--ABOVE ALL,

THE ISOLATION HE CRAVED BUT HAD RARELY FOUND AT HOME.

[JOHNNY GANDELSMAN'S "LA PLENTITUD MIX 2" PLAYING]

MAN AS HEMINGWAY: ALL I WANTED TO DO NOW

WAS GET BACK TO AFRICA.

WE HAD NOT LEFT IT YET,

BUT WHEN I WOULD WAKE IN THE NIGHT,

I WOULD LIE, LISTENING, HOMESICK FOR IT ALREADY.

I LOVED THE COUNTRY

SO THAT I WAS AS HAPPY AS YOU ARE

AFTER YOU HAVE BEEN WITH A WOMAN THAT YOU REALLY LOVE,

WHEN, EMPTY, YOU FEEL IT WELLING UP AGAIN...

AND THERE IT IS AND YOU CAN NEVER HAVE IT ALL

AND YET WHAT THERE IS, NOW, YOU CAN HAVE,

AND YOU WANT MORE AND MORE, TO HAVE,

AND BE, AND LIVE IN,

TO POSSESS NOW AGAIN FOR ALWAYS,

FOR THAT LONG, SUDDEN-ENDED ALWAYS.

I HAD LOVED COUNTRY ALL MY LIFE;

THE COUNTRY WAS ALWAYS BETTER THAN THE PEOPLE.

I COULD ONLY CARE ABOUT PEOPLE A VERY FEW AT A TIME.

[DUKE ELLINGTON & BUBBER MILEY'S "THE NEW EAST ST. LOUIS TOODLE-O" PLAYING]

NARRATOR: WHEN THE HEMINGWAYS RETURNED FROM AFRICA,

THE UNITED STATES WAS ENTERING THE FIFTH YEAR

OF THE GREAT DEPRESSION.

FEW REGIONS HAD SUFFERED MORE THAN THE FLORIDA KEYS.

KEY WEST ITSELF WAS OFFICIALLY BANKRUPT.

8 OF 10 LOCAL RESIDENTS WERE ON RELIEF.

PRESIDENT FRANKLIN ROOSEVELT'S EMERGENCY RELIEF ADMINISTRATION

RESOLVED TO TRANSFORM THE DYING TOWN

INTO A TOURIST ATTRACTION--

"THE BERMUDA OF FLORIDA."

THE ONCE-SLEEPY STREETS SOON BUSTLED WITH VISITORS,

THOUSANDS OF THEM.

THEY WANDERED ONTO HEMINGWAY'S LAWN,

PEERED IN THE WINDOWS, KNOCKED AT THE DOOR.

TO KEEP THEM OUT, HE HAD A BRICK WALL

BUILT AROUND HIS PROPERTY.

[SHIP'S HORN BLOWING]

TO GET AWAY-- AND GET IN MORE FISHING--

HE SAILED OFTEN TO HAVANA, CUBA--

SOME 100 MILES ACROSS THE STRAITS OF FLORIDA--

WHERE HE HOLED UP FOR WEEKS AT A TIME

AT THE SEVILLA BILTMORE HOTEL IN THE HEART OF THE OLD CITY,

WRITING IN THE MORNING, DRINKING IN THE AFTERNOONS

AT HIS FAVORITE BAR, LA FLORIDITA.

MAN AS HEMINGWAY: THE GULF STREAM AND THE OTHER GREAT OCEAN CURRENTS

ARE THE LAST WILD COUNTRY THERE IS LEFT.

ONCE YOU ARE OUT OF SIGHT OF LAND AND OF THE OTHER BOATS,

YOU ARE MORE ALONE THAN YOU CAN EVER BE HUNTING

AND THE SEA IS THE SAME AS IT HAS BEEN

SINCE BEFORE MEN EVER WENT ON IT IN BOATS.

NO ONE KNOWS WHAT FISH LIVE IN IT,

OR HOW GREAT SIZE THEY REACH OR WHAT AGE.

WHEN YOU ARE DRIFTING, OUT OF SIGHT OF LAND,

FISHING 4 LINES, 60, 80, 100, AND 150 FATHOMS DOWN,

IN WATER THAT IS 700 FATHOMS DEEP,

YOU NEVER KNOW WHAT MAY TAKE THE SMALL TUNA

THAT YOU USE FOR BAIT, AND EVERY TIME

THE LINE STARTS TO RUN OFF THE REEL,

SLOWLY FIRST, THEN WITH A SCREAM OF THE CLICK

AS THE ROD BENDS AND YOU FEEL IT DOUBLE

AND THE HUGE WEIGHT OF THE FRICTION OF THE LINE

RUSHING THROUGH THAT DEPTH OF WATER

WHILE YOU PUMP AND REEL, PUMP AND REEL, PUMP AND REEL,

TRYING TO GET THE BELLY OUT OF THE LINE

BEFORE THE FISH JUMPS,

THERE IS ALWAYS A THRILL THAT NEEDS NO DANGER TO MAKE IT REAL.

NARRATOR: HEMINGWAY HAD A 38-FOOT FISHING BOAT

CUSTOM BUILT FOR HIMSELF--

"A STURDY BOAT," HE WROTE,

"SWEET IN ANY KIND OF SEA."

HE NAMED HER "PILAR," ONE OF HIS NICKNAMES FOR PAULINE,

AND HE SPENT WEEKS SAILING THE WATERS OFF KEY WEST

AND THE GULF STREAM OFF CUBA

AND AROUND BIMINI IN THE BAHAMAS,

IN SEARCH OF GOOD TIMES AND GIANT FISH.

[GERARDO MARTIÍNEZ'S "ROMAÁNTICA MUJER" PLAYING]

PATRICK: THAT WAS SHEER HAPPINESS FOR HIM.

I'VE ALWAYS THOUGHT THAT SEEING THE FISH COME

IS LIKE SEEING A HUGE ELEPHANT OR A TIGER CERTAINLY

EMERGE FROM THE SEA.

YOU DON'T HAVE ANY WARNING.

THEY'RE JUST SUDDENLY THERE, YOU KNOW.

AND THAT...THAT I THINK

WAS A THRILL THAT HE NEVER GOT ENOUGH OF.

NARRATOR: MOST OF THE PASSENGERS ABOARD THE "PILAR"

WERE OLD FRIENDS LIKE THE POET ARCHIBALD MACLEISH

AND THE NOVELIST JOHN DOS PASSOS

AND HEMINGWAY'S LONG-TIME EDITOR MAXWELL PERKINS.

BUT THERE WERE OFTEN NEW PEOPLE ABOARD, TOO,

YACHTSMEN AND BIG-GAME FISHERMEN,

RICH MEN AND THEIR WIVES DRAWN TO AMERICA'S

MOST CELEBRATED WRITER, AS WELL AS

ARNOLD GINGRICH, EDITOR OF A NEW MEN'S MAGAZINE CALLED "ESQUIRE,"

WHO PAID HEMINGWAY HANDSOMELY FOR A NEW COLUMN

ABOUT HUNTING AND FISHING AND ANYTHING ELSE

THAT HAPPENED TO CROSS HIS MIND.

WHEREVER HE WAS, WHATEVER HE WAS DOING,

ALCOHOL FUELED EVERYTHING.

MAN AS HEMINGWAY: I HAVE DRUNK SINCE I WAS 15

AND FEW THINGS HAVE GIVEN ME MORE PLEASURE.

WHEN YOU WORK HARD ALL DAY WITH YOUR HEAD

AND KNOW YOU MUST WORK AGAIN THE NEXT DAY,

WHAT ELSE CAN CHANGE YOUR IDEAS AND MAKE THEM

RUN ON A DIFFERENT PLANE LIKE WHISKY?

[SIDNEY BECHET'S "SOBBIN' AND CRYIN'" PLAYING]

KARR: I BELIEVE THAT THE TERRIBLE THING ABOUT ALCOHOL,

FOR WRITERS, IS THAT IT WORKS, AT FIRST.

THAT IT WORKS GREAT. YOU'RE ANXIOUS.

YOU'RE WOUND UP AT THE END OF THE DAY.

YOU HAVE NO WAY TO CALM DOWN.

YOU HAVE A FEW POPS AND YOU FEEL BETTER.

NARRATOR: ONCE ON BIMINI, A WEALTHY YACHTSMAN,

DRUNK AND BELLIGERENT, CALLED HEMINGWAY

A "PHONY" AND A "BIG FAT SLOB."

HEMINGWAY, JUST AS DRUNK, KNOCKED HIM COLD.

WORD SPREAD FAST ACROSS THE ISLAND.

"WHEN ANYONE IS TIGHT HERE OR FEELS DANGEROUS,"

HEMINGWAY TOLD A FRIEND,

"THEY ASK ME TO FIGHT."

HEMINGWAY LET IT BE KNOWN THAT HE WOULD PAY $250

TO ANYONE WHO COULD STAY WITH HIM FOR 3 ROUNDS.

NO ONE EVER CLAIMED THE MONEY.

KARR: I THINK THE MASCULINITY MUST HAVE BEEN SO CONSTRICTING.

HE'S DRAWN TO ALL THESE BIG, BUTCH THINGS,

HE COULD HIT SOMEBODY AND THEY'D FEEL THE PUNCH, OR WHATEVER.

IT DOES SEEM A LITTLE WEARYING.

EDNA O'BRIEN: I THINK ORDINARY LIFE WAS ANATHEMA TO HIM.

IT HAD TO BE A LIFE OF ADVENTURE

AND THAT ADVENTURE WAS IN LIEU, IF THAT'S THE RIGHT WORD,

OF A DEEP-SEATED LONELINESS AND DEPRESSION.

MAN: HE HAS BECOME THE LEGENDARY HEMINGWAY.

HE APPEARS TO HAVE TURNED INTO A COMPOSITE

OF ALL THOSE PHOTOGRAPHS--

SUNBURNED FROM SNOWS, ON SKIS;

IN FISHING GET-UP, BURNED DARK FROM THE HOT CARIBBEAN;

THE HANDSOME, STALWART HUNTER CROUCHED SMILING

OVER THE CARCASS OF SOME DEAD BEAST.

SUCH A MAN COULD NOT HAVE WRITTEN HEMINGWAY'S EARLY BOOKS.

IT IS HARD NOT TO WONDER WHETHER HE HAS NOT, HUNTING,

BROUGHT DOWN AN EVEN GREATER VICTIM.

"THE NEW REPUBLIC."

MAN AS HEMINGWAY: NARRATIVE THAT IS EXCITING AND STILL IS LITERATURE

IS VERY RARE.

YOU HAVE TO MAKE THE COUNTRY, NOT DESCRIBE IT.

IT IS AS HARD TO DO AS PAINT A CEZANNE--

AND I'M THE ONLY BASTARD RIGHT NOW WHO CAN DO IT.

NARRATOR: IN 1935, HEMINGWAY PUBLISHED

"GREEN HILLS OF AFRICA,"

A NONFICTION ACCOUNT OF HIS SAFARI,

IN WHICH HE WAS AGAIN THE CENTRAL CHARACTER.

THE BOOK IS THE SUSPENSEFUL STORY

OF HIS MONTH-LONG COMPETITION WITH HIS HUNTING COMPANION

TO KILL THE GREATER KUDU WITH THE LONGEST HORNS.

[BACH'S "PARTITIA FOR SOLO VIOLIN NO.1 IN B MINOR V SARABANDE VARIATION 1" PLAYING]

MAN AS HEMINGWAY: I LOOKED AT HIM,

BIG, LONG-LEGGED,

A SMOOTH GRAY WITH THE WHITE STRIPES

AND THE GREAT, CURLING, SWEEPING HORNS,

BROWN AS WALNUT MEATS, AND IVORY POINTED,

AT THE BIG EARS AND THE GREAT, LOVELY, HEAVY-MANED NECK,

THE WHITE CHEVRON BETWEEN HIS EYES

AND THE WHITE OF HIS MUZZLE,

AND I STOOPED OVER AND TOUCHED HIM

TO TRY TO BELIEVE IT.

[DAVID CIERI'S "DUST RISING" PLAYING]

NARRATOR: IN THE BOOK, HE PORTRAYED HIMSELF AS BOTH

AN EXPERT ON EVERYTHING AND A BAD LOSER.

HE COMPLAINED ABOUT WHAT HEEDLESS AMERICANS HAD DONE

TO SPOIL THEIR OWN LANDSCAPE

AND WAS ALSO GIVEN TO PONTIFICATING

ON WHICH AMERICAN WRITERS WERE WORTH READING.

"ALL MODERN AMERICAN LITERATURE," HE DECLARED,

"COMES FROM ONE BOOK BY MARK TWAIN

CALLED "HUCKLEBERRY FINN.""

HEMINGWAY WAS ESPECIALLY PROUD OF HIS NEW BOOK.

BUT IN IT, HE HAD CALLED CRITICS

"THE LICE WHO CRAWL ON LITERATURE."

THE LICE BIT BACK.

JOHN CHAMBERLAIN DISMISSED THE BOOK IN "THE NEW YORK TIMES"

AS "ALL ATTITUDE, ALL BYRONIC POSTURING."

BERNARD DE VOTO CALLED IT

"A PRETTY SMALL BOOK FOR A BIG MAN TO WRITE."

THE MOST DISAPPOINTING REVIEW

CAME FROM AMERICA'S

MOST ADMIRED CRITIC,

EDMUND WILSON,

AN EARLY CHAMPION OF HEMINGWAY'S WORK,

WHO WROTE, "SOMETHING FRIGHTFUL SEEMS TO HAPPEN TO HEMINGWAY

"AS SOON AS HE BEGINS TO WRITE IN THE FIRST PERSON.

"HE SEEMS TO LOSE ALL HIS CAPACITY FOR SELF-CRITICISM

AND HAS A WAY OF SOUNDING SILLY."

HEMINGWAY TOOK IT HARD.

MAN AS HEMINGWAY: TOOK TO GETTING UP ABOUT

TWO OR SO IN THE MORNING

AND GOING OUT TO THE LITTLE HOUSE TO WORK.

HAD NEVER HAD THE REAL OLD MELANCHOLIA BEFORE

AND AM GLAD TO HAVE HAD IT SO I KNOW WHAT PEOPLE GO THROUGH.

IT MAKES ME MORE TOLERANT OF WHAT HAPPENED TO MY FATHER.

NARRATOR: ERNEST AND PAULINE HAD BEEN MOST HAPPY IN AFRICA,

BUT BACK HOME HE WAS GROWING INCREASINGLY DISSATISFIED.

HE WAS GRATEFUL FOR THE PFEIFFER FAMILY'S GENEROSITY

BUT HE ALSO FOUND HIS FREQUENT RELIANCE ON IT DEMEANING.

AND HE HAD SECRETLY BEGUN TO WEARY OF PAULINE, TOO.

"GREEN HILLS OF AFRICA" MAY NOT HAVE BEEN

A CRITICAL OR COMMERCIAL SUCCESS,

BUT HIS TIME IN AFRICA WOULD ALSO INSPIRE

TWO OF HIS BEST-REMEMBERED SHORT STORIES,

EACH OF WHICH CHARTS THE DISINTEGRATION OF A MARRIAGE.

THE FIRST STORY, PUBLISHED IN "COSMOPOLITAN,"

WAS "THE SHORT HAPPY LIFE OF FRANCIS MACOMBER."

FRANCIS AND MARGOT MACOMBER ARE WEALTHY AMERICANS ON SAFARI.

"THEY HAD A SOUND BASIS OF UNION," HEMINGWAY WROTE.

"MARGOT WAS TOO BEAUTIFUL FOR MACOMBER TO DIVORCE

AND MACOMBER HAD TOO MUCH MONEY FOR MARGOT EVER TO LEAVE HIM."

BUT HER HUSBAND'S MONEY HAD NOT KEPT HER FAITHFUL TO HIM

AND WHEN HE PANICS WHEN FACED WITH A CHARGING LION,

SHE DENOUNCES HIM AS A COWARD--

AND SLEEPS WITH THEIR GUIDE,

THE WHITE HUNTER ROBERT WILSON.

MAN AS HEMINGWAY: HE REALIZED THAT HIS WIFE

WAS NOT IN THE OTHER COT IN THE TENT.

HE LAY AWAKE WITH THAT KNOWLEDGE FOR TWO HOURS.

AT THE END OF THAT TIME, HIS WIFE CAME INTO THE TENT,

LIFTED HER MOSQUITO BAR, AND CRAWLED COZILY INTO BED.

"WHERE HAVE YOU BEEN?" MACOMBER ASKED IN THE DARKNESS.

"HELLO," SHE SAID. "ARE YOU AWAKE?"

"WHERE HAVE YOU BEEN?"

"I JUST WENT OUT TO GET A BREATH OF AIR."

"YOU DID, LIKE HELL."

"WHAT DO YOU WANT ME TO SAY, DARLING?"

"WHERE HAVE YOU BEEN?"

"OUT TO GET A BREATH OF AIR."

"THAT'S A NEW NAME FOR IT. YOU ARE A BITCH."

"WELL, YOU'RE A COWARD."

VERGHESE: THE MAN STARTS OFF AS BEING PORTRAYED

AS A SHAMELESS COWARD BUT FRANKLY,

WHICH OF US WOULDN'T TAKE OFF RUNNING

WHEN YOU SEE A LION [LAUGHS] COMING CHARGING AT YOU?

I MEAN, EVEN IF I HAD A GUN IN MY HAND,

I THINK I WOULD, IT WOULD TAKE

AN EXTRAORDINARY ACT OF WILL

TO STAND THERE AND SHOOT THIS LION.

AND YET HE'S PORTRAYED AS THIS SHAMELESS COWARD

AND YOU WONDER HOW THE STORY'S GOING TO END

AND YOU ACTUALLY FEEL FOR HIM,

AND THEN HE'S ALSO BEING BETRAYED BY HIS WIFE.

EDNA O'BRIEN: AND, CERTAINLY, THE WOMAN IN THAT STORY

COMES OUT AS A MONSTER.

HEMINGWAY KNEW A LOT OF WOMEN LIKE THAT;

THERE ARE A LOT OF WOMEN LIKE THAT.

THERE ARE A LOT OF MEN LIKE THAT.

THERE'S NOTHING I WOULD CHANGE IN THAT STORY

BECAUSE HE KNEW WHEN TO PULL BACK.

HE KNEW HOW MUCH OF HER FALSENESS,

HOW MUCH OF HER ACIDITY TO PUT ON THE PAGE.

IT'S A VERY BITTER STORY.

VERGHESE: BUT AT THE END OF THE STORY, HE FINDS

A DIFFERENT KIND OF COURAGE.

IT HAS TO DO WITH STANDING UP TO HIS WIFE.

AND IT TERRIFIES HER.

NARRATOR: THE NEXT DAY, WHEN A WOUNDED BUFFALO CHARGES HIM,

MACOMBER STANDS HIS GROUND.

MAN AS HEMINGWAY: WILSON, WHO WAS AHEAD,

WAS KNEELING SHOOTING,

AND MACOMBER, AS HE FIRED,

UNHEARING HIS SHOT IN THE ROARING OF WILSON'S GUN,

SAW FRAGMENTS LIKE SLATE BURST FROM THE HUGE BOSS OF THE HORNS,

AND THE HEAD JERKED, HE SHOT AGAIN AT THE WIDE NOSTRILS

AND SAW THE HORNS JOLT AGAIN AND FRAGMENTS FLY,

AND HE DID NOT SEE WILSON NOW AND, AIMING CAREFULLY,

SHOT AGAIN WITH THE BUFFALO'S HUGE BULK ALMOST ON HIM

AND HIS RIFLE ALMOST LEVEL WITH THE ON-COMING HEAD, NOSE OUT,

AND HE COULD SEE THE LITTLE WICKED EYES

AND THE HEAD STARTED TO LOWER AND HE FELT A SUDDEN WHITE-HOT,

BLINDING FLASH EXPLODE INSIDE HIS HEAD...

AND THAT WAS ALL HE EVER FELT.

NARRATOR: HIS WIFE HAS SHOT HIM.

SHE SAID IT WAS AN ACCIDENT.

VERGHESE: I'M A BIG BELIEVER THAT, YOU KNOW,

THE PROCESS OF READING FICTION AS THE WRITER

PROVIDES YOU SOME OF THE WORDS,

BUT YOU PROVIDE YOUR IMAGINATION.

AND THE GREAT PLEASURE IS THAT YOU'RE MAKING THIS MOVIE

AND...AH...IT'S ALWAYS STRIKING HOW DIFFERENT

OUR MOVIES ARE AS READERS...AH...SO,

IN MY MIND, THERE'S NO QUESTION

THAT SHE BLEW HIS HEAD OFF.

I HAVE NO DOUBT ABOUT THAT.

NARRATOR: THE SECOND OF HIS AFRICAN SHORT STORIES,

PUBLISHED IN "ESQUIRE," WAS A MASTERPIECE.

IN "THE SNOWS OF KILIMANJARO," THE ROLES OF

HUSBAND AND WIFE ARE REVERSED.

THE PROTAGONIST IS HARRY WALDEN, A WRITER ON SAFARI,

DYING OF GANGRENE IN HIS TENT.

AS HE DRIFTS IN AND OUT OF CONSCIOUSNESS,

HE TALKS WITH HIS WEALTHY WIFE,

WHOSE FORTUNE SUPPORTS THEM AND WHO LOVES HIM,

BUT WHOM HE SECRETLY NO LONGER LOVES.

HE MUSES ABOUT THE EVENTS HE HAS LIVED THROUGH

BUT FAILED TO WRITE ABOUT,

AND NOW, WILL NOT LIVE TO TURN INTO FICTION.

AT FIRST, HE BLAMES HIS WIFE.

MAN AS HEMINGWAY: NONSENSE.

HE HAD DESTROYED HIS TALENT HIMSELF.

WHY SHOULD HE BLAME THIS WOMAN BECAUSE SHE KEPT HIM WELL?

HE HAD DESTROYED HIS TALENT BY NOT USING IT,

BY BETRAYALS OF HIMSELF AND WHAT HE BELIEVED IN,

BY DRINKING SO MUCH THAT HE BLUNTED

THE EDGE OF HIS PERCEPTIONS, BY LAZINESS,

BY SLOTH, AND BY SNOBBERY.

HE HAD SEEN THE WORLD CHANGE.

HE HAD BEEN IN IT AND HE HAD WATCHED IT

AND IT WAS HIS DUTY TO WRITE OF IT;

BUT NOW HE NEVER WOULD.

TIM O'BRIEN: "THE SNOWS OF KILIMANJARO" IS AMONG

MY FAVORITE STORIES OF HEMINGWAY, MAYBE MY FAVORITE.

IT DEALS WITH WHAT WE'RE ALL GOING TO HAVE TO DEAL WITH,

WHICH IS OUR OWN DEATHS. AND, THROUGHOUT IT,

HE'S REVIEWING HIS LIFE.

MUCH AS I NOW, IN MY OLD AGE,

MORE AND MORE AT TWO IN THE MORNING,

REVIEW MY OWN LIFE.

SOMETIMES, FULL OF SELF-HATRED

AND SOMETIMES, FULL OF JOY.

MOST OFTEN, FILLED WITH DOUBT OF, UH,

WHAT, WHAT COULD I HAVE DONE DIFFERENTLY?

[JOHNNY GANDELSMAN'S "LA DESPEDIDA MIX 1" PLAYING]

MAN AS HEMINGWAY: JUST THEN, DEATH HAD COME

AND RESTED ITS HEAD ON THE FOOT OF THE COT

AND HE COULD SMELL ITS BREATH.

IT MOVED UP CLOSER TO HIM STILL

AND NOW HE COULD NOT SPEAK TO IT,

AND WHEN IT SAW HE COULD NOT SPEAK IT CAME A LITTLE CLOSER,

AND NOW HE TRIED TO SEND IT AWAY WITHOUT SPEAKING,

BUT IT MOVED IN ON HIM SO ITS WEIGHT WAS ALL UPON HIS CHEST,

AND WHILE IT CROUCHED THERE AND HE COULD NOT MOVE, OR SPEAK,

HE HEARD THE WOMAN SAY, "BWANA IS ASLEEP NOW.

TAKE THE COT UP VERY GENTLY AND CARRY IT INTO THE TENT."

HE COULD NOT SPEAK TO TELL HER TO MAKE IT GO AWAY

AND IT CROUCHED NOW, HEAVIER, SO HE COULD NOT BREATHE.

AND THEN, WHILE THEY LIFTED THE COT,

SUDDENLY IT WAS ALL RIGHT

AND THE WEIGHT WENT FROM HIS CHEST.

[WOODY GUTHRIE'S "I AIN'T GOT NO HOME" PLAYING]

♪ MY BROTHERS AND MY SISTERS

♪ ARE STRANDED ON THIS ROAD

♪ A HOT AND DUSTY ROAD THAT A MILLION FEET HAVE TROD ♪

♪ RICH MAN TOOK MY HOME AND DROVE ME FROM MY DOOR ♪

♪ AND I AIN'T GOT NO HOME IN THIS WORLD ANYMORE ♪

NARRATOR: THE DEPRESSION HAD CONTINUED TO DEEPEN

AND A NEW GENERATION OF SOCIALLY CONSCIOUS

LEFTIST WRITERS AND CRITICS NOW DENOUNCED HEMINGWAY.

RATHER THAN FRITTER AWAY HIS TIME WRITING ABOUT

DRUNKEN EXPATRIATES

AND DISILLUSIONED SURVIVORS OF THE GREAT WAR,

ABOUT BULLFIGHTS AND BIG-GAME HUNTING

AND DEEP-SEA FISHING,

THEY INSISTED IT WAS HIS DUTY AS AN ARTIST

TO DECLARE HIS SOLIDARITY WITH THE WORKING CLASS.

GRANVILLE HICKS, EDITOR OF THE COMMUNIST

"NEW MASSES" MAGAZINE," DECLARED,

"IN 6 YEARS, HEMINGWAY HAS NOT PRODUCED A BOOK

EVEN REMOTELY WORTHY OF HIS TALENTS."

HEMINGWAY WAS UNMOVED.

"THERE IS NO LEFT OR RIGHT IN WRITING," HE SAID.

"THERE IS ONLY GOOD AND BAD WRITING."

MAN AS HEMINGWAY: EVERYONE TRIES TO FRIGHTEN YOU NOW

BY SAYING OR WRITING THAT IF ONE DOES NOT BECOME A COMMUNIST

OR HAVE A MARXIAN VIEWPOINT,

ONE WILL HAVE NO FRIENDS AND WILL BE ALONE.

THEY SEEM TO THINK THAT TO BE ALONE IS SOMETHING DREADFUL;

OR THAT TO NOT HAVE FRIENDS IS TO BE FEARED.

I WOULD RATHER HAVE ONE HONEST ENEMY

THAN MOST OF THE FRIENDS THAT I HAVE KNOWN.

I CANNOT BE A COMMUNIST NOW

BECAUSE I BELIEVE IN ONLY ONE THING: LIBERTY.

FIRST I WOULD LOOK AFTER MYSELF AND DO MY WORK.

THEN I WOULD CARE FOR MY FAMILY.

THEN I WOULD HELP MY NEIGHBOR.

BUT THE STATE I CARE NOTHING FOR.

ALL THE STATE HAS EVER MEANT TO ME IS UNJUST TAXATION.

I BELIEVE IN THE ABSOLUTE MINIMUM OF GOVERNMENT.

NARRATOR: ON LABOR DAY 1935, ONE OF THE MOST INTENSE

HURRICANES IN AMERICAN HISTORY HIT FLORIDA

WITH WINDS SAID TO HAVE GUSTED AT MORE THAN 185 MILES PER HOUR.

AN 18-FOOT STORM SURGE DROWNED ISLAND AFTER ISLAND.

MORE THAN 400 PEOPLE DIED--

AMONG THEM 259 HOMELESS VETERANS OF THE GREAT WAR

WHO HAD BEEN SENT SOUTH BY THE ROOSEVELT ADMINISTRATION

TO BUILD HIGHWAY BRIDGES TO BRING STILL MORE VISITORS

TO THE FLORIDA KEYS.

SOME OF THEM HAD BEEN DRINKING BUDDIES WITH WHOM

HEMINGWAY HAD SWAPPED WAR STORIES AT SLOPPY JOE'S.

TWO DAYS LATER, HE SAILED NORTH TO WHAT WAS LEFT OF THEIR CAMP

AND JOINED SOME 200 VOLUNTEERS GATHERING UP THE DEAD.

HE BROUGHT A CAMERA.

[CAMERA'S SHUTTER CLICKS]

MAN AS HEMINGWAY: YOU COULD FIND THEM FACE DOWN

AND FACE UP IN THE MANGROVES.

THE BIGGEST BUNCH OF THE DEAD WERE IN THE TANGLED,

ALWAYS GREEN BUT NOW BROWN, MANGROVES

BEHIND THE TANK CARS AND THE WATER TOWERS.

[CAMERA'S SHUTTER CLICKS] THEY HUNG ON THERE, IN SHELTER,

UNTIL THE WIND AND THE RISING WATER CARRIED THEM AWAY.

[CAMERA'S SHUTTER CLICKS] THEY DIDN'T ALL LET GO AT ONCE

BUT ONLY WHEN THEY COULD HOLD ON NO LONGER.

[CAMERA'S SHUTTER CLICKS] THEN FURTHER ON, YOU FOUND THEM

HIGH IN THE TREES WHERE THE WATER HAD SWEPT THEM.

[CAMERA'S SHUTTER CLICKS] YOU FOUND THEM EVERYWHERE AND IN THE SUN,

ALL OF THEM WERE BEGINNING TO BE

TOO BIG FOR THEIR BLUE JEANS AND JACKETS

THAT THEY COULD NEVER FILL WHEN THEY WERE

ON THE BUM AND HUNGRY.

NARRATOR: HEMINGWAY WAS SO ANGERED AT WHAT HE'D SEEN

THAT DESPITE THE SCORN

"NEW MASSES" HAD SHOWN TOWARD HIM,

WHEN ITS EDITOR ASKED HIM TO WRITE ABOUT IT,

HE AGREED TO DO IT.

HE HELD THE ROOSEVELT ADMINISTRATION RESPONSIBLE.

MAN AS HEMINGWAY: I WOULD LIKE TO MAKE WHOEVER SENT THEM THERE

CARRY JUST ONE OUT THROUGH THE MANGROVES,

OR TURN ONE OVER THAT LAY IN THE SUN ALONG THE FILL,

OR TIE 5 TOGETHER SO THEY WON'T FLOAT OUT,

OR SMELL THAT SMELL YOU THOUGHT

YOU'D NEVER SMELL AGAIN, WITH LUCK.

NARRATOR: LEFTIST WRITERS NOW PRAISED HEMINGWAY'S

NEW-FOUND EMPATHY FOR THE PROLETARIAT:

LINCOLN STEFFENS CONGRATULATED HIM FOR AT LAST CHOOSING

TO WRITE FOR "THE REAL PEOPLE OF THE REAL PUBLICATIONS."

[DUKE ELLINGTON & BUBBER MILEY'S "THE NEW EAST ST. LOUIS TOODLE-O" PLAYING]

MAN AS HEMINGWAY: SOME MADE THE LONG DROP

FROM THE APARTMENT OR THE OFFICE WINDOW;

SOME TOOK IT QUIETLY IN TWO-CAR GARAGES

WITH THE MOTOR RUNNING;

SOME USED THE NATIVE TRADITION

OF THE COLT OR SMITH AND WESSON;

THOSE WELL-CONSTRUCTED IMPLEMENTS THAT END INSOMNIA,

TERMINATE REMORSE, CURE CANCER, AVOID BANKRUPTCY,

AND BLAST AN EXIT FROM INTOLERABLE POSITIONS

BY THE PRESSURE OF A FINGER;

THOSE ADMIRABLE AMERICAN INSTRUMENTS

SO EASILY CARRIED, SO SURE OF EFFECT,

SO WELL DESIGNED TO END THE AMERICAN DREAM

WHEN IT BECOMES A NIGHTMARE,

THEIR ONLY DRAWBACK THE MESS THEY LEAVE

FOR RELATIVES TO CLEAN UP.

NARRATOR: FEELING THE PRESSURE TO COME UP WITH SOMETHING

AFTER THE COMMERCIAL FAILURE OF HIS NONFICTION,

HEMINGWAY TRIED TO COBBLE TOGETHER A NOVEL

OUT OF TWO SHORT STORIES AND SOME NEW MATERIAL.

THE RESULT WAS A TANGLED MELODRAMA ABOUT

DOWN-ON-THEIR-LUCK AMERICANS--

HIS VERSION OF A PROLETARIAN NOVEL,

CALLED "TO HAVE AND HAVE NOT."

THE CRITICS DIDN'T LIKE IT.

AND IN THE END, HEMINGWAY

DIDN'T MUCH LIKE IT EITHER.

[LEONARDO PADURA SPEAKING SPANISH]

[JOHNNY GANDELSMAN'S "THE GARDEN OF EDEN MIX 3 BASS STEM" PLAYING]

[PEOPLE CHANTING INDISTINCTLY]

[ADOLF HITLER SPEAKING GERMAN]

NARRATOR: ERNEST HEMINGWAY UNDERSTOOD THE DANGERS OF FASCISM

AND BELIEVED ADOLF HITLER WOULD ONE DAY LAUNCH

A EUROPEAN WAR OF CONQUEST.

BUT, AS A DISENCHANTED SURVIVOR OF THE WAR

THAT HAD BEEN SUPPOSED TO END ALL WARS,

HE TOLD "ESQUIRE" READERS,

AMERICANS SHOULD TAKE NO PART IN IT.

"OF THE HELL-BROTH THAT IS BREWING IN EUROPE

WE HAVE NO NEED TO DRINK," HE WROTE.

"WE WERE FOOLS TO BE SUCKED IN ONCE ON A EUROPEAN WAR

AND WE SHOULD NEVER BE SUCKED IN AGAIN."

[EXPLOSIONS AND GUNFIRE]

BUT WHAT WAS HAPPENING IN HIS BELOVED SPAIN

WAS BEGINNING TO CHANGE HIS MIND.

IT WAS NOW BEING TORN APART BY A CIVIL WAR.

EARLY IN 1936, REACTIONARY ELEMENTS OF THE ARMY,

EVENTUALLY LED BY A FASCIST GENERAL NAMED FRANCISCO FRANCO

AND SUPPORTED BY WEALTHY INDUSTRIALISTS,

GREAT LANDOWNERS, AND THE CATHOLIC CHURCH,

JOINED FORCES TO TRY TO OVERTHROW

THE DULY ELECTED SOCIALIST GOVERNMENT.

HITLER PROVIDED FRANCO AND HIS REBELS

WITH BOMBERS AND FIGHTER PLANES

AND GERMAN PILOTS TO FLY THEM.

THEIR GOAL WAS TO TERRORIZE THE CIVILIAN POPULATION.

THE ITALIAN DICTATOR, BENITO MUSSOLINI,

DISPATCHED TANKS AND NEARLY 80,000 TROOPS.

WITHIN WEEKS, FRANCO'S FORCES HAD SEIZED 1/3 OF THE COUNTRY

FROM THOSE FAITHFUL TO THE GOVERNMENT--THE LOYALISTS.

THE LOYALISTS' ONLY ALLY WAS SOVIET PREMIER JOSEF STALIN,

WHO WAS EAGER TO BE SEEN AS THE LEADER OF THE EUROPEAN LEFT.

HE CALLED UPON COMMUNISTS FROM AROUND THE WORLD

TO RALLY VOLUNTEER BRIGADES.

BETWEEN 30,000 AND 40,000 MEN FROM MORE THAN 50 COUNTRIES

WOULD ANSWER THE CALL--INCLUDING SOME 2,800 AMERICANS

WHO CALLED THEIR OUTFIT THE ABRAHAM LINCOLN BRIGADE.

HEMINGWAY WAS CERTAIN THAT SPAIN WAS THE PLACE

WHERE FASCISM HAD TO BE STOPPED.

VAILL: HE SAID TO A FRIEND IN KEY WEST,

"I'VE GOT THIS GREAT HOUSE, I'VE GOT THIS BOAT,

"BUT THEY ALL REALLY COME FROM PAULINE.

"EXCEPT FOR THAT, I REALLY DON'T HAVE ANYTHING."

SO, IN ORDER TO HAVE SOMETHING NEW TO WRITE,

HE HAD TO HAVE SOMETHING NEW TO LIVE.

AT THIS JUNCTION IN HIS LIFE,

HEMINGWAY IS LOOKING DESPERATELY

FOR THIS FRESH START.

AND HE THINKS HE WILL FIND IT IN SPAIN.

NARRATOR: "FOR A LONG TIME," HEMINGWAY WROTE,

"ME AND MY CONSCIENCE BOTH HAVE KNOWN I HAVE TO GO TO SPAIN."

WOMAN AS MARTHA GELLHORN: JANUARY 8, 1937.

DEAR MRS. ROOSEVELT,

I'M IN KEY WEST.

TO DATE IT'S THE BEST THING I'VE FOUND IN AMERICA.

IT'S HOT AND FALLING TO PIECES AND PEOPLE SEEM HAPPY.

I SEE HEMINGWAY HERE, WHO KNOWS MORE ABOUT

WRITING DIALOGUE, I THINK, THAN ANYONE WRITING IN ENGLISH.

HE'S AN ODD BIRD, VERY LOVABLE AND FULL OF FIRE

AND A MARVELOUS STORY TELLER.

IN A WRITER THIS IS IMAGINATION,

IN ANYONE ELSE IT'S LYING.

THAT'S WHERE GENIUS COMES IN.

[GEORGE AND IRA GERSHWIN'S "OH, LADY BE GOOD" PLAYING]

NARRATOR: WHEN THE WRITER MARTHA GELLHORN,

A FAMILY FRIEND OF ELEANOR ROOSEVELT,

INTRODUCED HERSELF TO ERNEST HEMINGWAY

AT THE BAR IN SLOPPY JOE'S IN DECEMBER OF 1936,

SHE WAS 28 YEARS OLD, 9 YEARS YOUNGER THAN HE.

VERNA KALE: SHE HAS LONG LEGS. SHE LOOKS VERY BEAUTIFUL.

AND SHE, TOO, HAS A CHARISMATIC PERSONALITY.

HE WAS INTERESTED IN PEOPLE WHO WERE INTERESTED IN HIM

AND THEY JUST HIT IT OFF.

DEARBORN: MARTHA WAS A REALLY TOUGH COOKIE.

AND MARTHA, UM, WAS A VERY GOOD WRITER

AND SHE KNEW, UM, SHE HAD

VERY GOOD CONNECTIONS AND SO FORTH.

AND SHE WENT TO SLOPPY JOE'S,

WHICH SHE KNOWS THAT HEMINGWAY HANGS OUT AT.

IT'S A DISGUSTING BAR.

YOU WOULDN'T TAKE YOUR MOTHER AND YOUR BROTHER [LAUGHS] THERE,

BUT SHE DOES.

AND, MEANWHILE, SHE'S WEARING A BLACK DRESS.

SHE'S A BLOND.

AND THE MARRIAGE DIDN'T HAVE A CHANCE.

NARRATOR: GELLHORN HAD ADMIRED HEMINGWAY

SINCE HER COLLEGE DAYS AT BRYN MAWR,

WHEN SHE'D HUNG HIS PHOTOGRAPH

ON THE WALL OF HER DORMITORY ROOM.

SHE'D PUBLISHED A BOOK OF SHORT STORIES ABOUT THE POOR

BASED ON INTERVIEWS SHE'D DONE FOR A NEW DEAL AGENCY,

AND A NOVEL.

SHE HAD HAD AT LEAST TWO MARRIED LOVERS.

VAILL: MARTHA GELLHORN HAD WRITTEN A NOVEL

WHICH HAD BEEN QUITE WELL RECEIVED...

AH...ABOUT YOUNG WOMEN COMING OF AGE

SEXUALLY AS WELL AS PROFESSIONALLY.

ALL OF THE REVIEWERS ACKNOWLEDGED

THAT SHE HAD A DEBT, SORT OF A STYLISTIC DEBT TO HEMINGWAY.

SO, SHE HAD ALREADY A KIND OF LITERARY CRUSH ON HIM.

NARRATOR: GELLHORN SPENT TWO WEEKS IN KEY WEST,

MUCH OF THAT TIME IN THE HEMINGWAYS' COMPANY.

VAILL: SHE BECAME, AS SHE LATER PUT IT,

A FIXTURE LIKE A KUDU HEAD

ON THE WALLS OF THE HEMINGWAY HOUSE.

SHE HUNG AROUND A WHOLE LOT.

AND THE TWO OF THEM HAD DEEP TALKS ABOUT FICTION

AND HOW YOU WROTE AND ABOUT SPAIN,

WHICH SHE SEEMED TO KNOW A GOOD DEAL ABOUT

AND WHICH SHE WAS VERY PASSIONATE ABOUT.

AND THEY WERE IMMEDIATELY ATTRACTED TO EACH OTHER

AND HATCHED A PLOT TO GO OFF AND COVER THE WAR TOGETHER.

NARRATOR: HEMINGWAY HAD ALREADY SIGNED UP AS A REPORTER

FOR THE NORTH AMERICAN NEWSPAPER ALLIANCE,

SERVING 60 U.S. PAPERS.

HE WAS TO BE PAID $1,000 FOR EVERY FEATURE STORY WRITTEN

AND $500 FOR EACH CABLED DISPATCH--

MORE THAN ANY FOREIGN CORRESPONDENT

HAD EVER BEEN PAID BEFORE.

PAULINE OPPOSED HIS GOING.

IT WAS SURE TO BE DANGEROUS; SHE WAS AFRAID SHE'D LOSE HIM.

HE WAS SORRY, HE SAID, "BUT YOU CAN'T PRESERVE YOUR HAPPINESS

BY PUTTING IT AWAY IN MOTHBALLS."

HE WAS MORE CANDID WITH A FRIEND IN KEY WEST THAT NOVEMBER:

"NOTHING'S REALLY HAPPENING TO ME HERE.

"I'VE GOT TO GET OUT. IN SPAIN MAYBE IT'S

THE BIG PARADE STARTING AGAIN."

VAILL: THEY DID NOT GO ON THE SAME BOAT.

THEY PRETENDED NOT TO KNOW EACH OTHER.

THEY TRAVELED UNDER SEPARATE ITINERARIES,

BUT THEY BOTH GOT TO MADRID AND COMMENCED AN AFFAIR

THAT WENT ON FOR THE ENTIRE 3 YEARS

OF THE SPANISH CIVIL WAR.

[JOHNNY GANDELSMAN'S "THE GARDEN OF EDEN MIX 3" PLAYING]

NARRATOR: WHEN THEY MET UP IN MADRID,

THE CITY HAD BEEN UNDER SIEGE

BY FRANCO'S FASCIST FORCES FOR 6 MONTHS.

MAN AS HEMINGWAY: IN THE MORNING, BEFORE YOUR CALL COMES FROM THE DESK,

THE ROARING BURST OF A HIGH EXPLOSIVE SHELL WAKES YOU

AND YOU GO TO THE WINDOW AND LOOK OUT TO SEE A MAN,

HIS HEAD DOWN, HIS COAT COLLAR UP,

SPRINTING DESPERATELY ACROSS THE PAVED SQUARE.

THERE IS THE ACRID SMELL OF HIGH EXPLOSIVE

YOU HOPED YOU'D NEVER SMELL AGAIN,

AND, IN A BATHROBE AND BEDROOM SLIPPERS,

YOU HURRY DOWN THE MARBLE STAIRS AND ALMOST INTO

A MIDDLE-AGED WOMAN, WOUNDED IN THE ABDOMEN,

WHO IS BEING HELPED INTO THE HOTEL ENTRANCE

BY TWO MEN IN BLUE WORKMEN'S SMOCKS.

SHE HAS HER TWO HANDS CROSSED BELOW

HER BIG, OLD-STYLE SPANISH BOSOM

AND FROM BETWEEN HER FINGERS

THE BLOOD IS SPURTING IN A THIN STREAM.

ON THE CORNER, 20 YARDS AWAY, IS A HEAP OF RUBBLE,

SMASHED CEMENT AND THROWN-UP DIRT,

A SINGLE DEAD MAN, HIS TORN CLOTHES DUSTY,

AND A GREAT HOLE IN THE SIDEWALK FROM WHICH

THE GAS FROM A BROKEN MAIN IS RISING,

LOOKING LIKE A HEAT MIRAGE IN THE COLD MORNING AIR.

NARRATOR: THE NEW LOVERS OCCUPIED A SUITE

ON THE THIRD FLOOR OF THE HOTEL FLORIDA.

THE HOTEL WAS SOMETIMES HIT BY ENEMY SHELLS

INTENDED FOR A NEARBY LOYALIST COMMUNICATIONS CENTER,

BUT IT REMAINED HEADQUARTERS FOR A HOST OF

CORRESPONDENTS AND CELEBRITIES EAGER FOR A FIRST-HAND LOOK

AT THE FIGHTING--

ANDRE MALRAUX AND ANTOINE DE SAINT-EXUPERY,

HERBERT L. MATHEWS OF "THE NEW YORK TIMES,"

THE PHOTOGRAPHER ROBERT CAPA,

THE WRITERS LANGSTON HUGHES AND JOHN DOS PASSOS,

AND THE MOVIE STAR ERROL FLYNN.

HEMINGWAY--"CRACKLING WITH GENEROSITY,"

ONE REPORTER REMEMBERED, AND "BURSTING WITH VIGOR"--

WAS AT THE CENTER OF THINGS.

A HIGH-SPIRITED CROWD GATHERED AROUND HIM EACH EVENING--

OFTEN WEARING WINTER COATS SINCE THE HOTEL HAD NO HEAT--

TO DINE ON BEER AND WHISKEY, CANNED HAM,

AND PATEÉ HE IMPORTED FROM FRANCE--

SOMETIMES SUPPLEMENTED WITH PARTRIDGES HE HAD SHOT

IN THE FIELDS BEYOND THE CITY THAT MORNING

AND HAD COOKED UP ON A HOT PLATE FOR HIMSELF AND HIS GUESTS.

EDNA O'BRIEN: HE DID IDENTIFY, MOST UTTERLY,

WITH EXTREME SITUATIONS.

IT'S LIKE IN "KING LEAR," IT'S WANTING TO KNOW THE WORST

AND TO KNOW IF ONE CAN BEAR IT.

IT'S A TEST. AND IT'S ALSO A TERROR.

AND THEY, THEY COME TOGETHER IN ONE.

NARRATOR: MARTHA GELLHORN, REPORTING ON THE WAR

FOR "COLLIER'S,"

WAS INTRODUCED BY ERNEST

TO EVERYONE AS HIS GIRLFRIEND.

SHE WORE SHORT SKIRTS, AND OFTEN

"SAT ON THE TABLE," ONE WOMAN RECALLED,

"SWINGING HER LONG, SLIM LEGS IN A PROVOCATIVE MANNER."

BUT SHE COVERED THE FIGHTING EVERY BIT AS

FEARLESSLY AS HEMINGWAY DID.

GELLHORN: WE'D EITHER HEAR WITH OUR EARS

THAT SOMETHING WAS GOING ON, OR WE'D HEAR BY RUMOR

THAT THERE WAS A PUSH OR A BATTLE OR SOMETHING,

THEN WE'D JUST GO OFF TO IT.

IT WAS A VERY SMALL, VERY MUCH DO-IT-YOURSELF WAR.

IT WAS, IT WAS THE SIDE OF THE POOR

AND, UM, AND THAT WAS HOW IT WORKED,

AND THOSE OF US WHO CARED ABOUT IT, CARED ABOUT IT,

I SUPPOSE, MORE THAN ANYTHING BEFORE OR SINCE.

[JOHNNY GANDELSMAN'S "THE GARDEN OF EDEN MIX 3" PLAYING]

NARRATOR: BUT BEHIND THE SCENES, JOSEF STALIN

WAS EXACTING A FEARFUL PRICE FOR THE AID

HE PROVIDED TO LOYALIST SPAIN.

HIS AGENTS WERE ORDERED TO TAKE OVER

AS MUCH OF THE GOVERNMENT AS THEY COULD

AND SUPPRESS WHAT STALIN CALLED "UNTRUSTWORTHY ELEMENTS"

WITHIN ITS COALITION, ANYONE HE COULD NOT CONTROL--

ANARCHISTS, SOCIALISTS, TROTSKYITES.

SUSPECTS WERE SPIRITED AWAY, TORTURED,

EXECUTED IN SECRET AND WITHOUT TRIAL.

HEMINGWAY AND GELLHORN DINED OFTEN WITH SOVIET COMMISSARS

AND HEMINGWAY INTERVIEWED THE MAN RESPONSIBLE

FOR MOST OF THE EXECUTIONS.

BUT THEY REPORTED NONE OF IT.

TO EXPOSE THEM, THEY BELIEVED,

WOULD HAVE HURT THE ANTI-FASCIST CAUSE.

BESIDES, HEMINGWAY WANTED TO USE THE MATERIAL

IN HIS NEXT NOVEL.

WHEN THE SOVIETS ORDERED THE EXECUTION

OF A CLOSE LOYALIST FRIEND OF JOHN DOS PASSOS,

HEMINGWAY TOLD DOS PASSOS TO KEEP QUIET ABOUT IT.

WHEN HIS OLD FRIEND INSISTED

HE HAD TO GO PUBLIC WITH WHAT HAD HAPPENED,

HEMINGWAY SAID IT WOULD END HIS CAREER--

THE LEFT-WING LITERARY WORLD IN NEW YORK

WOULD NEVER FORGIVE HIM.

"WHY, ERNEST," DOS PASSOS' WIFE SAID,

"I'VE NEVER HEARD ANYTHING SO DESPICABLY OPPORTUNISTIC IN MY LIFE."

THEIR FRIENDSHIP NEVER FULLY RECOVERED.

THROUGH IT ALL, HEMINGWAY AND GELLHORN

GREW STEADILY CLOSER.

AT ONE POINT, HE ASKED HER TO MARRY HIM.

SHE WAS AMBIVALENT, RESPONDING ONLY IN HER DIARY,

"NOTE TO H.: I LOVE YOU VERY MUCH INDEED."

WOMAN AS GELLHORN: I CAN DO VERY WELL WITHOUT MARRIAGE.

I'D RATHER SIN RESPECTABLY, ANY DAY OF THE WEEK.

ERNEST THINKS, OF COURSE, THAT MARRIAGE

SAVES YOU A LOT OF TROUBLE AND HE IS ALL FOR IT.

I LIKE IT BETTER CLEAN: I THINK SIN IS VERY CLEAN.

THERE ARE NO STRINGS ATTACHED TO IT.

[FILM PROJECTOR WHIRRING]

[MEN SINGING INDISTINCTLY]

HEMINGWAY: BEFORE, DEATH CAME WHEN YOU WERE OLD OR SICK.

BUT NOW IT COMES TO ALL THIS VILLAGE.

HIGH IN THE SKY, AND SHINING SILVER...

NARRATOR: AFTER TWO MONTHS IN SPAIN,

THEY RETURNED TO THE UNITED STATES,

WHERE GELLHORN PREVAILED UPON

HER FRIENDSHIP WITH THE FIRST LADY

TO SCREEN "THE SPANISH EARTH," A DOCUMENTARY FILM BY

A COMMUNIST FILMMAKER NAMED JORIS IVENS

THAT HEMINGWAY HAD WRITTEN AND NARRATED.

HEMINGWAY: THE SMELL OF DEATH IS ACRID

HIGH EXPLOSIVE SMOKE

AND BLASTED GRANITE.

WHY DO THEY STAY? THEY STAY BECAUSE

THIS IS THEIR CITY, THESE ARE THEIR HOMES.

HERE IS THEIR WORK, THIS IS THEIR FIGHT.

THE FIGHT TO BE ALLOWED TO LIVE AS HUMAN BEINGS.

[JOHNNY GANDELSMAN'S "LA DESPEDIDA MIX 1" PLAYING]

NARRATOR: "IT WAS DAMNED NICE OF THE ROOSEVELTS

TO HAVE US," HEMINGWAY LATER WROTE,

BUT THE PRESIDENT, WHILE SYMPATHETIC,

FELT HE COULD DO NOTHING TO HELP THE LOYALIST CAUSE.

THE UNITED STATES WAS STILL A NEUTRAL COUNTRY.

HEMINGWAY WOULD RETURN TO SPAIN

3 MORE TIMES OVER THE NEXT 17 MONTHS

AS THE FASCISTS SLOWLY, STEADILY ADVANCED.

THOUGH HE HAD PRIVATELY COME TO BELIEVE THE WAR HAD DEVOLVED

INTO WHAT HE CALLED "A CARNIVAL OF

TREACHERY AND ROTTENNESS ON BOTH SIDES,"

HIS DISPATCHES REMAINED OPTIMISTIC EVEN AS

HOPES FOR A LOYALIST VICTORY BEGAN TO FADE.

[EXPLOSIONS AND GUNFIRE]

AND WHEN ALL WAS FINALLY LOST

AND LOYALIST FRIENDS OF HEMINGWAY'S

WERE FORCED INTO EXILE IN FRANCE,

WITHOUT A CAUSE OR A COUNTRY ANYMORE,

MARTHA FOUND HIM WEEPING.

"I REALLY DID LOVE ERNEST THEN," SHE WOULD REMEMBER.

[DAVID CIERI'S "I USED TO LOVE YOU VARIATION 2" PLAYING]

WOMAN AS PAULINE HEMINGWAY: OH, PAPA DARLING,

WHAT IS THE MATTER WITH YOU?

IF YOU ARE NO LONGER THE MAN I USED TO KNOW,

GET THE HELL OUT,

BUT IF YOU ARE, STOP BEING SO STUPID.

NARRATOR: FROM THE FIRST, PAULINE HAD RESENTED

HER HUSBAND'S LONG ABSENCES OVERSEAS.

THEN, SOMEHOW, SHE LEARNED OF

HIS RELATIONSHIP WITH MARTHA GELLHORN.

SHE DID EVERYTHING SHE COULD THINK OF

TO KEEP HER MARRIAGE INTACT--

REUNIONS WITH HER HUSBAND IN PARIS,

WYOMING VACATIONS WITH HIM AND THE BOYS,

FAMILY FISHING TRIPS OFF FLORIDA.

NOTHING SEEMED TO WORK.

WHENEVER THEY WERE TOGETHER,

BOTH SHE AND HER HUSBAND WERE MISERABLE.

WOMAN AS PAULINE HEMINGWAY: LIFE HERE IS GOING ON

JUST THE SAME AS WHEN YOU WERE HERE

AND IT WAS SO UNATTRACTIVE TO YOU,

AND IT WON'T BE ANY DIFFERENT WHEN YOU GET BACK,

SO, IF YOU ARE HAPPY OVER THERE,

DON'T COME BACK HERE TO BE UNHAPPY...

BUT I HOPE YOU CAN COME BACK AND WE CAN BOTH BE HAPPY.

[GERARDO MARTIÍNEZ'S "ROMAÁNTICA MUJER" PLAYING]

NARRATOR: IN THE EARLY SPRING OF 1939,

HEMINGWAY WAS IN CUBA AGAIN,

WORKING ON A NEW NOVEL SET DURING THE SPANISH CIVIL WAR,

TO BE CALLED "FOR WHOM THE BELL TOLLS."

HE HAD INVITED GELLHORN TO JOIN HIM.

WOMAN AS GELLHORN: IT IS EXACTLY AS IF HE WERE DEAD

OR VISITING ON THE MOON.

HE WRITES AND WHEN HE IS THROUGH

HE GOES INTO A SILENCE.

HE PROTECTS HIMSELF FROM ANYTHING AND EVERYTHING,

TAKES NO PART IN THIS WORLD,

CARES ABOUT NOTHING EXCEPT WHAT HE IS WRITING.

HE'S ABOUT AS MUCH USE AS A STUFFED SQUIRREL,

BUT HE IS TURNING OUT A BEAUTIFUL STORY.

AND NOTHING ON EARTH BESIDES MATTERS TO HIM.

YOU SEE, THAT'S THE WAY TO BE.

THAT WAY YOU GET WRITING DONE.

HE LIKEWISE BELIEVES IN HIMSELF AND HIS WRITING

AS IF IT WERE THE TABLETS OF STONE OR THE TRUE GOD,

AND THAT'S ANOTHER ESSENTIAL.

NARRATOR: NO MATTER HOW MUCH GELLHORN

BELIEVED IN HEMINGWAY AND HIS WORK,

LIVING COOPED UP IN A HAVANA HOTEL WITH HIM DAY AFTER DAY,

TRYING TO DO HER OWN WRITING

WHILE HE LABORED OVER HIS TYPEWRITER,

DID NOT APPEAL FOR LONG,

SO, SHE RENTED A RUN-DOWN, 10-ACRE, HILL-TOP PROPERTY,

12 MILES OUTSIDE THE CITY, CALLED FINCA VIGIÍA--

SPANISH FOR "LOOKOUT FARM."

WOMAN AS GELLHORN: I WOKE TO LOOK OUT MY WINDOW

AT A CEIBA TREE, SO BEAUTIFUL

THAT YOU CAN'T BELIEVE IT,

AND HEAR THE PALMS RATTLING IN THE MORNING WIND,

AND THE SUN STREAKING OVER THE TILED FLOORS,

AND THE HOUSE ITSELF, WIDE AND BARE AND CLEAN AND EMPTY,

LYING QUIET ALL AROUND ME.

AND I AM DELIGHTED.

NARRATOR: HEMINGWAY WAS DELIGHTED, TOO,

AND WOULD EVENTUALLY BUY THE PLACE OUTRIGHT.

THE FINCA WOULD BE HIS HOME FOR THE NEXT TWO DECADES.

[PADURA SPEAKING SPANISH]

MAN AS HEMINGWAY: PEOPLE ASK YOU WHY YOU LIVE IN CUBA

AND YOU SAY IT IS BECAUSE YOU LIKE IT.

IT IS TOO COMPLICATED TO EXPLAIN ABOUT

THE EARLY MORNING IN THE HILLS ABOVE HAVANA

WHERE EVERY MORNING IS COOL AND FRESH

ON THE HOTTEST DAY IN SUMMER.

YOU COULD TELL THEM THAT YOU LIVE IN CUBA

BECAUSE YOU ONLY HAVE TO PUT SHOES ON

WHEN YOU COME INTO TOWN,

AND THAT YOU WORK AS WELL THERE IN THOSE COOL EARLY MORNINGS

AS YOU EVER HAVE WORKED ANYWHERE IN THE WORLD.

BUT THOSE ARE PROFESSIONAL SECRETS.

PATRICK: I THINK WHAT HE LIKED ABOUT CUBA AND...

AND WHY IT WAS SO BAD WHEN IT WENT SOUR

WAS HE COULD REALLY INSULATE HIMSELF FROM BEING AN AMERICAN;

HE COULD JUST COMPLETELY LEAVE THAT BEHIND,

ENTER A WORLD WHERE HE HAD NO LOYALTIES,

HE HAD NO REGRETS, NOTHING.

IT WAS A SORT OF NEUTRAL CORNER FOR HIM.

MUCH HAS BEEN MADE BY THE CUBANS

OF HIS LOVE OF THE CUBAN PEOPLE.

I DON'T THINK HE HAD MUCH FEELING [CHUCKLES]

FOR THE CUBAN PEOPLE AT ALL.

BUT...AH...HE...HE...AH...HE COULDN'T BE IN SPAIN

AND THIS WAS THE SECOND BEST, YOU KNOW.

[TURNER LAYTON & HENRY CREAMER'S "AFTER YOU'VE GONE (INSTRUMENTAL)" PLAYING]

WOMAN AS GELLHORN: I AM NOW SUDDENLY A MOTHER OF 3

AND I MUST SAY I LOVE IT.

IT'S CERTAINLY A LOT MORE FUN TO BE A MOTHER OF 3

WITHOUT EVER HAVING TO LOSE YOUR SHAPE

THAN BEING A MOTHER OF ONE, YOUR OWN,

AND NOT KNOWING HOW THE BRAT WILL TURN OUT.

NARRATOR: HEMINGWAY'S SONS WOULD COME TO VISIT--

AND BEGIN TO GET TO KNOW THE WOMAN WITH WHOM

THEIR FATHER WAS NOW OPENLY LIVING.

PATRICK: SHE WAS WONDERFUL WITH US.

I...I REALLY LOVED HER

AND SHE WAS A WONDERFUL PERSON.

NARRATOR: GREGORY REMEMBERED HOW BEAUTIFUL MARTHA SEEMED

AND HER WILLINGNESS TO LISTEN TO THE OPINIONS OF A 9-YEAR-OLD,

"AND AT LEAST PRETEND TO GIVE THEM WEIGHT."

BUMBY LIKED HER, TOO, HE REMEMBERED.

"I WAS OVERWHELMED BY THIS MARVELOUS CREATURE

"WHO COULD SAY THE "F" WORD SO NATURALLY

"THAT IT DIDN'T SOUND DIRTY.

I WAS HER IMMEDIATE CAPTIVE."

WOMAN AS GELLHORN: THEY ALL THINK I AM A SORT OF

COLOSSAL JOKE AND ONE OF THE BOYS

AND REFER TO ME AS "THE MARTY,"

AND I THINK IT ALL GOES VERY FINE.

ANYHOW I AM NUTS FOR THEM, WHICH IS A GRAND THING.

NARRATOR: ERNEST RETURNED FROM TIME TO TIME TO KEY WEST

TO SEE HIS CHILDREN DURING THE SCHOOL YEAR--

AND TO SEE IF HE AND PAULINE COULD SOMEHOW MAKE IT WORK.

OVER THEIR 15 YEARS TOGETHER-- 13 AS A MARRIED COUPLE--

HEMINGWAY HAD RISEN TO A KIND OF FAME

NO AMERICAN WRITER SINCE MARK TWAIN HAD ENJOYED.

ALL THAT TIME, PAULINE HAD

DEVOTED HERSELF TO HIS WELL-BEING,

OFTEN ACTED AS HIS EDITOR, AND SHE AND HER FAMILY

HAD PROVIDED FINANCIAL SUPPORT BETWEEN BOOKS.

BUT IN THE END, NONE OF IT WOULD SEEM TO MATTER TO HIM.

EDNA: O'BRIEN: WHEN PEOPLE WANT TO GO AWAY,

THERE ARE TWO THINGS ATTACHED TO IT.

ONE IS ADVENTURE AND NEW THINGS,

NEW SIGHTS, NEW SCENES,

DANGER, WHATEVER.

BUT THE OTHER, WHICH I BELIEVE,

AGAIN, IT IS ONLY MY HUNCH,

IS TO ESCAPE HIS OWN FAMILY.

WRITERS DO. THEY HAVE TO.

MAN AS HEMINGWAY: MEN WANT SOMEONE NEW,

OR SOMEONE YOUNGER,

OR SOMEONE THAT THEY SHOULDN'T HAVE,

OR SOMEONE THAT LOOKS LIKE SOMEONE ELSE.

THE BETTER YOU TREAT A MAN

AND THE MORE YOU SHOW HIM YOU LOVE HIM,

THE QUICKER HE GETS TIRED OF YOU.

DEARBORN: HE SAYS TO PAULINE, "YOU TOOK ME FROM HADLEY

"AND NOW MARTHA IS TAKING ME FROM YOU.

"WHAT GOES AROUND, COMES AROUND.

LIVE BY THE SWORD, DIE BY THE SWORD."

AND I THINK THAT WAS A REALLY ROTTEN THING TO TELL PAULINE.

I MEAN, PAULINE MADE POSSIBLE SOME OF HIS BEST WORK.

AND SHE'S HIS BEST READER.

NARRATOR: AS A CATHOLIC, PAULINE WAS RELUCTANT

TO GRANT HEMINGWAY A DIVORCE.

THERE WERE ANGRY ACCUSATIONS FROM BOTH SIDES.

GREGORY REMEMBERED "SHOUTING IN OTHER ROOMS,

"DOORS SLAMMING, MOTHER SCURRYING

OUT OF THEIR BEDROOM CRYING."

PATRICK: YOU KNOW, BY 1939 IT WAS,

OH, IT WAS JUST COMING TO AN END.

THE PATTERN IN OUR FAMILY WAS TO DRIVE OUT FROM FLORIDA

TO, TO THE WEST.

AND IT TOOK QUITE A WHILE.

AND THEY HAD TREMENDOUS ARGUMENTS, I REMEMBER.

AND DRIVING, YOU KNOW, WHICH ROAD TO TAKE

AND, JUST ON EACH OTHER ALL SUMMER LONG.

THEY WERE STILL NOMINALLY TOGETHER, YOU KNOW,

BUT HE WAS REALLY PULLING OUT.

NARRATOR: ON SEPTEMBER 3, 1939--

TWO DAYS AFTER HITLER'S FORCES INVADED POLAND,

STARTING THE SECOND WORLD WAR--

HEMINGWAY FINALLY TOLD PAULINE HE WAS LEAVING FOR GOOD.

[JOHNNY GANDELSMAN'S "THE GARDEN OF EDEN MIX 3 GUITAR STEM" PLAYING]

JOHN McCAIN: I WAS 12 YEARS OLD.

I FOUND A FOUR-LEAF CLOVER AND I BROUGHT IT IN,

TO PRESS IT IN A BOOK SO I COULD PRESERVE IT.

THAT HAPPENED TO BE "FOR WHOM THE BELL TOLLS,"

STILL THE GREAT AMERICAN NOVEL.

AND I STARTED READING AND I COULDN'T STOP UNTIL I FINISHED.

NARRATOR: WHEN "FOR WHOM THE BELL TOLLS"

WAS PUBLISHED IN OCTOBER OF 1940,

EUROPE AND ASIA WERE ENGULFED IN A WORLD WAR

FAR MORE CATACLYSMIC THAN THE ONE

IN WHICH HEMINGWAY HAD BEEN WOUNDED.

[JOHNNY GANDELSMAN'S "THE GARDEN OF EDEN MIX 3 BASS STEM" PLAYING]

[JOHNNY GANDELSMAN'S "THE GARDEN OF EDEN MIX 3 PERC STEM" PLAYING]

VAILL: BY THE TIME "FOR WHOM THE BELL TOLLS"

CAME OUT IN 1940,

WAR IN EUROPE WAS A REALITY.

FRANCE HAD FALLEN. IT WAS DO OR DIE TIME.

THE QUESTIONS THAT HEMINGWAY RAISES IN THAT NOVEL

WERE INCREDIBLY URGENT.

AND IT WAS CLEAR THAT THE BELL WAS TOLLING

FOR EVERYBODY IN THIS COUNTRY, NOT JUST FOR THE PEOPLE

IN FRANCE AND IN ENGLAND OR SPAIN.

[BACH'S "PARTITIA FOR SOLO VIOLIN NO.1 IN B MINOR V SARABANDE VARIATION 5" PLAYING]

NARRATOR: THE STORY IS SET IN 1937,

WHEN THE DEFEAT OF FRANCO'S FORCES

HAD STILL SEEMED POSSIBLE.

ITS HERO IS AN IDEALISTIC YOUNG AMERICAN COLLEGE INSTRUCTOR

NAMED ROBERT JORDAN, WITH SOME KNOWLEDGE OF EXPLOSIVES

AND NO POLITICAL AFFILIATION OTHER THAN HATRED OF FASCISM,

WHO FINDS HIMSELF PART OF A GUERILLA BAND THAT UNDERTAKES

A DOOMED MISSION TO DYNAMITE A BRIDGE.

McCAIN: MY HERO IS ROBERT JORDAN.

ROBERT JORDAN IS AS REAL TO ME AS YOU ARE.

HE WAS WORKING AS A PROFESSOR IN THE UNIVERSITY OF MONTANA.

BUT HE HEARD ABOUT THIS STRUGGLE.

HE KNEW ABOUT FASCISM. HE KNEW WHAT

HITLER AND MUSSOLINI WERE DOING.

AND HE DECIDED TO GO AND FIGHT

ON BEHALF OF PEOPLE HE HAD NEVER MET

AND HE DID NOT KNOW.

EVEN KNOWING THAT THAT CAUSE WAS A FLAWED CAUSE.

BUT HE WAS WILLING TO FIGHT AND DO

WHATEVER HE THOUGHT HE COULD

FOR THE CAUSE OF JUSTICE AND FREEDOM.

I ALWAYS WANTED TO BE ROBERT JORDAN.

NARRATOR: ROBERT JORDAN IS WILLING TO KILL--AND TO DIE--

TO CARRY OUT THE ORDERS OF A SOVIET GENERAL,

BUT HE CANNOT ESCAPE HIS GROWING BELIEF

THAT THE WAR HAS BECOME "AN IDIOCY WITHOUT BOUNDS."

VAILL: IT'S A MUCH MORE 3-DIMENSIONAL

PORTRAYAL OF THE STRUGGLE

THAN HE HAD ALLOWED HIMSELF TO GIVE

WHEN HE WAS OSTENSIBLY WRITING JOURNALISM ABOUT IT.

IT'S PRETTY INTERESTING THAT THE NOVEL IS

MORE TRUTHFUL THAN THE JOURNALISM.

[JOHNNY GANDELSMAN'S "THE GARDEN OF EDEN MIX 3" PLAYING]

NARRATOR: THERE ARE ATROCITIES COMMITTED BY BOTH SIDES,

INCLUDING THE LOYALISTS' SLAUGHTER OF

CIVILIAN FASCIST SYMPATHIZERS,

WHO ARE FORCED TO RUN A BRUTAL GAUNTLET,

THEN HURLED FROM THE CLIFFS IN AN ANDALUSIAN TOWN.

MAN AS HEMINGWAY: THEY CLUBBED HIM TO DEATH VERY QUICKLY,

BEATING HIM AS SOON AS HE REACHED THE FIRST OF THE MEN,

BEATING HIM AS HE TRIED TO WALK WITH HIS HEAD UP,

BEATING HIM UNTIL HE FELL AND CHOPPING AT HIM

WITH REAPING HOOKS AND THE SICKLES,

AND MANY MEN BORE HIM TO THE EDGE OF THE CLIFF

TO THROW HIM OVER AND THERE WAS BLOOD NOW

ON THEIR HANDS AND ON THEIR CLOTHING,

AND NOW BEGAN TO BE THE FEELING THAT

THESE WHO CAME OUT WERE TRULY ENEMIES

AND SHOULD BE KILLED.

NARRATOR: ROBERT JORDAN MANAGES TO BLOW UP THE BRIDGE

BUT IS BADLY WOUNDED.

AT THE NOVEL'S CLIMAX, HE LIES ALONE, IMMOBILIZED,

ON A WOODED SLOPE, WAITING WITH HIS RIFLE

AS A FASCIST PATROL COMES CLOSER.

VAILL: THE END OF THAT NOVEL IS AS GOOD AS

ANYTHING HEMINGWAY EVER WROTE, I THINK.

HEMINGWAY ALL HIS LIFE IS WRESTLING WITH

QUESTIONS OF DEATH AND SUICIDE AND WHETHER IT

HURTS VERY MUCH TO DIE, DADDY,

OR IT DOESN'T, WHETHER THAT IS

THE BRAVE THING TO DO, THE RIGHT THING TO DO,

OR WHETHER IT'S THE COWARD'S WAY OUT.

HE'S WRESTLING WITH THAT ALL HIS LIFE.

NARRATOR: JORDAN'S FATHER, THE READER LEARNS,

LIKE HEMINGWAY'S, HAD KILLED HIMSELF.

MAN AS HEMINGWAY: OH, LET THEM COME, HE SAID.

I DON'T WANT TO DO THAT BUSINESS THAT MY FATHER DID.

I WILL DO IT ALL RIGHT BUT I'D MUCH PREFER NOT TO HAVE TO.

I'M AGAINST THAT. DON'T THINK ABOUT THAT.

DON'T THINK AT ALL.

I WISH THE BASTARDS WOULD COME, HE SAID.

I WISH SO VERY MUCH THEY'D COME.

I GUESS I'M NOT AWFULLY GOOD AT PAIN.

LISTEN, IF I DO THAT NOW

YOU WOULDN'T MISUNDERSTAND, WOULD YOU?

WHO ARE YOU TALKING TO? NOBODY, HE SAID.

GRANDFATHER, I GUESS. NO. NOBODY.

THINK ABOUT MONTANA. I CAN'T.

THINK ABOUT MADRID. I CAN'T.

THINK ABOUT A COOL DRINK OF WATER.

ALL RIGHT. THAT'S WHAT IT WILL BE LIKE.

LIKE A COOL DRINK OF WATER.

YOU'RE A LIAR. IT WILL JUST BE NOTHING.

THAT'S ALL IT WILL BE. JUST NOTHING.

THEN DO IT. DO IT. DO IT NOW.

IT'S ALL RIGHT TO DO IT NOW.

GO ON AND DO IT NOW. NO, YOU HAVE TO WAIT.

WHAT FOR? YOU KNOW ALL RIGHT. THEN WAIT.

NARRATOR: WHEN "FOR WHOM THE BELL TOLLS" WAS PUBLISHED,

MARXIST CRITICS ATTACKED THE NOVEL

AS A BETRAYAL OF THEIR CAUSE

BECAUSE IT SHOWED SYMPATHY FOR THE WAR'S VICTIMS ON BOTH SIDES.

OTHERS FOUND THE LOVE AFFAIR BETWEEN ROBERT JORDAN AND MARIA,

A LOYALIST GUERILLA FIGHTER, CLOYING.

[VARGAS LLOSA SPEAKING SPANISH]

[LAUGHS]

NARRATOR: DESPITE SOME NEGATIVE REVIEWS,

THE NOVEL SOLD "LIKE FROZEN DAIQUIRIS IN HELL,"

HEMINGWAY BOASTED TO HIS FIRST WIFE HADLEY;

NEARLY HALF A MILLION COPIES IN LESS THAN 6 MONTHS.

ONLY "GONE WITH THE WIND" HAD SOLD FASTER.

"HEMINGWAY THE ARTIST IS WITH US AGAIN," EDMUND WILSON WROTE,

"AND IT IS LIKE HAVING AN OLD FRIEND BACK."

PARAMOUNT BOUGHT THE MOVIE RIGHTS.

"THE NEW YORK TIMES" DECLARED IT

THE FINEST BOOK HEMINGWAY HAD WRITTEN--

"THE FULLEST, THE DEEPEST, THE TRUEST."

KATAKIS: I LOVE THAT BOOK. I MEAN,

IT'S THE "RAIDERS OF THE LOST ARK" OF ITS TIME...

AH...ONLY WITH MORE DEPTH AND MEANING.

SOMEONE WHO IS SACRIFICING HIMSELF

FOR SOMETHING HE BELIEVES IN.

McCAIN: FRIENDSHIP, SACRIFICE, ROMANCE,

THAT NOTHING IS ROMANTIC AS THAT, UH,

BETWEEN ROBERT JORDAN AND MARIA IN THAT, UH,

IN THAT, UH, BOOK,

AND, I THINK, SERVING A CAUSE GREATER THAN YOURSELF.

I THINK THE IMPORTANT LESSON

THAT HEMINGWAY WAS TRYING TO IMPART TO US

THAT NO MAN IS AN ISLAND WITHIN HIMSELF.

ASK NOT FOR WHOM THE BELL TOLLS.

WE DO IN LIFE WHAT WE ARE RESPONSIBLE FOR.

WE, IN OUR LIVES, MAKE CERTAIN CHOICES.

"I HAVE FOUGHT HARD FOR WHAT I BELIEVED IN

"FOR A YEAR NOW.

"IF WE WIN HERE WE WILL WIN EVERYWHERE.

"THE WORLD IS A FINE PLACE AND WORTH THE FIGHTING FOR

AND I HATE VERY MUCH TO LEAVE IT."

[J. GREEN, E. HEYMAN, R. SOUR, F. EYTON'S "BODY AND SOUL" PLAYING]

MAN AS HEMINGWAY: IF YOU HAVE DECIDED THAT YOU

DON'T WANT TO MARRY ME,

WILL YOU PLEASE TELL ME NOW.

IF YOU DO, I WILL BORE YOU LESS

AND AMUSE YOU MORE

THAN ANYONE ELSE YOU'LL EVER MARRY

AND YOU HAVE NEVER SEEN ME WITH A BIG SUCCESS

BUT I HAVE BEEN AROUND WHEN THAT HAPPENED BEFORE

AND I CAN PROMISE YOU TRULY THAT YOU WILL SEE

THE MODESTEST SON OF A BITCH YOU EVER SAW TRULY.

I ONLY BRAG WHEN I AM ON MY ASS.

WOMAN AS GELLHORN: THERE IS MUCH DIVORCE TALK GOING ON,

AND PROBABLY IT WILL ACTUALLY MATERIALIZE IN DUE COURSE

AND I WILL BE MADE AN HONEST WOMAN.

THEY OUGHT TO PUT IT IN THE YEARBOOK:

GELLHORN, THE FIRST OF HER CLASS TO SIN,

THE LAST TO LEGALIZE.

NARRATOR: HEMINGWAY'S DIVORCE FROM PAULINE

BECAME FINAL ON NOVEMBER 4, 1940.

17 DAYS LATER, ON NOVEMBER 21,

ERNEST HEMINGWAY AND MARTHA GELLHORN

WERE MARRIED IN CHEYENNE, WYOMING.

SHE WAS 32. HE WAS 41.

"ERNEST AND I BELONG TIGHTLY TO EACH OTHER,"

MARTHA ASSURED ELEANOR ROOSEVELT.

"WE ARE A GOOD PAIR AND WE ARE

BOTH CRAZY ABOUT BEING MARRIED."

NOW BOTH OF THEM WERE IN THE SPOTLIGHT.

HEDDA HOPPER: NO FANCY HOLLYWOOD BOOTS THESE.

THEY'VE TRAMPED THROUGH THE DUST AND DEATH

OF THE SPANISH CIVIL WAR.

THEY BELONG TO ERNEST HEMINGWAY,

FAMOUS AUTHOR AND ADVENTURER,

NOW ON A HUNTING TRIP IN IDAHO

WITH HIS PAL GARY COOPER,

TO WHOM THE GREAT OPEN SPACES AREN'T JUST A MOVIE LOCATION.

NO SIR. GARY'S IDEA OF A VACATION

IS TO GET AS FAR AWAY FROM HOLLYWOOD BOULEVARD AS POSSIBLE,

WHERE GAME DOESN'T MEAN GIN RUMMY.

[GUNSHOTS]

HER PEN NAME IS MARTHA GELLHORN,

BUT IN PRIVATE LIFE SHE'S MRS. ERNEST HEMINGWAY.

[GUNSHOT]

MRS. HEMINGWAY IS AN EXPERT MARKSWOMAN.

THE HEMINGWAYS FIRST MET IN SPAIN,

WHERE MRS. HEMINGWAY WAS A WAR CORRESPONDENT

AND ERNEST WAS GATHERING MATERIAL

FOR HIS NOVEL "FOR WHOM THE BELL TOLLS."

NARRATOR: IN 1941, THE NEWLYWED HEMINGWAYS

EMBARKED ON A PECULIAR SORT OF EXTENDED HONEYMOON,

A 4-MONTH REPORTING TRIP TO CHINA,

WHERE WAR WITH JAPAN HAD BEEN RAGING FOR 5 YEARS.

ON THE WAY, THE COUPLE HAD STOPPED IN HONOLULU,

WHERE THEY TOURED THE VAST NAVAL BASE AT PEARL HARBOR.

HEMINGWAY WORRIED ALOUD THAT SO MANY WARSHIPS AND PLANES

LINED UP IN TIDY ROWS WOULD INVITE A JAPANESE ATTACK.

HEMINGWAY HAD AGREED TO REPORT SECRETLY TO WASHINGTON

ON HOW HE THOUGHT THE WAR IN CHINA WAS GOING.

HE ALSO AGREED TO ACT AS A SECRET OPERATIVE

FOR THE SOVIET UNION, THOUGH IN THE END

HE WOULD SUPPLY NO INFORMATION TO MOSCOW.

[PLANE WHOOSHING]

[AIR RAID SIREN BLARING]

NARRATOR: THE WORLD WAR HEMINGWAY HAD WARNED AGAINST,

AND HAD HOPED HIS COUNTRY COULD AVOID, HAD COME HOME.

4 DAYS AFTER PEARL HARBOR, NAZI GERMANY AND FASCIST ITALY

DECLARED WAR ON THE UNITED STATES.

DURING THE NEXT 8 MONTHS, GERMAN U-BOATS SANK

360 MERCHANT VESSELS IN THE GULF OF MEXICO, THE CARIBBEAN,

AND OFF THE EASTERN COAST OF THE UNITED STATES.

WASHINGTON CALLED UPON CIVILIANS TO HELP PATROL THOSE WATERS.

THE SHIPPING LANES AROUND CUBA WERE OF SPECIAL CONCERN.

HEMINGWAY VOLUNTEERED TO HELP

AND GATHERED ABOARD THE "PILAR"

WHAT HE CALLED HIS "HOOLIGAN NAVY"--

A MARINE SERGEANT, TWO MILLIONAIRE YACHTSMEN,

A VETERAN OF THE SPANISH CIVIL WAR,

AND SEVERAL ACTIVE JAI-ALAI PLAYERS--

AND THEN PROPOSED A SPECTACULARLY FAR-FETCHED SCHEME.

HE HOPED TO LURE ENEMY U-BOATS TO THE SURFACE,

CLOSE TO WITHIN 20 YARDS,

MACHINE-GUN EVERYONE ON DECK

SO THAT THE JAI-ALAI PLAYERS

COULD LOB EXPLOSIVES DOWN THE HATCH.

HOW THE "PILAR" WAS TO AVOID BEING BLOWN TO SPLINTERS

BY THE GERMANS' DECK GUN WAS NEVER CLEAR,

BUT THE U.S. GOVERNMENT SUPPLIED HEMINGWAY

WITH ALL THE WEAPONRY AND COMMUNICATIONS EQUIPMENT

HE ASKED FOR--AND LIMITLESS,

OTHERWISE STRICTLY-RATIONED GASOLINE.

PATRICK: HE HAD US ON HIS BOAT, THE "PILAR,"

OFF THE CUBAN COAST IN A PLACE CALLED CAYO CONFITES.

THERE WERE TWO BUNKS THERE, ONE ON EACH SIDE

AND A LITTLE HATCH THAT YOU COULD GET OUT OF.

AND THEY LEFT US ON THE ISLAND.

WHAT DO THEY CALL THE PEOPLE THAT

LOOK AFTER THE WELFARE OF CHILDREN?

THEY WOULD HAVE TAKEN US AWAY

FROM OUR FATHER IMMEDIATELY. [LAUGHS]

NARRATOR: HEMINGWAY AND HIS CREW DID KEEP WATCH

ON THE COUNTLESS BAYS AND INLETS AND ISLANDS ALONG CUBA'S COAST.

ONLY ONCE IN ALL THAT TIME DID THE "PILAR"

ACTUALLY SPOT AN ENEMY SUBMARINE,

BUT IT PROVED FAR TOO FAST AND FAR AWAY TO CATCH.

HEMINGWAY HIMSELF WOULD REMEMBER HIS SUBMARINE-CHASING

AS THAT "SEA-BORNE COMIC STRIP WE OPERATED IN THE CARIBBEAN."

[DAVID CIERI'S "FOR CATHERINE (NIAGARA FALLS)" PLAYING]

EDNA O'BRIEN: I BET WHEN HEMINGWAY WAS

FIRST IN LOVE WITH

EACH PARTICULAR WOMAN,

I BET HE BECAME THE BOY AGAIN.

BUT HE WAS A BIT OF A CONTROLLER IN LIFE

AND A BIT OF A BULLY AS WELL.

SO THAT EVERYDAY LIFE WITH HEMINGWAY WOULD BE INTOLERABLE.

IT WAS, I THINK, HE LOVED AS A TRUTHFUL PERSON AT FIRST

AND THEN BECAME THE MYTHOLOGIZED MAN IN EVERYDAY LIFE.

WOMAN AS GELLHORN: THE ONLY SERIOUS COMPLAINT I HAVE ABOUT MATRIMONY

IS THAT IT BRINGS OUT THE FAINT GOODNESS IN ME,

AND HAS A TENDENCY TO SOFTEN AND QUIET

THE HELL ON WHEELS ASPECT,

AND FINALLY I BECOME BORED WITH MYSELF.

[GUNSHOT] MY MAN IS ANOTHER HELL ON WHEELS CHARACTER,

AND WHAT IS SO CHRISTED ODD IS THAT

TWO PEOPLE CANNOT LIVE TOGETHER,

WITH ANY ORDER OR HEALTH,

IF THEY ARE BOTH HELL ON WHEELS,

SO, FOR THE MUTUAL GOOD, THEY MUST BOTH CALM THEMSELVES.

AND THAT IS A LOSS, BUT I HAVE NOT YET FOUND OUT

WHAT TO DO ABOUT IT.

ERNEST AND I REALLY ARE AFRAID OF EACH OTHER,

EACH ONE KNOWING THAT THE OTHER

IS THE MOST VIOLENT PERSON EITHER ONE KNOWS,

AND KNOWING SOMETHING ABOUT VIOLENCE WE ARE ALWAYS

MUTUALLY ALARMED AT THE POTENTIALITIES OF THE OTHER.

SO, WHEN WE ARE TOGETHER, WE TAKE IT FAIRLY EASY,

SO AS NOT TO SEE THE OTHER BURST INTO LOUD, FURIOUS FLAME.

NARRATOR: MARTHA GELLHORN HAD NO INTENTION OF STAYING HOME

WITH HER HUSBAND AS PAULINE HAD.

AND AT FIRST, HE ENCOURAGED HER WORK.

MAN AS HEMINGWAY: I CAN'T REALLY WRITE AT ALL THE WAY YOU CAN

WELL AND EASILY AND GOOD.

I JUST NAIL WORDS TOGETHER LIKE A BLOODY CARPENTER

AND IT IS SO TOUGH TO DO.

YOU ARE MY HERO AND ALWAYS WILL BE

AND I WILL BE GOOD AND TRY TO LIVE UP TO MY HERO.

THANK YOU VERY MUCH FOR HAVING COME TO KEY WEST

AND FOR HAVING MARRIED ME.

NARRATOR: GELLHORN'S VIEW OF HERSELF AND HER TALENT

WAS EVERY BIT AS EXALTED AS HER HUSBAND'S VIEW

OF HIMSELF AND HIS.

"WE TWO ARE GREAT PEOPLE," SHE ONCE TOLD HIM.

"WE CAN SHAKE THE WORLD."

BUT THE COUPLE FOUND IT HARD TO KEEP

THEIR VOLATILITY SMOTHERED FOR LONG.

SHE BEGAN TO TRAVEL MORE AND MORE ON ASSIGNMENT

AND HE BEGAN TO RESENT IT.

BEEGEL: MARTHA WAS A WOMAN WHO WOULD NOT BACK DOWN.

MARTHA WAS A WOMAN WHO COULD

GIVE AS GOOD AS SHE GOT VERBALLY.

MARTHA WAS A WOMAN WHO HAD HER OWN LIFE THAT SHE WANTED TO LIVE

AND CAREER SHE WANTED TO PURSUE

AND NOBODY WAS TAKING THAT AWAY FROM HER.

KALE: THEY WERE GREAT IN THE SPANISH CIVIL WAR

WHERE THERE'S BULLETS AND, AND SHELLS FLYING EVERY WHICH WAY.

BUT PUT 'EM TOGETHER IN A HOUSE AND IT WAS JUST A DISASTER.

[DAVID CIERI'S "DUST RISING" PLAYING]

NARRATOR: AFTER GELLHORN RETURNED TO CUBA

FROM A LENGTHY REPORTING TRIP,

SHE WAS CONVINCED THAT HEMINGWAY'S ADVENTURING

ABOARD THE "PILAR" WAS POINTLESS,

JUST AN EXCUSE TO FISH AND DRINK WITH HIS FRIENDS

WHILE THE REST OF THE WORLD WAS AT WAR,

AND SHE DID NOT HESITATE TO SAY SO.

HE WAS, IN FACT, NOT WRITING AT ALL

AND WAS DRINKING MORE AND MORE HEAVILY,

BEGINNING WITH A SCOTCH-AND-SODA AT 10 IN THE MORNING

AND KEEPING AT IT ALL DAY.

HE WAS ANGERED BY HER CRITICISM

AND NOW SOMETIMES DISMISSIVE OF HER WRITING.

"I'LL SHOW YOU, YOU CONCEITED BITCH,"

ONE OF HIS SONS REMEMBERED HEARING HIM SHOUT.

"THEY'LL BE READING MY STUFF LONG AFTER

THE WORMS HAVE FINISHED WITH YOU."

BEEGEL: OF ALL OF HIS WIVES, HE HAD THE LEAST POWER

AND THE LEAST CONTROL OVER MARTHA,

SO, THAT WOULD, I THINK,

TEND TO SEND THINGS

OVER THE TOP.

VERBAL ABUSE STARTS WITH MARTHA AND HORRIBLE SLANGING MATCHES.

NARRATOR: THEY HAD BEEN TOGETHER OFF AND ON

FOR 7 YEARS,

NEARLY 3 OF THEM AS HUSBAND AND WIFE.

WHEN APART, THEIR LETTERS WERE STILL FULL OF

FOND NICKNAMES AND DECLARATIONS OF LOVE.

BUT WHEN THEY WERE TOGETHER,

THINGS WENT FROM BAD TO WORSE.

WHEN GELLHORN INSISTED ON DRIVING HOME FROM HAVANA

AT THE END OF ONE ESPECIALLY DRUNKEN EVENING,

HEMINGWAY SLAPPED HER.

SHE DELIBERATELY DROVE HIS CAR INTO A DITCH

AND LEFT HIM THERE WHILE SHE WALKED BACK TO THE FINCA ALONE.

BY THE SUMMER OF 1943,

THE TIDE OF WAR IN EUROPE HAD BEGUN TO TURN.

THE GERMANS AND ITALIANS

HAD BEEN DRIVEN FROM NORTH AFRICA.

ALLIED TROOPS HAD LANDED IN ITALY.

THE SOVIET ARMY WAS MOVING WEST,

DRIVING THE NAZI INVADERS BEFORE THEM.

GELLHORN LONGED TO BE PART OF IT--

AND COULD NOT UNDERSTAND HOW HEMINGWAY

DID NOT FEEL THE SAME WAY.

SHE TOLD HIM SHE WANTED TO FEEL AGAIN

ALL "THE BLINDNESS AND FERVOR AND RECKLESSNESS"

SHE HAD ONCE FELT WITH HIM.

IN SEPTEMBER, SHE LEFT FOR ENGLAND WITHOUT HIM,

TO REPORT FOR "COLLIER'S."

HEMINGWAY WAS ANGRY, MOROSE, BEREFT.

[JOHNNY GANDELSMAN'S "FLOR DE LA NOCHE MIRANDO A LAS ESTRELLAS MIX 2" PLAYING]

WOMAN AS GELLHORN: THE LETTER WHERE YOU SAY THAT THESE ARE

THE WORST TWO WEEKS OF YOUR LIFE

AND THAT YOU FEEL YOU ARE GOING TO DIE OF SADNESS IS TOO AWFUL.

YOU MATTER MORE THAN ANYTHING IN THE WORLD TO ME.

I CAN'T HAVE YOU DYING OF SADNESS.

I JUST CAN'T BE PARTY TO THAT.

IF YOU SEE THAT YOU TRULY CANNOT BEAR IT,

I'LL COME HOME.

NARRATOR: BUT SHE DIDN'T COME HOME.

WHEN "COLLIER'S" PUBLISHED MARTHA'S DISPATCHES

FROM THE ITALIAN FRONT,

HEMINGWAY PUBLICLY PRAISED THEM.

"YOU FEEL IT AS THOUGH IT WERE YOU," HE SAID,

"AND YOU WERE THERE."

BUT SHE REMEMBERED RECEIVING AN ANGRY CABLE

FROM HER HUSBAND IN CUBA:

"ARE YOU A WAR CORRESPONDENT OR WIFE IN MY BED?"

MARTHA HOPED SHE COULD SOMEHOW STILL BE BOTH.

"IT IS QUITE A JOB BEING A WOMAN, ISN'T IT?"

SHE WROTE TO MRS. ROOSEVELT.

"YOU CANNOT DO YOUR WORK AND SIMPLY GET ON WITH IT

"BECAUSE THAT IS SELFISH.

YOU HAVE TO BE TWO THINGS AT ONCE."

AGAIN AND AGAIN, HEMINGWAY BEGGED HER TO RETURN TO CUBA.

AGAIN AND AGAIN, SHE URGED HIM TO JOIN HER IN LONDON INSTEAD.

HE REFUSED TO DO IT. FINALLY, SHE GAVE UP TRYING.

WOMAN AS GELLHORN: I LOVE YOU DEARLY.

I WON'T URGE YOU ANY MORE TO COME,

THOUGH I DO THINK YOU WILL REGRET IT

AND I THINK IT WOULD BE A GREAT GENERAL LOSS

FOR FUTURE TIME, FOR ALL PEOPLE

WHO NEED AND LOVE TO READ.

I KNOW IT IS HELL FOR YOU THERE ALONE

BUT I HAVE TO ASK YOU TO BE PATIENT.

YOU HAVE A LIFE THERE BECAUSE YOU HAVE USEFUL WORK;

IT IS WHAT YOU BELIEVE IN AND FEEL RIGHT ABOUT DOING.

BUT I BELIEVE IN WHAT I AM DOING, TOO.

I HAVE TO LIVE MY WAY AS WELL AS YOURS,

OR THERE WOULDN'T BE ANY ME TO LOVE YOU WITH.

YOU WOULDN'T REALLY WANT ME IF I BUILT A FINE BIG STONE WALL

AROUND THE FINCA AND SAT INSIDE IT.

NARRATOR: THAT WAS EXACTLY WHAT HE DID WANT HER TO DO.

DEPRESSION GRIPPED HIM-- HE CALLED IT "BLACK ASS."

FEELING ABANDONED, WITH NO WRITING PROJECT

IN WHICH TO LOSE HIMSELF,

THE DREAD OF SLEEPING ALONE THAT HAD PLAGUED HIM

SINCE HIS RETURN FROM THE GREAT WAR DEEPENED.

HE NOW HAD TO DRINK HIMSELF TO SLEEP--

AND WAS CONSUMED WITH SELF-PITY.

MAN AS HEMINGWAY: I AM SICK-LONELY WITH MARTY AWAY.

LIKE SOMEBODY WITH THEIR HEART CUT OUT.

LOVED MARTY SO MUCH AND TO THE EXCLUSION OF

EVERYTHING AND ALL ELSE SO THAT

EVERYBODY WHO USED TO LOVE ME QUIT.

SO, NOW I HAVE NO MARTY AND NOBODY ELSE.

NARRATOR: IN EARLY 1944, MARTHA RETURNED TO CUBA,

HOPING SOMEHOW TO REASSURE HER HUSBAND

AND REBUILD THEIR MARRIAGE.

IT DIDN'T WORK.

WOMAN AS GELLHORN: HE WOKE ME WHEN I WAS TRYING TO SLEEP

TO BULLY, SNARL, MOCK.

MY CRIME REALLY WAS TO HAVE BEEN AT WAR WHEN HE HAD NOT,

BUT THAT WAS NOT HOW HE PUT IT.

I WAS SUPPOSEDLY INSANE, I HAD NO RESPONSIBILITY TO ANYONE,

I WAS SELFISH BEYOND BELIEF.

NARRATOR: SHE ASSAILED HIM AGAIN FOR HIS DRINKING,

RIDICULED HIS SUBMARINE HUNTING,

ACCUSED HIM OF COWARDICE IN STAYING AWAY FROM THE REAL WAR.

THE LONG-PLANNED ALLIED INVASION

OF NAZI-OCCUPIED FRANCE WAS COMING.

HE OWED IT TO HIMSELF, SHE INSISTED--

HE OWED IT TO HISTORY--TO BE IN AT THE DEATH OF FASCISM.

HISTORY DIDN'T CONCERN HIM, HE SAID.

HE'D BEEN WOUNDED IN ONE WAR AND UNDER FIRE IN TWO.

HIS LUCK WAS LIKELY TO RUN OUT IN A THIRD.

IF HE WERE TO BE KILLED, SHE WOULD BEAR THE BLAME.

FINALLY, GELLHORN TOLD HIM

SHE "WAS GOING BACK TO LONDON

WHETHER HE CAME OR NOT."

THEN, SUDDENLY, HE CHANGED HIS MIND AND AGREED TO GO.

HE TOLD HER, "JUST FEEL LIKE OLD HORSE."

MAN AS HEMINGWAY: GOOD, SOUND, BUT OLD,

BEING SADDLED AGAIN TO RACE OVER THE JUMPS

BECAUSE OF UNSCRUPULOUS OWNER.

WILL MAKE SAME RACE AS ALWAYS,

BEST THAT CAN MAKE, BUT AM NEITHER

HAPPY, EXCITED, NOR INTERESTED.

[DAVID CIERI'S "I USED TO LOVE YOU VARIATION 2" PLAYING]

NARRATOR: HE SIGNED ON WITH "COLLIER'S"--

THUS ENSURING THAT GELLHORN WOULD BE

OVERSHADOWED AT THE MAGAZINE FOR WHICH SHE WROTE REGULARLY.

"HE DID IT TO FIX ME," SHE REMEMBERED MANY YEARS LATER.

"NOTHING COULD BEAT IT FOR SHEER BITCHERY."

STILL, MARTHA PERSUADED A FRIEND

AT THE BRITISH EMBASSY IN WASHINGTON

TO PROVIDE HIM WITH A HARD-TO-OBTAIN SEAT

ON AN RAF PLANE HEADED FOR LONDON.

SHE ASSUMED SHE'D BE BOARDING THE PLANE, TOO.

BUT HEMINGWAY, STILL BITTER OVER THE PRESSURE SHE'D PUT ON HIM,

TOLD HER THE MILITARY HAD BARRED WOMEN--

EVEN THOUGH TWO BRITISH ACTRESSES

WOULD BE AMONG HIS FELLOW PASSENGERS.

GELLHORN WAS FORCED TO CROSS THE NORTH ATLANTIC ALONE,

THE SOLE CIVILIAN ABOARD A NORWEGIAN FREIGHTER

CARRYING EXPLOSIVES AND LANDING CRAFT,

PART OF THE PREPARATIONS FOR D-DAY, NOW JUST WEEKS AWAY.

HER MARRIAGE WAS ESSENTIALLY OVER.

"ERNEST IS A GOOD MAN,"

SHE WROTE AN OLD FRIEND WHILE ABOARD SHIP.

WOMAN AS GELLHORN: HE IS, HOWEVER, BAD FOR ME...

OR MAYBE WRONG FOR ME IS THE WORD;

AND I AM WRONG FOR HIM.

AS FAR AS I AM CONCERNED, IT IS ALL OVER.

IT'LL NEVER WORK BETWEEN US AGAIN.

I AM WONDERING NOW IF IT EVER REALLY WORKED;

I AM WONDERING WHAT ALL THESE 7 YEARS WERE ABOUT EXACTLY.

I FEEL TERRIBLY STRANGE, LIKE A SHADOW, AND FULL OF DREAD.

I DREAD THE TIME AHEAD, THE AMPUTATING TIME.

IT IS, NOTE, MY FAULT:

I AM THE ONE WHO HAS CHANGED

AND I AM ASHAMED AND GUILTY, TOO,

BECAUSE I AM BREAKING HIS HEART.

WE QUARRELED TOO MUCH, I SUPPOSE.

IT'S ALL SICKENING AND I'M SAD TO DEATH AND AFRAID.

I ONLY WANT TO BE ALONE. I WANT TO BE MYSELF

AND ALONE AND FREE TO BREATHE, LIVE,

LOOK UPON THE WORLD AND FIND IT HOWEVER IT IS.

I WANT MY OWN NAME BACK, MOST VIOLENTLY,

AS IF GETTING IT BACK WOULD GIVE ME SOME OF MYSELF.

NARRATOR: HEMINGWAY GOT TO ENGLAND

11 DAYS BEFORE GELLHORN DID--

LONG ENOUGH FOR HIM TO MEET THE WOMAN WHO WOULD BECOME

THE FOURTH MRS. ERNEST HEMINGWAY.

[DUKE ELLINGTON & BUBBER MILEY'S "THE NEW EAST ST. LOUIS TOODLE-O" PLAYING]

♪

♪

♪

♪

ANNOUNCER: NEXT TIME "ON HEMINGWAY"...

MAN, AS HEMINGWAY: WHATEVER HAPPENED TO HIM NOW

HE CONSIDERED OF NO IMPORTANCE

AS LONG AS HE COULD WRITE.

ANNOUNCER: WORLD WAR II LEAVES LASTING SCARS...

SUSAN BEEGEL: HE HAD SEEN SO MANY THINGS

THAT HE COULD NOT UNSEE...

ANNOUNCER: A CLASSIC MASTERPIECE...

MAN AS HEMINGWAY: EVERYTHING ABOUT HIM WAS OLD

EXCEPT HIS EYES.

ANNOUNCER: AND A DESCENT INTO DARKNESS.

MICHAEL KATAKIS: THE HISTORY OF MENTAL ILLNESS

IN THE FAMILY HAD TO BE ON HIS MIND.

ANNOUNCER: DON'T MISS THE FINAL CHAPTER

OF "HEMINGWAY" NEXT TIME.

VO: Stay tuned for a special preview

of the next film from Ken Burns: MUHAMMAD ALI.

ANNOUNCER: DIVE DEEPER INTO THIS FILM

BY VISITING PBS.ORG/HEMINGWAY

AND THE PBS VIDEO APP.

JOIN THE CONVERSATION WITH HASHTAG #HEMINGWAYPBS.

TO ORDER "HEMINGWAY" ON DVD OR BLU-RAY

OR THE BOOK "THE HEMINGWAY STORIES,"

VISIT SHOP PBS OR CALL 1-800-PLAY-PBS.

THE CD IS ALSO AVAILABLE.

"HEMINGWAY" IS ALSO AVAILABLE WITH PBS PASSPORT

AND ON AMAZON PRIME VIDEO.

♪

♪

♪

♪

ANNOUNCER: MAJOR FUNDING FOR "HEMINGWAY"

WAS PROVIDED BY THE BETTER ANGELS SOCIETY

AND BY ITS MEMBERS:

THE ELIZABETH RUTH WALLACE LIVING TRUST,

JOHN AND LESLIE McQUOWN,

JOHN AND CATHERINE DEBS,

THE FULLERTON FAMILY CHARITABLE TRUST,

KISSICK FAMILY FOUNDATION, GAIL ELDEN,

GILCHRIST AND AMY BERG,

ROBERT AND BEVERLY GRAPPONE,

AND MAUREE JANE AND MARK PERRY.

ADDITIONAL FUNDING WAS PROVIDED BY THE ANNENBERG FOUNDATION,

THE ARTHUR VINING DAVIS FOUNDATIONS,

THE CORPORATION FOR PUBLIC BROADCASTING,

AND BY CONTRIBUTIONS TO YOUR PBS STATION

FROM VIEWERS LIKE YOU.

THANK YOU.