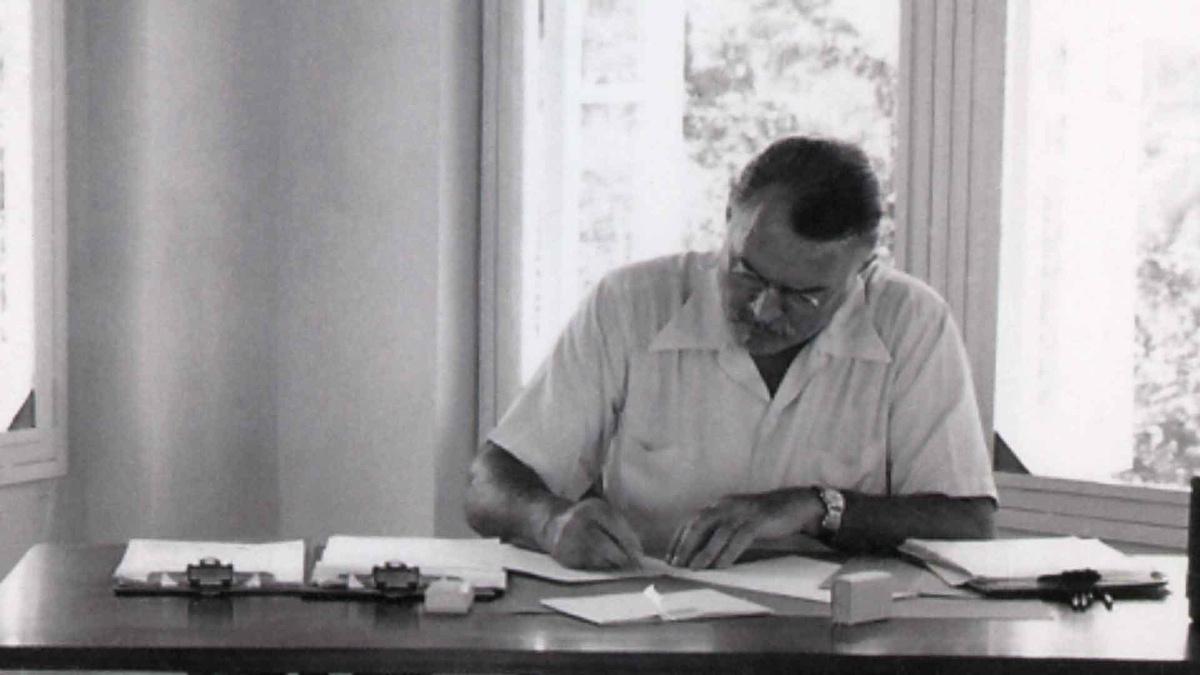 S1 E1 | FULL EPISODE
A Writer (1899-1929)
Hemingway, yearning for adventure, volunteers for the Red Cross during World War I. He marries Hadley Richardson and moves to Paris, publishes The Sun Also Rises and finds critical and commercial success with his second novel, A Farewell to Arms.
TRANSCRIPT

ANNOUNCER: MAJOR FUNDING FOR "HEMINGWAY"

WAS PROVIDED BY THE BETTER ANGELS SOCIETY

AND BY ITS MEMBERS:

THE ELIZABETH RUTH WALLACE LIVING TRUST,

JOHN AND LESLIE McQUOWN,

JOHN AND CATHERINE DEBS,

THE FULLERTON FAMILY CHARITABLE TRUST,

KISSICK FAMILY FOUNDATION, GAIL ELDEN,

GILCHRIST AND AMY BERG,

ROBERT AND BEVERLY GRAPPONE,

AND MAUREE JANE AND MARK PERRY.

ADDITIONAL FUNDING WAS PROVIDED BY THE ANNENBERG FOUNDATION,

THE ARTHUR VINING DAVIS FOUNDATIONS,

THE CORPORATION FOR PUBLIC BROADCASTING,

AND BY CONTRIBUTIONS TO YOUR PBS STATION

FROM VIEWERS LIKE YOU.

THANK YOU.

♪

♪

MAN: HEMINGWAY WAS A WRITER WHO HAPPENED TO BE AMERICAN,

BUT HIS PALETTE WAS INCREDIBLY WIDE

AND DELICIOUS AND VIOLENT AND BRUTAL AND UGLY,

ALL OF THOSE THINGS.

IT'S SOMETHING EVERY CULTURE CAN BASICALLY UNDERSTAND.

EVERY CULTURE CAN UNDERSTAND FALLING IN LOVE WITH SOMEONE,

THE LOSS OF THAT PERSON,

OF HOW GREAT A MEAL TASTES,

HOW EXTRAORDINARY THIS JOURNEY IS.

THAT IS NOT NATIONALISTIC.

IT'S HUMAN,

AND I THINK WITH ALL OF HIS FLAWS,

WITH ALL THE DIFFICULTIES, HIS PERSONAL LIFE, WHATEVER,

HE SEEMED TO UNDERSTAND HUMAN BEINGS.

MAN, AS HEMINGWAY: YOU SEE, I'M TRYING IN ALL MY STORIES

TO GET THE FEELING OF THE ACTUAL LIFE ACROSS--

NOT JUST TO DEPICT LIFE OR CRITICIZE IT--

BUT TO ACTUALLY MAKE IT ALIVE

SO THAT WHEN YOU'VE READ SOMETHING BY ME

YOU ACTUALLY EXPERIENCE THE THING.

YOU CAN'T DO THIS WITHOUT PUTTING IN

THE BAD AND THE UGLY, AS WELL AS WHAT IS BEAUTIFUL,

BECAUSE IF IT IS ALL BEAUTIFUL YOU CAN'T BELIEVE IN IT.

THINGS AREN'T THAT WAY.

IT IS ONLY BY SHOWING BOTH SIDES--

3 DIMENSIONS AND IF POSSIBLE 4--

THAT YOU CAN WRITE THE WAY I WANT TO.

[THE BENNY GOODMAN SEXTET'S "A SMO-O-O-OTH ONE" PLAYING]

NARRATOR: ERNEST HEMINGWAY REMADE AMERICAN LITERATURE.

HE PARED STORY-TELLING TO ITS ESSENTIALS,

CHANGED THE WAY CHARACTERS SPEAK,

EXPANDED THE WORLDS A WRITER COULD LEGITIMATELY EXPLORE,

AND LEFT AN INDELIBLE RECORD OF HOW MEN AND WOMEN LIVED

DURING HIS LIFETIME.

GENERATIONS OF WRITERS WOULD FIND THEIR WORK

MEASURED AGAINST HIS.

SOME FOLLOWED THE PATH HE'D BLAZED.

OTHERS REBELLED AGAINST IT.

NONE COULD ESCAPE IT.

HE MADE HIMSELF THE MOST CELEBRATED AMERICAN WRITER

SINCE MARK TWAIN,

READ--AND REVERED-- AROUND THE WORLD.

MAN: IT'S HARD TO IMAGINE A WRITER TODAY

WHO HASN'T BEEN IN SOME WAY INFLUENCED BY HIM.

IT'S LIKE HE CHANGED ALL THE FURNITURE

IN THE ROOM, RIGHT, AND WE ALL HAVE TO SIT IN IT

TO SOME--YOU KNOW, WE CAN KIND OF SIT

ON THE EDGE OF THE ARMCHAIR, ON THE ARM OR DO THIS,

BUT, YOU KNOW HE CHANGED THE FURNITURE IN THE ROOM.

THE VALUE OF THE AMERICAN DECLARATIVE SENTENCE, RIGHT,

THE WAY YOU BUILD A HOUSE BRICK BY BRICK OUT OF THOSE.

WITHIN A FEW SENTENCES OF READING A HEMINGWAY STORY,

YOU WERE NOT IN ANY CONFUSION AS TO WHO HAD WRITTEN IT.

WOMAN: I CAN'T IMAGINE HOW IT'S POSSIBLE

THAT ANY ONE WRITER COULD HAVE SO CHANGED THE LANGUAGE.

PEOPLE HAVE BEEN COPYING HIM FOR NEARLY A HUNDRED YEARS,

AND THEY HAVEN'T SUCCEEDED IN EQUALING WHAT HE DID.

MAN: IF YOU'RE A WRITER, YOU CAN'T ESCAPE HEMINGWAY.

HE'S SO DAMN POPULAR THAT YOU CAN'T BEGIN TO WRITE

TILL YOU TRY AND KILL HIS GHOST IN YOU

OR EMBRACE IT,

AND I THINK I IDENTIFY THAT MOST ABOUT HEMINGWAY

IS THAT HE WAS ALWAYS QUESTING.

THE PERFECT LINE HAD NOT HAPPENED YET.

IT IS ALWAYS A STRUGGLE TRYING TO GET IT RIGHT,

AND YOU NEVER WILL.

NARRATOR: FOR 3 DECADES, PEOPLE WHO HAD NOT READ

A WORD HE'D WRITTEN THOUGHT THEY KNEW HIM--

WOUNDED VETERAN AND BATTLEFIELD CORRESPONDENT,

BIG-GAME HUNTER AND DEEP-SEA FISHERMAN,

BULL-FIGHT AFICIONADO, BRAWLER, AND LOVER

AND MAN ABOUT TOWN...

BUT BEHIND THE PUBLIC FIGURE WAS A TROUBLED AND CONFLICTED MAN,

WHO BELONGED TO A TROUBLED AND CONFLICTED FAMILY

WITH ITS OWN DRAMA AND DARKNESS AND CLOSELY-HELD SECRETS.

THE WORLD SAW HIM AS A MAN'S MAN,

BUT ALL HIS LIFE, HE WOULD PRIVATELY BE INTRIGUED

BY THE BLURRED LINES BETWEEN MALE AND FEMALE,

MEN AND WOMEN.

THERE WERE SO MANY SIDES TO HIM,

THE FIRST OF HIS 4 WIVES REMEMBERED,

THAT HE DEFIED GEOMETRY.

WOMAN: HE WAS OPEN TO LIFE.

HE WAS OPEN TO TRAGEDY.

HE WAS OPEN TO FEELING.

I LIKED THAT HE FELL IN LOVE,

AND HE FELL IN LOVE QUITE A FEW TIMES.

HE ALWAYS HAD THE NEXT WOMAN

BEFORE HE LEFT THE EXISTING WOMAN.

NARRATOR: HE WAS OFTEN KIND AND GENEROUS TO THOSE

IN NEED OF HELP AND SOMETIMES JUST AS CRUEL

AND VENGEFUL TO THOSE WHO HAD HELPED HIM.

MAN, AS HEMINGWAY: I HAVE ALWAYS HAD THE ILLUSION

IT WAS MORE IMPORTANT, OR AS IMPORTANT,

TO BE A GOOD MAN AS TO BE A GREAT WRITER.

I MAY TURN OUT TO BE NEITHER

BUT WOULD LIKE TO BE BOTH.

NARRATOR: HEMINGWAY'S STORY IS A TALE OLDER EVEN

THAN THE WRITTEN WORD OF A YOUNG MAN

WHOSE AMBITION AND IMAGINATION,

ENERGY AND ENORMOUS GIFTS BRING HIM WEALTH AND FAME

BEYOND IMAGINING,

WHO DESTROYS HIMSELF TRYING TO REMAIN TRUE

TO THE CHARACTER HE HAS INVENTED.

O'BRIEN: ONE OF HIS WEAKNESSES--

I WAS GOING TO SAY, "FAILINGS," AND IT WAS A GREAT PITY--

IT'S A GREAT PITY FOR ANY WRITER--

HE LOVED AN AUDIENCE.

HE LOVED AN AUDIENCE, AND IN FRONT OF AN AUDIENCE,

HE LOST THE BEST PART OF HIMSELF

BY TRYING TO IMPRESS THE AUDIENCE.

KATAKIS: I HATE THE MYTH OF HEMINGWAY,

AND THE REASON I HATE THE MYTH OF HEMINGWAY,

IT OBSCURES THE MAN,

AND THE MAN IS MUCH MORE INTERESTING THAN THE MYTH.

I THINK HE WAS A TERRIFIC FATHER SOMETIMES.

I THINK THAT HE WAS A LOVING HUSBAND SOMETIMES.

I THINK HE WAS LIKE SO MANY PEOPLE

EXCEPT THIS ENORMOUS TALENT.

HEMINGWAY IS COMPLICATED. HE'S VERY COMPLICATED.

MAN, AS HEMINGWAY: THE GREAT THING IS TO LAST

AND GET YOUR WORK DONE

AND SEE AND HEAR AND LEARN AND UNDERSTAND;

AND WRITE WHEN THERE IS SOMETHING THAT YOU KNOW;

AND NOT BEFORE;

AND NOT TOO DAMNED MUCH AFTER.

♪

♪

[SCOTT JOPLIN'S "PARAGON RAG" PLAYING]

♪

WOMAN, AS GRACE HEMINGWAY: MY BOY DELIGHTS IN SHOOTING

IMAGINARY WOLVES, BEARS, LIONS.

ALSO LIKES TO PRETEND HE IS A SOLDIER.

HE STORMS AND KICKS AND DANCES WITH RAGE WHEN THWARTED.

WHEN ASKED WHAT HE IS AFRAID OF,

HE SHOUTS OUT "'FRAID OF NOTHING!"

NARRATOR: ERNEST MILLER HEMINGWAY WAS BORN

JULY 21, 1899, THE SECOND OF 6 CHILDREN

AND ENJOYED WHAT SEEMED TO BE AN IDYLLIC BOYHOOD.

HE HAD 4 ADORING SISTERS

AND A WORSHIPFUL YOUNGER BROTHER.

THEY ALL LIVED IN A BIG, COMFORTABLE HOME

IN THE PROSPEROUS CHICAGO SUBURB OF OAK PARK,

A COMPLACENT, WELL-MANNERED COMMUNITY

WITH NO SALOONS AND SO MANY CHURCHES

IT LIKED TO CALL ITSELF "SAINT'S REST."

THE HEMINGWAYS SPENT LONG SUMMERS AT WINDEMERE,

THEIR COTTAGE ON WALLOON LAKE IN MICHIGAN.

[FIRE CRACKLING]

ERNEST'S FATHER CLARENCE HEMINGWAY--

KNOWN TO EVERYONE AS ED-- WAS A FAMILY DOCTOR.

HE KEPT OFFICE HOURS EVERY DAY OF THE WEEK

BUT WAS OFTEN FORCED TO MAKE HOUSE CALLS

IN THE MIDDLE OF THE NIGHT,

PERFORMING EMERGENCY CESAREAN SECTIONS

BY LANTERN LIGHT.

SOMETIMES, HE FAILED TO SAVE THE MOTHER OR THE BABY OR BOTH.

"MY FATHER WAS VERY DEVOTED TO MY MOTHER,"

ERNEST'S YOUNGEST SISTER REMEMBERED,

"BUT SHE WAS DEVOTED TO HERSELF."

HIS MOTHER GRACE HALL HEMINGWAY

HAD MARRIED AFTER ABANDONING HER DREAM

OF BEING AN OPERA SINGER, BUT SHE GAVE

VOICE AND VIOLIN AND PIANO LESSONS,

DIRECTED A CHOIR,

AND EARNED MORE THAN HER HUSBAND.

GRACE EXPOSED ALL OF HER CHILDREN TO THE ARTS,

BUT SHE NEVER LET THEM FORGET THAT SHE HAD SACRIFICED

A CONCERT CAREER TO RAISE THEM.

IF THEY LOVED HER, SHE SAID, THEY WOULD DO

WHATEVER SHE TOLD THEM TO DO.

IT AMUSED HER FOR A TIME TO PRETEND THAT ERNEST

AND HIS OLDER SISTER MARCELLINE WERE SOMEHOW TWINS,

SOMETIMES TWO BOYS, SOMETIMES TWO GIRLS.

WOMAN: SHE DID THIS THING OF TWINNING HIM WITH HIS SISTER.

SHE DRESSED THEM ALIKE.

SHE DRESSED THEM IN DRESSES OFTEN,

BUT THEN SHE'D PUT THEM IN OVERALLS.

SHE DIDN'T ONLY DRESS HIM UP AS A GIRL.

SOMETIMES, SHE'D DRESS THE GIRLS UP AS BOYS,

AND THERE'S THIS--THERE IS THIS ANDROGYNY GOING ON.

WOMAN, AS MARCELLINE: WE WORE OUR HAIR EXACTLY THE SAME

IN A SQUARE-CUT DUTCH BOB.

WE PLAYED WITH SMALL CHINA TEA SETS.

WE HAD DOLLS ALIKE, AND WHEN ERNEST WAS GIVEN

A LITTLE AIR RIFLE, I HAD ONE, TOO.

NARRATOR: ONE OF HIS TEACHERS THOUGHT GRACE TOO CLOSE

TO HER SON, TOO CONTROLLING.

SHE REMEMBERED WONDERING IF, "GIVEN THE LUSH MOTHERHOOD

HE KNEW, HE WOULD FIND WIFE."

[BIRDS CHIRPING, DUCKS QUACKING]

MAN, AS HEMINGWAY: HIS FATHER CAME BACK TO HIM

IN THE FALL OF THE YEAR,

OR IN THE EARLY SPRING WHEN THERE HAD BEEN JACKSNIPE

ON THE PRAIRIE,

OR WHEN HE SAW SHOCKS OF CORN,

OR WHEN HE SAW A LAKE,

OR IF HE EVER SAW A HORSE AND BUGGY,

OR WHEN HE SAW, OR HEARD, WILD GEESE,

OR IN A DUCK BLIND.

HIS FATHER WAS WITH HIM, SUDDENLY,

IN DESERTED ORCHARDS AND IN NEW-PLOWED FIELDS,

IN THICKETS, ON SMALL HILLS,

OR WHEN GOING THROUGH DEAD GRASS,

WHENEVER SPLITTING WOOD OR HAULING WATER,

BY GRIST MILLS, CIDER MILLS, AND DAMS

AND ALWAYS WITH OPEN FIRES.

NARRATOR: ERNEST WORSHIPPED HIS FATHER,

WHO SPENT HOURS TEACHING HIM HOW TO HUNT AND FISH AND CANOE,

INCULCATING A LIFE-LONG FASCINATION

WITH THE OUTDOORS AND WITH LEARNING PRECISELY

HOW THINGS SHOULD BE DONE.

MAN: HE INSTILLED IN THIS BOY BEFORE THE BOY

ALMOST COULD WALK THIS PRIMAL FEELING

FOR THE BEAUTY OF NATURE,

JUST THE ORGANIC LOVE FOR THE WOODS, FOR WATER.

NARRATOR: BUT ED HEMINGWAY WAS ALSO SEVERE, PIOUS,

OPPOSED TO DRINKING, CARD-PLAYING, AND DANCING

AND, AS ERNEST GREW OLDER,

INCREASINGLY ANXIOUS, MOODY, AND UNPREDICTABLE.

ONE MINUTE HE WAS LAUGHING WITH HIS CHILDREN,

THE NEXT HE WAS PUNISHING THEM WITH A LEATHER STRAP.

TWICE, HEMINGWAY'S FATHER WAS SO CRIPPLED BY DEPRESSION

THAT HE HAD TO LEAVE TOWN FOR SEVERAL WEEKS

IN ORDER TO REST WHAT HIS WIFE CALLED

"THE WORRYING PLACE IN YOUR BRAIN."

BY THE TIME ERNEST WAS A TEENAGER, HE REMEMBERED,

HIS ADMIRATION FOR HIS FATHER HAD BEGUN TO TURN TO PITY.

HE CAME TO SEE HIM AS WEAK AND SUBMISSIVE

AND BLAMED HIS MOTHER FOR HIS FATHER'S UNHAPPINESS.

ERNEST DREAMED OF ONE DAY BECOMING A NATURALIST

OR AN EXPLORER LIKE HIS HERO THEODORE ROOSEVELT.

HE WAS ALSO A GOOD STUDENT AND A FERVENT READER,

WHO LOVED O. HENRY, JACK LONDON, AND RUDYARD KIPLING.

AT HIS MOTHER'S URGING,

HE SANG IN HER CONGREGATIONAL CHURCH CHOIR

AND PLAYED THE CELLO.

HE REMEMBERED THAT HE ESPECIALLY ENJOYED THE REPETITION

AND COUNTERPOINT, COUNTERPOINT AND REPETITION

THAT RAN THROUGH THE WORKS OF BACH.

WOMAN: SHE ALSO TAUGHT HER KIDS WHAT EVERY MUSICIAN

TEACHES THEIR KIDS, TO PRACTICE.

"DON'T COME TO ME AND SAY THAT YOU LOVE ART

"IF YOU DON'T PRACTICE YOUR ART BECAUSE PRACTICE IS LOVE.

WORK IS LOVE."

AND THROUGHOUT HIS LIFE,

HE WAS A TREMENDOUSLY DISCIPLINED WRITER.

NARRATOR: IN HIS JUNIOR YEAR, HE BEGAN TO WRITE,

CONTRIBUTING SPORTS STORIES AND TALES OF ADVENTURE

TO THE HIGH SCHOOL PAPER AND ITS LITERARY MAGAZINE,

BUT HE WAS REMEMBERED MOST BY HIS CLASSMATES

AS A BIG, HANDSOME, SLIGHTLY AWKWARD BOY

FOND OF BOXING BUT TOO NEARSIGHTED AND TOO CLUMSY

TO EXCEL AT TEAM SPORTS,

WHO WAS SHY WITH GIRLS AND PREFERRED TO HUNT

AND HIKE AND FISH IN THE WOODS

OF NORTHERN MICHIGAN WHENEVER HE GOT THE CHANCE.

HIS SHYNESS WITH WOMEN WOULD EVENTUALLY EVAPORATE,

BUT HE WOULD REMAIN EAGER ALL HIS LIFE

FOR THE COMPANY OF MEN WHO SHARED HIS LOVE

OF GOOD TIMES AND THE GREAT OUTDOORS.

[EXPLOSIONS]

♪

♪

NARRATOR: ON APRIL 6, 1917, THE UNITED STATES

ENTERED THE GREAT WAR THAT HAD BEEN UNDERWAY

IN EUROPE FOR NEARLY 3 YEARS.

MILLIONS OF YOUNG MEN HAD ALREADY BEEN SLAUGHTERED.

THE WORLD ERNEST HEMINGWAY'S PARENTS HAD PREPARED HIM FOR

HAD DISAPPEARED.

SEVERAL OF HIS HIGH SCHOOL CLASSMATES

HAD ALREADY VOLUNTEERED TO GO TO WAR.

HE HOPED TO GO, TOO, BUT HE WAS TOO YOUNG AT 17,

AND HIS PARENTS WOULD NOT SIGN THE PAPERS

THAT WOULD HAVE WAIVED THAT REQUIREMENT.

THEY WANTED HIM TO GO TO COLLEGE.

HE REFUSED.

A COMPROMISE WAS EVENTUALLY REACHED.

AN UNCLE GOT THE BOY A JOB AT A NEWSPAPER IN KANSAS CITY.

KANSAS CITY WAS A TOUGH, WIDE-OPEN TOWN,

AND THE "KANSAS CITY STAR" WAS ONE OF THE BEST PAPERS

IN THE COUNTRY,

A PIONEER IN CRISP, CLEAR, IMMEDIATE REPORTING.

ITS STYLE-SHEET SET THE TONE.

MAN: USE SHORT SENTENCES.

USE SHORT FIRST PARAGRAPHS.

USE VIGOROUS ENGLISH.

BE POSITIVE, NOT NEGATIVE.

AVOID THE USE OF ADJECTIVES.

NARRATOR: HEMINGWAY COVERED SHOOTINGS, STABBINGS,

LABOR TROUBLES, A SMALLPOX SCARE.

HE WAS FASCINATED BY ALL OF IT,

AND ECHOES OF WHAT HE HAD HEARD AND SEEN IN KANSAS CITY

WOULD APPEAR AGAIN AND AGAIN IN HIS LATER WRITING.

MAN, AS HEMINGWAY: DEAR DAD, WE ARE HAVING

A LAUNDRY STRIKE HERE,

AND I AM HANDLING THE POLICE END.

THE VIOLENCE STORIES.

WRECKING TRUCKS, RUNNING THEM OVER CLIFFS,

AND YESTERDAY, THEY MURDERED A NON-UNION GUARD.

FOR OVER A MONTH I HAVE AVERAGED

OVER A COLUMN A DAY.

NARRATOR: AFTER HEMINGWAY TURNED 18,

HE NO LONGER NEEDED HIS PARENTS' PERMISSION TO JOIN THE ARMY,

BUT HE WAS CONVINCED HE WOULD BE REJECTED

BECAUSE HE WAS NEAR-SIGHTED AND JOINED

THE RED CROSS AMBULANCE SERVICE INSTEAD.

NOTHING COULD HAVE PREPARED HIM FOR WHAT HE WAS ABOUT TO SEE.

HEMINGWAY WAS SENT TO ITALY,

WHERE HE WAS IMMEDIATELY DISPATCHED TO THE SCENE

OF A HORRIFIC DISASTER.

A MUNITIONS FACTORY HAD EXPLODED.

35 WORKERS WERE BLOWN TO PIECES.

HE HELPED GATHER UP THE DEAD, INCLUDING THE CORPSE

OF A HEADLESS, LEGLESS WOMAN.

"HEMMIE AND I NEARLY PASSED OUT COLD,"

A FRIEND REMEMBERED, "BUT GRITTED OUR TEETH

AND LAID THE THING ON THE STRETCHER."

HEMINGWAY'S RED CROSS UNIT WAS ASSIGNED TO THE ITALIAN ARMY,

FIGHTING THE AUSTRIANS IN THE FOOTHILLS

OF THE ITALIAN ALPS.

HE DROVE AN AMBULANCE FOR ALMOST TWO WEEKS,

BRINGING WOUNDED ITALIAN SOLDIERS DOWN

FROM THE MOUNTAINS.

"THERE'S NOTHING HERE BUT SCENERY

AND TOO DAMN MUCH OF THAT," HE TOLD A FRIEND.

"I'M GOING TO GET OUT OF THIS AMBULANCE SECTION

AND SEE IF I CAN'T FIND OUT WHERE THE WAR IS."

ERNEST VOLUNTEERED TO BICYCLE UP TO THE FRONTLINE TRENCHES

NEAR THE TOWN OF FOSSALTA AND DISTRIBUTE

CANDY AND CIGARETTES TO THE MEN.

LESS THAN A WEEK LATER, ON JULY 8, 1918,

HE WAS PASSING OUT CHOCOLATE BARS

IN A FORWARD LISTENING POST ON THE WEST BANK

OF THE PIAVE RIVER

WHEN AN ENEMY MORTAR SHELL EXPLODED JUST 3 FEET AWAY.

ONE SOLDIER WAS KILLED.

ANOTHER HAD HIS LEGS BLOWN OFF.

MORE THAN 220 SHARDS OF SHRAPNEL RIPPED INTO HEMINGWAY'S LEGS

AND LACERATED HIS SCALP, AND THE BLAST CAUSED

THE FIRST OF MANY SERIOUS CONCUSSIONS

HE WOULD ENDURE DURING HIS LIFETIME.

MAN, AS HEMINGWAY: I DIED THEN.

I FELT MY SOUL OR SOMETHING COMING RIGHT OUT OF MY BODY,

LIKE YOU'D PULL A SILK HANDKERCHIEF

OUT OF A POCKET BY ONE CORNER.

IT FLEW AROUND AND THEN CAME BACK

AND WENT IN AGAIN, AND I WASN'T DEAD ANYMORE.

NARRATOR: AS STRETCHER-BEARERS STRUGGLED TO GET HEMINGWAY

TO AN AID STATION,

AN ENEMY MACHINE GUNNER OPENED UP.

BULLETS LODGED IN HIS RIGHT KNEE AND FOOT.

HE REFUSED TO BE TREATED FOR A TIME BECAUSE HE SAID

THERE WERE OTHER MEN MORE SERIOUSLY WOUNDED THAN HE.

HE THEN ENDURED THE REMOVAL OF THE LARGEST PIECES

OF SHRAPNEL WITHOUT ANESTHETIC.

BECAUSE HIS WOUNDS SEEMED SO SEVERE,

A CATHOLIC PRIEST ADMINISTERED EXTREME UNCTION.

ITALY WOULD EVENTUALLY AWARD HIM ITS SILVER MEDAL

FOR WHAT THE CITATION CALLED

HIS "ADMIRABLE SPIRIT OF FRATERNITY."

HEMINGWAY FINALLY REACHED THE AMERICAN RED CROSS HOSPITAL

IN MILAN AND UNDERWENT A FURTHER SERIES OF SURGERIES

TO REMOVE THE REMAINING SHRAPNEL AND THE MACHINE GUN BULLETS.

MAN, AS HEMINGWAY: DEAR FOLKS, THIS IS A PEACH OF A HOSPITAL.

THERE ARE ABOUT 18 AMERICAN NURSES

TO TAKE CARE OF 4 PATIENTS.

I'M ENCLOSING A PICTURE OF ME IN BED.

IT LOOKS LIKE MY LEFT LEG WAS A STUMP,

BUT IT REALLY ISN'T,

JUST BENT SO IT LOOKS THAT WAY.

THERE IS NOTHING FOR YOU TO WORRY ABOUT

BECAUSE IT HAS BEEN FAIRLY CONCLUSIVELY PROVED

THAT I CAN'T BE BUMPED OFF,

AND WOUNDS DON'T MATTER.

I WOULDN'T MIND BEING WOUNDED AGAIN SO MUCH

BECAUSE I KNOW JUST WHAT IT IS LIKE,

AND YOU CAN ONLY SUFFER SO MUCH, YOU KNOW,

AND IT DOES GIVE YOU AN AWFULLY SATISFACTORY FEELING

TO BE WOUNDED.

IT'S GETTING BEATEN UP IN A GOOD CAUSE.

THERE ARE NO HEROES IN THIS WAR.

ALL THE HEROES ARE DEAD,

AND THE REAL HEROES ARE THE PARENTS.

DYING IS A VERY SIMPLE THING.

I'VE LOOKED AT DEATH, AND REALLY I KNOW.

IF I SHOULD HAVE DIED, IT WOULD HAVE BEEN

VERY EASY FOR ME,

AND HOW MUCH BETTER TO DIE IN ALL THE HAPPY PERIOD

OF UNDISILLUSIONED YOUTH,

TO GO OUT IN A BLAZE OF LIGHT,

THAN TO HAVE YOUR BODY WORN OUT AND OLD

AND ILLUSIONS SHATTERED.

SO, DEAR OLD FAMILY, DON'T EVER WORRY ABOUT ME!

IT ISN'T BAD TO BE WOUNDED:

I KNOW BECAUSE I'VE EXPERIENCED IT,

AND IF I DIE, I'M LUCKY.

WOMAN: AUGUST 26.

ERNEST HEMINGWAY IS GETTING EARNEST.

HE WAS TALKING LAST NIGHT OF WHAT MIGHT BE

IF HE WAS 26 OR 28.

IN SOME WAYS--AT SOME TIMES-- I WISH VERY MUCH THAT HE WAS.

HE IS ADORABLE, AND WE ARE VERY CONGENIAL

IN EVERY WAY.

NARRATOR: AS HE WAS RECOVERING, HEMINGWAY FELL IN LOVE

WITH HIS NIGHT NURSE,

AN AMERICAN NAMED AGNES VON KUROWSKY.

SHE WAS AUBURN-HAIRED AND 26,

7 1/2 YEARS OLDER THAN HER PATIENT,

ENGAGED TO A DOCTOR BACK HOME, AND FLIRTATIOUS.

HE BEGAN CALLING HER "AG."

SHE CALLED HIM "KID," AND OVER THE WEEKS

THAT FOLLOWED, SHE GAVE HIM A RING TO WEAR,

ENJOYED WITH HIM THE WINE AND COGNAC

HE BRIBED THE PORTER TO SMUGGLE IN,

TOOK WALKS AND CARRIAGE RIDES WITH HIM

AS SOON AS HE WAS ABLE TO LEAVE HIS ROOM,

AND SHE WAS ONCE REPRIMANDED BY HER SUPERIOR

FOR HAVING LEFT A GOLD HAIR-PIN BENEATH HIS PILLOW.

WHEN AGNES WAS TRANSFERRED TO AN ARMY HOSPITAL

IN FLORENCE, ERNEST WROTE HER SO MANY LETTERS,

SHE URGED HIM TO SLOW DOWN,

BUT SHE ALSO TOLD HIM SHE WAS LOST WITHOUT HIM,

WISHED SHE COULD PUT HER ARMS AROUND HIM,

DREAMED OF HIM EVERY NIGHT.

"I SOMETIMES WISH WE COULD MARRY OVER HERE," SHE WROTE,

AND SHE SIGNED SOME OF HER LETTERS "MRS. KID,"

BUT SHE SIGNED OTHERS SIMPLY, "YOURS TILL THE WAR IS OVER."

TO FILL THE HOURS WHILE SHE WAS AWAY,

ERNEST BEGAN TO WRITE A SHORT STORY

ABOUT A HIDEOUSLY WOUNDED AMERICAN SOLDIER,

WHO MUSES OVER THE MEDALS HE'D BEEN GIVEN FOR HIS HEROISM

AND THE MEANINGLESS CITATION THAT ACCOMPANIED THEM

AND THEN DECIDES TO KILL HIMSELF.

BY THE TIME HEMINGWAY WAS FINALLY WELL ENOUGH TO SAIL

FOR HOME IN EARLY 1919, THE WAR HAD ENDED,

AND HE WAS DETERMINED, HE SAID, TO "MAKE THE WORLD SAFE

FOR ERNEST HEMINGWAY."

AS SOON AS HIS WRITING PROVIDED HIM WITH A LIVING,

HE AND AGNES WOULD MARRY.

NARRATOR: AS HEMINGWAY LIMPED DOWN THE GANGPLANK IN NEW YORK,

A REPORTER FROM THE "NEW YORK SUN"

WAS THERE TO MEET HIM.

HE MADE THE FIRST OF THE HUNDREDS

OF NATIONAL HEADLINES HE WOULD MAKE DURING HIS LIFETIME.

HE RETURNED TO OAK PARK TO A HERO'S WELCOME.

HE LOVED THE ADULATION, WAS DELIGHTED

WHEN AN ITALIAN-AMERICAN DELEGATION CAME OUT

FROM CHICAGO TO HIS MOTHER'S MUSIC ROOM

TO HONOR HIM FOR HIS COURAGE UNTIL HIS TEETOTALING PARENTS--

APPALLED BY THE FREE-FLOWING WINE--

PUT A STOP TO SUCH VISITS.

WHENEVER HE LEFT HIS PARENTS' HOUSE,

HE WORE HIS UNIFORM,

COMPLETE WITH A BLACK VELVET ITALIAN CAPE,

AND HE APPEARED BEFORE LOCAL GROUPS,

RETELLING AND EMBELLISHING HIS WAR STORIES FOR A FEE,

THOUGH HE SAID HE HAD NOTHING BUT CONTEMPT

FOR THOSE WHO WANTED TO BE "VICARIOUSLY HORRIFIED."

BUT NOW HE CLAIMED, DESPITE HIS WOUNDS,

HE'D MANAGED TO CARRY AN INJURED MAN TO SAFETY

BEFORE COLLAPSING, AND HE LET HIS AUDIENCES BELIEVE

THAT, ALTHOUGH HE STILL COULD NOT WALK WITHOUT A CANE,

HE'D SOMEHOW BEEN ABLE TO RETURN TO THE FRONT

AND FIGHT ALONGSIDE AN ELITE UNIT OF THE ITALIAN ARMY

BEFORE THE SHOOTING STOPPED.

MAN, AS HEMINGWAY: TO BE LISTENED TO AT ALL HE

HAD TO LIE,

AND AFTER HE HAD DONE THIS TWICE,

HE, TOO, HAD A REACTION AGAINST THE WAR

AND AGAINST TALKING ABOUT IT.

A DISTASTE FOR EVERYTHING THAT HAD HAPPENED TO HIM

IN THE WAR SET IN

BECAUSE OF THE LIES HE HAD TOLD.

NARRATOR: WHEN ERNEST WAS NOT MAKING PUBLIC APPEARANCES,

HE WAS IN HIS THIRD-FLOOR BEDROOM UNDER THE EAVES,

HUNCHED OVER AN OLD TYPEWRITER, WRITING WAR STORIES

AND SENDING THEM OFF TO THE "SATURDAY EVENING POST"

AND "REDBOOK," TRYING TO SHOW AGNES AND HIS PARENTS

THAT HE COULD MAKE IT AS A WRITER.

ALL THE STORIES WERE REJECTED.

DESPITE THE BRAVADO WITH WHICH

HE FACED HIS NEIGHBORS, HE HAD BEEN DEEPLY AFFECTED

BY THE WAR AND BY HIS WOUNDING.

AN OLD FRIEND WHO VISITED HIM THAT WINTER REMEMBERED

THAT "HE CAME BACK FIGURATIVELY AS WELL AS LITERALLY

SHOT TO PIECES."

HE COULD NOT SLEEP WITHOUT A LIGHT

BECAUSE HE HAD BEEN WOUNDED AT NIGHT

AND HAD COME TO BELIEVE, HE WOULD WRITE,

"THAT IF I EVER SHUT MY EYES IN THE DARK AND LET MYSELF GO,

MY SOUL WOULD GO OUT OF MY BODY."

HIS SISTER URSULA SOMETIMES SLEPT IN HIS ROOM

TO SOOTHE HIS FEARS.

ALL HIS LIFE, HE WOULD BE FRIGHTENED OF SLEEPING ALONE.

HIS GREAT CONSOLATION WAS THAT AGNES WOULD SOON

BE COMING HOME TO MARRY HIM.

WOMAN, AS AGNES: MARCH 7, 1919.

ERNIE, DEAR BOY, I AM WRITING THIS

LATE AT NIGHT AFTER A LONG THINK BY MYSELF,

AND I AM AFRAID IT IS GOING TO HURT YOU,

BUT I'M SURE IT WON'T HARM YOU PERMANENTLY.

FOR QUITE A WHILE BEFORE YOU LEFT,

I WAS TRYING TO CONVINCE MYSELF IT WAS A REAL LOVE-AFFAIR,

BUT NOW, AFTER A COUPLE OF MONTHS AWAY FROM YOU,

I KNOW THAT I AM STILL VERY FOND OF YOU,

BUT IT IS MORE AS A MOTHER THAN AS A SWEETHEART,

AND I CAN'T GET AWAY FROM THE FACT

THAT YOU'RE JUST A BOY, A KID.

I EXPECT TO BE MARRIED SOON.

AND I HOPE AND PRAY THAT AFTER YOU HAVE THOUGHT

THINGS OUT, YOU'LL BE ABLE TO FORGIVE ME AND START

A WONDERFUL CAREER AND SHOW WHAT A MAN YOU REALLY ARE.

EVER ADMIRINGLY AND FONDLY, YOUR FRIEND, AGGIE.

NARRATOR: ERNEST IMMEDIATELY WROTE TO BILL HORNE,

A FRIEND FROM THE AMBULANCE SERVICE.

MAN, AS HEMINGWAY: IT HAS HIT ME SO SUDDEN.

SHE DOESN'T LOVE ME, BILL.

SHE TAKES IT ALL BACK.

A "MISTAKE," ONE OF THOSE LITTLE MISTAKES, YOU KNOW.

OH, BILL, I CAN'T KID ABOUT IT

BECAUSE I'M JUST SMASHED BY IT,

BUT SHE DOESN'T LOVE ME NOW, BILL,

AND SHE IS GOING TO MARRY SOMEONE ELSE,

AND SHE HOPES THAT AFTER I HAVE FORGIVEN HER

I WILL HAVE A WONDERFUL CAREER AND EVERYTHING,

BUT, BILL, I DON'T WANT A WONDERFUL CAREER.

ALL I WANTED WAS AG AND HAPPINESS,

AND NOW THE BOTTOM HAS DROPPED OUT OF THE WHOLE WORLD.

NARRATOR: HE DEVELOPED A FEVER, REFUSED TO SEE ANYONE,

BEGAN DRINKING SECRETLY FROM BOTTLES OF LIQUEUR

HE HID IN HIS BOOKCASE, STOPPED WRITING FOR A TIME.

THERE SEEMED TO BE NO POINT.

I DON'T KNOW HOW MUCH HE TRUSTED WOMEN AFTER THAT.

I JUST DON'T,

BUT I DO KNOW HE LOVED BEING IN LOVE.

NARRATOR: HE'D BEEN A BIG-CITY NEWSPAPERMAN,

HAD EXPERIENCED WAR AND NEARLY BEEN KILLED,

HAD BEEN DISAPPOINTED IN LOVE

AND SOMEHOW NOW FOUND HIMSELF BACK HOME,

STILL BEING TREATED AS IF HE WERE A BOY,

AS IF NONE OF IT HAD HAPPENED.

KATAKIS: THINGS WERE OUT THERE.

HE SEEMS TO HAVE BEEN HUNGRY FROM AN EARLY AGE,

AND HE COULD NEVER HAVE BEEN IN MY OPINION,

ESPECIALLY AFTER THE FIRST WORLD WAR,

CONTAINED BY OAK PARK'S QUIET SUNDAYS AND PERFECT LAWNS.

I THINK THAT WAS IMPOSSIBLE THEN.

SO THAT, OF COURSE, LED TO A CONFLICT WITH HIS FAMILY,

WHO FELT AFTER WAR YOU SHOULD BE

WHAT THEY PERCEIVED YOU TO BE BEFORE YOU LEFT,

BUT YOU'RE NO LONGER THE SAME PERSON.

HE WAS NO LONGER THE SAME PERSON.

NARRATOR: THE PAIN OF LOSING AGNES EVENTUALLY EASED.

THAT SUMMER, ERNEST TOLD A FRIEND,

HE UNDERWENT WHAT HE CALLED A "PROCESS OF CAUTERIZATION

"IN WHICH COGNAC AND 2 OR 3 GIRLS I CARED NOTHING ABOUT

BUT VIOLENTLY RUSHED TOOK THE PLACE OF THE RED IRON."

HEMINGWAY EVENTUALLY RETURNED TO HIS TYPEWRITER THAT FALL,

FIRST WRITING MORE STORIES IN A RENTED ROOM

IN PETOSKEY, MICHIGAN, THEN IN TORONTO,

WRITING FREELANCE PIECES FOR THE "DAILY STAR"

AND "STAR WEEKLY" ABOUT FISHING AND CHICAGO GANGSTERS

AND THE DANGERS OF ACCEPTING A FREE SHAVE

AT A BARBER'S COLLEGE.

BUT WHEN HE RETURNED TO HIS FAMILY AT WALLOON LAKE

IN THE SUMMER OF 1920, THINGS WENT FROM BAD TO WORSE.

HE SEEMED UNINTERESTED IN LOOKING FOR A STEADY JOB,

SPOKE VAGUELY OF BOARDING A FREIGHTER

AND SAILING AROUND THE WORLD

AS ONE OF HIS FAVORITE WRITERS JACK LONDON HAD DONE.

WHEN HIS MOTHER OBJECTED, HE SNAPPED AT HER.

HIS FATHER EXHORTED HIM TO "SOFTEN YOUR TEMPER

AND FEAR GOD AND RESPECT WOMAN."

THINGS CAME TO A HEAD 6 DAYS AFTER HIS 21st BIRTHDAY.

HE AND TWO OF HIS YOUNGER SISTERS JOINED FRIENDS,

INCLUDING THEIR NEIGHBOR'S TEENAGE DAUGHTERS,

AT A SECRET MOONLIGHT PARTY ACROSS THE LAKE.

WHEN HIS MOTHER FOUND OUT ABOUT IT, SHE WAS FURIOUS.

HE WAS OLD ENOUGH TO KNOW BETTER, SHE TOLD HIM.

HE WAS CORRUPTING THE MORALS OF MINORS,

HE WAS A DISGRACE TO HIS FAMILY.

SHE HANDED HIM A LETTER ADDRESSED

TO "MY DEAR SON ERNEST."

IT BEGAN WITH A CATALOGUE OF THE SACRIFICES

SHE SAID SHE HAD MADE FOR HIS BENEFIT.

"A MOTHER'S LOVE," SHE TOLD HIM, WAS "LIKE A BANK."

SHE HAD MADE ALL THE EARLY DEPOSITS--

THE PAIN OF CHILDBIRTH, THE SLEEPLESS NIGHTS,

THE YEARS OF PATIENT UNDERSTANDING

AND ENCOURAGEMENT,

BUT NOW THAT "FULL MANHOOD" WAS HERE,

IT WAS HIS TURN TO MAKE "DEPOSITS" OF HIS OWN, SHE SAID.

WOMAN, AS GRACE: UNLESS YOU, MY SON, ERNEST,

COME TO YOURSELF, CEASE YOUR LAZY LOAFING

AND PLEASURE SEEKING-- BORROWING WITH NO THOUGHT

OF RETURNING--

STOP TRYING TO GRAFT A LIVING OFF ANYBODY,

AND EVERYBODY, SPENDING ALL YOUR EARNINGS

LAVISHLY AND WASTEFULLY ON LUXURIES FOR YOURSELF--

STOP TRADING ON YOUR HANDSOME FACE

TO FOOL LITTLE GULLIBLE GIRLS,

AND NEGLECTING YOUR DUTIES TO GOD

AND YOUR SAVIOR JESUS CHRIST,

UNLESS, IN OTHER WORDS, YOU COME INTO YOUR MANHOOD,

THERE IS NOTHING BEFORE YOU, BUT BANKRUPTCY.

YOU HAVE OVERDRAWN.

NARRATOR: ERNEST WAS TO LEAVE HOME, SHE SAID,

AND NOT "COME BACK UNTIL YOUR TONGUE HAS LEARNED

NOT TO INSULT AND SHAME YOUR MOTHER."

"MAKES A GUY FEEL KIND OF ROTTEN,"

ERNEST TOLD A FRIEND, "TO KNOW THAT

HE HASN'T ANY HOME, EVEN IF HE DOESN'T USE IT."

HE AND HIS MOTHER WOULD EVENTUALLY RECONCILE,

BUT HEMINGWAY'S ANTIPATHY

TOWARD HER WOULD NEVER DISSIPATE,

YET OF ALL HER CHILDREN, HE WOULD BECOME

THE MOST LIKE HER-- OPINIONATED, JUDGMENTAL,

CONTROLLING, SELF-DRAMATIZING.

ERNEST MOVED TO CHICAGO, ROOMED WITH OLD FRIENDS,

AND GOT TO KNOW THE CELEBRATED WRITER SHERWOOD ANDERSON,

WHO BECAME SOMETHING OF A MENTOR.

HEMINGWAY SUPPORTED HIMSELF WRITING AD COPY

AND WORKED AWAY AT SHORT STORIES AT NIGHT.

NO ONE SEEMED INTERESTED IN THEM.

WOMAN: ALL WRITERS ARE NARCISSISTIC.

THAT'S NOT THE SAME AS BEING A NARCISSIST,

AS BEING A SOCIOPATH,

BUT NO ONE CAN SIT IN A ROOM BY THEMSELVES

12 HOURS A DAY, THINKING ABOUT WHAT THEY'RE THINKING

AND NOT BE A LITTLE MORE SELF-FOCUSED

THAN THE NORMAL PERSON.

YOU'RE DEFINITELY ON THE FAR END OF THE BELL CURVE.

WOMAN: OH, MR. HEMINGWAY, HOW I LOVE YOU.

HOW EXCITING YOU ARE.

HOW A LOT OF THINGS HAPPEN AROUND YOU,

AND BESIDES ALL THAT, I LOVE YOU ANYWAY.

HOW I LOVE THE WAY YOU LOVE ME,

AND YOUR FLANNEL SHIRT SEEMS A STRANGELY BEAUTIFUL THING,

AND IT SMELLS SO GOOD BESIDES.

SOME DAY, IF I DON'T WATCH OUT, THERE'LL BE A POEM

ON THE SMELL OF A CLEAN WHITE SHIRT

THAT'LL RAISE UP THE HAIR ON THE DEAD.

HADLEY RICHARDSON.

NARRATOR: ONE OCTOBER EVENING IN 1920,

HEMINGWAY ATTENDED A PARTY AT A FRIEND'S APARTMENT

AND WAS INTRODUCED TO A VISITOR FROM ST. LOUIS.

"THE MOMENT SHE ENTERED THE ROOM,

AN INTENSE FEELING CAME OVER ME,"

HEMINGWAY REMEMBERED MANY YEARS LATER.

"I KNEW SHE WAS THE GIRL I WAS GOING TO MARRY."

ELIZABETH HADLEY RICHARDSON WAS 28,

THE SHY PRODUCT OF A WELL-TO-DO FAMILY

FAR MORE TENSE AND TROUBLED EVEN THAN HIS.

HER ALCOHOLIC FATHER HAD SHOT HIMSELF WHEN SHE WAS 13.

A BELOVED SISTER HAD BURNED TO DEATH.

SHE HERSELF HAD SUFFERED A NERVOUS BREAKDOWN

AT BRYN MAWR AND BEEN FORCED TO SPEND THE LAST 8 YEARS

AT HOME, CARING FOR HER ERRATIC AND DOMINEERING MOTHER,

SOMETIMES DRIVEN TO SUCH DESPAIR

THAT HADLEY CONSIDERED SUICIDE.

HER MOTHER HAD DIED JUST WEEKS BEFORE SHE MET HEMINGWAY.

SHE WAS EAGER, SHE RECALLED, TO FIND SOMEONE

WITH WHOM SHE COULD BEGIN TO BUILD A LIFE OF HER OWN.

WOMAN, AS RICHARDSON: I NEED YOU IN EVERY PART OF MY LIFE.

I WANT TO BE KISSED.

I WANT TO PULL YOUR HEAD DOWN ON MY HEART

AND HOLD IT VERY CLOSE AND CRADLE YOU THERE

FOR HOURS, YOU BLESSED THING.

LOVE YOU, LOVE YOU, YOUR OWNEST IN THE WORLD.

NARRATOR: FALLING IN LOVE WITH HEMINGWAY, HADLEY SAID,

WAS A "GREAT EXPLOSION INTO LIFE."

WITHIN 6 WEEKS, HE WAS CALLING HER "HASH,"

AND THEY WERE TALKING OF MARRIAGE.

THEY WOULD NOT ACTUALLY WED FOR NEARLY A YEAR

AND WERE APART MOST OF THAT TIME,

BUT THEY WROTE ONE ANOTHER ALMOST DAILY.

MAN, AS HEMINGWAY: 'COURSE I LOVE YOU.

I LOVE YOU ALL THE TIME.

WHEN I WAKE UP IN THE MORNING AND HAVE TO CLIMB OUT OF BED

AND SPLASH AROUND AND SHAVE, I LOOK AT YOUR PICTURE

AND THINK ABOUT YOU,

AND IN THE EVENING, IT'S TOO MUCH TO STAND.

'NIGHT, MY DEAREST HASH.

I'D LIKE TO HOLD YOU SO AND KISS YOU SO

THAT YOU WOULDN'T DOUBT WHETHER I WANTED TO OR NOT.

LOVE YOU--ERNESTO

NARRATOR: HIS LOVE RESTORED HER SELF-CONFIDENCE

AFTER YEARS OF SELF-DOUBT.

"WE'RE THE SAME FIRM," SHE TOLD HIM.

"THE WORLD'S A JAIL,

AND WE'RE GONNA BREAK IT TOGETHER."

HER CONFIDENCE IN HIM WOULD HELP HIM REALIZE HIS TALENT.

WHEN ERNEST TOLD HADLEY HE NOW FELT READY TO START A NOVEL

BASED UPON HIS OWN BOYHOOD WITH "REAL PEOPLE,

TALKING AND SAYING WHAT THEY THINK,"

SHE SENT HIM A NEW CORONA TYPEWRITER.

FROM THE FIRST, SHE SEEMED TO UNDERSTAND

WHAT HE WAS TRYING TO DO.

SHE LOVED IT THAT HIS STYLE "ELIMINATED EVERYTHING

EXCEPT WHAT IS NECESSARY AND STRENGTHENING"...

BUT AS THEIR WEDDING DAY APPROACHED,

ANXIETY AND DEPRESSION AGAIN ENVELOPED HIM.

HE LOST WEIGHT, WORRIED THAT MARRIED LIFE

MIGHT NOT BE FOR HIM AFTER ALL

OR THAT HADLEY WOULD BETRAY HIM THE WAY AGNES HAD.

HE GREW DARKER AND DARKER.

HE HINTED TO HADLEY THAT HE WAS CONSIDERING SUICIDE.

WOMAN, AS RICHARDSON: I KNOW HOW IT FEELS 'CAUSE I HAVE

SO VERY MANY TIMES WANTED TO GO AND COULDN'T

ON ACCOUNT OF THE MESS I'D LEAVE SOME OTHER PEOPLE IN,

BUT REMEMBER IT WOULD KILL ME TO ALL INTENTS AND PURPOSES.

DON'T EVER GET CONFUSED WHEN SUCH A MOMENT COMES.

YOU GOTTA LIVE--

FIRST FOR YOU AND THEN FOR MY HAPPINESS.

YOU MUSTN'T FEEL SO HORRIBLY, DEAR ERN.

I'M ARRIVING SATURDAY TO LOVE YOU CLOSER.

NARRATOR: ON SATURDAY AFTERNOON, SEPTEMBER 3, 1921,

IN A METHODIST CHURCH NOT FAR FROM THE FAMILY COTTAGE

ON WALLOON LAKE, HADLEY RICHARDSON

BECAME MRS. ERNEST HEMINGWAY.

♪

MAN, AS HEMINGWAY: JANUARY 1922.

DEAR FAMILY, HASH JUST CAME IN

AND SAYS TO SEND LOTS OF LOVE TO YOU

AND TELL YOU ABOUT OUR APARTMENT.

IT IS AT 74 RUE DU CARDINAL LEMOINE

AND IS THE JOLLIEST PLACE YOU EVER SAW.

WE RENTED IT FURNISHED FOR 250 FRANCS A MONTH,

ABOUT $18.

IT IS THE MOST COMFORTABLE AND CHEAPEST WAY TO LIVE,

AND HASH HAS A PIANO, AND WE HAVE ALL OUR PICTURES

UP ON THE WALLS AND AN OPEN FIREPLACE.

IT IS ON TOP OF A HIGH HILL

IN THE VERY OLDEST PART OF PARIS.

NARRATOR: THE NEWLY-WED HEMINGWAYS' FIRST REAL HOME

WAS A FOURTH-FLOOR WALKUP IN THE LATIN QUARTER.

EACH EVENING, ACCORDION MUSIC DRIFTED UP

FROM THE WORKING-MAN'S DANCE-HALL NEXT DOOR.

HIS FRIEND AND MENTOR SHERWOOD ANDERSON

HAD PERSUADED ERNEST THAT FOR A YOUNG WRITER

PARIS WAS THE PLACE TO BE.

ONE COULD LIVE CHEAPLY THERE, AND THE LEFT BANK TEEMED

WITH REVOLUTIONARY ARTISTS AND WRITERS FROM EVERYWHERE--

PABLO PICASSO AND JOAN MIROÓ;

IGOR STRAVINSKY AND ERIK SATIE;

JAMES JOYCE AND GERTRUDE STEIN, WHO REMEMBERED PARIS

AS "THE PLACE WHERE THE 20th CENTURY WAS."

ERNEST WAS JUST 22 YEARS OLD, WORKING AS A CORRESPONDENT

FOR THE "TORONTO STAR,"

OTHERWISE UNPUBLISHED AND UNKNOWN,

BUT SHERWOOD ANDERSON HAD WRITTEN LETTERS OF INTRODUCTION

TO 3 INFLUENTIAL FRIENDS, GENEROUSLY DESCRIBING HIM

AS A "QUITE WONDERFUL NEWSPAPERMAN"

WHOSE "EXTRAORDINARY TALENT" WAS SURE TO TAKE HIM

FAR BEYOND JOURNALISM.

VAILL: HE'S TALL.

HE IS AS HANDSOME AS A MOVIE STAR.

HE HAS DIMPLES.

HE HAS A SWASHBUCKLING QUALITY TO HIM,

BUT HE HAS THIS KIND OF MIDWESTERN SWEETNESS

AT THE SAME TIME.

THE FACT IS THAT IF HE WOULD WALK INTO A ROOM

PEOPLE LOVED HIM THE MINUTE THEY SAW HIM,

AND THAT GIVES YOU A KIND OF CONFIDENCE

THAT YOU CAN DO ANYTHING.

NARRATOR: SHERWOOD ANDERSON'S FRIENDS DID

WHAT THEY COULD FOR THE NEWCOMER.

THE FIRST WAS THE AMERICAN EXPATRIATE POET EZRA POUND.

HE WAS WELL-CONNECTED IN AVANT-GARDE LITERARY CIRCLES

AND TALKED ERNEST UP TO EVERY MAGAZINE EDITOR HE KNEW.

GERTRUDE STEIN PRESIDED OVER A SALON AT THE HOME

SHE SHARED WITH HER PARTNER ALICE B. TOKLAS.

ART COLLECTOR, AVANT-GARDE WRITER,

CHAMPION OF MODERNISM IN ALL ITS FORMS,

SHE TOOK A LIKING TO THE HANDSOME,

EAGER YOUNG VISITOR WITH WHAT SHE REMEMBERED

AS "DARK LUMINOUS EYES" AND "A FLASHING SMILE."

SHE LIKED HIS TERSE, DECLARATIVE STYLE, TOO,

AND OFFERED ENCOURAGEMENT AND USEFUL ADVICE.

"MISS STEIN HAD DISCOVERED MANY TRUTHS ABOUT RHYTHMS

AND THE USES OF WORDS IN REPETITION,"

HEMINGWAY REMEMBERED, THAT ECHOED THE COUNTERPOINT

HE'D FIRST ENCOUNTERED IN THE MUSIC OF BACH.

STEIN ALSO INTRODUCED HIM TO THE WORLD OF MODERN ART.

HE WAS ESPECIALLY DRAWN TO THE WORK OF PAUL CEÉZANNE,

WHO PAINTED THE SAME SUBJECTS OVER AND OVER AGAIN,

BUILDING UP EACH IMAGE FROM THOUSANDS

OF REPETITIVE BRUSH STROKES.

MAN: CEÉZANNE--HE'S TRYING TO BREAK DOWN

NORMAL HABITS OF SEEING,

AND I THINK THAT'S WHAT HEMINGWAY LIKED.

THE GREAT ENEMY FOR HEMINGWAY IS BOREDOM AND ROUTINE

AND ANYTHING ACCUSTOMED,

AND I THINK HE SAW IN CEÉZANNE A MODEL FOR TAKING

THE SAME THING OVER AND OVER,

LANDSCAPE, LANDSCAPE, LANDSCAPE,

THE SAME MOUNTAIN, THE SAME MOUNTAIN,

AND RENDERING IT NEW

BY LOOKING AT IT IN DIFFERENT WAYS,

AND I THINK THAT'S THE MODEL FOR HIM.

NARRATOR: SYLVIA BEACH BECAME HEMINGWAY'S FRIEND, TOO.

SHE RAN SHAKESPEARE AND COMPANY,

A BOOKSTORE AND LENDING LIBRARY, AT 12 RUE DE L'ODEON.

SYLVIA BEACH: HE CAME INTO MY SHOP,

AND HE HAD AN INTRODUCTION FROM SHERWOOD ANDERSON,

BUT HE DIDN'T GIVE THAT.

HE'D FORGOTTEN TO BRING IT, AND HE DIDN'T NEED IT

BECAUSE I THOUGHT HE WAS SO INTERESTING,

AND HE SAID, "WOULD YOU LIKE TO SEE MY WOUNDS?"

AND I SAID, "YES, INDEED,"

AND HE TOOK OFF HIS SHOE AND HIS SOCK

AND SHOWED ME ALL THESE DREADFUL SCARS

ON HIS LEG AND FOOT,

AND THEN WE BECAME GREAT FRIENDS.

NARRATOR: SHAKESPEARE AND COMPANY WAS

A GATHERING PLACE FOR EXPATRIATE ARTISTS AND WRITERS.

HEMINGWAY CHARMED THEM ALL,

INCLUDING THE IRISH WRITER JAMES JOYCE,

WHOSE DARINGLY EXPLICIT NOVEL "ULYSSES"

SYLVIA BEACH HAD JUST PUBLISHED,

AND HE SET OUT TO EDUCATE HIMSELF,

BORROWING BOOKS FROM HER SHOP BY D.H. LAWRENCE, TURGENEV,

DOSTOEVSKY, TOLSTOY.

MAN, AS HEMINGWAY: FEBRUARY 14, 1922.

WE KNOW A GOOD BATCH OF PEOPLE NOW IN PARIS

AND IF WE ALLOWED IT WOULD HAVE ALL OUR TIME

TAKEN UP SOCIALLY, BUT I AM WORKING VERY HARD,

AND WE KEEP PLENTY OF TIME TO OURSELVES.

PARIS IS SO VERY BEAUTIFUL THAT IT SATISFIES SOMETHING

IN YOU THAT IS ALWAYS HUNGRY IN AMERICA.

NARRATOR: FOR THE REST OF HIS LIFE,

HEMINGWAY WOULD INSIST THAT HE AND HADLEY

HAD BEEN VIRTUALLY PENNILESS WHEN THEY LIVED IN PARIS.

THEY WERE NOT.

BESIDES HIS SALARY, SHE HAD AN INHERITANCE.

"WE ALWAYS HAD MONEY FOR ANYTHING

WE REALLY WANTED TO DO," HADLEY REMEMBERED,

"AND WE ALWAYS HAD MONEY FOR WHISKEY."

THE FIRST YEAR OF THEIR MARRIAGE CONSTITUTED

A SORT OF EXTENDED HONEYMOON-- EXPLORING PARIS, TREKKING,

FISHING, SKIING, BOBSLEDDING IN THE ALPS.

CUSHMAN: ONE OF THE THINGS ABOUT HIM IS THAT

HE'S COMMITTED TO TRAVEL.

HE LIKES, I THINK, MORE THAN ANYTHING,

TO BE A FOREIGNER, A STRANGER IN A STRANGE LAND.

EVERYTHING IS HEIGHTENED, AND TASTE IS HEIGHTENED,

VISION IS HEIGHTENED, SMELLS ARE HEIGHTENED.

NARRATOR: HEMINGWAY WROTE ABOUT EVERYTHING--

PARIS NIGHTLIFE AND GERMAN MANNERS,

FASCISM AND COMMUNISM AND WOMEN'S HATS--

ALWAYS WITH A WEARY, INSIDER'S TONE REMARKABLE

FOR A YOUNG MAN IN HIS EARLY TWENTIES,

AND WHENEVER HE COULD FIND THE TIME,

HE WORKED ON SHORT STORIES AND THE NOVEL

HE HAD BEGUN IN CHICAGO.

SOMETIMES, HE TOOK HADLEY ALONG ON ASSIGNMENT FOR THE "STAR"--

TO ITALY, WHERE HE SHOWED HER THE PLACE

WHERE HE'D BEEN WOUNDED,

TO THE BLACK FOREST FOR TROUT FISHING,

ABOARD A PIONEERING PASSENGER FLIGHT

FROM PARIS TO STRASBOURG--

BUT MORE OFTEN, HE TRAVELED ALONE,

GETTING TO KNOW HIS FELLOW REPORTERS,

COVERING AN INTERNATIONAL ECONOMIC CONFERENCE AT GENOA,

RIOTS IN COLOGNE,

AND IN THE AUTUMN OF 1922, OPEN WARFARE

BETWEEN GREECE AND TURKEY THAT SEEMED FOR A TIME

TO THREATEN A NEW WORLD WAR.

HE STOOD AND WATCHED AS A 20-MILE COLUMN

OF GREEK REFUGEES PASSED SLOWLY BY

IN FLIGHT FROM THE TURKISH ARMY.

MAN, AS HEMINGWAY: IT IS A SILENT PROCESSION.

NOBODY EVEN GRUNTS.

IT IS ALL THEY CAN DO TO KEEP MOVING.

THEIR BRILLIANT PEASANT COSTUMES ARE SOAKED AND DRAGGLED.

CHICKENS DANGLE BY THEIR FEET FROM THE CARTS.

AN OLD MAN MARCHES UNDER A YOUNG PIG,

A SCYTHE AND A GUN, WITH A CHICKEN TIED

TO HIS SCYTHE.

A HUSBAND SPREADS A BLANKET OVER A WOMAN IN LABOR

IN ONE OF THE CARTS TO KEEP OFF THE DRIVING RAIN.

SHE IS THE ONLY PERSON MAKING A SOUND.

HER LITTLE DAUGHTER LOOKS AT HER IN HORROR

AND BEGINS TO CRY.

AND THE PROCESSION KEEPS MOVING.

NARRATOR: LATER, HEMINGWAY JOINED OTHER REPORTERS

AT LAUSANNE, SWITZERLAND, WHERE EUROPEAN STATESMEN

WERE TRYING TO STOP THE FIGHTING.

ONE OF THE REPORTERS WITH WHOM HEMINGWAY DRANK

EACH EVENING WAS THE VETERAN CORRESPONDENT LINCOLN STEFFENS.

STEFFENS WAS IMPRESSED BY THE PIECE ERNEST HAD WRITTEN

ABOUT THE GREEK REFUGEES AND ASKED IF HE COULD SEE

MORE OF THE YOUNG MAN'S WRITING.

SO WHEN ERNEST ASKED HADLEY TO JOIN HIM IN SWITZERLAND,

SHE DECIDED TO BRING ALONG HIS WORK.

ON DECEMBER 2, 1922, SHE PACKED INTO A VALISE

ALL THE MANUSCRIPTS SHE COULD FIND AND TOOK

A TAXI TO THE GARE DE LYON.

A PORTER CARRIED THE VALISE ONTO A TRAIN.

WHEN SHE GOT TO HER COMPARTMENT, IT WASN'T THERE.

THE FIRST CHAPTERS OF HIS NOVEL WERE LOST.

SO WERE SEVERAL SHORT STORIES.

HADLEY WEPT ALL THE WAY TO LAUSANNE

AND WHEN SHE GOT THERE COULD BARELY BRING HERSELF

TO TELL HER HUSBAND WHAT HAD HAPPENED.

MAN, AS HEMINGWAY: SHE HAD CRIED AND CRIED

AND COULD NOT TELL ME.

I TOLD HER THAT NO MATTER WHAT THE DREADFUL THING WAS

THAT HAD HAPPENED NOTHING COULD BE THAT BAD,

AND WHATEVER IT WAS, IT WAS ALL RIGHT

AND NOT TO WORRY.

WE WOULD WORK IT OUT.

NARRATOR: BUT THEY DID NOT REALLY WORK IT OUT.

HEMINGWAY WAS ANGRY.

HE'D LOST, HE CLAIMED TO A FRIEND,

"EVERYTHING I'VE DONE FOR TWO YEARS."

HE WOULD HAVE TO START ALL OVER AGAIN,

THOUGH IN FACT, SOME WRITING SURVIVED.

HE WAS FURTHER SHAKEN SEVERAL WEEKS LATER

WHEN HADLEY TOLD HIM SHE WAS PREGNANT.

HE WAS JUST 23.

"I AM TOO YOUNG TO BE A FATHER," HE TOLD GERTRUDE STEIN,

AND HE SAID IT, SHE REMEMBERED "WITH REAL BITTERNESS."

MAN, AS HEMINGWAY: I WAS TRYING TO LEARN TO WRITE,

COMMENCING WITH THE SIMPLEST THINGS,

AND ONE OF THE SIMPLEST THINGS OF ALL

AND THE MOST FUNDAMENTAL IS VIOLENT DEATH,

SO I WENT TO SPAIN TO SEE BULLFIGHTS

AND TO TRY TO WRITE ABOUT THEM FOR MYSELF.

[CROWD CHEERING, HOOFBEATS]

I THOUGHT THEY WOULD BE SIMPLE AND BARBAROUS AND CRUEL

AND THAT I WOULD NOT LIKE THEM,

BUT THAT I WOULD SEE CERTAIN DEFINITE ACTION

WHICH WOULD GIVE ME THE FEELING OF LIFE AND DEATH

THAT I WAS WORKING FOR.

WOMAN: HE TALKED ABOUT SEEING HIS FIRST BULL.

HE HAD A FRONT-ROW SEAT.

HE COULD SEE THE BULL VERY WELL,

AND HE SAID HE WAS STRUCK BY THE POWER OF IT

AND THE SIZE OF IT,

THIS NATURAL STRENGTH OF IT.

I THINK MAYBE SOME OF THAT SPOKE TO HIM BECAUSE

HE HAD POWER AND NATURAL STRENGTH,

AND HE WAS A FORCE OF NATURE, TOO,

AND THAT'S WHAT AN ARTIST DOES WITH HIS SUBJECT MATTER.

WITH YOUR STRENGTH, WITH YOUR WILL,

WITH YOUR SKILLS, YOU GO IN,

AND YOU CONTROL THE SUBJECT MATTER,

AND YOU MAKE SOMETHING BEAUTIFUL FROM IT.

[CROWD CHEERING]

NARRATOR: HEMINGWAY FELL IN LOVE WITH SPAIN.

HE WAS SURE, HE WROTE, THAT BULLFIGHTING

"WILL MAKE FINE STORIES SOMEDAY.

"IT'S JUST LIKE HAVING A RINGSIDE SEAT AT THE WAR

WITH NOTHING GOING TO HAPPEN TO YOU."

HADLEY REMEMBERED SITTING IN THE STANDS,

STITCHING BABY CLOTHES,

"EMBROIDERING IN THE PRESENCE OF ALL THAT BRUTALITY."

MAN, AS HEMINGWAY: TORONTO, CANADA,

NOVEMBER 7, 1923.

THE BABY HAS TAKEN TO SQUALLING AND IS A FINE NUISANCE.

I SUPPOSE HE WILL YELL HIS HEAD OFF

FOR THE NEXT 2 OR 3 YEARS.

IT SEEMS HIS ONLY FORM OF ENTERTAINMENT.

NO ONE GETS AS MUCH PLEASURE OUT OF IT AS HE DOES.

NARRATOR: JOHN HADLEY NICANOR HEMINGWAY WAS BORN

IN TORONTO ON OCTOBER 10, 1923.

"NICANOR" WAS IN HONOR OF A SPANISH BULLFIGHTER

HEMINGWAY ESPECIALLY ADMIRED.

HADLEY NICKNAMED THE BABY "BUMBY"

BECAUSE, SHE SAID, "OF THE ROUND, SOLID FEEL

OF HIM," IN HER ARMS.

THE HEMINGWAYS HAD COME BACK TO NORTH AMERICA

EARLIER THAT YEAR.

ERNEST THOUGHT HE SHOULD HAVE A STEADY JOB

AT LEAST FOR THE BABY'S FIRST YEAR,

AND THE "TORONTO STAR" WAS EAGER TO HAVE

THEIR TALENTED CORRESPONDENT BACK IN THE HOME OFFICE,

BUT HE CAME TO HATE HIS EDITOR,

LOATHED THE CUB REPORTER ASSIGNMENTS HE WAS GIVEN,

COULD FIND NO TIME TO WRITE FOR HIMSELF,

AND LONGED FOR PARIS, WHERE, HE TOLD HIS SISTER,

"THERE ARE FEW BATH TUBS, NO ELECTRIC FIXTURES,

"BUT VERY NEARLY ALL THE CHARM, ALL THE GOOD FOOD,

AND MOST OF THE GOOD PEOPLE IN THE WORLD."

IN FEBRUARY, 1924, AFTER LESS THAN 4 MONTHS,

THEY RETURNED TO PARIS AND MOVED INTO A SECOND-FLOOR APARTMENT

ABOVE A NOISY SAWMILL AT 113 RUE NOTRE-DAME-DES-CHAMPS.

"WE LIVED AS SAVAGES AND KEPT OUR OWN TRIBAL RULES,"

HEMINGWAY WROTE, "AND HAD OUR OWN CUSTOMS

AND OUR OWN STANDARDS, SECRETS, TABOOS, AND DELIGHTS."

HADLEY CUT HER HAIR SHORT, AND HE GREW HIS LONG

UNTIL THEY MATCHED.

ERNEST HAD ALSO DECIDED TO ABANDON JOURNALISM

IN ORDER TO DO THE KIND OF WRITING HE WANTED TO DO.

"IN NEWSPAPER WORK," HE WOULD EVENTUALLY EXPLAIN,

"YOU HAVE TO LEARN TO FORGET EVERY DAY WHAT HAPPENED

"THE DAY BEFORE.

"NEWSPAPER WORK IS VALUABLE UP UNTIL THE POINT

THAT IT FORCIBLY BEGINS TO DESTROY YOUR MEMORY."

WOLFF: WHAT DID HE SAY ONCE?

A WRITER MUST COME TO HIS WORK LIKE A PRIEST TO THE ALTAR,

AND HE HAD THAT SENSE OF THE SACRED

ABOUT HIS VOCATION.

HE REALLY DID. HE WENT TO WORK,

AND I WOULD SAY THE COURAGE THAT HE SHOWED IN THE WAR

DOESN'T COMPARE TO ME TO THE COURAGE

HE SHOWED IN HIS WRITING LIFE.

NARRATOR: WITH THE HELP OF SYMPATHETIC FRIENDS,

HEMINGWAY WOULD PUBLISH TWO SLENDER BOOKS,

"THREE STORIES & TEN POEMS" AND "IN OUR TIME".

THEY MEANT THE WORLD TO HEMINGWAY,

BUT ONLY A VERY FEW COPIES WERE PRINTED.

HEMINGWAY'S PARENTS ORDERED 6 COPIES OF "IN OUR TIME."

HIS SISTER REMEMBERED THAT WHEN HIS FATHER READ A STORY

ABOUT A WAR VETERAN, WHO HAS BEEN JILTED

BY A NURSE NAMED AG AND CONTRACTS GONORRHEA

FROM A SALESGIRL, HE WROTE TO HIS SON

THAT THE BOOK WAS FILTH.

NO GENTLEMAN EVER MENTIONED A VENEREAL DISEASE

OUTSIDE A DOCTOR'S OFFICE.

HIS MOTHER HAD HOPED HE MIGHT BECOME AN ARTIST

BUT NOT THIS KIND.

ANOTHER STORY WAS SO DARING, THAT EVEN GERTRUDE STEIN

HAD TOLD HEMINGWAY IT WAS TOO OBSCENE TO BE PUBLISHED.

IT WAS CALLED "UP IN MICHIGAN."

KATAKIS: I THINK "UP IN MICHIGAN"

IS VERY IMPORTANT BECAUSE, FIRST OF ALL,

HE IS SAYING THERE ARE NO BOUNDARIES.

"I'M GOING TO WRITE WITH NO BOUNDARIES, NO RESTRICTIONS.

"I'M NOT GOING TO LISTEN TO YOU, POLITE WORLD.

"I'M GOING TO WHAT I THINK IS TRUE,

"BUT I'M GOING TO SEE IT FROM THE POINT OF VIEW

OF THE WOMAN."

NARRATOR: LIZ COATES IS A TEEN-AGED GIRL WORKING

IN A BOARDING HOUSE IN THE TINY TOWN

OF HORTONS BAY.

AMONG THE BOARDERS IS A HANDSOME YOUNG BLACKSMITH

NAMED JIM GILMORE.

ONE EVENING, THEY GO DOWN TO THE DOCK.

MAN, AS HEMINGWAY: "DON'T, JIM," LIZ SAID.

JIM SLID THE HAND FURTHER UP.

"YOU MUSTN'T, JIM.

YOU MUSTN'T."

NEITHER JIM NOR JIM'S BIG HAND PAID

ANY ATTENTION TO HER.

THE BOARDS WERE HARD.

JIM HAD HER DRESS UP AND WAS TRYING TO DO

SOMETHING TO HER.

SHE WAS FRIGHTENED, BUT SHE WANTED IT.

SHE HAD TO HAVE IT, BUT IT FRIGHTENED HER.

"YOU MUSTN'T DO IT, JIM. YOU MUSTN'T."

"I GOT TO. I'M GOING TO.

YOU KNOW WE GOT TO."

"NO WE HAVEN'T, JIM. WE AIN'T GOT TO.

"OH, IT ISN'T RIGHT.

"OH, IT'S SO BIG, AND IT HURTS SO.

"YOU CAN'T.

"OH, JIM.

JIM. OH."

O'BRIEN: I THINK MANY WOMEN FEEL, AND, INDEED,

UM, BROADCAST THE IDEA THAT HEMINGWAY HATED WOMEN

AND WROTE ADVERSELY ALWAYS ABOUT THEM.

THIS ISN'T TRUE.

"THE HEMLOCK PLANKS OF THE DOCK WERE HARD

"AND SPLINTERY AND COLD,

"AND JIM WAS HEAVY ON HER, AND HE HAD HURT HER.

"LIZ PUSHED HIM.

"SHE WAS SO UNCOMFORTABLE AND CRAMPED.

"JIM WAS ASLEEP. HE WOULDN'T MOVE.

"SHE WORKED OUT FROM UNDER HIM

"AND SAT UP AND STRAIGHTENED HER SKIRT AND COAT

"AND TRIED TO DO SOMETHING WITH HER HAIR.

"JIM WAS SLEEPING WITH HIS MOUTH A LITTLE OPEN.

"LIZ LEANED OVER AND KISSED HIM ON THE CHEEK.

"HE WAS STILL ASLEEP.

"SHE LIFTED HIS HEAD A LITTLE AND SHOOK IT.

"HE ROLLED HIS HEAD OVER AND SWALLOWED.

"LIZ STARTED TO CRY.

"SHE WALKED OVER TO THE EDGE OF THE DOCK

"AND LOOKED DOWN TO THE WATER.

"THERE WAS A MIST COMING UP FROM THE BAY.

SHE WAS COLD AND MISERABLE AND EVERYTHING FELT GONE."

NOW, I WOULD ASK, UM, HIS DETRACTORS,

FEMALE OR MALE, JUST TO READ THAT STORY,

AND COULD YOU IN ALL HONOR SAY THAT THIS WAS A WRITER

WHO DIDN'T UNDERSTAND WOMEN'S EMOTIONS

AND WHO HATED WOMEN?

YOU COULDN'T. NOBODY COULD.

KATAKIS: THIS IS ABOUT DATE RAPE.

HE WAS DRILLING DOWN DEEPER INTO THOSE DARK SIDES OF US,

AND MANY PEOPLE DIDN'T WANT TO SEE THAT,

LIKE HIS PARENTS, LIKE MS. STEIN,

LIKE SO MANY OTHER PEOPLE.

HE WAS UNCONCERNED WITH THAT,

AND I THINK AT THE END THAT'S WHAT MAKES HIM AN ARTIST.

NARRATOR: THE CRITIC EDMUND WILSON

PRAISED HEMINGWAY FOR WRITING PROSE

OF "THE FIRST DISTINCTION" AND FOR PROVIDING

"A HARROWING RECORD OF THE BARBARITIES

OF THE PERIOD IN WHICH WE LIVE."

FULL-TIME WRITING WASN'T EASY.

THE BABY CRIED.

FRIENDS DROPPED IN, DAY AND NIGHT.

MAN, AS HEMINGWAY: SOMETIMES WHEN I WAS STARTING A NEW STORY

AND I COULD NOT GET IT GOING, I WOULD STAND AND LOOK OUT

OVER THE ROOFS OF PARIS AND THINK, "DO NOT WORRY.

"YOU HAVE ALWAYS WRITTEN BEFORE, AND YOU WILL WRITE NOW.

"ALL YOU HAVE TO DO IS WRITE ONE TRUE SENTENCE.

WRITE THE TRUEST SENTENCE THAT YOU KNOW."

SO FINALLY I WOULD WRITE ONE TRUE SENTENCE

AND THEN GO ON FROM THERE.

IT WAS EASY THEN BECAUSE THERE WAS ALWAYS ONE TRUE SENTENCE

THAT YOU KNEW OR HAD SEEN OR HEARD SOMEONE SAY.

IF I STARTED TO WRITE ELABORATELY

OR LIKE SOMEONE INTRODUCING OR PRESENTING SOMETHING,

I FOUND THAT I COULD CUT THAT SCROLLWORK OR ORNAMENT OUT

AND THROW IT AWAY AND START WITH THE FIRST TRUE,

SIMPLE DECLARATIVE SENTENCE I HAD WRITTEN

AND THEN GO ON FROM THERE.

KATAKIS: THE SHORT STORIES MEAN MORE TO ME NOW

BECAUSE IT IS A YOUNG MAN

AT THE BEGINNING OF HIS ADVENTURE.

HE'S HUNGRY, HE'S EXCITED, HIS OBSERVATIONS

ARE LIKE A HAWK.

HE'S FEELING EVERYTHING.

HE'S ANTICIPATING EVERYTHING.

HE'S TRYING TO MAKE EVERYTHING GO HIS WAY.

IT'S TERRIBLY EXCITING.

VAILL: IF HE WERE A CAMERA, HE WOULD BE COMING IN

FOR EXTREME CLOSEUP ALL THE TIME.

HE'S COMING IN, IN, IN AT IT,

AND EVERY LITTLE DETAIL SUDDENLY IS VERY, VERY BIG.

IT'S NOT LIKE THE WAY 19th CENTURY WRITERS

WOULD WRITE, WHICH WAS VERY PANORAMIC,

WHERE THE CAMERA IS SET WAY, WAY BACK,

AND YOU SEE A GIANT EXPANSE OF EXPERIENCE,

AND YET HE'S REALLY UP CLOSE AT IT.

YOU CAN SEE EVERY PORE IN EVERYBODY'S SKIN

WHEN HE'S WRITING, AND THIS IS EXTREMELY EXCITING.

NARRATOR: DURING THE FIRST 6 MONTHS OF 1924,

HEMINGWAY WROTE MORE STORIES, HOPING TO INCLUDE THEM

IN A NEW AND EXPANDED COLLECTION OF "IN OUR TIME."

CUSHMAN: "IN OUR TIME" JUST REARRANGED THE GEOGRAPHY

OF WHAT WAS POSSIBLE FOR A LOT OF PEOPLE WRITING IN ENGLISH.

WHEN I GO BACK TO THAT BOOK AND TRY TO FORGET ABOUT

WHO HE BECAME, I'M JUST BLOWN AWAY.

THAT BOOK, IT TAKES THE TOP OF YOUR HEAD OFF.

NARRATOR: HALF THE STORIES IN "IN OUR TIME" FEATURE

NICK ADAMS, A CHARACTER WHO IS VERY LIKE THE YOUNG HEMINGWAY.

IN "INDIAN CAMP," HE IS A LITTLE BOY WHO ACCOMPANIES

HIS PHYSICIAN FATHER ACROSS A LAKE

TO AN ENCAMPMENT, WHERE A WOMAN

HAS BEEN IN LABOR FOR TWO DAYS.

PURE HORROR FOLLOWS.

AS THE BOY LOOKS ON, HIS FATHER PERFORMS

AN EMERGENCY CAESARIAN SECTION BY LAMP LIGHT,

USING A JACKKNIFE AND SUTURING THE WOUND

WITH FISHING LINE, ALL WITHOUT ANESTHETIC.

WHEN NICK ASKS HIS FATHER IF HE CAN'T DO SOMETHING

ABOUT HER SCREAMS, HE ANSWERS "THEY ARE NOT IMPORTANT."

AFTERWARDS, THE FATHER OF THE CHILD,

APPARENTLY UNABLE TO ENDURE HIS HELPLESSNESS

DURING HIS WIFE'S ORDEAL, IS FOUND

TO HAVE SLIT HIS OWN THROAT.

MAN, AS HEMINGWAY: "DO LADIES ALWAYS HAVE

SUCH A HARD TIME HAVING BABIES?" NICK ASKED.

"NO, THAT WAS VERY, VERY EXCEPTIONAL."

"WHY DID HE KILL HIMSELF, DADDY?"

"I DON'T KNOW, NICK.

HE COULDN'T STAND THINGS, I GUESS."

"DO MANY MEN KILL THEMSELVES, DADDY?"

"NOT VERY MANY, NICK."

"DO MANY WOMEN?"

"HARDLY EVER."

"DON'T THEY EVER?"

"OH, YES. THEY DO SOMETIMES."

"IS DYING HARD, DADDY?"

"NO, I THINK IT'S PRETTY EASY, NICK.

IT ALL DEPENDS."

THEY WERE SEATED IN THE BOAT, NICK IN THE STERN,

HIS FATHER ROWING.

THE SUN WAS COMING UP OVER THE HILLS.

A BASS JUMPED, MAKING A CIRCLE IN THE WATER.

NICK TRAILED HIS HAND IN THE WATER.

IT FELT WARM IN THE SHARP CHILL OF THE MORNING.

IN THE EARLY MORNING ON THE LAKE,

SITTING IN THE STERN OF THE BOAT WITH HIS FATHER ROWING,

HE FELT QUITE SURE THAT HE WOULD NEVER DIE.

WOLFF: "INDIAN CAMP," THAT'S ONE

OF MY FAVORITE STORIES IN THE WORLD,

AND HE WAS A BABY WHEN HE WROTE IT,

BUT IT IS COMPL--IT IS A WORK OF GREAT SOPHISTICATION,

AND IT HANDLES VERY SENSATIONAL MATERIAL

IN AN ABSOLUTELY UNSENSATIONAL WAY.

AND WHAT IT ALL COMES DOWN TO IS "YOU'RE GOING TO DIE."

HE KNOWS HE'S GOING TO DIE. HE'S SEEN IT,

BUT THERE'S THIS FEELING, BEING WITH HIS FATHER,

BEING OUTDOORS IN THE DAWN,

THAT IT'S POSSIBLE TO HOPE OR DENY OR EVADE THAT TRUTH

FOR A LITTLE WHILE.

NARRATOR: THE LAST STORIES IN THE COLLECTION

ARE "BIG TWO-HEARTED RIVER, PARTS I AND II."

THEY ARE ABOUT A NOW OLDER NICK ADAMS,

A WRITER WHO HAD BEEN WOUNDED AND TRAUMATIZED

FROM THE GREAT WAR.

"IT WAS ABOUT THE WAR," HEMINGWAY LATER RECALLED,

"BUT THERE WAS NO MENTION OF THE WAR IN IT."

NICK JOURNEYS ALONE

TO THE UPPER PENINSULA OF MICHIGAN,

WHERE HE HAD FREQUENTLY FISHED FOR TROUT BEFORE THE WAR.

A FOREST FIRE HAS DESTROYED THE TOWN HE HAD KNOWN.

HE FEARS THE RIVER AND THE LIFE HE KNEW

BEFORE THE WAR HAD BEEN RUINED, TOO.

MAN, AS HEMINGWAY: THE RIVER WAS THERE.

IT SWIRLED AGAINST THE LOG PILES OF THE BRIDGE.

NICK LOOKED DOWN INTO THE CLEAR, BROWN WATER,

COLORED FROM THE PEBBLY BOTTOM, AND WATCHED THE TROUT

KEEPING THEMSELVES STEADY IN THE CURRENT

WITH WAVERING FINS.

AS HE WATCHED THEM, THEY CHANGED THEIR POSITIONS

BY QUICK ANGLES, ONLY TO HOLD STEADY

IN THE FAST WATER AGAIN.

NICK WATCHED THEM A LONG TIME.

IT WAS A HOT DAY.

A KINGFISHER FLEW UP THE STREAM.

IT WAS A LONG TIME SINCE NICK HAD LOOKED INTO A STREAM

AND SEEN TROUT.

THEY WERE VERY SATISFACTORY.

WOMAN: I LOVED IT.

I LOVED THE DESCRIPTION OF THE SCENERY

WITHOUT SAYING ANYTHING ABOUT HIS INNER SITUATION.

HE HAD SOME HURT, OR SOMETHING BAD,

IT WAS INSIDE OF HIMSELF.

BY FOLLOWING HIS DESCRIPTION OF THE LANDSCAPE

AND WHAT HE DOES, WE FEEL HE IS CURED, HEALED.

NARRATOR: IN 1925, THE NEW YORK PUBLISHER HORACE LIVERIGHT

BROUGHT OUT THE EXPANDED EDITION OF "IN OUR TIME,"

BUT HE REFUSED TO INCLUDE "UP IN MICHIGAN,"

THE STORY GERTRUDE STEIN HAD SAID WAS UNPUBLISHABLE.

HEMINGWAY WAS DISAPPOINTED BUT SAID HE HOPED THE BOOK

WOULD BE "PRAISED BY HIGHBROWS AND CAN BE READ BY LOWBROWS.

"THERE IS NO WRITING IN IT THAT ANYBODY

WITH A HIGH SCHOOL EDUCATION CANNOT READ."

CUSHMAN: ONE OF THE THINGS TO THINK ABOUT,

WHEN YOU THINK ABOUT MODERNISM,

AT LEAST ANGLO-IRISH, AMERICAN, HIGH MODERNISM,

IS THERE WAS A CULT OF DIFFICULTY:

JOYCE, DIFFICULT; GERTRUDE STEIN, DIFFICULT;

FAULKNER, DIFFICULT; E.E. CUMMINGS, DIFFICULT.

AND HEMINGWAY JUST WENT AGAINST THE GRAIN ON THAT.

HE DARED TO BE STRAIGHTFORWARD

OR APPARENTLY STRAIGHTFORWARD.

HE DARED TO IMPERSONATE SIMPLICITY.

HE HOOKS YOU WITH THE LOWBROW APPEARANCE.

THEN, HE PLAYS YOU, AND THEN, YOU'RE HIS TROPHY.

NARRATOR: THE BOOK WAS A CRITICAL SENSATION.

THE "NEW YORK TIMES" SAID THAT HEMINGWAY PACKED

"A WHOLE CHARACTER INTO A PHRASE,

AN ENTIRE SITUATION INTO A SENTENCE OR TWO"

AND MADE "EACH WORD COUNT 3 OR 4 WAYS."

"ERNEST HEMINGWAY IS SOMEBODY," SAID "TIME,"

"A NEW, HONEST, UNLITERARY TRANSCRIBER OF LIFE, A WRITER."

CUSHMAN: HE WAS VERY RESTLESS AND AMBITIOUS,

VERY COMPETITIVE,

AND FAULKNER'S GETTING GOING, FITZGERALD'S GETTING GOING,

JOYCE IS KING OF THE MOUNTAIN,

AND HE KNEW THAT A NOVEL HAD TO HAPPEN.

HOW DOES ONE GO FROM THE MICROSTITCHING

OF SENTENCE TO SENTENCE TO SENTENCE AND,

"OH, MY GOODNESS, A PARAGRAPH!

IT ONLY TOOK ME A MORNING"--

HOW DO YOU GO FROM THAT TO A LONGER FORM?

I STARTED IN VALENCIA ON MY 26th BIRTHDAY,

JULY 21st.

EVERYBODY MY AGE HAD WRITTEN A NOVEL,

AND I WAS STILL HAVING A DIFFICULT TIME

WRITING A PARAGRAPH,

SO I STARTED THE BOOK ON MY BIRTHDAY,

WROTE ALL THROUGH THE FERIA, IN BED IN THE MORNING,

WENT ON TO MADRID AND WROTE THERE.

WE HAD A ROOM WITH A TABLE, AND I WROTE IN GREAT LUXURY

ON THE TABLE AND AROUND THE CORNER

FROM THE HOTEL IN A BEER PLACE, WHERE IT WAS COOL.

♪

♪

NARRATOR: IN THE SUMMER OF 1925, LEAVING BUMBY WITH A NANNY,

THE HEMINGWAYS RETURNED TO PAMPLONA

FOR THE ANNUAL RUNNING OF THE BULLS.

WITH THEM WENT A GROUP OF 5 AMERICAN AND BRITISH FRIENDS,

INCLUDING THE SEDUCTIVE LADY DUFF TWYSDEN.

"EVERYBODY WAS DRINKING ALL THE TIME,

AND EVERYBODY WAS HAVING AFFAIRS ALL THE TIME,"

HADLEY REMEMBERED.

"I FOUND IT SORT OF UPSETTING."

AFTERWARDS, ERNEST AND HADLEY CONTINUED TO FOLLOW

THE BULLFIGHTS ACROSS SPAIN-- VALENCIA, MADRID, SAN SEBASTIAN,

AND AS THEY TRAVELED ABOARD TRAINS AND BUSES,

ON RESTAURANT TABLES AND IN HOTEL ROOMS AT NIGHT,

HE WORKED FEVERISHLY ON A NOVEL,

INSPIRED BY THE TURBULENT TIME THEY'D HAD

WITH THEIR FRIENDS IN PAMPLONA.

IT WOULD BE CALLED "THE SUN ALSO RISES."

THE FIRST DRAFT WAS FINISHED IN JUST 8 WEEKS.

IT WOULD BE A CLEAR-EYED AND SARDONIC PORTRAIT

OF WHAT GERTRUDE STEIN CALLED, "THE LOST GENERATION,"

MEN AND WOMEN SCARRED BY THE GREAT WAR,

WHO DID THEIR BEST TO ERASE ITS MEMORY.

THE NARRATOR, A NEWSPAPERMAN FROM KANSAS CITY,

WAS FIRST NAMED "HEM" BEFORE HE BECAME JAKE BARNES.

BARNES IS A WAR VETERAN WITH A MYSTERIOUS

AND UNEXPLAINED WOUND THAT HAS MADE HIM IMPOTENT.

[MAN SPEAKING SPANISH]

MAN, AS HEMINGWAY: OUTSIDE A NIGHT TRAIN,

RUNNING ON THE STREETCAR TRACKS,

WENT BY CARRYING VEGETABLES TO THE MARKETS.

THEY WERE NOISY AT NIGHT WHEN YOU COULD NOT SLEEP.

UNDRESSING, I LOOKED AT MYSELF IN THE MIRROR

OF THE BIG ARMOIRE BESIDE THE BED.

OF ALL THE WAYS TO BE WOUNDED.

[VARGAS LLOSA SPEAKING SPANISH]

NARRATOR: IN THE EARLY DRAFTS, HEMINGWAY HAD USED

THE REAL NAMES OF HIS FRIENDS

FROM THEIR RECKLESS, DRUNKEN TIME IN PAMPLONA.

FOR FEAR OF BEING SUED, HE LATER CHANGED THEM.

LADY DUFF TWYSDEN, WHO HAD CAPTIVATED HEMINGWAY

AND HAD WORRIED HADLEY,

WOULD EVENTUALLY BECOME THE THINLY DISGUISED

LADY BRETT ASHLEY, THE PROMISCUOUS WOMAN

JAKE BARNES LONGS FOR BUT CAN NEVER HAVE.

MAN, AS HEMINGWAY: BRETT WAS DAMNED GOOD-LOOKING.

SHE WORE A SLIPOVER JERSEY SWEATER

AND A TWEED SKIRT,

AND HER HAIR WAS BRUSHED BACK LIKE A BOY'S.

SHE STARTED ALL THAT.

SHE WAS BUILT WITH CURVES LIKE THE HULL OF A RACING YACHT,

AND YOU MISSED NONE OF IT WITH THAT WOOL JERSEY.

MAN: SOMEBODY LIKE LADY BRETT IS EFFECTIVELY

A VERY STRONG CHARACTER.

SHE ACTIVELY GOES OUT OF HER WAY TO DRESS LIKE A MAN,

DRESS LIKE A BOY.

SHE WEARS A RUGBY SWEATER, CUTS HER HAIR SHORT,

AND CHOOSES TO LIVE HER LIFE AS A MAN WOULD IN THAT MOMENT.

THAT'S HIGHLY PROVOCATIVE FOR A 1926 TEXT.

NARRATOR: ANOTHER MEMBER OF THE PARTY HAROLD LOEB,

HANDSOME, ATHLETIC, AND JEWISH, BECAME ROBERT COHN,

WEAK AND OBNOXIOUS,

SCORNED BY SOME IN THE GROUP BECAUSE HE WAS A JEW.

MAN, AS HEMINGWAY: BILL LOOKED AROUND, HALF-SHAVED,

AND THEN WENT ON TALKING INTO THE MIRROR

WHILE HE LATHERED HIS FACE.

"HAVEN'T YOU GOT SOME MORE JEWISH FRIENDS

YOU COULD BRING ALONG?"

HE RUBBED HIS CHIN WITH HIS THUMB, LOOKED AT IT,

AND THEN STARTED SCRAPING AGAIN.

"YOU'VE GOT SOME FINE ONES YOURSELF."

"OH, YES. I'VE GOT SOME DARBS.

"BUT NOT ALONGSIDE OF THIS ROBERT COHN.

"THE FUNNY THING IS HE'S NICE, TOO.

"I LIKE HIM.

BUT HE'S JUST SO AWFUL."

"HE CAN BE DAMNED NICE."

"I KNOW IT.

THAT'S THE TERRIBLE PART."

DEARBORN: I LOVE "THE SUN ALSO RISES"

BUT IT'S TRAGIC THAT HE MAKES HAROLD LOEB

INTO THIS DESPICABLE JEW.

IT'S JUST, UM, STUNNING.

IT'S JUST STUNNING,

AND HAROLD LOEB COULD NOT BELIEVE IT.

YOU KNOW, HE THOUGHT THEY WERE SO CLOSE.

THEY WERE CLOSE,

AND HE JUST SAID, "I STILL DON'T UNDERSTAND HIM.

HE WAS MY FRIEND."

NARRATOR: HEMINGWAY'S PROTAGONIST JAKE BARNES

IS A JADED INSIDER AT PAMPLONA.

HE SEEMS TO KNOW EVERYTHING THERE IS TO KNOW

ABOUT BULLFIGHTING.

THE STAR OF THE FIESTA IS A MATADOR NAMED PEDRO ROMERO,

JUST 19, INNOCENT, AND UNSPOILED.

THE BULLFIGHTING WORLD HOPES TO KEEP HIM THAT WAY,

BUT JAKE BREAKS THE RULES

AND INTRODUCES HIM TO BRETT ASHLEY,

THE WOMAN HE CAN NEVER BE WITH HIMSELF.

MANDEL: JAKE BARNES SHOULDN'T HAVE DONE THAT.

SHE'S NOT A SERIOUS, COMMITTED PERSON.

SHE'S A FREE WOMAN. SHE'S A FREE WOMAN.

SHE INDULGES HERSELF,

AND SHE WANTS TO INDULGE HERSELF WITH THE BULLFIGHTER.

JAKE BARNES SHOULD HAVE PROTECTED

THIS YOUNG, VULNERABLE, ETHICAL FIGURE,

AND AFTER THAT, THE PEOPLE IN THE KNOW IN PAMPLONA

TURN AGAINST JAKE.

THEY BARELY TALK TO HIM. THEY AVOID HIM,

AND THAT'S A BIG TURNING POINT IN THIS CHARACTER.

OF COURSE, HE KNOWS WHAT HE DID.

NARRATOR: AT THE END OF THE NOVEL,

JAKE AND BRETT SHARE A TAXI IN MADRID.

MAN, AS HEMINGWAY: THE DRIVER STARTED UP THE STREET.

I SETTLED BACK.

BRETT MOVED CLOSE TO ME.

WE SAT CLOSE AGAINST EACH OTHER.

I PUT MY ARM AROUND HER,

AND SHE RESTED AGAINST ME COMFORTABLY.

IT WAS VERY HOT AND BRIGHT,

AND THE HOUSES LOOKED SHARPLY WHITE.

WE TURNED OUT ONTO THE GRAN VIA.

"OH, JAKE," BRETT SAID,

"WE COULD HAVE HAD SUCH A DAMNED GOOD TIME TOGETHER."

AHEAD WAS A MOUNTED POLICEMAN IN KHAKI DIRECTING TRAFFIC.

HE RAISED HIS BATON.

THE CAR SLOWED, SUDDENLY PRESSING BRETT AGAINST ME.

"YES," I SAID.

ISN'T IT PRETTY TO THINK SO?"

TIM O'BRIEN: "ISN'T IT PRETTY TO THINK SO?"

IT'S THE WISTFULNESS OF WHAT WE BOTH LOSE

AND NEVER HAD, A WISTFULNESS.

"ISN'T IT PRETTY TO THINK THAT MY DAD AND I

"COULD HAVE TALKED ABOUT VIRTUALLY ANYTHING?

IT'S PRETTY TO THINK SO,"

BUT IT DIDN'T HAPPEN, AND IT WON'T HAPPEN,

AND SO THERE'S A SADNESS TO IT THAT FEELS TO ME FULLY HUMAN.

"ALL THAT WILL NOT BE," WHICH IS GOING TO BE TRUE

FOR EVERY HUMAN BEING IN SOME WAY OR ANOTHER

ON THIS PLANET, "ALL THAT WILL NEVER BE."

IT HAS A UNIVERSALITY TO IT.

"ISN'T IT PRETTY TO THINK SO?"

NARRATOR: THE WAR HAD OBLITERATED ANY ILLUSIONS

ABOUT THE FUTURE, BUT HEMINGWAY SEEMED

TO BE SUGGESTING THAT EVEN IN THE MOST DAMAGED LIVES,

DESPITE THE INDIGNITIES MEN AND WOMEN INFLICT

UPON EACH OTHER, SOME HOPE, SOME SWEETNESS COULD BE FOUND.

EDNA O'BRIEN: I LOVE "THE SUN ALSO RISES."

THE PITH OF IT, FOR ME.

THERE'S ALL THE HOTELS AND THE DRINK

AND THE BULLFIGHTING AND THE FISHING

AND THE MOUNTAINS AND THEIR KNAPSACKS,

"THAT'S A DAMN FINE WINE,"

AND THERE'S ALL THAT BLUSTER,

AND THERE'S IMPOTENCE.

WHAT IT DID FOR ME, WHEN I READ IT,

WAS TO INTRODUCE ME TO AN EXOTICA, A GLAMOUR,

A LIFE THAT, COMING FROM COUNTY CLARE IN IRELAND,

I COULDN'T BELIEVE IT.

I WAS SEDUCED BY IT.

THAT IS THE WORD I'M LOOKING FOR.

MAN, AS HEMINGWAY: AUGUST 23, 1925.

IT IS A HELL OF A FINE NOVEL.

WRITTEN VERY SIMPLY AND FULL OF THINGS HAPPENING

AND PEOPLE AND PLACES AND EXCITING AS HELL

AND NO AUTOBIOGRAPHICAL FIRST NOVEL STUFF.

I THINK IT WILL BE A KNOCKOUT

AND WILL LET THESE BASTARDS WHO SAY,

"YES, HE CAN WRITE VERY BEAUTIFUL LITTLE PARAGRAPHS KNOW

WHERE THEY GET OFF AT."

I'VE TRIED TO WRITE A HELL OF A GOOD STORY

ABOUT PEOPLE WITHOUT FAKING, PRECIOSITY, OR HORSE...

EVERYBODY KNOWS LIFE IS A TRAGIC SHOW,

I.E. BORN HERE, DIE THERE.

EVERYBODY DIES, EVERYBODY GETS BITCHED.

NARRATOR: ERNEST WAS HAPPY WITH HIS MANUSCRIPT

BUT UNHAPPY WITH HIS PUBLISHER HORACE LIVERIGHT.

HIS LAST BOOK "IN OUR TIME" HAD BEEN A CRITICAL SUCCESS,

BUT IT HADN'T SOLD.

BY CONTRACT, LIVERIGHT HAD THE RIGHT TO PUBLISH

HIS NEXT TWO BOOKS PROVIDED HE ACCEPTED THE FIRST ONE

WITHIN 60 DAYS OF ITS SUBMISSION.

BY THIS TIME, THE CELEBRATED NOVELIST F. SCOTT FITZGERALD

HAD BECOME A GOOD FRIEND AND HAD ALERTED HIS OWN EDITOR

MAXWELL PERKINS OF SCRIBNER'S, TO HEMINGWAY'S GREAT PROMISE.

MAN AS FITZGERALD: DEAR MAX, THIS IS TO TELL YOU

ABOUT A YOUNG MAN NAMED ERNEST HEMINGWAY,

WHO LIVES IN PARIS,

AN AMERICAN, WRITES FOR THE "TRANSATLANTIC REVIEW,"

AND HAS A BRILLIANT FUTURE.

EZRA POUND PUBLISHED A COLLECTION

OF HIS SHORT PIECES.

I HAVEN'T IT HERE NOW, BUT IT'S REMARKABLE,

AND I'D LOOK HIM UP RIGHT AWAY.

HE'S THE REAL THING.

SCOTT.

NARRATOR: FITZGERALD WOULD EVENTUALLY PERSUADE ERNEST

TO JETTISON THE FIRST TWO CLUMSY CHAPTERS

OF "THE SUN ALSO RISES," THOUGH HEMINGWAY

WOULD LATER CLAIM IT HAD BEEN HIS IDEA ALL ALONG.

NOW, FITZGERALD SUGGESTED A WAY HEMINGWAY COULD GET

OUT OF HIS CONTRACT-- WRITE SOMETHING

HORACE LIVERIGHT WOULD HAVE TO REJECT.

IN JUST 10 DAYS, ERNEST BANGED OUT "THE TORRENTS OF SPRING,"

A CRUEL LAMPOON OF HIS FRIEND

SHERWOOD ANDERSON,

WHO HAD BEEN ESPECIALLY KIND

TO HEMINGWAY

AND WAS ONE OF LIVERIGHT'S

BEST-SELLING AUTHORS.

HADLEY THOUGHT THE PARODY OF ANDERSON "DETESTABLE,"

BUT ANOTHER WOMAN'S OPINION HAD BEGUN TO MATTER

MORE TO HIM THAN HADLEY'S.

PAULINE PFEIFFER THOUGHT THE MANUSCRIPT WAS HILARIOUS,

FURTHER EVIDENCE OF ERNEST'S GENIUS.

SHE WAS WITTY, WEALTHY, WELL-READ,

A REPORTER COVERING PARIS FASHION FOR "VOGUE,"

AND A PRACTICING CATHOLIC.

SHE HAD BECOME HADLEY'S FRIEND FIRST,

A FREQUENT VISITOR AT THE APARTMENT

ABOVE THE SAWMILL.

ERNEST INVITED PAULINE TO JOIN HIM AND HADLEY

FOR CHRISTMAS IN AUSTRIA.

"PAULINE WAS NICE TO ME," HADLEY RECALLED.

"SHE WANTED TO BE FRIENDS."

THEY TOOK TURNS PLAYING WITH BUMBY,

SKIED AND DRANK AND PLAYED BRIDGE TOGETHER EVERY EVENING,

BUT IN THE AFTERNOONS, IT WAS PAULINE, NOT HADLEY,

WHOM ERNEST TOOK FOR LONG WALKS THROUGH THE SNOW.

"SHE DIDN'T GO STRAIGHT FOR MY HUSBAND,"

HADLEY RECALLED YEARS LATER,

"BUT ONCE SHE MADE UP HER MIND THAT HE WAS WHAT SHE WANTED,

"SHE WAS VERY AGGRESSIVE.

HE COULDN'T HELP HIMSELF."

MAN, AS HEMINGWAY: TO REALLY LOVE TWO WOMEN AT THE SAME TIME,

TRULY LOVE THEM, IS THE MOST DESTRUCTIVE AND TERRIBLE THING

THAT CAN HAPPEN TO A MAN.

YOU DO THINGS THAT ARE IMPOSSIBLE,

AND WHEN YOU ARE WITH ONE, YOU LOVE HER,

AND WITH THE OTHER, YOU LOVE HER,

AND TOGETHER, YOU LOVE THEM BOTH.

YOU BREAK ALL PROMISES, AND YOU DO EVERYTHING YOU KNEW

THAT YOU COULD NEVER DO NOR WOULD WANT TO DO.

YOU LIE AND HATE IT, AND IT DESTROYS YOU,

AND EVERY DAY IS MORE DANGEROUS.

EVERYTHING IS SPLIT INSIDE OF YOU,

AND YOU LOVE TWO PEOPLE NOW INSTEAD OF ONE,

AND THE STRANGE PART IS THAT YOU ARE HAPPY.

NARRATOR: WHEN HEMINGWAY SUBMITTED

"THE TORRENTS OF SPRING" TO HORACE LIVERIGHT,

THE PUBLISHER REJECTED IT RIGHT AWAY JUST AS ERNEST HAD HOPED.

HE WAS NOW FREE TO BRING IT AND "THE SUN ALSO RISES"

TO SCRIBNER'S.

IN JANUARY 1926, ERNEST MADE A 3-WEEK TRIP TO NEW YORK

TO MEET WITH HIS NEW EDITOR MAX PERKINS.

HADLEY AND BUMBY STAYED ON IN AUSTRIA.

AS SOON AS HER HUSBAND RETURNED TO FRANCE,

HADLEY EXPECTED HIM TO BOARD THE TRAIN

AND COME TO HER IN THE ALPS.

INSTEAD, HE WENT TO PARIS, TO PAULINE'S APARTMENT,

A DECISION THAT WOULD ONE DAY COME TO HAUNT HIM.

MAN, AS HEMINGWAY: THE GIRL I WAS IN LOVE WITH

WAS IN PARIS NOW, AND I DID NOT TAKE

THE FIRST TRAIN OR THE SECOND OR THE THIRD,

AND WHERE WE WENT AND WHAT WE DID

AND THE UNBELIEVABLE WRENCHING, KICKING HAPPINESS,

THE SELFISHNESS AND TREACHERY OF EVERYTHING WE DID,

GAVE ME SUCH HAPPINESS

AND UNKILLABLE DREADFUL HAPPINESS

SO THAT THE BLACK REMORSE CAME

AND HATRED OF THE SIN AND NO CONTRITION,

ONLY A TERRIBLE REMORSE.

NARRATOR: HE DID NOT GET TO HADLEY FOR 3 DAYS.

MAN, AS HEMINGWAY: WHEN I SAW MY WIFE AGAIN

STANDING BY THE TRACKS AS THE TRAIN CAME IN

BY THE PILED LOGS AT THE STATION,

I WISHED I HAD DIED BEFORE I EVER LOVED

ANYONE BUT HER.

SHE WAS SMILING, THE SUN ON HER LOVELY FACE

TANNED BY THE SNOW AND SUN, BEAUTIFULLY BUILT,

HER HAIR RED GOLD IN THE SUN

AND MR. BUMBY STANDING WITH HER, BLONDE AND CHUNKY

AND WITH WINTER CHEEKS.

I LOVED HER, AND I LOVED NO ONE ELSE,

AND WE HAD A LOVELY MAGIC TIME WHILE WE WERE ALONE.

I WORKED WELL, AND WE MADE GREAT TRIPS,

AND IT WASN'T UNTIL WE WERE OUT OF THE MOUNTAINS IN LATE SPRING,

AND BACK IN PARIS THAT THE OTHER THING STARTED AGAIN.

NARRATOR: ERNEST HOPED THAT THINGS COULD SOMEHOW

GO ON THAT WAY, STILL MARRIED TO HADLEY

BUT WITH HIS MISTRESS CONVENIENTLY AT HAND,

BUT PAULINE WAS NOT CONTENT TO REMAIN HIS MISTRESS.

SHE WAS DETERMINED TO BECOME HIS WIFE.

HADLEY CONFRONTED HER HUSBAND.

"WE HAD A TERRIFIC SCENE," SHE RECALLED.

ERNEST LASHED OUT AT HER.

IF ONLY SHE HADN'T BROUGHT UP HIS INFIDELITY, HE SAID,

THINGS COULD HAVE CONTINUED AS THEY WERE,

BUT NOW THAT SHE HAD BROKEN THE SPELL

THEIR LOVE WAS NO LONGER SAFE.

"IF I'D HAD ANY SENSE AT ALL," HADLEY REMEMBERED YEARS LATER,

"I'D HAVE LET HIM GO WITH PAULINE

"AND BURN HIMSELF OUT,

AND THEN WE COULD HAVE BEGUN AGAIN."

INSTEAD, IN SEPTEMBER, SHE SCRIBBLED OUT

A SORT OF CONTRACT IN PENCIL.

ERNEST AND PAULINE WOULD HAVE TO SPEND 100 DAYS APART,

AND AFTERWARDS IF THEY STILL WANTED ONE ANOTHER,

SHE WOULD GRANT HIM A DIVORCE.

ERNEST AND PAULINE AGREED TO ABIDE BY HER TERMS.

HE MOVED TO A FRIEND'S APARTMENT.

PAULINE SAILED FOR HOME.

HER MOTHER WAS INITIALLY APPALLED.

HER DAUGHTER HAD BROKEN UP HEMINGWAY'S MARRIAGE.

ERNEST WAS NOT A CATHOLIC.

A CHILD WAS INVOLVED.

ALONE IN PARIS, DEPRESSION AGAIN GRIPPED HEMINGWAY,

THIS TIME TINGED WITH GUILT

ABOUT WHAT HE WAS DOING TO HADLEY.

HE DRANK TOO MUCH, PICKED FIGHTS, COULDN'T SLEEP,

SOMEHOW CONVINCED HIMSELF THAT HE WAS THE VICTIM.

ONLY TWO MONTHS LATER, ON NOVEMBER 16, 1926,

HADLEY WROTE ERNEST THAT IF HE AND PAULINE

REALLY WANTED TO BE TOGETHER

SHE WOULD NO LONGER STAND IN THE WAY.

THEY WERE FREE TO MARRY.

WOMAN, AS RICHARDSON: THE ENTIRE PROBLEM BELONGS

TO YOU TWO.

I AM NOT RESPONSIBLE FOR YOUR FUTURE WELFARE.

I TOOK YOU ORIGINALLY FOR BETTER, FOR WORSE

AND MEANT IT!

BUT IN THE CASE OF YOUR MARRYING SOMEONE ELSE,

I CAN STAND BY MY VOW ONLY AS AN OUTSIDE FRIEND.

COME TO SEE BUMBY AS MUCH AS YOU WANT--

HE IS YOURS AS MUCH AS MINE--

AND TAKE HIM OUT SOMETIMES IF YOU FEEL LIKE

THAT KIND OF THING--

SO THAT HE WILL KNOW YOU ARE HIS REAL PAPA.

NARRATOR: HADLEY AND BUMBY SOON SAILED FOR THE UNITED STATES.

ERNEST STAYED IN PARIS. PAULINE JOINED HIM.

MEANWHILE, SCRIBNER'S HAD FINALLY PUBLISHED

"THE SUN ALSO RISES."

EDMUND WILSON DECLARED IT THE BEST NOVEL WRITTEN

BY ANYONE OF HEMINGWAY'S GENERATION.

A REVIEWER FOR "THE ATLANTIC" SAID THAT HEMINGWAY

"WRITES AS IF HE HAD NEVER READ ANYBODY'S WRITING,

AS IF HE HAD FASHIONED THE ART OF WRITING HIMSELF."

THE BOOK SOLD WELL.

ITS AUTHOR INSISTED THAT ALL THE ROYALTIES GO TO HADLEY.

ON MAY 10, 1927, ERNEST HEMINGWAY

AND PAULINE PFEIFFER WERE MARRIED IN PARIS.

THERE WERE TWO CEREMONIES, ONE AT THE MAYOR'S OFFICE

AND A SECOND AT A CATHOLIC CHURCH.

THE PFEIFFER FAMILY HAD COME AROUND TO APPROVING PAULINE'S

DECISION TO MARRY HEMINGWAY.

HE NOW CLAIMED HE'D SECRETLY ALWAYS BEEN A CATHOLIC

BECAUSE A PRIEST HAD GIVEN HIM EXTREME UNCTION

AFTER HE WAS WOUNDED.

SINCE HIS FIRST MARRIAGE HAD TAKEN PLACE OUTSIDE THE CHURCH,

THE CHURCH DID NOT RECOGNIZE IT.

HADLEY HAD NEVER REALLY BEEN HIS WIFE,

AND, BY EXTENSION, BUMBY WAS ILLEGITIMATE.

NARRATOR: HEMINGWAY HOPED TO LIVE THE SAME KIND OF LIFE

WITH PAULINE THAT HE HAD LED WITH HADLEY--

PARIS CAFEÉS, BULLFIGHTS, SKIING--

AND DREAMED OF HAVING ONE LITERARY SUCCESS AFTER ANOTHER,

BUT THINGS DIDN'T GO QUITE AS PLANNED.

HE STARTED A NOVEL ABOUT A FATHER AND SON,

ONLY TO ABANDON IT.

A NEW BOOK OF 14 SHORT STORIES, "MEN WITHOUT WOMEN,"

DID NOT SELL AS WELL AS HE LIKED,

AND THERE WERE MIXED REVIEWS.

SOME READERS WERE PUT OFF BY ITS THEMES,

INCLUDING HOMOSEXUALITY, INFIDELITY, AND DIVORCE.

AS ALWAYS, HEMINGWAY TRIED TO MAKE HIS CHARACTERS

SPEAK PRECISELY AS HIS CONTEMPORARIES SPOKE,

INCLUDING THEIR USE OF RACIAL EPITHETS.

DUDLEY: WHY USE THE N-WORD MULTIPLE TIMES?

HEMINGWAY KNOWS THAT IT'S PROBABLY ONE

OF THE MOST OFFENSIVE WORDS HE COULD HAVE USED,

EVEN AT THIS TIME.

COULD YOU MAKE A CASE FOR HEMINGWAY

BEING PREJUDICIAL IN HIS LIFE, IN HIS WRITING?

ABSOLUTELY, YOU COULD, BUT, AT THE SAME TIME,

YOU COULD PEEL BACK THE LAYERS, AND YOU CAN GET A SENSE

OF A MAN TRYING TO CONVEY A SENSE OF HIS TIME.

CUSHMAN: THAT'S NOT AN EXCUSE FOR HIM.

I DON'T THINK YOU CAN DRY CLEAN HEMINGWAY

INTO SOMEBODY WHO FITS INTO WHAT WE NOW CONSIDER

SOCIALLY AND POLITICALLY ACCEPTABLE MUCH OF THE TIME.

NARRATOR: "MEN WITHOUT WOMEN" ALSO INCLUDED A STORY

THAT IS AMONG HIS MASTERPIECES "HILLS LIKE WHITE ELEPHANTS."

IN IT, A COUPLE WAITING IN A SMALL SPANISH TRAIN STATION

DISCUSS WHETHER OR NOT THE WOMAN WILL HAVE AN ABORTION

WITHOUT EVER MENTIONING THE WORD.

EDNA O'BRIEN: WHAT'S NOT SAID IS SO WONDERFUL.

SOMEHOW, THE WHOLE RELATIONSHIP, WHICH WILL BE FOREVER SHADOWED,

IF NOT TO SAY DESTROYED, BY THIS,

YOU GET A PICTURE OF IT

WITHOUT HIM SPELLING OUT THE WORDS.

YOU SEE, THAT'S WHAT HE DID.

THAT EVASION THAT HE MASTERED

AND THAT CONTROL THAT HE MASTERED

IS ONE OF HIS SIGNATURE STROKES OF GENIUS.

MAN, AS HEMINGWAY: "IT'S REALLY AN AWFULLY

SIMPLE OPERATION, JIG," THE MAN SAID.

"IT'S NOT REALLY AN OPERATION AT ALL."

THE GIRL LOOKED AT THE GROUND THE TABLE LEGS RESTED ON.

"I KNOW YOU WOULDN'T MIND IT, JIG.

"IT'S REALLY NOT ANYTHING.

IT'S JUST TO LET THE AIR IN."

THE GIRL DID NOT SAY ANYTHING.

"I'LL GO WITH YOU, AND I'LL STAY WITH YOU

"ALL THE TIME.

"THEY JUST LET THE AIR IN,

AND THEN IT'S ALL PERFECTLY NATURAL."

"THEN WHAT WILL WE DO AFTERWARD?"

"WE'LL BE FINE AFTERWARD.

JUST LIKE WE WERE BEFORE."

"WHAT MAKES YOU THINK SO?"

"THAT'S THE ONLY THING THAT BOTHERS US.

IT'S THE ONLY THING THAT'S MADE US UNHAPPY."

MANDEL: HE KNOWS WHAT HE WANTS.

HE WANTS ONE THING, IT'S "GET RID OF THIS THING,"

BUT HE CAN'T TELL HER THAT.

SO HE SAYS, "I ONLY WANT WHAT YOU WANT."

HE SAYS, "I'LL DO WHATEVER YOU SAY.

DON'T DO ANYTHING THAT YOU DON'T WANT TO DO,"

BUT HE'S PUSHING AND PUSHING AND PUSHING AND PUSHING.

IT IS PAINFUL TO WATCH THIS GOING ON.

IT IS RECOGNIZABLE FOR MOST WOMEN

TO--EVEN IF IT'S NOT THE SITUATION--

THE PUSHING, THE INSISTENCE, THE MASCULINE ASSERTION,

AND THEN, SHE FINALLY SAYS-- AND THIS IS, I THINK,

ONE OF GREAT UNDERSTATED SENTENCES--

SHE SAYS TO HIM, "WOULD YOU PLEASE PLEASE PLEASE PLEASE

PLEASE PLEASE PLEASE STOP TALKING?"

WE DON'T KNOW WHAT SHE'S GOING TO DECIDE.

SHE'S--MAYBE TO KEEP THE RELATIONSHIP,

SHE WILL DO WHAT HE SAYS,

BUT IF SHE DOES THAT, THE RELATIONSHIP IS OVER.

MAYBE SHE WILL KEEP IT AND JUST BE WITH HERSELF AND THE BABY.

MAYBE SHE WILL GET RID OF THE BABY

AND CARRY ON HER LIFE.

WHATEVER SHE DOES, HER LIFE WILL BE DIFFERENT.

MAN, AS HEMINGWAY: HE DRANK AN ANIS AT THE BAR

AND LOOKED AT THE PEOPLE.

THEY WERE ALL WAITING REASONABLY FOR THE TRAIN.

HE WENT OUT THROUGH THE BEAD CURTAIN.

SHE WAS SITTING AT THE TABLE AND SMILED AT HIM.

"DO YOU FEEL BETTER?" HE ASKED.

"I FEEL FINE," SHE SAID.

"THERE'S NOTHING WRONG WITH ME.

I FEEL FINE."

NARRATOR: IN MARCH OF 1928,

HEMINGWAY AND PAULINE LEFT FRANCE.

SHE WAS PREGNANT NOW, AND THEY WANTED TO HAVE

THEIR BABY IN THE UNITED STATES.

HEMINGWAY WAS RECOVERING

FROM A SECOND SERIOUS HEAD INJURY CAUSED

WHEN HE ACCIDENTALLY PULLED A SKYLIGHT DOWN ON HIS HEAD,

LEAVING A PERMANENT SCAR,

BUT HE HAD BEGUN A NEW NOVEL,

A STORY ABOUT A WOUNDED SOLDIER WHO FALLS IN LOVE

WITH THE NURSE WHO CARES FOR HIM.

THE HEMINGWAYS RENTED A HOUSE IN KEY WEST, FLORIDA,

WHERE ERNEST ENJOYED OCEAN FISHING

FOR THE FIRST TIME.

THEY THEN MOVED TO PAULINE'S PARENTS' HOME

IN PIGGOTT, ARKANSAS, AS THE BABY'S ARRIVAL NEARED,

AND SPENT A MONTH IN KANSAS CITY WHERE, ON JUNE 28, 1928,

PATRICK HEMINGWAY WAS BORN BY CAESARIAN SECTION

AFTER A DIFFICULT LABOR.

THEY RETURNED TO ARKANSAS TOGETHER,

BUT THEN HEMINGWAY HEADED WEST ALONE,

WRITING AS HE WENT, WORKING AND REWORKING

THE BOOK THAT NOW CONSUMED HIM.

IT WOULD BE CALLED "A FAREWELL TO ARMS."

MAN, AS HEMINGWAY: I REMEMBER LIVING IN THE BOOK

AND MAKING UP WHAT HAPPENED IN IT EVERY DAY.

MAKING THE COUNTRY AND THE PEOPLE

AND THE THINGS THAT HAPPENED,

I WAS HAPPIER THAN I HAD EVER BEEN.

EACH DAY I READ THE BOOK THROUGH FROM THE BEGINNING

TO THE POINT WHERE I WENT ON WRITING,

AND EACH DAY I STOPPED WHEN I WAS STILL GOING GOOD

AND WHEN I KNEW WHAT WOULD HAPPEN NEXT.

IN THE LATE SUMMER OF THAT YEAR, WE LIVED IN A HOUSE

IN A VILLAGE THAT LOOKED ACROSS THE RIVER

AND THE PLAIN TO THE MOUNTAINS.

IN THE BED OF THE RIVER, THERE WERE PEBBLES AND BOULDERS,

DRY AND WHITE IN THE SUN,

AND THE WATER WAS CLEAR AND SWIFTLY MOVING

AND BLUE IN THE CHANNELS.

TROOPS WENT BY THE HOUSE AND DOWN THE ROAD...

MAN AND EDNA O'BRIEN: AND THE DUST THEY RAISED

POWDERED THE LEAVES OF THE TREES.

THE TRUNKS OF THE TREES, TOO...

EDNA O'BRIEN: "WERE DUSTY,

"AND THE LEAVES FELL EARLY THAT YEAR,

"AND WE SAW THE TROOPS MARCHING ALONG THE ROAD

"AND THE DUST RISING AND LEAVES,

"STIRRED BY THE BREEZE, FALLING

"AND THE SOLDIERS MARCHING

"AND AFTERWARDS THE ROAD BARE

AND WHITE EXCEPT FOR THE LEAVES."

CUSHMAN: I READ THAT PARAGRAPH, AND I WANT TO CRY.

IT'S INCREDIBLY BEAUTIFUL.

HE BROKE EVERY RULE, ALL THE REPETITION.

IN 4 SENTENCES, THE WORD "AND" 15 TIMES.

WHAT'S GOING ON IS JUST AN UNFORGETTABLE DISPLAY

OF RHYTHMIC MASTERY.

THERE'S A KIND--ALMOST A KIND OF HYPNOSIS, AN INCANTATION

THAT I THINK IS ABOUT THE FRAME OF MIND

THAT YOU'RE GOING INTO THE WAR WITH.

[BACH'S "CELLO SUITE NO. 4, PRELUDE" PLAYING]

EDNA O'BRIEN: BY RELISTENING TO BACH

AND BY RECOGNIZING THE REPETITION

OF PARTICULAR NOTES IN BACH,

THAT THAT WAS INSPIRATION FOR WRITING "A FAREWELL TO ARMS."

NARRATOR: UNLIKE "THE SUN ALSO RISES,"

"A FAREWELL TO ARMS" WAS EXPLICITLY ABOUT THE GREAT WAR.

ITS PROTAGONIST LIEUTENANT FREDERIC HENRY

IS AN AMERICAN AMBULANCE DRIVER ATTACHED TO THE ITALIAN ARMY,

WHO IS WOUNDED AND FALLS IN LOVE WITH A NURSE

NAMED CATHERINE BARKLEY, WHO IS MOURNING A LOVER

KILLED IN THE WAR.

DRAWN FROM HIS OWN EXPERIENCES, THE STORIES HE HEARD,

AND HIS OWN DOGGED RESEARCH, THE BOOK'S DISILLUSIONMENT

WITH THE WAR WOULD SPEAK TO-- AND FOR--

THOSE WHO HAD LIVED THROUGH IT.

MAN, AS HEMINGWAY: I WAS ALWAYS EMBARRASSED

BY THE WORDS SACRED, GLORIOUS, AND SACRIFICE

AND THE EXPRESSION IN VAIN.

WE HAD HEARD THEM, SOMETIMES STANDING

IN THE RAIN ALMOST OUT OF EARSHOT,

SO THAT ONLY THE SHOUTED WORDS CAME THROUGH,

AND HAD READ THEM ON PROCLAMATIONS

THAT WERE SLAPPED UP BY BILLPOSTERS

OVER OTHER PROCLAMATIONS, NOW FOR A LONG TIME...

AND I HAD SEEN NOTHING SACRED,

AND THE THINGS THAT WERE GLORIOUS HAD NO GLORY,

AND THE SACRIFICES WERE LIKE THE STOCKYARDS

AT CHICAGO IF NOTHING WAS DONE

WITH THE MEAT EXCEPT TO BURY IT.

THERE WERE MANY WORDS THAT YOU COULD NOT STAND TO HEAR,

AND FINALLY ONLY THE NAMES OF PLACES HAD DIGNITY.

CERTAIN NUMBERS WERE THE SAME WAY AND CERTAIN DATES,

AND THESE WITH THE NAMES OF THE PLACES WERE

ALL YOU COULD SAY AND HAVE THEM MEAN ANYTHING.

WOLFF: I DON'T KNOW OF ANYONE UP TO THAT POINT

WHO HAD SAID THAT THAT WELL

BECAUSE WE CAN'T SEEM TO STOP USING THAT KIND OF LANGUAGE

ABOUT WAR,

AND IT IS OUR DUTY ALWAYS TO PUNCTURE IT,

BUT NO ONE HAS EVER DONE IT THIS ELOQUENTLY.

THE ACCUMULATING WEIGHT OF THOSE SENTENCES

AND THE EMOTION, THE DISGUST,

AND ALSO THE REVERENCE FOR WHAT HAS BEEN, IN FACT, DONE,

THE DIGNITY OF THOSE PLACES

THAT GATHER IN THOSE SENTENCES AS THEY GO ON,

IT'S JUST BEAUTIFUL.

NARRATOR: IN THE NOVEL, LIEUTENANT HENRY DESERTS

AND FLEES TO NEUTRAL SWITZERLAND WITH CATHERINE BARKLEY.

THEY HOPE TO MARRY AND BUILD A LIFE TOGETHER

ONCE THE WAR IS OVER.

SHE IS PREGNANT, BUT SOMETHING GOES

TERRIBLY WRONG IN THE DELIVERY ROOM.

DOCTORS PERFORM A CAESARIAN.

THE BABY IS STILLBORN.

CATHERINE'S LIFE EBBS AWAY.

HEMINGWAY AGONIZED OVER THE ENDING,

WRITING 47 VERSIONS OF THE FINAL PAGES

BEFORE HE WAS SATISFIED.

♪

♪

MAN, AS HEMINGWAY: I WENT TO THE DOOR OF THE ROOM.

"YOU CAN'T COME IN NOW," ONE OF THE NURSES SAID.

"YES I CAN," I SAID.

"YOU CAN'T COME IN YET."

"YOU GET OUT," I SAID.

"THE OTHER ONE TOO."

BUT AFTER I HAD GOT THEM OUT AND SHUT THE DOOR

AND TURNED OFF THE LIGHT, IT WASN'T ANY GOOD.

IT WAS LIKE SAYING GOODBYE TO A STATUE.

[RAIN FALLING, THUNDER]

AFTER A WHILE, I WENT OUT AND LEFT THE HOSPITAL

AND WALKED BACK TO THE HOTEL IN THE RAIN.

EDNA O'BRIEN: PARTS OF "A FAREWELL TO ARMS"

COULD HAVE BEEN WRITTEN BY A WOMAN.

NOW, I REGARD THAT AS A COMPLIMENT.

HEMINGWAY MIGHT REGARD IT AS AN INSULT,

BUT I DON'T BECAUSE IT IS THE ANDROGYNY

IN A MAN OR A WOMAN THAT ALLOWS THEM, EVEN IF BRIEFLY,

NOT UTTERLY, TO BE ABLE TO PUT THEMSELVES

INSIDE THE SKIN OF THE OPPOSITE THING.

IN MANY WAYS, I THINK IT'S HIS GREATEST NOVEL.

I DO. IT'S THE TRUEST.

IT'S ALSO HEARTBREAKING.

I REMEMBER CRYING AND CRYING AND CRYING.

HE GETS THE--ALL THE--THE "BOY" STUFF,

THE "MAN" STUFF.

HE GETS THE HORROR OF THE WAR,

BUT WHEN PEOPLE PUT THAT BOOK DOWN,

WHAT DO THEY REMEMBER?

THEY REMEMBER A WOMAN DYING IN CHILDBIRTH.

MAN, AS HEMINGWAY: IF PEOPLE BRING SO MUCH COURAGE

TO THIS WORLD, THE WORLD HAS TO KILL THEM

TO BREAK THEM,

SO OF COURSE IT KILLS THEM.

THE WORLD BREAKS EVERYONE, AND AFTERWARD,

MANY ARE STRONG AT THE BROKEN PLACES,

BUT THOSE THAT WILL NOT BREAK IT KILLS.

IT KILLS THE VERY GOOD AND THE VERY GENTLE

AND THE VERY BRAVE IMPARTIALLY.

IF YOU ARE NONE OF THESE, YOU CAN BE SURE

IT WILL KILL YOU, TOO,

BUT THERE WILL BE NO SPECIAL HURRY.

NARRATOR: IN THE LATE FALL OF 1928,

HEMINGWAY'S FATHER'S LIFE WAS SPIRALING SLOWLY DOWNWARD.

THE ANXIETY THAT HAD ALWAYS HAUNTED HIM INTENSIFIED.

HIS PERIODS OF DEPRESSION LENGTHENED.

HE SEEMED SUSPICIOUS OF EVERYONE AROUND HIM

AND UNABLE TO SHAKE A SENSE OF DREAD.

ON DECEMBER 6, ED HEMINGWAY CAME HOME AT NOON,

BURNED SOME PERSONAL PAPERS IN THE BASEMENT,

TOLD HIS WIFE HE THOUGHT HE'D LIE DOWN BEFORE LUNCH,

AND CLIMBED THE STAIRS TO HIS BEDROOM.

THEN HE SHOT HIMSELF WITH HIS FATHER'S CIVIL WAR REVOLVER.

MAN, AS HEMINGWAY: MY FATHER WAS A COWARD.

HE SHOT HIMSELF WITHOUT NECESSITY.

AT LEAST I THOUGHT SO.

I HAD GONE THROUGH IT MYSELF UNTIL I FIGURED IT IN MY HEAD.

I KNEW WHAT IT WAS TO BE A COWARD

AND WHAT IT WAS TO CEASE BEING A COWARD.

NARRATOR: ERNEST PROMISED TO PAY HIS MOTHER A MONTHLY STIPEND,

BUT HE WOULD PRIVATELY BLAME HER

FOR DRIVING HIS FATHER TO SUICIDE.

MAN, AS HEMINGWAY: I HATED MY MOTHER

AS SOON AS I KNEW THE SCORE

AND LOVED MY FATHER UNTIL HE EMBARRASSED ME

WITH HIS COWARDICE.

MY MOTHER IS AN ALL-TIME, ALL-AMERICAN BITCH,

AND SHE WOULD MAKE A PACK MULE SHOOT HIMSELF,

LET ALONE POOR BLOODY FATHER.

HENDRICKSON: I THINK HEMINGWAY, AMONG HIS MANY, MANY FEARS,

WAS TERRIFIED "WILL THAT HAPPEN TO ME?

WILL I BECOME MY FATHER?"

IN THIS CHRISTIAN, MIDWESTERN, SUBURBAN ILLINOIS FAMILY

OF A UNIT OF 8, OF 2 PARENTS

AND 6 CHILDREN--

4, AT LEAST 4 DESTROYED THEMSELVES BY THEIR OWN HAND,

4 OUT OF THE 8.

NARRATOR: IN SEPTEMBER OF 1929, "A FAREWELL TO ARMS"

WAS PUBLISHED.

THE REACTION WAS EVERYTHING HEMINGWAY HAD HOPED FOR.

"SCRIBNER'S" MAGAZINE HAD PAID $16,000 TO SERIALIZE IT--

MORE THAN IT HAD EVER PAID ANYONE BEFORE--

AND WHEN THE JUNE ISSUE WAS BANNED IN BOSTON

BECAUSE SOME PASSAGES WERE THOUGHT TOO "SALACIOUS,"

IT ONLY BOOSTED SALES.

"A FAREWELL TO ARMS" CLIMBED ONTO THE BEST-SELLER LISTS

AND STAYED THERE WEEK AFTER WEEK.

PARAMOUNT PICTURES PAID ANOTHER $24,000 FOR THE MOVIE RIGHTS.

BY THE AGE OF 30, ERNEST HEMINGWAY

HAD SURVIVED HIS WAR WOUNDS, HAD MARRIED TWO WOMEN,

AND FATHERED TWO SONS,

HAD BURIED HIS FATHER, PUBLISHED 5 BOOKS

AND WAS NOW THE MOST FAMOUS WRITER IN THE UNITED STATES.

HIS FRIEND, THE NOVELIST JOHN DOS PASSOS,

WROTE TO CONGRATULATE HIM.

"DEAR HEM," HE SAID, "DO YOU REALIZE THAT

YOU'RE NOW THE KING OF THE FICTION RACKET?"

MAN, AS HEMINGWAY: I AM VERY PREJUDICED AGAINST SUICIDE

BECAUSE SOMEHOW I WOULD NOT LIKE TO EVEN RUN A CHANCE

OF HAVING TO SPEND THE REST OF THE TIME

WITH A LOT OF THE SORT OF PEOPLE WHO COMMIT SUICIDE.

ALTHOUGH OF COURSE THAT DOESN'T HOLD TRUE

BECAUSE THERE ARE SOME SWELL ONES.

THE REAL REASON FOR NOT COMMITTING SUICIDE

IS BECAUSE YOU ALWAYS KNOW HOW SWELL LIFE GETS AGAIN

AFTER THE HELL IS OVER.

SO YOU HAVE TO RESOLVE IN ADVANCE TO LAST OUT THE TIME

WHEN YOU DON'T BELIEVE THAT.

♪

♪

♪

♪

ANNOUNCER: NEXT TIME ON "HEMINGWAY"...

AMANDA VAILL: IN ORDER TO HAVE SOMETHING NEW TO WRITE,

HE HAD TO HAVE SOMETHING NEW TO LIVE.

ANNOUNCER: ATOP THE LITERARY WORLD,

HEMINGWAY SEEKS NEW CHALLENGES...

EDNA O'BRIEN: I THINK ORDINARY LIFE

WAS ANATHEMA TO HIM.

ANNOUNCER: REPORTS FROM THE FRONT LINES IN SPAIN...

MAN, AS HEMINGWAY: IN THE MORNING, THE ROARING BURST

OF A HIGH EXPLOSIVE SHELL WAKES YOU.

ANNOUNCER: AND FALLS IN LOVE WITH MARTHA GELLHORN.

SUSAN BEEGEL: MARTHA WAS A WOMAN WHO WOULD NOT BACK DOWN.

ANNOUNCER: WHEN "HEMINGWAY" CONTINUES NEXT TIME.

ANNOUNCER: DIVE DEEPER INTO THIS FILM

BY VISITING PBS.ORG/HEMINGWAY

AND THE PBS VIDEO APP.

JOIN THE CONVERSATION WITH HASHTAG #HEMINGWAYPBS.

TO ORDER "HEMINGWAY" ON DVD OR BLU-RAY

OR THE BOOK "THE HEMINGWAY STORIES,"

VISIT SHOP PBS OR CALL 1-800-PLAY-PBS.

THE CD IS ALSO AVAILABLE.

"HEMINGWAY" IS ALSO AVAILABLE WITH PBS PASSPORT

AND ON AMAZON PRIME VIDEO.

♪

♪

ANNOUNCER: MAJOR FUNDING FOR "HEMINGWAY"

WAS PROVIDED BY THE BETTER ANGELS SOCIETY

AND BY ITS MEMBERS:

THE ELIZABETH RUTH WALLACE LIVING TRUST,

JOHN AND LESLIE McQUOWN,

JOHN AND CATHERINE DEBS,

THE FULLERTON FAMILY CHARITABLE TRUST,

KISSICK FAMILY FOUNDATION, GAIL ELDEN,

GILCHRIST AND AMY BERG,

ROBERT AND BEVERLY GRAPPONE,

AND MAUREE JANE AND MARK PERRY.

ADDITIONAL FUNDING WAS PROVIDED BY THE ANNENBERG FOUNDATION,

THE ARTHUR VINING DAVIS FOUNDATIONS,

THE CORPORATION FOR PUBLIC BROADCASTING,

AND BY CONTRIBUTIONS TO YOUR PBS STATION

FROM VIEWERS LIKE YOU.

THANK YOU.