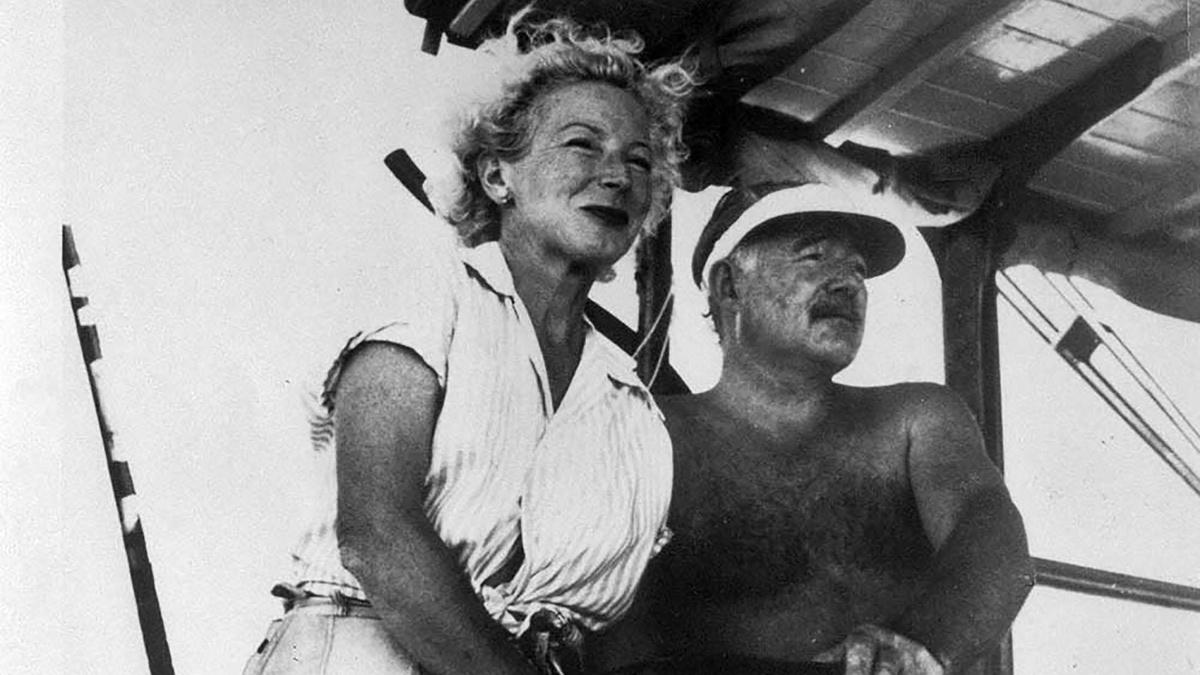 S1 E3 | CLIP
The Beginnings of Ernest Hemingway's Marriage to Mary Welsh
In 1944, Ernest Hemingway met Time and Life correspondent Mary Welsh while in London to cover the Allied invasion of France for Collier's. Mary would eventually move to Cuba to be with him, living in the Finca, which he had once shared with previous wife Martha Gellhorn prior to their separation during the war. The pair wed in 1946, but their marriage would be turbulent in the years following.
TRANSCRIPT

- [Narrator] Mary eventually arrived in Havana,

having requested a year sabbatical from her job at Time.

She was in love with Hemingway,

but still unsure whether she should marry him.

♪ I can't give you anything but love ♪

♪ Baby

♪ That's the only thing I've plenty of ♪

♪ Oh baby

♪ What am I supposed to do

♪ Dream a while, scheme a while ♪

♪ You're wrong

♪ You're sure to find

♪ Yeah I'm sure to find

♪ Happiness

♪ And I guess

♪ All the things you're sure to find for ♪

- [Narrator] He saw to it that she had Spanish lessons

so that she could run the Finca,

taught her deep sea fishing so that she could

be his companion,

encouraged her to quit her job altogether

so that she could devote herself fully to him

as his first and second wives had done.

And Martha Gellhorn had not done.

Hemingway wanted his wife to be both completely obedient

and sexually loose, she confided to her diary.

She enjoyed the sexual part, cut her hair short

and bleached it platinum because it excited him.

And sometimes pretended that she was a boy

and he was a girl.

He dyed his hair, too.

♪ I can't dish out anything but love ♪

♪ Baby

- I think it's very brave to say

what your sexual preferences are.

He really had a thing about androgyny

and he liked to switch sex roles in bed.

And he tells Mary, you know, "Let's play around.

"I'm going to call you Pete.

"You call me Catherine," you know,

and they they'd go back and forth on this

and they'd play around with it.

And I'm not sure what they'd do in bed,

but somehow she's satisfying that intense desire of his

to play with sex roles that way.

♪ Until that lucky day

It took a lot of guts for him.

And in a way, he wanted to be a woman

who loved another woman.

Now, this kind of thing, it's all on a spectrum, right?

But then it was unheard of.

- [Narrator] "In bed," she wrote,

"He has certainly been better for me than any other man."

But she chafed under what she called his dictatorship.

She disliked his lectures on how things must be done,

detected the ghostly presence of Martha Gellhorn

in every room of the house,

felt cut off from her friends and former life.

"Nothing is mine," she wrote.

"The man is his own with various adjuncts:

"his writing, his children, his cats."

"The strip of bed where I lie is not mine."

- [Mary] I can only conclude that I'd be an idiot

to stay here and marry Papa.

I'd better go while the going is possible

and can be without too much bitterness.

- [Narrator] But she stayed.

And in the spring of 1946,

after both had legally shed their spouses,

Mary Welsh married Ernest Hemingway.

Before the wedding, she had been an entity, she remembered.

Afterwards, she became an appendage.

Over and over again, their union followed

the same turbulent pattern.

He would insult or humiliate her.

She would threaten to leave.

He would beg her to stay

and sometimes threatened to kill himself if she didn't.

They would reconcile in bed

and then start the cycle all over again.

Mary sometimes like to call herself

"The Short Happy Wife of Ernest Hemingway."