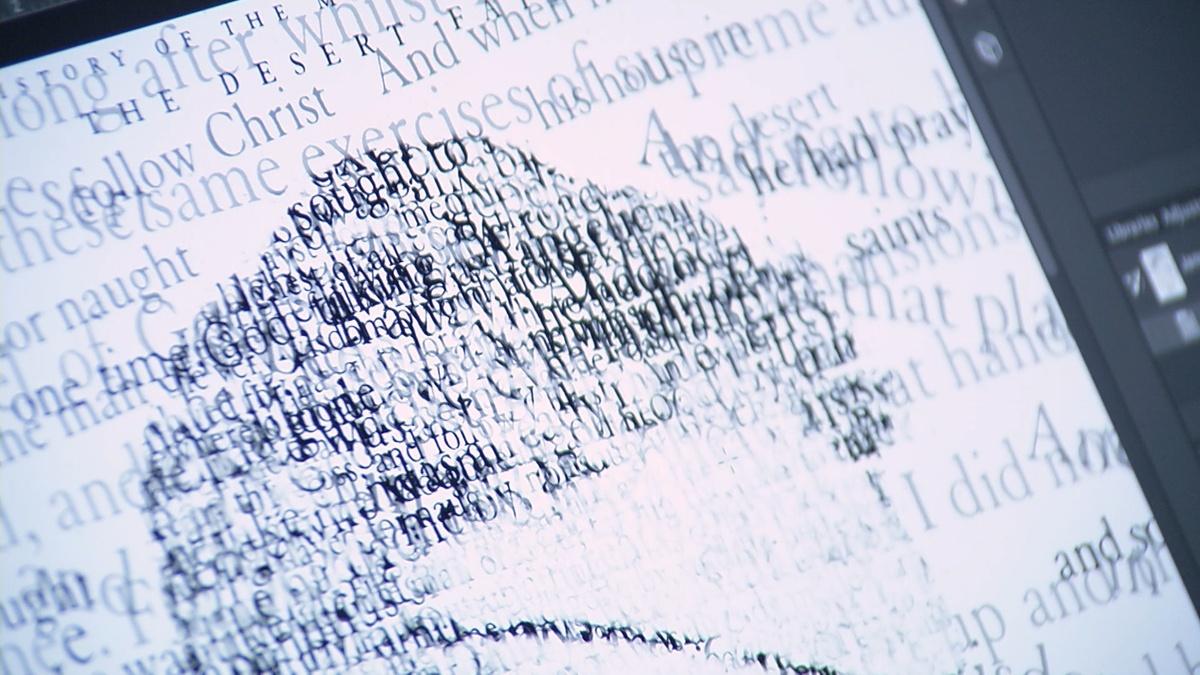 S2018 E10 | FULL EPISODE
Tryus Clutter
20 years ago, Tyrus Clutter read the book "Sayings of the Desert Fathers" which explores the condition of the human spirit. But one passage in particular, helped to inspire Tyrus's etched prints.
TRANSCRIPT

♪MUSIC

>>WE ALL HAVE THE PROPENSITY TO BE GOOD OR

BAD, BUT YOU TAKE WHO YOU ARE AND MAKE WHATEVER YOU

DO WITH THAT.

>>20 YEARS AGO TYRUS CLUTTER READ THE BOOK

SAYINGS OF THE DESERT FATHERS , WHICH EXPLORES

THE CONDITION OF THE HUMAN SPIRIT.

BUT ONE PASSAGE IN PARTICULAR HELPED INSPIRED

TYRUS' ART.

>>AS I READ THROUGH THIS ONE PASSAGE, THE MONK HAD

BEEN SENT DIFFERENT PEOPLE FROM GOD.

HE PRAYED TO GOD TO SHOW HIM WHO HE WAS LIKE.

I'VE TAKEN A BOOK PAGE THAT I'VE SCANNED IN, TAKE

JUST THE BLACK PART OF IT AND CAN ERASE PARTS OF

THAT OUT.

SO IT CAN BE GRAY OR THE MULTIPLICATION OF MULTIPLE

TEXT ON TOP OF EACH OTHER BECOMES VERY BLACK.

THAT IS THEN PRINTED ONTO A TRANSPARENCY, LIKE A

PIECE OF PLASTIC THAT I AM ABLE TO TRANSFER ON TO THE

COPPER PLATE.

>>FROM THESE ETCHED COPPER PLATES, TYRUS APPLIES

SELECTED COLORS OF INK WITH SPECIAL ROLLERS.

>>THIS WILL GO OVER THE SURFACE.

>>A PRINT IS THEN MADE ON A PRESS.

BY CHANGING THE COLORS AND ETCHING SURFACE, TYRUS IS

ABLE TO ACHIEVE A VARIETY OF LOOKS.

>>I HAVE WORKED ON THESE IMAGES FOR ABOUT 20 YEARS.

I LIKE THE INTERACTION OF THEM RIGHT NOW, BUT

THERE'S ALREADY LITTLE INDICATIONS IN MY MIND OF

THINGS THAT I MIGHT LIKE TO TRY DOING DIFFERENTLY

WITH THE SAME PROCESS LATER ON.

>>TYRUS' PRINTS ARE NOW ON THEIR WAY TO OTHER

GALLERIES ACROSS THE COUNTRY.

I'M JENNY DE WITT.

THANKS FOR JOINING US AS WE CONTINUE TO EXPLORE

CENTRAL FLORIDA'S ART SCENE ONE GALLERY AT A

TIME.