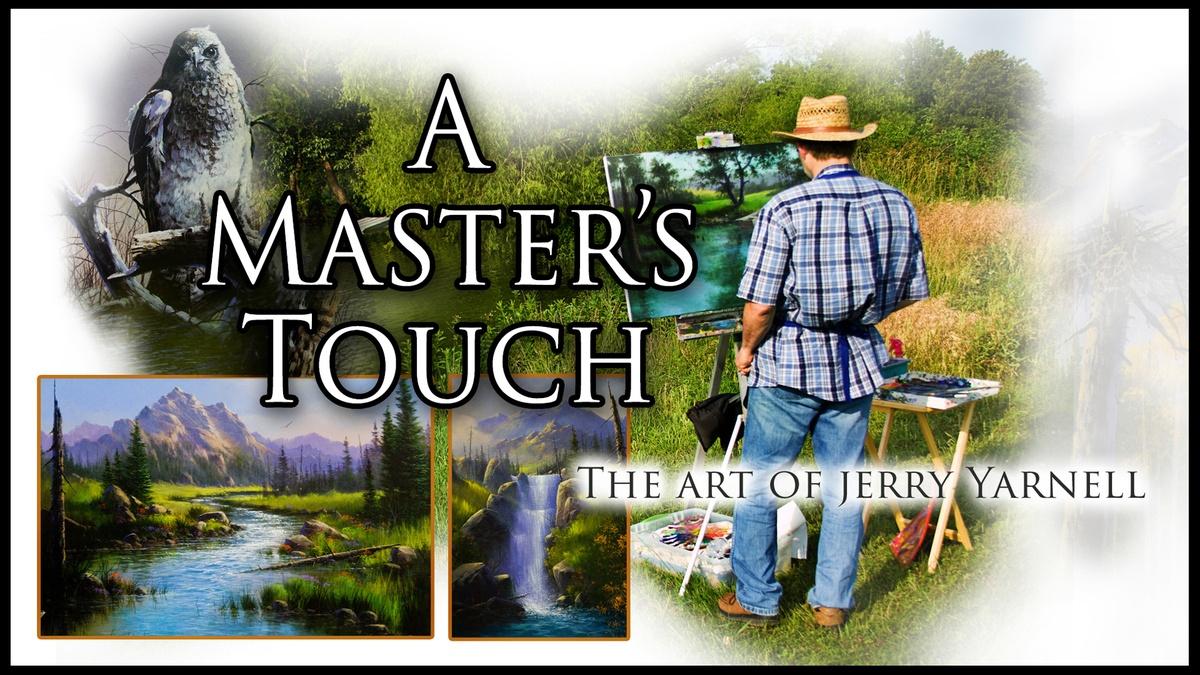 S6 E5 | FULL EPISODE
Jerry Yarnell
Jerry Yarnell has won millions of fans for his naturalist art. He's a painter, teacher and TV show host, whose program "Paint This with Jerry Yarnell" has been shown across the US and Canada the past couple decades. Gallery America visits his Skiatook, Oklahoma studio to see how he passes on his magic to others. As he says, "art is the thing that gets people through life."
TRANSCRIPT

♪♪

What I like about being a realist is the landscape is so

artistic. I mean, this is the way God created it, the way the

Hills row and the trees and the light shines through every,

every phase of nature is a painting waiting to be put on a

piece of canvas. Next on Gallery America, we visit the Skiatook

studio of a celebrated Oklahoma artist and teacher. I can teach

anyone to paint, but I can't teach you to be an artist that's

born in you over the past few decades. His TV show paint this

with Jerry Yarnell has been seen by millions of people in the USA

and Canada who tune in to see him demonstrate his master's

touch. I want to remind you it's all

about composition, design, perspective, and values.

Hello, Oklahoma. Welcome to Gallery America. The show

that brings you the best of art in Oklahoma and around the

nation. One of the best things about talking with artists and

learning about their craft is that can help you see your

surroundings wherever they may be in a slightly bigger your

way. That's certainly the case for this artist, Jerry Yarnell

He's a lifelong painter, teacher, TV show host, who approaches

everything in a very thoughtful way. Like when he steps outside

of his studio, he looks at it as if it were the first time. And

then he was trying to find something new to capture every

time, welcome to Jerry's world.

My whole life is about art. Um,

I grew up with that

interest starting early on when I was a young kid, my

inspiration does come from the landscape that surrounds me, um,

being my home, where I grew up, the, uh, the trees, the rocks,

the water, the, all of the emotional part of, of being

outdoors is what inspires me as an artist. I just love nature.

So I'm more of a naturalist. So I'm drawn to birds, animals,

wildlife, you know, emotional landscape with a lot of

atmosphere. So more of a realist you might say, I love my pond

here because I've got such beautiful reflections. And I

come out here every morning to actually do this photograph or

sketch, or just think, watch the sun come up or go down in the

evenings. And I'm mostly focused on these reflections today

because they're so crisp and so clean. So clear the best way to

learn to paint this stuff is to do it on location and learn,

watch it nature. This is an old boat. My dad gave me a long time

ago and got turned over in the storm the other day, but I

always wanted to paint this boat. So I'm going to paint this

thing. What I like about being a realist is the landscape is so

artistic. I mean, it's the way God created it, the way the

Hills row and the trees and the light shines through every,

every phase of nature is a painting waiting to be put on a

piece of canvas.

these are just rough sketches. These are what we call thumbnail

sketches to, uh, go back to the studio. And then if I decide to

use it for a painting, turn into paint, this is one of my joys in

life, come out here and catching my breath and seeing nature. And

even the sounds and smells, all the wonderful things that we

have. It gets a joy being an artist, you get to enjoy

these things.

I've been painting for about 35 years. Okay. My mom and dad

bought me. I learned to draw with John Nagy, pencil charcoal

was set and, uh, that's kinda how it got started. And it was

really exciting for me, but I've always been an interest in art

ever since I was knee-high to a grasshopper. I've never done

anything. this is the state. He was laying out, composing

working out any minor problem or major problem for that and their

composition design perspective and so forth. You can be the

greatest artist in the world. And, uh, this is just a fact,

but if you're campaigning as a con is a composed, well, you

know, it does fall apart at the same. It's kinda like the glue

that holds the pain together. Then you start putting on your,

um, first, uh, colors to create your distance and your value

changes. I became a full-time artist right out of high school.

I won two scholarships out of central high school to Philbrook

arts center

in Tulsa, which is a very prestigious museum and art

center. When I was 18, 19, 20 years old, when all my friends

were out, running around and goofing off, I was on an art

show on a weekend, making Neil two or $300 a weekend, and

really having a good time painting and learning how to be

an artist with just, that was my whole life. And it still is, you

know, you hear that old saying, uh, you know, artists are

starving artists. Well, first of all, I'm a little more of an

entrepreneurial arts. I have to be honest with you. Um, you

know, most artists are stereotypes being a little out

there, a little lazy, a little laid back, a little, not too

concerned about anything and why I was cared about that. I, you

know, I want it to be successful. So, you know, I

painted murals. I would do small paintings. I, I started

teaching, uh, building a reputation as a fine art

teacher. And pretty soon it just exploded into all kinds of

opportunities. I'm one of the few artists probably in the

whole country that does all of it. I teach it, I paint it, I

sell it. I win awards with it. I just do it all. And I love it.

It keeps me well-rounded keep me from getting stuck in a rut. Uh,

it keeps me honest. It keeps me fair. It keeps me, I might, you

might say my

integrity of an artist in tact, a little bit of a semi

impressionist, but the word real ist kind of ties in with that. I

want to make sure that my viewer actually understands that that

is a cow and that is a horse and that is a tree. But then I like

to kind of use a little bit of expression of maybe you just

blur it a little bit, you know, you know, kind of change it.

Don't put so much detail and then you got to stand back every

so often and study it. So that's what I like about being an

artist is that, you know, when you start to produce something,

you should have the freedom to be able to move things around

because nature is not perfect as long as, and this is one of my

things is it's, you're technically correct with the

process.

Look at the multitude of wild flowers and the smells. And we

had ducks geese kind of waterfowl out here. And even as

we top this little hill here, you can see back to the west.

And so I get all the great storm, the clouds of sunsets.

And it's an amazing for an artist. The studio here is

located, um, just a little bit North of Skiatook, Oklahoma. And

it's nestled on top of one of the highest points in Osage

County. We have about eight acres. This was just an old

horse barn that had just red metal

on didn't have a floor, just had a stall, didn't have an upper

floor. So I bought this thing and we completely gutted it.

Took all the walls off and rebuilt it from scratch. This is

my actual working studio, but it's more than that. It's, it's

a, a working studio where everything happens from the

beginning of the end. The painting is conceived. It's

produced, uh, it's researched. I go outside the sketch and paint

all the time, um, and photograph great reflection. I have a

massive library here that we've gathered over the years.

Amazing. What just a little puddle of water could do for

you. Of course, artists get excited about everything. I can

get excited about a piece of old rusty barbed wire wrapped around

a fence post. But there's something about water.

It's so peaceful. Artists paradise is a

good way to put this is in fact that's what we call it. Yeah.

These are reference flowers for the painting. We're going with

the hummingbird that was going to be using in one of our new

programs. Good. So good. It's far reaching, uh, around the

world. What we do here, we're not just a little localized art

studio. We are actually a worldwide business. Darnell

studio. This is Donna. Hey Charles. Good. How are you? My

beautiful bride, Ms. Donna is the business side of group two

orders in four. And once I get the product done and her

responsibility is to take what I produce and then take

care of the marketing. And every artist needs that because most

artists are not good at business or not good at marketing

themselves. Cause they don't like to do that. And I'm one of

those, you know, we could have up to a hundred people and I'm

going to teach you how I do this and my professional wildlife

paintings. And there's several art classes. We hold here are a

major part of our business. We have students, we now have over

42,000 students worldwide. And we have people that come out

here every week. We have what we call open classes, where people

come and they bring a project and they want to paint on it.

Something that they wanted to learn and I'll teach them and

you use big X's, see the X? If you watch the TV show, you'll

hear me talk about this a lot. We do receive a lot of calls,

emails, letters from people around the world. And it's based

on our TV show, paint this with Jerry Yarnel which is a PBS show

that we will not just PBS, but it airs on most PBS stations in

America. We are also on the create channel. And then we have

an online school that we produced instructional material

for that. And so, yes, this is a very busy, active place on the

instructional side, as well as on the production side of fine

art painting. So are you rolling? Yeah, I'm rolling.

Five, four,

three, two. Hi, welcome to a new session of paint this

right here at the Yarnell school of fine art. That's within the

Osage Hills of Oklahoma. We love it. There it's a beautiful place

and I want to keep inviting you all to come out and join us. But

as promised, we're going to start a brand new painting

today. I can't wait to do this. And it's based on all the cards,

letters, and all the things you all send into us from around the

world. The show draws. We have millions of viewers every week.

We're actually one of the only if not the only, uh, TV show of

its kind in Canada. Okay. If you look at this photo, see the deep

tones of the water, well, that's what we're doing. So the

traditional type of shows that paint are just 30 minute

programs where you just paint a painting real fast and it's done

well, being a fine artist in the terms of, I didn't want to do it

that way because that wasn't my style. And this is what makes

art, art, getting the movement of the water, the color of the

water. And I asked the PBS people, if I could take more

than one show to do a painting, and this was back in about 1986.

And at first they were a little hesitant and I want you to work

this color down into the water. They wanted it to be

more entertaining and you know, funny and all that typical

entertainment. I said, no, my students want to learn it the

right way. So they said, okay, we'll give you a shot. Sure

enough. It caught on people loved it. The phone started

ringing off the hook. It just launched itself. It was an

amazing thing. And then in 1987, when the show officially

launched and it went nationwide and within about a year, it

became one of the top shows of its kind in the nation and has

been that way ever since, by the way, you can make your boat any

color you want. I'm just make mine an old white boat. I'm

going to put some little trim on it. Some red trim success is

because of the person he is. I mean, he's got this unbelievable

talent to be able to paint. And then you mix that with his

ability to teach. And then the back of it here, you probably

see a little inside of it and not just teach how to paint

technically. Um, but he teaches a lot about just how to see

things. Um, and his positive attitude comes out. I mean,

you've got all of these great things about a person, kind of

all wrapped up into one. And then you put them in front of an

audience sitting around, add a little color. Let's put some of

the netting in. You're going to like this little idea. And

they're going

to tell their friends who tell their friends. And I think it

just was sort of this amazing phenomenon of Jerry Yarnell, but

in it. And I want to remind you, it's all about composition

design perspective and values. You should have at least four

guys. So we've got the TV show is designed to help people

understand how to take a blank canvas from scratch, which

proper brush to use, which mixtures to use, how to take a,

what we call a composite, a photograph or collection of

photographs, ideas, or sketches, and put them together to create

one painting. God pleasure, stay inspired, keep painting. And I

promise I'm going to see you real soon. On another session of

paint this with Jerry Yarnell. For several decades, I guess its

been, and finally decided to stop by and take a lesson on the

way to St. Louis to see my granddaughter. I saw people with

brushes that were long paint and canvases, and everyone seemed to

know what they were doing. And I said to my friend, I don't think

I belong here. She said, give it a little chance. Just try. I've

really learned everything. I know. So after two classes with

him, I decided this is where I belonged. And I've been coming

back ever since he's enthusiastic, he's extremely

helpful. And he knows if you have a problem, how to solve it.

Well, I think it's just the, we really care. Now, look at this.

You won't even feel dark. That is who cares about every

individual student and where they are and what they need. And

he wants everyone to really, he loves teaching and that in

itself is worth a lot. I mean, he wants everyone to learn. He

wants everyone to grow and Excel. Then you'll be able to go

over this two or three times until we get just the right

amount of underwater. Look that case we're just going to leave.

This next job is just go here and then sketch in your Buffalo.

Just don't want to get this too opaque you. No, just be very

careful. Okay. It's all I'm saying and see, tip up. So

you're just getting a chisel edge of the broker up there. The

artists that come here are different levels. Uh, some are

ranked beginners. Some are professionals. Boy. He did a

great job on those shadows. Baby boomers are getting older.

They're retiring from their work. And every person in the

world, every person has some artistic inclinations. They want

to get out but they never did. They had to raise families. They

had careers. They had businesses to run. And so that's been the

success of it. We're willing to help people and we invite them

to come and they come the droves. It's just amazing how

art changes people's lives. And we've had people, like I said

this before that were on their death bed. They want to give up

on life. They saw the TV show. I want to paint again. I want to

do something. They're going through a rough patch. You know,

maybe their gut went through a divorce or, you know, they have

that relationship battles, financial battles, all kinds of

life's issues. This is a thing that gets people through life is

the creative side of our, our spirit. Uh, so this is a per

request from a lady who's struggling with cancer in our

family, for my aunt who has cancer throughout her body for

the Lord's will to be done. Our family has it bad. My father

died of it. It's part of a ministry. See, my world is our

ministry back my in the beginning, I didn't want to be

an artist. Tell him I want to be a preacher. There's only two of

us girls left that haven't had cancer. Well, I started watching

a TV show. I liked how you teach. You can tell the Lord is

with you. I am trying to say we have created a whole ministry

around the art. And most of them are the typical problems that we

have as human beings. And we have a prayer request line on

our website. People email us every single day and I pray over

those requests for fathers. I come to you this day. I do. So

first of all, acknowledging yours truly as our Lord and our

savior. No one. So yes, it's a ministry of

helping people and it believe it or not. This little business has

blessed more people based on the information and the cards,

letters, emails we get every day because of losing a loved one,

thanking us, not what this is what we do in the name of Jesus.

We can overcome all things across the strings in this, but

what keeping the art alive and letting it be a part of who they

are and for your name's sake that we play now. And always

amen. To find time for me to paint is a little challenging at

the moment. Now, there are times when I'll go through periods of

what I call my marathon painting schedule, which I've got in one

right now. I would say my normal painting day. If I can start

from morning till evening, I'll do a 12 or 15 hour painting day

and I'll do several of those in a row. And I'll just paint like

a zombie and then I'll crash. You know, and I won't think for

three or four days, well in this area, what I'm doing is finding

my a sunlit area so that I can start thinking about the final

touches. We sell a lot of artwork and we're not just

making this up. I know every artist like to think, well, I

like to sell artwork and sometime they can exaggerate the

truth, but, but we do. We sell a lot of them. goal is to make not

only the painting experience for students exciting, but also

the buying experience for some of our collectors. Um, and our

paintings are not cheap, but they're not expensive. I mean,

they're there where anybody can afford them basically. And

that's what we did. I just wanted to get it out there. Art

is so important. Research for an artist is critical. Um,

I'm proud of one aspect of my career is we have probably one

of the largest research libraries of its kind well over

a hundred thousand photos on file, uh, North central part of

Oklahoma and North of Pahuska in the tall grass

Prairie. And it's, uh, was a beautiful thousands of acres of

wild untamed wilderness, where they released Buffalo many years

ago to live die breed, just like they did. 200 years ago are

roaming free up here. Donna and I are a full service art school

as well as I do painting for collectors and we sell artwork.

It requires a tremendous amount of research. What I'll do is

I'll drive through here and we'll look for ideas that go

back and then I take photographs, thoughts, and I'll

start making little what I call thumbnail sketches. I see the

Buffalo. Yeah, a whole herd of Buffalo up here by the road.

What we were looking for. Let's go for it. I'm going to take a

couple of pictures here. We've got to be a little careful

because they're looking at us

and they can charge you. Oh, look at that big bull. Oh my

gosh. What a shot? Gosh, this is perfect. What I was looking for.

Oh my gosh. This is a great shot right here. I'm researching

every day. Not everybody gets to see this when we take trips. Uh,

I always try to make sure that I'm able to get good reference

material by a lot of people say, Oh, you must fly everywhere. We

don't fly anywhere. I want to see the landscape. I want to get

a visual. Wow. We use our cameras a lot. In fact is

probably nowadays the best way to get reference material

quickly and then take it and make it into beautiful artwork

that we can use to make a living one, a couple up here in the

grass. Oklahoma is one of the most spectacular States,

wherever country. We live up here in the Northeast corner

called green country, where we have, uh, a numerous amount of

all kinds of different aspects of landscape, you know, rolling

Hills trees, rivers, streams, lakes. I have sold so many

paintings based on the skies that I've gotten from this

location. It's an amazing cause I can capture the moment, put it

on canvas people. Solitude, it's an artist. Uh, it's one of the

things that artists gravitate to, we need peace and quiet. We

need tranquility. It makes our minds function. You know,

there's no concrete, there's no fences. There's no

horns honking there, no lights to see. It puts your mind in a

place that every artist needs to be, to be, be able to create.

That's what it's all about. Solitude critical to an artist.

My success, I love the saying success is gained by hard work

discipline and not a little pain. In other words, it takes a

lot of effort. It takes a lot of discipline. It takes a lot of

ups and downs and 90% of what an artist paints is a spiritual

experience. When you can do it out like this, I'll tell you

what you can. I mean, just like right now, you feel the breeze.

I can sense it. So help me get it in the painting. I can

literally paint better when I know what it feels like. It's

kind of like music, you know, you get inspired by, I guess

there's one thing that will never happen for us. We will

never retire. There's a funny saying artists never retire.

Just smell that way. And uh, and it's really just about finishing

out our life, doing what we began and just making it better

and better and better. You can watch Jerry's show, paint this

with Jerry Yarnell right here on OETA on Saturdays. For more

information about his classes or artwork, visit his website,

yarnell school.com. And as always, you can see past

episodes of Gallery America by visiting OETA dot TV slash

Gallery America. And for additional features

on Oklahoma artists go to our Instagram page at OETA Gallery

Thank you so much for watching us until next time. Remember

stay arty Oklahoma.