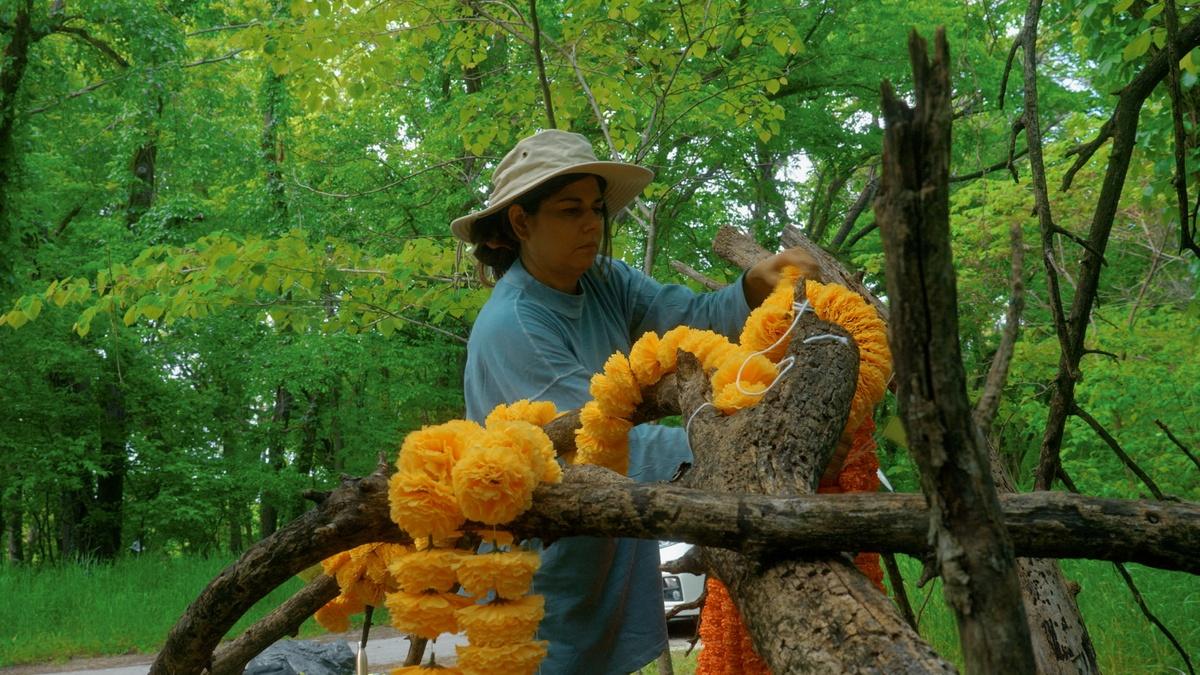 S7 E701 | FULL EPISODE
Episode 1: Sarah Ahmad
Tulsa-based artist Sarah Ahmad has created "American Dream," an outdoor art installation for the Greenwood Art Project to promote racial healing in the centennial of the Tulsa Race Massacre. It combines historic images from 1921 with new marigold garlands created in Pakistan, where Sarah grew up. To see it, visitors must walk through the forest -- a place, Sarah says, that everyone belongs.
TRANSCRIPT

They have to walk through the forest. So the first experience

is, uh, the sights sounds and smells of nature.

Next on Gallery America, we go outdoors. We'll see how one

Tulsa artist is using a forest to make art for healing.

The experience of forest bathing, which just activates

renewal and healing.

I've put large-scale pieces for anywhere from a year to two

years in about 25 communities in the state of Florida alone, and

a Florida artist is finding the outdoors is adding its own touch

to his sculptures.

It turned into a giant chia pet. Vines had grown all through it.

I'm always open to, you know, how the art evolves

And we meet a Cincinnati artist who made the hall of fame by

adding pin stripes to cars.

I try to be receptive and I try to pay attention to things. I

also try to do things for instance, that have not been

done. I try to give people more than they expect simply because

I've been doing it this long. And if not now, then when?

Hello, Oklahoma, I'm Robert Reid. Welcome to Gallery

America. The show that gets you behind the scenes and into the

creative minds of great artists in Oklahoma and around the

nation. It's great being outdoors, isn't it? And a forest

like this kind of makes you wonder if a walk in the woods

can be art too. Well, the first artist we're meeting today think

so. Sarah Ahmad is a Pakistan-American artist who

came to Oklahoma a few years ago as part of the Tulsa Artist

Fellowship program. This initiative has brought dozens of

painters, poets, videographers, writers, to live and work in

Tulsa. Once here, Sarah found herself almost immediately

immersed in her new neighborhood of Greenwood and was invited to

partake in the Greenwood Art Project that works to educate

the public about the Tulsa Race Massacre in 1921, and

recultivate that community through the power of art. Now,

Sarah is an installation artist, meaning that she often does big

three-dimensional installation pieces with a gallery space in

mind, but for this piece, as you'll see, she felt it had to

be outdoors. Have a look.

They have to walk through the forest.

So the first experiences, uh, the sights, sounds and smells of

nature, the experience of forest bathing, which just activates

renewal and healing.

I'm a visual artist based in Tulsa. I

grew up in Lahore, Pakistan. I moved here, um, in 1995, I lived

in Tennessee for almost 20 years. I moved here in January

2019 for the fellowship. And this is my third year. Everyone

was saying, you are going to the backwaters of the art world and

Oklahoma instead of like California or New York, but it

turned out to be, uh, this pocket of this very progressive

community in, in the heart of Tulsa. And what's happening in

Tulsa is almost like an arts Renaissance.

When I came, when I joined the fellowship, uh, that is when I

learned that, uh, we are living and working on the side of the

massacre. I wanted to learn more about the history, just to learn

about the perspectives of the community. I wasn't thinking

about, uh, doing an art project.

One of the stated goals of

Greenwood Art Project is to activate spaces through art, to

create a healing experience for the community. And that really

resonated with me because my that is the central theme of my

work.

To approach this project. And, uh, just had doubts about

questions about this, not my story. And, uh, I shouldn't take

up space telling it or being a part of it. And, uh, after

working in it for so many months, it's now part of like,

my life has woven into it.

I was working on the project in

Pakistan, making the flowers, and then here, when my, uh, dad

passed away in Lahore. And the city at that time was covered

with marigold flowers in full bloom while I was making these -

hundreds of thousands, tens of thousands, of flowers here. And

so it's become a personal memorial for me. So I'm using

about 50,000 flowers. They were all made in Pakistan. Many of

them were handcrafted by women in villages through Kaarvan

Craft Foundation that facilitates, uh, you know, this

work. The women in the villages who handcrafted the flowers

wanted to contribute to it and connected with it just as much

as their own story. They were so invested in it and wanting to

see what comes out of it and, uh, connected with it.

There was

a lot of questions, about people's feedback that, you

know, no one goes out to Oxley or that's so far away! But

people do come out to Oxley. But I think it's the idea is to

bring people out, to experience it in a meditative way. And to

create a space, a sacred space, for healing and collective

healing.

They everyone tents, you know to live in. That's what they were

supposed to live in. We stayed in those camps, I imagine, five

or six months.

I think that you walk into the tent because that is the

centerpiece. And it's in this huge clearing. Inside the tent,

it's really dark. And, uh, you are surrounded, immersed in

these images of burnt and fallen homes above you like eye-level

and below. And the tent is this pyramid shape. So it feels like

a burial chamber. You'll see, on this massive scale, um, the

destruction of the Greenwood community that is woven together

with hundreds of pictures. But from the darkness of the tent,

you move out, uh, into this, uh, beautiful setting of the forest

that is, uh, you know, full of light.

My hope is that, uh, it

will be a contemplative meditative experience that will

activate, um, you know, the feeling of wellbeing. I think as

an immigrant, you belong in many places, but you don't fully

belong in any one place. And my deepest sense of belonging is in

nature, nature-immersion experiences.

It's a space where everyone belongs.

Sarah's American Dream is meant to promote racial healing, but

shortly after its completion, it was damaged when several

arrangements were torn apart, others stolen. This ugly act of

vandalism cannot take away the message of Sarah's art. In fact,

it only shows how important work like hers still is. You can see

more of Sarah's art by visiting her website, Sarahahmad.com, or

follow her on Instagram at Sarah_Ahmad_Art.

One of the

things I enjoyed about spending time with Sarah on this was

seeing her just walk in the woods. I mean, she looks at

every fallen limb and leaf or sunlight shimmering on the

water, like a brushstroke from an impressionist painting. Kind

of makes you want to get outside and see the nature of Oklahoma,

like an artist. And the fact that she got Pakistan villagers

to create the marigolds for this installation, half away across

the globe, back in Tulsa. Amazing. Next, we'll stay

outdoors. This artist in Key West, Florida creates unique

outdoor sculptures that are now part of a public-arts exchange

program that goes nationwide. Meet Craig Gray.

My name is Craig Gray and I'm a sculptor here

in Stock Island, Florida.

For about 15 years. I carved gravestones. I did granite

countertops and then I also carved other artists sculptures.

And so that's how I kind of backed into the arts. Then I got

inspiration and, uh, decided to pursue my own work. I had a

residency at the studios of Key West, a great organization, six

years ago, and then six months later, my family and I moved to

Florida.

North. I was primarily a stone carver and I did a little bit of

metal work. And then I came down here and the only stone

available was coral rock, which doesn't lend itself very well to

carving. That's a very soft stone, not durable over the long

term. So I started searching for another medium and in South

Florida, the exteriors of buildings are stucco. So this

piece is set of orange slices. I haven't finished painting the

yellow yet. And usually I define it some, um, it's a hollow it's

made of masonary backer board metal lath and stucco. And then

I carved the stucco to give the, the slices definition. This is

one of the pieces that's up in Jacksonville, Florida. The

highway into creating public art, which I specifically moved

to Florida, is there is close to a hundred public art programs,

all shapes and sizes, all different types of communities.

And the great thing about Florida and a few other states

is they lease art. This is a set of candy hearts. This one here

I'm I'm refurbing. It was out on display in Hyattsville, Maryland

for about two years, winter environment. And then when I

brought it down here, brought it back home. I brought it back in

December and the frost heaves, which we don't have in Florida,

beat it really bad. So I'm recovering it again with a

second layer of metal lath, which you can see here and then

stucco.

I've put large-scale pieces for anywhere from a year to two

years in about 25 communities in the state of Florida alone. And

that kind of started me on that path. And then you get the piece

back. So then again, you can lease it out again. And from

Florida, that kind of acted as a springboard. So then I went to

Chicago, I went to Jackson, Wyoming, all these places. Right

now I have 22 large-scale pieces of art around the United States.

It's a great program where a lot of communities are a bit

uncomfortable. You know, they, they want to feel out the waters

basically and say, is this going to be something that people are

gonna like? And a lot of the public art calls that I do,

they're looking for a temporary installation of sometimes a year

to two years, and then I can come back and do touch up work

if somebody tagged it or something like that. A lot of

cities are, are bringing in pieces.

They'll display them for a limited amount of time. They may

move them around within the city, and then they come off

display. They're trying to keep it fresh. This one just came off

display from Rosemary Beach out on the panhandle of Florida.

It's kind of a fun piece because, you know, you can, you

can reach through it. A lot of this rebar, this steel ,was

salvaged off of Route 1 at the last installation. When I came

and picked it up, there were probably a dozen locks on it.

I'm only guessing that people had made some promises and

decided instead of locking to a bridge, they locked to my

sculpture, which was kind of fun, you know? And then I had

another town and it was in a kind of a green space. It turned

into a giant chia pet. Vines had grown all through it.

I'm always open to, you know, how the art evolves. The great

advantage of working in South Florida, here on Stock Island,

is the fact that I can work outside. The cement dries within

a couple of days. I could have never done this if I was working

up north, I mean, it would take a week and I'd have to have it

inside a heated building. If you're driving by, which is the

fun thing about this large-scale artwork, you'll notice

immediately the shape and you'll be like, oh, I know what that

is. But then as you come up closer, you'll see that there's

still kind of a texture to it. Um, it's, it's a little bit on

the abstract edge.

I get selfies daily of somebody standing up in Kalamazoo,

Michigan shivering in the cold next to a set of popsicles. I

mean, I had one outside Baltimore in Hyattsville,

Maryland, a set of giant candy hearts. And I have tons of

pictures of these kids hugging candy hearts. I mean, that's a

little bit of a political piece. I made that after the election

and it says, I love you and embrace, but it's subtle. I

usually don't do political pieces. I just do friendly art.

You get a pretty good decent group of tourists coming down

here, specifically for the arts. They're already interested in

the arts. They're interested in culture and they're open to

that. It's cultural tourism, which is really nice. I have

people just randomly stop by who see our little sign out beside

the road. I love it.

Finally, we go to Cincinnati to meet a local artist who has a

distinct nickname he earns from his artwork, which is to turn

cars into the ultimate road trip machines through his

award-winning penstriping.

When I was a preteen, there was a point where I quit buying

comic books and started buying car magazines. I was fascinated

by the designs and eventually I found a magazine that showed

Dean Jeffries doing some pinstriping on an old car. And

he had a striping brush in his hand. I got on my bike, pedaled

down to the Sherwin Williams store. Back wall had striping

brushes. So I bought the smallest brush that would fit my

hand and it helped me learn how to do skinny lines.

Hi, I'm Jim 'Dauber' Farr. I'm a pinstriper, guilder, commercial

artist, graphic artist. Happy to be here. There was a, an

occasion, uh, when I was at the art museum viewing the, uh, show

'Women of Egypt.' And at the end of the show, there were two

caskets encased in plexiglass. And there was pinstriping on

these caskets. I knelt down to look at them. And I couldn't

resist drawing my hand across the plastic, imagining what that

would, would have felt like with a brush in my hand. And when I

drew the brush back like that, there was a thunder boomer

overhead, and the lights went out and I had my hand there. I

looked up at my friends who were standing there and it took my

hand away. And some, for some reason, the lights came back on

and it just sort of seemed to be somewhat karmic. If you take my

drift.

Dauber came into my life when I was working in my, uh, partners

shop, Bill Rell, over in Covington. We worked together

for almost 10 years and there was a guy from the west side of

town who came in and was watching me letter. And the

lighting was very inadequate and I kept wiping paint off on my

shirt cause I couldn't get it the way I wanted on the car. And

this, uh, gentleman was standing there looking at me doing that.

And he says, this guy daubs more than he paints. We ought to call

him 'Dauber.' Within a week, the concrete had dried and I had no

choice in the matter.

I actually am pinstriping in gold leaf. And not too many

people do that. You mix a sizing, a glue, which is

commonly known as a sizing and you mix glue and usually some

color with that. So you have an image of what you're actually

putting down and you let it dry a certain amount of time,

depending on the weather and the thunder and lightning, and also

the, uh, the humidity and whatnot. And once it's ready,

it's ready. And if you don't pay attention to the clock, you can

find yourself having wasted some time and possibly material. And,

um, it's entertaining sometimes, but also challenging. You've got

to pay attention to detail. Simple as that. Gold leaf has a

tradition and a history that goes back centuries, literally

centuries. Uh, the Egyptians were doing it and possibly

further back than that, it was came into vogue again during the

Renaissance, actually prior to the Renaissance and so forth,

subsequently in churches and things of that nature began

being used.

On picture frames and, uh, uh, things like that. I know of

maybe five or six other stripers, nationally, that do

pinstriping and gold leaf on the streets. There may be more, but

I'm unaware of it. Where do I get inspiration from?

Everywhere. I'm blessed with powers of observation and I try

to be receptive and I try to pay attention to things. I also try

to do things for instance, that have not been done. I try to

give people more than they expect simply because I've been

doing it this long. And if not now then when? there was a very

humbling experience in 2006, for me and for Bill, he was

contacted and was told that the National Hot-Rodding

Association was going to nominate him for induction in

the Drag Racing Hall of Fame. He said, I won't do it unless you

also incorporate Dauber in that.

And it was a humbling thing, standing up a bunch in front of

a bunch of people in a crowd situation, thanking them. It

didn't make a lot of sense to me until I realized there were no

other artists in the Drag Racing Hall of Fame at that point. It

was a situation and still is. I've done a quite wide variety

of work for folks, including the museum center, the fire museum,

multiple radio stations, the Cincinnati Zoo, clients

involving race cars, hot rods, motorcycles, all over town.

Everything you see around in behind me and everything that I

do is original and it's hand done. I do not use a computer

for my art. I do not do anything in vinyl. Everything I do is

done the original way, the right way. I like the smell of paint.

I like to feel of brushes in my hands.

I want to do it right or not at all. Pinstriping is sort of a

Zen thing for me. You gotta be in a good frame of mind. I do

yoga. I do meditation twice a day and it gives me a good frame

of mind. It keeps me calm. You can't do pinstriping without

having brush control. You don't have brush control unless you've

got some control up here. And in here it's logical. I tend to

look at a naked panel and I can imagine, you know, things

growing out like a blooming flower and God-willing it'll

bloom, wherever the brush is pulled up.

My grandmother was the first one to encourage me to do art. Art

is not as easy as it might seem. There are a lot of people that

you just put a coin in a slot and out pops art. It doesn't

work that way. You've got to think, you've gotta be

versatile. You've gotta be diverse. You've gotta be

quality. If you've gotta be all of those things and you better

know how to market yourself to a certain extent, I am grateful to

have work and I'm grateful to be doing art art for me, uh, is,

uh, a long-term deal. I am very grateful to be able to work with

young artists, young stripers, and so forth because there was

no one around to teach me anything. I am completely

self-taught. I'm frequently asked. Don't you think that's a

dying art? Uh, no. I think thanks to the internet and the

web, there are probably more people pinstriping worldwide

than any other time in history.

Well, that's it for Gallery America this time. Be sure to

see past episodes of Gallery America by visiting our website

at oeta.tv/galleryamerica. And for dozens of additional

features of Oklahoma artists go to Gallery America Online on

Instagram at @oetagallery. There you'll find features on other

Tulsa artists, fellows like Sarah, including Rachel Hayes,

who does tapestry. artist Joel Daniel Phillips who turns

WPA-era photos into realistic drawings with his pencil, and

Olivia Stephens, a graphic novelists from the Pacific

Northwest. Thank you so much for watching. I'm Robert Reid. And

until next time, stay arty Oklahoma.

Be sure to watch 'Tulsa Race Massacre: 100 Years Later'

special. It features conversations with historians

and survivors from the tragic 1921 event, as well as features

on artists who are part of the ongoing Greenwood Art Project.

You can stream it online by visiting

oeta.tv/tulsaracemassacre.