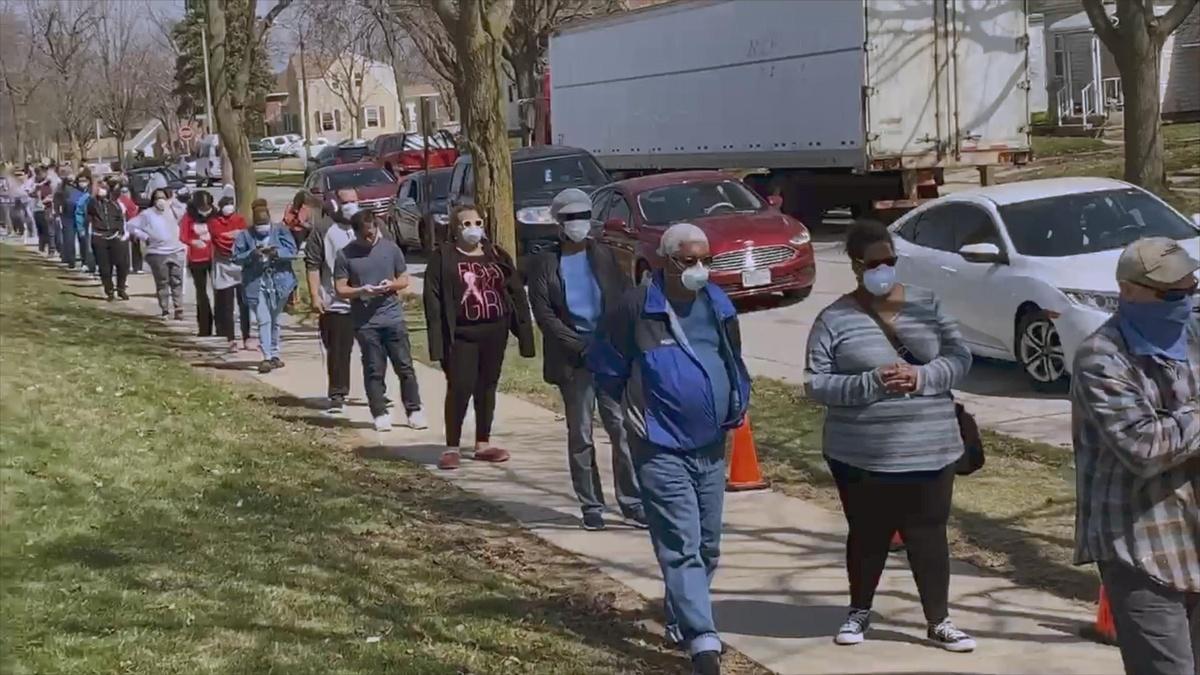 S2020 E22 | FULL EPISODE
Whose Vote Counts
As America chooses its next president in the midst of a historic pandemic, FRONTLINE investigates whose vote counts — and whose might not. With Columbia Journalism Investigations and USA Today, New Yorker writer Jelani Cobb reports on allegations of voter disenfranchisement, rhetoric and realities around mail-in ballots, and how the pandemic could impact turnout.
TRANSCRIPT

>> Long lines as folks wait for their polling place.

>> They've made it so difficult for people to vote here.

Just asking too much of people to come out with this virus

going on. ♪ ♪

>> JELANI COBB: It was a major election in the middle of a

pandemic. >> There's been confusion around

what actually is allowed. >> It was difficult to request

an absentee ballot. >> I didn't even know how

to do it. >> I didn't know about that

option, to vote through the absentee voting.

>> Mail ballots, they cheat, okay, people cheat.

Mail ballots are fraudulent in many cases.

>> COBB: Absentee ballots delayed in the mail.

>> I request an absentee ballot...

>> But it didn't come in time. >> It never came.

>> So I was forced to go and vote.

>> At one of the five polling stations.

>> COBB: Voters forced to choose between their health and

their civic duty. >> Those lines are long in

Wisconsin despite the state's "Safer at Home" order.

>> It is unethical. >> It was such a putrid

decision. >> People are going to die

because of this. >> COBB: Claims of voter

suppression... >> Any ballots received after

April 13 will be rejected. >> 750 ballots so far have been

rejected. >> I'm really frustrated because

my vote won't count. >> It was the most blatant form

of voter suppression. >> COBB: Was this all a view

of things to come? >> I just can't imagine that

somebody would do that in this country.

>> COBB: In the impending presidential election?

♪ ♪

♪ ♪ I'm a journalist and historian.

I've been studying American elections for years.

But I've never seen anything like this moment.

The threat of a constitutional crisis over an election,

where the votes of many Americans, especially people of

color, may not count. First off, were you able to

vote? >> You know, I was not.

But I had a absentee ballot. >> COBB: These people wanted

to vote this past April in the battleground state of Wisconsin.

A primary that would turn out to be a telling dress rehearsal

for the election chaos the rest of the country is now engulfed

in. >> We're seeing elected

officials, specifically on the Republican side, that are

playing politics with people's lives.

>> COBB: I started focusing on the state because of its

pivotal and deeply partisan nature.

It's split down the middle between Republicans and

Democrats, and it gave Donald Trump the presidency in 2016

by the exceedingly thin margin of 22,000 votes.

It's a microcosm of America these days.

♪ ♪ >> I do believe that there is an

attack on our democracy right now...

>> COBB: Along with colleagues at Columbia

Journalism Investigations, we began doing remote

interviews there when the pandemic was just taking hold.

>> We don't need to be trying to have an election in the middle

of a pandemic. >> COBB: With reporters from

the "Milwaukee Journal Sentinel" and "USA Today," we examined

the voting, especially absentee ballots.

How they were used and counted, and the political and legal

fights around them. We sent a crew to Wisconsin to

understand what had been happening on the ground.

>> Is someone on your end recording the Zoom call?

>> I don't think so. >> COBB: Our starting point--

March 17, the day Wisconsin said the coronavirus pandemic

would not affect its upcoming primary election, scheduled for

just three weeks away. You getting me okay?

>> Your audio's fine, Jelani, on this side.

>> COBB: The job of making that happen fell to numerous

appointed officials, like Neil Albrecht.

On March 17, when the governor announced that the election

would proceed as scheduled, what was your immediate

reaction? >> I would say profound

disappointment. We were hearing advisements from

health officials, that any sort of community gathering was risky

to the public. ♪ ♪

Most government closed, most businesses closed.

But we in the election commission continued to come

into work each day. ♪ ♪

We continued to invest 14-, 16-, 18-hour workdays, all with the

hope that that election ultimately would be postponed.

♪ ♪ (cows mooing)

(cars whizzing by) >> COBB: As we traveled the

state, we met other local officials who had similar

concerns about going through with voting.

>> We had real conversations in my house, "What does this look

like?" So there we go, one COVID-free

safety zone. And then what if somebody did

get COVID, what does that look like?

We were fully prepared for me to potentially have to sleep down

here if I had to, so that-- because I can't afford to get

sick. ♪ ♪

(horse trotting) ♪ ♪

>> COBB: 90 minutes away in suburban Oconomowoc,

municipal clerk Diane Coenen explained what she

tried to do to prepare her town's polling station.

>> I thought, "I'm gonna have some problems, how am I gonna

solve them early on?" So I started calling different

companies and asking them if they could supply me with 1,000

masks or 1,000 sets of gloves, everything I could think of, and

I started ordering it. ♪ ♪

>> COBB: Every state runs its own election process.

And as Wisconsin was moving forward, others were pulling

back. >> States across the country

have postponed their primary elections because of the

coronavirus pandemic, but not Wisconsin.

>> COBB: Governor Tony Evers, a Democrat who'd been elected on a

razor-thin margin, had wanted to delay.

But he ran into a roadblock, with the Republican-controlled

legislature. >> I tried for a couple weeks to

convince the legislature to change it around, make it an

all-mail ballot or at least push it out to a different date.

>> COBB: What did they say? What specifically did they say

in response to those proposals? >> Well, basically, they felt

that it was important to have the election.

There was basically no interest. And they certainly weren't

interested in a mail ballot. ♪ ♪

>> COBB: I asked the Republican party chair in Wisconsin to

explain his thinking at the time, why they were so intent

on in-person voting. >> We believed that with the

right amount of preparation, we could hold a safe election.

It was really my job as chairman of the party to make sure that

all the rules were followed, that we preserved the integrity

of our vote, um, because, you know, changing things at the

last minute, changing the laws on the fly can lead to so many

problems. >> Wisconsin is the only state

stupid enough to have an election April 7.

>> COBB: Over the coming days, Wisconsin would be

skewered in the national media. A Democratic governor and a

Republican legislature were forcing people out in a

pandemic, endangering public health.

>> I don't know that I've ever seen anything as reckless and

irresponsible to public health. >> Bernie Sanders saying

holding this election amid the coronavirus outbreak is

dangerous. ♪ ♪

>> COBB: We went to places in the state that were being

hardest hit by the virus-- densely populated urban areas,

Madison, Green Bay, and especially Milwaukee.

All lean Democratic, with large communities of color.

♪ ♪ >> Milwaukee is incredibly

segregated. And so when people say "the

north side," that's really code for black folks, when people say

"the south side" that's code for Latinx folks.

>> COBB: I looked up Angela Lang, a source of mine who was a

voting rights activist in Milwaukee.

>> People were going to get sick and those people were probably

going to be Black and brown people who are

disproportionately impacted by the virus and also that's the

same group of people that can make and break an election.

And we're seeing those things collide.

♪ ♪ >> Hi, this is Ben Wikler, with

the Democratic Party of Wisconsin calling for David, is

this David? >> COBB: With their constituents

at risk from in-person voting, Democrats began pushing for

something that would ignite a political firestorm: an

absentee ballot drive. >> Can we count on you to remind

three friends to return their absentee ballots before Election

Day? We decided to go 100% virtual

and to focus 100% on helping people cast absentee ballots.

Our volunteers reached out millions of times with text

messages, with phone calls, with posts on social media, reaching

out to people that they knew in their own lives.

And those contacts help people to navigate a system that was

designed to shut them out, and help people to cast absentee

votes. It was a giant risk, because so

few people had ever voted absentee in our state.

♪ ♪ >> COBB: Claire Woodall Vogg was

second-in-command at the Milwaukee Election Commission

when the absentee ballot requests started coming in.

>> Started to notice our inbox was really filling up.

And I texted our election services coordinator, Mike, and

said, "Hey dude, where are you?" Like, it's... not slowing down,

there's no end in sight." ♪ ♪

I just couldn't sleep thinking about how fast the requests were

coming in, and ever since then nothing has been normal.

♪ ♪ >> Started off as several

hundred a day, quickly transitioned to several

thousand, and then got up to as many as 10,000 in a single day,

in a system that had really previously been designed to

accommodate maybe several hundred requests in a day.

>> COBB: The crush of absentee ballot applications added chaos

to an election that included not just a presidential primary, but

thousands of local races as well.

>> I'm Jill Karofsky, I'm running for the Supreme Court...

>> COBB: One of them was a closely watched contest for a

seat on the state Supreme Court.

>> My dad Dan Kelly is a great judge.

>> There was a tremendous amount of advertising, a record amount

of campaign spending happening in that race to try to control

the ideological balance of the court.

>> COBB: With the election underway, I interviewed both

candidates. >> Wisconsin has been considered

one of the key pivotal states for the election in November.

So I think that there's been a whole lot of attention paid to

the state because of that. >> Meet Jill Karofsky, trial

court judge. >> Wisconsin is very, very

likely to be the tipping point of the presidential election in

November. And if there is litigation about

the election in November, that litigation is going to end up at

the steps of the Wisconsin State Supreme Court.

♪ ♪ >> COBB: With so much at stake

in Wisconsin, the national parties joined the fight.

What they would do here would be a harbinger for the coming

presidential election. The Democratic National

Committee filed one of several lawsuits to make absentee voting

easier. Seeking to loosen

requirements like voter I.D., and witness signatures.

Things that historically have been obstacles, especially for

people of color. >> The DNC filed the initial

lawsuit when it became clear that there were going to be

serious problems with availability for voting.

>> COBB: Marc Elias is the DNC's top lawyer.

What exactly is at stake? And I mean this on the granular

level, there are multiple, dozens of lawsuits, what's being

fought over? >> Most of what's being fought

over is the ability for voters to have access to the polls, and

for the votes to count. A lot of the litigation we're

seeing in 2020 is, "Are mail-in ballots going to be rejected for

technical reasons, or are we gonna enfranchise voters?"

>> We'll guide you through requesting an absentee ballot

online... >> COBB: For Republicans though,

this all spelled trouble. It tapped into a fear that the

push for absentee ballots would favor democratic turn out, and

Wisconsin became their early battleground to resist it.

Justin Clark, the Trump campaign's senior counsel, led

the Republican strategy in Wisconsin.

>> When you radically change the way people vote, what ends up

happening is you create confusion, you create chaos, and

you disenfranchise voters, because you're not allowing them

to vote in the way they traditionally would.

>> COBB: So when we talked with people in Milwaukee and

thereabouts, what we got was a lot of the opposite, that people

felt that their vote was being suppressed by having to go out

and potentially contract the illness by going to a polling

place. >> I think people's concerns

about contracting illnesses are... are definitely valid.

But here's the problem, when you try to fundamentally alter a

system by which people vote, right before an election, like

Governor Evers did, you run into a real problem, because what

you're doing is gonna-- you're necessarily gonna lessen the

number of people of vote, because of that chaos, because

of that confusion. ♪ ♪

>> COBB: As the legal battles worked their way through the

courts, judges ruled against the Democrats' position one

decision after another. And on the ground, local

election officials struggled to keep up.

>> You know, every day, we're getting alerts, this changed, or

this changed, the judge said we can't do this, now the judge

says we can do that. And so the challenge, really,

is making sure that all the clerks are aware.

So you have polling locations across the state, and they're

all local. So in these smaller communities,

we know who the locals are. At the end of the day, when you

look at the problems, they're in the large urban areas.

♪ ♪ >> COBB: Areas like Milwaukee,

where we'd been talking to anxious voters.

>> I kind of debated back and forth between going to the

polls, not going to the polls. >> I was too afraid that, what

if I got sick, what would that look like for me?

>> That decision, to me, felt like voter suppression, that

they wanted to scare people, they didn't want people to go

out and vote, but I know I needed to.

>> I'm not gonna feed into what they want us to do, which is not

vote. ♪ ♪

I just felt like, you know, we're in 2020 but it felt like

1867. ♪ ♪

>> COBB: "1867." When I heard Melody McCurtis say

that, the drama in Wisconsin came into sharp focus.

I heard the expression of a present day reality, and a

historical sentiment. She was drawing a line straight

back to the post-Civil War era, when African Americans

risked their lives for the right to vote...

♪ ♪ ...in places like Montgomery,

Alabama, home of the National Memorial for Peace and Justice.

>> The first lesson that Black people had to navigate in this

country was that voting is dangerous.

Voting is going to be met with violent resistance, particularly

in regions where there are enough Black people to actually

have impacts on outcomes. >> COBB: Bryan Stevenson is the

founder of the Equal Justice Initiative, which created the

National Memorial. >> Throughout that hundred-year

history between the end of Reconstruction and the civil

rights movement, the inability to vote is what shaped Black

life. ♪ ♪

>> COBB: The memorial is informally known as the

"national lynching museum," and it's filled with thousands of

names of Black Americans, many of them killed amid the push for

voting rights. ♪ ♪

>> The violence that takes place, the trauma that takes

place, the lynching that takes place, the mass migration of

Black people from the Deep South to the North and the West that

takes place, which will also have political implications,

it's all a result of this violent opposition to allowing

Black people to vote. >> COBB: The violence was

combined with other things-- poll taxes, literacy tests,

grandfather clauses-- to prevent Black people from voting in the

Jim Crow South. The long struggle came to a head

in 1965 with the march from Selma to Montgomery, which the

future congressman John Lewis helped organize.

>> We are marching today to dramatize to the nation and

dramatize to the world that hundreds of thousands of Negro

citizens are denied the right to vote.

(whistle blowing) >> You are ordered to disperse.

This march will not continue. >> COBB: It became known as

Bloody Sunday. (crowd shouting, screaming)

The violence was broadcast into living rooms across the

country... ...arousing the national

conscience in the same way images of George Floyd's death

would 55 years later. (shouting continues)

Within months, it led to the signing of the Voting Rights

Act. The law barred voting

discrimination and originally targeted seven southern states

that had a pattern of disenfranchisement.

It required them to get federal approval

for any voting law changes. That provision was called

Section 5. >> It says that any time the

laws were changed that... dealing with voting, they had to

first be submitted to the attorney general of the United

States, or submitted to a three-judge district court in

Washington, D.C. So Section 5 was a very powerful

tool to keep those in power from suppressing the right to vote.

>> COBB: Hank Sanders was elected a state senator in

Alabama thanks to the Voting Rights Act.

>> All of a sudden the possibility of inclusion began

to just grow. And it took many years though

before you had a substantial amount of African Americans

elected to office. ♪ ♪

>> COBB: Within a year of its passage, a quarter of a million

African Americans had registered to vote.

By 1968, 385 Black people had been elected to office across

the South. By 1985, that number would

grow to nearly 4,000. But by then, there was also a

growing backlash that would give rise to new challenges and place

new obstacles in front of Black voters.

(birds twittering) >> When you don't want somebody

to vote, you create various kinds of things.

Now we'd come with the 1965 Voting Rights Act, they couldn't

deny it outright, so you find ways to try to suppress it.

>> COBB: One of these ways would be through challenging Black

voters' absentee ballots, through accusations of fraud.

>> It's one thing to be attacked by the local power structure.

>> COBB: Hank Sanders represented the defendants in

one such case, brought by the U.S. Attorney in Alabama at the

time, Jeff Sessions. >> The U.S. attorney and others

refer to these as the voter fraud cases.

We decided that they were voter persecution cases.

>> COBB: Sanders' clients were voting rights activists-- Albert

Turner, who had marched with John Lewis in Selma...

>> This is Bloody Sunday. Albert, you can see, that's him

right there. >> COBB: And his wife, Evelyn.

They had been helping Black residents fill out their

ballots, and mailing them. >> Both of us was indicted,

myself and my wife, and another friend, Spencer Hogue, were

indicted on 29 counts of what is called vote fraud.

>> COBB: The Turners were facing decades in prison.

>> It was my impression that Jeff Sessions thought that those

legal cases would stop Black folks from not only using

absentee voting, but would stop Black folks from voting in the

numbers that Black people were voting.

At every chance he got, he was talking about voter fraud, voter

fraud. >> COBB: Sessions denied that

the case was racially motivated and insisted what the Turners

did was illegal. In the end, the jury found

nothing they did had broken the law.

But the idea that absentee ballots were susceptible to

widespread fraud would live on. I talked about it with author

Ari Berman, who's written extensively on voting rights.

>> So this is a very old argument, voter fraud.

I mean, there are cases of voter fraud here and there.

But it doesn't happen in the numbers necessary to show that

there's some sort of great conspiracy out there to steal

elections through voter fraud. >> COBB: He pointed to a

critical time in the early 2000s, when the idea began to

take off inside the George W. Bush administration.

>> Up to that point, the Department of Justice,

particularly the voting section of the Department of Justice,

was focused on enforcing the Voting Rights Act.

And when people in the Bush administration got in there,

very ideological, very right-wing people, they began to

change the mandate of the Department of Justice from

instead of protecting voters who are facing disenfranchisement,

they started talking about voter fraud.

And they started bringing all these cases to try to find these

cases of voter fraud. The seeds of all of that were

laid by Hans von Spakovsky and other conservative activists

dating all the way back to the 2000s and the George W. Bush

Justice Department. ♪ ♪

>> COBB: Hans Von Spakovsky, he's a former Justice Department

lawyer and an architect of the Republican position on voter

fraud, and a frequent speaker at events like CPAC, the

Conservative Political Action Conference, where I met him

last winter. >> Well, I can't do an interview

right now, 'cause I've got another... I've got another one

I've got to go to. >> COBB: All right.

Thank you. ♪ ♪

We sat down in September for an at-times tense interview.

Can you talk a little bit about your ideas around voter fraud

and election integrity? >> Well, I got interested in

this topic in the 1990s, when I was first a poll watcher.

But when I was at the Justice Department, I worked in the

civil rights division and my job there was enforcing federal

voting rights laws, including the Voting Rights Act.

>> COBB: So we have this concern about voter fraud.

People on the other side of this equation have frequently said,

we have an issue with voter suppression in the United

States, not an issue with voter fraud.

>> Well, voter suppression is a made-up term that's used by

those who oppose very common sense measures to make sure

that, one, yeah, everybody who's eligible is able to vote.

But second, that their vote isn't diluted or stolen through

administrative error or fraud. >> COBB: So to make sure I

understand this clearly, you're saying that voter

suppression does not happen in the United States?

>> What I'm saying is that's a made-up term.

Okay, we do have... we do have discriminatory conduct that

sometimes happens still in the voting context and that's what

the Voting Rights Act... >> COBB: But isn't that the same

thing? >> ...that's what the Voting

Rights Act was intended to stop, and it does.

>> COBB: Under the banner of combatting voter fraud, Von

Spakovsky has spent years advocating for restrictions on

voting, such as laws requiring official I.D. in order to

register or cast a ballot-- outraging many Democrats.

>> There has been, for some number of years, a virus in the

Republican party, about wild claims of voter fraud and the

need for suppressive laws. People like Mr. Spakovsky, he

played a role in advocating within the conservative movement

or the Republican Party. That virus has now mutated and

has become much, much more concerning because it is now

orthodoxy within the Republican Party.

>> COBB: How did that happen? >> So I think, you know, you can

look at various moments in history, but to me, the critical

moment was the election of President Obama and the ensuing

internal civil war within the Republican Party about what to

do about it. >> I, Barack Hussein Obama, do

solemnly swear... >> COBB: On one hand, Obama's

election was the fulfillment of the dreams of those who marched

in Selma; but like the Voting Rights Act itself, a backlash

followed. >> Congratulations, Mr.

President. (cheers and applause)

>> COBB: In 2010, Republicans swept the midterm elections.

>> We're talking about uncharted territory tonight.

Gone from the Democrats to the Republicans.

>> COBB: In Wisconsin, for decades considered a bastion of

progressive politics, Republicans won both houses of

the legislature. And a conservative Republican

governor was elected. >> You've given us a mandate for

true reform and I appreciate that.

I will not let you down. (cheers and applause)

>> COBB: Scott Walker led an onslaught of voting changes in

the state. >> You can use your certified

birth certificate, a paystub... >> COBB: One of the first was a

law requiring identification to vote.

Kathy Bernier was elected to the state assembly the year Governor

Walker took office. She was a leading proponent of

the voter I.D. legislation. >> I signed on as a co-sponsor

of photo I.D. to help with the election administration and to

make sure people are who they say they are.

We didn't really have very good checks and balances in place.

We didn't really have a verification of, is this the

person? My dad, who was a Democrat, he

said, "Well, what's wrong with that?

You should be able to prove who you are when you go to vote."

Actually, in my district, it is not a partisan issue.

A lot of Democrats believe you too should provide

identification that you are who you say you are.

>> That law required a voter to have one of about six or seven

forms of approved photo I.D. Legislators knew at the time the

law was passed, that some Wisconsinites didn't have those

forms of I.D., they knew it was on the order of several

hundred thousand people, and they knew that people of color

were even less likely to have those kinds of I.D.

Most estimates were that Black and Hispanic voters in Wisconsin

were twice as likely as white voters not to have one of the

approved forms of identification.

>> COBB: Civil rights groups went to court to challenge the

law, which was one of the most restrictive in the nation, and

was endorsed by Hans von Spakovsky.

>> ...like Indiana, which have had photo I.D. laws in place now

for more than six years. >> COBB: How did it come to be

that so many people who have the historic experience of being

denied access to the ballot, believe that they're being

discriminated against contrary to your opinion?

>> Well, actually, that's not true of the majority of African

Americans, if you look at the polling, they agree with other

Americans that voter I.D. is a common sense reform.

Yeah, it's true that the leaders of some civil rights

organizations and others disagree with that, but the

evidence, the facts, the turnout in elections in states that have

put in I.D. laws show that it does not keep people out of the

polls. >> COBB: In all these studies

that we looked at... We clashed over the competing

studies and arguments around all of this.

>> Almost every... With a few... no, with a few

exceptions, almost every lawsuit that's been filed have been

unable to show that, in fact, it keeps people out of the polls.

>> COBB: And I pushed him on the implications of what he was

saying. Do you think that Congressman

John Lewis, who was bludgeoned in the attempt to secure the

right to vote, was wrong? >> On this particular issue with

voter I.D.? Yes, he was wrong.

>> Each and every voter I.D. law is a real threat to voting

rights in America. Make no mistake, these voter

I.D. laws are a poll tax. I know...

>> COBB: John Lewis spoke with such passion about voter I.D.

laws, not just because he thought they were wrong, but

because his life's work was under attack.

>> The right to vote is precious.

Almost sacred. >> COBB: Other states would

follow Wisconsin with their own voter I.D. laws.

And then came efforts to dismantle the fundamental

provisions of the Voting Rights Act.

It came to a head right where it started, in Alabama.

Where commissioners in Shelby County had sued the Justice

Department, saying that discrimination was no longer the

problem it had been in the 1960s, and the law had outlived

its purpose. Butch Ellis was the county

attorney. >> I think the Voting Rights Act

made a tremendous change. I think you've got to give the

Voting Rights Act credit for some of the changes that's

occurred through the South. There's also been a social

evolution, that independently of voting issues has led to...

better dialog between the races, and more compatibility between

the races. It's just, the conditions that

we were faced with in 1965 no longer exist.

They absolutely do not exist. >> COBB: On top of that, Ellis

said, even making small changes like the location of a polling

place, required time-consuming paperwork and costly legal

fees-- a hardship for the county.

>> It was. It was not just a bureaucratic

burden. It was a financial burden.

It was a practical burden, and it was an unnecessary burden.

And it was just not justified by the facts.

>> It's considered one of the most important pieces of civil

rights legislation ever passed. But by five to four, the U.S.

Supreme Court today took the teeth out of a law enacted

nearly 50 years ago. >> COBB: In 2013, the U.S.

Supreme Court ruled in favor of Shelby County.

>> Today's ruling means those covered states are now free from

federal oversight. They can immediately change

their voting laws and their procedures without having to

come here to Washington to get approval first.

>> I always thought that since the voting rights struggle came

to a head in Alabama, in Selma, Alabama, that they wanted a case

from Alabama for symbolic purposes, for symbolism to... to

gut the Voting Rights Act. >> Today's decision apparently

clears the way for several high profile laws to take effect,

including stricter voter I.D. requirements in Alabama...

>> COBB: The Shelby decision did send a powerful signal, and soon

changes to voting laws began taking place all over the

country-- in Southern states and beyond.

In Wisconsin, Scott Walker and the Republicans began passing a

flurry of new voting laws. >> Most of the bills that I've

worked on have been making sure that dates and times, and

process and procedures, are in place.

I've also worked with the election commission on a number

of issues that we bring forward with election fraud.

The important part is that we have the safeguards in place to

make sure that people have confidence in the electoral

process, and that our electoral process has integrity.

>> COBB: What Republicans began in 2011 with voter I.D. grew

and grew. >> We have seen a lot of changes

to election law over the past ten years, always having to

provide proof of residence when you register to vote.

If you want to register by mail, a required copy of your I.D., or

a copy of your energy bill or a copy of your bank statement.

>> COBB: Half a dozen changes after the Shelby decision...

>> Not allowing someone to vouch for another voter.

>> COBB: ...that critics say have made voting harder...

>> Or requiring a witness address for an absentee ballot.

>> COBB: ...especially for communities of color.

>> The elimination of late-arriving absentee ballots,

or a change in the deadline to request an absentee ballot, a

change in the number of hours we could have for early voting.

You almost have to be an attorney in order to understand

how to register and vote successfully in Wisconsin.

>> COBB: That was the landscape in the days leading

up to the April 7th election, as more

than 1.3 million voters in Wisconsin were requesting

absentee ballots. In Milwaukee, home to the

state's heaviest concentration of Black voters, the pandemic

was steadily shutting down the election system itself.

♪ ♪ >> The really significant shifts

that we began to see were a closure of many of the sites

that we used for voting and a mass exodus of our election

workers due to concern about the pandemic.

At one time, we talked about reducing sites to maybe from 180

to 120. Then we talked about reducing

those to 45, and then it finally came down to five voting centers

for in-person voting on Election Day.

♪ ♪ >> Good morning, folks, and

thanks for joining us on this Monday, April 6.

>> COVID-19 cases across the state continues to climb.

>> COBB: On the morning of April 6, less than 24 hours before the

polls opened, Governor Evers made a last-ditch attempt to

postpone the election. >> Earlier today I signed

executive order 74, to suspend in-person voting for the spring

election until June 9. There has been some that said,

"Well, why'd you wait until the last minute?"

Well, the response was, "If I would've done it three weeks

before, it would've been the same result."

I felt it important to work with the legislature, I thought

that was our best chance and it just didn't happen politically.

>> There's election confusion... >> Been a rollercoaster in the

last few hours... >> That day before the election

was the most momentous pre-election day that I've ever

covered. >> COBB: Patrick Marley is one

of the state's preeminent political reporters, and we

talked to him a lot as things were playing out.

>> Here you have the governor in the morning trying to issue an

order to delay the election. Republican lawmakers almost

immediately sue, and then at the end of the day, the state

Supreme Court says, "This election will continue."

>> The presidential primary here is a go tomorrow.

>> The polls will be open at 7:00 a.m.

>> COBB: Just hours later, the U.S. Supreme Court dealt another

blow to the Democrats. They would not intercede to

extend the deadline for absentee ballots.

>> The U.S. Supreme Court comes in and says, "Well, you have to

have a postmark requirement. The ballots must be postmarked

by Election Day, otherwise somebody could cast their ballot

on the day after the election. >> The U.S. Supreme Court

weighing in late in a 5-4 ruling...

>> I was making dinner for my two kids when I learned about

the United States Supreme Court case and it was just a little

while after learning about the Wisconsin state Supreme Court

case, and I said to them, "I don't know that we have a path

to win this election, I'm not seeing it right now."

>> COBB: That closely watched contest between Jill

Karofsky and Daniel Kelly was hanging in the

balance. >> And we woke up the next day

and I saw a sight I didn't ever imagine seeing.

>> Wisconsin is moving forward with its election this morning.

>> These brave, brave people who went to the polls in Milwaukee

despite the pandemic. >> Take a look at how long the

lines already are in Milwaukee of voters waiting to cast their

ballot. >> COBB: It would take a week

for election officials to tally the ballots.

>> I don't think there is a clerk in the state of Wisconsin

that didn't see an entire shift in how we conduct elections on

April 7. For us, 80% of our voters voted

by mail, 20% voted in person. Normally it would be the exact

opposite. >> The big state race that

everyone was keeping an eye on. >> COBB: Then, on April 13,

surprising news... >> Judge Jill Karofsky has won a

seat on the Wisconsin Supreme Court.

>> COBB: The Democrats' favorite, Jill Karofsky, had

won, the unexpected result of a wave of absentee ballots.

>> My campaign manager called and he said, "If you're in

fleece and jeans," which is what I was in, "You need to put

something nicer on because you're about to go on TV, and

you're going to be the... You're going to be the next

justice on the Wisconsin State Supreme Court."

I'm celebrating social distance wise...

(cheers and applause) ...with my friends and my

colleagues. The final margin was over ten

points. And if someone had told me

before the election that we were going to win by more than ten

points, I would have told them they were absolutely crazy.

♪ ♪ >> COBB: But the victory belied

an unsettling fact. With our colleagues at Columbia

Journalism Investigations, and the "Milwaukee Journal

Sentinel" and "USA Today," we examined the results.

We found that over 23,000 Wisconsin voters had their

ballots rejected. ♪ ♪

Can you talk about the role the safeguards may play in the

confusion about how to vote by mail?

>> Sure. Every safeguard that's put in

place, you know, well- intentioned it may be, is

another thing that a voter has to deal with or another thing

that an election official has to deal with.

Those are real hurdles for people, particularly in a

pandemic. >> COBB: Just over 10% of those

rejected ballots were from Milwaukee.

Neil Albrecht took us to the room where they're kept.

>> We would normally see only a small handful of these for any

election because of how bolded the requirement is.

They have to sign, date it. And then the witness signs,

provides their address as well. And then that's what's required

for the ballot to be counted on election day.

In this box, these are all ballots that were received by

the election commission on April 10, but were postmarked after

the April 7 election day. Because it wasn't postmarked by

April 7, it wasn't counted in the election.

>> COBB: Some of the rejected ballots were from one

neighborhood-- Metcalfe Park. ♪ ♪

>> Metcalfe Park is the neighborhood in the center of

Milwaukee, right in the heart. It's an African American

community. ♪ ♪

In Metcalfe Park, our median income is $24,000.

We are a severely poor community.

>> COBB: Melody McCurtis and her mother, Danell Cross, founded a

community organization called Metcalfe Park Bridges.

(indistinct chatter) We found the names of residents

who had their ballots rejected and showed them to Melody and

Danell. >> So why don't you guys look at

that and see what you make of it?

♪ ♪ >> Hold on, hold on, hold on.

(Melody gasps) >> Look who got rejected.

(Danell gasps) Right there.

>> Okay... I hate the thought of telling

them that they didn't get counted.

>> It's a lot of names on here that, that are pretty active in

the community, that we're in a relationship with.

Like a lady on here that's a senior.

She's so vibrant. She's one of the fanciest ladies

in the neighborhood and all of this.

>> Wait a minute. Wait a minute.

I know she's not on here. >> Yeah, she is.

>> Oh my goodness... >> There's another young man

that won a basketball tournament last year, he said that he

felt like his vote didn't matter, right?

And for him not to be counted, it just... it's-it's doing

something to me. >> The April election brought it

all out. It snatched the covers off of

it. Now we actually understand how

much work it goes into disenfranchising people.

♪ ♪ >> Many people spent their

entire evening at a voting location.

>> COBB: Many of the same kinds of problems showed up in other

states that held elections in the months that followed.

>> Just 170 of Kentucky's 3,700 locations will be up and

running today. >> Voters who started lining up

to vote before 7:00 a.m. were still lining up at midnight.

>> COBB: People waited in line for hours.

>> With some people waiting five to six hours to cast their

votes. >> COBB: Machines that

wouldn't accept ballots... >> As many as 75% of the ballots

did not go through the first time.

>> Voters who were locked out of the polls pounded on doors.

>> Open that door! Open that door!

Open that door! Open that door!

>> Our votes matter! >> COBB: In our months of

reporting, election officials told us they were underfunded

and overworked, and increasingly fearful of what would happen in

November. And their fears are

well-founded: based on our review of years of voting

records, more than a million votes might go uncounted in the

upcoming election. >> As we look at this, the

projected numbers of absentee ballots that are rejected are

higher than the margin of victory for the president in

Michigan in 2016. Maybe 50,000 votes in a state

doesn't mean much to the presidential election.

Maybe it's an all blue, an all red state.

But somebody that's running for mayor in that state, you know,

losing... you know, losing ten, 15 votes can make the

difference for them. So the potential for this to,

you know, alter races around the country is absolutely on the

table. >> It's a very bad system,

it's going to lead to a tremendouse fraud and we're

trying to stop it. >> COBB: Against this backdrop,

Republicans, led by President Trump, have been relentlessly

attacking absentee ballots. >> Voting by mail is wrought

with fraud and abuse and people don't get their ballots.

People steal them out of mailboxes.

People print them, and then they sign them, and they give them

in. >> COBB: Hearing the constant

refrain of fraud led me back to Hans von Spakovsky.

He keeps a database of alleged voter fraud cases that fuel the

Republican's claims. But when our reporting team

examined it, we found it included misleading and

overstated information-- charges that von

Spakovsky said are false, and he insisted that the database shows

a wide variety of election fraud cases.

>> Well, most important thing for you to understand is just a

sampling of cases, okay? It is not a comprehensive list.

I don't have the time, the resources to do any kind of

comprehensive list. And, in fact...

>> COBB: Sure, but... but how do you find these cases?

>> We find them through newspaper accounts of people

getting convicted. We find them through press

releases from law enforcement officials, state attorney

generals and others. Sometimes people send us court

judgments, convictions, and other information like that.

You know, folks on one side of this are constantly saying, "Oh,

there's no massive voter fraud in the United States."

And I don't claim that there is massive voter fraud in United

States. In fact, I think the correct

assessment of this is going back to the Jimmy Carter, James Baker

Commission. You know, what they said was

that voter fraud does occur in the U.S. and it could make a

difference in a close election. >> COBB: A few days before we

interviewed von Spakovsky, one of the most prominent Republican

lawyers, Ben Ginsburg, who oversaw the 2000 Bush-Gore

recount, publicly criticized the database and rejected the notion

that fraud was a big problem. >> He has no idea what he's

talking about. I mean he even made the most

basic error of referring to our database, which is just a

sampling of cases. >> COBB: We talked to Hans von

Spakovsky about this, and he said, "He has no idea what he's

talking about. He's never had any actions,

never done anything in the area of trying to investigate or go

after election fraud." And what's your response to

that? >> I... I think that's not a

fair statement. I've been involved in recounts

and contests, which all involve kicking open the hood of the

American engine to look at what happens in polling places.

I can tell you from that experience and being the

co-chairman of a presidential commission on election

administration in 2013 and 2014, where we looked for this, that

the widespread fraud that would allow a conclusion of elections

are rigged is not there. The evidence does not show that.

>> COBB: Mm-hmm. How did this come to be so

prominent a part of the conversation if, as you say,

there's been scant evidence? >> As the country has become

more divided, fraud and voter suppression have become part of

each party's get out the vote mechanism, and inspiration and

motivation to get its voters out.

♪ ♪ >> COBB: With COVID-19 cases

rising throughout Wisconsin, that's exactly what Melody

McCurtis and her mother have been doing.

>> For April 7, a lot of people was not able to vote, so

that's why we trying to avoid this.

And we not trying to have April 7 happen again.

>> I was born on Bloody Sunday. My auntie marched with Martin

Luther King. Our family was always about

activism. >> Our goal for today is gonna

be getting people registered to vote, and then also having

people request their absentee ballots.

>> Voting is really... it's really on the bottom, right,

when you're dealing with life, and, and trying to provide for

you and your children. Hey, how you doin'?

We're with Metcalfe Park Community Bridges, we're here to

see if you need help with registering to vote.

We're going door to door. We're providing printed

literature in there with phone numbers for folks to call us if

they need help registering to vote so that they feel empowered

to vote. Voting is the direct reflection

of our neighborhood's ability to thrive, right?

When you vote folks in office, you have a say so on what you

want your community to be. ♪ ♪

>> COBB: Melody was expressing a fundamental principle about

democracy: one person, one vote. ♪ ♪

I thought a lot about this idea when I paid a visit to Black

Lives Matter Plaza earlier this fall.

Seeing the White House behind a chain link fence,...

the fence itself a memorial to African Americans killed by

police... ...made me think about the

connections between Wisconsin, the country's history of

disenfranchisement, and the coronavirus.

♪ ♪ It's tempting to see them as

three distinct concerns, but they're inextricably linked to

a legacy of inequality and an ongoing struggle.

♪ ♪

>> Go to pbs.org/frontline for more on the impact of the

landmark Supreme Court decision on the Voting Rights Act.

>> You know, we're in 2020 but it felt like 1867.

>> And more reporting from our partners Columbia Journalism

Investigations and the USA Today Network on how the pandemic

could impact voter turnout. Connect with FRONTLINE

on Facebook and Twitter, and watch anytime on the

PBS Video App or pbs.org/frontline.

Captioned by

Media Access Group at WGBH access.wgbh.org

>> For more on this and other "Frontline" programs, visit our

website at pbs.org/frontline.