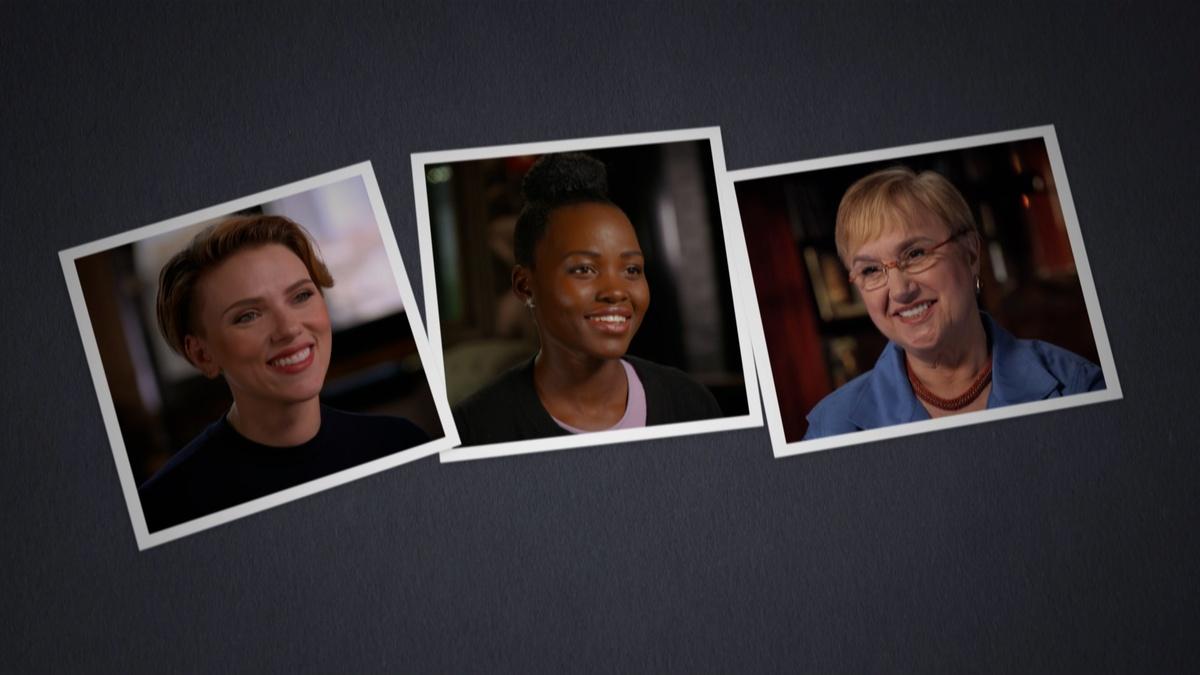 S6 E14 | FULL EPISODE
Flight
Henry Louis Gates, Jr. meets actors Scarlett Johansson and Lupita Nyong'o, and chef Lidia Bastianich — three women whose families crisscrossed the globe to escape oppression and find opportunity, leaving them with questions about their relatives who stayed behind.
TRANSCRIPT

GATES: I'M HENRY LOUIS GATES, JR.

WELCOME TO "FINDING YOUR ROOTS".

IN THIS EPISODE, WE'LL MEET ACTORS SCARLETT JOHANSSON AND

LUPITA NYONG'O, AS WELL AS CHEF LIDIA BASTIANICH.

THREE PEOPLE WHOSE FAMILIES CRISS-CROSSED THE GLOBE TO

ESCAPE OPPRESSION AND FIND OPPORTUNITY,

LEAVING THEM WITH QUESTIONS ABOUT THEIR RELATIVES

WHO STAYED BEHIND.

BASTIANICH: I CANNOT HELP BUT THINK OF MYSELF AS A REFUGEE.

I JUST WANTED TO BELONG AND BE SECURE SOMEPLACE.

NYONG'O: I'M SO CURIOUS TO THINK ABOUT WHAT I KNOW OF

HISTORY AND THINKING ABOUT WHICH ONE OF MY RELATIVES WAS

ALIVE WHEN IT WAS HAPPENING.

JOHANSSON: WHEN I WAS LITTLE, MY DAD USED TO TELL ME THAT

I WAS A VIKING PRINCESS.

SO, THAT'S WHAT I WANT TO KNOW.

IS IT TRUE?

GATES: TO UNCOVER THEIR ROOTS,WE'VE USED EVERY TOOL AVAILABLE.

GENEALOGISTS HELPED STITCH TOGETHER THE PAST FROM THE

PAPER TRAIL THEIR ANCESTORS LEFT BEHIND.

WHILE DNA EXPERTS UTILIZED THE LATEST ADVANCES IN

GENETIC ANALYSIS TO REVEAL SECRETS HUNDREDS OF YEARS OLD,

AND WE'VE COMPILED IT ALL INTO A BOOK OF LIFE.

SCARLETT INGRID JOHANSSON. NOT BAD, HUH?

A RECORD OF ALL OF OUR DISCOVERIES.

BASTIANICH: AHH! AMAZING.

I WAS SO HAPPY AND SO PROUD.

NYONG'O: OH MY GOODNESS! I DID NOT KNOW THAT!

GATES: ANY IDEA WHAT THIS IS?

JOHANSSON: NO WAY! THAT IS CRAZY! WOW!

GATES: THOUGH MY THREE GUESTS COME FROM VASTLY

DIFFERENT PARTS OF THE WORLD, THEIR FAMILIES ARE LINKED BY

COMMON EXPERIENCES.

IN THIS EPISODE, WE'RE GOING TO BRING THOSE

EXPERIENCES TO LIFE,

SHARING STORIES OF PEOPLE WHO HAD THE COURAGE

TO LEAVE THEIR HOMELANDS, NO MATTER THE RISK.

(THEME MUSIC PLAYS).

♪

(OVERLAPPING CHATTER)

MAN: GOOD LUCK THIS WEEKEND.

GATES: LUPITA NYONG'O IS ONE OF HOLLYWOOD'S

BRIGHTEST STARS.

SHE'S BEEN CAPTIVATING AUDIENCES FROM THE MOMENT

SHE ARRIVED AT THE YALE SCHOOL OF DRAMA FROM KENYA IN 2009.

JUST FOUR YEARS LATER, HER STUNNING PERFORMANCE

IN "12 YEARS A SLAVE" WAS A REVELATION,

EARNING HER RAVE REVIEWS, DOZENS OF AWARDS,

AND THE NATIONAL SPOTLIGHT.

LUPITA IS THE FIRST BLACK PERSON FROM AFRICA TO WIN AN

ACADEMY AWARD, A REMARKABLE ACHIEVEMENT THAT'S BEEN

CELEBRATED ON BOTH SIDES OF THE ATLANTIC.

BUT HER IDENTITY IS FAR MORE COMPLEX THAN SIMPLY "AFRICAN".

WHEN SOMEONE ASKS YOU, WHO ARE YOUR PEOPLE,

HOW DO YOU RESPOND?

NYONG'O: I'M LUO, FROM THE LUO PEOPLE WHO ORIGINATED

FROM NORTHERN AFRICA AND TRAVELED DOWN TO EAST AFRICA

WHERE I'M FROM, KENYA.

GATES: SO YOU DON'T SAY, "I'M A KENYAN"?

NYONG'O: OH, WELL, YEAH. I COULD SAY I'M A KENYAN.

GATES: BUT YOU DIDN'T SAY YOU'RE A KENYAN.

NYONG'O: I DIDN'T BECAUSE I'M TALKING TO YOU.

GATES: LUPITA'S COMPLICATED ANSWER REFLECTS HER

COMPLICATED LIFE.

SHE WAS BORN IN MEXICO, TO KENYAN PARENTS WHO HAD

FLED REPRESSION BACK HOME.

THE FAMILY RETURNED TO KENYA WHEN SHE WAS A CHILD,

AND LUPITA GREW UP THERE.

BUT GROWING UP IN AFRICA WASN'TA STRAIGHTFORWARD MATTER.

KENYA WAS A BRITISH COLONY UNTIL 1963,

AND THE LEGACY OF COLONIALISM IS STILL VERY MUCH ALIVE.

AS LUPITA DISCOVERED WHEN SHE BEGAN ACTING,

AND WAS TOLD THAT HER SKIN WAS TOO DARK.

NYONG'O: WE'D HAVE CASTING DIRECTORS FROM,

FOR COMMERCIALS AND STUFF COME TO SCHOOL SOMETIMES

TO LOOK FOR TALENT, YOU KNOW, SCOUT.

AND, UH, YEAH, I WAS TOLD.

GATES: BY ANOTHER KENYAN?

NYONG'O: UM-HUM, THAT MY SKIN WAS TOO DARK.

AT THE TIME EVERYBODY IN COMMERCIALS WAS BIRACIAL

OR LIGHT-SKINNED.

GATES: MM-HMM AND WHEN IS THIS, WHAT YEAR?

NYONG'O: THIS WAS, LIKE, IN THE '90S.

GATES: IN THE 90'S.

NYONG'O: BUT THIS WAS SOMETHING THAT I,

I WITNESSED EVEN IN THE 2000'S.

THERE WAS THIS CRAZY AD ABOUT A WOMAN WHO CAN'T GET A JOB

AND THEN SHE USES A SKIN LIGHTENER AND YOU SEE HER

SKIN LIGHTEN AND THEN SHE GETS THE JOB.

SO YOU KNOW, I DON'T THINK WE'RE RID OF IT.

I THINK WE'VE, WE'VE MADE STRIDES IN DETERMINING WHAT

IS BEAUTIFUL ON OUR OWN TERMS,

BUT WE, LIKE EVERYONE ELSE,

AROUND THE WORLD ARE VERY INFLUENCED

BY WESTERN STANDARDS OF BEAUTY.

GATES: YEAH AND IT'S A FUNCTION OF THIS ANTI-BLACK

RACIST AESTHETIC STANDARD.

AND, UM PEOPLE OF AFRICAN DESCENT EVERYWHERE WOULD BE

BETTER OFF IF WE COULD THROW OFF THAT,

YOU KNOW, REMNANT OF THE COLONIAL MENTALITY.

NYONG'O: RIGHT.

GATES: THAT'S ONE REASON THAT SO MANY PEOPLE ARE SO

HAPPY TO SEE YOU ON THE COVER OF MAGAZINES.

NYONG'O: I'M HAPPY, TOO.

GATES: MY SECOND GUEST IS EVERY BIT AS FAMILIAR WITH

THE SPOTLIGHT AS LUPITA.

SCARLETT JOHANSSON IS AN INTERNATIONAL CELEBRITY.

ONE OF THE HIGHEST GROSSING AMERICAN

FILM ACTORS OF ALL TIME.

BUT I WAS SURPRISED TO LEARN THAT HER FAMILY STORY IS

ONE OF HARDSHIP.

HER FATHER IMMIGRATED TO AMERICA FROM DENMARK AS A

YOUNG MAN, HER MOTHER'S ROOTS LIE IN EASTERN EUROPE.

EVENTUALLY THE COUPLE SETTLED IN NEW YORK CITY,

AND STRUGGLED MIGHTILY JUST TO MAKE ENDS MEET.

JOHANSSON: OH, AND THIS IS A NEW TAP-DANCING STEP.

GATES: BUT SCARLETT DREAMED OF BECOMING A STAR,

♪ JOHANSSON: LIKE ME... ♪

GATES: AND HER PARENTS WEREN'T GOING TO LET THEIR

CIRCUMSTANCES GET IN THE WAY OF HER DREAMS.

JOHANSSON: WE GREW UP WITH VERY LITTLE.

WE WERE ON WELFARE, FOR MOST OF MY CHILDHOOD.

UM, YOU KNOW, OBVIOUSLY, WE RECEIVED FOOD STAMPS,

AND WERE PART OF THE GOVERNMENT ASSISTED PROGRAMS.

AND THEN, WHEN I WAS ABOUT SEVEN,

MY MOM GOT THE NAME OF THIS KIDS' TALENT AGENCY,

AND TOOK US ALL THERE.

I WAS, OF COURSE, PUMPED, YOU KNOW?

AND THE ONLY PERSON THAT THEY WANTED OUT OF EVERY,

ALL OF US, WAS MY OLDER BROTHER ADRIAN.

UM, AND I WAS JUST DEVASTATED.

I MEAN, I WAS...

GATES: "YOU WANT HIM?"

JOHANSSON: YEAH, I KNOW. I WAS LIKE, "THAT GUY?

UH, WHAT DOES HE HAVE THAT I DON'T HAVE."

AND I THINK MY MOM JUST SAW THAT I WAS CRUSHED,

AND SHE SAID TO ME, YOU KNOW, "IS THIS REALLY SOMETHING THAT

YOU REALLY WANT TO DO?"

AND I'M LIKE, "YES." AND I STARTED AUDITIONING.

YEAH. THAT'S HOW IT STARTED.

GATES: SCARLETT HAS BEEN WORKING ALMOST CONTINUOUSLY

EVER SINCE, MOVING SEAMLESSLY THROUGH AN ARRAY OF ROLES,

EQUALLY AT HOME IN THE ART HOUSEAS SHE IS IN BLOCKBUSTERS.

IT'S BEEN A PHENOMENAL JOURNEY,

YET SCARLETT HAS NEVER FORGOTTEN HOW IT ALL BEGAN.

JOHANSSON: WE HAD OUR UPS AND DOWNS,

JUST THE KIND OF HOPELESSNESS, I GUESS, THAT CAN SOMETIMES

COME WITH COMING FROM A REALLY POOR FAMILY.

YOU KNOW, YOU JUST FEEL LIKE YOU'RE KIND OF

NEVER GONNA GET AHEAD.

BUT WE ALL SUPPORTED ONE ANOTHER THROUGH SOME

REALLY HARD TIMES, DEFINITELY I FEEL LIKE,

YOU KNOW, MY STORY'S REALLY A VERY AMERICAN ONE,

THAT YOU CAN COME FROM NOTHING AND TURN YOURSELF

INTO A PART OF THE AMERICAN DREAM, I GUESS.

GATES: MY THIRD GUEST ISSUPERSTAR CHEF LIDIA BASTIANICH.

HEAD OF A FLOURISHING FOOD AND ENTERTAINMENT EMPIRE,

INCLUDING FOUR RESTAURANTS, AND HER OWN PASTA LINE.

I MET LIDIA IN NEW YORK CITY, WHERE SHE TREATED ME TO A

CLASSIC ITALIAN MEAL, REMINISCENT OF THE ONES SHE

ATE AS A CHILD GROWING UP IN THE TOWN OF POLA

ON THE ISTRIAN PENINSULA,

A MEETING PLACE OF BOTH ITALIAN AND SLAVIC CULTURE.

IT'S A PLACE THAT STILL EVOKES HAPPY MEMORIES FOR LIDIA.

BASTIANICH: WE HAD THE CHICKENS,

WE HAD THE GEESE, WE HAD DUCKS, WE HAD RABBITS,

WE HAD GOATS, WE HAD PIGS.

SO, I WAS RAISED IN A SETTING OF REALLY HELPING TO FEED THE

ANIMALS, TO MILK THE GOAT.

THEN WE HAD A GARDEN, VERY SEASONAL GARDEN.

WE MADE OUR OWN OLIVE OIL. WE MADE OUR OWN WINE.

SO, IT WAS, IT WAS KIND OF AN IDYLLIC SETTING OF FOOD.

AND THAT STAYED WITH ME.

GATES: LIDIA HAS COME A LONG WAY FROM POLA,

BUT HER JOURNEY HASN'T BEEN AN EASY ONE.

AS A CHILD, HER FAMILY FLED HER HOMETOWN TO ESCAPE

COMMUNIST RULE, AND SHE ENDED UP SPENDING TWO YEARS IN A

REFUGEE CAMP BEFORE FINALLY SECURING A VISA

TO THE UNITED STATES.

BASTIANICH: WHAT I REMEMBER MOST AS A CHILD WAS THE

COMMUNAL DINING ROOM AND, YOU KNOW, DINNER TIME,

WE HAD BIG TABLES AND I HAD MY LITTLE PLATE AND

WE WOULD GO ON LINE, ON LINE FOR FOOD TO WAIT FOR FOOD.

AND, YOU KNOW, AGAIN,

FOOD KIND OF WAS THE BASIS OF MY STORY.

UH, YOU KNOW, WAITING FOR FOOD TO BE GIVEN TO YOU,

IT'S A GIFT THAT SOMEBODY GIVES YOU THE FOOD BUT IT'S

ALSO REALLY LEARNING TO APPRECIATE THE VALUE OF FOOD

AND HOW MUCH FOOD MEANS.

AND UM, EATING ALL TOGETHER AS REFUGEES,

AND THOSE REFUGEES, SOME OF THEM WERE IMMEDIATELY ITALIAN

BUT SOME OF THE REFUGEES CAME FROM HUNGARY,

FROM REALLY EASTERN EUROPE AND IT WAS A MIX OF PEOPLE.

SO, UH, IT WAS INTERESTING TO BE IN THAT MIX OF DIFFERENT

CULTURES AND SEE THAT, YOU KNOW,

MAYBE WE'RE ALL THE SAME HUMAN BEINGS LOOKING

FOR THE SAME KIND OF PEACE AND OPPORTUNITY.

GATES: IT'S EASY TO UNDERSTAND WHY FOOD HAS

SO MUCH MEANING FOR LIDIA.

AS AN IMMIGRANT, SHE TOLD ME THAT COOKING AND EATING

HAVE BEEN THE GREAT CONSTANTS OF HER LIFE,

A TREASURED MEANS TO HELP HER HOLD ON TO HER PAST.

BASTIANICH: NOW EVERYBODY WANTSTO KEEP THEIR INDIVIDUALITY,

THEIR CULTURAL TRADITIONS.

BUT AT THE TIME THAT I CAME, AMERICA WAS A MELTING POT.

YOU WERE TO BECOME, AS SOON AS POSSIBLE,

AMERICAN BE PART OF THIS MELTING POT.

AND I THINK MY PASSION FOR FOOD IS MY KIND OF

UMBILICAL CORD.

GATES: MM-HMM. IT'S LIKE BURNING A CANDLE.

BASTIANICH: IT IS,BECAUSE THE FOOD THAT YOU COOK,

KIND OF, THE ODORS, THE SMELLS,BRINGS BACK THE FAMILY.

GATES: IT WAS CLEAR THAT EACH OF MY GUESTS HAD GROWN UP

UNDER STRESS, IN FAMILIES THAT WERE STRUGGLING TO FIND

STABILITY AND PLANT ROOTS.

THIS POSES A CHALLENGE TO GENEALOGISTS.

WHEN FAMILIES MOVE, NAMES, STORIES,

AND TRADITIONS TEND TO GET LOST.

IT WAS TIME TO RECOVER THEM.

JOHANSSON: WE'LL THERE IS THE...

GATES: I STARTED WITH SCARLETT JOHANSSON.

SCARLETT KNEW THAT HER MOTHER'S ROOTS TRACED BACK TO

JEWISH COMMUNITIES IN EASTERN EUROPE.

JOHANSSON: THAT'S GRANDMA'S MOM.

VANESSA: GRANDMA'S MOTHER.

GATES: BUT THAT WAS ALL SHE KNEW.

WHO'S THAT?

VANESSA: THAT'S OUR GRANDPARENTS.

THAT'S OUR GRANDMA AND GRANDPA.

GATES: HER MATERNAL GRANDPARENTS,

DOROTHY AND MEYER SCHLAMBERG, DIVORCED WHEN HER MOTHER

WAS A CHILD, AND THE FAMILY FRACTURED.

GATES: WHO DO YOU SEE THERE?

JOHANSSON: AH, THOSE ARE MY GRANDPARENTS.

MAYBE IN THE THREE YEARS THEY WERE EVER HAPPY.

(LAUGHS).

THAT'S MY GRANDMOTHER DOROTHY AND MY GRANDFATHER,

MICHAEL, WHO WAS MEYER.

GATES: DID YOU HAVE A RELATIONSHIP WITH MEYER?

JOHANSSON: NOT REALLY. I MEAN, I KNOW...

HE HAD A LOT OF TRAGEDY IN HIS LIFE.

I THINK BOTH OF MY GRANDPARENTS DID.

YOU KNOW, THEY GREW UP VERY, VERY POOR.

GATES: YEAH. HARD TO TRANSCEND THOSE THINGS.

JOHANSSON: YEAH. ALSO, I THINK A GENERATION

THAT DIDN'T TALK ABOUT THAT STUFF A LOT.

GATES: RIGHT.

JOHANSSON: YOU KNOW, THEY KIND OF BURIED THINGS AND DIDN'T

REALLY WANT TO ACKNOWL...

YOU KNOW, THEY COULDN'T SORT OF ACKNOWLEDGE THE PAIN,

AND THEN MOVE FORWARD FROM IT.

GATES: OUR SEARCH FOR MEYER'S ROOTS BEGAN IN THE

NATIONAL ARCHIVES, WHERE WE FOUND A PASSENGER MANIFEST

FOR A SHIP CALLED THE SS NIEUW AMSTERDAM,

WHICH ARRIVED IN NEW YORK CITY ON MAY 28TH, 1910.

ON BOARD WAS MEYER'S FATHER, SOL SCHLAMBERG,

TRAVELING TO AMERICA UNDER HIS ORIGINAL YIDDISH NAME.

JOHANSSON: "SCHLACHNE."

GATES: YES, "SHLAK-NUH." SCHLACHNE SCHLAMBERG.

JOHANSSON: SCHLACHNE...

SCHLAMBERG, WHOO, THAT'S A MOUTHFUL.

GATES: SCHLACHNE.

JOHANSSON: YOU CAN SEE WHY THEY CHANGED IT,

BECAUSE SOL IS A LOT EASIER TO SAY.

GATES: THIS REPRESENTS THE MOMENT YOUR FAMILY,

THE SCHLAMBERGS, FIRST ARRIVED IN THE UNITED STATES.

JOHANSSON: I CAN'T BELIEVE IT.

YOU KNOW, YOU KIND OF IMAGINE YOUR ANCESTORS,

"OH, THEY CAME OVER ON A SHIP OR WHATEVER,"

(LAUGHS).

BUT THEN TO ACTUALLY SEE THE PAPER AND KNOW THAT THEY WERE

JOURNEYING TOWARDS WHAT WOULD EVENTUALLY RESULT IN ME,

IT'S, IT'S PRETTY SURREAL.

GATES: SOL SCHLAMBERG IS SCARLETT'S GREAT-GRANDFATHER.

HE WAS A YOUNG MAN WHEN HE ARRIVED IN AMERICA,

NOT YET 25 YEARS OLD,

TRAVELING ALONE, WITH ALMOST NO MONEY.

HE ENDED UP SETTLING ON LUDLOW STREET IN NEW YORK'S

LOWER EAST SIDE, WHERE HE WORKED IN A GROCERY AND

REPORTEDLY SOLD BANANAS.

JOHANSSON: I CAN ONLY IMAGINE THAT HE WAS COMING FROM A

PLACE WHERE HE COULD NOT CONTINUE TO SURVIVE.

I MEAN, I THINK HE MUST HAVE COME FROM SOME BROKEN PLACE,

WHICH WOULD HAVE CAUSED HIM TO GO ON A JOURNEY LIKE THIS

BY HIMSELF, WITH NO, NO SECURITY ON THE OTHER SIDE.

GATES: NOTHING. JOHANSSON: NOTHING.

GATES: I MEAN, TOTAL...

JOHANSSON: THAT'S THE REAL IMMIGRANT STORY.

GATES: IT IS. JOHANSSON: YOU KNOW?

JUST THE PROMISE OF SOME OPPORTUNITY, AND THE FAITH

THAT YOU'RE GONNA MAKE IT ON THE OTHER SIDE.

GATES: AS IT TURNS OUT, SOL WAS INDEED FLEEING

A DESPERATE PLACE.

HE WAS BORN AROUND 1890 IN A TOWN CALLED GROJEC,

NOW PART OF POLAND.

WHEN SOL WAS GROWING UP, JEWS IN THE REGION WERE

BARRED FROM OWNING FARMLAND, AND MANY STRUGGLED SIMPLY

TO FEED THEIR FAMILIES.

WOULD YOU PLEASE TURN THE PAGE?

GUESS WHAT THAT IS.

JOHANSSON: I GUESS THIS IS THE TOWN.

THIS IS GROJEC?

GATES: THAT'S GROJEC, THAT'S WHAT IT LOOKED LIKE ABOUT

THE TIME HE LEFT.

JOHANSSON: I WOULD HAVE LEFT TOO.

I GUESS, KNOWING MY GRANDFATHER,

I GUESS I COULD KIND HAVE IMAGINED THAT THIS WAS

A PART OF HIS STORY.

GATES: SCARLETT'S FAMILY STORY WAS ABOUT TO DARKEN.

WHEN SOL LEFT GROJEC IN 1910,

HIS BROTHER MOSHEK STAYED BEHIND.

A DECISION THAT WOULD END UPHAVING DISASTROUS CONSEQUENCES.

ON SEPTEMBER 1ST, 1939,HITLER'S ARMIES INVADED POLAND.

BY LATE FEBRUARY 1942, ALMOST ALL OF GROJEC'S

JEWISH RESIDENTS HAD BEEN KILLED OR TRANSPORTED NORTH,

TO THE INFAMOUS WARSAW GHETTO.

MOSHEK WAS ABOUT 60 YEARS OLD AT THE TIME,

HE AND HIS WIFE HAD TEN CHILDREN.

THE YOUNGEST, ZLATA, WAS ABOUT 14.

JOHANSSON: WOW. THAT'S CRAZY.

GATES: WHAT DO YOU THINK THAT MUST HAVE BEEN LIKE FOR THEM,

TO BE LOADED ONTO TRAINS LIKE CATTLE,

AND NOT KNOWING WHERE THEY WERE GOING.

JOHANSSON: AND LOSING EACH OTHER, AND EVERYTHING.

I MEAN, YOU HEAR STORIES ABOUT MEN AND WOMEN AND CHILDREN

ALL BEING SEPARATED, AND THAT WAS IT,

YOU KNOW, NEVER SEE THE OTHER PERSON AGAIN.

I CANNOT IMAGINE WHAT YOU MUST BE FEELING,

JUST HELL, IT MUST HAVE BEEN HELL.

GATES: AT ITS HEIGHT, OVER 400,000 PEOPLE WERE FORCED TO

LIVE IN THE WARSAW GHETTO,

AN AREA LESS THAN TWO SQUARE MILES.

DOZENS DIED EACH DAY OF STARVATION AND DISEASE.

THOSE WHO ENDURED FACED DEPORTATION TO

EXTERMINATION CAMPS, OR MURDER AT THE HANDS OF

THE GERMAN POLICE AND THE SS.

WE WONDERED WHAT HAPPENED TO SCARLETT'S FAMILY.

WE FOUND THE ANSWER IN A TESTAMENT SUBMITTED TO

ISRAEL'S HOLOCAUST MUSEUM BY A WOMAN NAMED MIRIAM MARGALITH.

MIRIAM WAS ONE OF MOSHEK'S DAUGHTERS.

JOHANSSON: "FAMILY NAME: SZLAMBERG.

FIRST NAME: MOSZE.

WARTIME LOCATION: WARSAW GHETTO.

CIRCUMSTANCE, TIME, AND PLACE OF DEATH: UNKNOWN.

CHILDREN'S NAMES UNDER THE AGE OF 18 THAT PERISHED: ZLATA,

AGE: 15, TIME AND PLACE OF DEATH: WARSAW GHETTO,

MANDIL, AGE: 17, TIME AND PLACEOF DEATH: WARSAW GHETTO."

WOW.

THAT'S SAD. SORRY.

AND I PROMISED MYSELF I WOULDN'T CRY.

BUT IT'S HARD NOT TO.

GATES: IT'S HARD NOT TO.

JOHANSSON: THAT IS CRAZY.

I MEAN YOU REALLY COULDN'T IMAGINE THE HORROR.

IT'S JUST SO CRAZY TO IMAGINE,

NOW I KNOW WHY YOU PUT THE TISSUES THERE.

(LAUGHS).

IT'S CRAZY TO IMAGINE THAT SOL WOULD BE ON THE

OTHER SIDE SELLING BANANAS.

GATES: OH, YEAH. JOHANSSON: ON LUDLOW STREET.

GATES: YEP.

JOHANSSON: AND HOW DIFFERENT IT WOULD BE,

BEING IN AMERICA AT THAT TIME.

THE FATE OF ONE BROTHER VERSUS THE OTHER.

GATES: MMM. YEAH.

JOHANSSON: IT MAKES ME FEEL MORE DEEPLY CONNECTED TO

THAT SIDE OF MYSELF, THAT SIDE OF MY FAMILY.

UM, I DIDN'T EXPECT THAT.

GATES: TURNING TO LUPITA NYONG'O,

WE CONFRONTED ANOTHER STORY OF TRAGEDY AND UPHEAVAL,

BUT THIS ONE WAS FAR MORE RECENT.

IN 1978, FIVE YEARS BEFORE LUPITA'S BIRTH,

A MAN NAMED DANIEL ARAP MOI BECAME PRESIDENT OF KENYA.

MOI: WE MUST BE PREPARED TO MAKE ANY NECESSARY

SACRIFICES FOR OUR COUNTRY.

GATES: MOI SOON BEGAN CONSOLIDATING POWER,

ULTIMATELY CREATING A ONE-PARTY STATE.

TO QUELL THE OPPOSITION, HE CENSORED JOURNALISTS

AND ACADEMICS, AND ROUNDED UP DISSIDENTS.

ONE OF HIS TARGETS WAS LUPITA'S FATHER, PETER,

A PROFESSOR OF POLITICAL SCIENCE,

DEVOTED TO NURTURING DEMOCRACY IN KENYA.

IN 1980, PETER WAS ARRESTED, AND HELD OVERNIGHT.

THOUGH HE RETURNED HOME SAFELY,

NOT EVERYONE IN HIS FAMILY WAS SO FORTUNATE.

HE SOON LEARNED THAT HIS YOUNGERBROTHER CHARLES HAD DISAPPEARED.

NEWS REPORTS CLAIMED CHARLESDIED FALLING FROM A FERRY BOAT,

BUT THE STORY NEVER RANG TRUE TO LUPITA'S RELATIVES.

YOUR FAMILY BELIEVES THAT UNCLE CHARLES WAS PUSHED OFF

THE FERRY TO INTIMIDATE YOUR FATHER AND WITNESSES WERE

TOO TERRIFIED TO TESTIFY.

NYONG'O: WELL, FOR A LONG TIME WE WEREN'T REALLY EVEN REALLY

ALLOWED TO SAY HIS NAME.

HIS NAME WAS ALWAYS SAID IN HUSHED TONES AND STUFF.

GATES: THAT HAD TO BE HORRIBLE FOR YOUR FATHER.

NYONG'O: IT WAS DEFINITELY A MAJOR LOSS TO MY FAMILY.

GATES: THE NYONG'O'S WERE SO SHAKEN BY THE DEATH THAT THEY

FLED TO MEXICO CITY, WHERE LUPITA WAS BORN IN 1983.

MEXICO WAS SAFE, AND PETER AGAIN FOUND WORK

AS A UNIVERSITY PROFESSOR.

BUT MEXICO WASN'T HOME.

AND BY THE TIME LUPITA WAS FOUR,

HER FAMILY WAS BACK IN KENYA, DESPITE THE RISKS.

WHY DO YOU THINK YOUR PARENTS RETURNED?

NYONG'O: MY FATHER IS SO PASSIONATE ABOUT THE COUNTRY.

AND HE SO DEEPLY BELIEVES THAT THERE IS A BETTER FUTURE...

GATES: MHMM.

NYONG'O: POSSIBLE AND SO I KNOW THAT HE FEELS THAT

HE'S MOST USEFUL WHEN HE CAN BE THERE.

GATES: BACK IN HIS HOMELAND, PETER RESUMED HIS ACTIVISM,

ORGANIZING A NEW POLITICAL PARTY TO OPPOSE MOI.

THE PARTY COULD ONLY OPERATE UNDERGROUND,

BECAUSE IT WAS COMPLETELY ILLEGAL.

BUT WE FOUND A TRANSCRIPT OF AN INTERVIEW PETER GAVE ABOUT

HIS EXPERIENCE, AN INTERVIEW LUPITA HAD NEVER SEEN.

NYONG'O: "WE STARTED ORGANIZING FROM JULY 1987.

THE WHOLE THING WAS HAPPENING HERE IN MY HOUSE." OH!

GATES: HOW ABOUT THAT?

NYONG'O: THAT WAS WHAT WAS GOING ON.

THAT IS GREAT.

AND IT EXPLAINS ALL THOSE PEOPLE.

I MEAN I WAS, WHAT, FOUR AT THE TIME.

GATES: OH, SO YOU HAD ALL THESE STRANGERS.

NYONG'O: YEAH. PEOPLE ALWAYS THERE;

TEA, TEA, TEA BEING SERVED.

GATES: AND THEY WERE PLOTTING THE REVOLUTION.

NYONG'O: YEAH.

GATES: WHEN MOI'S GOVERNMENT LEARNED ABOUT PETER'S PARTY,

THEY TOOK SWIFT ACTION.

PETER WAS SEIZED AND TAKEN TO WHAT WAS KNOWN AS

"THE NYAYO HOUSE", A TORTURE CHAMBER IN THE BASEMENT OF

A NAIROBI SKYSCRAPER.

ALL THE WHILE, HIS FAMILY HAD NO IDEA WHERE HE WAS.

DO YOU REMEMBER THIS?

NYONG'O: YEAH, I REMEMBER HIM MISSING.

MY MOTHER TRIED TO CREATE ASENSE OF NORMALCY IN THE HOUSE,

BUT WE WEREN'T ALLOWED TO GO TO SCHOOL AND WE SPENT

DAYS WITH THE CURTAINS DRAWN AND ALL I REMEMBER IS, LIKE,

HAVING THE FIRE GOING ALL THE TIME AND JUST BURNING PAPERS

THAT I DIDN'T EVEN KNOW WHAT THEY WERE.

GATES: MHMM.

NYONG'O: BUT OUR JOB WAS JUST TO THROW IN THE FIRE.

THROW IN THE FIRE.

AND IT WAS A VERY, UM, WEIRD TIME.

I DIDN'T UNDERSTAND WHAT WAS GOING ON AND

HE WAS GONE FOR A WHILE.

GATES: 26 DAYS HE WAS TORTURED IN NYAYO HOUSE.

YOUR MOTHER MUST HAVE THOUGHT YOUR FATHER WAS

NEVER GOING TO COME BACK.

NYONG'O: SHE MUST HAVE.

GATES: SO, IT'S...

NYONG'O: SHE KEPT THAT TO HERSELF THOUGH.

GATES: I'M SURE YEAH.

NYONG'O: SHE REALLY DID, AND FOR THAT I'M, I'M, I FEEL

FOR HER BUT I'M ALSO VERY GRATEFUL THAT SHE,

SHE DID THAT.

AND I REMEMBER THE DAY HE CAME BACK.

GATES: YOU DO?

NYONG'O: HE JUST WALKED IN THE DOOR.

GATES: AH, NO!

NYONG'O: HE LITERALLY JUST WALKED IN THE DOOR.

SHE WAS NOT EXPECTING HIM.

GATES: OH MY GOD.

NYONG'O: I JUST JUMPED INTO MY FATHER'S ARMS.

GATES: ALTHOUGH MOI WOULD STAY IN POWER FOR ANOTHER 13 YEARS,

PETER NEVER GAVE UP.

AND HIS STORY HAS A MARVELOUS, ALMOST IMPLAUSIBLE ENDING.

IN 2013, PETER WAS ELECTED TO KENYA'S SENATE.

FOUR YEARS LATER, HE WAS ELECTED GOVERNOR OF KISUMU

WHERE HE CONTINUES TO SERVE TODAY,

STILL WORKING FOR REFORM AND DEMOCRACY.

NYONG'O: OH, THAT'S BEAUTIFUL.

GATES: YOUR FATHER'S STORY IS A MIRACLE.

NYONG'O: HE'S MY HERO.

GATES: LIKE LUPITA,LIDIA BASTIANICH HAD A CHILDHOOD

MARKED BY INTENSE POLITICAL TURMOIL.

HER HOMETOWN OF POLA, WHICH LIES ON THE SOUTHERN SHORES OF

WHAT IS KNOWN AS THE ISTRIAN PENINSULA, HAS BEEN

RULED BY MANY DIFFERENT POWERS OVER THE YEARS.

INDEED, SINCE THE 14TH CENTURY VENICE,

AUSTRIA, FRANCE, ITALY, AND YUGOSLAVIA HAVE EACH SPENT

TIME CONTROLLING THE TOWN,

GIVING LIDIA A UNIQUE PERSPECTIVE ON THE

QUESTION OF IDENTITY.

LIDIA, WHAT DO YOU THINK IS THE DIFFERENCE BETWEEN

IDENTITY AND NATIONALITY?

BASTIANICH: I THINK THERE'S A BIG DIFFERENCE.

GATES: MMM-HMM.

BASTIANICH: I THINK THAT IDENTITY IS WHO YOU ULTIMATELY

FEEL YOU ARE.

AND HOW DO YOU RELATE?

SO YOUR IDENTITY COULD BE MIXED.

YOU KNOW, I CERTAINLY FEEL VERY ITALIAN BUT I DO HAVE

SOME SLAVIC IN ME, AND I RELATE TO THAT AS WELL.

SO THAT FORMS THIS MIXTURE THAT IS LIDIA.

NATIONALITY IS SOMETIMES JUST OF CHANGING OF BORDERS.

GATES: THE CURIOUS NOTION THAT ONE'S NATIONAL AND CULTURAL

IDENTITY COULD BE CHANGED, LITERALLY OVERNIGHT,

IS A LESSON LIDIA'S FAMILY LEARNED FIRST HAND.

WHEN WORLD WAR II BROKE OUT,

THE ISTRIAN PENINSULA WAS PART OF ITALY,

THEN A FASCIST NATION, ALLIED WITH NAZI GERMANY.

BUT THE PENISULA'S POPULATION WAS HEAVILY SLAVIC,

AND THE SLAVS WERE BITTER ENEMIES OF THE FASCIST POWERS.

REPORTER: APRIL 6TH, 1941,

THE GERMAN BLITZKRIEG STRIKES AT YUGOSLAVIA AND GREECE.

BOTH COUNTRIES FALL WITHIN 17 DAYS.

GATES: TO ENSURE FASCIST DOMINATION OF ISTRIA,

ITALY'S DICTATOR, BENITO MUSSOLINI,

INTRODUCED A PROGRAM OF BRUTAL SUBJUGATION.

MANY SLAVS WERE THROWN INTO CONCENTRATION CAMPS,

WHERE THOUSANDS DIED OF STARVATION AND DISEASE.

BUT THE ITALIANS WOULD SOON PAYA HEAVY PRICE FOR THEIR ACTIONS.

IN 1943, SLAVIC PARTISANS SEIZED MUCH OF THE ISTRIAN

PENINSULA FROM THE FASCISTS.

NOW, THE SLAVS WERE IN CONTROL.

AND AS THE WAR RAGED ON, THEY WOULD KILL APPROXIMATELY

5,000 ISTRIAN ITALIANS IN WHAT CAME TO BE KNOWN AS

THE FOIBE MASSACRES.

THE PRECISE DEATH COUNT REMAINSA MATTER OF FIERCE DEBATE.

UNMISTAKABLE, THOUGH, WAS THE TOLL THE MASSACRES TOOK

ON DAILY LIFE IN ISTRIA.

DID YOUR PARENTS EVER TALK ABOUT THIS?

BASTIANICH: THEY, THEY DID. THEY DID.

IT WAS KIND OF NEIGHBOR AGAINST NEIGHBOR,

AND IT'S A TERRIBLE PLACE TO BE.

ANYTHING THAT WAS SEEN AS YOU AIDING THE OTHER SIDE,

SOMEBODY, EVEN A NEIGHBOR, WOULD TAKE ACTION.

THERE WERE THE PARTISANS,

THE FASCIST, THERE WAS ALL DIFFERENT SECTIONS.

AND ALL WE WANTED TO BE WAS ISTRIA,

THAT'S WHAT I HEARD EVERYBODY SAY.

BUT, YOU KNOW, "IF YOU'RE NOT WITH US,

YOU'RE AGAINST US" WAS THE, THE THING.

GATES: YOU WERE AN ENEMY.

BASTIANICH: YEAH. IT WAS A SCARY TIME.

GATES: WHEN THE WAR FINALLY ENDED,

THE SITUATION DIDN'T GROW ANY LESS "SCARY."

AS ONE OF THE TERMS OF PEACE,

MOST OF ISTRIA WAS CEDED TO COMMUNIST YUGOSLAVIA.

FEARING MORE RETALIATION AT THE HANDS OF

THEIR SLAVIC NEIGHBORS,

HUNDREDS OF THOUSANDS OF ETHNIC ITALIANS

FLED THE PENINSULA FOR MAINLAND ITALY,

IN WHAT WAS KNOWN AS THE ISTRIAN EXODUS.

DID YOUR PARENTS EVER TELL YOU HOW THEY FELT AT THIS MOMENT?

BASTIANICH: MY, I REMEMBER ONE SPECIFIC STORY THAT

MY MOTHER WOULD TELL.

SHE SAID THE BIG BOAT,

THE TOSCANA, IT WAS A BIG BOAT.

AND SHE SAID ALL HER FRIENDS WERE ON THE TOSCANA.

AND, AND SHE SAID, "THERE I WAS, IT WAS

IN THE WINTER TIME. PREGNANT AND COLD,"

AND SHE SAID, "TEARS POURING DOWN BECAUSE

I WAS SAYING GOODBYE TO MY FRIENDS."

GATES: OHHH.

BASTIANICH: AND IT, YOU KNOW, STILL MOVES ME.

DO YOU KNOW, SKIP, THAT THESE PEOPLE TOOK,

YOU KNOW, THEY TOOK THEIR, THEIR,

THEIR BELONGINGS, THEIR TABLES, THEIR CHAIRS.

THEY EVEN TOOK THE BONES OF THEIR DEAD FROM THE CEMETERY.

GATES: MY GOD. I DIDN'T KNOW THAT.

BASTIANICH: THEY DID,YEAH, THEY TOOK THEM WITH THEM.

GATES: ITALIAN FAMILIES LIKE LIDIA'S THAT STAYED BEHIND

SUFFERED UNDER YUGOSLAVIA'S COMMUNIST REGIME.

THEY WERE AFRAID TO SPEAK THEIR NATIVE LANGUAGE AND THE

GOVERNMENT'S OPEN HOSTILITY TO THE CATHOLIC CHURCH MADE IT

DIFFICULT TO PRACTICE THEIR ROMAN CATHOLIC FAITH.

LIDIA TOLD ME THAT HER FAMILY EVEN WENT SO FAR AS TO CHANGE

THEIR SURNAME FROM THE ITALIAN MATTICCHIO TO THE SLAVIC

MOTIKA IN ORDER TO DOWNPLAY THEIR HERITAGE.

BUT THESE DESPERATE GESTURES DIDLITTLE TO IMPROVE THEIR LIVES.

DID YOU REMEMBER HEARING YOUR PARENTS SAY,

"LOOK, AS SOON AS WE CAN, WE'RE GOING TO ESCAPE"?

BASTIANICH: THERE WAS ALWAYS THIS SECRECY,

YOU KNOW THE ADULTS TALKING THAT THE CHILDREN WOULDN'T

HEAR AND CLOSING OF DOORS.

I THOUGHT STILL BEING IN THAT KIND OF

COMMUNIST STATE OF MIND,

I TOOK IT THAT THAT'S THE WAY THEY COMMUNICATED.

BUT I DIDN'T KNOW, BEFORE WE LEFT,

THAT WE WOULD NOT COME BACK.

GATES: AFTER 10 TORTUROUS YEARS,

HER PARENTS DECIDED TO FLEE.

UNDER THE GUISE OF VISITING A SICK AUNT,

LIDIA, HER MOTHER AND BROTHER FRANCO TRAVELED

TO TRIESTE, ITALY.

BUT LIDIA'S FATHER COULD NOT GET A PASS TO LEAVE.

SO THE ONLY WAY TO JOIN HIS FAMILY WAS TO SNEAK

ACROSS THE BORDER, IT WAS A RISKY VENTURE THAT COULD

EASILY HAVE COST HIM HIS LIFE.

BASTIANICH: MY FATHER WALKED, WHICH IS ABOUT A

THREE KILOMETER WALK FROM THEBORDER TO THE CENTER OF TRIESTE.

HE WALKED.

GATES: MY GOD, THAT'S AMAZING.

BASTIANICH: YEAH. YEAH.

HE HAD, UM, THIS, THIS GUIDEBRING HIM UP AND THE GUIDE SAID,

"NOW YOU GO UP THAT MOUNTAIN AND YOU CROSS OVER,"

AND JUST LEFT HIM.

AND HE TELLS THE STORY WHEN HE CAME ON THE OTHER SIDE OF THE,

OF THE HILL YOU SEE TRIESTE AND,

AND, UH, THE WHOLE CITY IN FRONT OF YOU AND HE LOOKED AT

IT AND HE FELT SO RELIEVED.

GATES: OH, THAT'S GREAT.

BASTIANICH: ONE MORNING, IT WAS ABOUT TWO OR THREE,

WE WERE ALL SLEEPING AND UH, WE HEARD THE KNOCK,

AND THERE WAS MY FATHER, AND EVERYBODY WAS CRYING.

OH, IT WAS SO MOVING.

GATES: ONCE IN ITALY, LIDIA'S FAMILY IMMEDIATELY

APPLIED FOR ASYLUM.

BASTIANICH: "THE CHILDREN,FRANCO AND LIDIA GIULIANA,

CAME TO TRIESTE, FROM POLA,

ON JANUARY 23, 1958,

WITH REGULAR YUGOSLAV PASSPORTS.

THE DOCUMENTS WERE HANDED IMMEDIATELY TO POLICE

HEADQUARTERS IN TRIESTE AND IN SO DOING,

GRANTED THE AFOREMENTIONEDCHILDREN WITH POLITICAL ASYLUM."

GATES: HAVE YOU EVER SEEN THAT DOCUMENT BEFORE?

BASTIANICH: NO, I HAVE, NEVER.

I HAVE NEVER SEEN IT. AMAZING.

GATES: THAT'S FROM YOUR FATHER'S APPLICATION FOR

ITALIAN CITIZENSHIP.

CAN I ASK YOU WHAT IT'S LIKE TO SEE YOUR NAME AND

FRANCO'S NAME ON THAT DOCUMENT?

BASTIANICH: IT'S MOVING, IT'S, UM, YOU KNOW,

THROUGH THESE TIMES, THERE WAS SUCH A DEFINITE DIVISION.

GATES: OH YEAH.

BASTIANICH: YOU KNOW, THATBORDER REALLY MEANT A DIVISION.

AND UH, TO KIND OF BEEN TAKEN FROM ONE AND GIVEN

ASYLUM IN ANOTHERIN ITALIAN, ITS, IT'S A RELIEF.

IT'S A WELCOME, IN A SENSE AND THEN WE WERE THERE

UNIFIED AS A FAMILY IN ITALY.

GATES: WE HAD ALREADY INTRODUCED SCARLETT JOHANSSON

TO HER MATERNAL ANCESTORS, WHO SAVED THEMSELVES BY

FLEEING POLAND IN THE EARLY YEARS OF THE 20TH CENTURY.

NOW, LOOKING AT SCARLETT'S PATERNAL ROOTS,

WE ENCOUNTERED A STORY ABOUT HOW MUCH A FAMILY CAN LOSE BY

LEAVING THEIR HOME BEHIND.

IT BEGINS WITH HER FATHER, KARSTEN JOHANSSON,

WHO WAS BORN IN COPENHAGEN, DENMARK IN 1943,

A PLACE SCARLETT KNOWS WELL.

JOHANSSON: I WENT TO COPENHAGEN FOR THE FIRST TIME

WHEN I WAS ABOUT 13.

AND MY DAD WAS SHOWING ME WHERE HE WENT TO SCHOOL,

AND YOU KNOW, WHERE HE GREW UP,

AND STUFF LIKE THAT.

SO I AM MORE FAMILIAR WITH THAT SIDE.

GATES: YOU HOLD DANISH CITIZENSHIP.

JOHANSSON: I DO. YES.

GATES: YEAH, DUAL CITIZENSHIP.

WHAT PROMPTED THAT?

JOHANSSON: I FEEL VERY CONNECTED TO THAT SIDE,

BECAUSE MY DAD IS SO DANISH, AND I WANTED TO HAVE A

PART OF THAT, I GUESS.

I THOUGHT IT WOULD BE COOL TO, TO BE REPRESENTED THAT WAY

BECAUSE I'M NOT JUST AMERICAN, BUT I'M,

I'M DANISH TOO.

GATES: RIGHT, I THINK IT'S COOL.

JOHANSSON: YEAH.

GATES: EVEN THOUGH SCARLETT FEELS CONNECTED TO HER

FATHER'S HERITAGE, SHE ACTUALLY KNOWS VERY LITTLE

ABOUT HER DANISH ANCESTRY, BECAUSE HIS FAMILY WAS

BROKEN APART BY TRAGEDY.

KARSTEN'S MOTHER DIED WHEN HE WAS JUST 14.

WHEN HIS FATHER REMARRIED, A RUPTURE DEVELOPED BETWEEN

FATHER AND SON THAT WOULD ONLY DEEPEN OVER TIME.

INDEED, SCARLETT NEVER MET HER OWN GRANDFATHER,

EJNER JOHANSSON, AND KNOWSALMOST NOTHING ABOUT HIS LIFE.

JOHANSSON: MY FATHER NEVER TALKED ABOUT HIM. SAD.

GATES: EJNER GRADUATED IN 1956 WITH A PHD IN ART HISTORY.

DID YOU KNOW THAT?

JOHANSSON: NO, I DIDN'T KNOW THAT.

GATES: HE THEN WENT ON TO BECOME A FAMOUS

ART CRITIC, A FILM DIRECTOR,

AND A TELEVISION PERSONALITY IN DENMARK.

JOHANSSON: I HAD NO IDEA HE WAS A FILM DIRECTOR.

GATES: AND HE'S BURIED IN ASSISTENS CEMETERY IN

COPENHAGEN, ALONG WITH OTHER DANES LIKE

HANS CHRISTIAN ANDERSEN.

HE'S AN ICONIC FIGURE IN DENMARK.

JOHANSSON: GRAMPS. GATES: YEAH, GRAMPS.

JOHANSSON: WHO KNEW? GATES: WAS HAPPENIN'.

WE WANTED TO TRACE EJNER'S ROOTS,

BUT ALMOST IMMEDIATELY WE HIT A WALL.

WE WERE ABLE TO IDENTIFY HIS FATHER,

A MAN NAMED AXEL JOHANSSON, THROUGH A 1922 MARRIAGE RECORD

FOUND IN THE ARCHIVES OF COPENHAGEN.

BUT WE COULD FIND NO OTHER RECORDS OF THE JOHANSSON

FAMILY IN DENMARK.

WE WERE STUMPED.

THEN ONE OF OUR RESEARCHERSUNCOVERED AN INTRIGUING DETAIL,

IN A MOST UNEXPECTED PLACE.

YOU'RE LOOKING AT THE BIRTH RECORD FOR YOUR

GREAT-GRANDFATHER, AXEL ROBERT JOHANSSON.

CAN YOU READ WHERE IT CAME FROM?

JOHANSSON: OOH, THE SWEDISH CHURCH RECORDS ARCHIVE.

GATES: THE SWEDISH CHURCH RECORDS ARCHIVE.

JOHANSSON: YES.

GATES: YOUR JOHANSSON LINE COMES FROM SWEDEN,

NOT FROM DENMARK.

JOHANSSON: NO WAY! THAT IS CRAZY, WOW!

GATES: RECORDS SHOW THAT AXELHAD SETTLED IN DENMARK BY 1918.

AND LIKE MANY IMMIGRANTS, AXEL FOUND HIMSELF NEAR THE

BOTTOM OF THE SOCIAL LADDER, WORKING ODD JOBS IN SHIPYARDS

AND IN A FACTORY.

JOHANSSON: IT'S INTERESTING, ACTUALLY, TO THINK ABOUT

MY GRANDFATHER'S FATHER BEING AN IMMIGRANT LABORER.

I NEVER WOULD'VE EXPECTED THAT.

I DON'T KNOW.

FOR SOME REASON, I THOUGHT THAT MY GRANDFATHER CAME FROM

MORE OF A SOMETHING KIND OF, LIKE,

UPPER-CRUST-FEELING ABOUT HIM.

GATES: LIKE AN ARISTOCRAT?

JOHANSSON: SOMETHING LIKE THAT. I DON'T KNOW.

I ALWAYS THOUGHT MAYBE HE CAME FROM A PLACE LIKE THAT.

GATES: WE DIDN'T FIND ANY ARISTOCRATS AMONG AXEL'S

IMMEDIATE ANCESTORS.

HIS FATHER, IN FACT, WAS A FARM WORKER.

BUT LEARNING THAT AXEL'S ROOTS LAY IN SWEDEN WAS A

GREAT BOON TO OUR RESEARCH.

THIS IS A BREAKOUT TREE, SCARLETT,

OF ALL YOUR SWEDISH ANCESTORS.

JOHANSSON: HOLY MOLY.

GATES: JUST YOUR SWEDISH ANCESTORS.

JOHANSSON: I AM SO SWEDISH.

I MEAN, EVERY SINGLE ONE OF THESE PEOPLE

ARE ALL BORN IN SWEDEN.

GATES: SO MUCH FOR THAT DANISH PASSPORT, KIDDO.

JOHANSSON: I KNOW. WAIT A MINUTE.

(LAUGHS).

I'M, I'M GOING TO STOCKHOLM. YEAH, WOW, THAT IS CRAZY.

I HAD NO IDEA.

GATES: AS WE MOVED UP THE BRANCHES OF SCARLETT'S

SWEDISH FAMILY, WE DISCOVERED THAT THEY WEREN'T ALL

FARMERS AND LABORERS.

IN FACT ONE BRANCH HAD BEEN QUITE PROMINENT,

BEGINNING WITH SCARLETT'S 9TH GREAT-GRANDFATHER,

A MAN NAMED JOHANN HOGG.

HOGG WAS BORN IN THE MID-1600S.

AND DURING HIS LIFETIME, HE OBTAINED SOMETHING RARE,

SOMETHING SCARLETT DID NOT EVEN RECOGNIZE AT FIRST.

ANY IDEA WHAT THIS IS?

JOHANSSON: LOOKS LIKE A VASE OF SOME KIND.

A CREST, I DON'T KNOW. WHAT IS IT?

GATES: IT'S YOUR COAT OF ARMS.

JOHANSSON: NO WAY. THAT IS CRAZY.

GATES: IN 1689, YOUR FAMILY BECAME NOBILITY,

AND THAT IS YOUR FAMILY'S COAT OF ARMS.

JOHANSSON: SEE! I WAS FROM SOME SORT OF NOBILITY.

GATES: I ALMOST FELL OFF THISPIANO STOOL WHEN YOU SAID THAT.

YOU WERE RIGHT ALL ALONG.

JOHANSSON: WOW.

GATES: YOU COME FROM THE ARISTOCRACY.

JOHANSSON: COULD NOT BE FURTHER FROM THE OTHER

PART OF MY FAMILY. MY GOSH.

GATES: LOOK AT THAT. ISN'T THAT AMAZING?

JOHANSSON: THAT IS NEWS TO ME COMPLETELY!

I HAD NO IDEA.

GATES: ANY MYSTERIES ON YOUR FAMILY TREE?

NYONG'O: WELL, I'M CURIOUS TO KNOW...

GATES: WE HAD ALREADY SEEN HOW LUPITA NYONG'O'S FATHER

STRUGGLED UNDER THE OPPRESSIVE REGIME OF

KENYAN PRESIDENT DANIEL MOI.

NOW, I WANTED TO LOOK AT HOW EARLIER GENERATIONS OF HER

FAMILY HAD EXPERIENCED ANOTHER KIND OF OPPRESSION:

THE OPPRESSION OF BRITISH COLONIAL RULE.

WE STARTED WITH SOMEONE WHO IS VERY CLOSE TO LUPITA'S HEART,

HER GRANDFATHER, LABAN ONYANGO BUYU.

WHO'S THAT MAN IN THE PHOTO?

NYONG'O: MY PAPA, LABAN.

GATES: TELL ME ABOUT LABAN.

NYONG'O: HE WAS A CHOIRMASTER.

WHENEVER WE MEET WITH MY GRANDFATHER,

THE FIRST THING WE DO IS SING.

GATES: REALLY?

NYONG'O: THAT IS THE INTRODUCTION.

HE WILL GIVE US THE PARTS AND WE WILL SING.

DO A FEW ROUNDS OF SINGING AND THEN WE WILL PRAY AND

THEN WE WILL, WE'LL COMMUNE.

GATES: OH, THAT'S GREAT.

NYONG'O: YEAH.

GATES: LABAN WAS BORN AROUND 1930.

AT THE TIME, KENYA HAD BEEN UNDER BRITISH CONTROL FOR MORE

THAN THREE DECADES AND THE BRITISH DOMINATED ALMOST EVERY

SIGNIFICANT ASPECT OF POLITICAL AND ECONOMIC LIFE.

FOR THE AFRICAN PEOPLE IN THE REGION,

THE MOST MEANINGFUL SOURCES OF AUTONOMY WERE CULTURAL,

AND MANY OF THEM WERE SPECIFIC TO ETHNIC GROUPS

THAT PRE-DATED THE ARRIVAL OF THE BRITISH.

LABAN'S FAMILY WAS PART OF THE LUO PEOPLE,

ONE OF THE LARGEST OF THESE ETHNIC GROUPS,

AND LABAN WAS A VERY PROUD LUO.

THIS IS AN EXCERPT FROM THE LUO UNION CONSTITUTION

FROM THE YEAR 1945.

WOULD YOU MIND READING THEHIGHLIGHTED PASSAGE OVER THERE?

NYONG'O: "THE UNION SHALL HAVEBRANCHES ANYWHERE THE LUO ARE

RESIDING PERMANENTLY, WORKING, OR OTHERWISE.

TO PROMOTE AND MAINTAIN MUTUAL HELP AND UNDERSTANDING AMONG

THE LUO WHEREVER THEY ARE."

GATES: HAVE YOU EVER HEARD OF THIS, THE LUO UNION?

NYONG'O: NO.

GATES: THE LUO UNION WAS AN ORGANIZATION FORMED IN THE

1930'S TO PROMOTE AND STRENGTHEN LUO IDENTITY.

IT WAS LIKE THE BLACK NATIONALISTS...

NYONG'O: WOW.

GATES: AND YOUR GRANDFATHER WAS ONE OF THEM.

ACCORDING TO YOUR MOM,

HE WAS ACTIVE IN RECRUITING NEW MEMBERS

AND HE ALSO PARTICIPATED IN MANY CULTURAL EVENTS.

DID HE EVER TALK ABOUT THIS, OR?

NYONG'O: NO, I DON'T REMEMBER.

I DON'T KNOW ANYTHING ABOUT THIS.

GATES: THE LUO UNION WASN'T FORMED EXPLICITLY

AS A POLITICAL ORGANIZATION, BUT ITS RISE COINCIDED WITH

INDEPENDENCE MOVEMENTS IN KENYAIN THE 1930'S AND THE 1940'S.

THESE MOVEMENTS HAD COMPLEX, AND SOMETIMES BITTER RELATIONS

WITH EACH OTHER, BUT THEY ULTIMATELY FORCED THE BRITISH

TO YIELD TO THEIR DEMANDS.

IN 1957, BLACK AFRICAN CANDIDATES WERE ALLOWED TO RUN

FOR OFFICE IN KENYAN ELECTIONS FOR THE VERY FIRST TIME.

AND IN 1963, THE COUNTRY FINALLY DECLARED ITS

HARD-WON INDEPENDENCE.

LUPITA'S GRANDFATHER LABAN WAS 35 YEARS OLD

ON INDEPENDENCE DAY.

HE WOULD GO ON TO BECOME A TEACHER OF SWAHILI,

THE OFFICIAL LANGUAGE OF THE NEW KENYAN STATE,

AND THOROUGHLY EMBRACED THE END OF BRITISH COLONIALISM.

LABAN'S FATHER HOWEVER, A MAN NAMED ADERO BUYU,

HAD HAD A VERY DIFFERENT EXPERIENCE WITH THE BRITISH,

JUST A GENERATION EARLIER.

LOOK AT THIS DOCUMENT.

IT'S FROM THE NATIONAL ARCHIVES OF GREAT BRITAIN.

YOU SEE ANY NAMES THAT YOU RECOGNIZE?

NYONG'O: "BUYU, ADERO. EAST AFRICA POLICE." HA!

GATES: YOUR GREAT-GRANDFATHER SERVED WITH THE BRITISH

DURING WORLD WAR I.

NYONG'O: I DIDN'T KNOW THAT.

GATES: THIS BOOK IS FULL OF SURPRISES.

NYONG'O: YEAH. YEAH, YEAH, YEAH.

GATES: COULD YOU PLEASE TURN THE PAGE?

THIS IS ANOTHER PORTION OF YOUR GREAT-GRANDFATHER'S

SERVICE RECORD.

WOULD YOU PLEASE READ THE HIGHLIGHTED SECTION

AT THE BOTTOM?

NYONG'O: "BUYU, ADERO, RANK THIRD CLASS CONSTABLE.

UNIT: EAST AFRICA POLICE, 1914 TO 1915. STAR: YES.

BRITISH WAR MEDAL: YES. VICTORY MEDAL: YES."

GATES: DID YOU EVER SEE THESE MEDALS IN YOUR HOME?

I MEAN WERE THEY PRESERVED OR HANGING IN A FRAMED BOX?

NYONG'O: I HAVE NEVER HEARD ANYTHING ABOUT MEDALS

OF THE WORLD WAR, NO.

GATES: ADERO'S MEDALS, WHICH WERE GIVEN TO ALMOST

ALL AFRICANS WHO SERVED IN THE BRITISH MILITARY,

ATTEST TO A LARGELY FORGOTTEN THEATER OF

THE FIRST WORLD WAR.

THE CONFLICT BEGAN AND MOSTLY UNFOLDED IN EUROPE,

BUT THE MAIN COMBATANTS, GERMANY, FRANCE AND

GREAT BRITAIN, ALL POSSESSED RESOURCE-RICH AFRICAN COLONIES

AND THESE LANDS SOON BECAME BATTLEFIELDS.

MORE THAN TWO MILLION AFRICANS SERVED AS

SOLDIERS AND LABORERS IN FIGHTING THAT STRETCHED

ACROSS THE CONTINENT.

LUPITA'S GREAT-GRANDFATHER WAS IN A MILITARY UNIT MADE UP OF

KENYAN POLICEMEN, AND LIKELY PARTICIPATED IN ONE OF THE

WAR'S MANY TRAGIC MOMENTS.

IN 1915, THE TURKANA, A SEMI-NOMADIC PEOPLE REBELLED

AGAINST THE BRITISH, AND WERE BRUTALLY SUPPRESSED.

WOULD YOU PLEASE TURN THE PAGE?

NYONG'O: DON'T TELL ME.

WHAT? LOOK AT THAT.

GATES: LUPITA, WE THINK THAT YOUR GREAT-GRANDFATHER WAS

ONE OF THOSE OFFICERS SENT TO QUELL THE REBELLION

OF THE TURKANA PEOPLE.

NYONG'O: OOOH.

GATES: OOOOH. TOUGH ONE.

NYONG'O: YEAH, YEAH, YEAH, YEAH.

OOF. THAT'S TOUGH.

GATES: WE HAVE NO WAY OF KNOWING HOW LUPITA'S

GREAT-GRANDFATHER FELT ABOUT HIS SERVICE WITH THE BRITISH,

BUT HE WOULD REMAIN IN THE COLONIAL POLICE

LONG AFTER THE WAR ENDED,

ULTIMATELY SPENDING MORE THAN 20 YEARS WITH THE FORCE.

AND LEARNING HIS STORY PROFOUNDLY EFFECTED HOW

LUPITA THINKS OF HER ANCESTORS.

NYONG'O: ALL YOU'VE TOLD ME ABOUT ADERO IS NEW AND, AND

VERY, VERY INTERESTING TO ME.

AND JUST THE ROLES OF MY PEOPLE IN THE COLONIAL TIMES

IS SOMETHING THAT I HAVEN'T REALLY GIVEN MUCH THOUGHT.

GATES: MM-HMM. AND THE DIFFICULT CHOICES.

NYONG'O: AND THE DIFFICULT CHOICES AND ALSO JUST THE

MIRRORING OF THINGS.

GATES: YEAH. THAT IS QUITE INTERESTING.

NYONG'O: YOU KNOW, I HAVE ALL SORTS OF POLITICAL VIEWS AND

IDEALS AND STUFF LIKE THAT.

I HAVE A STRONG SENSE OF WHAT IS RIGHT AND WHAT IS WRONG AND

WHEN YOU REALIZE THAT YOUR LINE,

IN YOUR LINE EXISTS PEOPLE WHO WENT ON EITHER SIDE

OF THE POLITICAL SITUATION IT'S, YOU KNOW,

HUMBLING FOR SURE.

IT'S PERSPECTIVE GAINING AND MORE THAN ANYTHING YOU'RE

REMINDED OF JUST EMPATHY, YOU KNOW, AND HOW IMPORTANT

EMPATHY IS FOR US TO MAKE IT AS A HUMAN RACE.

GATES: WE'D ALREADY LEARNED HOW MUCH LIDIA BASTIANICH'S

FAMILY HAD ENDURED DURING THE TUMULT OF WORLD WAR II.

NOW WE WERE ABOUT TO DISCOVER THAT THE YEARS PRECEDING THE

WAR WERE NO EASIER.

THE FIRST HINT CAME FROM HER ORIGINAL SURNAME.

LIDIA TOLD US THAT HER FAMILY HAD CHANGED IT FROM

"MATTICCHIO" TO "MOTIKA" AFTER THE ISTRIAN PENINSULA WAS

CEDED TO YUGOSLAVIA IN 1947.

BUT ACCORDING TO A RECORD DATING BACK TO THE 1930'S,

LIDIA'S FAMILY WAS USING A VARIATION OF THE NAME

MOTIKA EVEN EARLIER.

BASTIANICH: "VITTORIO MATTICCHIO, NEE MOTICA,

SON OF ANTONIO AND FRANCESCA LOVRECICH."

GATES: AS YOU CAN SEE, YOUR FATHER WAS "MOTICA"

BEFORE HE WAS CALLED "MATTICCHIO."

SO WE WANTED TO SEE WHY YOUR FAMILY WAS USING

THE NAME BEFORE THE WAR.

BASTIANICH: OKAY.

GATES: AS WELL AS AFTER THE WAR.

BASTIANICH: I, I WANT TO KNOW TOO!

GATES: TO ANSWER THIS QUESTION,

WE HAD TO LOOK BACK THE EARLY 1900'S.

AT THAT TIME, THE ISTRIAN PENINSULA WAS PART OF THE

AUSTRO-HUNGARIAN EMPIRE, AND THOUGH IT WAS HOME TO

ETHNIC ITALIANS, THEY WERE IN A DECIDED MINORITY

COMPARED TO THE REGION'S SLAVIC POPULATION.

SO IT WAS NOT SURPRISING THAT LIDIA'S FAMILY WAS

USING THE SLAVIC SURNAME "MOTIKA."

AND COMPARATIVELY EASY TO UNDERSTAND

WHY THEY SOON DROPPED IT.

IN 1914, EUROPE WAS ENGULFED IN THE FIRST WORLD WAR.

THE AUSTRO-HUNGARIAN EMPIRE WAS ALLIED WITH GERMANY,

AND AT WAR WITH ITALY,

A WAR THE AUSTRO-HUNGARIANS WOULD LOSE.

IN THE PEACE TREATIES THAT FOLLOWED,

THE ISTRIAN PENINSULA BECAME PART OF ITALY.

WITH THE STROKE OF A PEN,

LIDIA'S FAMILY SAW ITS NATIONALITY TRANSFORMED.

THEY WERE SUDDENLY, AND OFFICIALLY, ITALIANS.

AND THE DIFFERENCE WAS VERY IMPORTANT TO ONE PARTICULARLY

AMBITIOUS, UP-AND-COMING ITALIAN POLITICIAN.

THIS IS AN EXCERPT FROM A SPEECH THAT BENITO MUSSOLINI

GAVE WHEN HE VISITED POLA ON SEPTEMBER 20, 1920.

BASTIANICH: "WHEN DEALING WITH A RACE SUCH AS SLAVIC,

INFERIOR AND BARBARIC, WE MUST NOT PURSUE THE CARROT,

BUT THE STICK POLICY."

GATES: TWO YEARS LATER, BENITO MUSSOLINI WAS NAMED

PRIME MINISTER, THEN, IN 1925,

HE DECLARED HIMSELF: DICTATOR FOR LIFE.

FOR NON-ITALIAN ISTRIANS,

ESPECIALLY THOSE OF SLAVIC ORIGIN,

HIS RULE HAD DEVASTATING CONSEQUENCES.

BASTIANICH: "IT'S VEHEMENTLY PROHIBITED TO SING OR SPEAK

IN SLAVIC IN PUBLIC AREAS OR IN THE STREETS.

ALSO, IN SHOPS OF ANY KIND, ONLY ITALIAN MUST BE USED.

WE, SQUADRISTI, WILL USE PERSUASIVE MEASURES

TO UPHOLD THIS RULE."

GATES: AND THE SQUADRISTI, OF COURSE, ARE THE GOONS.

BASTIANICH: EXACTLY.

GATES: WHO COERCED THE POPULATION TO FOLLOW

THE NEW FASCIST RULES.

BASTIANICH: YOU KNOW, IT JUST CONTINUES.

GATES: MM-HM.

BASTIANICH: IT'S PRESSURING ONE CULTURE TO BECOME WHAT

THEY'RE NOT AND IT'S JUST...

IT DOESN'T MAKE SENSE.

GATES: IN 1926, MUSSOLINI'S REGIME DECREED THAT ALL SLAVIC

SURNAMES HAD TO BE ITALIANIZED.

ALTHOUGH LIDIA'S GRANDFATHER ANTONIO WAS ROMAN CATHOLIC AND

SPOKE ITALIAN, HIS LAST NAME, MOTIKA,

WAS SLAVIC-SOUNDING.

AND SO IT WAS CHANGED.

BASTIANICH: "THE LAST NAME OFMR. MOTIKA ANTONIO IS RETURNED,

FOR ALL PURPOSES OF THE LAW,

IN THE FORM OF ITALIAN 'MATTICCHIO.'

WITH THIS DETERMINATION HIS SURNAME IS TO BECOME ITALIAN."

AHHH!

(LAUGHS).

GATES: ISN'T THAT AMAZING?

BASTIANICH: WOW.

THAT'S THE OFFICIAL CHANGE OF THE NAME.

GATES: THAT, THAT IS IT.

NOVEMBER 11, 1930, YOUR FAMILY CHANGED ITS NAME FROM MOTIKA

TO MATTICCHIO DUE TO POLITICAL REPRESSION.

BASTIANICH: THIS IS MY REALITY, SKIP.

GATES: IT IS.

BASTIANICH: THIS IS THE REALITY OF BEING A BORDER AND

OF TIME PASSING AND OF HISTORY DOING ITS COURSE.

GATES: MM-HMM.

BASTIANICH: IT JUST PROVES THAT I AM MUCH MORE OF THOSE,

THOSE RATHER THAN STATIONARY CULTURE,

MINE WAS A CROSSROADS.

A LOT OF PEOPLE...

GATES: ABSOLUTELY.

BASTIANICH: CAME AND WENT AND I WAS PART OF THAT FLOW OR

TRANSITION, UH, WHICH MAKES THAT AREA SO VOLATILE THROUGH

THE, THROUGH THE AGES.

GATES: THE PAPER TRAIL HAD NOW RUN OUT FOR EACH OF MY GUESTS.

IT WAS TIME TO SEE WHAT GENETIC ANALYSIS COULD TELL US

ABOUT THEIR MORE DISTANT ANCESTRY.

LIDIA'S ADMIXTURE REFLECTED THE COMPLEX HISTORY OF HER

ISTRIAN BIRTHPLACE.

BASTIANICH: 63 EASTERN EUROPE, 28% ITALY AND GREECE,

6% EUROPE WEST.

GATES: SO YOU ARE CULTURALLY AND ETHNICALLY ITALIAN,

BUT YOU ALSO SHARE DNA WITH MANY PEOPLE WHO TODAY WOULD

CALL THEMSELVES CROATS AND SLOVENES.

SO WHAT DO YOU THINK OF THAT?

BASTIANICH: IT GIVES ME A GREAT INSIGHT,

SORT OF A FINISH TO THE PICTURE OF WHO MY FAMILY

REALLY IS, ESPECIALLY MY AREA, BACK AND FORTH.

GATES: RIGHT.

BASTIANICH: AND, UH, I ALWAYS SAY I'M ITALIAN,

BECAUSE THAT'S WHAT WE DO AT HOME.

I JUDGE BY "WHAT DO I SPEAK WITH MY MOTHER?"

I SPEAK ITALIAN, SO WE'RE ITALIAN.

GATES: RIGHT.

BASTIANICH: BUT I THINK THAT THIS IS A MESSAGE REALLY,

FOR, A VERY CONTEMPORARY MESSAGE,

AND THAT IS, YOU KNOW, THAT WE'RE NOT SO DIFFERENT.

WE'RE NOT THESE DIFFERENT CLANS,

BUT WE ARE RATHER PART OF EACH OTHER.

GATES: LUPITA'S RESULTS CONTAINED SOMETHING

I'VE NEVER SEEN BEFORE.

WHEN WE EXAMINED HER MITOCHONDRIAL DNA,

THE GENETIC FINGERPRINT PASSED DOWN FROM MOTHER TO DAUGHTER

ACROSS GENERATIONS, WE FOUND THAT SHE CARRIES DNA FROM

FROM THE OLDEST MATERNAL HAPLOGROUP,

A VERY ANCIENT BRANCH ON THE MTDNA TREE,

JUST ADJACENT TO WHAT SCIENTISTSCALL THE "MITOCHONDRIAL EVE",

THE MOST RECENT WOMAN FROM WHOM ALL

LIVING HUMANS TODAY DESCEND.

WHEN MITOCHONDRIAL EVE WAS WALKING AROUND THERE WERE NO

HUMAN BEINGS ALIVE OUTSIDE OF AFRICA.

EVERYBODY WAS BLACK IN THE WHOLE WORLD.

NYONG'O: HMM. I PREDATE RACE!

GATES: YOU PREDATE RACE. YEAH.

NYONG'O: THAT'S DOPE.

GATES: FOR SCARLETT JOHANSSON, DNA OFFERED THE OPPORTUNITY

TO SEE THE DIVERSITY WITHIN HER OWN FAMILY TREE,

AND TO CELEBRATE THE WAY IN WHICH ITS MANY VARIED STRANDS

HAD BEEN BROUGHT TOGETHER BY A HANDFUL OF ANCESTORS WHO TOOK

A CHANCE, AND LEFT THEIR HOMELANDS BEHIND.

JOHANSSON: WE ARE ALL, YOU KNOW, A PRODUCT OF THIS

BIG MELTING POT.

UM, YOU KNOW, THAT THESE TWO SIDES COULDN'T

BE MORE DIFFERENT,

UM, AND CAME TOGETHER THROUGH REALLY PEOPLE,

TAKING RISKS, NOT BEING AFRAID OF LOSING SOMETHING AND.

GATES: SOLO. SOLO RISKS, YOU KNOW?

JOHANSSON: YEAH.

GATES: THE OUTLIER, I MEAN, THE GUY,

I'M GONNA ROLL THE DICE.

JOHANSSON: YEAH, AND TAKE A CHANCE,

IT'S VERY MUCH AN AMERICAN STORY.

GATES: IT IS. JOHANSSON: YEAH.

GATES: THAT'S THE END OF OUR JOURNEY WITH

SCARLETT, LUPITA, AND LIDIA.

JOIN ME NEXT TIME WHEN WE UNLOCK THE SECRETS OF THE PAST

FOR NEW GUESTS,

ON ANOTHER EPISODE OF "FINDING YOUR ROOTS".

PEELE: MAKES ME, EVEN MORE, PROUD TO BE BLACK.

NARRATOR: NEXT TIME ON "FINDING YOUR ROOTS"

JOURNALISTS, GAYLE KING.

KING: WE WERE NOT TO TALK ABOUT IT AND SHE NEVER WANTED

TO TALK ABOUT IT.

NARRATOR: ACTOR ISSA RAE.

RAE: WHETHER I LIKE IT OR NOT, DOES INFORM A LOT OF WHO I AM.

NARRATOR: AND DIRECTOR, JORDAN PEELE.

PEELE: I'VE ALWAYS KNOWN THAT THERE'S FAMILY OUT THERE.

NARRATOR: COMPLICATED HISTORIES.

RAE: HOW DID THEY GET AWAY WITH THAT?

NARRATOR: AND TANGLED FAMILY TREES.

GATES: YOU ARE ONE-THIRD WHITE.

RAE: WAIT, WHAT? KING: TAKE THAT BACK!

NARRATOR: ON THE NEXT, "FINDING YOUR ROOTS".
More Episodes (2)
Video Clips (116)