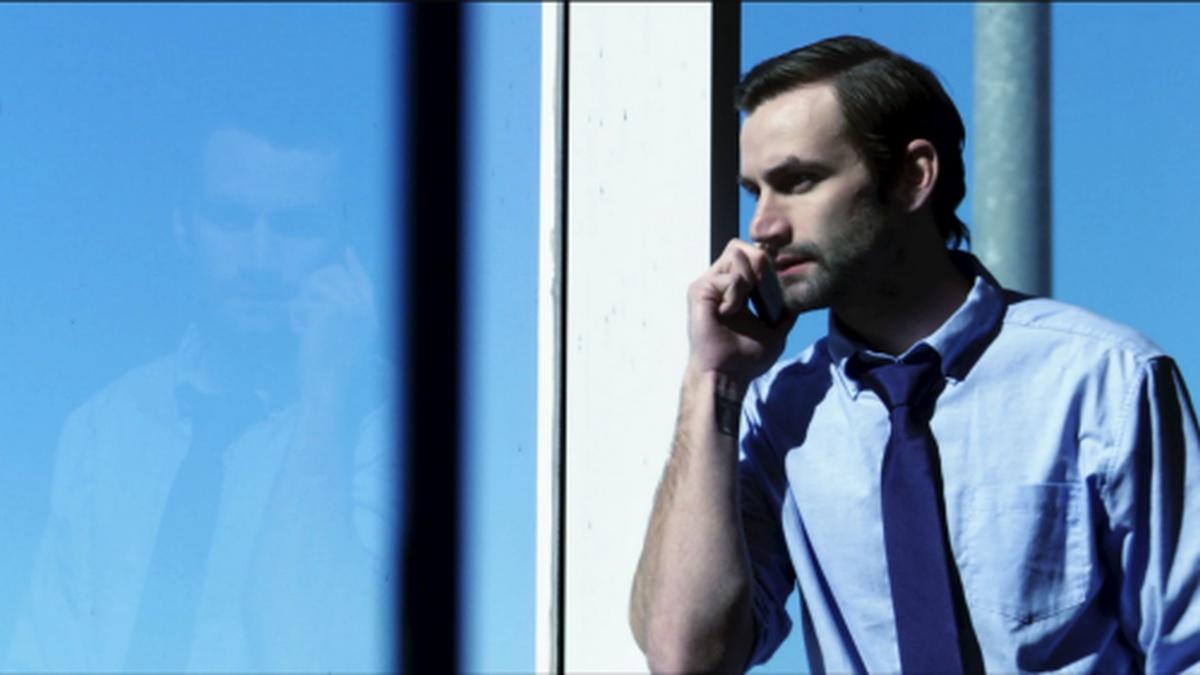 S3 E1 | FULL EPISODE
"11-Minute Mile"
Featured on Episode 304: "Where Do We Go From Here?" When an arrogant young day-trader is delayed at an airport during the Boston Marathon bombing, the threat of tragedy brings a moment of clarity. A short film by Andrew Wood.
TRANSCRIPT

Pat: ...TALKING POINTS.

IF YOU'RE WINGING IT, I'M NOT GETTING BACK TO YOU.

[ BEEPS ]

Sean: PAT, FIRST AND FOREMOST, CHANGE THAT VOICEMAIL.

SECONDLY, IT'S LIKE 2:52 RIGHT NOW.

IF YOU'RE STILL RUNNING, MAN, I JUST WANT TO SAY,

IT'S LITERALLY IMPOSSIBLE TO UNDERESTIMATE YOU.

50-YEAR-OLD DAY TRADERS HAVING MIDLIFE CRISES

RUN FASTER THAN 11 MINUTES.

THEY'RE HUGGING THEIR ESTRANGED CHILDREN AS WE SPEAK.

ANYWAYS, $500 IS ON THE LINE, MAN.

IT'S A LUCKY BUS PASS.

THAT'S WHAT THAT IS.

FAIR ENOUGH.

[ BEEPING ]

Announcer: FLIGHT 617 TO BOSTON HAS BEEN DELAYED.

[ CELLPHONES BEEPING ]

FLIGHT 617 TO BOSTON HAS BEEN DELAYED.

[ BEEPS ]

Pat: HEY, THIS IS PAT. LEAVE ME A MESSAGE.

PLEASE BE PREPARED WITH TALKING POINTS.

IF YOU'RE WINGING IT, I'M NOT GETTING BACK TO YOU.

[ BEEPS ]

Sean: PAT, I JUST SAW THE NEWS.

I JUST WANTED TO MAKE SURE YOU'RE OKAY.

CHANGE YOUR VOICEMAIL.

Announcer: 100 MORE ARE INJURED AFTER DOUBLE EXPLOSIONS

AT THE FINISH LINE OF THE BOSTON MARATHON.

Man: YOU KNOW SOMEBODY?

Sean: A FRIEND RAN IT FOR THE FIRST TIME THIS YEAR.

I BET THE [BLEEP] HE COULDN'T AVERAGE UNDER AN 11-MINUTE MILE.

Man: I'M SURE HE'S FINE.

Sean: ARE YOU SURE? OKAY.

YOU SEE THAT? THAT'S BOYLSTON. THAT'S MILE 26.

THAT'S THE FINISH LINE.

THEY'RE SAYING THE EXPLOSION OR WHATEVER IT WAS

WENT OFF AT 2:49 P.M.

MY FRIEND STARTED AT 10:00.

11-MINUTE PACE, THAT'S 286 MINUTES.

THAT'S FOUR HOURS, 46 MINUTES.

PUTTING HIM THERE AT EXACTLY 2:46 P.M.

BUT, HEY, YOU'RE SURE.

SO, AND YOU'RE ABOUT, LIKE, HALF A KEG DEEP RIGHT NOW.

SO LET'S GO WITH YOUR GUT HERE.

ALL RIGHT, LET'S DO THAT. HE'S FINE.

Man: MAYBE YOU SHOULD TRY CALLING HIM.

Sean: I SHOULD CALL HIM.

THAT'S RIGHT, I SHOULD JUST CALL HIM.

'CAUSE THEN I'LL KNOW IF HE'S OKAY OR NOT.

[ CELLPHONE VIBRATES ]

HEY, MOM.

NO, I'M -- I'M FINE.

YEAH, HE WAS.

NO, I HAVEN'T HEARD FROM HIM.

THE PHONE LINES ARE ALL [BLEEP] UP.

SORRY, THEY'RE MESSED UP.

Announcer: ALL FLIGHTS TO LOGAN INTERNATIONAL BOSTON

HAVE BEEN CANCELED.

PLEASE SEE YOUR LOCAL AIRLINE ASSOCIATES...

Sean: THREE [BLEEP] HOURS.

-Woman: I UNDERSTAND. -Sean: SHOW ME SOMETHING.

TYPE SOMETHING, CALL SOMEBODY, DO SOMETHING.

YOU KNOW, YOU REMIND ME OF A FRIEND OF MINE, HIS NAME'S PAT.

HE'S A CHATTY CATHY, JUST LIKE YOU.

YEARS AGO, I INTERNED IN BRIGHTON,

HAD TO TAKE THE 57 HOME.

NOW, THE 57 WAS SUPPOSED TO RUN EVERY 12 MINUTES -- SUPPOSED TO.

I MEAN, YOU COULD WALK TO THE T,

BUT YOU'VE ALREADY WAITED YOUR 15 MINUTES,

SO YOU HANG OUT, YOU STICK AROUND.

15 MINUTES BECOMES 30, IT GETS COLD.

30 MINUTES BECOMES 45, 45 AN HOUR -- YOU'RE FREEZING.

AND JUST WHEN YOU'RE THINKING ABOUT CALLING IT,

HERE COMES PAT,

PULLING AROUND THE CORNER IN HIS PIECE OF [BLEEP] MONTE.

[BLEEP] CAR.

HE SHOWS UP AGAIN THE NEXT NIGHT.

AND THEN EVERY NIGHT AFTER THAT.

HE SAID IT WAS ON HIS WAY HOME FROM WORK.

I DIDN'T FIND OUT TILL MONTHS LATER HE GOT LAID OFF IN AUGUST.

HE DIDN'T HAVE A JOB.

HIS JOB WAS PICKING MY [BLEEP] UP.

NEVER THANKED HIM FOR IT.

I MEAN, I DIDN'T ASK HIM TO PICK ME UP, I DIDN'T NEED HIS HELP.

I DIDN'T NEED IT.

I NEVER ACKNOWLEDGED IT.

BUT IF HE'D PICK UP RIGHT NOW, I WOULD.

I KNOW YOU THINK THAT'S [BLEEP].

[BLEEP] KNOWS EVERY TIME THERE'S TURBULENCE,

I TELL GOD A MILLION THINGS.

I TELL HIM I'LL STOP DRINKING,

I'LL STOP [BLEEP] CUSSING, I'LL GO TO CHURCH.

AND THEN THE TURBULENCE STOPS.

AND I DON'T.

I'M NOT TELLING GOD, I'M TELLING YOU, AND...

ONCE AGAIN, I'M SITTING HERE WAITING.

NO WAY TO KNOW HOW LONG.

NO WAY TO KNOW IF HE'S...

I JUST NEED TO TELL HIM.

I DO UNDERESTIMATE HIM.

I UNDERESTIMATE HOW MUCH I NEED HIM.

[ CELLPHONE VIBRATES ]

PAT?

Pat: Sean. I'm -- I'm good.

Uh, I finished at 2:30,

so you're gonna have to [bleep] write a check

that's like [bleep] -- what is it?

I don't know, it's a little over a 10-minute mile.

Sean: THAT'S ACTUALLY A TERRIBLE TIME.

THAT'S, UN -- IT'S 10:32 SECONDS, YOU DUMB [BLEEP].

WERE YOU, LIKE, RUNNING BACKWARDS OR SOMETHING?

Pat: Yeah, that's great, Sean. Really good.

You're, like, the meanest person with Asperger's in the world,

you know that?

When Steve Jobs died, you officially took it.

Sean: YOU KNOW WHAT? I'M FINE WITH THAT.

Pat: How's your mother, by the way?

-Did she ask about me? -Sean: NO, SHE'S GOOD.

SHE DIDN'T ASK ABOUT YOU 'CAUSE SHE DOESN'T KNOW WHO YOU ARE.

Pat: Yeah. Was she concerned?

Sean: THERE'S LITERALLY A 0% CHANCE OF THAT HAPPENING.

Pat: Yeah, she was. She was [bleep] concerned.

Sean: HANG ON. ACTUALLY, YOU KNOW WHAT, PAT?

I'M GONNA DOUBLE CHECK THE STANDARD DEVIATION ON THAT,

AND IT'S -- YEAH, STILL [BLEEP] ZERO.

Pat: "Let me double check the standard deviation."

Do you ever just [bleep] listen to yourself?

Sean: ACTUALLY, THAT REMINDS ME.

I'VE BEEN -- THERE'S SOMETHING I NEED TO TALK TO YOU ABOUT, MAN.

IT'S ACTUALLY REALLY IMPORTANT.

Pat: What's that?

Sean: CHANGE YOUR [BLEEP] VOICEMAIL!