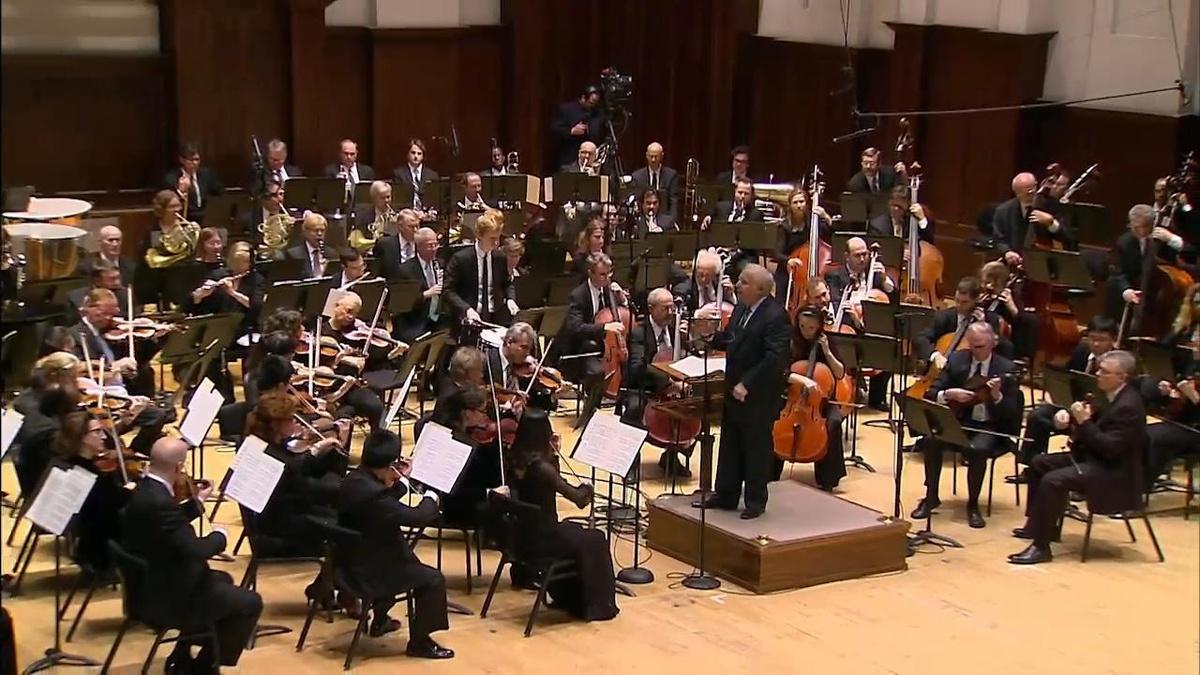 S10 E6 | CLIP
Vision and Community
The final installment of the Orchestra Hall Centennial Celebration, and in it we find out what is currently happening at Detroit's Orchestra Hall and what's in store for the future. Part 6 of 6.
TRANSCRIPT

- When I first started working here,

this area wasn't developed like it is now.

So to be right here in the community

and to be a part of it as it's developing and growing,

man it's amazing thing.

- This is our home.

Home presents security.

Home presents responsibility.

And

it also helps you with a vision

because when you have a home

you can imagine all kinds of things.

- A lot of what this orchestra does currently,

my work included,

is made possible by this space that we're in.

This original historical space

and the additional space that we've created.

And of course then,

the onus is on us

to make sure that this space is a space for everybody.

And that's where a lot of the work continues.

(slow piano music)

- [Narrator 2] In the wake of Orchestra Hall's expansion

into the Max M and Marjorie S Fisher Music Center in 2003,

excitement for a new fixture of art and culture

on Woodward Avenue

was the highest it had been.

Since the building's golden years

under the baton of Gavrilovic.

However, within just a few years,

dark financial skies were on the horizon once again.

- Detroit was obviously one of the first cities

to be affected by the recession.

And when you have to go through those tough times,

I think that tradition,

it's always there in the back of your mind.

'Cause you start worrying about the future

and you don't want a tradition to end.

And you're trying to figure out

everything you can in order to make sure that

this can go on.

- And I truly believe that

in the great recession, for example,

we had a number of issues that came in front of us,

work stoppage

and a settlement of a bank debt

that we almost went out of business

and I would say that if it weren't for Anne Parsons,

we would be out of business at this point, quite frankly.

- When you face a challenge,

the most important thing is not to freeze (chuckles)

and not to dig in and go into denial,

but to accept it.

And that's what we did.

- [Narrator 2] While both the city and the nation

teetered on the edge of yet another economic collapse,

the challenges in front of the Detroit Symphony Orchestra

were made that much graver

considering the fact

that they still needed a new maestro.

- When we went through those tough times,

it seemed like a leader would emerge

who was perfectly suited to the time.

- Leonard Slatkin came in

when it was really dangerous here,

but Slatkin proved that it was not too dangerous

because he stepped in

and took hold and took through.

- When Leonard comes,

I think there was an excitement,

a world renowned figure

taking over the leadership of the orchestra.

- And it turned out to be really

the perfect partnership

at the perfect moment for us

because of Leonard's real community centric,

way of leading an orchestra.

Which was what we were yearning for at that time.

- This is not just an orchestra,

it's a family.

And this is not just the staff,

but it's a community.

- Leonard plays a really important role

when he comes here

because it is a very difficult time for the orchestra.

We had obviously a major strike here in 2010 and 11

and Leonard because he was so experienced

and such a pro

and such a tremendous musician,

was a real calming force.

And that was very reassuring

at a time when not much else was.

- When I arrived,

everybody knew

that the orchestra was in severe financial shape.

Despite maestro Harvey's incredibly successful

and much to be lauded tenure,

he'd been gone for almost five years.

There was no interaction in the community.

And aside from the recordings maestro Harvey made,

there was no real documentation

of the orchestra itself.

So my goals were to get those things in place.

- The webcast started with a thought.

Why couldn't we be the most

accessible orchestra on the planet?

So we have a broadcast to over a million viewers,

in over a hundred countries.

And this broadcast led to a new innovation,

which was webcasting educational content to the children

in the Detroit school system.

- One of the things that I'm really proud of

for the Detroit Symphony

here in Orchestra Hall

is their efforts to really

think outside of the box

in terms of how to

make what we do more relevant to the community around us.

- We need to embrace technology

if we're gonna be successful.

I think that that's been seen

for all of time with this organization.

And technology is a way of connecting people

at a higher and better level all the time.

- It's a way to get the message

and to some degree,

the sound of the orchestra

to a broader public,

other than the 1700 or so people

that come to attend a concert in the hall.

Now you're reaching out,

you go out in the community,

you play concerts in the community.

You're reaching out to them.

And with the webcasts,

people can now

put faces to the individuals

who are on stage.

- To have this outreach,

to be able to touch the next generation,

to have that exposure.

It really goes a long way in creating a rich community.

- When The Cube opened and started hosting,

poetry slams and jazz programs

that were going on the same time

that we would be playing a checkoff ski concert.

And it's really nice to see that fusion happening.

- This building is a hive of activity.

More so today than it has ever been.

The orchestra in this building

have a greater chance

than they've ever had

of fulfilling the prophesy from 1919

that this would become

the center of musical culture in Detroit.

- It's a community effort.

That's the main thing.

We cannot sit here by ourselves

and imagine our way

to an inclusive space.

We need to be connected to people.

We need to hear from people.

We need to be talking to people.

And most importantly,

we need people in this space

so that we can know if it is working.

(gentle instrumental music)

- [Narrator 2] Today, a century since

it's hasty construction,

Orchestra Hall still provides that looking glass

for the city of Detroit.

It reminds us of where we have been,

of what we have overcome

and it provides the inspiration and solace

we sometimes still need

to know that even when it seems

like our best days are behind us,

there may indeed be an even brighter future ahead.

- I think Detroit

and the Detroit Symphony Orchestra and

Orchestra Hall,

all have stories of resiliency.

- To me it's a very Detroit story

and it in many ways captures the best of Detroit.

- I've always kinda felt

that it was kind of the center

of musical life in the city.

'Cause it represents a certain kind of ideal.

A certain kind of timelessness of great music.

So Orchestra Hall is gonna be here.

That is as constant as it can get.

- It's inspiring for concert goers

to see that there's a building

that's still standing at 100 years.

I think that gives everyone a sense of hope

of the future

and of classical music

and of just culture in general.

- When you see the faces

in our civic youth ensemble,

not just the players on the stage

but the audience of children who are mouths wide open

thinking I can do this,

gives them an inspiring vision for what they can be.

It's incredibly important.

- The fact is that we have an obligation

to continue the transformation of Detroit,

so that people choose to live, work, play

and raise their children here.

And this institution at Orchestra Hall

will always be a centerpiece of that.

- [Narrator 2] Detroit is a city

that continually reinvents itself.

They talk about boom and bust,

but what a wonderfully resilient city it is.

And the only thing that we can hope to equal

is the quality of Orchestra Hall.

And the stark wonderful silence

that draws people here

hungry for a sound

that they would hear nowhere else.