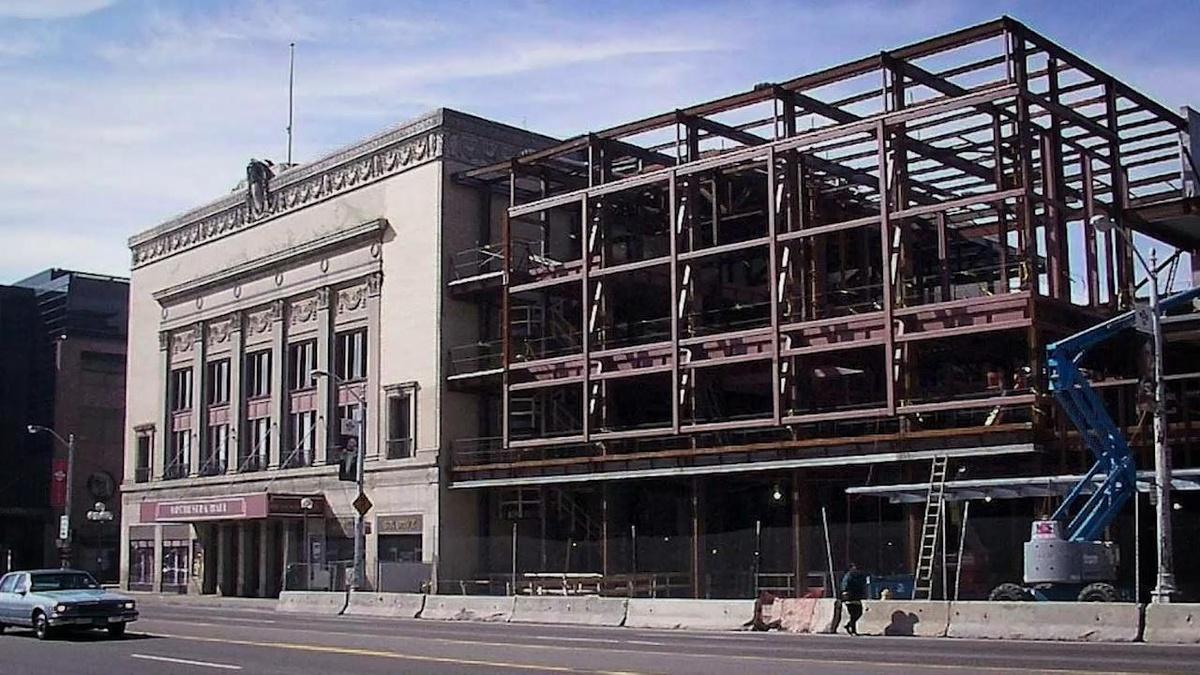 S10 E5 | CLIP
Growth and Transformation
The fifth installment of the Orchestral Hall series, where we will see the renovation and reopening of the acoustically magical building. Part 5 of 6.
TRANSCRIPT

- The hall has certainly had its ups and downs

and the fact that it was almost demolished

when you think back at that.

There's certain aspects of that

that you just feel lucky about.

And the fact that the orchestra didn't leave the city.

That we stayed here and that we came back

to the hall ultimately

- We had to bring a fresh,

complete, overcoming spirit to this place.

To rebuild it in a sense.

To recapture what happened in that summer of 1919.

- When you would come to Detroit

it was there, it was the immovable object.

I really can't imagine the Detroit Symphony

playing somewhere else.

I think this building is an essential part

of the Detroit Renaissance.

(pensive music)

- [Narrator] The revitalization of Orchestra Hall

was a monumental accomplishment

but the orchestra itself was still in the red.

Hit by a struggling Detroit economy

and cuts in funding for the arts,

it would take a special personality

to grow both the orchestra and its venue

back to the kind of international

prominence it knew during the early 20th century.

- I think back to the days of Paray and Ehrling,

Ceccato, Antal Doráti was a significant

part of building the quality of the orchestra.

Günther Herbig brought a gravitas

to the sound that I think

was very special and then Neeme

comes in and takes all of that

and adds sparkle, adds a polish, a sheen to it

that I think was possibly missing

from the immediate period earlier.

- The music directors that we've had

historically all speak to the unique

history of the orchestra.

They have been passionate,

sometimes very colorful leaders

and Neeme was no exception.

- The 1990s were very good years for the Detroit Symphony

they're back in their historic home,

they have a very charismatic new music director

named Neeme Järvi who's Estonian born

who makes a kind of instant connection with the audience.

- To me, Neeme was a jewel.

He was something that the orchestra needed.

He provided a lot of energy,

he provided a lot of musical charisma.

- You knew that he was the person in charge.

But at the same time it was a very jovial quality.

It was something that had a warmth to it.

There was a little bit of sparkle in his eye

no matter what he was doing.

- And I think he really enjoyed this hall

because of the proximity of the audience

to the orchestra.

In many modern halls, the audience is

more removed from the stage

and Neeme always enjoyed looking up

at the boxes and you know kind of giving

a little, a wink sometimes.

- I loved watching him conduct,

he had this sort of humor

this impishness to him

that if you got to know him

he could be a lot of fun.

- [Narrator] With Järvi at the helm,

the Detroit Symphony Orchestra

and Orchestra Hall were rejuvenated.,

making over 40 recordings and undertaking

numerous international tours.

Their success during the closing decade

of the 20th century once again cemented

Orchestra Hall's position as a world class symphonic home.

More importantly though, Neeme Järvi,

like Ossip Gabrilowitsch, championed

the idea of an orchestra's importance

to the greater community.

If the orchestra were to stay

in Orchestra Hall for good,

it would take more than just

a revival of the old hall,

it would take a transformation.

- When I first came to a concert

which was in 1991,

the neighborhood was not at all inviting.

- By that time we had lost half of our population

from our peak in the 1950s.

The auto factories had left

population and jobs and businesses

were fleeing the city.

And so there's a lot of sense

of why bother you know who cares about Detroit.

- We just knew that we needed to revitalize

this immediate neighborhood

and it was sort of out of that kind of thinking

that the Orchestra Place Project emerged.

- When he talked to my father

about this dream, my father told him

you know you're not thinking big enough.

You've gotta think bigger, the city

needs DSO and the hall in a way

that you can't even anticipate at this point.

- Education and outreach and everything else,

we had talked about those things for years.

That is the central spirit

that got this hall built.

That got this hall saved,

that got this hall restored to a point

where people said okay

let's take that ball and let's make a game here.

The hall was built 100 years ago

so it didn't have dressing rooms,

we had people in trailers

and it didn't have a place

for the patrons to assemble

before the program so it needed some updating

and Peter Cummings led that

and then Stanley Frankel.

And they did a marvelous job with it

I mean they were able to add those facilities

without interfering with the acoustics of the hall.

- It can't just be monolithic.

The building needed to expand

and they needed to adapt to its surroundings

but what it is and what it represents

is the same as what it's always been.

- C. Howard Crane gave us this magnificent

hall for classical music but that's

what this building is and all that other stuff

that is now considered part of the complex

of a major symphony hall was left out

because people that just wasn't on their radar

in those days so to have this beautiful

building attached, I think helped

everybody, staff, musicians, audience members.

I think it was critical again to make this

significant statement that we're here,

we're going to stay here, we're going

to help be a part of this community.

- You know what the orchestra did here

is they started buying up land

all around Orchestra Hall to make

expansion possible and then

they bought the Winkleman's warehouse

a block south of here

and built an office building

which they then leased

to the Detroit Medical Center

and there was ground floor retail.

Then they donate land to the

Detroit Public Schools so now

we've got this incredible performing

arts high school going up

so in Detroit what is more central

than reinventing an entire city block

which is basically what the orchestra did.

- When the orchestra hall finally reopened

that was one of the markers that said

we think we're back, we think Detroit has turned around.

It was early, we had a long way to go,

we still have a long way to go I think

but it was one of those ones that say

hey we can do this

and I think it was a point of civic pride

that's hard to equal.

- The only one event that will always

be embedded in my mind was the first night

we opened after we redid the hall.

I stood in the back and I had

this great fear that when I did the hall

I would've screwed up the acoustics.

So at the break, two people were next to me

who really knew and I said how are the acoustics?

They said they're fabulous, I said oh thank goodness.

I'll never forget that moment.

- [Narrator] The Max, as it was known,

had cemented a new cornerstone

for music and culture in the city

and lit the spark of further

revitalization down Woodward.

The hall would face one more challenge

though as health problems forced Neeme Järvi

to announce that after the ribbon was cut

on the DSO's expanded home, he would be moving on.

This time it would be the orchestra's

musical directorship and not the hall itself

that would sit empty, just when it needed it most.

- When I arrived in 2004 everyone

was feeling hopeful that the city

was coming back, that the cultural anchors

really stayed with the city

and the community and kept their doors open

in spite of everything and everything

was soon to be quite difficult again.