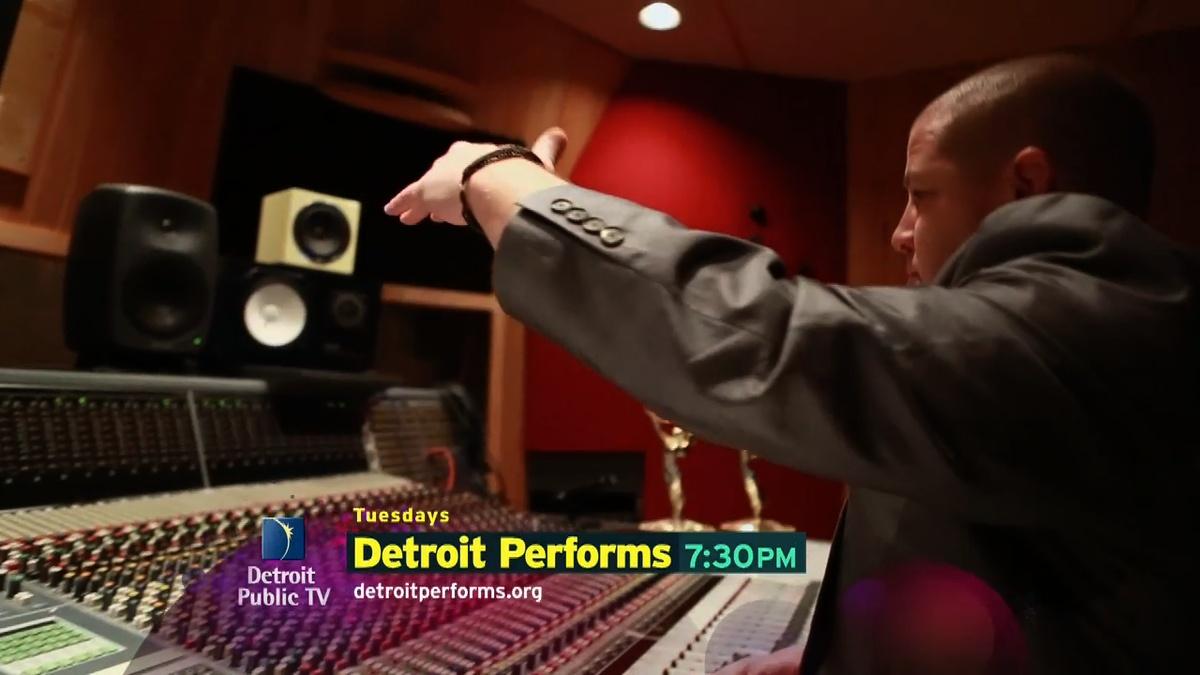 S1 E22 | FULL EPISODE
Detroit Performs: The Michigan Science Center
On this episode of Detroit Performs, a local photographer uses camera technology to help her students express themselves; a local music producer makes art and soul through his beats; a young poet uses her words to inspire. Host, DJ Oliver, visits the Michigan Science Center. Episode 122.
TRANSCRIPT

>> IN THIS EDITION OF DETROIT PERFORMS --

>> INCREDIBLY GIFTED PHOTOGRAPHERS HEAD OUT TO

EXPLORE THE AUTUMN WOODS· >> A MAN'S CREATIVITY POURS FROM

HIS BEATS AND GRAPHIC ARTISTRY· >> A YOUNG LADY'S POETIC WORDS

HELP TO HEAL· >> AND CRITIC CAR DETROIT SHARES

WITH US SOME MORE CITIZEN REVIEWS·

IT'S ALL AHEAD ON TODAY'S EPISODE OF DETROIT PERFORMS.

MAJOR FUNDING FOR DETROIT PERFORMS IS PROVIDED BY THE

MCGREGOR FUND. ADDITIONAL FUNDING IS PROVIDED

BY THE MICHIGAN CULTURE OF ARTS AND AFFAIRS AND BY THE ENDOWMENT

OF THE ARTS, AND BY CONTRIBUTIONS FROM PBS

VIEWERS LIKE YOU. THANK YOU.

§

§ § §

§ §

§

>> HELLO AND WELCOME TO DETROIT PERFORMS.

I AM YOUR HOST DJ OLIVER AND WE ARE AT THE MICHIGAN SCIENCE

CENTER - A UNIQUE, FUN AND DYNAMIC HANDS-ON MUSEUM OFFERING

PROGRAMS THAT INSPIRE CHILDREN AND THEIR FAMILIES TO DISCOVER,

EXPLORE AND APPRECIATE SCIENCE, TECHNOLOGY AND MATH.

EACH OF OUR FEATURED ARTISTS TODAY USE TECHNOLOGY TO

THEIR ADVANTAGE. >> FIRST UP WE HAVE A GROUP OF

REMARKABLE PEOPLE WHO USE CAMERA TECHNOLOGY TO THEIR ADVANTAGE.

WITH HELP FROM A PROFESSIONAL PHOTOGRAPHER, THEIR PICTURES

CREATE A VOICE ONCE DRAINED OUT BY SOCIETY.

HERE IS S KAY AND HER CREW OF SHUTTERBUGS.

>> SO WE ALREADY TALKED ABOUT WHAT WE ARE GOING TO DO TODAY.

WE ARE GOING TO FIND ALPHABET IN THE TREES -- LIKE A "V."

THERE'S A "V." I WANT YOU TO SHOOT WHATEVER IS

BEAUTIFUL IN THE LOVELY WOODS. LET'S HIT IT.

§

§ § §

§ §

§

>> YOU WOULD BE HARD PRESSED TO FIND HUMAN BEINGS THAT EMBODY

SUCH KINDNESS TO EACH OTHER AND SUCH DEDICATION TO THE CRAFT.

AND SUCH ENTHUSIASM FOR WHAT THEY ARE DOING.

>> HEY, HEY. >> YOU ARE GOING PRO ON ME.

THEY ARE THE KINDEST PEOPLE I HAVE EVER MET.

THEY DON'T HAVE A MEAN GENE. THE WHITE EVERYTHING.

IT'S HAPPY AND -- PICTURES. >> HOW LONG DO YOU THINK IT TOOK

THAT LOG TO BE COVERED WITH MOSS?

>> I TAKE PICTURES. >> WE ARE LOOKING AT COLORS

AS WELL. I HAVE SPENT SO MANY YEARS

WATCHING PEOPLE WHO HAVE SPECIAL CHALLENGES BE DISENFRANCHISED

FROM MAINSTREAM -- A LOT OF MAINSTREAM THINGS.

IT'S ALWAYS BEEN A BURNING DESIRE FOR ME TO BE ABLE TO BE

IN THE BUSINESS LONG ENOUGH TO SEE THEM STAND SIDE BY SIDE WITH

OTHER ARTISTS RECOGNIZED AND THAT THEY WOULD BE EQUALLY

RECOGNIZED FOR THEIR CONTRIBUTION THAT HAS NEVER BEEN

LESS THAN OTHER ARTISTS. >> I DON'T THINK THEY

ARE MUSHROOMS. THERE ARE MUSHROOMS ON

THE OTHER SIDE. PATTY'S SONS CAME INTO MY WORLD.

WE DECIDED -- I WANTED TO TAKE PEOPLE OUT INTO THE WOODS ON

FIELD TRIPS AND GIVE THEM A LIVE EXPERIENCE OF WHAT IT'S LIKE TO

SHOOT ON LOCATION. >> KAY DIRECTS PEOPLE.

SHE FELT CONFIDENT AND HER CONFIDENCE HAS GROWN.

THIS PROGRAM IS VERY IMPORTANT BECAUSE I THINK MANY TIMES, OUR

STUDENTS ARE OFF THE RADAR. WHEN WE ARE OUT IN PUBLIC, THEY

CAN SEE THE TALENT AND THE BEAUTY AND THE LOVE.

>> PEOPLE WITH DISABILITY, THEY LEARN REALLY FAST IN OUR

MINDS, SO THAT'S WHY I LIKE IT. YOU LEARN.

WE'LL SHOW PEOPLE WHERE THEIR PASSION LIED IN THE WOODS,

DIFFERENT PLACES. >> IT'S NATURE AND BEAUTIFUL.

I LIKE IT -- A LOT. >> IT MAKES ME FEEL NORMAL.

>> WOW. THAT'S POWERFUL.

ART IS A POWERFUL THING. IT'S IN OUR DNA TO MAKE ART

TO BE CREATIVE. IF THAT CAN MAKE SOMEONE FEEL

BETTER ABOUT THEMSELVES, I'M ALL FOR IT.

>> THERE IS A PART OF IT RIGHT HERE.

>> YOU HAVE THE FEELING LIKE, I LOVE IT.

>> THEY ARE ABSOLUTELY BRILLIANT PHOTOGRAPHERS.

I'M ALWAYS SURPRISED AT THE ANGLES AND WHAT THEY SEE THAT I

DON'T NECESSARILY SEE. >> THAT'S WHAT I LIKE.

>> TO SEE THE SMILE ON THEIR FACES AS THEY WALK INTO AN ART

GALLERY, YOU CAN'T BUY THAT KIND OF JOY.

IT'S BEAUTIFUL. EVERY TIME WE DO SOMETHING LIKE

THIS AND HAVE AN ART EXHIBIT AT THE DETROIT ARTIST MARKET OR

SCAIRM CLUB, WHEN PEOPLE COME AND SEE, THEY KNOW.

WHEN THEY KNOW, THEY BELIEVE. WHEN THEY BELIEVE, THEY

ARE INSPIRED. >> GOT IT?

>> YEAH. >> YAY!

SHE HAS LEARNED TO EXPRESS HER INNER THOUGHTS AND FEELINGS BY

THE IMAGES SHE PRODUCES. IT'S SO MUCH SIMPLER FOR HER TO

SNAP A PICTURE THAN TO VERBALIZE INTERNALLY.

>> I WATCHED PEOPLE WHO FELT LIKE THEY HAD LITTLE TO

CONTRIBUTE WHO WERE SOCIALLY ISOLATED.

WE STARTED PARTICIPATING IN OUR PHOTOGRAPHY PROGRAM AND

LITERALLY CAME ALIVE. YOU CAN NEVER DIMINISH

THE VALUE OF THAT. >> I WONDER IF IF WE CAN COUNT

HOW MANY COLORS WE SEE? >> THIS IS MAKING HER HAPPY.

IT'S MAKING ALL OF US HAPPY, INCLUDING OUR FAMILY

AND FRIENDS. THEY ARE ALL INVOLVED IN IT.

>> I LOVE IT. WHEN WE ARE OUT, IT GIVES THEM A

CHANCE TO SEE THAT WE ARE ALL ONE BIG FAMILY.

THE LOVE SHOWN THEM TOWARD EACH OTHER, WITH THE PARENTS, WITH

EVERYONE INVOLVED -- >> I SEE A GRATITUDE THEY HAVE

FOR THE PEOPLE THAT WORK WITH THEM.

PEOPLE LIKE KAY, PEOPLE LIKE THE PARENTS WHO SUPPORT.

>> YOU GOT IT. GREAT.

>> I LIKE TO TAKE PICTURES. >> YOU CAN LEARN MORE ABOUT THIS

PHOTOGRAPHY PROJECT ON DETROIT PERFORMS.ORG.

PATRICK WARD USES TECHNOLOGY EVERYDAY AT HIS JOB AS AN AUDIO

TECH FOR DETROIT SPORTS. BUT IT'S WHEN HE HEADS TO THE

STUDIO THAT HIS TRUE CREATIVITY SHINES THROUGH.

HERE HE GIVES US A GLIMPSE INTO HIS CHOSEN ARTFORMS.

>> YEAH. I WOULD LIKE TO WELCOME YOU

ALL TO MY THING. SIT BACK, RELAX, AND ENJOY.

>> I STARTED MAKING MUSIC -- PROBABLY WHEN I WAS 12 OR 13.

THE ORIGINAL WAY I GOT INTO MUSIC WAS, THE WAY I GOT INTO

MUSIC, MY MOTHER WAS DIAGNOSED WITH LUNG CANCER WHEN I WAS TEN.

BEFORE SHE PASSED ON HER DEATH BED SHE SAID, WHAT ARE YOU GOING

TO DO WITH YOUR LIFE? I'M NOT GOING TO BE

AROUND ANYMORE. >> I SAID I'M GOING TO BE

LIKE MY DAD. MY DAD WAS A BAKER.

>> SHE SAID, I DON'T WANT YOU TO DO THAT.

I WANT YOU TO BE AN ENTERTAINER. >> I SAID, OKAY, HOW DO

I DO THAT? >> SHE SAID, YOU WILL

FIGURE IT OUT. I'M NOT GOING TO BE AROUND.

FORTUNATELY, IT WORKED OUT 30 YEARS LATER.

>> IT'S BEEN A LONG BATTLE. STARTING IN THE EARLY '90S,

BEING ONE OF THE FEW WHITE KIDS ENTERING DETROIT HIP-HOP AND

BEING ACCEPTED JUST BECAUSE YOU LOVE THE MUSIC AND WERE TRUE TO

THE MUSIC, IS ONE OF MY EARLIEST MEMORIES.

NONE OF US KNEW IT AT THAT TIME. MAKING BEADS AND SLUM VILLAGE

AND BINARY STAR, WE WERE RECORDING AN ALBUM CALLED WATER

WORLD AND HONEST EXPRESSION, ONE OF THE SONGS.

THAT MADE ME LOOK AT THINGS DIFFERENTLY.

ANOTHER SONG CALLED "ONE MAN ARMY."

§

§ §

>> BASICALLY ONE RAPPER PUTTING HIMSELF AS A FIGHTER PILOT,

AIRCRAFT CARRIER, GERMAN TANK, ALL OF THESE THINGS SO POWERFUL.

PUTTING ALL OF THOSE ENTITIES INTO METAPHORS AND WORD PHRASES

THAT YOU CAN COMPREHEND, UNDERSTAND, AND SEE EXACTLY

WHERE HE'S COMING FROM. IT'S THE LEER SCHISM THAT DOES

IT FOR ME ALONG WITH THE BEAT. I LOVE THE LYRICS.

I'M SPRINKLING ON THE PIXIE DUST TO MAKE SURE THEY SHINE IN THE

MOMENTS THEY NEED TO SHINE IN. SPECIFIC WORDS, MOVEMENTS,

METAPHORS WHERE YOU DROP THE DRUM OUT, HAVE A BREAK, AND

BRING IT ALL BACK IN. HOW IT HAPPENED FOR ME WAS BEING

AROUND MOTOWN AND DETROIT ARTISTS.

§

§ §

>> I'M BIASED BECAUSE I'M FROM HERE, IN MY EXPERIENCE, WE LOOK

OUT FOR OUR OWN. FROM YOU ARE FROM DETROIT, YOU

CAN DO ANYTHING. >> WE ARE HERE AT PRO SOUND.

CHUCK IS A FRIEND OF MINE THROUGH KAREN WHO SINGS THE

NATIONAL ANTHEM AT THE RED WINGS GAMES.

I'M FRIENDS WITH HER. I SAID, I NEED A PLACE

TO RECORD. HE SAID, WE ARE ALL DETROIT.

IN L.A., YOU CAN'T JUST CALL UP AND SAY, I'M DOING THIS, CAN

I COME OVER? GET OUT OF HERE.

IT'S ALL LOVE. IT'S THE DETROIT THING.

IT'S THE MAGICAL MOMENTS THAT HAPPEN WITHOUT WORDS SPOKEN.

BEING INVOLVED IN SUCH A SPECIAL THING IN SUCH A VAGUE THING

CALLED MUSIC, BRINGING PEOPLE TOGETHER -- THERE'S NO WORDS

THAT CAN EXPLAIN THAT. >> I KIND OF KNEW HOW BIG OF A

DEAL IT WAS, BUT I DIDN'T REALIZE HOW BIG OF A DEAL IT WAS

UNTIL I BROUGHT THE EMMYS TO MY DAD.

IT WAS THE FIRST TIME SINCE MY MOM PASSED AWAY THAT I

SEEN HIM CRY. HE WAS SO PROUD, AND

JUST LOST IT. I WAS LIKE, WOW.

THIS IS REALLY -- THIS IS SOMETHING.

I NEVER EXPECTED TO WIN ANY OF THAT.

I WISHED I WOULD WIN AN EMMY, GRAMMY, AMERICAN MUSIC AWARD,

MTV MUSIC AWARD. THOSE ARE THE THINGS BEING A

YOUNG PRODUCER, YOUNG BEAT MAKER, YOUNG M.C. COMING UP, YOU

ARE LIKE NEXT YEAR, I'M GOING TO BE PLATINUM.

SOMETIMES IT DON'T WORK OUT LIKE THAT.

IT'S ALWAYS CURVE BALLS. IT'S HOW YOU HIT IT.

ARE YOU GOING TO STRIKE OUT OR KNOCK IT OUT OF THE PARK?

I DON'T KNOW WHERE I'M AT IN BETWEEN THAT.

I JUST WANT TO MAKE A BASE HIT.

§

§ §

§ § §

>> TO LEARN MORE ABOUT PATRICK WARD AS WELL AS ALL OF THE

ARTISTS HIGHLIGHTED TODAY VISIT DETROITPERFORMS.ORG

NOW LET'S CHECK OUT SOME EVENTS HAPPENING IN AND AROUND DETROIT.

§

§ §

§ § §

§ §

§ § §

§ §

§ § §

§ §

§ § §

§ §

§ § §

§ §

§ § §

§ §

§ § §

§ §

§ § §

§ §

§

>> METRO-DETROITER RANEQUA KELLEY-BOYD STRUGGLED WITH HER

EMOTIONS UNTIL SHE FOUND AN OUTLET IN POETRY.

IN FACT, POETRY HELPED HER SO MUCH SHE USED THE TECHNOLOGY OF

HER SMART PHONE TO JOT DOWN WORDS WHEREVER SHE WAS.

HERE SHE IS AS SHE RECITES HER POEM "WHERE I'M FROM"

>> WHERE AM I FROM? IF YOU WERE TO AXE ME, I COULD

NOT GIVE YOU A SIMPLE ANSWER. I'M MANY PEOPLE FROM

MANY PLACES. >> GROWING UP, I WAS THE

GEEKY, NERDY KID. I GOT STRAIGHT "AS," BUT BEING

THE SOCIAL BUTTERFLY, THAT WAS NEVER ME.

I GUESS YOU COULD SAY I WAS THE WEIRD KID.

INSTEAD OF PLAYING OUTSIDE, I WOULD RATHER STAY INSIDE AND

PLAY WITH MY DOLLS AND WRITE. WHAT SEVEN TO NINE-YEAR-OLD

WRITES ALL DAY. THAT WAS ME.

IT MADE ME FEEL LIKE I DIDN'T BELONG.

>> I BEGAN TO NOTICE HER POEMS CHANGE.

THEY WERE ALMOST SCARY TO SOME DEGREE.

BECAUSE OF MY BACKGROUND AND TRAINING IT SENT RED FLAGS TO ME

THAT PERHAPS SHE NEEDED SOMEONE OTHER THAN MYSELF TO TALK TO.

I ASKED HER HOW SHE FELT ABOUT MAYBE SEEING A COUNSELOR.

>> I'M FROM THE HUGS TO THE FIGHTING AND CUSSING.

I LIKE TO HOP ON A PLANE AND ESCAPE FROM IT ALL.

>> I THINK SHE FELT, MOM, YOU ARE A SOCIAL WORKER.

WHY DO I NEED TO GO SOMEWHERE. YOU CAN COUNCIL ME.

I HAD TO EXPLAIN IT, NO, I'M MOM FIRST.

I'M ALWAYS GOING TO BE MOM FIRST.

>> MY MOM IS A THERAPIST. PEOPLE WOULD THINK, YOU SHOULD

BE ABLE TO TALK TO YOUR MOM ABOUT EVERYTHING.

IT'S THE COMPLETE OPPOSITE. WHEN IT COMES TO HER SHOES, IT'S

HARDER FOR HER TO LOOK AT ME LIKE SHE DOES HER CLIENTS.

SHE NEEDED SOMEONE ELSE BECAUSE SHE CAN'T SEPARATE THE FACT THAT

I WAS HER DAUGHTER FROM ONE OF HER CLIENTS.

IT'S FILLED WITH MY HURT AND JOY.

NOBODY KNOWS ME LIKE THEY DO. >> I FEEL LIKE IF I DID NOT

RIGHT DURING THOSE YEARS FROM NINE TO NOW, ALL MY TEENAGE

YEARS I HAVE USED POETRY TO GET THROUGH.

TEENAGERS THAT ACT OUT, DOING DRUGS OR PARTYING, THAT'S WHAT

TEENAGERS DO, TO ACT OUT, TRY TO BE SEEN.

I USED POETRY TO GET THROUGH WHAT I WAS FEELING IN

A POSITIVE WAY. >> I LOVED WORKING WITH HER.

I THINK IT'S HELPED HER FIND HER VOICE MORE THAT SHE HAD.

>> I THINK IT'S MORE AND MORE OF AN ESTABLISHED PRACTICE.

YOU CAN WRITE IT DOWN SO YOU HAVE THOSE THINGS.

THEN YOU CAN GO BACK IN RETROSPECT TO UNDERSTAND THEM.

SHE'S ABLE TO TAKE CONCRETE IMAGES AND PUT THEM ON A PAGE

THAT WILL PROJECT TO THE READER, HER FEELINGS.

>> I AM ACNE BUMPS TO SIZE 11 JEANS DEPENDS ON MY MOOD.

I'M FOR TELLING IT JUST LIKE IT IS.

I'M FOR HANDLING MY BIZ. MY THING IS, I DON'T WANT TO

JUST GO THROUGH MY TEENAGE YEARS OVER LOOKING MYSELF ESTEEM.

I'LL BE 30 AND 40 HAVING THE SAME PROBLEMS.

IT'S WORSE BY THEN. I'M GROWN.

THAT'S WHY ALL OF MY LIFE, I HAVE TRIED TO WORK ON MYSELF.

I'M A PROCESS OF PROGRESS. THAT'S WHAT I ALWAYS SAY.

I KNOW THAT I AM NOT PERFECT. I'M FAR FROM COMPLETE.

I'M TRYING TO BE A BETTER HUMAN BEING.

WHERE I AM FROM HAS BROUGHT ME TO WHERE I AM.

>> I SAW INSTANT IMPROVEMENT EVEN WHILE SHE WAS

IN COUNSELING. SHE FEELS MORE SOCIAL.

YOU COULD SEE HERSELF ESTEEM INCREASE.

SHE WAS MORE WELCOMING. SHE WAS MORE WILLING TO

COMMUNICATE WITH ME EVEN WITH THINGS SHE THOUGHT I MAY NOT

BE ABLE TO HANDLE. SHE WAS A WHOLE DIFFERENT KID.

>> WITH THERAPY, IT MADE OUR BOND STRONGER.

WE GREW. EVER SINCE THAT EXPERIENCE, ME

AND MY MOTHER HAVE BEEN A HUNDRED TIMES CLOSER THAN

WE WERE BEFORE. I'M THANKFUL BECAUSE I WOULDN'T

HAVE GONE TO THERAPY WITHOUT HER.

I THANK GOD FOR ALL THAT I HAVE ENDURED AND OVERCOME.

NEVER FORGETS WHERE I'M FROM. MY TIME TO SHINE IS NOW.

MY TIME TO SHINE NEVER ENDS. THIS IS ONLY THE BEGINNING.

I KNOW WHERE I AM FROM, BUT I ALSO KNOW WHERE I AM GOING.

>> YOU CAN LEARN MORE ABOUT RANEQUA AT DETROITPERFORMS.ORG

>> LET'S CHECK OUT WHAT MOBILE ARTS JOURNALISM TEAM CRITIC-CAR

DETROIT HAS BEEN UP TO·

>>

§

§ §

>> HI, I'M ERIN. I'M AT THE DETROIT

INSTITUTE OF ART. I WENT THROUGH THE WATCH ME MOVE

EXHIBIT WITH MY THREE-YEAR-OLD SON.

I THOUGHT IT WAS A GREAT EXHIBIT FOR BOTH OF US.

I LEARNED A LOT. HE WAS CAPTIVATED BY FRANK'S

LIFE OR FRANK'S FRAMES OR WHATEVER.

IT WAS INTERESTING, BUT MORE ADULT THAN WALT DISNEY

TYPE STUFF. THAT WAS IT.

COME DOWN AND SEE IT. IT WAS GREAT.

>> YOU CAN VIEW MORE OF CRITIC-CAR DETROIT'S CITIZEN

REVIEWS ON THEIR FACEBOOK PAGE AND YOUTUBE CHANNEL, WHICH

YOU CAN FIND THROUGH DETROITPERFORMS.ORG.

>> AND THAT WRAPS IT UP FOR THIS EDITION OF DETROIT PERFORMS.

FOR MORE ARTS AND CULTURE, VISIT DETROITPERFORMS.ORG

WHERE YOU'LL FIND FEATURE VIDEOS, BLOGS AND INFORMATION

ON UPCOMING ARTS EVENTS. AND DON'T FORGET TO LIKE US ON

FACEBOOK AND FOLLOW US ON TWITTER.

WE'D LIKE TO THANK THE MICHIGAN SCIENCE CENTER FOR HAVING US OUT

HERE TODAY AND ALSO FOR STRIVING TO HELP THE NEXT GENERATION OF

MICHIGAN'S ENGINEERS, SCIENTISTS AND INNOVATORS WHO WILL IMPACT

THE CULTURAL AND ECONOMIC RENEWAL OF DETROIT AND MICHIGAN

- HEY THAT'S WHAT DETROIT PERFORMS IS ALL ABOUT!

UNTIL NEXT TIME, GET OUT THERE AND SHOW THE WORLD HOW

DETROIT PERFORMS. I'M DJ OLIVER, THANKS FOR

WATCHING. >> MAJOR FUNDING FOR DETROIT

PERFORMS IS PROVIDED BY THE MCGREGOR FUND.

ADDITIONAL FUNDING IS PROVIDED BY THE MICHIGAN DEPARTMENT OF

ARTS AND CULTURAL AFFAIRS AND THE ENDOWMENT FOR ARTS AND BY

CONTRIBUTIONS TO YOUR PBS STATION FROM VIEWERS LIKE YOU.