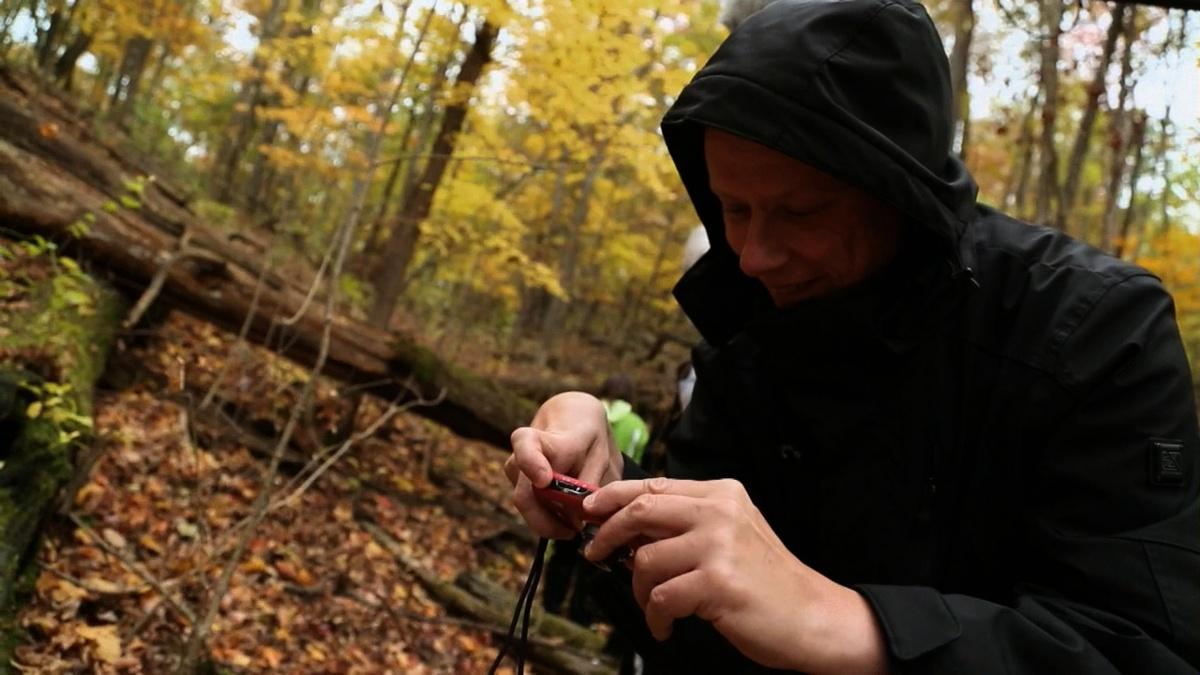 S1 E27 | CLIP
Detroit Performs Clip: S. Kay's Shutterbugs
Through her photography program, S. Kay uses camera technology to help her students find their voice. Episode 122/Segment 1.
TRANSCRIPT

>> HELLO AND WELCOME TO DETROIT PERFORMS.

I AM YOUR HOST DJ OLIVER AND WE ARE AT THE MICHIGAN SCIENCE

CENTER - A UNIQUE, FUN AND DYNAMIC HANDS-ON MUSEUM OFFERING

PROGRAMS THAT INSPIRE CHILDREN AND THEIR FAMILIES TO DISCOVER,

EXPLORE AND APPRECIATE SCIENCE, TECHNOLOGY AND MATH.

EACH OF OUR FEATURED ARTISTS TODAY USE TECHNOLOGY TO

THEIR ADVANTAGE. >> FIRST UP WE HAVE A GROUP OF

REMARKABLE PEOPLE WHO USE CAMERA TECHNOLOGY TO THEIR ADVANTAGE.

WITH HELP FROM A PROFESSIONAL PHOTOGRAPHER, THEIR PICTURES

CREATE A VOICE ONCE DRAINED OUT BY SOCIETY.

HERE IS S KAY AND HER CREW OF SHUTTERBUGS.

>> SO WE ALREADY TALKED ABOUT WHAT WE ARE GOING TO DO TODAY.

WE ARE GOING TO FIND ALPHABET IN THE TREES -- LIKE A "V."

THERE'S A "V." I WANT YOU TO SHOOT WHATEVER IS

BEAUTIFUL IN THE LOVELY WOODS. LET'S HIT IT.

§

§ § §

§ §

§

>> YOU WOULD BE HARD PRESSED TO FIND HUMAN BEINGS THAT EMBODY

SUCH KINDNESS TO EACH OTHER AND SUCH DEDICATION TO THE CRAFT.

AND SUCH ENTHUSIASM FOR WHAT THEY ARE DOING.

>> HEY, HEY. >> YOU ARE GOING PRO ON ME.

THEY ARE THE KINDEST PEOPLE I HAVE EVER MET.

THEY DON'T HAVE A MEAN GENE. THE WHITE EVERYTHING.

IT'S HAPPY AND -- PICTURES. >> HOW LONG DO YOU THINK IT TOOK

THAT LOG TO BE COVERED WITH MOSS?

>> I TAKE PICTURES. >> WE ARE LOOKING AT COLORS

AS WELL. I HAVE SPENT SO MANY YEARS

WATCHING PEOPLE WHO HAVE SPECIAL CHALLENGES BE DISENFRANCHISED

FROM MAINSTREAM -- A LOT OF MAINSTREAM THINGS.

IT'S ALWAYS BEEN A BURNING DESIRE FOR ME TO BE ABLE TO BE

IN THE BUSINESS LONG ENOUGH TO SEE THEM STAND SIDE BY SIDE WITH

OTHER ARTISTS RECOGNIZED AND THAT THEY WOULD BE EQUALLY

RECOGNIZED FOR THEIR CONTRIBUTION THAT HAS NEVER BEEN

LESS THAN OTHER ARTISTS. >> I DON'T THINK THEY

ARE MUSHROOMS. THERE ARE MUSHROOMS ON

THE OTHER SIDE. PATTY'S SONS CAME INTO MY WORLD.

WE DECIDED -- I WANTED TO TAKE PEOPLE OUT INTO THE WOODS ON

FIELD TRIPS AND GIVE THEM A LIVE EXPERIENCE OF WHAT IT'S LIKE TO

SHOOT ON LOCATION. >> KAY DIRECTS PEOPLE.

SHE FELT CONFIDENT AND HER CONFIDENCE HAS GROWN.

THIS PROGRAM IS VERY IMPORTANT BECAUSE I THINK MANY TIMES, OUR

STUDENTS ARE OFF THE RADAR. WHEN WE ARE OUT IN PUBLIC, THEY

CAN SEE THE TALENT AND THE BEAUTY AND THE LOVE.

>> PEOPLE WITH DISABILITY, THEY LEARN REALLY FAST IN OUR

MINDS, SO THAT'S WHY I LIKE IT. YOU LEARN.

WE'LL SHOW PEOPLE WHERE THEIR PASSION LIED IN THE WOODS,

DIFFERENT PLACES. >> IT'S NATURE AND BEAUTIFUL.

I LIKE IT -- A LOT. >> IT MAKES ME FEEL NORMAL.

>> WOW. THAT'S POWERFUL.

ART IS A POWERFUL THING. IT'S IN OUR DNA TO MAKE ART

TO BE CREATIVE. IF THAT CAN MAKE SOMEONE FEEL

BETTER ABOUT THEMSELVES, I'M ALL FOR IT.

>> THERE IS A PART OF IT RIGHT HERE.

>> YOU HAVE THE FEELING LIKE, I LOVE IT.

>> THEY ARE ABSOLUTELY BRILLIANT PHOTOGRAPHERS.

I'M ALWAYS SURPRISED AT THE ANGLES AND WHAT THEY SEE THAT I

DON'T NECESSARILY SEE. >> THAT'S WHAT I LIKE.

>> TO SEE THE SMILE ON THEIR FACES AS THEY WALK INTO AN ART

GALLERY, YOU CAN'T BUY THAT KIND OF JOY.

IT'S BEAUTIFUL. EVERY TIME WE DO SOMETHING LIKE

THIS AND HAVE AN ART EXHIBIT AT THE DETROIT ARTIST MARKET OR

SCAIRM CLUB, WHEN PEOPLE COME AND SEE, THEY KNOW.

WHEN THEY KNOW, THEY BELIEVE. WHEN THEY BELIEVE, THEY

ARE INSPIRED. >> GOT IT?

>> YEAH. >> YAY!

SHE HAS LEARNED TO EXPRESS HER INNER THOUGHTS AND FEELINGS BY

THE IMAGES SHE PRODUCES. IT'S SO MUCH SIMPLER FOR HER TO

SNAP A PICTURE THAN TO VERBALIZE INTERNALLY.

>> I WATCHED PEOPLE WHO FELT LIKE THEY HAD LITTLE TO

CONTRIBUTE WHO WERE SOCIALLY ISOLATED.

WE STARTED PARTICIPATING IN OUR PHOTOGRAPHY PROGRAM AND

LITERALLY CAME ALIVE. YOU CAN NEVER DIMINISH

THE VALUE OF THAT. >> I WONDER IF IF WE CAN COUNT

HOW MANY COLORS WE SEE? >> THIS IS MAKING HER HAPPY.

IT'S MAKING ALL OF US HAPPY, INCLUDING OUR FAMILY

AND FRIENDS. THEY ARE ALL INVOLVED IN IT.

>> I LOVE IT. WHEN WE ARE OUT, IT GIVES THEM A

CHANCE TO SEE THAT WE ARE ALL ONE BIG FAMILY.

THE LOVE SHOWN THEM TOWARD EACH OTHER, WITH THE PARENTS, WITH

EVERYONE INVOLVED -- >> I SEE A GRATITUDE THEY HAVE

FOR THE PEOPLE THAT WORK WITH THEM.

PEOPLE LIKE KAY, PEOPLE LIKE THE PARENTS WHO SUPPORT.

>> YOU GOT IT. GREAT.

>> I LIKE TO TAKE PICTURES. >> YOU CAN LEARN MORE ABOUT THIS

PHOTOGRAPHY PROJECT ON DETROIT PERFORMS.ORG.