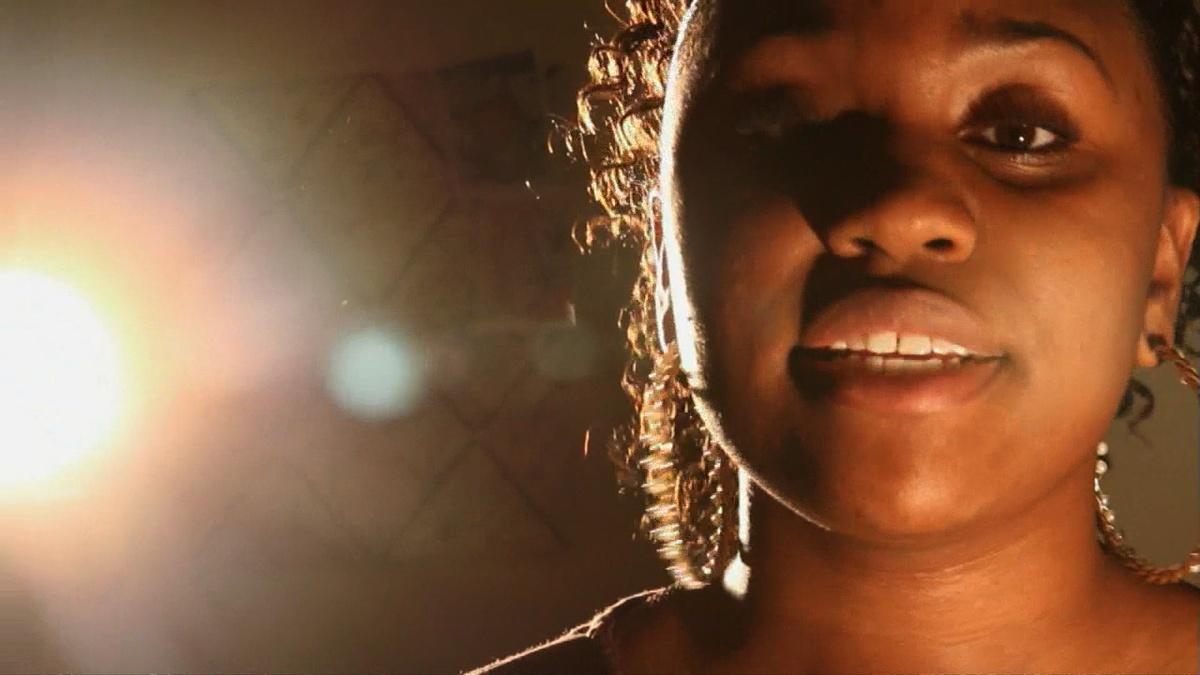 S1 E27 | CLIP
Detroit Performs Clip: Ranequa Kelley-Boyd
Young poet Ranequa Kelley-Boyd uses words to heal and inspire. CriticCar Detroit reviews the Watch Me Move exhibit at the Detroit Institute of Arts. Episode 122/Segment 3.
TRANSCRIPT

>> METRO-DETROITER RANEQUA KELLEY-BOYD STRUGGLED WITH HER

EMOTIONS UNTIL SHE FOUND AN OUTLET IN POETRY.

IN FACT, POETRY HELPED HER SO MUCH SHE USED THE TECHNOLOGY OF

HER SMART PHONE TO JOT DOWN WORDS WHEREVER SHE WAS.

HERE SHE IS AS SHE RECITES HER POEM "WHERE I'M FROM"

>> WHERE AM I FROM? IF YOU WERE TO AXE ME, I COULD

NOT GIVE YOU A SIMPLE ANSWER. I'M MANY PEOPLE FROM

MANY PLACES. >> GROWING UP, I WAS THE

GEEKY, NERDY KID. I GOT STRAIGHT "AS," BUT BEING

THE SOCIAL BUTTERFLY, THAT WAS NEVER ME.

I GUESS YOU COULD SAY I WAS THE WEIRD KID.

INSTEAD OF PLAYING OUTSIDE, I WOULD RATHER STAY INSIDE AND

PLAY WITH MY DOLLS AND WRITE. WHAT SEVEN TO NINE-YEAR-OLD

WRITES ALL DAY. THAT WAS ME.

IT MADE ME FEEL LIKE I DIDN'T BELONG.

>> I BEGAN TO NOTICE HER POEMS CHANGE.

THEY WERE ALMOST SCARY TO SOME DEGREE.

BECAUSE OF MY BACKGROUND AND TRAINING IT SENT RED FLAGS TO ME

THAT PERHAPS SHE NEEDED SOMEONE OTHER THAN MYSELF TO TALK TO.

I ASKED HER HOW SHE FELT ABOUT MAYBE SEEING A COUNSELOR.

>> I'M FROM THE HUGS TO THE FIGHTING AND CUSSING.

I LIKE TO HOP ON A PLANE AND ESCAPE FROM IT ALL.

>> I THINK SHE FELT, MOM, YOU ARE A SOCIAL WORKER.

WHY DO I NEED TO GO SOMEWHERE. YOU CAN COUNCIL ME.

I HAD TO EXPLAIN IT, NO, I'M MOM FIRST.

I'M ALWAYS GOING TO BE MOM FIRST.

>> MY MOM IS A THERAPIST. PEOPLE WOULD THINK, YOU SHOULD

BE ABLE TO TALK TO YOUR MOM ABOUT EVERYTHING.

IT'S THE COMPLETE OPPOSITE. WHEN IT COMES TO HER SHOES, IT'S

HARDER FOR HER TO LOOK AT ME LIKE SHE DOES HER CLIENTS.

SHE NEEDED SOMEONE ELSE BECAUSE SHE CAN'T SEPARATE THE FACT THAT

I WAS HER DAUGHTER FROM ONE OF HER CLIENTS.

IT'S FILLED WITH MY HURT AND JOY.

NOBODY KNOWS ME LIKE THEY DO. >> I FEEL LIKE IF I DID NOT

RIGHT DURING THOSE YEARS FROM NINE TO NOW, ALL MY TEENAGE

YEARS I HAVE USED POETRY TO GET THROUGH.

TEENAGERS THAT ACT OUT, DOING DRUGS OR PARTYING, THAT'S WHAT

TEENAGERS DO, TO ACT OUT, TRY TO BE SEEN.

I USED POETRY TO GET THROUGH WHAT I WAS FEELING IN

A POSITIVE WAY. >> I LOVED WORKING WITH HER.

I THINK IT'S HELPED HER FIND HER VOICE MORE THAT SHE HAD.

>> I THINK IT'S MORE AND MORE OF AN ESTABLISHED PRACTICE.

YOU CAN WRITE IT DOWN SO YOU HAVE THOSE THINGS.

THEN YOU CAN GO BACK IN RETROSPECT TO UNDERSTAND THEM.

SHE'S ABLE TO TAKE CONCRETE IMAGES AND PUT THEM ON A PAGE

THAT WILL PROJECT TO THE READER, HER FEELINGS.

>> I AM ACNE BUMPS TO SIZE 11 JEANS DEPENDS ON MY MOOD.

I'M FOR TELLING IT JUST LIKE IT IS.

I'M FOR HANDLING MY BIZ. MY THING IS, I DON'T WANT TO

JUST GO THROUGH MY TEENAGE YEARS OVER LOOKING MYSELF ESTEEM.

I'LL BE 30 AND 40 HAVING THE SAME PROBLEMS.

IT'S WORSE BY THEN. I'M GROWN.

THAT'S WHY ALL OF MY LIFE, I HAVE TRIED TO WORK ON MYSELF.

I'M A PROCESS OF PROGRESS. THAT'S WHAT I ALWAYS SAY.

I KNOW THAT I AM NOT PERFECT. I'M FAR FROM COMPLETE.

I'M TRYING TO BE A BETTER HUMAN BEING.

WHERE I AM FROM HAS BROUGHT ME TO WHERE I AM.

>> I SAW INSTANT IMPROVEMENT EVEN WHILE SHE WAS

IN COUNSELING. SHE FEELS MORE SOCIAL.

YOU COULD SEE HERSELF ESTEEM INCREASE.

SHE WAS MORE WELCOMING. SHE WAS MORE WILLING TO

COMMUNICATE WITH ME EVEN WITH THINGS SHE THOUGHT I MAY NOT

BE ABLE TO HANDLE. SHE WAS A WHOLE DIFFERENT KID.

>> WITH THERAPY, IT MADE OUR BOND STRONGER.

WE GREW. EVER SINCE THAT EXPERIENCE, ME

AND MY MOTHER HAVE BEEN A HUNDRED TIMES CLOSER THAN

WE WERE BEFORE. I'M THANKFUL BECAUSE I WOULDN'T

HAVE GONE TO THERAPY WITHOUT HER.

I THANK GOD FOR ALL THAT I HAVE ENDURED AND OVERCOME.

NEVER FORGETS WHERE I'M FROM. MY TIME TO SHINE IS NOW.

MY TIME TO SHINE NEVER ENDS. THIS IS ONLY THE BEGINNING.

I KNOW WHERE I AM FROM, BUT I ALSO KNOW WHERE I AM GOING.

>> YOU CAN LEARN MORE ABOUT RANEQUA AT DETROITPERFORMS.ORG

>> LET'S CHECK OUT WHAT MOBILE ARTS JOURNALISM TEAM CRITIC-CAR

DETROIT HAS BEEN UP TO·

>>

§

§ §

>> HI, I'M ERIN. I'M AT THE DETROIT

INSTITUTE OF ART. I WENT THROUGH THE WATCH ME MOVE

EXHIBIT WITH MY THREE-YEAR-OLD SON.

I THOUGHT IT WAS A GREAT EXHIBIT FOR BOTH OF US.

I LEARNED A LOT. HE WAS CAPTIVATED BY FRANK'S

LIFE OR FRANK'S FRAMES OR WHATEVER.

IT WAS INTERESTING, BUT MORE ADULT THAN WALT DISNEY

TYPE STUFF. THAT WAS IT.

COME DOWN AND SEE IT. IT WAS GREAT.

>> YOU CAN VIEW MORE OF CRITIC-CAR DETROIT'S CITIZEN

REVIEWS ON THEIR FACEBOOK PAGE AND YOUTUBE CHANNEL, WHICH

YOU CAN FIND THROUGH DETROITPERFORMS.ORG.

>> AND THAT WRAPS IT UP FOR THIS EDITION OF DETROIT PERFORMS.

FOR MORE ARTS AND CULTURE, VISIT DETROITPERFORMS.ORG

WHERE YOU'LL FIND FEATURE VIDEOS, BLOGS AND INFORMATION

ON UPCOMING ARTS EVENTS. AND DON'T FORGET TO LIKE US ON

FACEBOOK AND FOLLOW US ON TWITTER.

WE'D LIKE TO THANK THE MICHIGAN SCIENCE CENTER FOR HAVING US OUT

HERE TODAY AND ALSO FOR STRIVING TO HELP THE NEXT GENERATION OF

MICHIGAN'S ENGINEERS, SCIENTISTS AND INNOVATORS WHO WILL IMPACT

THE CULTURAL AND ECONOMIC RENEWAL OF DETROIT AND MICHIGAN

- HEY THAT'S WHAT DETROIT PERFORMS IS ALL ABOUT!

UNTIL NEXT TIME, GET OUT THERE AND SHOW THE WORLD HOW

DETROIT PERFORMS. I'M DJ OLIVER, THANKS

FOR WATCHING.