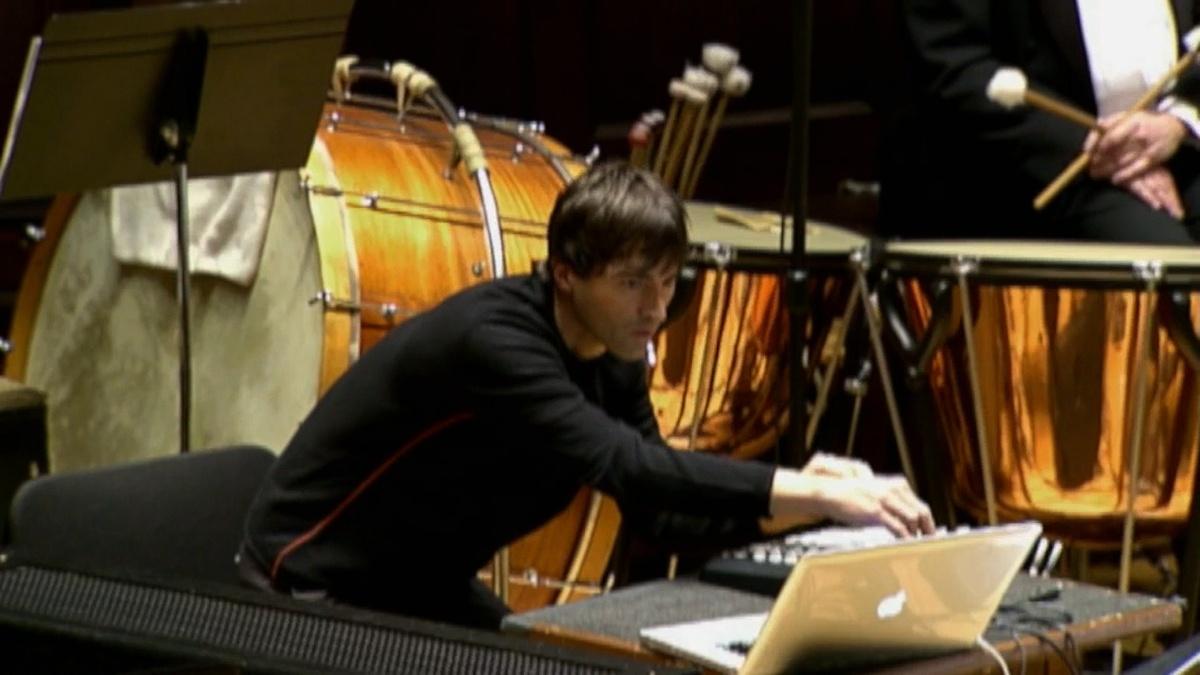 S1 E23 | CLIP
Detroit Performs Clip: Mason Bates & The DSO
A unique concert performance by composer Mason Bates and the Detroit Symphony Orchestra. Episode 123/Segment 4.
TRANSCRIPT

>>> COMPOSER MASON BATES IS KNOWN FOR CREATING SYMPHONIC

MUSIC THAT BLENDS ELECTRONICA WITH

CLASSICAL ORCHESTRAS. THE FINAL MOVEMENT OF HIS

WORK "B-SIDES" WAS ACTUALLY INSPIRED BY THE BIRTHPLACE

OF TECHNO: DETROIT. HERE IS MASON BATES

PERFORMING THAT MOVEMENT CALLED "WAREHOUSE MEDICINE"

WITH THE DETROIT SYMPHONY ORCHESTRA.

§

§

§

§

§

§

§ [ APPLAUSE ]

[ APPLAUSE ]

>> TO LEARN MORE ABOUT BATES AND THE DETROIT SYMPHONY

ORCHESTRA, HEAD TO DETROIT PERFORMS.ORG.

NEXT UP, MOBILE ARTS JOURNALISM TEAM CRITIC CAR

DETROIT CAUGHT UP WITH FRENCH HORN PLAYER MARK

ABBOTT AFTER THE DSO JOHN WILLIAMS PERFORMANCE.

§

>> HI, MY NAME IS MARK ABBOTT.

I'M THE FRENCH HORNIST WITH THE DETROIT SYMPHONY

ORCHESTRA, AND WE PLAYED A CONCERT BY JOHN

WILLIAMS TONIGHT. JOHN WILLIAMS WROTE FOR THE

FRENCH HORN JUST IN A WAY THAT NO OTHER COMPOSURE

MAYBE SINCE MAHLER HAS WRITTEN, JUST FANTASTIC WORK

FOR THE HORNE, AND IT'S A LITTLE UNIQUE THAT WE DO ONE

COMPOSER ON ANY GIVEN CONCERT, BUT IT SORT OF

DEPICTED HIS LIFE AS A COMPOSER ALL THE WAY FROM I

THINK ONE OF HIS FIRST COMPOSITIONS, "JAWS", WHICH

WAS 1970s ALL THE WAY UP TO HARRY POTTER AND ONE OF THE

MOST RECENT, I BELIEVE, WAS "LINCOLN", SO WE HAD SORT OF

A CHRONOLOGICAL, YOU KNOW, ORDER OF WHAT HE WROTE

DURING HIS LIFE. ONLY SCRATCHED THE SURFACE,

AS A MATTER OF FACT. A UNIQUE CONCERT.

I LOVED EVERY SECOND.

§

>> YOU CAN VIEW MORE OF CRITIC-CAR DETROIT'S CITIZEN

REVIEWS ON THEIR FACEBOOK PAGE AND YOUTUBE CHANNEL,

WHICH YOU CAN FIND THROUGH DETROITPERFORMS.ORG.

THAT WRAPS IT UP FOR THIS EDITION OF

"DETROIT PERFORMS". FOR MORE ARTS AND CULTURE,

VISIT DETROITPERFORMS.ORG, WHERE YOU'LL FIND FEATURE

VIDEOS, BLOGS, AND INFORMATION ON UPCOMING ARTS

EVENTS, AND DON'T FORGET TO LIKE US ON FACEBOOK AND

FOLLOW US ON TWITTER. WE'D LIKE TO THANK ORCHESTRA

HALL FOR HAVING US HERE TODAY AND FOR ALLOW USING A

SNEAK PEEK INTO A CONCERT. UNTIL NEXT TIME, GET OUT

THERE AND SHOW THE WORLD HOW DETROIT PERFORMS.

I'M D.J. OLIVER. THANKS FOR WATCHING.