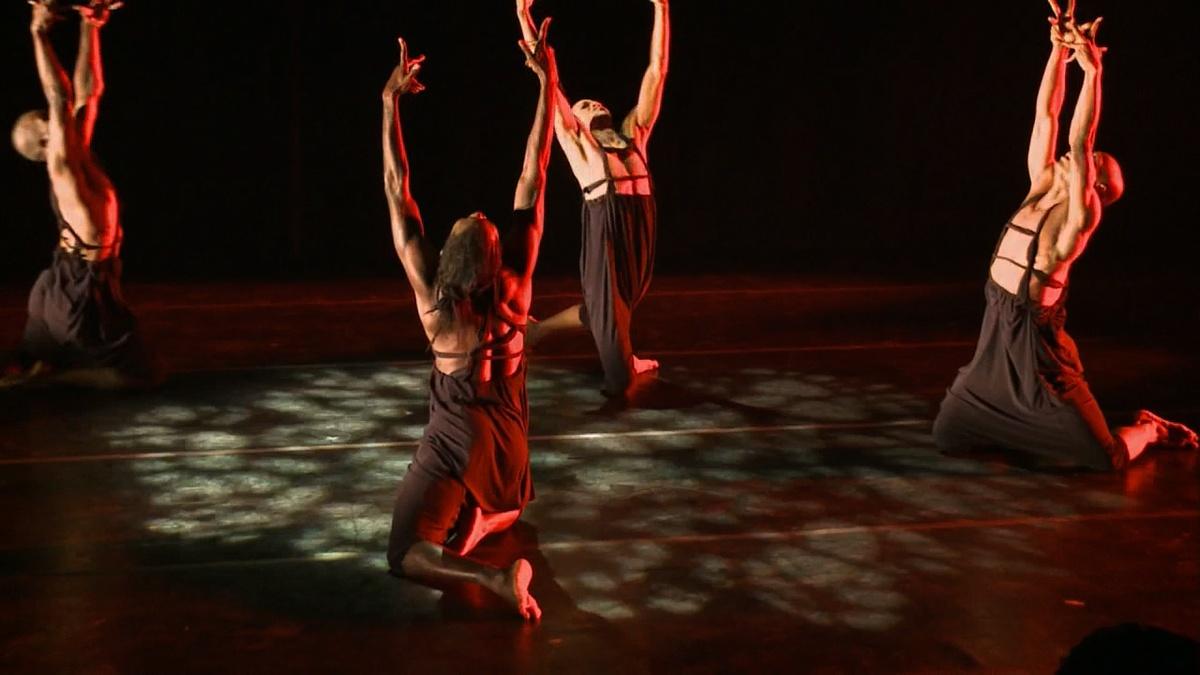 S1 E23 | CLIP
Detroit Performs Clip: Ayikodans Dance Company
Dance company Ayikodans puts Haitian heritage front and center. Episode 123/Segment 3.
TRANSCRIPT

>> IN THE WAKE OF THE 2010 DEVASTATING EARTHQUAKE IN

HAITI, A PROMINENT PORT-AU-PRINCE DANCE COMPANY

FACED TRAGEDY WHEN THE STUDIO WAS DESTROYED.

WITH HELP FROM MIAMI COMMUNITY LEADERS, THE

STUNNING ENSEMBLE HAS SINCE RECEIVED GLOWING

INTERNATIONAL ATTENTION FOR THEIR PERFORMANCES ON STAGE.

>> YOU'RE GOING TO GET AN IDEA OF HAITI, I MEAN, THE

REAL HAITI, THE ONE YOU DON'T SEE IN TV, THE ONE

THAT'S BEHIND. >> AYIKODANS IS HAITI IN

CREOLE, THAT'S CREOLE THAT'S THE NAME THAT'S ALWAYS

SAY HAITI. CONTRA DANCE IS A KIND OF

DANCE WE HAVE IN OUR TRADITION, IN OUR

TRADITIONAL DANCE. IT'S LIKE A VALSE.

IT DANCES 1, 2, 3, 1, 2, 3. I SAW THE COULDN'T RADANCE.

IT'S A KIND OF DANCE RELATED REALLY TO WHAT I AM DOING.

IT'S NOT 100% HAITIAN, IT'S NOT 100% EUROPEAN OR

OCCIDENTAL, BUT THIS IS THE KIND, THIS IS WHY I HAVE

DECIDED TO PUT HAITI CONTRA DANCE.

IT GIVES YOU AIKODANCE.

§

>> IT'S CRUDE. IT'S REAL.

THERE'S NOTHING AT THAT MOMENT FOR THAT SPECIFIC

TIMING OF DANCING IS GOING TO BE DIFFERENT.

THERE'S DIFFERENT STORIES, DIFFERENT VIBES GOING ON

BETWEEN THE DRUMMERS AND THE DANCERS.

SO IT WILL ALWAYS BE DIFFERENT, AND THAT'S WHAT I

LIKE ABOUT IT.

§

>> AY DANCERS OR MYSELF, WE ARE HERE TODAY; WE DON'T

KNOW WHERE WE WILL BE TOMORROW.

SO EVERY TIME THESE DANCERS THEY STEP ONSTAGE, IT'S LIKE

THEY ARE STRUGGLING, AND THEY ARE TRYING TO TELL

THEIR REAL STORY. >> THEIR PHYSICALITY IS

EXTRAORDINARY. THEIR WAY OF DANCING

TOGETHER ON THE STAGE IS EXTRAORDINARY.

AND THEY DANCE AS IF THEY ARE NEVER GOING TO

DANCE AGAIN. WHETHER YOU'RE A DOCTOR OR A

PRESIDENT OF AN ARTS CENTER, A BRICK LAYER, A CARPENTER,

WHATEVER YOU'RE DOING, IF YOU SEE HERE AND FEEL THIS

EXPRESSION OF DANCE, I GUARANTEE YOU, YOU WILL BE

HIGHLY UPLIFTED AND READY FOR YOUR NEXT DAY OF WORK.

THAT'S WHAT HAPPENS TO THE ENERGY LEVEL INSIDE

YOUR OWN BODY.

§

>> I LIKE LIGHT, BECAUSE WHEN YOU THINK ABOUT THE

PIECE, YOU SEE THE MOVEMENT, YOU KNOW, HOW YOU MOVE IN

SPACE AND THE COLOR. THIS IS PART OF HAITI'S

STORY, THE DANCE, AND THE BLUE DISCOLOR, BUT THE

BEAUTY OF IT, IT'S SOMETHING VERY ARTISTIC.

WE DIDN'T WANT TO BRING ON STAGE THE MISERY.

EVERY TIME THEY THINK ABOUT HAITI, THEY WILL THINK THAT

WE ARE CRYING. WE CRY INSIDE, WE FEEL IT.

WE CREATE THROUGH THIS STRUGGLE.

BUT WE DON'T NEED PITY; WE NEED TO SHARE THE BEAUTY OF

WHAT WE HAVE WITH PEOPLE. >> THE MAN FOR AIKO DANCE

WAS CREATED BECAUSE HAITIANS ARE HERE, AND ALONG WITH

OTHER DIVERSE COMMUNITIES THAT ARE HERE.

>> OUR RELATIONSHIP WITH THE ART CENTER IS SOMETHING

VERY SPECIAL. IT'S MORE THAN BEING IN A

THEATER; IT'S A PARTNERSHIP, IT'S FRIENDSHIP, AND

HOPEFULLY WE WILL BE TOGETHER FOR YEARS.

>> IT'S A PERFECT -- PERFECT KIND OF MATCH.

§

>> IN TERMS OF ART, IN TERMS OF WHAT THE ART IS OVER

THERE, WANTS TO SAY, I THINK YOU SHOULD COME AND SEE THIS

OTHER ANGLE OF HAITI AND WHAT WE HAVE TO SAY ABOUT

OUR COUNTRY, ABOUT OUR CULTURE, ABOUT OUR COLORS

AND OUR JOYS, OUR PAIN, EVERYTHING.

I HOPE I DO LEAVE PEOPLE WITH A CERTAIN MESSAGE THAT

I HAVE IN MY HEART. IF YOU WANT TO CRY, IF YOU

WANT TO LAUGH, IF YOU FEEL LIKE YOU'RE MAD, THEN I DID

MY JOB; THEN I'M GLAD WITH THAT.

>> THE CULTURE OF HAITIAN MOVEMENT AND DANCE AND

EXPRESSION IS SO POSITIVE, SO UPBEAT, AND THAT'S A PART

OF HAITI WE THINK WE CAN HELP CREATE THE PLATFORM FOR

THE REST OF THE WORLD TO SEE. >> TO LEARN MORE ABOUT

AYIKODANS AND ALL THE OTHER ARTISTS TODAY, HEAD TO

DETROITPERFORMS.ORG.