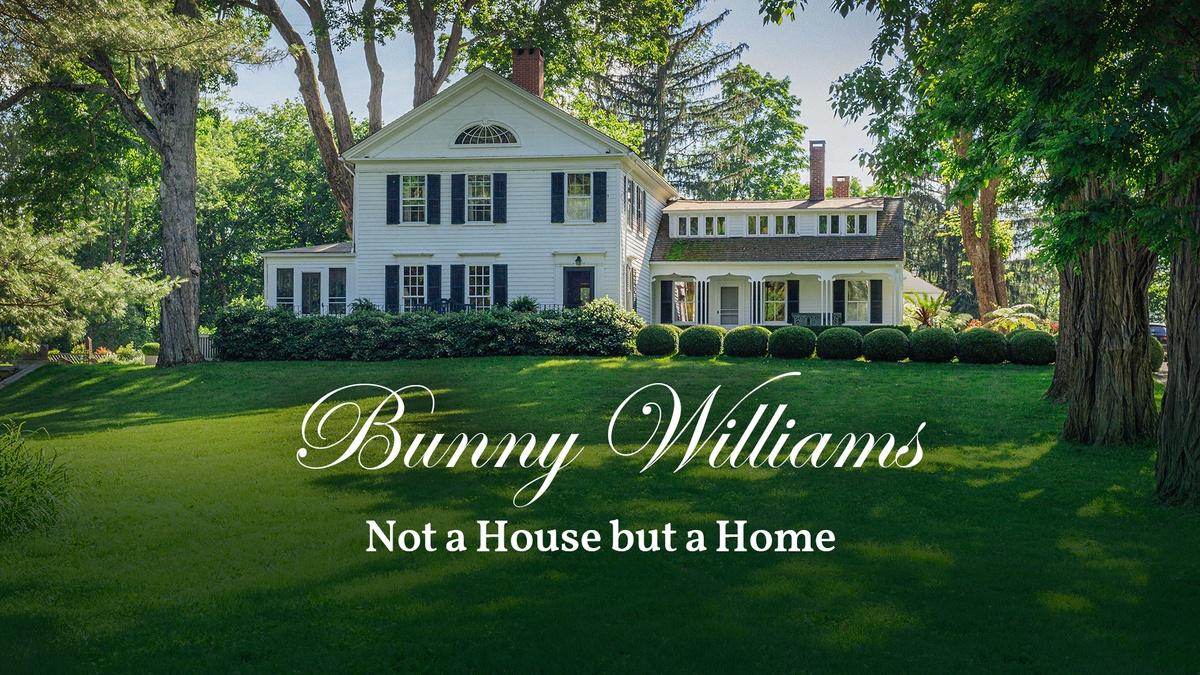 FULL EPISODE
Bunny Williams: Not a House but a Home
The latest entry in the Design in Mind series explores the life and work of renowned interior designer Bunny Williams. She leads viewers through many of her iconic spaces, from a classically inspired country estate that she designed for a client, to her Upper East Side apartment and her office in New York City, and finally to her lovingly renovated home and gardens in pastoral Connecticut.
TRANSCRIPT

(gentle serene music)

- FEMALE: A house doesn't just start at the front door.

It starts at the gates.

There's a house that I worked on in Connecticut

with the architect, Mark Ferguson.

And it's this sense of arrival to the property

that really takes your breath away.

You take this kind of romantic drive through the woods,

you turn a corner, and then there is the house.

♪

You open the front door and there's an entrance hall.

And at the end of the entrance hall is a huge window

that again, looks out to the property.

A good architect and a good interior designer,

not only have to know about their craft,

they really have to understand landscape.

So there's this constant relationship of the inside

of a house to the outside that is so important.

Part of the interior is the architecture,

and the other part is the furnishings and finishes.

And they all need to harmonize.

When you can discuss that with the clients

and the architect,

that's when I think you get kind of magical spaces.

Interior design is a craft. It is a passion.

It is a way of working with people

to help them figure out how to live in their houses.

I can help create it,

but I can't make it a home unless they embrace it.

So much fun to go back to a house

that's so well cared for and loved the way Maywood is.

It becomes so much a part of your own being.

And it's always kind of moving.

My approach to interior design is one of comfort,

but I also hope that it has a timeless quality.

When I come back and look at that house it's still timeless.

And I think that's what's important to me

with projects I do for other people and my own house.

♪

(playful instrumental music)

I'm Bunny Williams.

I'm an interior designer in New York,

and we're in my office on East 61st Street in a space

that I renovated when I first opened my own firm.

I wanted a space that represented things that I loved

so I can see how my clients respond to things.

It allows me to really learn something about them.

The columns I found in a barn in Maine and made my bookcase,

and I'm always interested if people notice that.

Here we have very traditional classical columns

in a rather more modern space.

If they get that,

then I know that they have imagination

and are willing to try some interesting things.

We have a room that is filled

with all the wonderful fabric samples that we like to use.

We're always adding to it. It changes daily.

So we can go into this room

and we can really put together a color palette for a client.

It's really our laboratory space, I think.

We're always mixing a little of this and a little of that.

I grew up in Charlottesville, Virginia,

and needless to say spent many hours going to Monticello,

going to the rotunda at the University of Virginia.

And with my mother and my aunt's going to look

at all the Georgian houses along the James River

and going to Virginia Garden tours.

It was really when I was about 14 years old

that I first learned what an interior designer did.

My parents took me to the opening

of a famous hotel in West Virginia called the Greenbriar.

And a famous decorator

had just finished decorating this hotel.

Her name was Dorothy Draper.

I went into this hotel and I just couldn't believe

what I was seeing.

The lobby had carpets with cabbage,

roses and wallpapers and bright colors.

And it was painted an emerald green with white columns.

I'd never seen anything like it in my life.

And I guess I got a bee in my bonnet

and decided that this is what I would like to pursue.

My parents wanted me to go to a local women's college,

but I was ready to spread my wings and leave Virginia.

As much as I loved it,

I kept saying the world's gotta be bigger than this.

After I finished my junior college,

I came to New York and I went to work in an antique shop

on 57th street called Stair & Company.

It was again an amazing experience

because I had to catalog the furniture that was coming in.

It's where I learned a lot

about good furniture, patina, scale.

After being there for about two and a half years,

I knew it was time I wanted to go work

for an interior designer.

And the one firm that I wanted to go work for

was Parish Hadley.

And Mrs. Parish known as Sister Parish was the leading

most well-known designer in New York at the time.

Her about to be partner, Albert Hadley, needed a secretary.

So I was hired to be Albert Hadley's secretary.

It was the most extraordinary experience of my life.

I learned everything I know. I was there for 20 years.

And by that time I had a lot of my own clients

who were coming to meet.

So it was time for me to go and start my own firm.

(gentle jazz music)

♪

Welcome.

I'm so happy to have you here.

This is our apartment that John Roselli,

my husband and I moved into about a year and a half ago.

People often say, "Is it hard to decorate for yourself?"

I think it's very exciting 'cause we get to do what we want

and make it our own home.

I have lived in this building for over 30 years,

but we wanted a little bit bigger apartment with more light.

So we moved upstairs to the ninth floor.

And when I left Parish Hadley, I had no office.

And I actually made my first presentation

to my very first job in this building,

in my other apartment.

Everybody wants to make a great entrance.

And entrance halls to me are so important

because people should walk in

and there should be a sense of drama

and a sense of excitement.

The entrance hall of this apartment had no windows.

So I decided that I wanted

to paint it some incredible color,

and I happen to love this sort of turquoisey blue.

The walls are painted, they're glazed,

and then coats of lacquer are put on.

So it reflects the light.

It makes it seem much brighter.

And I realized all the doors in this apartment were so low.

So I raised all the doors to eight feet,

which again let in a lot more light to this interior space.

And this is where I wanted to really show

what I plan to do throughout.

The mixture of this 18th century Spanish table,

a very modern light fixture, a contemporary rug.

One of the things in an apartment it's about scale,

having the pedestal that draws your eye up,

having a big piece of art.

So you're kinda stopped at the front door going, "Wow".

I'm never very timid about an entrance hall.

The living room of this apartment,

because this room is a fairly long narrow room

with the windows all at one end,

I made this indentation

with these beautiful watery mirrored panels,

because it feels as though it's another window

and another light source.

And in the living room,

most important thing is to think of a furniture plan

so that eight people can sit and talk to each other,

be comfortable, have tables next to them.

No matter what the style of the room is,

I think that's essential.

I also realized when we bought this apartment

that this was a dead end space.

So I opened a door at the far end of the room

and this room has a different mood than the living room.

I knew I wanted a cozy small library

that had a television, comfortable seating,

and I wanted it to be a quiet room.

So the walls have a fabric upholstery.

I decided to put wall-to-wall carpet in.

I had owned this deco carpet that I bought in France,

and I just put it on top of it.

I don't like things that are all the same.

This chair is in its original 18th century upholstery,

but I think it looks great

with this very contemporary graphic curtain material.

Sometimes people match things too much

and there's a perfection to it that gets boring.

My husband's an antique dealer.

So needless to say we're not minimalist, we have objects.

We have a lot of art.

And I don't think that this is for everybody.

I would never buy these things for a client.

I'm happy to arrange them,

but this is what makes spaces personal.

In all the work I do, everything is custom.

I buy a lot of one of a kind pieces of furniture,

but then we make furniture.

This dining room table was made here in New York

from a design I created.

The work that we do requires incredible artisans

to create what you envision.

And I knew these people from working with them.

So it was exciting to have them do things,

especially for us.

I work with an artisan Donald Kaufman

who custom mixes paint.

The color in the kitchen,

I couldn't find that color in any paint deck.

It was something I had in my head.

And I find that one of the most exciting parts of a project.

In a New York apartment, you have to fit a lot of things.

And in the design of this kitchen, the refrigerator,

all the cabinets are to look like one.

I took one long wall and built floor to ceiling cabinets

for China and glassware.

And I think that takes away the kitchen look.

And that was funnily enough

what I wanted to do in this apartment.

I've always loved terrazzo floors.

Every time I went to Italy,

I'd take millions of pictures of them.

And when I saw a couple of years ago,

a terrazzo floor that was done by a company called Durite,

I just knew at some point in my life I'd have to have one.

And what's interesting is that these colors

of this marble are also colors echoed in the rest

of this apartment.

The rooms have to relate and your colors have to relate.

If you really start to examine the color palette

in this apartment,

the only bright color is the entrance hall.

It was dark and I wanted this exciting color,

but every other color is repeated some place

in the room next to it.

So the living room is white, but there's green in the rug,

the library next to it has green in it.

They're very different,

but if you really look at the color palette,

there is a relationship.

This room, which is this sort of caramel color,

that color is repeated in the terrazzo floor in the kitchen.

I think your color should have a close relationship,

but each room can be a different color.

(gentle music)

I would say that if people look at my work

that they will always feel it is personal

and it's for people to live in, it's not a stage set.

And I don't care what the style is,

I want the feeling of comfort there.

I also don't repeat my schemes.

I take the client's wishes, the architecture, the place,

and create the plan and the palette for the house.

And I want a variety with my rooms.

I feel like if you do the same thing, it's like a hotel.

You're kind of bored.

And I hope in my interiors

that every room that you go into has magic on its own.

I'm gonna take you through a few projects we've worked on

to point out a little bit about what our process is.

One of the most complicated projects

was some clients in New York bought the apartment above them.

They didn't want to completely gut the apartment they were in,

they loved it, but how are we going to get

from one floor to another?

I decided that the one way to do it was

to put a very contemporary glass spiral staircase

in the corner of the living room.

The space above,

we wanted to feel very different than the apartment.

We wanted it to feel more like a Soho loft.

I introduced these worn classical columns.

I like this sleek,

modern loft to have these early American columns

with the paint peeling off.

I think opposites attract.

The ceiling was a big, large, boring ceiling.

So I broke it up with stainless steel beams

and I put blue glass in between the beams

to make it feel like sky.

I don't know where these ideas come from.

I think it's spending time in a space and analyzing it.

It kinda just comes to you.

It's the part of being creative, I think.

I was very excited when some clients wanted me

to work on a house in the South of France.

And this house was a very early Mans.

In France when you do any renovation,

they're very strict architectural reviews.

You can't move windows. You can't change them.

You have to work with what is there.

We really had to knock down almost every interior wall.

In doing this,

the living room became a very long narrow room.

And this is where you break this room up

into different seating groups.

You solve those problems

by the way you arrange the furniture.

I don't do period work.

I don't just do one thing.

This is a very typical French farmhouse.

So we have a lot of French pieces in it.

But we've got modern art, we've got modern coffee tables,

and it's exciting to do that.

And then I think you have something

that becomes more unique.

Years ago, I started looking for a house in the country

and when I drove up to the Northwest corner

of Connecticut called the Litchfield Hills,

it reminded me so much of Virginia.

It was rolling hills, barns.

I just thought the countryside was so beautiful.

I looked and looked and looked for, I think maybe two years.

Finally, I went to a friend and I said,

"I just don't understand

"why I can't find the perfect house."

She said if I could do it,

there's a house I love in a little town

called Falls Village, Connecticut.

My real estate broker,

when I mentioned it to him, he said,

"Oh, that terrible house."

I said, "I want to see it."

When I turned into the driveway,

I just knew that was going to be my house.

It was very simple like all New England houses are.

It's a Federal house.

Very symmetrical. It's clapboard.

It is what you would really see in almost every pattern book

of a 1840 to 1880 Connecticut house.

Everybody that looked at it was rather horrified.

It was a rooming house.

The grass hadn't been mowed in five years.

There was someone sleeping in every room.

I saw none of the imperfections.

I always say it's like the beginning of a romance.

You never see any of the things that are wrong.

And it's been a project

that I've been working on for over 35 years.

My garden has developed over 30 years.

What exists today has taken a very, very long time.

And I made a lot of mistakes.

I mean, I put gardens in the wrong place.

And then I thought, well, this is stupid, why did I do this?

And things have changed over the years.

And they've often changed when I went to see a garden.

I went to a famous garden in Normandy,

designed by a credible garden designer, Russell Page.

I looked at this garden and I knew exactly

what I needed to do in my garden in a spot

that was bothering me.

So that's why I think it's so important

for all of us to travel, go look at things, be in spaces.

You come back and you're completely inspired.

Every door is a frame to another space.

And that's really in a way where landscape design starts.

When I step out of a door,

what am I gonna step onto? What am I gonna look at?

You go out of my library door

and it was outside that door that I created a terrace.

And it's from the terrace

that I started to develop these gardens.

One of the things that's so important

is the land's gonna tell you what to do.

You have to look at the slope of the land.

Our property is not just a big flat blank canvas.

It's got contours.

Closest to the house,

there's a garden called "The Sunken Garden".

And that was the first garden I created.

It has evolved over many years

as I've been able to do things to it.

The land sloped, I built a stone wall,

made steps into it to make a sort of more severe space.

It has a reflecting pond in the middle

that's filled with carp that seem to be fed too much,

and they looked more like a whale.

It has two big perennial borders,

and it's a formal layout with very informal planting in it.

Just like on the inside of a house,

you also have to create the floor plan

because you have to make the halls and the walkways

that leads from one space to another.

So you leave the sunken garden,

you go down a gravel path

that leads you into a completely green area

that's bordered by undulating yew hedge.

And this I saw in Belgium,

I was inspired by the work of the Wirtz Family

who do these almost contemporary gardens

in a traditional way.

You have to be patient in a garden,

something I don't have a lot of.

But, you know, it took seven years for this hedge

to finally grow in and look like it should.

I can get a house decorated and furnished in seven months,

but you can't do that with a garden.

You leave that area and you go down through an arbor

into what I call the parterre.

♪

And that's connected to the barn and into the conservatory.

Three spaces that one's outside and two are inside,

but they all connect.

The property had a old barn on it.

And when I was divorced and John Roselli,

who I'm now married to, came into my life,

he's an antique dealer and he has great taste,

I was so afraid that he would not want to be a part

of this house that I'd had and decorated

and it was really my house.

One day we were out in the barn and he said,

"You know, I think we could do something with this building."

So that set off completely restoring this barn.

And it was a beautiful 18th century barn

with these huge timbers.

The ceiling has got boards that are almost five feet wide.

I mean, hand hewn, absolutely beautiful.

So I really refer to it as John's barn

because it gave us a place or him a place

to bring some of his wonderful pieces

and to have one great big room.

It's a place we entertain all the time

and was probably the first thing that John

and I did together,

which was I realized if we could do

that renovation together, we'd get along just fine.

Now with the conservatory,

I had a tiny little greenhouse on the back of this barn

that was 32 feet long.

One day I was going to the grocery store

and there was sort of a junk shop along the road,

and leaning against this junk shop

were these incredible windows.

They were 32 feet long.

They came from a conservatory on the Hudson River

from a Federal building.

They have pilasters.

So I bought these windows and designed this conservatory.

You look out of the windows of the conservatory

and you look into this parterre garden.

That is probably one

of my favorite rooms in the whole house.

When we built the conservatory,

because we made that garden more formal,

we had to move the vegetable garden to another place.

And I also had to build another barn.

We made a compound that has a working barn,

the vegetable garden, the greenhouse,

we call it the plant hospital, and the chickens.

In the summer,

we get pretty much everything we need to eat except rice

and pasta and any meat that we want.

But we grow beans,

we grow squash, we grow lots of different salad greens,

potatoes, snap beans,

almost anything you can think of.

Behind the barn is the chicken pavilion.

John, my husband, loves chickens.

And so there are these two buildings

where the chickens can live

and in the middle is an octagon pen.

And it was one of those things I cut out from a magazine

and saved it.

I have a big greenhouse,

so the house every weekend is filled with things

that are blooming in the greenhouse,

the geraniums or begonias

or cut flowers from my cutting garden.

You leave that area and then you wander up a hill

and you start going into the woodland garden.

I started that 15 or 16 years ago.

We had a hill, we never went up there.

So I started clearing.

And as I say the land tells you what to do.

I got to the top of the hill and there was this perfect bowl.

And I could just see a pond there.

So I found a man who did natural ponds.

We moved around the stones to make a waterfall into this

what looks like a completely natural pond,

and it's all manmade.

From the woodland garden,

you go along the trail and you come out at the pool house.

Years ago, I saw this house that had a classical porch,

but all made out of logs.

And I thought, well, I'm gonna make a temple,

but I'm gonna make it out of the logs

'cause it'll look like the woodland garden just sort

of came out and made the building out of itself.

So I asked one of my classical friends, I think Gil Schafer,

I said, "This is the size building I want.

"Will you to give me the perfect proportion

"of how big the column has to be, how tall?

"So we could find straight trees with the bark on them

"that were the right caliper to build this temple."

Apparently Greek temples were made

of wood in the beginning anyway

before they made them of stone.

So the pool house is a rustic temple sitting

on the top of the hill.

And then from that,

you can walk up to my last addition to the property,

which is my studio.

(gentle piano music)

This is a building that I bought about four years ago

that was adjacent to my property.

And it was a home built A-frame with a deck around it.

And I love the view that you have from this space,

but I wanted to convert it into something

that was more fitting to this property.

And there was really no proper entrance to this house.

So I created this door and the doorframe is a copy

of the door to my office in New York.

And it's a Federal door.

It's the same period as our house.

But when you get inside,

it's a whole different sensibility.

I wanted this building to have on the interior,

a very contemporary feeling.

This was a very low ceiling basement space,

and I decided to keep this as the entrance.

A lot of our friends are artists,

and so their pictures are hanging in this hall.

So you're now in what was a three bedroom house.

It had a living room, a kitchen, three bedrooms,

and a sleeping loft.

And I decided to just gut it,

which turned to be structurally a little bit of a problem.

So we had to furr it up and add the supports in the ceiling.

And I always had this idea

that I wanted the end to be a glass wall.

I have to say of all the things I've ever done in my life,

this is something kind of special.

It's where I can work on the weekends,

it's where I have my scrapbooks and my reference books.

It's a place to go and try to be creative.

I find myself sitting and looking

at the clouds floating in the sky,

but I guess that's good too.

Our house will never really be finished.

I think I've probably finished building,

and I hope if I got the idea to create another garden,

somebody will make sure I don't.

And as I say,

I truly believe the owner of a house makes it a home.

A house it's like a pair of shoes.

You need to break them in. You need to make it yours.

If you don't do that,

you're never gonna feel that it's a home.

(gentle serene music)

♪

- ANNOUNCER: Funding provided by.