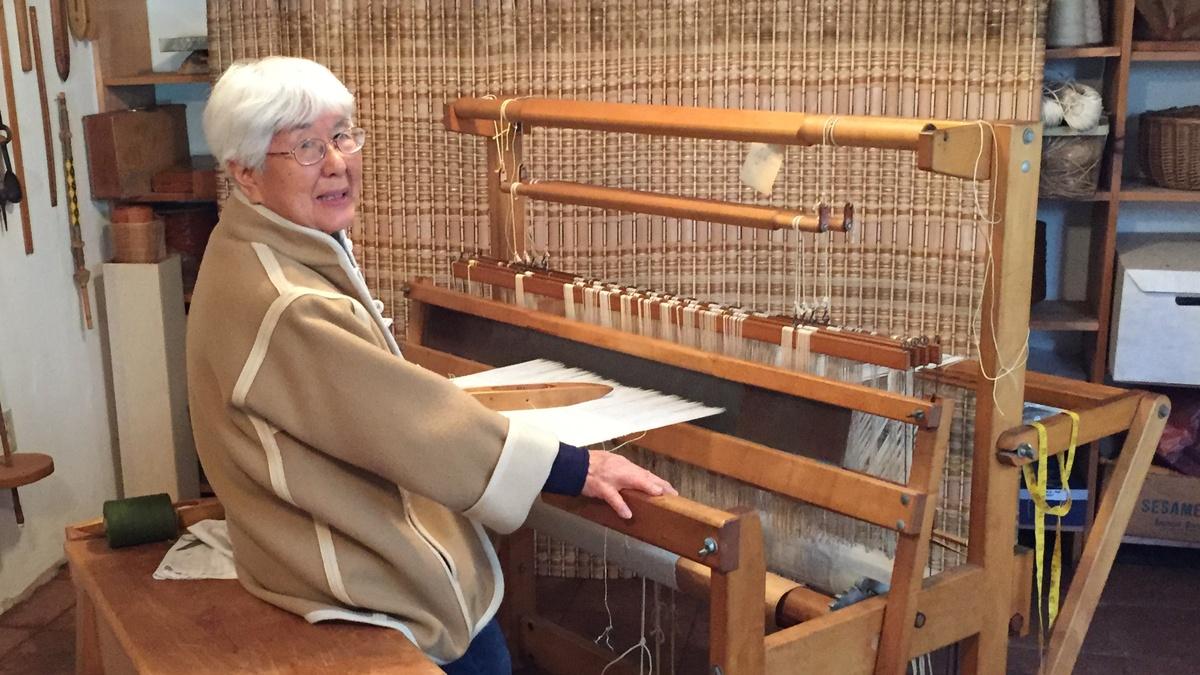 S10 E2 | FULL EPISODE
VISIONARIES episode
Documenting the ways in which artists and influencers inspire new generations to envision the limitless possibilities of craft. Featuring textile designer and founder of LongHouse Reserve Jack Lenor Larsen, curator Helen Molesworth and Black Mountain College, fiber artist Kay Sekimachi, collector Forrest L. Merrill, and book artist Felicia Rice. PBS premiere 12/21/18
TRANSCRIPT

WOMAN: I LOVE VISIONARIES,

WHETHER THEY''RE ARTISTS OR COLLECTORS,

BECAUSE THEY TAKE US FORWARD.

SECOND WOMAN: YOU CAN ONLY FOLLOW RULES TO A CERTAIN POINT.

WHERE THE ART COMES IN IS THE UNKNOWN.

MAN: WHERE''S THE STARTING PLACE?

AND THAT CAN COME FROM ANY ANGLE,

SOMETIMES TOTALLY UTILITARIAN,

BUT SOMETIMES TOTALLY VISUAL

OR SENSUAL.

THIRD WOMAN: WHAT COULD YOU LEARN FROM THE ACTIVITY

OF THINKING AND ACTING AND MAKING LIKE AN ARTIST,

EVEN THOUGH YOU MIGHT NOT NECESSARILY BECOME AN ARTIST?

SECOND MAN: I DON''T WRITE, I DON''T LECTURE,

I''M NOT A SCHOLAR.

I JUST LIVE SURROUNDED BY THINGS THAT I REALLY LOVE.

THIRD MAN: WE ALL WAKE UP IN THE MORNING

AND WE HAVE MAYBE ONE IDEA, TWO,

HE WAKES UP WITH 16.

[BELL RINGS]

FOURTH MAN: CONVENTION IS SUCH A WASTE OF TIME.

IF SOMEBODY''S ALREADY DONE IT, WHY DO THAT?

WHAT''S MY FAVORITE PIECE?

IT''S THE NEXT ONE, OF COURSE.

[LAUGHS]

CAPTIONING MADE POSSIBLE BY CRAFT IN AMERICA, INC.

ANNOUNCER: MAJOR FUNDING FOR "CRAFT IN AMERICA" MAN: THIS IS OUR VIEW OF THE CITY,

AND I PUT IN THESE GLASS SHELVES

TO HOLD SOME WHITEWARE, MOSTLY FROM KOREA.

WOMAN: JACK LARSEN HAS GIVEN THE CRAFTS

AN EXCEPTIONAL PLACE IN THE HISTORY OF IDEAS

AND IN THE HISTORY OF ART.

MAN: ENGLISH, ENGLISH.

THESE ARE FROM THE CONGO.

THEY''RE USING WEDGE WEAVE.

WOMAN: HIS CONTRIBUTION IS NOT JUST SIMPLY

TO THE COLLECTING OF OBJECTS,

BUT THE UNDERSTANDING OF NATURE,

THE PRESERVATION OF SCULPTURE,

THE PRESERVATION OF MATERIALS,

AND ALSO THE SUPPORT OF ARTISTS.

MAN: THIS PIECE IS ED ROSSBACH.

UNUSUAL ROPE-SIZED YARN.

WOMAN: HE''S A MAJOR SEMINAL FIGURE

OF THE 20th AND 21st CENTURY.

MAN: NEW YORK WAS THE FIRST PLACE I FELT AT HOME.

I LIKED EVERYTHING ABOUT IT

AND DECIDED TO MOVE HERE WITH NO REASON.

AND I DIDN''T REALIZE IT WAS REALLY THE ONLY PLACE

FOR A FABRIC DESIGNER TO BE.

THE GOOD DESIGN SHOWS WERE ON AT MOMA.

THAT WAS THE MOST IMPORTANT MUSEUM IN THE WORLD RIGHT THEN.

ONE OF MY FIRST PIECES WAS SELECTED.

PRETTY SOON I HAD CLIENTS.

LEVER HOUSE NEEDED AN IMPORTANT FABRIC IN THE LOBBY.

WE CALLED IT "LEVERLIN."

WE DID 4 FLEETS FOR BRANIFF AIRLINES.

I WORKED IN 60 COUNTRIES

AND WITH ALMOST ALL OF THE GREAT DESIGNERS OF MY TIME,

INCLUDING FRANK LLOYD WRIGHT.

I TRIED EVERYTHING,

EVERY TECHNIQUE.

I WENT TO HAITI.

I LEARNED HOW WONDERFUL HANDCRAFTED YARNS WERE.

THEN MEXICO, SWAZILAND, SWITZERLAND.

COLOMBIA HAD A HAND-SPUN, HAND-WOVEN FABRIC,

VERY DURABLE, GOOD COLORS.

IT BECAME OUR CADILLAC.

I DIDN''T OPERATE LIKE A BUSINESSMAN

AND DIDN''T HAVE TO.

MY TEAM WERE CREATIVE AND RESPONSIBLE.

I SAID, "I''M GONNA DO SOMETHING NEW,"

AND I DID.

SECOND WOMAN: JACK CAME FROM THE BACKGROUND

OF BEING A HAND WEAVER.

THE LOOM WAS THE FIRST STEP IN HIS CREATIVE PROCESS.

SO JACK REALLY CREATED A BRIDGE

BETWEEN INDUSTRIALLY-PRODUCED FABRICS

AND HAND-WOVEN FABRICS.

NOBODY ELSE WAS DOING SOMETHING LIKE THAT.

CREATIVE DESIGN AND COMPLEX STRUCTURES

WERE BROUGHT INTO A MUCH WIDER AUDIENCE

THROUGH THE VOLUME PRODUCTION OF LARSEN TEXTILES.

I THINK JACK HAS SHOWN THAT MANUFACTURED CLOTH

CAN HAVE A SOUL.

WHEN I FINISHED AT THE RHODE ISLAND SCHOOL OF DESIGN,

I WENT TO WORK FOR JACK LENOR LARSEN,

WHO WAS MY DREAM JOB,

AND I CONSIDER LARSEN MY GRADUATE SCHOOL.

SOME FABRICS STARTED WITH JACK HANDING ME

A PHOTOGRAPH OF A CHEST

THAT HE HAD SEEN WHEN HE WAS TRAVELING IN CHINA RECENTLY

AND SAYING, "DO SOMETHING WITH THIS."

OTHER TIMES IT WAS THIS MILL NOW HAS LINEN.

OTHER TIMES JACK CAME UP WITH A CONCEPT OUT OF THE BLUE,

AND THEN YOU WOULD EXPERIMENT WITH SKETCHING, WITH YARNS,

WITH THE COMPUTER, WITH THE XEROX MACHINE.

THE FIRST STEP WAS TO GET A QUALITY THAT WORKED,

THE QUALITY BEING THE RIGHT WEAVES

WITH THE RIGHT MATERIALS.

THE QUALITY COULD BE SHEER,

IT COULD BE VELVET, IT COULD BE FLAT WOVEN.

THEN THE PATTERN WENT INTO THE QUALITY.

ONCE YOU HAD A PATTERN IN A QUALITY,

YOU WOULD NEED TO WORK THE COLORS.

SOME FABRICS WERE INTRODUCED IN ONE OR TWO COLORS,

SOME FABRICS WERE INTRODUCED IN 20 COLORS.

IT CHANGED WITH EVERY FABRIC.

JACK WAS ALWAYS BRINGING OUTSIDE THINGS

INTO TEXTILE DESIGN--

WOOD AND PAPER AND GLASS.

JACK IS INSPIRED BY ALL ASPECTS OF ART

WITHIN THE WORLD AROUND US--

MUSEUMS AND THE OPERA AND LITERATURE

AND ALL OF THE DIFFERENT THINGS THAT YOU CAN BRING

TO THE TABLE AND WORK WITH THEM IN TEXTILE.

JACK LARSEN IS THE MASTER.

PEOPLE REMEMBER WHEN THEY''VE MET JACK LARSEN.

HE HAS AN AURA ABOUT HIM,

AND EVERYBODY IN THE INDUSTRY HAS A JACK LARSEN STORY.

WOMAN: I GOT ON THE ELEVATOR AND HE WAS THERE.

I KNEW IMMEDIATELY WHO HE WAS.

AND I LOOKED AT HIM AND I SAID,

"YOU''RE THE PERSON WHO BOUGHT THE WHARTON ESHERICK."

AND HE LOOKED AT ME AND HE SAID, "TABLE AND CHAIR."

[LAUGHS]

JUST LIKE THAT.

AND, "WHY WAS IT STILL AVAILABLE?"

I WILL NEVER FORGET THAT.

LARSEN: THIS IS A SPECIAL FABRIC,

AND IT''S REALLY NOT WOVEN, IT''S WARP KNIT.

THE WARPS ARE ENGAGING THE WEFT

AND LOCKING THEM IN.

IT ABSOLUTELY WON''T SHRED.

DRUTT: AND WHERE''S IT WOVEN?

LARSEN: UH, NEW JERSEY.

- IN NEW JERSEY? - IT''S NOT WOVEN...

LARSEN, VOICE-OVER: THIS IS THE NEW YORK SHOWROOM

OF A LARSEN COLLECTION.

WE HAVE WALL COVERINGS AND UPHOLSTERIES

AND WINDOW FABRICS.

WE STILL HAND WEAVE VERY SUCCESSFULLY,

BUT WE DO MORE FABRICS ON POWER LOOMS.

THE GREAT LOSS OF THE INDUSTRIAL REVOLUTION

WAS NOT THE HAND LOOM, IT WAS HAND SPINNING.

THE POWER LOOM COULD DO JUST ABOUT ANYTHING

A HAND LOOM COULD DO.

BUT HAND SPINNING,

THAT''S SLUBS OF IMPERFECTIONS. IT WAS ORGANIC.

HANDSPUN YARN IS MORE INTERESTING.

DRUTT: THE SURVIVAL OF A HAND IN A MECHANIZED SOCIETY

CANNOT BE DENIED.

THERE WILL ALWAYS BE INDIVIDUALS

WHO WILL BE INTERESTED IN MAKING THINGS

AND CREATING.

LARSEN: I GOT TO KNOW AMERICA HOUSE

AND ITS FOUNDER MRS. WEBB

BECAUSE SHE DID A SHOW CALLED "YOUNG AMERICANS,"

AND THAT''S WHAT I WAS.

SHE WAS AN AMAZING WOMAN.

SHE DID THE ASILOMAR DESIGN CONFERENCE IN MONTEREY,

AND IT WAS THE PEOPLE SHE WANTED,

LIKE TOSHIKO TAKAEZU,

LENORE TAWNEY,

WHARTON ESHERICK.

CHARLES EAMES WAS MY ROOMMATE.

[CHUCKLES]

THE NEXT PROJECT WAS A MUSEUM.

WE TOOK A SMALL SPACE NEXT TO MOMA,

AND IT FINALLY BECAME THE AMERICAN CRAFT MUSEUM.

GIs COMING OUT OF SCHOOL DIDN''T WANT TO BE CONFUSED

WITH WEAVER-SKILLED LADIES,

SO COULD THEY BE DESIGNER CRAFTSMEN?

AND THAT WAS CAPITAL LETTERS, EVEN.

THE WOMEN DIDN''T LIKE "CRAFTSMEN."

ROSE SLIVKA SAID THEY''RE CRAFTMAKERS.

CRAFTMAKER I LIKE A LOT.

MY STUDIO WAS ON THE DOWNTOWN SIDE OF NEW YORK.

AND THERE WAS AN ARTISTS'' CLUB ON 8th STREET.

DE KOONING AND POLLOCK AND ALL OF THOSE PEOPLE,

THEY WERE ALL THERE ON THURSDAY NIGHT

ARGUING ABOUT WHAT WAS ART.

- ABSTRACT EXPRESSIONISTS. - ABSTRACT EXPRESSIONISTS.

MAN: IT''S A VERY UNIMAGINATIVE TERM ANYWAY.

SECOND MAN: THERE WERE MAYBE 3 ABSTRACT EXPRESSIONISTS.

THAT''S ALL.

LARSEN: IT WAS FASCINATING TO WATCH IT ALL.

I HAD BEEN INVITED TO THE CLUB

BECAUSE OF A FRIEND FROM BLACK MOUNTAIN COLLEGE.

BLACK MOUNTAIN COLLEGE WAS THIS TINY SCHOOL,

AND BECAUSE OF IT, A NEW BREED OF CRAFTMAKERS

VIRTUALLY MOVED FROM CAROLINA TO NEW YORK.

[BIRDS CHIRPING]

WOMAN: IN 1933, A PROGRESSIVE CLASSICS PROFESSOR

NAMED JOHN RICE AND A GROUP OF FACULTY AND STUDENTS

DECIDED TO SET UP AN ALTERNATIVE SCHOOL

OUTSIDE OF ASHEVILLE, NORTH CAROLINA.

JOHN RICE WANTED THE ARTS TO BE AT THE CENTER

OF THE COLLEGE''S ACTIVITIES AND IDENTITY.

THE PROBLEM WAS IS HE DIDN''T KNOW ANYTHING ABOUT ART,

HE DIDN''T KNOW ANY ARTISTS.

SO HE WENT TO HIS FRIEND PHILIP JOHNSON,

WHO WAS THE CURATOR OF ARCHITECTURE

AT THE MUSEUM OF MODERN ART.

PHILIP JOHNSON SAID TO JOHN RICE,

"I KNOW WHO IS THE PERFECT MAN TO WORK FOR YOU.

IT''S JOSEF ALBERS."

THE NAZIS HAD JUST CLOSED THE BAUHAUS,

WHICH WAS EUROPE''S PREMIER ART AND DESIGN SCHOOL.

THAT MEANT THAT JOSEF ALBERS WAS WITHOUT EMPLOYMENT.

SO JOSEF AND HIS WIFE ANNI ALBERS,

WHO WAS A MASTER WEAVER AT THE BAUHAUS,

COME TO NORTH CAROLINA.

I THINK IN RETROSPECT,

IT SEEMS COMPLETELY VISIONARY.

PEOPLE LIKE JOHN RICE, LIKE JOSEF ALBERS

WERE THINKING ABOUT PROGRESSIVE EDUCATION,

THIS IDEA OF LEARNING THROUGH DOING.

BLACK MOUNTAIN COLLEGE WASN''T AN ART SCHOOL.

IT WAS AN EXPERIMENTAL LIBERAL ARTS COLLEGE

THAT HAD PLACED THE ARTS AT THE CENTER

OF THE PEDAGOGICAL EXPERIMENT.

A TYPICAL DAY WOULD HAVE INCLUDED

ALL OF THE FACULTY AND STUDENTS TAKING THEIR MEALS TOGETHER

BECAUSE A HIERARCHY DIDN''T EXIST.

A TYPICAL DAY MIGHT HAVE INCLUDED TAKING A WALK

IN THE MOUNTAINS WITH THE MATHEMATICIAN MAX DEHN

BECAUSE HE LIKED TO LECTURE IN A NON-CLASSROOM SETTING.

A TYPICAL DAY ALMOST ALWAYS WOULD HAVE INCLUDED

THE HEARING OF MUSIC.

AND IN THE EVENING AFTER DINNER,

THE TABLES AND CHAIRS WERE CLEARED

AND MUSIC WAS PERFORMED.

THE COMMUNITY ENTERTAINED ITSELF.

THIS IDEA THAT ART WASN''T SOMETHING YOU MADE

FOR AN AUDIENCE,

YOU WERE BOTH THE AUDIENCE AND THE MAKER,

AND THAT ON ANY GIVEN DAY,

YOU COULD BE BOTH OR EITHER

WAS ESSENTIAL TO THIS WAY OF THINKING ABOUT

ART AS NOT BEING SEPARATE FROM LIFE,

BUT ART AS BEING WOVEN INTO THE FABRIC OF YOUR LIFE.

BLACK MOUNTAIN COLLEGE IS THE BEGINNING

OF THE AMERICAN AVANT-GARDE.

AND PERFORMANCE IS AT THE CORE

OF THE AMERICAN AVANT-GARDE.

THROUGH JOHN CAGE AND MERCE CUNNINGHAM,

PERFORMANCE REALLY TAKES OFF AT BLACK MOUNTAIN.

AND WHAT PERFORMANCE DOES IS SAY

NOT ONLY IS THERE NO DISTINCTION BETWEEN ART AND MUSIC

AND DANCE AND LIGHTING AND COSTUME DESIGN,

BUT THERE''S ALSO NO DISTINCTION BETWEEN ART AND LIFE.

THAT HAD A PROFOUND EFFECT ON THE ARTIST RUTH ASAWA.

SHE DIDN''T MAKE A DISTINCTION

BETWEEN HAVING HER LIFE AND MAKING HER ART.

YOU DIDN''T GO TO A STUDIO TO MAKE YOUR WORK

AND THEN YOU RAISED YOUR CHILDREN SOMEWHERE ELSE.

THERE WAS JUST THIS MERGER OF ART AND LIFE.

THAT COMES DIRECTLY OUT OF HER BLACK MOUNTAIN COLLEGE EXPERIENCE.

RUTH ASAWA MADE THESE RATHER

EXTRAORDINARY CROCHETED, WIRED BASKETS,

THESE SORT OF BIG, BULBOUS SHAPES.

AND SHE CAME UP WITH THE SHAPE WHILE SHE WAS A STUDENT

IN MERCE CUNNINGHAM''S DANCE CLASS.

SHE STARTED THE FIRST ART PROGRAM

IN THE SAN FRANCISCO PUBLIC SCHOOLS--

HOW TO MAKE THINGS, HOW TO THINK THROUGH PROBLEMS

WITH MATERIAL, FORM, RESOLUTION.

ASAWA THOUGHT THOSE WERE ESSENTIAL SKILLS

FOR BEING A CURIOUS AND COGENT HUMAN BEING.

THIS IDEA WAS A REALLY FUNDAMENTAL ASPECT

OF THE COLLEGE.

AT BLACK MOUNTAIN COLLEGE,

THE EXPERIMENT WAS WHAT WOULD IT MEAN

TO TEACH EVERYONE TO THINK CRITICALLY?

WHICH IS, OF COURSE, WHAT YOU''RE LEARNING TO DO

WHEN YOU''RE AN ARTIST.

SO IF YOU HAVE A GERMAN GUY

WHO''S BEEN FORCED OUT OF NAZI GERMANY

TEACHING AMERICAN KIDS HOW TO THINK

ABOUT MAKING CHOICES,

WHAT YOU HAVE IS SOMEONE THINKING ABOUT, WHAT IS DEMOCRACY?

''CAUSE THE MOST IMPORTANT THING WE DO IN A DEMOCRACY

IS WE CHOOSE WHO WILL REPRESENT US.

BLACK MOUNTAIN COLLEGE WASN''T INTERESTED IN PRODUCING ARTISTS,

IT''S INTERESTED IN PRODUCING CITIZENS.

THAT SO MANY PEOPLE ENDED UP ARTISTS

IS LIKE THE KIND OF, YOU KNOW, FROSTING ON THE CAKE.

THERE WAS A RICH POTTERY TRADITION

IN THAT PART OF THE CAROLINAS.

CLAY WAS READILY AVAILABLE IN THE SOIL.

AND THE POTTERS WHO CAME AND TAUGHT AT BLACK MOUNTAIN,

KAREN KARNES, PRINCIPAL AMONG THEM,

MADE WORK AND TOOK IT INTO TOWN AND SOLD IT.

WOMAN: WE AS POTTERS IN THE STUDIO

WERE NOT RESPECTED BY THE STUDENTS

BECAUSE THEY WERE AT THE CUTTING EDGE OF EVERYTHING

AND WE WERE JUST THIS OLD-FASHIONED CLAY

THEY DIDN''T RESPECT.

IT DIDN''T MATTER, THOUGH.

DIDN''T MATTER TO ME, AND I DON''T THINK IT MATTERED TO DAVID,

''CAUSE WE WERE IN HEAVEN.

I MEAN, WE WERE WORKING. WE HAD EVERYTHING WE NEEDED.

MOLESWORTH: KAREN KARNES HAD A PROFOUND EFFECT

ON A NUMBER OF STUDENTS.

KARNES MADE FUNCTIONAL POTTERY

AND NON-FUNCTIONAL POTTERY.

SHE MADE NO DISTINCTIONS BETWEEN THE TWO.

HER FUNCTIONAL POTTERY FORMED THE BASIS

OF WHAT PEOPLE ATE OFF OF

IN THE DINING HALL AT BLACK MOUNTAIN COLLEGE.

HER NON-FUNCTIONAL POTTERY

SPEAKS TO HER WITTY, SENSUAL, DEEPLY SCULPTURAL SENSIBILITY.

KAREN KARNES WAS ONE OF THE WIVES

SORT OF SMUGGLED IN.

EVEN THOUGH SHE WAS A FULLY PARTICIPATORY MEMBER

OF THE COLLEGE, SHE HERSELF WAS NOT PAID.

THE POSITION OF WOMEN AT BLACK MOUNTAIN COLLEGE

IS A VEXED ONE.

ON THE ONE HAND, THEY WERE VERY MUCH THERE.

ON THE OTHER HAND, MANY OF THE WOMEN WERE SPOUSES.

MANY OF THE WOMEN WERE NOT PAID.

MANY OF THE WOMEN CAME AND THEN TAUGHT

BECAUSE THEY COULD,

BUT NOT BECAUSE THEY HAD BEEN INVITED TO.

SO EVEN THOUGH IT WAS WILLEM DE KOONING

WHO HAD BEEN INVITED TO TEACH,

IT WAS ELAINE DE KOONING WHO YOU SEE IN ALL OF THE PHOTOGRAPHS

WHERE BUCKMINSTER FULLER IS INSTALLING HIS FIRST GEODESIC DOME.

AND YOU CAN TELL WHO''S IN CHARGE.

IT''S ELAINE DE KOONING.

EVEN THOUGH JOSEF ALBERS HAS THE BIG REPUTATION,

IT WAS ANNI ALBERS WHO WAS TRANSLATING

ALL OF JOSEF ALBERS'' CLASSES,

AND SHE WAS WRITING IN THE BLACK MOUNTAIN COLLEGE BULLETIN

AND TEACHING WEAVING.

I DON''T THINK YOU CAN UNDERESTIMATE

THE DEGREE TO WHICH SHE INFLUENCED

HER FELLOW ARTISTS, INCLUDING HER HUSBAND.

BY THE TIME BLACK MOUNTAIN COLLEGE CLOSES IN 1957,

NEW YORK HAS STOLEN THE ART WORLD FROM EUROPE.

ANNI ALBERS HAD A SOLO SHOW AT THE MUSEUM OF MODERN ART.

JOHN CAGE AND MERCE CUNNINGHAM ARE RESHAPING THE IMAGINATION

OF WHAT THE AVANT-GARDE CAN BE.

WILLEM DE KOONING GOES BACK TO NEW YORK AND FORMS THE CLUB

ON THE MODEL OF BLACK MOUNTAIN.

ROBERT RAUSCHENBERG SYNTHESIZES

ALL OF HIS BLACK MOUNTAIN TEACHERS--

JOSEF ALBERS'' COLOR THEORY,

ANNI ALBERS'' AFFECTION FOR THE TACTILE,

JOHN CAGE''S EXPERIMENTS WITH CHANCE,

MERCE CUNNINGHAM''S DEEP PHYSICALITY.

AND IN DOING SO, RAUSCHENBERG INVENTS THE COMBINE,

WHICH IS THE THING THAT IS NEITHER PAINTING NOR SCULPTURE,

BUT SOME KIND OF GLORIOUS MARRIAGE OF THE TWO THINGS.

AND THEN, OF COURSE, JOSEF ALBERS

IS THE HEAD OF THE ART PROGRAM AT YALE.

AND THE ALBERS PROGRAM AT YALE IS A PROGRAM

THAT HE CONSOLIDATED AND DEVELOPED

AND PERFECTED AT BLACK MOUNTAIN COLLEGE.

AND MOST ART PROGRAMS IN THIS COUNTRY

STILL CARRY THE TRACE OF BLACK MOUNTAIN COLLEGE.

THE NETWORK OF ITS INFLUENCE IS REALLY WIDE.

WOMAN: I WENT TO CALIFORNIA COLLEGE OF ARTS AND CRAFTS,

AND THERE A FRIEND TOOK ME UP TO THE WEAVING ROOM.

WHEN I SAW THE GIRLS WEAVING AND THROWING THE SHUTTLE,

I WAS JUST ABSOLUTELY FASCINATED.

AND WITH THE LAST $150 I HAD,

I WENT OUT AND I BOUGHT A LOOM.

THE FIRST PIECES I WOVE WERE PLACEMATS,

HAND TOWELS, NAPKINS,

UTILITARIAN ITEMS.

ONE DAY WE HAD HEARD THERE WAS GOING TO BE

A FANTASTIC SPEAKER TALKING UP IN GUERNEVILLE

AT POND FARM.

AND SHE TURNED OUT TO BE TRUDE GUERMONPREZ.

MOLESWORTH: TRUDE GUERMONPREZ''S FATHER

TAUGHT AT BLACK MOUNTAIN WHERE SHE LEARNS

TO BECOME A WEAVER.

SHE THEN LEAVES BLACK MOUNTAIN

AND GOES TO WORK WITH MARGUERITE WILDENHAIN

ON POND FARM.

MARGUERITE WILDENHAIN HAD COME THROUGH BLACK MOUNTAIN

AS PART OF THE POTTERY SEMINAR.

SEKIMACHI: TRUDE WAS JUST A FANTASTIC SPEAKER.

SHE TALKED ABOUT THINGS THAT TEACHERS AROUND HERE

NEVER EVEN TALKED ABOUT.

AND SO I JUST KNEW I HAD TO STUDY WITH HER.

FORTUNATELY, IN THE SUMMER OF 1954,

I WAS ABLE TO STUDY WITH HER AT CALIFORNIA COLLEGE

OF ARTS AND CRAFTS, CCAC.

STUDYING WITH TRUDE WAS EXTRAORDINARY.

SHE OPENED MY EYES TO WHAT WEAVING COULD BE.

THIS IS A WORK OF TRUDE GUERMONPREZ'',

AND I KIND OF LOVE IT.

ONE OF THE THINGS THAT SHE REALLY STRESSED

WAS THAT THE WARP COULD BE AS IMPORTANT AS THE WEFT.

IN MY OWN WORK, I TRY TO DO THE SAME.

MAN: TRUDE GUERMONPREZ INSPIRED KAY

TO REALLY MOVE AWAY FROM UTILITARIAN OBJECTS

INTO ART PIECES OF INCREDIBLE INGENUITY.

THERE''S THIS MARVELOUS MIND AND VISION

THAT SHE POSSESSES.

AND WHEN KAY LOOKS AT SOMETHING,

YOU GET THE IDEA IT''S A LESSON IN HOW TO LOOK

BECAUSE SHE REALLY BRINGS A FOCUS

THAT FEW PEOPLE HAVE.

SHE''S MARVELOUS THAT WAY.

KAY HAS PRODUCED THESE INCREDIBLE PIECES OF JEWELRY,

PAPER, AND FIBER ART.

SEKIMACHI: THIS IS ONE OF MY FIRST MONOFILAMENT HANGINGS.

IT COMES OFF THE LOOM FLAT,

AND IT JUST OPENS UP SORT OF BULBOUS LIKE THIS.

- HI, FORREST. - HOW ARE YOU DOING?

MERRILL, VOICE-OVER: FOR 50 YEARS,

KAY''S BEEN RECOGNIZED THROUGHOUT THE COUNTRY

AS AN INNOVATOR OF TASTE AND STYLE IN FIBER ART.

HERE''S ONE OF YOUR MARRIAGE SETS,

AN UNUSUAL ONE BECAUSE THE WOOD IS SO THICK.

SEKIMACHI: I USED HORNET''S NEST PAPER FOR THE PAPER BOWL,

AND IT''S SO MUCH FUN TO SEE IT COME OFF THE FORM.

[LAUGHTER]

MERRILL: THIS LOOKS ALL VERY NATURAL.

SEKIMACHI: RIGHT. I DID THAT ON PURPOSE.

MERRILL: AND HOW DID YOU DO THAT?

SEKIMACHI: TEAR THE PAPER.

ALL THE PAPER WAS TORN RATHER THAN CUT,

''CAUSE THERE ARE NO SHARP EDGES.

MERRILL: BOB HAD TO MAKE A SPECIAL MOLD FOR THAT.

SEKIMACHI: YES. THE MARRIAGE SET WAS SO POPULAR,

IT KEPT US BUSY FOR YEARS.

SEKIMACHI, VOICE-OVER: BOB STOCKSDALE MADE MOLDS FOR ME.

HE MADE MY CARD WEAVING BOARDS.

HE PUT BLOCKS ON MY 12-HARNESS LOOMS

SO THAT I COULD REACH THE TREADLES WITH MY FEET.

HE WAS WONDERFUL FOR ME.

BEFORE WE WERE EVER MARRIED,

WE CERTAINLY KNEW EACH OTHER BY REPUTATION.

BUT I THINK THE ONLY WAY THAT WE REALLY WORKED TOGETHER

WAS WHEN WE STARTED MAKING THESE MARRIAGE IN FORM BOWLS.

I WOULD MAKE PAPER BOWLS AROUND BOB''S BOWLS.

BOB JUST HAD A GIFT FOR BEING ABLE TO SEE

INSIDE A PIECE OF WOOD,

AND IT WAS JUST AMAZING.

HE BROUGHT FINE WOODWORKING UP TO THE LEVEL OF ART.

I WAS MAKING A LOT OF PAPER BOWLS.

AND I DECIDED, WELL, WHY NOT TRY MAKING A LEAF BOWL?

I SOAKED THE LEAVES IN THIS DISH PAN,

AND THEY''RE SOAKED FOR AT LEAST A GOOD HALF DAY

UNTIL THE STEM BECOMES VERY PLIABLE.

IT LOOKS VERY FRAGILE,

BUT THE VEINS ARE ACTUALLY WOOD,

AND SO IT''S PRETTY STURDY.

I COLOR A PIECE OF VERY SHEER JAPANESE PAPER,

AND I CUT IT IN THE SHAPE OF A LEAF.

AND THEY''RE PLACED ON THE MOLD AND GLUED TOGETHER.

THEN I TAKE THE LEAVES THAT HAVE BEEN SOAKING

AND I JUST PUT PASTE ON WHERE THE LEAF WOULD TOUCH THE PAPER.

AND THEN I JUST PUT IT ON THE MOLD.

I JUST SORT OF SLAP IT ON

AND THEN COVER IT WITH SARAN WRAP,

AND THEN I LEAVE IT OVERNIGHT.

WHEN I COME UP IN THE MORNING,

IT WOULD BE READY TO REMOVE IT FROM THE MOLD.

SEKIMACHI, VOICE-OVER: BOB MADE ME A MOLD THAT IS CALLED A KNOCKDOWN MOLD

SO THAT WHEN THE LEAVES WERE DRY,

I WOULD JUST TURN IT OVER

AND PULL OUT THE CENTER OF THE MOLD

AND THEN THE SIDES OF THE MOLD,

AND I WOULD HAVE A LEAF BOWL.

AFTER MY TWO SUMMER SESSIONS WITH TRUDE,

SHE ASKED ME, "WHAT ARE YOU GONNA DO NEXT?"

SO I THOUGHT, "WELL, WHO ELSE COULD I STUDY WITH?"

THEN I THOUGHT ABOUT JACK.

JACK LENOR LARSEN WAS-- WELL, I WOULD SAY

HE WAS LIKE THE GOLDEN BOY IN TEXTILES.

AND HE WAS TEACHING AT THE HAYSTACK MOUNTAIN SCHOOL OF CRAFTS.

SO I WROTE AND I GOT A SCHOLARSHIP.

AND SO I FOUND MYSELF AT HAYSTACK

BEING JACK''S ASSISTANT.

LARSEN: THESE ARE SMALL PIECES.

THIS IS A KAY SEKIMACHI.

IT''S MADE WITH NEST MATERIAL,

WHICH IS A NATURAL PAPER.

THESE ARE BOB STOCKSDALE.

AND THIS PIECE IS BOB STOCKSDALE.

LARSEN, VOICE-OVER: I USED TO TEACH EVERY SUMMER

FOR 3 WEEKS AT HAYSTACK.

AND FOR MANY YEARS, MY JOB WAS TO SELECT THE FACULTY.

I CHOSE THE BEST,

PEOPLE LIKE TOSHIKO TAKAEZU,

ANNI ALBERS.

I INVITED DALE CHIHULY TO START GLASS BLOWING AT HAYSTACK.

AND HE WANTED TO START SUCH A SCHOOL IN SEATTLE.

AND SO HAYSTACK WAS THE MODEL FOR PILCHUCK.

HAYSTACK BECAME THE LEADER IN THE CRAFT FIELD.

IT WAS THE MOST BEAUTIFUL LAND IMAGINABLE,

COVERED WITH LICHENS AND MOSSES.

THE FEELING WHEN PEOPLE CAME TO THE SCHOOL

WAS THAT WE WERE ON A RAFT

AND YOU DIDN''T GET OFF.

AND IT WAS PERFECT.

SEKIMACHI: JACK WOULD COME IN

AND HE WOULD GIVE US AN ASSIGNMENT.

THEN HE WOULD SAY, "KAY WILL HELP YOU IF YOU NEED ANYTHING."

AND SO I WAS SUPPOSED TO HELP THE OTHER STUDENTS.

JACK WAS A VERY INTERESTING TEACHER.

HIS ASSIGNMENTS MADE YOU THINK.

THESE TWO PIECES ARE MINE,

AND I DID THEM IN JACK LENOR LARSEN''S CLASS.

THE ASSIGNMENT WAS TO WEAVE EMOTIONAL STRIPES.

AND WE COULD USE AS MANY COLORS AS WE WANT.

AND SO THIS WAS MY SOLUTION TO EMOTIONAL STRIPES.

WHEN JACK LOOKED AT THIS AND HE SAID,

"KAY, THAT''S THE MOST BEAUTIFUL EMOTIONAL STRIPES

I''VE EVER SEEN."

AND SO THAT REALLY DID ENCOURAGE ME,

AND I WAS VERY PLEASED TO HEAR THAT.

SEKIMACHI, VOICE-OVER: GROWING UP, I WAS NOT A GOOD STUDENT,

AND THE ONLY CLASS THAT I LIKED WAS THE ART CLASSES.

I ALWAYS LOVED TO DRAW AND PAINT.

IN FACT, MAYBE THAT WAS THE ONLY THING

THAT I LIKED TO DO.

I WENT TO BERKELEY PUBLIC SCHOOLS,

AND WE WENT TO A JAPANESE CHURCH

WHERE WE STUDIED JAPANESE AND CALLIGRAPHY.

IN ALL OUR SPARE TIME, WE WOULD PLAY WITH PAPER DOLLS,

MADE STORIES AROUND THEM, BUILT HOUSES FOR THEM,

AND WE MADE HUNDREDS OF DRESSES.

THEY HAD OPERA WEAR. THEY HAD SKI CLOTHES.

THEY HAD COSTUMES.

I LIKE TO SAY THAT WE WERE WEARING RAGS,

BUT MY PAPER DOLLS WERE WEARING DESIGNER CLOTHES.

IN 1941, AFTER JAPAN''S ATTACK ON PEARL HARBOR,

ALL THE JAPANESE WERE REMOVED FROM THE WEST COAST.

MY MOTHER WORKED FOR A FAMILY HERE IN BERKELEY.

AND THEY SAID THEY WOULD KEEP ANYTHING FOR US

UNTIL WE GOT BACK.

AND SO THE FIRST THING I PUT IN THIS TRUNK

WAS MY PAPER DOLLS.

AND THAT''S WHY WE STILL HAVE THEM.

IN TANFORAN, WHEN WE GOT THERE,

NOTHING WAS ORGANIZED.

WELL, THE FIRST TIME WHEN WE LINED UP FOR MEALS,

CARRYING OUR TIN DISH AND A TIN CUP,

I THOUGHT, "ARE WE GOING TO SURVIVE THIS?"

THE SCHOOLS JUST DIDN''T GET PUT TOGETHER.

MY YOUNGER SISTER AND I HAD FREE TIME,

AND SO WE WENT OUT TO PAINT EVERY DAY.

WOMAN: KAY SEKIMACHI IS A VISIONARY.

SHE''S MADE OBJECTS THAT NO ONE ELSE HAS EVER MADE.

SHE''S USED MATERIALS IN WAYS THAT NOBODY ELSE

HAS EVER USED THEM.

HER WORKMANSHIP, HER CRAFTSMANSHIP,

HER CONCEPTS ARE SO BEAUTIFULLY, EXQUISITELY RENDERED,

AND WE''RE THRILLED THAT SHE WAS GIVEN THE DISTINGUISHED

WOMAN ARTIST AWARD FROM THE FRESNO ART MUSEUM.

THE EXHIBITION WILL HAVE PIECES THAT HAVE NEVER BEEN SEEN BEFORE

BECAUSE WE''RE GOING BACK SO FAR

INTO HER CREATIVE LIFE.

SEKIMACHI: MICHELLE ELLIS PRACY CHOSE WHAT SHE WANTED

FOR THE EXHIBITION,

AND THEN SAID WHATEVER ELSE WE THINK

SHOULD BE IN THE SHOW SHE WILL ACCEPT.

ELLIS PRACY: KAY''S NEVER SHOWN HER PAPER DOLLS,

AND THEY WERE REALLY THE INCEPTION OF HER LIFE

AS AN ARTIST.

IT''S MARVELOUS WHEN WE CAN BRING IN THOSE PIECES

TO AN EXHIBITION.

- HI, FORREST. - HI.

ELLIS PRACY: WELCOME TO THE MUSEUM.

MERRILL: THANK YOU. THANK YOU.

ELLIS PRACY: SO COME ON IN.

SEKIMACHI: FORREST MERRILL IS BEING VERY GENEROUS.

FORREST IS A VERY DEAR FRIEND.

AND HE HAS THE MOST IN-DEPTH COLLECTION

OF MY WORK OF ANYONE.

I THINK HALF THE SHOW WILL BE FROM FORREST''S COLLECTION.

HE''S JUST VERY, VERY SUPPORTIVE.

MERRILL: THIS IS ONE OF THE EARLIEST PIECES

IN MY COLLECTION,

AND IT SHOWS HOW KAY BEGAN

AS REALLY A RATHER TRADITIONAL WEAVER

BEFORE SHE STUDIED WITH TRUDE GUERMONPREZ.

ELLIS PRACY: I THINK SHE REALIZED

THAT HER LOVE OF WEAVING

MEANT THAT SHE SHOULD BE MORE ARTFUL WITH IT,

AND SHE STARTED TO EXPERIMENT.

MERRILL: YES. KAY IS CONSIDERED A FIBER ARTIST

WHEN YOU PUT A LABEL ON HER.

BUT SHE CAN REALLY EXPLORE THE BREADTH

OF DIFFERENT MATERIALS.

ELLIS PRACY: MM-HMM.

THIS IS A NECKLACE. A NECKLACE.

MERRILL: YES, THIS IS A NECKLACE.

ELLIS PRACY: I WANT TO WEAR IT.

[LAUGHTER]

IT''S BEAUTIFUL.

ELLIS PRACY, VOICE-OVER: THERE''S A COMMUNITY OF PEOPLE WHO LOVE ART

AND PRESERVE IT AND SHARE IT WITH MUSEUMS.

FORREST IS FABULOUS THAT WAY.

FORREST BEGAN COLLECTING WITH VERY LITTLE MONEY

AS A VERY YOUNG MAN.

HE KNEW THAT HIS LIFE NEEDED TO BE FILLED WITH ART.

MERRILL: I''M NOT CONVINCED THAT "COLLECTOR"

IS IN ALL SENSES OF THE WORD A POSITIVE WORD.

I''M INTERESTED IN SHARING THESE OBJECTS.

AND ONE OF THE BEST WAYS TO DO THAT

IS TO GET THEM INTO MUSEUMS WHERE THEY CAN BE SEEN.

I LIKE THE IDEA THAT THESE THINGS CAN HAVE A PUBLIC LIFE.

THESE PIECES WERE MADE BY VIVIKA AND OTTO HEINO.

OTTO SPECIALIZED IN MAKING LARGE POTS.

VIVIKA''S WORK REFLECTS HER GREAT INTEREST

IN EXPERIMENTING WITH GLAZES.

THE HEINOS HAD THIS WONDERFUL PHRASE--

WHAT YOU GIVE AWAY, YOU KEEP FOREVER.

IT EXEMPLIFIED THEIR PHILOSOPHY

OF SHARING THEIR GREAT KNOWLEDGE

WITH STUDENTS AND PEOPLE WORKING IN CERAMICS.

THIS COLLECTION IS WORK MADE BY LAURA ANDRESON

WHO IN 1933 BEGAN TEACHING AT UCLA.

SHE CREATED THE CERAMIC DEPARTMENT

AND THEN WORKED THERE UNTIL SHE RETIRED IN 1970.

LAURA DID A LOT OF WORK WITH CRYSTALLINE GLAZES.

THIS IS AN EARLY URANIUM PIECE,

PROBABLY STILL RADIOACTIVE.

MORE URANIUM GLAZES.

AH, NOW HERE SHE HAD A SPECIAL KILN AT UCLA

FOR HER LUSTER GLAZES.

AND LOOK AT THE EFFECT SHE GOT WITH THAT.

IT REALLY SPARKLES.

MERRILL, VOICE-OVER: I''M NOT PARTICULARLY INTERESTED

IN JUST SHOWING PRETTY THINGS.

I WANT THE WORK TO HAVE A STORY.

I WANT THE ARTIST, THROUGH THEIR WORK,

TO TELL A STORY.

I WOULD LIKE THERE TO BE SOME MESSAGE OR SOME GOAL

TO SHARE WITH PEOPLE THIS TOTALLY DIFFERENT WAY OF LIFE

OF LIVING WITH ART.

THE REASON THIS PIECE IS IMPORTANT TO ME

IS TRUDE GUERMONPREZ WAS KAY SEKIMACHI''S TEACHER.

KAY FOUND TRUDE, AND IT JUST TURNED HER LIFE AROUND.

I MADE MY FIRST PURCHASE

WHEN I WAS IN HIGH SCHOOL.

I DIDN''T REALLY THINK OF COLLECTING,

I ONLY THOUGHT I''LL BUY A NICE PIECE WHEREVER I GO.

BUT IT REALLY DIDN''T COME ACROSS

AS A COLLECTION UNTIL I''D BEEN AT IT FOR QUITE A WHILE.

I AM FASCINATED WITH THE VESSEL FORM.

IT HAS HUMAN QUALITIES, IT HAS A SHOULDER,

IT HAS A BELLY.

SOME THINGS HAVE NECKS, FEET.

WHILE I''VE COLLECTED MANY THINGS THAT ARE NOT VESSELS,

I KEEP COMING BACK TO THIS FORM.

IT''S SOMETHING THAT REALLY RESONATES WITH ME.

WHENEVER SOMEONE COMES HERE TO SEE MY COLLECTION,

I TAKE GREAT PLEASURE WHEN I SAY, "HOLD THIS, FEEL IT."

THIS IS NOT A MUSEUM. YOU CAN TOUCH IT

AND NOTICE HOW THE WEIGHT IS DISTRIBUTED.

IT''S A GREAT EXPERIENCE FOR PEOPLE.

SEKIMACHI: I GOT MY PAINTING, AND I TOOK MY HOT IRON,

AND I JUST PRESSED THE IMAGE ON.

MERRILL, VOICE-OVER: I WAS INTERESTED IN CRAFTSMEN AND ARTISTS

WHOM I COULD MEET AND CREATE A DIALOGUE WITH

TO UNDERSTAND WHAT THEY WERE TRYING TO ACCOMPLISH.

SEKIMACHI: AND THIS CROSSING OF THE WARP THREADS

WOULD MAKE IT A NEATER FOLD.

MERRILL, VOICE-OVER: THOSE FRIENDSHIPS

MEAN A GREAT DEAL TO ME

AND ARE REALLY MORE IMPORTANT THAN THE THINGS

THAT SIT ON THE SHELVES.

I LIKE TO SAY, "YES, THESE THINGS ARE VERY NICE,

BUT THE REAL TREASURES ARE THE PEOPLE WHO MADE THEM."

SEKIMACHI: YEAH.

ELLIS PRACY: FORREST IS ALSO A VISIONARY,

AND I LOVE VISIONARIES,

WHETHER THEY''RE SCIENTISTS, MATHEMATICIANS,

ARTISTS, OR COLLECTORS, BECAUSE THEY TAKE US FORWARD.

WOMAN: I''M A BIT OF A FUTURIST.

MY PAGES ARE HEAVILY VISUAL,

WHICH I FEEL REFLECTS OUR CULTURE.

EVERYONE''S GLUED TO THEIR PHONE.

MAYBE THAT WILL TURN INTO SOMETHING INCREDIBLY GREAT.

YOU KNOW, WE DON''T KNOW YET. THEY''LL BE NEGATIVES.

WHAT ARE THE POSITIVES? YOU KNOW, I''M A POSITIVIST.

I''M ABOUT WHAT IT IS AND NOT WHAT IT''S NOT,

AND LET''S EMBRACE WHAT IT IS.

LET ME INTRODUCE YOU TO MY BOOK

"DOC/UNDOC DOCUMENTADO/UNDOCUMENTED."

IT EXISTS IN THIS CASE WITH SOUND AND LIGHT.

AND WHEN I OPEN, YOU''LL HEAR OUR INTRODUCTORY SOUNDSCAPE.

[CLASSICAL MUSIC PLAYING]

MAN: BOOK ARTISTS ARE INTERESTED IN DRAWING

THE READER INTO A STORY, INTO A NARRATIVE,

INTO AN EXPERIENCE THAT IS CONTAINED

WITHIN THOSE COVERS.

RICE: AND IT SAYS, "OPEN THE BOOK,

"UNFOLD THE PAGES, SCAN THE IMAGES,

"SEARCH THROUGH THE ICONOGRAPHIES,

DECIPHER THE HIDDEN TEXTS."

WOODALL: AN ARTIST''S BOOK IS A HYBRID WORK OF ART

THAT INCLUDES OFTEN LETTERPRESS PRINTING,

LITERARY CONTENT, FINE ART PRINTS,

PHOTOGRAPHS OR ANY KIND OF IMAGES.

IT IS A WORK OF ART THAT MUST BE HANDLED

TO BE EXPERIENCED.

RICE: AND AFTER YOU HAVE HAD A CHANCE

TO EXPLORE THIS LONG ACCORDION WITH 15 SPREADS--

THESE ARE MY OWN IMAGES--

I CAN PUT THE BOOK ASIDE

AND REVEAL UNDERNEATH A CABINET OF CURIOSITIES.

[MUSIC PLAYING]

WOODALL: "DOC/UNDOC" IS NOT FOR TRADITIONALISTS NECESSARILY,

BUT IT REPRESENTS--ESPECIALLY IN FELICIA''S WORK,

IT REPRESENTS A KIND OF EVOLUTION

OF THE ARTIST''S BOOK.

RICE: THANK YOU FOR COMING THIS AFTERNOON.

WOODALL: AND IT HAS THIS FABULOUS PERFORMATIVE ASPECT.

ADDING THE PERFORMANCE CHALLENGES OUR EXPECTATIONS

OF WHAT A BOOK CAN BE.

RICE: WHAT IS IT EXACTLY?

A PERFORMATIVE ARTIST''S BOOK,

AN ARTIST''S BOOK FOR PERFORMING ONE''S SELF,

Y MUCHAS OTRAS COSAS.

RICE, VOICE-OVER: THE INTEGRATION OF PERFORMANCE

IN THE FORM OF A BOOK AND YET CALL THAT PERFORMANCE

AND NOT SIMPLY A BOOK,

I''M LEARNING ABOUT WHAT THAT MEANS.

TOUCH EVERYTHING SLOWLY.

BUT I DO THINK THAT THE CONCEPT GIVES ME

A LOT LARGER STAGE TO MOVE ON

THAN SIMPLY THE BOOK IS ON THE SHELF,

THE BOOK IS OFF THE SHELF.

WHAT SENT THINGS OFF IN THIS DIRECTION

WAS MY WORKING CLOSELY WITH GUILLERMO GOÓMEZ-PEÑA,

THE PERFORMANCE ARTIST.

GOÓMEZ-PEÑA''S SCRIPTS ARE CERTAINLY CHALLENGING,

IN YOUR FACE.

THEY SPEAK OUT.

THEY''RE SAYING, "COME OUT ON STAGE.

"BE A PERFORMANCE ARTIST YOURSELF.

"SPEAK FOR YOURSELF.

TALK ABOUT THESE ISSUES THAT ARE CONFRONTING US."

HIS SCRIPTS BECAME THE TEXT FOR THE PAGES.

THE SCRIPTS LOOK VERY MUCH LIKE POEMS,

AND I''VE BEEN WORKING WITH POETRY FOR OVER 40 YEARS.

I HAVE A COLLECTION OF BEAUTIFUL FONTS

FROM THE EARLY 20th CENTURY,

AND THEY CREATE AN INCREDIBLY ELEGANT PAGE.

MUCH WHITE SPACE,

PLENTY OF ROOM TO BREATHE AND REFLECT ON THE CONTENT,

THE WORD THAT''S SITTING THERE PRISTINE

IN ITS OWN WORDNESS.

I WAS JUST SO READY TO SEE THAT PAGE START TO CHANGE,

TO MOVE, TO JUMP UP AND DOWN,

FOR THE WORD TO ASSERT ITSELF.

I WAS FIGHTING EVERY BIT OF TRAINING I HAD,

AND IT WAS SO HARD AS I WENT FORWARD WITH TYPE

THAT WENT OFF AT AN ANGLE OR WRAPPED AROUND SOMETHING

OR WHATEVER.

AT SOME POINT I JUST HAD TO BREAK THE BONDS

TO EXPAND INTO A FAR MORE VISUAL PAGE

AND A FAR MORE VISUAL TREATMENT OF TYPE

IN AN EXPERIMENTAL, PLAYFUL WAY.

PLAY, FUN,

ENERGY, LIFE.

YOU KNOW, THOSE ARE THINGS THAT I REALLY WANTED

TO BRING TO MY WORK.

WOMAN: THIS WAS JUST SOMETHING SO DIFFERENT AND UNCONVENTIONAL.

I REMEMBER CUTTING THIS OUT AND JAMMING

THIS TYPE THAT WAS BROKEN OR NOT USEABLE.

AND THIS WAS THE OUTCOME.

RICE: THE IDEA OF THIS WAS TO JUST USE LETTERS OR TYPE

TO CONNOTE SPEECH.

WOMAN, VOICE-OVER: FELICIA REALLY WANTED

TO PUSH USING THE TEXT AS A FORM OF IMAGERY

INSTEAD OF SOMETHING THAT YOU CAN ACTUALLY READ

AND BRANCH OUT ON THE IDEA OF A BOOK

IN TERMS OF INCORPORATING VIDEO, PERFORMANCE,

AUDIO, AND INCORPORATING THE BOX.

IN THE WORLD OF BOOK ARTS, IT IS VERY STRUCTURED.

THERE ARE MANY RULES.

BUT FELICIA TRULY SHOWS WHAT IT''S LIKE

TO START IN THIS TRADITIONAL SENSE

AND BECOME YOUR OWN PERSON AS AN ARTIST.

RICE, VOICE-OVER: I WAS 19 WHEN I MADE

A PERSONAL COMMITMENT TO EXPLORING

LETTERPRESS PRINTING AND THE BOOK ARTS.

I WAS EXPOSED TO JACK STAUFFACHER

AND HIS SENSE OF WHAT THE BOOK AND THE WORD MEANT

IN THE HISTORY OF CIVILIZATION.

AND THEN WILLIAM EVERSON,

WHO HAD BEEN A DOMINICAN BROTHER AND A HAND PRESS PRINTER.

I HAD BEEN EXPOSED TO THESE PEOPLE,

BUT IT WASN''T BY ACCIDENT.

I HAD SOUGHT OUT THESE PEOPLE WHO WERE MAKING BOOKS

AND WHAT WAS THAT ABOUT AND PRINTING.

AND I WANTED TO KNOW EVERYTHING ABOUT PRINTING,

ABSOLUTELY EVERYTHING, ALL ASPECTS.

SO I BECAME AN OFFSET PRINTER AND WORKED IN A JOB SHOP

AND RAN A PRESS, CHEMICALS, LOUD, ALL DAY LONG.

AND SO I HAVE ONE FOOT FIRMLY IN THE 19th CENTURY,

LETTERPRESS PRINTING, ITS TRADITIONS, ITS TOOLS,

AND ONE FOOT FIRMLY IN THE 21st CENTURY,

THE DIGITAL AGE WITH NEW TOOLS AND NEW WAYS OF THINKING.

THE COMPUTER MAKES IT POSSIBLE TO SCAN THE DRAWINGS.

I CAN MANIPULATE THE SCANS ON SCREEN

AND THEN MAKE MY OWN LASER-PRINTED NEGATIVES

AND TAKE THEM TO THE PHOTOPOLYMER PLATE MAKER

THAT I HAVE IN MY STUDIO AND MAKE PLATES.

I CALL IT MY EASY-BAKE OVEN.

THESE ARE SO INCREDIBLY WONDERFUL

BECAUSE THERE''S SO MUCH VERSATILITY.

IT CAN BE QUICKLY MADE, REMADE, RESIZED,

SLAPPED ON THE PRESS, PRINTED IN WHATEVER COLOR YOU CHOOSE.

AND IF I''M NOT HAPPY WITH THAT, GO BACK AND MAKE A CHANGE

AND MAKE ANOTHER ONE. BOOM, BOOM, BOOM.

I''M WORKING ON A BOOK CALLED "BORDERBUS"

BY JUAN FELIPE HERRERA.

JUAN FELIPE WAS THE U.S. POET LAUREATE

FOR THE LAST COUPLE OF YEARS.

THE IDEA IS THAT THIS IS A LIVING POEM,

AND THEY''RE LIVING PEOPLE

AND THEY''RE TALKING TO ONE ANOTHER

ABOUT THE EXPERIENCE OF TRAVELING TO THE U.S.

AND WHY AND NOW THEY''VE BEEN PICKED UP BY ICE

AND THEY''RE ON AN ICE BUS WHISPERING TO ONE ANOTHER.

MAN: "''¿ADONDE VAMOS?''

"WHERE ARE WE GOING?

"''SPEAK IN ENGLISH OR THE GUARD IS GOING TO COME.''

"''¿ADONDE VAMOS?''

"WHERE ARE WE GOING?

''SPEAK IN ENGLISH OR THE GUARD IS GOING TO GET US, HERMANA.''"

RICE: THIS HAS BEEN THROUGH THE PRESS SEVERAL TIMES ALREADY,

TWO TIMES FOR THE YELLOW, TWO TIMES FOR THE THUMBPRINT,

TWO TIMES FOR THE PHOTO IMAGE,

TWO TIMES FOR THE GREEN DRAWING,

AND NOW I''LL BE WORKING BACK INTO IT SEVERAL TIMES MORE

AND ANOTHER FOR THE TYPE ITSELF.

THERE''S A DIFFERENT FONT FOR EACH WOMAN''S VOICE,

AND THEY MOVE ON THE PAGE

INSTEAD OF JUST SIMPLY BEING IN LINES.

THE IDEA BEING THAT THEY''RE WHISPERING TO EACH OTHER

AND IT''S THIS DIFFERENT KIND--

IT''S A DIFFERENT QUALITY OF SPEECH.

[MAN SPEAKING SPANISH]

MAN: "SO MANY DAYS AND WE DIDN''T EVEN KNOW

"WHERE WE WERE HEADED.

"I KNOW WHERE WE''RE GOING.

I KNOW."

RICE: WORKING WITH THE CHICANO/CHICANA LITERARY COMMUNITY,

IT''S BEEN A GREAT EDITORIAL FOCUS.

THIS IS A COMMUNITY THAT I''VE BEEN WORKING WITH

SINCE THE EARLY NINETIES,

AND I FEEL VERY STRONGLY THAT THE ISSUES

CONTINUE TO BE EXTREMELY RELEVANT AND IMPORTANT.

WOODALL: WHEN FELICIA STARTED DOING HER SERIES

WITH LATINO ARTISTS,

I THINK HER WORK TOOK ON ANOTHER DIMENSION.

SHE HAS EXTENDED, AS GOOD ARTISTS DO,

HER CAPABILITIES.

SHE HAS DONE SOMETHING REALLY FAR-REACHING AND EXPERIMENTAL.

RICE: I AM TRYING TO BREAK NEW GROUND,

BUT IN THE PROCESS OF DOING THAT FOR MYSELF,

I HOPE I''M GIVING VOICE OR REPRESENTING SOMETHING FOR OTHERS.

REALLY, BREAKING NEW GROUND IS JUST ABOUT

INSPIRING ARTISTS WHO ARE COMING UP BEHIND YOU, RIGHT.

THE ONES WHO ARE AHEAD OF YOU ARE ALREADY DOING THEIR WORK

OR HAVE DONE IT, AND THE ONES THAT ARE COMING UP

ARE THE ONES THAT MIGHT LOOK TO YOUR THINGS

AND THINK, "I WANT TO DO SOMETHING LIKE THAT.

I COULD BUILD ON THAT."

AND IF OTHERS WANT TO COME AND BUILD ON WHAT I''VE DONE,

THAT WOULD BE A MEASURE OF SUCCESS.

LARSEN: WORKAHOLIC ISN''T THE KINDEST WORD,

BUT I HATE BEING IDLE.

WHEN I WAS A BOY IN SCHOOL,

I WOULD DREAM OF WHAT WILL WE MAKE ON THE WEEKEND.

AND...

I WOULD GET A GANG TO HELP ME

MAKE WHATEVER THAT WAS.

WELL, IT''S THE SAME HERE.

MAN: THE MISSION OF LONGHOUSE IS TO EXEMPLIFY LIVING WITH ART

AND TO FOSTER BETTER THINKING,

AND IT''S INSPIRED OR CURATED OR APPROACHED THROUGH JACK''S IDEAS.

WE ALL WAKE UP IN THE MORNING AND WE HAVE MAYBE

ONE IDEA, TWO,

HE WAKES UP WITH 16.

[BELL RINGS]

[RING]

[RING]

[RING]

LARSEN: THIS BELL IS MADE BY TOSHIKO TAKAEZU,

A GOOD FRIEND OF MINE AND OF OURS.

SHE HAS MANY PIECES ON THE PROPERTY,

BUT THE BELL IS THE MOST POPULAR.

IT''S ALSO OUR DOORBELL.

I MET TOSHIKO AT CRANBROOK.

SHE LEARNED HOW TO MAKE CLOSED FORMS

AND THEN LARGE CLOSED FORMS.

[BELL RINGS]

FINALLY THE WORK IN BRONZE.

IT WAS A LIFETIME RELATIONSHIP.

LONGHOUSE IS TWO MILES FROM THE OCEAN.

IT''S 16 ACRES.

AND THAT''S REASONABLE.

IT GIVES ME THE CHANCE

TO EXPERIMENT WITH DIFFERENT KINDS OF GARDENS

AND TO MOVE THE SCULPTURE AROUND.

I LIKE THAT.

COLLECTING PLANTS IS GREAT SPORT,

AND UNLIKE BUYING A POT,

PLANTS GROW

AND THEY BLOOM

AND THEY CHANGE WITH THE SEASONS.

THE MIGHTY OAKS HERE THAT ARE 300 YEARS OLD,

WHEN THEY LOSE THEIR LEAVES, THEY REVEAL

THEIR MAGNIFICENT STRUCTURE.

AND I FIND IT ABSOLUTELY BEAUTIFUL.

I WANTED A YEAR-ROUND GARDEN

AS I HAD BEEN SO OFTEN IN JAPAN IN THE WINTER

WHEN THE GARDENS ARE JUST AS BEAUTIFUL

AS THEY ARE IN SUMMER.

SO I BEGAN SLOWLY AND EACH YEAR WOULD DO ONE MORE THING.

THAT ONE.

THEN THIS ONE.

I''M A POINTER. [LAUGHS]

I DO A LOT OF THAT.

LARSEN, VOICE-OVER: LONGHOUSE IS OPEN TO THE PUBLIC

MORE THAN HALF OF THE YEAR,

AND WE HAVE VISITORS FROM ALL OVER THE WORLD.

TOMICIC: ABOUT 15,000 VISITORS COME HERE YEAR ROUND.

THERE ARE VISITORS WHO ARE INTERESTED IN GARDENS.

THERE ARE VISITORS WHO ARE INTERESTED IN ART

THAT WE SHOW HERE.

AND THERE ARE VISITORS THAT ARE INTERESTED

IN JACK LENOR LARSEN AND HIS FABRICS

AND HIS IDEAS.

I WOULD SAY THAT THIS IS PRIMARILY ANOTHER TAPESTRY

FOR A MASTER WEAVER,

BECAUSE THIS GARDEN IS NOT A BOTANICAL GARDEN,

THIS GARDEN IS ABOUT TEXTURE, COLOR,

AND ABOVE ALL, BEING INTERESTING.

THERE ARE MANY MUSEUM HOUSES,

BUT NONE OF THEM HAVE A LIVING DONOR

KEEPING IT OPEN TO THE PUBLIC WHILE HE''S STILL ALIVE

ON THE SCALE THAT JACK LARSEN IS DOING.

LARSEN: LONGHOUSE IS MY 30th PROJECT

WITH THE SAME ARCHITECT, CHARLES FORBERG.

HE WAS AT BLACK MOUNTAIN COLLEGE

AND MIES VAN DER ROHE''S SCHOOL IN CHICAGO.

HE DID MY SHOW AT THE LOUVRE AND TWO OTHER HOUSES,

MANY SHOWROOMS.

HE WAS NOT A CONFORMIST, AN IDEAL MATCH FOR ME.

THE VERANDA IS OUR FAVORITE ROOM OF THE HOUSE.

THAT''S THE BEST VIEW IN EAST HAMPTON.

WHEN I DEPART, WE WILL CONVERT GUEST ROOMS INTO GALLERIES

AND TURN IT INTO A MUSEUM OPEN TO THE PUBLIC,

AND WE WILL CONTINUE TO COLLECT.

IT''S A GREAT JOY

TO HAVE THINGS AROUND WHICH HAVE CONNECTIONS AND MEANING.

I THINK WE HAVE A RAPPORT WITH CRAFTMAKERS.

HOW THEY THINK AND WORK AND HANDLE MATERIALS

IS MEANINGFUL TO US.

THE INTIMATE RELATIONSHIP WITH THINGS THAT ARE HANDMADE,

HANDLING THEM AND UNDERSTANDING HOW THEY WERE MADE,

WHAT THEY WERE MADE OF,

PEOPLE LIKE THAT.

I HAVE THINGS THAT ARE THOUSANDS OF YEARS OLD

AND OTHERS THAT ARE QUITE NEW,

AND THEY WORK WELL TOGETHER.

MY INTEREST IS NOT JUST FOR GOOD THINGS,

BUT TO SHOW PEOPLE SOME ALTERNATIVES

TO CONVENTION.

[WOMEN VOCALIZING]

WE''RE GONNA GO SEE THE MAGIC CITY.

GIRL: THAT WAS ONE OF THE THINGS ON MY MAP

FOR THE SCAVENGER HUNT.

LARSEN, VOICE-OVER: CHANGE INVOLVES THE NEW,

AND THERE''S SOMETHING MAGICAL ABOUT THE NEW.

UNEXPECTED COULD BE WONDERFUL.

IT CERTAINLY WOULD BE DIFFERENT.

HERE''S THE MAGIC CITY.

ISN''T IT WONDERFUL?

GIRL: MM-HMM.

LARSEN, VOICE-OVER: LET''S LOOK AT WHAT COULD BE DONE,

WHAT HASN''T BEEN DONE,

HOW TO GET AWAY FROM THE ORDINARY,

THE CONVENTIONAL, TO DISCOVER.

LET''S DO THAT EVEN IN A SMALL WAY

AND SEE WHAT WE CAN FIND.

ANNOUNCER: MAJOR FUNDING FOR "CRAFT IN AMLE BY CRAFT IN AMERICA, INC.

CAPTIONED BY THE NATIONAL CAPTIONING INSTITUTE --www.ncicap.org--

[WOMEN VOCALIZING]

ANNOUNCER: WATCH ADDITIONAL VIDEO ONLINE,

INCLUDING MORE INTERVIEWS AND ARTISTS AT WORK,

PLUS VIRTUAL EXHIBITIONS, EDUCATION GUIDES,

AND INFORMATION ON AMERICA''S LEADING ARTISTS.

VISIT "CRAFT IN AMERICA" AT PBS.ORG.

THIS EPISODE OF "CRAFT IN AMERICA"

IS AVAILABLE ON AMAZON PRIME VIDEO.