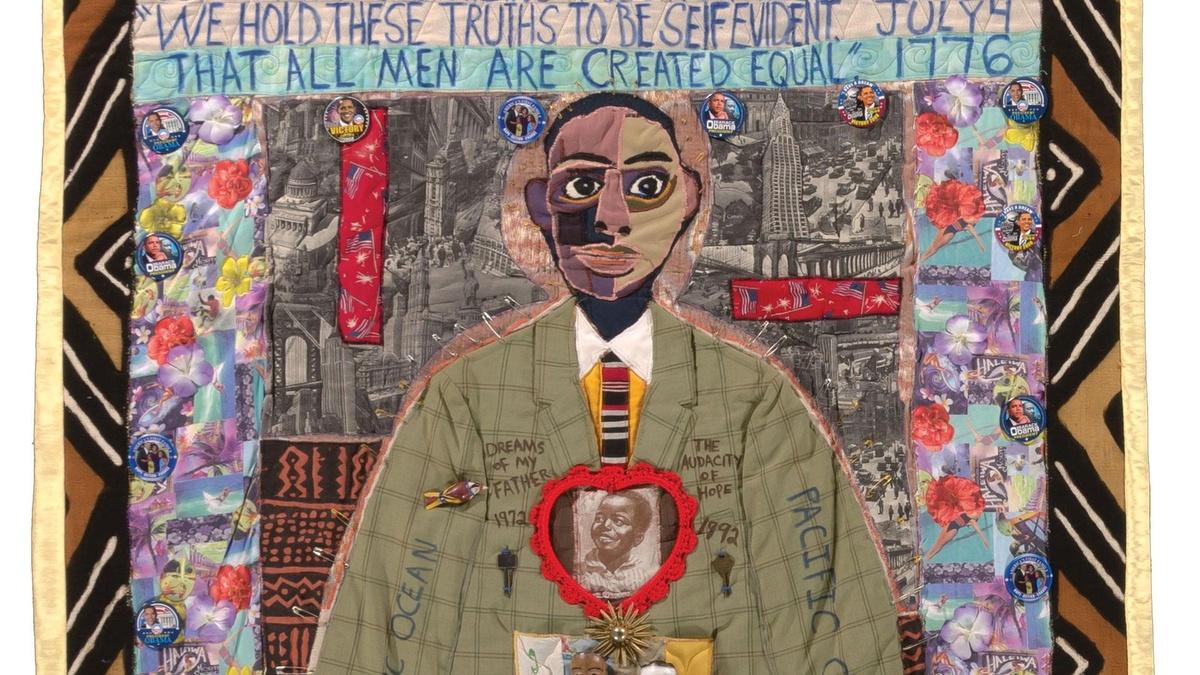 S11 E1 | FULL EPISODE
QUILTS episode
Learn about contemporary quilters from diverse traditions as we celebrate the important role quilts have played in our country's story. Featuring Susan Hudson, Victoria Findlay Wolfe, Michael A. Cummings, Judith Content, the International Quilt Museum, and special guest Ken Burns. PBS premiere December 27, 2019 (check local listings)
TRANSCRIPT

MICHAEL: I STARTED HAND-SEWING THINGS

THAT I CALLED WALL HANGINGS.

PEOPLE SAID, "OH, THOSE LOOK LIKE QUILTS,"

AND I SAID, "WHAT''S A QUILT?" HA HA!

CAROLYN: QUILTS REALLY REFLECT EVERYTHING,

FROM THE VERY, VERY PERSONAL TO THE REALLY BIG SOCIAL

AND CULTURAL MEANINGS.

KEN: FOR ME, A QUILT IS THE RECORD

OF A COUNTRY AS WRITTEN IN THE BOTTOM-UP STORY

OF SO-CALLED ORDINARY PEOPLE.

JIM: QUILTS ARE MAGIC.

THEY''RE SPECIAL. THEY CAN KEEP YOU WARM.

THEY CAN COMFORT YOU.

THEY CAN PROTECT YOU, AND THEY EVEN HEAL.

SUSAN: PEOPLE ALWAYS ASK ME,

"DON''T YOU FEEL BAD WHEN YOU GIVE THEM AWAY?"

I GO, "NO. THAT''S WHAT THEY'RE FOR."

VICTORIA: THE BEST PART OF QUILT MAKING

IS BEING ABLE TO GIVE THE QUILT TO SOMEBODY ELSE.

IT''S A HUG.

CHERYL: IT''S A WAY OF HONORING OUR VETS

AND THE SERVICE THAT THEY HAVE PROVIDED TO OUR COUNTRY.

JUDITH: EVERY TIME I GO SOMEPLACE NEW,

I SEE SOMETHING THAT I WANT TO TRANSLATE INTO CLOTH.

THE FABRICS HAVE A LIFE OF THEIR OWN,

A MIND OF THEIR OWN.

THAT''S WHAT KEEPS ME INTERESTED.

SUSAN: QUILTS ARE VERY POWERFUL.

GREAT SPIRIT CHOSE ME TO DO THIS.

I''M GONNA TELL OUR STORY.

KEN: THIS IS WHAT HUMAN BEINGS ARE REQUIRED TO DO,

TO TAKE RAW MATERIALS AND TRANSFORM THEM

INTO SOMETHING GREATER THAN THE SUM OF THEIR PARTS,

AND THAT''S WHAT A QUILT IS.

THAT''S WHAT ART IS.

MICHAEL: AND NOW I''VE SEEN QUILTS MADE WITH TWIGS

AND PAPER, AND IT''S ALL A QUILT.

IT''S A OPEN DEFINITION NOW, WHAT A QUILT IS.

CAPTIONING MADE POSSIBLE BY CRAFT IN AMERICA, INC.

ANNOUNCER: MAJOR FUNDING FOR "CRAFT IN AMERICA"

WAS PROVIDED BY CYNTHIA LOVELACE SEARS, WOMAN: THIS IS NATIONAL QUILTING DAY.

WE GET AROUND 700 PEOPLE COMING THROUGH.

I BROUGHT AN OHIO STAR. IT''S PIECED AND MACHINE-QUILTED.

I USED TO HAND-QUILT EVERYTHING I DID,

BUT I GOT OLDER AND WISER.

MAN: THAT CONTROLS THE SPEED.

IT ACTUALLY WORKS WITH A RECEIVER.

WOMAN: IT''S NOT A QUILT UNTIL IT''S 3 PIECES.

IT''S GOT TO BE THE TOP, THE BATTING, AND THE BACKING.

IT''S A SANDWICH.

CHERYL: QUILTING IS HUGE.

THERE ARE 6 TO 10 MILLION QUILTERS

IN THE U.S. ALONE.

IT''S A $3.7-BILLION-DOLLAR INDUSTRY.

PEOPLE WHO LOVE TO DO IT LOVE IT WITH A PASSION.

WOMAN: I JUST LOVE THE TEXTILES,

ALL THE DIFFERENT COLORS AND THE WAY IT FEELS IN MY HANDS.

CAROLYN: THERE''S SOMETHING ABOUT WORKING

WITH YOUR HANDS AND THAT ACCOMPLISHMENT

OF CREATING SOMETHING.

LESLIE: THE INTERNATIONAL QUILT MUSEUM

HAS THE WORLD''S LARGEST PUBLICALLY HELD COLLECTION,

ALMOST 6,000 QUILTS AND RELATED TEXTILES.

CAROLYN: THIS IS EARLY 1700s, ABOUT 1710 TO 1750,

MADE TO BE PUT OVER THE WEDDING BED ON THE WEDDING NIGHT.

LESLIE: WE USE QUILTS TO MARK SIGNIFICANT EVENTS

IN OUR LIVES.

QUILTS ARE THE EMBODIMENT OF THE MAKER.

A QUILT REFLECTS THAT PERSON, WHAT''S IMPORTANT TO THEM.

QUILTS CAN TELL US THE MAKER''S SOCIOECONOMIC STATUS,

THE TIME PERIOD.

QUILTS CAN TEACH US MATH.

QUILTS CAN TEACH US DESIGN AND COLOR.

THEY CAN TEACH US HISTORY. THEY CAN TEACH US POLITICS.

THEY CAN TEACH US ABOUT THE HUMAN STRUGGLE.

WE OFTENTIMES SAY QUILTS ARE THE TEXTILE PAGES

OF OUR SHARED HISTORY, AND THAT''S KIND OF

A BIG SENTENCE, BUT IT''S REALLY TRUE.

CAROLYN: IT JUST MAKES YOU SMILE, DOESN''T IT?

WHAT WE''VE PULLED OUT HERE TODAY IS OUR MOST FAMOUS CRAZY QUILT,

I THINK ONE OF THE MOST FAMOUS IN THE WORLD.

IT''S ACTUALLY TITLED "MY CRAZY DREAM."

THE MAKER, MRS. RICARD, EMBROIDERED THAT

ON THE QUILT WITH HER NAME.

WE ALSO HAVE THIS FABULOUS IMAGE OF MRS. RICARD HERE.

I THINK I''VE SEEN THAT ON ONE OTHER QUILT

IN ALL MY TIME THAT I''VE WORKED WITH QUILTS.

WOMAN: CRAZY QUILTS AROSE IN THE LAST QUARTER

OF THE 19th CENTURY.

CRAZY QUILTS REPRESENTED THIS BIG SHIFT IN QUILT MAKING

WHERE QUILTS CAME OUT OF THE BEDROOM AND INTO THE PARLOR.

THEY BECAME DECORATIVE OBJECTS THAT WERE INTENDED

TO BE LOOKED AT MORE THAN USED.

IT''S HARD TO OVERSTATE WHAT A PHENOMENON CRAZY QUILTS WERE.

PEOPLE WOULD WRITE LETTERS TO THE EDITOR

ANGRY ABOUT WOMEN AND THEIR INSATIABLE LUST FOR FABRIC

AND HOW IT NEEDED TO BE STOPPED.

TAILORS HAD TO STOP GIVING OUT SAMPLES

BECAUSE WOMEN WOULD NEVER COME BACK TO BUY ACTUAL FABRIC.

THERE WERE POEMS AND SONGS WRITTEN ABOUT CRAZY QUILTS.

I DON''T THINK ANYTHING LIKE THAT HAS HAPPENED IN QUILTING SINCE.

CAROLYN: IT''S DATED OVER A 35-YEAR SPAN.

THE REAL IRONY IS THAT IT''S NOT FINISHED.

IT''S ACTUALLY NOT BACKED.

WHEN WE TALK ABOUT, YOU KNOW, YOUR HIGH-END,

"TYPICAL" CRAZY QUILT ELEMENTS, THIS HAS IT.

YOU SEE THE FANS IN THE 4 CORNERS,

THE SPIDER WEB WITH FULL SPIDER

AND THE FLY, 3-DIMENSIONAL FORMS ON THERE,

ALL OF THE DIFFERENT IMAGERY,

AND THEN EVERY SINGLE PIECE OF FABRIC,

SHE WENT BACK AND ADDED MORE STITCHING TO IT.

IT''S LIKE SHE JUST COULDN''T QUIT.

THE CRAZY QUILT PHENOMENON WAS REALLY HUGE BECAUSE IT WAS

THE FIRST THAT WAS REALLY PROMOTED IN WOMEN''S MAGAZINES,

AND THEY WOULD SHOW QUILTS AND INSPIRE PEOPLE.

THE STYLES THAT WE SEE BECAME MUCH MORE WIDESPREAD.

EARLY ON, WHAT WE SAW WERE REGIONAL STYLES,

SO YOU WOULD MAKE SOMETHING LIKE YOU SAW YOUR NEIGHBOR MAKE

THAT YOU LOVE.

PEOPLE WERE LEARNING BY SEEING EACH OTHER''S QUILTS.

WHAT WE SEE HERE IN THE MIDWEST--

ESPECIALLY WITH THE OGLALA, SIOUX, OR LAKOTA TRIBE--

IS THIS ADAPTATION OF WHAT WE WOULD CALL THE BLAZING STAR

OR STAR OF BETHLEHEM PATTERN.

THAT STAR QUILT HAS BECOME A HUGELY IMPORTANT PART

OF THE LAKOTA GIVEAWAY CEREMONIES.

NATIVE AMERICANS FOUND A WAY TO MAKE THAT STYLE THEIR OWN.

SUSAN: THIS QUILT IS HONORING MY GRANDFATHER''S

29 ORIGINAL CODE TALKERS.

DURING THE WAR, THE CODE TALKERS WERE SAVING THE WORLD,

SAVING PEOPLE''S LIVES

BY SPEAKING OUR BEAUTIFUL NAVAJO LANGUAGE.

I''M FROM SHEEP SPRINGS, NEW MEXICO, NAVAJO RESERVATION.

I WENT TO THE NATIONAL MUSEUM OF AMERICAN INDIANS IN DC,

AND I WAS TALKING ABOUT MY QUILTS,

AND THIS GUY GOES,

"WHAT''S A NAVAJO DOING MAKING STAR QUILTS?

THAT''S JUST LAKOTAS."

PEOPLE ASSOCIATE QUILTS WITH A CERTAIN TRIBE OR CERTAIN AREA.

ME BEING NAVAJO, THEY THINK I SHOULD BE WEAVING,

DOING BASKETS, POTTERY, AND JEWELRY.

WELL, I CAN QUILT.

IN THE TRADITIONAL NAVAJO WAY, THE ONLY ONE THAT''S PERFECT

IS THE GREAT SPIRIT AND THE SPIRIT HELPERS,

AND SO I DO MAKE A LOT OF MISTAKES,

BUT I TRY TO MAKE IT AS CLOSE AS POSSIBLE.

I JUST LIKE THAT.

IT JUST HAS TO LOOK A CERTAIN WAY,

OR IT JUST DRIVES ME CRAZY.

I STARTED SEWING WHEN I WAS AROUND 9 YEARS OLD

BECAUSE WE WERE REALLY POOR.

MY MOTHER IS THE ONE THAT TAUGHT ME HOW TO SEW.

AS I WOULD BE SEWING AND STUFF, IF SOMETHING WAS WRONG,

SHE WOULD SLAP MY HAND, AND I NEVER KNEW WHY.

THEN I FOUND OUT MY MOTHER HAD WENT TO THE BOARDING SCHOOL,

AND I REALIZED THAT SHE WAS HIT

IF SHE DIDN''T SEW IN A PERFECT WAY,

SO THAT STARTED MAKING SENSE TO ME.

I ALWAYS REMEMBER WHAT SHE WENT THROUGH SO I CAN BE HERE.

EVER SINCE I WAS LITTLE, I JUST HAD THESE DREAMS,

AND IT''S JUST LIKE IN THE OLD DAYS,

THOSE PENNY MACHINES.

YOU PUT YOUR PENNY IN THERE, AND YOU JUST CAN WIND IT,

AND YOU SEE THE MOVIE.

WELL, SOMETIMES IT CLICK, CLICK, CLICK, CLICK, CLICK,

AND I''LL SEE PICTURES, AND THEN ONE''LL STOP,

AND IF IT''S A GOOD ONE, IT GOES DOWN HERE LIKE IN A FILE.

IF NOT IT''LL KEEP GOING THIS WAY.

SOMETIMES THESE DREAMS, THEY''RE REALLY, REALLY DRAMATIC.

IT''S JUST LIKE MY ANCESTORS TELLING ME THE STORIES

AND WHAT THEY WENT THROUGH.

SOMETIMES I JUST WAKE UP CRYING,

AND THEN I''LL JUST START PRAYING,

AND IT''LL BE A PROCESS LIKE THAT,

AND WHEN I''VE CRIED MAYBE 4 TIMES,

I KNOW I''M GONNA MAKE THAT.

WHEN I HAD MY KIDS, WELL, OF COURSE, THEY NEEDED SHOES.

THEY NEEDED THIS.

I REALIZED THAT PEOPLE LIKE STAR QUILTS

AND THEY WANTED THEM AND I CAN SELL THEM.

SENATOR BEN NIGHTHORSE CAMPBELL, HE WOULD HAVE GIVEAWAYS,

SO I WOULD SELL HIM MY STAR QUILTS,

AND THEN ONE DAY, SENATOR CAMPBELL GOES,

"YOU KNOW, YOUR STUFF''S KIND OF BORING."

I WAS LIKE, "OK," AND WAS, YOU KNOW--

I''M LIKE, "OH," YOU KNOW, SO WE STARTED TALKING,

AND HE SAYS, "WELL, WHAT KIND OF ART FORM DO YOU LIKE?"

AND I TOLD HIM I LIKED LEDGER ART.

I WAS FASCINATED WITH THE STORY.

IT WASN''T JUST THE PLAINS INDIANS.

IT WAS MY TRIBE, TOO.

WHEN THEY PUT US ON THE RESERVATIONS,

THE INDIAN AGENTS WOULD COME.

THEY WOULD GET LEDGERS, AND THEY WOULD DRAW IN IT,

AND THEY WERE TELLING STORIES.

THAT WAS WHAT YOU USED.

HE SAYS, "WELL, DO SOMETHING LIKE THAT,"

AND SO THAT''S HOW I STARTED TO MAKE LEDGER QUILTS.

THIS IS BASICALLY MY FAMILY''S STORY

ALL THE WAY FROM NARBONA ALL THE WAY DOWN

TO MY 3-TIMES-GREAT-GRANDMOTHERS,

MY GREAT-GRANDFATHER, MY GREAT-GRANDMOTHER,

MY GRANDPARENTS, MY MOTHER,

AND IT''S TO HONOR ALL THE WOMEN IN THE WORLD,

THIS SIDE AND THE OTHER SIDE, FOR THE STRENGTH THAT THEY HAVE.

HEY, SISTERS, WHAT YOU GUYS DOING?

WOMAN: WE''RE SEWING.

WE''RE DOING A BABY QUILT.

SUSAN: WHO DID THE BINDING AND BACKING?

- I DID. - ME AND HER.

SUSAN: GOOD. THIS IS BEAUTIFUL.

KEVIN: HA HA HA!

YOU KNOW, AS NAVAJOS, WE USE FOOD AS MEDICINE,

SO, YOU KNOW, IT BRINGS THE COMMUNITY TOGETHER,

BRINGS OUR FAMILY TOGETHER, AND WE ALSO GET TO LEARN.

YOU KNOW, EVERY TIME, THERE''S SOMETHING NEW.

THERE''S SOMEBODY TEACHING YOU SOMETHING.

WOMAN: [SPEAKS NAVAJO]

SUSAN: MY CLAN IS KINYAA''AANII.

THAT MEANS TOWERING HOUSE.

WHEN CHANGING WOMAN CAME, SHE MADE 4 MAJOR CLANS,

AND KINYAA''AANII WAS ONE OF THEM.

- SHE''S OUR MATRIARCH. - RIGHT.

SUSAN: THE NAVAJO WAY IS,

YOU ARE WHO YOUR MOTHER IS.

THAT''S HOW WE GET OUR CLANS.

WOMAN: [SPEAKING NAVAJO]

KEVIN: SO SHE SAYS THAT HER GRANDMA

WAS TOWERING HOUSE, KINYAA''AANII,

AND SHE SAID, "SO THAT''S WHAT I AM,

"AND, OF COURSE, SO ARE YOU," SHE SAYS.

HA HA HA!

NOT TOO FAR FROM HERE JUST ALONG THE RIDGE SHE WAS BORN,

AND SHE SAYS THERE''S STILL SOME RUINS AND STUFF

FROM WHERE THEY LIVED, AND NOW SHE LIVES HERE.

MARY ANN: [SPEAKS NAVAJO]

SUSAN: THIS ONE?

KEVIN: HER MOM HAD 16 KIDS.

THEY HAVE ALL GONE HOME,

AND SHE''S THE ONLY ONE THAT''S STILL HERE.

SHE SAYS SHE LEARNED WEAVING FROM HER MOTHER AND HER AUNTS,

AND SHE SAID WHEN SHE FIRST STARTED,

HER WEAVING WOULD BE KIND OF CROOKED,

AND THEN NOW SHE DOES IT REALLY GOOD.

SHE SAYS SHE COULD SELL HER RUGS ANYWHERE TOWARDS THE EAST,

TO THE SOUTH, TO THE NORTH, BUT, SHE SAYS,

SHE TAKES IT TO THE TRADING POST.

[SPEAKING NAVAJO]

MARY ANN: HA HA!

[BOTH LAUGH]

- I MADE THAT ONE. - YOU MADE THAT ONE?

- YEAH. - THAT ONE''S CUTE.

SUSAN: WHEN I FIRST STARTED QUILTING,

IT WAS MORE SURVIVAL.

AS I STARTED DOING THE LEDGER QUILTS,

THAT''S WHEN I STARTED BECOMING AN ACTIVIST.

MAN: [CHANTING]

SUSAN: WHAT I WANTED TO DO

WAS TO TELL OUR STORY, TELL MY STORY,

TELL MY MOTHER''S STORY, TELL MY GRANDMOTHER''S STORY.

[CHANTING CONTINUES]

SUSAN: THIS IS THE LONG WALK OF THE NAVAJOS.

I''M SHOWING HOW MUCH POWER THE SOLDIERS HAD.

THE SOLDIERS COULD DETERMINE WHO WAS GONNA LIVE,

WHO WAS GONNA DIE, WHO WAS GONNA EAT,

WHO WAS GONNA GET MEDICAL ATTENTION,

WHO THEY WERE GONNA SELL.

[CHANTING CONTINUES]

SUSAN: WE''RE A MATRIARCH SYSTEM,

BUT THE GOVERNMENT, THEY DIDN''T WANT TO DEAL WITH THE WOMEN,

SO THEY EMPOWERED THE MEN, SO WHAT I''M SHOWING

IS THE MEN SIGNING THE TREATY, AND WHEN THEY DID THAT,

THE OLD WAYS WERE GONE FOREVER.

I CAN''T NEVER, NEVER IN MY LIFE IMAGINE WHAT THEY WENT THROUGH,

NEVER.

[CHANTING CONTINUES]

MY AGREEMENTS WITH EVERY MUSEUM IS THAT IF MY CHILDREN,

MY GRANDCHILDREN, MY DESCENDANTS

WANT TO SEE THE QUILT, THAT THEY OPEN THE DOOR

TO LET THEM IN BECAUSE THIS IS THEIR LEGACY, TOO.

KEVIN: [SPEAKS NAVAJO]

SHE WANTS TO GIVE THIS TO YOU.

- YEAH. - OH.

KEVIN: [SPEAKS NAVAJO]

SUSAN: PEOPLE ALWAYS ASK ME,

"DON''T YOU FEEL BAD WHEN YOU GIVE THEM AWAY?"

GLORIA JEAN: [SPEAKS NAVAJO]

- AH. - OH.

SUSAN: I GO, "NO. THAT''S WHAT THEY'RE FOR.

THEY''RE STORIES."

I''M LIKE, "I MADE THEM FOR A REASON.

"THEY''RE GONNA GO SOMEPLACE AND GO TO THE RIGHT PLACE,

AND THEY''RE GOING TO BE SHOWN, AND THE STORY''S GONNA GO ON."

GLORIA JEAN: [SNIFFLES]

[SOBS]

SUSAN: MY DESCENDANTS, I WANT THEM

TO BE PROUD OF WHO THEY ARE,

TO BE PROUD OF BEING KINYAA''AANII,

TO BE PROUD OF BEING DINE.

I WANT THEM TO KNOW THAT I CARED ENOUGH ABOUT THEM

TO KEEP THE STORY GOING.

JAIME: WHEN QUILTS COME BACK FROM EXHIBIT,

THEY ARE ISOLATED FOR A PERIOD OF TWO WEEKS.

VACUUMING IS THE ONLY MECHANICAL CLEANING

THAT WE DO HERE AT THE MUSEUM.

IT REMOVES ALL DUST.

IT LOOKS LIKE A MINOR TASK,

BUT IT''S ACTUALLY VERY IMPORTANT.

DUST ON A MICROSCOPIC LEVEL WILL EVENTUALLY CUT

AND BREAK THE FIBERS IN TEXTILES.

WE NEVER WASH A QUILT EVER.

IF IT COMES IN WITH A STAIN, THE STAIN REMAINS ON THE QUILT.

JIM: WHEN YOU VOLUNTEER HERE,

YOU GET TO SEE EVERYTHING.

YOU GET TO TOUCH EVERYTHING.

EVERY QUILT HAS TO BE REFOLDED AT LEAST ONCE EVERY TWO YEARS,

SO EVERY YEAR, WE''VE GOT TO REFOLD OVER 3,000 QUILTS.

THIS IS A SPECIAL QUILT.

IT CAME IN TO THE MUSEUM JUST AS A TOP.

THEY''VE DATED IT BACK TO ABOUT THE 1880s.

THEY WANTED TO QUILT IT UP

SO IT CAN GO ON EXHIBIT IN PLACES.

IT''S NOT A COLLECTORS QUILT.

THERE ARE STAINS THAT WERE ON THE SHIRTS

BEFORE THE QUILTER CUT THEM UP AND USED THEM,

AND IT IS JUST BASIC SHIRTING FABRIC,

BUT TO ME, IT''S AN ICONIC QUILT.

IT REPRESENT PROBABLY 95% OF THE QUILTS MADE

WEST OF THE MISSOURI IN THE LAST HALF

OF THE 19th CENTURY.

THE QUILTERS WERE IN PLACES WHERE THEY COULDN''T BUY FABRIC.

THEY COULD ONLY USE WHAT THEY HAD,

AND THEY DIDN''T HAVE A LOT, BUT WHEN SHE SAT DOWN

TO MAKE THIS, SHE COULDN''T HELP HERSELF.

SHE HAD THAT CREATIVITY, AND SHE POURED IT INTO THIS THING.

THESE NONBLUES ARE NOT PLACED RANDOMLY.

SHE PUTS THEM SO WHEN YOU STEP BACK FROM IT,

THEY DISAPPEAR, AND WHAT YOU GET

IS A DEPTH OF BLUE AND WHITE YOU WOULDN''T GET

IF IT WAS JUST BLUE AND WHITE, AND WHEN SHE CUT THEM UP,

SHE MADE SURE THAT THE LINES IN THE FABRIC--

SHE MARKED THEM AND CUT THEM SO THEY WERE RIGHT--

THEY WERE PLEASING ALL THE WAY AROUND--

SO YOU TAKE ONLY WHAT YOU''VE GOT,

AND YOU PUT THAT CREATIVITY INTO IT,

EVEN THOUGH IT''S JUST A UTILITY QUILT,

AND YOU GET SOMETHING THAT IS JUST ABSOLUTELY REMARKABLE.

WHEN A QUILTER PUTS THEMSELVES INTO THIS,

SOMEHOW THAT QUILT STILL HOLDS ON TO THEIR SPIRIT,

THEIR MOJO.

IT''S STILL IN HERE.

VICTORIA: THERE''S SORT OF THE ART QUILTERS,

TRADITIONAL QUILTERS, AND MODERN QUILTERS.

I LIKE TO JUST SAY I''M A QUILTER

BECAUSE I TEND TO MAKE ALL OF THOSE THINGS.

EVERY TIME I''M MAKING A QUILT, I''M TRYING TO MAKE A QUILT

THAT YOU WOULDN''T NECESSARILY SAY THAT I MADE.

I WANT IT TO LOOK DIFFERENT THAN THE LAST THING.

I DON''T ALWAYS KNOW THAT I ACHIEVE THAT,

BUT IT''S A GOAL THAT I''M ALWAYS LOOKING FOR

WHEN I''M MAKING A QUILT.

MY NAME IS VICTORIA FINDLAY WOLFE,

AND WE ARE HERE IN NEW YORK CITY.

LIVING IN NEW YORK CITY IN THE GARMENT CENTER

CERTAINLY GIVES ME ACCESS TO MANY DIFFERENT KINDS OF FABRICS,

SO WHETHER I''M USING LINENS OR UPHOLSTERY FABRICS--

I''VE USED VINYLS IN MY QUILTS-- I''M NOT A FABRIC SNOB.

I BUY IT ALL, DEPENDS ON WHAT STORY IT IS I''M TELLING

AND WHAT FABRIC IS GONNA BEST TELL THAT STORY.

ALL OF MY QUILTS ARE ACTUALLY DESIGNED ON A WALL--

NOT ON PAPER, NOT ON THE COMPUTER--

DOING EVERYTHING ON A DESIGN WALL

VERY MUCH THE WAY THAT I WOULD PUSH PAINT AROUND ON A CANVAS.

MY DESIGN WALLS ARE QUILT BATTING.

EVERYTHING STICKS TO IT REALLY NICELY

SO THAT I CAN PICK STUFF UP AND PUT IT RIGHT BACK UP THERE,

AND I DON''T HAVE TO PIN EVERYTHING.

IF I DECIDE I DON''T WANT THAT RED THERE,

I CAN PEEL IT OFF AND PUT A DIFFERENT COLOR

RIGHT BACK UP ONTO MY DESIGN WALL,

BUT FOR THE MOMENT, I REALLY LIKE THAT RED THERE,

SO IT''S GONNA STAY.

HA!

I''LL GRAB A PILE OF FABRIC THAT LOOKS INTERESTING

OR A COLOR PALETTE THAT LOOKS INTERESTING,

AND I WILL JUST TRY TO MAKE IT WORK.

I ALWAYS CALL MY QUILTS IMPROVISATIONAL.

I REALLY HAVE NO IDEA WHAT IT''S GONNA LOOK LIKE AHEAD OF TIME.

THIS IS WHEN I''M PLAYING.

THIS IS THE PART OF THE PROCESS THAT ONCE I GET

THOSE GOOSEBUMPS, THEN I''LL KNOW I''M ON THE RIGHT TRACK.

I PROBABLY GO THROUGH A THOUSAND PHOTOS PER QUILT.

MY BRAIN''S GOING, "OH, I KNOW WHAT WE''RE DOING.

WE''RE DOING A DOUBLE WEDDING RING,"

BUT SOON AS I STEP BACK AND I TAKE A PICTURE OF SOMETHING,

I''LL SEE WHERE COLORS ARE MAKING A CONNECTION

OR A LINE CONTINUES, YOU KNOW, HOW I''M STRETCHING

WHAT''S HAPPENING HERE TO GET ALL THE WAY ACROSS THE QUILT.

I''M KEEPING THE BONES OF A TRADITIONAL PATTERN

BUT REALLY JUST TRYING TO TELL A DIFFERENT STORY.

BECAUSE THIS IS NOT A TRADITIONAL DOUBLE WEDDING RING,

IT DOESN''T FOLLOW A CERTAIN PATH.

I LITERALLY HAVE TO TAKE EACH OF THE UNITS

OFF THE WALL AS I''M GOING TO SEW THEM

AND PUT THEM RIGHT BACK BECAUSE,

ESPECIALLY IF I''VE GOT A THOUSAND PHOTOS,

I''LL GET TOTALLY LOST.

I''M NOT COMMITTED TO ANYTHING UNTIL A SEW IT.

ULTIMATELY, ONCE THE WHOLE QUILT TOP IS COMPLETE,

IT''S STILL FAIR GAME.

I COULD STILL CUT IT APART AND TURN IT INTO SOMETHING ELSE

BECAUSE JUST BECAUSE IT''S A DOUBLE WEDDING RING

DOESN''T MEAN IT HAS TO STAY A DOUBLE WEDDING RING.

THIS QUILT, IT''S DEFINITELY REVISITING

MY FIRST DOUBLE-WEDDING-RING QUILT,

WHICH WAS "DOUBLE-EDGED LOVE."

THE "DOUBLE-EDGED LOVE" QUILT HAPPENED BECAUSE I HAD MADE

A QUILT TOP AND THEN DIDN''T LIKE THE QUILT TOP,

AND I CUT THE WHOLE QUILT TOP UP AND THEN PUT EVERYTHING

ON MY DESIGN WALL, AND WHAT I WAS STRUCK WITH

WAS THE NEGATIVE SPACE THAT WAS HAPPENING.

I WENT TO ART SCHOOL AS A PAINTER

AND HAVE A FINE-ART-DEGREE BACKGROUND.

I DID MAKE SOME QUILTS WHEN I WAS IN COLLEGE.

AFTER THE FIRST ONE THAT I MADE, ONE OF MY TEACHERS

KIND OF PULLED ME OUT INTO THE HALLWAY AND SAID,

"YOU KNOW, IS THAT CRAFT? IS THAT ART?

DOES IT BELONG IN ART SCHOOL?"

SO I WENT, AND I MADE ANOTHER ONE

BECAUSE WHY WOULDN''T I, RIGHT?

IT BECAME THIS BIG DISCUSSION ABOUT WHETHER TEXTILES

HAD A PLACE IN ART SCHOOL.

I DIDN''T SEE THE DIFFERENCE.

I FIGURE IF I''M PUTTING SOMETHING TOGETHER

AND MAKING IT, I SEE THAT AS ART.

- HI. HOW ARE YOU DOING TODAY? - HI.

VICTORIA: WHAT I''M KNOWN FOR IS MAKING QUILTS

THAT LOOK REALLY HARD AND THEN BEING ABLE TO TEACH THEM

AND SHOW QUILTERS THAT THEY''RE ACTUALLY NOT THAT HARD.

WOMAN: SO YOU SEW IT TOGETHER IN DIAGONALS.

VICTORIA: I DESIGN PATTERNS AND TEMPLATES.

I ALSO DESIGN THE FABRICS, AND I LOVE GOING AROUND

TALKING ABOUT QUILTS AND HOPEFULLY GIVING

SOME INSPIRATION SO PEOPLE CAN MAKE THEIR OWN STORY

BECAUSE I THINK THAT''S WHAT''S REALLY SPECIAL

ABOUT QUILT MAKING, IS TELLING STORIES.

THIS QUILT WAS MADE BY MY GRANDMOTHER ELDA WOLFE.

MY MOM AND HER SISTERS WOULD CUT APART

ALL THOSE POLYESTER CLOTHES FROM THE SEVENTIES

AND PUT THEM IN A BAG, AND SHE WOULD TAKE THOSE PIECES OUT,

AND SHE WOULD LAY THOSE ON THE SHEET IN FRONT OF HER

AND WORK HER WAY FROM THE INSIDE TO THE OUTSIDE

JUST PUZZLING THOSE PIECES OF FABRIC

AND THEN HAND-STITCHING THOSE DOWN.

THE BEST PART ABOUT A QUILT LIKE THAT, THOUGH,

IS THAT I CAN RECOGNIZE MOST OF THOSE FABRICS.

YOU KNOW, YOU MAKE THE SAME SHIRT

FOR EVERYBODY IN THE FAMILY, INCLUDING THE DAUGHTER.

MINE GOT A RUFFLE ON IT.

THAT WAS ABOUT AS GOOD AS IT GOT. YEAH.

THERE''S MANY A PHOTO OF ALL OF US STANDING THERE

AT CHRISTMASTIME WITH ALL OF OUR MATCHING SHIRTS ON.

VICTORIA: I GREW UP IN CENTRAL MINNESOTA.

EVERYBODY AROUND ME WAS STITCHING AT SOME POINT.

MY FATHER HAD AN UPHOLSTERY BUSINESS ON THE FARM.

MY MOTHER WAS SEWING WINTER CLOTHES AND STUFF.

THE BEST PART, THOUGH, I THINK,

WAS SLEEPING UNDER MY GRANDMOTHER''S QUILTS

BECAUSE SHE WAS THE ONE WHO WAS A QUILTER.

WE DIDN''T HAVE HEAT OR TELEPHONES,

AND I LIKE TO TELL PEOPLE THAT THAT WAS THE SEVENTIES,

NOT THE 1870s.

WE WOULD BE VERY HAPPY TO BE SLEEPING

UNDER MY GRANDMOTHER''S DOUBLE-KNIT POLYESTER QUILTS

BECAUSE WHEN IT''S 40 BELOW IN MINNESOTA,

YOU CAN STILL SWEAT UNDER SOME DOUBLE-KNIT POLYESTER.

MY GRANDMOTHER''S QUILTS ARE LOOSELY BASED

ON A CRAZY-QUILT CONCEPT.

SHE WOULD ALWAYS BE WORKING ON THESE THINGS FLAT,

AND SHE DIDN''T REALLY HAVE A CLEAR VISUAL

OF WHAT THEY WOULD LOOK LIKE WHEN THEY''RE FINISHED,

BUT IT KIND OF DOESN''T MATTER BECAUSE THE COLORS

ARE SO VIBRANT AND FANTASTIC.

I EVEN NOTICED HERE, SHE ACTUALLY FUSSY-CUT

A LITTLE FLOWER AND STITCHED IT RIGHT ON TOP OF THAT YELLOW.

BET THERE''S A HOLE IN THAT YELLOW THERE SOMEWHERE.

YOU MAKE IT WORK.

THAT''S WHAT I LIKE ABOUT THESE QUILTS.

PRIOR TO HAVING A CHILD, I WOULD SPEND 12 HOURS A DAY

WORKING AWAY, BUT WHEN YOU HAVE A BABY,

I''D ONLY GET MAYBE 15 MINUTES FOR MYSELF,

AND I WOULD GO TO MY SEWING MACHINE,

AND I''D START SEWING SCRAPS TOGETHER

VERY MUCH TO LOOK LIKE MY GRANDMOTHER''S QUILTS

BECAUSE THAT WAS WHAT I WAS AWARE OF,

AND THAT SET ME ON THIS WHOLE JOURNEY

OF SORT OF RECONNECTING WITH MY ROOTS,

AND I THINK THAT''S WHAT A LOT OF MY WORK IS ABOUT,

FOCUSING THAT ATTENTION ON MY TRADITIONAL BACKGROUND

AND THE TRADITION OF QUILTS AND TELLING THAT STORY

THROUGH THE MORE MODERN VERSION OR ART VERSION OF QUILTS

THAT I''M MAKING NOW.

THIS IS A LONG ARM QUILTING MACHINE.

WHAT WE''RE DOING WITH THIS IS, WE''RE PULLING THE MACHINE

ACROSS THE QUILT AND DOING THE QUILTING.

ON A HOME MACHINE, YOU WOULD BE MOVING THE QUILT

UNDERNEATH THE NEEDLE, BUT THIS TIME,

I''M DRIVING THE MACHINE WITH THE NEEDLE OVER THE QUILT.

THERE''S ALSO COMPUTER SYSTEMS, SO I CAN DO SPECIAL DESIGNS

IF I WANT TO, OR I CAN DO IT FREE MOTION

JUST BY DRIVING THE MACHINE AND MAKING IT STITCH

WHEREVER I WANT IT TO.

THIS PARTICULAR PIECE IS ACTUALLY AN EXHIBIT QUILT

OF MINE, SO MEANING I WOULD HAVE PIECED EVERYTHING,

QUILTED EVERYTHING, SO THIS IS WHY THIS QUILT

IS ON MY FRAME AND I''LL BE DOING THIS ONE MYSELF.

MOST OF MY EARLY QUILTS ARE DONE ON THE HOME MACHINE,

WHICH IS WHERE I''M THE MOST COMFORTABLE,

SO IT PAYS TO HAVE A BEST FRIEND WHO''S A LONG ARMER.

WE THOUGHT YOU MIGHT WANT TO SEE THE BACK OF THIS QUILT.

HA HA HA!

SO I DON''T QUILT ALL OF MY QUILTS ANYMORE MYSELF.

MY BEST FRIEND SHELLY PAGLIAI IS A LONG ARM QUILTER,

AND WE DO A LOT OF COLLABORATION WORK TOGETHER,

SO WE HAVE BIG CONVERSATIONS ABOUT WHAT''S GONNA GO

ON THE QUILT AND SOMETIMES NOT AT ALL.

I KNOW. THE QUILTING ON THIS ONE''S FABULOUS, RIGHT?

CREATIVITY INVOLVES RISK, SO IF YOU DON''T TAKE THAT RISK,

IT''S HARD TO FIND SOMETHING NEW.

THAT''S THE-- THERE''S THE GOOSEBUMPS AGAIN.

THAT''S THE THING THAT I''M LOOKING FOR.

I CALL QUILTING AN EXTREME SPORT.

PEOPLE JUMP OFF A CLIFF BECAUSE THEY GET A RUSH.

I KIND OF GET A PHYSICAL RUSH WHEN I''M CREATING SOMETHING.

IF I''M NOT GETTING THAT, THEN I KEEP LOOKING FOR IT,

AND I''LL KEEP GOING UNTIL I GET THAT.

CHERYL: EVERY YEAR, THE QUILTS OF VALOR FOUNDATION

HAS A NATIONAL SEW DAY.

THE INTERNATIONAL QUILT MUSEUM HERE IN LINCOLN

PROVIDE THE SPACE FOR US TO BE A PART OF THIS DAY.

WE HERE IN LINCOLN AWARD MOST OF OUR QUILTS OF VALOR

AT OUR LOCAL VETS CENTER.

WOMAN: THE FOUNDATION WAS STARTED IN 2003,

AND WE HAVE AWARDED

212,000 QUILTS OF VALOR ACROSS THE COUNTRY.

OUR GOAL THIS YEAR IS TO REACH 300,000.

CHERYL: I MYSELF HAVE MADE 60 QUILTS.

IT''S ALWAYS A SPECIAL MOMENT BECAUSE IT MEANS

I''M GONNA TEAR UP, BUT IT''S A SPECIAL MOMENT

BECAUSE IT MEANS SO MUCH TO OUR VETS.

IT''S A WAY OF HONORING OUR VETS AND THE SERVICE

THAT THEY HAVE PROVIDED TO OUR COUNTRY.

KEN: THE GIFT OF A QUILT IS AN AMAZING THING.

IT IS A TRANSCENDENT THING. IT''S NOT LIKE AN OBJECT.

IT''S ABOUT GIVING SOMETHING MUCH MORE THAN THAT,

AND IT''S ART, OF COURSE, BUT IT''S ALSO MEMORY

AND HISTORY AND SO MUCH WORK.

SO MANY HUNDREDS, IF NOT THOUSANDS, OF HOURS

HAVE GONE INTO THE MAKING OF A QUILT

THAT IT HAS A KIND OF, TO ME, PRICELESS NATURE TO IT.

LESLIE: MOST COLLECTORS TEND TO COLLECT

QUILTS IN SPECIFIC GENRES.

KEN BURNS CHOOSES QUILTS FOR HIS COLLECTION

ON THE BASIS OF WHETHER OR NOT THEY SPEAK TO HIM,

SO IT''S HIS PERSONALITY.

IT''S HIS INTERESTS.

IT''S HIS LOVE OF AMERICA AND HISTORY.

YOU CAN SEE ALL OF THOSE PASSIONS REFLECTED BACK

IN HIS COLLECTION.

KEN: I SPEND MY ENTIRE PROFESSIONAL LIFE

TRYING TO WRESTLE COMPLEX STORIES TO THE GROUND.

THERE''S SOMETHING INCREDIBLY LIBERATING ABOUT BEING DRAWN

TO A QUILT JUST FOR ITS ISNESS...

BUT I''M NOT COLLECTING THEM BECAUSE THEY SPEAK PARTICULARLY

TO A HISTORICAL PERIOD OR PARTICULAR FADS

OR STYLES IN QUILT MAKING, BUT BECAUSE THE QUILT

THAT WAS COMPLETED IS A WORK OF ART TO ME.

CAROLYN: THE COLLECTOR IS HUGELY IMPORTANT.

THEY REALLY ARE GENEROUS WITH THEIR COLLECTIONS

BECAUSE WHAT THEY WANT IS TO SEE THOSE QUILTS PRESERVED AND SAVED

BECAUSE THEY KNOW THAT THAT''S SUCH AN IMPORTANT RECORD

OF OUR HISTORY.

KEN: I HATE TO SAY OWN.

I DON''T FEEL LIKE I''M OWNING THEM

AS MUCH AS I''M SORT OF PROTECTING THEM.

I FIND MYSELF REALLY DRAWN TO THE HISTORICAL NATURE OF THEM,

TO THE HIDDEN STORIES THAT THEY SEEM TO SUGGEST,

AN ALMOST ANONYMOUS ART FORM, AND THAT IT''S WOMEN'S WORK.

WE TEND TO MARGINALIZE THE WORK OF WOMEN,

AND I FIND THAT A COMPLETELY FOOLISH LOSS.

WE MISS OUT ON A HUGE PART

OF OUR CITIZENS'' EXPRESSIONS OF THEMSELVES--

THEIR LIVES, THEIR INTERESTS, THEIR ART.

I THINK THAT IN TEXTILES IS A KIND OF DNA OF A CULTURE,

AND I CERTAINLY FEEL THAT IN THE CASE OF AMERICAN QUILTS,

THAT IT IS A KIND OF WONDERFUL MIX OF STYLES AND DESIGNS

AND COLORS AND PEOPLES WHO ARE NEGOTIATING

SOMETIMES, YOU KNOW, HARD LIVES IN MOSTLY RURAL AMERICA,

AND THE BY-PRODUCT IS, TO ME, SO JOYOUS.

I THINK THAT THIS IS THE RECORD OF A COUNTRY AS WRITTEN

NOT JUST IN THE SEQUENCE OF PRESIDENTIAL ADMINISTRATIONS

PUNCTUATED BY WARS, BUT, IN FACT,

IN THE BOTTOM-UP STORY OF SO-CALLED ORDINARY PEOPLE.

FOR ME, A QUILT IS VERY MUCH THAT EXPRESSION

OF WHO WE ARE IN THE BEST KIND OF WAY.

MICHAEL: I THOUGHT, "WHAT CAN I DO IN MY QUILTS

"TO SHOW MY EXCITEMENT ABOUT OUR FIRST

AFRICAN AMERICAN PRESIDENT?"

I INCORPORATED BOTH SIDES OF HIS HISTORY,

SO I HAVE AFRICAN FABRIC. I HAVE HAWAIIAN FABRIC.

I SURROUNDED HIS IMAGE ON THE QUILT WITH SAFETY PINS

SO AS TO PROTECT HIM, AND THEN I PUT KEYS

FOR KNOWLEDGE TO OPEN THE DOORS, A LOT OF SYMBOLS THERE.

THE BROOKLYN MUSEUM HAS ONE, AND ALSO THE TEXTILE MUSEUM

IN LINCOLN, NEBRASKA, HAS ONE.

MY NAME IS MICHAEL ARTHUR CUMMINGS,

AND WE ARE IN NEW YORK CITY.

THE SECTION OF MANHATTAN THAT I LIVE IN

IS CALLED SUGAR HILL, WHICH IS A VERY FAMOUS,

HISTORICAL LOCATION.

THERE WERE A LOT OF AFRICAN AMERICAN PERFORMERS,

ARTISTS, CELEBRITIES, AND PROFESSIONAL DOCTORS

AND LAWYERS THAT LIVED AND STILL DO LIVE IN THIS AREA.

I DON''T DRAW OR DO ADVANCE SKETCHING.

I JUST VISUALIZE THE IMAGES.

I DON''T USE A RULER OR MEASUREMENTS THAT MUCH, EITHER.

I JUST GO DOWN ON THE FLOOR WITH CHALK,

START DRAWING THE FORMS IN PROPORTION

TO WHAT I FEEL WILL WORK AND THEN PIN IT DOWN AND SEW.

THIS IS A QUILT OF JAMES BALDWIN,

AND I WAS REALLY TRYING TO ACCOMPLISH

HIS SIGNATURE HAIRSTYLE

OR THE PEAK THAT HE HAD IN HIS HAIR.

LIKE A PALETTE OF PAINT, I HAVE A PALETTE OF FABRIC.

I''M THINKING ABOUT THE BALANCE OF THE COLORS, THE TENSIONS,

WHAT KIND OF, LIKE, SPEAKS OUT TOO MUCH AND TOO LITTLE,

AND THEN TRY TO BRING ALL THAT IN MY HEAD

ONTO THE SURFACE OF THE QUILT.

I DO LARGE WORK BECAUSE I HAVE A LARGE FLOOR SPACE,

BUT I NEVER SEE THEM VERTICAL OR ON A WALL

UNTIL THEY''RE FINALLY FINISHED.

UNTIL THAT TIME, EVERYTHING IS LOOKED DOWN ON

BECAUSE I''M WORKING ON THE FLOOR.

MY QUILTS FIT INTO THAT AFRICAN AMERICAN

QUILT MAKING TRADITION IN THAT I''M INCORPORATING

HISTORY AND MYTHOLOGY INTO THESE NARRATIVE QUILTS

THAT I''M DOING.

I DO REACH BACK TO AFRICA, AND I INTRODUCE

THE SLAVE CONNECTION THERE, AND THAT, FOR ME,

WAS AN EXTENSION OF TRYING TO TELL THE STORY

OF AFRICAN AMERICAN HISTORY.

DANIEL: IF YOU LOOK AT AFRICAN AMERICAN QUILTS,

THEY''RE BASICALLY A KIND OF PIECED QUILT, TOO,

BUT FOR THE MOST PART, THEY DON''T BECOME GEOMETRIC.

THAT''S BASED ON AN AFRICAN IDEA OF TEXTILES.

THE USE OF THE NARRATIVE IS USING A QUILT

AS A STORYTELLER.

IT''S ALSO AN IMPORTANT AFRICAN ELEMENT--

THE WHOLE IDEA OF CELEBRATING THE CULTURE

THAT CAME OUT OF THE SLAVE SHIPS,

THE WHOLE IDEA OF CELEBRATING SOUTHERN CULTURE.

MICHAEL''S WORK IS TALKING ABOUT THE BEAUTY

OF AFRICAN AMERICAN LIFE,

THE BEAUTY OF AFRICAN AMERICAN CULTURE,

AND THE STRENGTH AND DEDICATION OF AFRICAN AMERICAN HISTORY.

MICHAEL: IT WASN''T UNTIL I MOVED TO NEW YORK CITY,

WHERE THEY HAVE THIS RICH HISTORY OF AFRICAN AMERICANS,

THAT LED ME DOWN THE JOURNEY OF, LIKE, DISCOVERING ARTISTS

BECAUSE GROWING UP IN L.A., I WANTED TO BE AN ARTIST,

BUT THERE WAS NO INFORMATION ABOUT BLACK ARTISTS

OR ANY SORT OF CREATIVITY OR ANYTHING.

GROWING UP, I WAS VERY SICKLY.

I WAS A ASTHMATIC, AND I WAS IN AND OUT OF THE HOSPITAL

UP UNTIL ABOUT 12 YEARS OLD.

THAT LED ME TO BE BY MYSELF A LOT.

IT KIND OF ALLOWED MY MIND TO DRIFT

INTO AN IMAGINARY SORT OF WORLD WHERE I COULD DRAW.

THERE WAS A SCHOOL TRIP WE HAD TO A MUSEUM,

AND THEY HAD VAN GOGH''S "SUNFLOWERS" ON DISPLAY,

AND THAT SEALED THE DEAL.

I MEAN, I WANTED TO PAINT AND BE LIKE THAT ARTIST.

MY PARENTS WANTED ME TO GO DOWN THE ROAD

OF BEING IN BUSINESS.

WHEN I TOLD MY PARENTS I DIDN''T WANT TO BE A BUSINESS MAJOR

ANY LONGER, MY STEPFATHER PAINTED

THIS REALLY BLEAK PICTURE OF ME STARVING

WITH NO FOOD, A COLD APARTMENT.

HE SAID, "DO YOU WANT THAT?" AND I SAID, "YES."

JOHN: ISN''T IT GREAT? I REALLY LOVE THESE HOUSES.

MICHAEL: RIGHT, AND JUST THE ALL-AROUND LOOK

THAT THEY HAVE HERE.

JOHN: THEY CALL IT SYLVAN TERRACE...

MICHAEL: OK.

JOHN: AND THEY''RE ALL WOOD-FRAME HOUSES,

WHICH IS UNUSUAL TO STILL BE EXISTING IN NEW YORK.

MICHAEL: SO WHAT''S THE AGE OF THIS HOUSE, ABOUT?

JOHN: THIS IS PRE-REVOLUTIONARY WAR,

SO MAYBE THE 1750s, 1760s IT IS,

AND IT WAS WASHINGTON''S HEADQUARTERS,

SO DURING THE REVOLUTIONARY WAR, YOU GET A SENSE, EVEN HERE,

THE HEIGHTS WERE ABOVE THE HARLEM RIVER.

MICHAEL: RIGHT. YEAH.

YOU CAN ACTUALLY SEE THE BRONX RIGHT NOW, EVEN.

MICHAEL: WHEN I REALLY SET MY MIND

TO BE AN ARTIST, I DIDN''T WANT TO FALL IN THAT TRAP

THAT MY STEPFATHER HAD SET, SO I JUST AUTOMATICALLY THOUGHT

THAT I WOULD BE DOING A 9:00-TO-5:00

TO PAY FOR LIVING HERE IN THE CITY.

DANIEL: MICHAEL HAD A DOUBLE LIFE,

BUT HE DIDN''T FEEL THAT STOPPED HIM FROM BEING AN ARTIST,

THAT YOU CAN BE AN ARTIST BECAUSE THAT''S YOUR INTENTION.

YOU CAN BE AN ARTIST BECAUSE EVERYTHING YOU DO MAKES ART.

MICHAEL: THIS IS AFRICAN ART THAT I''VE COLLECTED

OVER THE YEARS, AND ON THE WALL,

THERE''S AN ABSTRACT QUILT COMPOSITION

THAT I JUST HAD FUN CREATING.

THIS IS A COLLECTION OF PRINTS BY VARIOUS ARTISTS

THAT HAVE INFLUENCED ME, AND THE CENTERPIECE

IS ONE BY ROMARE BEARDEN.

HE INVITED ME TO LOOK THROUGH HIS PORTFOLIO

TO PICK OUT ANYTHING I WANT, AND I CAME ACROSS THIS PRINT

CALLED "QUILTING TIME," AND I SAID, "THIS I HAVE TO HAVE."

I CAME TO NEW YORK WITH THE IDEA THAT I WANTED TO BE A PAINTER.

I DISCOVERED ROMARE BEARDEN, AND HE BECAME A ROLE MODEL.

HIS COLLAGE WORK WAS A NARRATIVE.

IT TELLS STORIES ABOUT PEOPLE AND HISTORY.

I THOUGHT, "OH, THIS IS A VERY INTERESTING WAY

TO TELL A STORY," AND I DRIFTED AWAY FROM PAINTING

INTO COLLAGE WORK.

I WAS WORKING FOR THE DEPARTMENT OF CULTURAL AFFAIRS

IN NEW YORK CITY.

WE HAD THIS EVENT WHERE THE FAMILIES WERE INVITED

TO BRING THEIR CHILDREN SO THEY COULD MAKE A BANNER.

I THOUGHT IT WOULD BE A FUN IDEA,

SO I TOOK SOME SCRAPS HOME.

I JUST KIND OF MADE A FANTASY IMAGE,

AND I CALLED IT "MOTHER EARTH."

I SAID, "OH, THIS LOOKS LIKE SOMETHING I WOULD''VE COLLAGED

OR SOMETHING I WOULD ALMOST HAVE PAINTED,"

AND I SAID, "HERE IT IS FABRIC."

I STARTED EXPERIMENTING WITH MORE MATERIALS,

BUTTONS AND BEADS, AND THEN I STARTED INTEGRATING SILKS

AND LINENS AND MIXED COTTONS AND DIFFERENT TYPES OF PRINTS,

AND THEN MY THEMES CHANGED TO MORE NARRATIVE,

SORT OF HISTORICAL CONNECTIONS

WITH PEOPLE AND PLACES AND EVENTS.

DANIEL: THE SCHOMBURG COLLECTION MIGHT BE

ONE OF THE MOST IMPORTANT COLLECTIONS IN THE WORLD

FOR THE STUDY OF AFRICAN CULTURE.

ARTURO SCHOMBURG MADE HIS MISSION

COLLECTING WORKS AND BOOKS ON AFRICAN CULTURE

AND ON AFRICAN PEOPLE AND THE HISTORY

AND LEGACY OF AFRICAN PEOPLE.

HE WAS ACTUALLY ACTIVATED BY SOMEONE WHO TOLD HIM

THAT AFRO-CARIBBEANS HAD NO LEGACY, HAD NO HISTORY,

AND SO HE SPENT HIS LIFE PUTTING THAT ALL TOGETHER.

TAMMI: ARTURO SCHOMBURG''S COLLECTION

WAS ACQUIRED BY THE NEW YORK PUBLIC LIBRARY IN 1926.

IT WAS 10,000 PIECES.

WE NOW HAVE A COLLECTION OF OVER 20 MILLION ITEMS

AND 5 DIFFERENT SPECIAL COLLECTIONS.

MICHAEL: I''VE HARDLY EVER STEPPED ON THIS AREA. NOW--

TAMMI: RIGHT. THIS IS THE COSMOGRAM.

LANGSTON HUGHES IS BURIED RIGHT IN THE MIDDLE THERE.

THE INTERSECTIONS BETWEEN MR. SCHOMBURG''S LIFE

AND LANGSTON HUGHES'' LIVES ARE WHAT THESE ARROWS

AND THINGS ARE, AND THEN YOU HAVE

THE ACTUAL "RIVERS" POEM ALL AROUND.

- MM-HMM. YEAH. - AMAZING.

TAMMI: THE ART AND ARTIFACTS DIVISION COLLECTS

ANYTHING VISUAL THAT DOCUMENTS THE BLACK DIASPORA.

WE HAVE FINE ART. WE HAVE AFRICAN ART.

WE HAVE MATERIAL-CULTURE ITEMS AND EPHEMERAL ITEMS.

MICHAEL''S QUILTS ARE URBAN QUILTS,

CONTEMPORARY QUILTS, AND WE HAVE A QUILT BY HIM

CALLED "SPRINGTIME IN MEMPHIS" IN THE COLLECTION.

MICHAEL: IT''S A SERIES OF 4 QUILTS THAT I CREATED

AFTER I TOOK A TRIP DOWN TO MEMPHIS, TENNESSEE.

I HAVE AN AFRICAN PRINT OF A PERSON RIDING AN ANIMAL--

I KIND OF LOOK AT IT AS A HORSE--

AND SOME PEOPLE, THEY SAID,

"MICHAEL, THAT''S YOU ON THE HORSE.

"YOU''RE THE TRAVELER GOING THROUGH THIS NEW ENVIRONMENT

THAT YOU''VE NEVER EXPERIENCED BEFORE."

I DO SERIES BECAUSE I WANT TO EXPLORE THE SUBJECT MATTER.

I WANT TO SEE WHAT I COULD DEVELOP FROM THAT FIRST

TO WHATEVER THE END WOULD BE.

THE LONGEST SERIES I MADE, OR THE LARGEST,

IS THE "AFRICAN JAZZ."

THERE''S 12 QUILTS IN ONE YEAR.

EVERY 30 DAYS, I HAD TO START A NEW ONE.

I WAS JUST POSSESSED. I HAD TO DO IT.

THE LAST LARGE PIECE I DID BY HAND WAS 4 BY 6 FEET,

AND AFTER I FINISHED, I TOOK A DEEP BREATH, AND I SAID,

"MICHAEL, IF YOU''RE GONNA CONTINUE WORKING WITH FABRIC,

YOU HAVE TO LEARN HOW TO OPERATE A SEWING MACHINE,

SO I WENT TO MACY''S

BECAUSE THAT WAS THE ONLY PLACE I KNEW WHERE TO GO.

THEY MAYBE HAD ONE SALESPERSON.

SHE POINTED OUT THIS SEWING MACHINE,

AND SHE SAID IT COULD BE DELIVERED, AND I SAID, "OK."

I USE A ZIGZAG STITCH TO ATTACH MY FABRIC TO THE FOUNDATION,

AND I USE CONTRASTING COLOR SO IT GIVES IT

A DIMENSIONAL QUALITY TO SOME DEGREE.

THE SEWING MACHINE HAS NEVER GIVEN ME TROUBLE.

I CALL IT MY DANCE PARTNER BECAUSE IT KNOWS ALL MY MOVES.

HA HA HA!

SOME QUILTER IN TEXAS WAS ASKED,

"WELL, HOW DO YOU KNOW WHEN THE QUILT IS FINISHED?"

AND SHE SAID VERY MATTER-OF-FACTLY, LIKE,

"WELL, WHEN IT TELLS ME," SO WHEN I HAVE

THAT LAST PIECE OF FABRIC IN MY HAND

AND I MIGHT NOT FIND ANY PLACE FOR IT TO GO,

AND THEN I REALIZE THE QUILT''S SAYING,

"OK. YOU''RE FINISHED," YOU KNOW, "I''M COMPLETE,"

SO I STEP BACK, AND I PUT THAT LITTLE PIECE OF FABRIC

BACK IN THE BOX FOR THE NEXT TIME.

JODY: "LOS DESCONOCIDOS"

IS THE TRAVELING EXHIBIT OF THE MIGRANT QUILT PROJECT.

THIS PROJECT REPRESENTS AN ARTISTIC ARCHIVAL

OF THE LOSS OF LIVES IN THE DESERT.

THE QUILTS OF THE MIGRANT QUILT PROJECT TELL THE STORY

OF THE BORDER CROSSERS WHO LOST THEIR LIVES

OUT THERE IN THE DESERT.

WE PERIODICALLY FIND MIGRANT CLOTHING

WHERE THEY''VE LEFT MANY, MANY ITEMS BEHIND.

IT OCCURRED TO ME, "MAYBE THESE FABRICS COULD SPEAK

TO THE MIGRATION OF PEOPLE SEEKING A BETTER WAY OF LIFE."

I STARTED COLLECTING MATERIALS, TAKING THEM HOME,

AND WASHING THEM, AND I THOUGHT OF MEMORIALIZING

ALL THESE PEOPLE WHO HAVE DIED CROSSING THE DESERT

BY CREATING A QUILT.

I MADE ONE QUILT, AND THEN I WANTED TO DO ANOTHER YEAR,

SO I FOUND QUILTERS TO MAKE ANOTHER QUILT.

NOW WE GET PEOPLE FROM ALL OVER THE COUNTRY

WISHING TO MAKE A QUILT.

SINCE 2000, THE MIGRANT QUILT PROJECT HAS GROWN TO 18 QUILTS,

ONE FOR EVERY YEAR THAT THE MEDICAL EXAMINER

HAS BEEN KEEPING TRACK OF THE PEOPLE WHO''VE BEEN DYING.

I ASK THE QUILTERS TO INCORPORATE AS MUCH

OF THE CLOTHING AS POSSIBLE INTO THEIR DESIGN.

THEY HAVE TO PUT SOMEWHERE ON THE FACE OF THE QUILT

"TUCSON SECTOR" AND THE CALENDAR YEAR,

AND THEN I SUPPLY THEM WITH THE LIST OF THE PEOPLE WHO DIED.

WE IDENTIFY WHO THEY ARE IF WE CAN

OR PUT THE WORD "DESCONOCIDO," WHICH MEANS UNKNOWN,

AND WE HONOR THEIR LIVES.

THE QUILTERS KNOW THAT THESE QUILTS

NEED TO GO BACK TO THE MIGRANT QUILT PROJECT

SO WE CAN CONTINUE WITH THE EXHIBIT AS A COLLECTION.

CAROLYN: I THINK THIS IS THE CROWD FAVORITE, WITHOUT A DOUBT.

SARAH: I LOVE THIS PIECE...

- YES. - SO MUCH.

SARAH: THIS IS JUST SO UNIQUE ON EVERY LEVEL.

CAROLYN: EVERY LEVEL. YES.

I THINK EVERYBODY HAD A BUTTON BOX AT HOME.

SHE JUST FOUND AN AMAZING WAY TO USE THEM.

THE WAY SHE CHOSE HER BUTTONS...

SARAH: MM-HMM.

CAROLYN: THE WAY SHE PLACED THE RED BUTTONS,

THE LARGE, GREEN BUTTONS,

IT''S JUST SO BEAUTIFULLY THOUGHT OUT.

WALCOTT; SHE''S ATTACHED IT TO SEERSUCKER.

WE BELIEVE IT MIGHT BE A TABLECLOTH.

I FIND THE BACK REALLY CHARMING.

EVEN THOUGH YOU CAN HARDLY SEE IT,

SHE''S ADDED THIS SWEET, LITTLE, CROCHET BORDER.

I LOVE THE ATTENTION TO DETAIL.

CAROLYN: DO WE KNOW HOW MUCH THIS QUILT WEIGHS?

SARAH: ABOUT 45 POUNDS.

CAROLYN: IT LOOKS LIKE IT WAS ALL MADE AS ONE PIECE.

THE CONSTRUCTION ITSELF IS JUST AMAZING TO ME.

I CANNOT COMPREHEND SOMEBODY

PUTTING THAT MANY BUTTONS ON ANYTHING.

JUDITH: I WAS WORKING WITH BEAUTIFUL,

MOTHER OF PEARL BUTTONS, BUT I''M A COLOR LOVER.

I NEED TO BE ABLE TO CREATE WITH COLOR.

I JUST BUY THESE WHITE PACKAGES OF BUTTONS,

AND I WOULD SPRAY-PAINT THEM WITH AUTOMOTIVE SPRAY PAINT,

AND IT''S COMPLETELY FOR FUN, JUST ABSOLUTELY FUN.

I LIVE IN PALO ALTO, CALIFORNIA,

AND I LOVE MANY OF THE THINGS ABOUT PALO ALTO,

BUT I ESPECIALLY LOVE THE BAYLANDS PRESERVE.

I WAS TAKING A WALK, AND THE FOG HAD DESCENDED.

ALL THE IMAGERY LOOKED LIKE THE INSIDE OF AN ABALONE SHELL,

AND I THOUGHT, "THAT''S WHAT I WANT TO TRY TO DO."

I CREATED A PIECE CALLED "ONE WINTER WALK,"

AND "ONE WINTER WALK" LED TO AN ENTIRE SERIES OF PIECES.

THEY WERE QUILTED. THEY WERE DYED.

THEY WERE ALMOST ALL KIMONOS.

THEY WERE ALMOST ALL ABOUT 5 FEET WIDE

BY ABOUT 6 FEET TALL.

A FRIEND OF MINE SAID,

"JUDITH, YOU''RE MAKING ART QUILTS,"

AND I SAID, "WHAT IS AN ART QUILT?"

SHE SAID, "YOU''RE NOT TIED INTO A PATTERN.

"YOU''RE ALLOWED TO DO ANYTHING YOU WANT.

IT''S WHAT YOU'RE DOING."

I AM DESCENDED FROM A FAMILY OF ARTISTS AND ENGINEERS.

I JUST ALWAYS ASSUMED THAT MAYBE I WOULD BE AN ARTIST, TOO.

I HOPED SO.

I DECIDED TO PURSUE ART AT SAN FRANCISCO STATE UNIVERSITY.

THERE WASN''T A CLASS THAT I JUST DIDN''T LOVE.

I TOOK CERAMICS, JEWELRY, SCULPTURE, PAINTING, DRAWING,

EVERYTHING THAT THEY OFFERED UNTIL I DISCOVERED TEXTILES.

THE TEACHER TOOK AN ENORMOUS BASKET

OF ETHNIC TEXTILES, AND SHE JUST THREW THEM

OVER THE SURFACE OF THE TABLE.

I WAS MESMERIZED BY ALL THE DIFFERENT COLORS

AND THE TEXTURES AND THE PATTERNS.

THEN ANA LISA HEDSTROM CAME TO OUR CLASS

AND DID A ONE-HOUR DEMONSTRATION OF A TECHNIQUE

CALLED ARASHI SHIBORI.

ANA LISA BROUGHT IN PIPES THAT WERE ABOUT AS TALL AS SHE WAS,

AND SHE DID THIS MAGICAL PLEATING AND WRAPPING

AND PUCKERING AND CRINKLING AND DYEING,

AND WHEN SHE UNWRAPPED HER POLES,

THE RESULTS WERE JUST MAGICAL,

AND I WANTED TO GO HOME IMMEDIATELY AND START DYEING.

MY EARLIEST DYE ATTEMPTS WERE JUST

TINY, LITTLE PIECES OF FABRIC.

I THINK, IN SOME WAYS, THAT MAY HAVE LED ME RIGHT AWAY

TO QUILTING BECAUSE WHAT ARE YOU GONNA DO

WITH A WHOLE LOT OF SMALL PIECES OF FABRIC

BUT SEW THEM TOGETHER AND MAKE SOMETHING BIGGER?

SHIBORI IS AN UMBRELLA TERM FOR ALL RESIST-DYE TECHNIQUES

INVOLVING RESISTING THE DYE WITH THREAD.

ARASHI SHIBORI WAS DEVELOPED ON, ORIGINALLY, POLES

ABOUT THE SIZE OF A TELEPHONE POLE,

AND THE RESULTS LOOKED LIKE SHEETS OF WIND AND RAIN,

AND "ARASHI" TRANSLATES TO MEAN STORM IN JAPANESE,

SO I THINK THERE MIGHT BE SOME MEANING BEHIND IT THERE.

I FIRST INTRICATELY PLEAT THE SILK

INTO LONG, LEAFLIKE SHAPES.

THAT WILL REDUCE THE SILK FROM A PANEL ABOUT 5 FEET LONG

BY A FOOT WIDE TO A LITTLE BUNDLE OF PLEATED SILK.

THAT REDUCED PACKAGE OF SILK IS WRAPPED AROUND THE POLE

AND THEN SECURED WITH THREAD.

I''LL USE VARYING DIMENSIONS OF THICKNESS

FOR DIFFERENT EFFECTS.

WHEN IT GETS WET, THE SILK EXPANDS,

AND IT PRESSES AGAINST THE THREADS

SO THAT THAT DYE CANNOT PENETRATE THOSE AREAS.

ONCE I CREATE MY PALETTE OF SILKS,

I THEN CREATE THE COMPOSITION.

THAT IS VERY LIKE COLLAGE.

YOU REALLY ARE LOOKING FOR EXCITING COMBINATIONS.

WHEN I FIND A COUPLE OF THOSE, THEY GO UP ONTO MY DESIGN WALL.

NOT UNTIL MY EYES ARE REALLY HAPPY

DO I CONSIDER THE COMPOSITION STAGE COMPLETE,

AND THEN I CAN BEGIN THE QUILTING PROCESS.

WHEN I GRADUATED WITH A DEGREE IN TEXTILES,

THE WEARABLE ART MOVEMENT WAS AT ITS PEAK IN SAN FRANCISCO.

I WAS IMMERSED IN THIS ENTIRE GROUP OF TALENTED WOMEN

DOING AMAZING WORK.

THEN WHEN I WAS EXPECTING MY DAUGHTER,

I STOPPED DYEING COMPLETELY.

THAT WAS THE FIRST TIME I''D REALLY STOPPED TO THINK

SINCE I HAD GRADUATED FROM COLLEGE.

I WANTED MY WORK TO BE ON THE WALL.

I WANTED IT TO ACTUALLY BE BIG,

MUCH BIGGER THAN WHAT COULD BE WORN BY THE HUMAN BEING,

AND BY THE TIME SHE WAS BORN, I HAD DECIDED

I WAS GOING TO FOCUS ON ARCHITECTURAL PIECES.

THE SUBJECT MATTER THAT DREW ME IN WAS ALWAYS NATURE.

I WILL SEE SOME KIND OF FORMATION--

MOSS ON A ROCK, CRAGGY LICHENS, WAVES AT THE BEACH--

AND I WILL SAY TO MYSELF, "THAT SURE LOOKS LIKE SHIBORI.

HOW CAN I POSSIBLY GET SHIBORI TO LOOK LIKE THAT?"

I WILL TRY, AND SOMETIMES I''LL GET THERE.

SOMETIMES I WON''T, BUT I''LL GET SOMEWHERE ELSE,

AND SOMETIMES WHAT I COME UP WITH

LOOKS LIKE THE NEXT THING I WANT TO MAKE A WALL PIECE.

I LOVED WORKING BIG.

I LOVED THE EXCITEMENT OF THE INSTALLATION

AND WATCHING THESE PIECES GO UP,

BUT EVENTUALLY, I REALLY WANTED TO COME BACK TO SOMETHING

MORE NUANCED THAN WHAT YOU COULD ACHIEVE

WHEN YOU''RE WORKING ON THE SCALE OF 3 STORIES.

WHEN I''M STITCHING, I''M ESSENTIALLY DRAWING

WITH A SEWING MACHINE.

THE SEWING LINES ARE INTENDED TO DEFINE AREAS IN THE DYEING

OR TO OBSCURE PATTERNS IN THE DYEING.

WHAT I WANTED TO ACHIEVE HERE WAS THE ESSENTIAL IMAGE

OF BRUSHSTROKES, OF LINES, PENCIL STROKES,

JUST A STROKE OF CHARCOAL.

IN THESE AREAS, THE QUILTING LINES ARE BLACK,

AND THEY ARE ACCENTUATING THE PATTERNATION IN THE DYED SILK,

BUT HERE, I WANTED TO DIFFUSE THE BACKGROUND,

MAKE IT JUST DISAPPEAR FROM YOUR VISION,

AND SO I VERY CAREFULLY MATCHED THREAD COLOR TO THE BACKGROUND.

IT''S EXCITING TO WATCH IT EMERGE AS YOU''RE QUILTING

BECAUSE YOU START TO SEE THE TEXTURE.

THE SILK KIND OF HAS A BEAUTIFUL, PEBBLED SURFACE.

THE QUILTING CAN ACTUALLY CHANGE THE DYEING SO VERY MUCH.

I HAVE AN EXHIBITION AT THE SAN JOSE MUSEUM

OF QUILTS & TEXTILES TITLED "EVANESCENCE."

THE WORD "EVANESCENCE" MEANS THE FLEETING NATURE

OF LIGHT, IMAGERY,

SOUND, TIME, ALMOST ANYTHING.

IN THE CASE OF MY WORK, EVANESCENCE OFTEN REFERS

TO THE FLEETING NATURE OF THE IMAGES IN NATURE

THAT I SEARCH OUT.

THE DEFINITION OF THE ART QUILT DOESN''T REQUIRE

TWO LAYERS OF CLOTH CONNECTED BY THREAD.

I WAS THINKING OF AN ART QUILT BEING TWO LAYERS OF SOUND

CONNECTED BY A HILLSIDE.

[BIRDS CHIRPING] [FLUTES AND STRINGS PLAYING]

IT COULD BE ANYTHING THAT''S TWO LAYERS

CONNECTED BY SOMETHING ELSE.

WHEN YOU THINK OF IT IN TERMS OF THAT,

I WOULD BE REALLY EXCITED TO SEE WHERE THE ART QUILT GOES.

CAROLYN: WHEN I WOULD FIRST GO INTO OUR STORAGE ROOM,

WHERE WE HAVE THOUSANDS OF QUILTS,

AND YOU''D WALK IN THERE, AND THERE WAS JUST SOMETHING

SO POWERFUL ABOUT ALL THOSE LIVES

THAT WERE REPRESENTED BY THOSE QUILTS.

EVERY STITCH, IT''S MEDITATIVE.

YOU''RE THINKING ABOUT WHAT HAPPENED.

YOU''RE THINKING ABOUT WHO YOU''RE MAKING IT FOR,

AND I WOULD FEEL THAT PRESENCE OF ALL THOSE LIVES IN THAT ROOM,

AND IT WAS REALLY MAGICAL.

IT''S JUST SO WONDERFUL TO BE STUDYING

AND WORKING WITH QUILTS.

ANNOUNCER: NEXT ON "CRAFT IN AMERICA"...

MAN: I CONSIDER MYSELF A CHRONOLOGIST

ON THE ABSURDITY OF HUMAN NATURE.

WOMAN: PERFECT, YOU GUYS.

WHAT COMES THROUGH IN MY PHOTOGRAPHS IS THAT

NATIVE AMERICANS ARE STILL VERY MUCH ALIVE IN MODERN TIMES.

DIFFERENT WOMAN: WENDY SAW THE BOUNDARIES OF TECHNIQUE

AND KEPT PUSHING BEYOND THEM.

DIFFERENT WOMAN: I'M A FIGURATIVE SCULPTOR.

MY PUERTO RICAN IDENTITY IS AT THE CORE

OF HOW I UNDERSTAND THE WORLD.

ANNOUNCER: MAJOR FUNDING ap.org--

WATCH ALL EPISODES OF "CRAFT IN AMERICA" ONLINE

WITH ADDITIONAL VIDEOS AND MORE.

VISIT "CRAFT IN AMERICA" AT PBS.ORG.

THIS EPISODE OF "CRAFT IN AMERICA"

IS AVAILABLE ON AMAZON PRIME VIDEO.