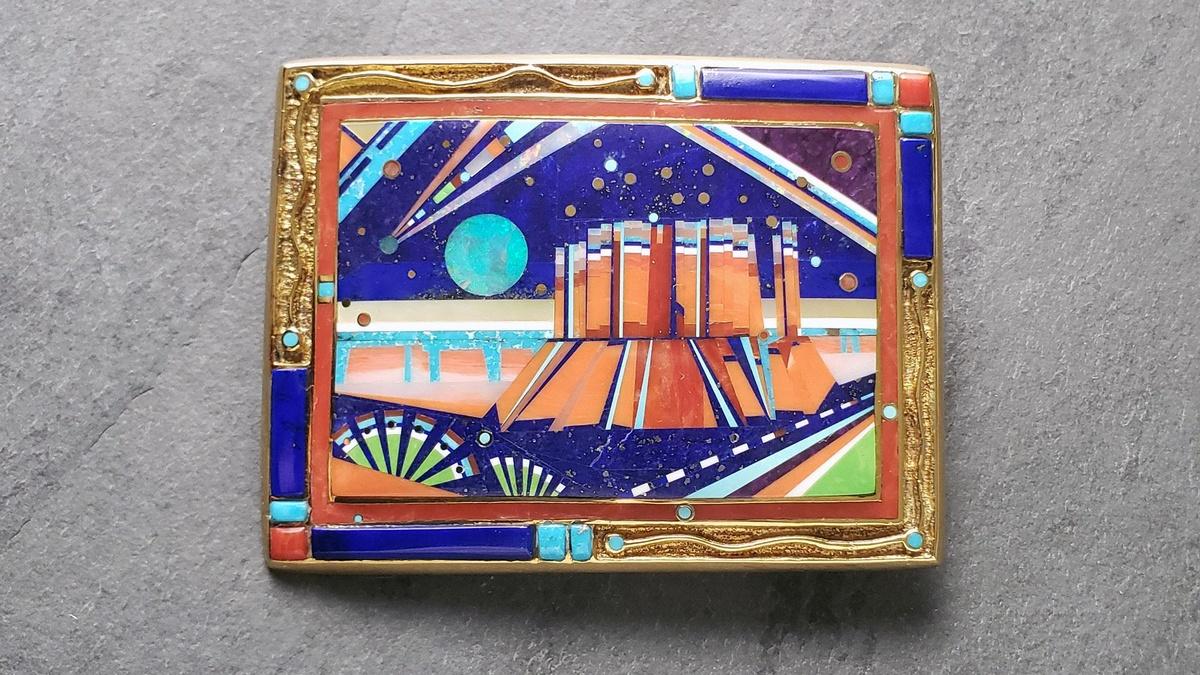 S13 E2 | FULL EPISODE
JEWELRY episode
JEWELRY explores the history, artistry, and impact of personal adornment. Featuring: classic jeweler Tom Herman; Harriete Estel Berman who creates jewelry with recycled materials; the coeditors of Ornament Magazine; the legacy of modernist jeweler Art Smith; nature-inspired artist Gabrielle Gould; and Navajo/Hopi master jeweler Jesse Monongya.
TRANSCRIPT

LESLIE: WHEN PEOPLE PREPARE THEMSELVES

TO GO OUT IN THE WORLD AND THEY PUT ON THEIR JEWELRY,

IT'S A WAY TO SIGNIFY THEIR PRESENCE,

THEIR PURPOSE, THEIR MEANING.

THE ROYALS IN BRITAIN, OF COURSE,

HAVE ALL OF THOSE COLONIALIZED GEMS.

HOWEVER, THERE ARE OTHERS WHO MAKE THEIR JEWELS

OUT OF A PEBBLE OR A ROCK

OR A PIECE OF WOOD OR ANIMAL BONE.

IT'S THE HUMILITY OF A SINGLE BEAD.

THESE ELEMENTS THAT WERE USED TO MAKE WHAT WE CALL JEWELRY

DEFINE AND SIGNIFY WHO YOU ARE,

WHAT YOUR STATUS IS,

WHAT YOUR RELATIONSHIPS ARE,

WHAT YOUR AFFINITIES, YOUR COMMUNITIES,

YOUR GEOGRAPHY IS.

AND SO JEWELRY IS ESSENTIAL TO ONE'S PERSONHOOD.

CAPTIONING MADE POSSIBLE BY CRAFT IN AMERICA, INC.

TOM: WE PUT 24 KARAT GOLD IN THIS LITTLE PAN,

AND THEN ADD THIS ALLOY--

12 AND A HALF PERCENT COPPER, 12 AND A HALF PERCENT SILVER.

THIS IS 18 KARAT GOLD.

AND WE'RE GOING TO CAST WITH IT.

THE THING ABOUT JEWELRY

IS YOU'RE TRYING TO MAKE SOMETHING THAT IS PRECIOUS,

SOMETHING THAT HAS INTRINSIC WEIGHT.

NOT NECESSARILY DIAMOND WEIGHT OR GOLD WEIGHT,

BUT SOMETHING THAT DRAWS YOUR EYE,

IT PULLS YOU IN.

ADORNMENT HAS BEEN WITH US FOREVER.

YOU COULD FIND A PRETTY ROCK, BUT IF YOU FOUND A CRYSTAL,

WHOA.

YOU KNOW THAT LIGHT MOVED AROUND WITHIN.

THAT IS A PRECIOUS THING.

SHELLS, WHEW, BEAUTIFUL.

IT'S ALSO MATERIALS THAT YOU CAN MAKE SOMETHING PRECIOUS.

YOU CAN CARVE IT AND RUB IT AND POLISH IT,

AND IT LOOKS BEAUTIFUL.

YOU CAN TAKE YOUR CREATIVITY AND AFFECT IT.

THIS IS A GOOD SIGN. WE SEE GOLD IN THERE.

WE HAD ENOUGH GOLD TO FILL IT UP.

WE'VE LET THE GOLD COOL IN THE FLASK.

THERE IS A PROCESS CALLED AGE HARDENING.

AND THE GOLD IS THE HARDEST IT'S EVER GONNA GET

IF IT COOLS VERY SLOWLY IN THAT FLASK.

ETHAN STARTED TO CUT STONES WHEN HE WAS IN HIGH SCHOOL.

AT THE START OF HIS SECOND YEAR OF COLLEGE,

HE SAID, "I WANT TO COME WORK FOR YOU." [CHUCKLES]

AND I WAS SO PLEASED.

ETHAN IS AMAZINGLY TOLERANT WITH MY ADVICE.

ETHAN: I JUST LISTEN TO MY BOSS.

TOM: HA HA HA!

IF WE WERE A BIG SHOP, WE WOULD HAVE A SANDBLASTER,

SOMETHING LIKE THAT.

YOU HAVE TO MAKE DO WITH WHAT YOU HAVE.

I WAS FOURTH OUT OF NINE KIDS.

SO I KNEW, YOU KNOW, YOU CAN WANT SOMETHING,

BUT NOT TO EXPECT ANYTHING.

SO I WAS RAISED IN VAN METER, IOWA.

THAT IS A VERY SMALL FARM TOWN.

I MADE IT THROUGH ONE YEAR OF COLLEGE

AT THE UNIVERSITY OF IOWA.

I DECIDED THAT COLLEGE WAS NOT FOR ME.

IN IOWA CITY, I BOUGHT A JEWELRY SHOP,

BUT I THOUGHT I WOULD SELL POTTERY THERE.

PEOPLE KEPT COMING AND ASKING, "COULD YOU FIX THIS BRACELET?"

"COULD YOU MAKE ME A RING?"

I ALL OF A SUDDEN REALIZED I MIGHT HAVE TO BE A JEWELER.

I HAVE ONLY BEEN TRYING TO GET MY LAUREL LEAVES

TO LOOK LIKE THIS DRAWING FOR...

I DON'T KNOW, 34 YEARS.

WE'D START BY DRAWING THE LEAVES ONTO THE GOLD

WITH TRACING PUNCHES

THAT HAVE LESS THAN A QUARTER OF A SQUARE MILLIMETER

OF SURFACE AREA.

CHASING MOVES METAL FROM PLACE TO PLACE.

ENGRAVING CUTS METAL AWAY.

WE WANT MOVEMENT IN THE LEAVES.

WE WANT TO FEEL THE AIR.

WE WANT TO FEEL THE WIND BLOW.

WE WANT THIS PUNCH TO WALK ACROSS THE GOLD.

AND EVEN THOUGH IT APPEARS THAT I'M HITTING THAT ONCE,

IT'S ACTUALLY GOING [IMITATES RAPID HAMMERING]

THE HAMMER YOU HIT IT WITH IS VERY IMPORTANT.

THIS IS A ROSEWOOD.

YOU CAN HEAR IT ACTUALLY BOUNCE.

I MOVED TO SAN FRANCISCO.

I HEARD THAT THERE WAS A JEWELRY MANUFACTURER ON MISSION STREET.

I WENT, I LOOKED ON THE BOARD.

VAN CRAEYNEST ON THE FOURTH FLOOR.

GO UP TO THE FOURTH FLOOR, RING THE BUZZER.

"WHAT DO YOU WANT?"

I SAID, "UH, I'M A JEWELER.

I WAS LOOKING FOR SOME WORK. I HAVE A RESUME."

HE SAID, "SLIDE IT UNDER THE DOOR."

HE WOULDN'T EVEN OPEN THE DOOR.

SO I SLID IT UNDER THE DOOR.

AND LARRY VAN CRAEYNEST OPENS THE DOOR.

I COULD LOOK DOWN INTO THE FACTORY,

AND THERE WERE SHELVES FROM FLOOR TO CEILING

FILLED WITH STEEL DYES.

AND THERE WAS A DROP HAMMER

WITH GOLD AND BLACK-LEAF PINSTRIPING.

AS SOON AS I SAW THAT, I WAS LIKE,

WHAT--THIS IS THE MYTHICAL NIRVANA OF JEWELERS.

THIS IS THE BEST THING IN THE WORLD.

AND I JUST CAME IN THE DOOR AND I WOULDN'T LEAVE.

I WOULD GO IN EARLY EVERY DAY,

WORK THROUGH LUNCH, STAY AFTER.

AND LARRY, WHO WAS NOT THE MOST PATIENT MAN,

BUT HE DID HAVE PATIENCE FOR SOMEBODY WHO WAS INTERESTED.

LARRY BELIEVED IF YOU HAVE A BEAUTIFUL TOOL,

YOU CAN MAKE BEAUTIFUL WORK.

HE SAID, "IF YOU WANT TO LEARN HOW TO ENGRAVE,

"I'LL GIVE YOU THE GRAVERS,

BUT YOU HAVE TO MAKE THE HANDLES."

IF I WANTED TO LEARN HOW TO CHASE,

I HAD TO MAKE MY HAMMER FROM SCRATCH.

THEN YOU HAVE TO MAKE YOUR OWN CHASING PUNCHES.

WHEN HE GAVE ME A GERMAN SAW FRAME,

HE SAID, "THIS NEEDS TO BE REBUILT."

ONCE I FINISHED THAT, THEN I COULD LEARN HOW TO SAW PIERCE.

AND YOU LAY OUT THE PATTERN ALL THE WAY AROUND THE RING.

YOU DRILL HOLES IN THE BACKGROUND,

AND THEN YOU SAW THE BACKGROUND OUT.

WE'RE SEPARATING THOSE PIECES OF GOLD

THAT ARE GONNA BE THE LEAVES,

THE PIECES OF GOLD THAT ARE GONNA BE BERRIES,

AND THE BORDER.

YOU CHASE IT AGAIN, YOU SAW PIERCE IT AGAIN,

YOU POLISH IT ALL, FINISH IT ON THE INSIDE,

ON THE OUTSIDE, FINISH THE BORDER.

YOU DO THE FINAL CHASING.

AND THEN IT'LL COME OUT LIKE THIS.

VAN CRAEYNEST WAS SO FAR BEYOND ANY KIND OF CRAFTSMANSHIP

I'D EVER RUN UP AGAINST.

I WORKED THERE FOR FOUR YEARS,

AND IT CHANGED MY METALSMITHING LIFE.

THIS IS PROBABLY THE BEST PIECE THAT I'VE EVER MADE.

AND IT STARTED WITH PIECES OF LAPIS LAZULI

THAT WERE LIKE THIS.

BECAUSE IT WAS ALREADY CURVED,

I KNEW IMMEDIATELY I WANTED TO MAKE A BRACELET WITH IT.

THESE PIECES OF LAPIS WERE CUT EVEN THINNER,

POLISHED ON THE INSIDE AND ON THE OUTSIDE,

AND SANDWICHED BETWEEN THE CARVED GOLD.

WE MADE THE BOX AND STAND FOR IT.

THIS IS BOTH A BROOCH AND A NECKLACE.

WHEN IT IS TOGETHER, THAT IS THE OBJECT.

THESE ARE DRAGONFLIES.

AND I'VE STARTED TO SAW PIERCE OUT

FOUR PLIQUE-A-JOURED WINGS LIKE THIS PIECE.

THE WINGS ARE OPEN-PIERCED AND THEN FILLED WITH ENAMEL.

IN PLIQUE-A-JOUR, THE ENAMEL IS SUSPENDED BY SURFACE TENSION.

BECAUSE IT'S TRANSLUCENT,

IT CAN ADD COLOR WITHOUT OVERPOWERING THE PIECE.

IT WILL ALLOW THE LIGHT.

THE JAPANESE WERE DOING WHOLE PLIQUE-A-JOUR VESSELS

IN THE 1860s, 1870s.

IT BECAME A JEWELRY THING IN THE 1880s IN PARIS,

LALIQUE AND MAISON VEVER.

THIS IS EXACTLY THE KIND OF ENAMEL THAT LALIQUE WOULD USE.

YOU BREAK OFF A PIECE OF IT,

YOU GRIND IT INTO SMALL FRIT

THAT IS MIXED WITH CLEAR FIRE, A GUM, AND DISTILLED WATER

THAT CAN THEN BE LOADED INTO THE FRAME.

THIS IS RADICAL CELL LOADING.

AND WHAT IS HOLDING THE ENAMEL THERE

IS THE SURFACE TENSION OF THE LIQUID.

WE ARE SPATULA PEOPLE

AND NOT BRUSH PEOPLE.

THE TWISTED SHANK IS THERE

BECAUSE YOU HAVE TO VIBRATE THE PIECE

FOR THE GLASS ALL TO FALL TOGETHER.

THE ADA BROOCH WAS THE BEST PIECE OF PLIQUE-A-JOUR JEWELRY

I HAD EVER SEEN.

IT IS LUSCIOUS MORNING GLORIES,

AND SOME OF THEM ARE FACING YOU

AND SOME OF THEM ARE TURNED AWAY FROM YOU.

IT WAS FULLY ARTICULATED.

IT WAS FIVE PIECES.

IT MOVED ON ITS OWN.

THAT JUST SENT THE COMPLEXITY LEVEL OFF THE CHARTS.

JUST THE MOST AMAZING THING.

I THOUGHT, HOW ABOUT I TEACH A CLASS IN METALSMITHING

AT THE MENDOCINO ART CENTER,

AND PATSY CROFT, WHO TEACHES A CLASS IN PLIQUE-A-JOUR,

AND WE'LL MAKE A PIECE.

SO YOU CAN SEE THAT IT'S VERY CRYSTALLINE.

SO I'M JUST GONNA LOAD MORE NOW.

SOMETHING THAT I THOUGHT WE COULD DO

IN A WEEK AND A HALF OR TWO WEEKS TOOK TWO YEARS.

WE WORKED ON THE METALWORK FOR 1,200 HOURS.

PATSY DID 800 HOURS JUST IN THE ENAMELING.

WE BROUGHT IT TO SOTHEBY'S WHEN WE FINISHED IT.

THE MONEY WENT TO THE MENDOCINO ART CENTER.

WHAT PATSY AND I LEARNED BY DOING IT

WAS WORTH EVERY BIT OF IT.

WE GOT TO MAKE SOMETHING CLOSE TO WHAT THE ADA BROOCH WAS.

PEOPLE ASK, HOW DO YOU MAKE WORK LIKE THAT?

WHAT I'VE COME UP WITH IS FIVE Rs--

REFINE, REFINE, REFINE, REFINE, REPEAT.

JEWELRY IS THREE-DIMENSIONAL.

YOU PICK IT UP, YOU TURN IT AROUND.

AND EACH PIECE THAT YOU CHANGE HERE AFFECTS THIS.

WE'RE GETTING THERE.

I THINK I DO WANT TO FIRE IT JUST A TINY BIT MORE,

BECAUSE I WANT THE GLASS TO GET SMOOTHER

AND STRETCH OUT.

YOU JUST WORK YOUR WAY THROUGH THE PIECE,

AND THEN DO IT AGAIN.

HARRIETE: I WAS THIS RECYCLING EVANGELIST, CRAZY PERSON,

GOING BACK TO 1980 WHEN NO ONE EVER THOUGHT ABOUT IT.

WHEN I DECIDED TO START USING RECYCLED MATERIALS

TO MAKE MY WORK,

IT WAS EMBARRASSING.

I'M GOING TO SAY LITERALLY EMBARRASSING

TO START USING TIN CANS, TRASH,

WASTE FROM THE WASTE STREAM OF OUR SOCIETY.

I WANT IT TO BE AMAZING CRAFTSMANSHIP

IN THE MOST HUMBLE MATERIALS.

I CAN'T MAKE ANY MISTAKES

OR ELSE IT'S RUINED.

IN MY HEAD, IT'S RUINED.

I LOVE JEWELRY, FIRST OF ALL.

I'M PASSIONATE ABOUT JEWELRY.

BUT WHEN IT CAME TO MAKING JEWELRY,

I WANTED THE JEWELRY TO BE MORE THAN ABOUT DECORATION.

MY OWN WORK REPRESENTS BIGGER IDEAS.

AND JEWELRY IS A LOT MORE THAN JUST A DECORATIVE OBJECT

THAT PEOPLE PUT ON.

THEY CREATE AN IDENTITY FOR THEMSELVES BY WHAT THEY WEAR.

THESE THREE BRACELETS TALK ABOUT THE ROLE OF JEWELRY.

PRESTIGE. VALUE.

THE OUTSIDE OF THE BRACELET IS ACTUALLY GEMSTONES.

AND THEN IDENTITY, AND IT HAS THE UPC CODE ON THE INSIDE.

THIS IS GONNA BE THE INSIDE OF THE WRIST HOLE.

I HAD TO CUT A STRIP.

IT LOOKS LIKE A CALCULATION.

HOW WIDE DOES IT NEED TO BE?

IT REQUIRES A LOT OF HAND STRENGTH.

VERY HARD TO DO.

FOR MY UNDERGRADUATE DEGREE AND MY MASTERS,

I STUDIED METALSMITHING.

WHEN I GOT OUT OF SCHOOL, I WORKED AS A JEWELER,

AND THEN I WORKED AS A SILVERSMITH

FOR A PLATING COMPANY.

I FILE EVERY SINGLE ONE.

WORKING WITH METAL REQUIRES PRECISION.

THE TOLERANCE ENDS UP BEING LIKE A THOUSANDTHS OF AN INCH

JUST BY HAND.

I DO NOT EVER PAINT THE TIN CANS,

SO I HAVE TO WORK IN A WAY THAT I NEVER MARK THE SURFACE

IN SOME WAY THAT WOULD LEAVE DAMAGE.

AND I DID IT.

VERY LOW-TECH.

AND LOTS OF EXPERIENCE. HEH.

IT'S NOT JUST ABOUT USING A FOUND OBJECT,

NOT FOR ME, AT LEAST.

IT'S REALLY ABOUT THE MESSAGES IN OUR SOCIETY

THAT ARE ALL OVER THE PACKAGING THAT WE USE.

AND SHE'S PERFECTLY DRESSED,

AND SHE HAS ALL THE HIGH HEELS AND HER RIBBON,

AND SHE'S CLEANING THE FLOOR.

I'VE GOT THOUSANDS OF TIN CANS.

THEY'RE ORGANIZED BY COLOR AND PATTERN.

THAT'S CANDY.

BUT I'LL ALSO HAVE CANDY PATTERNED.

HA! THE IDEA IS TO REMEMBER EVERYTHING I HAVE IN MY HEAD.

I HAVE SO MANY DOLLHOUSES

THAT I JUST HANG THEM FROM THE CEILING,

AND THEY'RE ALL OVER THE PLACE.

PRINTED STEEL DOLLHOUSES HAVE WONDERFUL DOMESTIC IMAGES ON IT.

A TRIBUTE TO HONORING WOMEN'S ROLES IN SOCIETY,

WHICH HAS BEEN MY INTEREST FOR A LONG TIME.

IN HIGH SCHOOL, I TOOK SHOP.

IT WAS UNHEARD OF.

AT THAT TIME, I WANTED TO BE AN ARCHITECT.

AND THE TEACHER SAYS TO ME,

"ARCHITECTURE TAKES FOUR YEARS OF EDUCATION,

"AND THEN A FEW MORE YEARS OF EDUCATION

"AND THEN SOME INTERNSHIP.

"AND YOU'LL BE WANTING TO BE MARRIED AND HAVE CHILDREN

BEFORE YOU'RE DONE WITH YOUR PROFESSIONAL SKILL SET."

AND IT CHANGED ME.

NOW, THAT'S A BETRAYAL IN SOME WAY,

BUT IT CHANGED THE DIRECTION.

SO INSTEAD OF APPLYING TO ARCHITECTURE SCHOOL,

I WENT INTO ART SCHOOL.

EVEN IN GRADUATE SCHOOL, I WAS LEARNING THE TECHNICAL SKILLS

THAT WERE GENERALLY A SPHERE OF MEN.

RIGHT? METALSMITHING AND JEWELRY WAS THE SPHERE OF MEN.

I'M GETTING AN EDUCATION THAT'S SUPPOSED TO EMPOWER ME

TO BE A PROFESSIONAL,

YET I STILL LOVE COOKING AND CLEANING

AND MAKING MY OWN CLOTHES.

I'M CONSTANTLY SURFING THIS CONFLICT

BETWEEN PROFESSIONAL IDEAS THAT WOMEN CAN BE DOING ANYTHING

AND THE JOY THAT I GET FROM DOMESTIC RESPONSIBILITIES.

I MET MY HUSBAND BILL IN 1976.

HE WAS CALLED WILD BILL AT THE TIME.

OUR DATES USUALLY STARTED AT LIKE 10:00 OR 11:00.

WE BOTH WANTED TO DO OUR WORK FIRST.

I KNEW I WANTED TO HAVE CHILDREN AND RAISE CHILDREN

TO BE CREATIVE, RESPONSIBLE PEOPLE

THAT WOULD CONTRIBUTE TO SOCIETY.

BUT AT THE SAME TIME, I WAS PETRIFIED.

AND IT WAS VERY DIFFICULT,

AND IT IS VERY DIFFICULT.

SO MANY OF THE EARLY PIECES DEALT WITH THIS CONFLICT

OF WOMEN'S ROLES.

I WANTED TO ADDRESS THE VOLUME OF PLASTIC IN OUR ENVIRONMENT.

I STARTED WITH A FEW BRACELETS

I WAS MAKING WITH A VARIETY OF DIFFERENT PLASTICS.

LIKE, I HAD THE ORANGE.

THAT CAME FROM ORANGE JUICE CONTAINERS.

THE AQUA COLOR AND THE PINK AND PURPLE

CAME FROM THE SALON.

BUT I REALIZED THAT THE BLACK PLASTIC

IS THE ONE PLASTIC THAT'S NOT RECYCLABLE IN MOST COMMUNITIES.

THE OPTICAL SCANNERS THAT SORT PLASTIC

IN RECYCLING CENTERS CAN'T SEE THE BLACK PLASTIC.

THERE'S LOTS OF THINGS THAT ARE PACKAGED IN BLACK PLASTIC--

SALAD BOWLS, TAKEOUT TRAYS.

THESE...

ARE FROM ROTISSERIE CHICKEN.

THE SHAPE OF THE PLASTIC CONTAINER

CAN REALLY CONTRIBUTE TO THE INTEREST OF THE JEWELRY.

IT'S VERY IMPORTANT TO ME

THAT I CUT EVERY SINGLE PIECE BY HAND.

I WANT EACH ONE TO BE IRREGULAR AND DIFFERENT.

GENERALLY, I WANT IT TO BE AS WILD AND CRAZY AS POSSIBLE,

AND THREATENING.

THE SHAPES LOOK LIKE THEY'RE GONNA POKE YOU.

I THINK THAT IT BEGINS TO ADDRESS,

JUST IN THE AESTHETIC OF THE BRACELET,

HOW DANGEROUS PLASTIC IS TO OUR ENVIRONMENT.

SUSAN RAMLJAK, A CURATOR,

CALLS ME UP TO INVITE ME TO AN EXHIBITION

CALLED "UNEASY BEAUTY" AT THE FULLER CRAFT MUSEUM.

AND WOULD I MAKE A BRACELET.

I SAID TO HER, "CAN I MAKE SOMETHING BIGGER?"

IT WAS A TREMENDOUSLY DAUNTING PROJECT

TO MAKE SOMETHING THAT BIG.

I HAD TO CUT EACH AND EVERY INDIVIDUAL PIECE

AND THEN DRILL TWO HOLES IN EACH PIECE

AND THEN THREAD ALL THESE PIECES.

MY ORIGINAL IDEA OF SIX FEET GREW TO 26 FEET.

I REALLY THOUGHT THE MODEL HAD TO BE SWALLOWED UP

AS IF SHE WAS BEING CONSUMED BY THE ENTIRETY OF THE NECKLACE,

BECAUSE IN MANY WAYS, OUR ENVIRONMENT

IS BEING CONSUMED BY THE IMPACT OF PLASTIC.

I HAVE A SUPER DUPER SERIOUS SIDE,

BUT I ALSO BELIEVE, ON THE POSITIVE SIDE,

THE OPTIMISTIC SIDE,

THAT WE CAN CHANGE THE FUTURE BY OUR OWN BEHAVIOR.

PEOPLE LOOK AT MY WORK AND THEY GO,

"OH, THAT MUST BE SO MUCH FUN."

BUT I WOULD NOT SAY THAT'S WHAT I DO FOR FUN.

IT'S MORE LIKE AN OBSESSIVE DETERMINATION

THAT I AM GOING TO REALIZE THAT VISION

THAT MAY STILL REQUIRE ANOTHER COUPLE HUNDRED HOURS

TO GET THERE, AND I'M WILLING TO DO THAT.

TV REPORTER: IMPRESSIVE WORK IS BEING DONE TODAY

BOTH BY ESTABLISHED FIGURES AND BY RISING YOUNG ARTISTS.

IN THE DECORATIVE ARTS, THE CONCEPTS OF MODERN AESTHETICS

ARE APPLIED TO METAL JEWELRY BY ART SMITH

IN HIS GREENWICH VILLAGE SHOP.

HE MAKES ALL THE NOVEL ITEMS ON DISPLAY

IN THE ATTRACTIVE SALESROOM

AND WAITS ON CUSTOMERS HIMSELF.

HERE'S A SAMPLE OF HIS UNUSUAL WARES.

ATTRACTIVE HOWEVER YOU LOOK AT IT.

JOANNE: THE MID-CENTURY MODERNIST JEWELRY MOVEMENT

WAS A PERIOD OF TIME IN WHICH ARTISTS WERE TURNING

TO JEWELRY AS A FORM OF ART.

ART SMITH IS RECOGNIZED AS A SIGNIFICANT MAKER IN THIS MOVEMENT.

MID-CENTURY MODERNIST JEWELERS WERE CREATING SOMETHING

THAT WAS NEW AND AMAZING AND THAT WAS ART,

WEARABLE ART.

THEY WERE REALLY MOVING AWAY FROM THE IDEA

OF MASS-PRODUCED OBJECTS

AND FOCUSING MORE ON THE PERSON WHO CREATES THE WORK.

ART: THE IDEAS COME FROM JUST THE FACT

THAT ONE IS A CREATIVE PERSON.

I THINK ABOUT THE BODY AND THINK ABOUT THE NECK,

I THINK ABOUT THE FINGERS.

WHAT COULD I DO IN AND AROUND A FINGER,

NOT JUST ON A FINGER?

A RING CAN GO AROUND A FINGER,

IT CAN GO UP A FINGER, DOWN A FINGER, ACROSS A FINGER.

REALLY IT CAN BE INCOMPLETE ON A FINGER.

THE END RESULT IS JUST AS IF A STICKY HAND

WENT INTO A POT OF STONES AND CAME OUT

WITH A VARIETY OF STONES CLINGING TO VARIOUS FINGERS

AND IN BETWEEN THE FINGERS.

JOYCE: ART WAS A MAN OF GREAT SOPHISTICATION AND ELAN.

HE ALWAYS HAD THAT SOIGNE ABOUT HIM.

HE WAS VERY DARK-SKINNED,

AND HIS HAIR WAS ALWAYS WELL-COIFFED, YOU KNOW,

AND HE HAD ON ONE OF HIS RINGS.

HE WAS ALSO A LOVING PERSON AND A STRONG TEACHER.

JOANNE: IN 1974, ART SMITH GETS AN INVITATION

TO PARTICIPATE AS A MENTOR AND A TEACHER

AT HAYSTACK MOUNTAIN SCHOOL OF CRAFTS.

THE SUMMER OF 1974 FOCUSED ON BLACK CRAFTSMANSHIP,

BRINGING ALL OF THESE YOUNG ARTISTS

TO LEARN FROM THESE SORT OF SENIOR AFRICAN-AMERICAN ARTISTS

LIKE ART SMITH.

JOYCE: I WAS A STUDENT THERE,

SO I'M MAKING THINGS AS I USUALLY DO,

CHEWING GUM, STRETCHING PLASTIC, SOAKING IN WATER,

DOING SOMETHING.

AND HE LOOKED AT MY WORK AND HE SAID--

I WILL NEVER FORGET THIS--

"I DON'T KNOW WHAT YOU'RE DOING, BUT DON'T STOP."

AND THIS IS FROM A CLASSIC JEWELER,

A CLASSIC METAL ARTIST.

HE SAW HIS JOB WAS TO TEACH ME

HOW TO EMPLOY HIS KNOWLEDGE INTO MY WORK.

MICHAEL: THIS WAS ACTUALLY MY FIRST REAL PROFESSIONAL SHOOT.

ART WAS SHOWING A GREAT DEAL OF CONFIDENCE, FAITH, AND BELIEF.

AND YOU WERE THERE. JOYCE: ADDING BEAUTY AND GRACE.

MICHAEL: AND ADVICE.

PART OF MY EXPERIENCE AT HAYSTACK

WAS TRYING A LOT OF DIFFERENT THINGS,

AND THIS WAS CERTAINLY RIGHT UP THERE.

THE PICTURES OF YOU AND ART,

WE WERE SORT OF JUST GOOFING.

JOYCE: THAT WAS ONE OF THE POSITIVE THINGS ABOUT ART,

THAT HE TOOK US AS WE WERE.

ART: THE INGREDIENTS THAT HAVE ALWAYS BEEN INVOLVED IN MY WORK

ARE METAL AND WIRE

AND A THIRD INGREDIENT, SPACE,

WHICH I USE VERY ACTIVELY, VERY CONCRETELY

BECAUSE OF MY OWN ORIENTATION TOWARD DESIGNING THAT WAY,

BUT ALSO AS A VERY CHIEF COMPONENT.

[LAUGHTER]

INTERVIEWER: IT'S THERE. ART: YEAH.

JOANNE: THE JEWELRY WAS DYNAMIC AND SCULPTURAL.

IT HAD SO MUCH MOBILITY TO IT.

HE WAS A JAZZ AFICIONADO,

AND THE WAY THAT THE JEWELRY MOVES AND SWINGS

AND SWERVES IS SO SIMILAR TO JAZZ.

JOYCE: HE WAS A GLORIOUS TECHNICIAN.

HE UNDERSTOOD HOW TO TURN METAL, SAW METAL,

GRIND DOWN THE EDGES AND FILE THEM,

AND POLISH AND TO MAKE THEM BEAUTIFUL.

HE TOOK A HUMBLE MATERIAL LIKE BRASS AND COPPER,

BRONZE, AND ELEVATED IT.

ONE OF THE THINGS THAT WAS CEMENTED IN MY LIFE

FROM A MENTOR LIKE ART IS TO KNOW THAT

YOU'RE NOT ALONE IN THIS.

IN FACT, YOU SHOULD BE HOLDING THE HAND OF SOMEONE ELSE

WHO YOU PUSH IN, AND THEN THEY'LL PUSH YOU

IN A DIFFERENT WAY.

CLYDE: YOU DON'T THROW AWAY ANYTHING.

THAT'S ONE OF THE THINGS THAT JOYCE TAUGHT ME.

YOU DON'T THROW AWAY ANYTHING.

I MOVED HERE TO BALTIMORE IN 2008

AND COMPLETED MY CERTIFICATE IN JEWELRY DESIGN.

ALL OF MY FACULTY MEMBERS WHO TAUGHT ME WERE WHITE.

SO WHEN YOU START TALKING ABOUT ENTERING INTO A NARRATIVE

OR A CONVERSATION ABOUT YOUR CULTURE

AND HOW YOU BRING YOUR CULTURE AND YOUR IDENTITY INTO THE WORK,

I HAD TO FIND ANOTHER VOICE.

JOYCE: WHEN THE LIGHT HITS IT...

CLYDE: JOYCE HAD SEEN ME TINKERING WITH MY JEWELRY,

AND SHE STARTED CRITIQUING ME.

JOYCE: BECAUSE YOU REALLY WORKED THIS SURFACE NICELY.

CLYDE: THAT STARTED THE MENTORING RELATIONSHIP.

JOYCE: I DO HAVE A SUGGESTION.

I'M NOT READING IT AS A FACE SO WELL.

YOU MIGHT WANT TO SHAPE THE EYES

SO YOU COULD DROP THE STONE IN

SO YOU'LL HAVE A REAL EYE SHAPE.

LESLIE: IN SCHOOLS AND COLLEGES,

THEY'RE ASKING BASIC QUESTIONS LIKE,

"WHERE ARE THE TEACHERS THAT LOOK LIKE ME?

"IF YOU ARE TELLING ME THAT I CAN DO THIS,

"HOW COME I DON'T SEE SOMEBODY LIKE ME

WHO IS DOING THIS?"

WE NEED ALL OF THOSE STORIES, THOSE NARRATIVES,

THAT ARCHIVE OF HISTORY TO COME FORWARD.

AND WHEN YOU HAVE THAT RIGHT-BRAIN ARTISTIC CAPACITY,

YOU HAVE A SPECIALNESS THAT TALKS ABOUT A WAY OF LIVING,

A WAY OF BEING, BELIEF SYSTEMS.

JOYCE: NOW, WHEN YOU SAY I'M A MENTOR,

I AM IN THE SENSE A PERSON WHO BELIEVES YOU DON'T GIVE UP.

YOU HAVE THIS ONE LIFE,

AND YOU HAVE THE ABILITY TO MAKE JEWELRY.

JOANNE: ART SMITH WAS MANY THINGS.

HE WAS AN IMMIGRANT AMERICAN.

HIS PARENTS WERE JAMAICAN

AND HAD MOVED FROM JAMAICA TO CUBA

TO THE UNITED STATES, TO NEW YORK, TO FIND WORK.

HIS FATHER WAS INVOLVED IN THE UNIA,

WHICH IS MARCUS GARVEY'S MOVEMENT ABOUT BLACK POWER

AND BLACK SELF-SUFFICIENCY.

HE WAS A GAY MAN DURING A PERIOD OF TIME

WHEN PEOPLE WEREN'T AS TOLERANT.

HE WAS AN AFRICAN-AMERICAN MAN, SO HE FACED RACIAL ISSUES.

HE RECEIVED A SCHOLARSHIP TO COOPER UNION FOR COLLEGE.

HE GRADUATED WITH A DEGREE IN ADVERTISING DESIGN.

HE STARTED A POSITION IN HARLEM

TEACHING KIDS ARTS AND CRAFTS AND TRADES.

ART: IN THE ROOM NEXT TO MINE WAS WINIFRED MASON.

SHE USED TO BRING IN HANDMADE JEWELRY.

IT WAS ENOUGH TO SOMEWHAT FASCINATE ME.

AND I BEGAN WORKING IN THE METAL.

SHE OPENED A BUSINESS,

AND I WAS THE RIGHT-HAND MAN IN EVERYTHING,

BUT SHARING THE PROCEEDS.

JOANNE: HE QUICKLY OUTSHINES WINIFRED MASON,

AND HIS WORK BECOMES VERY WELL-KNOWN IN HER SHOP.

ART: AT THE END OF FOUR YEARS,

I CAME TO THE LATE REALIZATION

THAT I COULD BE DOING ALL THE THINGS I'M DOING

FOR HER FOR MYSELF,

AND THAT'S WHAT I DID.

I OPENED A LITTLE TINY PLACE ON CORNELIA STREET,

BUT THE STREET WAS VERY ANTAGONISTIC.

THEY WERE INTOLERANT OF BOHEMIANS.

THEY WERE INTOLERANT OF JEWS.

THEY WERE INTOLERANT OF NEGROS.

EVERY TIME YOU WENT IN AND OUT YOUR DOOR,

YOU WENT THROUGH AN ANTAGONISTIC BUNCH OF PEOPLE

STANDING OUTSIDE SAYING THINGS.

THEY WERE BREAKING MY WINDOWS.

AND THERE WAS AN ATTEMPT MADE TO RUN ME OVER.

AND YOU COULD NOT GET REAL POLICE COOPERATION.

IT WAS ALL REALLY IMPOSSIBLE.

JOYCE: I KNOW THAT HE HAD PROBLEMS,

BUT THAT DIDN'T STOP HIM.

AND THAT VIGILANCE IS ONE OF THE THINGS

THAT WE TALKED ABOUT

NOT ONLY FOR SOMEONE WHO HAS A PATH AS A JEWELER

BUT AS AFRICAN-AMERICANS.

THE VIGILANCE IT TAKES TO BE TRUE TO YOURSELF

AND TO YOUR ARTWORK.

CLYDE: JUST THINKING ABOUT YOUR CONNECTION WITH ART SMITH,

MY CONNECTION TO YOU.

I TRIED TO MAKE A PIECE THAT PUT THE THREE OF US TOGETHER.

ART'S LAVA BRACELET INSPIRED ME. JOYCE: MM-HMM.

CLYDE: THE UNDULATION, THE MOVEMENT.

JOYCE: THIS IS A PIECE OF SCULPTURE

AND NOT A PIECE OF JEWELRY.

CLYDE: IT'S BOTH.

SO I TOOK THE BEADED PIECE THAT YOU GAVE ME FOR MY BIRTHDAY,

WHICH IS HERE.

THIS CAME FROM MY GRANDMOTHER'S CEMETERY.

SO THAT WHOLE THING OF CARRYING BOTH ART WITH ME

AND MY OWN FAMILY.

AND THEN THERE'S CARRYING JOYCE.

JOYCE: I THINK IT'S A GLORIOUS PIECE,

AND I'D LIKE TO SEE IT ON YOU.

OK, SO HERE IT IS ON HIS BODY.

FOR A MAN WITH PROWESS AND STRENGTH,

HOW ABOUT A NECKLACE THAT SAYS THAT?

I THINK YOUR GRANDMA WOULD BE VERY, VERY PROUD OF YOU.

YOU SAY IT'S REMINISCENT OR REFERS TO HIS BRACELET,

SO MAYBE IT SHOULD BE A BRACELET.

CLYDE: OK. JOYCE: BECAUSE IF YOU'RE STAYING

WITHIN THE FAMILY OF ART

AND YOU HAVE SOMETHING THAT LOOKS LIKE A BRACELET,

MAKE IT A BRACELET.

I KNOW THAT HE'S IN HEAVEN RIGHT NOW SAYING,

"HOW DARE THEY?"

BUT THAT'S OK, TOO.

I'LL HEAR FROM HIM TONIGHT, I'M SURE.

JOANNE: AFTER THE CORNELIA STREET SHOP,

HE OPENS IN GREENWICH VILLAGE,

WHICH WAS CONSIDERED MORE ARTISTIC AND BOHEMIAN.

HE WAS ABLE TO KEEP HIS STORE OPEN FROM THE LATE 1940s

UNTIL 1979, AND MADE A LIVING AT HIS ART

FOR OVER 30 YEARS.

WE GO TO ART MUSEUMS TO SEE THESE WONDERFUL PIECES OF ART

IN WHICH AN INDIVIDUAL

IS EXPRESSING THEMSELF ON THE CANVAS.

THIS IS WHAT THESE MID-CENTURY MODERNIST DESIGNERS

LIKE ART SMITH WERE DOING TO JEWELRY--

TAKING IT AND BENDING IT USING ITS PROPERTIES,

CHANGING IT, EXPERIMENTING WITH DIFFERENT MEDIUMS AND FORMS,

AND CREATING QUITE OUTSTANDING AND BEAUTIFUL WORK.

ART: PIECES SHOULD REALLY PLAY WITH EACH OTHER,

AND THEY SHOULD PLAY WITH THE BODY.

IT SHOULD BE FUN. IT SHOULD BE AN EXPLOITATION.

IT SHOULD BE AN INVESTIGATION.

A GOOD PIECE OF JEWELRY LITERALLY CARESSES THE BODY

AND FONDLES IT.

IT ENJOYS ITSELF AND ENJOYS YOU WHEN YOU ENJOY IT.

ROBERT: THERE'S NOTHING OLDER THAN PERSONAL ADORNMENT.

AND MANY PALEOARCHAEOLOGISTS

FEEL THAT THE ONSET OF BEADS MARKED MODERN HUMAN BEHAVIOR.

PEOPLE HAD A SENSE OF AESTHETICS.

IT DOESN'T MATTER THAT IT'S 100,000, 200,000 YEARS AGO.

WHEN YOU LOOK AT ANY PIECE LIKE AN ANCIENT BEAD

OR A WONDERFUL JADE PENDANT,

YOU'RE LOOKING AT HUMAN SKILLS.

I WAS TRAINED AS AN ICHTHYOLOGIST

WHO STUDIED ENDANGERED PUPFISHES.

THAT DOESN'T GIVE YOU A VERY PRACTICAL BACKGROUND

FOR BEING A PUBLISHER.

PAT, DO YOU THINK WE HAVE ALL THE ARTICLES FOR NEXT ISSUE?

PATRICK: WE'VE GOT ALL THE FEATURES.

THERE'S JEANIE PRATT, SMALL WONDERS,

AND YOUR PAIWAN BEADS ARTICLE.

LOOKS LIKE YOU'RE STILL WRITING THAT?

ROBERT: I'M EASILY HALFWAY THROUGH.

PATRICK: OK.

ROBERT: MY INTEREST IN BEADS STARTED IN GRAD SCHOOL.

IT COINCIDED WITH A WAVE OF BEAD SOCIETIES,

THOUSANDS OF PEOPLE COLLECTING BEADS.

MY MAJOR PROFESSOR SAID TO ME,

"WHY DON'T YOU START A MAGAZINE ON BEADS?

I'LL GIVE YOU $1,500."

I ENLISTED CAROLYN BENESH, MY LATE WIFE.

SHE CAME FROM A FINE ARTS BACKGROUND.

THE TWO OF US TOGETHER LEARNED HOW TO PUBLISH MAGAZINES.

WE COVER EVERYTHING TO DO WITH PERSONAL ADORNMENT,

WHAT IS WORN ON THE BODY.

PATRICK: I GOT A VERY EARLY START IN THE BUSINESS.

JEWELRY ALLOWS US TO REIMAGINE OURSELVES.

IT'S PLUMAGE.

HUMAN BEINGS THROUGHOUT HISTORY HAVE WORN JEWELRY

TO SHOW THAT THEY ARE IMPORTANT.

JEWELRY CAN COMMUNICATE MANY THINGS--

PROXIMITY TO THE DIVINE,

CONNECTION TO NATURAL SPIRITS,

OR MORE PERSONAL REASONS, PERHAPS AS A TROPHY.

ROBERT: THESE ELK TEETH ARE BETWEEN 6,000 AND 8,000 YEARS OLD.

GROOVING SOMETHING TO STRING IT UP

MAY BE LEARNED FROM NEANDERTHALS,

BUT THIS IS NOT PROVEN.

I'VE TRIED TO CONCENTRATE ON A FEW MATERIALS

THAT ARE TERRIFICALLY IMPORTANT HISTORICALLY--

FAIENCE, WHICH IS SELF-GLAZING CERAMIC

USED BY THE EGYPTIANS AND OTHER PEOPLE IN THE MIDDLE EAST;

GLASS, WHICH IS A MUCH MORE RECENT PHENOMENON,

BUT WIDELY USED AND BEAUTIFUL.

AND I STUDIED FOLK JEWELRY FROM CHINA,

WHICH IS VERY, VERY WELL MADE.

BUT NOBODY KNOWS ANYTHING ABOUT WHO MADE THEM.

PEOPLE ONLY KNEW SOMEONE MADE SOMETHING

IN THE LATE 19th, 20th CENTURY.

OFTENTIMES I LOOK AT, SAY, LIKE AN EGYPTIAN MOLDED AMULET,

AND YOU MARVEL AT THE SKILLS OF THESE ARTISTS.

MY INTEREST IS IN TRYING TO GIVE THEM RECOGNITION AND HONOR.

PATRICK: THESE ARE THREE PIECES FROM ACROSS THE MIDDLE EAST.

TWO PAKISTANI EARRINGS,

A SILVER YEMENI PRAYER SCROLL CASE,

DEFINITELY TALISMANIC,

AN UNUSUAL AFGHAN BUTTERFLY PENDANT WITH GLASS.

AS WE'VE COME INTO THE 20th CENTURY,

JEWELRY BECAME A MUCH MORE DEMOCRATIC IDEA,

AND CONTEMPORARY ART JEWELERS WERE THE VANGUARD OF THIS.

THIS IS A POLYMER CLAY NECKLACE BY KATHLEEN DUSTIN.

SHE WENT THROUGH THIS PHASE

WHERE SHE WAS CREATING INCREDIBLY SENSUAL,

VOLUPTUOUS WOMEN WITH INCREDIBLE, DELICATE CLOTHING.

THIS WAS A PIECE DE RESISTANCE.

FIBULA ARE ONE OF THE OLDEST TYPES OF ADORNMENT

USED FOR SECURING CLOAKS.

RAMONA SOLBERG, WHO IS A PIONEER OF USING FOUND OBJECTS

LIKE ETHNOGRAPHIC AND TRIBAL ARTIFACTS

AND INCORPORATING THEM RESPECTFULLY INTO A WORK.

SOME CONTEMPORARY ART JEWELERS ARE TAKING MATERIALS

SEEN AS NOT VALUABLE,

SOMETIMES EVEN WORTHLESS, AND SUBVERTING THEM.

HOLLY ANNE MITCHELL USES RECYCLED NEWSPAPERS

TO CREATE HAND-SEWN BEADS.

THIS WAS ONE OF THE FIRST POLITICAL PIECES SHE EVER MADE.

FOR MOST ARTISTS, THE JOY OF TURNING THEIR IMAGINATION

AND THEIR INSPIRATIONS INTO A REAL, SOLID OBJECT

IS WHAT DRIVES THEM.

I WAS THINKING OF DOING AN ARTICLE ON THE SEATTLE METALS GUILD.

ROBERT: OH, OK.

PATRICK: WE COULD HAVE DIFFERENT JEWELRY ACROSS THE PAGE.

ROBERT: SORT OF ALMOST A MONTAGE.

PATRICK: EXACTLY, YEAH. ROBERT: OK.

SO WE'VE GOT ALMOST A MONTH. NO.

PATRICK: MORE THAN A MONTH. ROBERT: MORE THAN A MONTH.

I TRY TO SAY THIS IS THE JEWELRY,

THIS IS WHAT IS IMPORTANT,

AND HERE'S HOW I WANT YOU TO LOOK AT IT.

I'M OBSESSED.

YOU KNOW, YOU'VE GOT TO BE OBSESSIVE TO BE IN THIS FIELD.

WHO ELSE IS GONNA PEER AT TWO MILLIMETER LONG BEADS

AND TRY TO FIGURE OUT WHAT THE DICKENS IS THIS ABOUT?

I WANT TO TEACH PEOPLE WHAT THEY'RE SEEING.

TO UNLEASH THE STORY BEHIND IT TO ME

IS A REAL REVELATION.

GABRIELLE: I HAVE QUITE A TREASURE TROVE OF FEATHERS.

THEY'RE JUST ALL SO WONDERFUL.

AMAZON...

PARAKEET, LOVEBIRD, COCKATIEL.

SKY'S THE LIMIT.

THESE ARE JUST AMAZING.

I MEAN, LOOK AT THIS FEATHER.

IT'S JUST SO BEAUTIFUL WITH ITS RED AND THEN THE GREEN.

IMAGINE HOW HAPPY I WAS WHEN I GOT THESE IN THE MAIL.

THESE ARE SO EXCITING.

AND THEN THESE TINY, LITTLE RED PERFECT FEATHERS.

I'VE GOT WONDERFUL TAIL FEATHERS OF PARAKEETS.

THEY ONLY MOLT CERTAIN TIMES OF THE YEAR,

SO TO GET A BIG COLLECTION OF TAIL FEATHERS

IS REALLY--TAKES A LOT OF TIME.

OH.

SO BEAUTIFUL.

IT'S JUST LIKE CHRISTMAS.

I THINK PROBABLY OTHER JEWELERS WOULD USE A GEMSTONE

OR GET EXCITED ABOUT THAT.

FOR ME, IT'S--IT'S THE FEATHERS.

I START OUT DRAWING ALMOST EVERYTHING THAT I MAKE

AND GET AN IDEA OF PROPORTION,

WHERE I WANT THE BIGGER FEATHERS TO GO,

WHERE I WANT THE SMALLER FEATHERS TO GO

SO THAT IT'LL LAY CORRECTLY.

I'M MAKING THE NECKLACE OUT OF STERLING SILVER TUBING

THAT I HAND CUT AND FILE,

ASSEMBLE IT INTO ITS OWN BEAD, SO TO SPEAK.

AND THEN I CUT AND TRIM AND TIE FEATHERS

AND INSERT THE FEATHERS INSIDE THE STERLING ARMATURE.

I WENT TO FLAGLER COLLEGE HERE IN ST. AUGUSTINE, FLORIDA.

THE JEWELRY CLASS WAS LIKE A MINIATURE SCULPTURE CLASS.

THAT'S WHEN I FIRST GOT MY HANDS ON THE TOOLS

AND UNDERSTOOD HOW I COULD INCORPORATE MY DRAWINGS INTO METAL.

I JUST REALLY DECIDED THAT WAS THE THING FOR ME.

I NEEDED MUCH FURTHER TECHNIQUE AND TRAINING.

SO I WENT TO PENLAND SO THAT I COULD HONE IN ON JEWELRY SKILLS.

ALEXANDER CALDER REALLY INSPIRED ME.

HE WAS ABLE TO USE PLIERS AND WIRE

AND CREATE SOMETHING THAT HAD SUCH A STRONG CHARACTER

JUST WITH TWO SIMPLE TOOLS.

I WAS BORN IN DULUTH, MINNESOTA,

AND I GREW UP ALONG THE SHORES OF LAKE SUPERIOR.

I HAD ALWAYS A HEART TENDING TOWARDS THE BEAUTY

AND THE NATURE OF THE BEAUTIFUL SHORE,

FINDING AGATES AND THE SOFT STONES

WASHED BY LAKE SUPERIOR.

JOYCE: LAKE SUPERIOR STONES,

YOU KNOW, THEY'VE BEEN ROLLED SMOOTH.

GABBY WOULD BRING BUCKETS AND BUCKETS OF SHELLS

AND THINGS THAT SHE'D BRING ON THE BEACH.

IF WE SAID SHE COULDN'T BRING IT HOME OR SOMETHING,

THE TEARS WOULD START, SO.

MARTIN: GABRIELLE, SHE JUST HAD THAT--

SHE HAD THAT ARTIST IN HER.

SHE'D START TO DRAW AND PAINT ON THE WALLS.

SHE'D JUST DO ALL THESE WONDERFUL THINGS.

I HATED TO EVER HAVE TO PAINT OVER THEM.

GABRIELLE: GROWING UP, MY PARENTS HAD DESIGN STORES.

AND MY FATHER IS AN ARCHITECT.

I THINK THAT WAS PROBABLY THE BIGGEST INFLUENCE IN MY LIFE,

LIVING EVERY DAY SURROUNDED BY BEAUTY AND ARCHITECTURE,

AND MAKING THINGS ALWAYS WAS A HUGE PART OF IT.

LUIS: GABBY ALWAYS FROM THE DAY I MET HER,

SHE HAD A CURIOSITY FOR EVERYTHING THAT CAN INSPIRE YOU TO DO ART.

THERE'S NOT GONNA BE FEW MILES THAT I DRIVE

THAT I DON'T HAVE TO STOP THE CAR

BECAUSE SHE MUST COLLECT SOMETHING

SHE'S SEEN ALONG THE WAY.

GABRIELLE: THESE ARE SOME OF MY TREASURED PIECES

THAT I BROUGHT BACK FROM BRAZIL.

LUIS AND I SPENT A MONTH IN BRAZIL ON OUR HONEYMOON.

WHILE WE WERE THERE, I FOUND THE WORK

OF THE AMAZONIAN INDIANS,

THE SIMPLE THINGS THAT THEY HAD USED FROM THEIR ENVIRONMENT

TO MAKE ADORNMENTS--SEEDS, TWIGS, AND THE FEATHERS,

THAT WAS A, YOU KNOW, HUGE INFLUENCE ON ME.

THIS IS SOMETHING THAT WOULD BE WORN ON YOUR ARM.

AND THIS NECK PIECE MADE WITH SEEDS

AND THE RED MACAW FEATHERS.

THIS IS MY FAVORITE PIECE.

AND YOU CAN SEE THE FEATHER WORK

AND THE WAY THEY TIED THE FEATHERS

AND THIS FEATHER CLUMP DOWN HERE.

AND THEN THE WOVEN PATTERN IS INDICATIVE OF THE TRIBE.

LUIS: IT WAS TIME TO GO GET LUNCH AND SHE WOULD NOT LEAVE,

SO I KNEW THAT SHE WAS CAPTIVATED

BY WHAT SHE WAS SEEING, HYPNOTIZED.

GABRIELLE: THE MINUTE WE GOT BACK FROM BRAZIL,

I REALLY STARTED TO WORK ON THOSE IDEAS

AND PUSH THAT INTO MY WORK

TO USE THE THINGS IN MY ENVIRONMENT THAT I HAD FOUND,

THE THINGS I'VE ALWAYS COLLECTED AND I ALWAYS LOVED.

THIS IS COQUINA FROM ST. AUGUSTINE,

FROM HERE ON OUR BEACH.

I WALK ALMOST EVERY DAY ON THE BEACH

AND FIND SHELLS.

TO ME, THEY LEND THEMSELVES PERFECTLY TO JEWELRY.

I CALL THIS TATTOOING THE SHELLS,

PUTTING GOLD AND FEATHERS AND DOING DIFFERENT THINGS.

THESE ARE SHELLS ON THIS PIECE, ACTUALLY.

THIS JEWELRY BOX IS A SCULPTURAL PIECE UNTO ITSELF.

AND THEN CAMOUFLAGED AND HIDDEN INSIDE IS THE JEWEL.

NIKKI: HEY, I THINK I SAW A DOLPHIN.

GABRIELLE: YEAH.

NIKKI: GROWING UP, THE MAJORITY OF MY LIFE

WAS SPENT OUTSIDE WITH MY MOM.

SHE WOULD POINT OUT THE MOST INTRICATE, LITTLE DETAILS

THAT I WOULD NEVER HAVE NOTICED,

WHETHER IT'S A TINY FEATHER, A LITTLE ROCK.

SHE KNEW EVERY TYPE OF BIRD THAT WE SAW.

GABRIELLE: THE HEAD FEATHERS SOMETIMES

ARE THE MOST BEAUTIFUL FEATHERS.

THAT'S WHERE IF THE BIRD WANTS TO GET HIS MATE'S ATTENTION

OR HE FEELS THREATENED, UP GOES THE TOP KNOT.

THESE ARE GRIZZLY HACKLE.

IT'S SO PLIABLE AND HAS SUCH A TEXTILE FEEL TO IT.

I USE THIS A LOT.

IN THIS PIN, FOR INSTANCE, PUT AROUND THE OUTSIDE,

AND IN HERE IS RING-NECK PHEASANT FEATHERS,

AND THE IRIDESCENCE OF THEM IS JUST BEAUTIFUL.

NIKKI: MY MOM APPRECIATES THE BEAUTY OF NATURE.

HER WORK REPRESENTS WHO SHE IS AS A PERSON.

IT'S NOT JUST WHAT SHE DOES AS A JOB,

IT'S JUST, IT'S HER LIFE.

GABRIELLE: THE COLORATION, THE SIZE, THE VARIETY,

THE FACT THAT THEY'RE SO LIGHTWEIGHT

LEND FEATHERS SO PERFECTLY TO JEWELRY.

WHETHER THEY'RE TIED, WHETHER THEY'RE CLIPPED,

HAND TRIMMED, CUT, WRAPPED AMONGST THEMSELVES EVEN,

MAKE A CHAIN WITH THE FEATHERS THEMSELVES,

THEY'RE JUST EXCELLENT, AND I'M JUST SO CRAZY ABOUT THEM.

WE SIT OUT HERE IN THE EVENING AND WE WATCH THE BIRDS COME BY.

THEY HERD TOGETHER BY THEIR TYPE.

THE SPOONBILLS GO TO ONE ROOKERY,

AND THE NIGHT HERONS ARE AT A DIFFERENT ROOKERY.

IT'S JUST, YOU KNOW, WONDERFUL.

HOW DO THEY KNOW THAT THEY'RE A HERON,

TO GO TO THE HERON ROOKERY?

WHO KNOWS?

STUDYING NATURE, YOU SEE THE CHARACTER

OF EVERY LIVING THING COME OUT.

I THINK THAT I TRY TO CAPTURE THAT.

I HAVE SIMPLE TOOLS, I WORK SIMPLE, AND I LOVE IT.

FOR ME, IT'S THE HANDS ON AND THE MAKING.

I JUST LOSE MYSELF IN TIME WORKING ON MY PIECES.

I THINK YOU NEED THAT ALONE TIME

TO REALLY HONE IN ON HOW TO MAKE YOUR ART,

WHAT INSPIRES YOU,

TO HAVE TIME TO NURTURE THAT INSPIRATION,

AND THEN SEE IT THROUGH.

JESSE: THE FOUR DIRECTIONS OF COLOR

WERE BROUGHT TO US BY OUR GREAT GRANDFATHERS.

WHEN YOU FACE THE EAST TO PRAY, THAT'S THE YELLOW.

WHEN YOU GO TO THE SOUTH,

THAT'S WHEN YOU SEE A LOT OF DARKER GREEN.

TO THE NORTH IS WHERE THE GIFTS ARE GIVEN,

SO THEY'RE THE DARK COLORS.

TO THE WEST YOU DO A LOT OF REDDISH COLORS

BECAUSE THE SUN IS GOING DOWN.

THE NAVAJOS ALWAYS USE THESE COLORS.

BUT THAT WAS WHAT I HAVE IN MIND ONCE I STARTED DOING MY PIECES.

THE CHANGING OF THE LANDSCAPE IS CORAL.

CORAL COMES IN SEVEN, EIGHT, TEN DIFFERENT SHADES--

ORANGE, RED, PINK.

AND THE BEST OF THE BEST IN CORAL, WHICH IS DARK OXBLOOD RED.

YOU USE THE BEST STONES.

IT MEANS A LOT TO ME.

YOU LEARN HOW TO SHINE IT, YOU LEARN HOW TO SMOOTH IT.

SO JUST HAVING THE STONE MAKES YOU WANT TO BE JUST AS GOOD.

IT'S KIND OF LIKE WATERCOLOR, ACTUALLY.

I MATCH THEM UP AND SEE WHO WANTS TO BE TOGETHER

THE REST OF THEIR LIVES.

SO LAPIS IS STURDY. THAT'S PRETTY GOOD.

THE GREEN IS GASPEITE.

AND THEY'RE THE SAME FAMILY AS THE TURQUOISE.

MY GRANDMOTHER TAUGHT ME JUST ABOUT EVERYTHING I KNOW.

ONE DAY SHE GOT TWO STONES, WET IT, AND RUBBED IT TOGETHER,

AND THEN SHE PUT IT TO MY NOSE AND ASKED ME WHAT I SMELL.

I SAID, "NATURAL MUD."

AND SHE SAID, "THAT'S HOW YOU KNOW IT'S REAL TURQUOISE."

LAPIDARY IS WORKING WITH STONES BY HAND,

POLISHING IT UP, GETTING IT TO A COMPLETE FINISH,

INTO CABOCHON.

I CAN MAKE IT PERFECTLY ROUND AND DOME SMOOTH.

NOT TOO MANY PEOPLE CAN DO IT.

DIANA: JESSE IS ONE OF THOSE INCREDIBLE ARTISTS

WHO IS VERY, VERY SKILLED WITH STONE INLAY,

THE VERY INTRICATE DESIGNS THAT HE DOES.

YOU CAN'T TELL WHERE THE INLAY OF ONE STONE STARTS

AND WHERE THEY MEET OR WHERE THEY JOIN.

IT'S JUST PERFECTION.

JESSE: THIS IS ALL NAVAJO.

IT'S HOME FOR ME.

I MIGHT GO FAR AWAY,

BUT ONCE I COME BACK, THIS IS HOME.

THIS IS WHERE I BELONG.

TOADLENA MEANS THE WATER THAT COMES OUT,

OUT OF THE MOUNTAIN.

TOADLENA.

THIS WAS OUR HALFWAY POINT GOING UP

OR COMING DOWN THESE MOUNTAINS WITH 200 HEADS OF SHEEP.

WE WASH OUR FACE IN THE COLD, COLD WATER RIGHT DOWN HERE.

IT WAS A REALLY BEAUTIFUL PLACE TO GATHER

ALL THE GREAT WEAVERS, GRANDMOTHERS,

AND THEY WOULD TALK WITH EACH OTHER

ABOUT DIFFERENT SHEEP,

WHO HAD THE BEST WOOL.

GRANDMOTHER WAS THE MATRIARCH

AND ONE OF THE MEDICINE PEOPLE.

SHE TAUGHT ME HOW TO PRAY.

AND MY AUNTIES AND MY RELATIVES AROUND ME,

THEY ALL BECAME GREAT WEAVERS.

I WATCHED THEM VERY CLOSELY.

SO MY WORK WAS JUST KIND OF LIKE WEAVING.

I CAN PICK UP A STONE.

I KNOW EXACTLY HOW I'M GONNA CUT IT.

I DON'T REQUIRE TOO MUCH DRAWING OR ANYTHING LIKE THAT.

WHAT GRANDMOTHER SAID IS WHAT I GO BY.

NEVER FINISH YOUR PIECE IN THE DRAWING.

FINISH IT WHEN YOU'RE DOING IT.

WHEN I FIRST STARTED, I GOT A PIECE OF TURQUOISE LIKE THIS.

IT LOOKED LIKE JUST DIRT.

THE GUY JUST THREW IT TO ME.

AND SAID, "MAKE SOMETHING OUT IT."

SO I TOOK IT HOME.

I SAID, "I SHOULD START PRAYING."

THERE'S A PLACE UP IN THE MOUNTAINS,

THE FORESTS ARE VERY THICK.

ME AND MY GRANDFATHER, WE WERE UP THERE,

AND THIS BIG BEAR CAME RUNNING OUT OF THE FOREST.

I'M LOOKING INTO HIS NOSE.

HE WAS RIGHT HERE BREATHING, YOU KNOW.

GRANDFATHER SAID, "DON'T BE SCARED

"AND DON'T ACT LIKE YOU'RE TOUGH

BECAUSE THE BEAR WILL READ ALL OF THAT."

MY GRANDFATHER SAID, "LET US THROUGH.

WE'RE GONNA BE HERE JUST FOR A MOMENT."

AND THE BEAR JUST WENT DOWN AND THEN LET US THROUGH.

IT WAS AN AMAZING TEACHING.

THIS AURA FROM YOUR BODY, HE READS IT.

I WAS STANDING OVER A MACHINE TO CUT THAT PIECE.

SOMEHOW I EMOTIONALLY KNEW

IT WAS GONNA BE THE--THAT THING WAS SOLID.

SOLID PIECE OF WEBBED TURQUOISE.

THAT'S WHAT PUT ME ON THE MAP.

DIANA: THAT ISSUE OF "ARIZONA HIGHWAYS"

WAS AN OPPORTUNITY FOR JESSE TO REALLY PROVE HIS ABILITIES.

HIS BEAR PENDANTS, THEY'RE VERY COMPLEX

IN TERMS OF THE INLAY.

HE'S DONE THEM SO THAT THEY'RE REVERSIBLE.

ONE SIDE MIGHT HAVE JET AS A BACKGROUND,

THE OTHER SIDE MIGHT HAVE CORAL OR LAPIS.

THAT ISSUE WAS A GOOD LOOK AT A LOT OF ARTISTS,

SOME WHO WERE EMERGING, SOME WHO WERE MORE ESTABLISHED.

JESSE: ALL THESE GUYS THAT ARE IN HERE,

THEY WERE THE TOP-- TOP-NOTCH GUYS.

MY DAD IS HERE.

PRESTON. THERE'S PRESTON.

WHEN I FOUND MY DAD, HE WAS A LITTLE BIT LEARY, I GUESS,

A LITTLE BIT...NOT TOO SURE ABOUT ME.

GRANDMOTHER AND GRANDFATHER RAISED US,

AND ALL THE SUDDEN HIS SON SHOWS UP.

I THINK HE DIDN'T TRUST ME

UNTIL WE STARTED DRINKING TOGETHER, OF COURSE.

OK, HERE WE GO. THE MAGIC TOUCH.

HERE YOU GO.

THE STONE'S LIFE IS FOREVER CHANGED.

MY GRANDFATHER ON THE HOPI SIDE, DAVID MONONGYA,

HE USED TO PRAY UP THERE IN THE MOUNTAINS

WITH DALAI LAMA.

WHEN YOU'RE NEAR THEM, YOU COULD FEEL

SOMETHING IS POWERFUL AROUND HERE.

MY GRANDPA, HE WAS A TINY, LITTLE GUY.

AND HE WORE THESE THICK EYEGLASSES.

AND HE LOOKED AT ME, AND HE SAID,

"YOU KNOW WHAT, GRANDSON,

YOU ARE GONNA BE A SPECIAL PERSON."

AND FOR A GUY THAT WAS JUST A DRUNK ON THE STREET

DOING DRINKING AND DOING STUPID THINGS...

I GO TO ALCOHOLICS ANONYMOUS.

THEY TEACH THAT IT'S VERY IMPORTANT

TO HAVE SOME KIND OF A GOD THAT YOU NEED TO TURN TO.

I PRAY THE WAY GRANDMOTHER PRAYED.

THE WORD "HOGAN" IS HOME.

HOGAN.

INSIDE THE HOGAN IS A HOLE TO THE SKY.

AND I USED TO LAY THERE AT NIGHTTIME

LOOKING UP INTO THE HEAVENS.

IT'S JUST FASCINATING, THE UNIVERSE.

YOU OPEN THE MIND.

YOU GO OUT THERE AND PRAY AND ALL THE STARS

ALL THE DIPPERS AND ALL THE MILKY WAY AND ALL THESE THINGS,

MY PEOPLE HAVE PRAYER LINES FOR THEM.

IF YOU REALLY LISTEN TO MY STORY,

EVERYTHING HAS TO DO WITH SPIRITUALITY.

EVERYBODY HAS SOME KIND OF SPIRITUAL WAY IN THEMSELVES.

THERE'S THE UNIVERSE,

AND THEN THERE'S THIS UNIVERSE INSIDE OF YOU.

CAPTIONING MADE POSSIBLE BY CRAFT IN AMERICA, INC.

CAPTIONED BY THE NATIONAL CAPTIONING INSTITUTE --www.ncicap.org--

ANNOUNCER: WATCH ALL EPISODES OF "CRAFT IN AMERICA" ONLINE,

WITH ADDITIONAL VIDEOS AND MORE.

VISIT "CRAFT IN AMERICA" AT PBS.ORG.

THIS EPISODE OF "CRAFT IN AMERICA"

IS AVAILABLE ON AMAZON PRIME VIDEO.