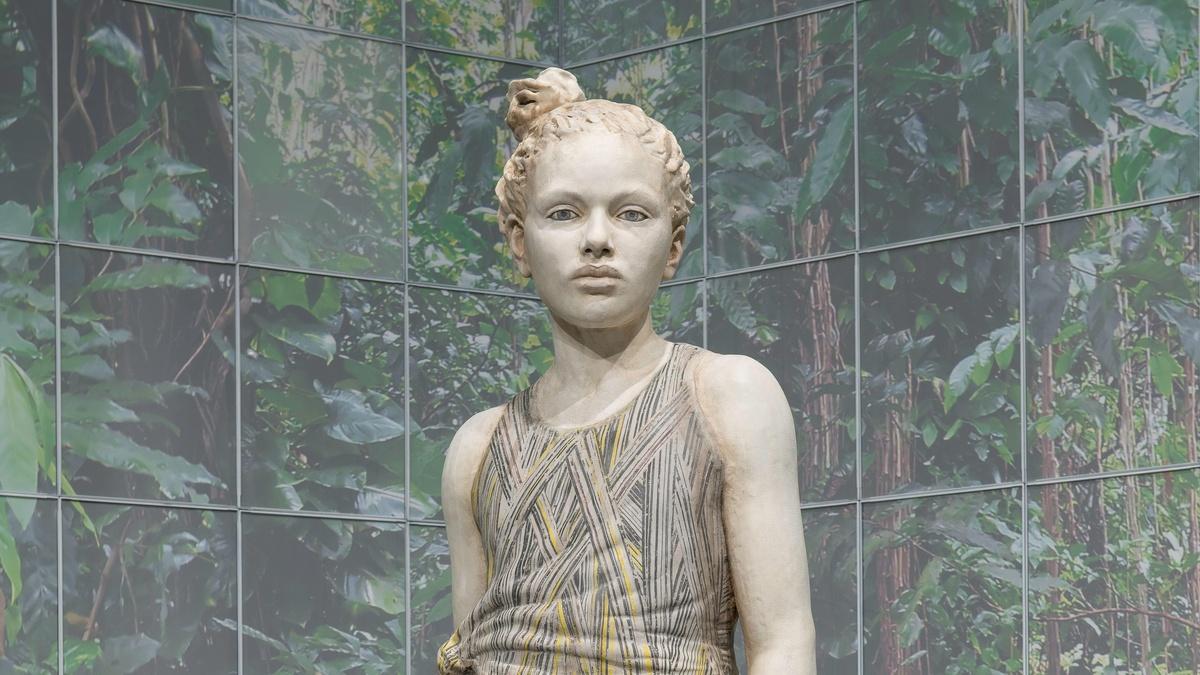 S11 E2 | FULL EPISODE
IDENTITY episode
Artists explore issues of gender, race, culture and place, offering true expressions of their experience in this world. Featuring potter Diego Romero, photographer Cara Romero, furniture maker Wendy Maruyama, and sculptor Cristina Córdova. PBS premiere December 27, 2019 (check local listings)
TRANSCRIPT

DIEGO: I CONSIDER MYSELF A CHRONOLOGIST

ON THE ABSURDITY OF HUMAN NATURE,

THEIR PASSIONS AND THEIR ANGUISH.

CARA: PERFECT, YOU GUYS.

WHAT COMES THROUGH IN MY PHOTOGRAPHS

IS THAT NATIVE AMERICANS ARE STILL VERY MUCH ALIVE

IN MODERN TIMES.

WENDY: MY BEING DEAF WAS PROBABLY THE FIRST IDENTITY

THAT I WAS AWARE OF,

AND THEN BEING JAPANESE AMERICAN.

DELPHINE: 120,000 ETHNIC JAPANESE WERE SENT TO CAMPS.

THE OBJECTS THEY MADE REFLECTED THEIR UNWILLINGNESS

TO GIVE UP AND GIVE IN.

CRISTINA: I'M A FIGURATIVE SCULPTOR.

MY PUERTO RICAN IDENTITY IS AT THE CORE

OF HOW I UNDERSTAND THE WORLD.

[MUSIC PLAYING]

DIEGO: I CONSIDER MYSELF A CHRONOLOGIST

ON THE ABSURDITY OF HUMAN NATURE.

MY JOB IS TO LOOK AND OBSERVE AND DOCUMENT HUMAN PASSIONS,

HUMAN KINDNESS, THEIR GRIEFS, AND THEIR JEALOUSIES

AND THEIR ANGUISH.

AND THAT IS, I SAY, THE BEDROCK

OF THE ART AND THE NARRATIVE.

GARTH: 20 YEARS AGO, DIEGO ROMERO WAS ONE

OF A RELATIVELY SMALL GROUP IN SANTA FE

AMONGST THE NATIVE POTTERS WHO WAS MAKING CONTEMPORARY ART.

HE WAS TAKING INDIAN POTTERY INTO A NEW REALM

AND STILL IS.

[MUSIC PLAYING]

DIEGO: I REALLY KIND OF LET THE POT SPEAK TO ME.

I HAVE AN IDEA OF WHAT SHAPE I''M GOING TO MAKE,

BUT I ALSO LISTEN TO THE CLAY...

AND IT KIND OF HAS A MIND OF ITS OWN.

SO IT''S REALLY A KIND OF A COLLABORATION.

MY FATHER WAS A COCHITI INDIAN,

BORN AND RAISED IN THE PUEBLO,

WENT TO KOREA, LOST A HAND,

WOUND UP IN THE V.A. HOSPITAL IN OAKLAND, CALIFORNIA,

MET MY MOM, WHO WAS A BLOND, BLUE-EYED BERKELEY LIBERAL,

BUT THEY SINCERELY LOVED EACH OTHER.

[MUSIC PLAYING]

I''M VERY COMFORTABLE BEING HALF NATIVE AND HALF WHITE.

I LOOK IN THE MIRROR, AND I JUST SEE DIEGO, THE PERSON.

[MUSIC PLAYING]

MATEO: ART HAS ALWAYS BEEN A BIG PART

OF DIEGO AND MY CHILDHOOD.

WE GREW UP IN A FAMILY OF ARTISTS.

MY BROTHER WAS KIND OF LIKE THE RINGLEADER

OF THE KIDS IN OUR NEIGHBORHOOD.

AND WE ALL COLLECTED COMICS TOGETHER.

WE LEARNED TO READ AND DRAW FROM COMICS.

DIEGO: THE CHILDHOOD IN BERKELEY,

THE LOVE OF COMIC BOOKS

EVENTUALLY CAME INTO PLAY WITH THE PASSION

FOR CERAMICS AND POTTERY.

DIEGO: I ACTUALLY STUMBLED UPON THIS TECHNIQUE

IN A BOOK CALLED "AFRICAN COILED POTTERY."

I''VE BEEN USING IT EVER SINCE.

IT''S NOT PUEBLO, BUT IT DOESN''T HAVE TO BE.

THERE''S MORE THAN ONE WAY TO MAKE A POT. HA HA!

I''LL ADD ANOTHER COIL AND ANOTHER COIL AND ANOTHER COIL

TILL I GET TO A CERTAIN HEIGHT.

CLAY WAS SUCH A HALLMARK OF PUEBLO CULTURE.

I WANTED TO BECOME A TRADITIONAL POTTER.

THERE WAS SO MUCH TO LEARN.

BUT AT THE INSTITUTE OF AMERICAN INDIAN ARTS,

I MET A HOPI POTTER NAMED OTELLIE LOLOMA.

SHE SHOWED ME HOW TO MAKE TRADITIONAL POTTERY.

LATER ON, I ATTENDED OTIS-PARSONS,

AND I MET RALPH BACERRA.

RALPH ALWAYS EMPHASIZED CRAFT, DESIGN, BALANCE,

WHY SHAPES AND COLORS WORKED TOGETHER.

ROBERT: THIS POT IS A VERY EARLY WORK OF DIEGO ROMERO.

WHEN WE WERE STUDENTS,

HE WAS ALWAYS IN THE STUDIO WORKING,

AND THE METICULOUS WORK THAT WENT INTO NO MATTER WHAT HE DID,

THERE WAS ALWAYS A DEMAND FOR PERFECTION.

DIEGO: I WOULD GO ON LATER

TO STUDY WITH ADRIAN SAXE AT UCLA.

ADRIAN EMPHASIZED THE VALUE OF THE NARRATIVE

AND THAT THERE WAS AN INCREDIBLE ABUNDANCE

OF STORIES TO BE TOLD.

I REMEMBER SEEING IN THE GETTY

ANCIENT GREEK POTTERY, AND I WAS LIKE,

"WOW. THESE ARE LIKE THE FIRST SUPERHERO COMIC BOOKS."

SO THERE WERE MANY INFLUENCES,

AND IT ALL STARTED TO KIND OF CLICK IN MY HEAD,

AND I REALIZED I WAS GOING TO BE A NARRATIVE ARTIST.

MATEO: MY BROTHER AND I HAVE A TWO-PERSON SHOW HERE.

DIEGO: "THE CHONGO BROTHERS" IS A TERM

THAT OUR RELATIVES OUT IN COCHITI GAVE US

SINCE WE WERE LITTLE KIDS.

DIEGO: I LIKE YOUR PAINTING.

MATEO: WELL, THANK YOU.

DIEGO: CHONGO IS A HAIR STYLE WORN BY SOUTHWEST INDIANS.

MATEO: IT''S A WRAP. IT''S A HAIR BUN.

DIEGO: IT ALSO MEANT "LITTLE MONKEY."

I REALLY LIKE THE WAY

YOU HANDLED THE BRUSH STROKES IN THE CLOUDS, TOO.

MATEO: THE IDEA OF IDENTITY IS HEAVILY EMBEDDED

IN MY WORK AND MY BROTHER''S.

I THINK, FOR US, IT''S CULTURAL IDENTITY.

DIEGO: THIS ONE IS HOW COYOTE

STEALS FIRE FROM THE FIRE CHIEF.

DO YOU REMEMBER THAT? DAD USED TO TELL US THAT STORY,

AND THAT''S WHY HE HAS THE BLACK BETWEEN HIS EARS.

HE''S SUPPOSED TO BE KIND OF LIKE THIS ROCK-STAR DEITY,

BRINGING FIRE TO MAN.

MATEO: OUR WORK PROCEEDS FROM AN INDIGENOUS PERSPECTIVE.

THAT''S OUR COMMUNITY,

BUT WITH HIGH RATES OF SUICIDE ON THE RESERVATION,

UM, LOW EMPLOYMENT RATES, UM, THINGS ARE ROUGH.

AND IF YOU''RE IN THAT SITUATION, WHAT DO YOU HAVE?

WHAT DO YOU REALLY HAVE? YOU HAVE YOUR VOICE.

DIEGO: THIS IS TITLED "THE DEATH OF NARANJO,"

AND NARANJO IS ONE OF THE LEADERS OF THE PUEBLO REVOLT.

MATEO: MY BROTHER SETS THE EXAMPLE

OF A NATIVE PERSON WHO''S USING VOICE FEARLESSLY.

DIEGO: PUEBLO INDIANS STONE-POLISH

OR BURNISH OUR POTS.

IT''S AN ANCIENT TECHNIQUE,

AND THE STONE IS ACTUALLY PRESSING IT DOWN

AND BRINGING THE FINEST PARTICLES TO THE SURFACE.

NO, NO ONE''S FIGURED OUT HOW TO DO THIS WITH A MACHINE.

IT TAKES THE HUMAN HAND.

AND I DO THAT FROM BOTTOM TO TOP.

GARTH: IN TRIBAL CULTURES,

POTTERS ARE CONSIDERED DANGEROUS.

THEY DIDN''T DO HUMAN FIGURES,

BECAUSE THEN PEOPLE WOULD WONDER WHO THAT FIGURE WAS

AND WHETHER THIS WAS CASTING A SPELL

OR GOING TO CAUSE THEM PROBLEMS.

IN NEW MEXICO, THE MIMBRES PEOPLE,

WHO WE KNOW VERY LITTLE ABOUT--

THEY DISPERSED AROUND ABOUT 900 YEARS AGO--

WERE THE ONLY ONES THAT DID FIGURES,

AND THEIR DRAFTSMANSHIP IS EXTRAORDINARY.

DIEGO: THEY WERE LOOKING AT THE FOREST

AND THE FLOWERS AND THE ANIMALS

THAT COMPRISED THEIR UNIVERSE

AND PUTTING IT INTO THE BOWLS

MUCH IN THE SAME WAY THAT I''M DOING THAT TODAY,

BUT IT JUST HAPPENS TO BE

ISSUES OF POLITICS AND ENVIRONMENT...

LOVE, LIFE, LOSS.

THIS IS ONE OF MY ALL-TIME FAVORITES.

I''M JUST SO FORTUNATE TO HAVE MARRIED CARA.

LIFE IS A STRUGGLE.

IF YOU HAVE SOMEONE YOU LOVE AND A PARTNER TO SUPPORT YOU,

IT''S LESS OF A STRUGGLE.

I ALWAYS LIKED THIS LITTLE CROW.

CARA: CROW MAN.

DIEGO: YEAH, CROW MAN. ISN''T THAT CLEVER?

CARA: I DIDN''T KNOW YOUR DESIGN WORK WENT BACK THAT FAR,

BUT I SEE NOW, IN THIS COLLECTION,

A LOT OF THE DESIGNS THAT YOU''RE USING.

DIEGO: YEAH. I GUESS THERE''S THIS INNATE QUALITY IN HUMANS

WHERE WE WANT TO TELL STORIES,

INTERPRET THE WORLD AROUND US THROUGH ART.

I HAVE MANY IDEAS,

AND THIS WOULD ACTUALLY BE

THE PIECE I''M WORKING ON RIGHT NOW.

IT''S ON CLIMATE CHANGE.

WE HAVE MY CHARACTER CALLED CHONGO ON A RAFT

AT MUSEUM HILL.

ALL OF SANTA FE AT THIS POINT WOULD BE UNDERWATER.

SO HE''S KIND OF JUST PADDLING BY

IN A POSTAPOCALYPTIC FUTURE.

GARTH: DIEGO HAS THAT MIMBRES GIFT

IN THAT HE CAN LIFT THE IMAGE TO A CURVING BOWL

SO THAT IT BECOMES FLAT.

THAT''S VERY SOPHISTICATED WORK.

ON THE SURFACE, IT''S DONE IN A CARTOON STYLE.

THEN WHEN YOU GET INTO THE CONTENT,

IT''S VERY OFTEN EXTRAORDINARY PAIN, HUMAN PAIN.

DIEGO: THESE INDIVIDUALS WERE HANGED ON THE SANTA FE PLAZA.

THIS WAS ONE OF THE MANY CIRCUMSTANCES

THAT LED TO THE PUEBLO REVOLT.

THE TWO CLOUDS ARE SYMBOLIC

OF THE SPIRITS OF THE TWO INDIVIDUALS

ASCENDING INTO THE HEAVENS.

KIND OF A POP REFERENCE, A PLAY ON PULP FICTION.

GARTH: WITH DIEGO, YOU NEVER KNOW

WHAT''S GOING TO COME UP NEXT.

DIEGO: UMA THURMAN,

AND SHE''S READING A BOOK CALLED "COCHITI."

GARTH: HE WILL GO INTO TABOO AREAS

IN THE NATIVE COMMUNITY.

ALCOHOLISM, FOR INSTANCE.

DIEGO: I''VE STRUGGLED IN AND OUT THROUGH MY LIFE

WITH MY DRINKING PROBLEM,

AND RIGHT NOW, I''M CURRENTLY A SOBER PERSON

AND, UM, ENJOYING THAT, AND, UM...

BUT THERE''S ALWAYS THESE, UH...INCIDENCES

WHERE I''LL, LIKE, KIND OF BACKSLIDE,

OR FOR WHATEVER REASON, I''LL FIND MYSELF IN THIS PLACE,

JUST ME ALONE WITH THE BOTTLE, THE FALLEN ANGEL.

[BLOWING]

WHEN I VISITED THE BRITISH MUSEUM,

THERE I STOOD, IN FRONT OF MY POT,

WHICH WAS ACROSS THE HALL FROM THE ROSETTA STONE,

AND I REALIZED IN THAT MOMENT

THAT MY ART HAD TRULY ENTERED THE HISTORY OF MANKIND.

IT''S BEYOND MY WILDEST DREAMS.

[INSTRUMENT RATTLING]

[MEN SINGING IN NATIVE LANGUAGE]

CARA: GROWING UP ON THE RESERVATION

RESTS AT THE VERY HEART OF WHO YOU ARE AS A HUMAN BEING.

IT INFORMS EVERYTHING THAT YOU ARE GOING FORWARD IN LIFE.

MY TRIBE, THE CHEMEHUEVI, LIVE HERE

IN THE HEART OF THE MOJAVE DESERT

ON THE CALIFORNIA SIDE ON THE MAN-MADE LAKE OF HAVASU.

[MEN SINGING IN NATIVE LANGUAGE]

I CAME FROM HUMBLE BEGINNINGS, AND I CREATED WITH WHAT I HAD.

LOOK AT AUNTIE.

THAT''S STILL AT THE HEART

OF WHERE MY PHOTOGRAPHY PRACTICE IS AT.

LOOK AT ME, HELENA.

[CAMERA SHUTTER CLICKS]

AT THE UNIVERSITY OF HOUSTON,

I TOOK MY FIRST BLACK-AND-WHITE FILM CLASS.

I WAS THE ONLY NATIVE AMERICAN,

AND EVERYBODY AROUND ME WAS COMPLETELY UNAWARE

THAT WE EXISTED.

HELENA IS SO CUTE.

AND I KNEW ALMOST INSTANTLY

THAT I WANTED TO BE ABLE TO COMMUNICATE VISUALLY

THROUGH PHOTOGRAPHY MODERN NATIVE LIFE.

[MUSIC PLAYING]

WITH A PHOTOGRAPH,

YOU GET ONE FRAME TO TELL A STORY,

AND SO HOW CAN YOU CREATE A STORY

THAT COMMUNICATES AS MUCH AS YOU POSSIBLY CAN

IN ONE MOMENT?

THAT WAS WHERE THE INVENTION FOR ME OF CREATING

THESE STAGED PHOTOGRAPHS CAME FROM.

IT''S A BLEND OF ABSOLUTELY TRADITIONAL PHOTOGRAPHY

AND OF MODERN PHOTOGRAPHY TECHNOLOGY

TO TELL THE STORIES AND CREATE THE IMAGES

THAT I WANTED TO CREATE.

IT''S PHOTOGRAPHY WITH A PAINTERLY APPROACH.

[MUSIC PLAYING]

KRISTEN: IDENTITY IS VERY CRITICAL IN CARA''S WORK.

LIKE IN THE PIECE TITLED "NAOMI."

IT''S A MODERN WOMAN WHO IS CLOTHED IN TRADITION.

CARA: SO, "NAOMI" IS FROM A SERIES

OF FIRST AMERICAN GIRLS,

AND IT IS A PLAY ON AMERICAN GIRL DOLLS.

WE BUILT A LIFE-SIZED DOLL BOX.

WE DESIGNED THE DOLL BOX TO BE VERY MODERN INDIGENOUS,

AND NAOMI IS NORTHERN CHUMASH.

SO, THIS IS HER DANCE REGALIA.

HER HEADDRESS IS WHITE DOVE AND GOOSE FEATHERS

AS WELL AS HER DANCE STICKS THAT SHE''S HOLDING.

YOU HAVE A BEADED BELT WITH ABALONE HANGING DOWN.

UM, CALIFORNIA HAS ONE OF THE MOST BRUTAL COLONIAL HISTORIES

IN ALL OF AMERICA,

AND THIS IS A WAY TO CREATE VISIBILITY

FOR THOSE THINGS THAT ARE STILL HERE AGAINST ALL ODDS,

TO BE A POWERFUL STORY OF RESILIENCE.

KRISTEN: THERE''S SUCH A VIBRANCY

AND A PLAYFULNESS ALMOST IN THIS PIECE,

UM, DOWN TO HER FABULOUS PINK PEDICURE.

CARA: IT HAS A REALLY GREAT CALIFORNIA VIBE, RIGHT?

KRISTEN: MM-HMM.

CARA: I WAS ASKED TO PARTICIPATE

AS ONE OF 25 INTERNATIONAL ARTISTS

IN THE DESERT X BIENNIAL.

I HAD AN IDEA

OF HOW I COULD GROUND PEOPLE IN SOUTHERN CALIFORNIA

THAT THEY WERE ON INDIAN LAND,

AND I THOUGHT, WOULDN''T IT BE WONDERFUL

IF FOUR LITTLE MYTHOLOGICAL CHARACTERS

CAME BACK TO VISIT COACHELLA VALLEY

AND RESPONDED TO THE LANDSCAPE?

I DIDN''T HAVE A LOT OF TIME TO TURN AROUND SIX BILLBOARDS,

BUT WE DID IT.

THE BOYS ARE ALL FOUR COUSINS,

AND THEY''RE MY NEPHEWS,

AND SO I THINK THAT THERE WAS A GREAT POWER

IN THEM ALL BEING TIME TRAVELERS FROM CHEMEHUEVI.

[MUSIC PLAYING]

WHAT I DO IS, JUST LIKE THE OLD FILM DAYS, I EDIT DOWN.

SO, YOU''LL SEE THAT THERE''S THOUSANDS OF THEM.

THESE ARE SOME BACK SCENES OF THE LITTLE BOYS.

AND THEN I''LL TAKE THEM INTO PHOTOSHOP,

AND I''VE ALREADY SET THEM UP.

I HAVE A FEW OF THEM HERE.

THIS IS WHERE IT STARTS OUT.

UM, AND SO YOU CAN SEE, IF I PULL THESE LAYERS OFF,

WE START WITH JUST THOSE THREE IMAGES.

THIS IS THE LEFT AND THE RIGHT,

AND THEN THERE''S THAT CENTER PIECE.

AND FROM THERE, I END UP DISTORTING

AND PULLING AND BRUSHING THE LAYERS BACK AND FORTH

SO THAT YOU GET ONE COMPLETE COHESIVE IMAGE

ACROSS THAT BIG PANORAMIC.

AND THEN I START PLAYING WITH COLOR,

UM, GETTING IT JUST RIGHT.

I WANTED THIS TO KIND OF HAVE AN ANTIQUE LOOK,

AND I WAS KIND OF GOING FOR THAT MID-CENTURY FEELING

OF PALM SPRINGS,

THAT MID-CENTURY BROWN AND BLUE FEELING THAT I ENDED UP WITH.

PHOTOSHOP IS JUST LIBERATING.

THAT''S WHERE YOU CAN REALLY TAKE IT

AND INCLUDE THINGS LIKE MAGICAL REALISM

AND SUPERNATURAL IN EVERYDAY LIFE,

AND THAT''S WHAT REALLY INTERESTS ME

ABOUT USING PHOTOSHOP TO ACTUALLY COMMUNICATE

INDIGENOUS WORLD VIEW.

WOMAN: COME ON. LET''S GO.

HI! GO AHEAD. COME ON IN.

CARA: TODAY, THE BOYS ARE GONNA BE DOING

A CONTINUATION OF JACKRABBIT COTTONTAIL

AND SPIRITS OF THE DESERT.

BOY: I''M GONNA JUMP.

CARA: I AM RE-CREATING FEATHER BUNDLES.

IT''S PRE-COLONIAL DRESS AND A VERY, VERY OLD STYLE.

WE''RE BRINGING THEM BACK FOR THESE PHOTOGRAPHS

BECAUSE THE LITTLE BOYS CARRY THE SPIRIT

OF THE ANCESTORS WITH THEM.

YOU LOOK HANDSOME. YOU LOOK GOOD.

THREE...FOUR. LAST ONE.

ARE YOU GUYS GOOD?

BOY: MY NAME''S KIYANNI.

HIS NAME IS P.J., BUT WE CALL HIM CURTISS.

JOHN, AND WINKA.

DIRECTOR: AND TELL ME ABOUT WHAT YOU''RE WEARING.

KIYANNI: I''M WEARING THE INDIAN STUFF.

DIRECTOR: AND WHY?

KIYANNI: BECAUSE WE ARE?

CARA: REMEMBER HOW WE DID THIS LAST TIME?

OK. EVERYBODY''S GONNA PUT THEIR LEFT FOOT FORWARD.

DO YOU REMEMBER YOUR LEFT FOOT?

OK. YOU''RE GONNA LINE UP RIGHT BEHIND HIM.

COME BACK HERE. COME BACK HERE.

MY CONCEPT THIS TIME IS WE''RE GONNA DO A PIECE

THAT PROVOKES THE VIEWER TO THINK ABOUT

THAT FAMOUS "ABBEY ROAD" IMAGE OF THE BEATLES,

UM, BUT WE''RE GONNA HAVE CHEMEHUEVI CROSSING

WITH THE GREAT WILD MOJAVE DESERT AROUND THEM.

YOU''RE WALKING THAT WAY. POINT YOUR FEET THAT WAY.

LOOK THAT WAY. KEEP LOOKING THAT WAY.

PERFECT, YOU GUYS.

[CAMERA SHUTTER CLICKS]

WHAT COMES THROUGH IN A LOT OF MY PHOTOGRAPHS

IS THAT NATIVE AMERICANS ARE STILL VERY MUCH ALIVE

AND THAT OUR INDIGINEITY EMERGES IN MODERN TIMES.

OK. LOOK THAT WAY.

ISAC: IT''S IMPORTANT TO LET THE NON-NATIVES KNOW

THAT WE ARE STILL HERE,

AND A LOT OF PEOPLE... YOU KNOW, I GO OUT,

AND I SAY, "I''M CHEMEHUEVI,"

AND THEY DON''T KNOW WHO WE ARE, YOU KNOW.

SO NOW THAT WE''RE EXPRESSING IT, THANKS TO CARA...

CARA: CHIN UP, P.J.

ISAC: SHE''S BRINGING US OUT THERE INTO THE OPEN WORLD.

[MUSIC PLAYING]

CARA: MY PHOTOGRAPHS ARE REALLY MEANT TO EMPOWER OUR YOUTH.

I WANT THEM TO KNOW HOW POWERFUL THEY ARE,

HOW ALL OF THAT SPIRIT AND ANCESTRY LIVES WITHIN THEM.

[MUSIC PLAYING]

DIEGO AND I HAVE A BLENDED FAMILY,

AND DIEGO HAS THREE OLDER CHILDREN

THAT ARE OUT OF THE HOME,

AND DIEGO AND I HAVE THREE CHILDREN--

15 YEARS OLD AND 12 YEARS OLD AND 6 YEARS OLD.

SO MUCH OF WHAT I CREATE IS FOR THE CHILDREN,

TO GIVE THEM INSIGHT INTO WHO THEIR MOM IS

AND TO MY HEART.

[CAMERA SHUTTER CLICKING]

I LIKE THAT ONE. DO YOU LIKE THAT?

FOR A LONG TIME, I WANTED TO CREATE

A PORTRAIT WITH MY FATHER.

[MUSIC PLAYING]

- TOO TIGHT? - PERFECT.

CARA: PERFECT.

IT''S IMPORTANT FOR MY DAD TO LET PEOPLE KNOW

THAT HE''S A NAVY VETERAN.

[CAMERA SHUTTER CLICKS]

I KNOW BY HIM WEARING HIS VETERAN''S HAT,

IT REALLY FRAMES WHAT ERA HE GREW UP IN

AND WHAT MADE HIM THE MAN THAT HE IS TODAY.

I LIKE THAT LAST ONE. IT''S BEAUTIFUL.

[MUSIC PLAYING]

DIEGO: IT''S JUST BEEN AMAZING TO WATCH CARA BLOSSOM

INTO THE ARTIST THAT SHE HAS BECOME.

THAT EVENTUALLY WILL GO ON TO OUTSHADOW US ALL.

[MUSIC PLAYING]

WENDY: TALKING ABOUT MY DEAFNESS AND DISABILITY

HAS NEVER BEEN REALLY EASY,

BUT I REALIZE, AS TIME HAS GONE ON,

THAT...MY BEING DEAF WAS PROBABLY

THE FIRST IDENTITY THAT I CONSCIOUSLY WAS AWARE OF.

I HAVE CEREBRAL PALSY.

AT THE AGE OF FOUR, I WAS GOING TO SPEECH THERAPY,

PHYSICAL THERAPY.

AND THEN, OF COURSE, BEING JAPANESE AMERICAN.

WE WERE THE ONLY ASIAN AMERICAN KIDS ON THE BLOCK.

THEN THERE WAS THE ISSUE OF BEING A FEMALE

IN A MALE-DOMINATED FIELD.

SO, IT''S A PRETTY UNIQUE IDENTITY.

I MEAN, HOW MANY DEAF, CEREBRAL PALSY,

ASIAN AMERICAN WOMEN IN WOODWORKING...

WOODWORKING DO YOU KNOW?

[MUSIC PLAYING]

BEING A FURNITURE-MAKER HAS REALLY ADDED

A GREAT DEAL OF AMMUNITION AND DEPTH TO MY WORK.

[MUSIC PLAYING]

I LEARNED WOODWORKING AT SAN DIEGO STATE.

THE METHODS THAT WE USED WERE FREE THINKING,

AND THE FORMS WERE VERY ORGANIC.

THE FURNITURE REALLY DIDN''T LOOK LIKE FURNITURE.

AND I THINK THAT''S WHAT REALLY ATTRACTED ME TO THE FIELD.

DEIRDRE: WOMEN HAVE BEEN DENIED ACCESS FOR DECADES

FROM THE TRADITIONAL WOODSHOP.

AND THEN, IN THE EARLY SEVENTIES, WE SEE THIS EMERGENCE

OF A LOT OF GRADUATE PROGRAMS

IN THE ARTS AND IN CRAFT SKILLS,

UM, WHERE WOMEN STARTED TO ENTER THOSE.

WENDY: WHEN I WENT TO GRAD SCHOOL,

I WAS CHALLENGED BY WHAT THEY TAUGHT,

DOVETAILS AND MORTISE AND TENONS.

I HADN''T LEARNED ANY OF THOSE THINGS.

DEIRDRE: YOU WERE ONE OF A VERY SMALL NUMBER

OF WOMEN IN YOUR SHOP IN GRADUATE SCHOOL.

WENDY: I FELT LIKE WE WOMEN

HAD TO BE THREE TIMES MORE AMAZING

TO EVEN BE COUNTED.

DEIRDRE: AT WHAT POINT DID YOU FREE YOURSELF FROM THAT?

WENDY: WHEN I PAINTED A PIECE OF FURNITURE

AND THEN PEOPLE SAID, "WHAT ARE YOU DOING?"

I WASN''T PART OF THAT GROUP

USING LIGHT BROWN, MEDIUM BROWN, AND DARK BROWN.

I HAD BLUE AND YELLOW AND RED.

[MUSIC PLAYING]

DEIRDRE: WENDY REACHED A LEVEL OF MASTERY,

SAW THE BOUNDARIES OF TECHNIQUE,

AND KEPT PUSHING BEYOND THEM.

WENDY: I''VE BEEN INVITED TO DO A SHOW

ABOUT BAUHAUS FURNITURE.

THE PARAMETER OF THE SHOW WAS TO DESIGN A PIECE

THAT WAS INSPIRED BY THAT MOVEMENT.

THE CHALLENGE WAS THAT I WASN''T PARTICULARLY FOND OF BAUHAUS,

BUT I''VE ALWAYS LOVED THE WORK OF ANNI ALBERS,

WHO WAS A WEAVER.

BAUHAUS HAD LIMITED WOMEN TO ONLY THE WEAVING PROGRAM.

I WAS STRUCK BY HER USE OF COLOR,

AND I DECIDED, INSTEAD OF MAKING A PIECE OF FURNITURE,

I WOULD JUST MAKE A WOODEN WEAVING.

IT''S IMPORTANT TO TRY DIFFERENT THINGS.

DEIRDRE: WHEN I LOOK AT WENDY''S WORK,

WHAT EXCITES ME IS NOT A SIGNATURE STYLE.

IT REALLY IS HER CURIOSITY.

IT IS THE WAYS IN WHICH SHE FEELS CONFIDENT TO BREAK RULES.

WENDY IS EXPLORING ALL OF THOSE WAYS

THAT WOULD HOLD MEANING

AND THAT FURNITURE AS A FORM CAN HOLD MEANING.

WENDY: SHAKE.

SUCH A GOOD DOG.

HEY, DON''T LOOK AT THE CAMERA.

BILL: WENDY, WHO IS A UNIVERSITY PROFESSOR,

TEACHING FURNITURE DESIGN, AND PART OF THAT PROCESS

IS GIVING CRITIQUES, AND SO, IF I COOK DINNER,

I ALWAYS FEEL LIKE I''M BEING CRITIQUED,

LIKE I''M DOING A MASTER'S THESIS OR SOMETHING.

"HOW MANY CLOVES OF GARLIC DID YOU PUT IN THIS?"

ADAM: THE THING THAT SHE INSTILLED IN ME

AND GENERATIONS OF STUDENTS IS THIS KIND OF

DON''T EVER SETTLE ON THE THING THAT YOU JUST DID

AS THE...AS THE FINAL PRODUCT.

LIKE, KEEP PUSHING THAT.

WENDY: ALL MY LIFE, I''VE LOVED ANIMALS.

BUT WHAT MAN DOES IS CAUSING

THE WILDLIFE POPULATION TO DECLINE RAPIDLY.

I KNEW I WANTED TO MAKE A FULL-SIZED ELEPHANT,

BUT I KNEW THAT IF I MADE IT THE NORMAL WAY OUT OF WOOD,

IT WOULD BE REALLY HEAVY AND HARD TO MOVE.

I CAME UP WITH THE IDEA

OF CUTTING THE WOOD INTO VERY THIN PIECES

AND THEN SEWING THEM TOGETHER

TO CREATE THE THREE-DIMENSIONAL QUALITY OF THE ANIMAL.

[MUSIC PLAYING]

THE KNOTS THAT ARE HOLDING THE ELEPHANT TOGETHER

BECAME A METAPHOR FOR TRYING TO FIX

THE PROBLEM OF POACHING.

THAT''S ONE OF THE BEAUTIES OF CRAFT ACTUALLY,

THIS BALANCE BETWEEN THE MESSAGE AND THE MATERIAL.

[MUSIC PLAYING]

ONE OF THE WOODEN ELEPHANTS REPRESENTED AN ORPHAN

THAT I ADOPTED IN KENYA.

I FELL IN LOVE WITH THIS LITTLE ELEPHANT

WHOSE MOTHER WAS KILLED.

SONJE IS NOW LIVING IN A RESERVE.

IT JUST REPRESENTS HOPE

IN TERMS OF HOW THESE ELEPHANTS CAN THRIVE.

[MUSIC PLAYING]

I FEEL LIKE I''M AN EMERGING ARTIST AGAIN.

YOU CAN''T GO BACK IN TIME AGE-WISE,

BUT I THINK CREATIVELY, I FEEL LIKE, YOU KNOW,

I''M YOUNG AGAIN, AND I''M DOING THIS NEW WORK.

[MUSIC PLAYING]

I DISCOVERED THAT, AS A JAPANESE AMERICAN,

THERE''S A WHOLE OTHER SET OF HISTORICAL REFERENCES

UNIQUE TO US,

AND SO THAT''S WHY I WANTED TO MAKE "EXECUTIVE ORDER 9066."

DELPHINE: 11 WEEKS AFTER PEARL HARBOR,

ROOSEVELT SIGNED EXECUTIVE ORDER 9066,

WHICH ESSENTIALLY SAID THAT THE ARMY HAD A RIGHT

TO EXCLUDE ANYBODY FROM AN AREA

THAT THEY CONSIDERED A MILITARY ZONE.

UNFORTUNATELY, THE ENTIRE WEST COAST

WAS DEEMED A MILITARY ZONE.

[MUSIC PLAYING]

AND BY MAY OF ''42,

THEY STARTED A WHOLESALE EVACUATION

OF THE ETHNIC JAPANESE LIVING ON THE WEST COAST.

[MUSIC PLAYING]

GREG: THIS IS THE SITE

OF THE OLDEST JAPANESE LANGUAGE SCHOOL IN SAN FRANCISCO.

THIS BECAME ONE OF THE PLACES

WHERE ALL THE JAPANESE CAME TO BE REGISTERED

SO THAT THE MILITARY KNEW EXACTLY HOW MANY IN THE FAMILY

AND HOW MANY PEOPLE WOULD BE LEAVING THE AREA.

[MUSIC PLAYING]

DOROTHEA LANGE WAS HIRED BY THE GOVERNMENT

TO PHOTOGRAPH AND RECORD THE HISTORY.

SHE CAPTURES THE AGONY THAT THE PEOPLE WERE GOING THROUGH.

MANY OF HER PHOTOS WERE IMPOUNDED BY THE GOVERNMENT

BECAUSE THEY APPEARED TO BE TOO SYMPATHETIC

AT WHAT WAS HAPPENING TO THESE AMERICANS

OF JAPANESE ANCESTRY.

DELPHINE: 120,000 OF THEM WERE SENT TO INTERNMENT CAMPS.

TWO-THIRDS OF THE PEOPLE WERE BORN IN THE U.S.

THEY WERE AMERICAN CITIZENS.

WENDY: THEY WERE EACH ISSUED A MANILA TAG

THAT HAD THEIR NAME, THE LOCATIONS OF THEIR CAMP,

AND EACH FAMILY HAD THEIR OWN SERIAL NUMBER

ISSUED BY THE U.S. GOVERNMENT.

[MUSIC PLAYING]

FOR MY PROJECT, I WAS ABLE TO ORDER NEW TAGS

MADE IN THE SAME DIMENSION.

[MUSIC PLAYING]

I HAD A DATABASE FROM THE NATIONAL ARCHIVES

THAT WAS PROBABLY ABOUT THAT HIGH.

I HAD VOLUNTEERS WRITE THEM AND STAMP THEM AND TIE THEM.

WE CREATED 120,000 TAGS TO REPRESENT

EVERY SINGLE MAN, WOMAN, AND CHILD

THAT WAS FORCED INTO THESE CAMPS.

[MUSIC PLAYING]

THE TAGS WOULD ROTATE VERY SLOWLY,

AND THEN SOMETIMES YOU CAN HEAR THE PAPER RUSTLING.

SO IT''S ALMOST LIKE THE SPIRITS OF ALL THESE PEOPLE

WERE SPEAKING TO US.

[MUSIC PLAYING]

DELPHINE: EIGHT OF THE CAMPS WERE IN THE DESERT.

TWO OF THEM WERE IN THE SWAMPS OF ARKANSAS.

THE WELL-KNOWN PAINTER CHIURA OBATA

WENT TO THE AUTHORITIES, AND HE SAID,

"YOU TAKE PEOPLE OUT OF THEIR DAILY LIVES,

"AND YOU PUT THEM IN THIS ONE SQUARE MILE,

"10,000 PEOPLE IN A SQUARE MILE,

"THEY''RE GONNA GO CRAZY.

LET ME START AN ARTS PROGRAM."

HE MANAGED TO TALK ARTISTS

INTO TEACHING CLASSES,

AND IF YOU HAD A SKILL, PEOPLE WOULD SAY,

"COULD YOU TEACH ME HOW TO DO THIS?"

THESE WERE NOT PROFESSIONAL ARTISTS.

THEY WERE FARMERS AND FISHERMEN.

I KNEW THAT ALL OF MY FAMILY HAD BEEN IN THE CAMPS,

BUT MY PARENTS NEVER TALKED ABOUT IT.

THE COMMUNITY NEVER TALKED ABOUT IT.

SO I REALLY DIDN''T KNOW WHAT THIS WAS ALL ABOUT

UNTIL I HAPPENED TO DISCOVER THIS BIRD PIN

THAT MY MOTHER HAD IN THE GARAGE,

AND I JUST LIKED IT.

I THOUGHT IT WAS A NICE PIECE OF JEWELRY,

SO I STARTED WEARING IT.

AND ONE DAY, SOMEBODY ASKED ME WHERE I GOT THE PIN,

AND I SAID, "OH, YOU KNOW, I THINK IT WAS MADE IN CAMP,"

AND I THOUGHT, YOU KNOW, WHAT ELSE WAS MADE IN CAMP?

[MUSIC PLAYING]

TWO OF THE CAMPS--

TULE LAKE IN NORTHERN CALIFORNIA

AND TOPAZ IN UTAH-- WERE OVER ANCIENT SEA BEDS.

THE PEOPLE DID EARRINGS, TABLE ORNAMENTS

MADE OUT OF SHELLS THAT THEY PICKED UP.

[MUSIC PLAYING]

THESE GROUPS WOULD GET TOGETHER,

AND THEY''D DO IT AS A LITTLE CLUB.

PEOPLE DIDN''T JUST MAKE FLORAL PINS.

THEY WERE VERY FOND OF THE DISNEY CHARACTERS.

THEY USED FINGERNAIL POLISH AND OTHER TYPES OF POSTER PAINT

TO DECORATE THE CHARACTERS.

PEOPLE WOULD MAKE MEMORY BOOKS

AND HAD THEIR FRIENDS WRITE INSCRIPTIONS.

THIS ONE IS CARVED, AND IT''S DECORATED.

AT ALL OF THE CAMPS, PEOPLE MADE BIRD PINS.

THEY USED FRUIT CRATES FOR MATERIAL.

THEY GOT THEIR HANDS

ON A "NATIONAL GEOGRAPHIC" ISSUE ON BIRDS,

AND THEY TRIED TO BE AS AUTHENTIC AS POSSIBLE

IN HOW THEY CARVED IT AND HOW THEY PAINTED IT.

[MUSIC PLAYING]

I STARTED THINKING ABOUT WHY THIS WAS SO MEANINGFUL.

[MUSIC PLAYING]

IT WAS BECAUSE THE OBJECTS REFLECTED THE DIGNITY

OF THE PEOPLE WHO WERE IN CAMP.

WHEN YOU SAW THESE AMAZING THINGS

THAT THEY CREATED OUT OF NOTHING...

THERE WAS A RESPECT FOR THEIR UNWILLINGNESS

TO JUST GIVE UP AND GIVE IN.

WHAT I REALLY CAME TO ADMIRE ABOUT THEM

WAS THAT THEY WERE LOOKING FOR BEAUTY

IN A PLACE WHERE OTHER PEOPLE WOULDN''T SEE THAT.

WHAT THE PEOPLE WHO WERE IN CAMP SAID TO ME WAS,

"IT WAS JUST OUR WAY TO GAMAN,"

AND "GAMAN" IS A WORD THAT MEANS

TO BEAR THE SEEMINGLY UNBEARABLE WITH PATIENCE AND DIGNITY.

THEY''D SAY, "WE HAD TO GAMAN.

WHAT ELSE COULD WE DO? WE HAD TO GAMAN."

[MUSIC PLAYING]

MARIA: MY MOTHER WAS MOMO NAGANO.

SHE WAS 15 WHEN SHE WENT INTO CAMP.

IN MANZANAR, THEY WERE HIRING

THE INCARCERATED JAPANESE AMERICANS

TO CREATE CAMOUFLAGE FOR THE WAR EFFORT.

THERE WAS NOTHING TO DO, SO SHE WANTED TO HAVE A JOB.

THEY WOULD CREATE A PIECE OF CAMOUFLAGE

BY WEAVING STRIPS THROUGH NETTING.

SHE SAID IT ALWAYS STAYED WITH HER,

BECAUSE SHE JUST REALLY ENJOYED THE PROCESS.

SHE DID ULTIMATELY BECOME A WEAVER.

I FOUND THIS PICTURE TAKEN BY DOROTHEA LANGE,

AND THERE ARE FIVE WOMEN,

BUT ONE IS STANDING THERE JUST KIND OF FOCUSING IN

ON WHAT SHE''S DOING.

I''D SWEAR IT''S MY MOTHER.

THERE''S JUST SOMETHING ABOUT THE WAY SHE''S STANDING THERE

AND THE WAY SHE''S REALLY WORKING ON THE WEAVING PART.

DAN: MANY JAPANESE AMERICANS HAD PARENTS

WHO DID NOT TALK ABOUT THE INTERNMENT EXPERIENCE.

IT WAS A SOURCE OF GREAT SHAME

AND HUMILIATION AND EMBARRASSMENT.

UM, BUT OUR MOTHER SPOKE VERY FREELY ABOUT IT,

AND WE WERE HEARING STORIES ABOUT CAMP

FROM WHEN WE WERE, YOU KNOW, VERY LITTLE.

MY MOTHER WAS WILLING TO WALK

HER OWN PATH THROUGH THIS LIFE,

AND HER APPROACH TO LIFE WAS REALLY REFLECTED

IN HER ARTWORK.

[MUSIC PLAYING]

MARIA: THE FLAG IS WOVEN WITH STRIPS OF CLOTH

THROUGH A NETTING THAT SHE CREATED.

SHE COLLECTED THE NAMES OF EVERY FAMILY

THAT LIVED IN HER NEIGHBORHOOD AND PUT THEM ON THE STRIPES.

IN THE BLUE FIELD, IT''S ALL THE CAMP NAMES.

AND 30th STREET WAS HER STREET THAT SHE LIVED ON

IN LOS ANGELES.

THE SHAPE IS A TOMBSTONE

TO SYMBOLIZE THE DEATH OF HER NEIGHBORHOOD.

DAN: FOR CENTURIES, ASIAN AMERICANS HAVE BEEN

FACED WITH THIS QUESTIONING OF THEIR AMERICANNESS.

BECAUSE YOU HAVE THIS FACE,

YOU ARE THE PERPETUAL FOREIGNER,

EVEN THOUGH YOUR FAMILY MAY HAVE BEEN HERE FOR FIVE, SIX GENERATIONS.

ONE OF THE GREAT IRONIES OF THE INTERNMENT EXPERIENCE

IS THAT MANY OF THESE JAPANESE AMERICANS

NEVER LOST THEIR LOVE FOR THEIR COUNTRY, YOU KNOW.

THEY LOVED THE UNITED STATES FROM BEHIND BARBED WIRE.

[MUSIC PLAYING]

DELPHINE: OUR PARENTS MADE THE BEST OUT OF A BAD SITUATION,

AND THEY DIDN''T TALK ABOUT IT,

NOT JUST BECAUSE IT WAS HARD FOR THEM,

BUT THEY WANTED TO SPARE US CHILDREN.

THEY WANTED US TO GROW UP LOVING THIS COUNTRY.

I REALIZE THAT THAT SILENCE

WAS NOT MEANT TO HARM US BUT TO...TO, UM...PROTECT US.

[MUSIC PLAYING]

CRISTINA: I''M A FIGURATIVE SCULPTOR.

I FEEL I NEED TO DRAW OUT OF THE CLAY

A SENSE OF PRESENCE.

[MUSIC PLAYING]

YOU KEEP PLAYING WITH THE IDEA OF BASIC ANATOMICAL STRUCTURES

AND TRYING TO PRESERVE SYMMETRY

AND JUST KEEP SLOWLY COMPOUNDING THAT

UNTIL YOU FEEL SOMETHING CLICKS IN,

AND IT''S A LITTLE BIT INHABITED.

[MUSIC PLAYING]

THIS IS DEFINITELY AN EXPLORATION.

[MUSIC PLAYING]

STAYING OPEN AND JUST HAVE A DIALOGUE WITH THE MATERIAL

AND JUST PLAYING AND JUST REACTING

AND BUILDING FROM THERE.

[MUSIC PLAYING]

HEADS ARE THIS...PRIMAL ARCHETYPE OF CONSCIOUSNESS,

AND IT''S JUST REALLY WHAT FIRST HOOKED ME WITH THE FIGURE,

AND THEN I SLOWLY WORKED MY WAY DOWN.

AND I ONLY REALLY GOT TO THE LEGS,

LIKE, MAYBE SEVEN YEARS AGO.

[MUSIC PLAYING]

JAIME: CRISTINA HAS ACHIEVED A MASTERY.

SHE MASTERS THE MATERIAL.

THE SCALE OF HER WORK, THE PRECISION,

BUT BEYOND THAT IT''S VERY STRONG IMAGES

THAT ARE POTENT IMAGES.

THEY REALLY HIT YOU HARD.

THE WORK IS VERY LATIN AMERICAN.

IT''S VERY CARIBBEAN.

BUT I THINK IT CAN TALK TO EVERYBODY.

[MUSIC PLAYING]

CRISTINA: SO, I''M ORIGINALLY FROM PUERTO RICO.

I GREW UP THERE.

BUT I HAVE LIVED IN PENLAND FOR THE PAST 15 YEARS.

I HAVE TWO DAUGHTERS-- 12-YEAR-OLD EVA

AND POLOMA, WHO''S 17.

[SPEAKING INDISTINCTLY]

THIS PLACE WHERE WE''VE DECIDED TO SETTLE

THAT IS SOMEWHAT FOREIGN TO ME IS WHOLLY HOME FOR THEM.

LIKE, THIS IS THEIR HOME.

I KIND OF STIPPLE. LIKE, I JUST GO LIKE THIS.

IN NORTH CAROLINA, I FEEL VERY SEPARATED IN SOME WAYS,

UM, IN TERMS OF, YOU KNOW, WHAT MY FIRST LANGUAGE IS

AND WHAT MY HISTORY IS.

[MUSIC PLAYING]

WHEN I GO BACK, IT''S ALMOST LIKE

PUERTO RICO MAKES ME FEEL INVISIBLE IN A GOOD WAY,

LIKE I''M JUST PART OF THE BACKGROUND.

[MUSIC PLAYING]

PUERTO RICAN IDENTITY IS AT THE CORE

OF EVERYTHING THAT, UM...

I DEPART FROM TO UNDERSTAND THE WORLD.

[MUSIC PLAYING]

AS FAR BACK AS I CAN REMEMBER,

MY MOM HAS ALWAYS BEEN SUPPORTING

HER CHILDREN''S ARTMAKING.

AWILDA: SHE WAS A VERY ARTISTIC GIRL.

WHEN I NOTICED THAT SHE WAS REALLY GOOD AT IT,

I...I PUT HER IN SOME... TO TAKE SOME CLASSES

WHEN SHE WAS ONLY 2 1/2 YEARS OLD.

CRISTINA: EVEN THOUGH ART

WAS SO DEEPLY APPRECIATED IN MY HOUSE,

I DIDN''T GROW UP WITH A MODEL

OF HOW THAT COULD TRANSFORM INTO A VIABLE PROFESSION.

I DECIDED THAT ENGINEERING MIGHT BE A ROUTE FOR ME,

AND SO I STARTED EXPLORING THAT

AND PRETTY IMMEDIATELY REALIZED THAT, OH, NO...HA HA HA!

[SPEAKING SPANISH]

CRISTINA: CHURCHGOING WAS PART OF OUR FAMILY TRADITION,

AND MY MOM COLLECTED CARVED SAINTS.

[SPEAKING SPANISH]

AWILDA: COMING FROM A CATHOLIC HOME,

I WANTED THEM TO BE EXPOSED TO THAT KIND OF ART,

BECAUSE IT''S TRUE FOLK ART.

[MUSIC PLAYING]

CRISTINA: I HAD ALWAYS BEEN SURROUNDED

BY THESE REALLY DRAMATIC RELIGIOUS IMAGES

THAT WERE INTENDED TO DRAW SOMEONE

INTO THIS VERY RECEPTIVE EMOTIONAL SPACE,

AND I THINK IT''S SOMETHING THAT I WAS ABLE TO DRAW FROM

AS I WAS DEVELOPING MY FIGURATIVE PRACTICE.

BEFORE I LAUNCH INTO THESE PROJECTS,

I DO, LIKE, A PHOTOGRAPHIC RESEARCH SESSION.

THIS MODEL, IN PARTICULAR, IS MY DAUGHTER EVA.

EVA: VERY HUMANLIKE.

SHE''S STUDIED A LOT OF, LIKE, ANATOMY

AND THE THINGS LIKE... THERE''S, LIKE, A BONE HERE,

AND I WAS LIKE, "OH."

THERE ARE SO MANY DIFFERENT ATTRIBUTES

THAT PLAY INTO MAKING THE WHOLE SCULPTURE.

[MUSIC PLAYING]

CRISTINA: I''VE THOUGHT ABOUT EXPRESSION A LOT.

ARE THEY POTENTIALLY EXPERIENCING JOY, TORMENT,

OR SADNESS?

OFTENTIMES I USE MAYBE A SENSE OF TENSION

OR MOVEMENT IN THE HANDS

TO HINT OF THIS EMOTIONAL STATE,

AS OPPOSED TO HOLDING IT IN THE FACE.

I WANT THE FACE TO BE THE FACE YOU HAVE

WHEN ALL THE ACTIVITIES HAPPEN ON THE INSIDE.

[MUSIC PLAYING]

IT''S A VERY NEUTRAL GESTURE IN THE FACE.

[MUSIC PLAYING]

MOST OF THE WORK BREAKS APART,

AND I TRY TO DO THOSE IN ALIGNMENT WITH THE CLOTHING.

[MUSIC PLAYING]

AND I WILL BUILD A BASE

SO THAT SHE CAN FIRE UPRIGHT IN THE KILN.

EVERYTHING WILL BE BISQUED AND THEN GLAZED...

UNTIL SHE''S LIKE, "I''M DONE."

[MUSIC PLAYING]

AFTER I GRADUATED FROM THE UNIVERSITY

OF PUERTO RICO-- MAYAGUEZ,

I WAS JUST REALLY IN LOVE WITH THIS MATERIAL,

LIKE, INFATUATED, AND YOU KNOW,

THE OPTIONS WERE LIMITED AT THE TIME,

BUT I CAME ACROSS A WORKSHOP

OWNED BY THIS WOMAN, ANTONIA HAMBLETON.

TONI: WHEN SHE GOT TO MY STUDIO, I TOLD HER,

"YOU HAVE MAGNIFICENT HANDS, BUT LET''S START."

SHE STARTED DOING FIGURES, SMALL FIGURES.

HER PARENTS CAME, AND I SAID,

"YOU KNOW, SHE MIGHT NOT MAKE IT YET ECONOMICALLY,

"BUT SHE IS ONE OF THOSE FEW PEOPLE

THAT THE WORLD ENRICHES US WITH."

CRISTINA: AND SO I DECIDED TO MOVE TO THE UNITED STATES,

WENT TO ALFRED UNIVERSITY,

DID MY MASTER''S IN CERAMICS...

AND THEN I WENT TO STUDY AT THE FLORENCE ACADEMY OF ART

AND EVENTUALLY MADE MY WAY TO BECOME

A PERMANENT RESIDENT OF PENLAND.

LESLIE: AT PENLAND, PEOPLE COME FROM ALL OVER THE WORLD

TO ENGAGE IN THE CREATIVE PRACTICE.

WE SPECIALIZE IN IMMERSIVE CRAFT WORKSHOPS,

AND WE ARE ALWAYS LOOKING FOR INTERESTING PEOPLE TO INVITE.

CRISTINA SAID, "I''D LIKE TO INVITE JAIME SUAREZ."

"HE WAS MY TEACHER.

HE''S A VERY IMPORTANT ARTIST IN PUERTO RICO."

I SAID, "GREAT. LET''S DO IT."

JAIME: I WAS BORN AND LIVE IN PUERTO RICO.

I STUDIED ARCHITECTURE,

BUT AT SOME POINT IN MY LIFE,

I BECAME A CERAMIC ARTIST.

[MUSIC PLAYING]

THAT TOOK ME INTO OTHER THINGS.

BUT I''VE COME TO THE CONCLUSION, AFTER MANY YEARS OF WORK,

THAT MY MEDIUM IS NOT THE MATERIAL,

THAT MY MEDIUM OF EXPRESSION HAS ALWAYS BEEN TEXTURE

AND THAT I SAY EVERYTHING THROUGH TEXTURE,

WHETHER IT''S TEXTURE IN PAPER, IN CLAY, IN CONCRETE.

THAT''S THE MEDIUM.

[MUSIC PLAYING]

CRISTINA: SO, WE''RE BUILDING THIS TEXTURE ON THIS FACE,

TRYING TO JUST CREATE SOME SORT OF

IMAGINARY HISTORICAL RESIDUE.

[SPEAKING SPANISH]

CRISTINA: WE''RE SPRAYING VINEGAR, WHICH CAUSES

A CHEMICAL REACTION ON THE SURFACE OF THE CLAY.

THIS IS SOMETHING JAIME DOES IN HIS PRACTICE.

I''M TAKING THE OPPORTUNITY TO COLLABORATE AND UNDERSTAND

THE POSSIBILITIES OF THIS.

[SPEAKING SPANISH]

JAIME: ONE OF MY PASSIONS IS TEACHING,

AND I THINK THE RESPONSIBILITY OF THE TEACHER,

MORE THAN TEACHING, IS INSPIRING THE STUDENTS,

AND SHE SAYS THAT''S WHAT I GAVE HER.

SO I''M VERY PROUD WHEN YOU SEE A STUDENT

THAT TELLS YOU, "YOU''VE INSPIRED ME"

TO REACH THE LEVELS THAT SHE HAS REACHED.

[SPEAKING SPANISH]

[LAUGHTER]

[MUSIC PLAYING]

ROBERT: I HAVE A LARGE FAMILY COLLECTION OF ART

THAT WAS STARTED IN 1695 AND HAS BEEN HANDED DOWN

TO ONLY ONE PERSON PER GENERATION.

I''M THE SEVENTH INHERITOR.

AND WHEN I SAW HER FIGURES,

I DECIDED TO ACQUIRE SOME PIECES,

AND THE ONE THAT I PRIZE THE MOST IS CALLED "THE GETAWAY."

IT''S SORT OF SURREALISTIC.

THAT''S WHAT ATTRACTED ME TO IT.

THESE ARE THE BEST CONTEMPORARY CERAMIC PIECES I''VE SEEN.

I HAVE OTHERS THAT ARE FROM PUERTO RICO

OR FROM OTHER LATIN AMERICAN COUNTRIES,

BUT THIS IS THE TOP CERTAINLY.

[MUSIC PLAYING]

JAIME: PUERTO RICO HAS GIVEN A LOT OF VERY GOOD ART,

ART AND ARTISTS.

IT''S REALLY REFRESHING TO SEE THAT IN THIS MOMENT OF CRISIS,

THERE''S A WHOLE NEW GENERATION OF YOUNG ARTISTS

REALLY DOING INTERESTING THINGS.

[MUSIC PLAYING]

HURRICANE MARIA WAS DEVASTATING.

BUT EVEN BEFORE MARIA, WE ALSO HAD POLITICAL HURRICANES.

IT''S A LOT OF STRUGGLE. IT''S...

IT''S REALLY A HARD TIME.

SO, WE''RE LOSING A LOT OF PEOPLE THAT ARE COMING TO THE STATES.

BUT I THINK CRISTINA HAS BEEN ABLE TO MAINTAIN THE CONNECTION.

SOMETIMES IF YOU''RE AWAY FROM WHAT YOU...

WHERE YOU SHOULD BE OR WHERE YOU WANT TO BE,

IT REINFORCES THE SEARCH FOR THAT...FOR THAT IDENTITY.

AND I THINK IT COMES THROUGH IN HER WORK IN MANY WAYS.

CRISTINA: IN MY WORK, THE BOAT BECAME

THE SYMBOL FOR PASSAGE AND TRANSITION.

AND SO SHE HAS THIS FLAG

READY TO MAYBE STAKE GROUND SOMEWHERE.

AND THIS CREATURE THAT I UNDERSTAND

IS A PART OF HERSELF, MAYBE THIS DUALITY

BETWEEN REASON AND INSTINCT,

AND I THINK IN CREATING THIS PIECE,

THAT WAS THE SPIRIT THAT I WAS ALIGNING MYSELF WITH.

IT''S THIS, UM... THIS ENERGY

OF WANTING TO PUSH BEYOND WHAT WAS KNOWN

AND WANTING TO EXPLORE AND DISCOVER AND GROW.

[MUSIC PLAYING]

ANNOUNCER: MAJOR FUNDING FOR "CRAFT IN AMERICA"

WAS ANNOUNCER: WATCH ALL EPISODES OF "CRAFT IN AMERICA" ONLINE,

WITH ADDITIONAL VIDEOS AND MORE.

VISIT "CRAFT IN AMERICA" AT pbs.org.

THIS EPISODE OF "CRAFT IN AMERICA"

IS AVAILABLE ON AMAZON PRIME VIDEO.