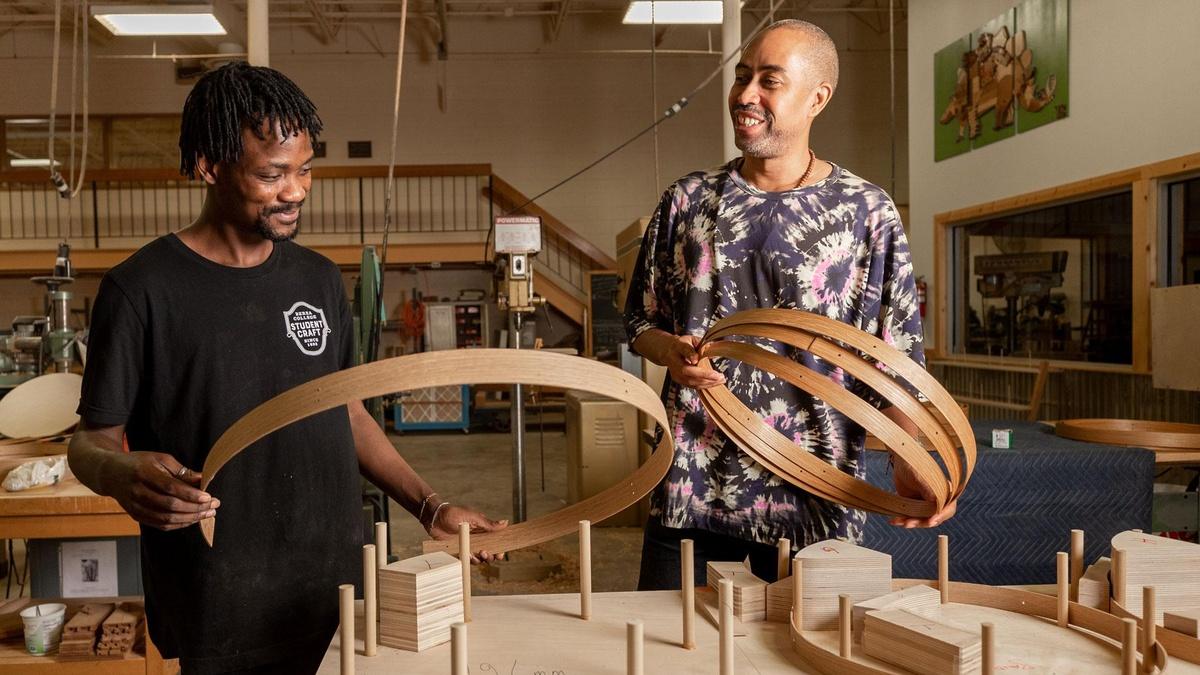 S12 E1202 | FULL EPISODE
DEMOCRACY episode
Featuring Robert L. Lynch, President of Americans for the Arts; National Museum of African American History & Culture curator Joanne Hyppolite, Ph.D.; the Hearts of Our People exhibition at the Renwick Gallery, Smithsonian American Art Museum; calligrapher Sammy Little; Cheyenne Peace Chief Harvey Pratt; the Veterans History Project; visionary curator Eudorah Moore; and Berea College Student Craft
TRANSCRIPT

ROBERT: CRAFT AND ART ARE CORE

TO THE DEMOCRACY THAT WE HAVE HERE IN THE UNITED STATES.

REBECCA: THE SMITHSONIAN INSTITUTION IS THE LARGEST

MUSEUM COMPLEX IN THE WORLD,

AND IT'S A PLACE WHERE PEOPLE COME TO LEARN ABOUT

WHAT IT MEANS TO BE AN AMERICAN.

JOANNE: I THINK THAT AS A NATION, WE'RE STILL GRAPPLING

WITH THE LEGACY OF RACE THAT STARTED

WITH THE ENSLAVEMENT OF BLACK PEOPLE IN THIS COUNTRY.

THIS MUSEUM IS ONE OF THE PLACES WHERE WE

HELP PEOPLE GRAPPLE WITH THAT.

TERI: WE CHOSE 21 WOMEN TO HELP US UNDERSTAND

WHAT THIS EXHIBIT WAS GONNA BE ABOUT.

NATIVE WOMEN ARE QUITE USED TO DOING THIS,

WORKING TOGETHER IN OUR COMMUNITIES.

THIS IS HOW WE'VE SURVIVED.

MONICA: TO BE ABLE TO HAVE VETERANS

IN THE HEIGHT OF THEIR CRAFTSMANSHIP

COME INTO THE LIBRARY OF CONGRESS

TO TELL THEIR STORY IS DEMOCRACY IN ACTION.

STEPHEN: I'M HERE TO EXPLORE NEW IDEAS.

AARON: WE HAD BEEN A CRAFT PROGRAM FOR 127 YEARS.

WE HAD NEVER HAD A PERSON OF COLOR

IN A LEADERSHIP POSITION.

SO, FOR STUDENTS TO BE ABLE TO SEE SOMEONE

WHO LOOKS LIKE THEM, AT THE HIGHEST LEVEL,

IS REALLY IMPORTANT.

NATHAN: MY DAD HAS CONCEIVED A MEMORIAL

THAT WILL GALVANIZE OUR COUNTRY IN A DIFFICULT TIME.

HARVEY: THEY TOLD ME THIS WAS THE LAST

NATIONAL MEMORIAL ON THE MALL.

[MAN SPEAKING NATIVE LANGUAGE]

HARVEY: IF EVERY TRIBE GO THERE

AND THEY DO A CEREMONY,

THAT'S GONNA BECOME A POWERFUL PLACE.

ROBERT: WHAT DEMOCRACY MEANS TO ME IS

A COMING TOGETHER OF ALL OF THE PEOPLE

TO MAKE DECISIONS COLLECTIVELY ABOUT THE FUTURE.

CRAFT AND ART ARE CORE

TO THE DEMOCRACY THAT WE HAVE

HERE IN THE UNITED STATES.

THE CONSTITUTION ITSELF REFERENCES THE ARTS

AS SOMETHING THAT CAN BE FUNDED BY

THE UNITED STATES CONGRESS.

IN ARTICLE I, SECTION 8, IT SAYS THAT

THE CONGRESS SHALL HAVE THE POWER

"TO PROMOTE THE PROGRESS OF THE USEFUL ARTS."

SO, RIGHT THERE IN THE BEGINNING OF OUR COUNTRY

ARE REFERENCES TO WHAT MAKERS DO

AND WHAT MAKERS HAVE A RIGHT TO BE PROTECTED FOR.

CRAFTS WERE ESSENTIAL FOR THE FIRST COLONISTS.

THEY DEVELOPED CABINETRY AND JOINERY,

METAL MAKING, AND ALL OF THE THINGS

THAT ALLOWED THOSE FIRST COLONIES TO SURVIVE.

AND YOU SEE THAT THERE WAS ALWAYS

IN THESE OBJECTS OF USE

THIS YEARNING TO MAKE THEM BEAUTIFUL.

BEN FRANKLIN GREW UP AS A CANDLE MAKER

UNTIL HE WAS APPRENTICED AS A PRINTMAKER.

THAT'S WHAT LED HIM TO BE ABLE TO INVENT

THE FRANKLIN STOVE.

HE WAS A MAKER.

IN 1890, THE BOSTON ARTS COMMISSION,

THE VERY FIRST PUBLIC ARTS ENTITY IN AMERICA,

COMES INTO BEING.

THE FIRST LOCAL ARTS AGENCY

CAME OUT OF WORLD WAR II.

THE RETURNING VETERANS WANTED TO SEE ART

HAPPENING IN THEIR OWN COMMUNITIES.

IT BEGAN IN QUINCY, ILLINOIS.

WELL, NOW THERE'S ABOUT 5,000

OF THOSE LOCAL ARTS AGENCIES.

AMERICANS FOR THE ARTS IS SET UP TO BE

THE NATIONAL ORGANIZATION SUPPORTING ALL OF THE ARTS

IN THE LIVES OF ALL OF THE PEOPLE.

WE'VE DONE A LOT OF WORK ON ART THERAPY

AND THIS IS HUMANITIES THERAPY...

AT OUR HEADQUARTERS, WE WORK TO

KEEP THE DOLLARS RISING, PUBLIC DOLLARS,

AND ALSO PRIVATE SECTOR DOLLARS FOR

ART AND CRAFT IN AMERICA.

AMERICANS FOR THE ARTS IS BASED IN WASHINGTON, D.C.,

BECAUSE THIS IS WHERE THE POLITICAL

DECISION-MAKING IS DONE FOR

FEDERAL SUPPORT FOR THE ARTS.

AND ALSO, IT IS AN INSPIRATIONAL PLACE,

WITH THINGS LIKE THE LINCOLN MEMORIAL

AND ALL OF THE MONUMENTS THAT WE HAVE HERE.

EACH MONUMENT HAS A PIECE OF WHO WE ARE

EMBEDDED IN IT.

SOME BEAUTIFUL AND SOME HAUNTING.

THE KOREAN WAR MEMORIAL, FOR ME,

IS A HAUNTING MEMORIAL.

YOU SEE THE INCREDIBLE PRICE PAID FOR DEMOCRACY.

THE WASHINGTON MONUMENT WAS BEING BUILT,

AND THEY RAN OUT OF MONEY,

SO, THEY STOPPED IT

A LITTLE LESS THAN HALFWAY UP.

A NUMBER OF YEARS LATER, CITIZEN ACTIVIST GROUPS

GOT TOGETHER AND RAISED MONEY TO FINISH IT,

BUT IF YOU LOOK AT THE MONUMENT CLOSELY, YOU CAN SEE

THE DEMARCATION LINE BETWEEN

WHERE THE FIRST EFFORT STOPPED

AND WHERE THE REST OF IT GOES ON.

WE HAVE GREAT MUSEUMS HERE IN WASHINGTON,

LIKE THE SMITHSONIAN.

THOSE INSTITUTIONS DEPEND ON GOVERNMENT INVESTMENT.

JOANNE: WHEN YOU WALK INTO THE NATIONAL MUSEUM OF

AFRICAN AMERICAN HISTORY AND CULTURE,

YOU ENCOUNTER OVER 500 YEARS OF AFRICAN AMERICAN HISTORY,

FROM BEFORE THE TRANSATLANTIC SLAVE TRADE

ALL THE WAY INTO THE SECOND ELECTION OF BARACK OBAMA.

THE FOUNDING DOCUMENTS OF OUR NATION

ARE BUILT ON PRINCIPLES OF FREEDOM

AND INDEPENDENCE AND EQUALITY FOR MEN,

BUT THEY WERE WRITTEN DURING A TIME

WHEN AFRICAN AMERICAN PEOPLE WERE IN BONDAGE.

SOME OF THE FRAMERS OF THE CONSTITUTION

WERE SLAVE OWNERS THEMSELVES.

I THINK THAT AS A NATION, WE'RE STILL GRAPPLING

WITH THE LEGACY OF RACE THAT STARTED

WITH THE ENSLAVEMENT OF BLACK PEOPLE IN THIS COUNTRY.

THIS MUSEUM IS IMPORTANT BECAUSE I THINK WE NEED PLACES

FOR PEOPLE TO UNDERSTAND THE HISTORY,

HOW WE ARE A NATION THAT NEEDS TO

DEAL WITH OUR PERIODS OF RACIAL VIOLENCE,

PERIODS OF INSECURITY FOR AFRICAN AMERICANS.

SO, WHEN YOU'RE SEEING ALL THESE EVENTS HAPPENING,

POLICE BRUTALITY, DISCRIMINATORY EVENTS

THAT YOU'RE HEARING ABOUT, DO YOU UNDERSTAND

THE FOUNDATIONS OF THAT HISTORY?

DO YOU UNDERSTAND WHAT IT'S ROOTED IN?

THIS MUSEUM WILL ALWAYS BE IN THE ROLE OF

SORT OF LOOKING AT WHAT IS HAPPENING

AND COLLECTING AROUND THAT TO HELP PEOPLE UNDERSTAND.

CRAFT IS AN ESSENTIAL PART OF AFRICAN AMERICAN EXPERIENCE,

BECAUSE IT REALLY IS A WAY OF AFRICAN AMERICANS

MAKING A WAY OUT OF NO WAY.

YOUR ABILITY TO MAKE SOMETHING OUT OF YOUR OWN HANDS

THAT IS FUNCTIONAL AND USEFUL FOR YOUR FAMILY

IS REALLY IMPORTANT.

YOU SEE A QUILT CREATED BY JESSIE B. TELFAIR

FROM PARROTT, GEORGIA.

SHE WAS FIRED FROM HER JOB

BECAUSE SHE REGISTERED TO VOTE

DURING THE CIVIL RIGHTS PERIOD.

SHE MADE THESE QUILTS AS SORT OF AN EXPRESSION

OF HER ANGER BUT ALSO HER INSISTENCE

THAT SHE WANTED TO LIVE IN A PLACE THAT WAS FREE.

ROBERT: FROM THE WINDOW OF AMERICANS FOR THE ARTS,

I GET THE SENSE OF THE HISTORY OF THIS PLACE.

ABRAHAM LINCOLN USED TO COME RIGHT DOWN

VERMONT AVENUE TO THE WHITE HOUSE,

AND LINCOLN, IN THE MIDDLE OF THE CIVIL WAR,

CALLED FOR THE FINISHING OF THE DOME OF THE CAPITOL

AND EXPENDING ALL THAT MONEY ON CRAFTSMANSHIP

TO CREATE A SYMBOL THAT THE UNION WOULD CONTINUE.

AND YOU LOOK UP, YOU'LL SEE SOME OF THE MOST BEAUTIFUL

CRAFTED DESIGN WORK ON THE DOMED CEILING

OF THE CAPITOL BUILDING.

WHAT'S INTERESTING IS HOW MANY TIMES

THE PRESIDENTS AND THE PRESIDENTIAL WIVES

HAVE ENTERED INTO THE CRAFT WORLD.

ELEANOR ROOSEVELT HAD A VISION DURING THE GREAT DEPRESSION

FOR VAL-KILL.

IT WAS SET UP ON THE FAMILY ESTATE IN HYDE PARK.

IT WAS DESIGNED TO CREATE JOBS IN CRAFTMAKING--

FURNITURE AND CLOTH AND FORGING--

IN THE COLONIAL REVIVAL TRADITION.

HILLARY: WHEN WE ARRIVED TO LIVE IN THE WHITE HOUSE,

WE WERE ANXIOUS TO MAKE SURE THAT

THE HOUSE WAS REALLY ACCESSIBLE AND THAT IT TOLD

NOT ONLY A HISTORIC STORY ABOUT AMERICAN ART

AND FURNISHINGS AND THE LIKE BUT A MODERN STORY,

AND IT JUST SO HAPPENED THAT 1993 WAS

THE YEAR OF AMERICAN CRAFT.

ROBERT: FOR THE YEAR OF AMERICAN CRAFT, THE CLINTON WHITE HOUSE

PUT TOGETHER THIS WONDERFUL CRAFT EXHIBIT.

STILL TODAY, THE WHITE HOUSE COLLECTION

IS SEEN AS LANDMARK WORK.

HILLARY: THESE WERE EXTRAORDINARY ARTISTS,

AND GIVING THEM THAT VISIBILITY SENT A MESSAGE

THAT THESE AMAZING ARTISTS WERE WORKING

IN COMMUNITIES ACROSS AMERICA

AND WE WANT YOU TO KNOW ABOUT THEM.

FRANK: IT WAS AT THAT MOMENT

THE BEST THING THAT HAD EVER HAPPENED.

NOT ONLY THE FACT THAT WE WERE IN THE WHITE HOUSE

AND THERE WAS THE PRESIDENT OVER THERE,

BUT I WAS IN A GROUP OF HIGHLY SELECTED PROFESSIONALS.

IT WAS AN HONOR TO BE CHOSEN AMONG

SO MANY WONDERFUL COLLEAGUES

TO REPRESENT ALL OF US.

HILLARY: I'M THRILLED THAT WE WERE ABLE TO PLAY

A SMALL PART IN ELEVATING THIS PARTICULAR

ASPECT OF THE ARTS SO THAT MORE PEOPLE UNDERSTAND

WHY IT'S IMPORTANT AND MAYBE GIVE IT A TRY.

CLIFF: IN CHINESE CULTURE, PEACH MEANS LONGEVITY.

I SAY, OK, I DONATE A PEACH

SO OUR COUNTRY AND THE WHITE HOUSE

GONNA LIVE FOREVER.

NORA: CRAFT IS PERHAPS THE MOST DEMOCRATIC OF ART FORMS.

EVERY SINGLE PERSON CAN FIND A FOOTHOLD

IN UNDERSTANDING THE OBJECT.

EVERYBODY UNDERSTANDS A CHAIR IN SOME INTRINSIC WAY.

THEY INTUITIVELY FEEL THE HUMANNESS OF IT.

ROBERT: THE RENWICK GALLERY, PART OF THE SMITHSONIAN,

I THINK IS THE MOST BEAUTIFUL BUILDING IN THE CITY.

THE EXHIBITS ARE ALWAYS EXCITING AND CHALLENGING.

TERI: MY FRIEND JILL AHLBERG YOHE ASKED ME

IF I WOULD LIKE TO CO-CURATE AN EXHIBITION

OF NATIVE AMERICAN WOMEN'S ART,

AND I SAID YES IMMEDIATELY.

CARLA: WHAT IT ACTUALLY WAS GONNA...

TERI: I'M KIOWA.

I WAS BORN ON THE WIND RIVER RESERVATION IN WYOMING.

I GREW UP IN MY MOTHER'S TRADING POST.

NATIVE WOMEN WERE COMING IN AND SELLING HER

BEADWORK, TEXTILES, POTTERY.

ALL OF THOSE TRADITIONAL MATERIALS WERE MADE BY WOMEN.

THIS EXHIBIT FOR ME WAS AN EXTENSION

OF MY MOTHER'S WORK--

TO GO DIRECTLY TO NATIVE WOMEN THEMSELVES

AND ASK THEM QUESTIONS ABOUT THEIR ART.

WE DECIDED THAT WE NEEDED MULTIPLE VOICES INVOLVED.

WE CHOSE 21 WOMEN.

WOMAN: [INDISTINCT].

TERI: ARTISTS, MAKERS, SCHOLARS...

WOMAN: WORKS THAT WOMEN HAVE MADE.

TERI: TO HELP US UNDERSTAND WHAT THIS EXHIBIT

WAS GONNA BE ABOUT

AND WHAT WAS GONNA BE IN IT.

NATIVE WOMEN ARE QUITE USED TO DOING THIS AS A GROUP,

WORKING TOGETHER IN OUR COMMUNITIES

TO GET THINGS DONE.

THIS IS HOW WE'VE SURVIVED ALL THIS TIME.

AND THIS IS DEMOCRACY.

"HEARTS OF OUR PEOPLE" IS THE FIRST EXHIBIT

THAT HAS SHOWN THE EXPANSE OF TIME,

FROM PREHISTORY THROUGH THE PRESENT,

THAT GIVES US THAT LINE IN THE CANON,

THAT LENGTH OF VOICE THAT SHOWS

THESE WOMEN'S CONTRIBUTIONS OVER TIME.

CARLA: FOR YEARS, I JUST KEPT DREAMING OF THIS COAT.

WHAT IS IT GONNA LOOK LIKE? WHAT IS IT GONNA LOOK LIKE?

WHAT IS IT GONNA LOOK LIKE?

FINALLY, I SAID, "I THINK I'M READY TO DO IT."

[TERI CHUCKLES]

CARLA: I COME FROM A PEOPLE WHO ARE

KNOWN AS THE IROQUOIS CONFEDERACY,

AND WE HAVE 6 NATIONS WITHIN OUR CONFEDERACY--

THE MOHAWKS, THE ONEIDAS, THE ONONDAGAS,

CAYUGAS, SENECAS, AND TUSCARORAS.

THE FRAMERS OF THE U.S. CONSTITUTION

WERE WELL AWARE OF THE IROQUOIS CONFEDERACY

AND THOMAS JEFFERSON, THOMAS PAINE

WENT TO SEE HOW THIS DEMOCRATIC POLITICAL SYSTEM THAT WE HAD

PUT CHECKS AND BALANCES ON THE LEADERSHIP.

AND THEY TOOK THOSE PRINCIPLES

AND PUT IT INTO THE U.S. CONSTITUTION.

BUT THE MAIN THING THAT THEY DID NOT INCLUDE

WAS THE ROLE OF THE WOMEN.

LAWS, ACTS OF WAR--

WOMEN SAT IN ON EVERY DISCUSSION.

THIS IS THE WOMEN'S NOMINATION BELT,

AND THE ROLE OF THE WOMEN IS IN THIS BELT.

THE WOMEN'S NOMINATION BELT IS USED WHEN

A WOMAN IS GOING TO BE PUTTING UP

ONE OF THE MEN FOR LEADERSHIP,

AND THAT WAS HER RIGHT THROUGH THIS WAMPUM BELT,

BUT IT WAS ALL BASED ON CONSENSUS.

WE HAD NO HIERARCHY IN OUR SOCIETY

WHERE MEN WERE HIGHER THAN WOMEN

OR WOMEN WERE HIGHER THAN MEN.

EVERYONE HAD THIS EQUAL VOICE.

ROBERT: ADVOCACY SIMPLY MEANS FROM THE LATIN "TO VOICE."

IN A PARTICIPATORY DEMOCRACY, IN MY OPINION,

IT'S A CITIZEN OBLIGATION

TO UNDERSTAND WHAT YOU VALUE

FOR YOURSELF, YOUR FAMILY, YOUR COMMUNITY,

AND TO TALK WITH YOUR ELECTED DECISION MAKERS,

BECAUSE YOU'VE GOT SOME IDEAS.

WE DO A STUDY EVERY 4 YEARS

OF THE ECONOMIC IMPACT OF THE NONPROFIT ARTS ORGANIZATIONS.

IT'S ABOUT $64 BILLION.

AND THEN IF YOU ADD IN SIMPLY WHAT AUDIENCES SPEND,

THE ECONOMIC IMPACT IS ABOUT $166 BILLION.

NOW, THAT'S A BIGGER FIGURE THAN ANYBODY KNOWS,

AND WE TAKE THAT TO CONGRESS AND THEY LOVE IT.

I THINK YOU'LL FIND THAT EACH INDIVIDUAL

INVITED TO TESTIFY TODAY WILL MAKE A COMPELLING CASE

FOR WHY THE ARTS IS A GREAT INVESTMENT

FOR OUR ECONOMY AND FOR OUR CITIZENRY.

I WILL BRING ARTISTS TO

TALK TO THE DECISION MAKERS.

THE FACT THAT YOU GUYS HAVE TO SIT AROUND

AND HAVE PEOPLE BEG YOU FOR MONEY ALL DAY,

I DON'T KNOW IF I WANT TO BE IN YOUR SHOES.

[LAUGHTER]

ROBERT: YOU DON'T GET RESOURCES

UNLESS YOU ASK FOR THEM.

I'M HERE BECAUSE, LIKE WITH EVERYBODY ELSE

I FEEL THAT THE ARTS ARE A VERY, VERY SOLID INVESTMENT,

AND I'M HERE TO SAY THAT AS MUCH AS WE APPRECIATE

THE 144 THAT'S THERE AND WHAT INCREASE COULD COME,

IN MY OPINION, WE NEED 500 MILLION.

KERRY: I AM HERE BECAUSE I AM

LIVING, BREATHING PROOF

OF HOW THE DATA YOU'VE HEARD

AND THE STATISTICS YOU'VE READ

REALLY EXIST.

WITH PROPER FUNDING, THE NEA HAS THE POWER

TO TRANSFORM AND TRANSPORT A LITTLE GIRL FROM THE BRONX

TO BROADWAY, TO SUNDANCE, TO HOLLYWOOD,

TO THE HILL, AND BEYOND.

ROBERT: I'D LOVE TO SEE EVERYBODY IN OUR COUNTRY

BE A MAKER.

TO ENGAGE WITH SOMETHING BEAUTIFUL

AND UNDERSTAND THE WORLD

IN A DIFFERENT WAY BECAUSE OF THAT

IS, I THINK, AT THE END OF THE DAY,

THE REAL POWER OF THE ARTS.

SAMMY: I AM A CALLIGRAPHER.

LIVING IN D.C. HAS GIVEN ME

A TREASURED OPPORTUNITY

TO BE PART OF THE WORKINGS

OF OUR DEMOCRACY.

THE CALLIGRAPHY THAT IS DONE FOR GOVERNMENT

SHOWS THE IMPORTANCE OF THOSE DOCUMENTS.

THE MAJOR DOCUMENTS OF OUR COUNTRY

GOING BACK TO THE DECLARATION OF INDEPENDENCE

ARE HANDWRITTEN WORK THAT WILL ALWAYS

BE THERE FOR POSTERITY.

I HAVE DONE WORK FOR CLIENTS AROUND THE WORLD.

THE SMITHSONIAN INSTITUTION, LIBRARY OF CONGRESS...

AND MANY HAPPY INDIVIDUALS. [LAUGHS]

["HAIL TO THE CHIEF" PLAYING]

FOR CLINTON, BUSH, AND OBAMA.

I DID PLACE CARDS FOR THE INAUGURAL LUNCHEONS,

AND WHAT A THRILL.

THE PRESIDENTS WALKING BY

AND SEEING MY PLACE CARD IN FRONT OF THEIR PLATE,

AND IT'S THE FIRST TIME A NEWLY ELECTED PRESIDENT

SEES HIS NAME AS "THE PRESIDENT."

THERE ARE MANY DIFFERENT IMPLEMENTS

I CAN USE TO WRITE,

INCLUDING A PEN LINER,

WHICH CAN GIVE YOU MANY SHAPES

AND LOOKS TO THE LETTER.

BAMBOO PEN.

SOMETIMES, I WANT TO GET

VARIOUS EDGES AND SHADING.

KIND OF BREATHES A DIFFERENT LIFE

INTO THE INK.

AND THIS IS A LARGE PEN.

THEY CAN GIVE YOU A TOTALLY DIFFERENT LOOK.

WORKING WITH DIFFERENT PENS,

IT'S SORT OF A MAGIC OF

YOU DON'T KNOW HOW IT'S GOING TO TURN OUT.

I CAN'T IMAGINE A WORLD WITHOUT CURSIVE HANDWRITING.

I AM FORTUNATE TO HAVE CURSIVE LETTERS

FROM MY GREAT-GREAT-GRANDFATHER

FROM THE CIVIL WAR.

READING HIS LETTERS, FEELING THAT CONNECTION

TO THOSE TIMES

IS A WONDERFUL WAY TO APPRECIATE

OUR HISTORY, OUR DEMOCRACY.

REBECCA: THE NATIONAL MUSEUM OF THE AMERICAN INDIAN

REPRESENTS THE DIVERSITY OF NATIVE CULTURES

FROM ACROSS THE WESTERN HEMISPHERE,

INCLUDING NORTH, CENTRAL, AND SOUTH AMERICA.

IT'S A WAY FOR VISITORS TO KNOW THAT

NATIVE PEOPLE AND NATIVE COMMUNITIES

ARE LIVING AND THRIVING.

THE SMITHSONIAN INSTITUTION IS THE PLACE WHERE

PEOPLE COME TO LEARN ABOUT WHAT IT MEANS TO BE AN AMERICAN,

AND WE FEEL STRONGLY THAT THE NATIVE AMERICAN EXPERIENCE

IS THE AMERICAN EXPERIENCE.

NATIVE AMERICANS HAVE A REALLY EXTRAORDINARY HISTORY

OF SERVING IN THE UNITED STATES ARMED FORCES

IN EVERY MAJOR MILITARY CONFLICT SINCE THE REVOLUTIONARY WAR.

IN WORLD WAR II, HUNDREDS OF CODE TALKERS

USED THEIR NATIVE LANGUAGES TO TRANSMIT SENSITIVE MESSAGES.

THIS WAS IN SPITE OF THE FACT THAT

MANY OF THOSE SAME MEN AS CHILDREN

HAD BEEN PUNISHED FOR SPEAKING THEIR NATIVE LANGUAGES

IN BOARDING SCHOOLS.

TO HONOR THIS LONG TRADITION OF SERVICE,

CONGRESS DIRECTED THE NATIONAL MUSEUM OF THE AMERICAN INDIAN

TO CREATE THE NATIONAL NATIVE AMERICAN VETERANS MEMORIAL.

WE BEGAN CONSTRUCTION IN JANUARY.

BEFORE THEN, WE SPENT ABOUT A YEAR AND A HALF

TRAVELING ACROSS THE COUNTRY,

CONSULTING WITH NATIVE VETERANS AND TRIBAL LEADERS

AND COMMUNITY MEMBERS

TO GET A SENSE OF WHAT THEY WANTED

TO SEE IN THE MEMORIAL.

WE HELD A DESIGN COMPETITION,

AND WE TOOK WHAT WE HAD LEARNED IN THOSE CONSULTATIONS

AND USED THAT TO SHAPE WHAT WE ASKED

ARTISTS TO ACCOMPLISH WITH THEIR DESIGNS.

OUT OF 120 ENTRIES THAT WE RECEIVED,

THE JURY FELT STRONGLY THAT HARVEY PRATT'S DESIGN

WAS THE ONE THAT ACCOMPLISHED ALL OF THOSE THINGS THE BEST.

HARVEY: PEOPLE SAY, "HOW COME YOU INDIANS--

"HOW COME YOU INDIANS FIGHT FOR THIS COUNTRY?

"I MEAN, YOU'VE BEEN TREATED SO BAD, YOU KNOW?

YOU'RE DISRESPECTED AND TREATED BAD."

AND I SAY, "WELL, THERE'S SEVERAL REASONS."

I SAY, "WE COME FROM A WARRIOR SOCIETY,

WARRIOR CULTURE."

BOY, THERE'S A CROOKED HORN ON THAT ONE. LOOK.

MAN: THE OLD DAYS WERE TOUGH, YOU KNOW THAT,

BUT WE SURVIVED.

THIS ANIMAL SUSTAINED US.

HARVEY: THE PRAIRIE WERE JUST BLACK WITH BISON. YEAH. YEAH.

THESE AMERICAS, THIS IS INDIAN LAND.

ALWAYS WILL BE INDIAN LAND, REGARDLESS OF WHO OWNS IT.

GOD GAVE IT TO US. THIS IS OUR LAND.

THAT'S WHY WE FIGHT FOR THIS COUNTRY.

I LIKE TO PAINT ABOUT THE HISTORY OF PLAINS PEOPLE

BECAUSE THAT'S WHAT I KNOW BEST

ABOUT THE CUSTOMS AND CEREMONIES.

I'M A CHEYENNE ARAPAHO TRIBAL MEMBER.

MY MOTHER WAS A NATIONAL INDIAN WOMAN OF THE YEAR

AND MY FAMILY WAS ALL ARTISTS.

I JOINED THE MARINE CORPS.

I WAS SENT TO VIETNAM

TO RECOVER SHOT-DOWN PILOTS OUT OF THE JUNGLE.

AFTER THE MARINE CORPS, I BECAME A POLICE OFFICER.

I WORKED 46 YEARS WITH THE OSBI--

OKLAHOMA STATE BUREAU OF INVESTIGATION.

I WAS A FORENSIC ARTIST.

I'VE PROBABLY DONE 5,000 WITNESS DESCRIPTION DRAWINGS.

I DREAM A LOT OF THINGS,

AND SOMETIMES, I'LL GET UP, COME DOWN HERE,

AND START PAINTING RIGHT AWAY BECAUSE IT'S FRESH IN MY MIND,

AND AS THE DAY GOES ON,

IT MIGHT MORPH A LITTLE BIT,

BUT ORIGINALLY, IT BEGAN WITH A DREAM.

WE'RE DREAMERS, YOU KNOW? WE'RE DREAMERS.

GINA: I AM VERY PROUD TO BE A NATIVE AMERICAN.

HARVEY AND I MET THROUGH LAW ENFORCEMENT.

I WAS AN ALCOHOL AGENT.

WORKED IN THE BARS AND LIQUOR STORES FOR A LIVING.

I WAS AN UNDERCOVER AGENT WITH THEM.

I AM THERE FOR HARVEY.

I WANT HARVEY'S VISION FOR THE MEMORIAL

TO BE WHAT HARVEY WANTS IT TO BE.

HARVEY: WHEN SMITHSONIAN SENT A CREW AROUND

ASKING WHAT THE VETERANS WANTED,

I DREAMED ABOUT IT AND I GOT UP ONE MORNING

AND I WENT DOWN THERE TO MY TABLE

AND I TOOK OUT A TABLET AND I JUST MADE SOME SKETCHES.

GINA CAME BY AND SHE LOOKED AT IT

AND SHE SAID, "WHAT ARE YOU DOING?"

I SAID, "WELL, I'M THINKING ABOUT AN IDEA

ABOUT SUBMITTING SOMETHING FOR THIS."

AND I KNEW INSTANTLY WHEN I SAW IT

THERE WAS SOMETHING VERY SPECIAL ABOUT IT.

I COULD JUST TELL. I JUST KNEW IT WAS IT.

[MEN SPEAKING NATIVE LANGUAGE]

HARVEY: SINCE I'M KIND OF A TRADITIONAL GUY,

YOU KNOW, I THOUGHT, WELL, WHAT DO WE HAVE IN COMMON?

573 FEDERALLY RECOGNIZED TRIBES.

[MAN SPEAKING NATIVE LANGUAGE]

HARVEY: I SAID, WELL, WE HAVE OUR CEREMONIES.

[MEN SPEAKING NATIVE LANGUAGE]

HARVEY: IT TOOK ME TWO YEARS TO BECOME A CHEYENNE CHIEF

THROUGH CEREMONIES.

[MEN SPEAKING NATIVE LANGUAGE]

HARVEY: BACK IN THE OLD DAYS, THEY SAID,

"KILL THE INDIAN, SAVE THE MAN."

THAT WAS A GOVERNMENT POLICY.

SO, INDIANS ALL WENT INTO HIDING WITH THEIR CEREMONIES.

[MAN SPEAKING NATIVE LANGUAGE] HARVEY: CHEYENNES AND ARAPAHOS

NEVER GAVE UP THOSE THINGS.

NEVER GAVE UP THOSE OLD CEREMONIES.

NATIVE PEOPLE BELIEVE THAT

EVERYTHING IS CONNECTED ON THIS EARTH.

WE'RE ALL CONNECTED TO THE ENVIRONMENT

AND BEING IN HARMONY WITH NATURE.

EVERYTHING INVOLVES A CIRCLE. AND I SAID,

YOU KNOW, "SO, CIRCLES ARE GONNA BE IMPORTANT

IN THE MEMORIAL."

NATHAN, I LOVE YOUR LITTLE BEAR, LITTLE GUARDIAN.

MY SON NATHAN CAME OVER ONE DAY

AND HE'S AN ARTIST/INVENTOR.

NATHAN: IT'S A REMINDER THAT

YOU TAUGHT ME HOW TO CARVE.

[HARVEY LAUGHS]

NATHAN: MY FIRST IMPRESSION OF MY DAD'S SKETCH

OF THE MEMORIAL, I DIDN'T HESITATE.

I SAID, "DAD, THAT IS A PHENOMENAL DESIGN.

"LET'S TAKE THIS TO AN ARCHITECTURAL FIRM

AND CREATE A 3-D RENDERING FOR THE COMPETITION."

THIS IS MY DESIGN. IT'S BASED ON CIRCLES.

AND YOU GO INSIDE OF THE INNER CIRCLE

IS A VAT OF WATER.

ALMOST ALL NATIONS HAVE SACRED WATER,

AND THEN INSIDE IS THAT SACRED FIRE.

IT'S INSIDE A DRUM.

ALL NATIONS HAVE SACRED FIRES,

AND THAT'S WHAT I KIND OF CALL THIS--

WARRIOR'S SACRED CIRCLE AND THE SACRED FIRE.

I'VE GOT LANCES THERE WITH 4 EAGLE FEATHERS ON THEM,

AND ON THOSE LANCES, YOU'LL SEE SOME CIRCLES AGAIN.

THAT'S WHERE YOU CAN TIE YOUR PRAYER CLOTH

FOR YOUR FELLOW VETERANS.

GINA: ONE OF THE THINGS I THOUGHT THAT WOULD BE

IMPORTANT THAT SHOULD BE ADDED

WAS THE ELEMENT OF THE PRAYER CLOTHS.

HARVEY: EACH PRAYER CLOTH IS A PRAYER FOR

SOMEONE THAT'S CALLED AND ASKED US TO PRAY FOR THEM.

WHEN EVERY TIME THE WIND BLOWS,

THAT PRAYER GOES OUT.

ONE MORNING, THEY CALLED ME UP

AND THEY SAID, "HARVEY, I GOT SOME

GOOD NEWS AND SOME BAD NEWS."

HE SAID, "WHAT DO YOU WANT FIRST?"

I SAID, "WELL, GIVE ME THE GOOD NEWS."

HE SAID, "THE GOOD NEWS IS," HE SAID, "YOU WON."

"YOU'RE THE WINNER," HE SAID. "WE ACCEPTED YOUR DESIGN.

THE BAD NEWS IS NOW YOU GOTTA DO IT."

REBECCA ON COMPUTER: HI, HARVEY. HARVEY: HI.

GINA: HI, REBECCA. HOW ARE YOU?

REBECCA: HOW ARE YOU?

THINGS ARE GOING WELL. THE CONSTRUCTION'S MOVING

ALONG WELL ON THE SITE,

AND, YOU KNOW, WE'RE REALLY EXCITED

TO SEE THE PROGRESS.

HARVEY: YEAH, THEY'RE MOVING ALONG.

REBECCA: MM-HMM. GINA: WE'RE DOING A MOCKUP

ON THE RING HERE IN OKLAHOMA CITY,

AND WORKING ON THE MOLDS FOR THE BATTLE STREAMERS

AND FOR THE FEATHERS AND FOR THE LANCE POINTS.

THEY'RE LOOKING REALLY, REALLY GOOD.

HARVEY: JUST TO WATCH IT GROW AND DEVELOP

IS JUST AMAZING.

WE HAD TO OVERSEE EVERYTHING, YOU KNOW?

THEY HAVE PUT US THROUGH THE MILL

WITH QUESTIONS AND GUIDELINES.

MAN: WHAT WE'RE DOING HERE TODAY, GUYS,

WE'RE GETTING THE BATTLE RIBBON FOR HARVEY

AND--TO GO ON THE LANCE, AND I KNOW

THERE'S GONNA BE A SEPARATION SOMEWHERE.

WE'RE NOT SURE YET UNTIL WE GET IT

OFF AND WAXED TO MAKE.

TORREY: WOULD IT BE OK IF WE GO AHEAD

AND MEASURE THE OVERALL LENGTH?

MAN: SURE. SO, I THINK WE'RE HOVERING AROUND

THE 42 TO 43 AREA.

TORREY: RIGHT. HARVEY: AND THEN IF WE TAKE...

MAN: ...YOU'RE GONNA BE TAKING DOWN SOME.

HARVEY: WE'RE GONNA TAKE ABOUT AN INCH OFF THESE POINTS HERE.

MAN: YEAH, YOU'RE AT 42-ISH?

AND IT'S FRUSTRATING SOMETIMES, 'CAUSE IT'S, WELL,

RIGHT NOW, WE'RE TALKING ABOUT AN INCH.

MAN: AND THIS WILL BE TOUCHING THE LANCE SOMEWHERE.

TORREY: SO, YOU'RE LOOKING JUST FOR

A LOT OF ATTACHMENT POINTS. YEAH.

MAN: PROBABLY ONE OR TWO PER FEATHER.

HARVEY: THERE'S OUR DESIGN TEAM.

IS MYSELF, GINA, AND NATHAN, AND THE BUTZERS.

HANS: YOU WERE SAYING THAT YOU'RE LOOKING FOR...

HARVEY: HANS AND TORREY BUTZER,

WE TOLD THEM WHAT WE WANTED TO DO

AND THEY SAID, "WE'RE IN THIS FIGHT WITH YOU."

TORREY: ARE YOU GONNA TAKE A PIECE OF WAX

TO LOOK LIKE IT'S BEING TIED ON? MAN AND HARVEY: YES.

HARVEY: THEY'RE REALLY METICULOUS, BUT

I'M GLAD THEY'RE THAT WAY.

HANS: ...FEATHERS, THAT THERE IS--

TO BUILD A MEMORIAL ON THE NATIONAL MALL

OF WASHINGTON, D.C., IS A VERY COMPLICATED PROCESS.

HOW DO WE TAKE THE IDEA OF THE DRUM,

THE WATER, AND THE WARRIOR'S CIRCLE,

USE THAT TO BUILD A PLACE THAT DRAWS PEOPLE IN

AND HELPS THEM CONNECT WITH THIS WHOLE IDEA OF SACRIFICE?

TORREY: A DEMOCRACY, TO ME, IS EVERYONE COUNTS,

AND THIS MEMORIAL IS ABOUT THAT EXACTLY,

AND IT'S ABOUT SAYING THANK YOU TO

THE NATIVE AMERICAN VETERANS

WHO WE HAVE DONE A BAD JOB SAYING THANK YOU TO BEFORE.

HARVEY: THEY TOLD ME THAT THIS WAS THE LAST

NATIONAL MEMORIAL ON THE MALL.

THERE'S NO OTHER PLACE TO PUT ONE.

AND WE'RE THE ONLY ONES THAT PUT A SOUND SYSTEM IN IT.

THEY THOUGHT, "WELL, THAT'S PRETTY COOL."

I SAID, "WELL, I WANT YOU TO HEAR

"THEM SING THEM WAR SONGS,

SING THAT VETERANS SONG," YOU KNOW.

EVERY TRIBE HAS THEIR VETERANS SONG.

NATHAN: THIS IS A UNIFYING MEMORIAL.

THAT MAKES ME PROUD, THAT MY DAD HAS

CONCEIVED A MEMORIAL THAT WILL

GALVANIZE OUR COUNTRY IN A DIFFICULT TIME.

I LOOK FORWARD TO THE DAY THAT

WE CAN GO TO WASHINGTON WHEN THE MEMORIAL'S FINISHED

AND JUST SIT BACK AND WATCH THE PEOPLE COME IN.

IT'S FOR HEALING. IT'S A PLACE OF PEACE.

EVERY NATION, 573 NATIONS,

GO THERE AND THEY DO A CEREMONY.

THAT'S GONNA BECOME A POWERFUL PLACE.

[NATIVE AMERICAN MUSIC PLAYING]

KAREN: THE JEFFERSON BUILDING OF THE LIBRARY OF CONGRESS

IS A SNAPSHOT OF WHAT AMERICA THOUGHT OF ITSELF

WHEN IT WAS FINISHED IN 1897.

IT WAS AMERICA TRYING TO TELL THE WORLD

THAT WE HAD COME OF AGE.

THEY TOOK 54 UNEMPLOYED ARTISANS

FROM THE 1893 CHICAGO WORLD'S EXPOSITION

AND IT'S THEIR WORK THAT WE SEE.

IT'S EVERYTHING FROM ZODIAC SIGNS

HIDDEN IN PLAIN SIGHT

TO MEN PLAYING BASEBALL IN THE NUDE.

YOU'D BE AMAZED WHAT'S IN THERE.

YOU'RE ASKING ABOUT THE WORST DAY OF MY LIFE.

AS I GOT CLOSER AND CLOSER TO THE FRONT LINE,

I COULD HEAR MORE AND MORE GUNS.

KAREN: WHAT WE DO WITH THE VETERANS HISTORY PROJECT

IS TO REACH OUT AND INTERVIEW VETERANS.

COMBAT INJURIES COME BACK ON BASE

AND PEOPLE GETTING BOMBED AND YOU'RE LIKE...

UH, THAT'S WHEN YOU REALLY QUESTION OF

WHO'S ACTUALLY MAKING THE DECISIONS TO DO THESE THINGS?

ALL OF THAT MADNESS AT BOOT CAMP, I WAS THINKING,

HOW SIMPLE AND EASY THIS WAS, BECAUSE

MY MOTHER WAS MUCH ROUGHER

THAN WHAT I WAS GOING THROUGH IN BOOT CAMP, AND...

MONICA: ORAL HISTORY IS ABOUT UNEARTHING, LIFTING,

AND GIVING WING TO STORIES THAT MAY OTHERWISE BE MARGINALIZED.

WE GATHER FIRST-PERSON NARRATIVES

IN THE FORM OF ORIGINAL PHOTOGRAPHS,

LETTERS, DIARIES, JOURNALS,

AND THE IDEA IS THAT BY UNDERSTANDING

THE FULLNESS OF U.S. SERVICE

FROM A HUMAN SCALE,

WE UNDERSTAND THE FULLNESS OF AMERICAN HISTORY.

KAREN: TODAY, WE HAVE 3 WELL-KNOWN POTTERS

CHOOSING TO SHARE THEIR WORK WITH US

AT THE VETERANS HISTORY PROJECT.

MONICA: TO BE ABLE TO HAVE VETERANS

IN THE HEIGHT OF THEIR CRAFTSMANSHIP

COME AND SHARE WITH THE GENERAL PUBLIC

THE WAY THAT THEY CHOOSE TO TELL THEIR STORY,

THAT'S WHAT WE'RE ALL ABOUT, IS HOW DO YOU TELL YOUR STORY?

WOMAN: SO, YOU USE DIFFERENT COLORS?

JUDAS: YES, THERE'S DIFFERENT GLAZES, SO.

I DID TWO TOURS IN IRAQ. I WAS SEVERELY INJURED

IN 2006.

I SPENT ALMOST A YEAR IN REHAB.

I JUST OPEN THAT UP A LITTLE BIT.

YOU CAN ONLY DO SO MUCH PHYSICAL THERAPY

AND OCCUPATIONAL THERAPY AND YOU'RE JUST EXHAUSTED.

SO, AFTER THERAPY EVERY DAY,

I'D END UP JUST COMING BACK TO CLAY.

THERE'S JUST SOMETHING ABOUT THIS MEDIUM.

NOT ONLY THE FUNCTIONAL VALUE

BUT ALSO THE ARTISTIC ABILITY

YOU'RE ABLE TO NARRATE TO YOUR VIEWER.

EHREN: I WAS A MILITARY POLICE DURING THE '91 GULF WAR.

MP COMPANY, HEADQUARTERS BATTALION,

FIRST MARINE DIVISION.

MY WIFE CALLS MY WORK WAR AWARENESS ART,

AND I THINK IF YOU'RE AWARE

OF WHAT'S HAPPENING IN A WAR,

YOU CAN'T REALLY BE FOR IT,

AND YOU'RE PROBABLY AGAINST IT IN A DEEPER WAY.

I THINK CLAY IS A GOOD MATERIAL

TO TALK ABOUT WAR WITH.

THE CUP FEELS LIKE A PRETTY SMALL GESTURE,

BUT WHAT'S MORE INTERESTING TO ME IS

YOU TAKE THE CUP BACK INTO YOUR LIFE

AND THEN SOMEBODY YOU ALREADY KNOW, LOVE, AND TRUST,

MAYBE THEY CAN SHARE A STORY.

THE CUPS BECOME A TOUCHSTONE TO SPEAK

ABOUT UNSPEAKABLE THINGS.

SINCE 2001, I'VE MADE AND GIVEN AWAY

OVER 21,000 CUPS.

I THINK I'VE DEFINITELY CROSSED THAT LINE

BETWEEN PRODUCTIVE AND OBSESSIVE. [CHUCKLES]

MATTHEW: I THINK AFTER BEING IN A WAR ZONE,

YOU'RE JUST LIKE, "I'M GONNA DO WHATEVER I WANT."

I WAS A SERGEANT IN THE MINNESOTA NATIONAL GUARD

DEPLOYED TO KUWAIT AND IRAQ.

AND THEN WHEN I GOT BACK, I BECAME A FULL-TIME STUDENT

AT THE UNIVERSITY OF MINNESOTA AND GOT MY

BACHELOR OF FINE ARTS IN CERAMICS.

MY MILITARY EXPERIENCE, SEEING ALL THE DEVASTATION,

I BECAME OBSESSED WITH ENVIRONMENTAL DEGRADATION

BACK HOME, AND SO, MY WORK'S ALL ABOUT

THE LOSS OF SPECIES AND HABITATS.

AND SO, THERE'S LOTS OF HORNED OWLS AND BARRED OWLS.

SANDHILL CRANES.

FISH IN THE LAKE.

I REALLY THINK THERE'S SOMETHING TO CLAY THAT,

JUST THE TACTILENESS CAN REALLY PUT YOU IN A PLACE.

LIKE, WHEN I WAS TEACHING VETERANS,

THEY'D SAID THOSE NIGHTS, THEY DIDN'T HAVE NIGHTMARES.

IT ENABLED THEIR MIND TO GO SOMEPLACE ELSE,

TO NOT THINK ABOUT THEIR WARTIME EXPERIENCE,

AND FOR ME, THAT'S--I REALLY ENJOY HEARING THAT.

MONICA: THE VETERANS HISTORY PROJECT IS ABOUT

GIVING THE NARRATIVE BACK TO THE PEOPLE WHO WERE THERE,

WHO WITNESSED IT FIRSTHAND,

AND HAVING IT BE PART OF THE LIBRARY OF CONGRESS

IS SO VERY IMPORTANT, BECAUSE

THIS IS THE NATION'S LIBRARY.

CREATING THIS ARCHIVE TOGETHER,

COLLECTIVELY, IS DEMOCRACY IN ACTION.

EHREN: I DON'T THINK ANYTHING I DO IS GONNA

CHANGE THE WORLD, BUT NOTHING IN THE WORLD

RELEASES ME FROM MY OBLIGATION TO TRY.

YOU KNOW, PEACE IS THE ONLY ADEQUATE WAR MEMORIAL.

EUDORAH: I THINK THE WAY THAT I FIRST BECAME AWARE OF CRAFT

WAS AS A CHILD, GOING WITH MY MOTHER

UP INTO THE APPALACHIAN HIGHLANDS,

WHERE THERE WAS AN OLD CHAIRMAKER.

AND IT MADE ME VERY, VERY CONSCIOUS OF

THE QUALITY THAT WENT INTO

REALLY DEEPLY TRADITIONAL CRAFTS.

LIKE, FOR INSTANCE, THE FACT THAT

THE CHAIRS NEVER HAD A NAIL IN THEM,

AND THE WAY THEY BONDED THEM WAS NOT WITH GLUE

BUT WAS BY PUTTING A WET RUNG INTO A DRY LEG,

AND THEY WOULD THEN BOND TOGETHER

AS THE WOOD DRIED SO THAT THEY ENDED UP

BEING WHAT THEY CALLED SETTIN' CHAIRS,

SO THAT YOU CAN PICTURE THE OLD BOYS IN THEIR CHAIRS

JUST SETTIN' AGAINST THE HOUSE WALL.

REN: MY MOM EUDORAH MOORE CAME FROM DENVER, COLORADO,

AND SHE WAS A VERY INDEPENDENT PERSON.

WENT TO SMITH COLLEGE.

SHE WANTED TO PURSUE A MEDICAL DEGREE

BUT SHE MET MY DAD.

THEY MOVED OUT TO CALIFORNIA.

ULTIMATELY ENDED UP IN PASADENA,

WHERE SHE VOLUNTEERED AT THE PASADENA ART MUSEUM,

WHAT IS NOW THE NORTON SIMON MUSEUM.

FROM THERE, SHE EMBARKED ON HER CAREER

IN THE ARTS.

THE PASADENA ART MUSEUM WAS A MODERN-ART MUSEUM,

SO, THERE WERE MANY ADVOCATES FOR

THE, QUOTE UNQUOTE, HIGHER ARTS.

MY MOM WAS CURATOR OF DESIGN,

AND THERE WERE PEOPLE WHO

REALLY DIDN'T LIKE MY MOM'S IDEAS.

BUT OVER TIME, SHE FOUND HER ROLE

WAS AS THIS PROTAGONIST FOR

THE CRAFTS AND THE CRAFTSPEOPLE.

EUDORAH: I WAS PUTTING TOGETHER AN EXHIBITION IN 1972

THAT WAS CALLED "ISLANDS IN THE LAND,"

AND THIS EXHIBITION WAS ABOUT TWO PARTS OF THE COUNTRY

WHERE TRADITION, COUNTER TO THE MAINSTREAM,

HAD BEEN MAINTAINED.

AND ONE OF THOSE AREAS WAS IN APPALACHIA,

WHERE YOU HAD THE ANGLO AND THE BLACK TRADITIONS.

ALSO THE EUROPEAN TRADITIONS COMING INTO

THE CRAFTS THAT WERE THERE.

THEN IN THE VALLEY OF THE RIO GRANDE,

WHERE YOU HAD 3 INTERSECTING CULTURES--

THE ANGLOS AND THE CHICANOS AND THE INDIANS.

AND THERE ARE THESE ISLANDS STILL

WHERE CRAFT TRADITIONS OF A CULTURE

HAD BEEN MAINTAINED.

I FELT IT WAS IMPORTANT TO TRY TO

PINPOINT THEM BECAUSE OF THE FACT THAT

THEY ARE DISAPPEARING.

REN: I GOT THE OPPORTUNITY TO GO WITH HER

TO APPALACHIA TO LOCATE SOME OF THESE ARTISTS.

EUDORAH: I HAD REMEMBERED THE CHAIRS

THAT MY MOTHER HAD MADE

WHEN WE WERE IN THE MOUNTAINS OF TENNESSEE

AND I KEPT ASKING PEOPLE ABOUT

WHERE I COULD FIND THOSE OLD CHAIRS

THAT WERE REALLY OUT OF THE FOREST.

TURNS OUT THAT WILEY BLEVINS MADE THESE CHAIRS

AND HE DIDN'T USE NAILS AND DIDN'T USE GLUE.

WE WONDERED IF WE MIGHT PURCHASE ONE OF HIS CHAIRS

TO SHOW IN A MUSEUM IN CALIFORNIA,

AND HE WAS VERY PLEASED.

HE WAS INDEED PLEASED.

AND DURING THAT PROCESS, HE LOOKED OVER

AND HE SAW ME AND I HAD PULLED OUT

MY SWISS ARMY KNIFE, AND HE JUST LOOKED AT THAT KNIFE.

EUDORAH: THIS HAD BEEN A WONDERFUL DAY FOR US.

WE HAD SEEN HIM MAKE THE CHAIR.

AND SO, I GOT MY NERVE UP AND ASKED MY SON

IF HE WOULD BE WILLING TO GIVE WILEY THAT KNIFE.

I WAS SO PROUD OF RENNIE BECAUSE HE

DIDN'T HESITATE A MINUTE-- HE TURNED AROUND

AND HE GAVE WILEY HIS MOST PRECIOUS POSSESSION.

AND I ALMOST WEPT, I WAS SO HAPPY.

REN: SHE WASN'T AN ARTIST,

BUT I THINK SHE SAW

THE MUSEUM IN MANY WAYS AS HER CANVAS.

THAT KIND OF LEADS ME TO GERE KAVANAUGH,

BECAUSE MY MOM GAVE HER THE OPPORTUNITY

TO DO THE INSTALLATION.

HOW DID YOUR PARTICIPATION COME ABOUT?

GERE: 'CAUSE I SAW ALL OF THESE THINGS IN

THE STORAGE ROOM OF THE PASADENA MUSEUM

AND I SAID, "I DESPERATELY WANT TO DO THIS."

[REN CHUCKLES] WHAT DID SHE

OFFER TO YOU TO MAKE THAT HAPPEN?

GERE: NOTHING. REN: YEAH.

GERE: NOTHING. NOTHING IN PARTICULAR.

I WANTED TO GIVE A SENSE OF PLACE.

THAT IS WHY I CHOSE SIMPLE MATERIALS.

WE MADE THE DISPLAY CASES OUT OF

THE WORST KIND OF PINE WOOD.

AND AT THAT TIME, TOO, CARDBOARD WAS IN THE AIR.

I WRAPPED THE WALLS IN CARDBOARD.

ON THE APPALACHIAN SIDE,

IT WAS CUT LIKE THE MOUNTAINS IN APPALACHIA.

ON THE RIO GRANDE, IT WAS CUT LIKE ADOBE WALLS.

CHEAP MATERIAL. NO ONE COMPLAINED.

THE THING THAT MY MOM UNDERSTOOD OH, SO WELL

WAS THE IMPORTANCE OF SCALE.

SHE CARRIED THAT INTO THE "ISLANDS IN THE LAND" EXHIBIT

WITH THESE PHOTOS.

THEY WERE TAKEN BY DICK GROSS,

AN AMAZING PHOTOGRAPHER.

PEOPLE COULD GET A SENSE OF

WHO THESE PEOPLE WERE

AND WHAT THIS PLACE WAS LIKE.

AND SO, IT WAS A MORE EXPLORATORY EXHIBITION

THAN JUST LOOKING AT THE OBJECTS.

IT WAS REALLY ABOUT GIVING CREDIT

TO THESE ARTISTS WITHIN THOSE REGIONS.

GERE: I GLUED PHOTOGRAPHS OF THE ARTISANS

ONTO BOXES THAT WERE SET UP

NEAR THE OBJECT THAT PERSON HAD MADE.

REN: EVERYTHING WAS A PIECE OF ART

WITH A NAME ASSOCIATED WITH THE MAKER.

GERE: AND A LOT OF THE PEOPLE FROM THE VALLEY

OF THE RIO GRANDE WERE COMING OVER

TO SEE THEIR OBJECTS, BECAUSE

THEY WERE THRILLED THAT THEY WERE IN A MUSEUM!

REN: THESE AREN'T JUST THE MAKERS OF

UTILITARIAN ITEMS.

THESE ARE REAL CRAFTSPEOPLE

WHOSE NAME DESERVES TO BE KNOWN,

AND GIVEN CREDIT FOR THEIR WORK,

AND SO, THAT WAS REALLY IMPORTANT TO HER

AND THAT WAS KIND OF PART OF HER WHOLE VISION

IN TERMS OF DEMOCRACY.

OF THE PEOPLE, BY THE PEOPLE, FOR THE PEOPLE,

AND THAT'S REALLY WHAT THIS EXHIBIT WAS ABOUT.

EUDORAH: I THINK THE CRAFTS ARE DEMOCRATIC

BECAUSE OF THE PALPABLE QUALITY OF THE CRAFTS.

IN SO MANY CASES, YOU CAN ACTUALLY PICK UP A POT

AND FEEL IT AND LOOK AT IT,

AND THE WORD "CRAFTSMAN" IS A NOBLE WORD

BECAUSE IT BEARS BACK INTO TRADITION

AND INTO THE FORMATION OF ALL OF THE

OBJECTS OF USE WITH WHICH WE SURROUNDED OURSELVES.

TIME PASSED AND THEN CAME A LETTER

FROM WILEY'S NIECE AND IT SAID,

"I JUST WANTED TO THANK YOU FOR

"PUTTING THAT CHAIR IN YOUR SHOW,

"BECAUSE WILEY DIED LAST WEEK,

"BUT BEFORE HE DIED, HE SAID,

"I KNOWED I MADE A GOOD CHAIR.""

[BELLS RINGING]

CHRISTOPHER: WHEN EUDORAH MOORE DID THE EXHIBITION,

SHE BORROWED 42 OBJECTS FROM THE APPALACHIAN MUSEUM

AT BEREA COLLEGE.

OBJECTS ARE, IN A SENSE, ALMOST LIKE A RECORDING.

THEY RECORDED THE MOTIONS AND THE THOUGHTS OF THE MAKER.

THE APPALACHIAN MUSEUM CLOSED IN 1998.

NOW WE PRIMARILY USE THE COLLECTION FOR

ARTIFACT ENCOUNTERS, WHERE STUDENTS THINK ABOUT

APPALACHIAN LIFE BASED ON WHAT THEY FIND IN THE OBJECT.

AARON: BEREA COLLEGE WAS FOUNDED IN 1855

BY THE REVEREND JOHN G. FEE,

WHO WAS AN ARDENT ABOLITIONIST

AND FOUNDED BEREA TO PROVIDE EDUCATION

FOR FREED SLAVES.

HE WANTED TO CREATE AN EDUCATION ENVIRONMENT

WHERE BLACKS AND WHITES COULD BE EDUCATED TOGETHER.

LINDA: BUT BECAUSE OF THE STATE'S DAY LAW,

WE WERE SEGREGATED IN 1910 FOR THE FIRST TIME.

DESEGREGATED IN 1950,

BUT IT WAS A VERY SLOW DESEGREGATION.

NOW 40% OF OUR STUDENTS ARE STUDENTS OF COLOR.

BEREA'S HISTORY HAS ALWAYS BEEN ABOUT INCLUSION

AND LIFTING UP DEMOCRACY,

LIFTING UP THE PROMISES OF AMERICA.

AARON: BEREA COLLEGE PROVIDES A TUITION-FREE EDUCATION

FOR ALL ITS STUDENTS,

WHAT WE REFER TO HERE ON CAMPUS

AS THE TUITION PROMISE SCHOLARSHIP.

SO, EVERY STUDENT WHO COMES TO BEREA

COMES HERE TUITION-FREE.

THEY ALSO HAVE THE OPPORTUNITY TO WORK IN OUR LABOR PROGRAM

MAKING CRAFT, WHICH IS THEN SOLD

TO BRING IN REVENUE TO THE COLLEGE.

[SAW WHIRRING]

ANDY: BUT ONE POINT IN TIME, THERE WERE

10-12 FULL-TIME FURNITURE MAKERS

OUT ON THE SHOP FLOOR.

MAYBE 40 OR 50 STUDENTS WORKED

WITHIN THE INDUSTRIES HERE.

THEY MADE A LARGE AMOUNT OF FURNITURE,

AND THAT FURNITURE WAS SHIPPED AROUND THE COUNTRY.

THE SHOP HAS TRANSITIONED TO MAKING SMALLER ITEMS.

CRAFT ITEMS, AND THE REASON FOR THAT SHIFT

WAS TO ALLOW THE STUDENTS TO MAKE

MORE OF THE WORK THEMSELVES.

AARON: THIS PROGRAM HAS BEEN AROUND FOR 127 YEARS.

WE ALSO HAVE SOME REAL HISTORIC PRODUCTS

THAT ARE STILL IN OUR CATALOG.

THAT'S GREAT, BUT IT CAN ALSO

LEAD YOU TO REST ON YOUR LAURELS A LITTLE BIT.

I'D BEEN INVOLVED IN CONVERSATIONS ABOUT

HOW WE COULD MOVE THE STUDENT CRAFT PROGRAM FORWARD

IN A WAY THAT WOULD RESONATE MORE SOUNDLY WITH STUDENTS.

STEPHEN: WHEN I RECEIVED AN EMAIL,

I'D NEVER EVEN HEARD OF BEREA COLLEGE,

BUT I DISCOVERED THAT BEREA WAS THE FIRST COLLEGE

IN THE SOUTH TO BE INTEGRATED,

SO, I WAS KIND OF BLOWN AWAY BY THE HISTORY,

AND I IMMEDIATELY WANTED TO THROW MYSELF INTO THE PROJECT.

I GREW UP ON THE SOUTH SIDE OF CHICAGO.

WE WEREN'T WELL OFF BY ANY MEANS.

MY MOM ALWAYS TOLD ME THAT I COULD BE

ANYTHING I WANTED IN THE WORLD, AND THAT

JUST KIND OF PROPELLED ME.

AARON: STEPHEN IS THE PERFECT PERSON FOR THIS

BECAUSE OF HOW HE THINKS ABOUT

DESIGN IDEAS IN A GLOBAL WAY.

STEPHEN: I LIKE TO SAY THAT DESIGN IS A WESTERN CONCEPT.

WHAT I REALIZED TRAVELING AROUND THE WORLD,

PEOPLE HAVE BEEN MAKING THINGS FOR GENERATIONS,

AND IT'S SO TIED TO THEIR COMMUNITIES,

THEIR SOCIETIES, THEIR WAYS OF LIVING.

AND DESIGN HAS ALWAYS BEEN EXPRESSED

THROUGH THE AGES BY WHAT WE MAKE WITH OUR HANDS.

AND SO, THE BEREA PROJECT

WE CALL "CRAFTING DIVERSITY" WAS BORN.

I'M HERE TO EXPLORE NEW IDEAS. SO...

I STARTED TO THINK ABOUT HOW WE COULD

ENGAGE THE STUDENTS IN THE CREATIVE PROCESS...

MAN: I MEAN, IT'S THE SAME AS THAT ONE, LIKE--

STEPHEN: SO THAT THEY COULD BE MAKING SOMETHING THAT

THEN THEY COULD IMAGINE BEING

PART OF THEIR EVERYDAY LIVES.

WHAT THIS WAS ABOUT, FOR ME, IS TO USE THE HAND

AS A KIND OF SIGNATURE, RIGHT?

SO, EVERYONE'S GOT DIFFERENT FINGERPRINTS.

AARON: WHEN STEVEN FIRST CAME, WE HAD BEEN

A CRAFT PROGRAM FOR 127 YEARS.

WE HAD NEVER HAD A PERSON OF COLOR

IN A LEADERSHIP POSITION.

A LITTLE TOO POLKA DOTTY FOR YOUR TASTE, THOUGH.

STEPHEN: YEAH... AARON: SO, FOR OUR STUDENTS

TO BE ABLE TO SEE SOMEONE WHO LOOKS LIKE THEM

SUCCEEDING AT THE HIGHEST LEVEL IS REALLY IMPORTANT.

JOSEPH: MY NAME IS JOSEPH OPALEYE.

I'M ORIGINALLY FROM LAGOS, NIGERIA,

BUT I LIVE WITH MY FAMILY IN QUEENS, NEW YORK.

I'M A TECHNOLOGY AND APPLIED DESIGN MAJOR

AND I'VE ALWAYS WORKED WITH WOOD.

THIS DESIGN, IT'S A PROTOTYPE, SO, IT'S SOMETHING NEW.

I'M STILL LEARNING MORE ABOUT IT,

WORKING WITH MR. STEPHEN.

OUR GOAL FOR THE DESIGN

IS TO MAKE IT WELL-KNOWN NATIONWIDE.

STEPHEN: BEREA BASKET, OF COURSE, THIS IS THE CLASSIC

OF BEREA COLLEGE, WAS A BIT OF AN INSPIRATION

FOR OUR NEW BASKET.

WHAT I WAS TRYING TO ACHIEVE IS TO TAKE

THAT STRUCTURE, THAT REPETITIVE STRUCTURE,

AND THINK ABOUT IT AS ALMOST A SMALL INDUSTRIAL PART,

THAT THE STUDENTS COULD LEARN

WE CAN MAKE DIFFERENT SIZES, DIFFERENT SHAPES.

YOU KNOW, WE CAN EXPLORE-- JOSEPH: DIFFERENT COLORS.

STEPHEN: DIFFERENT COLORS. RIGHT.

THE BASKET FOR ME IS A KIND OF STRUCTURAL MODEL.

IT'S ARCHITECTURE AT A VERY SMALL SCALE.

JOSEPH: OH, I THINK I LIKE THE COLOR,

BUT I WILL PREFER, LIKE, 3 COLORS.

STEPHEN: MM-HMM. IT'S MISSING

A LITTLE BIT OF RESTRAINT, RIGHT?

JOSEPH: RIGHT. STEPHEN: BUT I THINK

HAVING THE POSSIBILITIES

IS WHAT I REALLY LIKE ABOUT THE PROJECT.

EM: MY NAME IS EM CROFT.

I AM A SENIOR FROM CARRBORO, NORTH CAROLINA.

I'VE DESIGNED THIS BABY BLANKET.

IT'S INSPIRED BY WATER.

THE GRAYS AND THE BLUES TOGETHER

REMIND ME OF, YOU KNOW, A MOUNTAIN STREAM.

BEING A MEMBER OF THE LGBTQ COMMUNITY,

IT'S REALLY, REALLY EXCITING FOR ME TO

BE ABLE TO BE IN THIS SPACE AT BEREA

WHERE THAT IDENTITY IS NOT ONLY ACCEPTED BUT SUPPORTED

AND THAT I GET TO EXPRESS THAT THROUGH

THE CREATION OF THIS BLANKET.

JUST A DREAM COME TRUE FOR ME, HAVING

A DESIGN THAT I MADE.

NOT JUST PEOPLE LIKED IT BUT PEOPLE WANT TO BUY IT,

PEOPLE WANT ME TO PUT IT OUT INTO THE WORLD.

IT'S THE DIRECTION WE'RE TRYING TO MOVE THE STUDIO IN--

A COMMITMENT TO DIVERSITY AND INCLUSIVITY.

CHRISTOPHER: BECAUSE IT'S KIND OF A FORGOTTEN CRAFT,

BROOMCRAFT HASN'T CHANGED MUCH.

I MADE A BROOM WHEN I WAS 14 YEARS OLD.

STILL GOT IT HANGING ON THE WALL OF MY ORIGINAL SHOP.

I ALWAYS TELL MY STUDENTS THEY SHOULD KEEP

THE FIRST ONE THEY MAKE, TO DO THE VERY SAME REASON.

MARY BETH: MY NAME IS MARY BETH MULLEN.

I'M A POLITICAL SCIENCE MAJOR

WITH A HISTORY MINOR.

I DECIDED TO WORK IN BROOMCRAFT AT BEREA COLLEGE

'CAUSE I WANTED TO DO SOMETHING WITH MY HANDS,

BECAUSE I'VE ALWAYS LOVED MAKING CRAFTS.

WHEN I SAY THAT I WORK AT BROOMCRAFT,

THEY THINK OF, LIKE, THE PLASTIC BROOMS

THAT YOU GET AT THE STORE,

AND IT'S JUST REALLY INTERESTING TO BE ABLE TO

CREATE SOMETHING BEAUTIFUL OUT OF

JUST A HOUSEHOLD ITEM.

ONE OF MY FAVORITE BROOMS TO MAKE, 'CAUSE I CAN

DO IT ALL BY MYSELF, IS A WHISK BROOM.

YOU HAVE TO HOLD THE STRINGS SO TIGHT,

BUT I LOVE ALL THE SMALL PIECES THAT GO INTO IT

THAT MAKE IT JUST SO DIFFERENT.

A LOT OF IT'S FEEL AND JUST

PRACTICE, PRACTICE, PRACTICE.

STEPHEN: THE IDEA THAT THERE'S A PLACE

AND A CULTURE STILL MAKING BROOMS--

[LAUGHS] THAT KIND OF BLEW ME AWAY.

AND NOW WE'RE WORKING ON A NEW CONCEPT, WHICH WE'RE

LOVINGLY CALLING "BROOM THING."

CHRISTOPHER: SO, STEPHEN CAME IN AND, OF COURSE,

HE'S A BIG-CITY DESIGNER.

BIG--NO OFFENSE TO HIM.

WE DO THE DIFFERENT COLORS AND EVERYTHING, BUT

IT'S KIND OF THE SAME STUFF WE'VE DONE

FOR 80 TO 100 YEARS.

STEPHEN: IS THIS ENOUGH? CAN WE--

CHRISTOPHER: YEAH, WE CAN FLUFF IT.

AND STEPHEN WANTS TO PUSH THE LIMITS

AND SEE HOW FAR THE MEDIUM CAN TAKE US.

STEPHEN: SO, YOU KNOW, BROOM THING CAME OUT OF

THIS CONCEPT OF, UM, IS THAT

A LOT OF PEOPLE BUY THESE BROOMS AS DECORATIVE OBJECTS.

CHRISTOPHER: YEAH, BUT THEY ALSO LIKE THE FUNCTIONALITY, TOO.

STEPHEN: RIGHT. I GUESS I'VE ALWAYS BEEN

ATTRACTED TO NATURAL MATERIALS,

MATERIALS THAT HAVE AN INHERENT WARMTH

AND THAT ARE MALLEABLE.

AND SO, BROOM CORN IS A REALLY GOOD EXAMPLE.

CHRISTOPHER: BROOM CORN IS A PLANT.

IT'S ABOUT 15 FOOT TALL.

THERE'S ABOUT 50 PLANTS TO ONE KITCHEN BROOM.

STEPHEN: WHAT DO YOU CALL THIS MACHINE?

CHRISTOPHER: THIS IS A BROOM WINDER.

THIS ONE--THIS PARTICULAR ONE WAS MADE BY

THE BALTIMORE BROOM COMPANY IN PROBABLY THE SEVENTIES.

STEPHEN: MM-HMM. CHRISTOPHER: THEY LONG WENT OUT OF BUSINESS.

STEPHEN: SO, THAT'S THE BROOM HANDLE STUCK IN THERE.

CHRISTOPHER: BROOM HANDLE'S STUCK IN THERE.

THE WIRE'S ATTACHED, AND THEN IT'S

HOLDING TENSION AS I FEED IT ON HERE.

STEPHEN: MM-HMM.

CHRISTOPHER: UNDER THE TENSION OF THE WIRE,

IT MAKES IT POOF OUT. STEPHEN: RIGHT.

CHRISTOPHER: WHAT I LIKE TO DO IS GIVE IT A FINAL SPIN.

GET OUR MAXIMUM POOFAGE.

PATENTED WORD. "POOFAGE."

[STEPHEN LAUGHS] THAT'S BEAUTIFUL.

STEPPING INTO BEREA COLLEGE,

THERE'S JUST SUCH A WEALTH OF KNOWLEDGE AND TRADITION

TO BUILD UPON THAT IT WAS VERY EASY

FOR ME TO FIND INSPIRATION.

IT'S AMAZING. [LAUGHS]

SO, WE HAVE 26 OF THESE.

IS THAT RIGHT, CHRIS? CHRISTOPHER: 26.

STEPHEN: 26 OF THESE TO MAKE A SPHERE.

AND THIS IS PRETTY CLOSE TO MY ORIGINAL SKETCH.

YEAH, YEAH, I ALWAYS WANTED SOMETHING

TO KIND OF MOVE US AWAY FROM

THE PERCEPTION OF THIS AS BROOMS.

CHRISTOPHER: YEAH. I'VE DONE SOME WILD STUFF

BUT THIS IS DEFINITELY-- [LAUGHTER]

CHRISTOPHER: WILDER. STEPHEN: YEAH.

LOWER. [INDISTINCT]. BACK. UP.

WOMAN: AND IT'S A GENTLE PROCESS.

[THUD] WHOOPS. STEPHEN: OH.

[LAUGHS]

WOMAN: THAT'S THE OPPOSITE OF GENTLE.

STEPHEN: YEAH, IT'S TRUE, IT'S TRUE.

AARON: STEPHEN HAS BROUGHT US THE IDEA THAT WE CAN BE BETTER,

THAT OUR STUDENTS ARE CAPABLE

OF CREATING OBJECTS THAT ARE THE FINEST CRAFT

AND EVERYONE WHO WORKS HERE,

AND THE STUDENTS WHO ATTEND,

THEIR VOICE IS GONNA BE HEARD.

THEIR VOICE MATTERS IN THE WORLD.

CAPTIONING MADE POSSIBLE BY CRAFT IN AMERICA, INC.

CAPTIONED BY THE NATIONAL CAPTIONING INSTITUTE -www.ncicap.org--

WATCH ALL EPISODES OF "CRAFT IN AMERICA" ONLINE,

WITH ADDITIONAL VIDEOS AND MORE.

VISIT "CRAFT IN AMERICA" AT PBS.ORG.

THIS EPISODE OF "CRAFT IN AMERICA"

IS AVAILABLE ON AMAZON PRIME VIDEO.