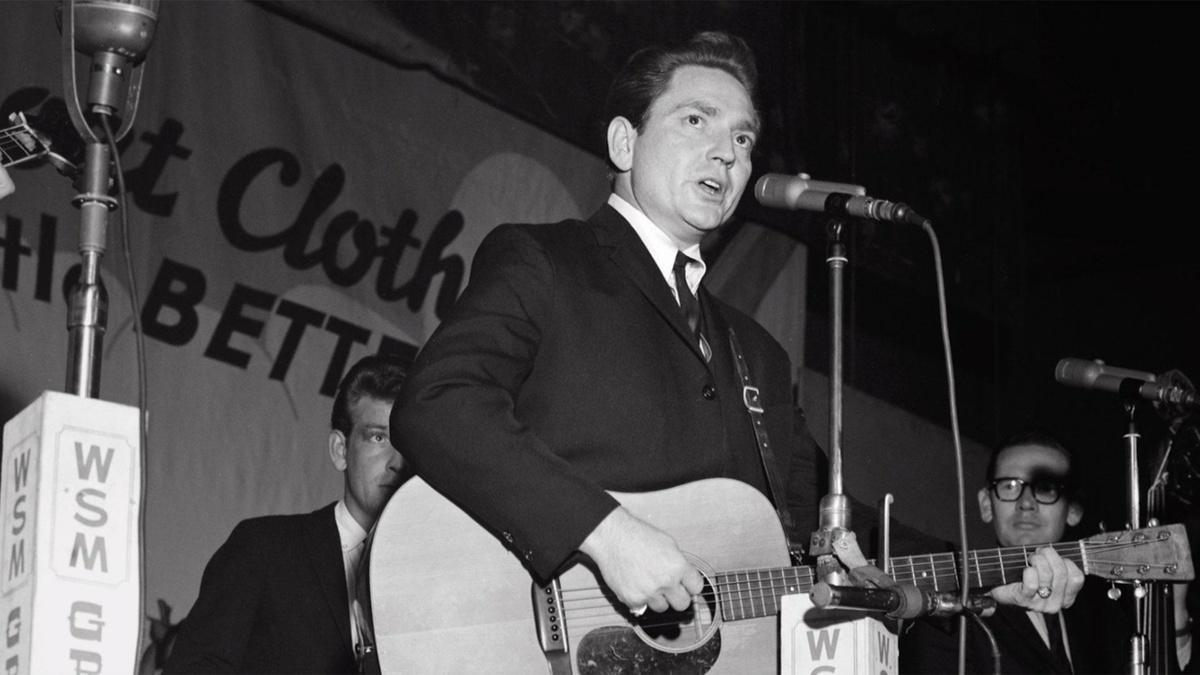 CLIP
Country Places
Hear Country Music's featured artists and filmmakers dive deeper into the different sounds of country, from the sounds coming from Texas to Nashville and Bakersfield, California. Explore the unique insurance company origins and expansion of the Grand Ole Opry and more.
TRANSCRIPT

♪ Remember, two wrongs won't make a right ♪

♪ At the Grand Ole Opry every Saturday night ♪

(country music)

- All of his children have come

to the mother church of country music.

♪ Popping bubble gum It was almost

like a badge of honor that you had

to bring your culture with you to the table.

That's why Bob Wills and his guys

brought us Western music.

That's why Hank Williams brought the South with him

from honky-tonks.

Johnny Cash brought the black land dirt of Arkansas.

Bill Monroe brought music out of Kentucky bluegrass music.

Willie Nelson brought his poetry from Texas.

Patsy Cline brought her heartache from Virginia.

It was the most wonderful parade

of sons and daughters of America

that brought their hearts and their souls

and their experiences.

And it gave us a great era in country music.

♪ At the Grand Ole Opry every Saturday night ♪

(applauding, cheering)

- Country music is just so improbable.

The fact that Nashville is the center of country music,

Music City USA is just an amazing story.

And starts out with an insurance company

which starts a radio station, WSM.

They've got a barn dance show like every other station does.

But all of a sudden one night,

after hearing classical programming from New York,

they're switching to their barn dance and he said

"You've been listening to Grand Old Opera,

"now you're listening to Gand Ole Opry."

And then that becomes the longest running radio show

in the history of the United States, that's pretty great.

- Two studios get opened up in the 1950s in Nashville

on a place now called Music Row.

And ultimately that's the place,

if you're a songwriter, you want to be.

That's the place, if you're a session musician,

you want to be.

♪ Nashville cats

- The way a typical Nashville session works,

when you're called for a session, there's no preparation.

When you hit the door,

you hear the song for the first time.

♪ I

♪ Fall

♪ To pieces

- There was the Nashville sound.

The record producers thought that sales were going down

because of rock and roll.

People thought, well that twangy stuff

isn't gonna sell anymore.

So they tried to smooth it out adding orchestral strings

instead of just a fiddle.

Meanwhile, out in Bakersfield, California,

Buck Owens, Merle Haggard and others

were going in a different direction.

They were going for twang,

and they were going for a hard driving thing

that came to be known as the Bakersfield sound.

♪ I know that you've been fooling round on me ♪

♪ Right from the start - Buck came in with a raw

work camp,

Tom Joad glare.

You see it, you see it through the smile.

Buck did things that were as bold or bolder

than anybody ever in the history of country music.

- We go down to Austin where Willie Nelson

and the Armadillo World Headquarters and other people

are doing a different kind of music,

and other places have their own styles.

- [Man] His favorite performances

were always in his native Texas.

"We were stars in Texas," he said,

"In Nashville, I was looked upon as a loser singer.

♪ Yes Nashville was the roughest ♪

- I can go back to Texas and play all those beer joints

that I grew up in and wouldn't have to change a thing

and they all liked what I did.

I knew that what I was doing, I could do it forever,

whether I pleased everybody in Nashville or not.

And so I kept doing what I wanted to do.

- It's an interesting aspect of the larger story,

how this industry grew up,

how this music became more of a cultural force,

and how Nashville became the epicenter,

though not the only center.

- So initially, WSM is holding the Grand Ole Opry

in their fifth floor offices.

And then they moved to a few other locations

around Nashville that didn't work out too well.

And then they arrive at this old tabernacle

by a converted riverboat guy named Ryman,

and they move into it and it's like

a marriage made in heaven.

"It has the acoustics of an old violin," someone says.

It's got seats in pews, and it becomes the home

for years and years and years of the Grand Ole Opry.

And so the Ryman continues to live,

continues to be that place where all the old ghosts

of country music can be found again.