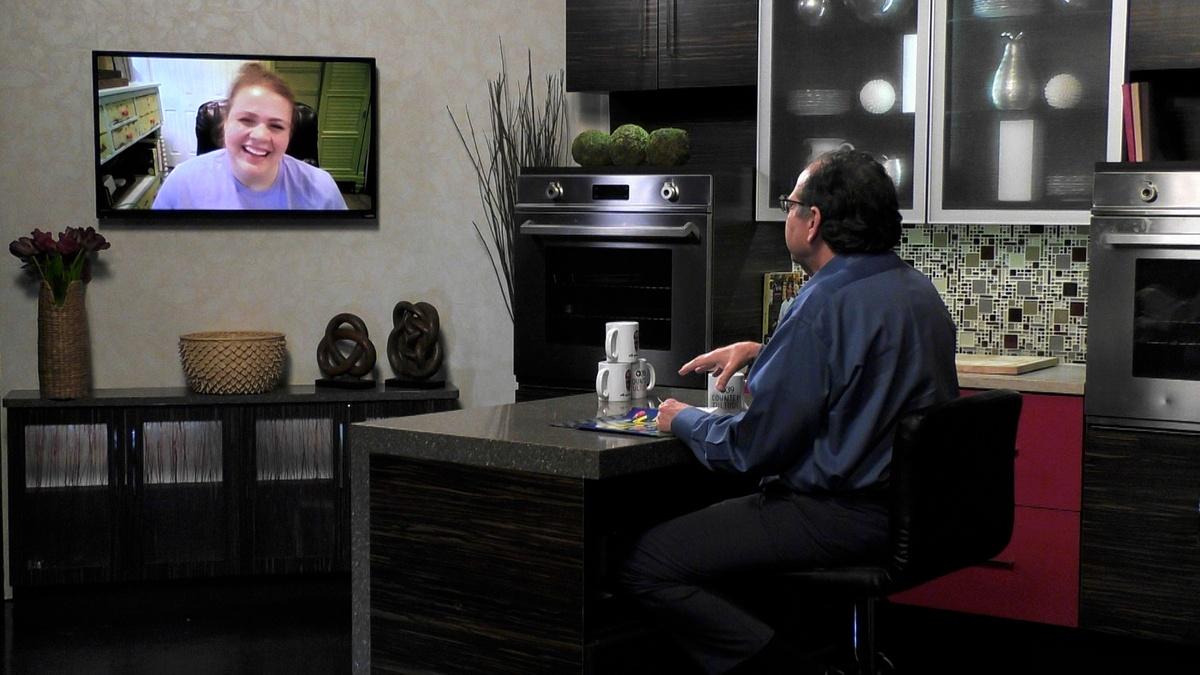 S4 E9 | FULL EPISODE
Counter Culture Ep. 9
Join Grover Silcox as he talks with Edward Leskin, Photographer; Dennis Horan, Comedian; and Lauren Davidson, Entomologist.
TRANSCRIPT

Welcome the Counter Culture, a talk show normally in a diner.

Joining me tonight are photographer Edward Leskin.

- With black and white

there's less distractions.

It's much more efficient in portraying emotions

and portraying form.

- Comedian Dennis Horan.

- When people laugh at stuff that you think is unique to

you, you're sharing a common experience.

- And author of The Backyard

Bug Book For Kids, Lauren Davidson.

- All kids go through some sort of bug phase and I just never

grew out of mine.

- All right here on Counter Culture.

Welcome to Counter Culture.

We're coming to you from Lehigh Valley Public Media's Studio B

while we wait to return to our original home

at Daddy Pop's Diner in downtown Hatboro.

One of the great privileges of hosting Counter Culture

is that I get to speak with people I've long admired.

My first guest is one of those people.

He's among the very gifted photographers who capture a

moment in time in a way that only an artist can.

His photos of the old Bethlehem Steel plant and portraits

of the steel workers who once worked there are legendary,

but they are only the tip of the iceberg.

Please welcome photographer Ed Leskin to the counter.

Ed, how are you?

Good to see you again.

- I'm doing very well.

It's a pleasure being with you today.

I'm looking forward to this interview and I'm all

excited about this.

- I personally and my colleagues here at PBS39, we've

done a lot of stories on Bethlehem Steel.

Of course, our station is located on the site of the old

plant. Your black and white photographs of the old

buildings, the site itself and the steel workers really

capture a mood,

a feeling, the history almost simultaneously.

You work primarily in black and white.

What is it about black and white that draws you?

- We all see in color every day.

But I mean, in the way that I see everything like Ansel Adams

would point this out, previsualization.

How we see things in the mind before we present them

and with black and white, there's less distractions.

With color we have all these tones and hues and everything.

In black and white that seems more graphic to me.

And it is much more efficient

in portraying emotion, form, even abstraction

and very powerful.

And also the history of photography, the people that

influenced you the most, and in my opinion, it would be

Sebastiao Salgado

and Robert Frank to name a few, all these examples are people

that we emulate and we strive

to achieve their level and beyond.

- The reason I say you're an artist

is because I think one of the definitions of an artist

is you can take something that everyone has seen

a million times. But when they see one of your photos, it's

like they've seen it for the first time.

- One of my favorites, I really love the shot of the blast

- furnace with the flame coming out.

You know, in your mind, you always have this picture.

Like, I have to get this picture.

I have it already composed in my mind.

And the idea is to try to capture that.

And it requires a lot of planning and in my case, I

had to go down to the shore line of Sand Island, set up a

tripod, wait right after sunset and just at the

right moment click the shutter

when this huge flame come blasting from the furnace.

And you know,

when you developed the film and you see the image appear

for the first time in the chemical, you're a little bit

scared at first. You know, maybe I didn't pull it off.

But when it first appears in that chemistry,

it's just unbelievable.

Today we're so spoiled with digital cameras.

So in that time and I still I still feel this way,

you really had to work to get the image.

You really had to get your hands into the process

and bring something out.

- Bethlehem Steel was more than just a subject for you. As you

had alluded, you grew up in Bethlehem and this was part

of everyday life.

- When I was very young, my father worked for a company

that sold big mainframe computers, and

Bethlehem Steel was the major customer for that.

And I would always hear stories about how big this place was.

And whenever they would get a new piece of equipment,

sometimes he would be invited to take a look at it.

And I was always fascinated by it.

I know throughout the years, boy, wouldn't it be great

if I could get in here to take some pictures. The process of

actually photographing that actually occurred in graduate

school when I started at Pratt Institute right

after Moravian College in 1989.

I remember the first photograph that I took was from the

cemetery overlooking blast furnaces.

- You have taken portraits of many of the steel workers

for the Steel Workers Archives, the organization that was

founded by the former steel workers.

- I was doing all the black and white photography for the first

steel bound production that was performed in the old Iron

Foundry building in 1999.

- That was a play that was written and produced based on

the steel and the life of a steel worker.

- And a lot of the performers in that production

were actual steel workers.

So what I had the opportunity to do is we had the opportunity

to photograph them on the side, and beautiful portraits.

And I remember carrying a tape recorder with me and recording

one of the workers named Dave Swartz, and he would talk about

the last piece of steel coming down, crying as he was telling

me the story. And I took this picture

with that frame of mind, talking to them,

bringing the emotion out and facial expression,

and you're really capturing them.

You're thinking about their experiences.

And when the production was over, I contacted the art

director at the time at the theater.

I said, I need to expand this and get more portraits.

And that's when I was introduced to a gentleman that

- you and I know, Bruce Ward. - Yeah.

- Who has a studio at the Banana Factory, rigger for

Bethlehem Steel for many years.

And he's a videographer and photographer and he was

involved with the interview process as well.

And I said to him, I'd love to collaborate with you.

And we got together with a group of people in the

community to form an organization in 2001 called

- the Steelworkers Archives. - Right.

- And that would be a place where people can access these

things, where we can set up a public event, where portraits

and people who work there

would be able to tell their stories.

It's really, really a tremendous gift to the

community. And it's been a privilege

to do something like that.

- You've also traveled abroad. You have some amazing photos

from Israel, a trip to Israel.

- Yeah, that was that was a very interesting trip for me.

I grew up being raised Jewish.

And when I was at college, I was a political science

and international relations major as well as a fine arts

major. I was a double major.

That part of the world fascinated me.

And I was very much interested

in the Israeli-Palestinian conflict.

And the message that I got out of it, out of photographing

all this, is that people in that part of the world

raise their families.

They have businesses.

They all have the same aspirations and hopes.

And you can see the tension, even more depressing aspects of

that part of the world.

And you see people interacting with each other

as family and friends.

And that's something we miss in the headlines every day.

We don't see the human side of things.

- I loved your photos at the Vietnam Veterans Memorial

in Washington, D.C.

- I was volunteering for the Democratic

Party at the time, and we were stuffing envelopes

in Washington, D.C. and what we did,

we went down to the memorial. Of course, I brought my camera

and there was this beautiful cloud formation.

And then a gentleman took his

hand and then I snapped like that.

I developed the film and I decided I said, hey, you know,

maybe I should send it somewhere where people could

appreciate it. I'd send it to

the Vietnam Veterans Memorial Fund in Washington, D.C.

And in three days, I got a phone

call and they say, could we please use it? It was such an

honor to have to put my name on everything.

- Well, I want to thank you for sharing these moments

in time with us here at Counter Culture, thanks so much.

- Thank you, Grover. - You're welcome.

Edward Leskin, a photographer who uses light to artfully

illuminate our understanding

of the people and places around us.

If you think computer nerds are only focused on their screens,

you need to watch my next

guest, comedian Dennis Horan, perform.

He's hilarious, a button down standup comic who plies

his trade as a computer geek

while observing the world's hilarious

absurdities beyond his keyboard and webcam.

Please welcome an old friend, the comic Dennis Horan,

to the counter. Dennis, how are you?

- Thank you very much. Great to be here.

- How did a mild mannered computer guy

get into stand up comedy?

- Anybody who knows me knows me growing up finds it a big

surprise that I'm doing this.

So from the first time I saw a comedy show at the Comedy

Works in Philadelphia, I just fell in love with it.

I always thought how great it would be to do one day and even

bought a book on stand up comedy.

So approaching comedy in a very nerd way, kind of.

But what this book told me is what you can do day one is

start writing every idea you have, everything that happens

funny around you. Write it down.

And that's what I did for probably for like two years

before I ever went on stage.

Did a comedy contest, came to Drexel,

where I went to school my senior year.

- Drexel University,

- And my roommate had a flyer and said, you always said you

do this, now is your chance, and so

I had a three minute set to do, I spent

about seven hours that day in one of those cubicles in the

library practicing my three minutes.

And of course, by the end of

it, you're saying this isn't funny.

Of course not.

You've been repeating it to yourself for seven hours.

- Right. - But it went really well.

It went amazingly well.

Everyone has nightmare stories for the first time

they went on stage.

My first time on stage was a really good experience.

And so

I thought, I considered this a comedy, a bucket

list thing, I was going to do it once and I did it.

And like skydiving, right, do it once and then never again.

Well, I received a phone call from someone at University

of Pennsylvania asking me to do a show for them.

They had a a cappella singing group called

Off the Beat, and they were doing

a concert, they asked me to do

between two groups.

They said, can you do 15, 20 minutes?

And I came up with something like 12

minutes of material.

It was during my spring break.

So I had all week to work on it.

- Right. - And that went great.

- Wow. - Some one else at Penn asked

me to do a... It was their spring.

They had an air band contest at Irvine Auditorium.

And so that time was the third time I'm on stage and I'm in

front of 2,000 people.

And I got booed off the stage, I was not ready

for that one at all.

But what's the lesson that you get from that is it's not the

end of the world, even when

you have something as bad as that.

Because that's your big terror going on.

What if nobody laughs?

- How do you come up with material?

I mean, what are the subjects that draw your attention?

- First subjects to draw my attention.

It's usually something that happens when you sit

and you write it down and then when you come back and

you get back home and

generate a bit from it.

A lot of stuff I do have to do with misunderstandings,

I do a lot of that.

A lot of

two people on different planes, I do that, you know, I talk,

I have a bit about walking my dog on a one lane path

because this is something that happened.

I was walking my dog and a woman is coming the other way.

I try to move out of the way and

the woman thinks I'm crazy. Maybe because the woman

didn't know that my dog's name is Lady because I'm standing

there, going, get out of the way, Lady.

And the bit goes on from there.

But it's actually something that happened.

I said, get out of the way, Lady.

And I looked up at this woman

and I just couldn't even explain.

But

usually whenever there's some kind of misunderstanding,

I usually am immediately going, that's going to be a bit.

But as far as where you come up with it.

Where you come up with any bit

is just something funny that happens.

You write it down as much as you can in the moment

and then build on it at home when you could make it material

and have people laugh at it.

It certainly makes the terrible thing not so terrible anymore.

It's kind of the neatest thing about comedy

is when people laugh at stuff

that you think is unique to you.

You know, if you're sharing a common experience,

sometimes people aren't laughing at the hilariousness

of the joke, but simply that they

identify with what you just told them.

- Have you done some virtual shows?

Normally you're in and around the Philly area, right?

- Yes. Well, I actually did a show last week, my first live

show, done some virtual shows, but we actually did a live show

with Joe Conklin and Vince Valentine in Northeast Philly.

- Mm hmm.

- And so it was it was a fund raiser for Archbishop Ryan High

School, and so it's definitely one thing I've done a lot with

Joe is he's booked me for these Catholic venues.

- Right.

- Which, you know, it's certainly I've over the years

have really generated a lot of Catholic specific material.

- Right. Did you go to Catholic school yourself?

- I did, yeah, I went to Immaculate

Conception in Jenkintown, no longer a school, but that's

where I started.

I had 12 years of Catholic school.

And those it's fun to do some

pretty inside Catholic material.

- I know.

- So this one last week was, you know, in the parking lot

of Nick's roast beef in Franklin Mills Mall.

Not Franklin Mills anywhere. Philadelphia Mills.

So we're in the back of a flatbed with a traveling band,

and everybody was in their cars parked all over the place.

So a really weird dynamic, because everybody was far away.

And the laughter is dispersed all over the place.

And some people are actually in their cars.

And when you ask a question, they would honk their horns

to it instead of saying, hey.

So it was a really weird dynamic, but it was great to be

out in that show, even though in an odd circumstance.

- You know, a comedian will find a stage even in a

pandemic. And that example is proof positive.

Dennis, I want to thank you for coming on.

Thank you so much for joining us.

Dennis Horan, a self professed computer geek and comedian

who finds the funny between reality and virtual reality.

You can call my next guest an entomologist, but she calls

herself a bugsologist.

And just to prove it, she wrote The Backyard Bug Book For Kids.

So bring your six, eight or more appendages together

and welcome every kid's favorite bug nerd,

Lauren Davidson. How's that for a welcome?

- An intro? - That was great.

Thank you so much, Grover, and thank you for having me.

- You're a full fledged official entomologist, but I

love the word bugsologist. Yeah.

Kids probably love that.

- A friendlier term, bugsologist.

Most people don't know what an entomologist is by any means.

- You've also called yourself a bug nerd.

Have you been a bug nerd since you were a kid?

- I have to kind of paraphrase one of my heroes, E.O. Wilson,

all kids go through some sort of bug phase, and I just never

grew out of mine.

- It seems like all kids love bugs, but there are people,

mostly adults, I think, who are deathly afraid of bugs.

Why do you think that is?

- You know, things like cockroaches tell people

that they're in a dirty area. The cockroach isn't harmful,

but they tend to live in damp, dark

areas with lots of crumbs and things to feed on.

So when a person sees a cockroach,

they get a little scared.

And that's kind of an evolutionary response.

As for the other stuff, I really think as we get older,

we just, especially with news and TV and movies, we see

all of these horrific things

and we think, oh, God, that thing

is so terrible and deadly when it's really not.

Kids, however, they haven't learned those fears yet.

So they're like, oh, a thing that's crawling.

I want to touch it.

- Right.

Which leads me to this next question, which is, why are

kids intrinsically interested in bugs?

And you kind of said it.

- I think they see it in all wildlife, but a lot of times

bugs are something that you can actually touch.

So, you know, if you're out on the playground and you see

a bunny, you're probably not

going be able to touch that bunny.

But if you see a roly-poly, you can touch that and pick

it up and play with it.

A lot of people think they're insects,

but they're actually crustaceans.

So they're more closely related to lobsters and shrimp

- and crabs. - Wow.

Well, bugs are frequently misunderstood.

And when you're not reading books about bugs for kids, you

work at a science museum in Houston, is that right?

- Correct. I work in natural science.

I'm an entomologist

at Cockrell Butterfly Center.

It's one of the tallest butterfly centers in the world.

It's a giant indoor rainforest with butterflies flying around.

And we also have an insect zoo.

- People love butterflies.

They might not like insects in general, but they always

love butterflies.

- I get that all the time, yes, everybody loves butterflies,

but they hate every other bug.

Butterflies are not any different than any other

insect as far as grossness or even their morphology

or their metamorphosis.

A lot of people think that going from a caterpillar to a

butterfly is so inspiring.

But they're not the only insects that do that.

Some beetles do that, fleas do that, and even flies do that.

- Wow. I know in your wonderful little book, The Backyard Bug

Book For Kids, which is great little book, especially for

parents, if they want to really, you know, cultivate

that interest that their children have, the story is

kind of told by a caterpillar, right?

- It is. It's told by a little caterpillar.

And, you know, it's as he first hatches and he goes

through his growth and his metamorphosis, he meets a lot

of different insects along the way.

The thing that I really wanted to do with this book was to

make sure everything was scientifically accurate.

That is a frustration of mine. When I'm reading a children's

book, there is room to be cutesy, there's

room to be creative. But then there's also

no need to falsify information just to make something

- a little bit... - Right.

We hear a lot lately about the lantern fly.

- That's an invasive species.

It's not a great invasive. Actually here

recently, I've been getting more calls

about murder hornets

which a lot of people watching the show have heard of.

It's a horrible name for that insect.

- First of all, talk about profiling.

- They are bad news. They're not a great thing.

Yes, they're invasive.

No, there's not millions in the US yet.

It's been very small, isolated populations that entomologists

are trying to control. And they're doing a fairly good

job. Often confused with our native

cicada killers that are in the United States.

They're about as long, but the Asian hornets are

just really beefy.

They're just really thick and beefy.

And I know one of the big concerns is their sting.

And honestly, more people die from regular European honey bee

stings compared to Asian hornets.

- Really?

These are some of the things in your book

about a bumblebee's waggle, I think it's

fascinating that they actually give directions

to where the flowers are up to the other bees

by doing a little dance, a little waggle.

- Honeybees that are living in a colony together, they will

talk to each other doing like little dances.

And everybody knows what that little dance means.

That means you go this way, this far and then this way,

this far. And that's where you find all the nectar.

- Wow. It's like Bumble Bee GPS.

- Something like that. Yes.

- First of all, I should ask, how are the bees?

Because we worry about the bee population.

- Colony collapse disorder with honey bees is obviously

a very serious thing for agriculture.

As for our environment, it's not as much. What we really

need to worry about for our

environment are our native bees.

So a lot of people don't know that honeybees are not native

to the United States.

They were actually brought over here.

They were introduced a couple of hundred years ago primarily

for agriculture, because they are so efficient at

- pollinating. - Right.

- However, our native bees are

also fairly proficient at pollinating.

They're just not as well known.

A lot of people, if they see a flying insect that's not

a butterfly or a honey bee, they automatically think

it's something that's going to sting them.

And in some cases, that is true.

A lot of insects can sting, but most are not aggressive.

They're not going to come

after you because they want to sting you.

It's always a last ditch effort to protect themselves.

So if you catch one in your hand and try to pet it,

that would be the time that it would sting you.

- What's your favorite bug? Do you have a favorite bug?

- I have a couple of favorite insects.

I would say I really like large beetles.

So like a Hercules beetle from Central America.

And then there's a really large species of katydid that I work

with called a giant long legged katydid.

They come from Asia and it's

kind of hard to tell, but they're probably

about six inches in length with their wings.

They're really massive, they're very slow, but they're also

very loud. The males, whenever they sing at night, if I'm

staying at work late, I can actually hear them through

three sets of doors. They're really loud.

- Wow.

I have always heard that a spider is always within six

feet of you.

- There are spiders everywhere.

Some of them are very small and you can't see them.

I don't think anybody can actually say you're never more

than six feet away from a spider.

Chances are, though, if you are in a room, there's probably at

least one or two.

There's always somebody hanging around.

- Right. I know I got bit by a brown spider, which is really

- tiny, but it packs a wallop. - Yeah.

So we have a couple of types of spiders in the US especially

that we do have to watch out for.

That would be the Brown Recluse and the Black Widow.

Those are our two most venomous spiders.

Deaths are extremely rare.

In fact, none have really been

proven in the last several decades.

But Brown recluses especially, they do have a necrotic venom

that does kind of break down the tissue and create

an open sore. One thing to note, though,

a lot of times doctors actually see a skin

infection and think that it's a brown recluse bite

when it actually may be the person got bitten in an area

the brown recluses aren't even found.

So that is one thing to keep in mind.

They're not necessarily as

frequent as people think they are.

They're actually fairly rare.

And like I said, just like the stinging insects

that I talked about, they don't want to bite you.

They want to be very, very far away from you.

When somebody gets bit, it's usually because they

actually put their hand on it or it was in a blanket or

something like that. It's always on accident.

- Got it. Well, thank you so much, Lauren, for enlightening

us about lightning bugs and every other bug.

And we really appreciate it.

I know all parents everywhere

The Backyard Bug book For Kids.

- Thanks so much. - Thank you.

Thanks for having me. It was great.

- You're welcome.

Bugsologist Lauren Davidson, a woman who always has her

antenna out to detect our fascinating, creepy crawly

friends in the bug world.

Well, that's all for this episode. I want to thank my

guests, photographer Edward Leskin, comedian and computer

nerd Dennis Horan

and bugsologist and author

of The Backyard Bug Book For Kids, Lauren Davidson.

And thank you for joining us. Stop by next week for more

amazing guests and conversation right here at the counter.