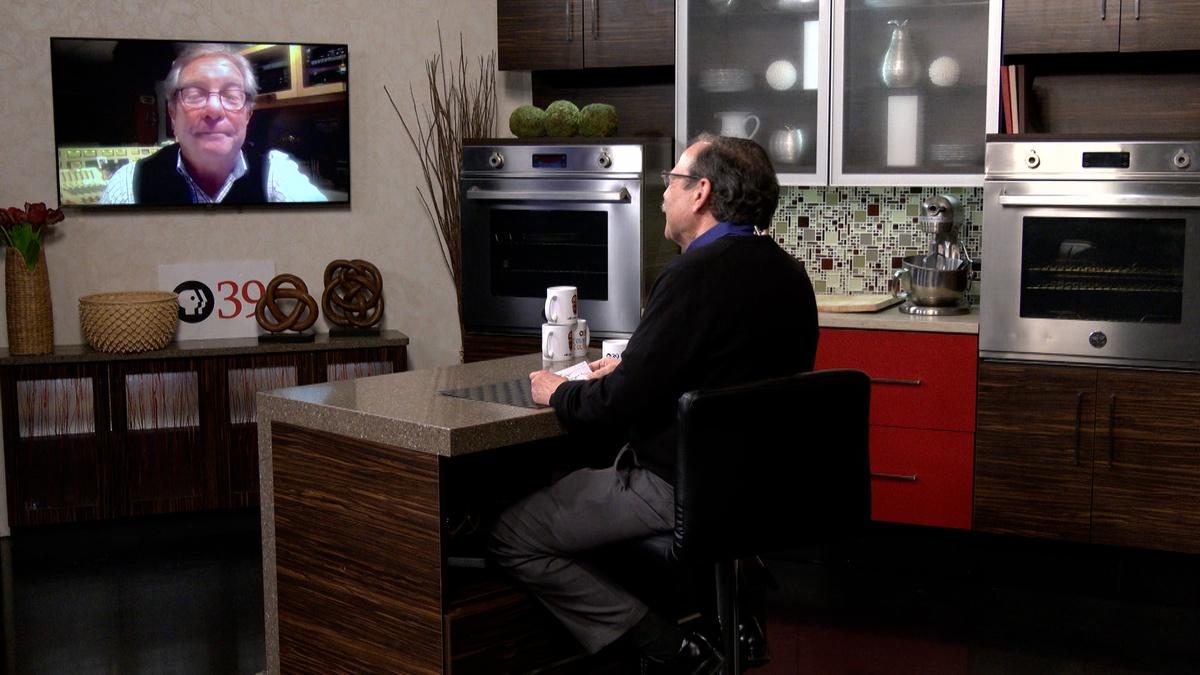 S4 E14 | FULL EPISODE
Counter Culture Ep. 14
Join host Grover Silcox and tonight's guests: Eric Berley, Owner, Shanes Candy Shop; Kevin Gunn, Creative Director, 93.3 WMMR and BEN-FM; and Jamie Brunson, Executive Director, First Person Arts.
TRANSCRIPT

Welcome to Counter Culture, a talk show normally in a diner

On tonight's show, I welcome the co-owner

of Shane's, the oldest candy shop in America,

Eric Berley.

My brother and I look at old things.

We get excited. When something is old,

we don't throw it out.

We really think there's something special there.

Creative director and long-time show producer

for the 93.3 WMMR in Philadelphia, Kevin Gunn.

I was trying to bridge the gap between being like,

you know, rock fanboy and actually having work to do.

Plus, the executive director

of First Person Arts, Jamie Brunson.

There is no greater drama than real life.

All right here on Counter Culture.

Hi, folks, I'm your host, Grover Silcox, coming

to you from Lehigh Valley Public Media Studio B.

While we wait

for the go ahead to return to our original home

at Daddy Pop's Diner in little old Hatboro.

When you enter the candy shop owned

by my next guest and his brother,

you'll think you've traveled through time.

Everything is as it was when the shop opened in 1863,

or so it seems.

Shane's is the oldest continuously operating

confectionery store in the United States.

In 2010, brothers Eric and Ryan Berley bought the shop,

studied its history, restored it, and now offer delectable

confections, as the store did in the mid-19th century.

Please welcome Eric Berley to Counter Culture.

Eric, I see you're in your natural environment.

Thank you, Grover, for having me.

Oh, it's a pleasure.

I love your store.

It's just a gem.

It's a real beautiful part of Old City Philadelphia,

and has for over 150 years.

We're so proud of the work that has been going on on site

for certainly the last ten that we've been a part

of it and prior,

and very excited to share what we've been cooking.

First of all, give us a little history of Shane,

how it all began

and then how you came to purchase it.

Shane has been a staple,

really one of the last businesses,

really the oldest business in Old City as a manufacturing

neighborhood, to continue making products.

My brother and I started the business in 2004

right on the corner at 116 Market Street

called the Franklin Fountain.

And we actually were looking for locations

to manufacture ice cream in.

By 2006, we ended up striking a relationship with the owner

of Shane Candies,

eventually purchasing the candy store in 2010,

and then reopening in 2011.

We started making ice cream in the back

for the Franklin Fountain.

About five years ago, we opened the back room of the candy shop

into a drinking chocolate cafe,

telling the history of how chocolates

have been consumed in Mesoamerica and Europe

and North America. As well,

we added bean-to-bar chocolate manufacturing,

so we're really actually bringing manufacturing back

to Old City in on site through and through.

Right behind me are some drinking chocolate urns

from Italy.

So we make bean-to-bar drinking chocolate.

In addition to bonbons and bars and confections.

Your buttercream chocolates are legendary.

So the butter cream machine on site

has been here probably since 1916

when the manufacturing plate,

you know, it's a cast-Iron machine.

It was literally so heavy it was sinking into the floor.

And we were concerned about the structure and the safety

of our workers underneath of it, on the floor below.

So we actually ripped out the whole ceiling

and we put steel I-beams and girdered,

basically structural members

to the retain it for the next hopefully 150 years.

My brother and I look at old things.

We get excited.

We grew up in a Victorian farmhouse

and our mother's an antique dealer of 40 years.

So when something is old, we don't throw it out.

We really think there's something special there.

When we were on site,

we're finding old copper kettles, old cast iron

machines, and we had to sort it all out.

And that process found us some discoveries like the original,

one of the original, Shane stamps

that helped us create the logo

of our old English fonts for the business.

You have a lot of the traditional candies,

like the clear toy candy that's very popular

around Christmastime and the holidays.

It's very Pennsylvania, isn't it?

It's a wonderful local tradition.

It's basically just sugar boiled with corn syrup

and water and a colorant.

Sugar manufacturing,

refining was very large in Philadelphia because it

being a port city.

That sugar expanded the number of candy stores

in Philadelphia because of its port location,

because we basically

bought the candy molds that the young family actually hid

from the US government during World War Two

because the government

needed metal for the war effort.

You don't make all of your candy on site,

but much of it, correct?

When we started, we actually bought a lot of candy

and then we learned how to make it and make it better.

I'm very proud of the team that's behind Ryan and I

in the business.

We've got chocolate makers, candy makers, we've got

managers, packing assistants.

And it's really a wonderful

place to be, to come to work.

And there were actually four candy shops

that we've discovered at one point

just on this little one block.

We're going to be branding the block Confectioner's Row,

just like Jewelry Row.

We have three storefronts and a fourth on the way.

And it's a rethink of one of the sweetest,

the sweetest block, in Philly.

Now that we're into the Christmas season,

Christmas is rapidly approaching,

you have special items for the holidays?

We haven't stopped.

We're so excited about the things we're offering on site.

We are also delivering to homes

directly in December with a program

called Delco Deliveries.

We literally drive them to people's homes.

We are also this weekend set up at two farmer's markets

in Delaware County where we live.

You can preorder your candies and chocolates and we're doing

special limited-run drinking chocolates and

hot chocolate for gifts.

And this is the season of gift-giving and being thankful.

And I think that this is the best time to be thankful

because this is a way of giving back.

And for us it means jobs

and it means continuing to provide

meaningful work for people.

And can they avail themselves of your products online?

The safest method of receiving joy in your home

is through our website.

ShaneCandies.com.

You can also order ahead

and pick up right at our store window.

We've turned the store into a takeout window

where the front door

is actually a takeout-only space that's safe for our staff

and customers alike.

You can also check out our Instagram, Facebook

and follow us on social media

where we might be popping up in your neighborhood.

We're doing tons of collaborations

with some of the most progressive

artisans in the city, from West Philadelphia to Center City.

It's really exciting.

So keep your eyes out for that.

You got it.

And thank you for keeping this fantastic

Philadelphia tradition going.

Shane's has weathered the storm for 150 years, and I'm sure

you and your brother will keep it going and it will pass

on to the next owners for the next 150 years.

Thank you for having me, and God bless everyone.

You too.

Eric and his brother Ryan Berley

found Philadelphia's sweet spot

and brought it back to life.

When you listen to your favorite rock jock

on the way to work,

it becomes obvious that he or she knows a lot about the music

and the musicians the station features.

Who you don't necessarily hear

are the producers who do much of the research, book and

pre-interview guests

and even write questions and intros for the host.

My next guest did all that and more for WMMR's programs

and hosts in Philadelphia.

A good friend, a great buddy.

Please welcome Mr. Kevin Gunn.

How are you?

Hi, Grover. How are you?

It's great to be here.

Yes, you as well,

in your natural environment,

in the studio.

Yeah, in a big room all by myself,

which is how most people with whom I work prefer it.

You have been with essentially the same station for,

what, 40 years?

Almost 40 years?

I started here, it'll be 40 years next August.

In March, I'll have been here 30 straight years.

The biggest thing for me is

it's at a station that I loved listening

to growing up, that helped forge my opinion or worldview.

And with rock and roll as its calling card, something

I was very comfortable with.

And most importantly, in my hometown,

where a lot of the people in the media,

especially in radio, get bounced around the country

on the whims of others.

I never wanted that.

So I'm more than happy to stay behind the scenes.

And I've been lucky enough so far to do just that.

Yeah.

And I should disclose that you were the producer

of the Morning Zoo on WMMR

with John DeBella when I was there from '90 to '94.

Looking at you do your job, which you know,

you just hustled and bustled during that

whole four, three-hour stint.

Define what a producer does.

Mostly it starts with preplanning,

preproduction, organization.

You know, as you alluded to, we'll have a guest,

so I'll do research.

And I don't want to shock anybody out there but

when I first started out

we had to like open books and go to libraries and do research

on these artists that we were going

to read because there wasn't any internet.

What?!

So there's that part of it.

There's getting the host of the show to understand

where we are.

Like in mornings, you have to hit traffic reports

at a certain time,

or you got to get it to the sports guy at a certain time

and you have to fit in a certain amount of commercials.

So there's a lot of time management that goes on,

a lot of thinking on the fly.

Not only do you do a lot of preplanning,

but there's also

a lot of thinking on your feet as each moment rolls by.

It's amazing how many huge names,

I mean icons in rock and roll,

that have been to that station, physically

been there, and made a point

that MMR was the station they had to go to

in the Philadelphia market.

Absolutely.

And again, because we're not New York

and there's not a million things going on,

you had an artist like Bruce Springsteen who basically broke

out of Philadelphia and WMMR

because there was a couple of disc jockeys -

Ed Sciaky and David Dye - who absolutely adored

this guy and his music and WMMR was their forum,

so they played him.

I was recently listening to an interview with Bruce

where he mentioned that, you know, his song The Fever

basically broke out of Philadelphia

and nowhere else because MMR

was playing it, and he was laughing that

this is the only town he can come to where he plays it.

And it's still like we sing every word

and we know everything.

So between him and Billy Joel and, in some regards,

Bonnie Raitt,

a lot of people broke out of this station because we had

the time to play them.

You know, we had 24 hours of stereo signal to fill.

And so, like I said, it was time and place.

And we were lucky to have talented people who were

passionate about music and we all came together.

Now, you actually became friends with Warren Zevon,

one of the rock stars, of course,

who was a frequent visitor to WMMR.

So ironic because I was a major lover

of his music and never dreamed that I would have the chance

to interact with him.

And then, as it came to pass, he was a frequent guest

on our station, and he even lived in Philadelphia

with an alumnus of ours, Anita Gevinson.

He lived with her on Rittenhouse Square.

So Philly became a big deal to him.

And he loved MMR.

He loved John DeBella and our show.

And he would come and visit us

in Atlantic City two or three years in a row.

He would play gigs around here and come by and see us.

And I think one of our favorite memories was,

I think October of '91,

on Halloween,

when Warren Zevon, appropriately enough, was

the guest for a Halloween show

- at the Edgar Allan Poe House. - In Philly, yes.

So between those two guys,

they probably killed more characters

than Martin Scorsese or something.

But it was quite a thing to be at the Edgar Allan Poe

House with Zevon.

- And I know you were there. - I was there

And it was Halloween.

- It was a riot, right? - Right.

Yeah. I think he sang Werewolves of London.

I mean, it was perfect.

It was perfect.

Oh, yeah. He's as macabre as it got.

God rest his soul.

And having them on Halloween

at a place where Poe lived

was, you know, who gets to do stuff like that?

Zevon had a huge heart.

He was a guy with a lot of troubles.

But when he understood that you were serious

about appreciating his music beyond a couple of songs

that everybody knew, he opened up.

And I'll tell you, Grover,

I had conversations with that man

that scared the living daylights out of me.

He was so smart, so hard to keep up with.

All I wanted to do was get through the conversation

without feeling like a moron.

I know there is a, there's a photo of Warren

with you and Sherry,

your wife, and Ryan at the time, your son,

who was only a little guy then.

He was about nine months old, Ryan was.

And he was in this orange pumpkin suit,

as one does with an infant.

And there's this great picture of Warren looking down at him

and smiling because my wife, Sherry,

was also working on the show.

She was, the Zoo shows,

she was one of the people who booked the guests,

made that call to the manager's office.

And so he knew her.

And then when he saw our son, he just beamed.

And the last time I ever spoke to him

was about five years later.

And the last thing he ever said to me was, "Kevin Gunn, how's

"that beautiful son of yours?"

And I thought that that was an extraordinary thing

for a guy who was that big a talent,

you know, like David Letterman,

it's his favorite guy.

So Zevon was a big deal.

And I counted among my many blessings that I got a chance

to establish a relationship with him.

Right.

Who are some of the other rock stars that you met

that come to mind?

Pete Townshend, Roger Daltrey,

Ian Anderson of Jethro Tull,

Bill Wyman of the Rolling Stones,

Elton John, Jimmy Page, you know, David Bowie.

And they were all very gracious.

I think most of... Some of them were quirky and everything,

but I never met one who made me feel

less than because they were them and I wasn't, you know?

And then there was Live Aid in 1985,

which I know you were there for.

I was.

That was an embarrassment of riches.

We watched the first half from Wembley and then got in a car

and went down to the JFK.

A lot of a lot of credit goes to Larry Magid

of Electric Factory Concerts and Bill Graham

of Bill Graham Presents.

We were lucky again in Philly

that we were on the right coast,

in the right time zone and we got a big old cavernous stadium

that really even 85,000 rock fans couldn't damage.

And so JFK and Philly were the perfect spot.

And so I was there and we were running around

getting interviews

and I was trying to bridge the gap between being like,

you know, rock fanboy and actually having work to do.

And I think the coolest thing

of that was that I was a long-time Harry Chapin fan.

Harry was always about hungry, you know, about people

- who were hungry. - Right.

And the idea that we in Philly were doing this huge thing

to help feed people, the most basic human need,

again, made me incredibly proud to be a Philadelphian,

to be a rock fan and to watch the good it did

that amazing day.

We've just scratched the surface of all the stories

that you have in your archives,

your personal archives, Mr Gunn,

- as I like to call you. - Yes, you do.

But you've always been one of my most

favorite friends and you were a great producer.

Still are. Now creative director for WMMR

and very much a part of the history

of that wonderful station. Thanks for being

- with us, Kevin. - As are you, Grover.

I was glad I could be part of it for the time I did.

We had a lot of fun and made a really great friendship,

and that's the kind of things I'll take away from this

career is the wonderful people that I've met, and

- count you chief among them. - Thank you.

Same here, my friend.

Kevin Gunn, a talented writer, producer and

pop culture expert who helped make 93.3 WMMR

one of the top progressive rock stations in the country.

I made the first cardinal mistake in business -

never, ever date someone you work with.

Let's see, let's call him Satan.

My next guest is a storyteller, poet, award-winning playwright,

memoirist and executive director of First Person Arts,

an organization which gives platforms

for people of every age and background

to tell their story.

Here she is now to tell hers,

as well as the story behind First Person Arts

and how it helps bring people together.

Please welcome Jamie J Brunson or,

as I think some folks call you, Jamie J?

That's it.

That's it.

So tell me a little bit about First Person Arts.

I just think it's a terrific organization to give people

an opportunity to tell their stories.

Vicki Solot, who founded the organization back in 2000,

she saw it. She saw the power

that true personal stories could have to connect people.

And she launched the organization and it was called

at the time Blue Sky.

And so later it turned into First Person Arts.

And we have been collecting,

developing, sharing and archiving

stories for many, many years.

The organization is actually going to be 20 years old.

We're going to have our 20th festival November 2021.

Wow. Based in Philadelphia?

Absolutely.

Absolutely!

Are you a Philadelphian? Are you a native Philadelphian?

Yes. I was born in Temple Hospital,

graduated from Temple University.

- Absolutely! - You and I both.

- Hey. Hoo-hoo! - That's right!

- So these are true stories? - Correct.

No, no disdain for those forms,

but we focus on just true personal stories.

No, no fairy tales. No myths for us.

And your biggest event is a festival.

It's the First Person Arts festival.

How many people are involved and how does it work?

Well, it's the only festival of its kind to feature

only true personal stories across multiple genres.

So you could be a dancer, a stand-up storyteller,

theater artist, a comedian, a singer.

As long as you are telling a true personal story,

you're welcome on our stages.

Every festival, we probably have 100 artists working

with us and the festivals are normally done

live, pre-pandemic they were live.

And then put up on our YouTube channel for the world to see.

We use venues throughout the city,

anywhere from World Cafe Live

to this intimate, beautiful cabaret space,

to Underground Arts.

We have presented people like Toni Morrison,

a member of Pussy Riot,

Eric Asimov, the wine expert from The New York Times,

to Raheem Brock, Super Bowl champion.

Janeane Garofalo.

It's just an amazing opportunity to meet people

through their stories.

Not only do you have well-known people,

- but also everyday people. - Absolutely.

And it's really interesting because,

you know, when you seek to amplify voices that go unheard,

you often find the most potent stories.

- Right. - You know, and I have heard

so many incredible stories

of transformation, empowerment,

personal growth that are like a vacuum

that sweep up everyone

into the power of them, everyone that listens.

- Right. - It's really incredible.

It is transformative for the person

telling the story and transformative

- for the listener. - Yes.

Yes, to know that you're not alone

or to know that there's a place for you within a larger

conversation, that your experience

means something and it matters and you're not alone.

Right. And that is one of your missions for First Person Arts

is to bring people

- together through this. - Yes.

I have to say, your story was really compelling.

I can see where you would want to give other people a platform

to share their voice.

Well, first of all, I want to thank you for that.

You know, when I was very, very young, my father

murdered my mother, and I grew up in it.

And I was raised by her parents,

my maternal grandparents.

And within our household, you know, oftentimes we don't think

about the impact that that kind of traumatic event

has on a whole family.

But growing up, we never talked about it.

When I got old enough, I went and found my father

and discovered him to be not my advocate, not my ally.

You know, all my life I have wanted my mom.

I had wished that she had left something for me, some kind

of message to me about who she would want me to be

or what she wanted for me in life.

And I never had that.

And so part of my journey to discover the truth,

I literally went to the courthouse

and found the transcripts of the court case.

And one of the things that my father had said to me,

among many, many lies that he told me for the short time

that we interacted, was he said

that my mother's last dying words were,

"Oh, James, I love you," because that was

- my father's name. - Right.

And when I found the court transcripts right there

in black and white, my mother did not say,

"Oh, my God, James, I love you."

She said, "Oh, my God, Jamie, I love you,"

- which is my name. - Right.

All my life, that longing,

that yearning for those final words from her,

I receive them.

And, you know, it was her story.

And had I not dug and dug

to give voice to this woman who had become

silenced, you know. My family silenced her.

Not because they intended to do it, but because of the hurt.

You know, I was able to give her voice.

And that voice has impacted me and it has impacted the people

that have listened to the story.

And so it wasn't hard to dedicate

myself to amplifying other voices and stories

that need to be told.

It's like a roller-coaster ride because it can be funny. Even

in your story, when you tell the long form,

there's funny moments.

And then you turn a corner and you're confronted by a

deep feeling of seriousness and depth of tragedy

or sadness or thought.

So it encompasses all the emotions in one story.

That's the art and the craft of storytelling.

I always say to people,

you know, if you've ever heard someone talk

about a near-death experience,

they say to you that your entire life flashes before you.

I personally don't believe that.

First of all, I don't think there's enough time.

Right?

And second of all, I think that rather than your entire life,

I think there are defining moments that made

you who you are, and maybe there are

- five or seven of those. - Right.

And I think that's what we see.

And those are the most powerful stories to tell.

There is no greater drama than real life.

Right.

Really sit down and think about something that led you

up to a defining moment,

you will see an inciting incident, building action.

A climax. A denouement.

All of the aspects of a good story are in life,

and if we just take a moment to reflect, we'll see it.

How have you been handling the pandemic?

We pivoted to digital programming,

both video and podcast.

Our monthly story slams have become virtual storage slams.

And the whole idea, the whole raison d'etre

for doing this is to keep

people company, people connected, keep people inspired

during these difficult times.

Well, you've inspired me and I love your story.

And I love the fact that First Person

gives a platform for others to tell their stories.

- Thanks so much, Jamie J. - Thank you.

And we'll get you on our stages, Grover.

That's a date. We'll do it.

Jamie J Brunson,

a woman who believes we all have stories

to tell and sharing them brings us all closer together.

Well, that's all for this episode,

I want to thank my guests,

Eric Berley, co-owner of Shane's the oldest candy shop

in the country,

Kevin Gunn, creative director for 93.3 WMMR in Philly,

and Jamie J Brunson,

executive director for First Person Arts.

And thank you for joining us tonight.

Don't forget to stop by next week for more amazing guests.

Great conversation, right here on Counter Culture.