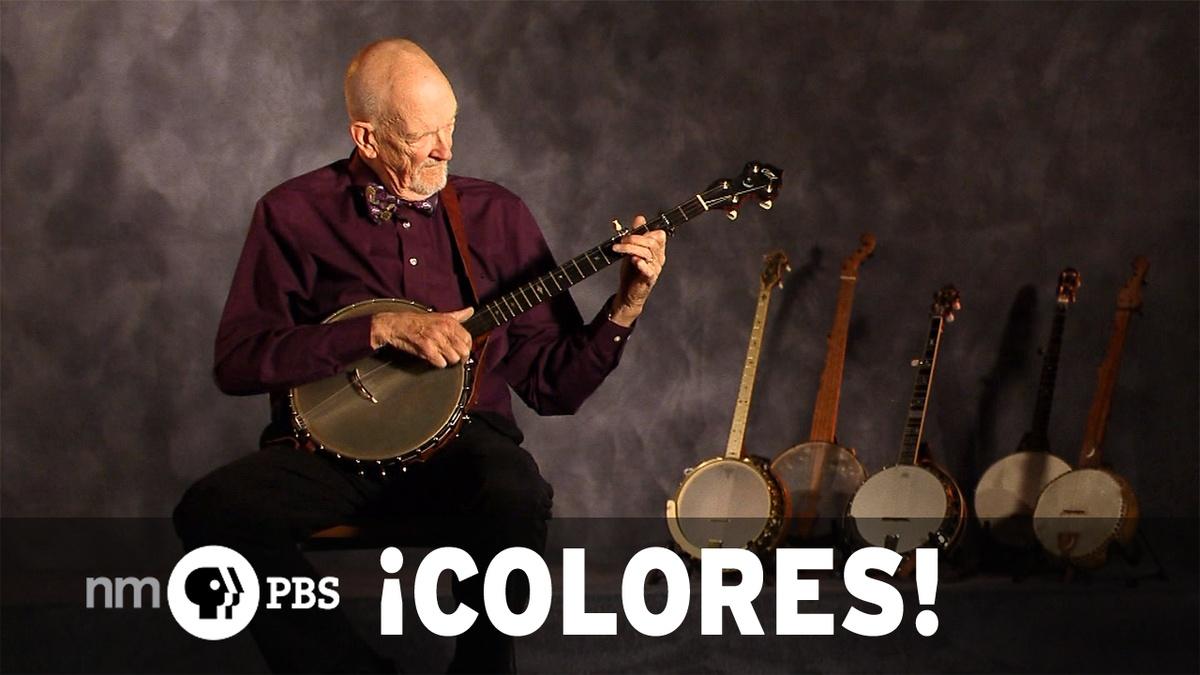 FULL EPISODE
¡COLORES! August 22, 2014
Albuquerque banjo master Wayne Shrubsall seeks the soul in every note he plays. Comic and actor Steve Martin is also a stellar bluegrass banjoist who collaborates with Edie Brickell and the Steep Canyon Rangers. Pin-hole photographer Zeb Andrews creates a camera from scratch and shares his enthusiasm for finding unique perspectives.
TRANSCRIPT

THIS TIME, ON COLORES!

ALBUQUERQUE BANJO MASTER WAYNE

SHRUBSALL SEEKS THE SOUL

IN EVERY NOTE HE PLAYS.

I can't hear someone play

the banjo on the radio or TV

without wanting to get up

and play my banjo.

COMIC, ACTOR, STEVE MARTIN IS

ALSO A STELLAR BLUEGRASS

BANJOIST WHO COLLABORATES

WITH EDIE BRICKELL AND STEEP

CANYON RANGERS.

See, uh, the ranger and I have

an agreement. The minute this

stops being fun, that's when

we quit.

PINHOLE PHOTOGRAPHER ZEB

ANDREWS CREATES A CAMERA

FROM SCRATCH AND SHARES

HIS ENTHUSIASM FOR

FINDINGUNIQUE PERSPECTIVES.

I like being forced to shoot

long exposures. I like seeing

the world over a span of time.

To see howthings change

or move or how they relate

to one another.

IT'S ALL AHEAD ON COLORES!

ALBUQUERQUE BANJO MASTER WAYNE

SHRUBSALL SHARES HIS PASSION.

I can't hear someone play

the banjo on a radio or on TV

or in a movie or something

without wanting to get up

and go get my banjo and play

a little bit. And that's

the kind of addiction that

I have.

I had a period where I learned

how to play Bach on a banjo.

Bach sounded really good

on the banjo, if he ever heard

one he'd have written for it,

I'm convinced of it.

Why did I love the banjo?

I didn't at first, I thought

it was a clunky instrument,

I mean I was a piano student

before I went to high school.

The piano had such a lovely

sound, I thought. Then I took

up a little guitar because it

was hard to take pianos

to parties in high school

but it was easy to take

a guitar. Then the trio came

out with some of their songs,

Tom Dooley the first one

of course, and it interested

me that the banjo was

in there. I thought well maybe

it's not so bad as I thought

it's kind of a fun song,

and then they came out right

away after that with the song

the MTA in which the banjo

David Guard used a three

finger style and just played

rapidly just wonderful.

I thought 'you can get that

wonderful sound out of a banjo

huh?'

I loved the banjo,

but I didn't get one till

I went off to college. My dad

told me that he thought

I liked the banjo because it

was a challenge to get those

wonderful sounds out of it.

And he was right, it was

a challenge. It was something

that I could see myself doing.

So that when I went off

tocollege and the guy was

sitting out front

of the student union building

playing a banjo, and I sat

down next to him and said

'that's neat it's a five

string' and he said 'yeah

and it's for sale.'

And I thought, well there goes

my accumulative ratio

for the first year of college

right there. I said how much

do you want for it,

and he told me and I called

my dad, and he said write him

a check andI did. And that was

the beginning of the end

for me, or the beginning

of the beginning actually.

The most beautiful sound

a banjo can make is one that

plays a melody pretty clearly

through without too much

ornamentation, without too

much hard playing

of the fingers. You have

to find the soul

of the instrument, that's

what's hard sometimes. People

think well I'll get this

really expensive model

and I'll play well. Not

necessarily. Some

of the banjos that I have,

the old Morrison is no longer

made of course, doesn't have

much going for it so you have

to find out how to make that

come out and how to make it

melodious and clear

and ringing and singing,

that's what I like to hear is

a banjo sing.

Here we have a Morrison banjo

made toward the end

of the nineteenth century.

Reflecting frets as position

markers lovely inlays, sweeter

sounds, and a gentler playing

style, three fingers.

And here's a tune from New

Mexico 1865 actually called

Collabra.

I think I started getting

pretty good at it by, well

I started playing it in 1961

and I started getting to what

I considered pretty good

around 1980. I could play it

before that but I was playing

howother people played things

a lot of the time. Then when

I had to figure out how

I wanted to play things well

I wanted to get the idea

of the melody, and yet make it

something that was a good

feelinginside me, it wasn't

just a technical masterpiece

or something like that.

After you learn the mechanics

of left right hand, string

size, once you get to where

you seem to know what you're

doing, then you have

everything you need to produce

what you feel. I try in all

of the arrangements I've done

with the various bands that

I've played with, I've tried

to get a soulful, not mournful

but soulful and ringing

and emotional response to it.

Some of them are just wild

songs, wild tunes. You still

have to capture that wildness,

not just play harder or wacky,

you have to capture that kind

of great driving enthusiasm

the same as you might have

to capture the gentleness ofa

song. Not all banjo songs have

to be bluegrassy or even four

string dixie land. There are

a lotof wonderful songs out

there, tunes out there. Bela

Fleck has discovered how to do

that very wonderfully I think

and there are many other good

musicians that can play music

on the banjo, not banjo onthe

banjo.

This banjo is made

from a gourde, and a rather

stylized neck. Probably

wouldn't have been so fancy,it

was modeled after a slave

banjo made before say 1850.

I wrote my doctoral thesis

on the banjo, but before

I wrote it I had to learn how

to play all the styles I was

discussing and describing.

That mistrial style took me 5

years just to get where it was

because there are no frets

on that banjo and I had

to figure out, how hard do

I play? Can I make it sing?

Can I make this little sound?

We have a banjo here that was

made by William Busche around

1850, not this one this is

a copy. But this is exactly

how he made them and he was

a furniture maker and this

made the banjo, now unlike

the gourde banjo, mass

produced and it's sort

of standard for the shows.

And a guy asked if I would be

interested in playing it

in a Dixie Land band that

he had. And I saidsure.

And I started out, it was kind

of rough at first

because I wasn't used

to the harmonic difference.

Then I thought Wayne you know

when you played piano

you loved the chords, now

you get to play chords like

this in a strum style

on banjo. And they have such

a wonderful sound.

Well that only took another 10

years, but you get to where

like what you're doing

because it sounds good.

I think Pete Seeger

demonstrated that you could

play the banjo in any number

of styles but there was always

a soul behind every note

you played. And he played

the banjo on top of Old Smokey

and Irene Goodnight,

and everything worked.

And that's how you find

the soul of the instrument.

I think from the first time

I strummed the darn thing

I knew this was it.

A BOUNDARYPUSHING BLUEGRASS

BANJOIST AND SONGWRITER,

COMEDIAN STEVE MARTIN HAS

JOINED FORCES WITH

SINGERSONGWRITER EDIE

BRICKELL.

>>Paula Zahn: Congratulations

on your Great Performances

Steven!

Steve Martin: Oh, thank you,

it was quite an honor after

having watched Great

Performances my whole life

to participate in one

with such great artists

as Edie and Steep Canyon

Rangers.

>>PZ: Give us a taste of what

our viewing public can expect.

>>SM: About five years ago

I made a banjo record which

was very serendipitous

and I had written all

the music. My agent said to me

you know you have to go

on the road, and I said I do?

I hadn't been on the road

in thirty years and I said

well I only know one band

The Steep Canyon Rangers who

I met in North Carolina.

So I called them up and said

would you guys like to be

the band?

>>PZ: Had you performed

with them before?

>>SM: I had sat in with them

once or twice and I remember

that it really sounded good,

and so I asked them. Then

we put together this little

show. Then another happy

accident happened

with the Edie Brickell

and she came into my life

as a cocreator of some music.

>>PZ: Your collaboration

with Edie Brickell is one

of the more unusual ones I've

heard about.

>>SM: I write the banjo bass

and I email her and then shell

either sometimes

with her melodies follow what

I did on the banjo or she'll

create her own melody on top

so there'll be a banjo melody

underneath and then another

vocal melody on top of that

often , and she'll write

the lyrics. And then sometimes

I'd get a song and I'd say, oh

that's nice. And then six

hours later I'd get another

versionwith completely

different lyrics

and a different melody I'd go

that's better.

>>PZ: By the time you and Edie

came together musically uh

you had already produced two

bluegrass albums. What did

the two of you set out to do?

>>SM: All we had between Edie

and me were these cell phone

recordings of me playing banjo

and Edie singing over them.

And we had thirteen songs.

And we kind of liked the way

that sound, the way the banjo

and the voice, that's all

there was. But we knew

we couldn't release and album

of just banjo andvoice.

And we thought who could

produce this? And the name

Peter Asher came up, who

produced Linda Ronstadt

and James Taylor; throughout

his life had a fantastic

musical career. But we didn't

know quite how it should

sound. And Peter said, first

thing that he said is I don't

think it should be a bluegrass

record, and I went like this

that's what I just, I don't

understand. And so he came up

with this sound that is spare,

uses strings, a lot of cello,

and guitar, choral voices.

And as a result it became what

is called an Americana album.

And that's how that sound came

about.

>>PZ: You were largely

selftaught.

I had a good friend named John

McEuen who helped me quite

a bit then I met Earl Scruggs

and he taught me how to play

one song. He was the great

master of the five string

and we had all kinds of ways

to learn. One was to slow down

33 RPM records and pick it out

note by note; that's why

I started writing songs

because I thought I got

to have something to play,

so I started writing my own

songs.

>>PZ: Was your banjo always

part of your comedy acts?

>>SM: Well I, when I started

getting to be able to go up

on stage, I didn't have enough

material to fill

in the fifteen minutes

required. I didn't have that

much comedy material so I put

the banjo in to kill time

and then it just sort of just

stayed with me.

>>PZ: So, share with us

a little more about

the content of this show that

we will be seeing

on GreatPerformances.

>>SM: Well, what you're seeing

is the result really of five

years of touring and working

out a comedy and music show.

>>SM: We like doing our show

so that's sort of my life now.

I like touring around

and I never thought I'd be

performing live again and here

I am.

>>PZ: And Out of this very

special collaboration you have

with Edie Brickell has come

a musical, canyou tantalize us

a little.

>>SM: It's called Bright Star

and it's set in 1945 and it

jumps between 1945 and 1923,

and It tells the story

of the secret of a woman's

life.

>>PZ: You are so passionate

about the banjo that you want

the rest of us to celebrate

the great talent out there.

Describe to me this I guess

you would call it

a scholarship program you come

up with to celebrate talent?

>>SM: My wife and I came up

with this idea to create

a banjo prize it's the best

thing you can win which is

money.

>>PZ: Is it something that

you audition for

or you and your jurors

actively listening to great

banjoplaying.

>>SM: We're actively listening

you can't apply and it's

a surprise every year.

The prize is fiftythousand

dollars, and they can spend it

anyway they want. So it's

a great thrill and it also

brings their name out a little

bit.

>>PZ: Well it is such

a pleasure to meet you.

>>SM: It's been such

a pleasure thank you so much

>>PZ: Good luck with

the musical.

>>SM: Thank you

>>PZ: Congratulations

on the Great Performances

show.

>>SM: I hope they don't change

the title to Very Good

Performances show.

>>PZ: That would be pretty

depressing wouldn't it be?

ZEB ANDREWS LOVES MAKING

PHOTOS WITH THE WORLD'S MOST

PRIMITIVE CAMERA: THE PINHOLE.

Vince Patton: Photography,

like cooking, requires

the right tools. Maybe Zeb

Andrews' wife won't care that

her improvised sugar container

is gone. Her husband is

about to prove a point

with this mild mannered

oatmeal box.

Zeb Andrews: Little did it

know when it started its day

that it was going to end up

producing photographic images.

Vince Patton: Zeb says almost

any container can become

a camera.

>>ZEB: It helps make the body

of the camera a little bit

sturdier.

Vince Patton: All that black

tape is also supposed to make

the oatmeal canister light

proof.

>>ZEB: When you're dealing

with long exposures even small

amounts of light leak are

enough to fog your paper.

Vince: All that's left now is

one prick of a sewing needle.

>>ZEB: This is the actual step

where a lightproof oatmeal

container becomes a camera!

That is what will focus

the light and produce

a pinhole image. That's

the camera.

Vince: Zeb Andrews' camera may

be primitive. The images

he makes however are not. Many

describe his pictures

as ethereal. Lazily swimming

koi leave ghostly trails

in a pond. Branches sway

in the breeze. Anything that

moves becomes an intentional

blur. That dream like quality

happens because zeb's photos

are not snapped in a fraction

of second.

>>ZEB: It's just enough light

for a pinhole exposure.

And this pinhole exposure was,

15, 20 minutes long.

Vince: minutes, not seconds?

>>ZEB: not seconds, minutes.

Vince: The spokes of that

waterfront ferris wheel did

not blur because the wheel

spent more time stopped than

it did spinning.

>>ZEB: I like being forced

to shoot long exposures.

I like seeing the world

over a span of time. To see

how things change or move

or how they relate to one

another..

It's like taking an entire

movie and condensing it

into a single frame.

Vince: Zeb is not alone

in his pinhole pursuits.

Jake Shivery: I think Portland

might be a good Mecca

for pinhole photography.

I think we've probablygot more

action than in a lot of other

cities, but there is a lot

going on in pinhole

photography.

Vince: Jake Shivery owns Blue

Moon Camera in north Portland.

This is where Zeb works

and it's a store that still

focuses on film, not digital.

They've sold 200 pinhole

cameras and everyone on staff

shoots pinhole photos.

Jake: They're really

interested in getting

basically as far away

from digital photography

as they possibly can. And it

doesn't get much farther away

than a box with a hole in it.

>>ZEB: I just like to take

a different approach

because I like to show people

too that different

perspective.

I'm fascinated by visiting

familiar places and trying

to exercise my imagination

to find different perspectives

of places that I've been

you know dozens of times.

Vince: Zeb's favorite subject

doesn't move much, yet

he finds so many ways to view

Portland's iconicSt. John's

Bridge.

>>ZEB: I've been shooting this

bridge as long as I've been

taking pictures seriously.

This is an easy bridge

to spend a lot of time under.

It's probably why I take

so many pictures of it.

I never really get tired

of being down here.

Vince: Today we'll test

the pinhole camera he just

made for us along with two

others he made last night.

To take the picture, all

he does is flip up the flap

of tape over the pinhole.

>>ZEB: It's exposing right

now. In bright conditions like

this, pretty short exposures,

about two minutes.

Vince: It has no viewfinder.

He really just guesses when

he aims the camera.

>>ZEB: With the angle of view

I'll get the entire tower I'm

betting.

Vince: Even the length

of the exposure is simply

a calculated estimate. Here

he'll go 1 and a half to 2

minutes.

>>ZEB: When you do this enough

you actually start to develop

a moderately good feel

for the passage of time.

Vince: Of course, oatmeal

container cameras are not

his favorite. It's his wooden

pinhole camera he loves.

>>ZEB: It's a hollow wooden

box. Instead of a piece

of aluminum foil behind this,

this is my shutter.

That's a piece off brass foil,

with actually a much smaller,

much cleaner drilled pinhole

in it.

They're really really

beautiful cameras when they're

brand new.

Vince: They're also incredibly

durable. His has been dunked

accidentally in the ocean.

Salt water and cameras don't

normally go together.

>>ZEB: No they don't,

but at least you can rinse it

off, dry it off, and just

reload it.

As long as I've been using

pinhole cameras these things

still show me something new

just about everytime I take

'em out.

Hopefully some of them turn

out.

Vince: In the dark room it's

time to see how our oatmeal

pinhole camera performed.

>>ZEB: All right. Here goes

attempt number one. There's

always a bit of an element

of surprise whichI think sort

of encourages experimentation.

A lot of times, more often

than not, the experiments

don't work but every once

in a while, you get something

that turns out pretty cool.

Vince: Sadly, all the cameras

leaked light, but Zeb sees

an image in the first print

that just mightbe usable.

>>ZEB: This will make a pretty

interesting image once it's

scanned in and reversed

because all off this is going

to be blown out white,

with the bridge a dark

silhouette.

Vince: After scanning it

into the computer, Zeb finds

a bizarre image he rather

likes. Fortunately, he's got

dozens of great images

of the St. John's Bridge

and just finished showing them

at a gallery.

>>ZEB: That's one

of my alltime favorites.

Vince: Several were pinhole

pictures and most viewers

never knew the difference.

>>ZEB: People are surprised

by how sharp of an image

these, these pinhole cameras

produce. It's a slower way

of taking pictures. But it's

fun that way. It really gives

you time to enjoy what you're

actually taking pictures of.

NEXT TIME ON COLORES!

SANTE FE'S DYANNA TAYLOR

REFLECTS ON BEING

THE GRANDDAUGHTER

OF PHOTOGRAPHER DOROTHEA LANGE

AND SHARES HER VISION

FOR MAKING THE FILM DOROTHEA

LANGE: GRAB A HUNK

OF LIGHTNING, FOR PBS'

AMERICAN MASTERS SERIES.

She was not necessarily

reining me in but asking me

to look at the impact I was

having, and also to see what

was around me.

JAMES TURRELL WORKS DIRECTLY

WITH LIGHT AND SPACE TO CREATE

ARTWORKS THAT ENGAGE VIEWERS

WITH THE LIMITS AND WONDER

OF HUMAN PERCEPTION

Only when light is reduced

and you sit for a while

and dark adapt, does the eye

open. And when the pupil

opens, feeling comes out

of the eye as touch

and you actually are touching

with the eyes.

JW JOHNSTON MAKES TIME

FOR SMALL MOMENTS,

AND CAPTURES BEAUTY IN NATURE.

When I was photographing

the natural landscape I found

myself to be at peace.

CAST MEMBERS FROM CALL

THE MIDWIFE REVEAL WHAT IT'S

LIKE PORTRAYING SUCH

FASCINATING CHARACTERS.

I feel like I've been let

into the secrets of childhood

and motherhood a bit more.

And it's a lovelyclub to be

a part of.

UNTIL NEXT TIME, THANK

YOU FOR WATCHING.