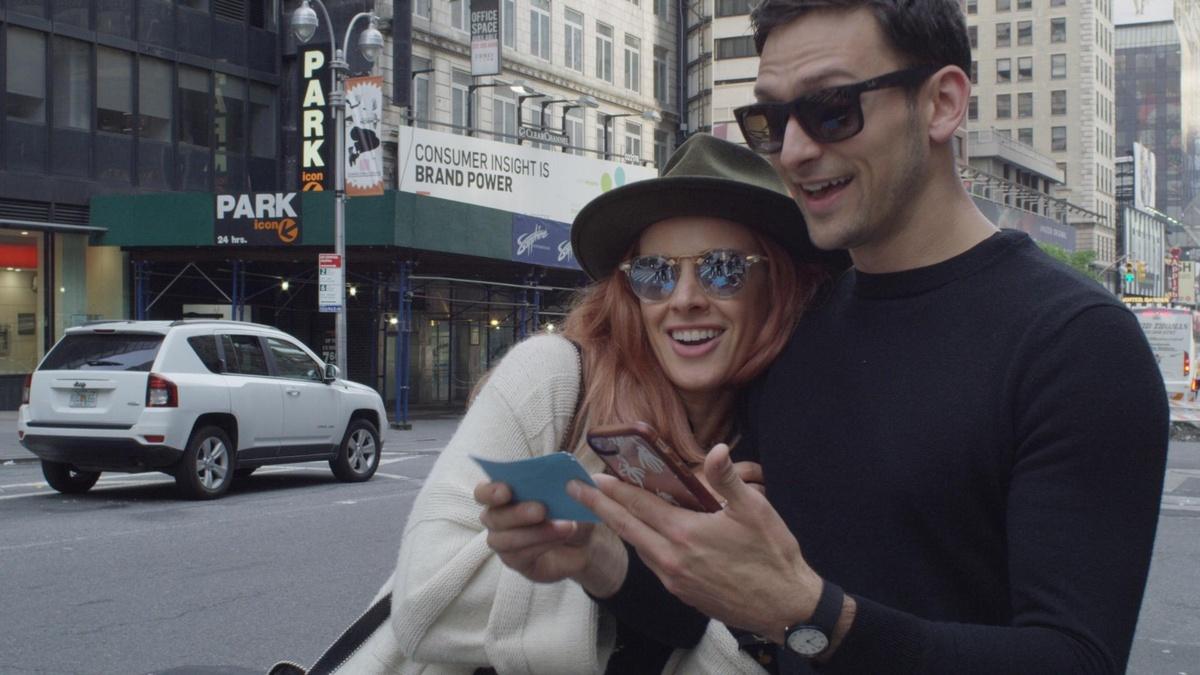 S2 E2 | FULL EPISODE
Broadway Sandwich: "The Cher Show" and "Beetlejuice"
Follow Broadway's biggest stars during their breaks between matinee and evening performances. Get a behind-the-scenes peek at Bob Mackie's Tony Award-winning costumes with "The Cher Show" star, Teal Wicks. Witness "Beetlejuice" star Rob McClure's acrobatic pre-show ritual.
TRANSCRIPT

Just stare at that food a little bit longer.

And action on set.

Yes, I eat.

[ Laughs ]

♪♪

Scribner: The lives of Broadway performers are busy.

They only have a few short hours

between their matinee and evening performances,

and they're giving us an inside look,

from grabbing a bite to unwinding.

Plus a backstage tour.

Have you ever wanted to see what we do in the time

sandwiched between performances?

Follow along and find out.

This is "Broadway Sandwich."

Today we're at a show about a woman who only needs one name.

The show features 35 of her hit songs,

two rock star husbands,

six decades of stardom, a Grammy, an Oscar, an Emmy,

and more costume changes than I could ever count.

You guessed it, we're at "The Cher Show."

♪ Do you believe in life after love? ♪

♪ After love, after love, after love? ♪

Scribner: It takes three women to play this culture icon.

They each portray her at different points

in her life -- Babe, Lady, and Star.

They interact with each other on stage

in a creative and effective way.

The Neil Simon Theatre opened in 1927,

but then it was called the Alvin Theatre.

It was the home of the original production of "Annie,"

the revivals of "Cats" and "Angels in America,"

and with its longest-running show

at 2,642 performances, "Hairspray."

Today we're hanging out with my friend Teal Wicks,

who plays one of the Chers in the show, Lady.

Now, this isn't Teal's first powerhouse role.

She played Elphaba in "Wicked" for her Broadway debut.

She's also been in "Jekyll & Hyde"

and "Finding Neverland" on Broadway.

Teal Wicks!

Hey, bro. Hi.

Hi. How was your show?

Great. Good.

Good. Matinee.

Okay, so you know that I have a major friend crush on you.

Yes. Since we met doing a commercial together.

Uh-huh, yeah.

But now I have a major talent crush on you

'cause you are so unbelievable. Thanks.

Such a wonderful actress. Thank you.

Of course, powerhouse singer. Thanks.

I'm so happy we get to spend time together and see

what you do between shows. Yeah.

So what's the plan today, 'cause we gotta get you back

in just a couple house for your second show?

Yeah, yeah. So I have to eat.

Gotta love -- love eating. Let's go to Amy's Bread.

And then I have to do some shopping for a photo shoot,

so I want I want to hit up Anthropologie for a little.

I could pick up a few things, too.

Let's go. Sounds good.

Let's go.

Good to see you. Bye, babes!

♪♪

Here, let me pull this stool out.

Look at this. Oh, Garen the gentleman.

Gentlemanly behavior.

Okay, so I know your story, 'cause we friends.

Mm-hmm. But for our viewers, we need to do an origin story.

Where do you come from? How did you get here?

Okay. So I knew I wanted to go to college

and I wanted to study theater.

So I went to UC Irvine down in Southern California.

So then how did you get from college

to when you started doing musical theater professionally?

Yeah. And doing "Wicked."

My first professional job was a did a production

of "Pippin" at Goodspeed Opera House.

I played Catherine.

The first time I ever auditioned for "Wicked," I didn't get it.

But then -- But they saw you.

But they saw me. Yeah.

Then the next time, they called me in was for the Elphaba cover.

And I found out I booked the standby for Elphaba in LA,

and I had to leave two weeks early

so I could fly to LA and then start working.

So Stephanie Block also played Elphaba.

Yes!

And so, I mean, that's kind of interesting,

that the two of you are both portraying

Cher in the same show. Yeah, yeah.

And you both played Elphaba.

And so what do you think that is about playing

Elphaba and then playing Cher?

And Cher? Yeah.

Black hair. It's long, black hair.

That's basically what it is, I don't doubt.

♪♪

I realize she grew up really feeling like an outcast,

and Cher says that her mom actually said this.

It was, you know, "You may not be the prettiest,

you may not be the smartest, you might not be

the most talented, but you are special,

and that means that you can be somebody."

And any person who's had success has faced adversity.

Yeah. Tragedy and feeling like I'm gonna give up.

Yeah. Have you ever felt like that?

For sure. Yeah.

Oh, God.

Any specific moment when you thought,

"I'm done, this is -- I can't"? Yeah.

So my huge Broadway debut off of Broadway, "Wicked."

Amazing.

And then the revival of "Jekyll & Hyde" came along.

Yes.

We were on the road for about six,

seven months before we came into Broadway.

So you were loving it. Yeah.

And then you came to New York and onto Broadway.

Then we came to New York, and we closed in six weeks.

And I was like, "Oh, my God!

Is this it? Am I done?"

And sometimes I would go on craigslist

to see what sort of odd jobs I could maybe pick up.

You know, you're starring in "The Cher Show" as Cher.

And you go on craigslist between your shows

to find odd jobs to pay the bills.

Yeah. It's so important that people understand this.

You have to know this. Mm-hmm.

Okay, we're moving on. Save. Save money.

Let's talk about the differences between

creating an original role,

which you did in "Finding Neverland." Mm-hmm.

Taking over a role that already exists,

like Elphaba in "Wicked." Yeah.

And now creating an original role

that is based on a real human being.

Yeah.

The problem with Cher, there's a lot of characters.

There are people that do incredible impersonations of her

that have made careers out of--

Vegas shows, they're doing Cher five times a night.

Nailing this impersonation of her.

Us three women who play Cher

aren't impersonators, we're actors.

So we want to get to the heart and the soul of who

Cher is while giving enough of the--

Paying homage to the real person.

Exactly. Like what was an example?

Oh. Well, like, like...

The way she talks.

The way she talks and the way she sings

and she, like, there's this sort of tongue thing,

which I don't even know exactly what it is.

I trying to do it, but I can't really do it.

Mmm. It's just, I don't know.

It's so good. It's just -- yeah.

I think it is the time right now that we go shopping.

I love shopping.

'Cause we need to get some looks on.

Let's get out of here and go shopping.

I love it! Girl, perfect. Okay, let's go.

Yay!

So what was your audition like for "The Cher Show"?

Oh, yeah.

As soon as I got the material,

the songs sort of fit in my voice,

and I love the songs that I had to sing for my audition.

You can tell you love them when you see you up there.

Oh, my God.

And Cher wasn't actually in the real room.

I was being filmed for her, and any--

So she had final approval?

She has final approval, and all of --

everybody else was really supportive

and seemed like they were really gunning for me.

And they just said Cher was a little on the fence.

So I went and bought a long black wig.

Scribner: No, you didn't! Yeah, I did.

The day before the final callback,

I put it on to run errands around town.

Just to, like, normalize it? Yeah, like that.

Whatever it takes. Yeah.

When you did get the role, you're gonna do "The Cher Show,"

what kind of research did you do for the part?

A lot of YouTube. Uh-huh.

There's a lot of YouTube videos.

It's a great resource. Oh, my gosh!

I mean, what did people do before the Internet

in the industry before it was created?

Books, I guess, I don't know.

Books and libraries. Yeah.

But there's so many videos, interviews with Cher,

concerts of Cher, Cher's music videos.

And then so much of "Sonny & Cher Comedy Hour,"

which is a big part of my character's storytelling.

That's the point in her life that you play a lot of, yeah.

Yeah. And so watching the "Sonny & Cher Comedy Hour"

was so amazing,

because I really got a sense of Cher's sense of comedy

and Cher's just dry, super just flat sense of humor

just somehow, like, really just zinged right through the TV

and right through all of that, too.

And Sonny really had a short fuse with Cher, didn't he?

He did have -- he had a short fuse.

That's for sure.

I think it's time for some new duds.

Yes! Yeah.

Let's go. Let's go!

Boom, this way.

Shopping! Shopping, shopping!

♪♪

Okay, so what are we shopping for today?

What are we...

I'm doing -- I have a photo shoot coming up.

You probably have photo shoots all the time.

I do. Some have been very, like,

Cher specific for "The Cher Show,"

but this is one where I get to kind of

just come and dress up, like, for myself.

That's great.

Ooh. You know what I love?

These green and white stripped pants,

'cause I feel like it's a wide leg.

It's a wide leg. The color's right.

It's very Cher. She would have worn this in the '70s.

Yeah.

Do you feel like wearing all these amazing

Bob Mackie clothes and playing Cher and wearing

Cher's clothes has influenced your own personal style?

Yes, yes.

Like, this is normal?

Like, this color palette, this is subtle.

♪ I got you to kiss goodnight

♪ I got you to hold me tight

♪ I got you to hold me close

♪ I got you to love me so

♪ I got you, babe

♪ I got you, babe

Teal Wicks. Yeah.

60 second sandwich. Okay, 60 seconds.

60 seconds on the clock.

You gotta answer as many questions as you can.

Are you ready? Yeah.

All right. Timer is going now!

Instagram user Richie Massachusa,

hey, asks nerve-racking to be

in costume fittings with Bob Mackie?

No, he's sweet and darling.

Two, Facebook's Carly Ornstein asks do you take your makeup off

between matinee and evening shows?

Sometimes.

It depends on what I'm doing in between shows.

Three, Jason Cressman wants to know

if you plan your potty breaks during the show.

Yes, I can't pee any time in act I, only at intermission,

and there's one pee break in act II.

Oh, that's rough.

Four, Instagram's Allie Eds, dream co-star?

Dream co-star? Please say me.

Ooh, ooh. Garen.

Five, Sophia Selleck, two three plays or musicals?

Okay, I'm gonna say "The Ferryman,"

'cause I just saw it and I'm obsessed.

Okay. "The Wild Party" and "Carousel."

Love that. Quinn Wharton want to know

if humidity affects your voice and how?

Yes, I like it. It's good.

Moisture is nice on the chords.

Okay, seven, favorite role ever. 15 seconds left.

Oh, Jo in "The Ballad of Little Jo."

Look it up. Eight, superstitious?

Yes. Good luck charms?

Sometimes, yes. Rituals?

Yes, music. Music's great.

10 seconds left. Favorite "Wicked" memory?

Oh, I broke suitcases.

Oh, no. 10, advice for musical theater fans?

Two seconds left.

Oh, my gosh, if you love it, do it.

If you can do something else, do that.

Time's up! Way to go!

That was 10! You nailed it!

All right, we have to get you out of here

and get you back to the theater. Okay, bye.

Bye.

It's time for show two.

♪♪

♪♪

So this is most of my costumers, and my dresser Julie is here.

She's gonna help show us some things.

Hi, Julie. Hey, I'm Garen.

Hi. Nice to meet you! Nice to meet you!

Thanks for showing us stuff. No problem.

See, she keeps me -- well, she sends me out

on stage not naked and keeps me standing.

That's important. 'Cause I would fall over.

I have a quick change that happens on stage

in the center of stage.

Julie and one other dresser come on stage slightly hidden,

but not fully hidden.

How do you get out there?

We just walk. They just walk.

Yeah. What do you have to do to the clothes

to keep them going eight times a week

and not have them fall apart and not smell bad?

Well, there's people here every day.

Yeah. Pressing clothes, steaming them.

We have a full-time beader and a full-time stitcher.

They work 40 hours a week.

Oh, my gosh. Just sewing the beads back on.

Gosh, this is what you do eight times a week.

Yeah. You gotta embody Cher up here.

Yeah. How does that materialize for you physically?

Oh, yeah.

Well, she's very grounded, she's kind of hip-forward.

Okay. Right.

And also she has kind of like a bit of a broken wrist thingie.

All right. It's, like, not on the stage.

This happens all the time. Really?

I'll just be standing there, and all of a sudden,

I'll realize I'm like this.

And then I'm like, "Stop it. Let it go."

Listen, she's gonna be a part of you forever.

It's any show we do ends up becoming --

we keep the best of it. Yeah.

And we move through life

with that special thing that we get to take.

Okay, so here we are, sitting in the seats

at the Neil Simon Theatre,

looking up at what people see you do every night.

Yeah. Eight times a week, which is so incredible.

Thank you. Now, this is a show about Cher.

About Cher. Apparently.

Yeah. And she's involved.

She talked to me a lot about her relationship with Sonny.

Just such -- like, the gift that every actor needs.

Like, to be able to talk to your character, like,

I mean, my character is a real-life person.

And to be able to talk to her about the big emotional moment

that I have to play on stage

and to get her specific point of view about it.

She was working so hard that she wasn't having any fun.

There was no joy in what she was doing.

And her and Sonny, what was so wonderful

about their collaboration in the beginning

and what made them fall in love with each other

was the joy that they just -- they created together.

And it was gone.

And she was like, "What is this? What are we doing?"

And that was kind of how they dissolved.

I can't wait to see you up there again.

I know. I'm gonna come to the show a third time.

Okay, come to the show, but to do that,

I actually have to go and get ready now.

No, we're having so much fun. I gotta get in my Cher look.

Okay. This doesn't work.

Okay, so come up to my dressing room for a second.

Yes, let's do it.

Okay. Boom.

All right, it's a journey. Do it.

♪ Do you believe in life after love? ♪

♪ After love, after love, after love? ♪

Look, the wallpaper, it's like Anthropologie!

Love it. I want a sofa like this.

So tell me about what you love in here.

What stuff? Oh, okay.

Well, I have a lot of fabulous -- my plants.

I love my plants. I'm new to being a plant person.

Hopefully I keep them all alive.

Oxygen. Oxygen.

It's life, it's good. Really good.

I have a bunch of Cher sort of fan collecting things

that are happening up there, which is cute.

So you sit here, and you put your makeup on.

I put my makeup on.

You really -- it really transforms you.

Nice. 'Cause I can tell it's you,

but I'm also like, "That's Cher."

Yeah.

It's a lot. And I have to darken my eyebrows

and then a lot of contouring,

just 'cause Cher has these really great cheekbones.

She does. And I have a bit of cheekbones,

but not quite like Cher's.

So... No one does.

So I have to just, you know, really chisel it out.

Cut it out, contour. Chisel.

Yeah. Chisel, chisel, chisel.

So I gotta go get into Cher garb.

This isn't Cher. Oh, I'm having so much fun!

I know, but just come back and hang another time.

I will. Okay.

Thank you. You're amazing.

I'll see you next time. Yes.

Bye, Teal. Okay, bye.

See ya, cutie!

Mmm!

Bye!

♪♪

See how the track's shaping up.

I'm gonna get him against the ropes.

-You're gonna die. -I am gonna die.

[ Video game beeps ] About to kick this guy's ass

on your behalf.

I'm about to feed him

a Broadway knuckle sandwich.

Boom.

[ Laughs ]

See how the track's shaping up.

Today we're at the Winter Garden Theatre

currently being haunted by

the ghost with the most, Beetlejuice.

It's show time!

[ "The Whole 'Being Dead Thing'" plays ]

♪ Welcome to a show about death ♪

Beetlejuice: I'm gonna need some help.

Scribner: "Beetlejuice" is based on

the 1988 film of the same name by Tim Burton

about a strange and unusual teenager

who meets a recently deceased couple

and a demon that turn her world upside down.

This historic building was built in 1896

but not as a theatre.

It was the American Horse Exchange.

In 1911, the Shuberts bought it and turned it into a theatre.

"Beetlejuice" was nominated for eight Tony Awards,

including Best Musical.

This theatre has had so many stars and shows --

Fanny Brice, Bob Hope, Gypsy Rose Lee,

Mary Martin in "Peter Pan,"

Barbra Streisand in "Funny Girl,"

which made her a star.

More recently, "Cats," "Mamma Mia!",

and "School of Rock."

Today we're meeting up with Rob McClure who plays Adam,

a role made famous on film by Alec Baldwin.

In 2013, Rob was nominated for a Tony Award

for his performance in "Chaplin."

Rob and I met doing the first revival

of "Jerome Robbins' Broadway"

at The Muny theatre in St. Louis last summer.

Beetlejuice, Beetlejuice...

Nah, I'm not gonna do it.

Hi, Garen! How are you, Rob?

How was your matinee?

It was so good. Yeah?

We're having so much fun with this crazy show.

It's incredible. It's so fun.

You're incredible in it. Thanks, man!

So, what's the plan between shows?

'Cause you only have a few short hours

before we got to get you back.

Before I go get something to eat,

I have -- my old high school

was actually at the matinee today.

So I'm gonna go do a talkback with them,

which I love to do between shows.

I do them all the time.

And tell our viewers what a talkback is.

A talkback is basically our chance

to talk to sections of the audience

who have questions.

I love to shatter the sort of --

the idea that what we do is this exclusive club...

Yeah. ...that they should be scared of.

Oh, the proscenium line is so hard. Yeah.

Like us and them. Yeah.

So we're all the same.

And that's the main reason why I love doing talkbacks,

is to, like, break it and come out and just talk.

McClure: What's something I wish I knew

before I went into show business?

Um, that not getting a part

has more to do with you not being right for it

than being good enough to do it.

I auditioned for years

and didn't get a single callback.

Not one callback.

Not even get the part.

Not even a callback.

For years.

Um, and then I got my Broadway debut.

2002, it was a play called "I'm Not Rappaport"

with Judd Hirsch and Ben Vereen.

"Oh, my God. I am a Broadway performer!"

And then I didn't work again for four years.

[ Audience chuckles ]

You do not make it.

You just keep chasing.

How long did we take to prepare for "Beetlejuice"?

So, um, if you're starting with the writing of it,

a decade.

But if you're starting with

preparing it for Broadway,

we have 4 1/2 weeks of rehearsal in a rehearsal room.

Then while we're doing that,

they're building this magic here.

And then we have about a three-week process called tech

where you put together

what we've been doing in the room

with what they've been building in here.

And then you have previews.

And previews is, I think, the hardest part,

because you're rehearsing all day during the day

and then doing the show for an audience at night

and making changes every day.

How many of you is this your first Broadway show?

Okay.

My first Broadway show ever

was on a school trip in sixth grade,

it was at this theatre,

and I sat in Mezzanine D8 --

one, two, three, four rows up,

one, two, three, four rows in --

to see "Cats."

And I thought at that time

that being on Broadway

was the most ridiculous, unfathomable pipe dream

that would never ever in a million years happen to me.

And I just opened a Broadway show

in the spot where I was thinking that.

We live in a world now where no job is safe.

You can get screwed over by any job.

So why not go after the one that makes you happy?

-Amen. -Cool.

[ Applause ]

[ Smooches ]

Thank you, guys.

Thanks.

That was so beautiful. Oh, thanks, man.

It was so fun to have you there.

It was so special. They're from your hometown. Yeah.

Are we going this way? Yeah.

Okay.

They are a good group of kids.

And the thing I love most about,

like, doing that kind of thing,

is so many people, especially educators,

like to tell them how hard it's gonna be.

Yeah.

It's also hard when you have a hinge on your face. Yeah.

They're dreaming of being on Broadway

with a hinge in their face.

[ Laughs ]

Yeah, sometimes the layout

doesn't really work out for you.

You've never been in a show from the beginning

that got nominated for Best Musical, right? That's right.

It's the first time I've been in a show

when it got nominated for Best Musical.

Yeah. And the longer it runs,

the better it would be for my kiddo,

'cause I'm a dad. Who we're gonna meet.

What? Right now.

Let's go see Maggie and my baby.

That sounds perfect. Let's do it. Okay.

Okay Yay!

♪♪

There's Maggie. Hi, cutie.

-Hey. -Hey.

-Hey, Maggie. -How are you doing?

What's going on?

Good to see you. Good to see you, too.

Say "hi, Garen."

What's going on, pumpkin? Sadie!

Say "hi." Ahh.

She's so beautiful.

Thank you. Hey, sweetie.

Thanks for meeting us between shows.

Absolutely. Thanks for having me.

How's it going, sweetie? Where's the baby?

You know, I saw "Beetlejuice,"

which is incredible, and you're amazing in it.

And you sing a whole song about not being sure

you're ready to have a baby.

[ Laughs ] Yeah.

So you were doing that

while you thinking... Yeah.

..."I'm actually going to have a baby.

Maggie, how are we gonna do this?"

You know what?

It's so cool how the roles you play

grow up with you.

Playing a young guy thinking about,

"okay, is it time now, and am I ready for this,"

right in the thick of it has been awesome.

This is your seventh Broadway show.

Yeah. Seven.

Seven. That's a lot.

It's a lot. It's incredible.

Yeah, I've been super lucky.

Yeah. I really have.

My Broadway debut -- speaking of lucky --

They were doing this show "I'm Not Rappaport."

So I was working in the box office

and understudying the show,

And two weeks into that run, they said,

"the show is moving to Broadway,

and we're bringing everyone,

and here is your Equity card."

And that was my Broadway debut.

So I was super lucky.

Then came "Avenue Q" which was life changing.

Which you guys did together?

Yeah. On the road. Yeah, we did the tour together, yeah.

Now, one of the other things that you are so known for,

before I met you, before we did a show together,

I heard Rob McClure is, "a," the nicest guy in the business,

and "B" is such a wonderful leader backstage.

I just worked with a lot of people

who appreciate the collaborative nature of it.

And Tony Danza, actually --

when I did "Honeymoon in Vegas" with Tony Danza --

and he asked company management for a picture sheet

of every employee in the building

and memorized it before he got there,

so he could walk in and say, "Hi, Susan."

And he knew that Susan would go, "Whoa.

Tony Danza thought I was important enough

to know my name."

And just that tiny gesture can make someone's day

and immediately make someone want to spend time with you,

want to work with you, want to help you,

help each other.

So, I've worked with a lot of people

who have taught me that, you know,

that that's really valuable.

Okay, I would finish this flatbread,

but I have to go do my pre-show warmup

and having a full stomach is not ideal.

I will explain.

Okay. Let's go. Let's go.

Sorry. I'll pay on the way out.

Okay, sounds good. [ Laughs ]

Okay, so, first of all, the sun is shining.

It's beautiful. Yay, the sun came out.

Second thing,

it's a favorite part of my show --

"60 Second Sandwich." Let's do it.

As many questions as you can answer in 60 seconds.

Okay.

Ready? Yeah.

I have the clues ready. Okay.

Time...now.

Insta user Alyssa Pachulo,

"have you ever taken a prop from a show?

If so, what's your fave?"

Yes. The bendy cane from "Chaplin."

Favorite part of "Beetlejuice" to perform?

[ Grunts ]

Our death.

Tons of fans want to know, what's your dream role?

Ebenezer Scrooge.

45 seconds. Instagrammers TheRealBethRich

KraftyZestyItalianDressing -- Hey --

want to know about the difference between comedy

in "Something Rotten" versus "Beetlejuice."

Um, "Something Rotten"

is a nod to traditional musical theatre,

and "Beetlejuice" is more contemporary.

30 seconds -- Hannah Grace says,

"what's your favorite ice cream flavor?

This is important." Breyers Mint Chocolate Chip.

HahaHarrisonBryan asks for advice

on creating vocal stamina for long runs.

Drink lots of water and gets lots of sleep.

20 seconds -- Ellie Carrots --

Favorite role ever played and why?

Uh, Chaplin because of

the accountability to the real guy

and his family who came to see the show.

12 seconds -- Pita123 wants to know

your craziest on-stage mishap.

10 seconds. Nosebleed.

NicoleGrace921 -- "do you still get nervous?"

Every day.

AnnetteRayden -- "I have a problem

being in my head while I sing.

How do I let that go?"

Chill out. There are people dying.

[ Timer beeps ] Time's up!

[ Buzzer sounds ] Chill out. People are dying.

Perfect. You nailed it.

Love that. How many questions was that?

You got...10.

Yeah! Yes!

I'll take it. Fantastic.

I'll take it. Alright. Perfect.

Oh, we're going this way. Come on, back to the theatre.

Alright, good.

♪♪

Scribner: Now, you are kind of well-known

for your pre-show rituals.

Tell us about what you do before a show.

McClure: I run the seats

to get my diaphragmatic breathing going

for my singing. Gesundheit.

And it's a great warmup for your show... Yeah.

...and it gets you in the zone. Yep.

And it connects me to the room.

I love that. Alright, I'll let you go.

A13... Okay.

Get out of my way.

♪♪

The leave it kind of roomy at the Winter Garden.

[ Buzzes lips ]

♪♪

D 2468.

This was the seat that I sat in 23 years ago

to see "Cats," my first Broadway show.

Right here.

Scribner: Dreams come true.

Dreams come true!

It couldn't be more pefrfect. It's crazy.

And, so, the first time I ran the seats,

I got up here, and I was like,

"Oh, this is where I sat."

And then I had this, like, sweet idea.

I thought, "you know, I'm gonna --

I'm gonna leave a note to whoever's in D8

just saying, like, 'hey, I don't who you are

or what you dream of.

What I was dreaming of when I sat here 23 years ago

is as farfetched as whatever you might be dreaming of.'"

And that's the thing.

You know, it might be

your 400th performance of something,

but there's a family of five

who have been listening to the cast album

in Iowa,

and, uh, they've never seen it before.

Right. So it doesn't matter if it's your 400th time,

because it's been this huge event

for these people who -- you know.

So what number show is this for you?

See how the track's shaping up.

So tonight will be...

my 2,283rd or 4th.

Okay, so, they're gonna open the house up.

Yeah. They're gonna let people in

who are gonna watch you perform.

But before you do that, can we see your dressing room?

You wanna play "Punch-Out"? You know I do.

[ Blows ]

[ Laughs ]

Let's pick up those sticks.

[Bell dings ] Ah!

Wait, so you've only been here a month? Yeah.

How is it perfect already?

I like a room.

I like a room.

And I like to place an order with the universe

that we'll be here awhile.

It's so nice. This has backfired.

Many times.

You go ahead and decorate, and then...

You got the full bar just in case your show

doesn't go perfectly. Yeah, post-show booze.

Uh, my "Handbook for the Recently Deceased,"

uh, my book of dad jokes.

A lot of this stuff is actually really sentimental.

Um, that's the production

that made me want to be an actor.

And these are some of your other roles.

And these are, um, like, um, costume renderings.

And then this is, um, the, uh, set rendering

of a drop from "Mary Poppins" at The Muny.

And if you haven't noticed I'm a sentimental fool.

So does having these things in your room

make you feel just more homey

or prepared to go on stage? Just at ease.

Yeah. Just at ease.

Home. Yeah.

It just feels like home, you know.

And it feels like I'm surrounded by good.

I love you. Have a great show.

Thanks. Thanks for spending time with us.

-Are you kidding? Anytime. -Alright.

You're the best ever. Thank you. Bye, I love you.

Get it!

Bye!

♪♪

♪♪

♪♪

♪♪

♪♪

♪♪

See how the track's shaping up.