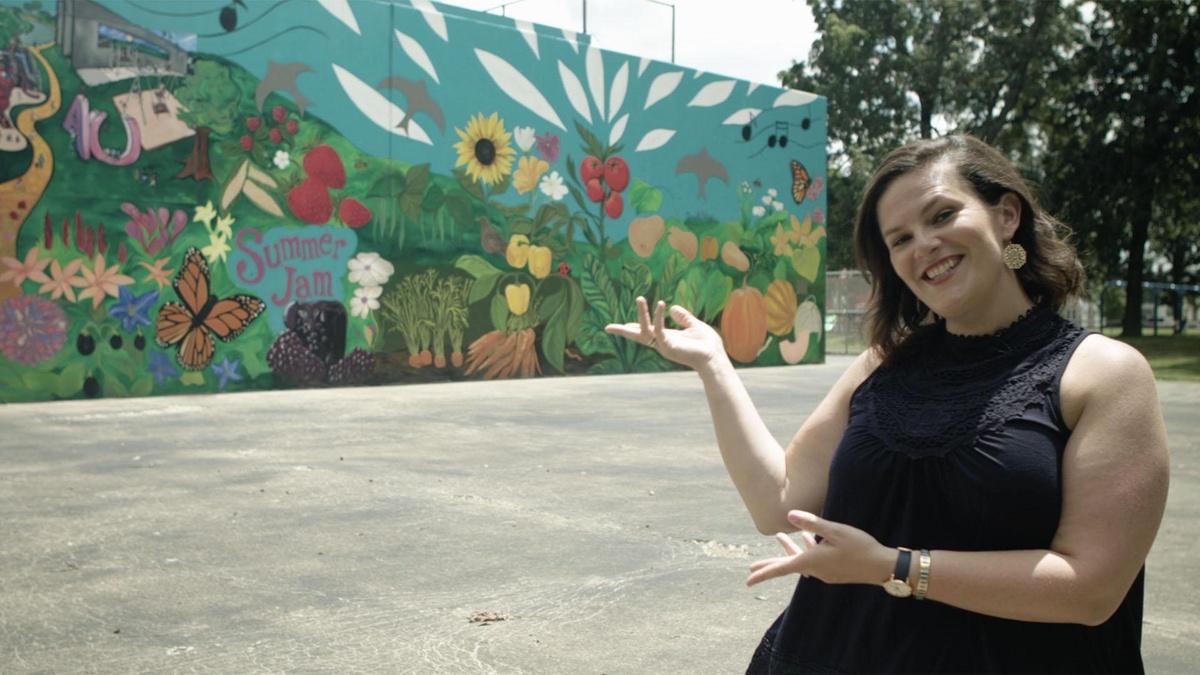 S4 E27 | FULL EPISODE
The Best of Broad & High Season 4
We've collected some of our favorite stories from Season 4 for this special episode. Discover new nature-inspired public art in Westgate Park and the Short North, satisfy your sweet tooth with a visit to Mmelo in the Arena District and explore the flourishing Central Ohio chess scene.
TRANSCRIPT

>>> PRODUCTION OF "BROAD & HIGH"

IS FUNDED IN PART BY THE

GREATER COLUMBUS ARTS COUNCIL

SUPPORTING ARTS.

ADVANCING CULTURE AND CONNECTING

THE COMMUNITY TO ARTISTS, EVENTS

AND CLASSES AT

COLUMBUSMAKESART.COM.

!!musiC@!!!musiC@!

>> THIS TIME ON "BROAD & HIGH"

!!musiC@!!!musiC@!

>> MEET SOME LOCAL ARTISTS WHO

LIKE TO WORK ON REALLY BIG

CANVASSES.

>> IT'S JUST SO LIBERATING TO

DRAW REALLY BIG ON WALLS.

>> A COLUMBUS BAKER WHIPS UP

TASTY TREATS THAT WERE ONCE

>> YOU KNOW, MARSHMALLOWS HAVE

REALLY FALLEN FROM GRACE; THEY

WERE A CONFECTION FOR KINGS.

>> AND EXPLORE THE POPULAR WORLD

OF CHESS RIGHT HERE IN

CENTRAL OHIO.

THIS AND MORE, RIGHT NOW, ON

"BROAD & HIGH."

!!musiC@!!!musiC@!

HI EVERYONE, I'M KATE QUICKEL

AND WELCOME TO "BROAD & HIGH"

SO, I'M OUT HERE AT

WESTGATE PARK IN THE HILLTOP.

THIS 46 ACRE PARK WAS

ESTABLISHED IN 1925 AND IT'S GOT

ALL THE STANDARD PARK FARE:

TENNIS COURTS, PLAYGROUNDS, A

POND, BASEBALL DIAMONDS AND EVEN

A RACQUETBALL COURT.

UNTIL RECENTLY, THE WALL THAT

ENCLOSED THE RACQUETBALL COURT

HAD BEEN AN 80 FOOT EXPANSE OF

BARE, GRAY CONCRETE, THAT WAS

CONSTANTLY BEING TAGGED WITH

GRAFFITI.

THAT IS, UNTIL SOME LOCAL

FESTIVAL ORGANIZERS CAME UP WITH

A VERY COLORFUL IDEA.

>> THIS IS DAY THREE OF THE

DRAWING PROCESS AND I IMAGINE I

HAVE ABOUT --

ONE MORE DAY OF THIS.

!!musiC@!!!musiC@!

IT'S JUST SO LIBERATING JUST TO

DRAW REALLY BIG ON WALLS.

!!musiC@!!!musiC@!

MY ART IS --

COLORFUL, CHEERFUL.

I'M HOPING TO BRING SOME --

LIGHT AND LOVE AND GOOD FEELINGS

TO, OTHERWISE ORDINARY PLACES.

>> WE'RE IN WESTGATE PARK.

WESTGATE PARK IS A 47 ARCE PARK.

IT IS THE LARGEST PARK IN THE

CITY AND IT'S IN WESTGATE

NEIGHBORHOOD ON THE

GREATER HILLTOP AREA OF

COLUMBUS, ON THE WEST SIDE.

WE'RE STANDING RIGHT NOW ON THE

WEST-FACING WALL OF THE

RACQUETBALL COURT IN THE PARK.

RIGHT IN FRONT OF

DANIELLE POLING'S FANTASTIC FOOD

GARDEN.

>> IT CAME ABOUT THROUGH

"SUMMER JAM WESTGATE" WHICH IS A

FESTIVAL THAT'S HERE EVERY

SUMMER AND IT'S AN ART AND MUSIC

FESTIVAL. THEY INVITED ARTISTS

TO APPLY AND TO SORT OF SHARE

SOME IDEAS ON WAYS TO

INCORPORATE THE EXISTING MURAL

THAT WAS UP --THAT'S UP IN THE

CORNER.

AND KIND OF EXTEND THE DESIGN

ONTO THE WHOLE WALL.

!!musiC@!!!musiC@!

AND THE THEME THAT THEY CHOSE

FOR THE YEAR WAS THE FANTASTIC

FOOD GARDEN.

>> THE WALL WAS JUST 80 FEET OF

GRAY CEMENT AND IT WAS TAGGED

ALL THE TIME.

AND SO, THIS YEAR WE'RE

PROMOTING COMMUNITY GARDENS AND

HEALTHY EATING.

BACKYARD GARDENING AND OF COURSE

YOUR POLLINATORS THAT YOU NEED

TO KEEP IT ALL GOING.

>> SO THERE'S HONEY BEES AND

MONARCHS.

ALSO, THERE'S A LITTLE BIRD IN

THERE THAT IS UNDER THE

SUNFLOWER.

THERE WAS A HUNGARIAN PARTRIDGE

THAT -- TOOK UP RESIDENCE IN

WESTGATE PARK.

AND SO WHEN I WAS PAINTING THE

DESIGN I -- YOU KNOW --JUST WAS

LOOKING AT WALKING AROUND.

IT LOOKS LIKE A CHICKEN OR

SOMETHING, AND SO I THOUGHT,

"WOW!

I'M GONNA PUT HIM OR HER IN THE

MURAL."

!!musiC@!!!musiC@!

!!musiC@!!!musiC@!

>> WE'RE INVITING ANY CHILD IN

THE -- ON THE HILLTOP AREA TO

COME OUT HERE WITH THEIR PARENTS

AND WE'LL HAVE THEIR HANDS

PAINTED AND DANIELLE WILL PRESS

THEIR HANDS INTO THE PETALS OF

THE BEAUTIFUL FLOWERS THAT SHE

HAS PAINTED OVER THERE.

SO THAT ALL OF A SUDDEN THE

MURAL BECOMES PART OF ALL THE

FAMILIES ON THE HILLTOP.

IT BECOMES THEIR MURAL.

IT BECOMES SOMETHING THAT THEY

GET TO TAKE OWNERSHIP IN.

AND IT'LL BE THERE FOR THEIR

LIFETIME, HOPEFULLY.

WE HAVE A SPECIAL ANTI-GRAFFITI

COATING AND IT GETS ROLLED ON

OVERTOP SO IF ANYONE TAGS IT OR

SPRAY PAINTS IT, IT'S A SIMPLE

SOAP AND WATER, SOFT BRUSH AND

POWER WASHER AND IT'S GONE.

>> YESTERDAY, I HEARD -- A

GRANDFATHER AND HIS

GRANDCHILDREN WALKING PASSED AND

HE SAID, "GO STAND BY THE MURAL

I WANT TO TAKE YOUR PICTURE."

AND I THINK PUBLIC ART HAS THAT

ABILITY TO BRING PEOPLE

TOGETHER --

TO NOT JUST MAKE THE MURAL BUT

TO ENJOY IT AND TO FIND A SENSE

OF PLACE.

>> WE'RE SO VOID OF SO MUCH

PUBLIC ART UP HERE ON THE

HILLTOP AND WE JUST WANT TO

BRING IT OUT THERE FOR

EVERYBODY.

!!musiC@!!!musiC@!

>>> YOU CAN SEE MORE OF

DANIELLE'S WORK BY FOLLOWING HER

ON FACEBOOK, TWITTER AND

INSTAGRAM.

SHE RECENTLY PAINTED HER

BACKYARD FENCE AND IT'S PRETTY

RAD.

!!musiC@!!!musiC@!

!!musiC@!!!musiC@!

WITH DOZENS OF ART GALLERIES AND

EXHIBIT SPACES, IT'S NO SURPRISE

THAT THE SHORT NORTH HAS

BLOSSOMED INTO ONE OF THE

PREMIERE ARTS DISTRICTS OF

CENTRAL OHIO.

BUT WITH ITS NARROW SIDEWALKS

AND TIGHTLY PACKED

INFRASTRUCTURE, THERE'S NOT

NECESSARILY A LOT OF ROOM FOR

PUBLIC ART INSTALLATIONS.

SO, IF YOU WANT TO SPY OUTDOOR

ART IN UNEXPECTED PLACES, DON'T

FORGET TO LOOK UP.

!!musiC@!!!musiC@!

>>> THIS IS AN INTERESTING

PROJECT 'CAUSE IT STARTED LAST

YEAR AND NOW IT'S COMING FULL

CIRCLE.

!!musiC@!!!musiC@!

SO, WE'RE ON THE CORNER OF

HIGH STREET AND 5th AVENUE ON

THE EASTSIDE IN THE HEART OF THE

SHORT NORTH, OR THE NORTHERN

PART OF THE SHORT NORTH.

>> WE'RE MOCKING UP OUR PUBLIC

ART PIECE THAT WILL BE INSTALLED

THIS SPRING.

THESE WHITE PAPERS WILL

EVENTUALLY BE CARVED BRICK, BUT

RIGHT NOW, WE'RE JUST MAKING

SURE THAT ALL OF THE ELEMENTS

LINE UP AND THEY LOOK GOOD IN

REAL LIFE ON THE WALL.

!!musiC@!!!musiC@!

>> THE IDEA BEHIND

"THE MESSENGER WALL" IS TO HONOR

PEOPLE WHO HAVE BEEN KEY

MESSENGERS IN OUR COMMUNITY.

AND THEN WE ALSO WANTED TO PAY

HOMAGE TO A FORMER DIRECTOR OF

OUR ORGANIZATION WHO WORKED

TIRELESSLY TO DO SO MUCH GOOD

HERE.

AND THE NAME FOR THE WALL

ACTUALLY COMES FROM HIM.

HIS NAME WAS JOHN ANGELO.

>> IT ALSO SO HAPPENS THAT HIS

LAST NAME MEANS "ANGEL" OR

"MESSENGER" IN ITALIAN.

SO, HIS NAME IS TIED INTO IT,

BUT THEN THE NOTION OF A

COMMUNITY MESSENGER IS REALLY

WHAT THEY'RE TRYING TO GET

ACROSS WHICH IS SOMEONE WHO

BRINGS --

ACTIVELY BRINGS PEOPLE INTO THE

CIRCLE TO WORK TOGETHER TO MAKE

WHICH EVER COMMUNITY THEY'RE

PART OF BETTER AND STRONGER

BECAUSE WE'RE ALL TOGETHER IN

IT.

SO, I STARTED THINKING OF HOW TO

CONVEY MESSAGES -- MESSAGE IN A

BOTTLE, MESSENGER PIGEON.

SO, WHAT JEN CAME UP WITH WAS

SORT OF AN ABSTRACT DESIGN THAT

MIGHT LOOK LIKE THE WAY THE WIND

BLOWS OR THE WAY A BIRD MIGHT

FLY THROUGH THE AIR IF THEY FLAP

THEIR WINGS.

AND THEN THIS COMPOSITION

CARRIES THROUGHOUT FOUR PANELS,

AND THESE PANELS ARE BEING

INSTALLED INTO OLD WINDOW SILLS.

!!musiC@!!!musiC@!

THIS PROJECT COULDN'T HAVE BEEN

DONE WITHOUT THE HELP OF MY

AWESOME STUDIO ASSISTANT,

BROOK SLABODIA.

!!musiC@!!!musiC@!

SO, WE TOOK JEN'S DRAWING AND WE

PUT IT ONTO PAPER AND THEN WE

PUT THAT PAPER ONTO THESE WET

BRICKS THAT WE HAD STACKED IN

THE WALL PATTERN.

AND THEN TRACED THROUGH THE

PAPER TO GET THE MARKINGS ON

THERE AND THEN CARVED THE RELIEF

PATTERN OUT OF THERE.

AND NOW I'M USING THE BACK END

OF A SHARPIE MARKER TO TRACE

THROUGH THE PAPER AND TRYING TO

MAKE SURE I GET ENOUGH PRESSURE

THAT I AM INDENTING THE WET CLAY

BRICKS UNDERNEATH.

AND THEN WE'LL PEEL OFF THE

PAPER FOR THE -- WE'LL CALL IT

"MEDIUM REVEAL."

LET'S GO AT IT.

THESE BRICKS ARE -- THEY'RE

ABOUT EIGHT POUNDS EACH WHICH IS

PRETTY CRAZY, SO THAT THE BIG

PANEL HAS 350 BRICKS OR SO.

I WAS ACTUALLY WORRIED WHEN WE

STACKED THEM AS TALL AS WE

DID -- THAT THE ONES ON THE

BOTTOM -- 'CAUSE THEY'RE WET.

I WASN'T SURE IF THEY WERE GONNA

START SMUSHIN'.

[ LAUGHTER ]

BUT IT DIDN'T.

IT DIDN'T HAPPEN.

WE HAVE 652 BRICKS IN THE PANELS

AND THEN WE HAVE

26 PRESSED BIRDS.

!!musiC@!!!musiC@!

!!musiC@!!!musiC@!

IF THE CLAY IS A LITTLE BIT

WETTER ON THE SIDE THAT'S

TOUCHING THE PLASTER, WE'LL GET

A SMOOTHER SURFACE LIKE THAT.

AND WHERE IT'S A LITTLE BIT

DRYER, IT'S A LITTLE MORE

CRUMBLY.

BUT DARE I SAY THIS IS EXACTLY

WHAT WE WERE GOING FOR.

!!musiC@!!!musiC@!

ALL RIGHT.

SO, WE'LL UNLOAD THE KILN NOW.

WE FIRED THE BRICKS AND YOU SAW

THE BRICK CLAY AS THAT GREEN

COLOR.

IT'S LIKE A FOREST GREEN COLOR

WHEN IT GOES IN THE KILN.

AND BECAUSE OF THE IRON IN THE

SHALE, IT TURNS FROM GREEN TO

THE RED COLOR.

SO EVERY BRICK IS MARKED ON THE

BACK SO THAT WE CAN INSTALL THEM

IN ORDER.

I CAN'T WAIT TO SEE THESE UP ON

THE WALL.

!!musiC@!!!musiC@!

>> IN TAKING A LOOK AT THE

NEIGHBORHOOD AND SEEING WHERE WE

COULD HELP REDEFINE SOME SPACES

WITH ART AND CREATIVITY, ONE OF

THE PLACES THAT EMERGED TO US

WAS 5th AVENUE.

BECAUSE IN MANY WAYS, IT'S THIS

GATEWAY INTO THE NEIGHBORHOOD.

>> IT'S NOT, YOU KNOW, THE SHINY

BOUTIQUE PART.

IT'S THE REAL PART WHERE REAL

PEOPLE WALK AROUND AND I THINK

THAT'S REALLY COOL TO BE PART OF

THEIR EVERY DAY.

>> PUBLIC ART IS NEEDED,

ESPECIALLY IN A PLACE LIKE

5th AND HIGH, SO IT'S NICE TO BE

A PART OF THE BEAUTIFICATION.

BUT IT'S ALSO IMPORTANT TO

REMEMBER WHERE COMMUNITY COMES

FROM AND WHO THE PEOPLE ARE

LIVING IN THAT COMMUNITY.

>> IT REALLY IS PART OF OUR

MISSION TO HELP REDEFINE THESE

SPACES IN BIG, CREATIVE WAYS

WITH ART THAT IS LASTING.

>> AS A HIGH SCHOOL ART TEACHER,

YOU'RE SO MUCH DOING DAY-TO-DAY

SOLVING PROBLEMS ON SMALLER

SCALE, I'D NEVER THOUGHT LIKE I

WOULD DO SOMETHING SO BIG, AND

FOR SURE, NOT SOMETHING SO

PERMANENT.

>> IT'S REALLY KIND OF HARD TO

WRAP MY MIND AROUND GRADUATING

FROM OHIO STATE AND PUTTING A

SIGNIFICANT PIECE OF PERMANENT

ARTWORK ON THE CORNER OF

5th AND HIGH WHICH IS THE, YOU

KNOW, BEGINNING OF THE ARTS

DISTRICT IN THE CAPITAL CITY

THAT I LOVE.

!!musiC@!!!musiC@!

>>> EXAMINE THE "MESSENGER WALL"

UP CLOSE DURING THE SHORT NORTH

GALLERY HOP, HELD ON THE FIRST

SATURDAY OF EVERY MONTH.

VISIT SHORTNORTH.ORG FOR DETAILS

AND TO DISCOVER EVEN MORE THINGS

TO SEE AND DO IN THIS VIBRANT

ARTS DISTRICT.

>>> RIGHT NOW, I'M IN THE

SWEETEST SPOT IN TOWN.

THIS IS MMELO, LOCATED IN THE

SHORT NORTH.

IT'S A BOUTIQUE CONFECTIONARY

WHERE COLUMBUS NATIVE

MICHELLE ALLEN MAKES AMAZING

MARSHMALLOW TREATS, PASTRIES AND

HANDMADE CHOCOLATES.

NOW, I'M GONNA TREAT MYSELF SO

YOU GUYS GO WATCH THIS SEGMENT

BECAUSE I THINK I NEED TO BE

ALONE RIGHT NOW.

!!musiC@!!!musiC@!

>>> WE ARE IN MY NEW CAFE.

MY CONFECTIONARY CAFE -- MMELO

BOUTIQUE CONFECTIONS.

M-M-E-L-O, WHICH FUNNILY ENOUGH

CAME OUT OF A SOUND THAT MY

HUSBAND WOULD HEAR, BECAUSE I

STARTED KIND OF DOING THIS IN

SPAIN.

AND MY HUSBAND-- PEOPLE WOULD

TRY MY FOOD, AND PEOPLE WOULD GO

"MMM."

AND IT JUST KIND OF GREW OUT OF

THAT SOUND.

SO YEAH, THAT'S WHERE MMELO

COMES FROM.

YOU KNOW, MARSHMALLOWS HAVE

REALLY FALLEN FROM GRACE.

THEY WERE A CONFECTION FOR

KINGS.

AND THE REASON FOR THAT IS YOU

CAN DO SO MANY THINGS WITH THE

FLAVOR AND THE TEXTURE AND, YOU

KNOW, YOU RAISE IT A FEW DEGREES

AND YOU GET LIKE THIS -- A

SWEDISH MARSHMALLOW, WHICH IS A

BIT RUBBERY.

AND THAT'S HOW THEY LIKE IT.

OR, YOU KNOW, YOU ADD A BIT OF

EGG WHITE TO IT AND IT'S ALMOST

LIKE A FOAM.

THE FRENCH CALL THAT A GUIMAUVE.

SO, THAT'S ONE OF THE REASONS

I'M KIND OF PUSHING THE VIRTUES

OF MARSHMALLOWS.

WE ARE ON THE CLOCK NOW.

I GREW UP JUST OFF OF

LIVINGSTON AVENUE AND THE

SOUTH-EAST SIDE, AND WENT TO

OHIO STATE.

AND WAS JUST CHOMPING AT THE BIT

TO GET OUT OF TOWN.

I TRAVELLED ALL OVER THE WORLD,

AND A LOT OF THAT TRAVEL

ACTUALLY ENDED UP INFORMING THE

RECIPES I DESIGN NOW.

IN SEPTEMBER OF 2015, I QUICKLY

CAME BACK TO THE UNITED STATES,

INCORPORATED MMELO, CONTACTED A

CONTACT THAT I HAD OVER AT

EASTON OWNERSHIP.

THEY GAVE ME THIS

CREME DE LA CREME SPOT ON THE

STRAND.

I HAD LOUIS VITTON ACROSS THE

STREET AND APPLE ONE SIDE OR

MICHAEL KORS ON THE OTHER.

IT WAS MAD.

THAT WOULD NEVER IN A MILLION

YEARS HAPPEN IN EUROPE.

I WAS THERE FOR EIGHT WEEKS.

BASED ON THE STRENGTH OF THAT, I

GOT CORPORATE CLIENTS.

I GOT -- I FOUND THE FUNDING FOR

MY BUSINESS.

I WOULD NEVER HAVE GOTTEN THIS

FAR IN SPAIN.

EVER.

PART OF THE -- PART OF THE

RESEARCH THAT I'VE DONE IN FOOD

IS REALLY TRYING TO MAKE SURE

THAT I AND MY TEAM REALLY

UNDERSTAND WHY YOU MAKE THE

INGREDIENT CHOICE THAT YOU MAKE

AND HOW THAT BASICALLY INTERACTS

WITH THE HUMAN BODY.

THAT, IN ADDITION TO THE

COMMITMENT TO USING AND

DESIGNING ALL THE RECIPES AROUND

REAL FOOD, WHOLE FOOD

INGREDIENTS, NOT USING

UBER-REFINED FLOURS, NOT USING

UBER-REFINED SUGARS, NOT USING

ARTIFICIAL FLAVORS OR

SWEETENERS.

ALL THAT SORT OF STUFF THAT WE

NOW KNOW WE SHOULDN'T REALLY

CONSUME.

YOU KNOW, PEOPLE ASK ME ALL THE

TIME -- CAN YOU DO A SUGAR-FREE

TREAT?

AND MY RESPONSE TO THAT IS, I

WOULD LOVE TO, BUT THERE ISN'T A

NATURAL WAY TO DO THAT.

WE CAN DO LOW-GLYCEMIC, BUT WE

CAN'T DO SUGAR FREE.

I'M NOT TRYING TO SAY THAT MMELO

IS HEALTH FOOD, BUT IT IS FOOD.

IT IS NOT JUNK.

IT IS NOT MADE WITH JUNKY

INGREDIENTS.

THERE'S THOUGHT BEHIND THE WAY

THAT IT WAS BUILT AND

CONSTRUCTED.

A LOT OF PEOPLE HERE IN COLUMBUS

HAVE DONE SOME AMAZING WORK IN

TERMS OF CREATING THE FOOD

LANDSCAPE HERE IN COLUMBUS.

IT'S SO IMPRESSIVE, AND I'M SO

PROUD OF MY HOMETOWN.

AND I REALLY HOPE THAT MMELO CAN

CONTRIBUTE TO THAT IN A REALLY

POSITIVE WAY.

>> FOLLOW MMELO ON INSTAGRAM, OR

BETTER YET, POP INTO THEIR

STOREFRONT TO SAMPLE SOME OF

THEIR BEAUTIFUL AND TASTY

TREATS, AND REALLY GOOD COFFEE.

YOU CAN FIND THEM IN THE

SHORT NORTH, NESTLED BETWEEN THE

NORTH MARKET AND THE

CONVENTION CENTER.

!!musiC@!!!musiC@!

!!musiC@!!!musiC@!

>> THIS IS THE SCIOTO MILE.

IF YOU HAVEN'T BEEN DOWN HERE

YET, YOU ARE DEFINITELY MISSING

OUT.

THE DOWNTOWN RIVERFRONT WAS

RECENTLY REVITALIZED AND

TRANSFORMED INTO AN URBAN OASIS,

OF LUSH GREEN PARKS, PAVED

TRAILS AND KAYAKERS.

AND THERE ARE PLENTY OF PLACES

ALONG THE WAY TO STOP AND TAKE

IN THE VIEW --

OR PERHAPS A GAME OF CHESS.

BECAUSE MUCH LIKE THIS DOWNTOWN

RIVERFRONT, THE COLUMBUS CHESS

SCENE IS FLOURISHING.

SO YOU SHOULD PROBABLY --

CHECK' IT OUT.

!!musiC@!!!musiC@!

!!musiC@!!!musiC@!

!!musiC@!!!musiC@!

!!musiC@!!!musiC@!

!!musiC@!!!musiC@!

>>> THIS IS A KNIGHT.

IT HAS THE ABILITY TO DELIVER

CHECKMATE ALL BY ITSELF.

THE KNIGHT IS AN INTERESTING

PIECE BECAUSE IT HAS THE ABILITY

TO MOVE IN "L"-SHAPES.

ONE UP -- TWO OVER.

IT ALSO HAS THE ABILITY TO JUMP

OVER A PIECE.

ONE OVER -- TWO DOWN.

AND BECAUSE IT CAN MOVE IN

"L"-SHAPES IT CAN GO ONE DOWN

AND TWO OVER AND CAPTURE THIS

PAWN.

>> I AM A MATH TEACHER.

I TEACH IN THE UPPER SCHOOLS SO

GEOMETRY, STATISTICS, ALGEBRA

II.

AND I'M ALSO THE CHESS COACH

HERE.

OUR CLUB MEETS EVERY DAY AT

LUNCH AND SO I PUT OUT THE CHESS

BOARDS AND MOST DAYS THE

STUDENTS JUST CAN GO AND PLAY

EACH OTHER.

AS A COACH IT'S IMPORTANT TO

KIND OF COVER THINGS THAT

THEY'RE GOING TO SEE IN

TOURNAMENTS.

OR JUST GENERAL IDEAS.

SO TODAY WE'RE GOING TO WORK ON

THE ENDGAME.

BUT THERE'S ALSO TIMES LIKE WHEN

WE'RE PREPARING FOR TOURNAMENTS

WE'LL ALL PLAY A TACTIC OR LIKE

KIND OF LIKE A CHESS PUZZLE ON

THE BOARD AND THEN -- THEY'RE

GOING TO HAVE TO FIGURE OUT WHAT

THE NEXT BEST DEFENSIVE MOVES

ARE.

WHETHER THAT'S THAT THEY'RE

GOING TO WIN A PIECE OR GET

CHECKMATE.

AND REALLY DOING TACTICS HELPS

YOU SEE AND -- ARE ABLE TO PLAN

AHEAD MORE AND TO COME UP WITH A

BETTER STRATEGY.

SO HE WAS THERE, HERE AND MAKES

YOU GO HERE.

OKAY LET'S TRY THAT.

TODAY, I HAVE A POSITION FROM

THE US CHESS CHAMPIONSHIPS WHICH

WENT ON THIS PAST COUPLE WEEKS.

AND SO THE BEST PLAYERS FROM THE

UNITED STATES PLAYED AND SO YOU

COULD GO ONLINE AND, LIKE, WATCH

THEIR GAMES.

I FOUND A POSITION -- AN ENDGAME

POSITION, WHERE IT WAS A DRAW

BUT I WANT TO SEE IF ONE OF THEM

CAN PULL OUT A WIN OR IF IT WILL

BE A DRAW.

SO I'M GONNA SET IT UP FOR THEM

AND THEN I'M GONNA HAVE THEM

PLAY EACH OTHER.

!!musiC@!!!musiC@!

!!musiC@!!!musiC@!

>> THIS IS A ROOK.

ORIGINALLY IT WAS NAMED A CASTLE

BECAUSE IT'S SUCH A STRONG

PIECE.

A ROOK IS A VERY STRONG PIECE

BECAUSE IT HAS THE ABILITY TO

MOVE ALL THE WAY ACROSS THE

BOARD WHETHER IT BE VERTICALLY

OR HORIZONTALLY.

AND IT CAN ALSO MOVE JUST ONE

SQUARE OR TWO SQUARES.

IT CAN'T MOVE HOWEVER TO THIS

SQUARE BECAUSE IT'S NOT ALLOWED

TO JUMP OVER A PIECE.

WHETHER THAT BE YOUR OWN PIECE

OR YOUR OPPONENT'S PIECE.

HOWEVER IT'S CERTAINLY POSSIBLE

THAT IT COULD MOVE TO THIS

SQUARE AND TAKE THE PAWN.

SO THIS IS CHESS IN THE PARK RUN

BY LOU FRISCOE WHO ORGANIZES

CENTRAL CHESS CLUB.

AND I'VE BEEN A PART OF THIS

CLUB NOW FOR OVER THREE YEARS.

I MOVED HERE FROM MANHATTAN

WHICH ALSO HAS GREAT CHESS.

AND SO WHAT WE'RE DOING HERE

TODAY IS AN OPEN TOURNAMENT.

ANYONE IS ALLOWED TO COME AND

PLAY AS LONG AS YOU HAVE

UNITED STATES CHESS FEDERATION

IDENTIFICATION.

AND YOU CAN JUST SET UP YOUR

TABLES, YOUR BOARDS, YOUR CLOCKS

AND YOU KNOW THE RULES.

AND THEN YOU GET TO PLAY ANYBODY

YOU WANT AND IF YOU'RE LUCKY

IT'S YOUR DAY.

YOU WIN THE PRIZE AND YOU WALK

HOME WITH $100.

WELL, I STARTED WHEN I WAS JUST

A LITTLE KID.

AND I LIKE TO TELL PEOPLE THAT

IN SOME SENSE I'M ALREADY BETTER

THAN BOBBY FISCHER BECAUSE HE

LEARNED TO PLAY CHESS WHEN HE

WAS SIX BUT I LEARNED HOW TO

PLAY WHEN I WAS FIVE.

THE THING THAT MAKES US SIMILAR

IS THAT WE BOTH TAUGHT

OURSELVES.

AND SO AFTER THAT I PLAYED ALL

THROUGH LIFE AND NOW, A FEW

DECADES LATER, I'M STILL PLAYING

HERE IN COLUMBUS.

I THINK COLUMBUS CHESS IS JUST

OUTSTANDING.

BECAUSE FOR A MEDIUM-SIZED CITY

THAT WE'VE GOT HERE, YOU CAN GO

TO THE PARK AND PLAY CHESS, YOU

CAN GO TO CHESS CAMPS WITH TONS

OF KIDS AND ADULTS PLAYING

CHESS.

AND THEN YOU'VE GOT A WHOLE

NETWORK OF COACHES THAT ARE

WILLING TO GIVE PRIVATE LESSONS

AS WELL AS CLUBS IN THE AREA.

BECAUSE YOU KNOW COLUMBUS IS,

LIKE, SORT -- KIND OF SPRAWLING

METROPOLIS.

SO THE CHESS CLUBS ARE ALL OVER

THE PLACE IN COLUMBUS.

NOT ONLY IN THE CITY PROPER BUT

ALSO ON THE OUTER BELT.

THIS IS THE QUEEN.

IT'S THE MOST POWERFUL PIECE ON

THE BOARD AND IF YOU SACRIFICE

IT AT JUST THE RIGHT TIME IT CAN

OFTEN BE THE KEY TO YOUR

SUCCESS.

THE QUEEN IS PERHAPS THE

STRONGEST PIECE ON THE BOARD

BECAUSE IT HAS THE ABILITY TO

MOVE AS MANY SQUARES AS IT

LIKES -- VERTICALLY OR

HORIZONTALLY.

BUT ALSO DIAGONALLY.

>> ONE OTHER THING IS YOU'RE

GOING TO PLAY WITH CLOCKS.

EACH PERSON GETS TEN MINUTES

WITH A FIVE SECOND DELAY.

WHEN I FIRST STARTED TEACHING AT

WELLINGTON I BROUGHT SOME KIDS

OVER TO ONE OF THE TOURNAMENTS

AND ONE OF THE SECTION MONITORS

WAS MY OLD FRIEND FROM MIDDLE

SCHOOL WHO I HAD KNOWN PLAYING

CHESS.

AND SO WE TALKED FOR ABOUT AN

HOUR BOTH SAYING THAT WE WANTED

CHESS TO BE MORE WIDESPREAD

THROUGHOUT COLUMBUS.

AND WE STARTED A NONPROFIT --

WHOSE MISSION IS TO GET STUDENTS

INNER-CITY SCHOOLS -- TO PLAY

CHESS.

>> SO WE'RE AT THE

BOYS AND GIRLS CLUB.

WE HAD DONE A PARTNERSHIP WITH

THEM THROUGH UNITED WAYS

NEIGHBORHOOD PARTNERSHIP GRANT.

MAKING IT POSSIBLE FOR ALL THESE

KIDS TO PARTICIPATE FOR FREE.

SO WE HAVE KIDS FROM THE

BOYS AND GIRLS CLUB AND SOME

KIDS FROM OUTSIDE THE

BOYS AND GIRLS CLUB THAT ARE

HERE PARTICIPATING -- IN OUR

CHESS CAMP.

OUR WEEKLONG SUMMER CHESS CAMP

AND WE'RE GLAD TO HAVE THEM

HERE.

>> OKAY, WHAT DO YOU DO AT THE

BEGINNING OF EVERY GAME?

>> SHAKE YOUR HANDS.

>> YOU SHAKE YOUR OPPONENT'S

HANDS.

SO, EVERYBODY SHAKE HANDS.

>> I THINK ONE OF THE

MISCONCEPTIONS IS THAT -- THAT

I'VE HEARD AT LEAST AND, LIKE,

FROM STUDENTS, YOU KNOW.

LIKE, OH I'M, LIKE, NOT SMART

ENOUGH TO PLAY CHESS.

AND I THINK THAT IS A TOTAL

MISCONCEPTION, I THINK.

ANYBODY WHO IS INTERESTED IN THE

GAME CAN PICK IT UP.

AND JUST LIKE ANYTHING ELSE IN

LIFE THE MORE YOU STUDY AND THE

MORE YOU DO IT, THE BETTER YOU

GET.

>> EDUCATIONALLY SPEAKING,

PARENTS WANT THEIR KIDS TO BE

CRITICAL THINKERS.

TEACHERS WANT IT.

OUR COMMUNITY WANTS IT.

SO CHESS FORCES YOU TO

CRITICALLY THINK.

THINK BEFORE YOU MOVE.

EACH MOVE HAS A POSITIVE AND

NEGATIVE CONSEQUENCE LIKE IN

LIFE.

EACH LIFE DECISION HAS A

POSITIVE AND NEGATIVE

CONSEQUENCE.

WE WANT TO GROW THEM INTO

LEADERS USING THOSE SAME

PRINCIPLES IN LEADERSHIP AND

OTHER -- WHEREVER THEY WANT TO

GO.

CHESS -- THE POWER OF CHESS CAN

DO THAT FOR CHILDREN.

>>> THAT'S OUR SHOW!

BE SURE TO CHECK OUT ALL OF OUR

STORIES AT WOSU.ORG AS WELL AS

ON THE WOSU PUBLIC MEDIA MOBILE

APP.

AND GIVE US A FOLLOW ON

FACEBOOK, TWITTER AND INSTAGRAM.

WE'RE TAKING YOU OUT TODAY WITH

LOCAL MUSIC BY THE MOVING PARTS.

THIS TRACK IS OFF THEIR 2010 CD

TITLED "STATE LINES."

THANKS FOR WATCHING!

BE SURE TO JOIN US EVERY

THURSDAY EVENING AS WE EXPLORE

THE CREATIVE SIDE OF COLUMBUS.

!!musiC@! I WOULDN'T LIE

TO YOU MY FRIEND

I WON'T GO BACK !!musiC@!

!!musiC@! TO NEW YORK AGAIN

!!musiC@!!!musiC@!

>>> PRODUCTION OF "BROAD & HIGH"

IS FUNDED IN PART BY THE GREATER

COLUMBUS ARTS COUNCIL,

SUPPORTING ARTS, ADVANCING

CULTURE AND CONNECTING THE

COMMUNITY TO ARTISTS, EVENTS AND

CLASSES AT COLUMBUSMAKESART.COM.