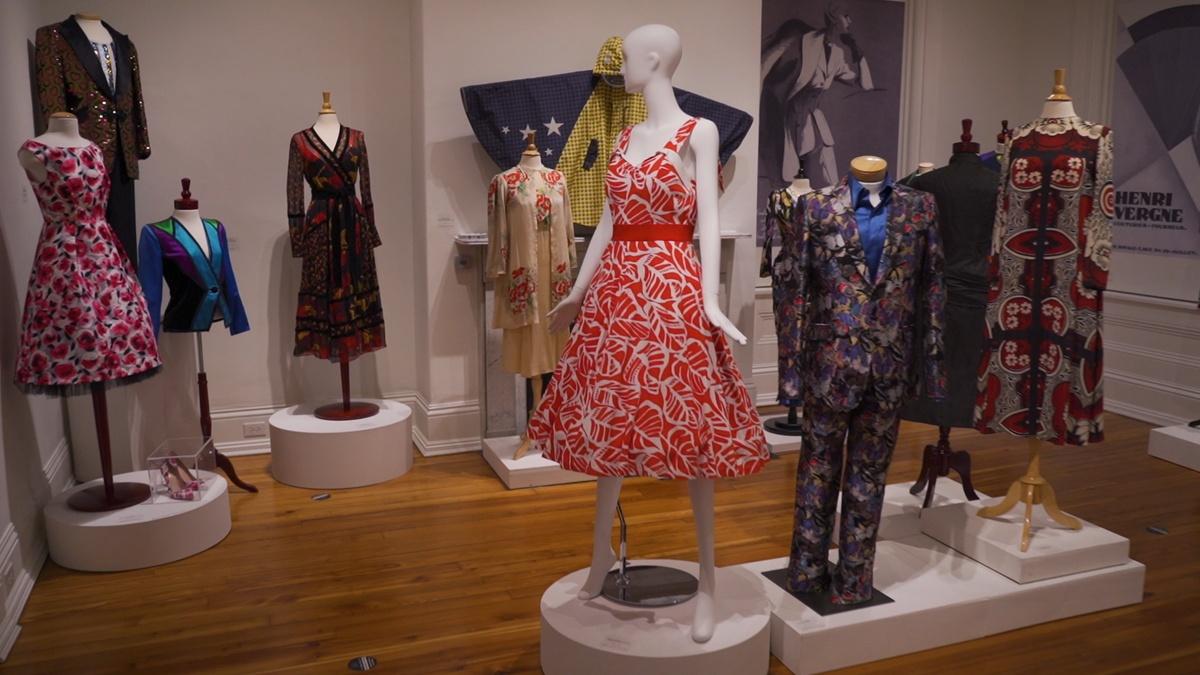 S8 E26 | FULL EPISODE
Paramount Costume Collection, Native American Beadwork
Costumes from Paramount Pictures are in the spotlight at the Decorative Arts Center of Ohio. The incredible, intricate bead work of a Native American artist. And there's no business like "shoe" business when it comes to creating historically accurate footwear.
TRANSCRIPT

!!musiC@!!!musiC@!

>> PRODUCTION OF

"BROAD AND HIGH" IS FUNDED IN

PART BY THE GREATER COLUMBUS

ARTS COUNCIL.

SUPPORTING ARTS, ADVANCING

CULTURE AND CONNECTING THE

COMMUNITY TO ARTISTS, EVENTS AND

CLASSES AT COLUMBUSMAKESART.COM.

>> FROM THESE CONTRIBUTING

SPONSORS -- AND VIEWERS LIKE

YOU.

THANK YOU.

!!musiC@!!!musiC@!

>> THIS TIME ON

"BROAD AND HIGH" --

COSTUMES FROM PARAMOUNT PICTURES

ARE READY FOR THEIR CLOSE-UP AT

THE DECORATIVE ARTS CENTER

OF OHIO.

>> AND THE MOTION PICTURE

INDUSTRY REALLY IS A GREAT

AMERICAN ART.

AND THE COSTUMES ARE PART OF

THAT ART.

>> THE INCREDIBLE, INTRICATE

BEADWORK OF A NATIVE AMERICAN

ARTIST, AND THERE'S NO BUSINESS

LIKE SHOE BUSINESS WHEN YOU'RE

CREATING HISTORICALLY ACCURATE

FOOT WARE.

THIS AND MORE, RIGHT NOW -- ON

"BROAD AND HIGH."

!!musiC@!!!musiC@!

!!musiC@!!!musiC@!

>> WELCOME TO "BROAD AND HIGH."

I'M YOUR HOST, KATE QUICKEL.

HOLLYWOOD HAS ALWAYS BEEN A

MAJOR INFLUENCER IN

AMERICAN FASHION.

AND PARAMOUNT PICTURES HAS BEEN

AT THE FOREFRONT OF DEFINING

STYLE IN MOTION PICTURES AND

TELEVISION.

A NEW EXHIBIT AT THE DECORATIVE

ARTS CENTER OF OHIO CELEBRATES

STUDIO CREATED COSTUMES AS WELL

AS PURCHASED GARMENTS USED ON

CAMERA.

LET'S GO TO LANCASTER, AND TAKE

A LOOK.

!!musiC@!!!musiC@!

!!musiC@!!!musiC@!

>> THIS COLLECTION IS SOMETHING

I'VE NEVER PUT TOGETHER BEFORE.

!!musiC@!!!musiC@!

THERE'S 75 COSTUMES IN THIS

PIECE, AND IT IS BASICALLY A

SHOWCASE FOR COSTUMES THAT WERE

PURCHASED AND USED ON CAMERA AND

COSTUMES THAT WERE CREATED IN A

WORK ROOM.

AND A LOT OF TIMES -- MUSEUMS,

THEY DON'T EXHIBIT COSTUMES THAT

ARE PURCHASED, BUT I THINK

THEY'RE JUST AS IMPORTANT AS

TO -- THE DESIGNERS SENSE OF

STYLE AND WHAT THEY WANTED TO

CHOOSE TO REPRESENT THE ACTOR OR

REPRESENT THE CHARACTER IN THE

FILM OR TELEVISION SHOW.

BECAUSE WE DO HAVE TELEVISION

PIECES HERE.

!!musiC@!!!musiC@!

THIS GALLERY HAS ALL OF OUR

BLACK MOTIFS.

SO, WHEN YOU FIRST STEP IN HERE

WE HAVE JOAN COLLINS, FROM

"DYNASTY."

THIS WAS ONE OF THE FESTIVAL

COSTUMES THAT SHE WORE AS

QUEEN ELIZABETH.

IT IS A BIT TALLER THAN

JOAN COLLINS, BUT YOU STILL GET

THE DRAMA.

WHAT I LOVE ABOUT THIS IS ALL OF

THESE PEARLS ARE HAND SEWN ON.

THIS IS NOT FABRIC THAT WAS

ALREADY MADE.

ALL HAND SEWN.

!!musiC@!!!musiC@!

COSTUMES ARE THE CLOSEST THING

THE MOVIE GOING PUBLIC IS GOING

TO COME TO THEIR FAVORITE STAR,

FOR ONE THING.

IT'S ALSO AMERICANA.

IT'S FEMORA.

I MEAN, THE MOTION PICTURE

INDUSTRY REALLY IS A GREAT

AMERICAN ART, AND THE COSTUMES

ARE PART OF THAT ART, AND THE

COSTUMES ARE TANGIBLE.

PUBLIC REALLY -- JUST HAS THIS

GREAT CONNECTION.

COSTUMES DRAW PEOPLE IN.

I -- CAN'T EXPLAIN IT 100% BUT

THAT'S WHY THE PARAMOUNT

COLLECTION WE'RE VERY PROUD OF

KEEPING EVERYTHING VERY PRISTINE

IN THE ARCHIVE, AND WE HAVE A

VERY GOOD REPUTATION WITH

MUSEUMS ALL OVER THE WORLD.

!!musiC@!!!musiC@!

!!musiC@!!!musiC@!

>> THIS GALLERY IS WHERE WE HAVE

OUR SOLIDS.

THIS DRESS WAS DESIGNED BY

NAEEM KAHN, AND WAS WORN BY

BEYONCE IN THE FILM,

"DREAMGIRLS."

THE COSTUME DESIGNER FOR

"DREAMGIRLS" WAS SHAREN DAVIS,

AND SHAREN DID A REMARKABLE JOB

ON THE COSTUMES.

BUT THIS DRESS WAS WORN IN THE

VERY FINAL SCENES OF THE FILM.

!!musiC@!!!musiC@!

THIS EXHIBIT TOOK ME

APPROXIMATELY A YEAR AND A HALF

TO REALLY ASSEMBLE BECAUSE I

ADDED, I SUBTRACTED, I ADDED

AGAIN, I SUBTRACTED MORE.

AND I WAS HEAVILY INFLUENCED BY

THE BILL CUNNINGHAM COFFEE TABLE

BOOK WHICH DOCUMENTS FROM

THE 1960s THROUGH THE 2000s, AND

BILL CUNNINGHAM, IF YOU'RE NOT

FAMILIAR WITH HIM, RODE HIS

BICYCLE AROUND EITHER NEW YORK

OR PARIS TAKING CANDID

PHOTOGRAPHS.

AND IN DOING SO, OF PEOPLE JUST

IN THEIR WARDROBE.

I MEAN -- I LOOKED THROUGH GOING

PAGE BY PAGE GOING, "WOW,

THERE'S AN EXHIBIT HERE."

AND I THINK GIVEN ALL OF THE

ITEMS THAT I HAVE IN THE

COLLECTION, AND WHAT'S AVAILABLE

WITH FEATURE PRODUCTION FROM OUR

OPEN STOCK, IT'S LIKE, "I THINK

I CAN PUT SOMETHING TOGETHER

THAT, THAT WOULD MAKE SENSE."

!!musiC@!!!musiC@!

THIS COAT IS ONE OF MY FAVORITE

PIECES IN THE COLLECTION.

THIS WAS DESIGNED BY EDITH HEAD

FOR JOANNE WOODWORD IN THE FILM,

"A NEW KIND OF LOVE."

THIS IS A FOX FUR TRIM, AND A

BOUCLE WOOL.

NOW, IT ALSO HAS AN ATTACHED

HOOD WHICH IS VERY LARGE, AND

THAT WAS BECAUSE IT HAD TO

ACCOMMODATE JOANNE WOODWARD'S

TALL BOUFFANT HAIRDO IN THE

FILM.

WHICH ACTUALLY, SHE'S IN

DISGUISE.

I HAVE 18 EDITH HEAD RELATED

PIECES IN THIS PARTICULAR

EXHIBITION.

THE WOMAN WHO HAD THE LONGEST

CAREER OF ANY WOMAN

IN HOLLYWOOD.

NOMINATED 35 TIMES FOR

THE OSCAR, AND SHE WON 8 OF

THOSE.

THE REASON THEY'RE HERE IS TO

SORT OF BRIDGE THE GAP FROM THE

PAST TO THE PRESENT.

AND, YOU CAN SEE THE INFLUENCE

IN SOME OF EDITH'S PIECES WITH

SOME OF THESE NEWER DESIGNS.

SO HERE WE ARE IN THE "BLACK AND

WHITE ROOM."

AND OF COURSE, THE CENTERPIECE

OF THIS GALLERY IS THE

ALEXANDER McQUEEN PIECE THAT WAS

WORN BY KRISTEN WIIG IN THE

FILM, "ZOOLANDER 2."

IT'S SO BOLD AND SO MEMORABLE,

AND SO MANY DIFFERENT PATTERNS

ALL PUT TOGETHER.

THERE IS ACTUALLY WIRE IN ALL OF

THESE, SO YOU COULD TWEAK THEM

AND ADJUST THEM TO WHATEVER

SHAPE YOU WANTED THEM TO BE.

!!musiC@!!!musiC@!

THIS GALLERY FEATURES A LOT OF

WHITES, AND SLIGHTLY OFF-WHITE

PIECES.

THE CENTERPIECE -- IS ONE OF MY

FAVORITE COSTUMES.

IT WAS DESIGNED BY

JEFFERY KURLAND FOR THE FILM,

"MISSION IMPOSSIBLE: FALLOUT."

AND IT WAS WORN BY VANESSA KIRBY

WHO PLAYS THE "WHITE WIDOW."

THIS IS SO EVOCATIVE AND SO

REMINISCENT OF THE 1930s, EVEN

THOUGH THE FILM IS A

CONTEMPORARY FILM.

BUT YOU LOOK AT THE BODICE-CUT

GOWN, AND THEN THE

PEARL-ENCRUSTED ROBE -- WHICH,

YOU KNOW, LOOKING AT IT FROM

BEHIND, IT JUST SPARKLES.

IT'S TERRIFIC.

AND THAT IS VERY REMINISCENT OF

DESIGNS THAT WERE DONE IN

THE 1920s.

!!musiC@!!!musiC@!

!!musiC@!!!musiC@!

DURING THE STUDIO SYSTEM, WHICH

OLD HOLLYWOOD WAS ALL PART OF

THE STUDIO SYSTEM, EVERY STUDIO

HAD A COSTUME WARDROBE

DEPARTMENT WITH A TEAM OF

TAILORS, DRAPERS, SEAMSTRESSES,

BEADERS, SHOEMAKERS --

-- IN SOME CASES, LIKE

PARAMOUNT, THERE WAS A JEWELER

ON STAFF.

SO THE WORK ROOMS WERE ALWAYS

CONTAINED WITHIN THE STUDIO ON

THE LOT.

AFTER 1967-1970, THAT STARTED TO

DISINTEGRATE.

!!musiC@!!!musiC@!

WHAT CHANGED WAS THE WAY FILMS

WERE BEING DIRECTED, PRODUCED --

REALITY STARTED TO SET IN.

WE REALLY DIDN'T NEED COSTUME

DESIGNERS.

YOU NEEDED A MEN'S COSTUMER AND

A WOMEN'S COSTUMER, AND MAYBE,

YEAH -- IN SOME CASES A COSTUME

DESIGNER WAS BROUGHT ON TO

OVERSEE THAT OR COME UP WITH THE

OVERALL LOOK.

AND ALSO, YOU HAVE THE EMERGENCE

OF DESIGNER NAMES.

SO, STARTING IN THE '70s, YOU

HAVE THE EMERGENCE OF

RALPH LAUREN.

THEN, IN THE '80s YOU HAVE

GIORGIO ARMANI, NORMA KAMALI.

YOU START HAVING NAMES THAT ARE

RECOGNIZABLE NAMES.

!!musiC@!!!musiC@!

AND IT'S SO SAD IN A WAY BECAUSE

SOME OF THE COSTUME DESIGNERS

WERE DIMINISHED BECAUSE IT

BECAME MORE ABOUT THE FASHION

DESIGNER'S NAME THAN THE COSTUME

DESIGNER.

BUT THAT HAS CHANGED NOW.

THAT HAS -- I THINK THAT HAS

REALLY CHANGED.

THERE'S SOME VERY RECOGNIZABLE

NAMES NOW, AS COSTUME DESIGNERS

SUCH AS RUTH CARTER AND

COLLEEN ATWOOD, MICHAEL KAPLAN.

THESE ARE BIG NAMES, SO YOU

KNOW, YOU GET EXCITED ABOUT THE

COSTUME DESIGNER, MORE SO, THAN

THE FASHION DESIGNER.

IT'S KIND OF GONE BACK.

!!musiC@!!!musiC@!

BUT YEAH, THOSE ARE

LOUIS VUITTONS, AND THEN THAT'S

GUCCI.

>> I CAN SEE THE RED.

BUT YOU REALLY --

>> YEAH, BUT IT'S -- SEE IT'S

ALWAYS TO SEE THAT THE CURVED

HEEL IN THAT, WHICH IS REALLY

UNIQUE.

>> YEAH.

>> IT'S THE FIRST TIME I'VE EVER

MOUNTED ANYTHING LIKE THIS.

MY PREVIOUS EXHIBITS, WHICH HAVE

BEEN HERE AT THE DECORATIVE ARTS

CENTER OF OHIO HAVE CENTERED

AROUND EITHER EDITH HEAD OR

CONCEPTS.

THIS IS A LOT OF UNIQUE PIECES.

CAN YOU -- DO YOU WANT TO MAKE

SURE THIS IS STRAIGHT?

IF YOU LOOK OVER HERE, TO GET

THIS SMOOTH.

DOES THAT LOOK GOOD?

>> YEAH.

THAT -- THAT'S FLAT.

>> ALL RIGHT.

GOOD.

I LOVE WORKING HERE.

IT'S A VERY CONTAINED GALLERY.

IT'S NOT ENORMOUS.

YOU HAVE TO BE CREATIVE -- IS

HOW YOU PLACE THINGS AND -- AND

SHOW THEM OFF.

>> WELCOME TO THE LOWER LEVEL OF

THE DECORATIVE ARTS CENTER

OF OHIO.

AND DOWN HERE, WE HAVE A VERY

SMALL, BUT IMPORTANT EXHIBIT OF

ELEMENTS OF THE FILM,

"ROCKETMAN."

NOW, "ROCKETMAN", THE COSTUME

DESIGNER WAS JULIAN DAY.

AND OF COURSE, IF YOU DON'T

KNOW, IT'S ABOUT ELTON JOHN.

SO, WE'LL START WITH THIS PAIR

OF ANKLE BOOTS.

AND THESE WERE WORN BY TARON,

WHO PLAYED ELTON JOHN.

NOW, THERE IS A WHOLE STORY, AND

A WHOLE THOUGHT PROCESS BEHIND

THESE BOOTS.

HE WORE THESE BOOTS DURING THE

NUMBER "GOODBYE YELLOW BRICK

ROAD", WHICH, OF COURSE, IS

ABOUT "THE WIZARD OF OZ", SO HIS

BLUE SUIT REPRESENTED DOROTHY.

HIS SILVER SHIRT REPRESENTED

"THE TIN MAN."

HE WAS WEARING A FAUX FUR COAT

WHICH REPRESENTED "THE LION."

AND, HE WAS WEARING A STRAW

FEDORA, WHICH REPRESENTED "THE

SCARE CROW."

THESE SHOES ARE SWAROVSKI

CRYSTALS, ALL OF THEM.

AND THESE ARE BEAUTIFUL.

OF COURSE, THEY REPRESENT THE

RUBY RED SLIPPERS.

!!musiC@!!!musiC@!

I WANT PEOPLE TO TAKE AWAY FROM

THIS, AN APPRECIATION FOR THE

WORK AND THOUGHT THAT GOES INTO

A COSTUMING A FILM.

NOT JUST THE WORK FROM THE WORK

ROOM, BUT EVEN ON THE PIECES

THAT GOES INTO PURCHASING THAT

PIECE, AND HOW THAT EXPRESSES

THE CHARACTER AND DEFINES THE

CHARACTER THAT THEY ARE BEING

WORN BY.

WHETHER IT'S A BIG PARTY SCENE,

AND IT'S A PARTY DRESS, OR

WHETHER IT'S A BLOUSE.

AND I THINK PEOPLE WILL GET THAT

GOING THROUGH HERE AND SEEING

THE WIDE VARIETY OF PIECES WE

HAVE IN THE EXHIBIT.

!!musiC@!!!musiC@!

!!musiC@!!!musiC@!

!!musiC@!!!musiC@!

>> LEARN MORE ABOUT THE

DECORATIVE ARTS CENTER OF OHIO

AT DECARTSOHIO.ORG.

!!musiC@!!!musiC@!

!!musiC@!!!musiC@!

>> SINCE THE AGE OF 15,

TERESEA MELENDEZ HAS BEEN

PRACTICING THE ART OF

NATIVE AMERICAN BEAD WORK.

IT'S A PAINSTAKING AND INVOLVED

PROCESS, BUT THE ELABORATE

DESIGNS ARE BREATHTAKING.

HERE'S MORE FROM PBS RENO

IN NEVADA.

!!musiC@!!!musiC@!

!!musiC@!!!musiC@!

>> MY FAVORITE FORM OF

INDIGENOUS ART WORK IS BEAD

WORK.

I REALLY ENJOY BEADING.

I FIND IT RELAXING.

I ENJOY THINKING ABOUT THE

DESIGNS AND THE TYPE OF

MATERIALS THAT I WANT TO USE.

THE LOOK THAT I WANT TO CREATE.

I ALSO REALLY ENJOY MAKING BEAD

WORK BECAUSE IT'S FUNCTIONAL ART

WORK.

[LAUGHTER]

BEAD WORK IS A FORM OF

TRADITIONAL NATIVE AMERICAN ART

WORK.

SO, ANYWHERE AROUND THE COUNTRY,

AS YOU VISIT DIFFERENT TRIBAL

NATIONS, YOU'LL SEE DIFFERENT

STYLES OF BEAD WORK.

I'VE BEEN MAKING BEAD WORK SINCE

I WAS ABOUT 15.

AND, USUALLY WHEN I DESIGN BEAD

WORK AND I CREATE BEAD WORK,

IT'S FOR USE FOR CULTURAL EVENTS

OR CEREMONIES, OR POW-WOWS.

SO, I'M A POW-WOW DANCER.

I'M A FANCY SHAWL DANCER.

I LIKE TO DANCE, JINGLE, AND

TRADITIONAL FROM TIME-TO-TIME

TOO.

BUT, MY KIDS AND I, WE POW-WOW

DANCE, AND SO A LOT OF THE BEAD

WORK THAT I MAKE IS FOR OUR

POW-WOW OUTFITS OR OUR REGALIA.

!!musiC@!!!musiC@!

SO WHEN I'M COMING UP WITH BEAD

WORK DESIGNS, I OFTEN FIRST

START WITH THE ESSENCE OF THE

PIECE, SO I'M REALLY THINKING

ABOUT THE PERSON THAT I'M

DESIGNING FOR AND THEN THE USE

OF THE FINAL PRODUCT.

AND THE LOOK THAT I WANT TO

CREATE.

!!musiC@!!!musiC@!

I LIKE TO LAY EVERYTHING OUT ON

GRAPH PAPER AND THEN I'LL

TRANSLATE THAT PAPER TO MATERIAL

AND I'LL SEW IT DOWN TO THE

MATERIAL SO THAT I HAVE A

PATTERN TO WORK WITH.

AND THEN, JUST START BEADING.

!!musiC@!!!musiC@!

BEAD WORK IS INCREDIBLY TIME

CONSUMING.

AS YOU LOOK AT THESE DIFFERENT

BEADED PIECES, YOU KNOW THAT

EACH ONE OF THOSE BEADS WAS HAND

SEWN ON.

DIFFERENT ARTISTS WILL HAVE

THEIR OWN TECHNIQUES AND SO, I

LIKE TO PUT ON FOUR BEADS, AND

THEN GO BACK THROUGH TWO.

EVERY SINGLE BEAD IS TOUCHED BY

THE ARTIST AT LEAST ONCE, BUT

SOMETIMES, MULTIPLE TIMES

DEPENDING HOW THEY TACK IT DOWN.

AND SO, THE LARGER PIECES, THEY

HAVE HUNDREDS OF HOURS OF MAN

TIME.

!!musiC@!!!musiC@!

I WOULD SAY ONE OF MY FAVORITE

PARTS ABOUT BEADING IS WATCHING

THE PIECE COME TOGETHER.

ëCAUSE YOU HAVE THIS VISION AND

A LOT OF TIMES YOUR VISION IS

PRETTY TRUE TO THE FINAL

PRODUCT, BUT SOMETIMES ITS NOT.

AND SO IT'S FUN WATCHING THE

PIECE COME TOGETHER AND ACTUALLY

SEEING THE COLORS COME TOGETHER

AND THE DESIGNS COME TOGETHER.

IT'S REALLY EXCITING AND IT

PROVIDES ME A LOT OF MOTIVATION

ëCAUSE I'LL BE LIKE, "TWO MORE

HOURS AND I CAN HAVE THIS PIECE

COMPLETE."

AND I CAN FINALLY SEE WHAT IT'S

GOING TO LOOK LIKE.

!!musiC@!!!musiC@!

WHEN I MAKE BEAD WORK, I MAKE IT

FOR REALLY SPECIFIC PURPOSES.

SO, MY HUSBAND AND I GOT MARRIED

ABOUT SEVEN YEARS AGO.

I WORE A TRADITIONAL WOODLAND

OUTFIT FOR OUR WEDDING, AND THEN

MY HUSBAND WORE A TRADITIONAL

PIYOU OUTFIT FOR THE WEDDING AND

THEN OUR DAUGHTERS WORE SOME

BEADED PIECES ALSO.

MY 14 YEAR OLD, HER NAME IS

SI-AVI, WHICH MEANS WILD ROSE.

AND SO, YOU'LL SEE IN THOSE

PIECES THAT THERE'S AN IMAGE OF

A ROSE.

AND THEN, PASITAVA, OUR LITTLE

ONE.

HER NAME IS WILD IRIS.

AND SO, THERE IS AN IRIS BEADED

INTO HER HAIR TIES.

AND THEN, IN MY BANDOLIER BAG,

THERE'S SEVERAL DIFFERENT

FLOWERS THAT ARE BEADED INTO

THAT.

AND EACH FLOWER REPRESENTS ME

WITH MY FAVORITE FLOWER, AND

THEN MY HUSBAND'S FAVORITE

FLOWER.

AND THERE'S A HUMMINGBIRD WHICH

SYMBOLIZES LOVE.

AND THEN, GOING UP THE STRAPS

ARE THE FLOWERS OF OUR KIDS.

SO BISCHEPE, HIS NAME IS RED

EARTH.

I BEADED A RED, STAR-LIKE FLOWER

FOR HIM.

!!musiC@!!!musiC@!

!!musiC@!!!musiC@!

ONE OF THE PIECES I BROUGHT WAS

THE MEDALLION I MADE WHEN I

GRADUATED WITH MY BACHELOR'S

DEGREE.

I WENT TO

MICHIGAN STATE UNIVERSITY.

THE MEDALLION IS IN THE SHAPE OF

THE SPARTAN "S", WITH A LITTLE

SASH ACROSS, WITH THE

ABBREVIATION "SLC" FOR

SOCIOLOGY, AND THEN THE YEAR I

GRADUATED, ëCAUSE I GRADUATED

WITH A BACHELOR'S DEGREE IN

SOCIOLOGY.

!!musiC@!!!musiC@!

SO IT'S COMMON IN INDIGENOUS ART

WORK TO SEE THINGS LIKE THAT,

THAT ARE SYMBOLS THAT ARE VERY

SPECIFIC TO THE INDIVIDUAL -- OR

SPECIFIC TO THAT CEREMONY.

ALL OF MY BEAD WORK THAT I

CREATE HAS A LOT OF SYMBOLISM.

!!musiC@!!!musiC@!

!!musiC@!!!musiC@!

IT FEELS GOOD TO WEAR ART WORK

BECAUSE I KNOW THAT IT COMES

FROM A SPECIAL PLACE.

I KNOW THAT THERE IS A LOT OF

MEANING BEHIND THE PIECES, BUT I

ALSO THINK IT IS IMPORTANT AS

AMERICANS, THAT WE SEE THE

INDIGENOUS PEOPLE WHO LIVE HERE

AND WHO'VE ALWAYS LIVED HERE.

HERE, IN NEVADA, THERE ARE

27 FINALLY RECOGNIZED TRIBES.

THAT'S A LOT OF TRIBES.

[LAUGHTER]

THAT'S A LOT OF TRIBES.

MOST STATES DON'T HAVE

27 FULLY-RECOGNIZED TRIBES.

SOMETIMES WHEN WE THINK ABOUT

INDIGENOUS CULTURES AND

INDIGENOUS ARTS, WE THINK ABOUT

THEM AS HISTORY, SOMETHING

THAT'S IN THE PAST, AND

SOMETHING THAT'S NOT CURRENT.

THERE'S ALL KINDS OF BEAUTIFUL

WORK THAT'S BEING DONE BY

ARTISTS AROUND THE COUNTRY.

WHETHER THEY'RE CAPITALIZING ON

CONTEMPORARY MATERIALS, THEMES.

IT'S BEAUTIFUL TO SEE ART

EVOLVING, EVEN IN INDIGENOUS

ART.

ëCAUSE WHAT'S INDIGENOUS IS ALSO

CONTEMPORARY.

!!musiC@!!!musiC@!

!!musiC@!!!musiC@!

!!musiC@!!!musiC@!

>> AMERICAN DUCHESS IS PROOF

THAT PAYING ATTENTION TO DETAIL

HELPS YOU PUT YOUR BEST FOOT

FORWARD.

AMERICAN DUCHESS IS A COMPANY

THAT DESIGNS HISTORICALLY

ACCURATE FOOT WEAR FROM

THE 1700s, UP TO THE 1940s.

AS WE SEE IN THIS PIECE FROM

RENO, NEVADA -- THE RIGHT SHOE

CAN MAKE OR BREAK A HISTORICAL

COSTUME.

!!musiC@!!!musiC@!

!!musiC@!!!musiC@!

>> AMERICAN DUCHESS IS A SMALL

COMPANY THAT MAKES NEW, OLD

SHOES.

WE TAKE A REALLY OLD DESIGN.

SOMETHING YOU SEE IN A PAINTING

OR IN A MUSEUM, AND WE MAKE IT

WORK FOR MODERN WEAR AND COMFORT

EXPECTATIONS.

EVERYTHING FROM

THE 18th CENTURY, 19th CENTURY,

AND 1920s, 30s, AND 40s AS WELL.

!!musiC@!!!musiC@!

AMERICAN DUCHESS STARTED AS MY

COSTUMING.

I LIKED TO MAKE THINGS.

I MAKE THOSE THINGS FOR MYSELF

AND WEAR THEM TO AN EVENT, A

PICNIC, OR A DANCE.

THAT'S JUST WHAT I DID FOR FUN.

AND I THOUGHT, "I'LL BLOG ABOUT

MY EXPERIENCES, SO THAT OTHER

PEOPLE WHO HAVE NO IDEA HOW TO

MAKE A WIG, OR HOW TO DO THIS

DRESS, CAN LEARN FROM MY

MISTAKES."

AND IT'S ALWAYS BEEN ABOUT

SHARING MY MISTAKES AND LEARNING

THAT WAY.

YOU DON'T WANT TO PUT ALL THIS

TIME AND EFFORT AND SOMETIMES, A

LOT OF MONEY, INTO YOUR

BEAUTIFUL DRESS, AND THEN HAVE

NO SHOES TO WEAR WITH IT BECAUSE

IT CRUSHES THE ILLUSION.

!!musiC@!!!musiC@!

WHEN YOU'RE CREATING THESE

GOWNS, THEY ARE ART PIECES.

AND IF YOU DON'T HAVE THE RIGHT

SHOES, IT JUST KILLS IT.

AND WHEN YOU TAKE THOSE PHOTOS

OF YOURSELF OR SOMEONE'S TAKING

PHOTOS OF YOU, AND YOU LOOK AT

THOSE LATER, YOU WANT TO BE ABLE

TO SAY, "I LOOK LIKE I WALKED

OUT OF A PORTRAIT."

YOU'RE NOT GONNA ACHIEVE THAT

WITH TENNIS SHOES UNDER YOUR

DRESS.

[LAUGHTER]

BELIEVE ME, I'VE SEEN IT.

!!musiC@!!!musiC@!

HISTORIC SHOES ARE NOT LIKE

SHOES TODAY.

THEY HAVE STRANGE CLOSURES.

THEY HAVE SPECIFIC TOE SHAPES,

OR LACK OF TOE BOXES.

YOU KNOW, THEY ARE VERY, VERY

DIFFERENT.

SO, NOBODY WAS REALLY MAKING

THAT KIND OF THING, AND I

THOUGHT, "WELL, OKAY. MAYBE I'LL

HAVE A GO AND MAKE SOME SHOES."

NOT BY HAND, I COULDN'T MAKE

ENOUGH OF THEM TO MAKE A LIVING

DOING THAT, SO I FOUND A

MANUFACTURER, AND WE DEVELOPED A

PROTOTYPE.

I PUT IT ON THE INTERNET, AND

DID A PRE-ORDER.

DID A CROWD-FUNDING CAMPAIGN AND

IT FUNDED OVERNIGHT.

OVERNIGHT WE HAD ENOUGH MONEY TO

DO THE PRODUCTION RUN AND IT'S

LIKE OH MY GOD.

WOKE UP IN THE MORNING LIKE, OH,

OH THIS IS THE THING.

OKAY.

I'M GONNA DO THIS.

THIS IS WHAT I'M GONNA DO.

>> OUR FIRST DESIGN WAS

GEORGIANA, NAMED AFTER THE

DUCHESS OF DEVONSHIRE.

IT WAS MADE OUT OF DYE-ABLE

SATIN.

IT WAS OUR FIRST GO.

PEOPLE WERE EXCITED ABOUT IT.

I WAS EXCITED ABOUT IT AND IT

WORKED.

WE JUST KEPT PRODUCING THE NEXT

ONE, THE NEXT ONE, THE NEXT ONE.

!!musiC@!!!musiC@!

>> A TYPICAL EIGHTEENTH CENTURY

SHOE, THE MOST CHARACTERISTIC

HALLMARK THAT YOU MIGHT SEE ON

THOSE ARE LATCHETS WITH BUCKLES,

SO THIS IS THE WAY THAT

EIGHTEENTH CENTURY SHOES CLOSED.

YOU HAVE THESE TWO STRAPS.

YOU PUT ONE STRAP THROUGH HERE.

YOU STICK THE PRONGS THROUGH THE

OTHER ONE.

YOU CAN MAKE THEM AS TIGHT AS

YOU WANT.

YOU CAN KEEP TIGHTENING THEM AND

IT MAKES YOUR SHOES LOOK VERY

PRETTY.

HISTORICAL ACCURACY IS VERY,

VERY, VERY IMPORTANT.

>> SO THE BASIC PROCESS STARTS

WITH LOOKING AT ORIGINAL SHOES,

WHETHER IT'S THROUGH

PHOTOGRAPHS --

IT'S BRAINSTORMING, SO WE JUST

KIND OF ALL GET TOGETHER AND GO,

WHAT SOUNDS COOL, WHAT HAVE WE

NOT MADE BEFORE?

WHAT ARE THE TRENDS IN THE

COMMUNITY?

>> A LOT OF IT IS RESEARCH,

LOOKING AT OLD MAGAZINE ADS,

CATALOGS, ORIGINAL SHOES IN OUR

COLLECTIONS.

>> I'VE GONE TO A NUMBER OF

DIFFERENT MUSEUMS AND STUDY

THINGS HANDS ON SO THAT WAY I

HAVE AN UNDERSTANDING OF HOW

THEY'RE CONSTRUCTED AND WHAT

GOES INTO THE INTERNALS OF THEM,

AND THINGS OF THAT NATURE.

ALL OF THAT RESEARCH GETS DONE

GRADUALLY AS WE FIND

INSPIRATIONS.

SAY WE NEED A BOOT FOR THIS TIME

PERIOD AND WE GO AND FIND LOTS

OF DIFFERENT EXAMPLES, AND PICK

WHAT ONES REALLY SPEAK TO US,

WHAT WE THINK WOULD TRANSLATE

WELL TO A MODERN DESIGN AND FROM

THERE WE DO A LOT OF SKETCHES, A

LOT OF IDEATIONS, AND THEN

ACTUALLY COME UP WITH THE FORMAL

LINE DRAWING AND WE PUT LITTLE

TINY DETAILS OF THE SOLE SHOULD

BE THIS MANY MILLIMETERS.

THIS EYELET SHOULD BE THIS MANY

MILLIMETERS WIDE.

ALL THE LITTLE TINY DETAILS IN

THEIR SO THAT WAY THE FIRST

SAMPLE THAT WE GET BACK IS AS

CLOSE AS WE CAN GET TO RIGHT.

>> THERE IS NOBODY WHO KNOWS

ABOUT HISTORIC SHOES AND HOW TO

MAKE THEM BETTER THAN

NICOLE RUDOLPH.

>> WHEN I WAS AT COLONIAL

WILLIAMSBURG, I ENDED UP

LEARNING HOW TO DO WOMEN'S

SHOEMAKING IN THE PROPER

EIGHTEENTH CENTURY STYLE ALL BY

HAND, NO MACHINES, ALL HAND

STITCHED AND ASSEMBLED.

WE'RE BASED HERE IN RENO AND

THIS WHERE WE DO ALL OF THE

DESIGN, ALL THE MARKETING AND

ADVERTISING HAPPENS HERE AS

WELL.

WE ALSO PACK, SHIP AND DO

LOGISTICS OUT OF HERE AS WELL,

SO THERE'S A GREAT BIG WAREHOUSE

ATTACHED TO THIS LITTLE TINY

OFFICE.

WE DO EVERYTHING EXCEPT THE

ACTUAL MANUFACTURE OF OUR

FOOTWEAR.

>> 95% OF THE WORLD'S SHOES ARE

MADE IN --

IT IS IN SOUTH CHINA.

THERE ARE MILLIONS OF PEOPLE

IN --

AND IT'S A CITY THAT IS BUILT

FOR SHOE PRODUCTION.

FACTORIES, COMPONENTS MARKETS,

LEATHER PRODUCERS, JUST

EVERYTHING YOU NEED.

SO THAT'S WHERE WE ALSO

MANUFACTURE OUR SHOES.

THE PEOPLE THAT WE WORK WITH

THERE ARE AMAZING.

WE PRODUCE FANTASTIC SHOES IN

CHINA BECAUSE I GET ON A PLANE

AND I GO OVER THERE, AND I MAKE

SURE OUR QUALITY PROCESSES ARE

IN PLACE, AND THAT ARE MATERIALS

ARE GOOD, AND THAT OUR

RELATIONSHIP WITH OUR

MANUFACTURER IS GOOD.

>> THEY REALLY ARE UNTO

THEMSELVES A SCULPTURAL

INTERESTING PIECE OF ARTWORK AND

THEY SHOULD STAND ON THEIR OWN

BEFORE YOU CAN PUT THEM ON YOUR

FEET.

AND THEN TO ADD THAT IN, TO ADD

THE WHOLE COSTUME AND TO ADD THE

CLOTHES, THE DRESSES,

EVERYTHING, IT JUST ENDS UP

COMPLETING THE WHOLE THING.

>> THERE ARE SO MANY PEOPLE IN

THE WORLD THAT ARE IN TO

HISTORIC COSTUMING, OR THEY'RE

MOVIE COSTUMERS, OR STAGE

COSTUMERS.

THAT'S A WHOLE MARKET I NEVER

EVEN THOUGHT ABOUT WHEN WE

STARTED.

I WAS JUST MAKING SHOES FOR

PEOPLE LIKE ME.

>> IT'S A BOUT HELPING OTHER

MEMBERS OF THE COSTUMING

COMMUNITY BE THEIR BEST SELVES

IN THE EIGHTEENTH CENTURY OR THE

NINETEENTH CENTURY TO MAKE THEIR

MOST BEAUTIFUL DRESS AND

IMPRESSION, OR CHARACTER.

WE WANT TO CREATE A FUN

ENVIRONMENT TO HELP PEOPLE HAVE

A GOOD TIME PLAYING DRESS UP.]

!!musiC@!!!musiC@!

>> WELL THAT'S OUR SHOW.

REMEMBER YOU CAN FIND ALL OF OUR

STORIES ONLINE AT WOSU.ORG AS

WELL AS ON OUR YOUTUBE CHANNEL.

FOR ALL OF US HERE AT WOSU, I'M

KATE QUICKEL.

THANKS FOR WATCHING.

!!musiC@!!!musiC@!

!!musiC@!!!musiC@!

!!musiC@!!!musiC@!

!!musiC@!!!musiC@!

!!musiC@!!!musiC@!

>> SO TODD OLDHAM IS A GREAT

CREATIVE THINKER.

DURING THE ë90s HE HAD A TEN

YEAR SPAN WHERE HE DID AMAZING

FASHIONS.

YOU KNOW, THIS WAS THE MOMENT OF

GRUNGE AND REALLY SIMPLE THINGS,

AND HE JUST WENT THE COMPLETE

OTHER DIRECTION AND MADE THINGS

AS BEAUTIFULLY DETAILED AND

EXTRAVAGANT AS YOU CAN IMAGINE.

>> SINCE HISTORICAL VERSIONS OF

IT, JUST PUTTING THE WAY YOU

SHOWED IT ON THE RUN WAY ARE

ALREADY OUT THERE, I THOUGHT

IT'D BE MORE INTERESTING IF WE

SORT OF RECOMBINED IT AND MADE

NEW ENSEMBLES THAT SORT OF

CREATED NEW NARRATIVES.

IT WAS FUN TO SORT OF THROW

ALMOST TEN YEARS OUT ON THE

GROUND AND PICK IT BACK UP IN A

NEW WAY.

>> HE ACTUALLY WENT BACK THROUGH

HIS ARCHIVE BECAUSE HE KEPT

EVERYTHING.

HE DIDN'T HAVE SAMPLE SALES.

SO, HE KEPT EVERYTHING AND HE

MIXED AND MATCHED.

SO, THE ENSEMBLES YOU'LL SEE

HERE MIGHT HAVE A SKIRT FROM

1992 MIXED WITH A TOP FROM

1995 WITH SOME SHOES FROM 1990.

!!musiC@!!!musiC@!

THERE'S A DRESS IN THE LAST

GALLERY CALLED "THE LOVE BALL

DRESS."

AND IT'S ACTUALLY CRAFTED OF

PIPE CLEANERS.

BUT, IT'S A REALLY FUN DRESS.

YOU CAN IMAGINE SOMEONE GOING TO

A PARTY WITH IT AND HAVING A

REALLY GOOD TIME.

>> I WOULD GET YOU NOTICED,

THAT'S FOR SURE.

AND PROBABLY EXPOSE SOME PART OF

YOUR BODY THAT YOU WEREN'T USED

TO SHOWING.

[ LAUGHTER ]

>> I JUST ALWAYS --

I NEVER ASKED PERMISSION.

I JUST SORT OF DID STUFF.

SO, WHEN MY GRANDMOTHER TAUGHT

ME TO SEW AT NINE, I JUST LOVED

IT SO I JUST KEPT MAKING.

AND I STARTED MAKING DRESSES FOR

MY SISTER.

>> YOU CAN REALLY GET THE SENSE

OF THE BREADTH OF WHAT HE DID IN

THE EXHIBITION.

IT REALLY SHOWCASES JUST SUCH AN

AMAZING LEVEL OF WORK THAT WENT

INTO THESE BEAUTIFUL GARMENTS.

AND I HOPE WHEN PEOPLE COME THEY

TAKE A MOMENT TO REALLY LOOK AT

THEM BECAUSE THEY'RE JUST

AMAZING.

TO COME UP CLOSE AND REALLY

APPRECIATE HOW MUCH HANDWORK

WENT INTO EACH OF THEM.

THEY'RE AMAZING.

!!musiC@!!!musiC@!

>>> CATCH COLUMBUS AT ITS

CREATIVE BEST ON "BROAD & HIGH."

THURSDAY NIGHTS AT 8:00 ON

WOSU-TV.

>> PRODUCTION OF

"BROAD AND HIGH" IS FUNDED IN

PART BY THE GREATER COLUMBUS

ARTS COUNCIL, SUPPORTING ARTS,

ADVANCING CULTURE AND CONNECTING

THE COMMUNITY TO ARTISTS, EVENTS

AND CLASSES AT

COLUMBUSMAKESART.COM.

>> FROM THESE CONTRIBUTING

SPONSORS -- AND VIEWERS LIKE

YOU.

THANK YOU.