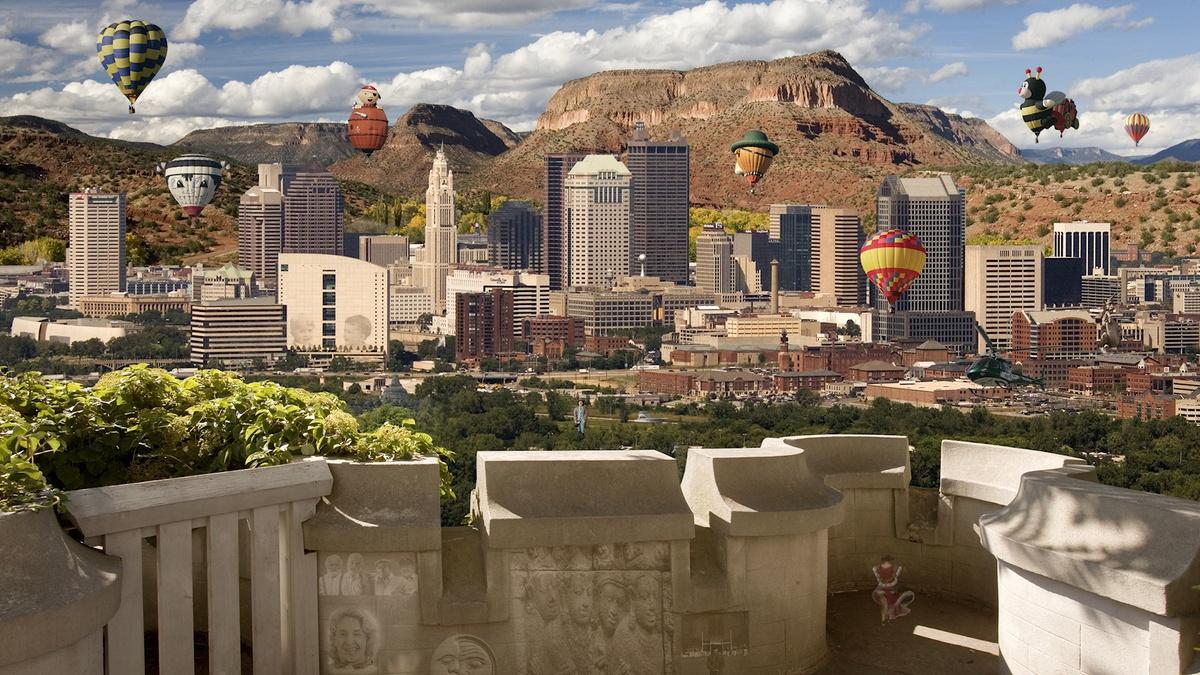 S9 E7 | FULL EPISODE
Larry Hamill Photography, Sustainable Ecoprinting
Local photographer Larry Hamill shares his vision of Columbus. Artist Kelsey Rolling helps us recognize beauty in different forms. Fiber Artist Sherry Tamburo uses sustainable materials and ecoprinting in her wearable artwork.
TRANSCRIPT

>> PRODUCTION OF "BROAD & HIGH"

IS FUNDED IN PART BY THE GREATER

COLUMBUS ARTS COUNCIL.

SUPPORTING ARTS, ADVANCING

CULTURE, AND CONNECTING THE

COMMUNITY TO ARTISTS, EVENTS,

AND CLASSES AT COLUMBUSARTS.COM.

!!musiC@!!!musiC@!

!!musiC@!!!musiC@!

>>> THIS TIME ON "BROAD & HIGH."

REIMAGINING COLUMBUS THROUGH THE

EYES OF A LOCAL PHOTOGRAPHER.

RECOGNIZING BEAUTY IN DIFFERENT

FORMS IN ONE ARTIST'S IMPACTFUL

PORTRAITS.

AND LEARNING ABOUT USING

SUSTAINABLE MATERIALS AND ECO

PRINTING FROM A LOUSIANNA FIBER

ARTIST.

THIS AND MORE RIGHT NOW ON

"BROAD & HIGH."

!!musiC@!!!musiC@!

!!musiC@!!!musiC@!

>> WELCOME TO "BROAD & HIGH" I

AM YOUR HOST KATE QUICKEL.

WHEN PHOTOGRAPHER LARRY HAMILL

WAS YOUNG A SCIENCE EXPERIMENT

TEMPORARILY COST HIM THE GIFT OF

SIGHT.

EVERY SINCE LARRY HAS MADE A

LIFE OUT OF SEEING AND CAPTURING

THE WORLD AROUND HIM.

SOMETIMES I LITTLE DIFFERENTLY

THAN MOST.

HE HAS A PASSION FOR MIXING

ABSTRACTION AND REALISM IN HIS

WORK.

CONSTANTLY EXPERIMENTING WITH

COLOR, DESIGN, TEXTURE AND

LIGHT.

WE CAUGHT UP WITH LARRY AT HIS

GERMAN VILLAGE STUDIO TO LEARN

ALL ABOUT HIS IMPRESSIVE CAREER.

AND SEE HOW HE VIEWS COLUMBUS

AND BEYOND.

!!musiC@!!!musiC@!

!!musiC@!!!musiC@!

>> OVER THE YEARS I JUST KEEP

THINKING I AM LIKE A VISUAL

EXPLORER.

I AM JUST THERE OUT EXPLORING.

AND I KEEP VORACIOUSLY WANTING

TO SEE THINGS I'VE NEVER SEEN

BEFORE.

BEING ACROSS FROM GERMAN

VILLAGE, I JUST LOVE ALKING

THROUGH THE VILLAGE AND

DOCUMENTING HOW IT CHANGED.

IT'S KIND OF HISTORICAL TO SEE

HOW ALL OF THESE TREES HAVE

CHANGED OVER THE YEARS.

NEW HUNTINGTON GARDEN REPLACED

THE OLD ASPHALT PATHWAY THAT WAS

THERE.

ALMOST EVERYDAY I GO OUT WALKING

OR TAKE PICTURES OF THINGS,

BECAUSE THERE'S SO MANY

DIFFERENT WAYS TO SEE THINGS.

!!musiC@!!!musiC@!

MY GRANDFATHER WAS HISTORIAN FOR

OHIO BELL, AND HE LOVED

PHOTOGRAPHY.

AND I REMEBER -- ONE OF MY VAGUE

MEMORIES WAS BEING IN HIS DARK

ROOM AND JUST SEEING HOW MAGICAL

IT WAS WHEN AN IMAGE APPEARS OUT

OF NOTHING, WHEN HE'D BE

PROCESSING PRINTS.

SO THAT WAS A REAL TREAT.

FROM THAT POINT ON ALL I WANTED

TO DO WAS BE AN ARTIST.

!!musiC@!!!musiC@!

A REAL STRONG MOEMNT IN MY LIFE

WAS WHEN I WAS IN SEVENTH GRADE.

MY PARENTS WERE AWAY AND I AM

DOWN IN THE BASEMENT AND I

RIGGED THESE WIRES TOGETHER TO

CREATE A CARBON ARC LIGHT.

AND A CARBON ARC LIGHT IS ONE OF

THE BRIGHTEST LIGHTS YOU CAN

HAVE ON THE PLANET.

THAT'S WHAT POWERS SEARCH LIGHTS

I PUT THE TWO PIECES OF CARBON

TOGETHER AND THIS INCREDIBLE

LIGHT BURTS.

AND I AM JUST THINKING IF THE

NEIGHBORS WALK BY AND SAW MY

BASEMENT IT PROBABLY LOOKED LIKE

A NUCLEAR REACTOR OR SOMETHING.

BECAUSE THERE WAS SUCH BRIGHT

LIGHT.

AND I WAKE UP THE NEXT MORNING

AND I CAN'T SEE A THING.

FOR FIVE DAYS I THOUGHT I'D

NEVER SEE AGAIN.

I THOUGHT, WE'LL THERE'S MY

LIFE.

I WANT TO BE AN ARTIST, IT'S

KIND OF HARD IF YOU CAN'T SEE.

BUT WHAT HAPPENED IS I SCARRED

THE CORNEA OF THE EYES, SO I

LITERALLY COULDN'T SEE ANYTHING

UNTIL IT HEALED.

AND FROM THAT POINT ON I FEEL SO

PRIVILEGED TO SEE THINGS.

I WENT TO OHIO STATE AND

GRADUATED WITH A DEGREE IN

PAINTING AND DRAWING AND I MINOR

IN EXPANDED ARTS.

I NEVER HAD A CLASS IN

PHOTOGRAPHY.

I'D JUST GO THROUGH THE KODAK

VOLUMES ON HOW TO PHOTOGRAPH

THINGS AND HAD THINGS THAT I

COULD ASK QUESTION OF.

AND FROM THAT POINT ON I

REALIZED I COULDN'T MAKE A

LIVING OFF OF FINE ART, SO I

LEARNED COMMERCIAL ART.

ONE OF MY FIRST CLIENTS AS FAR

AS ART GOES WAS BERNIE'S BAGELS

AND DELI ON NORTH HIGH STREET.

I WENT IN THERE AND THEY SAID

WELL WE NEED TO DO SOME ADS AND

THINGS.

I SAID LET ME COME UP WITH AN

IDEA OF THE BAGEL MAN.

SO I DID THAT AND THEY SAID OK,

YOU'RE HIRED.

JUST DO OUR MENUS USE THE BAGEL

MAN AND THEN DO ADS IN THE

LANTERN.

AND SO THE BAGEL MAN KIND OF

EVOLVED FROM THAT.

SO I JUST DID DIFFERENT TYPES OF

ART WORK AND SAVED UP AND BOUGHT

A ZOOM LENS.

THAT WAS A BIG DEAL.

MY FIRST TUNGSTEN LIGHT.

I HAD A LIGHT SO I COULD HAVE

MORE CONTROL.

SO IT'S JUST VERY GRADUAL

GETTING THE PROPER EQUIPMENT.

I CHOSE TO SHOOT SLIDE FILM.

AND YOU CAN ONLY BE LIKE HALF AN

F-STOP OF OFF.

SO YOU REALLY HAVE TO HONE IN

YOUR EXPOSURES.

THAT HELPED ME LEARN TOO,

BECAUSE YOU JUST COULDN'T MAKE

THAT MANY MISTAKES.

WE'RE SPOILED TODAY WITH

DIGITAL.

IT'S SO EASY TO GET YOUR COLOR

BALANCE DOWN AND ALL THESE OTHER

THINGS.

BUT I REALLY LIKE THE SLIDES

BECAUSE THEY'RE MORE VIVID.

THEY WORK BETTER FOR

REPRODUCTION AND IN PRINT

MATERIALS.

!!musiC@!!!musiC@!

MET FLIGHT HAS BEEN GREAT CLIENT

FOR LIKE 28 YEARS.

I'VE BEEN WORKING WITH THEM AND

BEFORE THEM I WORKED WITH LIFE

FLIGHT AT GRANT.

SO I SPENT A LOT OF TIME

FORTUNATELY IN HELICOPTERS AND

SHOOTING AIR TO AIR.

[ HELICOPTER WHIRRING ]

>> THIS IS ONE OF THE BEST

ASSIGNMENTS I EVER HAD AND THAT

WAS A SHOOT FOR SONY.

AND SONY INTRODUCED A NEW CAMERA

TO VIDEO RECORD COMMERCIAL

SHOOTS.

AND THEY WANTED TO SHOW IT OFF

AT THE GATHERING OF MUSTANGS AND

LEGENDS AT RICKENBOCKER FIELD

YEARS AGO.

IT WAS THE LARGEST GATEHRING OF

P51 MUSTANGS SINCE THE SECOND

WORLD WAR.

SO I AM UP IN A P1-30 TRANSPORT

PLANE, I AM ON THE RAMP HERE.

I AM TETHERED JUST LIKE THE

CAMERA MAN IS AND I AM USING A

FLASH TO BALANCE THE LIGHT WITH

THE OUTSIDE BECAUSE OTHERWISE

THIS WOULD JUST BE TOTAL

BLACKNESS.

SO I WAS ABLE TO PHOTOGRAPH THE

PLANES FLYING AND THEN WHEN I

WAS DONE SHOOTING THAT, I WAS

ABLE TO SHOOT THE PLANES IN

ACTION.

!!musiC@!!!musiC@!

GROWING UP ALL I COULD SEE ON

THE HORIZON WAS THE

LINCOLN LEVEQUE AND THAT WAS

PRETTY MUCH IT FOR THE SKYLINE.

SO IT'S KIND OF FUN OVER THE

YEARS TO SEE HOW OUR SKYLINES

CHANGED AND WHAT OTHER ANGLES IT

COULD BE SHOT FROM.

I TRY TO GET A LOT OF DIFFERENT

VANTAGE POINTS, PUT COLUMBUS IN

DIFFERENT CONTEXT.

THIS IS A SERIES OF CALENDARS

THAT I STARTED 31 YEARS AGO.

THAT'S WHEN PHOTOSHOP FIRST CAME

OUT.

GROWING UP IN COLUMBUS OHIO WE

ARE SO GEOGRAPHICALLY

CHALLENGED, THAT I ALWAYS WANTED

TO SEE MOUNTAINS ON THE HORIZONS

AND WITH PHOTOSHOP IT LET ME

MAKE THAT HAPPEN.

SO IN THIS PARTICULAR CASE I

TOOK A SHOT THAT I TOOK OFF OF

NICE FRANCE WITH THE ALPS

BEHIND.

I PUT THAT IN THE BACKGROUND AND

THEN I TOOK A SHOT THAT I TOOK

IN THAILAND ON A BEACH IN THE

FOREGROUND.

I THINK IT'S KIND OF FUNNY.

THEY ASK WHERE IS THIS?

I SAY WELL IT SAYS COLUMBUS

RIGHT ON THE TOP.

AND NOBODY WILL ACCEPT THAT.

[ LAUGHTER ]

SO OBVIOUSLY WE DON'T HAVE

MOUNTAINS, BECAUSE OF THE

GLACIERS AND EVERYTHING.

I STILL WOULD LIKE TO SEE THESE

MOUNTAINS BEYOND OUR SKYLINE.

BUT PHOTOSHOP WAS THE ONLY WAY I

COULD FIGURE IT OUT.

I'VE BEEN IN THIS STUDIO FOR

45 YEARS.

OVER THE YEARS IVE SHOT HUNDREDS

AND HUNDREDS OF THOUSANDS OF

ROLLS.

ESSSENTIALLY WHAT I'VE GOT IS

LIKE A SLIVER FROM 1976 TO

2021 OF OUR CULTURE AROUND HERE

AND OTHER PARTS OF THE WORLD.

SO HOPEFULLY PEOPLE CAN ACCESS

THESE IMAGES AND MAKE NEW IMAGES

FROM THEM OR BRING BACK TIMES.

SO HOPEFULLY I AM PROVIDING A

SUBSTRATA OR CULTURE IN THIS

PERIOD OF TIME.

!!musiC@!!!musiC@!

!!musiC@!!!musiC@!

IT'S JUST SO UNLIMITED, THE

WORLD THAT WE LIVE IN.

AND THERE'S SO MUCH TO EXPLORE.

EVERYDAY I AM LOOKING TO

SOMETHING I CAN SEE.

I JUST GO OUT AND WHETEHR I

SKETCH IT OR TAKE PICTURE OF IT.

IT'S JUST CONSTANTLY A SOURCE OF

WONDER AROUND US.

SO I THINK IT'S REALLY IMPORTANT

TO HAVE THAT SENSE OF WONDER

INSIDE YOU TO EXPERIENCE THE

WONDER THAT'S ALL AROUND US.

!!musiC@!!!musiC@!

>> IF YOU'D LIKE TO SEE MORE

LARRY'S WORK, GIVE HIM A LIKE ON

FACEBOOK WHERE HE HAS POSTED A

NEW IMAGE EVERYDAY FOR OVER A

DECADE.

FACEBOOK.COM/HAMILLUSION.

NEXT WE VISIT RENO, NEVADA TO

MEET PAINTER KELSEY ROLLING.

IN HER VISUAL WORK SHE HOPES TO

EXPAND OUR IDEA OF BEAUTY.

HER PAINTINGS FOCUS ON

REPRESENTATION AND

REINTERPRETATION WHILE EXPLORING

ART HISTORY AND POP CULTURE.

!!musiC@!!!musiC@!

!!musiC@!!!musiC@!

>> MY NAME'S KELSEY ROLLING I AM

PAINTER FULL TIME RIGHT NOW.

I DO A LOT OF WORK THAT FOCUSES

ON INTERSECTIONAL FEMINISM

BECAUSE OF LACK OF

REPRESENTATION.

BASICALLY JUST LIKE FIGURATIVE

WORKS OF WOMEN OF COLOR.

I WOULD DESCRIBE MY WORK AS,

WITH VARYING INFLUENCES

DEPENDING ON WHAT'S GOING ON IN

MY LIFE.

!!musiC@!!!musiC@!

>> KELSEY'S A PORTRAIT ARTIST,

SO WHEN WE APPROACH PORTRAITURE

THAT THIRD WALL IS COMPLETELY

BROKEN.

SO WE GET TO STARE AT THE

SUBJECT, SPEND TIME WITH THE

SUBJECT, WHICH IS THE REALLY

IMPACTFUL THING ABOUT

PORTRAITURE WORK.

THE ABILITY THAT KELSEY IS ABLE

TO HAVE ON HER AUDIENCE.

IT'S JUST A PROFOUND SENSE OF

WHO IS THIS SUBJECT.

HOW CAN I GET TO KNOW THEM?

HOW CAN I DO A LITTLE MORE

RESEARCH TO UNDERSTAND THEM?

ESPECIALLY IN REGARD TO THE POP

CULTURE REFERENCES AND THE ART

HISTORY REFERENCES THAT SHE HAS

THROUGHOUT HER WORK.

>> I GET A LOT OF MY IDEAS FROM

LOOKING AT A BUNCH OF THINGS.

I AM REALLY FASCINATED BY HOW

SATURATED OUR VISUAL WORLD IS.

SO I LOOK A LOT AT SOCIAL MEDIA

THINGS.

LIKE INSTAGRAM AND I SEE COOL

PHOTOS OR PAINTINGS.

SO IT STARTS WITH GETTING

REFERENCE IMAGES.

I USE KIND OF MIXED MEDIA.

I PAINT WITH A LOT OF ACRYLIC

PAINT AS BASE LAYERS AND THEN I

USE OIL PAINTS TO DO MY FIGURES

MAINLY.

BECAUSE I CAN GET REALLY GOOD

DETAIL ON THEM.

I'LL PICK JUST LIKE A SOLID

COLOR THAT I THINK IS REALLY

BEAUTIFUL AND JUST KIND OF BASE

THE WHOLE PAINTING ENERGETICALLY

AROUND THAT.

THAT'S WHEN I START WITH THE

ACRYLICS.

TEHN I'LL DO A ROUGH SKETCH OF

THE FIGURE, AND I'LL PAINT IT IN

WITH OILS FROM THERE.

A LOT OF WHAT MAKES SOMETHING

LOOK REAL IS FOCUSING ON THINGS

YOU WOULDN'T WANT TO INCLUDE ON

FACE ALMOST IF YOU'RE DRAWING

IT.

I REMEMBER WHEN I YOUNGER I

WOULD DRAW THINGS AND I WOULDN'T

INCLUDE CERTAIN SHADOWS OR

CERTAIN BLEMISHES OR CERTAIN

MARKS UNDER THE EYES --

THAT REALLY MAKE SOMETHING LOOK

REALISTIC.

SO I TRY TO JUST FOCUS ON THE

LITTLE HIGHLIGHTS AND DIFFERENT

COLORS AND SHADING.

BECAUSE THERE'S JUST SO MUCH

VARIATION THAT GOES INTO A FACE

AND SKIN TONES.

I LOOK AT A LOT OF REFERENCES,

AND PAITING IT AS IT'S SEEN AND

NOT HOW YOUR BRAIN WANTS TO SEE

IT.

I THINK THAT'S MADE ME EXPAND MY

IDEA OF BEAUTY IN A LOT OF WAYS

TOO WHICH WAS NICE.

I AM JUST MORE ACCEPTING OF A

LOT OF DIFFERENT THINGS.

BECAUSE IT ALL JUST LOOKS SO

BEAUTIFUL TO ME.

>> THE TYPE OF RESPONSE WE

TYPICALLY GET FROM KELSEY'S WORK

COMES FROM AN AUDIENCE THAT'S

MORE CONNECTED WITH SOCIAL

MEDIA.

SO WE GET A LITTLE BIT -- MOSTLY

CONSISTING OF YOUNG PEOPLE JUST

REALLY VIBING HER WORK.

REALLY INTO THE SUBJECT THE

MATTER SHE'S PURSUING.

>> I KNOW MY ART ISN'T

NECESSARILY GEARED TOWARDS A

YOUNGER AUDIENCE, BUT I THINK

HAVING PEOPLE WHO LOOK LIKE ME

OR WHO CAN RELATE AND SEE ME AS

AN ARTIST THAT PAINTS PEOPLE

THAT LOOKS SOMETHING LIKE

THEM -- WOULD BE REALLY NICE

BECAUSE THAT'S WHAT I WANTED

WHEN I WAS YOUNGER.

SO I HOPE TO KINDA HAVE THAT FOR

PEOPLE WHO NEED THAT AS WELL,

REGARDLESS OF HOW OLD THEY ARE.

I GREW UP IN A DIFFERENT TIME

THAN IT IS NOW.

WE ALL GREW UP IN A TIME WHERE

THERE WASN'T A LOT OF PLACES

WHERE YOU'D SEE BLACK PEOPLE OR

BROWN PEOPLE IN THINGS.

THAT REALLY INFLUENCED ME AS A

LOT AS A KID.

BECAUSE I KNOW A LOT OF OTHER

PEOPLE OF COLOR CAN RELATE TO

WANTING TO LOOK DIFFERENT OR ACT

DIFFERENT.

GROWING UP IT'S HARD WHEN YOU'RE

JUST LIKE, WHERE AM I IN THESE

PLACES?

I GOT TO A POINT WHERE I WAS

JUST LIKE I CAN JUST PAINT MY

REPRESENTATION THAT I WANT.

IT KIND OF SERVES AS FILLING

GAPS WHERE I THINK THEY NEED TO

BE FILLED.

PEOPLE GAIN AN UNDERSTANDING AND

CAN RELATE TO PEOPLE IF THEY

LIKE SEE THEM.

IF YOU GREW UP WITH A BUNCH OF

PEOPLE WHO LOOK REALLY

DIFFERENT, YOU DON'T THINK

THAT'S WEIRD.

IF YOU GROW UP IN LIKE RENO AND

THERE'S NOT A LOT OF BROWN

PEOPLE, YOU DON'T KNOW HOW TO

INTERACT WITH THEM SOMETIMES.

I EXPERIENCE THAT GROWING UP,

THERE'S JUST PEOPLE BEING

CONFUSED BY MY HAIR.

CONFUSED ABOUT MY PARENTS

BECAUSE THEY'RE A BIRACIAL

COUPLE.

SO THEY DIDN'T UNDERSTAND.

MORE EXPOSURE TO DIFFERENT TYPES

OF PEOPLE JUST CREATES MORE

TOLERANCE IN A WAY OR ACCEPTING

IN A WAY.

OR JUST NORMALIZATION AT LEAST.

I WANT PEOPLE TO STOP FOR A

MOMENT.

I WANT IT TO HAVE ENOUGH DETAIL

AND CONFUSION IN IT THAT PEOPLE

TAKE A MOMENT TO LOOK AT IT.

I AM INTRIGUED BY PERSONAL

UNDERSTANDING OF IT.

BECAUSE I THINK EVERYBODY

RESPONDS TO EVERYTHING

DIFFERENTLY GIVEN THEIR

BACKGROUND AND GIVEN THEIR

OPINIONS ON ART.

!!musiC@!!!musiC@!

I WOULD LIKE THEM TO JUST LIKE

QUESTION WHERE WE SEE PEOPLE AND

HOW WE SEE THEM AND HOW WE

INTERACT WITH THEM AND

RECOGNIZING BEAUTY IN DIFFERENT

FORMS AND DIFFERENT WAYS.

!!musiC@!!!musiC@!

>> TO SEE MORE GO

KROLLINGARTS.COM FIBER ARTIST

SHERRY TAMBURO FIRST BEGAN

LEARNING TO SEW AT A YOUNG AGE.

AND SHE CONTINUES THAT JOURNEY

TODAY.

SHE OFTEN CONNECTS WITH OTHER

ARTISTS BEYOND HER HOMETOWN OF

SHREVEPORT, LOUISIANA.

TO LEARN NEW WAYS TO MAKE HER

COLORFUL, AND ECO FRIENDLY

WEARABLE ART.

!!musiC@!!!musiC@!

!!musiC@!!!musiC@!

>> FROM A VERY YOUNG AGE I WAS

ALWAYS INVOLVED IN SOME TYPE OF

MATERIAL OR FIBER MY MOTHER

SEWED AND THOUGHT IT WOULD BE A

GOOD IDEA FOR ME TO LEARN.

IN THE 70S I GOT INVOLVED WITH

THE EXPANSION ARTS PROGRAM IN

FLORIDA.

SO I LEARNED HOW TO WEAVE.

SO I HAVE A COUPLE OF LOOMS.

I LEARNED HOW TO SPIN.

I MAINLY WORK IN WOOL, SILK,

SOMETIMES BAMBOO FIBERS.

SOMETIMES I GET THE FLEECE THAT

I HAVE TO TAKE AND WASH AND CARD

AND DYE.

SO IT'S ALL SUSTAINABLE

MATERIALS.

NOTHING HAS TO DIE.

RECENTLY I WAS IN A WORKSHOP IN

AUSTIN BY A WOMAN FROM THE

NETHERLANDS AND SHE TAUGHT A

CLASS ON MAKING COATS.

I MADE A COAT AND IT'S ALL ONE

PIECE.

YOU HAVE TO MAKE IT SO LARGE.

FIVE TIMES AS BIG AS THE COAT,

BECAUSE WOOL SHRINKS.

THEN WE LAY THE FIBER ON THERE.

WE HAD TO ADD DIFFERENT PIECES

SO WE'D GET THE FULLNESS.

AND THEN WE HAD THE SLEEVES.

NO GLUE, NO SEWING.

IT'S ALL MANIPULATED.

WOOL HAS SCALES IN IT AND WHEN

IT'S WARMED AND THERE'S FRICTION

THE SCALES OPEN AND THEN THEY

CONNECT TO EACH OTHER.

THE SCARVES WITH THE SILK, I

HAVE A SILK BASE.

WHICH I DYE ALL MY SILK.

AND THEN I LAY THE WOOL ON THE

SILK.

NOW I HAVE TO USE COLDWATER,

BECAUSE I DON'T WANT THE WOOL TO

FELT BEFORE IT GOES THROUGH THE

SILK.

THERE'S NO SEWING ON THESE.

IT'S A PIECE OF SILK AND IT'S

WOOL.

BY SLOWLY MASSAGING THE FIBERS

THEY GO THROUGH THE SILK AND

CONNECT TO THE OTHER SIDE.

IT BECOMES ONE CONTINUOUS PIECE

OF FABRIC.

!!musiC@!!!musiC@!

!!musiC@!!!musiC@!

ON MY ECO PRINTED PIECES I USE

NATURAL DYE.

THERE'S A BUG IT'S CALLED

COCHINEAL THAT GROWS ON CACTUS

THAT I USE A LOT.

I CAN GET A BRIGHT FUSCHIA WITH

THAT.

SO THESE WERE ECO PRINTED

YESTERDAY.

I COOK IT FOR THREE TO FOUR

HOURS.

ACTUALLY I STEAM THESE IN AN

ELECTRIC TURKEY ROASTER.

I LOVE THAT.

I JUST DISCOVERED THAT.

THEN YOU TAKE IT OUT AND YOU LET

IT SIT OVERNIGHT.

BEFORE YOU UNDO IT AND IT'S

REALLY HARD TO NOT UNDUE IT,

BECAUSE YOU REALLY WANT TO SEE

WHAT YOU HAVE.

AND I HAVEN'T UNROLLED THEM YET.

I DID TWO SCARVES TOGETHER ON

THIS ONE.

AND SO THIS BASICALLY WHAT YOU

DO.

OH, IT LOOKS GORGEOUS.

TAKE THESE APART.

THE BOTTOM ONE HAD ALREADY BEEN

DYED WITH COCHINEAL, THE BUG

THAT GROWS ON CACTUS.

AND THEN -- OH GOSH THAT'S

GORGEOUS.

SEE, I NEVER KNOW WHAT'S GOING

TO HAPPEN.

THIS IS EUCALYPTUS RIGHT HERE.

WOW.

AND THIS IS A SYCAMORE.

THIS IS MORE EUCALYPTUS.

DIDN'T DO TOO MUCH THERE, BUT

THIS ONE IS REALLY --

HERE'S AN OAKLEAF.

CAME OUT GORGEOUS.

!!musiC@!!!musiC@!

!!musiC@!!!musiC@!

I AM EXPERIMENTING WITH DOING A

LOT OF PODS.

IT'S KIND OF LIKE MAGIC, BECAUSE

YOU PUT THE FIBERS DOWN.

THEN YOU WET WITH WARM, SOAPY

WATER, AND THEN YOUR WRAP THEM

IN A POOL NOODLE AND YOU USE

BUBBLE WRAP AND THEN YOU ROLL.

IT'S LABOR INTENSIVE, BUT YOU

GET A GOOD WORKOUT.

WHEN IT STARTS COMING TOGETHER

IT TAKES A FORM OF ITS OWN.

YOU HAVE TO SCULPT IT, BECAUSE

WOOL HAS A MEMORY.

I HAVE AN IDEA, I HAVE A

SKETCHBOOK.

SO I TRY TO SKETCH EVERYTHING

OUT, BEFORE I DO IT.

IT DOESN'T ALWAYS COME OUT LIKE

MY SKETCH, BUT IT IS CLOSE.

THEN I WILL PUT TOWELS AND

FABRIC IN THEM,WHILE THEY'RE

WET.

SO THEY'LL DRY IN THE SHAPE I

WANT THEM.

THE PODS ARE LIKE A COCOON.

THEY'RE LIKE A SAFE SPACE.

THAT'S WHAT THEY REMIND ME OF.

I AM MAKING LIGHTING FIXTURES.

I HAVE A CAGE THAT I GET AND THE

INSIDES GO IN IT AND THEN I FELT

AROUND IT.

THOSSE ARE FUN TO MAKE.

WOOL IS SO DURABLE.

THEY LAST FOREVER.

HATS, I DO HATS.

LOVE MAKING HATS.

AND I AM DOING SOME JEWELRY.

SOME NECKLACES AND I HAVE CUFFS

THAT I MAKE.

I'VE BEEN WORKING ON ACOUSTICAL

PIECES.

LIKE THIS PIECE BEHIND ME.

THIS IS A LAYERED FELT.

TOOK ME ABOUT SIX WEEK TO MAKE

THAT THING.

BUT IT ABSORBS SOUND.

THIS PIECE IS CALLED "AMONG THE

FRAWNS."

FIRST I DID A WHOLE LAYER OF

JUST WOOL ON THE BOTTOM.

AND THEN I MADE PREFELT WHICH IS

VERY LOOSLEY TOGETHER, BUT IT

HOLDS TOGETHER.

AND I CUT LEAVES OUT.

THEN I PUT TAPE IN BETWEEN.

I WOULD EDGE ON THE BACKGROUND

AND THEN PUT A PIECE OF TAPE SO

THE WHOLE THING WOULDN'T FUSE

TOGETHER.

THE VASES I MAKE USING A RESIST.

IT'S CALLED A RESIST.

AND IT'S FLOOR UNDERLAYMENT.

IF YOU'RE PUTTING DOWN -- OR

SOMETHING THERE'S THAT WHITE

BASE YOU PUT DOWN BEFORE YOU PUT

IT ON.

WELL I USE THAT FOR MY RESIST.

SO YOU CUT A SHAPE OUT.

EVERYTHING STARTS OUT FLAT.

AND YOU PUT FIBER ON ONE SIDE,

THEN YOU FLIP IT, PUT FIBER ON

THE OTHER SIDE.

YOU DO THAT -- YOU USUALLY FOUR

OR FIVE LAYERS SO YOU CAN GET A

REALLY NICE, THICK FELT.

THEN YOU CUT A HOLE AND YOU PULL

YOUR RESIST OUT AND THEN YOU

START TO GET YOUR SHAPE.

THIS IS A CAT CAVB.

IT'S THE FIRST ONE I MADE, BUT

THEY SEEM TO BE REALLY POPULAR

IN EUROPE.

THIS WAS ALL WHITE.

I USED WHITE WOOL AND THEN I ECO

PRINTED THIS.

THIS WHOLE THING WAS FLAT AND IT

HAD A ROUND RESIST INSIDE.

THEN I CUT A HOLE, PULLED THE

RESIST OUT AND THEN I FULLED IT.

THAT'S WHERE YOU -- WHEN YOU

FULL IT, THAT'S WHERE YOU GET IT

TO WHERE IT'S AT A STIFF STAGE.

THIS IS FIVE LAYERS OF WOOL.

BUT THEN THIS IS EUCALYPTUS

HERE.

THEN I HAVE SOME ROSES IN HERE,

ROSE PETALS AND ROSE LEAVES.

WHICH GIVE A NICE GREEN.

AND THE WHOLE THING WAS ECO

PRINTED.

!!musiC@!!!musiC@!

!!musiC@!!!musiC@!

>> SEE SHERRY'S LATEST CREATIONS

AT FACEBOOK.COM/SHERRYTAMBURO.

WELL, THAT'S OUR SHOW.

REMEMBER YOU CAN FIND ALL OF OUR

STORIES ONLINE AT WOSU.ORG AS

WELL AS ON OUR YOUTUBE CHANNEL.

FOR ALL OF US HERE AT WOSU, I AM

KATE QUICKEL, THANKS FOR

WATCHING.

!!musiC@!!!musiC@!

!!musiC@!!!musiC@!

!!musiC@!!!musiC@!

!!musiC@!!!musiC@!

!!musiC@!!!musiC@!

!!musiC@!!!musiC@!

!!musiC@!!!musiC@!

!!musiC@!!!musiC@!

>> I AM THE ART TEACHER HERE AT

LIBERTY TREE ELEMENTARY SCHOOL.

I TEACH KINDERGARTEN THROUGH

FIFTH GRADE.

IT IS A WILD ADVENTURE EVERYDAY.

BEING IN THIS TYPE OF

ENVIRONMENT I HAVE ALL DIFFERENT

TYPES OF STUDENTS.

STUDENTS THAT LOVE ART.

STUDENTS THAT BELIEVE ONE DAY

THEY WILL BE THE NEXT

CONTEMPORARY ARTIST.

AND I HAVE STUDENTS THAT ARE

HERE BECAUSE THEY HAVE TO BE.

PART OF THE CHALLENGE FOR ME IS

TO ENGAGE ALL OF THEM.

TO TEACH THEM THAT THERE IS A

PURPOSE FOR ART IN THEIR LIFE.

LOOK HOW BEAUTIFUL THAT IS.

ISN'T THAT COOL?

SO I FOUND OUT A YEAR AGO I WAS

NOMINATED BY MY PRINCIPAL AS

TEACHER OF THE YEAR FOR THE

STATE OF OHIO.

AND I KEPT SHRUGGING IT OFF AND

DIDN'T EVEN TELL ANYBODY, AND

THEN THIS PAST FALL I WAS NAMED

2018 OHIO TEACHER OF THE YEAR.

THIS IS WHERE IT GETS A LITTLE

TRICKY.

IT'S REALLY INTERESTING.

I'VE GOT THESE DUEL THOUGHTS,

RIGHT?

ONE OF MY THOUGHTS IS IT'S

INCREDIBLE THAT AN ART EDUCATOR

IS TEACHER OF THE YEAR FOR OUR

STATE.

IT'S THIS REALLY EXCITING THING,

WHERE I GET TO TALK ABOUT THE

IMPORTANCE OF ART EDUCATION.

BUT AT THE SAME POINT, WHY

SHOULD I BE SURPRISED AND

EXCITED ABOUT THAT?

BECAUSE OF COURSE AN ARTS

EDUCATOR COULD BE THE TEACHER OF

THE YEAR.

AND IT IS INCREDIBLY HUMBLING.

MY WHOLE PLATFORM AND WHAT I

WANT TO SHARE WITH PEOPLE IS WE

HAVE SMALL TINY MOMENTS IN OUR

EVERYDAY LIVES WHERE WE CAN MAKE

A DIFFERENCE TO OTHER PEOPLE.

YOU DON'T HAVE TO BE NAMED

TEACHER OF THE YEAR OR WIN AN

AWARD TO MAKE A DIFFERENCE IN

SOMEONE'S LIFE.

SO THAT'S REALLY MY HOPE THAT

I'LL BE ABLE TO SHARE THAT WITH

AS MANY PEOPLE AS POSSIBLE.

WE TAKE THOSE MOMENTS AND

SUPPORT OTHERS.

!!musiC@!!!musiC@!

>> CATCH COLUMBUS AT IT'S

CREATIVE BEST ON "BROAD & HIGH"

THURSDAY NIGHTS AT 8 O'CLOCK ON

WOSU TV.

> PRODUCTION OF "BROAD & HIGH"

IS FUNDED IN PART BY THE GREATER

COLUMBUS ARTS COUNCIL.

SUPPORTING ARTS, ADVANCING AND

CONNECTING THE COMMUNITY TO

CULTURAL EVENTS, ARTISTS, AND

CLASSES AT

COLUMBUSMAKESARTS.COM.

!!musiC@!!!musiC@!