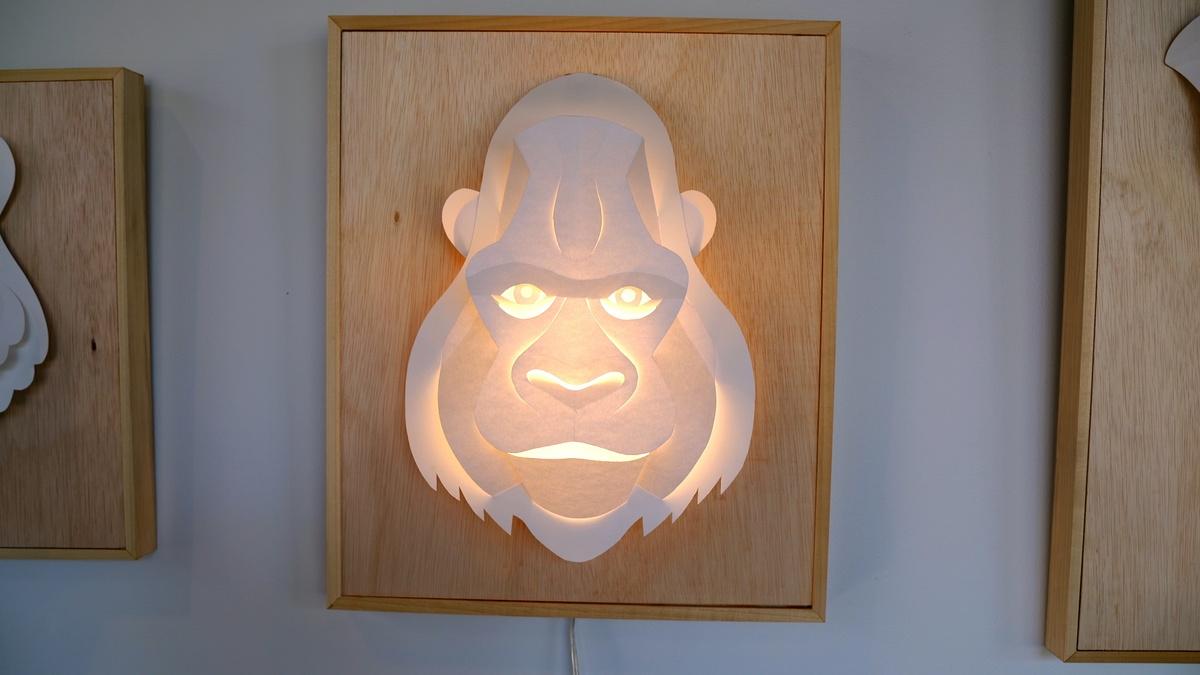 S9 E11 | CLIP
Hiroshi Hayakawa's Innovative Origami Creations
Columbus College of Art and Design photography professor Hiroshi Hayakawa has many passions, including drawing, painting and sculpture. But over the years his childhood love of origami and paper craft design has been expanded to include both paper folding and cutting techniques to create whimsical animals and bold masks.
TRANSCRIPT

>> PRODUCTION OF "BROAD & HIGH"

IS FUNDED IN PART BY THE GREATER

COLUMBUS ARTS COUNCIL.

SUPPORTING ARTS, ADVANCING

CULTURE, AND CONNECTING THE

COMMUNITY TO ARTISTS.

EVENTS AND CLASSES AT

COLUMBUSMAKESART.COM.

>> THIS TIME ON

"BROAD & HIGH" --

WE MEET A LOCAL PROFESSOR WHO

HAS EXPANDED A CHILDHOOD PASTIME

INTO HIS LATEST ARTISTIC

EXPRESSION.

A FLORIDA-BASED VOCAL ENSEMBLE

PREFORMS SONGS FROM MEDIEVAL TO

MODERN WORKS.

WE VISIT ARTISTS FROM TWO OHIO

STUDIOS WHO SERVE THOSE WITH

DEVELOPMENTAL DIFFERENCES.

AND A LOCAL ARTIST DISCUSSES HER

WORK AS CONCEPTS IN UNITY,

SOLIDARITY, AND CLASS

CONSCIOUSNESS.

THIS AND MORE, RIGHT NOW ON

"BROAD & HIGH."

♪♪

♪♪

>> WELCOME TO "BROAD & HIGH."

I'M YOUR HOST KATE QUICKEL.

COLUMBUS COLLEGE OF ART AND

DESIGN PHOTOGRAPHY PROFESSOR

HIROSHI HAYAKAWA HAS MANY

PASSIONS, INCLUDING DRAWING,

PAINTING, AND SCULPTURE.

BUT OVER THE YEARS, HIS

CHILDHOOD LOVE OF ORIGAMI AND

PAPER CRAFT DESIGN HAS BEEN

EXPANDED TO INCLUDE BOTH PAPER

FOLDING AND CUTTING TECHNIQUES

TO CREATE WHIMSICAL ANIMALS AND

BOLD MASKS.

WE MET UP WITH HIROSHI TO LEARN

HOW HE CREATES HIS CLEVER

DESIGNS.

♪♪

>> THE PAPER CRAFT PROJECT, I

STARTED DOING THIS MID-'90s WHEN

THE CCD HAD A HEAD LIBRARIAN,

MS. YU.

SHE USED TO HAVE THIS CHINESE

NEW YEAR'S PARTY EVERY YEAR.

AND SHE ASKED ME ONE DAY TO MAKE

AN ANIMAL FROM THE CHINESE

ZODIAC OUT OF PAPER, SO SHE

COULD DECORATE HER DINNER PARTY

TABLES.

AND THEN GRADUALLY THE NUMBER OF

ANIMALS EXPANDED.

♪♪

I PUBLISHED FOUR BOOKS.

AND THEY'RE ALL SMALL

TABLETOP-SIZED ANIMALS.

♪♪

SO, THIS WAS THE VERY FIRST BOOK

I MADE.

START WITH THE INSTRUCTION, THEN

START WITH A SIMPLER, EASIER

PROJECT.

AS YOU GO THROUGH THE PAGES,

THAT LEVEL GETS HIGHER AND

HIGHER, MORE ADVANCED.

AND THEN, THE VERY END OF THE

BOOK HAS THESE TEMPLATES.

SO, YOU CAN TAKE THIS BOOK TO A

COPY STORE AND MAKE YOUR OWN

TEMPLATES.

TURN THEM INTO AN ANIMAL.

I USED CARDSTOCK PAPER, WHICH IS

THE BEST MATERIAL TO USE FOR

THIS KIND OF CRAFT.

AND THEN IN ORDER TO MAKE

PROJECTS SORT OF MORE COLORFUL,

I STARTED TO PAINT.

♪♪

♪♪

THESE PAPER ANIMAL NIGHTLIGHTS

ARE MORE RECENT PROJECT.

IT IS TECHNICALLY A COMBINATION

OF PAPER FOLDING AND THEN PAPER

CUTTING, BOTH.

ALL THE PROJECTS ARE CONSTRUCTED

OUT OF TWO SHEETS OF PAPER.

AND THE REASON IS SO THAT THE

LIGHT WILL GO THROUGH IN BETWEEN

THOSE TWO LAYERS THAT CREATE

INTERESTING PATTERNS.

LIKE A RADIATING FROM THE

CENTER.

THE OTHER REASON IS IT'S EASIER

TO DESIGN THAT WAY.

THIS IS A TEMPLATE FOR GIANT

PANDA.

SO, I'M GONNA START WITH SCORING

THE LINES.

AND THE REASON WHY I'M DOING

THAT IS THAT WAY WHEN THESE ARE

TURNING TO THREE-DIMENSIONAL

STRUCTURES, I WILL HAVE A NICER,

NEATER FOLDING LINE.

SO, I'M GONNA GO OVER ALL THE

FOLDING LINES WITH THIS TOOL.

I'M JUST ADDING THE LIGHT

PRESSURE.

I'M NOT REALLY FOLLOWING THE

TRUTHFUL REPRESENTATION OF

ANIMALS, BUT THEY'RE MORE

STYLIZED VERSIONS OF IT.

SO, I DO HAVE SOME SOURCE

MATERIAL TO LOOK, LIKE ONLINE OR

BOOKS.

THEN ONCE YOU'VE GOT THAT SORT

OF ESSENCE OF THE ANIMAL DOWN,

THEN I CAN USE MY ARTISTIC

LIBERTY TO, YOU KNOW, MANIPULATE

THE SHAPE A LITTLE BIT.

THE NEXT STEP IS CUTTING THE

TEMPLATE OUT.

SO, I WILL USE THIS CRAFT KNIFE.

OR YOU CAN USE ANY KNIFE, LIKE

X-ACTO KNIFE.

SO, I'M GONNA START WITH THE

EYES.

CUT THE EYEBALL OUT.

THEN I WILL TAKE THIS ROLLED UP

SANDPAPER TO SMOOTH OUT THE

OPENING.

THE SIMPLICITY AND COMPLEXITY, I

TRY TO TARGET SOMEWHERE IN

BETWEEN.

THE SHAPES ARE SIMPLE ENOUGH FOR

THE PEOPLE TO CUT OUT.

BUT THE WAY THOSE PAPERS ARE

FOLDED AND CONSTRUCTED TOGETHER

IS MORE COMPLEX.

SO THAT IS SORT OF A BRAIN

TEASER.

THESE TWO TEMPLATES, FRONT-SIDE

AND BACK-SIDE ARE CUT OUT.

SO, NOW I CAN TURN THIS INTO

THREE-DIMENSIONAL OBJECT.

OKAY, THE FRONT SIDE IS

FINISHED.

SO, NOW I'M GONNA OPEN THE BACK

TEMPLATE, WHICH IS JUST ONE

FOLDING AROUND THE EARS.

LIKE THIS.

AND LIKE THAT.

NOW, I CAN PUT THESE TWO

TEMPLATES TOGETHER.

INSERT THIS TAB INTO THIS CUT I

MADE EARLIER.

I'LL APPLY A LITTLE GLUE TO THE

END OF THE Q-TIP.

OKAY.

THEN I'M GOING TO WORK ON THESE

TWO JOINTS NEXT.

I'M GONNA INSET THIS TAB INTO

THIS CUT RIGHT HERE.

AND THIS TAB INTO THIS ONE.

THEN AGAIN, I'M GONNA GLUE THESE

TWO TABS TO THE FRONT TEMPLATE.

LET'S USE --

NOW THESE TWO TABS ARE GLUED TO

THE BACK.

AND NOW THIS GIANT PANDA IS

COMPLETE.

♪♪

I DID A COUPLE OF WORKSHOPS.

I REMEMBER ONE PARTICIPANT SAID

SHE ENJOYED IT SO MUCH BECAUSE

IT'S REALLY CALMING.

SO, I THINK THERE IS, YOU KNOW,

AN ELEMENT OF THIS KIND OF A

PAPER CRAFT THAT PUTS PEOPLE

INTO THE MOOD OF SORT OF A

CONTEMPLATIVE, MEDITATIVE.

YOU KNOW, BECAUSE YOU WORK WITH

THE HANDS SO THAT IS --

KIND OF STIMULATES THE BRAIN.

PUT PEOPLE INTO SORT OF A ZONE.

I'D LIKE TO CONTINUE WORKING ON

ANIMAL NIGHTLIGHTS.

THEN, HOPEFULLY, TRYING TO FIND

SORT OF A DISTRIBUTION NETWORK,

SO PEOPLE CAN MAKE THEIR OWN

ANIMALS.

♪♪

>> TO SEE MORE OF HIROSHI'S

WORK, VISIT

HIROSHI-HAYAKAWA.COM.

>> IMAGINE A PIANO WITH ONLY

WHITE KEYS IN A TIME WHEN

MUSICAL NOTES WERE WRITTEN

DIFFERENTLY THAN THEY ARE NOW.

THE FOUNDER AND ARTISTIC

DIRECTOR OF FLORIDA'S

SERAPHIC FIRE DESCRIBES THEIR

ENDEAVORS AS A MUSICAL

ARCHELOGY.

THIS ENSEMBLE'S WIDE-RANGING

REPERTOIRE ATTRACTS ATTENTION

AND ADMIRATION.

THEIR PERFORMANCES ARE FULL OF

ARTISTRY AND STYLE.

LET'S TAKE A LISTEN.

♪♪

>> HILDEGARD IS THE FIRST KNOWN

COMPOSER.

SHE'S THE FIRST PERSON THAT HAS

HER NAME WRITTEN ON A PIECE OF

MUSIC THAT WE CAN TRACE IT BACK

TO A HISTORICAL PERSON.

EVERYONE BEFORE HER WAS GROUPED

UNDER THE SAME TITLE AS

"ANONYMOUS."

♪♪

MY NAME IS PATRICK QUIGLEY.

I AM THE FOUNDER AND ARTISTIC

DIRECTOR OF SERAPHIC FIRE.

♪♪

THIS IS IN FACT THE OPENING OF

OUR 18th SEASON.

WE'RE QUITE A VERSATILE

ENSEMBLE, SO WE PERFORM MUSIC

FROM THE MEDIEVAL ERA --

STARTING SOMEWHERE IN

800 A.D. -- BUT ALSO FROM THE

BAROQUE, CLASSICAL, ROMANTIC,

AND MODERN PERIODS.

A LOT OF WHAT WE DO IS TRYING TO

MAKE THE MUSIC SOUND LIKE WHAT

THE COMPOSER THOUGHT IT WOULD

SOUND LIKE.

WE DO NOT PERFORM WITH

AMPLIFICATION.

WE'RE AN ENTIRELY ACOUSTIC

ENSEMBLE.

♪♪

WHENEVER WE'RE PERFORMING MUSIC

THAT IS MORE THAN, SAY,

500 YEARS OLD, WE HAVE TO

PARTICIPATE IN SOME SORT OF

MUSICAL ARCHELOGY.

THIS IS PARTICULARLY APPROPRIATE

FOR THIS CONCERT.

HILDEGARD OF BINGEN WAS BORN AT

THE END OF THE 11th CENTURY.

THIS PIECE WAS WRITTEN PROBABLY

SOME TIME BETWEEN 1140 AND

1150 A.D.

AT 8 YEARS OLD, HER PARENTS

COMMITTED HER TO RELIGIOUS LIFE.

IT WAS WRITTEN FOR A COMMUNITY

OF WOMEN THAT HILDEGARD WAS THE

LEADER OF.

AND SO, SHE WAS A VISIONARY.

SHE HAD RECEIVED ECSTATIC

VISIONS.

AND ONE OF HER VISIONS WAS THAT

SHE SHOULD TAKE HER WOMEN OUT OF

THE MONASTERY THAT WERE SHARING

WITH A GROUP OF BENEDICTINE

MONKS AND MOVE IT TO THE RUINS

OF AN OLDER MONASTERY.

THIS PIECE, WE THINK, WAS

WRITTEN FOR THE DEDICATION FOR

THAT NEW MONASTERY.

♪♪

IT'S WRITTEN IN A STYLE, IN A

MUSICAL LANGUAGE THAT WE DON'T

HAVE THE KEY TO ANYMORE.

WE KNOW THE NOTES THAT SHE WROTE

AND WE KNOW THE ORDER THAT THEY

COME IN.

AND WE KNOW THE WORDS THAT WERE

UNDERNEATH THEM.

BUT EVERYTHING ELSE IS SOMETHING

THAT WE'VE HAD TO RECONSTRUCT.

HILDEGARD ONLY WROTE ONE LINE OF

MUSIC.

AT THE TIME THAT HILDEGARD WAS

WRITING, WE HADN'T ACTUALLY

GOTTEN TO THE POINT WHERE WE HAD

MULTIPLE LINES OF MUSIC BEING

WRITTEN ON TOP OF EACH OTHER.

THE VOCAL QUALITY OF WOMEN

SINGING IN UNISON CREATES THIS

SORT OF OTHERWORLDLY SOUND.

♪♪

PARTICULARLY WHEN ALL OF THEM

ARE SINGING THE EXACT SAME NOTES

AT THE SAME TIME, WHICH IS VERY

DIFFICULT.

♪♪

THE STORY IS ABOUT A WOMAN WHO

IS TRYING TO CHOOSE BETWEEN A

LIFE OF THE WORLD AND A LIFE

WITH THE VIRTUES, WHO ARE IN A

MORE CELESTIAL REALM.

IT'S REMARKABLE, BECAUSE IT'S SO

HIGH.

IT'S A VERY, VERY HIGH PIECE OF

MUSIC.

♪♪

AND IT'S IN A DIFFERENT MODE.

AT THE TIME THAT HILDEGARD WAS

COMPOSING, WE DIDN'T HAVE KEYS

IN THE WAY THAT WE HAVE LIKE

C-MAJOR OR C-MINOR, OR D-MAJOR,

OR D-MINOR.

THEY ONLY HAD THE WHITE KEYS ON

THE PIANO.

♪♪

SING INTO THE INTERESTING THINGS

ABOUT YOUR LIFE.

I DON'T THINK THAT WE'VE EVEN

COME CLOSE TO SCRATCHING THE

SURFACE OF ALL THE ARTISTIC

THINGS THAT WE CAN DO.

ONE OF THE REALLY UNIQUE THINGS

ABOUT SERAPHIC FIRE IS THAT WE

DON'T REALLY REPEAT REPERTOIRE.

IN THIS PERFORMANCE, ONE OF THE

REASONS THAT WE'RE DOING IT IS

NOT ONLY BECAUSE IT'S A GREAT

PIECE OF MUSIC, BUT IT'S

PERFORMED SO SELDOMLY THAT WE

HOPE THAT OUR PERFORMANCE AND

OUR RECORDING OF IT WILL BE

SOMETHING THAT WILL ENCOURAGE

OTHER PEOPLE TO TAKE THIS ON AS

A PROJECT.

AND IT SHOWS JUST HOW MUCH THE

CONTRIBUTION OF WOMEN TO MUSIC

WAS BEING MADE, EVEN IN THE 12th

CENTURY.

♪♪

[ CHEERS AND APPLAUSE ]

>> TO LEARN MORE ABOUT

SERAPHIC FIRE, INCLUDING

UPCOMING PERFORMANCES AND WHERE

YOU CAN PURCHASE THEIR

RECORDINGS, VISIT

SERAPHICFIRE.ORG.

>> OUR NEXT STORY IS A GREAT

REMINDER THAT ART IS ABOUT

EXPERIMENTATION AND MAKING

DREAMS TANGIBLE.

WE TRAVELED TO THE PASSION WORKS

STUDIO IN ATHENS, OHIO AND THE

GOODWILL ART STUDIO IN GRANDVIEW

TO VISIT WITH ARTISTS WHO

PRESENTED IN A GROUP EXHIBITION.

"SHARED VISION" AT THE OHIO

CRAFT MUSEUM PUT ARTISTS WITH

DEVELOPMENTAL DIFFERENCES AT THE

FRONT AND CENTER TO SHOW WHAT'S

POSSIBLE.

>> SO, MY NAME IS TROY GOINS AND

I'M AN ARTIST HERE AT PASSION

WORKS STUDIOS.

♪♪

I LIKE COMING HERE TO GO AND

MAKE ART AND TRY AND MAKE PEOPLE

HAVE BETTER DAYS WITH IT.

♪♪

>> WELL, WELCOME TO PASSION

WORKS STUDIO.

YOU ARE AT THE HEART OF

ATHENS, OHIO, WHERE WE

COLLABORATIVELY MAKE WITH OUR

COMMUNITY.

EVERYONE IS WELCOME IN THIS

SPACE TO MAKE.

>> AS OF LATELY I'VE BEEN ALSO

WRITING A SPEECH OF SORTS FOR

TEDx.

IT'S ABOUT HOW ART EMPOWERS

PEOPLE WITH MENTAL,

DEVELOPMENTAL, AND PHYSICAL

DISABILITIES.

IT EMPOWERS ME BY SHOWING PEOPLE

THAT UNDERNEATH THE EXTERIOR OF

MYSELF, WHICH KIND OF LOOKS

UNASSUMING, IS SOMEONE WHO IS

PASSIONATE AND CREATIVE ABOUT

HIS ART.

>> WELL, OUR FRIENDS AT THE OHIO

CRAFT MUSEUM, THEY INVITED US TO

DO A SHOW.

WE'VE BEEN TALKING ABOUT IT FOR

YEARS.

AND WE SAID, WE WOULD LOVE TO DO

A SHOW.

BUT WE'D ALSO LOVE TO DO A SHOW

TO INVITE OTHER SISTER STUDIOS

IN OHIO TO ILLUSTRATE WHAT IS

HAPPENING HERE IN OUR FABULOUS

STATE.

IT'S CALLED "SHARED VISION" AND

BASICALLY THAT WE RECOGNIZE EACH

OTHER AS COLLEAGUES AND THAT WE

HAVE THE SAME INTENTION OF

BRINGING PEOPLE WITH

DEVELOPMENTAL DIFFERENCES AT THE

FOREFRONT AND CENTER OF ART

MAKING AND COMMUNITY.

AND TO SEE WHAT'S POSSIBLE WHEN

WE CREATE THESE MAKING PLACES.

♪♪

>> I'M HELEN TAYLOR.

I'M 72 YEARS OLD.

THIS IS "HELEN'S MOUNTAINTOP

COLLAGE."

>> ONE OF THE GREATEST THINGS

ABOUT THE STUDIO IS THAT IT'S A

SPACE WHERE WE HAVE ALL THIS

STUFF AND YOU CAN REALLY

EXPERIMENT.

AND THAT'S WHERE I THINK THE FUN

OF MAKING ART REALLY IS IS IN

EXPERIMENTING.

AND SO WE'RE GOOD AT THAT.

>> BEFORE I CAME TO ART, I FELT

HOPELESS.

I DIDN'T THINK I COULD DO STUFF.

I DIDN'T HAVE ANY DREAMS.

BUT NOW SINCE I'VE BEEN DOING

THIS FINE ARTWORK, I GOT A LOT

OF DREAMS.

AND NOW I KNOW THAT THEY CAN

COME TRUE.

>> CHARLOTTE McGRAW IS -- GOSH,

HER ART PRACTICE IS SO MANY

DIFFERENT THINGS.

BUT PRIMARILY SHE'S THE MAYOR OF

CHARLOTTESVILLE.

♪♪

>> CHARLOTTESVILLE IS A

COMMUNITY WHERE PEOPLE COME AND

THEY'RE LOVED IN

CHARLOTTESVILLE.

THEY'RE NOT -- THEY'RE NOT

LOOKED AT AS BEING DIFFERENT.

CHARLOTTESVILLE IS A GOOD PLACE

TO GO.

IF YOU WANT ENCOURAGEMENT, AND

YOU WANT LOVE AND BEING CARED

ABOUT, IT'S RIGHT HERE.

THIS STUDIO, AND THE PEOPLE IN

IT, AND THE INSTRUCTORS MEAN THE

WORLD TO ME, AND I WOULDN'T KNOW

WHAT TO DO IF I DIDN'T HAVE

THIS.

WHEN I TOOK A BIG BUMP ON THE

HEAD, IT MADE ME REALIZE THAT

YOU HAVE TO TAKE LIFE SERIOUSLY,

BECAUSE YOU DON'T KNOW FROM ONE

DAY TO THE NEXT IF YOU'RE GONNA

BE THERE.

AND WHEN I GOT HIT BY THE CAR,

IT MADE ME THINK ABOUT LIFE

TOTALLY DIFFERENT.

I NEVER THOUGHT THAT I WOULD BE

HERE.

ALL THE ART INSTRUCTORS IN HERE

GAVE ME MY LIFE BACK.

THEY GAVE ME MY LIFE BACK.

>> THE COMMUNITY NEEDS TO KNOW

THAT THERE'S THIS WONDERFUL, NOT

ALWAYS RECOGNIZED OR SEEN

CREATIVE PEOPLE THAT ARE

DYNAMIC.

AND THEY VIEW THE WORLD IN

DIFFERENT WAYS.

AND I THINK THE MORE PEOPLE CAN

BE EXPOSED TO OTHERS THAT HAVE

DIFFERENT VIEWS OF THE WORLD IS

A GOOD THING.

>> NO MATTER WHAT THE PROBLEM

IS, NO MATTER WHAT THE

DISABILITY IS, YOU CAN DO

ANYTHING YOU PUT YOUR MIND TO.

AND WITH THE RIGHT SUPPORT, YOU

CAN'T GO WRONG.

YOU CAN'T GO WRONG.

>> I THINK ANYBODY WHO ENTERS

THIS SPACE WILL LEAVE AS A

DIFFERENT HUMAN.

TO UNDERSTAND THE POSSIBILITY

WITHIN THIS HUMAN EXISTENCE,

WHEN THE OPPORTUNITY AND

ANTICIPATION OF GREATNESS IS

OFFERED TO OUR COMMUNITIES.

>> IF YOU WANT TO SEE MORE FROM

THESE DYNAMIC ARTISTS, CHECK OUT

THE PROGRAMS AT

GOODWILLCOLUMBUS.ORG AND

PASSIONWORKS.ORG.

♪♪

>> PHOTOGRAPHY, LIKE ALL OTHER

ART FORMS, NOT ONLY DOCUMENTS

HISTORY, BUT OFTEN ALSO SERVES

AS A SOCIAL COMMENTARY.

LaTOYA RUBY FRAZIER SPENT

SEVERAL MONTHS IN THE HOMETOWN

OF ONE OF THIS COUNTRY'S LARGEST

INDUSTRIAL EMPLOYERS AS ITS

PLANT WAS CLOSING.

HER INTIMATE LOOK INTO THIS

COMMUNITY GAVE THEM A VOICE.

LET'S TAKE A LOOK AT THIS

POIGNANT STORY.

>>> MY NAME IS

LaTOYA RUBY FRAZIER AND I'M A

VISUAL ARTIST THAT HAS A

SPECIFIC PRACTICE IN

PHOTOGRAPHY.

I'M MENTORED AND TRAINED BY

ARTISTS THAT USE THE CAMERA TO

MAKE SOCIAL COMMENTARY ON THE

UNITED STATES, OUR HISTORY.

♪♪

I GREW UP NEXT TO

ANDREW CARNEGIE'S FIRST STEEL

MILL, THE ECKERT-THOMPSON PLANT

IN BRADDOCK, PENNSYLVANIA, RIGHT

NEXT TO THE MONONGAHELA RIVER.

SO, BECAUSE OF MY UPBRINGING AND

MY GRANDMOTHER RAISING ME NEXT

TO ANDREW CARNEGIE'S STEEL MILL,

I'M VERY SENSITIVE TOWARDS

WORKING CLASS PEOPLE,

COMMUNITIES, AND THEIR FAMILIES.

AND I'M ALSO SENSITIVE TO THE

IMPACT OF ECONOMIC POLICIES OR

WHEN CORPORATIONS ABANDON

COMMUNITIES AND PEOPLE LOSE

THEIR JOBS.

THE WORK HERE'S THAT'S ON VIEW,

"THE LAST CRUZE," THAT WAS NINE

MONTHS OF SHOOTING.

>> BECAUSE THE WORK FOCUSES ON

THE STORIES FROM THE PEOPLE FROM

LORDSTOWN, OHIO WHERE THE GM

PLANT WAS BEING UNALLOCATED.

>> I KNEW THAT MASS MEDIA WASN'T

GOING TO DO JUSTICE TO ALLOWING

US A GENERAL PUBLIC TO HEAR

DIRECTLY FROM THESE AUTOWORKERS,

AND UNION MEMBERS, AND THEIR

CHILDREN AS TO WHAT THIS

UNALLOCATION MEANT TO THEM.

WHAT THAT WORD MEANT TO THEM.

AND THEN LEADING UP THAT LAST

CRUZE ROLLING OFF THE ASSEMBLY

LINE AND THEN ALSO AFTER.

>> SO, LaTOYA SPENT A LOT OF

TIME IN LORDSTOWN, OHIO.

ABOUT NINE MONTHS MEETING THE

PEOPLE AND HEARING THEIR

STORIES.

>> WHERE I'D THEN, OPPOSITE OF A

JOURNALIST, DEVELOPED A VERY

INTIMATE RELATIONSHIP WITH THE

UNITED AUTOWORKERS OF LOCAL

112 AND 1714.

SO, THIS IS VERY DIFFERENT FROM

PHOTOJOURNALISM, BECAUSE YOU'RE

NOT SUPPOSED TO GET SO

INTIMATELY, AND EMOTIONALLY, AND

PSYCHOLOGICALLY INVOLVED.

YOU'LL SEE AND HEAR FROM THEM

WHAT THE UAW HAS DONE FOR THIS

COUNTRY IN TERMS OF YOUR

EIGHT-HOUR WORK WEEK, YOUR LUNCH

BREAK, YOUR TIME OFF.

AMERICANS WILL BE CONFRONTED

WITH REMEMBERING LIKE, OH, THIS

IS THE UNION -- THIS IS THE

LABOR UNION THAT DID THIS.

♪♪

THIS SHOW IS ABOUT THE CONCEPT

OF UNITY, OF SOLIDARITY, OF

CLASS CONSCIOUSNESS.

AND THE ONLY WAY TO REMIND

PEOPLE OF THAT IS WHEN YOU TAKE

A SLOW LOOK THROUGH PORTRAITS

AND INTERVIEWS OF PEOPLE.

>> AND THOSE ARE ACTUALLY

PRESENTED ON --

WE'VE BEEN CALLING IT A KIND OF

ARMATURE, BUT IT REPLICATES WHAT

THE AUTOMOBILES, WHAT THE CARS

GO THROUGH IN THE FACTORY.

AND SO IT'S ACTUALLY ABOUT THE

SAME SHAPE, AND SIZE, AND COLOR

AS WHAT YOU WOULD SEE IN THE

ACTUAL GM FACTORY.

AND SHE'S USED THAT AS A WAY TO

BRING THE KIND OF FACTORY

FEELING INTO THE EXHIBITION.

>> AND MOST AMERICANS HAVE NEVER

SEEN INSIDE OF A CAR PLANT AND

HOW IT'S MANUFACTURED AND HOW

IT'S BUILT.

AND SO I WANTED TO BRING THAT

PRESENCE OF THE ASSEMBLY LINE TO

THE VIEWER.

♪♪

ALSO THE FACT THAT THIS

EXHIBITION SPECIFICALLY HAS THE

REAL LAST CRUZE IS MONUMENTAL.

AND THAT'S WHY THIS BODY OF

WORK, IT'S A MEMORIAL AND A

MONUMENT.

THE SPACE IS DESIGNED SO THAT

IT'S HALF HOLY, HALF ASSEMBLY

LINE.

WHEN VIEWERS ARE IN IT, THEY'RE

GONNA FEEL THAT ENERGY AND THAT

SPIRIT.

AND IT ALLOWS THEM TO SEE THE

ACTUAL COMPACT CRUZE SEDAN WHERE

THE WORKERS WHO ARE ALL IN THE

PHOTOGRAPHS, ARE THE ONES THAT

METICULOUSLY MADE WITH THEIR

BARE HANDS.

>> LaTOYA THINKS THAT'S REALLY

IMPORTANT THAT THIS IS A WORK OF

ART AND THAT THESE PEOPLE WHO

BUILT IT ARE ACTUALLY ARTISTS.

>> AND I THINK WHAT'S A DIRECT

INTERESTING INTERSECTION FOR ME

AS A CONTEMPORARY ARTIST, IS

THAT THE UAW ACTUALLY REPRESENTS

ALL THE WORKERS AT THE MUSEUM OF

MODERN ART.

SO, THAT'S A DIRECT CONNECTION

THAT I THINK IS EXCITING FOR THE

ART WORLD TO ACTUALLY HAVE TO

ACKNOWLEDGE.

THIS EXHIBITION REALLY DOES SHOW

AND IT PROVES TO OHIO, ALL THE

WAY TO WASHINGTON, D.C. THAT

ARTISTS PLAY AN ENORMOUS ROLE IN

SOCIETY.

SO, THIS IS THE POWER OF

PHOTOGRAPHY'S ABILITY TO BRING

SIGHT, AND VISION, AND INSIGHT.

AND A FULLER BREADTH, A LARGER

PICTURE OF THE SYSTEMIC, SOCIAL,

CULTURAL, AND POLITICAL ISSUE

THAT IS AT STAKE.

THAT IS STILL UNFOLDING AND

IMPACTING THE STATE OF OHIO.

♪♪

>> TO SEE MORE OF HER WORK,

VISIT LATOYARUBYFRAZIER.COM.

>> WELL, THAT'S OUR SHOW.

REMEMBER, YOU CAN FIND ALL OF

OUR STORIES ONLINE AT WOSU.ORG,

AS WELL AS ON OUR YOUTUBE

CHANNEL.

FOR ALL OF US HERE AT WOSU, I'M

KATE QUICKEL.

THANKS FOR WATCHING.

♪♪

♪♪

♪♪

♪♪

>> PRODUCTION OF "BROAD & HIGH"

IS FUNDED IN PART BY THE GREATER

COLUMBUS ARTS COUNCIL.

SUPPORTING ARTS, ADVANCING

CULTURE, AND CONNECTING THE

COMMUNITY TO ARTISTS.

EVENTS AND CLASSES AT

COLUMBUSMAKESART.COM.