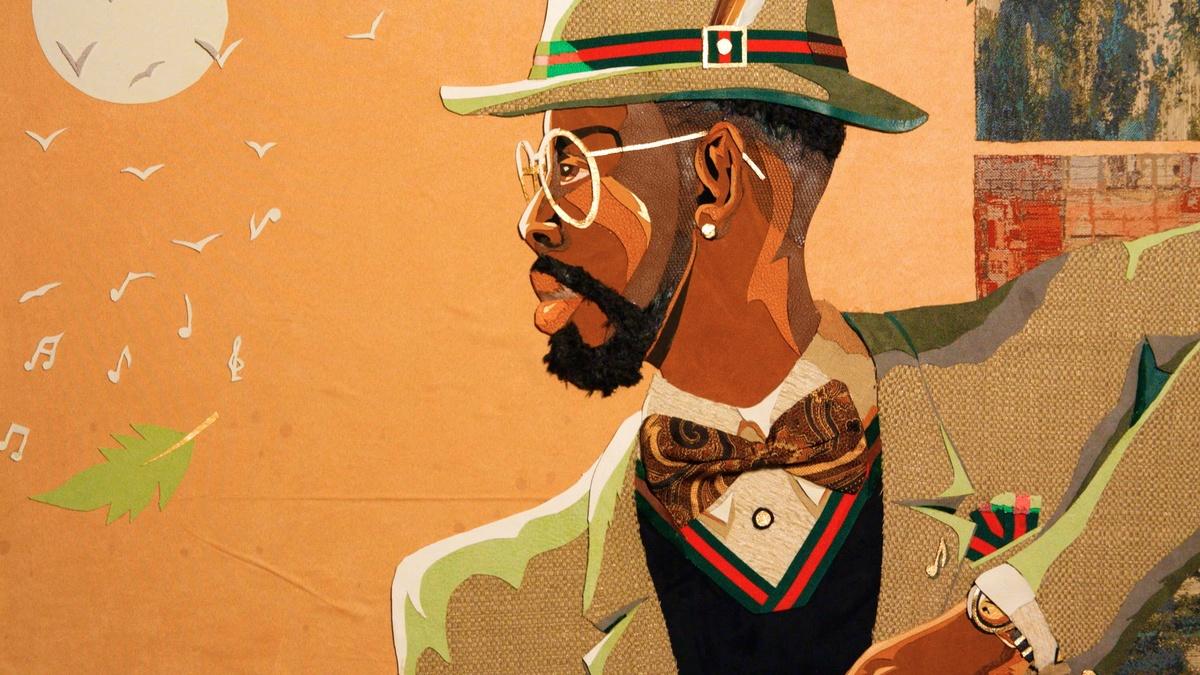 S8 E22 | FULL EPISODE
Fabric Artist DonCee Coulter, Kashis Keyz
Columbus fabric artist DonCee Coulter; a Detroit artist explores issues facing Black women; a Florida exhibit about artists influenced by comic books and graphic novels. Also, "Redemption" performed by Kashis Keys.
TRANSCRIPT

>>> PRODUCTION OF "BROAD & HIGH"

IS FUNDED IN PART BY THE GREATER

COLUMBUS ARTS COUNCIL.

SUPPORTING ARTS, ADVANCING

CULTURE, AND CONNECTING THE

COMMUNITY TO ARTISTS.

EVENTS AND CLASSES AT

COLUMBUSMAKESART.COM.

>> FROM THESE CONTRIBUTING

SPONSORS --

AND VIEWERS LIKE YOU.

THANK YOU.

>> THIS TIME ON

"BROAD & HIGH" --

A COLUMBUS ARTIST CREATES

VIBRANT AND STRIKING SCENES WITH

FABRIC SCRAPS AND AN X-ACTO

KNIFE.

A LYRICS FROM A NINA SIMONE SONG

INSPIRED AN ARTIST'S DEPICTION

OF BLACK WOMEN.

CONTEMPORARY ARTISTS RESPOND TO

GRAPHIC NOVELS AND COMIC BOOKS.

AND "REDEMPTION", ONE OF THE

FIRST SONGS THAT BROUGHT

RECOGNITION TO COLUMBUS'S

KASHIS KEYZ.

THIS AND MORE RIGHT NOW ON

"BROAD & HIGH."

♪♪

♪♪

♪♪

>> WELCOME TO THE SHOW.

I'M YOUR HOST KATE QUICKEL.

NOW YOU MIGHT SAY THAT ARTIST

DONCEE'S WORK IS A CUT ABOVE THE

REST.

THAT'S BECAUSE HE USES AN X-ACTO

KNIFE TO MANIPULATE FABRIC

PIECES, PRIMARILY LEATHER AND

SUEDE, INTO INTRICATE WORKS OF

ART.

HERE'S HIS STORY.

>> I GREW UP IN COLUMBUS, OHIO.

I WENT TO COLUMBUS HIGH SCHOOL.

AFTER I GRADUATED HIGH SCHOOL, I

WENT TO CCAD, TOOK UP AD DESIGN

AND ILLUSTRATION.

SOMEHOW I ENDED UP DOING FABRIC

ARTWORK.

SO THAT'S A TOTALLY DIFFERENT

STORY.

IT STARTED WITH JUST GROWING UP

IN THE HIP-HOP ERA.

WE USED TO LOVE TO JUST CREATE

AND I WOULD --

WE COULD GO TO SCHOTTENSTEIN'S

AND WE WOULD BUY THESE

PARTLY-TORN JEAN JACKETS, AND

THEN WE WOULD EVEN TEAR 'EM UP

EVEN SOME MORE.

WHAT I WOULD DO WOULD PAINT ON

EITHER LIKE, DENIM, SOMETIMES

EVEN JUST CANVAS.

WE'D GET A SEAMSTRESS AND SHE

WOULD SEW IN SOME OF THE SCENES

INTO THE JACKET.

SO THAT KIND OF REALLY GOT ME

INTO STUDYING FABRIC.

AFTER A WHILE, I WOULD START

GOING TO THE FABRIC STORES AND

JUST START BUYING FABRIC AND

JUST CREATING CLOTHES JUST

FREEHAND.

DIDN'T KNOW ANYTHING ABOUT

PATTERNS, I WAS JUST

BASICALLY -- JUST BEING

BASICALLY MY CREATIVE SELF.

WELL THE TECHNIQUE, I GUESS,

IT'S A COLLAGE STYLE.

SO IT'S A PROCESS WHERE I'M

TAKING SOMETHING AND I'M JUST

PUTTING LAYERS ON TOP OF LAYERS.

OBVIOUSLY, I'LL START WITH THE

BACKGROUND AND MOVE IT UP TO THE

FOREGROUND.

WHEN I INITIALLY STARTED

WORKING, THEY WERE MORE OR LESS,

LIKE, TWO TONE PIECES.

AND I WOULD GO INTO ART

GALLERIES AND I WOULD LOOK AT MY

WORK, COMPARE IT TO OTHER

PAINTINGS, AND I SAID, OKAY,

I'VE GOT TO DO BETTER.

I'VE GOT TO STEP WHAT I'M DOING.

I WAS LIKE, I WANT TO TAKE THIS

TO A LEVEL OF WHERE IT LOOKS

LIKE A PAINTING.

SO THERE WAS A LOT OF TRIAL AND

ERRORS AND A LOT OF

EXPERIMENTING.

IN THE BEGINNING, MY PIECES WERE

REALLY BULKY, 'CAUSE I WOULD USE

THE MORE HEAVIER FABRICS.

WHEN I LEARNED A TECHNIQUE FOR

CUTTING THE THINNER FABRICS,

THAT WAS -- IT WAS ALMOST LIKE

GAME OVER FOR ME.

BECAUSE AT THAT POINT, I WAS

ABLE TO PUT SHADOWS AND

HIGHLIGHTS AND BRING MORE

DIFFERENT ELEMENTS INTO MY

ARTWORK WITHOUT IT LOOKING

BULKY.

THAT WAS THE KEY.

AND THAT'S WHY TODAY PEOPLE LOOK

AT IT AND THEY COULD SAY THIS

LOOKS LIKE A PAINTING, UNTIL YOU

WALK UP ON IT AND IT'S LIKE, OH,

THIS IS ALL FABRIC.

OH, NUMBER ONE, LEATHER AND

SUEDE.

NUMBER TWO WOULD BE DENIM.

AND EVERYTHING ELSE AFTER THAT.

I THINK THAT WHEN I WORK WITH

LEATHER AND SUEDE, IT JUST

REALLY TRANSLATES REALLY WELL

WITH MY PIECES.

AND I JUST LOVE THE TEXTURE OF

IT.

AND I THINK THAT IT REALLY COMES

OUT.

DENIM IS ANOTHER TOTALLY

DIFFERENT LOOK.

I REALLY LIKE THAT AS WELL.

I LOVE BLENDING THE DIFFERENT

TYPES OF DENIM TOGETHER, AS THE

SAME WAY WITH THE LEATHER AND

SUEDES.

MY ONLY TOOL IS THE X-ACTO

KNIFE.

THE TECHNIQUE IS JUST LEARNING

HOW TO CUT THOSE THING FABRICS

WITH ACCURACY.

THERE ARE A LOT OF LITTLE

DIFFERENT TECHNIQUES THAT I USE,

I DON'T WANT TO JUST KIND OF

LIKE DISCLOSE 'EM ALL.

I'LL GO ON AND SAY ONE TECHNIQUE

I'LL USE.

IF YOU'VE GOT A REAL THIN

FABRIC, THERE'S A CERTAIN GLUE

THAT YOU CAN USE, YOU CAN APPLY

TO THE BACK OF THE FABRIC, WHICH

AT THAT POINT GIVES IT MORE OF A

SOLID FEEL, AND IT'S EASIER TO

CUT.

TYPICALLY I WOULD SAY ABOUT 95%

OF WHAT I DO, IT BASICALLY COMES

FROM OUT OF MY HEAD.

TYPICALLY I REALLY DON'T USE

REFERENCES A LOT.

IT'S JUST THINGS I JUST THINK

ABOUT.

I JUST LOVE TO CREATE.

SO WHEN I'M CREATING A PIECE, I

REALLY GET INTO IT.

SO IF I'M CREATING LET'S SAY A

CITY SCENE, AND I'M CREATING

BUILDINGS, I'M NOT JUST AN

ARTIST, I'M AN ARCHITECT.

IF I'M DOING A PORTRAIT AND I'M

CREATING A PERSON, I AM ALSO --

I'M DESIGNING THEIR OUTFIT,

DESIGNING THEIR LOOK.

SO YEAH, THAT'S THE THING, WHEN

I DO A PIECE I AM ALL IN.

I THINK THE FUNNEST PART IS WHEN

YOU'RE RIGHT IN THE MIDDLE AND

WHEN YOU CAN SEE THAT VISION

COME TOGETHER.

'CAUSE INITIALLY WHEN YOU'RE

CREATING A PIECE, YOU'RE LIKE,

OH, IS THIS GONNA WORK?

AND THEN AS YOU'RE WORKING,

YOU'RE LIKE, OH, I'M STARTING TO

SEE IT NOW.

IT'S COMING TOGETHER.

ON THE FLIP SIDE, THE WORST PART

I THINK IS COMING TOWARDS THE

END, TRYING TO FINISH THAT

PIECE.

'CASUE AT THAT POINT, YOU'RE

READY TO MOVE ON TO THE NEXT

PIECE, AND THAT'S WHEN YOU

REALLY HAVE TO BE CAREFUL.

'CAUSE YOU'RE LIKE, NO, STOP,

TAKE YOUR TIME.

MAKE SURE YOU COMPLETE THIS

CORRECTLY.

ONE OF THE REASONS WHY I USE THE

BIRD, IT REPRESENTS FREEDOM.

AND WHEN I FIRST STARTED DOING

ARTWORK, I KIND OF FELT LIKE

THAT ACTOR THAT GETS TYPECAST.

PEOPLE WERE EXPECTING ME TO DO A

CERTAIN TYPE OF ARTWORK.

AND ONE OF THE REASONS WHY I

ADAPTED THAT BIRD, 'CAUSE THAT

BIRD ALLOWS ME TO DO ANYTHING I

WANT TO DO.

YOU KNOW, I IF I WANT TO DO AN

ABSTRACT PIECE, IT'S GONNA BE --

I'LL DO THAT TOMORROW.

PORTRAITS, LANDSCAPES, ANYTHING.

SPORTS PIECES.

I DO IT ALL.

IF I FEEL IT, I'M GONNA DO IT.

ART IS MY THERAPY.

I REALLY HOPE THAT FOR THE

VIEWER THAT IT EFFECTS THEM THE

WAY THAT IT EFFECTS ME.

SO A LOT OF TIMES, IF I'M

DEALING WITH SOMETHING, I GO

INTO MY STUDIO.

THE ART IS -- THAT'S MY RELEASE.

AND I'M ABLE TO JUST BASICALLY

DEAL WITH STRESS IN THAT WAY.

SO I WANT THAT TO BE CONVEYED

WITH MY ARTWORK ALSO WITH THE

VIEWER.

SO THAT'S ONE OF THE THINGS I

WANTED TO ALSO ACCOMPLISH WITH

SOME OF THESE -- MY NEW PIECES

AS WELL.

SO I REALLY HOPE THAT RESONATES

WITH THE VIEWER.

♪♪

>> LEARN MORE ABOUT DONCEE AND

HIS WORK AT DONCEE.COM.

"WHY YOU WANNA FLY, BLACKBIRD?"

THAT'S THE INTRIGUING QUESTION

SABRINA NELSON ASKS IN HER ART

EXHIBITION THAT EXPLORES ISSUES

FACING BLACK WOMEN.

FROM DETROIT, MICHIGAN, HERE'S

MORE ON HER SHOW.

♪♪

>> I THINK MY MEDICINE IS ART.

MY LANGUAGE IS ART.

♪♪

I THINK THE TERM "ARTIST" MEANS

TO BE RESPONSIBLE FOR WHAT'S

HAPPENING IN THE WORLD.

HOW YOU SEE IT, HOW YOU RECORD

IT.

HOW YOU MAKE THINGS THAT ARE A

RESULT OF WHAT YOU ARE TRYING TO

SAY.

WHETHER IT'S A QUESTION YOU'RE

ANSWERING OR A STORY YOU'RE

TRYING TO TELL OR HERE'S

SOMETHING I NEED TO MAKE,

BECAUSE IT'S JUST EMBEDDED IN

ME.

LIKE I HAVE TO MAKE SOMETHING.

DETROIT IS EMBEDDED IN WHO I AM.

I'VE BEEN HERE ALL MY LIFE,

SINCE THE REBELLION IN 1967,

THAT'S WHEN I WAS BORN.

AND SO EVERYTHING AROUND ME

BECOMES A PART OF THE STORY I'M

TRYING TO TELL, OR THE QUESTION

I'M TRYING TO ASK.

MY SUPERPOWER IS BEING ABLE TO

VISUALLY COMMUNICATE HOW I FEEL

ABOUT WHAT'S HAPPENING IN THE

WORLD.

NINA SIMONE SAYS IF YOU'RE GONNA

BE AN ARTIST IT'S YOUR DUTY TO

REFLECT WHAT'S HAPPENING IN THE

WORLD.

AND IN THE WORLD THAT I LIVE IN,

FROM THE TIME I CAN REMEMBER

REMEMBERING, THERE'S ALWAYS

TRAUMA AND HURT AND PAIN.

AND I'M NOT ALWAYS TALKING ABOUT

THAT, BUT YOU CAN'T IGNORE IT.

AND ON THIS DAY, I THINK ABOUT

THE LIVES THAT ARE LOST, THAT

ARE CONSTANT, COMING AT ME

THROUGH DIFFERENT MEDIUMS.

AND SO I'M THINKING ABOUT

HOMICIDES AND DEATHS OF YOUR

PEOPLE AND HOW I'M EFFECTED BY

IT.

BUT I'M TALKING ABOUT DEATH

WHERE PEOPLE AREN'T CONSIDERED

PEOPLE.

LIKE, YOU DON'T MATTER.

YOU'RE NOT IMPORTANT.

SO I'M JUST GONNA TAKE YOUR

LIFE.

I DON'T CARE HOW OLD YOU ARE.

I DON'T CARE WHO YOU BELONG TO.

AND WHEN THAT PERSON IS MISSING

FROM OUR COMMUNITIES, NOT JUST

THE BLOOD FAMILY IS EFFECTED.

WE ARE ALL, AND WE SHOULD ALL BE

CONCERNED.

YOU KNOW, A LIFE IS A LIFE.

A HUMAN IS A HUMAN.

AND SO IN THIS WORK I'M TALKING

ABOUT THAT PAIN.

THE NAME OF THE EXHIBITION IS

"WHY YOU WANNA FLY BLACKBIRD?"

AND I GOT IT FROM A NINA SIMONE

SONG, WHO TALKS ABOUT BLACK

WOMEN LIKE, HOW DARE YOU TRY AND

BE HAPPY IN YOUR LIFE.

HOW DARE YOU NOT EXPECT PAIN.

PAIN IS GONNA COME.

YOU HAVE TO MOVE THROUGH IT AND

YOU HAVE TO LIVE, BUT PAIN WILL

BE HERE.

I DIDN'T WANT THE COLORS TO BE

SO SEDUCTIVE THAT IT DRAWS YOU

IN AS PRETTY.

LIKE I DON'T LIKE THE IDEA OF MY

WORK BEING PRETTY.

I WANT IT TO BE IMPACTFUL.

I WANT IT TO BE DEEPER THAN JUST

WHAT YOU SEE.

AND I WANTED IT TO BE LARGE

ENOUGH TO HAVE SOME GIRTH TO IT.

SO THESE PARTICULAR PIECES ARE

VERY LARGE DRAWINGS.

THEY'RE ALSO RELIQUARIES, IF YOU

WILL.

SO THEY TALK ABOUT, LIKE, THE

BODY, THE HOUSING OF THE BODIES

THAT WE HAVE, LIKE THE HOME.

AND THEN WHAT IT'S LIKE TO HAVE

A NEST WITH NO EGGS IN IT.

THINKING ABOUT THE EMPTY NEST OF

CHILDREN WHO NEVER RETURN.

YOU KNOW, I DON'T CARE HOW OLD

THEY ARE, THEY NEVER CAN RETURN.

SO I'M JUST TALKING ABOUT THE

DARKNESS IN THAT AND EXPRESSING

IT WITH THE MOST ELOQUENCE THAT

I CAN.

THE CAGES WILL REPRESENT EMPTY

HOMES.

THAT CAN BE THE HOME THAT THEY

LIVED IN.

THAT CAN BE THE COMMUNITY THAT

THEY LIVED IN.

HOW DO YOU DEAL WITH THAT, YOU

KNOW, THAT WOMB THAT'S EMPTY?

AND SO WHEN WE LOSE THESE PEOPLE

THAT ARE NOT TREATED WITH VALUE

OUT OF OUR COMMUNITIES, HOW DO

YOU DEAL WITH THAT?

SO LAVON IS HELPING ME ON THE

DRESSES, BECAUSE I WANT TO MAKE

DRESSES THAT WILL HANG FROM THE

CEILING, JUST ABOVE THE PATRONS

HEADS.

BUT THE BIRD CAGES WILL BE THE

EMPTY WOMBS UNDERNEATH THE

DRESSES.

AND SO I'M ASKING HIM TO HELP ME

FIGURE OUT HOW I'M GONNA MAKE

THE DRESSES, WHICH ARE MADE OUT

OF JAPANESE RICE PAPER, SO THAT

THEY CAN BE SHEER ENOUGH THAT

THE BIRD CAGES CAN GO UNDERNEATH

THEM AND THE PATRONS CAN SEE

THEM WITH THE LIGHTING.

AND HOPEFULLY THEY HAVE THE

IMPACT THAT'S IN MY HEAD AND IN

MY HEART.

I WANT PEOPLE TO PAY ATTENTION

TO IT AND TO BE MORE EMPATHETIC

WITH OTHERS LIVES.

IF YOU SEE SOMETHING HAPPENING

AND YOU CAN DO SOMETHING ABOUT

IT, WHY WOULDN'T YOU?

AND SO WHEN I LOOK AT THE

HOMICIDE RATES ACROSS THE

COUNTRY, THEY'RE INCREDIBLY HIGH

FOR AFRICAN AMERICAN,

INDIGENOUS, AND ALSO

LATIN AMERICAN CHILDREN.

AND SO IF THIS IS ALL I CAN SAY

AND DO ABOUT IT, I WANT SOMEONE

TO KNOW THAT I CARE.

EVEN THOUGH THEY'RE NOT MY

CHILDREN, I CARE THAT THEY'RE

MISSING, THAT THEY'RE GONE.

THAT THERE'S -- YOU KNOW,

SOMEBODY SHOULD THINK ABOUT

DOING SOMETHING ABOUT IT.

THE MOTION OF MOVEMENT WHEN I'M

MAKING THESE THINGS -- LIKE WHEN

I DID THE NEST HERE, YOU KNOW,

THE MOTION OF DRAWING AND

DRAWING AND DRAWING.

YOU KNOW, THAT OBSESSION OF

MOVEMENT AND WHAT IT FEELS LIKE

TO DO THAT.

THESE MOVEMENTS THAT WE DO OVER

AND OVER BECOME VERY MUCH

RITUAL.

MAYBE THESE ARE ALL PRAYERS

VISUALLY, TO SAY THAT I'M SORRY

THAT YOUR LIFE IS GONE, BUT I

WANT TO SAY THAT YOU MEANT

SOMETHING, THAT YOU WERE

IMPORTANT.

EVERY ARTIST WANTS SOMEONE TO

LOOK AT THEIR WORK FOR A LONG

TIME.

AND I DIDN'T WANT TO MAKE IT SO

OBVIOUS AND OBTUSE, WHERE IT'S

LIKE YOU KNOW, YOU SEE PEOPLE

GETTING KILLED.

BUT I THINK THE WORK AND THE

DRAWINGS AND SOME OF THE

PAINTINGS THAT I'M USING CAN BE

SEDUCTIVE.

SO I WANT PEOPLE TO MAKE SURE

THAT THEY WALK AWAY WITH KNOWING

THAT, I'M IN A WORLD, I AM

EFFECTED BY IT.

AND DON'T JUST LISTEN TO THE

NEWS AND BE IN THE WORLD AND NOT

REALLY TAKE PART IN WHAT'S

HAPPENING.

THINK ABOUT WHAT YOUR VOICE IS

AND WHAT YOUR SUPERPOWER IS AND

SEE WHAT YOU CAN DO TO HELP.

I WANT TO SAY SOMETHING THAT'S

IMPORTANT AND I WANT TO LEAVE

THIS WORLD WITH SOMETHING THAT

SOMEONE'S LEARNED FROM ME.

MY WORK MIGHT BE SENSUAL TO DRAW

YOU, AND THEN IT'S GONNA SLAP

YOU A LITTLE BIT.

AND THAT'S WHAT I HOPE I SHOW.

♪♪

>> YOU CAN FIND OUT MORE ABOUT

THIS ARTIST AND THIS EXHIBIT AT

SABRINANELSON.CARBONMADE.COM.

>> LOOK, UP IN THE SKY, IT'S AN

EXHIBIT ABOUT CONTEMPORARY

ARTISTS WHO HAVE BEEN INFLUENCED

BY COMIC BOOKS AND GRAPHIC

NOVELS.

HERE'S THE STORY FROM THE

BOCA RATON MUSEUM OF ART.

♪♪

>>> THEY HAD AN URGENCY ABOUT

THEM.

THERE WAS SOMETHING VERY

TOPICAL.

♪♪

SO, THE EXHIBITION "BEYOND THE

CAPE" IS REALLY LOOKING AT THOSE

ARTISTS WHO WERE INSPIRED BY

COMICS, BUT IN DIFFERENT WAYS.

THEY'RE ABOUT THE ENVIRONMENT,

POLITICS, RACE RELATIONS.

THERE ARE MANY ARTISTS LIKE

LICHTENSTEIN AND WARHOL WHO ARE

INFLUENCED BY, UH -- BY COMICS,

BY POP CULTURE.

BUT THIS YOU'LL FIND ARE ARTISTS

WHO REALLY ARE TELLING A STORY

THAT'S SOMETIMES QUITE DEEP,

QUITE DARK.

KERRY JAMES MARSHALL IS LOOKING

AT THE STREETS OF CHICAGO.

WILLIAM WILEY'S TAPESTRY IS

LOOKING AT THE SHOOTING OF A MAN

WHO POLICE THOUGHT HE WAS

PULLING OUT A GUN, BUT IN FACT

HE WAS PULLING OUT HIS WALLET.

♪♪

>> I'M FINDING RIGHT NOW IN THIS

MOMENT, JUST KIND OF SEEING MY

WORK AGAINST THESE OTHER ARTISTS

WORK IS THAT THE ACTS ARE

SPEAKING CLEARLY WITHOUT HOLDING

BACK ABOUT WHAT IS ACTUALLY

IMPORTANT TO THEM AND WHAT'S

ACTUALLY HAPPENING IN THEIR

PERIOD OF TIME THAT THEY ARE

LIVING.

MY NAME IS MARK THOMAS GIBSON.

I'M ORIGINALLY FROM

MIAMI, FLORIDA.

I AM AN ARTIST.

I'M ALSO AN ASSISTANT PROFESSOR

AT TEMPLE UNIVERSITY, TYLER

SCHOOL OF ART.

I KIND OF PLAY WITH POP CULTURE.

I PLAY WITH COMICS.

I PLAY WITH HISTORY.

I PLAY WITH, LIKE, A LITTLE BITS

OF EVERYTHING.

THIS BOOK HAD A LOT TO DO WITH

THIS IDEA OF UTOPIA.

ONCE I ACTUALLY START ENGAGING

WITH THE PRACTICE OF DRAWING,

THEN I MIGHT START TO FORMULATE

WHATEVER MY ACTUAL ANSWER IS

ABOUT THAT SUBJECT.

IN THE CASE, THIS ONE WAS

UTOPIA.

AND SO BY THE END OF IT I

ACTUALLY COME TO AN ANSWER FOR

MYSELF, AND I DON'T THINK I

COULD HAD EVER ACTUALLY FIND

THAT TYPE OF ANSWER ANY OTHER

WAY.

EVERY PAGE IS AN INDIVIDUAL

DRAWING.

350 OF THEM.

THEY TELL THE NARRATIVE OF MY

MAIN CHARACTER.

I use like as my protagonist, a

werewolf character, which is the

idea of someone who's been

traumatized but is now a

traumatizer.

I THINK ABOUT THAT A LOT IN

AMERICA, HOW WE HAVE A LOT, AND

THAT CONTINUOUSLY SEEMS TO

HAPPEN WHERE PEOPLE BECOME

TRAUMATIZED BY EITHER BEING

ECONOMICALLY OPPRESSED OR SEEING

A LOVED ONE MURDERED OR SEEING

CULTURE ACT AND RESPOND TO THEM

AS AN OTHER WHEN THEY ARE

ACTUALLY A PART OF THE FABRIC OF

THIS COUNTRY AND THEN THAT GETS

PASSED ON TO YOUR KID, IT GETS

PASSED ONTO YOUR COMMUNITY.

SOME OF THEM BECOME PAINTINGS,

SOME OF THEM DO NOT.

MOST OF THEM DO NOT.

BUT IN THIS CASE, THIS WOULD

LATER BECOME LIBRARY ONE AND

TWO.

♪♪

I WANTED TO KIND OF SHOW AN AREA

THAT HAD BEEN LIVED IN AND KIND

OF OVERGROWN IN THOUGHT.

MY MAIN CHARACTER IN THIS

NARRATIVE THAT THIS COMES FROM,

DON'T EVEN REALLY KNOW WHAT TIME

PERIOD IT IS THAT HE'S IN, SO

YOU HAVE A SWORD AND HILT AND A

SPEAR, AND BOOKS THAT ARE KIND

OF CONTEMPORARY.

SO, THERE'S UTOPIA OF COURSE AND

THEN THERE'S BELOVED BY THE

GREAT TONI MORRISON.

I THINK ABOUT BOOKS THAT I'VE

READ GROWING UP THAT TOLD ME

SOMETHING OR MADE ME THINK ABOUT

RELATIONSHIPS AROUND SLAVERY,

RELATIONSHIPS AROUND AMERICAN

EXPANSIONISM, ALL THESE THINGS

THAT WE KIND OF THINK ABOUT WHEN

WE'RE TALKING AROUND AMERICA ARE

THESE KINDS OF CANONS, LIKE WHO

ARE WE, WHERE ARE WE?

PART OF WHAT I FIGURED OUT IN

THIS WHOLE UTOPIAN THING WAS

THAT IT KIND OF COMES DOWN TO

COMMUNICATION.

WE ACTUALLY HAVE TO WORK WITH

EACH OTHER TO NAVIGATE WHAT IT

IS THAT WE WANT.

>> THIS EXHIBITION I THINK IS

ANOTHER GOOD EXAMPLE OF WHAT

WE'VE BEEN PRETTY GOOD AT HERE,

AND THAT IS TO BREAK THE

BOUNDARIES BETWEEN THE SILOS OF

ART FORMS, WHERE YOU HAVE THE

GRAPHIC NOVEL, THE COMIC AND YOU

HAVE FINE ART.

WELL, HERE, YOU HAVE THIS SORT

OF BLENDING OF THE TWO.

>> AND IT WAS KIND OF HARD

BECAUSE WHEN YOU'D HAVE THAT

KIND OF INFLUENCE IN YOUR LIFE

AND YOU'D GO TO ART SCHOOL PER

SE, THEY'D SAY "OH, THAT'S NOT

ART" AND THEY WOULD THROW THAT

ASIDE OR KIND OF DEMEAN IT OR

DEMOTE IT.

MANY PEOPLE THROUGHOUT HISTORY

ACTUALLY WORKED WITHIN

ILLUSTRATION, WORKED WITHIN

POLITICAL ART, WORKED WITHIN

CARICATURE.

IT'S REALLY KIND OF EMBEDDED IN

OUR PRACTICE, AND IF YOU GO ALL

THE WAY BACK TO LASCAUX AND LOOK

AT THOSE, LIKE, CAVES, I MEAN,

THERE'S SOME CARICATURISM GOING

ON IN THAT AS WELL.

SO THE WAY WE KIND OF THINK

THROUGH A NARRATIVE IN

SEQUENTIAL ART, IT'S ALWAYS BEEN

PRESENT.

♪♪

♪♪

>> "REDEMPTION" IS ONE OF THE

FIRST SONGS THAT BROUGHT

RECOGNITION TO COLUMBUS' KASHIS

KEYZ.

HIS SONGS ARE PERSONAL, IN FACT

HE SAYS THIS IS HIS REDEMPTION

SONG.

♪♪

YEAH, HOPE YOU ALL ARE ENJOYING

YOURSELVES AS MUCH AS I'M

ENJOYING MYSELF.

WE GOT A COUPLE DIFFERENT VIBES,

SO, SHOULD BE A WELL-ROUNDED

FIT.

BUT YEAH, LET'S JUMP INTO THIS.

♪ MONEY ON MY MIND ONLY THING

THAT BE DRIVING♪

♪ MY THOUGHTS THEY SAID THE PATH

TO SUCCESS♪

♪ IS WHEN YOU GOTTA RUN, YOU

CAN'T WALK♪

♪ SHOTS FIRED THERE GO ANOTHER

BROTHER♪

♪ GETTING CHALKED COLD WORLD♪

♪ WHERE WEAKNESS CONFUSED WITH

HAVING HEART, ARRIVED ON♪

♪ THE SCENE IN THIS DEPARTURE,

GONNA REGRET --I DEMAND MY

RESPECT♪

♪ COLD CREW IS ON DECK WE BUY

THE --♪

♪ I'M COMING FOR THAT CHECK

TALKING LIKE --♪

♪ DIDDY, COMPLEX, TAKE THAT I'M

STATING STRAIGHT FACTS♪

♪ DOPE BLINDS WITH NO TRACK THE

ONLY BEACON OF LIFE♪

♪ WILL NEVER FADE TO BLACK THE

WAY I RUN TRACKS♪

♪ WILL I MAKE IT OUT I'LL NEVER

LOOK BACK♪

♪ I SWEAR I'LL PUT THAT ON MY

MIND♪

♪ LOOKING FOR --

I AVOID THE -- I SWEAR♪

♪ AND ALL THEY ASK IS --

FAST LANE LIFE WAS IN IT♪

♪ JUST FOR THE RUSH, YEAH I'VE

BEEN TRYING♪

♪ TO STACK IT UP I'VE BEEN

TRYING♪

♪ TO STACK IT UP I'VE BEEN

TRYING♪

♪ TO STACK IT UP ALL THE WAY TO

THE SKY♪

♪ ALL THE WAY TO THE SKY I'VE

BEEN TRYING♪

♪ TO STACK IT UP I'VE BEEN ALL

ON MY OWN♪

♪ I'VE BEEN DOWN FOR SO LONG

I'VE BEEN BLOWING THAT STRONG♪

♪ EVERY CHOICE BEEN SO WRONG

THIS MY REDEMPTION SONG♪

♪ CAN I MAKE IT BACK SPEND IT

ALL♪

♪ WILL I MAKE IT BACK?

CAN I GET IT BACK?♪

SPEND IT ALL♪

♪ WILL I MAKE IT BACK?

I SWEAR♪

♪ PUT THAT ALL ON MY MAMA

LOOKING FOR --♪

I AVOID THE -- I SWEAR♪

♪ PHOENIX TIME ABOUT TO RISE

FROM ASHES♪

♪ CASH IS PAST WHAT THEY SAYING

ABOUT♪

♪ THE TORCH, NEVER HAND IT OFF

PUT IT BACK OPTION♪

♪ NEVER PITCH IT OFF HOME RUN AT

THE TIME♪

♪ NEVER WILL I DROP A DIME

PENNIES FOR YOUR THOUGHT♪

♪ NEVER MADE IT PAST --

A TRANSLATION♪

♪ MARCHING TO MY OWN CADENCE I'M

MY OWN MAN♪

♪ I'M MY OWN MAN, YEAH I'M MY

OWN MAN♪

♪ I'M MY OWN MAN, YEAH REAL

TALK, MOVING DISCUSSIONS♪

♪ LIFE IS A MOTION PICTURE

DEPICTED LIVING THROUGH♪

♪ STRUGGLE JUST GO, NO HUDDLE♪

♪ GET IT RIGHT FROM THE RUBBLE

YOURS MORE OF A PUDDLE♪

♪ YEAH, LOOK I JUST WANT MY MAMA

TO GO♪

♪ QUIT HER JOB I JUST WANT MY

BROTHERS♪

♪ NOT TO GO AND ROB AND ALL

Y'ALL TRASH♪

♪ ME AND THE SQUAD GOTTA CLEAN

THE GAME UP♪

CAUSE I'VE BEEN TRYING♪

♪ TO STACK IT UP I'VE BEEN

TRYING♪

♪ TO STACK IT UP I'VE BEEN

TRYING♪

♪ TO STACK IT UP I'VE BEEN

TRYING♪

♪ TO STACK IT UP ALL THE WAY TO

THE SKY♪

♪ I'VE BEEN TRYING TO STACK IT

UP♪

♪ CAUSE I'VE BEEN ALL ON MY OWN

I'VE BEEN DOWN♪

♪ FOR SO LONG I'VE BEEN BLOWING

THAT STRONG♪

♪ EVERY CHOICE IS SO WRONG THIS

MY REDEMPTION SONG♪

♪ CAN I GET IT BACK?

WILL I MAKE IT BACK?♪

♪ CAN I GET IT BACK?

WILL I MAKE IT BACK?♪

♪ PUT THAT ALL ON MY MAMA

LOOKING FOR --♪

I AVOID THE -- I SWEAR♪

♪ MY REDEMPTION SONG I SWEAR♪

♪ MY REDEMPTION SONG I SWEAR♪

♪ YES ♪♪

YOU HEAR 'EM?

YOU HEAR 'EM IN THE BACK?

I CAN'T DO NOTHING --I GOTTA

GIVE IT ONE MORE BABY.

I GOTTA GIVE IT ONE MORE.

WE GONNA DO SOMETHING DIFFERENT.

WE GONNA GIVE Y'ALL SOME SPOKEN

WORD, LET'S TALK ABOUT

EVERYTHING THAT'S GOING ON RIGHT

NOW IN THE WORLD.

♪♪

>> WELL, THAT'S OUR SHOW.

REMEMBER YOU CAN FIND ALL OF OUR

STORIES ONLINE AT WOSU.ORG AS

WELL AS ON OUR YOUTUBE CHANNEL.

FOR ALL OF US HERE AT WOSU, I'M

KATE QUICKEL, THANKS FOR

WATCHING.

♪♪

♪♪

♪♪

♪♪

♪♪

♪♪

♪♪

♪♪

♪♪

>> LARISSA BOIWKA, CORSETRY.

I THINK OF MY WORK AS SWEET AND

SALTY, A LITTLE EDGE AND POP TO

TRADITIONAL BEAUTIFUL ELEGANCE.

I LIKE THE PROCESS OF

ORNAMENTATION.

THE CORSET IS SUCH A WONDERFUL

VEHICLE FOR EMBELLISHMENT.

I'VE FOUND THAT ART IS THERE FOR

YOU EVEN WHEN PEOPLE FAIL --EVEN

WHEN YOUR LIFE FALLS APART, AND

WHEN EVERYTHING ELSE IS A

DISASTER, YOU CAN STILL FIND

PEACE AND BEAUTY IN CREATION.

COLUMBUS SUSTAINS MY WORK, IT'S

SIMPLE.

I CAN BE A THRIVING ARTIST HERE.

I'M LARISSA BOWIKA, CORSETRY IS

MY ART AND THERE'S NO PLACE I'D

RATHER MAKE IT.

♪♪

♪♪

>> CATCH COLUMBUS AT ITS

CREATIVE BEST ON BROAD & HIGH,

THURSDAY NIGHTS AT 8 O'CLOCK ON

WOSU-TV.

>>> PRODUCTION OF BROAD AND HIGH

IS FUNDED IN PART BY THE GREATER

COLUMBUS ARTS COUNCIL.

SUPPORTING ARTS, ADVANCING

CULTURE, AND CONNECTING THE

COMMUNITY TO ARTISTS EVENTS AND

CLASSES AT COLUMBUSMAKESART.COM.

>> FROM THESE CONTRIBUTING

SPONSORS AND VIEWERS LIKE YOU.