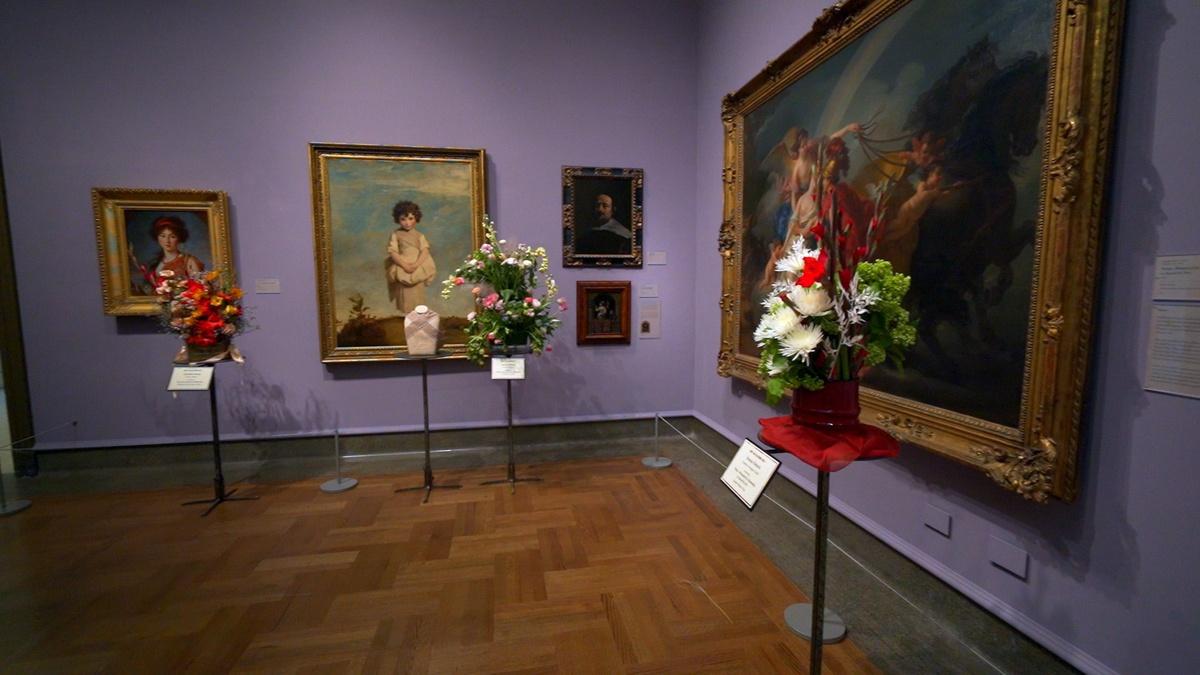 S8 E20 | FULL EPISODE
Art In Bloom, Tyshawn Freeman Yarn Art
Floral art adds perspective to works at the Columbus Museum of Art. A Short North fiber artist creates dazzling and intricate shapes. Stunning visions of India from 26 artists. And the man behind the "deerest" sculptures in downtown Columbus.
TRANSCRIPT

>>> PRODUCTION OF "BROAD & HIGH"

IS FUNDED IN PART BY THE GREATER

COLUMBUS ARTS COUNCIL.

SUPPORTING ARTS, ADVANCING

CULTURE, AND CONNECTING THE

COMMUNITY TO ARTISTS.

EVENTS, AND CLASSES AT

COLUMBUSMAKESART.COM.

>> FROM THESE CONTRIBUTING

SPONSORS --

AND VIEWERS LIKE YOU.

THANK YOU.

>> THIS TIME ON "BROAD & HIGH,"

FLORAL ART ADDS PERSPECTIVE TO

WORKS AT THE COLUMBUS MUSEUM OF

ART.

>> WE NOW KNOW A LOT ABOUT WHAT

BEAUTY DOES TO THE HUMAN SPIRIT

AND TO WELLNESS, RESILIENCE.

>> A SHORT NORTH FIBER ARTIST

CREATES DAZZLING AND INTRICATE

SHAPES.

STUNNING VISIONS OF INDIA FROM

26 ARTISTS.

AND THE MAN BEHIND THE "DEEREST"

SCULPTURES IN DOWNTOWN COLUMBUS.

THIS AND MORE RIGHT NOW, ON

"BROAD & HIGH."

♪♪

♪♪

>> HI, EVERYONE.

WELCOME TO "BROAD & HIGH."

I'M YOUR HOST KATE QUICKEL.

NOW, DID YOU HEAR THE ONE ABOUT

THE FLORAL DESIGNERS WHO BROKE

INTO THE MUSEUM GALLERY?

IT TURNS OUT THEY WERE BUDDING

ARTISTS.

BUT SERIOUSLY, THAT DESCRIBES

"ART IN BLOOM," AN EXHIBIT AT

THE COLUMBUS MUSEUM OF ART.

AS YOU'LL SEE, IT'S A BEAUTIFUL

COMBINATION OF FLORAL DESIGNS

AND WORKS OF ART.

♪♪

>>> "ART IN BLOOM" HAPPENS EVERY

OTHER YEAR AT THE MUSEUM, AND

IT'S BEEN GOING ON IN DIFFERENT

ITERATIONS SINCE 1996.

CELEBRATION, IN WHICH FLORAL

ARTISTS, ANOTHER FORM OF ART,

ARE INSPIRED BY WORKS IN THE

MUSEUM COLLECTION.

SO, THAT THE FLORAL DESIGN

INSTALLATION IS IN CONVERSATION

EITHER WITH THE BUILDING OR WITH

A WORK OF ART.

SO IT CELEBRATES TWO FORMS OF

ART TOGETHER.

♪♪

THERE ARE 40 DESIGNERS THIS

YEAR.

THE ARTISTS -- THEY'RE MOSTLY

LOCAL.

WHICH IS EXCITING 'CAUSE THEN

YOU CAN ENJOY THEIR FLORAL

DESIGNS OTHER TIMES OF YEAR.

♪♪

>> I HAVE THE PAPER DAISY FLOWER

BOUTIQUE THAT IS A FULL SERVICE

FLOWER SHOP IN THE SHORT NORTH.

I THINK THAT'S GOOD.

YEAH, MAYBE COME OUT LIKE TO ME

PUTTING ONE HERE AND ONE HERE.

AND THEN KIND OF COMING DOWN.

IT'S INSPIRED BY THE AMAZING

LICHTENSTEIN, THAT'S RIGHT

THERE.

THAT I'VE SEEN EVERY TIME I'VE

COME INTO THE MUSEUM.

I FEEL LIKE IT'S THE FIRST THING

I SEE WHEN I COME IN HERE, AND,

KIND OF, LIKE, SETS THE MOOD FOR

THIS WHOLE MODERN WING OF IT.

SO, I'VE ALWAYS LOVED THAT.

TO ME, IT WAS ALMOST LIKE THIS

SUN, KIND OF, RADIATING DOWN.

I FELT LIKE WE'RE COMING OUT OF

WHAT'S BEEN A PRETTY DARK

PERIOD.

♪♪

THEY DON'T HAVE A WATER SOURCE,

SO I HAD TO GO WITH SOME

HEARTIER VARIETIES FOR THIS PART

OF IT.

SO I HAVE SOME CARNATIONS, I

HAVE SOME MUMS, I HAVE SOME

BLUTCHED GREENS, I HAVE SOME

STATUS, SOME BILLY-BALLS, AND,

UM, A LOT OF THIS EQUISETUM.

SO IT WAS STUFF THAT WOULD BE A

LITTLE BIT MORE FORGIVING

WITHOUT A WATER SOURCE.

AND THEN WE HAVE SOME GERBER

DAISIES, AND SOME ROSES THAT

WILL HAVE THE WATER DOWN HERE.

BUT IT WAS REALLY MORE THE

COLORS, LIKE, THE POP ART, THE

HARSH HUES THAT IS KIND OF

DRIVING THE PIECE.

♪♪

>> IT'S REALLY A BIG RANGE.

THEY'RE REALLY BIG

INSTALLATIONS, AND THEN ARE

THEY'RE REALLY INTIMATE.

I THINK THERE'S A LIVING WALL

THIS YEAR.

♪♪

>> WE NEED CREATIVITY IN OUR

WORLD, MORE THAN EVER.

THE PANDEMIC HAS SHOWN US THAT.

WE REALLY NEED CREATIVITY TO

SOLVE THE PROBLEMS OF THE 21st

CENTURY.

♪♪

>> WE GOT TWO MORE, THREE MORE.

>> WELL, NO, WE GO 12.

>> CAN I GO ALL THE WAY UP TO

HERE?

>> GO ALL THE WAY UP, YEAH.

>> OH, OKAY.

>> YEAH.

>> SO YOU'RE GOING TO PUT MORE

ON HERE?

>> YEAH, I GOT FOUR MORE TO GO.

>> OKAY.

>> WE'RE A LANDSCAPE COMPANY.

SO WE'RE DOING A CONTAINER

GARDEN.

UM, SO WE WANTED TO USE LIVE

PLANTS, AND THEN ALSO SOMETHING

THAT WOULD BE RELEVANT FOR THE

WEATHER RIGHT NOW.

UM, BUT WE HAD SNOW YESTERDAY.

WE HAVE FREEZING TEMPERATURES

TODAY.

AND THEN 60 DEGREES, MAYBE, THIS

WEEKEND.

SO WE'RE JUST TRYING TO FIND

SOMETHING THAT WILL THRIVE IN

WHAT WEATHER WE'RE GOING TO HAVE

THIS WEEKEND FOR OHIO.

UM, AND USE, LIKE, REAL PLANT

MATERIAL YOU CAN USE IN YOUR

HOME GARDEN.

SO WE HAVE PANSIES, WE HAVE SOME

RED CABBAGE, UM, WE HAVE SOME

SOD SO IT LOOKS LIKE IT'S

GROWING.

UM, 'CAUSE OUR PIECE IS, UM,

BASED ON SOUND.

SO, OUR PIECE OF ART IS THE

STUDY OF STRINGS.

SO IT'S A PIECE THAT WAS PLAYED

AT A CONCENTRATION CAMP.

♪♪

ALL OF THE PEOPLE EXCEPT FOR THE

CONDUCTOR PASSED AWAY, AND THEY

RECREATE THE PIECE AND THEN THE

ARTIST THEN JUST EXTRACULATED

THOSE TWO PARTS TO SHOW HOW

EVERYONE ELSE WAS GONE.

WE'RE TRYING TO DO THE IDEA

OF -- YOU'RE COMING FROM

SOMETHING VERY FLOWEY AND

ORGANIC TO SOMETHING THAT'S VERY

JARRING AND STARK.

SO THIS IS KIND OF THE

ANTITHESIS OF THE PIECE.

WE'VE ENJOYED CONTAINER GARDENS

BECAUSE THEY'RE A FINITE SIZE,

YOU CAN SWAP THEM OUT, AND YOU

CAN ALSO EXPERIMENT WITH PLANTS.

IF IT DOESN'T WORK, YOU JUST

PULL THAT ONE PLANT OUT AND PUT

A DIFFERENT ONE IN.

♪♪

>> WE NOW KNOW A LOT ABOUT WHAT

BEAUTY DOES TO THE HUMAN SPIRIT,

AND TO WELLNESS, RESILIENCE.

ALL OF THAT IS CONNECTED TO THAT

AESTHETIC SENSE IN US.

BUT ALSO THE ART MUSEUM

CHALLENGES YOU.

SO COMING TO SEE ART THAT

CHALLENGES YOU.

IT MAKES YOU SEE THE WORLD

DIFFERENTLY.

IT MAKES YOU QUESTION AND THINK.

ALL OF THAT IS JUST AS

IMPORTANT, AND PEOPLE HAVE

MISSED IT.

PEOPLE ARE HUNGRY FOR ART, AND

THEY'RE HUNGRY FOR EACH OTHER --

TO BE TOGETHER WITH ART IS THE

BEST OF ALL.

♪♪

♪♪

>>> TO SEE WHAT ELSE IS

HAPPENING AT THE COLUMBUS MUSEUM

OF ART, CHECK OUT THE SCHEDULE

AT COLUMBUSMUSEUM.ORG.

♪♪

>> ARTISTS CAN DO AMAZING THINGS

WITH ITEMS FROM EVERYDAY LIFE.

CASE IN POINT, TYSHAWN FREEMAN'S

FIBER ART SCULPTURES.

TAKE A LOOK AT THE ELABORATE AND

COMPELLING WORKS OF ART THAT HE

CREATES WITH ACRYLIC, YARN, AND

PUSH PINS.

♪♪

>> I AM AN ARTIST, I GUESS I

WOULD SAY.

YOU KNOW, I DIBBLE AND DABBLE IN

DIFFERENT THINGS.

♪♪

>> I USE THE PINS AND GRAB SOME

YARN AND JUST DIBBLED AND

DABBLED, AND EVER SINCE, I

COULDN'T STOP.

I'M ADDICTED.

♪♪

>> YOU KNOW, I CAN'T CREATIVELY,

YOU KNOW, COME UP WITH SOMETHING

BY SKETCHING AND LOOKING AT IT

THAT WAY.

I KIND OF JUST HAVE TO DO IT.

IT COMES OUT BETTER WHILE I'M

DOING IT, VERSUS, YOU KNOW,

PRE-MEDITATED.

I'M KIND OF THINKING NOW THAT

THIS WAS A GOOD IDEA WITH THESE

COLORS, BUT I THINK I'M GOING TO

MAKE IT WORK.

LET'S SEE WHAT HAPPENS.

♪♪

>> MY INSPIRATION WAS ROSES.

YOU KNOW, IF YOU COULD MAYBE GET

THAT FROM LIKE THE DARKER GREEN

AND THE RED I USED, AND TRY TO

THROW A LITTLE PINK IN THERE

JUST TO, YOU KNOW, BRIGHTEN IT

UP A BIT.

BUT I DID A BUMBLE BEE, WHICH IS

OVER THERE, AND A LITTLE

MONSTER.

BUT I'M REALLY BIG ON THE

ABSTRACT.

YOU KNOW, I JUST DO IT.

I JUST DO IT, AND I LIKE IT.

AND, YOU KNOW, THAT'S ALL IT IS,

REALLY.

♪♪

>> USUALLY WITH MY MORE RANDOM

ONES, I JUST PIN THEM.

JUST GO ALONG AS -- IF I DON'T

LIKE IT, TAKE IT DOWN, DO IT

OVER AGAIN.

I HAVE BLISTERS NOW, YOU KNOW,

TRYING TO PUSH THE PINS INTO THE

WOOD.

'CAUSE I DON'T WANT TO HAMMER.

I'M IN AN APARTMENT COMPLEX.

EVEN SOMETIME WITH THE YARN, I

HAVE TO WEAR GLOVES NOW, BUT

SOMETIME WITH YARN AND THE

ABSTRACT ONES I GET, YOU KNOW,

LITTLE BURNS FROM THE YARN.

MY ARMS HURT ON THE BIG ONES,

IT'S CRAZY, YEAH.

I TAKE BREAKS.

YOU KNOW, I GUESS IT PAINS FOR

THINGS TO COME OUT NICE LOOKING,

I GUESS.

GOING TO MAKE THEM PURPLE.

RIGHT NOW, I'M USING PUSH PINS,

YOU KNOW, THUMBTACKS.

I HAVE USED NAILS BEFORE.

YOU KNOW, I JUST STARTED WITH

THESE WOOD PALLETS.

♪♪

>> I'M IN THE BEGINNING STAGES,

SO I'M, YOU KNOW, TRYING TO

PERFECT IT IN A WAY WHERE PEOPLE

WON'T GET HURT IF THEY WANT TO

TAKE IT HOME.

SOMETIMES I TAKE OUT A PUSH PIN,

ADD A PUSH PIN -- SOMETIME I'LL

JUST TAKE THE WHOLE THING DOWN

ONCE I'M FINISHED.

I'M LIKE, "I DON'T REALLY LIKE

IT."

LOOK AT IT FROM DIFFERENT

ANGLES.

I'LL JUST TAKE IT ALL DOWN, AND

START ALL OVER SO --

♪♪

>> I JUST LIKE TO SEE THE

OUTCOME.

LIKE, I'M REALLY EXCITED TO SEE

WHAT THE OUTCOME IS GOING TO

TURN OUT -- SOMETHING ABOUT THE

TEXTURE REALLY BRINGS OUT THE

COLOR AND YOU CAN REALLY SEE IT

A LOT BETTER WITH, YOU KNOW, A

THICKER YARN VERSUS A THINNER

ONE OR YOU KNOW --

THAT'S WHY I TRY TO USE THE

THINNER LINES, YOU KNOW, WITH

THE THICKER ONES TO GIVE IT SOME

TYPE OF DIMENSION.

PEOPLE SEEM TO LIKE THEM.

PEOPLE HAVE REALLY SEEM TO LIKE

THEM -- I HAVEN'T GOTTEN ANY

REQUESTS YET, BUT PEOPLE HAVE

SEEMED TO LIKE THEM.

YOU KNOW, I'M KIND OF EXCITED

ABOUT IT, SEE WHERE THIS TAKES

ME.

♪♪

>> VISIONS OF INDIA WAS AN

EXHIBIT HOSTED BY THE PIZZUTI

COLLECTION IN COLUMBUS.

26 INDIAN ARTISTS PRESENTED

PROVOCATIVE, CHALLENGING, AND

DYNAMIC VISIONS INSPIRED BY THE

COUNTRY.

THE EXHIBIT ALSO FEATURED ONE OF

THE FIRST INDIAN ARTISTS WIDELY

RECOGNIZED IN THE WEST.

♪♪

>> THERE'S A LOT OF STUFF THAT

MOVES IN THIS EXHIBITION, AND I

THINK THAT'S A LOT OF FUN.

THERE'S A LOT OF KINETIC ART.

THERE'S A LOT OF THINGS THAT

MAKE YOU FEEL A CERTAIN WAY

STANDING NEXT TO THEM.

WHETHER IT'S ANXIETY OR CAR

SICKNESS, OR MAYBE YOUR SENSE OF

WHERE YOU ARE IN SPACE.

SO THAT'S A REALLY FUN PATHWAY

THROUGH THIS EXHIBITION, BUT

THERE ARE MANY OTHERS.

THERE ARE LOTS OF FOUND

OBJECTIONS -- ARTISTS WHO ARE

TAKING THINGS THAT HAVE BEEN

DISCARDED AND USING THEM AND

GIVING THEM A SECOND LIFE.

AND CREATING OUT THE READY-MADE

SOMETHING NEW.

I'VE NEVER SEEN PEOPLE SO

NERVOUS IN FRONT OF THAT.

AND IN FACT, IT'S ONE OF

FAVORITE THINGS TO WATCH PEOPLE

FROM BEHIND AS THEY GET THAT

SENSE OF WORRY THAT THEY'RE

GOING TO HAVE TO SAVE THE POT.

AND SAVE IT AS IT FALLS.

BUT THE THING IS, THAT SUDARSHAN

HAS TAKEN THIS CLASSIC WATER

JUG, MADE OUT OF TERRACOTTA, AND

PERFECTLY BALANCED IT ON THE

WHEEL.

SO THAT IT IS CALIBRATED TO TURN

OVER TO THE POINT WHERE YOU

BELIEVE IT MIGHT FALL, ADJUST

ITSELF, AND GO BACK.

SO IT'S NEVER GOING TO FALL

DOWN, BUT PART OF THE PLAY OF

HIS PIECE IS DRAWING OUT THAT

ANXIETY AND THAT WONDER IN YOU.

♪♪

>> SO WE HAVE A SHOW CALLED

"VISIONS FROM INDIA."

WHICH IS ACTUALLY AN INCREDIBLE

CELEBRATION, AND A COMBINATION

OF TWO EXHIBITIONS.

ONE IS CALLED "TRANSFORMING

VISION," AND IT'S 21st CENTURY

ART FROM THE PIZZUTI COLLECTION,

SO IT'S A LOT OF WORK.

44 WORKS, BY 26 ARTISTS, ALL WHO

HAVE A CONNECTION TO INDIA.

EITHER THEY'RE FROM INDIA, OR

THEY FOUND THEIR WAY TO INDIA.

AND THEN WE HAVE A SHOW CALLED

"THE PROGRESSIVE MASTER," WHICH

IS WORKS BY

FRANCIS NEWTON SOUZA, WHO'S A

20th CENTURY PAINTER, AND THEY

COME FROM ANOTHER PRIVATE

COLLECTION HERE IN COLUMBUS --

THE RAJADACHJA COLLECTION.

>> I WANT THEM TO FEEL THE

EMOTION THAT COMES FROM HIS

WORK.

THAT IS WHAT ATTRACTED ME TO

HIM.

THAT EVERY ONE OF HIS PAINTINGS

GIVES YOU THE TURMOIL.

THIS GUY WAS CATHOLIC -- IN A

CATHOLIC FAMILY.

HE NEVER BELIEVED MUCH OF THE

DOCTRINE, BUT HE WAS IMPRESSED

BY THE RITUALS OF THE CATHOLIC

CHURCH.

>> SO HE, IN INDIA, AT THE TIME

OF INDEPENDENCE WAS PART OF ONE

THE MOST IMPORTANT ART MOVEMENTS

OF MID-20th CENTURY INDIA --

CALLED THE PROGRESSIVES.

THEY WERE TRYING TO FIND WAYS TO

CREATE A NEW INDIAN MODERNISM,

AND A NEW VOCABULARY.

SO HE WAS A VERY IMPORTANT

FIGURE IN INDIA, AND THEN HE

BECAME, ALSO, AN IMPORTANT

FIGURE IN BRITAIN.

AND SO AS WE WERE THINKING ABOUT

PUTTING THE SHOW TOGETHER, WE

REALIZED WE HAD AN INCREDIBLE

OPPORTUNITY TO SHOW BOTH WORKS

FROM 20th CENTURY AND FROM THE

21st CENTURY.

AND SHOW TWO DIFFERENT MOMENTS

OF INDIAN CULTURAL PRODUCTION.

THERE'S THIS INCREDIBLE THEME

THROUGHOUT ALL OF RON'S

COLLECTING WHERE HE LOVES

CRAFTSMANSHIP.

SO THIS WORK IS VERY

SPECIFICALLY HAND CARVED,

13-FOOT TALL ARCHWAY.

IT'S A MAGNIFICENT PIECE THAT

HAS THE SWINGING SWORDS.

SO AS MUCH AS IT IS ABOUT THE

TREE OF LIFE, AND THESE GORGEOUS

FLOWERS, AND PALM TREES, IT

INVITES YOU IN.

IT'S AN ARCHWAY.

IT'S A PORTAL TO SOMEWHERE.

IF YOU WERE TO TRY TO WALK

THROUGH IT, YOU WOULD ENCOUNTER

THE SWORD.

THE ARTIST, WHOSE NAME IS

SUBODH GUPTA, HAS TAKEN TIFFIN

CARRIERS -- SO THESE STACKS AND

STACKS AND STACKS OF TRADITIONAL

LUNCHBOXES -- AND PUT THEM ON

THE SUSHI TABLE IN THIS ARRAY

THAT LOOKS BOTH LIKE A

LANDSCAPE, AND THIS CHAOTIC SORT

OF GATHERING OF THESE BOXES,

BOTH OLD AND NEW.

SO EACH OF THE DOGS IS A CAST OF

A DOG SKELETON, AND IT'S SITTING

IN A PLEXIGLAS BOX THAT HAS A

SURVEILLANCE CAMERA.

A BINARY -- SO SOMETHING THAT IS

DEAD THAT'S SEEING.

SOMETHING THAT IS STATIC THAT

MOVES.

HE IS REALLY PLAYING WITH OUR

IDEA OF WHAT IS IT THAT WE ARE

FACING, THIS ARRAY OF DOGS WHO

ARE WATCHING US.

SO MANY OF THESE ARTISTS ARE

DEALING WITH THEMES THAT ARE

UNIVERSAL.

ISSUES OF GENDER, ISSUES OF THE

ENVIRONMENT, ISSUES OF

SPIRITUALITY, ISSUES OF TRAFFIC.

EACH WORK IN THIS EXHIBITION CAN

BE LOOKED AT AESTHETICALLY, BUT

ALSO CAN BE THE SPRINGBOARD FOR

INVESTIGATION INTO, YOU KNOW,

LEARNING SOMETHING NEW ABOUT

INDIA.

♪♪

♪♪

>> "SCIOTO LOUNGE."

IT SOUNDS LIKE IT MIGHT BE THE

PERFECT PLACE FOR HAPPY HOUR,

BUT IT'S REALLY THE NAME OF A

WORK OF ART IN DOWNTOWN COLUMBUS

THAT EVERYONE KNOWS AND A LOT OF

FOLKS HOLD DEAR.

SEE IF YOU CAN RECOGNIZE IT.

♪♪

♪♪

>> INITIALLY, WHEN I CAME HERE,

I

NEVER LOOKED AT COLUMBUS FROM

THE POINT OF VIEW OF REALLY

DOING SOMETHING OUT IN THE CITY.

SO I ROAMED AROUND THE CITY AND

LOOKED AT DIFFERENT SITES AND

PROPOSED DIFFERENT KIND OF IDEAS

IN MY MIND OF THINGS I COULD DO.

BUT I HEARD SOMEONE SAY THAT

SCIOTO RIVER MEANT "HAIR OF THE

DEER."

THAT KIND OF PIQUED AN INTEREST

AND I STARTED THINKING ABOUT

DEER.

IT WAS SUPPOSED TO BE KIND OF IN

THIS AREA WHERE PEOPLE LOUNGED

AROUND AND WALKED AROUND AND

TOOK IT EASY.

I JUST STARTED THINKING ABOUT

DEER INSTEAD OF PEOPLE DOING THE

SAME THING, JUST KIND OF

LOUNGING AROUND.

AND THAT'S REALLY WHERE THE IDEA

CAME FROM.

WHEN I DO HAVE A PROJECT, THAT'S

THE FIRST THING I DO IS START

DRAWING AND MAKING NOTES AND

JUST KIND OF THINKING -- GETTING

IT OUT OF MY HEAD ONTO A SHEET

OF PAPER.

AND IT CAN GO WHATEVER, YOU

KNOW, ANY DIRECTION KIND OF.

SO THERE'S SEVERAL PROPOSALS

THAT I MADE, NOT JUST THE DEER.

I PROPOSED FOR SPRING AND LONG

STREET, NEON SAID "SPRINGING"

AND "LONGING" THAT WOULD BE ON

THESE TUNNELS THAT PEOPLE GO IN

AND OUT OF.

THERE'S ONE CALLED "THE COLUMBUS

STUMP", WHICH IS A HUGE TREE

STUMP WITH CARVINGS IN EVERY

CONCEIVABLE LANGUAGE THAT SAYS

"WISH."

SOME OF THEM ARE ABSOLUTELY

IMPOSSIBLE.

YOU KNOW, THAT'S WHERE THE

POSSIBLE IMPOSSIBLE.

SOME OF THEM WERE MADE.

OTHERS ARE JUST WISHFUL

THINKING, YOU KNOW, WHATEVER.

SO THERE'S -- IT'S REALLY MORE

OF A THOUGHT PROCESS, I THINK,

THAT HAPPENS ON PAPER.

♪♪

♪♪

>> I DID THE DRAWINGS AND HAD

IDEAS OF WHAT THEY MIGHT LOOK

LIKE.

I GOT FORMS FROM A TAXIDERMIST

IN LOUISIANA OF -- AND THEY'RE

ACTUAL STYROFOAM FORMS THAT

TAXIDERMY GUYS USE TO PUT THE --

YOU KNOW, AFTER THEY SKIN THE

DEER, THEY PUT IT BACK ON.

AND I USED THAT AS AN ARMATURE,

AND WORKED IN A FOUNDRY THAT

I'VE WORKED AT FOR YEARS IN

WALLA WALLA, WASHINGTON.

SO WE SET UP, SAWED UP THESE

PIECES, AND BUILT AND KIND OF

CONSTRUCTED THEM INTO THE FORMS

THAT YOU SEE OUT THERE NOW.

COVERED THEM WITH CLAY AND

MODELED THE CLAY, AND THEN THEY

MADE A MOLD FROM IT.

IT'S HARD TO -- WHEN YOU'RE

TALKING ABOUT DEER, I THINK

PEOPLE INSTANTLY HAVE AN IMAGE

IN THEIR HEAD OF WHATEVER DEER

THEY SEE AS A SCULPTURE IN THEIR

MIND.

AND THESE ARE REALLY -- YOU KIND

OF HAVE TO BE THERE.

YOU HAVE TO GO LOOK, BECAUSE

THEY'VE BEEN HUMANIZED IN THE

SENSE THAT THEY STILL LOOK LIKE

DEER, BUT THEY'RE ALSO HUMAN AS

FAR AS A LOT OF THEIR JOINTS,

YOU COULD NEVER SEE JOINTS LIKE

THAT ON A REAL DEER.

BUT I DID THAT TO KIND OF, I

THINK, MAKE THEM ACCESSIBLE.

I THINK THAT'S WHAT'S SO

SEDUCTIVE TO ME ABOUT IT IS IT

BECOMES REALLY SOMETHING THAT

PEOPLE WANT TO BE WITH AND WANT

TO ACTUALLY TOUCH.

NO MATTER HOW YOU THINK THROUGH

SOMETHING, AS SOON AS IT'S THERE

IT'S REAL AND IT BECOMES

SOMETHING ELSE.

IT BECOMES ITS OWN LIFE, YOU

KNOW.

AND THAT'S REALLY IMPORTANT, I

THINK, THAT IT DOES SOMETHING.

THAT IT DOESN'T JUST SIT THERE

AND SAY "I'M A POLITICIAN" OR

"I'M A GENERAL" OR WHATEVER.

THIS ONE'S SITTING AS A DEER,

YOU KNOW, AND IT'S NOT SAYING

ANYTHING.

IT'S JUST SITTING THERE.

AND I LOVE IT WHEN SOMEBODY

RESPONDS IN A WAY I NEVER

ANTICIPATED, OR SAYS SOMETHING

YOU NEVER ANTICIPATED.

IT MAKES YOU THINK ABOUT IT IN A

WAY YOU NEVER THOUGHT, YOU KNOW.

BUT I THINK THAT'S WHAT HAPPENS

WITH PUBLIC WORK.

THAT'S WHY I THINK THEY'RE SO

IMPORTANT, BECAUSE IT REALLY IS

SOMETHING THAT'S -- EVEN THOUGH

IT'S PUBLIC, IT'S SO PERSONAL TO

EACH VIEWER, EACH PERSON WHO

LOOKS AT IT.

I THINK IT'S RESISTANCE PEOPLE

WILL HAVE TO PUBLIC WORKS IS

USUALLY BECAUSE THEY ENCOUNTER

IT AND THEY'RE USED TO

PASSING -- IN THE HABIT OF

PASSING A PLACE DAY AFTER DAY

AFTER DAY, AND THEN SUDDENLY

THERE'S SOMETHING DIFFERENT

THERE.

AND ALMOST IMMEDIATELY, FOR SOME

WEIRD REASON, DIFFERENT MEANS

WRONG, IT'S BAD, YOU KNOW.

IT'S BLOCKING SOMETHING, IT'S

DOING SOMETHING, WHATEVER.

BUT I THINK OVER TIME PEOPLE GET

COMFORTABLE WITH THAT.

♪♪

>> TERRY ALLEN'S LOUNGING DEER

CAN BE FOUND HANGING OUT IN

GENOA PARK, BEHIND COSI.

♪♪

>> WELL THAT'S OUR SHOW.

REMEMBER, YOU CAN FIND ALL OF

OUR STORIES ONLINE AT WOSU.ORG,

AS WELL AS ON OUR YOUTUBE

CHANNEL.

FOR ALL OF US HERE AT WOSU, I'M

KATE QUICKEL.

THANKS FOR WATCHING.

♪♪

♪♪

♪♪

♪♪

♪♪

♪♪

♪♪

>> I WAS BORN AND RAISED IN

THE BRONX, NEW YORK.

I MOVED TO COLUMBUS ABOUT

10 YEARS AGO.

I LIKE TO DESCRIBE MY ARTWORK

AS, LIKE, GHETTO HIEROGLYPHICS

IS A TERM THAT I'VE DUBBED IT.

AND MY KIND OF PHILOSOPHY IS

THAT GRAFFITI AND ANCIENT

HIEROGLYPHICS ARE KIND OF ONE IN

THE SAME.

SO I INCORPORATE ELEMENTS OF

BOTH.

EVEN THOUGH THEY'RE VERY

STYLISTICALLY DIFFERENT, I TRY

TO MELD THE TWO STYLES.

I LIKE TO GO OUT AND USE SPRAY

PAINT OUT ON LIKE ABANDONED

PLACES AND STUFF LIKE THAT.

I THINK THAT'S A LOT -- THAT'S

REALLY COOL.

I ALSO LIKE TO MAKE STICKERS OUT

OF LIKE RECYCLED VINYL MATERIAL,

PEOPLE THROW OUT OLD STICKER

SCRAPS, I LIKE TO PAINT ON TOP

OF THAT AND MAKE MY OWN

STICKERS.

I LIKE TO BLOCK PRINT.

♪♪

♪♪

>> I INCORPORATE A LOT OF HERONS

AND CRANES.

AND IN A LOT OF DIFFERENT

MYTHOLOGIES, HERONS AND CRANES

ARE LIKE KIND OF SYMBOLS OF

LIKE -- CONNECTORS BETWEEN THIS

WORLD AND THE WORLD BEYOND.

I ALSO INCORPORATE THE

THUNDERBIRD A LOT.

IT'S KIND OF A THING THAT I'M

KNOWN FOR.

AND THUNDERBIRDS ARE LIKE

REALLY -- IN THE PACIFIC

NORTHWEST, NATIVE AMERICAN

TRIBES INCORPORATE THE

THUNDERBIRD, KIND OF LIKE

MESSENGERS FROM THE GODS.

AND THEY'RE LIKE SYMBOLS OF

POWER.

AND SOMETHING LIKE, FOR MYSELF

PERSONALLY, FOR A LONG TIME I

WASN'T THE MOST SELF CONFIDENT

PERSON.

SO I'VE KIND OF TAKEN THE IDEA

OF THE THUNDERBIRD, THIS REALLY

POWERFUL, MAJESTIC BEAST, AS A

BIT OF A MASCOT, AS SOMETHING

THAT I STRIVE TO BE.

SO I KIND OF AS AN ARTIST WANTED

TO CREATE MY OWN MYTHOLOGY, BUT

STILL REFERENCE THE THINGS THAT

UNIVERSALLY WE ALL CAN RELATE

TO.

WE'RE DISTRACTED A LOT BY LIKE

SOCIAL MEDIA, WE LIVE IN KIND OF

A TRYING TIME RIGHT NOW.

I THINK THERE'S A LOT OF LESSONS

WE CAN LEARN FROM ANCIENT MYTHS

AND STUFF.

PEOPLE -- WE'RE KIND OF DUMB.

WE DO THE SAME THINGS OVER AND

OVER AGAIN.

HOPEFULLY SOON HERE WE'LL LEARN

OUR LESSON AND LOVE EACH OTHER A

LITTLE MORE.

>> CATCH COLUMBUS AT ITS

CREATIVE BEST ON "BROAD & HIGH",

THURSDAY NIGHTS AT 8:00 ON

WOSU TV.

>> PRODUCTION OF "BROAD & HIGH"

IS FUNDED IN PART BY THE GREATER

COLUMBUS ARTS COUNCIL.

SUPPORTING ARTS, ADVANCING

CULTURE, AND CONNECTING THE

COMMUNITY TO ARTISTS.

EVENTS AND CLASSES AT

COLUMBUSMAKESART.COM.

>> FROM THESE CONTRIBUTING

SPONSORS --

AND VIEWERS LIKE YOU.

THANK YOU.