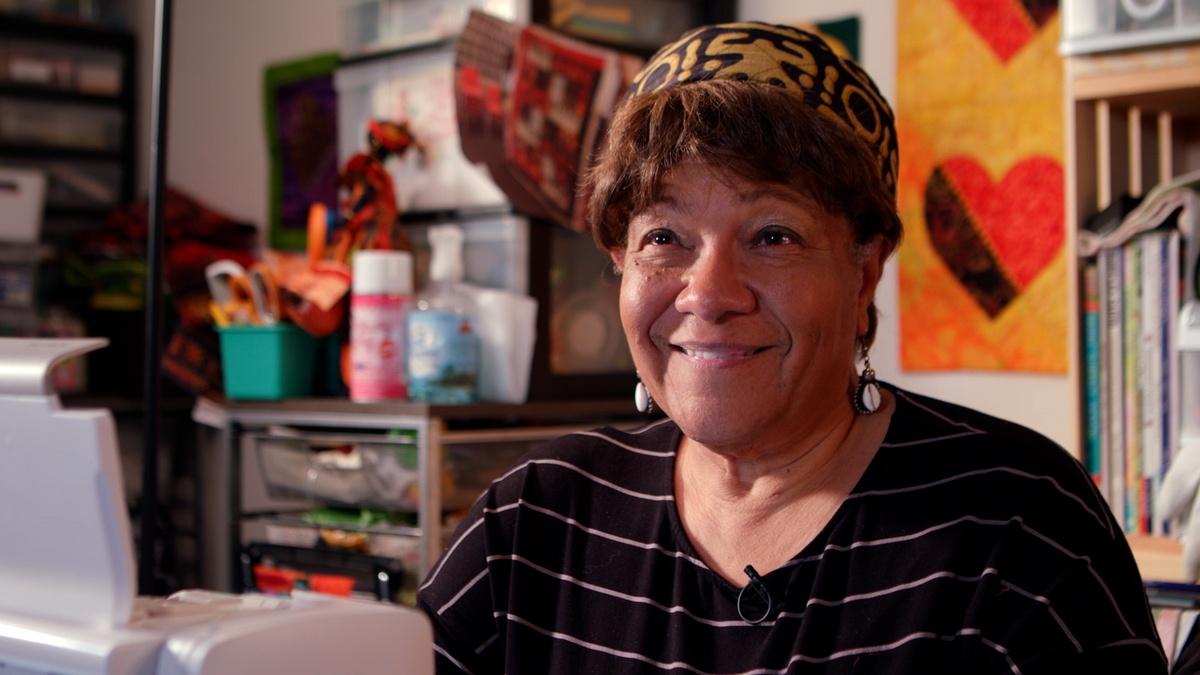 S9 E12 | FULL EPISODE
Unconventional Wall Art, Ancient Water Marbling
A local fiber and mixed media artist creates wall hangings that tell a story. A Michigan artist sets the stage for his audience. The ancient craft of water marbling is explained by a Delaware, Ohio based artist. Listen to the smooth and soulful sounds of a Columbus based band.
TRANSCRIPT

>> PRODUCTION OF "BROAD & HIGH"

IS FUNDED IN PART BY THE GREATER

COLUMBUS ARTS COUNCIL.

SUPPORTING ARTS, ADVANCING

CULTURE, AND CONNECTING THE

COMMUNITY TO ARTISTS.

EVENTS AND CLASSES AT

COLUMBUSMAKESART.COM.

>>> THIS TIME ON "BROAD &

HIGH" --

A LOCAL FIBER AND MIXED MEDIA

ARTIST TEACHES US HOW BREAKING

THE RULES CAN BE A GOOD THING.

A MICHIGAN ARTIST DESCRIBES HOW

HE SETS THE STAGE FOR HIS

AUDIENCE.

WE EXPLORE THE ANCIENT CRAFT OF

WATER MARBLING WITH A

DELAWARE/OHIO BASED ARTIST.

AND WE GROOVE TO SMOOTH AND

SOULFUL COLUMBUS BASED BAND.

THIS AND MORE RIGHT NOW ON

"BROAD & HIGH."

!!musiC@!!!musiC@!

!!musiC@!!!musiC@!

!!musiC@!!!musiC@!

>>> WELCOME TO "BROAD & HIGH."

I'M YOUR HOST KATE QUICKEL.

OUR FIRST STORY IS ABOUT FIBER

AND MIXED MEDIA ARTIST,

RENEE WORMACK KEELS.

RENEE WORKS WITH HER OWN HAND

DYED FABRICS, ALONG WITH AFRICAN

PRINTS, BATIKS AND COMMERCIAL

FABRICS TO CREATE WALL HANGINGS

THAT TELL A STORY.

OFTEN ABOUT AFRICAN AMERICAN

WOMEN'S LIVES.

SHE CONSIDERS HERSELF A STUDENT

OF HISTORY AND FEELS ITS

IMPORTANT TO SHARE THE STORE OF

THOSE WHO WERE LEFT OUT OF

WRITTEN HISTORICAL RECORDS.

RENEE LOVES COMBING COLORS,

TEXTURES AND REGULARLY BREAKS

THE RULES TO CREATE UNUSUAL

COMBINATIONS IN HER QUILTS.

LET'S TAKE A LOOK.

>> MY MOTTO IS THERE ARE NO

MISTAKES IN QUILITING.

THERE ARE ONLY DESIGN

OPPORTUNITIES.

!!musiC@!!!musiC@!

!!musiC@!!!musiC@!

>> WHEN I WAS A CHILD I LEARNED

TO SEW.

YOU KNOW THOSE WERE THE DAYS OF

HOME ECONOMICS.

AND I MADE THE LITTLE APRON AND

THE LITTLE BLOUSE THAT YOU MAKE,

SO I FELL IN LOVE WITH SEWING.

AS TIME WENT ON I THINK WHEN I

WAS IN HIGH SCHOOL - SENIOR HIGH

SCHOOL I MADE A LOT OF MY

CLOTHES.

AND THEN WHEN MY CHILDREN CAME

ALONG I STARTED MAKING MY

CHILDREN'S CLOTHES.

OVER THE YEARS I KIND OF GOT

AWAY FROM IT.

THEN SOMEONE I WAS ON A PANEL

WITH, WE WERE TALKING ABOUT THE

THINGS THAT WE LIKE TO DO, AND

THIS PERSON WAS TELLING ME SHE

WAS A QUILTER.

AND I SAID WELL I'VE ALWAYS BEEN

A SEWER AND WHEN I RETIRE IN

25 YEARS OR SO, I AM GOING TO

LEARN TO QUILT.

AND SHE SAID, OH RENEE, DON'T

WAIT UNTIL YOU RETIRE.

LET ME TEACH YOU NOW.

SO I SPENT ABOUT TWO WEEKS WITH

HER, LEARNING TO MAKE WHAT IS

CALLED A LOG CABIN QUILT.

I WANTED TO LEARN THE PROCESS.

I WANTED TO LEARN THE SKILLS,

BECAUSE I WANTED TO LEARN HOW TO

MAKE ART QUILTS.

THERE ARE TRADITIONAL QUILTS

THAT YOU WOULD PUT ON THE BED,

VERSUS THE KIND OF THING I MAKE

NOW THAT GOES ON YOUR WALL.

!!musiC@!!!musiC@!

!!musiC@!!!musiC@!

THERE'S SOMETHING DEEPLY

SPIRITUAL ABOUT CREATING

SOMETHING.

IT'S THE PLAYFULNESS.

IT'S LETTING YOUR IMAGINATION

RUN WILD.

THERE ARE QUOTE UNQUOTE "RULES"

IN QUILTING AND WHILE I DO TRY

TO MAKE SURE MY SEAMS ARE

STRAIGHT, MY SEWING STRAIGHT, MY

POINTS DON'T ALWAYS MATCH UP.

MY COLORS MAY NOT NECESSARILY BE

ANALOGOUS.

I HAVE PUT ORANGE AND PURPLE

TOGETHER.

I JUST LOVE THE IDEA OF PUTTING

DIFFERENT PIECES OF FABRIC AND

WATCHING HOW THEY PLAY TOGETHER.

I CONSIDER MYSELF TO BE A

NARRATIVE STORYTELLER, QUILTER.

THAT IS MY QUILTS TELL A STORY.

TYPICALLY THEY TELL STOREIS

ABOUT WOMEN'S LIVES.

!!musiC@!!!musiC@!

WHAT I WANT PEOPLE TO COME AWAY

FROM IS -- IS NOT ONLY TO BE

INSPIRED, BUT TO LEARN ABOUT THE

UNSUNG HEROES.

SHEREOS I GUESS I SHOULD SAY.

THE WOMEN WHO'S STORIES ARE NOT

TOLD.

WILD WOMEN DON'T HAVE THE BLUES

IS A THE FIRST OF A SERIES OF

THREE QUILTS.

I AM GOT INTERESTED IN BLUES

SINGERS OF '20S, 30S AND '40S.

ALBERT HUNTER, MA RAINY,

BETSY SMITH AND I SAID I'D LIKE

TO TELL THE STORIES OF THESE

SINGERS IN A QUILT.

BECAUSE SOMETIMES PEOPLE WILL

NEVER PICK UP A BOOK AND READ

IT, BUT THEY MIGHT BE WILLING TO

READ A QUILT THAT GOES ON YOUR

WALL.

THE SECOND QUILT IS CALLED CAFÉ

AU LAIT AND BROWN SUGAR DIVAS.

BECAUSE IN THE ENTERTAINMENT

INDUSTRY, AFRICAN AMERICAN WOMEN

WERE SOMETIEMS SEGREGATED

ACCORDING TO SKIN COLOR.

IN THAT QUILT IS A LITTLE

DIFFERENT FABRIC.

IT'S YELLOW TONES, LIGHT BROWN

TONES -- BECAUSE I WANTED IT TO

SORT OF MIRROR THE IMAGES OF THE

WOMEN AND THEIR SKIN TONES.

COCOA AND HOT CHOCOLATE DIVAS IS

THE QUILT THAT I CREATED FOR

DARKER SKINNED WOMEN.

HADY McDANIEL, BEE RICHARDS ARE

IN THERE.

SO THAT'S HOW THAT SERIES OF

QUILTS CAME INTO BEING.

MAYBE ABOUT 10-12 YEARS AGO,

GOING THROUGH SOME REALLY DEEP

EMOTIONAL TURMOIL AND QUILTING

BECAME VERY THERAPEUTIC FOR ME.

THERE'S A QUILT THAT I DO ONCE A

YEAR, AND THAT QUILT IS FOR MY

SON WHO IS INCARCERATED.

ONE OF THE THINGS I COULD NOT DO

LAST YEAR WAS TO GO SEE HIM.

SO ONE OF MY PIECES IS CALLED

"YOUR BLUES AIN'T LIKE MINE."

ITS BLUE FABRIC, BLUE HEARTS,

BECAUSE I HAVEN'T BEEN ABLE TO

VISIT HIM DURING THE PANDEMIC.

THAT MADE IT PRETTY DIFFICULT

AND PAINFUL FOR ME.

!!musiC@!!!musiC@!

!!musiC@!!!musiC@!

AND AS YOU CAN TELL THIS HEART

IS NOT COMPLETELY RECONNECTED.

THAT'S ON PURPOSE.

THAT HEART IS RECONNECTED, BUT

THIS HEART IS NOT.

IS THERE A POINT WHERE YOU THINK

YOU WON'T NEED TO MAKE ONE.

I AM HOPING SO, YES.

AS A QUILT I AM THINKING, YOU'RE

LEAVING YOUR OWN LEGACY.

OF YOUR OWN STORIES AND PEOPLE

MAY NOT KNOW ALL OF MY STORY,

BUT THEY WILL KNOW SOME OF MY

STORY AND HOPEFULLY THAT WILL

ENCOURAGE THEM TO THINK ABOUT

THEIR OWN STORIES AS WELL.

!!musiC@!!!musiC@!

!!musiC@!!!musiC@!

>> IN FEBRUARY 2020,

RENEE WORMACK KEELS AND HER

FRIEND MONICA SCOTT FOUNDED

KUUMBA QUILTERS.

THEIR ORGANIZATION IS DEDICATED

TO PRESERVING AND PROMOTING THE

ART OF QUILTING AND CULTURE IN

THE AFRICAN AMERICAN COMMUNITY.

YOU CAN SEE THEIR WORK ON

DISPLAY IN THEIR LATEST

EXHIBITION, KUMMBA CONNECTIONS,

FROM FEBRUARY 6th TO APRIL 3rd

AT THE OHIO CRAFT MUSEUM.

AND TO LEARN MORE ABOUT RENEE'S

WORK, VISIT HER WEBSITE AT

METAMOFOSI.ORG NEXT WE HEAD TO

MICHIGAN TO LEARN ABOUT ARTIST

MARIO MOORE'S EXHIBIT

"RECOVERY."

IN HIS PAINTINGS AND SILVER

POINT DRAWINGS HE'S REFLECTS ON

HOW AFRICAN AMERICAN REST IN OUR

SOCIETY.

!!musiC@!!!musiC@!

!!musiC@!!!musiC@!

>> I AM INTERESTED IN LIKE

CREATING THE STAGE THAT THE

AUDIENCE CAN KIND OF COME INTO.

ART TO ME HAS ALWAYS BEEN

INVOLVED IN MY LIFE.

I GREW UP AROUND THE DIA, I USE

TO GO VISIT THE MUSEUM WHEN I

WAS A KID.

I WOULD WALK THROUGH THE

GALLERIES.

BUT AS FAR AS INSPIRATION, THAT

CAME FROM MY MOM,

SABRINA NELSON, BECAUSE YOU KNOW

I WOULD SEE HER DO THESE LARGE

PAINTINGS.

JUST THE IDEA TO LOOK AT A

CANVAS THAT BLANK OR A PIECE OF

PAPER AND HER JUST MAKE

SOMETHING WAS ALWAYS INTERESTING

TO ME.

THE WAY THAT I BEGIN MY WORK IS

USUALLY THROUGH SKETCHES AND

IDEAS.

IT'S USUALLY THAT I HAVE THOUGHT

AND A PROCESS.

THEN I THINK ABOUT THAT THOUGHT

AND SAY WHAT IS THE BEST WAY TO

PORTRAY THIS THOUGHT, OR TO TALK

ABOUT THIS IDEA?

SO THAT CAN GO TO SCULPTURE,

THAT CAN GO TO DRAWING, THAT CAN

GO TO VIDEO, THAT CAN GO TO

PAINTING.

BUT THE MAJORITY OF THE TIME I

AM INTERESTED IN A LIKE A

MASSIVE NARRATIVE.

WE'RE IN THE DAVID KLEIN GALLERY

AND THE SHOW IS CALLED

"RECOVERY" AND THE SHOW IS ABOUT

CONSIDERING HOW BLACK MEN REST

AND RELAX AND TAKE TIME FOR

THEMSELVES.

WHAT HAPPEN WAS I WAS WORKING ON

A BODY OF WORK AND I WAS

THINKING ABOUT MYSELF PERSONALLY

AND HOW I MOVE MY BODY THROUGH

THE WORLD AND HOW THE WORLD

CONSIDERS ME AS A BLACK MAN, AND

THEN I HAD BRAIN SURGERY.

I HAD BRAIN SURGERY AND

LITERALLY I WAS FORCED TO REST.

SO THAT MADE ME THINK ABOUT

THINGS HISTORICALLY.

LIKE HOW DID HISTORIC BLACK MEN

THAT WE KNOW AND THE WORLD KNOWS

LIKE MARTIN LUTHER KING OR

MALCOLM X OR W.E.B. DuBOIS AND

WE LOOK UP THEIR NAMES THEY'RE

ALWAYS SPEAKING REALLY LOUD.

THEY'RE ON A PODIUM.

THEY'RE ALWAYS ACTIVE.

IN TIMES OF TURMOIL, LIKE WHAT

WE'RE DEALING WITH TODAY AS FAR

AS EVERYTHING POLITICALLY AND

SOCIALLY ECONOMICALLY, HOW DO I

REST?

'CAUSE WE'RE IN A SIMILAR STATE.

AND IN SOME WAYS AND SOME SENSES

AS FAR AS EDUCATION AND OTHER

THINGS LIKE THAT IT'S WORSE.

IT'S GONE BACKWARD INSTEAD OF

FORWARDS.

BUT AT THE SAME TIME WE'RE

HUMAN.

SO THESE TOOK VACATION.

THEY TOOK TIME WITH THEIR

FAMILY.

THEY TOOK NAPS.

SO I STARTED TO THINK ABOUT

THAT, AND THE WORK PRESSENTS A

QUESTION, BECAUSE I DON'T HAVE

THE ANSWER.

SO HOW DO BLACK MEN REST, HOW DO

THEY RELAX AND WHAT DOES THAT

LOOK LIKE?

IT HAS TO DO WITH JUST THE

HISTORY OF AMERICA.

IN THAT BLACK MEN AND BLACK

PEOPLE JUST IN GENERAL WERE IN

THE PROCESS OF CONSTANTLY TO

STAY AHEAD, RIGHT?

JUST TO CATCH UP ECONOMICALLY.

SINCE WE GOT TO THE COUNTRY OR

THE AMERICAS, WE WERE SLAVES.

IT WERE THINGS THAT THE COUNTRY

WERE BUILT ON THE LABOR THAT WE

PUT IN.

SO THAT IS PASSED DOWN AS FAR AS

TRYING TO CATCH UP YOU HAVE TO

WORK EXTREMELY HARD.

SO THE IDEA OF RESTING AND

RELAXING IS NOT A PART OF THE

PROCESS WHEN YOU'RE ALWAYS

THINKING ABOUT WHAT DO I NEED TO

DO NEXT?

SILVERPOINT IS A TECHNIQUE THAT

WAS USED IN THE 16th AND 15th

CENTURY THAT IS LITERALLY A

PIECE OF SILVER AND DRAWING WITH

A PIECE OF SILVER.

MOST OF THE SILVER POINT

DRAWINGS THAT HAVE THE

HISTORICAL --

LIKE THE LARGER ONES THAT HAVE

HISTORICAL FIGURES IN THE

BACKGROUND, IT'S A CONCEPT AND

IDEA THAT CAN A BLACK MAN LOOK

RELAXED AND CALM AND PRESENT

HIMSELF THAT WAY, BUT ALSO IN

THE SAME TIME BE POWERFUL.

LIKE I AM LETTING THE

BACKGROUND, YOU KNOW HISTORICAL

FIGURES, DO ALL THE WORK FOR ME,

WHILE I RELAX.

AND I THINK THAT'S PART OF THE

IMPORTANCE AND PART OF THE

PROCESS.

I LIKE THE AMOUNT OF TEXTURE AND

DETAIL THAT WENT INTO THE

SILVERPOINT.

BUT THERE IS A LIMITED NUMBER OF

VALUES THAT YOU CAN REACH.

SO NO MATTER WHAT I DRAW, NO

MATTER HOW HARD THE SUBJECT

MATTER IS, THERE'S ALWAYS GOING

TO BE THIS SOFTNESS TO IT AND I

REALLY LIKE THAT.

THE OTHER THING I REALLY LIKE

ABOUT SILVERPOINT IS THAT YOU

CAN'T ERASE.

SO IT'S ALMOST LIKE DRAWING WITH

A PEN.

WHATEVER YOU PUT DOWN IS

PERMANENT.

ALL RIGHT SO EVERYTHING THAT

GOES INTO THAT DRAWING, YOU HAVE

TO DEAL WITH IT.

RIGHT?

IT'S THERE TO EXIST FOREVER.

ANOTHER THING I LIKE IS THAT IN

DEALING WITH SILVERPOINT, YOU'RE

LITERALLY LEAVING BEHIND SILVER

ON PAPER.

SO YOU'RE CREATING SOMETHING

THAT HAS INITIAL VALUE AND WITH

THE WORK THAT I WAS WORKING ON,

I AM DEALING WITH A SUBJECT THAT

PEOPLE DON'T SEE AS VALUABLE.

AMERICA OFTEN SEES AS

INVALUABLE, AS FAR AS BLACK MEN

AND ALSO THIS IDEA OF REST.

THIS IDEA OF RELAXING.

SO I THINK THAT MATERIAL HAS

WORKED REALLY WELL IN THINKING

ABOUT THESE IDEAS AND CONCEPTS.

THERE'S ONE PIECE IN PARTICULAR

IN THE SHOW, I READ THIS BOOK

CALLED "MEDICAL APARTHEID."

HAS TO THE EXPERIMENTATION ON

BLACK PEOPLE FROM SLAVERY TO

CONTEMPORARY TIMES.

AND I ALSO GOT THIS HUGE

PHOTOGRAPHY BOOK CALLED "STIFFS,

SKULLS AND SKELETONS."

THROUGH THAT BOOK YOU CAN SEE

HOW THEY EXPERIMENTED AND

PRACTICED ON CADAVERS.

AND MOST OF THE CADAVERS THAT

YOU WILL SEE ARE BLACK OR

AFRICAN AMERICAN CADAVERS.

AND THE WAY THAT THAT HAPPENED

IS -- THEY WERE LIKE WELL, WE

DON'T REALLY CARE ABOUT THIS

COMMUNITY SO WE CAN DIG UP THESE

GRAVES AND USE THESE BODIES.

SO THOSE BODIES BECAME OBJECTS.

THEY WEREN'T EVEN PEOPLE ANY

MORE.

IT WAS LIKE, WELL, THE THING

THAT JUST HAPPEN TO ME WITH MY

BRAIN SURGERY WHAT WOULD THAT

LOOK LIKE, BACK IN THESE TIMES?

I WANTED TO SHOW OPPOSITION TO

THAT SHINED A LIGHT ON ME AS A

PERSON.

AS A HUMAN BEING INSTEAD OF AN

OBJECT AND KIND OF MUTE THE

LIGHT ON THE FIGURES ABOVE ME.

THE AMERICAN BULLDOG, FOR ME

IT'S A LITERAL REPRESENTATION OF

THE HISTORY OF AMERICA.

I USE IT AS A SYMBOL FOR AMERICA

ITSELF.

AND OFTEN YOU'LL FIND THE DOG IS

SLEEPING OR RELAXING AS IT'S

IGNORING REALLY BIG ISSUES RIGHT

ABOVE IT.

I INCLUDE HISTORY IN MY WORK

BECAUSE AS FAR AS SOCIAL ISSUES,

WE KIND OF ROLL AROUND ALL THE

TIME BACK TO SIMILAR ISSUES OVER

AND OVER AGAIN.

SO I LOOK AT THE PAST AND I

CONSIDER IT.

AND I AM SAYING, WELL, WHAT WAS

HAPPENING THEN KIND OF LOOKS

LIKE NOW.

WHAT DID THEY DO THEY, WHAT

COULD WE DO NOW.

WHAT CAN WE DO TO CHANGE IT.

AND WHAT DOES THAT LOOK LIKE?

THINK THERE'S A TON OF STUFF TO

TAKE AWAY FROM THIS SHOW.

I THINK ABOUT A LOT OF DIFFERENT

NARRATIVES THAT GO INTO ONE

PIECE.

BUT THERE'S A LOT OF STUFF I

DON'T THINK ABOUT AND THOSE ARE

THE IMPORTANT THINGS.

THAT PEOPLE THAT COME AND SEE

THE SHOW, THEY CAN PULL OUT FOR

THEMSELVES.

I THINK IT'S IMPORTANT FOR THE

PEOPLE TO ANSWER.

WELL, THESE ARE THINGS THAT I'VE

NOTICED.

THESE ARE SOME IDEAS THAT I AM

THINKING ABOUT, THIS IS A

QUESTION THAT I HAVE.

AND I THINK IT BECOMES MORE

PARTICIPATORY THAT THE PEOPLE

THAT COME TO SEE THE SHOW, THEY

PROVIDE THE ANSWERS.

I THINK HEARING THEIR

PERSPECTIVE AND HEARING THEIR

IDEAS ABOUT RESTING AND WHAT

THAT LOOKS LIKE FOR THEM WAS

EXTREMELY IMPORTANT.

I THINK HEARING MY DAD TALK

ABOUT HOW HE'S WORKED SINCE HE

WAS 16 YEARS OLD AND TALKING

ABOUT HIS PERSPECTIVE WAS

IMPORTANT.

BUT I THINK THE MOST IMPORTANT

THING THAT HAPPENED -- AFTER THE

SHOW I WENT INTO THE BARBER SHOP

AND ONE OF THE BARBERS WAS IN

THERE, HE TOLD ME AFTER SEEING

MY SHOW, HE LITERALLY TOOK A

WEEK OFF WORK.

AND SEVERAL MEN AFTER SEEING THE

SHOW WERE GOING OUTSIDE AND

CRYING.

YOU KNOW, WHICH IS LIKE, THEY

HONESTLY NEVER THOUGHT IN THIS

WAY.

SO I THINK THOSE WERE PROBABLY

THE MOST IMPORTANT THINGS THAT

HAPPENED.

!!musiC@!!!musiC@!

>> TO LEARN MORE ABOUT MARIO'S

WORK, VISIT HIM AT

MARIOMOORESTUDIO.COM !!musiC@!!!musiC@!

>> OUR NEXT STORY EXPLORES THE

ART OF WATER MARBLING.

IT'S A CENTURIES OLD CRAFT THAT

WAS COMMONLY USED TO MAKE THOSE

COLORFUL END PAPERS WE WOULD

FIND INSIDE THE COVERS OF OLD

BOOKS.

WE TRAVELED UP TO DELAWARE TO

MEET SUSAN LEICHT TO SEE HOW

IT'S DONE 21st CENTURY STYLE.

!!musiC@!!!musiC@!

!!musiC@!!!musiC@!

>> WE ARE WATER MARBLING.

IT'S AN ANCIENT ART THAT HAS

BEEN AROUND SINCE THE NINTH AND

TENTH CENTURY.

IT USE TO BE STRICTLY FOR BOOKS

AND THE COVERS OF BOOKS AND THE

INSIDE OF THE BOOK COVERS.

AND THEN IT SORT OF STARTED TO

DISAPPEAR AFTER THE CREATION OF

THE PRINTING PRESS AND

MANUFACTURING OF THE BOOKS -- NO

LONGER DONE BY HAND.

IT'S A FASCINATING ART FORM.

IT'S VERY EASY.

IT DOESN'T LOOK EASY, BUT ANYONE

CAN DO IT.

WE START OUT WITH A WHITE SILK

SCARF AND DROP THE COLORS ONTO

THE WATER.

THE TRAY HOLDS A THICKENED

WATER.

THE WATER IS THICKENED WITH IT'S

CALLED CARRAGEENAN, WHICH IS

SEAWEED AND IT'S MIXED WITH

WATER AND IT BECOMES GELATINOUS.

SO IT HAS TO BE HEAVY THAN WHAT

THE PAINT IS, SO THE PAINT WILL

FLOAT.

AND I USE ACRYLIC PAINT, SO THE

PAINT IS DROPPED INTO DROPLETS

ON TOP OF THE WATER.

AND THEN WE HAVE PROBABLY HALF A

DOZEN TOOLS AND ALL IT IS TAKING

THOSE TOOLS AND DRAGGING THEM

THROUGH THE WATER.

YOUR DESIGN CHANGES AFTER EACH

PASS.

OR YOU CAN BE THAT PERSON WHO

JUST TAKES A SKEWER AND GOES.

SO DEPENDING ON WHAT KIND OF

DESIGN YOU WANT THE TOOL DOES

ALL THE WORK.

YOU'RE NOT DOING THE WORK.

YOU'RE DRAGGING THE TOOL THROUGH

THE WATER AND IT CREATES YOUR

DESIGN FOR YOU.

NO TWO CAN BE ALIKE.

[ LAUGHTER ]

THIS IS 100% SILK.

IT'S CALLED HABUTAI SILK, AFTER

THEY'RE TREATED AND IRONED THEN

THEY WILL GO INTO THE WATER TO

REALLY ABSORB ALL THE PAINT.

SO WE GO THROUGH AND JUST FOLD

DOWN THE EDGES.

BECAUSE THEY'RE ROLLED EDGES AND

THE PAINT WON'T GET OVER THE TOP

OF IT, UNLESS YOU PUSH IT DOWN A

LITTLE BIT.

SO ARE YOU READY TO SEE IT?

MY HUSBAND JOEY GOT INVOLVED IN

HELPING WITH THIS WATER MARBLING

BUSINESS, BECAUSE HONESTLY IT

CAN NOT BE DONE BY ONE PERSON.

IF YOU'RE DOING THE LARGER

SCARVES, LIKE WHAT WE DO.

PAPER YOU CAN DO ON YOUR OWN.

THESE ARE A COUPLE DIFFERENT

DESIGNS OF BOOKS THAT I DO.

THESE ARE THE HARDCOVER IN

CANVAS.

AND THEN MY PAPER GOES ON THE

INSIDE, AND THIS IS WHAT IS

CALLED IN-PAPERS.

THE WHOLE IDEA OF IN PAPERS WAS

TO HIDE ALL OF THE SPINE AND

EVERYTHING INSIDE THE BOOK THAT

WAS NOT ALWAYS ATTRACTIVE.

BUT IT TAKES TWO TO HOLD THE

SCARF AND DROP IT IN THE WATER.

YEAH, YOU CAN'T DO THIS BY

YOURSELF.

WE'VE TRIED DIFFERENT WAYS AND

IT JUST DOESN'T WORK VERY WELL.

THIS ONE IS CALLED AN OCTOPUS

DESIGN.

THIS IS A DESIGN CALLED

FEATHERS.

THAT WAS DONE BY HAND, THIS WAS

DONE WITH A SKEWER.

WE JUST DROP THE PAINT IN THE

WATER AND WE TAKE A WOODEN

SKEWER THROUGH THE DESIGNS.

THIS ONE IS CALLED A FOUNTAIN

BECAUSE OBVIOUSLY IT'S GOT THAT

DESIGN THAT FLOWS THAT WAY.

PROBABLY OUR FAVORITE PATTERN

THAT WE DO THE MOST OF IS CALLED

BOUQUET.

AND IT'S A VERY ELEGANT, OLD

DESIGN FROM ABOUT THE 1700s.

YOU KNOW 500 YEARS AGO THEY DID

THIS.

THIS WAS A HUGE BUSINESS IN

ITALY, FRANCE AND ENGLAND.

IT'S UNIQUE.

NOBODY ELSE IS GOING TO HAVE ONE

LIKE IT, WHEN I WALK DOWN THE

STREET.

[ LAUGHTER ]

ISN'T THAT INTERESTING WHEN IT'S

OUT?

!!musiC@!!!musiC@!

>> LEARN MORE ABOUT THE ART OF

WATER MARBLING BY VISITING

SUSAN'S FACEBOOK PAGE.

YOU CAN ALSO FIND HER AT

SUSILKCREATIONS.COM !!musiC@!!!musiC@!

>> SOMEONE ONCE DESCRIBED

STEPHANIE AMBER'S SINGING VOICE

AS HONEY ICE CREAM ON A HOT

SUMMER DAY.

PAIRED WITH THE SOULFUL AND

BLUESY GUITAR SOUNDS FROM

ADAM DARLING AND THE COLUMBUS

BAND'S NAME WAS BORN.

TOGETHER THEY ARE HONEY AND

BLUE, AND THEY PERFORMED A TRACK

OFF THEIR ALBUM, "ALL THE

FEELS."

!!musiC@!!!musiC@!

!!musiC@!!!musiC@!

!!musiC@! HOW MANY TIMES CAN

YOU WALK OUT A DOOR

BEFORE I SAY I

HAVE HAD ENOUGH !!musiC@!

!!musiC@! I'M BEAUTIFUL I'M STRONG

I AM TOLD I CAN'T

DO THIS ANYMORE

SOME TIMES GO BY !!musiC@!

!!musiC@! IT'S EASIER THAN TRYING

IT'S EASIER THAN FIGHTING

AND CRYING AND FIGHTING

THEY'RE ALL THE SAME !!musiC@!

!!musiC@! BUT NOW I KNOW

THAT YOU DON'T LOVE ME

YOU DON'T LOVE ME STARTING

TO THINK YOU FEEL THE SAME !!musiC@!

!!musiC@! SO MANY LIES

SO MANY NIGHTS

HER BODY ALL MINE

THEY SAY LOVIN IS BLIND !!musiC@!

!!musiC@! IT'S EASIER THAN TRYING

IT'S EASIER THAN FIGHTING

AND CRYING AND FIGHTING

THEY'RE ALL THE SAME !!musiC@!

!!musiC@! YOU DON'T LOVE ME

YOU DON'T LOVE ME

YOU DON'T LOVE ME

YOU DON'T LOVE ME !!musiC@!

!!musiC@!!!musiC@!

!!musiC@!!!musiC@!

!!musiC@!!!musiC@!

!!musiC@!!!musiC@!

!!musiC@!!!musiC@!

!!musiC@!!!musiC@!

>> WELL THAT'S OUR SHOW, AND

REMEMBER YOU CAN FIND ALL OF OUR

STORIES ONLINE AT WOSU.ORG AS

WELL AS ON OUR YOUTUBE CHANNEL.

FOR ALL OF US HERE AT WOSU I AM

KATE QUICKEL.

THANKS FOR WATCHING.

!!musiC@!!!musiC@!

!!musiC@!!!musiC@!

!!musiC@! YOU DON'T LOVE ME

YOU DON'T LOVE ME

YOU DON'T LOVE ME

YOU DON'T LOVE ME !!musiC@!

!!musiC@!!!musiC@!

!!musiC@!!!musiC@!

!!musiC@!!!musiC@!

>> PRODUCTION OF "BROAD & HIGH"

IS FUNDED IN PART BY THE GREATER

COLUMBUS ARTS COUNCIL.

SUPPORTING ARTS, ADVANCING

CULTURE, AND CONNECTING THE

COMMUNITY TO ARTISTS.

EVENTS AND CLASSES AT

COLUMBUSMAKESART.COM.