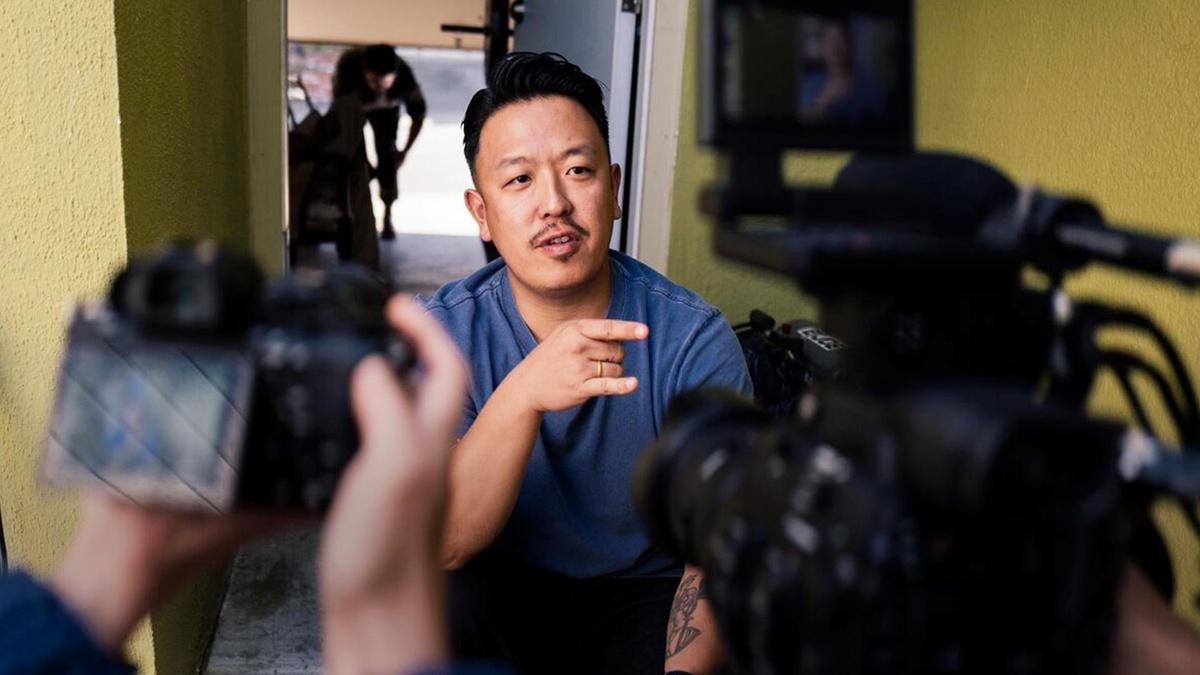 S1 E9 | FULL EPISODE
Eugene Kim Captures Important Moment in Asian-American Music
For his short film 'Cherry,' filmmaker Eugene Kim pulled from his own memories of growing up in 90s Daly City, California, when Filipino DJs were pioneering a new style, B-Boys competed at car shows and everyone knew they were part of a historic moment in music history.
TRANSCRIPT

[Eugene] The film "Cherry" is primarily inspired by

growing up out here in the peninsula during the late 90's.

I just wanted to show like a very honest

depiction of someone that grew up

out here, in Daly City.

When I think about those days...

The music, the hair, the style,

just the romances -- all the things

that were kinda nostalgic to that time.

Growin' up out here on the peninsula,

there were so many Asian kids

involved with different subcultures.

So, in Daly City

Filipino DJs pioneering like a new style, even.

It was an actual moment in music history.

I've always had an imagination ever since I was a kid.

It's just fun to tell stories.

My dad always had a camera with him.

He filmed us growing up.

He was always like messing around,

and like doing funny like in-camera edits.

So we would do like these magic tricks

which piqued my interest in cameras in general.

I studied film in college, graduated in '08

and moved down LA to pursue creative film.

Action!

And then my parents' business was on the rocks.

They were struggling financially up here

and they needed my help.

That was another reason why I wanted to be home

close to 'em -- just to be here for them.

I took a gamble and opened up

a bunch of little coffee shops.

And then I was able to help my parents out financially.

I always knew that I wanted to get back

into film making but the dream kept

getting further and further away.

This year felt like the right time because

the businesses have kind of stabilized.

The last thing we're doin' that day.

- Yeah, yeah...

- It's day three--

- I have a group of friends who I met in college

who are all filmmakers and we made a promise

to each other to start making somethin',

and we found out about HBO competition

for Asian American Pacific Islanders.

Well, that's perfect for this film.

It gave us a bit of a deadline to work towards.

[Excerpt from film] Ladies and gentlemen, I wanna introduce ya'll

to the lead singer of Boy's Edition, Christian Flores.

Give it up, ya'll!

[Eugene] The movie's about a guy named Christian Flores

who used to be in a R&B group from Daly City.

A coming-of-age love story about a guy

on a mission to get his car out of the impound

and figure out where he's gonna find the money to do so.

Through his journey he meets a girl.

A girl named Cherry, at a party.

[Excerpt from film] Yeah, for sure.

[Eugene] I like stories that take place in one day.

I thought it might be fun to try to cram

everything into a day in the life of a guy.

Uh, besides, so this is supposed to be

when you have already started.

There's just so much music that was comin' out of here.

And, action!

During the research for "Cherry",

I was googling groups that were coming out of the Bay.

Kai, they had a song that was ranked 50

on the Billboard Top 100.

First time in history that an Asian-American group

had ever made it on the Billboard.

Just the way that they dressed,

the way that they looked, all that stuff

inspired how we dressed, how we looked,

the cars that we drove, the haircuts that we got.

The thing that I'm most proud of with "Cherry",

I think, is just the fact that we got it done.

We all promised to take time off

and prioritize this project and we were all able to do that.

That in itself felt like a victory.

There's no time limit or an expiration date

on [when] your creativity stops.

And that's the wrap on the day, guys.

- [Co-Worker] That's a wrap on the Cherry!

That's a wrap on Cherry!