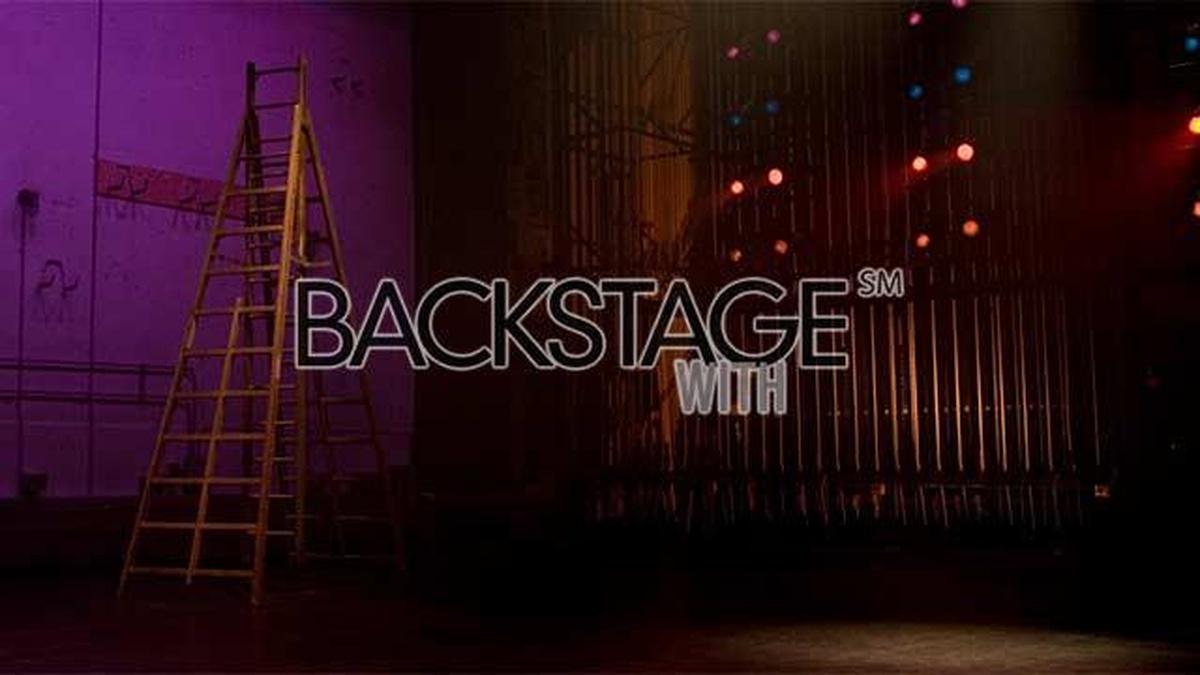 FULL EPISODE
Patricia Heaton
In the interview, Heaton tells stories from her time as a struggling actress in both New York and Los Angeles, including stints as a singing waitress and a shoe model, and insight into what led to her most famous role as Debra Barone on Everybody Loves Raymond. While trying to make a living as an actress wasn't always easy, Heaton shared that "I always knew I should be doing it."
TRANSCRIPT

>> FUNDING FOR "BACKSTAGE WITH PATRICIA HEATON" IS PROVIDED BY

CUYAHOGA COUNTY RESIDENTS THROUGH CUYAHOGA ARTS AND

CULTURE, THE GEORGE W CODRINGTON CHARITABLE FOUNDATION, AND THE

OHIO ARTS COUNCIL.

♪ >> I AM 52 YEARS OLD.

I NEED TO GET A REAL JOB.

I ENJOY MYSELF A LITTLE TOO MUCH.

[LAUGHTER] >> I CANNOT BELIEVE HOW MANY MEN

ANSWERED THE DOOR IN THEIR UNDERWEAR.

>> HOW DID YOU LEARN TO STAND OUT AMONG SO MANY PEOPLE?

>> REALLY PLAYING HARD, STUDY HARD, AND PREPARE HARD.

TECHNIQUE IS THE WHOLE THING.

I GET ONE CALL A YEAR, AND I ALWAYS SAY YES.

>> PATRICIA HEATON IS FAMOUS FOR PLAYING THE MOM IN THE MIDDLE OF

AMERICA.

FOR NINE SEASONS, SHE PLAYED THE MOTHER OF TWINS WHO WAS MARRIED

TO A SPORTS WRITER ON "EVERYBODY LOVES RAYMOND."

THAT SERIES MADE PATRICIA HEATON, WHO IS THE DAUGHTER OF A

SPORTS WRITER, ONE OF THE MOST RECOGNIZABLE FACES IN AMERICA.

NOW WHEN A NEW SERIES, "THE MIDDLE," SHE PLAYS THE MOTHER OF

FOUR IN ORSON, INDIANA.

PATRICIA HEATON WAS ALSO ONCE A HIT YOUNG ENSEMBLE STAR

OFF-BROADWAY, AND SHE STILL RETURNS TO THE STAGE.

SHE IS ON TELEVISION ALMOST EVERY HOUR SOMEWHERE IN THE

WORLD, ON "EVERYBODY LOVES RAYMOND," BUT IN HER MEMOIR, SHE

SAYS THAT AFTER SEVERAL YEARS OF STRUGGLING, SHE CAME CLOSE TO

GIVING UP ACTING.

SO PLEASE WELCOME ONE OF THE BEST-KNOWN ACTORS IN THE WORLD,

PATRICIA HEATON.

[APPLAUSE] [LAUGHTER]

WE ALMOST SHOULD JUST SAY THANK YOU.

SEND EVERYONE HOME.

YOU USED TO PUT ON PLAYS IN YOUR GARAGE.

>> I DID.

YEAH.

>> ANYTHING WE'VE HEARD ABOUT?

>> NO BECAUSE I WROTE THE PLAYS, TOO.

YOU KNOW, I PRETTY MUCH OUT OF THE WOMB WAS FRONT AND CENTER.

MY SISTER BROUGHT HOME A BARBRA STREISAND ALBUM, THE FIRST

BARBRA STREISAND ALBUM, MY NAME IS BARBRA.

I MEMORIZED EVERY SONG ON IT AND WHEN IN AND TOLD SISTER DELRINA,

MY SECOND GRADE TEACHER, THAT I HAD SOME SONGS I WOULD LIKE TO

PERFORM FOR THE CLASS.

[LAUGHTER] AND THEN, YOU KNOW, LAUNCHED

INTO MY SEVEN-YEAR-OLD VERSION OF BARBRA STREISAND, SO I HAVE

ALWAYS BEEN DOING THAT.

AND WHEN I RAN OUT OF BARBRA STREISAND SONGS, I WOULD JUST

MAKE UP SONGS ON THE PLAYGROUND AND THEN COME IN AND SING FOR

PEOPLE AND FOR RELATIVES AND FOR ANYBODY WHO WOULD LISTEN.

IN FACT, I REMEMBER MY BROTHER SAYING TO ME WHEN WE WERE LITTLE

-- HE WOULD HEAR US SINGING ON THE SWINGS.

"MARY POPPINS," "SOUND OF MUSIC."

HE WOULD SAY, "I CAN HEAR YOU ABOVE EVERYBODY ELSE.

IT'S EMBARRASSING.

BE QUIET!"

SO I HAVE ALWAYS BEEN DOING THAT.

THE OTHER THING I REALLY LOVE TO DO WAS READ.

EVEN TO THE EXCLUSION OF PLAYING WITH MY FRIENDS.

AFTER SCHOOL, I WOULD TAKE MY BOOKS AND GO THROUGH AND READ

THEM, AND WHEN I FINISHED THEM, I WOULD COME TO MY FRIENDS AND

SAY, "NOW WE ARE GOING TO PUT ON A PLAY OF THIS BOOK."

WE WOULD DO THAT.

WE WOULD JUST PLAY THE BOOK.

WE WOULD GO OUT, AND I WOULD ASSIGN THEM CHARACTERS FROM THE

BOOK, AND WE WOULD PLAY IT AND ACT IT OUT.

WE DID PUT ON PLAYS IN MY GARAGE .

THIS IS MY OTHER ENTREPRENEURIAL SIDE AS WE WENT AND WE DID

FLYERS, SOLD TICKETS, WENT DOWN THE STREET, GOT ALL THE

NEIGHBORS -- >> THIS WAS VERY SERIOUS.

>> YES, VERY SERIOUS.

IT WAS A ONE NIGHT ONLY SHOW.

THE DAY WE WERE PERFORMING IT, IT STARTED TO RAIN, SO WE HAD

LAWN CHAIRS IN OUR DRIVEWAY, AND THEN WE HANDED OUT UMBRELLAS.

WE WENT AND GOT UMBRELLAS AND HAD THE AUDIENCE SIT WITH

UMBRELLAS TO WATCH US.

WE USED TO HAVE A MILK SHOOT, AND THAT WAS OUR TICKET OFFICE.

I SOUND LIKE I AM DESCRIBING A "LITTLE RASCALS" EPISODE.

IT SOUNDS ANCIENT.

SO THAT'S HOW I -- YOU KNOW, THAT'S REALLY -- I'VE BEEN DOING

IT SORT OF ALL MY LIFE.

>> CAN YOU STILL DO BARBRA STREISAND?

>> [LAUGHTER] NO, I'VE NEVER BEEN ABLE TO DO

BARBRA STREISAND.

[LAUGHTER] I DID NOT SAY I COULD DO HER.

I JUST SAID I SANG HER SONGS.

>> WHEN DID IT BEGIN TO OCCUR TO YOU THAT THIS WAS SOMETHING THAT

YOU NEEDED TO DO?

>> NOT UNTIL THE MIDDLE OF MY JUNIOR YEAR IN COLLEGE.

MY FATHER WAS A JOURNALIST.

MY BROTHER IS A JOURNALIST.

THERE WAS SORT OF AN ASSUMPTION THAT'S WHAT I WOULD DO,

SOMETHING LIKE THAT, AND I HAD STARTED AS A JOURNALISM MAJOR AT

OHIO STATE, AND I WAS MISERABLE.

AND FOR SOME OTHER REASONS, TOO, BUT PART OF IT WAS I WAS NOT

DOING WHAT I LIKED, AND I REMEMBER -- I THINK I ONLY TOOK

ONE JOURNALISM CLASS, AND I HAD TO GO OUT AND INTERVIEW SOMEBODY

ABOUT SOMETHING, YOU KNOW, AS AN ASSIGNMENT.

SO I WENT AND INTERVIEWED SOME GUY, SOME FRATERNITY GUY ABOUT

WHAT THEY'RE FRATERNITY -- WHAT FLOAT THEY WERE BUILDING FOR

GREEK WEEK OR SOMETHING, AND I REMEMBER SITTING -- TALKING WITH

HIM AND WRITING DOWN WHAT HE WAS SAYING AND JUST THINKING, "UGH,

I AM SO MUCH MORE INTERESTING THAN THIS GUY.

HE SHOULD BE INTERVIEWING ME."

[LAUGHTER] AND I REALIZED MAYBE I SHOULD BE

ON THE OTHER SIDE OF THAT MICROPHONE.

SO I WAS VERY NERVOUS TO CALL MY DAD AND SAY, "LISTEN, I WANT TO

CHANGE MY MAJOR."

I DON'T KNOW WHY I WAS SO NERVOUS BECAUSE I WAS ACTUALLY

PAYING FOR COLLEGE MYSELF, BUT I STILL FELT I NEEDED PERMISSION

FROM HIM.

AND HE SAID, "FINE, GO AHEAD.

CHANGE INTO THEATER.

THAT'S FINE."

I DON'T THINK HE REALLY THOUGHT I WAS GOING TO PURSUE IT.

THE FINAL NAIL IN THE COFFIN OF THE WHOLE JOURNALISM OR

CLEVELAND EXPERIENCE WAS WHEN I GRADUATED JUST WITH ABA -- A

B.A., SO IT WASN'T A BFA.

BY THE MIDDLE OF MY JUNIOR YEAR, I JUST WANTED TO GET OUT OF

SCHOOL.

I GOT A JOB RIGHT AFTER I GRADUATED AT THIS SORT OF OUR

RESTAURANT -- I DON'T KNOW IF THAT'S EVEN THERE ANYMORE --

CALLED THE BLUE FOX.

OH!

[LAUGHTER] >> RIPPLE OF RECOGNITION.

A LOT OF LAWSUITS OR SOMETHING?

>> YEAH, AND THAT'S SCARY BECAUSE THE CLIENTELE THERE WAS

KIND OF SUSPECT, SO I DON'T KNOW WHO YOU ARE IF YOU FREQUENTED

THE BLUE FOX, BUT IT WAS JUST -- I JUST -- IT WAS LIKE A DEATH

SENTENCE.

I THINK I WORKED THERE FOR A WEEK, AND A FRIEND OF MINE FROM

HIGH SCHOOL SAID, "HEY, YOU OUGHT TO GO TO NEW YORK.

I'VE GOT A TRUCK WITH SOME FURNITURE IN IT, AND I WILL

DRIVE OVER, AND WE CAN GET AN APARTMENT TOGETHER, AND I

LITERALLY THAT DAVE WROTE A NOTE TO THE MANAGER SAYING, "I QUIT."

I PUT IT ON THE FRONT DESK AT THE BLUE FOX AND LEFT FOR NEW

YORK.

IT TOOK A FEW YEARS.

BUT I, YOU KNOW, MADE THE COMMITMENT.

>> TELL ME A LITTLE BIT ABOUT THOSE FIRST FEW YEARS IN NEW

YORK.

I MADE A LIST OF JUST WHAT I'VE READ ABOUT THINGS YOU DID

WAITING TO BE DISCOVERED.

>> YES.

>> YOU WERE A ROOM SERVICE WAITER?

>> I WAS A ROOM SERVICE WAITRESS AT THE PARKLAND MERIDIEN HOTEL

IN NEW YORK CITY.

>> CLASSY PLACE.

>> CLASSY PLACE.

IT WAS 6:00 A.M. UNTIL NOON SHIFT, WHICH WAS GREAT TO CUSS

-- BECAUSE I ALWAYS LOOK FOR JOBS THAT WOULD BE OUTSIDE OF

WHATEVER AUDITION TIME OR CLASS TIME, SO I HAD TO WORK REALLY

EARLY IN THE MORNING OR LATE AT NIGHT, AND THAT WAS REALLY FUN.

I WAS THE ONLY WOMAN IN THE MORNING ROOM SERVICE, AND IT WAS

A FRENCH COMPANY, THAT HOTEL, IT WAS A FRENCH COMPANY, AND I HAD

A LITTLE FAUX FRENCH MAIDS POLYESTER UNIFORM THAT I HAD TO

WEAR, AND WE ALWAYS WHEN WE WERE AT THE DOOR KNOCKING WITH THE

FOOD, WE WERE ALWAYS SUPPOSED TO SAY, "BONJOUR."

[LAUGHTER] IT WAS VERY AUTHENTIC.

[LAUGHTER] I HAD A FRIEND THERE -- WELL, WE

BECAME FRIENDS.

A REALLY WONDERFUL, FUNNY ACTOR, AND HE JUST USED TO HAVE THE

BEST TIME, AND WE WOULD ATTEND THAT WE WERE FRENCH, WHEN WE

KNEW IT WAS AN AMERICAN COUPLE IN THE ROOM, WE WOULD PRETEND WE

DID NOT KNOW ANY ENGLISH AND COULD NOT UNDERSTAND THEM.

[LAUGHTER] YOU KNOW, WOULD LOOK AT THEM

BLANKLY WHEN I ASKED FOR SOMETHING.

I KNEW A COUPLE WORDS IN FRENCH BECAUSE I HAD STUDIED IN HIGH

SCHOOL AND COLLEGE, SO I WOULD KIND OF SPEAK TO THEM IN FRENCH,

AND I WOULD WATCH TO THEM KIND OF SIGNAL TO ME WHAT THEY WERE

-- SO, I MEAN, I ALWAYS HAD -- ALL MY SURVIVAL JOBS I REALLY

ENJOYED BECAUSE THERE'S ALWAYS SOMETHING FUN TO BE DONE AND

SOMETHING TO LEARN.

>> THAT IS STILL A CLASSY PLACE.

WITHOUT VIOLATING ANY CONFIDENCES, DID YOU SEE ANYBODY

FAMOUS IN THEIR UNDERWEAR?

>> YES, I CANNOT BELIEVE HOW MANY MEN ANSWER THE DOOR IN

THEIR UNDERWEAR.

I WAS ALWAYS SO OFFENDED BY IT BECAUSE I THOUGHT, YOU KNOW,

"I'M RIGHT HERE.

I CAN SEE YOU.

I'M NOT JUST THIS THING HOLDING YOUR CROISSANTS, YOU KNOW?"

[LAUGHTER] AND I REMEMBER JOHN COUGAR

MELLENCAMP CAME TO THE DOOR IN HIS, YOU KNOW UNDERWEAR, AND I

COULD KIND OF SEE BEHIND HIM, AND THE ROOM WAS A MESS.

I DID NOT EVEN WANT TO GO IN, YOU KNOW?

FROM THEN ON, YOU KNOW -- HE WAS ALWAYS -- HE SEEMS ALWAYS LIKE

HE WAS A MAN OF THE PEOPLE, AND I'M LIKE, "WELL, I'M THE PEOPLE,

SO PUT YOUR CLOTHES ON."

[LAUGHTER] FROM THEN ON, IN MY MIND, I CALL

HIM JOHN COUGAR UNDERPANTS.

[LAUGHTER] >> HELP US UNDERSTAND WHAT IT'S

LIKE TO GO OUT AND ADDITION -- AUDITION.

>> THE BEST THING IS TO JUST KEEP GOING ON THEM CONSTANTLY

BECAUSE YOU GET USED TO IT, AND IT DOESN'T AFFECT YOU AS MUCH AS

IF YOU ONLY HAVE ONE A MONTH OR SOMETHING AND THEN EVERY

AUDITION BECOMES TOO IMPORTANT.

AND I WENT THROUGH A WHOLE THING IN NEW YORK WHEN I WAS FIRST

THERE.

I USED TO HAVE REAL ANXIETY AND NERVOUS, MOSTLY ABOUT SINGING

BECAUSE I'M NOT REALLY A TRAINED SINGER.

IF I WENT UP FOR MUSICALS, I JUST DID NOT FEEL LIKE I COULD

REALLY COMPETE WITH THE CALIBER OF PEOPLE I WAS UP AGAINST.

I HAD A WHOLE PERIOD WHERE ALL THE ACTING -- IN THE BEGINNING,

IT WAS TOO IMPORTANT TO ME.

IT'S THIS WEIRD BALANCE OF IT HAS TO BE THE THING YOU LOVE TO

DO AND THAT YOU NEED TO DO, BUT YOU ALSO HAVE TO HAVE A

DETACHMENT FROM IT SO THAT YOU CAN DO THE WORK SORT OF CLEANLY

WITHOUT THIS OTHER STUFF GOING ON TO HINDER YOU, AND IT

HINDERED ME FOR A LONG TIME.

IT WAS NOT UNTIL I WAS ABLE TO KIND OF STEP BACK AND SAY, "I

DON'T REALLY NEED THIS ANYMORE," THAT I WAS FREE TO REALLY DO

WELL IN OPTICIANS AND FOCUS MORE ON NOT ON IF THEY LIKED ME AND

IF I WAS GOING TO GET THE JOB TOO, "WHAT FUN CAN I HAVE WITH

THIS AUDITION, WITH THESE TWO PAGES THEY HAVE GIVEN ME, THESE

FOUR LINES."

"WHAT CAN I DO TO MAKE THEM LAUGH?

WHAT CAN I DO TO MAKE THEIR MATERIAL SEEM EVEN BETTER THAN

WHAT THEY HAVE WRITTEN?"

THAT IS ALL THE PEOPLE ARE REALLY LOOKING FOR WHEN YOU GO

IN.

THEY ARE JUST PRAYING YOU ARE THE ANSWER TO THEIR PROBLEM.

WHEN YOU THINK OF IT THAT WAY, THEN IT'S VERY FREEING, AND I

OFTEN GET PEOPLE, YOUNG PEOPLE, WHO WILL SAY TO ME, "I JUST

WANTED TO KNOW IF YOU THINK I SHOULD, YOU KNOW -- I'M

WONDERING IF I SHOULD PURSUE ACTING."

I THINK IF YOU HAVE TO ASK THE QUESTION, THEN YOU SHOULD NOT

PURSUE IT.

IT IS JUST SOMETHING YOU DO.

IT'S WHO YOU ARE, AND THAT'S WHAT YOU HAVE TO DO.

AND IF YOU HAVE TO THINK ABOUT IT, THEN YOU SHOULD NOT DO IT

BECAUSE IT'S WAY TOO HARD, AND THERE'S A 95% CHANCE YOU WILL

NOT BE SUCCESSFUL.

>> I GATHER, READING ABOUT YOUR LIFE, YOU MADE -- WELL, YOUR

FAITH CAME INTO PLAY AT AN IMPORTANT PART, WHEN YOU WERE

KIND OF CONTEMPLATING WHETHER OR NOT IT WAS GOING TO HAPPEN.

>> I HAVE ALWAYS FELT A SPIRITUAL CONNECTION WITH ACTING

, AND I FELT WHOLE WHEN I WAS ON STAGE.

YOU KNOW, THE WORD HOLINESS MEANS YOU ARE WHOLE, ARE UGLY

PARTS OF WHO YOU ARE EMOTIONALLY, SPIRITUALLY,

PSYCHOLOGICALLY, PHYSICALLY ARE ALL IN BALANCE AND ALL FULFILLED

, AND I ALWAYS FELT THAT ON STAGE AND FELT COMFORTABLE ON

STAGE AND FELT THIS CONNECTION THAT THIS IS WHAT I WAS CREATED

TO DO, SO THAT'S MORE OF WHAT IT WAS, NOT SO MUCH FAITH -- FAITH

IS A SORT OF DEFERRED ASPECT OF IT, BUT DEFINITELY, THERE WAS A

SPIRITUAL CONNECTION.

SO THE WHOLE TIME I WAS IN NEW YORK, IT FELT LIKE NINE YEARS

AND NOTHING WAS HAPPENING.

SO I HAD THIS ARGUMENT WITH GOD, LIKE THIS IS WHERE THAT'S WHAT

I'M PRETTY SURE I AM SUPPOSED TO BE DOING, SO WHY IS IT THERE'S

NOT A SINGLE DOOR OPENING?

THAT WAS A BIG ISSUE, AND I DID GET TO THE POINT WHEN I MOVED TO

L.A., I WENT ON A MISSION TRIP TO AN ORPHANAGE IN MEXICO, AND

UP TO THAT POINT, I WAS IN THIS DILEMMA BECAUSE I FELT LIKE I

HAD TO BE AN ACTOR.

IF I WASN'T GOING TO BE AN ACTOR, I COULD NOT COME BACK TO

OHIO BECAUSE THEN I WOULD BE A FAILURE.

IF I HAD NOT MADE IT AS AN ACTOR.

AND WHAT ELSE WAS I GOING TO DO?

I HAD BEEN IN OFFICE JOBS.

I HAD BEEN IN RESTAURANT JOBS.

I HAD DONE ALL THESE DIFFERENT THINGS.

I ONLY LASTED ABOUT SIX MONTHS IN ANY OF THOSE JOBS BECAUSE IT

WOULD START -- LIKE, IT WAS NOT WHAT I WANTED TO DO, AND MY

PERFORMANCE AT THOSE JOBS WOULD START DETERIORATING, AND I WOULD

EITHER QUIT OR GET FIRED.

SO I THOUGHT, "WHAT AM I GOING TO DO?"

I WENT TO L.A. AND IT WENT TO THIS ORPHANAGE IN MEXICO FOR

THREE DAYS MAY BE, SUCH A MOVING EXPERIENCE THAT WHEN I CAME

BACK, I THOUGHT, "OH, I COULD DO SOMETHING ELSE.

I COULD DO THAT INSTEAD OF ACTING AND BE COMPLETELY AT

PEACE AND FEEL THAT WHOLE MESS -- WHOLENESS.

SO I THOUGHT I WAS GETTING A COUPLE OF ADDITIONS, AND I

REALLY JUST HAD THIS CONVERSATION WITH GOD, VERY

STRAIGHTFORWARD, LIKE, "ALL RIGHT.

I DO NOT HAVE TO DO THE ACTING ANYMORE.

I'M SORRY I YELLED AT YOU.

I CAN GO DO THIS ORPHANAGE WORK ."

BUT I AM GETTING THESE ADDITIONS, SO I'M GOING TO KEEP

GOING ON THESE ADDITIONS IF YOU KEEP SENDING THEM.

IF YOU WANT ME NOT TO DO IT, MAKE IT REALLY CLEAR THAT I

SHOULD GO DO THIS OTHER THING.

SO UNTIL I HEAR FROM YOU, I'M GONNA KEEP DOING THESE ADDITIONS

.

SO THEY JUST -- THEY WERE KEPT COMING AND WORK KEPT COMING.

I THINK THE FIRST THING WAS "ALIEN NATION."

I THINK I DID ONE EPISODE OF A TV SERIES.

>> THE PEOPLE THAT -- A COLONY FROM ANOTHER PLANET.

>> YES.

>> I REMEMBER THE MANDY PATINKIN MOVIE WITH JAMES KOHN MORE THAN

THE TV SHOW.

>> UNFORTUNATELY, I WAS NOT PLAYING AN ALIEN.

YOU COULD SEE MY FACE.

IT WOULD HAVE BEEN BETTER IF I WAS COVERED UP FOR THAT SHOW.

A FRIEND OF MINE WAS WORKING ON THAT SHOW, AND WHEN THERE WAS A

BIG EARTHQUAKE IN CALIFORNIA, HE WAS IN MAKEUP.

HE HAD TO GO GET MAKEUP AT 4:00 IN THE MORNING WHEN THE

EARTHQUAKE HAPPENED.

HE HAD TO DRIVE HOME WITH HALF OF HIS FACE DONE AS AN ALIEN.

SO THAT WAS MY FIRST JOB, I THINK.

ONCE THAT STARTED HAPPENING -- AND IT'S NOT LIKE I DID NOT HAVE

TO KEEP DOING SOME LITTLE SURVIVOR WORK ON THE SIDE --

SURVIVAL WORK ON THE SIDE.

I WAS STILL SUMMARIZING DEPOSITIONS.

WHEN I GOT TO L.A., I WAS DOING THAT FOR A LIVING.

BUT I GOT MORE REGULAR AUDITIONS , AND THEN I ACTUALLY STARTED

GETTING THE JOBS.

>> HOW DID "EVERYBODY LOVES RAYMOND" COME ABOUT?

>> WELL, I HAD DONE "ALIEN NATION."

I HAD DONE ABOUT SEVEN EPISODES OF "THIRTYSOMETHING."

>> YOU PLAYED AN ONCOLOGIST.

>> YES.

STARTED OFF JUST, LIKE, A ONE OFF -- ACTUALLY, I AUDITIONED

FOR SOMETHING ELSE ON "THIRTYSOMETHING."

GOT THE JOB.

THE SCENE WAS WRITTEN OUT OF THE SCRIPT, SO THEY SAID, "WE ARE SO

SORRY, BUT THAT PART IS NO LONGER IN THE SCRIPT."

THEY HAD ME BACK FOR THIS ONCOLOGIST PART.

I GOT IT.

AND THEN THEY KEPT BRINGING ME BACK.

I REALLY HIT IT OFF WITH THEM.

THEY WERE JUST REALLY GREAT, AND WE JUST HIT IT OFF.

THE PRODUCERS OF THE SHOW, THEY KEPT BRINGING ME BACK, AND THEY

ACTUALLY CALLED ME AND SAID, "OH, WE JUST LOVE TO YOU.

WE ARE GOING TO FIND OTHER THINGS FOR YOU TO DO."

EVERY TIME I GOT AN EPISODE OF "THIRTYSOMETHING," I WOULD CALL

DIFFERENT AGENTS AND SEND THEM THINGS SAYING "I'M DOING ANOTHER

EPISODE."

I WOULD CALL THEM AND SAY WHAT I'M GOING TO BE ON AGAIN, AND

FINALLY, THEY STARTED BRINGING ME IN, AND THEY COULD NOT

BELIEVE THAT SOMEBODY WHO DID NOT HAVE AN AGENT WAS GETTING A

RECURRING ROLE BECAUSE IT WAS A REALLY HARD SHOW TO GET ON.

SO I DID THAT.

THEN I GOT A THING CALLED "ROOM FOR TWO."

IT WAS MY FIRST SITCOM.

THAT WENT FOR ONE AND A HALF SEASONS, SO I THINK WE DID 24

EPISODES TOTAL OF THAT, AND THAT WAS CANCELED.

THEN I DID ANOTHER ONE FOR ABC WHERE I PLAYED A MOM, AND THAT

LASTED MAYBE SIX EPISODES, AND THAT WAS CANCELED.

THEN I THINK I DID ONE CALLED "WOMEN OF THE HOUSE."

IT WAS A SPINOFF FROM "DESIGNING WOMEN," AND IT WAS ME, DELTA

BURKE, TERI GARR, AND THAT ALSO ONLY LASTED MAYBE 13 EPISODES.

THEN MY HUSBAND AND I BY THAT TIME HAD TWO KIDS, AND WE BOUGHT

A HOUSE, AND I WAS OUT OF A JOB AGAIN, AND HE WAS OUT OF A JOB,

TOO.

HE HAD BEEN WORKING, AND THAT WORK FINISHED, AND WE WERE

BROKE.

WE DID NOT KNOW WHERE THE NEXT MONEY WAS COMING FROM.

I GOT THIS AUDITIONED AT THE LAST MINUTE FOR "RAYMOND."

THEY HAD ALREADY TAKEN THREE OTHER WOMEN TO THE NETWORK FOR

THE ROLE, AND THE NETWORK PASSED ON THESE WOMEN.

SO THEY WENT BACK OUT LOOKING FOR SOMEBODY ELSE.

I HEARD THEY WERE LOOKING FOR A "PATRICIA HEATON TYPE."

[LAUGHTER] "I'M RIGHT HERE, CLIPPING

COUPONS."

[LAUGHTER] SO I WENT IN, AND I HAD A

BABYSITTING CONFLICT.

MY BABYSITTER WAS IN COLLEGE, AND SHE NEEDED TO GET TO CLASS,

AND I SAID, "I PROMISE YOU I'M GOING TO BE RIGHT BACK.

PLEASE JUST STAY."

I RAN OVER THERE, AND I WAS KIND OF FRAZZLED AND HASSLED AND MAD

AT MY HUSBAND FOR SOMETHING.

ALL THE WOMEN HERE KNOW YOU ARE ALWAYS MAD AT YOUR HUSBAND FOR

SOMETHING.

AND THAT ALL WORKED PERFECTLY FOR THIS PART.

I DID NOT EVEN HAVE TO DO ANYTHING.

[LAUGHTER] I CAME INTO THIS AUDITIONED --

>> BECAUSE YOU WERE ALWAYS A LITTLE BIT MAD AT YOUR HUSBAND.

>> I WAS A LITTLE BIT MAD AT MY HUSBAND, ALWAYS FRAZZLED, ALWAYS

TIRED.

I CAME IN, AND THERE WERE PROBABLY 20 WOMEN IN THE WAITING

ROOM TO READ FOR THIS PART.

I SAID, "I HAVE A BABYSITTING CONFLICT.

DO YOU MIND IF I GO IN FIRST?"

THEY WERE SO GRACIOUS AND KIND AND LET ME GO IN AHEAD OF THEM,

AND I SAT THERE, AND I AM KIND OF READY TO READ THE PAGES

BECAUSE OF GOT TO GET BACK HOME.

MY WHOLE THING WAS "GET IN AND OUT."

IT WAS NOT EVEN "GET THE JOB."

IT WAS JUST "GO IN, GET OUT."

AND THE DIRECTOR AND PRODUCER JUST KEPT CHATTING WITH ME AND

CHATTING WITH ME, AND I'M ANSWERING THEIR QUESTION.

THEY ARE ASKING ME WHERE I'M FROM.

I'M LOOKING AT MY WATCH, AND THEN THEY SAY, "OH, AND THIS IS

RAY ROMANO."

AND THEN I WAS LIKE, "OH, WELL, THIS SHOW IS NOT GOING

ANYWHERE."

[LAUGHTER] I THOUGHT, "I WAS WAITING FOR

RAY TO COME INTO THE ROOM.

I WAS JUST GOING TO ASK THAT GUY TO GET ME A CUP OF COFFEE WHILE

WE WERE WAITING."

AND OF COURSE, I DID NOT KNOW RAY AT THE TIME, DID NOT KNOW

WHAT SORT OF A GENIUS HE IS AND WHAT A GREAT GUY HE IS.

SO I FINALLY SAID, "DO YOU MIND IF WE JUST -- I KIND OF HAVE A

TIME THING, DO YOU MIND IF WE JUST" --

>> THEY WERE LIKE, "OH, YOU WILL READ?

YOUR AGENT TOLD US YOU WOULD NOT READ, YOU WILL JUST MEET."

THERE'S A THING WHERE AGENTS THINK THAT THEY ARE TRYING TO

PRESERVE THEIR CLIENTS' DIGNITY, THAT THEY ARE NOT GOING TO HAVE

YOU AUDITIONED ANYMORE BECAUSE YOU ARE TOO MUCH OF A STAR.

YOU JUST GO AND MEET THEM AND THEN WALK AWAY.

AND I AM ALWAYS LIKE, "I'LL READ.

JUST LET'S READ AND DO IT.

I DON'T HAVE ANY EGO ABOUT THAT ."

SO I FINALLY SAID, "I'LL READ."

NO WONDER THEY HAD JUST BEEN SITTING HERE CHATTING WITH ME.

SO I READ IT REALLY FAST.

I WAS LIKE, "COME ON, LET'S DO THIS.

I'VE GOT TO GO."

THEY WERE SO LOVELY, AND THE NEXT THING YOU KNOW, I WAS BEING

CALLED INTO MEET THE PRESIDENT OF CBS AT THE TIME, WHICH WAS

LESS INVEST -- LES MOONVES, AND RED FOR HIM AND GOT THE PART.

>> WHAT'S WITH YOUR LACY APPAREL?

>> NOTHING.

[LAUGHTER] IT'S JUST PAJAMAS.

[LAUGHTER] GOOD NIGHT.

[LAUGHTER] WHAT ARE YOU DOING?

>> ME?

WHAT?

DID YOU HAVE MY MOM PUT YOUR MAKEUP ON?

>> NO SEX FOR YOU.

>> NO SEX FOR YOU.

>> WE WANT TO GO TO QUESTIONS WE HAVE FROM SOME OF THE FOLKS

HERE.

>> HI.

I'M MARYBETH.

I WAS JUST ASKING, AS YOU KEPT AUDITIONING, HOW DID YOU LEARN

TO STAND OUT AMONG SO MANY PEOPLE AS YOURSELF AND HOW YOU

FEEL YOU REALLY ARE AS A PERSON AND AN ACTOR?

>> YOU MEAN, HOW DO YOU MAKE YOUR AUDITION STAND OUT MORE

THAN -- >> YEAH, AND BE UNIQUE FROM SO

MANY OTHER PEOPLE.

>> YOU CANNOT WORRY ABOUT BEING UNIQUE FROM EVERYONE ELSE.

YOU JUST HAVE TO TAKE THE MATERIAL THEY GIVE YOU AND

REALLY WORK ON IT AND BRING YOUR OWN PERSPECTIVE TO IT.

IT ALWAYS HAS TO BE FOCUSED ON THE MATERIAL.

IF YOU TRY TO SAY, "I'M GOING TO DO SOMETHING DIFFERENT SO I

STAND OUT," IT'S GOING TO LOOK LIKE YOU JUST PICKED SOMETHING

DIFFERENT TO STAND OUT, NOT LIKE IT'S COMING FROM THE CHARACTER.

IT'S NOT GOING TO RING TRUE.

IT'S ALWAYS ABOUT TRUTHFULNESS, SO IT HAS TO BE TRUE.

THE MORE -- I WOULD JUST SAY -- BILL ESPER, MY TEACHER -- I DID

A TWO-YEAR PROGRAM WITH HIM, AND AT THE END, HE SAID, "NOW YOU

NEED TO GO OUT AND LIVE.

YOU NEED TO HAVE LIFE EXPERIENCES THAT YOU CAN BRING

TO YOUR WORK.

THAT'S WHY EVERY SURVIVAL JOB, EVERYTHING YOU DO IS USEFUL FOR

YOUR CRAFT.

I WOULD JUST SAY YOU NEED TO REALLY TRAIN HARD, STUDY HARD,

AND PREPARE HARD AND BE TRUTHFUL ABOUT YOUR AUDITION.

>> HI.

MY NAME IS ALEX.

I KNOW YOU TALKED ABOUT IT A LITTLE BIT, BUT IN YOUR ACTING

CAREER, HAS THERE EVER BEEN A TIME WHERE IT JUST SEEMED LIKE

NOTHING IN LIFE WAS GOING WELL FOR YOU?

IF SO, HOW DID YOU HANDLE IT MENTALLY, PHYSICALLY, ALL OF

THAT?

[LAUGHTER] >> I FIND A FEW VODKA TONICS

REALLY GET YOU THROUGH -- OVER THE HUMP.

[LAUGHTER] IT'S REALLY HARD --

>> SHE DID NOT MEAN THAT FOR YOU.

AT LEAST NOT YET.

>> LOTS OF SKITTLES.

JUST EAT LOTS OF SKITTLES FOR YOU.

YOU KNOW, IT'S JUST PART OF THE GAME.

EVEN PEOPLE WHO HAVE HAD VERY SUCCESSFUL CAREERS WILL FIND

THAT THEY CANNOT GET WORK AT ALL FOR YEARS.

IT'S NOT JUST WHEN YOU ARE BEGINNING.

IT'S GOING TO BE THE WHOLE THING.

IF YOU DON'T WANT TO BECOME AND HOW POLITICS -- AN ALCOHOLIC

WHEN YOU ARE STRUGGLING, THE THING TO DO, I THINK, IS ALWAYS

JUST BE WRITING MATERIAL FOR YOURSELF, OR GET YOUR OTHER

ACTOR FRIENDS TOGETHER AND WORK ON STUFF TOGETHER.

ESPECIALLY NOW WITH ALL THE DIGITAL STUFF YOU CAN DO.

MAKE YOUR OWN LITTLE SHORT FILMS .

GO TO THE COLLEGES WHERE THEY HAVE FILM PROGRAMS AND GET IN

THOSE MOVIES, YOU KNOW, PUT YOURSELF FORWARD FOR THE

DIRECTOR STUDENTS AT WHATEVER COLLEGES THAT YOU ARE LIVING.

JUST ALWAYS BE DOING SOMETHING THAT KEEPS IMPROVING YOUR CRAFT.

I THINK THAT'S THE MOST, YOU KNOW, HEALTHY AND USEFUL WAY TO

GET THROUGH, SO THAT YOU WILL CONTINUE TO GROW AS AN ARTIST.

>> HI, I'M NATALIE.

I WAS JUST WONDERING HOW YOU HANDLE REJECTION.

EITHER, LIKE, FOR A SPECIFIC ROLE, OR JUST IN GENERAL IN THE

SHOW BUSINESS.

[LAUGHTER] >> SOMETIMES I WOULD CRY.

I REMEMBER A SPECIFIC AUDITION, I DID THE MOST PHENOMENAL

AUDITION.

I WAS JUST SO ON.

I JUST KNEW IT WAS JUST GREAT.

I ALSO KNEW THERE WAS A GOOD CHANCE I WAS NOT GOING TO GET IT

BECAUSE I WASN'T A STAR, AND THEY ALWAYS TRIED TO CAST STARS.

THEN I REMEMBER I GOT THE CALL AND THAT THEY HAD GIVEN IT TO

SOMEBODY ELSE.

AND I HUNG UP THE PHONE, AND I JUST WET -- WEPT.

BECAUSE I HAD INVESTED SO MUCH IN THAT CHARACTER.

SHE WAS STILL KIND OF WITH ME.

IT WAS KIND OF LIKE I HAD TO SAY GOODBYE TO THAT PERSON.

SOMETIMES IT JUST FEELS CRAPPY, YOU KNOW?

YOU KNEW YOU DID A GOOD JOB, AND IT WAS ONE OF THOSE PARTS THAT

YOU REALLY WANTED AND YOU KNEW YOU COULD HAVE JUST ACTED THE

HECK OUT OF IT.

SO SOMETIMES YOU JUST CRY.

BUT YOU KNOW WHAT, YOU GET USED TO IT AFTER A WHILE, AND YOU

ALSO TELL YOUR FRIENDS ABOUT IT.

YOU CALL UP YOUR FRIENDS AND COMPLAIN TO THEM AND, YOU KNOW,

GET A SYMPATHETIC EAR, AND, HOPEFULLY, YOU HAVE GOOD FAMILY

LIFE AT HOME AND PEOPLE WHO TAKE YOUR MIND OFF IT LIKE YOUR KIDS,

AND, YOU KNOW, YOU COUNT YOUR BLESSINGS.

YOU GOT TO DO A LOT OF DIFFERENT STUFF.

>> OF COURSE, YOUR FRIEND COULD HAVE READ FOR THE SAME ROLE.

>> YES, THAT'S TRUE.

AND ALSO, ONE OF MY -- WHEN I MOVED TO CALIFORNIA, ONE OF THE

FIRST FRIENDS I MADE, I KNEW SHE WAS GOING TO BE MY FRIEND

BECAUSE SHE WAS SO GENEROUS.

SHE HAD GONE TO AN AUDITION -- I HAD JUST MET HER.

SHE WENT TO AN AUDITION.

SHE CALLED ME.

SHE DID NOT REALLY KNOW ME, AND SHE SAID, "I JUST WENT IN ON

THIS ADDITION, AND I DON'T REALLY THINK I'M RIGHT OR IT,

BUT I TOLD A CASTING DIRECTOR ABOUT YOU AND GAVE HER YOUR

NUMBER, AND SHE'S GOING TO CALL YOU BECAUSE I REALLY THINK YOU

WOULD BE GOOD AT THIS."

THAT'S A REALLY COOL, GENEROUS PERSON, AND SHE IS ONE OF MY

FIERCEST FRIENDS NOW.

>> HI.

MY NAME IS AARON.

I JUST WANT TO KNOW HOW IMPORTANT YOU THINK IT IS TO

STUDY ACTING WHILE IN COLLEGE.

>> IT'S IMPORTANT IF THAT'S WHAT YOU WANT TO DO FOR A LIVING.

I GUESS IT DEPENDS ON WHAT COLLEGE YOU ARE AT.

WHERE ARE YOU AT SCHOOL?

>> I'M GOING TO NEW YORK CITY, AMERICAN MUSICAL AND DRAMATIC

ARTS ACADEMY.

>> RIGHT, YEAH, I THINK IT'S REALLY IMPORTANT.

FOR ME, WHAT WAS IMPORTANT, THOUGH, IS IF THEY HAVE A

PARTICULAR TECHNIQUE, AND I REALLY THINK THAT THE MEISNER

TECHNIQUE IS THE ONE TO STUDY, SO IF THEY OFFER THAT THERE,

THAT'S WHAT I RECOMMEND THAT YOU STUDY, AND IF THEY DO NOT OFFER

IT THERE, YOU CAN ALWAYS GO TO WILLIAM ESPER'S STUDIO, WHICH

IS, LIKE, ON 45TH AND 7TH AVENUE OR SOMETHING.

IT MOVED.

BUT YOUR TECHNIQUE IS THE WHOLE THING.

IT'S THE WHOLE THING.

YOU HAVE TO HAVE TECHNIQUE BECAUSE SOMETIMES YOU DON'T HAVE

THE EMOTION -- IT'S NOT THERE.

OR YOU MAYBE DON'T NECESSARILY RELATE TO THE CHARACTER, BUT IF

YOU HAVE TECHNIQUE, YOU KNOW HOW TO FAKE IT.

SOMETIMES YOU HAVE TO DO THAT.

SO IT'S REALLY, REALLY IMPORTANT.

I THINK THAT THERE'S A LOT OF PEOPLE THAT GET CAST BECAUSE

THEY LOOK A CERTAIN WAY, AND AFTER A WHILE, THEY CANNOT

MAINTAIN THEIR -- YOU KNOW, THEY GET A CERTAIN AMOUNT OF JOBS

BASED ON THEIR LOOKS, AND THEN YOU AT SOME POINT DO NOT HAVE

THE ACTING CHOPS.

YOU ARE JUST GOING TO BE REPLACED BY ANOTHER PERSON WHO

ALSO HAS THE RIGHT LOOK.

>> IS PART OF THE SUCCESS OF TECHNIQUE KIND OF CONVINCING

YOURSELF THAT YOU CAN STAND IN SOMEBODY ELSE'S SKIN?

>> YES, ESPECIALLY WITH MEISNER.

THEY CALL IT "AS IF."

IF YOU DO NOT RELATE TO THIS EXACT SITUATION, YOU FIND

SOMETHING IN YOUR LIFE THAT DOES, SO YOU SAY, "WELL, IT IS

AS IF I WAS GOING TO" AND THEN YOU SPIN IT OUT, SOMETHING THAT

YOU DO RELATE TO, AND THEN YOU KIND OF TAKE THAT EMOTION AND

PUT IT INTO THAT SITUATION.

>> HI, MY NAME IS SAM.

I WAS WONDERING -- IS IT IMPORTANT TO KNOW SOMEONE IN THE

BUSINESS OF TV AND FILMING, OR DOES IT REALLY MAKE A

DIFFERENCE?

>> TO GET A JOB?

>> YEAH.

>> AS AN ACTOR?

IF I HAD TO DO IT OVER AGAIN, I PROBABLY WOULD HAVE GONE TO A

SCHOOL THAT HAS A LOT OF ALUMNI THAT ARE SUCCESSFUL IN THE

INDUSTRY LIKE MAYBE JULLIARD, ALTHOUGH THAT DOES NOT GUARANTEE

ANYTHING, AND I KNEW NO ONE, AND I MOVED TO CALIFORNIA WITH NO

AGENT, NO MANAGER, NO NOTHING, AND I PRODUCED MY OWN PLAY.

STARTED OUT IN MY GARAGE IN CLEVELAND.

THEN I WENT TO NEW YORK AND DID THE SAME THING.

AND CALIFORNIA ALSO AND DID THE SAME THING.

I ALWAYS WAS MAKING WORK FOR MYSELF IF NO ONE ELSE WAS GIVING

IT TO ME.

IT DOES HELP TO KNOW SOMEBODY, BUT IF YOU'RE NO GOOD, THEN IT

DOES NOT HELP.

>> I MEAN, YOUR FATHER IS A FAMOUS SPORTSWRITER.

MADE A CALL TO GEORGE STEINBRENNER AT ONE POINT ON

YOUR BEHALF.

>> YEAH, AND THAT GOT ME A JOB -- A SURVIVAL JOB IN AN OFFICE

THAT I LASTED ABOUT A YEAR IN, AND I MADE TERRIFIC -- THE GAL

THAT WAS MY BOSS IS STILL MY VERY DEAR, DEAR, DEAR FRIEND,

AND IT WAS A GREAT JOB.

YOU SHOULD ALWAYS USE WHATEVER CONNECTIONS YOU HAVE,

ABSOLUTELY.

YOU NEVER KNOW WHAT'S GOING TO HAPPEN.

>> HI, MY NAME IS KATIE.

I WAS WONDERING -- WHAT ARE SOME QUALITIES THAT TV AND FILM

CASTING PEOPLE LOOK FOR AT AN AUDITION?

>> JUST TALENT.

YOU JUST HAVE TO BE RIGHT FOR THE PART, AND YOU HAVE TO KNOW

WHAT YOU'RE DOING.

I THINK THERE'S A CERTAIN CONFIDENCE THAT COMES ACROSS

FROM PEOPLE WHO KNOW HOW TO ACT.

ON "THE MIDDLE," WE HAVE A CHARACTER NAMED BRAD WHO IS MY

DAUGHTER'S BOYFRIEND.

MY DAUGHTER DOESN'T REALIZE HE'S GAY, AND HE DOESN'T REALIZE HE'S

GAY, AND IT'S A YOUNG ACTOR WHO IS -- I THINK HE'S ONLY 16 --

FROM -- I CANNOT REMEMBER.

HE'S NOT EVEN FROM L.A..

I DON'T KNOW HOW THEY FOUND HIM, BUT I LOOKED AT HIM WHEN HE

FIRST CAME OUT AND I THOUGHT -- "FIRST, I CAN TELL HE'S

THEATRICALLY TRAINED BECAUSE HE HITS IT EVERY TIME, AND I ALSO

CAN SEE IF HE NEEDS TO DO SOMETHING OVER AND OVER AGAIN,

HE CAN DO IT EXACTLY THE SAME WAY EVERY TIME.

GO I RECOGNIZE THIS TRAINING.

BUT HE JUST ALSO HAS A PERSONALITY THAT HE JUST HAS

TIMING, AND HE HAS BEEN DOING IT I THINK ALL HIS LIFE LOCALLY IN

COMMUNITY THEATER, SO HE HAS REALLY GOT A LOT OF NATURAL

ABILITY, AND HE HAS BEEN WORKING AT IT.

I THINK IT'S JUST A MATTER OF YOU GOT TO BE RIGHT FOR THE PART

.

ONE OF THE THINGS OUR ACTING TEACHER SAID WAS YOU ARE NOT

RIGHT FOR EVERY PART.

YOU COULD BE THE GREATEST ACTOR IN THE WORLD AND NOT BE ABLE TO

PLAY A CERTAIN PART BECAUSE WE ALL HAVE A CERTAIN ESSENCE.

IT'S REALLY A LOT OF THAT IS YOUR LOOK AND YOUR SENSIBILITY.

>> ANYBODY WOULD BE FASCINATED BY THE FACT THAT YOU ARE THE

DAUGHTER OF A SPORTSWRITER AND YOU WIND UP PLAYING THE SPOUSE

OF A SPORTSWRITER.

WAS THERE ANY WAY THAT THAT FIT TOGETHER FOR YOU?

DOES THAT HELP YOU REFLECT SOMETHING IN THAT WAY?

>> I WOULD SAY NOT REALLY BECAUSE THE SHOW IS REALLY ABOUT

THE MARITAL RELATIONSHIP.

AT THE BEGINNING, WHEN THEY WERE TRYING TO GET THE SHOW SOME

ATTENTION, THEY FOCUSED A LITTLE BIT ON THE SPORTSWRITING FOR RAY

'S CHARACTER, AND THEY WOULD BRING IN SPORTS CELEBRITIES TO

TRY TO DRAW AN AUDIENCE SO THEY HAD ACTUAL SPORTS FIGURES COME

IN AND HAVE RAY BE INTERVIEWING THEM OR WHATEVER.

IT WAS NEVER REALLY WHAT THE SHOW WAS ABOUT.

IT WAS REALLY ABOUT HIS PARENTS LIVING ACROSS THE STREET.

IT WAS JUST SORT OF A HAPPY COINCIDENCE THAT HE PLAYS A

SPORTSWRITER AND MY FATHER WAS ONE, BUT IT NEVER REALLY

IMPACTED THE SHOW.

>> DO YOU THINK THAT SHOW REFLECTED SOMETHING ABOUT

AMERICAN FAMILY LIFE?

>> OH, YES.

PEOPLE -- MY NEIGHBORS -- IT DID NOT MATTER WHERE YOU LIVE

BECAUSE MY NEIGHBORS IN LOS ANGELES SAID, "THAT CONVERSATION

YOU AND RAY ON THE SHOW HAD LAST NIGHT, I SWEAR YOU'RE LISTENING

RIGHT IN OUR HOUSE.

I'M GOING TO CLOSE THE WINDOWS FROM NOW ON BECAUSE YOU

OBVIOUSLY HERE EVERYTHING WE SAY AND REPORT IT BACK TO THE

WRITERS."

EVEN I WOULD COME IN AND BE ASTOUNDED THAT THEY HAD WRITTEN

A SCRIPT FOR THAT WEEK ABOUT SOMETHING THAT I WAS CURRENTLY

GOING THROUGH WITH MY HUSBAND OR WITH THE KIDS.

SO THEY JUST -- AND THEY ALWAYS EXPLOITED THAT.

WHAT THEY WOULD DO, THE WRITERS, IS JUST COME INTO THE WRITERS

ROOM EVERY WEEK AND JUST START TALKING ABOUT THEIR WEEKEND AND

WHAT HAPPENED WITH THE KIDS AND WHAT WAS GOING ON WITH THEIR

SPOUSE, AND THAT'S WHAT THE SHOWS WOULD BE ABOUT.

ANYBODY WHO'S MARRIED WITH KIDS KNOWS, AND WE ALL GO THROUGH THE

SAME DIFFICULTIES, AND THAT'S WHAT THEY WROTE ABOUT.

>> PEOPLE RAVE ABOUT YOUR COMIC TIMING.

DO PEOPLE SAY FUNNY THINGS, OR ARE THERE SOME PEOPLE, PERHAPS

LIKE YOURSELF, WHO JUST KNOW HOW TO SAY THINGS FUNNY?

>> I THINK THAT IS JUST GENETICALLY I'M WIRED THAT WAY,

BUT THE WRITERS FOR A SITCOM DO RIGHT AND A VERY MUSICAL WAY.

THERE IS DEFINITELY A RHYTHM TO THE SPEECH, SO YOU DO HAVE TO

KNOW HOW TO HIT THAT, AND YOU CAN EITHER HIT IT REALLY HARD,

AND IT'S A LITTLE MORE BROAD, OR YOU DO KIND OF A SUBTLE THING.

ESPECIALLY FOR SINGLE CAMERA, IT'S A LITTLE MORE SUBTLE, SO,

YOU KIND OF START PLAYING WITH IT.

AND BECAUSE RAY IS A STANDUP COMEDIAN, BRAD GARRETT IS A

STANDUP COMEDIAN, AND MANY OF THE WRITERS ON "RAYMOND" WERE

STANDUP COMEDIANS, JUST HANGING AROUND THEM FOR NINE YEARS, I

THINK I LEARNED A LOT JUST FROM BEING AROUND THEM AND HEARING

THEM AND LISTENING TO THEM.

>> WHEN YOU SAY YOU ARE WIRED TO GET LAUGHS --

>> UH-HUH.

>> YOU KNOW, A LOT OF KIDS, LET'S SAY, CLASS CLOWNS --

>> YEAH.

>> THE KIND OF TEXTBOOK PSYCHOLOGY GOES THAT THEY ARE

LOOKING TO GET LAUGHS BECAUSE THEY ARE EITHER STARVED FOR

ATTENTION, OR THEY ARE TRYING TO PUT THEMSELVES OVER SOMETHING

SAD THAT HAS HAPPENED IN THEIR LIFE.

WAS THAT THE CASE FOR YOU?

>> WELL, I, YOU KNOW -- BECAUSE -- NO, I WAS DOING SORT OF -- I

AM SORT OF EXTROVERTED.

THAT ALL WAS THERE BEFORE -- MY MOTHER PASSED AWAY WHEN I WAS 12

RATHER SUDDENLY, BUT ALL THAT WAS -- I HAVE KIND OF THOUGHT

ABOUT WHAT IMPACT THAT HAS HAD ON ME, BUT I WAS THAT PERSON

BEFORE SHE PASSED AWAY, SO I THINK IT DEFINITELY CHANGED ME

AS A PERSON, BUT NOT SO MUCH AFFECTING MY ACTING.

IT JUST DID OTHER THINGS TO ME.

BUT I THINK THE -- I WAS JUST READING ABOUT PEOPLE WHO ARE

EXTROVERTS WHO ARE KIND OF HAPPY AND POSITIVE BUT NEED TO BE OUT

THERE AND NEED TO HAVE THIS ATTENTION.

I THINK I AM A POSITIVE PERSON AND A PRETTY HAPPY PERSON,

PRETTY GRATEFUL PERSON, AND I DO ACTUALLY REALLY LOVE THAT

ATTENTION -- I DON'T LOVE IT, IT'S JUST WHAT I DO.

WHEN I GET PEOPLE SITTING AROUND , JUST SOMETHING HAPPENS.

IT'S KIND OF EMBARRASSING, ACTUALLY.

[LAUGHTER] PART OF ME IS VERY ASHAMED OF

IT, ACTUALLY.

>> NO, IT'S DELIGHTFUL.

>> ISN'T?

>> YEAH.

WHY WOULD YOU BE ASHAMED?

>> I WILL WALK OUT OF THIS INTERVIEW AND FEEL COMPLETE

SELF-LOATHING FOR ABOUT TWO DAYS.

[LAUGHTER] AND I'M ENJOYING MYSELF

IMMENSELY RIGHT NOW, AND THAT'S WHAT -- THAT'S WHAT I END UP

LOATHING ABOUT.

IT'S LIKE AM I ENJOYING MYSELF A LITTLE TOO MUCH?

[LAUGHTER] >> WELL, WE ALL ENJOY YOU.

>> THANKS.

THANK GOD.

I'D BE IN A LOONY BIN IN A ROOM BY MYSELF JUST HAVING A GOOD OLD

TIME, SO AT LEAST THE AUDIENCE THERE MAKES IT LOOK SANE.

[LAUGHTER] >> FORGIVE ME, BUT LET ME PRESS

YOU ON THAT A LITTLE.

WHAT IS THAT ALL ABOUT?

TWO DAYS OF SELF-LOATHING.

>> WELL, I JUST THINK, YOU KNOW -- I DON'T KNOW.

I BLAME -- PART OF ME JUST BLAMES IT ON GOD.

HE MADE ME.

I DID NOT ASK FOR IT.

BUT THERE'S A COUPLE THINGS.

ACTING IS SORT OF A SILLY THING.

YOU ARE KIND OF -- IT'S JUST SORT OF -- I MEAN, PEOPLE IN

HOLLYWOOD ARE SORT OF HELD UP THEN CLAMOR I AND PAID WAY TOO

MUCH MONEY, ALTHOUGH I WOULD NEVER TELL THE EXECUTIVES AT THE

STUDIO THAT.

I NEVER THINK I AM BEING PAID TOO MUCH WHEN I TALK TO THEM AND

NEGOTIATE MY CONTRACT, BUT, YOU KNOW, WE ARE REALLY JUST, LIKE,

COURT JESTER'S.

WE ARE JUST THERE FOR THE ENTERTAINMENT.

IT'S NOT -- I DON'T THINK IT'S TERRIBLY NOBLE CALLING.

I THINK WE SERVE A PURPOSE, ESPECIALLY FOR COMEDY.

IT'S NICE THAT I KNOW, THAT PEOPLE HAVE COME UP TO ME AND

SAID, YOU KNOW, YOU HAVE TAKEN SOMEBODY OUT OF A SITUATION THEY

HAVE BEEN GOING THROUGH FOR HALF AN HOUR, THAT THEY FORGOT ABOUT

THEIR PROBLEMS AND WHATEVER.

SO I KNOW THAT THAT HAPPENS.

BUT I'VE MET SO MANY PEOPLE, I'VE BEEN TO WASHINGTON A LOT,

OR I HAVE DONE CHARITY WORK AND SEEN DOCTORS AND VOLUNTEERS AND

PEOPLE WHO JUST ARE MAKING SUCH A DIFFERENCE WITH THEIR LIVES.

THEY ACTUALLY HAD TO GO THROUGH A LOT OF SCHOOLING TO GET THERE.

YOU KNOW, DOCTORS.

AND IT'S NOT EASY.

SO I JUST LOOK AT THAT AND THINK THAT WHAT I DO IS SO KIND OF

SILLY, AND I'M A GROWN-UP.

YOU KNOW, WE SIT IN THAT TRAILER ALL DAY LONG AT WORK, AND WE ARE

SITTING IN THE MAKEUP CHAIR, AND THEY ARE DOING YOUR HAIR AND

MAKEUP, AND YOU ARE JUST TALKING ABOUT NONSENSE, AND YOU ARE

LAUGHING.

I MEAN, IT'S REALLY FUN, BUT I THINK, "I AM 52 YEARS OLD.

I NEED TO GET A REAL JOB.

THIS IS NOT -- IT'S JUST TOO MUCH FUN."

[LAUGHTER] I THINK PART OF MY WHOLE

CATHOLIC UPBRINGING -- THAT'S ONE OF THE REASONS I THINK IT

WAS A LITTLE BIT HARD FOR ME TO GO INTO ACTING BECAUSE IT WAS A

LOT OF FUN, AND I REALLY LOVED IT, AND THERE WAS PART OF ME

THAT SAID THAT THERE SHOULD BE MORE SUFFERING.

AND I'M HAVING TOO GOOD OF A TIME.

I THINK I HAD TO GET OVER THAT HUMP, AND I HAVE REALLY GOTTEN

OVER IT.

BUT I JUST SOMETIMES THINK OF WHAT WE DO IS JUST -- IT'S THE

SAME AS PUTTING THAT PLAY ON IN MY GARAGE, AND I DO IT FOR A

LIVING AND SOMEBODY PAYS ME TO DO IT.

I JUST SOMETIMES CANNOT WRAP MY HEAD AROUND IT.

>> I INTERVIEWED A SURGEON ONCE WHO HAD TO RETIRE.

A GREAT SURGEON.

HE HAD TO LEAVE SURGERY.

BUT YOU KNOW WHAT HE MISSED ABOUT A?

>> HMM?

>> THE BYPLAY IN SURGERY WHERE THEY TALK ABOUT NOTHING, JUST

LIKE YOU AND THE TRAILER.

EVEN THOUGH THEY ARE PREPARING A HEART.

>> YES.

I DON'T EVEN WANT TO TELL THE PEOPLE THIS.

WE WILL SIT THERE -- IT TAKES A LONG TIME -- THE SINGLE CAMERA

SHOW, THE ONE I DO NOW CALLED "THE MIDDLE" -- THERE'S TWO

KINDS OF SHOWS YOU WATCH ON TV.

MULTI-CAMERA, SINGLE CAMERA.

MULTI-CAMERA WOULD BE LIKE YOU ARE HERE NOW.

WE'VE GOT THESE CAMERAS, AND WE ARE ALL ON THE STAGE, AND WE

HAVE REHEARSED FOR FOUR DAYS, AND THEN YOU COME IN, AND WE DO

IT FOR YOU AS ALMOST LIKE A PLAY FROM BEGINNING TO END.

THAT WAS "RAYMOND."

"THE MIDDLE IS QUOTE --"THE MIDDLE" THERE'S NO AUDIENCE.

THEY DO ALL THE SCENES THAT ARE DONE IN THE KITCHEN, THE

BEGINNING, THE MIDDLE, THE END.

YOU DO ALL THOSE SCENES THE FIRST TWO DAYS.

THEN THE SCENES THAT ARE OUTSIDE, THEY WILL PULL ALL

THOSE TOGETHER AND DO THOSE FOR THE NEXT COUPLE OF DAYS.

IT'S ALL DONE OUT OF ORDER.

JUST ONE CAMERA.

THEY WILL SHOOT, YOU KNOW, THE MASTER SHOT WHEN EVERYBODY IN

IT.

THEN THEY WILL DO A SINGLE ON YOU AND A SINGLE ON ME AND THEN

A CLOSE-UP AND THEN CLOSER UP AND CLOSER UP.

SO IT JUST TAKES A LONG TIME.

YOU ARE SITTING THERE FOR A LONG TIME, WAITING FOR THEM TO LIGHT,

WAITING FOR THEM TO RESHOOT.

TURN THE CAMERAS AROUND.

THEY HAVE TO TAKE THIS ROLLOUT.

BUT THE CAMERAS AT THIS ANGLE, AND WHEN THEY ARE DONE WITH THAT

ANGLE, THEY PUT THAT WALL BACK IN.

THEY PULLED THIS WALL OUT.

THEY TURN THE CAMERAS AROUND THIS WAY, SO YOU ARE JUST

SITTING THERE FOR A LONG TIME.

IT'S NOT REALLY ARTISTICALLY REWARDING.

I HAD A HARD TIME ADJUSTING TO IT BECAUSE THERE'S NO END TO IT.

>> UNLIKE ON THE STAGE.

YOU BUILD UP TO -- >> YES, AND ON "RAYMOND."

YOU DID IT FROM BEGINNING TO END WITH THE AUDIENCE.

THEY ALL CLAPPED, AND YOU TOOK IT OUT.

OK, YOU FINISH THE SHOW FOR THE WEEK, AND YOU REALLY KNOW WHAT

IT IS GOING TO LOOK LIKE BECAUSE YOU JUST DID IT, AND NOW, I JUST

NEVER KNOW WHAT IT IS GOING TO LOOK LIKE.

I HAVE NOT SEEN WHAT THE OTHER ACTORS DID IN THEIR SCENES

BECAUSE I'M NOT THERE WHEN THEY ARE SHOOTING AT.

SO I DON'T KNOW WHAT IT LOOKS LIKE.

THE CAMERA ANGLES -- SOMETIMES THEY DO, LIKE, THOSE FISHEYE

ANGLES, AND YOU DON'T KNOW THAT.

YOU DON'T KNOW WHAT THEY ARE GOING TO USE, SO YOU CANNOT

REALLY SEE IT, AND ALSO, THE LAST SCENE YOU SHOOT ON FRIDAY

MIGHT BE THE SECOND SCENE IN THE SCRIPT, SO YOU DON'T FEEL THE

SENSE OF CLOSURE, YOU KNOW?

I HAD TO REALLY WORK HARD AT, LIKE, THAT'S WHEN I WAS WORKING

ON IT, I WAS HAVING A LITTLE ANXIETY BECAUSE I DIDN'T KNOW.

I COULD NOT DO THE ARK OF THE SCRIPT BECAUSE YOU ARE DOING IT

LIKE THAT.

NOW I HAVE TO THINK OF EACH SCENE AS A LITTLE PLAY.

EVEN IF THE SCENE IS FOUR LINES, THAT IS A LITTLE PLAY THAT HAS A

BEGINNING, MIDDLE, AND END AT A NEED TO ACCOMPLISH IN THAT SIN

-- AND THAT SCENE, AND THAT IS HOW I'M ABLE TO ARTISTICALLY IN

MY HEAD LIVE WITH IT IS TO DO IT.

THAT WAY.

SO I FEEL SOME CLOSURE.

>> AND YOU HEAR APPLAUSE.

>> I DON'T HEAR APPLAUSE.

YOU DON'T HEAR THE APPLAUSE.

IF I HEAR THEM LAUGHING -- LIKE, WE ARE ON THE SET, AND THE

DIRECTOR WILL BE AT THE MONITOR WITH THE PRODUCERS BEHIND US, IF

I CAN HEAR SNICKERING BACK THERE, THEN THAT IS KIND OF LIKE

MY APPLAUSE.

THEN I KNOW I'VE DONE IT RIGHT.

I LISTEN FOR THE SNICKERING.

>> I HAVE READ THAT YOU READ FOR THE E ROLE IN "SEINFELD" -- THE

ELAINE ROLE IN "SEINFELD."

>> YES, AND I GOT CALLED BACK, BUT I KNEW ON THE CALLBACK THAT

IT REALLY DID NOT WORK.

I COULD NOT REALLY GET A BEAD ON IT, AND I WAS DOING IT WITH

JERRY, AND THEY KEPT ASKING ME TO TRY THIS AND TRY THAT, AND I

WAS DOING IT DIFFERENT WAYS, BUT I COULD TELL I WAS NOT GETTING

WHAT THEY NEEDED.

AND THEY WERE SO NICE, AND HE WAS VERY NICE, BUT I KNEW.

>> WAS LARRY DAVID THERE YET THOUGH THIS WAS BEFORE LARRY

DAVID BECAME FAMOUS.

>> I CANNOT REMEMBER IF HE WAS THERE OR NOT.

>> WE HAVE ALREADY TALKED A LITTLE BIT ABOUT YOUR FAITH.

AM I CORRECT IN THINKING THAT THAT KIND OF STANDS OUT A LITTLE

IN HOLLYWOOD?

>> I THINK CHRISTIANS KIND OF FEEL LIKE THEY HAVE TO HIDE IT A

LITTLE BIT, LIKE YOU PICK UP ON CERTAIN KEYWORDS FROM PEOPLE

THAT THEN YOU REALIZE.

I THINK IT'S THE SAME WIDTH, LIKE, ALCOHOLICS.

IF THEY SAY CERTAIN THINGS, YOU KNOW THEY ARE IN AA.

WITH CHRISTIANS, THERE ARE CERTAIN THINGS, TOO, WHERE YOU

JUST PICK UP AND THINK, "OH, I THINK THEY PROBABLY GO TO CHURCH

."

IT IS NOT REALLY TALKED ABOUT THAT MUCH, YOU KNOW?

AND POLITICS, TOO, SAME THING.

IF YOU ARE MORE OF A CONSERVATIVE PERSON, YOU KIND OF

KEEP IT ON THE LOW DOWN BECAUSE YOU ARE IN A PLACE WHERE YOU ARE

THE MINORITY, BUT I ALSO JUST THINK THAT MORE AND MORE PEOPLE

ARE -- I THINK PEOPLE ARE -- I'VE NEVER BEEN AFRAID TO BE

OPEN ABOUT IT.

IT'S JUST NOT -- I'M JUST NOT ONE OF THOSE PEOPLE THAT IT'S --

I DON'T WEAR IT LIKE A BADGE.

IF IT COMES UP, I TALK ABOUT IT.

I'M NOT AFRAID OR ASHAMED OR CONCERNED TO EVER SAY WHO I AM.

ALSO BECAUSE THAT'S -- I FEEL LIKE EVERYTHING FROM THE

BEGINNING OF -- LIKE I SAID, I FEEL LIKE I WAS CREATED TO BE AN

ACTOR.

IT'S ALL FROM GOD, SO I AM CERTAINLY NOT GOING TO -- AND HE

HAS OPENED EVERY DOOR FOR ME.

SO I WOULD NEVER WANT TO BE AFRAID OR ASHAMED BECAUSE NONE

OF WHAT HAS GONE ON IN MY LIFE HAS COME FROM ANYWHERE BUT HIM.

SO IT'S NOT ANYBODY THAT I'M WORKING WITH THAT IS GOING TO

MAKE THE DIFFERENCE IN MY CAREER ULTIMATELY.

I FEEL LIKE HE IS IN CHARGE OF IT ALL, SO I DO NOT HAVE TO

WORRY ABOUT IT.

>> WHAT DO YOU THINK YOU HAVE LEARNED THAT YOU DID NOT KNOW 20

YEARS AGO?

>> WELL, I MEAN -- WHAT HAVE I LEARNED THAT I DID NOT KNOW?

>> I MEAN WHAT MAY BE CHANGED FOR YOU?

>> A LOT HAS CHANGED.

I USED TO BE SORT OF EMOTIONALLY OUT-OF-CONTROL WHEN I WAS IN MY

20'S, BUT I THINK MOST 20-YEAR-OLDS ARE EMOTIONALLY OUT

OF CONTROL.

YOU KNOW, BOUNDARIES.

AND NOT NECESSARILY IN A BAD WAY, BUT I WOULD JUST, LIKE, I

WOULD GIVE EVERYBODY MY PHONE NUMBER.

YOU DON'T HAVE A PLACE TO LIVE?

COME AND LIVE WITH ME.

I WAS IN A STUDIO THIS BE AN IN DASH AND ALWAYS INVITING PEOPLE

TO COME AND LIVE WITH ME.

NOW, I'M ALMOST THE OPPOSITE.

IT'S LIKE I WILL NOT BE EMOTIONAL UNLESS I'M GETTING A

PAYCHECK AT THE END OF IT.

I MEAN, IT'S SO WEIRD.

JUST BECAUSE I THINK WHEN YOU BECOME A PARENT, YOU DON'T HAVE

TIME ANYMORE.

YOU'VE GOT TO WORK, AND YOU'VE GOT TO TAKE CARE OF THE KIDS,

AND, YOU KNOW, YOU'VE GOT TO, YOU KNOW, KEEP YOUR MARRIAGE

GOING.

SO YOU JUST HAVE TO -- NOW I'M VERY -- AND I THINK I ALSO

LEARNED FROM MY HUSBAND WHO IS VERY ORGANIZED GUY.

I WAS ALWAYS ALL OVER THE PLACE, AND MY HUSBAND IS VERY ORGANIZED

AND GETS STUFFED ON AND MAKES LISTS, AND I HATE DOING THAT,

BUT IT IS KIND OF OVER 20-SOME YEARS, I HAVE KIND OF ABSORBED

IT AND FOUND THAT IT'S EXTREMELY USEFUL, AND IT MAKES YOUR LIFE

SO MUCH EASIER TO BE ORGANIZED.

ALSO, I CAN NOW DO STUFF THAT I HATE TO DO AND HAVE IT NOT -- I

CAN JUST DO IT.

I CAN JUST GET UP AND DO IT.

I WOULD SAY TO PEOPLE, "DON'T WAIT TO HAVE YOUR FAMILY.

DON'T PUT IT OFF BECAUSE YOU ARE WAITING FOR SOMETHING TO HAPPEN

IN YOUR CAREER.

BECAUSE YOUR CAREER MIGHT NEVER HAPPEN, AND YOU GROW SO -- GOD

WILLING, YOU GROW SO MUCH AS A PERSON, AND YOU BECOME A BETTER

PERSON WHEN YOU ARE A PARENT.

YOU HAVE MORE STAKE IN YOUR COMMUNITY AND IN THE WORLD, AND

YOUR FOCUS IS OFF OF YOURSELF.

MY WORK BECAME SO MUCH BETTER AS AN ACTOR WHEN I HAD KIDS BECAUSE

I COULDN'T PUT SO MUCH FOCUS ON MY WORK ANYMORE.

I HAD TO DO KIDS, SO I HAD TO START DOING STUFF REALLY

OFF-THE-CUFF.

WHEN I LOOK AT MY WORK BEFORE I HAD KIDS, IT LOOKS TOO

CONTROLLED.

IT DOES NOT LOOK AS SPONTANEOUS.

MY WORK AFTER KIDS LOOKS REALLY SPONTANEOUS BECAUSE IT WAS

COMPLETELY SPONTANEOUS BECAUSE I HAD NO TIME TO WORK ON IT

BECAUSE I WAS DIAPERING AND NURSING AND CHAUFFEURING PEOPLE

AROUND.

YOU KNOW, THOSE ARE SOME OF MY LITTLE -- LITTLE WISDOM I HAVE,

I GUESS, WHAT LITTLE WISDOM I HAVE.

I'M SO GLAD TO BE HERE NOW WHERE I AM.

WHEN I WAS IN MY 20'S, I WAS SO HAPPY TO GET OUT OF THEM BECAUSE

THEY JUST FELT LIKE EVERYTHING WAS OUT OF CONTROL.

I HAVE ALWAYS BEEN HAPPY TO GET OLDER, UNTIL, LIKE, SIX YEARS

AGO.

[LAUGHTER] NOW IT'S JUST LIKE, YOU KNOW --

I'M LOSING HAIR IN ONE PLACE AND REGROWING IT IN OTHER PLACES.

AND HAS NO BUSINESS BEING -- YOU KNOW, I CANNOT SEE ANYMORE.

I WET MY PANTS WHEN I WALK.

REALLY, GOD?

REALLY?

[LAUGHTER] ANYWAY.

YEAH, THAT I SAY I HAVE BOUNDARIES NOW?

CLEARLY, I HAVE NO BOUNDARIES.

>> YOU CAN LEARN SOMETHING ABOUT LIFE FROM ACTING?

>> YEAH.

I MEAN, FROM PURSUING ACTING FOR SURE, AND, YOU KNOW, THE THING

ABOUT ACTING, TOO, IT REALLY IS A CRAFT.

THERE IS, LIKE, A SKILL SET.

IT'S NOT JUST HAVING FEELINGS.

YOU REALLY HAVE TO HAVE THE TECHNIQUE.

WILL ESPER USED TO SAY YOUR EMOTIONS ARE LIKE WATER.

IF IT'S JUST ON THE TABLE, IT RUNS EVERYWHERE, SO THE

TECHNIQUE IS LIKE THE GLASS.

YOU HAVE TO PUT THE WATER IN GLASS SO IT HAS SOME SHAPE TO

IT.

AND THEN YOU HAVE CHARACTER.

AS FAR AS LIFE LESSONS FROM ACTING, I DON'T KNOW.

I MEAN, I JUST THINK YOU LEARN TO BE A DISCIPLINED PERSON.

I THINK THAT THE ACTORS THAT I KNOW WORK REALLY, REALLY HARD.

YOU ALSO LEARN TO LIVE WITH INSTABILITY, SO THAT -- I ALWAYS

KNOW I'M GOING TO LOSE MY JOB.

IT'S EITHER GOING TO BE CANCELED NEXT WEEK OR NEXT YEAR OR NINE

YEARS FROM NOW, BUT I ALWAYS KNOW MY JOB IS GOING TO GO.

WE HAVE NEVER HAD STABILITY IN OUR LIVES, SO YOU LEARN TO LIVE

WITH THAT, AND NOTHING REALLY ROCKS YOU.

I ALWAYS EXPECT THE WORST, ACTUALLY, SO WHEN GOOD THINGS

HAPPEN, IT'S LIKE, "WAHOO!

THAT'S GREAT.

OF -- THAT'S GREAT."

AND ALL MY FRIENDS WHOSE CAREERS HAVE NOT TAKEN OFF AS MUCH AS

MINE HAVE, THEY STILL STRUGGLE.

THEY HAVE UP.

AND DOWN PERIODS.

I THINK IT'S LIKE THE CURRENT ECONOMIC CRISES AND ALL THE

ECONOMIC UPS AND DOWNS, ACTUALLY .

I GUESS I'M NOT AS BLOWN AWAY BY THEM BECAUSE IT HAS ALWAYS BEEN

THAT WAY FOR ME.

WE HAVE BEEN A COUPLE TIMES ON THE BRINK OF SELLING THE HOUSE,

AND WE JUST SAY TO THE KIDS, "WELL, WE MAY HAVE TO SELL THE

HOUSE," AND THEY ARE LIKE, "OK."

"WE ARE FINE, BUT WE MAY HAVE TO SELL THE HOUSE."

[LAUGHTER] IT'S GOOD BECAUSE IT HELPS YOU

JUST LET GO OF STUFF.

THE THING ABOUT MY MOM DYING, WHICH REALLY ALSO HELPED ME A

LOT WAS THAT IS KIND OF THE ULTIMATE INSTABILITY, AND THAT

HAPPENED TO ME EARLY ON, WHICH WAS A GOOD THING.

>> YOU WERE 12, RIGHT?

>> 12.

I KNEW FROM THEN NOTHING WAS FOR CERTAIN.

IT WAS KIND OF -- THIS IS KIND OF NOTHING FOR ME TO BE IN THIS

BUSINESS BECAUSE I HAVE ALWAYS FELT THAT IT COULD BE PULLED OUT

FROM UNDER YOU AT ANY TIME, SO NOT TO REALLY RELY ON THAT.

I GUESS THE TRICK WOULD BE TO KNOW THAT EVERYTHING COULD FALL

APART AND NOT HAVE IT DEPRESS YOU, TO KNOW THAT AND STILL BE

HAPPY.

I THINK THAT'S WHERE THE FAITH COMES IN.

ULTIMATELY, THIS JOURNEY, IF YOU SAY, "GOD WILLING, YOU WILL LIVE

UNTIL YOU ARE 80 OR 90, THAT THIS MUCH TIME IN ETERNITY."

IF YOU HAVE THAT PERSPECTIVE, THEN YOU CAN GET THROUGH JUST

ABOUT ANYTHING.

THE GREAT NAME -- THE DIFFICULT THING IN LIFE IS THAT EVERYTHING

CHANGES, AND THE GREAT THING IN LIFE IS THAT EVERYTHING CHANGES.

SO IT IS A TENSION THAT IS ALWAYS GOING TO BE THERE, BUT IF

YOU CAN BE AWARE OF IT, I THINK YOU CAN HAVE A REALLY HAPPY,

HAPPY LIFE.

>> IT'S BEEN WONDERFUL TALKING TO YOU.

>> OH, THANKS.

>> THANKS VERY MUCH.

>> THANK YOU.

IT'S BEEN GREAT TO BE HERE.

THANKS FOR HAVING ME.

>> PATRICIA HEATON.

[APPLAUSE] YOU HEAR APPLAUSE NOW.

[APPLAUSE] ♪

>> FUNDING FOR "BACKSTAGE WITH PATRICIA HEATON" IS PROVIDED BY

CUYAHOGA COUNTY RESIDENTS THROUGH CUYAHOGA ARTS AND

CULTURE, THE GEORGE W CODRINGTON CHARITABLE FOUNDATION, AND THE

OHIO ARTS COUNCIL.