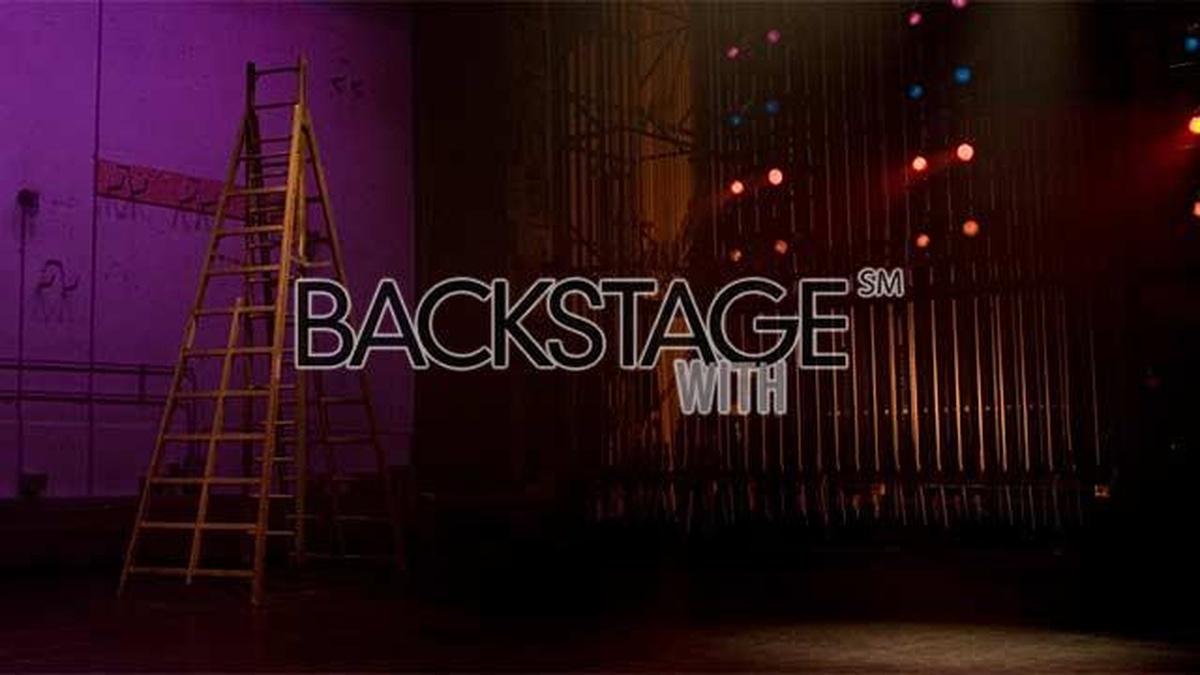 FULL EPISODE
John Lithgow
An actor with an incredible range, Lithgow entertains the audience with tales from his diverse roles, including his portrayal of a transsexual in the film The World According to Garp; the voice of Lord Farquad in the hysterical animated comedy Shrek; and, perhaps his most famous role as the alien Dick Solomon in the hit television series 3rd Rock from the Sun.
TRANSCRIPT

>> FUNDING FOR BACKSTAGE WITH JOHN LITHGOW IS PROVIDED BY

CUYAHOGA COUNTY RESIDENTS, THROUGH CUYAHOGA ARTS AND

CULTURE, THE GEORGE W.

CODRINGTON CHARITABLE FOUNDATION, AND THE OHIO ARTS

COUNCIL.

>> I SWEAR TO GOD, I HAD NO MEMORY OF DOING THAT EPISODE.

THIS IS HILARIOUS.

IT WAS MY FIRST CROSS-DRESSING ROLE.

I WAS AN ABSOLUTE SENSATION.

>> HAVE YOU EVER FLUBBED A LINE?

>> WHAT IF I WERE SUDDENLY RAAR!

MY FATHER WAS NOT LIKE THAT AT ALL.

AND GOD BLESS HIM FOR IT.

HE WAS JUST THE SWEETEST MAN YOU WOULD EVER MEET.

>> WHEN PEOPLE TALK ABOUT GREAT ACTORS, THERE ARE CERTAIN WORDS

THEY USE.

PRESENCE, IMAGINATION, FEARLESSNESS, RANGE.

THAT LAST ONE, RANGE, THAT IS AND ACTOR'S ABILITY TO

CONVINCINGLY PLAY DIFFERENT CHARACTERS.

FOR EXAMPLE, A CREEPY SERIAL KILLER ON ONE SHOW, ON ANOTHER,

A LOOPY BUT LOVABLE ALIEN, A BRITISH RUGBY PLAYER, OR A

BIGHEARTED TRANSSEXUAL, A DIRTY ROTTEN SCOUNDREL AND A BIBLE

THUMPING MINISTER.

THESE ARE JUST SOME OF THE CHARACTERS PLAYED BY OUR NEXT

GUEST WHO, BY THE WAY, IS ALSO A HARVARD MAN, COMPOSER OF

CHILDREN'S BOOKS AND SONGS AND A TALENTED PAINTER AS WELL.

TALK ABOUT RANGE.

PLEASE JOIN ME IN WELCOMING JOHN LITHGOW.

[APPLAUSE] >> THANK YOU.

EVEN BETTER.

[LAUGHTER] THANK YOU.

>> THANK YOU VERY MUCH.

>> I AM DELIGHTED.

>> YOUR FATHER, ARTHUR LITHGOW, WAS THE FOUNDING ARTISTIC

DIRECTOR OF WHAT WAS THEN CALLED THE GREAT LAKES SHAKESPEARE

FESTIVAL, NOW THE GREAT LAKES THEATER FESTIVAL.

SO, DID YOU GROW UP RECITING SHAKESPEARE THE WAY PEOPLE MIGHT

NOW RECITE THE THEME FROM ARTHUR?

>> I DID.

MY TWO SISTERS AND MY BROTHER AND I WERE LIKE A GYPSY WAGON OF

THE THEATER FAMILY.

IN SHAKESPEARE WAS LIKE MOTHER'S MILK TO US.

MY DAD PRODUCED EVERY SINGLE ONE OF SHAKESPEARE'S PLAYS BETWEEN

1950-1960.

AND I WAS THERE TOO.

I WAS EVEN IN SOME OF THEM.

>> THERE ARE ROLES FOR KIDS IN SHAKESPEARE.

>> OH, YES.

I WAS ONE OF THE FAIRIES IN MID-SUMMER NIGHTS DREAM, MUSTARD

SEED.

IN FACT, I PLAYED MUSTARD SEED IN TWO DIFFERENT PRODUCTIONS.

AND I WAS THE PRINCE IN THE TOWER IN RICHARD THE THIRD.

I WAS THE SON WHO WAS KILLED BY HIS FATHER IN HENRY THE SIXTH

PART THREE.

I WAS A SPEAR CARRIER AND A SOLDIER.

I WAS A DEAD SOLDIER ONCE.

I WAS A FRENCH SOLDIER ONCE.

>> DEAD SOLDIER, YOU JUST LAID DOWN ON THE GROUND AND DIDN'T --

>> YES, IT IS ONE OF MY EASIER PARTS.

>> BUT IT IS HARD TO LAY THERE AND NOT LOOK LIKE YOU ARE

BREATHING.

>> YES, I TRIED TO THINK OF IT AS A CHALLENGE.

AND I FINALLY SPOKE A LINE WHEN I WAS ABOUT 16, AS THE MESSENGER

FROM -- THE ENVOY FROM FRANCE.

MY LINE WAS "AMBASSADORS FROM HARRY, KING OF ENGLAND, DO CRAVE

ADMITTANCE TO YOUR MAJESTY."

THAT WAS MY FIRST LINE IN A PROFESSIONAL PRODUCTION.

>> DID YOU BRING DOWN THE HOUSE WITH THAT LINE?

>> I DON'T THINK PEOPLE COULD QUITE HEAR ME.

I DIDN'T HAVE A VERY STRONG VOICE YET.

>> DO YOU REMEMBER THE FIRST TIME YOU GOT APPLAUSE ON STAGE?

>> OH YES.

YES, I DID A STUNNING IMPRESSION.

I WAS THE DAMSEL IN DISTRESS IN A SORT OF OLD-TIME MELODRAMA

THAT WE WHIPPED TOGETHER IN ABOUT THREE HOURS FOR THE FINAL

NIGHT OF BOY SCOUT CAMP WHEN I WAS I THINK ABOUT 12 YEARS OLD.

OUTSIDE YELLOW SPRINGS, OHIO, IN A PLACE CALLED CAMP BIRCH.

I WORE A BOY SCOUT BANDANNA AND TIED A TOWEL AROUND MY MIDDLE --

>> THIS WAS BOY SCOUT CAMP, SO THERE WAS NOBODY AVAILABLE TO

PLAY THE GIRLS.

>> IT WAS MY FIRST CROSS-DRESSING ROLE.

THE FIRST OF MANY.

FOR THIS ONE, I WAS NOT NOMINATED FOR AN OSCAR.

BUT YOU KNOW, THERE WAS A HERO AND A VILLAIN.

I WAS TIED TO THE RAILROAD TRACKS.

I WAS SAVED AT THE LAST MINUTE I THE HERO, AND EVIL SCOUT NAMED

LARRY FOGG.

-- AN EAGLE SCOUT NAMED LARRY FOGG.

>> LARRY FOGG.

>> I REMEMBER HIS NAME AFTER ALL THESE YEARS.

IT IS THE FIRST TIME I HAVE SPOKEN IT IN ABOUT 50 YEARS.

AND HE HOISTED ME UP IN HIS ARMS AND FELL ON HIS ASS, BECAUSE I

WAS HEAVIER THAN HE EXPECTED.

AND ALL THAT FIELD OF BOYS, THAT WHOLE HILL FULL OF BOY SCOUTS,

THEY SCREAMED AND YELLED AND LAUGHED.

AND IT WAS LIKE MANNA FROM HEAVEN FALLING ON ME.

I HAVE ALWAYS SAID THAT IF YOU HEAR ENOUGH LAUGHTER AND

APPLAUSE AT A YOUNG ENOUGH AGE, YOU'RE DOOMED.

YOU'RE GOING TO BE AN ACTOR.

SO THAT WAS THE FIRST TIME.

>> YOU AND YOUR FAMILY MOVED AROUND A LOT.

>> YES.

>> EVERY COUPLE OF YEARS, YOUR FATHER WOULD FIND ANOTHER

POSITION.

>> WELL, HE WOULD EITHER FIND ANOTHER POSITION OR BE FIRED

FROM HIS CURRENT POSITION.

WE GYPSY'D AROUND.

WE LIVED IN FOUR DIFFERENT PLACES IN OHIO, THREE IN

MASSACHUSETTS.

I FINALLY GRADUATED HIGH SCHOOL FROM PRINCETON HIGH SCHOOL IN

PRINCETON, WHERE HE HAD GONE TO DIRECT THE MACARTHUR THEATER.

BUT HE WAS HERE IN CLEVELAND FOR ABOUT FOUR SUMMERS.

THERE WAS A SUMMER SHAKESPEARE FESTIVAL, AND I WAS HERE WORKING

IN THE MIDDLE TWO OF THOSE YEARS.

1963 IN 1964.

>> WAS THE FACT THAT YOU ARE OFTEN THE NEW KID IN A SCHOOL,

IN THE NEIGHBORHOOD, DO YOU THINK THAT ALSO AFFECTED YOU IN

ANYWAY OR MADE YOU WANT TO BECOME AN ACTOR AND PUT YOURSELF

ACROSS?

>> IT IS AN INTERESTING QUESTION.

IT WAS VERY STRESSFUL.

IT IS A HORRIBLE THING -- I DON'T KNOW HOW MANY KIDS HAVE

HAD THAT EXPERIENCE, BUT ARRIVING AS THE NEW KID IN

SCHOOL WAS PRETTY TRAUMATIC, ESPECIALLY IN THOSE SIXTH,

SEVENTH, EIGHTH GRADE YEARS.

AND IT HAPPENED A LOT.

AND I ABSOLUTELY HATED IT AT THE TIME.

I HATED ARRIVING AND I HATED LEAVING, BECAUSE EVERY TIME I

LEFT, I HAD MADE GOOD FRIENDS AND I HAD OVERCOME ALL OF THAT

TERRIBLE ANXIETY, AND I THOUGHT I HAVE TO DO THIS AGAIN.

IT WAS TERRIBLE.

AND YET, I LOOKED DOWN GONE IT AND I FEEL LIKE I HAVE A MORE

INTERESTING CHILDHOOD THAN ANYBODY I KNOW.

I MEAN, IT'S AN INTERESTING QUESTION HOW MUCH THAT AFFECTED

ME, HOW MUCH THAT NUDGED ME TOWARDS THEATRE.

YOU DO LEARN TO FIT IN.

YOU LEARN TO WIN PEOPLE OVER AND WIN THEM OVER QUICK.

BY THE TIME I -- MY LAST MOVE AS A KID WAS ARRIVING IN PRINCETON,

NEW JERSEY, AT THE BEGINNING OF MY 10TH GRADE YEAR.

AND THAT WAS ABOUT THE EIGHTH OR NINTH SCHOOL I HAD GONE TO.

BY THE END OF MY SENIOR YEAR TWO YEARS LATER, I WAS THE PRESIDENT

OF THE STUDENT COUNCIL AND I WAS VOTED MOST POPULAR, MOST LIKELY

TO SUCCEED, MOST CREATIVE AND BEST DANCER.

IN THE HIGH SCHOOL YEARBOOK.

I HAD TO PICK ONE OF THOSE FOUR.

I WAS AN ABSOLUTE SENSATION.

AND I MUST HAVE -- IT MUST HAVE BEEN JUST PURELY BY DINT OF HARD

EXPERIENCE.

I LEARNED TO FIT IN.

AND YES, THOSE ARE THE SKILLS OF AN ACTOR, NO QUESTION.

EITHER AN ACTOR OR A POLITICIAN.

>> SO WAS ALL OF THAT USEFUL WHEN YOU STARTED GOING OUT ON

AUDITIONS?

>> YOU KNOW, YOU ARE BACK AT SQUARE ONE AS AN ACTOR.

IT NEVER GETS ANY EASIER.

YOU ARE ALWAYS FULL OF ANXIETY.

ONE OF THE GREAT TRIALS OF BEING AN ACTOR IS BEING REJECTED BY

PEOPLE YOU HAVE CONTEMPT FOR.

[LAUGHTER] AND IT NEVER STOPS.

IT NEVER STOPS.

IT'S STILL GOING ON.

>> DO YOU STILL AUDITION?

>> NO, I DON'T AUDITION, BUT I MISS OUT ON ROLES I WISH I HAD.

AND YOU AND THE OTHER ACTORS.

YOU NEVER GET OVER THAT.

>> CAN YOU REMEMBER A COUPLE OF YOUR EARLY AUDITIONS?

>> OH BOY.

WHEN I WAS -- YOU KNOW, I WORKED FOR MY DAD INITIALLY.

>> DID YOU HAVE TO AUDITION FOR YOUR FATHER?

>> NO, I DID NOT HAVE TO AUDITION FOR MY FATHER, AND IT

WAS A WONDERFUL THING.

IT WAS A GREAT HEAD START IN MY PROFESSION.

BUT AFTER WORKING FOR HIM FOR A YEAR I DECIDED I HAVE TO MOVE

ON.

I HAVE TO TRY THIS ON MY OWN.

I HAVE TO BE IN A SITUATION WHERE I DO HAVE TO AUDITION,

WHERE I DO HAVE TO WIN ROLES AND COMPETE.

AND I WENT WITHOUT WORKING FOR LIKE TWO YEARS.

IT WAS MURDER.

AND I AUDITIONED FOR SOAP OPERAS AND COMMERCIALS.

I REMEMBER AUDITIONING FOR LAYS POTATO CHIPS AND BIG TATE, SOME

SORT OF FRIED POTATO PRODUCT, ALL SORTS OF GARBAGE LIKE THAT.

AND I NEVER GOT THE ROLES.

I THINK THEY MUST HAVE SENSED MY CONTEMPT.

>> LIKE LAYS POTATO CHIPS, DID YOU HAVE TO LIKE BITE INTO A

POTATO CHIP AND SAY SURE IS GOOD?

>> DON'T YOU REMEMBER THE LINE?

I BET YOU CAN'T EAT JUST ONE?

>> THAT'S RIGHT.

>> IT WAS A SORT OF MUTINY ON THE BOUNTY SKETCH WERE CAPTAIN

BLIGH WAS TORTURING THE CREW BY SAYING YOU CAN ONLY HAVE ONE

LAYS POTATO CHIP AND THEY ALL RISE UP BECAUSE YOU CAN'T JUST

HAVE ONE.

AND I WAS AUDITIONING FOR THE MR. CHRISTIAN PART.

>> THE GUY WHO CHALLENGES THE CAPTAIN.

>> WHO STANDS UP TO CAPTAIN BLIGH.

I DID NOT GET THE ROLE.

IT WAS HILARIOUS.

I REMEMBER, I THOUGHT I HAD DONE WELL.

I FINISHED UP MY AUDITION AND I WAITED AT THE ELEVATOR TO GO

DOWNSTAIRS AT YOUNG AND RUBICAM, THE AD AGENCY.

THE ELEVATOR DOOR OPENED, AND OUT CAME ABOUT 20 ACTORS TO

AUDITION FOR MEMBERS OF THE CREW.

YOU KNOW, ALL THESE KIND OF SALTS AND TARS AND SWABEES.

IT WAS A CRAZY WORLD.

I DIDN'T GET THE ROLE, NOR DID THEY EVER MAKE THE COMMERCIAL.

>> UNDOUBTEDLY BECAUSE THEY DID NOT HIRE YOU.

WHAT DO YOU LEARN FROM REJECTION?

>> IT TOUGHENS YOUR SKIN.

IT BRACES YOU FOR THE NEXT TIME OUT.

IT IS HARD.

I MEAN, AS I SAID, IT'S THE THING IN THE ACTING BUSINESS

THAT YOU JUST HAVE TO GET USED TO, AND IT'S GOING TO HAPPEN.

YOU CANNOT SWAN THROUGH THIS BUSINESS WITHOUT EXPERIENCING

REJECTION.

>> DID YOU EVER AUDITION FOR WOODY ALLEN?

>> WOODY ALLEN IS FAMOUS FOR A PARTICULAR KIND OF AUDITION.

THEY LAST ABOUT 30 SECONDS AND HE NEVER SAYS A WORD.

HE WON'T HIRE AN ACTOR UNTIL HE HAS BEEN IN A ROOM WITH HIM OR

HER AND HE PICKS UP THEIR VIBE.

UNFORTUNATELY, I HAVE NEVER WORKED WITH HIM.

I HAVE ALWAYS WANTED TO.

I AM GOOD FRIENDS WITH HIS LONGTIME CASTING AGENT, JULIA

TAYLOR, AND I AM WAITING.

>> YOUR MOTHER WAS AN ACTOR.

>> YES.

SHE MORE OR LESS GAVE UP ACTING EARLY.

SHE HAD FOUR KIDS AND SHE BECAME -- YOU KNOW, THIS WAS THE

1950'S.

THAT WAS HER JOB, MAKE THE HOUSEHOLD RUN AND BRING THE KIDS

UP.

>> DID YOUR PARENTS EVER SIT YOU DOWN AND TELL YOU THINGS ABOUT

BEING ON STAGE OR WAS IT MORE LEARNING BY EXAMPLE?

>> THEY NEVER SAID A WORD.

NOR DID THEY ENCOURAGE ME OR DISCOURAGE ME FROM BECOMING AN

ACTOR.

IT WAS THE FAMILY BUSINESS.

YOU KNOW.

IT WAS JUST -- IT STARTED OUT SIMPLY FUN.

ALMOST LIKE A HOBBY FOR ME AND MY SIBS.

MY FATHER DIRECTED ME FREQUENTLY, BUT WHEN HE DIRECTED

ME, I WAS JUST AN ACTOR.

HE DIDN'T TAKE ANY PARTICULAR CARE WITH ME.

WHEN I TOLD HIM IN MY SENIOR YEAR OF COLLEGE --

>> YOU WERE AT HARVARD.

>> AT HARVARD.

I WAS AUDITIONING FOR A FULBRIGHT GRANT TO GO TO ENGLAND

AND STUDY ACTING, AND I TOLD HIM THAT ASSUMING HE WOULD THINK

THAT WAS A GOOD IDEA.

I WILL NEVER FORGET IT.

HIS FACE FELL LIKE OH NO.

AND IT WAS THE FIRST TIME I HAD GOTTEN ANY VIBE POSITIVE OR

NEGATIVE ABOUT BRCOMING AN -- ABOUT BECOMING AN ACTOR.

I THINK HE WAS JUST AFRAID FOR ME.

IT'S A TERRIBLY HARD PROFESSION.

YOU KNOW, YOUNG PEOPLE -- I KNOW ALL OF YOU ARE EAGER TO GO INTO

THE PERFORMING ARTS, AND IT'S A MARVELOUS THING.

I'M NOT SURPRISED AT ALL THAT IT'S SOMETHING YOU WANT TO DO.

I ALWAYS TELL YOUNG KIDS, DON'T DO IT.

BUT I ALSO TELL THEM, IF YOU REALLY WANT TO DO IT, YOU'RE

GOING TO IGNORE ME.

YOU KNOW, IT'S JUST A VERY, VERY HARSH BUSINESS.

AND THE ODDS ARE AGAINST YOU.

BUT, IF YOU'VE GOT THAT FIRE IN YOUR BELLY, YOU'RE GOING TO HAVE

A LOT OF JOY.

A LOT OF DISAPPOINTMENT AND A LOT OF JOY, AND YOU JUST HAVE TO

BE READY FOR BOTH.

>> YOU HAVE PLAYED SUCH A RANGE OF CHARACTERS, AS WE HAVE

VIEWED.

JUST RECENTLY, OF COURSE, "THIRD ROCK FROM THE SUN," A LOVABLE,

LOOPY CHARACTER, AND THEN JUST RECENTLY, A SERIAL KILLER ON

"DEXTER."

HOW DO YOU APPROACH PLAYING DIFFERENT CHARACTERS DIFFERENT

WAYS, OR DO YOU?

IS A KIND OF THE SAME SET OF MUSCLES?

>> IT IS AND IT ISN'T.

BASICALLY, YOU ARE ALWAYS LOOKING FOR THE REALITY OF A

GIVEN SCENE AND A GIVEN CHARACTER.

YOU GIVE IT A LOT OF THOUGHT AND THEN INSTINCT TAKES OVER.

I HAD A WONDERFUL START BECAUSE, AS I SAID, SHAKESPEARE WAS

MOTHER'S MILK.

AND IF YOU THINK ABOUT SHAKESPEARE, YOU THINK ABOUT

DOING A SUMMER OF SIX DIFFERENT PLAYS, YOU ARE GOING TO BE IN

COMEDY OF ERRORS ONE NIGHT, HAMLET THE NEXT, MUCH ADO THE

NEXT, HENRY THE FIFTH THE NEXT.

COMPLETELY DIFFERENT GENRES.

NOT ONLY DIFFERENT CHARACTERS, BUT YOU GO FROM FARCE TO

TRAGEDY.

THAT IS KIND OF HOW I HAVE PROCEEDED THROUGH LIFE AND

THROUGH MY CAREER.

IT'S ALL ACTING, AND YOU ARE ALWAYS PLAYING CHARACTERS AND

TRYING TO MAKE THEM ORGANIC.

THEY HAVE TO MAKE SENSE TO YOU.

BUT YOU ARE JUST DOING IT TO COMPLETELY DIFFERENT ENDS.

>> DO YOU HAVE TO FIND SOMETHING IN A CHARACTER THAT MATCHES UP

WITH YOU, BE IT A SERIAL KILLER OR, FOR THAT MATTER, THE FIRST

MATE IN A LAYS POTATO CHIP COMMERCIAL?

>> WELL, IT'S INTERESTING.

IT'S VERY ELUSIVE.

IT'S A MYSTERY.

IT'S A KIND OF ALCHEMICAL PROCESS.

SOME OF IT IS YOU AND SOME OF IT IS PURE CALCULATION.

I MEAN, GOD KNOWS MY MOST RECENT PROMINENT ROLE, THAT TRINITY

KILLER ON "DEXTER," I HOPE HE IS NOTHING LIKE ME.

I AM NOT A SERIAL KILLER.

I INSIST ON MY INNOCENCE.

HOWEVER, THE WHOLE THING ABOUT THE TRINITY KILLER IS THAT HE

HAD A MASK.

HE WAS A VERY NICE GUY AND A VERY GOOD PERSON, A GOOD FAMILY

MAN, A DEACON OF HIS CHURCH.

HE WAS A FINE PERSON TO ALL APPEARANCES.

WHAT WAS TERRIFYING ABOUT HIM WAS THAT YOU GOT TO SEE THIS

HORRIFYING OTHER SIDE, AND YOU SAW IT RIGHT UP FRONT.

I DON'T KNOW HOW MANY OF YOU SAW "DEXTER," BUT IN THE FIRST THREE

MINUTES OF THAT 12 EPISODE SEASON, YOU SAW THIS MAN DO

SOMETHING AS UNSPEAKABLE AND GHASTLY AS ANYTHING YOU HAVE

SEEN EVER ON TELEVISION.

AND THEN THE NEXT TIME WE SEE HIM, HE IS THIS NICE MAN.

WELL, I AM A NICE MAN.

AND I ACT HORRIFIC PARTS.

YOU KNOW, AND IT'S -- I SORT OF TOOK ADVANTAGE OF THAT.

I TOOK ADVANTAGE OF THE FACT THAT AT THAT MOMENT I WAS MOST

FAMILIAR TO PEOPLE AS THE LOOPY DICK SOLOMON ON "THIRD ROCK FROM

THE SUN."

PEOPLE HAVE EXPECTATIONS OF YOU, AND THE WHOLE FUN OF ACTING IS

TAKING EXPECTATIONS AND COMPLETELY UPENDING THEM.

THAT IS HOW YOU GET LAUGHS IN COMEDY AND THAT IS HOW YOU SCARE

THE DAYLIGHTS OUT OF PEOPLE IN A HORROR FILM.

AND THAT IS HOW YOU BREAK THEIR HEARTS IN TRAGEDY OR SOMETHING

LIKE "TERMS OF ENDEARMENT," A WEEPY.

YOU JUST TAKE THEIR EXPECTATIONS AND TURN THEM AROUND.

I MEAN, YOUR EXPECTATION RIGHT NOW IS TO HEAR A MAN TALKING

REASONABLY ABOUT ACTING.

AND WHAT IF I WERE TO SUDDENLY --

YOU KNOW.

IT WOULD THROW YOU BACK IN YOUR SEATS.

WELL, THAT'S WHAT I DO.

>> LET ME RECOVER FROM THAT.

YOU GREW UP WITH A BOOK IN YOUR HOUSE THAT I HAVE HEARD ABOUT.

>> TELLERS OF TALES.

>> IT HAS BEEN DESCRIBED TO ME AS A BOOK YOU STILL HAVE, AND

WHEN YOU OPEN IT AND CLOSE IT ONSTAGE, YOU CAN SEE THE DUST

FLY FROM IT.

>> HOW WONDERFUL OF YOU TO ASK.

TELLERS OF TALES WAS THE BOOK I FATHER USED TO READ STORIES TO

US FROM.

COPYRIGHT 1939, AND I GUESS HE STARTED READING TO US FROM IT

AROUND 1947.

IT WAS AN OLD BOOK EVEN THEN.

IT HAS 100 SHORT STORIES.

IT IS EDITED BY SOMERSET MOM.

WE WOULD PICK STORIES AND HE WOULD READ THEM TO US.

IT WAS A BIG PART OF OUR CHILDHOOD.

I HAVE ALWAYS REFERRED TO THAT BOOK IS OUR FAMILY BIBLE, AND IT

WAS THE GENESIS OF THE ONE-MAN SHOW I HAVE BEEN WORKING ON.

I USE IT ON STAGE AS A PROP.

>> THE ACTUAL BOOK.

>> THE ACTUAL BOOK.

>> WHAT WERE THE STORIES IN THERE?

>> EVERY CONCEIVABLE TYPE OF STORY.

EDGAR ALLAN POE, ARTHUR CONAN DOYLE, JACK LONDON, HEMINGWAY,

FITZGERALD, SOPHISTICATED STORIES, A LOT OF THEM.

HE WAS A GREAT READER.

IT WAS PROBABLY OUR MOST INTIMATE FAMILY TIME.

WHEN WE WERE YOUNG, MY OLDER SISTER, MY OLDER BROTHER AND ME.

MY BABY SISTER CAME ALONG 10 YEARS YOUNGER THAN I, BUT SHE

HEARD THE STORIES TOO.

AND WHEN I COOK UP THIS ONE-MAN SHOW, IT'S ALL BASED ON THAT.

MY CONNECTION TO MY FATHER THROUGH STORYTELLING, HOW THAT

SORT OF TURNED ME INTO A STORYTELLER, I.E. AN ACTOR, AND

I ACTUALLY PERFORM TWO OF THE STORIES AS A ONE-MAN SHOW.

>> WHAT I FIND VERY TOUCHING ABOUT THAT IS THAT A LOT OF

ACTORS OR PEOPLE OF THE THEATER, WHEN THEY COME HOME, THE LAST

THING THEY WANT TO DO IS PUT ON A KIND OF PERFORMANCE, SO THEY

CAN BE WITHDRAWN OR SULLEN.

IT SOUNDS LIKE YOUR FATHER KEPT SOMETHING FROM THE STAGE FOR HIS

FAMILY.

>> YES, BUT IT WAS VERY DIFFERENT.

IT WAS VERY GENTLE AND EASY.

HE READ TO US FROM THE JUNGLE BOOK, A CHAPTER A NIGHT.

>> KIPLING.

>> OVER A LONG TIME.

AND, THERE WAS JUST SOMETHING FAMILIAR AND COMFORTABLE, AND

YES, IT WAS A MOMENT WHEN WE HAD HIM TO OURSELVES.

IT IS NOT EASY HAVING AN EXTREMELY PUBLIC PARENT.

MY FATHER WAS NOT A MOVIE STAR.

HE WAS NOT AN EXTREMELY WELL-KNOWN MAN.

BUT IN OUR WORLD, THERE WAS SOMETHING VERY GRAND ABOUT HIM.

THIS WAS REAL INTIMACY WITH HIM.

IT WAS PROBABLY THE MOST INTIMATE MOMENT IN A TYPICAL

DAY.

>> WAS IT HARD TO WORK FOR YOUR FATHER AS AN ACTOR?

>> ANOTHER GOOD QUESTION.

IT WAS NOT REALLY HARD.

HE WAS A VERY EASY MAN TO WORK WITH.

I THINK A LOT OF PEOPLE BEGIN WITH THE SORT OF WORSHIPFUL

RELATIONSHIP TO THEIR FATHER.

THEY SORT OF DISCOVER HE IS NOT ALL THAT THEY THOUGHT HE WAS,

AND THEN, LATER IN LIFE, YOU WORSHIP HIM ALL OVER AGAIN.

I THINK WHEN YOU BEGIN TO COME TO TERMS WITH YOUR OWN

SHORTCOMINGS, YOU BEGIN TO ACCEPT YOUR FATHERS.

WORKING FOR HIM, I DISCOVERED THAT HE WAS NOT THE GREAT

THEATER MANAGER I THOUGHT HE WAS.

HE WAS TOO NICE.

HE DID NOT HAVE THE STRONG STREAK OF A SON OF A --, WHICH

YOU JUST HAVE TO HAVE LOVE IF YOU ARE GOING TO RUN A COMPANY

OF ACTORS.

>> YOU ARE HIRING PEOPLE, FIRING PEOPLE, SAYING YOU ARE NOT RIGHT

FOR THIS.

>> AND YOU ARE HIRING SOME PEOPLE WHO ARE -- BECAUSE THEY

ARE JUST SO TALENTED.

AND YOU HAVE TO EXCEPT THAT AND BE A BIGGER -- THAN THEY ARE.

IT'S LIKE MANAGING A SPORTS TEAM WITH IT FOR PERSONALITIES.

MY FATHER WAS A VERY SWEET MAN.

HE ALWAYS WANTED TO SURROUND HIMSELF WITH SWEET PEOPLE

WHETHER THEY WERE TALENTED OR NOT.

AT A CERTAIN POINT I LOST PATIENCE WITH THAT.

THAT IS WHEN I DECIDED I HAVE TO GO TO NEW YORK.

I HAVE TO PLAY WITH THE BIG BOYS.

IT WAS A VERY HARD MOMENT.

I ALWAYS COUNTERPOISE MY FATHER WITH JOE PAPP AND THE PUBLIC

THEATER.

HE WAS THE FACE OF AMERICAN SHAKESPEARE, THE NEW YORK PUBLIC

THEATER IN THE NEW YORK SHAKESPEARE FESTIVAL.

AND JOE WAS AN IMPOSSIBLE MAN.

MERCURIAL, TEMPERAMENTAL, WOULD MAKE DECISIONS AND JUST THE

-- THE TORPEDOES.

HE COULD BE A MONSTER, BUT HE WAS A GREAT THEATER MANAGER.

HE MADE THINGS HAPPEN.

HE WASN'T EVEN THAT GOOD OF A DIRECTOR, BUT WHO CARED?

HE HIRED GOOD DIRECTORS.

MY FATHER WAS NOT LIKE THAT AT ALL.

AND GOD BLESS HIM FOR IT.

HE WAS JUST THE SWEETEST MAN YOU COULD EVER MEET.

>> DO YOU HAVE ANY IDEA HOW MANY CHARACTERS YOU HAVE PLAYED?

HAVE YOU EVER TRIED TO ADD IT UP?

HUNDREDS?

>> I THINK CERTAINLY OVER 100.

>> ARE THEY ALL IN HERE IN YOUR HEAD SOMEWHERE?

ARE THEY ALL IN YOUR HEART SOMEWHERE?

>> WELL, THEY ARE IN MY SORT OF VAGUE AND FADING MEMORY.

IT'S SO WONDERFUL.

I SEE -- JUST THIS PAST WEEK I WATCHED SOME "THIRD ROCK FROM

THE SUN" FOR THE FIRST TIME IN YEARS.

I SWEAR TO GOD, I HAD NO MEMORY OF DOING THAT EPISODE.

THIS IS HILARIOUS!

>> YOU ARE PRETTY FUNNY IN THAT.

>> BUT I MEAN, IT ASTONISHED ME.

ENTIRE SCENES TOOK PLACE I DID NOT REMEMBER.

THAT'S A BAD SIGN.

>> I WAS GOING TO GENTLY SUGGEST THAT.

[LAUGHTER] >> I NEED MY GRADE REPORTS BY

TOMORROW MORNING OR THE REGISTRAR IS GOING TO USE MY --

AS A TETHERBALL.

[LAUGHTER] >> I GOT TO RUN.

I LEFT THE REPORTS ON YOUR COMPUTER.

>> I DON'T SEE THEM.

>> THEY ARE ON YOUR COMPUTER.

>> NINA, DON'T JERK ME AROUND.

>> I THINK WHAT SHE MEANS IS THAT THE GRADES MIGHT ACTUALLY

BE IN THE COMPUTER.

>> HOW AM I GOING TO GET MY GRADES OUT OF THIS?

>> THEY ARE NOT ON THE DISK?

>> THE DISK?

>> OH MY GOSH.

YOU KNOW, IN THREE YEARS I HAVE NEVER SEEN YOU USE YOUR

COMPUTER.

IT'S YOUR DIRTY LITTLE SECRET, ISN'T IT?

YOU ARE A PHYSICS PROFESSOR WHO IS COMPUTER ILLITERATE.

>> COMPUTER, ACTIVATE NOW.

[LAUGHTER] SILLY ME.

IT'S JAPANESE.

[SPEAKING JAPANESE] ♪

>> WE WANT TO GO TO QUESTIONS NOW FROM OUR AUDIENCE OF

STUDENTS.

PLEASE STEP FORWARD, IDENTIFY YOURSELF, AND ASKED JOHN LYTHGOE

WHAT EVERYONE.

>> MY NAME IS BRIDGET.

DID YOU FEEL PRESSURE TO GET INVOLVED IN ACTING BECAUSE OF

YOUR FATHER'S INVOLVEMENT IN THE THEATER.

>> WONDERFUL QUESTION.

THE ANSWER IS NO.

I NEVER FELT ANY PRESSURE FROM HIM.

THE ONLY PRESSURE I REALLY FELT WAS A NEGATIVE PRESSURE.

YOU KNOW, HE DID NOT REALLY DISCOURAGE ME, BUT I COULD TELL

HOW MUCH HE WAS ANXIOUS ABOUT MY DECISION TO BECOME AN ACTOR.

AND, ON THE OTHER HAND, HE HIRED ME.

HE GOT ME STARTED IN THE BUSINESS.

WHEN HE LEARNED THAT I WANTED TO DO IT, HE CERTAINLY SUPPORTED

IT, AND FOR THE REST OF MY LIFE, HE WAS ALWAYS EXTREMELY PROUD

WHENEVER I ACHIEVED SOMETHING IN THE ACTING BUSINESS.

FOR THE REST OF HIS LIFE.

IT WAS A SOURCE OF GREAT PRIDE TO ME THE PRIDE THAT HE TOOK IN

WHAT I DID.

>> MY NAME IS RYAN.

MY QUESTION IS DO YOU ENJOY WORKING MORE ON COMEDIC FILMS

AND PRODUCTIONS OR DRAMATIC FILMS AND PRODUCTIONS?

>> WELL, COMEDY AND MOVIES IS VERY TRICKY.

BECAUSE YOU DON'T HAVE AN AUDIENCE.

IT WAS ONE OF THE GREAT THINGS ABOUT "THIRD ROCK FROM THE SUN,"

WHICH I ALWAYS THOUGHT OF MORE AS THEATER THAN FILM BECAUSE THE

AUDIENCE WAS THERE.

YOU WERE WORKING WITH WRITERS.

YOU WERE TINKERING AND ADJUSTING WITH THE COMEDY ALL THE TIME.

EVEN SOMETIMES BETWEEN THE FIRST AND SECOND PASS ON A SINGLE

SCENE YOU WOULD GET A QUICK READ TO FIX A LAUGH AND YOU WOULD

KNOW WHETHER IT WAS EFFECTIVE OR NOT PURELY BY THE WAY THE

AUDIENCE RESPONDED.

YOU DON'T HAVE THAT WHEN YOU ARE DOING COMEDY ON FILM.

YOU'RE WORKING IN THE ABSTRACT, WHICH IS WHY IT IS SO DIFFICULT

TO MAKE A COMEDY SUCCESSFUL.

A BRILLIANT, HILARIOUS COMEDY LIKE THE HANGOVER, THEY DIDN'T

REALLY KNOW WHAT THEY HAD UNTIL THEY PUT IT IN FRONT OF A

N AUDIENCE.

AND THAT CAN BE TRICKY.

>> DO YOU COUNT ON MUSCLE MEMORY AS AN ACTOR TO KNOW WHAT --

>> SORT OF.

I ALWAYS FIND IT FASCINATING TO WATCH OLD-TIME COMEDY MOVIES.

IF YOU WATCH THE MARX BROTHERS -- AMONG MY VERY FAVORITE --

WATCH "DUCK SOUP" OR "MONKEY BUSINESS," "A NIGHT AT THE

OPERA," THOSE GUYS CAME FROM VAUDEVILLE.

THEY KNEW WHAT WAS FUNNY.

THEY KNEW ABSOLUTELY.

AND WHEN THEY DID A MOVIE, IF YOU WATCH THEIR MOVIES ON

TELEVISION, NOT SITTING IN A BIG AUDIENCE, THE FUNNIEST MOMENTS

WILL BE FOLLOWED BY ABOUT FIVE SECONDS OF COMPLETE NOTHING.

THERE ARE LINES, BUT THEY ARE LINES THAT ARE ALMOST

DELIBERATELY BLAND.

THEY ARE JUST WALLPAPER YOU ARE NOT EVEN SUPPOSED TO HEAR THOSE

LINES BECAUSE THEY KNEW VERY WELL THAT'S WHEN EVERYBODY WOULD

BE LAUGHING SO HARD THEY WOULDN'T BE LISTENING.

IT'S VERY INTERESTING.

YOU THINK, GOSH, HOW CAN THERE BE FIVE SECONDS OF SUCH DULL

MATERIAL?

WELL, THAT'S WHEN EVERYONE WAS LAUGHING.

THEY KNEW.

WE HAVE BECOME A LITTLE BIT DIVORCED FROM THAT NOWADAYS

BECAUSE WE ARE NOT ACCUSTOMED TO PERFORMING COMEDY FOR AUDIENCES.

THERE IS NOT EVEN THAT MUCH COMEDY ON BROADWAY, AMAZINGLY

ENOUGH.

WE ARE PAST THE WHOLE NEIL SIMON ERA WHEN THERE WERE ABOUT FIVE

RIOTOUS COMEDIES ON BROADWAY AT ANY GIVEN TIME.

>> MY QUESTION IS, WHAT WAS THE MOST DIFFICULT THING TO DEAL

WITH WHEN YOU BECAME A RECOGNIZABLE FACE?

>> I WOULD SAY WALKING TO THE GATE IN AN AIRPORT.

THAT IS THE ONLY THING I HAVE EVER HAD TROUBLE WITH.

AIRPORTS ARE TROUBLE.

BECAUSE YOU ARE A LITTLE BIT EXPOSED.

APART FROM THAT, I THINK IT IS THE NICEST THING IN THE WORLD TO

BE RECOGNIZED.

IT BREAKS DOWN THE BARRIERS BETWEEN YOU AND OTHER PEOPLE.

SCOTT SIMON HAS ONE OF THE MOST RECOGNIZABLE AND BELOVED VOICES

IN THE BUSINESS, BUT YOU KNOW, I WALK DOWN THE STREET WITH SCOTT,

AND PEOPLE RUN UP TO ME.

THEY DON'T RUN UP TO HIM.

>> IN FACT, THEY ELBOW ME ASIDE.

WHO IS THAT SCHMUCKER STANDING THERE WITH JOHN LITHGOW?

>> WE WENT OUT TO DINNER LAST NIGHT AND I FELT SO BADLY FOR

YOU BECAUSE EVERYBODY RAN UP TO ME.

THE NICE THING ABOUT THAT AS IT TURNS THE WHOLE WORLD INTO A

SMALL TOWN.

SOMETIMES YOU JUST HAVE TO WALK A LITTLE FASTER, THAT'S ALL.

BECAUSE YOU CAN'T ENGAGE WITH EVERYBODY.

>> I DON'T KNOW IF YOU SAW THIS, BUT I WOULD SAY TO THEM, WOULD

YOU LIKE MY AUTOGRAPH, TOO, AND THEY WOULD GO NO, NOT AT ALL,

ACTUALLY.

[LAUGHTER] >> HI, I AM MOIRA.

I WAS WONDERING, WHAT WAS IT LIKE TO PLAY LORD FOR QUAD FROM

"SHREK," AND HOW WAS THE DIFFERENT FROM YOUR OTHER ROLES?

>> THAT'S A NICE QUESTION.

FROM THE TIME I RECORDED ANYTHING UNTIL THE MOVIE CAME

OUT WAS PROBABLY THREE OR FOUR YEARS.

IT TOOK A LONG TIME.

FOR ONE THING, CHRIS FARLEY WAS THE ORIGINAL SHREK AND HAD TO BE

REPLACED BY MIKE MYERS AND THEY HAD TO START ALL OVER AGAIN.

MIKE MYERS ENTIRE PERFORMANCE WAS THROWN OUT AND HE DID IT

AGAIN WITH A SCOTTISH ACCENT, SOMETHING NOT MANY PEOPLE KNOW.

SO THEN THEY DID IT AGAIN.

I WOULD BE CALLED IN ONCE EVERY EIGHT MONTHS TO RECORD SOME MORE

SHREK.

I HAD NO IDEA WHAT SHREK WOULD BE.

I THOUGHT, WHAT IS THIS THING?

I HAVE TO DO THIS AGAIN?

WHEN ARE THEY GOING TO BE DONE WITH THIS?

AND I WOULD GO IN AND RECORD SOME MORE.

THESE GUYS WERE AMAZING.

THESE ANIMATORS ARE BASICALLY NERDS.

THEY WOULD DESCRIBE THESE HILARIOUS VISUAL JOKES -- YOU'VE

GOT A PICTURE THIS.

LORD FARQUAD RIDES UP, HE LOOKS LIKE A KNIGHT IN SHINING ARMOR,

HE HAS ALL THIS ARMOR, HE'S ON A HORSE, THEY LIFT HIM OFF THE

HORSE, HIS LEGS COME OUT OF THE ARMOR, AND THEY ARE REAL SHORT.

HE'S REAL SMALL.

AND I WOULD SAY A UH HUH.

IS THIS GOING TO WORK?

AND THEN OF COURSE YOU SEE THE MOVIE AND IT IS HILARIOUS.

THEY WERE GENIUSES.

BUT YOU DID NOT HAVE ANY SENSE OF THAT.

YOU ARE WORKING COMPLETELY IN A VACUUM.

YOU'RE BY YOURSELF.

YOU'RE NOT ACTING WITH EDDIE MURPHY AND MIKE MYERS AND

CAMERON DIAZ.

AND THE STUFF SEEMS SO CORNY.

THE WHOLE THING WITH DO YOU KNOW THE MUFFIN MAN, THE MUFFIN MAN,

YES, I KNOW THE MUFFIN MAN, WHO LIVES ON JURY LANE?

WHAT'S FUNNY ABOUT THAT?

[LAUGHTER] IT'S A STRANGE WORLD.

I THINK A YEAR BEFORE SHREK CAME OUT I WENT AND VISITED THE

ANIMATORS.

I WAS IN PALO ALTO BECAUSE MY DAUGHTER WAS ON A COLLEGE TRIP,

AND THEY ALWAYS SAID COME IN AND VISIT IF YOU ARE IN THE

NEIGHBORHOOD, SO I DID.

I WAS THE FIRST ONE TO COME VISIT.

SHREK WAS A YEAR OFF WHAT THEY SHOWED ME WHAT THEY WERE DOING

AND MY JAW DROPPED.

AND I THOUGHT OH MY GOD.

THIS IS GOING TO BE HUGE.

AND SURE ENOUGH.

BUT I MEAN, THE SCALES FELL FROM MY EYES.

I HAD NO IDEA.

I WAS JUST THE VOICE.

>> SO, NERDS, BUT VERY FUNNY NERDS.

>> GENIUS.

>> LIKE THE MARX BROTHERS.

>> THEY KNEW FUNNY.

>> AFTER WHICH ROLE OR PRODUCTION DID YOU KNOW YOU HAD

MADE IT IN THE WORLD OF ACTING?

>> WELL, YOU NEVER THINK YOU'VE COMPLETELY MADE IT.

IT'S VERY ELUSIVE.

YOU ALWAYS WANT MORE.

ANOTHER OF THE OCCUPATIONAL HAZARDS OF ACTING.

BUT I HAVE HAD THREE BIG BREAK THROUGH MOMENTS.

WALTER MATTHAU ONCE SAID THAT TO BE A STAR IN THE ACTING

PROFESSION ALL YOU NEED IS 17 LUCKY BREAKS.

BUT I BASICALLY HAD THREE.

ONE OF THEM WAS "THE CHANGING ROOM," MY BROADWAY DEBUT.

IT WAS ON MARCH 7, 1973, AND ON MARCH 25, LESS THAN THREE WEEKS

LATER, I WON A TONY AWARD.

THAT WAS ONE OF THEM.

THE NEXT WAS PROBABLY "THE WORLD ACCORDING TO GARP," WHICH WAS

NOT MY FIRST MOVIE, BUT THE FIRST ROLE THAT WAS A REAL

GRABBER.

THAT WAS NUMBER TWO, AND IT WAS MY FIRST OSCAR NOMINATION, MY

FIRST AWARD-WINNING ROLE IN THE MOVIES, AND THE THIRD WAS "THIRD

ROCK FROM THE SUN."

THEATER, MOVIES AND TV, ABOUT -- THEY WERE SORT OF ACT ONE, TWO,

AND THREE IN MY CAREER, AND EACH A DECADE TO ITSELF.

THE 70'S WERE MY BROADWAY DECADE.

THE 80'S WERE KIND OF MY SUPPORTING ACTOR IN MOVIES

DECADE, AND THE 90'S WAS THE DECADE OF THIRD ROCK.

GOD KNOWS WHAT THIS DECADE HAS BEEN, I'M NOT EVEN SURE.

>> WAS THERE EVER A POINT IN YOUR CAREER WHEN YOU WERE

WORRIED ABOUT BEING TYPECAST?

>> YOU KNOW, THAT WAS SOMETHING I SIMPLY NEVER WORRIED ABOUT.

IT MAY HAVE COME FROM MY THEATER BACKGROUND WHERE I KNEW THAT I

HAD ALL KINDS OF STUFF IN ME.

I ALSO KNEW THAT I COULD ALWAYS GO BACK TO THE THEATER, WHERE

TYPECASTING IS NOT AN ISSUE.

AND I ALWAYS HAVE COME BACK TO THE THEATER.

I HAVE DONE SIX PLAYS IN NEW YORK SINCE THE DAY "THIRD ROCK

FROM THE SUN" LAST AIRED.

I THINK THAT HAS BEEN MY GREAT RESOURCE.

TO BE HONEST, I WAS A LITTLE WORRIED ABOUT -- I NEVER WANTED

TO BE ON AN EPISODIC TV SHOW FOR THAT REASON.

I THOUGHT IT WOULD PIN ME DOWN AND DEFINE ME FOREVER.

IN MY OWN MIND, I USE THE EXAMPLE OF CARROLL O'CONNOR, A

GREAT CHARACTER ACTOR, WHO WAS ARCHIE BUNKER NO MATTER WHAT HE

DID FOR THE REST OF HIS CAREER.

WHAT ALONG CAME "THIRD ROCK," AND IT WAS AN INCREDIBLE

CREATION.

BEFORE I WAS EVER -- BEFORE I PLAYED IT.

THE IDEA OF THIS ALIEN IN A HUMAN BODY WITH A HUMAN COVER OF

A PHYSICS PROFESSOR JUST TRYING OUT FIGURING OUT WHAT IT WAS TO

BE HUMAN BY TRYING OUT ALL THESE DIFFERENT BEHAVIORS, BASICALLY,

THAT'S WHAT I DO AS AN ACTOR.

SOLOMON WAS A GREAT CHARACTER ACTOR.

AND I THOUGHT WOW, I COULD REALLY MAKE SOMETHING OF THIS

BECAUSE IT IS A VIRTUOSO ROLE.

JUST TRY TYPECASTING DICK SOLOMON.

HE IS DIFFERENT EVERY TIMEOUT.

BESIDES, I ALWAYS KNEW I HAD OTHER THINGS IN ME AND I THE

TIME I DID "THIRD ROCK FROM THE SUN" I ALREADY HAD A REPUTATION

FOR DOING DIFFERENT THINGS.

>> MY QUESTION IS, ARE THE TWO DOGS, FANNIE AND BOO, FROM YOUR

LATEST CHILDREN'S BOOK, ACTUALLY NAMED FOR YOUR PETS?

>> THANK YOU FOR ASKING ME THAT QUESTION.

THE ANSWER IS YES.

YES, FANNIE WAS A LITTLE WEST HIGHLAND TERRIER, AND BOO, AND

AUSTRALIAN SHEPHERD.

AND IF YOU KNOW THE LYRICS OF THAT SONG, THE SONG DESCRIBES

THE TWO OF THEM PERFECTLY.

IN FACT, I WROTE THE SONG IN THE COURSE OF ABOUT THREE OR FOUR

MORNING DOG WALKS.

FOR 22 YEARS I WALKED THE DOGS IN THE MORNING.

AND THAT WAS MY DAILY THINK TIME.

YOU KNOW, WALKING THE DOG IS IMPORTANT, BUT IT DOESN'T

REQUIRE ANY THOUGHT.

SO THAT WAS MY DAILY THINK TIME THAT I WROTE ALL MY CHILDREN'S

BOOKS, THAT I LEARNED ALL MY LINES FOR "THIRD ROCK FROM THE

SUN," AND MADE UP ALL MY ACCEPTANCE SPEECHES.

[LAUGHTER] >> DO YOU HAVE SOME ACCEPTANCE

SPEECHES FOR WHICH YOU HAVE NOT YET RECEIVED THE AWARD? >> LOTS.

THERE ARE AN AWFUL LOT I HAVE NOT GOTTEN TO USE.

>> JUST FILL-IN THE BLANKS.

YOU WON YOUR FIRST TONY IN 1973 FOR "THE CHANGING ROOM," IN

WHICH YOU PLAYED A BRITISH RUGBY PLAYER.

AND YOUR LAST TONY, WHICH MAY NOT BE YOUR LAST TONY, BUT THE

LAST TONY THAT YOU ONE, 2002, CHRIS READ, THE SMELL OF

SUCCESS.

22 YEARS APART.

WHAT IS THE DIFFERENCE BETWEEN THE ACTOR YOU WERE IN 1973 AND

THE ONE YOU WERE IN 2002.

>> WONDERFUL QUESTION.

THE SECOND TONY CAME FOR MY FIRST BROADWAY MUSICAL.

IT WAS WONDERFUL AT AGE WHATEVER IT WAS -- 59, 60 -- TO HAVE A

BRAND-NEW AND ENORMOUS CHALLENGE ON STAGE.

IN A VAGUE BROADWAY FOR HIM.

IT WAS VERY SCARY.

AND I THINK SCARY IS GOOD.

YOU ALWAYS DO YOUR BEST WORK WHEN YOU ARE SCARED AND YOU

DON'T THINK YOU'RE CAPABLE OF DOING IT.

BUT BEYOND THAT, I THINK I AM PROBABLY A MORE SIMILAR THAN

DIFFERENT ACTOR THAN I WAS IN 73.

I REMEMBER HOW -- I REMEMBER THE WAY I APPROACHED THE ROLE AND

"THE CHANGING ROOM" IN 1973 WAS A MAN -- A REALLY NOT SMART MAN.

A KIND OF EARTHBOUND, LITERAL MINDED, KIND OF STUPID --

>> NOW, TO POINT OUT THE OBVIOUS, AS WE ARE SITTING HERE,

YOU ARE BECOMING HIM.

>> EXACTLY.

THAT'S MY POINT.

I USE ALL THE SAME DEVICES.

IN THIS ONE-MAN SHOW I PLAY THIS NOT VERY BRIGHT BARBER.

AND IT'S A MATTER OF JUST DRAINING YOUR BRAIN OF ALL THOSE

KIND OF QUICKSILVER INSTINCTS.

JUST DEADENING YOURSELF.

I USE ALL THE SAME TRICKS.

THERE IS NOTHING NEW UNDER THE SUN WITH ME.

BUT, YOU KNOW, I'M OLDER AND I -- I DON'T HAVE TO REACH TO BE

OLD.

NOW I HAVE TO REACH TO BE YOUNG.

THAT'S THE DIFFERENCE.

>> I HAVE SEEN YOU ON STAGE.

YOU ARE VERY VIGOROUS ON STAGE.

>> THANK YOU, SCOTT.

>> SCARY IS GOOD.

>> YES, I DO THINK THAT THE BEST ACTING I HAVE DONE IS PARTS I

LOOKED AT AND SAID I CAN'T DO THIS.

WHAT ARE YOU THINKING?

ME?

AND SOMEBODY HAS PERSUADED ME TO DO IT, AND I HAVE MADE SOME

BREAKTHROUGH, AND LEARNED THAT I AM CAPABLE OF SOMETHING I DID

NOT THINK I WAS CAPABLE OF.

IT'S WONDERFUL TO EXPERIENCE THAT.

IT'S ALWAYS YOUR BEST EXPERIENCE.

>> YOU CAN'T ALWAYS PLAY TRANSSEXUALS.

>> DAMSELS IN DISTRESS.

>> ROBERTA MULDOON IN "THE WORLD ACCORDING TO GARP" IS ONE PART I

KNEW I COULD PLAY.

I LOVED THAT CHARACTER FROM THE NOVEL.

IT NEVER OCCURRED TO ME THAT IT WOULD BE A MOVIE OR THAT I WOULD

BE OFFERED THE ROLE, BUT I LOVED THAT CHARACTER.

WHEN IT CAME UP IT WAS, OF COURSE, THAT'S GREAT, I'M

PERFECT FOR THIS.

WHAT DOES THAT TELL YOU ABOUT ME?

>> WELL, AND WHAT DOES IT TELL YOU?

>> WELL, ROBERTA MULDOON, THAT FABULOUS CHARACTER, WAS A FORMER

PROFESSIONAL FOOTBALL PLAYER WHO MADE THE BIG DECISION TO CHANGE

GENDERS AND BECOME A WOMAN.

I JUST THINK AS AN ACTOR YOU NECESSARILY ACQUAINT YOURSELF

WITH ALL SORTS OF OTHER SIDES OF YOURSELF.

I LOVE SPORTS.

I AM A BIG ATHLETE.

BUT I ALSO -- WELL -- I ALSO DRESS UP IN WOMEN'S CLOTHES WHEN

THEY ASK ME TO.

HE WAS JUST -- SHE WAS JUST A WONDERFUL BLEND OF MALE AND

FEMALE, AND IT IS JUST SOMETHING THAT YOU ACQUAINT YOURSELF WITH

AS AN ACTOR.

>> HOW DOES AN AUDIENCE CHANGE A PERFORMANCE, CHANGE A PLAY?

>> I DON'T THINK THE PLAY REALLY EXISTS UNTIL IT HAS AN AUDIENCE.

IT IS ALMOST LIKE A PLANT THAT DOESN'T OPEN UNTIL IT HAS BEEN

WATERED.

IT IS ALWAYS A VERY EXCITING MOMENT WHEN YOU PUT PLAY IN

FRONT OF AN AUDIENCE BECAUSE THAT'S WHEN YOU DISCOVER WHAT

YOU HAVE.

AND AN EXCITING TIME WHEN YOU ARE PREPARING A PLAY, ESPECIALLY

A NEW PLAY, IS PREVIEWS.

BECAUSE THAT IS WHEN YOU MAKE ADJUSTMENTS.

WE TALKED ABOUT MY YOUNG YEARS GROWING UP WITH SHAKESPEARE.

AS A PROFESSIONAL ADULT, ALL THESE YEARS, I WAS ONLY IN TWO

PRODUCTIONS OF SHAKESPEARE, AND THE LAST OF THOSE TWO WAS IN

1975.

AND PEOPLE HAVE ALWAYS ASKED ME WHY HAVEN'T YOU DONE MORE

SHAKESPEARE?

I THINK THE MAIN REASON IS I ABSOLUTELY LOVE WORKING ON NEW

MATERIAL.

I LOVE WORKING WITH WRITERS.

I THINK ABOUT 70% OF WHAT I HAVE DONE HAS BEEN NEW MATERIAL,

WHETHER IT IS WORKING IN EPISODIC TELEVISION OR IN MOVIES

OR IN NEW PLAYS.

I HAVE DONE SOME REVIVALS, SOME STUNNING REVIVALS, BUT THE REAL

EXCITEMENT FOR ME IS THE KIND OF DANGEROUS BUSINESS OF CREATING A

NEW PIECE OF THEATER.

SOMETHING THAT HAS NEVER BEEN DONE BEFORE.

I LIKE THE DANGER OF IT.

AND YOU KNOW, YOU FAIL MORE OFTEN THAN YOU SUCCEED.

BUT YOU ARE IN IT FOR THE RISK.

>> AND IS IT DIFFERENT EVERY NIGHT, EVEN IN THE LONG RUN,

LIKE "SWEET SMELL OF SUCCESS"?

>> THAT AND "DIRTY ROTTEN SCOUNDRELS" WERE LONG, LONG RUNS

ON BROADWAY.

IT IS FAR MORE SIMILAR EVERY NIGHT THAN IT IS DIFFERENT, BUT

IT'S ALWAYS EXCITING.

IT'S OLD HAT FOR ME BUT IT'S NEW FOR THEM.

THERE IS A STORY THAT'S PROBABLY APOCRYPHAL BUT HAS A LOT OF

RESONANCE ABOUT THOMAS BEAUCHAMP WHEN HE WAS A CONDUCTOR WITH THE

PITTSBURGH SYMPHONY REHEARSING A BRAHMS SYMPHONY FOR AN EVENING

PERFORMANCE.

HE COULD NOT GET THE MUSICIANS EXCITED ABOUT PLAYING THIS OLD

CHESTNUT.

HE FINALLY STOPPED THEM AND SAID LADIES AND GENTLEMEN, I KNOW YOU

ARE BORED BY BRAHMS SECOND SYMPHONY AND YOU HAVE PLAYED IT

A THOUSAND TIMES, BUT YOU MUST PLAY IT TONIGHT FOR TWO PEOPLE

IN THE AUDIENCE.

FOR THE PERSON WHO IS HEARING BRAHMS SECOND SYMPHONY FOR THE

FIRST TIME, AND THE PERSON WHO IS HEARING IT FOR THE LAST TIME.

NOW, TO ME, THAT IS WHAT IT'S ALL ABOUT.

THIS IS OLD FOR ME.

IT'S NEW FOR EVERYBODY ELSE.

AND THAT'S THE MAGIC OF IT.

I NEVER GET BORED.

>> HAVE YOU EVER FLUBBED A LINE?

>> I FLUBBED LINES.

I HAVE GONE SKY HIGH AND NOT KNOWN WHERE I WAS, WHO I WAS.

IT HAPPENED DURING "ALL MY SONS" ON BROADWAY JUST LAST YEAR.

THERE WAS A MOMENT WHEN I STUMBLED OVER SOMETHING AND

THOUGHT WELL, I HAVE SCREWED THAT MOMENT.

I DIDN'T KNOW WHAT CAME NEXT.

AND I WAS ON STAGE WITH FOUR ACTORS WHO WERE ALL LOOKING AT

ME LIKE, WHAT?

I CAN'T SAY ANYTHING.

YOU'VE GOT TO GET US OUT OF THIS.

IT PROBABLY LASTED ABOUT FOUR SECONDS.

IT FELT LIKE FOUR YEARS.

I WANTED TO DIE.

I WANTED THE STAGE TO OPEN UP AND TO FALL RIGHT THROUGH.

THIS, YOU KNOW, I HAVE BEEN AT THIS A LONG TIME.

JUST SKY HIGH.

>> HOW DID YOU GET OUT OF IT?

YOU ARE IN THE PRODUCTION WITH KATIE HOLMES --

>> AND PATRICK WILSON AND DIANE WIEST.

THEY WERE ALL ON STAGE WITH ME.

THEY WILL REMEMBER THIS.

I JUST SORT OF -- I THINK I LURCHED AHEAD TO THE ONE THING I

COULD REMEMBER, PROBABLY JUMPED ABOUT 10 LINES, AND JUST GOT OUT

ON THE TRACKS AND CHUGGED ON.

AND INSIDE MY BRAIN, IT WAS LIKE ALL THE CIRCUITS HAD EXPLODED.

I WAS LIKE A ZOMBIE FOR THE REST OF THE AFTERNOON.

>> IS THERE A ROLE OR A KIND OF ROLE YOU WOULD REALLY WELCOME

NOW?

>> YOU KNOW, I NEVER KNOW HOW TO ANSWER THAT.

I REALLY DO THINK OVER THE YEARS I HAVE CONCLUDED THAT I AM

BETTER OFF AS THE SUBJECT OF OTHER PEOPLES BRAINSTORMS.

I MEAN, MY REFLEXIVE ANSWER TO THAT IS KING LEAR.

I MUST PLAY KING LEAR AND SOMEDAY I WILL.

BUT THAT'S JUST BECAUSE I'M OLD NOW AND THAT'S APART OLD ACTORS

ASPIRE TO PLAY.

THAT'S WHY YOU HAVE TO RUN OUT AND SEE YOUR FRIENDS PLAY KING

LEAR THREE OR FOUR TIMES A YEAR.

BUT THE EXCITING STUFF COMES FROM OTHER PEOPLE.

I HAD A FANTASTIC TIME ON "DEXTER" LAST YEAR, AND THAT

CAME OUT OF THE BLUE.

THEY ASKED ME A WEEK BEFORE I STARTED SHOOTING, AND IT WAS AN

INCREDIBLE EXPERIENCE.

I WOULD SAY THAT IS TYPICAL OF MOST OF MY BEST EXPERIENCES.

THEY CAME OUT OF THE AIR AND DROPPED IN MY LAP.

YOU JUST HAVE TO WAIT FOR PEOPLE TO COME UP WITH GREAT IDEAS, AND

HOPEFULLY I AM STILL THE SUBJECT OF THOSE IDEAS.

>> FORGIVE ME.

HAVE YOU EVER HAD TO PLAY A LOVE SCENE WITH SOMEONE YOU COULDN'T

STAND?

>> YES.

BUT I AM NOT GOING TO TELL YOU ABOUT IT.

[LAUGHTER] >> BUT YOU BOTH GOT THROUGH IT.

>> WELL, YOU HAVE TO.

YOU KNOW, IT'S YOUR JOB.

UNFORTUNATELY, I HAVE ALSO PLAYED LOVE SCENES WITH PEOPLE I

HAVE FALLEN IN LOVE WITH, AND THAT GETS YOU IN REAL TROUBLE.

AND I WON'T TELL YOU ABOUT THAT EITHER.

[LAUGHTER] >> ARE YOU ALWAYS LOOKING AHEAD

TO THE NEXT ROLE RATHER THAN KIND OF SAVORING OLD ONES?

>> I LOVE MY MEMORIES.

I FEEL VERY -- I SAVOR MY MEMORIES.

YES, YOU LOOK AHEAD, BUT YOU CAN'T SEE AHEAD.

I MEAN, YOU NEVER KNOW EXACTLY WHAT IS COMING UP NEXT.

SO OFTEN, YOU MAKE PLANS AND THEY GET BLASTED OUT OF THE SKY.

SOMETHING ELSE COMES ALONG.

I MEAN, MY ONE-MAN SHOW.

YOU KNOW, SOMETHING I ALWAYS TELL TO YOUNG PEOPLE, TO KEEP

YOURSELF SANE AND THE ACTING BUSINESS, IT'S VERY IMPORTANT TO

HAVE SOMETHING THAT IS ALL YOURS, SOMETHING THAT IS A

CREATION OF YOURS.

WHETHER IT IS WRITING SOMETHING OR SOME HOBBY THAT YOU REALLY,

REALLY TAKE SERIOUSLY.

DIRECTING.

TRYING OUT DIRECTING.

IF THERE IS A PART YOU REALLY WANT TO PLAY, FIND A WAY TO

PRODUCE IT.

SOMETHING THAT IS ALL YOURS SO YOU ARE NOT WAITING TO BE HIRED.

THE HARDEST THING ABOUT THE ACTING PROFESSION IS WAITING FOR

THE PHONE TO RING.

IF YOU HAVE SOMETHING THAT IS ALL YOUR OWN TO DEVELOP, CHANCES

ARE YOU WILL NEVER GET A CHANCE TO DO IT.

SOMEONE WILL CALL UP AND HIRE YOU.

BUT IN THE MEANTIME, YOU HAVE SOMETHING TO LOOK FORWARD TO.

I MEAN, THIS IS WHY I ENDED UP WRITING CHILDREN'S BOOKS AND

DOING CONCERTS, AND CREATING A ONE-MAN SHOW.

I'M STILL DOING IT.

I'M STILL FOLLOWING MY OWN ADVICE EVEN THOUGH I DON'T

REALLY HAVE TO WORRY.

PEOPLE WILL HIRE ME.

BUT IT KEEPS YOU CREATIVE.

AND WHO KNOWS?

YOU MAY FAIL AS AN ACTOR, BUT YOU MAY END UP BEING A WONDERFUL

DIRECTOR, OR WRITER, OR PRODUCER, OR CHILDREN'S BOOK

WRITER.

YOU KNOW, YOU END UP FEELING LIKE A CREATIVE PERSON WITH YOUR

OWN AUTONOMY, BECAUSE IT IS SO TERRIBLY HARD TO JUST WAIT FOR

PEOPLE TO WANT YOU.

I MEAN, JUST IMAGINE THAT.

THAT'S WHY SO MANY PEOPLE FINALLY GIVE UP ON IT.

THEY JUST CAN'T TAKE IT.

>> YOUR FATHER HAS BEEN GONE A FEW YEARS NOW.

DO YOU STILL HEAR HIS VOICE?

>> I HEAR HIS VOICE AND I SEE HIS BODY IN MYSELF.

I AM SO LIKE HIM.

IT'S GENETIC, OF COURSE, AND YOU KNOW, THE OLD FOLKS WHO KNEW

HIM, WHEN THEY SEE ME PERFORM, THEY SAY OH, MY GOD, WHEN YOU

PUT YOUR GLASSES ON YOU LOOK JUST LIKE ARTHUR.

YOU KNOW.

YOU CAN'T SIMPLY DISCARD YOUR GENEALOGY, YOUR HEREDITY, YOUR

GENETICS.

YOU KNOW, I THINK WHEN YOU GET TO BE MY AGE, WHEN YOU GO NORTH

OF 60, YOU THINK ABOUT YOUR PARENTS ALL THE TIME.

I THINK IT'S NO COINCIDENCE THAT MY ONE-MAN SHOW IS SUBSTANTIALLY

ABOUT MY DAD.

BILLY CRYSTAL'S WONDERFUL SHOW IS ABOUT HIS.

TIM RUSSERT WROTE ABOUT HIS FATHER.

AS I SAID BEFORE, IN YOUR OLD AGE, AS YOU BEGIN TO ACCEPT YOUR

OWN SHORTCOMINGS, YOU FORGIVE YOUR FATHER HIS, AND HE BECOMES

YOUR HERO AGAIN.

I HAD A REAL OPPORTUNITY LATE IN HIS LIFE, WHEN HE REALLY NEEDED

TO BE TAKEN CARE OF, HE AND MY MOM.

HE HAD HAD A SERIOUS OPERATION AND HE HAD GIVEN UP ON LIFE, AND

HE NEEDED TO BE TAKEN CARE OF, BUT HE ALSO NEEDED TO BE

PERSUADED THAT LIFE IS WORTH LIVING.

KEEP FIGHTING.

I LIVED WITH MY MOM AND DAD FOR MONTHS.

THERE IS NO QUESTION IN MY MIND THAT WAS THE MOST IMPORTANT

MONTH OF MY LIFE, BECAUSE I FELL IN LOVE WITH MY PARENTS AGAIN.

WHEN I LEFT THEM AFTER THAT MONTH, IT WAS LIKE LEAVING YOUR

CHILDREN AT SUMMER CAMP ON THE FIRST DAY OF CAMP AND SAYING

IT'S GOING TO BE ALL RIGHT.

THEY HATED TO SEE ME GO.

I MEAN, WHAT A BEAUTIFUL MOMENT.

BECAUSE THEY ARE THE TWO MOST IMPORTANT PEOPLE IN YOUR LIFE,

AND IT'S WONDERFUL TO BE ABLE TO KNIT THAT TOGETHER AT THE LAST

MOMENT.

>> JOHN, THANK YOU SO MUCH.

>> IT'S JUST GREAT TO TALK TO YOU ALL.

>> AND THANKS TO OUR AUDIENCE.

THANK YOU, JOHN LITHGOW.

[APPLAUSE] >> THANK YOU ALL.

GOOD LUCK.

GOOD LUCK.

♪

>> FUNDING FOR BACKSTAGE WITH JOHN LITHGOW IS PROVIDED BY

CUYAHOGA COUNTY RESIDENTS THROUGH CUYAHOGA ARTS AND

CULTURE, THE GEORGE W CODRINGTON CHARITABLE FOUNDATION, AND THE

OHIO ARTS COUNCIL.