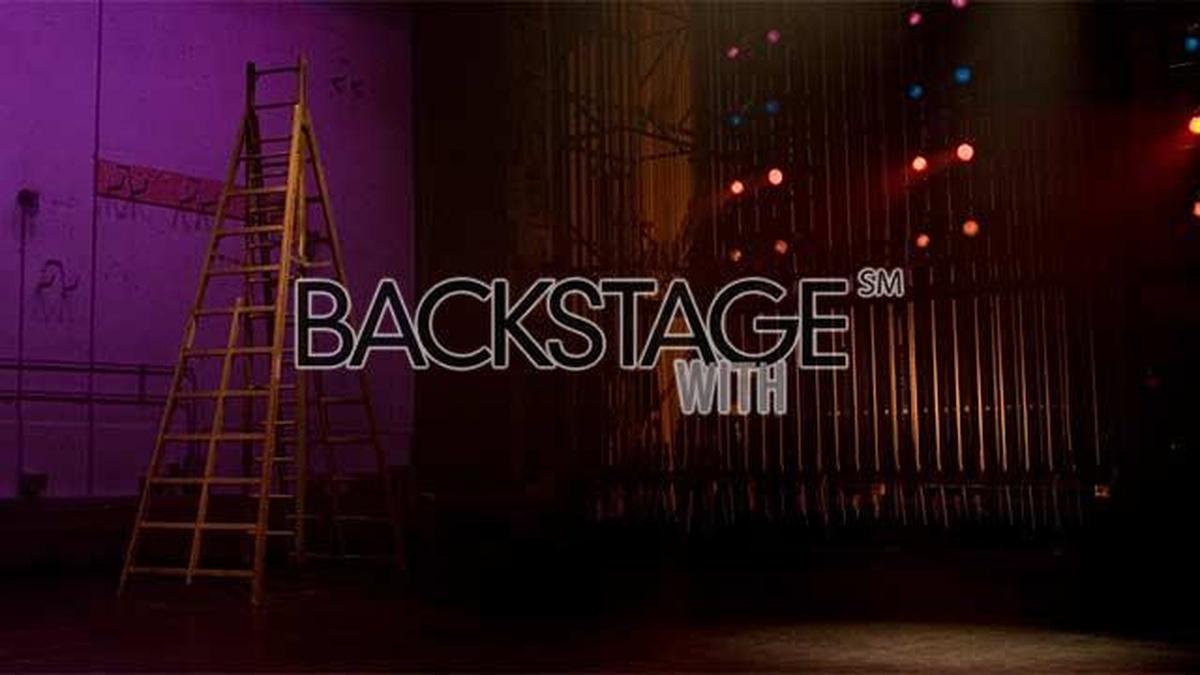 FULL EPISODE
The Drowsy Chaperone
Tony Award-winning author Bob Martin discussed his Broadway debut as the co-author and original "Man in Chair" for The Drowsy Chaperone, as well as other projects and experiences.
TRANSCRIPT

>> INSIDE THE IDEA CENTER WITH BOB MARTIN IS A PRODUCTION OF

IDEASTREAM IN PARTNERSHIP WITH PLAYHOUSE SQUARE FOUNDATION.

THE EDUCATIONAL OUTREACH OF THIS PROJECT IS SUPPORTED BY A GRANT

FROM DOMINION.

♪ >> OH, GOD, LET IT BE A GOOD

SHOW.

>> I KNOW THAT I WAS TIED TO A CHAIR, RIGHT?

>> DO YOU LIKE IT?

DO YOU LIKE THAT AS MUCH AS I DO?

[LAUGHTER] >> WE NEVER EXPECTED THE SHOW TO

MAKE IT TO BROADWAY.

>> IMAGINE A TONY AWARD-WINNING MUSICAL COMEDY THAT GOT ITS

START AS A GAG GIFT AT A BACHELOR PARTY.

SEEMS FAR-FETCHED, BUT THAT IS EXACTLY THE STORY BEHIND "THE

DROWSY CHAPERONE," AND ITS CREATOR, BOB MARTIN.

HELLO, I'M DEE FERRY.

AS "THE DROWSY CHAPERONE" BEGINS ITS AMERICAN TOUR, WE WELCOME

BOB MARTIN TO OUR STAGE FOR THIS EDITION OF "INSIDE THE IDEA

CENTER."

THE NEW YORK TIMES CALLS THE SHOW "IN GENIUS."

THE WALL STREET JOURNAL SAYS IT'S "THE BEST NEW SHOW OF THE

SEASON," AND THE ASSOCIATED PRESS PRONOUNCED IT "DELIGHTFUL,

SPARKLING ENTERTAINMENT."

BUT HOW DID IT GET FROM STAG PARTY GAG 25 TONY AWARDS?

IT IS A REMARKABLE STORY, AND IN JUST A FEW MOMENTS, WE WILL FIND

OUT MORE, AS SCOTT PLATE, ACTOR, DIRECTOR, AND MUSICAL THEATER

PROFESSOR TALKS WITH THE MAN WHO WROTE AND STARS IN THE DROWSY

CHAPERONE, BOB MARTIN.

BUT FIRST, WE PULL BACK THE CURTAIN FOR A GLIMPSE AT THIS

INCREDIBLE SHOW.

♪ >> DESCRIBED AS A MUSICAL WITHIN

A COMEDY, "THE DROWSY CHAPERONE" IS TOLD BY A CHARACTER NAMED

MAN IN CHAIR, WHOSE LIVING ROOM BECOMES THE STAGE FOR A

FORGOTTEN BROADWAY PRODUCTION.

>> I DUG ABOUT, AND WHAT DID I FIND, BUT ONE OF MY FAVORITE

SHOWS, GABLE AND STEINS "THE DROWSY CHAPERONE."

REMEMBER?

MUSIC BY JULIE GABLE, LYRICS BY SIDNEY STEIN.

IT IS A TWO RECORD SET, REMASTERED FROM THE ORIGINAL

RECORDING MADE IN 1928.

IT'S THE FULL SHOW WITH THE ORIGINAL CAST, INCLUDING

BEATRICE STOCKWELL AS THE CHAPERONE.

ISN'T SHE ELEGANT?

[LAUGHTER] >> MIX IN THE COMIC SATIRE OF

SECOND CITY, TORONTO, DAZZLING SETS AND COSTUMES, AND A CAST

LOADED WITH BROADWAY TALENT, AND FULL ON DANCE NUMBERS AND PLENTY

OF PRATFALLS.

[LAUGHTER] THE STORY WITHIN THE STORY IS

THE WEDDING OF A STARLET WHO IS ABOUT TO GIVE UP HER LIFE ON

STAGE FOR A MAN SHE HARDLY KNOWS.

WHAT FOLLOWS IS A MADCAP SHOW FILLED WITH PRODUCERS,

GANGSTERS, BUTLERS AND FLAPPERS ALL SINGING AND DANCING THEIR

WAY THROUGH THIS SATIRIC SENDUP OF ALL WE LOVE ABOUT BROADWAY.

>> ♪ AS WE STUMBLE, BUMBLE, FUMBLE, AS WE STUMBLE ALONG ♪

[APPLAUSE] >> DON'T YOU JUST LOVE HER?

>> LADIES AND GENTLEMEN, THE MAN BEHIND THE MAYHEM AND THE MUSIC,

PLEASE WELCOME BOB MARTIN.

[APPLAUSE] >> HELLO.

>> HELLO.

[APPLAUSE] >> THANK YOU.

THAT'S NICE.

[LAUGHTER] >> THE GENESIS OF THIS SHOW

BEGAN, AS WE HEARD A LITTLE BIT ABOUT IN THE CLIP, AS A GIFT FOR

A STAG PARTY.

CAN YOU TELL US A LITTLE BIT ABOUT THAT, BECAUSE IT IS SUCH

AN INTERESTING BEGINNING?

>> IT IS UNUSUAL.

I WAS WORKING WITH A GROUP OF WRITER-PERFORMERS IN TORONTO.

ONE OF THE THINGS WE USED TO DO WAS CREATE PASTICHE MUSICALS.

SO IT WAS NOT COMPLETELY RIDICULOUS THAT THEY WOULD GET

TOGETHER AND DO A FAKE MUSICAL FOR US, BUT IT WAS A SURPRISE.

WE WERE GETTING MARRIED, AND WE WERE THE FIRST IN OUR LITTLE

CIRCLE OF PEOPLE TO GET MARRIED, AND BASICALLY, MY BEST MAN, LISA

LAMBERT, WHO IS THE LYRICIST OF THE SHOW, WAS IN CHARGE OF THE

ENTERTAINMENT, AND I SAID NO STRIPPERS.

SO SHE CREATED, ALONG WITH A BUNCH OF OTHER PEOPLE, THIS

1920'S MUSICAL CALLED "THE DROWSY CHAPERONE," WHICH WAS

REALLY FILLED WITH IN JOKES AND REFERENCES TO THINGS THAT HAD

HAPPENED IN THE PAST -- >> OVER THE COURSE OF THE

RELATIONSHIP AND ONLY THINGS YOU WOULD KNOW.

>> YES, AND ONE OF THE TWO CHARACTERS IN THE MUSICAL IS AN

ACTRESS WHO IS GETTING MARRIED AND GIVING UP SHOW BUSINESS.

THAT IS NOT REALLY WHAT MY WIFE DID, BUT SHE IS AN ACTRESS.

ANYWAY, WE DID NOT REALLY KNOW ABOUT THIS UNTIL WE READ IN THE

PAPER AND IT SAID "COME TO BOB'S STAG PARTY."

>> IN THE TORONTO GLOBE.

>> IN A MAGAZINE THAT WAS KIND OF A HIP, ALTERNATIVE MAGAZINE.

AND WE WENT TO THIS CLUB, AND THERE IT WAS.

IT WAS ABOUT HALF AN HOUR LONG.

IT WAS A FULLY COSTUMED, FAKE 1920'S MUSICAL.

>> AND YOU HAD NO INKLING OF THIS BEFORE HAND.

>> NO.

JUST SO YOU UNDERSTAND, THERE IS NOTHING ABOUT OUR LIVES REALLY

REPRESENTED.

THERE WAS A CAT IN THE SHOW.

THE CAT HAS BEEN CUT NOW.

>> ONE OF THE MOMENTS THAT DID NOT MAKE BROADWAY.

>> NO, THE CAT DID NOT MAKE IT.

BUT ACTUALLY, THERE ARE TWO SONGS FROM THE ORIGINAL STAGING

THAT ARE ON BROADWAY NOW.

"ADOLFO" AND "ACCIDENT."

>> WAS THERE A MOMENT WATCHING THAT PIECE FOR THE FIRST TIME,

THOSE 30 MINUTES, THAT YOU KNEW THIS COULD BE A SHOW, THIS COULD

BE A HIT, THIS NEEDS TO BE DEVELOPED?

>> I NEVER IN MY WILDEST DREAMS IMAGINED THAT IT WOULD BE

SOMETHING THAT WOULD MAKE IT TO THE BROADWAY STAGE.

WE KNEW THERE WAS GREAT STUFF IN IT.

IT WAS A PROJECT THAT WE AS A GROUP SHOULD WORK ON AND MAKE

INTO A FULL SHOW.

I MEAN, THERE WAS NO MAN IN CHAIR IN THE ORIGINAL GIFT.

IT WAS MORE, AT THAT TIME, A PARODY OF MUSICALS.

BECAUSE WE DID NOT WANT TO SIMPLY PRESENT A PARODY, WE CAME

UP WITH THE FRAMEWORK OF MAN IN CHAIR TO COMMENT ON THE

DIFFERENCE BETWEEN PERFORMANCE AT THAT TIME AND THE PRESENT

DAY.

>> AND THAT IS A FANTASTIC INVENTION, THE MAN IN CHAIR IN

THERE.

WHEN DID THAT ARISE, THAT PART OF IT?

>> IT WAS SOMETHING THAT WE HAD DISCUSSED IN ONE FORM OR ANOTHER

FOR A LONG TIME BEFORE "DROWSY" CAME ABOUT, JUST BECAUSE LISA

LAMBERT HAS THIS KNACK, OR YOU COULD INTERPRET IT AS A CURSE,

REALLY, OF WRITING MUSICAL THEATER OF ANOTHER ERA.

SHE IS NOT INTO POP, BUT SHE CAN WRITE SONGS FROM THE 20'S AND

30'S AND 40'S AND 50'S.

IT WAS ALWAYS, HOW CAN WE TAKE LISA'S TALENT AND REALLY

PRESENT IT IN A WAY THAT WOULD HAVE SOME RELEVANCE?

>> AND IT DID.

IT WAS A WONDERFUL LOVE LETTER --

>> IT CAME AT THE RIGHT TIME.

>> LOVE LETTER TO, SENDUP OF, SPOOF OF ALL KINDS OF FORMS THAT

I AM SURE AMERICAN AND CANADIAN MUSICAL THEATER AUDIENCES ARE

FAMILIAR WITH.

IN TERMS OF HOW THE SHOW DEVELOPED, HOW IT WENT ON, WHAT

STRUCK ME ABOUT THE SHOW WAS THIS NUMBER "AS WE STUMBLE

ALONG," WHICH WE SAW A LITTLE BIT OF.

THE JOURNEY FROM $200, WHICH YOU STARTED WITH, TO $10 MILLION

BANKROLLED ON BROADWAY -- >> AMERICAN.

AMERICAN DOLLARS.

>> WHICH IS ALMOST THE SAME AS CANADIAN DOLLARS.

>> UNFORTUNATELY, AS I AM LEARNING NOW, AS I AM EARNING

AMERICAN DOLLARS.

>> BUT EXPLAIN TO ME HOW THAT HAPPENED BECAUSE AT ANY GIVEN

NUMBER OF TIMES, IT FELT AS IF THIS SHOW HAD REACHED AN

ENDPOINT.

>> YES.

>> SO FROM $200 TO $10 MILLION.

>> YES.

ABSOLUTELY.

BASICALLY, WE ARE ALL WRITERS AND WE LOVE WORKING WITH ACTORS

ON MATERIAL.

WE LOVE ADAPTING MATERIAL TO THE SKILLS OF THE PEOPLE WE ARE

WORKING WITH.

SO, AT EACH STAGE OF DEVELOPMENT, I MEAN, THE FIRST

TIME IT WAS A FULL SHOW WAS FOR A FRINGE FESTIVAL.

IT WOULD HAVE TO BE 60 MINUTES OR 50 MINUTES LONG.

SO, WE SET ABOUT TO CREATE A SHOW THAT WOULD WORK IN A FRINGE

ENVIRONMENT.

>> SO THE FORMAT TO A CERTAIN EXTENT DECIDED WHAT IT WOULD BE.

>> RIGHT.

YOU HAVE TO LOAD IN WHILE THE OTHER SHOW IS LOADING OUT, SO

EVERYTHING HAS TO BE SIMPLIFIED, A BARE STAGE, AND IT ENDED UP

BEING A REMARKABLY EFFECTIVE FRINGE SHOW, AND THAT WAS THE

KEY FOR US, BECAUSE IT ATTRACTED A LOT OF ATTENTION AND WAS

ACTUALLY REVIEWED IN VARIETY MAGAZINE IN NEW YORK, WHICH IS

VERY UNUSUAL FOR A FRINGE SHOW IN TORONTO.

IT ATTRACTED THE ATTENTION OF OTHER PRODUCERS AND SET BOX

OFFICE RECORDS AND EVERYTHING.

IT WAS REALLY AN AMAZING, AMAZING EXPERIENCE.

>> WHAT YEAR WAS THAT?

>> I THINK IT WAS 1998 OR 1999, OR 2000, AROUND THERE.

THE ACTUAL STAG WAS 1998, SO IT WAS THE SUMMER AFTER THAT, 1999.

>> SO THE CHRONOLOGY OF STAG TWO BROADWAY WAS SIX YEARS?

>> 1998 TO 2000 -- I DON'T REMEMBER.

I DON'T HAVE THE DATES ON ME.

IT WAS A LONG TIME IN DEVELOPMENT.

BUT IN THAT TIME, THERE WERE BREAKS WERE NOTHING WAS

HAPPENING WITH THE SHOW.

BUT EVEN SO, I WENT THROUGH MY COMPUTER RECENTLY TO SEE HOW

MANY VERSIONS OF THE SHOW ACTUALLY EXIST, AND THERE ARE

ABOUT 120 DIFFERENT VERSIONS, IF YOU CAN IMAGINE.

>> DID ANY OF THE EXPERIENCES YOU HAD DEVELOPING THE SHOW AS

YOU STUMBLED ALONG RESULT IN THE CREATION OF NEW MATERIAL THAT IS

CURRENTLY IN THE SHOW?

>> YES.

WELL, YES.

ONCE WE DID OUR SORT OF ULTIMATE CANADIAN VERSION OF THE SHOW

WHICH WAS AT THE ARENA GARDEN THEATRE IN TORONTO, AND 1100

SEAT THEATER AS PART OF THE SUBSCRIPTION SERIES, THE BUDGET

WAS AROUND $1 MILLION, WHICH WAS A BIG, BIG DEAL FOR US.

WE REALIZED THAT FOR THE SHOW TO WORK WE NEEDED A MUCH LARGER

BUDGET.

I MEAN, IT WORKED IN THAT FORM, BUT WE REALIZED WE NEEDED TO

FULLY REALIZE THE MAN'S WORLD.

IF YOU WATCH THE SHOW, YOU GO BETWEEN A DREARY APARTMENT AND

THIS HIGHLY ROMANTICIZED MUSICAL WORLD.

IT REALLY BECAME A FINANCIAL ISSUE BECAUSE IT COSTS A LOT OF

MONEY TO CREATE TWO KINDS OF SETS THAT MOVE BETWEEN EACH

OTHER.

SO WE THOUGHT IT WAS KIND OF DEAD IN TORONTO.

WE THOUGHT WELL, WE CANNOT REALLY GO TO THE NEXT STEP.

BUT THEN WE WENT TO A NEW YORK FESTIVAL WHERE WE DID A READING

OF THE SHOW, AND THAT ATTRACTED A VERY GOOD PRODUCER FROM NEW

YORK WHO DID RENT AND OTHER THINGS.

HE SAW THE POTENTIAL, SO WHEN WE HAVE THE RESOURCES TO DO WHAT WE

REALLY WANTED TO DO WITH THE SHOW, WE REINVENTED IT.

ABOUT 60%-70% OF THE SHOW CHANGED AT THAT POINT.

WE WENT TO THE AHMANSON WITH THAT AND THEN TO BROADWAY.

>> THAT SORT OF ANSWERS MY NEXT QUESTION.

WERE THERE ANY BITS FROM THE EARLIER VERSIONS OF THE SHOW

THAT YOU SORROWFULLY, MOURNFULLY HAD TO SAY GOODBYE TO AS IT

MORPHED INTO THIS CURRENT INCARNATION?

>> YES, THERE WERE MANY.

>> I'M SURE.

>> IT JUST SORT OF HAPPENS WITH THIS KIND OF MUSICAL.

YOU ARE CUTTING CONSTANTLY.

I REMEMBER READING ABOUT MEREDITH WILSON WRITING "THE

MUSIC MAN," AND IT WAS THE SHOW HE WANTED TO WRITE.

HE HAD A TRUNK FULL OF SONGS, AND WHEN "THE MUSIC MAN "WAS

COMPLETED, IT DID NOT HAVE ANY OF THE MUSIC HE HAD WANTED TO

WRITE.

WE HAD SORT OF THE SAME EXPERIENCE.

THERE WERE TWO NUMBERS FROM THE STAG LEFT, WHICH IS REMARKABLE.

>> YOU HAVE A BACKGROUND IN IMPROV COMEDY.

YOU HAVE A HISTORY WITH SECOND CITY TV IN TORONTO.

IN TERMS OF YOUR BACKGROUND WITH THIS VERY, IF I COULD SAY,

LOOSELY STRUCTURED, SPONTANEOUS, IN THE MOMENT WORK AS AN IMPROV

COMEDIAN, HOW DID YOU MARRY -- NO PUN INTENDED -- THAT WITH THE

VERY TIGHTLY CHOREOGRAPHED MUSICAL THEATER FORM THAT WE SEE

ON STAGE?

>> IT'S INTERESTING.

IMPROV IS REALLY THE FORM OF THEATER THAT I FEEL MOST

COMFORTABLE DOING.

BUT I THINK THE SKILL SET I HAVE IS AN IMPROVISER IS MORE CLOSELY

MARRIED TO MY SKILLS AS A WRITER.

IMPROVISING DIALOGUE IS VERY SIMILAR TO THE PROCESS OF

ACTUALLY CREATING IT WHEN YOU'RE WRITING.

IT'S JUST QUICKER, BASICALLY, AND PUBLIC.

AND COLLABORATION IN IMPROV -- YOU CAN'T IMPROVISE WITHOUT

COLLABORATION.

WHEN IT IS WORKING, IT'S ALL ABOUT THIS MAGICAL UNDERSTANDING

YOU HAVE OF THE PERSON ON STAGE.

WHEN IT'S NOT WORKING, IT'S A NIGHTMARE.

IT'S A TYPE OF PERFORMANCE THAT OVERLAPS WRITING AND ACTING, I

GUESS.

>> IT WAS.

EVEN WITH THIS BEAUTIFULLY STAGED, TIGHTLY CHOREOGRAPHED

PIECE, AS I SAID, THERE IS STILL AN ENERGY IN THE SHOW OF A DIZZY

CORNUCOPIA OF THINGS HAPPENING, LIKE SOMEONE IS DREAMING THIS AS

IT IS GOING ON.

>> IT ALLOWED US TO BE IMMEDIATE IN OUR CHANGES TO THE MATERIAL.

I MEAN, THERE IS NO IMPROV IN THE SHOW.

IT IS VERY TIGHTLY SCRIPTED NOW.

PEOPLE THINK IT WAS.

>> WELL, THAT IS THE FIELD.

IT FEELS INVENTED ALTHOUGH OBVIOUSLY IT WAS VERY CAREFULLY

REHEARSED.

TELL ME ABOUT THE DECISION TO START THE SHOW IN THE DARK WITH

A SINGLE HUMAN VOICE.

OUT OF WHICH EMERGES THIS INCREDIBLY GLITTERING JEWEL

FANTASY.

WHAT WAS THE DECISION THERE.

WAS THAT THE MAN IN CHAIR?

>> AGAIN, IT WAS A COMBINATION.

I THINK THE FIRST TIME WE DID IT WAS AT THE WINTER GARDEN.

I COULD BE WRONG ABOUT THAT.

DANIEL BROOKS WAS OUR GREAT DIRECTOR IN TORONTO.

WHAT WE WANTED TO DO WAS PRESENT THIS CHARACTER, MAN IN CHAIR, AS

REALLY AN AUDIENCE MEMBER.

WE FELT THAT BEGINNING IN THE DARK AND VOICING THE THOUGHTS OF

SOMEONE WAITING TO DO THE SHOW WAS THE WAY TO START THE SHOW.

THE GENESIS OF THAT WAS I WAS DOING A SHOW AT THE TARAGON

THEATER IN TORONTO, AND IT WAS PART OF THE SUBSCRIPTION SERIES,

AND I HEARD THROUGH THE CURTAIN, LITERALLY, BEFORE I WENT ON, TWO

PEOPLE IN THE AUDIENCE GOING WHY, EVERY YEAR, WHY DO WE COME

TO THE THEATER?

WE ARE CONTINUALLY DISAPPOINTED WITH WHAT WE SEE.

I THOUGHT IT WAS SO HILARIOUS.

BUT IT'S TRUE, WHEN YOU GO TO THE THEATER, YOU ARE OFTEN

DISAPPOINTED WITH WHAT YOU SEE, LIKE ANY ART FORM.

I JUST THOUGHT IT WAS HILARIOUS THAT THESE PEOPLE WERE HAVING

THIS DISCUSSION RIGHT BEFORE THE CURTAIN WENT UP.

>> SOMEWHAT REVEALING.

>> SO, THE SPEECH IN THE DARK FROM MAN IN CHAIR IS BASICALLY

THAT, A PRAYER.

OH, GOD, LET IT BE A GOOD SHOW, PLEASE.

DON'T LET IT BE TOO LONG.

LET ME BE ENTERTAINED.

THAT'S ALL I WANT.

AND PEOPLE REALLY REACTED TO THAT.

>> IT'S GREAT, BECAUSE IT REALLY FOCUSES PEOPLE'S ATTENTION FROM

THE GET GO ON THE AUTHOR'S VOICE, WHICH IS NICE.

>> YES, THE POINT OF VIEW OF THE PIECE.

>> ABSOLUTELY.

>> IT'S NOT TRADITIONAL OVERTURE, ♪ DIM THE LIGHTS ♪,

ALL OF THAT.

IT'S -- WE ARE GOING TO SEND THIS UP IN A VERY DIFFERENT WAY,

WHICH I THOUGHT WAS FANTASTIC.

THE OTHER THING THAT INTEREST ME ABOUT THE RELATIONSHIP OF THE

MAN IN THE CHAIR IS THAT YOU ARE A CANADIAN.

AND YOUR PERSPECTIVE AS A CANADIAN, GROWING UP IN THE 49TH

PARALLEL WITH THIS HUGE NEIGHBOR TO THE SOUTH, WHAT DOES THAT

BRING TO THE SHOW?

>> I SUPPOSE, YES, CANADIANS OBSERVE AMERICAN CULTURE WHETHER

WE LIKE IT OR NOT.

WE ARE BOMBARDED WITH AMERICAN CULTURE.

LIKE MANY PLACES IN THE WORLD.

WE HAVE THIS SORT OF LOVE-HATE RELATIONSHIP WITH AMERICA,

FRANKLY.

OUR PRIME MINISTER FAMOUSLY SAID ONCE THAT WHEN YOU ARE SLEEPING

WITH AN ELEPHANT, YOU HAVE TO BE CAREFUL.

WE LOVE AMERICAN CULTURE.

WE LOVE AMERICAN TELEVISION AND THEATER.

BROADWAY, IN PARTICULAR, IS LIKE NOTHING ELSE IN THE WORLD.

IN MY EXPERIENCE OF BROADWAY WAS REALLY TELEVISION, WATCHING THE

TONY'S EVERY YEAR AND SEEING WHAT WAS HAPPENING IN THE WORLD

OF THE THEATER.

SO, THERE IS SOMETHING VERY CANADIAN ABOUT "DROWSY," BECAUSE

WE ARE COMMENTING ON AMERICAN CULTURE FROM A PERSPECTIVE.

MAN IN CHAIR IS JUST A GUY WHOSE PRIMARY EXPERIENCE OF MUSICALS

IS THROUGH RECORD ALBUMS, READING LINER NOTES AND

LISTENING TO ALBUMS AND IMAGINING THE SHOW IN HIS MIND.

I GUESS THAT IS THE CANADIAN PART OF IT, THE DISTANCE FROM

THE CULTURAL THING WE ARE OBSERVING.

>> WHICH I THINK IS IMPORTANT.

IN ORDER TO BE ABLE TO SEND SOMETHING UP, YOU HAVE TO TAKE A

STEP BACK, BUT IT IS DONE SO LOVINGLY.

IT IS IRREVERENT BUT POLITE AT THE SAME TIME.

>> THAT IS CANADIAN TOO.

>> IT IS.

BUT I THINK THAT IS WHY THE SHOW APPEALS SO BROADLY AND HAD A

TONY AWARD WINNING RUN ON BROADWAY AND HOPEFULLY A VERY

SUCCESSFUL TOUR AROUND THE COUNTRY.

I THINK THERE IS SOMETHING VALUABLE ABOUT THE CANADIAN-NESS

OF THE SHOW THAT I'M NOT SURE AMERICAN AUDIENCES FULLY

REALIZED.

>> IT'S EASY TO CRITICIZE WHEN YOU ARE OUTSIDE AS WELL,

DIFFICULT WHEN YOU ARE IN IT.

IN OUR CASE, IN PARTICULAR, BECAUSE WE NEVER EXPECTED THE

SHOW TO MAKE IT TO BROADWAY.

IF WE WERE ACTUALLY SETTING OUT TO CREATE A BROADWAY SHOW WE

WOULD PROBABLY BE LESS LIKELY TO CRITICIZE BROADWAY.

BUT BECAUSE WE DID NOT EXPECT IT, AND THE MOST SUCCESSFUL

CANADIAN SHOW ON BROADWAY TO THAT POINT WAS A SHOW CALLED

"BILLY BISHOP WENT TO WAR" WHICH RAN 12 PERFORMANCES.

WE FELT WE HAD NOTHING TO LOSE.

WE ACTUALLY DID POP THE CHAMPAGNE WHEN WE DID OUR 13TH

PERFORMANCE.

>> WE WILL GET BACK TO THE REAL BOB MARTIN IN JUST A MOMENT AS

HE TAKES QUESTIONS FROM STUDENTS IN THE STUDIO AUDIENCE AND

OTHERS CONNECTED TO THE EVENT THROUGH DISTANCE LEARNING

TECHNOLOGY.

TAKING A BROADWAY SHOW ON TOUR IS NO SMALL FEAT.

NOT LONG AGO, TECHNICIANS HERE IN PLAYHOUSE SQUARE IN CLEVELAND

SPENT WEEKS FIGURING OUT THE BEST WAY TO LOAD IN AND SET UP

ALL THE SETS, PROPS, LIGHTS AND SPECIAL EFFECTS FOR THIS SHOW.

>> "THE DROWSY CHAPERONE" IS DIFFERENT BECAUSE YOU START WITH

AN APARTMENT AND YOU END UP WITH NOTHING ON STAGE EXCEPT YOU WANT

THE AUDIENCE TO THINK YOU ARE IN A THEATER.

THE APARTMENT YOU ARE LOOKING AT RIGHT NOW, A PORTION OF IT, HAS

TO GO AWAY DURING THE PERFORMANCE.

SO IT IS A LITTLE TRICKY.

YOU CAN'T CUT LIKE YOU CAN ON OTHER TYPES OF MUSICALS WHERE IT

IS JUST A FLAT OR A DROP.

THE CHALLENGE ON THIS SHOW WAS TO PACKAGE IT SO THAT WE COULD

DO ALL OF THAT, BUT WE HAD TO DO IT DIFFERENTLY BECAUSE IN NEW

YORK THEY FLY EVERYTHING.

ON THE ROAD, YOU CANNOT REALLY DO THAT BECAUSE YOU'RE MOVING IT

SO QUICKLY FROM TOWN TO TOWN AND EVERY THEATER IS DIFFERENT.

YOU HAVE TO BE MORE SELF-CONTAINED.

SO WE DEVISE DIFFERENT WAYS OF MOVING THE SET AROUND SO THAT WE

COULD ACCOMPLISH THE SAME THING BUT NOT HAVE TO FLY IT, NOT BE

INVASIVE TO THE THEATER.

>> THE TOURS ARE MORE COMPLICATED IN SOME WAYS THAN

THE BROADWAY SHOW THAT IS JUST GOING TO SIT THERE.

YOU CAN DO A LOT OF THINGS ON THE SHOW THAT DOESN'T HAVE TO

MOVE THAT YOU CAN'T DO ON A TOUR THAT YOU HAVE TO GET IN AND OUT

IN A CERTAIN AMOUNT OF TIME.

SO THE PACKAGE HAS TO BE MORE EFFICIENT, CLEANER, AND

BASICALLY THE SHOW IS THE SAME SHOW.

SO, ALTHOUGH YOU ARE TRYING TO MOVE IT QUICKLY, YOU STILL DON'T

WANT TO TAKE AWAY FROM THE DESIGN AND HOW IT LOOKS ON

STAGE.

BECAUSE A LOT OF PEOPLE HAVE ALREADY SEEN IT IN NEW YORK SO

YOU ARE TRYING TO GIVE THEM THE SAME THING HERE.

>> WHAT HAS CHANGED, IF ANYTHING, SINCE THE SHOW OPENED

ON BROADWAY?

ANYTHING AT ALL, OR IS IT PRETTY MUCH IT ARRIVED INTACT AND IT

STAYED THE SAME.

>> THE SHOW WAS FROZEN A FEW DAYS BEFORE IT OPENED ON

BROADWAY.

IT HAD TO BE.

AND THEN WE MADE VERY FEW MINOR CHANGES DURING THE RUN.

THERE WERE CHANGES WHEN WE WENT TO LONDON.

WE JUST HAD A LONDON RUN IN THE WEST END, RECENTLY.

WE DECIDED TO -- AS I SAY, WE ARE KIND OF COMPULSIVE WRITERS.

I WOULD WATCH THE SHOW EVERY NIGHT AND SAY, THAT LINE, I

CAN'T STAND THAT LINE.

SO THERE WERE THINGS WE CHANGED FOR LONDON.

ALSO, WE LIKE TO BE PLAYFUL WITH WHATEVER SITUATION RAN, SO WE

MADE REFERENCE TO THE FACT THAT WE WERE IN THE WEST END AND

LONDON.

AND FOR THE TOUR WE MADE ADJUSTMENTS AS WELL.

>> I WOULD IMAGINE.

YOU SAY THERE IS NOTHING IMPROVISED, BUT FOR THE MAN IN

CHAIR, BASED ON THE HOUSE, YOU ARE FREE TO WORK A CERTAIN

AMOUNT BASED ON THE HOUSE THAT'S THERE.

YOU ARE FLEXIBLE.

>> YES, AND IT'S GREAT, BECAUSE WHEN THINGS GO WRONG IT'S EASY

FOR ME TO DEAL WITH IT.

AND THINGS DO GO WRONG IN A COMPLEX SHOW LIKE THIS.

THINGS MALFUNCTION OR COME CRASHING DOWN.

IT'S A NICE SHOW FOR ME TO DEAL WITH.

>> AND THEY ARE GIFTS TO AN IMPROVISATIONAL PERFORMER.

WE HAVE OUR FIRST E-MAIL QUESTION.

RICK.

>> THIS QUESTION COMES TO US FROM JENNIFER.

SHE ASKS, HOW OR WHY DID YOU DECIDE TO MAKE THIS SHOW A ONE

ACT RATHER THAN A TWO?

>> IT HAS ALWAYS BEEN A ONE-ACT SHOW.

THERE WAS A LOT OF PRESSURE TO MAKE IT A TWO ACT SHOW BECAUSE

THEATERS EARN A LOT OF MONEY AT INTERMISSION SELLING LIQUOR.

IT'S TRUE.

WE JUST FELT THAT THE SHOW, BECAUSE IT IS SO CONCEPT DRIVEN,

WE FELT THAT THE CONCEPT COULD NOT SUSTAIN MORE THAN ONE ACT,

TO BE PERFECTLY -- SEE, I AM VERY CRITICAL OF MY OWN

MATERIAL.

ALSO, WE MAKE REFERENCE TO TWO ACTS DURING THE SHOW, EVEN

THOUGH IT IS ONLY ONE-ACT.

PART OF IT IS WE WANTED TO MAKE REFERENCE TO ALL OF THOSE

MOMENTS THAT ARE PART OF AN EVENING AT THE THEATER.

ONE OF THOSE MOMENTS IS AN INTERMISSION, SO WITHIN THE SHOW

WE MAKE REFERENCE TO THE INTERMISSION AS PART OF THE

THEATRICAL EXPERIENCE.

SO THAT IS WHY IT IS ONE-ACT.

>> AS THEY SAY, IT IS HARDER TO SUSTAIN A SOUFFLÉ THAN A ROAST.

>> I HAVE HEARD THAT EXPRESSION.

IT REALLY IS.

>> TO SUSTAIN THAT KIND OF DELICATE UPLIFT, IT IS HARD TO

STOP AND THEN PICK IT BACK UP AGAIN.

WE HAVE A QUESTION FROM HERE IN THE AUDIENCE.

>> IN THE INTERVIEW I HEARD ABOUT "DROWSY CHAPERONE," ONE OF

THE INTERESTING FACTS WAS THAT THE AVERAGE AGE OF THE

PERFORMERS IS A LOT OLDER THAN WHAT YOU SEE IN MOST SHOWS.

>> YOU CAN SAY IT.

40.

40.

YES.

[LAUGHTER] >> YOU TALKED A LITTLE BIT ABOUT

THIS WHEN WE WERE DISCUSSING SUTTON, BUT HOW DID THAT AFFECT

THE REHEARSAL PROCESS AND EVERYTHING LEADING UP TO THE

SHOW TO HAVE SO MANY PEOPLE WITH SO MUCH BROADWAY EXPERIENCE

BEHIND THEM?

>> YES, IT WAS REALLY VALUABLE TO HAVE SOME VETERANS THERE.

ALTHOUGH MANY OF THE -- IRONICALLY, EVEN THOUGH WE WERE

ALL OLDER, IT WAS OBVIOUSLY MY FIRST BROADWAY EXPERIENCE AS WAS

ALL THE WRITERS.

IT WAS THE DIRECTOR'S FIRST BROADWAY SHOW.

WHO ELSE?

OUR MUSICAL DIRECTOR, OUR STAGE MANAGER.

SO, WE ARE ALL THE SAME AGE, BUT IT WAS A NEW EXPERIENCE FOR ALL

OF US.

I GUESS, WITH AGE, OR AGAIN, IT'S NOT DO OR DIE.

YOU ARE NOT OUT THERE SAYING OK, WORLD, THIS IS ME.

IT WAS MORE ABOUT, WE HAD A BODY OF WORK BEHIND US AND, I KNOW IT

SEEMS STUPID NOW BECAUSE THE SHOW WAS SUCCESSFUL, BUT I WAS

ALWAYS LIKE, I CAN GO BACK TO WRITING FOR TV IF THIS DOESN'T

WORK.

LET'S JUST HOPE IT'S NOT TOO MUCH OF AN EMBARRASSING FAILURE.

SO WE HAD THINGS WE COULD DO.

WE ALL SORT OF FELT THAT WAY.

WE HAD MORE CONFIDENCE.

IT WAS NOT ABOUT JUST SAYING WHO YOU WERE TO THE OTHER GROUP OF

PEOPLE.

SO THAT HELPED.

>> EXCELLENT.

NEXT QUESTION.

>> HI, BOB.

MY NAME IS BILL.

IT'S GREAT TO SEE YOU BECAUSE I SAW AN EXCELLENT, EXCELLENT

PERFORMANCE ON BROADWAY.

I THOUGHT THE SHOW WAS ONE OF THE MORE CHARMING AS WELL AS ONE

OF THE MORE TOUCHING SHOWS I HAVE EVER SEEN.

I AM DIRECTING A SHOW HERE AND I HAD THE HONOR OF PLAYING YOU IN

NEW YORK IN A SPOOF OF YOUR SHOW.

>> OH, THAT WAS YOU.

>> I WONDERED IF YOU HAD A CHANCE TO SEE FORBIDDEN BROADWAY

IN NEW YORK.

>> I HAVEN'T BECAUSE OF THE PERFORMANCE SCHEDULE, BUT I KNOW

I WAS TIED TO A CHAIR, CORRECT?

>> YES.

[LAUGHTER] >> IT IS A BIG HONOR.

I WAS REALLY HOPING YOU GUYS WOULD DO SOMETHING.

>> YOU ACTUALLY, VERY WELL, BUT BECAUSE YOU INTERRUPT BETH SO

MANY TIMES, SHE ACTUALLY SHOOTS YOU DEAD.

BUT GERARD ALWAYS WRITES WITH LOVE AND I KNOW WE LOVE "DROWSY

CHAPERONE."

>> THANK YOU.

>> GREAT TO SEE YOU AND SAY HI.

>> THANK YOU VERY MUCH.

>> "FORBIDDEN BROADWAY" AND "DROWSY CHAPERONE" ARE REALLY

COUSINS IN THE WAY.

>> YES.

>> ALTHOUGH IT IS NOT AS DIRECT A SPOOF OF SPECIFIC PIECES, THAT

WHOLE SENDUP OF THE MUSICAL COMEDY FORM MADE ME THINK OF

"FORBIDDEN BROADWAY" SEVERAL TIMES, THE SPIRIT OF IT.

>> I WISH I COULD HAVE SEEN IT.

>> NEXT QUESTION.

>> MY NAME IS ARTHUR WISE.

I WAS WONDERING IF YOU COULD TALK A LITTLE BIT ABOUT YOUR

EXPERIENCE BEING AN IMPROV ACTOR AND WORKING IN SECOND CITY OR

MAYBE WHAT LED YOU THERE.

>> WHAT LED ME TO SECOND CITY WAS A FAILED RELATIONSHIP.

[LAUGHTER] I -- IT'S TRUE ACTUALLY.

YOU SEE, THIS IS MY PROBLEM BECAUSE I DON'T EDIT.

IT'S GOOD FOR IMPROV, TERRIBLE FOR LIFE, BASICALLY.

I DID.

I HAD A GOOD RELATIONSHIP THAT ENDED BADLY AND I WANTED TO

CHANGE MY LIFE COMPLETELY.

AND I HAD DONE IMPROV AS A WAY OF DEVELOPING MATERIAL.

WE USED TO DO CRAZY THINGS, VIDEO TAPE STUFF AND USE IT AS A

WAY OF CREATING MATERIAL, RENT SPACES AND STUFF LIKE THAT.

I HAD NEVER DONE IT SECOND CITY STYLE.

I WANTED TO CHANGE MY LIFE, SO I AUDITIONED FOR SECOND CITY AND

GOT INTO IT.

ALL OF A SUDDEN, ONCE YOU'RE THERE, IT'S LIKE JOINING THE

ARMY.

YOU ARE IN WITH THE SAME GROUP OF PEOPLE FOR A LONG TIME.

IT'S A SHARED EXPERIENCE AND VERY INTENSE.

YOU GET THROWN OUT ON STAGE WITH NOTHING AND HAVE TO CREATE A

SHOW.

IT GETS RID OF YOUR PERFORMANCE ANXIETY PRETTY DARN FAST.

IT WAS A GREAT EXPERIENCE.

AGAIN, COLLABORATION IS VERY IMPORTANT TO ME AND GOOD IMPROV

IS ALL ABOUT COLLABORATION.

I LEARNED SO MUCH, AND I LEARNED -- I HAD A PARTICULAR SKILL IN A

TYPE OF IMPROV THAT IS CALLED LONGFORM IMPROV, CHARACTER-BASED

LONG FORM IMPROV AS OPPOSED TO GAME IMPROV LIKE YOU SEE ON

"WHOSE LINE."

WE CREATED SOME GREAT EXERCISES, SOME GREAT SHOWS DOING THAT

STUFF.

THE INTERESTING THING ABOUT IMPROV IS IT CAN LITERALLY BE

THIS EXCITING NIGHT OR IT CAN BE THE WORST NIGHT YOU HAVE EVER

SEEN IN YOUR LIFE AT THE THEATER.

IT CAN FAIL SO BADLY OR IT CAN BE MAGICAL, SO IT IS DANGEROUS,

AND THAT APPEALED TO ME.

>> CAN YOU TALK A LITTLE BIT ABOUT SOME OF THE TRAINING YOU

MIGHT GO THROUGH FOR SOME OF THIS LONGFORM IMPROV?

I AM NOT SURE FOLKS ARE FAMILIAR WITH THE COMPONENTS OF WHAT THAT

IS.

>> WELL, I DID NOT REALLY TRAIN FOR IT AT ALL, SO THAT IS

HARD TO ANSWER.

I MEAN, THERE ARE COURSES.

BUT IT'S REALLY TRIAL BY FIRE.

IT'S SO CLOSELY RELATED TO WRITING.

IT'S A VERY PURE PERFORMANCE BECAUSE YOU'RE REACTING IN THE

MOMENT TO WHAT YOU'RE GIVEN, BUT YOU HAVE TO DO A CERTAIN AMOUNT

WORK IN YOUR MIND OF REACTING TO THE NARRATIVE STRUCTURE OF THE

PEACE.

YOU HAVE TO KNOW WHERE YOU ARE GOING AND IT'S NOT GOOD TO GET

STUCK IN THE OTHER MIND.

>> A LOT DEPENDS ON THE WEATHER.

>> BEAUTIFUL PHRASE.

SO, YEAH.

I HAVE ALWAYS BELIEVED THAT -- AND I KNOW YOUR STUDENTS WILL

PROBABLY -- YOU'RE NOT GOING TO WANT TO HEAR THIS, BUT I ALWAYS

BELIEVE THAT DOING IS BETTER THAN --

>> ABSOLUTELY.

>> TAKE ALL THE CLASSES YOU WANT, BUT BE SURE YOU GET OUT

THERE AND DO THE THEATER, BECAUSE YOU LEARN SO MUCH.

>> PEOPLE ASK HOW DO YOU TRAIN IN IMPROV, AND I THINK THE

ESSENTIAL ANSWER IS JUST TO BE PUT IN A SITUATION AND FORCED TO

RESPOND.

>> YEAH.

THERE ARE EXERCISES AND EVERYTHING, BUT ULTIMATELY, IT'S

ABOUT TRUSTING THE OTHER PERFORMER ON STAGE.

THERE ARE TWO MAIN RULES IN IMPROV.

ONE IS FOLLOW THE FEAR, WHICH MEANS GO TO THAT PLACE WHERE YOU

FEEL UNCOMFORTABLE.

THAT'S WHERE THE GOOD MATERIAL IS.

THE OTHER IS TO MAKE THE OTHER PERSON ON STAGE LOOK BETTER THAN

YOU.

YOU ARE CONSTANTLY SUPPORTING YOUR PARTNER ON STAGE, AND THOSE

ARE INVALUABLE TIPS FOR ACTORS AS WELL.

>> DANCE WOULD BE GOOD TRAINING FOR THAT AS WELL.

NEXT QUESTION.

>> MY NAME IS JIM.

FIRST OFF, THE SHOW WAS PHENOMENAL.

IT IS JUST PROBABLY MY FAVORITE SHOW.

I HOPE EVERYONE COMES TO SEE IT.

>> THANK YOU.

IT'S MY FAVORITE SHOW TOO.

[LAUGHTER] >> TERRIFIC.

CAN YOU TALK ABOUT HOW THE DECISION WAS MADE, YOU BEING THE

WRITER, TO CAST YOU AS THE MAN IN CHAIR?

>> WELL, I WAS PART OF THAT DECISION.

[LAUGHTER] BASICALLY, WHAT HAPPENED WAS

WHEN WE WERE DISCUSSING THIS FRAMING DEVICE THAT WOULD GIVE

US PERSPECTIVE ON THE SHOW, WE WERE IN THE COMPOSER'S BASEMENT

AND CAME UP WITH THIS IDEA OF THIS MUSICAL THEATER AFICIONADO,

AND I KIND OF LEPT INTO THE THEATER.

I KNEW THE VOICE IMMEDIATELY.

WE ALL DID.

WE DESCRIBED HIM AS CREEPY IN THE SENSE THAT HE HAD AN

AFFECTION FOR THINGS WITH WHICH OTHER PEOPLE MIGHT NOT BE

FAMILIAR, AND IT WAS A SORT OF IN-YOUR-FACE AFFECTION.

DO YOU LIKE IT?

DO YOU LIKE IT AS MUCH AS I DO?

[LAUGHTER] SO WE ALL UNDERSTOOD THAT.

ACTUALLY, PART OF THE -- THERE IS A CONTROVERSY ABOUT THE

TITLE, BECAUSE IT IS NOTORIOUSLY THE WORST BROADWAY TITLE EVER,

AND VERY, VERY DIFFICULT TO MARKET, BUT WE WANTED A TITLE

THAT WAS BAD AND FORGETTABLE BECAUSE THE WHOLE SHOW IS A MAN

SHARING THIS FORGOTTEN, DUSTY RELIC OF ANOTHER ERA, AND PART

OF THE COMEDY FOR ME IS HIS DESPERATE ATTEMPTS TO ENTERTAIN

THE PEOPLE HE IS TALKING TO.

HOW THEY ARE TRAPPED WITH HIM.

>> IN THE DARK.

>> IT COULD BE ABOUT ANYTHING.

I COULD BE TALKING ABOUT MUSCLE CARS IN THE 70'S.

THE MUSTANG WAS SO -- FOUR BARREL CARBURETORS.

IT COULD BE ANYTHING.

SO THAT IS PART OF THE ENERGY OF THE PERFORMANCE.

>> IS THAT HOW THE BOOK ARRIVED?

YOU GOT INTO A ROOM WITH PEOPLE AND BEGAN BECOMING THIS

CHARACTER AND THE SCRIPT RESULTED AFTER YOUR PERFORMANCE.

>> IT WAS SORT OF A COMBINATION OF THOSE THINGS.

WE WOULD TALK ABOUT THE STORY POINTS, AND I WOULD BE DOING

STUFF, AND WE WOULD BE MAKING NOTES.

SONG IDEAS CAME OUT THAT WAY AS WELL.

THE AREAS OVERLAPPED.

THAT IS KIND OF HOW IT HAPPENED.

>> SO YOU WORKED FROM THE PIECE, THE ORIGINAL STAG PARTY PIECE,

AND ADDED THIS CONVENTION LATER.

IT WAS KIND OF AN UNCONVENTIONAL DIRECTION.

>> YES.

IT WAS A COUNTERINTUITIVE WAY OF WRITING, AND IT ACTUALLY WAS THE

HARDEST PART.

AS A WRITER, I REALLY, REALLY LIKE TO OUTLINE SOMETHING

COMPLETELY BEFORE I EVEN BEGIN WRITING, AND THIS WAS THE

OPPOSITE.

THIS WAS, WE HAVE THIS SHOW, NOW HOW DO WE DISCOVER THE REAL

SHOW?

IT WAS BACKWARDS WRITING.

IT TOOK A WHILE.

IT TOOK A FEW VERSIONS OF THE SHOW BEFORE WE REALLY FELT WE

HAD IT.

>> WHAT IS THE REAL SHOW?

>> EACH PRODUCTION HAD VALUE.

>> ABSOLUTELY.

>> IN MY OWN OPINION, I THINK THE FRINGE SHOW AND THE BROADWAY

SHOW WERE THE BEST PRODUCTIONS OF THE SHOW.

IT WAS A GREAT FRINGE SHOW.

>> I WISH I COULD HAVE SEEN THAT.

>> WELL.

AND THE LONDON PRODUCTION WAS PRETTY SPECTACULAR AS WELL.

WE HAD SOME INCREDIBLY TALENTED PEOPLE IN THE LONDON SHOW.

UNFORTUNATELY, IT DID NOT DO WELL IN LONDON, BUT THAT WAS

ANOTHER ISSUE ENTIRELY.

BUT THE PRODUCTION ITSELF WAS REALLY GOOD.

I MEAN, THE KEY WAS TO DISCOVER AND TO ALWAYS -- TO NOT MARRY

YOURSELF TO ANYTHING IN THE SHOW.

WE HAD GREAT, GREAT NUMBERS THAT WE CUT, BUT WE KNEW THEY HAD TO

BE CUT.

>> THEY JUST DIDN'T WORK.

>> RIGHT.

>> QUESTION FROM THE AUDIENCE.

>> MY NAME IS KEITH.

I WORK WITH A LOT OF MUSICAL THEATER STUDENTS BOTH PRIVATELY

AND IN COLLEGE, BUT I ALSO DO MUSIC DIRECTION IN SHOWS.

MY QUESTION IS, IN THAT FUTURE DAY, HOPEFULLY NOT TOO DISTANT,

WHEN THE SHOW BECOMES AVAILABLE FOR COMMUNITY THEATERS AND

COLLEGES TO DO THE SHOW, BECAUSE OF ALL THE INSIDE JOKES, WHAT

ADVICE WOULD YOU GIVE TO DIRECTORS FOR HOW TO CREATE THE

SHOW AND MAKE IT WORK -- I MEAN, WE HAVE ALL SEEN SHOWS LIKE

"FORUM," WHERE THEY DIDN'T GET THE BURLESQUE COMEDY AND THE

SHOW JUST DIES.

HOW DO YOU AVOID THAT?

>> I CAN FEEL FREE TO SAY NOW JUST CHANGE THE SCRIPT.

BECAUSE I REALLY FEEL THAT, I MEAN, FOR ME, MY PHILOSOPHY

ABOUT COMEDY IS THAT IT IS REALLY STUCK -- GOOD COMEDY IS

STUCK IN A MOMENT OF TIME AND GEOGRAPHICAL LOCATION AS WELL.

SO IF SOMETHING IS GOING TO TRANSLATE, IT REALLY NEEDS TO

EVOLVE.

SO YES, I WOULD HOPE THAT IF THIS WAS EVER DONE IN HIGH

SCHOOL THAT THE PERSON DOING MY ROLE WOULD BE MAKING FUN OF THE

PRINCIPAL.

THAT THERE WOULD BE LOCAL REFERENCES, SPECIFIC REFERENCES

THAT PEOPLE COULD APPRECIATE.

I MEAN YES, THERE ARE IN JOKES, ALTHOUGH, NOT THAT MANY, REALLY.

THERE ARE REFERENCES TO BROADWAY.

THERE ARE REFERENCES TO THE MARQUIS THEATRE.

THERE ARE REFERENCES TO ELTON JOHN THAT ARE STILL RELEVANT NOW

EVEN THOUGH THEY WERE WRITTEN EIGHT YEARS AGO.

BUT YES, I WOULD LIKE TO SEE IT EVOLVE IN THAT WAY.

>> WE HAVE AN E-MAIL QUESTION.

>> FROM JUSTIN AT KENT STATE UNIVERSITY, HE WOULD LIKE TO

KNOW, BESIDES YOURSELF, WHO WOULD BE YOUR SECOND CHOICE TO

FILL THE ROLE OF MAN IN CHAIR?

BROADWAY, TELEVISION, MOVIES?

>> I CAN PICK ANYBODY?

I DON'T KNOW.

THAT IS A TOUGH ONE.

I MEAN, IT'S TOUGH BECAUSE WE HAVE BEEN HAVING THOSE

DISCUSSIONS.

BECAUSE I AM NO LONGER IN A BROADWAY SHOW.

I AM WORKING ON ANOTHER PROJECT.

JONATHAN CROMBIE IS DOING BROADWAY NOW.

HE'S SOMEBODY I HAVE KNOWN MY WHOLE LIFE, AND HE IS A

CANADIAN.

AND HE IS DOING A FANTASTIC JOB, AND HE IS GOING TO BE DOING THE

TOUR, ACTUALLY, SO AFTER JONATHAN, WE NEED SOMEBODY ON

BROADWAY, SO IF ANYBODY HAS THEIR RESUME HANDY.

I SEE SOME HANDS GOING UP.

BOY, WE WENT BACK AND FORTH.

AND NAME THAT CAME UP EARLY ON WAS BILL ERWIN, WHO I LOVE AND

HAVE SO MUCH RESPECT FOR.

THE CHARACTER IN THE SHOW IS VERY VERBAL, BUT THERE IS ALSO A

PHYSICAL COMPONENT TO THE CHARACTER.

>> VERY MUCH SO.

>> AND BECAUSE HE MOVES IN AND OUT OF THE MUSICAL WORLD, THERE

IS A PHYSICAL ENERGY THAT IS REALLY IMPORTANT.

>> AND A PHYSICAL AWARENESS.

>> BILL ERWIN WAS AN EXCITING POSSIBILITY, ALTHOUGH THAT DID

NOT HAPPEN, UNFORTUNATELY.

BILL, IF YOU'RE WATCHING -- >> WHAT WAS IT LIKE TO WATCH

YOUR REPLACEMENT FOR THE FIRST TIME?

>> THE FIRST TIME WAS MY UNDERSTUDY, ACTUALLY.

I SWORE NOT TO SEE HIM.

-- I SWUNG OUT TO SEE HIM.

IT WAS JANUARY OF THIS YEAR, I GUESS.

AFTER EIGHT YEARS OF DEVELOPMENT OR WHATEVER, THE FIRST TIME I

HAD EVER SEEN THE SHOW.

>> REALLY.

>> AND IT WAS A MATINEE, AND THE AUDIENCE WAS PRETTY QUIET, BUT I

WAS JUST BLOWN AWAY BY WHAT I SAW.

I MEAN, I KNEW EVERYTHING.

I KNEW ABOUT ALL THE COMPONENTS.

I KNEW ABOUT THE COSTUME DESIGN, THE REASONS WE MADE CHOICES

REGARDING LIGHTING, COSTUME DESIGN AND STAGING, I NEVER SAW

THE PICTURE.

>> EXACTLY.

>> SO I WAS LOOKING AT IT AND SAYING, WOW, LOOK AT THAT.

LOOK HOW DREARY I LOOK IN ALL OF THESE EARTH TONES STANDING

BESIDE BETH AND HER SEQUINED OUTFIT.

THE LIGHTING ALONE WAS IMPRESSING ME SO MUCH.

IT'S HARD TO GET OUT OF YOUR HEAD WHEN YOU ARE HEARING THE

LINES YOU ARE SO FAMILIAR WITH.

J DOUGLAS, WHO YOU KNOW, WAS MY UNDERSTUDY AT THE TIME, AND HE

DID A FABULOUS JOB DOING IT.

IT IS REWARDING TO SEE SOMEONE INTERPRET THE MATERIAL, TOO.

>> THIS SHOW HAS SUCH A PERSONAL GENESIS.

IT MUST HAVE BEEN AN OUT OF BODY EXPERIENCE FOR THE FIRST TIME

YOU SET UP THERE AND WATCHED IT HAPPEN WITHOUT YOU.

>> FOR ME, THE WHOLE EXPERIENCE HAS BEEN AN OUT OF BODY

EXPERIENCE IN SO MANY WAYS.

>> WE HAVE A QUESTION FROM THE AUDIENCE.

>> HI, MY NAME IS JOHN GARTNER.

I HAVE A TWO-PART QUESTION.

ONE, I WAS WONDERING WHAT YOUR FAVORITE SHOWS WERE, YOUR

INFLUENCES.

SECONDLY, I WAS WONDERING, THERE IS SORT OF A RECENT TREND WITH

YOUR SHOW AND OTHERS THAT ARE A SENDUP OF THE MUSICAL THEATER

ART FORM.

WHAT DIRECTION DO YOU THINK THAT IS MOVING MUSICAL THEATER INTO?

>> THAT'S AN INTERESTING QUESTION AND I THINK WHY OUR

SHOW WAS SUCCESSFUL.

"URINETOWN" AND OUR SHOW WERE IN THE SAME FRINGE YEAR.

THEY WERE IN SEPARATE FRINGES, BUT THE SAME YEAR, AND THEY ARE

SIMILAR SHOWS.

"PRODUCERS" AND "SPAMALOT" WERE SHOWS THAT MADE REFERENCE TO THE

SHOW ITSELF.

THOSE WERE BEFORE US.

THERE WAS DEFINITELY A TREND, AT THAT TIME, TO EXAMINE WHAT THE

NATURE OF MUSICAL THEATER WAS.

AND THAT IS HEALTHY AND IT SHOULD BE.

I MEAN, WE STARTED WRITING AT A TIME WHEN MUSICALS WERE VERY

BIG, VERY EARNEST AND MESSAGE ORIENTED.

THERE WERE MANY CORPORATE MUSICALS, DISNEY MUSICALS AND

FILM ADAPTATIONS.

IT WAS A TIME FOR PEOPLE TO ASK WHAT IS MUSICAL THEATER.

IT WAS APPROPRIATE FOR A SHOW TO COMMENT ON THAT AND ASK, AND

REALLY, THAT IS WHAT OUR SHOW ASKS.

WHAT HAPPENED TO THIS TYPE OF THEATER?

WHAT IS WRONG WITH THAT?

WHAT IS WRONG WITH ENTERTAINMENT FOR THE SAKE OF ENTERTAINMENT?

NOW IT IS CHANGING AGAIN.

IN OUR SEASON, WE WERE THE ONLY ORIGINAL SHOW ON BROADWAY.

WE WERE THE ONLY SHOW THAT WAS NOT FROM SOURCE MATERIAL IN THAT

YEAR.

LAST YEAR, "SPRING AWAKENING" WON THE TONY FOR BEST MUSICAL.

A REALLY ENTIRELY ORIGINAL SHOW, ALTHOUGH IT HAS SOURCE MATERIAL,

BUT NOTHING PEOPLE REALLY KNEW.

IT WAS GREAT TO SEE THAT TYPE OF THING HAPPENING.

I GUESS WHAT I AM SAYING IS IT WAS A ZEITGEIST THING.

WE WERE LUCKY ENOUGH THAT THAT QUESTION WAS STILL BEING ASKED

EIGHT YEARS AFTER WE CAME UP WITH THE IDEA, BUT IF WE HAD

COME IN "SPRING AWAKENING"'S SEASON, I DON'T THINK WE WOULD

HAVE DONE AS WELL.

THAT'S JUST TIMING AND LIFE.

WHAT WAS THE OTHER PART?

>> YOUR INFLUENCES, YOUR FAVORITE SHOWS.

>> A RIGHT.

I DO LOVE ALL THE SHOWS OF THAT ERA.

I LOVE GERSHWIN'S SHOWS.

I LOVE "MUSIC MAN."

IT IS BEAUTIFUL.

IT IS ONE OF MY FAVORITE BOOK MUSICALS.

THEY HAVE NEVER HEARD OF IT IN ENGLAND, IF YOU CAN IMAGINE

THAT, NEVER HAVING HEARD OF "MUSIC MAN."

WE HAD A LINE ABOUT IT IN THE LONDON PRODUCTION AND THE

AUDIENCES NEVER REACTED TO IT.

WE HAD TO CHANGE IT TO "OLIVER."

[LAUGHTER] AND THEN THEY REACTED TO THAT.

"CABARET" IS ALSO A SHOW I ABSOLUTELY LOVE, WHICH IS

ANOTHER SHOW WITH TWO STORIES BEING TOLD AT THE SAME TIME,

BASICALLY.

>> I THINK ALSO IN TERMS OF THE ZEITGEIST ISSUE, IT TAKES

SOMEONE COMING IN FROM THE OUTSIDE, FROM A DIFFERENT

SENSIBILITY, FROM A DIFFERENT COUNTRY, TO BE ABLE TO HAVE

SOMETHING TO SAY THAT SUBJECTIVE.

IT WAS A GOOD TIME TO COME.

WE HAVE ANOTHER E-MAIL QUESTION.

>> THIS IS AN ESSAY QUESTION, THREE PARTS.

TAKE A DRINK NOW IF YOU NEED TO.

20 YEARS FROM NOW, WHAT IMPRESSION DO YOU FEEL YOU WILL

LEAVE ON THE THEATER WORLD WITH YOUR WORK?

HAVE YOU SPARKED A REVOLUTION?

WILL THE MARK YOU LEAVE BE THE ONE YOU EXPECTED TO?

>> WOW.

REVOLUTION.

>> TALK TO GABRIELLE, NOT ME.

>> AS FAR AS I KNOW, NO ONE HAS ACTUALLY ARMED THEMSELVES YET.

[LAUGHTER] >> EXCEPT THOSE PEOPLE THAT GOT

DRAGGED TO THE THEATER THAT ONE DAY.

WHY DO WE COME TO THE THEATER?

>> YES.

I DON'T KNOW.

I GUESS, OUR LONDON EXPERIENCE WAS INTERESTING BECAUSE THE SHOW

WAS CRITICALLY ACCLAIMED BUT FAILED FINANCIALLY, TO BE HONEST

WITH YOU.

THE AUDIENCES JUST DID NOT COME.

WE COULD NOT FIGURE IT OUT.

THE PEOPLE WHO DID COME LOVED THE SHOW, BUT WE JUST COULD NOT

GET THEM TO COME.

THEY DID NOT KNOW THE TITLE.

THEY DID NOT KNOW ME.

ELAINE PAIGE WAS IN THE SHOW.

FOR WHATEVER REASON, PEOPLE WERE NOT INTERESTED.

THEY WERE INTERESTED IN SUPPORTING SHOWS THAT HAD A

REALITY TELEVISION CASTING PROGRAMS, AND THAT WAS A HUGE

PROBLEM FOR US.

>> IT IS A BIG FORCE OUT THERE.

>> IT IS, AND I WISH IT WOULD DIE RIGHT AWAY.

YOU WANT A REVOLUTION?

>> WE ARE BOTH ON THAT ONE.

>> SERIOUSLY.

I CAN'T STAND IT.

BUT ANYWAY.

SO, BUT WHAT HAPPENED WAS AS A RESULT OF THE FAILURE, AND

ARTISTIC SUCCESS BUT A FINANCIAL FAILURE, IS THAT A LOT OF

ARTICLES STARTED COMING OUT IN LONDON PAPERS GOING WHAT IS

GOING ON IN THE WEST END, WHY IS THIS HAPPENING?

THERE ARE ONLY TWO ORIGINAL SHOWS.

ONE OF THEM WAS "AVENUE Q."

WHY ARE ALL OF THESE SHOWS THAT WERE PANNED BY THE CRITICS

GETTING PEOPLE INTO THE THEATER?

I HOPE THAT THE SHOW HAS GOTTEN PEOPLE ASKING THAT QUESTION.

AND CERTAINLY, ON BROADWAY, YOU CAN START FROM THE MOST HUMBLE

BEGINNINGS, A DRUNKEN LARK.

YOU CANNOT GET MORE HUMBLE THAN THAT.

AND YOU CAN GO FROM THERE TO A 10 MILLION DOLLAR PRODUCTION.

SO I HOPE THAT IF THERE IS ANY REVOLUTION IT IS THAT, BEING

TRUE TO YOUR COMIC VOICE AND REALIZING IT IS POSSIBLE TO DO

THAT.

WHAT WAS THE THIRD PART OF THE QUESTION?

I CAN'T REMEMBER.

MY FAVORITE TREE?

OH, 20 YEARS FROM NOW.

WHAT AM I GOING TO BE DOING OR WHAT IS --

>> 20 YEARS FROM NOW WHAT IMPRESSION DO YOU FEEL YOU WILL

LEAVE ON THE THEATER WORLD WITH YOUR WORK?

>> I DON'T KNOW.

I HOPE -- IT'S A VERY -- I'M JUST A GUY, RIGHT?

IT WAS VERY STRANGE BEING ALL OF A SUDDEN A BROADWAY PERFORMER.

I WAS COMPLETELY PERCEIVED IN A DIFFERENT WAY.

I WAS ALL OF A SUDDEN, OH, YOU ARE A BROADWAY PERFORMER.

REALLY?

COMING OUT OF THE THEATER, COMING HOME ONE DAY -- AND IT'S

A VERY STRANGE THING.

TO BE WALKING HOME THINKING, I AM TOO THIN.

I AM LOSING MY HAIR.

AND TO HAVE SOMEONE SHOUT, "I LOVE YOU!"

I MEAN, WHAT DO YOU DO?

>> SHOUT I LOVE YOU BACK.

I LOVE YOU, MEAN IT.

>> I MEAN, SOMEBODY SAID TO ME ONCE, WHAT ARE YOU DOING ON THE

STREET?

ARE YOU JUST GOING HOME?

I WAS LIKE, YES, I AM JUST A PERSON.

I MEAN, PEOPLE REACT TO MY PARTICULAR STYLE OF COMEDY,

WHICH IS GREAT FOR ME.

I HOPE IT IS A HUMAN STYLE.

I ALWAYS CARRY THAT FOLLOW YOUR FEAR THING ONSTAGE WITH ME.

THE NEXT PIECE I AM WORKING ON IS ALSO BASED ON MY OWN STUFF,

MY OWN CRAP.

AND LUCKILY, I HAVE AN INEXHAUSTIBLE SUPPLY.

[LAUGHTER] MAYBE THAT IS WHAT PEOPLE WILL

SAY 20 YEARS FROM NOW.

THAT WAS THE CRAP GUY.

>> AN INEXHAUSTIBLE SUPPLY.

WE HAVE A QUESTION FROM THE AUDIENCE.

>> HOW DID YOU COME UP WITH THE CHARACTER OF THE AVIATRIX?

SHE IS VERY INTERESTING.

>> WE ALWAYS FELT THAT WE WANTED A CHARACTER TO DESCEND INTO THE

SHOW AND SAVE THE DAY.

IT IS SOMETHING THAT WAS ALSO USED IN THAT ERA.

REALLY, THE SHOW IS KIND OF A ONE-MAN SHOW WITH THE MUSICAL

CRAMMED INTO IT.

IT IS REALLY ABOUT THIS GUY WHO HAS A LOT OF CRAP GOING ON.

IS VERY DYSFUNCTIONAL, AND IS NOT HAPPY, AND THE ONLY TIME HE

IS HAPPY AS WHEN HE IS ESCAPING INTO THIS ROMANTIC WORLD OF

MUSICAL THEATER.

YOU KNOW, HAVING SOMEONE TO SEND INTO YOUR WORLD AND SOLVE ALL OF

YOUR PROBLEMS IS THE ANTITHESIS OF REALITY.

SO IT SEEMS LIKE EXACTLY THE RIGHT THING TO DO.

>> I SAW IT IN NEW YORK, AND I THINK YOU ARE RIGHT.

IT WAS EXACTLY THE RIGHT THING TO DO.

>> THANK YOU.

>> IT WAS ALSO A WONDERFUL OPPORTUNITY TO SPOOF A

HELICOPTER COMING DOWN ON STAGE IN A HUGE 20'S VERSION OF THAT,

WHICH I THINK WAS AN INSPIRED CHOICE ALSO.

THE QUESTION I HAVE FOR YOU IN TERMS OF HOW THE SENSIBILITY OF

THE SHOW EVOLVED ONCE AGAIN.

THE MAN IN THE CHAIR IS AN IMPROVISATIONAL CREATION,

OBVIOUSLY.

DOES THE ENSEMBLE'S LACK OF AWARENESS OF HIM -- WAS IT A

DELIBERATE CHOICE, EXCEPT FOR A COUPLE OF SIGNAL MOMENTS, WAS IT

A DELIBERATE CHOICE FOR THE ENSEMBLE NOT TO HAVE ANY

INTERACTION WITH HIM AT ALL?

>> YES, WE THOUGHT IT WAS MORE POIGNANT FOR HIM TO BE UNABLE TO

CONTACT THAT OTHER WORLD.

I THOUGHT OF WHAT IT MUST BE LIKE FOR A PALEONTOLOGIST.

>> TO EXCAVATE.

>> TO FIND THE BONES OF THE CREATURE HE IS NEVER GOING TO

SEE.

THE OBJECT OF HIS AFFECTION IS SO FAR FROM HIS REACH HE CAN

NEVER REALLY BE THERE.

IT ALSO SAYS SOMETHING ABOUT THE AUDIENCE AND THE EXPERIENCE OF

THE SEPARATION OF THE AUDIENCE AND THE ARTIST AS WELL.

YOU CAN OBSERVE IT.

YOU CAN GET VERY CLOSE.

YOU CAN FEEL AND GET CONNECTED, BUT ULTIMATELY, IT IS SOMETHING

YOU ARE WATCHING.

>> TAKING THIS SHOW FROM A $200 BUDGET TO A $10 MILLION SHOW TO

WHAT IS NOW GOING TO BE A NATIONAL TOUR, AND I THINK FOR

ANYONE WHO HAS SEEN THE SHOW IT IS ONE OF THE HEALTHIEST THINGS

TO COME ALONG ON BROADWAY IN A LONG TIME IN TERMS OF AFFECTING

MUSICAL THEATER IN A POSITIVE WAY.

IT LOVES MUSICAL THEATER BUT DOES NOT TAKE IT SO SERIOUSLY

THAT -- I WANT TO APPLAUD YOU ON WHAT YOU HAVE ACCOMPLISHED.

IT IS A TREMENDOUS PIECE OF WORK.

I LOVED IT ALL THE WAY THROUGH.

I AM AN UNABASHED FAN WHO LOVED IT.

[APPLAUSE] >> THANK YOU.

♪ WHY DOES NOTHING I SAY TO YOU EVER GET THROUGH? ♪

>> I DEFINITELY LEARNED -- I DID NOT KNOW HOW LONG THE PROCESS

WAS GETTING FROM THE BEGINNING TO BROADWAY, HOW IT HAS BEEN

AROUND THAT LONG.

I'M LIKE, MAN, WE ALL THINK IT'S NEW, BUT IT'S A LONG PROCESS.

>> HE WAS SAYING HE WAS WALKING DOWN THE STREET AND PEOPLE WERE

YELLING I LOVE YOU, COME HAVE DINNER WITH ME.

>> NO ONE ACTUALLY INVITED ME TO DINNER.

I JUST WANT TO SAY THAT.

>> I WOULD HAVE.

>> ♪ LOVE IS ALWAYS LOVELY IN THE END ♪

>> ♪ BUT YOUR LATE HUSBAND WAS A BRUTE

>> I DON'T MEAN HIM YOU SILLY TOOT.

>> OH, MADAM.

>> OH, MADAM.

>> LOVE IS ALWAYS LOVELY IN THE END ♪

♪ ♪ >> INSIDE THE IDEA CENTER WITH

BOB MARTIN IS A PRODUCTION OF IDEASTREAM IN PARTNERSHIP WITH

PLAYHOUSE SQUARE FOUNDATION.

THE EDUCATIONAL OUTREACH OF THIS PROJECT IS SUPPORTED BY A GRANT

FROM DOMINION.