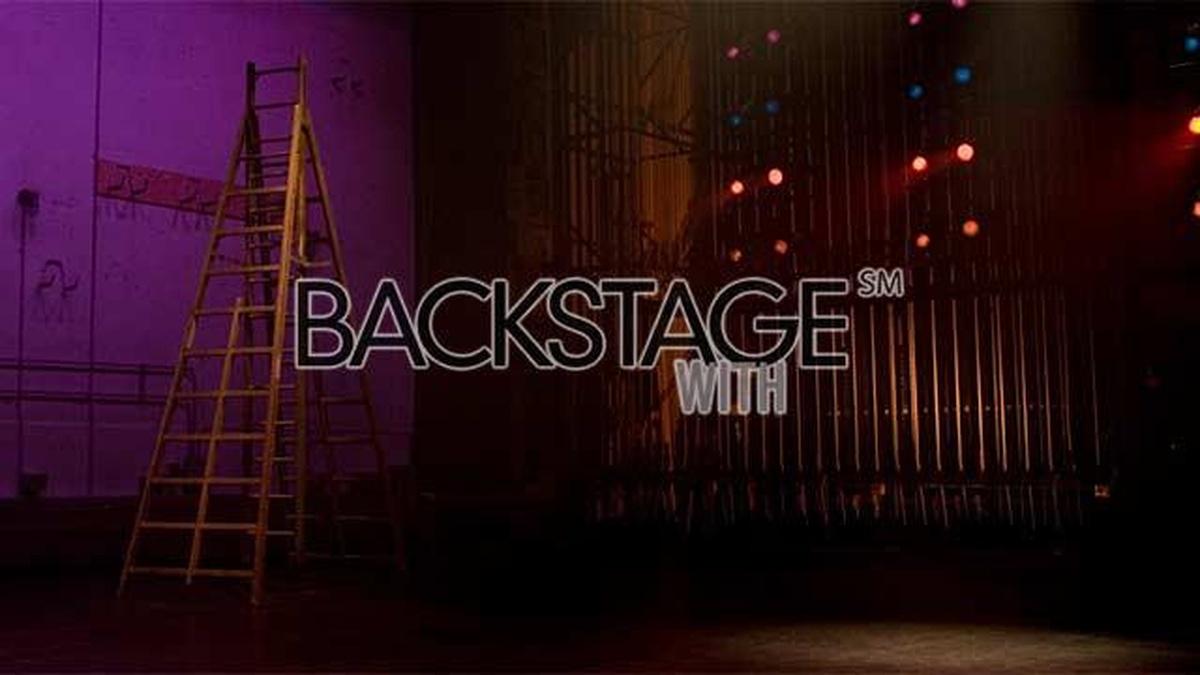 FULL EPISODE
The Dancer's Life
Newsweek magazine called Chita Rivera "the greatest musical dancer ever." She set the benchmark for such notable Broadway roles as the Spider Woman in Kiss of the Spider Woman, Anita in West Side Story and Velma Kelly in Chicago. Throughout her 50 year career, Chita has been referred to by critics as "a force of nature" and a "true Broadway star."
TRANSCRIPT

>> INSIDE THE IDEA CENTER, WITH CHITA RIVERA.

THIS IS A PRODUCTION OF IDEASTREAM, IN PARTNERSHIP WITH

PLAYHOUSE SQUARE FOUNDATION.

THE EDUCATIONAL OUTREACH OF THIS PROJECT IS SUPPORTED BY A GRANT

FROM DOMINION.

>> HELLO, I'M DEE FERRY.

FEW PERFORMERS HAVE ACHIEVED THE STATUS OF LEGEND, BUT THAT IS

THE WORD MOST OFTEN USED TO DESCRIBE CHITA RIVERA.

SHE IS BROADWAY'S MOST ACCOMPLISHED AND VERSATILE

DANCER, ACTRESS, AND SINGER.

SHE HAS RECEIVED THE KENNEDY CENTER HONOR AND WON TWO TONY

AWARDS.

CHITA IS TRAVELING THE COUNTRY PERFORMING IN "THE DANCER'S LIFE

," A RETROSPECTIVE OF HER CAREER.

WHILE SHE IS IN TOWN, WE WELCOMED HER TO THE IDEA CENTER,

TO EXPLORE THAT CAREER, TO HEAR BACKSTAGE BROADWAY STORIES, AND

TO FIND OUT THE STUFF THAT MAKES A LEGEND.

STUDENTS, BOTH IN THE AUDIENCE AND CONNECTED TO THE EVENT USING

DISTANCE-LEARNING TECHNOLOGY, JOINED IN THE CONVERSATION,

WHICH WAS LED BY JOE KERRY, WHO SPENT MORE THAN THREE DECADES

DIRECTING THEATRICAL PRODUCTIONS AND STAGING CONCERTS AROUND THE

COUNTRY.

THE EVENT GOT STARTED WITH A SHORT MONTAGE.

CLIPS OF CHITA DOING WHAT MADE HER LEGENDARY.

♪ ♪ [APPLAUSE]

>> LADIES AND GENTLEMEN, MS.

CHITA RIVERA.

[APPLAUSE] >> CHITA, YOU HAVE SPENT YOUR

LIFE GIVING US INCREDIBLE DANCE.

WHAT HAS STANDS GIVEN YEAR?

>> -- GIVEN YOU?

>> YOU ARE GOING TO MAKE ME CRY AND WE JUST STARTED.

DANCE IS A SPIRITUAL THING FOR ME.

THE WORLD SHOULD DANCE, YOU KNOW , AND THE WORLD DOES STANDS --

DOES DAMS WHEN IT IS HAPPY.

IT IS THE SPIRIT.

-- DOES DANCE WHEN IT IS HAPPY.

IT IS THE SPIRIT.

IT IS THE SPIRIT OF COMMUNICATION AND ACTING

ABILITY.

DANCE IS ACTING WITHOUT WORDS.

IT IS TOTAL COMMUNICATION.

YOU CAN -- NOTHING HAS TO BE TRANSLATED.

IT IS JUST THERE THROUGH THE BODY.

YOU ALMOST FEEL AS THOUGH YOU ARE LEVITATED, YOU'RE LEVITATING

OFF THE FLOOR, BECAUSE WHEN YOU CONNECT YOUR SPOUSE -- CONNECT

YOURSELF WITH THE SPACE YOU ARE IN, IT IS A BEAUTIFUL, BEAUTIFUL

FEELING.

>> AND THE PEOPLE YOU ARE WITH --

>> OH, MY GOODNESS.

THE COMMUNICATION BETWEEN, AND THE ENTER KEY -- THE ENERGY

BETWEEN GROUPS OF DANCERS.

I HAVE ALWAYS SAID THE CHORUS IS THE BEST PLACE BECAUSE YOU'VE

GOT SEVEN OTHER PEOPLE WITH YOU, OR WHATEVER, AND YOU JUST -- TO

MAKE SEVEN PEOPLE ONE WITH ALL OF THIS ENERGY IS AN EXCITING

THING.

MY DANCERS ALWAYS SAY TO ME CHITA, MOVE DOWN.

MOVE DOWN.

BECAUSE I ALWAYS WANT TO DANCE WITH THEM, NOT IN FRONT OF THEM.

>> THIS INSTINCT TO DANCE IS REALLY ANCIENT.

IT IS PROBABLY THE MOTHER OF DANCE.

THIS NOTION OF COMMUNICATING BEFORE WE HAVE LANGUAGE.

ONE OF THE THINGS, YOUNG ARTISTS ARE TRAINED TECHNICALLY --

>> YES.

>> -- BUT WHO TRAINS THEM TO COMMUNICATE WITH THAT INNER

BEING, THAT SPARK -- >> THAT'S RIGHT.

ABSOLUTELY.

>> CAN YOU TALK ABOUT THAT?

>> I HAD GREAT TRAINING.

I HAD A WONDERFUL TEACHER IN D.C., DORIS JONES, WHO HAS

PASSED AWAY NOW, AND SHE WAS BRILLIANT WITH TECHNIQUE.

BUT THEN SHE SAID, YOU KNOW, YOU ARE VERY DIFFERENT, CHITA.

WE ALL ARE VERY DIFFERENT AND HAVE SOMETHING SPECIAL TO GIVE.

I WANT YOU TO THINK ABOUT THAT AS YOU MOVE.

I WANT YOU TO PUT YOUR FEELING IN IT, AND FROM A VERY YOUNG AGE

THAT WAS PUT IN MY MIND.

THEN, WHEN I CAME TO NEW YORK, THE TRAINING AT THE NEW YORK

CITY BALLET, THE TECHNIQUE WAS REALLY THE THING.

I HAVE ALWAYS BEEN A BIT OF A CLOWN.

I LOVE TO LAUGH AND I LOVE TO MAKE PEOPLE LAUGH.

I WOULD GET INTO A LITTLE BIT OF TROUBLE BECAUSE --

[LAUGHTER] MY PERSONALITY WAS NOT ONE OF

THE BALLET.

A LITTLE BIT OF HIP MOVEMENT OR WHATEVER.

I LEARNED THAT BEING ME AND EXPRESSING MYSELF THROUGH THIS

FORM WAS MY GROWTH, WAS ME CONNECTING WITH MY SOUL.

>> THE ARTIST HAS TO CONNECT, IS GIVEN TECHNIQUE, IS GIVEN

EXPERIENCE -- >> ABSOLUTELY.

>> YOU LEARNED IN FRONT OF AN AUDIENCE.

>> YES.

>> YOUR WHOLE TECHNIQUE, YOU LITERALLY LEARNED IN FRONT OF

BROADWAY AUDIENCES, TO SING, TO DANCE, TO ACT.

YOU ARE A CONSUMMATE SINGER, DANCER, AND ACTOR TO TOP IT ALL

OFF.

BUT THAT COMES FROM THIS HEAP, INTERCONNECTION.

HOW DOES THAT -- YOU -- THIS DEEP INTERCONNECTION.

HOW DOES THAT -- YOU WERE JUST IN A LORCA PLAY.

WE FORGET YOU THIS BRILLIANT ACTOR.

-- YOU ARE THIS BRILLIANT ACTOR.

THERE IS THIS OTHER PART OF YOUR CAREER, ALSO.

I MEAN, I SAW YOUR MARILYN MONROE IMPERSONATION --

>> NO, YOU DIDN'T.

>> -- IN A BEEN BRADLEY -- BEN BRADLEY REVIEW.

>> OH, MY GOODNESS.

>> SO, THERE ARE ALL SIDES TO THIS WOMAN.

BUT TO GO BACK TO THIS CONNECTING WITH SELF.

DID THIS COME FROM YOUR FAMILY?

WHERE DID YOU FIND THIS SENSE OF SELF THAT YOU COULD PROJECT SO

BRILLIANTLY FOR 50 YEARS?

>> I DON'T KNOW.

I MEAN MY MOTHER -- MY FATHER PASSED WHEN WE WERE VERY YOUNG,

AND MY MOTHER -- MY WHOLE FAMILY, WE ENJOYED EACH OTHER.

WE WERE LOUD.

THERE WAS ALWAYS MUSIC IN THE HOUSE.

AND I WAS ALLOWED TO BE A TOMBOY, YOU KNOW.

I WASN'T ALLOWED TO BREAK THE TABLE, BUT, YOU KNOW, AND

DISRUPT THE FURNITURE AND EVERYTHING.

>> WHICH YOU DID BY DANCING ON THE TABLE.

>> EXACTLY.

I MEAN, MY MOTHER PUT ME IN SCHOOL BECAUSE I BROKE THE

FURNITURE JUMPING FROM THE COUCH TO THE TABLE.

>> YOU THINK ABOUT THAT MOMENT.

YOU HAD LOST YOUR FATHER.

YOUR MOTHER HAD FIVE CHILDREN.

TO SEND SOMEONE TO DANCING SCHOOL WAS A GREAT EXPENSE.

>> YES, BUT FORTUNATELY, I WENT INTO THE SCHOOL -- AND ALL

CREDIT TO MY MOM.

MY TEACHER IMMEDIATELY SAW SOMETHING.

SO SHE NURTURED THAT.

>> WHAT WAS IT?

>> I GUESS IT WAS ME.

YOU KNOW WHAT I MEAN?

[LAUGHTER] >> SURE.

>> IT WAS ME, AND YOU SPEND YOUR ENTIRE LIFE TRYING TO FIND OUT

WHO THAT MEAT IS.

AND THAT IS THE BEAUTY OF THE -- WHO THAT "ME" IS.

AND THAT IS THE BEAUTY OF THE THEATER.

>> WHEN YOU SEE "THE DANCER'S LIFE," PROBABLY YOUR SOUL IS THE

DANCER, CLEARLY.

>> ABSOLUTELY.

>> I MEAN, YOU LEARNED TO EXPRESS YOURSELF THROUGH DANCE.

>> THERE IS NO DOUBT ABOUT IT BECAUSE IT'S UNIVERSAL.

>> BUT YOU SING IN THE SAME WAY, WITH THE SAME ENERGY, THE SAME

DANGER.

>> TRUTH IS THE MOST -- I DON'T KNOW.

BECAUSE OF THE TOMBOY, BECAUSE OF WHATEVER THE GENES ARE, I

HAVE LOVED THE CHALLENGE.

I LOVE, IF A DOOR OPENS, LOOKING AND SEEING IF IT FEELS GOOD TO

GO INTO THAT SPACE.

AND THEN YOU GO.

WE TEASE EACH OTHER SAYING -- A GIRLFRIEND OF MINE AND MYSELF --

WE NEVER STICK OUR TOE IN TO SEE IF THE WATER IS TOO COLD OR TOO

HOT.

IT LOOKS GOOD.

LET'S GO.

>> YOU HAVE BEEN CALLED A FORCE OF NATURE, AND THAT IS CLEARLY

WHAT YOU ARE.

YOUR ENERGY, YOUR ABILITY TO SHARE AND TO OPEN.

LET'S TAKE A MOMENT AND LOOK AT A BRILLIANT MOMENT THAT YOU

RE-CREATE IN "THE DANCER'S LIFE CHIRICO -- THE DANCER'S LIFE."

IT IS OF COURSE A SEMINAL WORK IN AMERICA.

LET'S TAKE A MOMENT TO LOOK AT THAT BRILLIANT CLIP.

CLICK SEVERAL YEARS OLD.

>> YES.

-- >> SEVERAL YEARS OLD.

>> YES.

[LAUGHTER] 50 YEAR ANNIVERSARY, I MIGHT

ADD.

LET'S TAKE A LOOK.

♪ [WEST SIDE STORY] ♪ [I WANT TO BE IN AMERICA,

INSTRUMENTAL] [APPLAUSE]

>> I HATE WATCHING MYSELF!

>> BABY, YOU DIDN'T LEARN THAT ON YOUR DINING ROOM TABLE, I CAN

TELL YOU THAT.

>> I JUST HATE WATCHING MYSELF.

>> WELL, WE LOVE WATCHING YOU.

>> OH GOD, THANK YOU.

SOMETHING AFTER THE FACT DOES NOT, FOR ME, FEEL THE SAME,

BECAUSE WHEN I AM DOING IT, IT IS THE MOMENT.

IT'S SO REAL.

THAT LIVING MOMENT.

THAT'S WHY I LOVE LIVE THEATER.

>> SHE TAKES THE MOMENT.

IT'S THAT ABILITY TO SEIZE THE MOMENT AND MAKE IT INDELIBLE.

YOU REALIZE THAT THAT NUMBER HAPPENED 50 YEARS AGO.

WHEN THAT NUMBER WAS CREATED -- I FEEL LIKE A CAD SAYING THAT,

LOOKING AT THIS BEAUTIFUL WOMAN.

PURE GOLD, DEAR, PURE GOLD.

BUT YOU WERE IN A ROOM THAT WAS SORT OF LIKE MOUNT RUSHMORE IN

THE CREATION OF "WEST SIDE STORY."

LIST THE ARTISTS IS -- ARTISTS, THE GENIUSES THAT WERE IN THE

ROOM.

>> JEROME ROBBINS, LEONARD BERNSTEIN, ARTHUR LAWRENCE,

STEPHEN SONDHEIM, AND THAT IS A ROOM.

>> ABSOLUTELY.

THAT IS MOUNT RUSHMORE.

>> AND, YOU KNOW, WE DIDN'T KNOW, ACTUALLY, AT THE TIME.

YOU DON'T WHEN YOU ARE IN THE INNARDS OF SOMETHING, YOU DON'T

STAND OUTSIDE AND LOOK AT YOURSELF.

MANY PEOPLE HAVE SAID, DID YOU KNOW THE SHOW IS GOING TO BE --

NO.

WE WERE CREATING IT FROM THE INSIDE.

I CAN TELL YOU HOW IT FELT TO BE THE HEART.

I CAN TELL YOU HOW IT FELT TO BE THE LIVER AND THE KIDNEY AND

WHATEVER.

WHEN WE FINALLY GOT TO D.C. AND THE AUDIENCE RESPONDED, WE DID

NOT KNOW WHAT TO DO.

AMERICA STOPPED DEAD AND WE WERE BUMPING INTO EACH OTHER WHEN WE

GOT OFF.

AND I LOOKED AT JERRY AND SAID, "WHAT DO WE DO?

WHAT DO WE DO?

"

>> AND HE LOOKED AT ME AND SAID GO GET READY FOR THE NEXT SCENE.

>> GET READY FOR THE NEXT NUMBER.

THE MAGIC OF THE -- >> THAT'S WHY YOU CAN'T LET THE

MOMENT GO.

>> NO, BUT IT'S THE ABILITY TO EXPOSE YOURSELF TO THAT, TO OPEN

YOURSELF ENOUGH TO TRUST YOURSELF WITH THAT.

I MEAN, OBVIOUSLY THERE WAS ABILITY AND TECHNIQUE.

YOU HAVE HAD BALLET TRAINING, CLASSICAL TRAINING, MODERN DANCE

TRAINING, BUT THE FINAL ANALYSIS IS YOU ARE THERE AND YOU HAVE TO

COMMUNICATE THAT TO AN AUDIENCE.

WE HAVE ALL SEEN DANCERS WHO LOOK LIKE THEY ARE DANCING IN

FRONT OF A MIRROR OR SINGERS WHO ARE SINGING PRETTY NOTES.

>> YES.

>> HOW DO YOU DEAL WITH THAT?

WHAT DO YOU DO TO MAKE IT COME ALIVE.

>> WELL, YOU HAVE THE SCRIPT, YOU HAVE THE LYRICS, YOU HAVE

YOUR COSTARS OR THE ACTOR YOU ARE WORKING WITH.

IF YOU ARE AS FORTUNATE AS I HAVE BEEN THROUGH THE YEARS TO

HAVE DONE SO MANY WONDERFUL SHOWS -- ALL YOU HAVE TO DO, I

ALWAYS SAID, JUST SING THE WORDS.

SING THEM.

SAY THE WORDS.

SAY THE LIBRETTO.

TRUST THAT.

TRUST THE DIRECTOR.

YOU ARE ALL IN THIS TOGETHER, AND YOU ARE ALL DOING IT IN

REHEARSAL.

YOU ARE EXPLORING IT.

YOU MAKE THE MISTAKES.

YOU TRIAL THE DIFFERENT WAYS.

BUT YOU HAVE TO -- YOU HAVE TO FEEL IT FROM YOUR STANDPOINT AND

SAY THE WORDS AS THEY ARE WRITTEN, AS THEY ARE WRITTEN,

BECAUSE YOU LEARN ALL THE TIME FROM THESE GENIUSES THAT YOU

HAVE BEEN FORTUNATE ENOUGH TO WORK WITH.

I MEAN, I DON'T KNOW WHAT IT'S ALL ABOUT.

THEY ARE TEACHERS.

AND I AM STILL LEARNING.

WHEN I DID "NINE" WITH DAVID LEBEAU, DAVID IS A VERY

DIFFERENT DIRECTOR.

HE IS ENGLISH.

HE HAD SO MANY WONDERFUL THINGS THAT GAVE ME KERR EDGE I WAS

PLAYING THIS FRENCHWOMAN -- CURRENT -- COURAGE WHEN I WAS

PLAYING THIS FRENCHWOMAN.

I HAD TO COME OUT AND TALK TO THE AUDIENCE AND I SAID, YOU

KNOW, I DON'T REALLY LIKE THAT.

I LIKE TO HIDE BEHIND THE CHARACTER.

AND DAVID GAVE ME DIRECTION TO DO IT IN A CERTAIN WAY, AND I

HAD THE COURAGE TO DO IT.

TRUST IS VITAL.

>> ABSOLUTELY, AND IN THE ARTISTS.

>> IN YOUR LIFE.

>> ABSOLUTELY.

LET'S TAKE A MOMENT AND LOOK AT SOME OF THE GREAT CHOREOGRAPHERS

YOU HAVE WORKED WITH.

OF COURSE, YOUR SHOW, "THE DANCER'S LIFE," IS A LOVE LETTER

TO DANCE, AND A LOVE LETTER TO DANCERS, CHORUS PEOPLE, GYPSIES,

AND STARS.

IN THIS CASE, LET'S LOOK AT THE BRILLIANCE OF THE CHOREOGRAPHER

AND SEE WHAT THEY HAVE GIVEN YOU.

IF WE COULD ROLL THE SEQUENCE, "THE CHOREOGRAPHERS."

>> NOBODY'S FEET WERE FASTER THAN PETER GENARO'S, EXCEPT

MAYBE MINE WHEN I DANCED WITH HIM.

PEOPLE SAID WE HAD TWO OF THE GREATEST BUNS IN SHOW BUSINESS.

HE LEARNED HOW TO DANCE FROM THE BLACK HELP IN HIS FAMILY'S

RESTAURANT IN NEW ORLEANS.

HIS FAVORITE EXPRESSION WAS " YOU'VE GOT THE GIG IF YOU CAN J

IG."

MAN, THAT GIRL CAN JIG.

THAT WAS HIS HIGHEST COMPLEMENT.

PETER DID NOT USE COUNTS.

COUNTS ARE SACRED TO MOST DANCERS, YOU KNOW, LIKE A CHORUS

LINE, 5, 6, 7, 8.

WELL, HE DIDN'T DO THAT.

NEITHER DID I.

BUT IN THE SHOW, I LIKE TO DO THIS.

♪ ♪ BOB FOSSE, WHO ELSE?

A MINIMALIST.

LESS IS MORE, FOSSE.

I GO -- AND HE'D SAY, "LES, CHEETAH -- CHITA."

LESS, LESS, THAT'S IT.

KEEP IT.

IT'S A WRAP.

WHAT?

[APPLAUSE] >> I THINK GODZILLA DANIELLE DID

A WONDERFUL JOB -- GRACIELA DANIELE DID A WONDERFUL JOB.

YOU CAN DO AS MUCH AS YOU WOULD REALLY LIKE TO DO, SO SHE

PICKED.

WE CHOSE THE CHOREOGRAPHERS, KNOWING THE YOUNG KIDS DON'T

KNOW JACK CALLS.

SO WE HAD TO HAVE JACK.

WE PICKED THEM AND SHOWS BITS AND PIECES FROM THE DIFFERENT

STYLES.

>> ONE OF THE THINGS THAT IS BRILLIANT ABOUT THESE PIECES YOU

ARE DOING, ASIDE FROM THE FACT THAT IT IS GREAT TO GO BACK AND

REMEMBER ALL OF THESE GLORIOUS MOMENTS ON BROADWAY, IN THE

MUSICAL THEATER, YOU CAN HAVE RECORDINGS, YOU CAN TAKE OUT THE

RECORDINGS AND READ THE TEXT, BUT THE DANCE IS LOST.

IT IS THE MOST FRAGILE, THE MOST EPHEMERAL OF ALL THE ART FORMS.

IT'S SUCH A FANTASY TO THINK ABOUT HAVING A SCHOOL WHERE THE

STANCES WOULD BE PERPETUATED, A LIVING DANCE MUSEUM FOR THE

MUSICAL THEATER, WHERE YOU WOULD BE THE DEAN, OF COURSE.

YOU HAVE GONE BACK IN YOUR LIFE TO WHAT WORK HE MOMENTS IN

DANCE.

FOR EXAMPLE, ANITA -- WHAT WERE KEY MOMENTS IN DANCE.

FOR EXAMPLE, ANITA.

YOU WENT BACK WITH THE REVIVAL AND WORKED TO RE-CREATE THOSE

ROLES.

YOU SAT IN A FRONT ROW AND WATCHED YOUR DAUGHTER PLAY

ANITA.

>> YES.

>> TALK ABOUT THE EXPERIENCE OF RECONNECTING WITH THOSE SEMINAL

DANCE MOMENTS IN YOUR LIFE.

>> WELL, WHEN JERRY ASKED ME TO COME IN AND SHOW DEBBIE ALLEN

SOME OF THE LITTLE SECRETS THAT YOU HAVE IN DOING SOMETHING FOR

A LONG TIME, THE SECRETS YOU FIND OUT, AND THAT ONLY TAKES

TIME, AND SO I TOLD HER ONE OF THE MOST IMPORTANT THINGS WAS

CONNECTING ALL OF THE MOVEMENT, BUT, IF THE CAMERA WERE TO SNAP

YOU AT ANY TIME, IT SHOULD BE A PICTURE.

EACH POSITION SHOULD BE A PICTURE THAT IS BEAUTIFUL, IF

YOU CAN MAKE IT.

EVEN THE PLEA A -- PLIE, EVEN IN THE MIDDLE OF SOMETHING.

I SAID, WHATEVER YOU DO, DEBBIE, DON'T THINK THAT THE HIGH KICK

IS THE THING, BECAUSE THAT IS AN AFFECTATION, PRACTICALLY.

ONE THING LEADS YOU INTO SOMETHING ELSE.

THE KICK HAS TO BE SNAPPED SO THAT IT IS SHARP, IT'S TO THE

POINT, AND YOU ARE OFF TO THE NEXT THING.

IT'S ALL ABOUT ENERGY.

IT'S ALL ABOUT THE EXTENSION.

AND SHE CAN KICK LIKE THAT, YOU KNOW.

AND EVERY TIME SHE WOULD DO A KICK, SHE WOULD GO WRONG, NO,

NO, DEBBIE.

WE KNOW THAT YOU CAN DO THAT.

WHEN SHE FINALLY DID IT, THE SKIRT FLEW IN THE RIGHT

DIRECTION, THE HEAD WAS IN THE RIGHT AND GO, AND SHE WAS

WONDERFUL.

ABSOLUTELY.

AND THEN I SAW MY DAUGHTER LISA.

I CAN'T REMEMBER HOW -- LISA MUST'VE BEEN 18 AT THE TIME.

I THINK IT WAS OUT IN FLORIDA.

>> IT WAS THE BURT REYNOLDS THEATER IN FLORIDA.

>> THAT'S RIGHT.

THAT'S RIGHT.

IT WAS SO STRANGE, BECAUSE SHE WAS IN MY TUMMY FOR FIVE MONTHS

OF THE SHOW, WESTSIDE.

EVERYBODY WAS VERY NERVOUS ABOUT IT, YOU KNOW, THEY WERE HANDLING

ME AND GOING LIKE THIS, AND I SAID NO, JUST THROW ME UP.

THE DOCTOR COMES TO THE SHOW AND SAYS GET OUT, NOW.

GET OUT.

IT'S SITTING IN THAT PRODUCTION WITH LISA, WONDERFUL.

THOSE ARE THE MOMENTS YOU DON'T WANT TO GET BY.

AND THEN WHEN I SAW HER DO IT, AND I KNEW THAT SHE HAD THE

TECHNIQUE AND THE FIRE FOR IT, I WAS REALLY VERY, VERY PLEASED.

WHEN YOU SEE SOMEONE YOU LOVE SO EXPOSED, YOU ARE VERY NERVOUS

ABOUT IT, AND YOU KIND OF WANT TO WATCH IT LIKE THIS, YOU KNOW.

YOU JUST WANT TO BE IN YOUR OWN PLACE.

WHEN I SAW HER DO IT, I WENT -- ABSOLUTELY.

IT JUST WAS A WONDERFUL FEELING.

>> WELL, THE GENEROSITY OF SPIRIT. GREAT ARTISTS HAVE TO

PASS ON WHAT THEY HAVE LEARNED.

I FEEL LIKE, IN A WAY, THE SHOW YOU HAVE CREATED, "THE DANCER'S

LIFE," IS A MASTER CLASS.

IT GIVES US AN EXAMPLE TO SEE THE THINGS WE HAVE LOST.

TAKE, FOR EXAMPLE, "CHICAGO."

NOW, YOUNG PEOPLE IN THE AUDIENCE HAVE SEEN THE MOVIE,

BUT LET ME TELL YOU, THAT IS A PALE IMITATION OF GWEN BURTON.

TO SEE CHITA RIVERA -- GWEN VERDON.

TO SEE CHITA RIVERA ON STAGE DOING THAT SHOW, THAT'S

ELECTRICITY, AND THAT'S WHAT THEATER IS ABOUT.

FOR A MOMENT, LET'S JUST TAKE ONE CLIP AND LOOK AT THAT MOMENT

FROM "ALL THAT JAZZ."

>> OH, DO WE HAVE IT?

>> WE DO.

>> ♪ OH, YOU'VE GOT TO SEE IT TILL THE SHIMMY SHAKES, AND ALL

THAT JAZZ.

OH, SHE'S GOT TO SHIMMY TILL HER GARTERS BREAK, AND ALL THAT

JAZZ.

SHOW HER WHERE TO PARK HER GIRDLE, OH, HER MOTHER'S BLOOD

WOULD CURDLE, IF SHE HEARS HER BABIES QUEER FOR ALL THAT JAZZ

♪ [APPLAUSE]

>> TALK ABOUT THE RELATIONSHIP YOU HAD WITH GWEN VERDON.

IT WAS ELECTRIC.

IT WAS SO MAGICAL.

I REMEMBER IT.

>> WELL, I WAS IN THE CHORUS OF "CANCAN."

AND THERE I WAS, EVERY NIGHT.

I LIVED IN THE WINGS.

THAT'S HOW I LEARNED SO MUCH.

I WATCHED EVERY MOMENT OF "CANCAN" WHEN I WAS NOT FLIPPING

AND SPLITTING AND ALL THAT.

AND SHE WAS PERFECT, ABSOLUTELY PERFECT, HER TECHNIQUE, HER

PASSION, HER FEELING FOR THE AUDIENCE.

I FELL MADLY IN LOVE WITH THAT.

THEN I WAS IN CALIFORNIA, AND I GET THIS CALL FROM BOBBY SAYING

WE WOULD LIKE YOU TO JOIN HER ONSTAGE IN "CHICAGO."

I DID NOT EVEN TAKE A PLANE, I WAS THERE.

WE CAME BACK TO NEW YORK, AND I REMEMBER SO CLEARLY STANDING

BEHIND HER IN THAT FABULOUS DRUM THAT WE HAD, THAT FABULOUS...