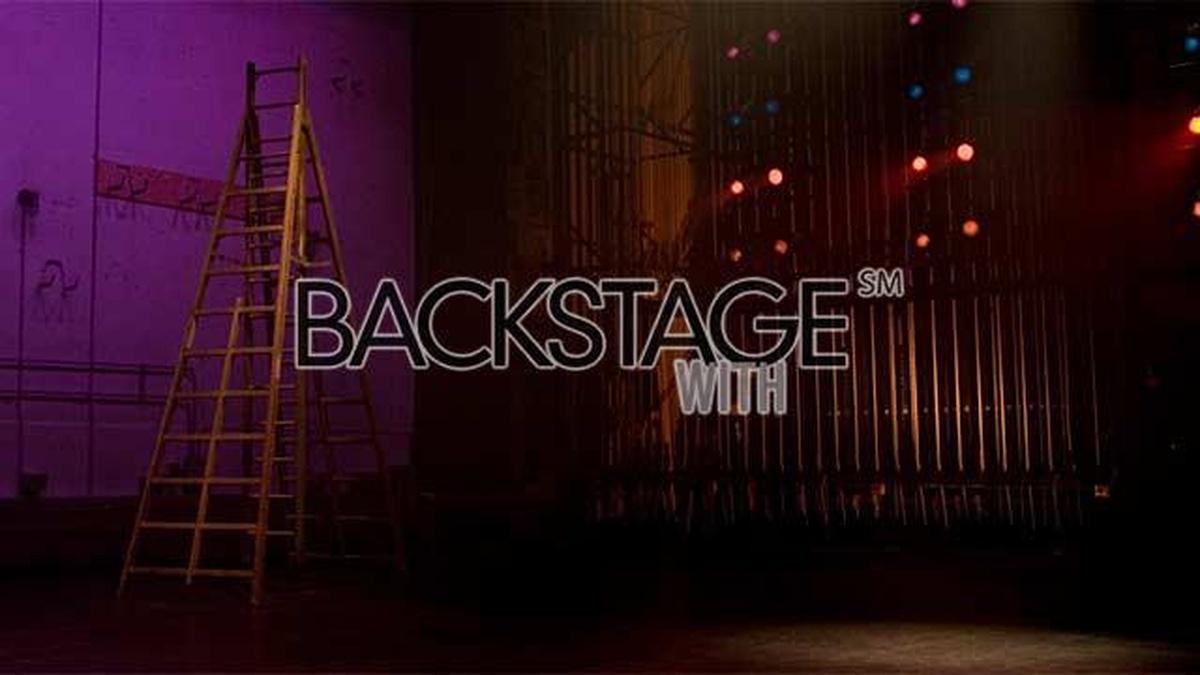 FULL EPISODE
The Color Purple
Pulitzer Prize winners Alice Walker and Marsha Norman on their influences and the colorful work that is a novel, film and Broadway musical.
TRANSCRIPT

>> "BACKSTAGE WITH... THE COLOR PURPLE" IS GENEROUSLY FUNDED BY

CUYAHOGA COUNTY RESIDENTS THROUGH CUYAHOGA ARTS AND

CULTURE.

THE EDUCATIONAL OUTREACH OF THIS PROJECT IS SUPPORTED BY A GRANT

FROM DOMINION.

>> IT WAS PAINFUL TO REALIZE THAT THERE WERE PEOPLE WHO WERE

AFRAID OF THE STORY.

>> AND WE WERE ABLE TO PUT IN THIS MOMENT THAT REALLY BRINGS

THE HOUSE DOWN EVERY NIGHT.

>> I AM TOTALLY CURIOUS ABOUT ABSOLUTELY EVERYTHING.

>> THERE IS NO REASON WHY YOU HAVE TO WRITE SCENES IN ORDER.

>> THERE IS AN OLD THEATER ADAGE THAT GOES "IF IT AIN'T ON THE

PAGE, IT AIN'T ON THE STAGE."

LONG BEFORE A SHOW MAKES IT TO THE BROADWAY BOARDS, SOMEBODY

HAS TO PUT PENCIL TO PAPER AND WRITE A GREAT STORY.

HELLO.

I AM SCOTT SIMON.

WELCOME TO "BACKSTAGE WITH...

THE COLOR PURPLE."

THIS GREAT STORY STARTED IN 1982.

IT WAS A BEST-SELLING NOVEL BY WRITER ALICE WALKER.

THREE YEARS LATER, STEVEN SPIELBERG AND QUINCY JONES

BROUGHT IT TO THE SILVER SCREEN.

THEN, AWARD-WINNING PLAYWRIGHT MARSHA NORMAN ADAPTED FOR THE

STAGE.

IT OPENED ON BROADWAY IN 2005.

>> "THE COLOR PURPLE" TELLS THE EPIC STORY OF CELIE AS SHE

STRUGGLES TO CREATE A LIFE FOR HERSELF IN RURAL GEORGIA IN THE

EARLY 1900S.

SEPARATED FROM HER BELOVED SISTER AT AN EARLY AGE, CELIE

OVERCOMES ONE HEARTBREAKING LOSS AFTER ANOTHER, THANKS, IN PART,

TO A GROUP OF STRONG, DEDICATED WOMEN.

>> ♪ WHO DAT SAY, WHO DAT SAY WHO DAT?

WHO DAT SAY, WHO DAT SAY WHO DAT?

WHO DAT SAY, WHAT YOU SAY IN MISS CELIE'S PANTS

WHO DAT SAY, WHO DAT SAY WHO DAT? ♪

>> ♪ LOOKIT HERE, GET OUT MY WAY SOFIA'S BACK AND I'M HERE TO

STAY ♪ >> ♪ IN MISS CELIE'S PANTS ♪

>> WITH MUSIC THAT LIFTS YOUR SPIRITS AND A STORY THAT BREAKS

YOUR HEART, WE FOLLOW CELIE AS SHE BLOSSOMS FROM A SHY, ABUSED

LITTLE GIRL INTO A PROUD, CONFIDENT WOMAN.

BY TAKING HER STORY TO THE STAGE, IT ALLOWS THE WORDS OF

ALICE WALKER TO SING.

>> ♪ I'M GONNA SING OUT SING OUT ♪

>> CALLED SOARING AND JOYFUL BY "TIME MAGAZINE," "THE COLOR

PURPLE" PRESENTS SONGS WRITTEN FROM THE HEART THAT REMIND US

WHY WE CAN NEVER LOSE FAITH IN THE FORCE OF ANOTHER'S LOVE.

MAJOR MOTION PICTURE TO BROADWAY MUSICAL PROVIDES A UNIQUE

PERSPECTIVE ON WHAT HAPPENS BACKSTAGE, BEHIND THE PROVERBIAL

CURTAIN, LONG BEFORE OPENING NIGHT.

TWO PEOPLE KNOW THAT JOURNEY BETTER THAN ANYONE ELSE -- THE

WOMAN WHO WROTE "THE COLOR PURPLE," ALICE WALKER AND THE

WOMAN WHO ADAPTED IT FOR THE STAGE, MARSHA NORMAN.

[APPLAUSE] >> WE THANK YOU FOR COMING.

YOU ARE OUR EXCUSE FOR TALKING WITH EACH OTHER.

WE HAVE BEEN LOOKING FORWARD TO THIS FOR A LONG TIME.

THE CHANCE TO SIT, THE TWO OF US, AND TALK.

I HAD THE GREAT PRIVILEGE OF BEING ABLE TO ASK THE FIRST

QUESTION OF ALICE AND THEN WE WILL ROLL FROM THERE.

ONE OF THE THINGS THAT I ALWAYS WANTED TO KNOW WAS ABOUT PURPLE.

IT SAYS "THE COLOR PURPLE," WE ALL SING "THE COLOR PURPLE," BUT

PURPLE, AS OPPOSED TO BLUE AND GREEN AND PINK AND READ -- WHAT

IS PURPLE?

>> INTERESTINGLY, I JUST REALIZED THAT MY BIRTHSTONE IS

THE AMETHYST.

I HAVE BEEN LOOKING AT PURPLE SINCE I LEARNED I WAS AN

AQUARIAN.

I USED TO, WHEN I WAS WRITING THE NOVEL, WALK IN THE WOODS A

LOT, AND GO SWIMMING IN THE RIVER.

I WAS AMAZED TO FIND THAT EVEN THOUGH WE THINK THAT YELLOW IS

MORE PREVALENT IN NATURE, WHITE IS MORE PREVALENT IN NATURE,

ACTUALLY, PURPLE IS JUST AS PREVALENT.

IT IS JUST THAT WE DO NOT SEE IT.

IT IS LIKE THE PEOPLE IN THIS BOOK.

THEY ARE VERY PREVALENT, IT IS JUST THAT YOU DO NOT SEE THEM.

AND ALL OF THE ISSUES ARE VERY PREVALENT, IT IS JUST THAT YOU

DO NOT SEE THEM.

THAT IS WHY.

>> THE QUESTION THAT I AM ASKED SO OFTEN -- THEY MEAN THIS

QUESTION FOR YOU, BUT BECAUSE I AM IN NEW YORK, THEY ASK ME, SO

YOU'LL TELL ME AND I WILL TELL THEM -- WHAT IS IT, EXACTLY,

THAT ALLOWS CELIE TO SURVIVE THIS STORY, TO GET THROUGH TO

THIS END OF THIS PIECE?

WHAT DOES SHE NEED?

I HAVE SAID TO PEOPLE -- WHAT I REALLY DID IN MAKING "THE COLOR

PURPLE" INTO ITS MUSICAL FORM WAS JUST SHIFT EVERYTHING SO

CELIE IS RIGHT AT THE FRONT OF THE STORY ALL THE TIME.

I WOULD LOVE TO HEAR YOUR ANSWER TO WHAT IS IT THAT GETS HER

THROUGH.

>> SHE KNOWS SHE HAS BEEN LOVED, SO SHE KNOWS WHAT LOVE IS.

ONCE YOU KNOW WHAT LOVE IS, YOU KNOW THAT YOU CAN HAVE IT, WHAT

IS TO STOP YOU?

>> I WILL WRITE THAT DOWN.

JUST A MINUTE.

>> THAT IS WHAT IT IS.

>> SHE KNEW THIS, SHE FELT THIS FROM HER MOTHER?

>> NOT SO MUCH FROM HER MOTHER, BUT FROM NETTIE, FROM HER

SISTER.

THE WAY YOU KNOW THAT PEOPLE LOVE YOU IS THEY WANT YOU TO

LEARN AND THEY WANT YOU TO GROW AND THEY WANT YOU TO BE

ABSOLUTELY COMPETENT TO DEAL WITH THE REALITIES OF LIFE,

WHATEVER THEY ARE.

THAT PERSON LOVES YOU.

IN NETTIE, SHE HAS THAT.

SHE CAN NEVER FORGET IT.

SHE CAN'T ALWAYS MEASURE OTHER PEOPLE BY THAT STANDARD.

THE PEOPLE WHO DO NOT WANT HER TO GROW, WHO WANT TO KEEP HER A

SLAVE, THE PEOPLE WHO ARE ABUSIVE TO HER, THOSE PEOPLE --

THERE IS NO WAY YOU CAN CONVINCE HER THOSE ARE LOVING PEOPLE OR

THAT SHE SHOULD TRY TO REMAIN FOREVER LOYAL TO THEM.

THIS IS ALSO A BOOK ABOUT WHAT IS IMPORTANT ABOUT BEING LOYAL

TO YOURSELF.

THAT YOU HAVE A DUTY TO BE LOYAL TO OTHERS, IF THEY ARE WORTHY OF

THAT.

YOU MUST BE LOYAL TO YOU AND SHE REALLY GETS THAT.

>> IS THAT WHAT ALLOWS HER TO SURVIVE THE ABUSE?

THIS IS ANOTHER QUESTION I GET -- ABOUT WHAT DO WOMEN DO -- A

STUDENT AT JUILLIARD YESTERDAY GAVE ME THIS QUESTION TO ASK

YOU.

WHAT ARE PEOPLE SUPPOSED TO DO NOW, WHO ARE IN THIS SITUATION

NOW, WHO ARE ABUSED NOW?

>> MILLIONS OF PEOPLE ARE IN EXACTLY THAT SITUATION ALL OVER

THE PLANET.

IN FACT, I BELONG TO AN ORGANIZATION CALLED WOMEN FOR

WOMEN INTERNATIONAL, AND WE SUPPORT WOMEN SURVIVORS OF WAR.

WHAT WE FOUND IS THAT WHAT KEEPS THEM GOING IS CREATING CIRCLES

WITH OTHER WOMEN WHO HAVE ALSO EXPERIENCED THIS KIND OF HORROR

AND THEY ARE GROWING AND RECONNECTING WITH PARTS OF

THEMSELVES THAT THEY HAD TO BANISH.

I THINK THAT IS WHAT IT IS.

I THINK YOU NEED TO BE IN COMMUNITY AND YOU CAN MAKE YOUR

OWN SMALL COMMUNITY BY CREATING CIRCLES WITH OTHER PEOPLE WHO

ARE SIMILARLY WOUNDED.

>> AGAIN, I AM WRITING DOWN.

THERE WAS A -- I DON'T KNOW IF YOU SAW THE HEADLINE ON THE "NEW

YORK TIMES" THE DAY WE WON THE PULITZER.

ALICE AND I WON THE PULITZER PRIZE ON THE SAME DAY.

ALICE FOR "THE COLOR PURPLE" AND ME FOR "NIGHT, MOTHER."

IN A SORT OF NEVER-BEFORE-SEEN HEADLINE, IT SAID "WALKER,

NORMAN WIN PULITZERS FOR FICTION DRAMA."

IT WAS THE BOTTOM RIGHT-HAND CORNER OF THE "TIMES" AND IT WAS

LIKE, LOOK AT THAT.

>> EXACTLY.

>> I KNOW MY RELATIONSHIP WITH "NIGHT, MOTHER" HAS CHANGED OVER

THE YEARS.

IT IS A LITTLE ODD AND A LOT OF PEOPLE KNOW MORE ABOUT IT THAN I

DO.

[LAUGHTER] THEY HAVE THEIR OWN

RELATIONSHIPS WITH IT.

I ALMOST NEVER GO TO SEE PRODUCTIONS OF IT.

I HEAR ABOUT IT.

IT IS SOMETHING -- A DISTANT RELATION.

WHAT IS YOUR RELATIONSHIP WITH "THE COLOR PURPLE" OVER THIS --

IT IS 24 YEARS NOW.

>> I HAVE BEEN VERY CAREFULLY CARRYING THIS STORY AND CARRYING

MY ANCESTORS AND FEELING VERY MUCH LIKE A PRIESTESS OR A MONK,

BECAUSE I HAD TO DO SO MANY THINGS IN ORDER TO WRITE THE

STORY.

NOW, I FEEL FREE OF IT.

THIS IS PROBABLY ONE OF THE LAST THINGS I WILL EVER DO CONNECTED

TO IT.

THAT IS FINE.

>> THE WEIGHT OF WHAT IT HAS MEANT TO OTHER PEOPLE HAS BEEN

HEAVY, LIGHT, HAS BEEN -- YOU MUST FEEL IT EVERYWHERE YOU GO.

PEOPLE LOOK AT YOU IN THE MEANING IT HAS HAD FOR THEM.

>> I REALLY DON'T HAVE THAT.

I AM GLAD PEOPLE HAVE THEIR RELATIONSHIP TO THE STORY, BUT

FOR ME, MY RELATIONSHIP, IN A WAY, ENDED IN TEARS WHEN I

FINISHED IT.

WHEN I FINISHED WRITING IT, I KNEW I HAD DONE MY ABSOLUTE BEST

AND I FELT THE PEOPLE IN THE BOOK WERE HAPPY WITH THE RESULT.

I HOPED OTHER PEOPLE OUTSIDE THE BOOK WOULD BE.

IT HAS NEVER BEEN PRESSING ON ME THAT THEY LOVE IT OR HATE IT.

IT HAS BEEN HATED BY MANY PEOPLE, TOO.

>> WERE THOSE PEOPLE IN THE BOOK, DO YOU THINK THEY WERE

AWARE OF YOU?

>> OF COURSE.

YES, I THINK SO.

AS I CREATED THEM, WHAT I FELT WAS A MUTUALITY OF LOVE.

THAT WAS VERY IMPORTANT TO ME -- THAT THEY SAW ME, THEY LOVE TO

ME AND I LOVE THEM.

IN OUR SOCIETY, ESPECIALLY IN AFRICAN-AMERICAN CULTURE, THERE

IS SO MUCH PAIN AND INSTRUCTION AND DO SO MUCH ABANDONMENT OF

EACH OTHER -- NOT ALWAYS OF OUR CHOOSING -- THAT TO HAVE SOMEONE

COME ALONG, EVERY GENERATION, WHO ATTEMPTS TO KNIT ALL OF THE

OTHER GENERATIONS, FROM THE PAST TO THE PRESENT AND TO THE

FUTURE, SOMEONE HAS TO DO THAT.

TO FEEL THAT I WAS ABLE TO ATTEMPT IT FELT REALLY GOOD.

>> PEOPLE ASK ME -- WELL, THEY ASKED ME SOME QUESTION, BUT WHAT

THEY REALLY WANT TO KNOW IS -- AM I A WRITER?

HOW DO I KNOW IF I AM A WRITER AND WHAT KIND OF A WRITER AM I?

WAS THERE A MOMENT WHEN YOU KNEW OR DID YOU ALWAYS KNOW?

WHAT DO YOU SAY WHEN PEOPLE ASK YOU THAT?

>> I WANTED TO BE A SCIENTIST.

WE HAD ONE BROKEN MICROSCOPE IN MY SCHOOL AND THEN I WANTED TO

BE A PIANIST AND IT COST $.50 A LESSON.

WE COULD NOT AFFORD IT.

THEN, I DECIDED THAT I COULD WRITE WITH A PENCIL AND PAPER.

I STARTED DOING THAT.

MY MOTHER CLAIMS THAT WHEN I WAS CRAWLING, SHE WOULD NOT KNOW

WHERE I WAS AND SHE WOULD LOOK FOR ME, AND I WOULD BE BEHIND

THE HOUSE, SCRIBBLING IN THE MARGINS OF A SEARS ROEBUCK

CATALOG WITH A TWIG.

SO, I THINK IT IS SOMETHING THAT I DO VERY NATURALLY.

IT KEEPS ME ON COURSE.

IT IS JUST AS GOOD, ALMOST, AS MEDICATION, BECAUSE IT IS A WAY

OF FLOSSING THE MIND.

YOU GET RID OF ALL KINDS OF STUFF THAT YOU DO NOT NEED.

YOU WHITTLE OUT STUFF THAT YOU WOULD BE WORRYING TO DEATH.

IT IS JUST VERY LIBERATORY.

I FEEL THAT WRITING HAS PERMITTED ME TO HAVE THE KIND OF

FREEDOM THAT I HAD STARTED OUT WANTING TO HAVE AS A

REVOLUTIONARY IN SOCIETY.

I WAS ABLE TO DO IT IN WRITING.

THAT HAS BEEN VERY GOOD.

>> ALICE WALKER AND MARSHA NORMAN -- WE WILL REJOIN THE

CONVERSATION IN JUST A MOMENT.

THE CREATIVE ENERGY REQUIRED TO STAGE A BROADWAY SHOW IS A LOT

LIKE AN ICEBERG.

THE PART YOU SEE HAPPENING HERE, ON STAGE, IS JUST THE TIP.

THERE IS SO MUCH MORE UNDER THE WATER, AND THAT IS WHAT THIS

PROGRAM IS ALL ABOUT -- GIVING YOU A PEEK BEHIND THE CURTAIN TO

WITNESS THE MIRACULOUS AND MUNDANE, THE FUNNY STORIES,

CHALLENGES, WORRIES, ALL OF THE INTERESTING STUFF THAT HAPPENS

BACKSTAGE.

LET'S GET BACK TO THE CONVERSATION AS ALICE AND MARSHA

RESPOND TO THIS QUESTION FROM THE AUDIENCE -- WHAT IS THE

MESSAGE -- THE MAIN POINT -- OF "THE COLOR PURPLE?"

>> WE HAVE TO REALLY GET IT, THAT PART OF WHY WE ARE HERE IS

TO ENJOY OURSELVES.

IN THE STORY, PEOPLE GO THROUGH INCREDIBLE SUFFERING, INCREDIBLE

CHANGES, MUCH SORROW, MUCH LONGING.

AT THE END OF ALL OF THAT, THERE IS JOY, CELEBRATION.

THAT IS SUCH A LARGE PART OF WHY WE ARE HERE.

OTHERWISE, WHAT IS IT FOR?

YOU ARE SUPPOSED TO FIND LIVING ON THIS PLANET AN AMAZING

ADVENTURE AND A WONDERFUL EXPERIENCE, NO MATTER WHAT YOU

HAVE TO GO THROUGH TO FEEL THAT.

I THINK ABOUT MY ANCESTORS, THE ENSLAVED ANCESTORS.

400 YEARS OF THE MOST INCREDIBLE SUFFERING AND THE MOST DEEPLY

ROOTED HOSTILITY FROM THE DOMINANT CULTURE AND YET, AT THE

JUKE JOINTS, WE SEE THIS INCREDIBLE BURST OF JOY, THIS

GREAT FEELING FOR LAUGHTER, SONG, DANCE.

THAT IS US.

IT IS NOT JUST MY AFRICAN-AMERICAN ANCESTORS, IT

IS MY EUROPEAN ANCESTORS, MY NATIVE AMERICAN ANCESTORS.

THIS IS US.

WE HAVE THAT CAPACITY.

IT IS ABOUT CONNECTING WITH THE WONDER OF BEING HERE AT ALL.

WE ARE SO LUCKY.

>> I WANT TO ADD SOMETHING TO THAT.

IN THE BOOK, THERE IS THIS GREAT UNDERSTANDING THAT HARPO AND

SOFIA HAVE THIS LOVE THAT HAS GONE THROUGH THIS INCREDIBLE

WRENCHING DIFFICULTY, BUT ULTIMATELY, ENDS UP IN THE MOST

BOUNDLESS JOY AND HAPPINESS AND SEXUAL PLEASURE AND LOVE FOR

EACH OTHER AND ELBOWS AND -- THEY ARE THE COUPLE TO DREAM OF

BEING.

IN MY VIEW, THEY ALWAYS WERE.

WE WERE ABLE TO, IN THE MUSICAL, THERE WAS A MOMENT WHEN WE SAID

WE NEED TO SEE WHAT HARPO AND SOFIA ARE DOING WHEN NOBODY IS

WATCHING.

WE NEED TO GO -- AND WE WERE ABLE TO PUT IN THIS MOMENT THAT

LITERALLY BRINGS THE HOUSE DOWN EVERY NIGHT, THIS MOMENT THAT

WHEN WE SEE THE TWO OF THEM IN THE PLEASURE OF THEIR -- THE

PRIVACY OF THEIR SONG -- THEY HAVE THIS SONG, IT IS CALLED

"ANY LITTLE THING."

IT IS LIKE -- WHAT DO I NEED TO DO TO MAKE YOU HAPPY?

IS THERE ANYTHING I CAN DO TO MAKE YOU HAPPY?

>> ♪ IS THERE ANYTHING ELSE I CAN DO FOR YOU?

ANY LITTLE THING YOU MIGHT WANT ME TO?

ANY LITTLE THING YOU MIGHT WANT ME TO? ♪

>> ♪ YEAH, MAMA ♪ >> ♪ ANY LITTLE THING

OH ♪ >> ♪ OH OH OH ♪

>> THEY SING THE SONG THAT IS SO MUCH FUN.

THE AUDIENCE LAUGHS, THEY HOWL, THEY JUST HAVE SO MUCH FUN

SEEING EXACTLY WHAT YOU'RE TALKING ABOUT -- THIS PLEASURE

THAT MAY NOT BE ON THE MAIN PLOT POINTS OF THE STORY, BUT IT IS

WHY WE ARE HERE.

IT IS -- HOW DO WE ENJOY OURSELVES AND WITH WHOM AND HOW

OFTEN CAN WE DO THAT?

>> I WANT TO THANK YOU, BECAUSE I UNDERSTAND YOU HAVE A LOT TO

DO WITH GETTING THAT SONG RIGHT AND ALSO MAKING SURE THAT WORK

WAS INVOLVED.

THAT IS THE OTHER THING.

I HAVE A LOT OF DISAGREEMENTS WITH FREUD, BUT WHEN HE SAID

THAT THE TWO MAIN DRIVES IN LIFE ARE SEX AND WORK, THAT IS RIGHT

ON.

YOU REALLY NEED TO BE FULFILLED, NOT ONLY SEXUALLY, BUT IN LOVE

AND ALSO YOU NEED TO WORK.

THAT SONG IS SO PERFECT.

>> IT IS ONE OF THOSE -- THANK YOU, I APPRECIATE THAT YOU KNOW

THAT IS WHAT HAPPENED.

I FELT LIKE THEY WERE BOTH SO TIRED, THEY WORK SO HARD AND

THIS IMPULSE TO START THIS MOMENT FOR THEM WITH -- I

PAINTED THE FENCES, I PLUCKED THE CHICKENS AND I DID ALL OF

THIS, I SPLIT THE WOOD -- IS THERE ANYTHING I CAN DO FOR YOU?

AND OF COURSE, SHE COMES RIGHT BACK AND SAYS WELL I WATCHED

YOUR BRITCHES AND IS THERE ANYTHING I CAN DO FOR YOU?

THEN, IT TURNS, BECAUSE THEY'RE CLOSE TO EACH OTHER AND THEY

REALIZE THE THING THEY CAN DO FOR EACH OTHER IS NOT GOING TO

BE WORK AT ALL.

IT'S THIS WONDERFUL MOMENT AND IT IS A SCENE THAT EXISTS

ENTIRELY WITHOUT WORDS.

IT IS A PURE SONG, BUT IT CAME FROM A REAL KIND OF BOOK WRITING

INSTINCT OF WE HAVE TO HAVE A MOMENT HERE THAT IS ABOUT THE

PLEASURE PEOPLE HAVE WITH EACH OTHER.

>> YES.

>> I AM A THEATER DIRECTOR, BUT I ALSO TEACH FILM AND THEATER,

SO MY STUDENTS ARE HERE.

I LAST SAW YOU, ALICE WALKER, AT YALE, RIGHT BEFORE "THE COLOR

PURPLE" WAS PUBLISHED, WHEN WE HAD ANOTHER CONVERSATION OF THIS

KIND, WITH A NUMBER OF OTHER WRITERS.

MY QUESTION IS, FOR BOTH OF YOU -- WHAT WAS THE PROCESS IN

MAKING THE FILM AND MAKING THE MUSICAL AND HOW WAS THAT

DIFFERENT FOR YOU ALICE AND -- I NOTICED THE FILM IS ACTUALLY

CREDITED AS BEING PART OF THE INFLUENCE OF THE SHOW.

I WAS INTERESTED IN THAT CONTINUUM OF -- IT IS YOUR

VISION, YOUR NOVEL, AND THEN IT IS A FILM AND THEN IT IS THIS

AMAZING SHOW.

>> STEVEN SPIELBERG AND QUINCY JONES APPEARED, MORE OR LESS, AT

MY DOOR AND THEY BOTH SEEMED REALLY WONDERFUL PEOPLE TO

TRAVEL WITH.

I WAS ABLE TO FEEL I COULD TRUST THEM, TO THE EXTENT THAT THEY

UNDERSTOOD WHAT THEY HAD.

THEY UNDERSTOOD A LOT.

THEY WERE A LITTLE SKITTISH AROUND THE LOVE BETWEEN CELIE

AND SHUG, BUT I UNDERSTOOD THAT.

I WENT, AS MUCH AS I WAS ABLE TO, TO THE SET, AND I SAT THERE

AND I HELPED WITH EVERYTHING, LANGUAGE, PLOT, HELPING TO WRITE

THE SCREENPLAY, EVERYTHING THAT I COULD DO, WHICH WAS DIFFICULT,

BECAUSE I HAD LYME DISEASE AT THE TIME.

I WAS VERY WEAK.

I WAS SITTING IN A DIRECTOR'S CHAIR AND THEY USED TO PICK THE

WHOLE CHAIR UP WITH ME IN IT AND CARRY ME AROUND TO DIFFERENT

PARTS OF THE SET.

WHAT WAS WONDERFUL ABOUT THE WHOLE EXPERIENCE WAS THAT YOU

COULD WALK ON THAT SET AND FEEL THE LOVE THAT FLOODED

EVERYTHING.

I DID NOT WORRY VERY MUCH ABOUT HOW IT WOULD COME OUT BECAUSE I

KNEW WE WERE ALL DOING OUR BEST.

WE WERE RISING TO THE OCCASION.

HOWEVER, THE FIRST TIME I SAW THE FILM, STEVEN HAD RENTED AN

ENTIRE, HUGE THEATER IN SAN FRANCISCO, FLOWN THE FILM UP.

THERE, I SAT WITH TWO PEOPLE, AND I DO NOT KNOW IF YOU HAVE

EVER BEEN IN A HUGE THEATER WITH A MOVIE.

IT FEELS CAVERNOUS.

EVERYTHING SEEMED WRONG WITH IT.

I DID NOT LIKE IT.

I GOT A HEADACHE.

THE NEXT WEEK, WHEN IT OPENED IN NEW YORK AND EVERYBODY STARTED

TO COME, THEN I COULD SEE IT, THEN I BEGAN TO LOVE IT.

IT WAS A GOOD EXPERIENCE.

>> I WAS GOING TO ASK HOW THAT EXPERIENCE INFORMED OR DID NOT

INFORM ANYTHING ABOUT MAKING THE BROADWAY MUSICAL, WHICH I KNOW

MADE CERTAIN DECISIONS DIFFERENTLY.

>> WE DID.

I KNOW ALICE WAS AGAIN APPROACHED BY TWO GENTLEMEN AT

HER DOOR WHO SAID -- CAN WE MAKE THIS INTO A MUSICAL?

ONE OF THEM WAS -- NOT INITIALLY, BUT SCOTT SANDERS

SAID -- THESE, PLEASE.

AFTER A WHILE, ALICE SAID -- OK.

WOULD THAT BE FAIR?

>> YES, AFTER MUCH WOOING.

>> I WAS LEAVING OUT THE WOOING.

>> I LIKE THE WOOING.

>> THE WOOING IS GOOD.

THIS IS WHAT YOU HAVE TO HAVE DONE IF YOU WANT TO TRAVEL WITH

PEOPLE.

SCOTT SANDERS HAD IT IN HIS HEART THAT HE WANTED TO DO THIS

AS A MUSICAL.

HE HAD FELT THIS, BEFORE HE HAD ANY RIGHT TO FEEL THIS, HE

WANTED IT AND HE CAME TO ALICE FIRST AND THEN HE BEGAN TO PUT

TOGETHER THE TEAM.

HE LOOKED ALL THROUGH THE BROADWAY COMMUNITY TO FIND THE

RIGHT SONGWRITERS.

ULTIMATELY, HE FOUND THEM ON THE WEST COAST, THE GREAT BRENDA

RUSSELL, ALLEE WILLIS, AND STEPHEN BREY WROTE SOME SONGS

FOR HIM THAT CONVINCED HIM THAT THEY WERE THE ONES, THAT THEY

HAD THE RIGHT SOUND, AND THEN HE BEGAN TO LOOK FOR A DIRECTOR AND

THEN HE HAD ANOTHER BOOK WRITER FIRST, NOT ME.

I WAS BACK THERE WAVING MY HAND THE WHOLE TIME.

PLEASE, TAKE ME.

ULTIMATELY, THEY DID, WHICH WAS GOOD.

THEN, WE HAD -- SCOTT BOUGHT THE RIGHTS TO THE FILM BECAUSE

SPIELBERG WANTED HIM TO HAVE USE OF ANYTHING IN THE FILM THAT WAS

USEFUL.

WE WERE NEVER HAVING TO SAY -- OH, WE CANNOT USE THE PATTYCAKE

GAME BECAUSE THAT IS WHAT STEVE DID.

WE COULD USE THE PATTYCAKE GAME BECAUSE IT WAS THERE.

WE COULD USE OR NOT USE WHATEVER.

WE BEGAN -- PART OF WHAT THE MUSICAL -- IT IS NOT A FILM AND

IT IS NOT A BOOK.

IT IS ITS OWN BEING, ITS OWN VEHICLE.

YOU HAVE TO FIGURE OUT WHAT ARE THE PARTS THAT CAN BE SUNG.

WHAT IS THE STUFF THAT HAS TO BE SUNG?

THEN, YOU FIGURE OUT -- YOU PICK THE PEARLS AND THEN YOU FIND A

NICE WAY TO STRING THEM TOGETHER.

YOU FIGURE OUT WHAT'S THE SPINE, WHAT IS THE WAY TO TELL THE

STORY.

THE MUSICAL IS A MACHINE, AND NOT IN A DIFFERENT WAY.

IT HAS TO MOVE ALL OF THESE PEOPLE TO THIS GREAT FINAL

MOMENT.

THERE WERE PROBLEMS WE HAD TO SOLVE THAT THE OTHER FORMS DID

NOT.

FOR EXAMPLE, NETTIE, WHO IS THE KEY TO THE GREAT ENDING, NETTIE

ACTUALLY LEAVES 18 MINUTES INTO THE SHOW AND YOU NEVER SEE

NETTIE AGAIN.

THAT IS A TOUGH TRICK, JUST IN THE THEATER.

HERE IS SOMEONE WHO IS GOING TO VANISH AND WHEN SHE COMES BACK,

YOU HAVE TO BE -- YOU HAVE TO CRY, CRY, CRY AND BE HAPPY.

WE HAVE WAYS OF DOING THAT.

WAYS OF REMINDING.

THAT IS ONE OF THE THINGS.

WE ALSO HAD THE QUESTION OF HOW TO AGE PEOPLE.

RIGHT BEFORE YOUR VERY EYES WE HAVE TO GO 40 YEARS.

THAT IS A THING, WHEN YOU SEE IT, THERE IS ONE MOMENT THAT

KNOCKS ME OUT THAT THE BRILLIANT GARY GRIFFIN DID.

THERE IS A 12 YEAR GAP IN TIME THAT OCCURS AS A KERCHIEF IS

REMOVED.

CELIE GOES TO VISIT SOFIA IN PRISON, SHE HAS A SCARF ON, SHE

SEES THIS BEAT UP SOFIA AND IT IS JUST UNBEARABLE.

THEN, SHE GOES OUT, STANDS IN THE ROAD, IS READING A LETTER TO

NETTIE, AND AS SHE TAKES OFF HER KERCHIEF, HER HAIR IS WHITE NOW

AND SHE IS ON HER WAY TO EASTER DINNER AND SOFIA IS BACK AND 12

YEARS HAVE GONE BY.

WE HAD THOSE THINGS.

>> THANK YOU.

>> YOU ARE WELCOME.

>> CAN I JUST SAY RIGHT HERE, THANK YOU AGAIN FOR SOMETHING?

YOUR WILLINGNESS OVER TIME TO BE A PART OF THIS AND ALWAYS BE --

ALWAYS SAYING "TAKE ME, TAKE ME."

THIS IS A WONDERFUL QUALITY.

>> THANK YOU.

MY GREAT PLEASURE TO BE INVOLVED IN THIS.

FROM THE MOMENT I READ "THE COLOR PURPLE," I THOUGHT, I WANT

TO BE THERE, I WANT TO DO WHAT I CAN.

IF I HAD ANYTHING THAT YOU NEED, PLEASE TAKE IT.

IT WAS A GREAT GIFT TO ME TO BE ALLOWED TO BE IN THE ROOM.

>> THANK YOU.

[APPLAUSE] >> ♪ ALL I NEED'S A NEED AND A

SPOOL OF THREAD GOT ABOUT A MILLION PATTERNS IN

MY HEAD ALL THE LADIES' LEGS ARE GONNA

LOVE TO DANCE WHEN THEY IN MISS CELIE'S PANTS

♪ >> ♪ GABARDINE, VELVETEEN,

SATIN, OR LACE BUTTONS AND BOWS ALL OVER THE

PLACE ♪ >> ♪ STYLES THAT MAKE YOU FEEL

LIKE A QUEEN ♪ >> ♪ THAT WOMAN'S A WHIZ WITH

THE SEWING MACHINE ♪ >> ♪ WHO DAT SAY, WHO DAT SAY

WHO DAT?

WHO DAT SAY, WHO DAT SAY WHO DAT?

WHO DAT SAY, WHAT YOU SAY IN MISS CELIE'S PANTS

WHO DAT SAY, WHO DAT SAY WHO DAT? ♪

>> ♪ LOOKIT HERE, GET OUT MY WAY SOFIA'S BACK ♪

>> "BACKSTAGE WITH... THE COLOR PURPLE" IS GENEROUSLY FUNDED BY

CUYAHOGA COUNTY RESIDENTS THROUGH CUYAHOGA ARTS AND

CULTURE.

THE EDUCATIONAL OUTREACH OF THIS PROJECT IS SUPPORTED BY A GRANT

FROM DOMINION.