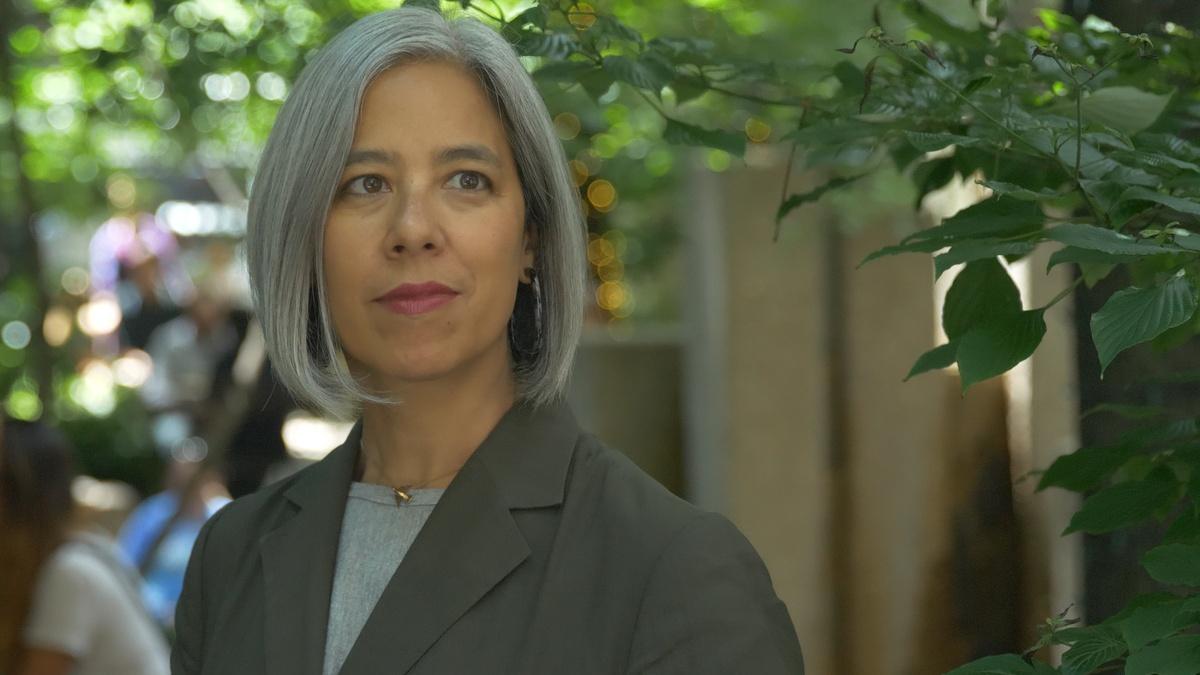 S5 E21 | FULL EPISODE
Life's Work
Perpetual Andrew Motion: Tori Marchiony profiles former U.K. Poet Laureate Sir Andrew Motion. He's five decades in and still finding room to grow;
Vijay Iyer-Key Changes: Among the most highly regarded jazz pianists of his time, Vijay Iyer has made his instrument of choice an instrument of discovery;
Susan Choi-Interrogator of Truth: Susan Choi's books reflect her skepticism of authority.
TRANSCRIPT

- Welcome to Articulate, the show that explores

- Welcome to Articulate, the show that explores

man,

- Welcome to Articulate, the show that explores

ty.

- Welcome to Articulate, the show that explores

I'm Jim Cotter and on this episode "Life's Work."

- Welcome to Articulate, the show that explores

ate,

- Welcome to Articulate, the show that explores

ion.

- Welcome to Articulate, the show that explores

ow.

- Welcome to Articulate, the show that explores

ed,

- Welcome to Articulate, the show that explores

end

- Welcome to Articulate, the show that explores

row

- Welcome to Articulate, the show that explores

yet.

- Welcome to Articulate, the show that explores

- [Jim] Among the most highly regarded jazz pianists

- Welcome to Articulate, the show that explores

ice.

- Welcome to Articulate, the show that explores

ry.

- Welcome to Articulate, the show that explores

was

- Welcome to Articulate, the show that explores

exploring and experimenting and banging on the piano

- Welcome to Articulate, the show that explores

te.

- Welcome to Articulate, the show that explores

her

- Welcome to Articulate, the show that explores

ity.

- Welcome to Articulate, the show that explores

that

- Welcome to Articulate, the show that explores

ions

- Welcome to Articulate, the show that explores

ed.

- Welcome to Articulate, the show that explores

ent

- Welcome to Articulate, the show that explores

hink

- Welcome to Articulate, the show that explores

sed.

- Welcome to Articulate, the show that explores

- [Jim] That's all ahead on articulate.

- Welcome to Articulate, the show that explores

(somber piano music)

- Welcome to Articulate, the show that explores

- [Tori] Andrew Motion is a seasoned protector of poetry.

- Welcome to Articulate, the show that explores

nd,

- Welcome to Articulate, the show that explores

ife

- Welcome to Articulate, the show that explores

nd,

- Welcome to Articulate, the show that explores

med

- Welcome to Articulate, the show that explores

ate.

- Welcome to Articulate, the show that explores

ment

- Welcome to Articulate, the show that explores

ion.

- Welcome to Articulate, the show that explores

job,

- Welcome to Articulate, the show that explores

him

- Welcome to Articulate, the show that explores

ood.

- Welcome to Articulate, the show that explores

on.

- Welcome to Articulate, the show that explores

During his decade as poet laureate, Motion authored

- Welcome to Articulate, the show that explores

gs,

- Welcome to Articulate, the show that explores

dely

- Welcome to Articulate, the show that explores

st.

- Welcome to Articulate, the show that explores

sues

- Welcome to Articulate, the show that explores

bor.

- Welcome to Articulate, the show that explores

Another key achievement was his founding

- Welcome to Articulate, the show that explores

ive.

- Welcome to Articulate, the show that explores

work

- Welcome to Articulate, the show that explores

ar.

- Welcome to Articulate, the show that explores

All of this to create a better understanding

- Welcome to Articulate, the show that explores

ue.

- Welcome to Articulate, the show that explores

- Usefulness in poetry can be that it crystallizes

- Welcome to Articulate, the show that explores

and

- Welcome to Articulate, the show that explores

ast.

- Welcome to Articulate, the show that explores

u by

- Welcome to Articulate, the show that explores

oes.

- Welcome to Articulate, the show that explores

iew

- Welcome to Articulate, the show that explores

ely

- Welcome to Articulate, the show that explores

nk.

- Welcome to Articulate, the show that explores

ness

- Welcome to Articulate, the show that explores

ess

- Welcome to Articulate, the show that explores

of other people to understand those things unless

- Welcome to Articulate, the show that explores

we're able to explain this and justify it.

- Welcome to Articulate, the show that explores

- [Tori] Motion got used to justifying poetry,

- Welcome to Articulate, the show that explores

en.

- Welcome to Articulate, the show that explores

ran,

- Welcome to Articulate, the show that explores

ds.

- Welcome to Articulate, the show that explores

on.

- Welcome to Articulate, the show that explores

were

- Welcome to Articulate, the show that explores

in those days and in that culture, quite definitely

- Welcome to Articulate, the show that explores

in.

- Welcome to Articulate, the show that explores

ion.

- Welcome to Articulate, the show that explores

ngs

- Welcome to Articulate, the show that explores

rld,

- Welcome to Articulate, the show that explores

it,

- Welcome to Articulate, the show that explores

men

- Welcome to Articulate, the show that explores

his.

- Welcome to Articulate, the show that explores

gs,

- Welcome to Articulate, the show that explores

new

- Welcome to Articulate, the show that explores

ear

- Welcome to Articulate, the show that explores

me.

- Welcome to Articulate, the show that explores

ar,

- Welcome to Articulate, the show that explores

ar,

- Welcome to Articulate, the show that explores

rs.

- Welcome to Articulate, the show that explores

mes

- Welcome to Articulate, the show that explores

at.

- Welcome to Articulate, the show that explores

But you know I was growing up in the 1960's

- Welcome to Articulate, the show that explores

did.

- Welcome to Articulate, the show that explores

st.

- Welcome to Articulate, the show that explores

So there was something about the softening

- Welcome to Articulate, the show that explores

es,

- Welcome to Articulate, the show that explores

in the air that I had liked very much about

- Welcome to Articulate, the show that explores

...

- Welcome to Articulate, the show that explores

ent

- Welcome to Articulate, the show that explores

hat.

- Welcome to Articulate, the show that explores

ere

- Welcome to Articulate, the show that explores

ngs.

- Welcome to Articulate, the show that explores

- [Tori] Today, Andrew Motion is perhaps best known

- Welcome to Articulate, the show that explores

ing.

- Welcome to Articulate, the show that explores

ment

- Welcome to Articulate, the show that explores

inct

- Welcome to Articulate, the show that explores

ood.

- Welcome to Articulate, the show that explores

At age seven he was sent to Maidwell Hall, a rather

- Welcome to Articulate, the show that explores

to Maidwell Hall, a rather

- Welcome to Articulate, the show that explores

ome.

- Welcome to Articulate, the show that explores

ful,

- Welcome to Articulate, the show that explores

ain

- Welcome to Articulate, the show that explores

that

- Welcome to Articulate, the show that explores

ark

- Welcome to Articulate, the show that explores

o go

- Welcome to Articulate, the show that explores

es.

- Welcome to Articulate, the show that explores

nk.

- Welcome to Articulate, the show that explores

ened

- Welcome to Articulate, the show that explores

ars.

- Welcome to Articulate, the show that explores

ed.

- Welcome to Articulate, the show that explores

all.

- Welcome to Articulate, the show that explores

I mean the routine of sort of beatings and punishments

- Welcome to Articulate, the show that explores

...

- Welcome to Articulate, the show that explores

uld

- Welcome to Articulate, the show that explores

cal.

- Welcome to Articulate, the show that explores

erk.

- Welcome to Articulate, the show that explores

lot

- Welcome to Articulate, the show that explores

ys.

- Welcome to Articulate, the show that explores

I mean in a way that would get everybody put in prison now.

- Welcome to Articulate, the show that explores

ome,

- Welcome to Articulate, the show that explores

hat

- Welcome to Articulate, the show that explores

term

- Welcome to Articulate, the show that explores

day

- Welcome to Articulate, the show that explores

day.

- Welcome to Articulate, the show that explores

read

- Welcome to Articulate, the show that explores

els

- Welcome to Articulate, the show that explores

ng,

- Welcome to Articulate, the show that explores

an?

- Welcome to Articulate, the show that explores

mm.

- Welcome to Articulate, the show that explores

me,

- Welcome to Articulate, the show that explores

re.

- Welcome to Articulate, the show that explores

ther

- Welcome to Articulate, the show that explores

ent.

- Welcome to Articulate, the show that explores

up

- Welcome to Articulate, the show that explores

lly.

- Welcome to Articulate, the show that explores

But what it did for me was to make me feel

- Welcome to Articulate, the show that explores

that life is inherently allegoric.

- Welcome to Articulate, the show that explores

ye.

- Welcome to Articulate, the show that explores

Because that is what it made life like.

- Welcome to Articulate, the show that explores

Well that may be preparation for the grave of a kind,

- Welcome to Articulate, the show that explores

...

- Welcome to Articulate, the show that explores

ife.

- Welcome to Articulate, the show that explores

But I think it squeezed quite a lot of the joy

- Welcome to Articulate, the show that explores

fe.

- Welcome to Articulate, the show that explores

as,

- Welcome to Articulate, the show that explores

me.

- Welcome to Articulate, the show that explores

way

- Welcome to Articulate, the show that explores

es.

- Welcome to Articulate, the show that explores

- [Tori] When Motion was seventeen, life confirmed

- Welcome to Articulate, the show that explores

was

- Welcome to Articulate, the show that explores

ise

- Welcome to Articulate, the show that explores

unt.

- Welcome to Articulate, the show that explores

hat

- Welcome to Articulate, the show that explores

ars

- Welcome to Articulate, the show that explores

978.

- Welcome to Articulate, the show that explores

Motion has written about her frequently.

- Welcome to Articulate, the show that explores

- At Christmas I ran threw fire in blighty,

- Welcome to Articulate, the show that explores

ers.

- Welcome to Articulate, the show that explores

wed.

- Welcome to Articulate, the show that explores

ing.

- Welcome to Articulate, the show that explores

Flight attendants wear Santa hats or Rudolph ears

- Welcome to Articulate, the show that explores

lls.

- Welcome to Articulate, the show that explores

In the easy weeping that arrives with high altitude,

- Welcome to Articulate, the show that explores

ord.

- Welcome to Articulate, the show that explores

nd.

- Welcome to Articulate, the show that explores

ing.

- Welcome to Articulate, the show that explores

I hear the series I fly through crackle like dry clay,

- Welcome to Articulate, the show that explores

ce.

- Welcome to Articulate, the show that explores

ind,

- Welcome to Articulate, the show that explores

ep.

- Welcome to Articulate, the show that explores

- [Tori] Today the sixty seven year old Andrew Motion

- Welcome to Articulate, the show that explores

than

- Welcome to Articulate, the show that explores

ife.

- Welcome to Articulate, the show that explores

And as he continues to write into the spaces death leaves,

- Welcome to Articulate, the show that explores

ame.

- Welcome to Articulate, the show that explores

Since 2015, he's taught at Johns Hopkins University,

- Welcome to Articulate, the show that explores

gly

- Welcome to Articulate, the show that explores

ids

- Welcome to Articulate, the show that explores

but.

- Welcome to Articulate, the show that explores

The country read along as a student accused Motion

- Welcome to Articulate, the show that explores

red,

- Welcome to Articulate, the show that explores

and his second marriage fell apart.

- Welcome to Articulate, the show that explores

dder

- Welcome to Articulate, the show that explores

ts.

- Welcome to Articulate, the show that explores

uist

- Welcome to Articulate, the show that explores

ht.

- Welcome to Articulate, the show that explores

one

- Welcome to Articulate, the show that explores

at.

- Welcome to Articulate, the show that explores

eep

- Welcome to Articulate, the show that explores

le.

- Welcome to Articulate, the show that explores

ed,

- Welcome to Articulate, the show that explores

and I want right up to the bitter end

- Welcome to Articulate, the show that explores

row

- Welcome to Articulate, the show that explores

yet.

- Welcome to Articulate, the show that explores

(quiet orchestral string music)

- Welcome to Articulate, the show that explores

(heavy rain)

- Welcome to Articulate, the show that explores

(jazz piano music)

- Welcome to Articulate, the show that explores

- [Jim] Vijay Iyer is one of the most prolific,

- Welcome to Articulate, the show that explores

on.

- Welcome to Articulate, the show that explores

ssor

- Welcome to Articulate, the show that explores

ums.

- Welcome to Articulate, the show that explores

sted

- Welcome to Articulate, the show that explores

ies.

- Welcome to Articulate, the show that explores

ike?

- Welcome to Articulate, the show that explores

do?

- Welcome to Articulate, the show that explores

fect

- Welcome to Articulate, the show that explores

te.

- Welcome to Articulate, the show that explores

sic)

- Welcome to Articulate, the show that explores

- [Jim] If Iyer hadn't found music irresistible

- Welcome to Articulate, the show that explores

er,

- Welcome to Articulate, the show that explores

0's

- Welcome to Articulate, the show that explores

ogy.

- Welcome to Articulate, the show that explores

ence

- Welcome to Articulate, the show that explores

ing.

- Welcome to Articulate, the show that explores

me,

- Welcome to Articulate, the show that explores

ley

- Welcome to Articulate, the show that explores

ic.

- Welcome to Articulate, the show that explores

our.

- Welcome to Articulate, the show that explores

uiry

- Welcome to Articulate, the show that explores

t in

- Welcome to Articulate, the show that explores

the meantime, I mean music was in my life since

- Welcome to Articulate, the show that explores

id.

- Welcome to Articulate, the show that explores

t..

- Welcome to Articulate, the show that explores

ing

- Welcome to Articulate, the show that explores

and banging on the piano and feeling it vibrate.

- Welcome to Articulate, the show that explores

n't

- Welcome to Articulate, the show that explores

ome.

- Welcome to Articulate, the show that explores

ion,

- Welcome to Articulate, the show that explores

ats.

- Welcome to Articulate, the show that explores

ose

- Welcome to Articulate, the show that explores

me.

- Welcome to Articulate, the show that explores

- What was it that people in that predicament,

- Welcome to Articulate, the show that explores

sion

- Welcome to Articulate, the show that explores

do.

- Welcome to Articulate, the show that explores

ul.

- Welcome to Articulate, the show that explores

One up each other and just kind of create

- Welcome to Articulate, the show that explores

re.

- Welcome to Articulate, the show that explores

- [Jim] Brave yet vulnerable, these musicians were

- Welcome to Articulate, the show that explores

ers,

- Welcome to Articulate, the show that explores

rs.

- Welcome to Articulate, the show that explores

Shortly before 9/11, Iyer and Mike Lad a poet

- Welcome to Articulate, the show that explores

ty,

- Welcome to Articulate, the show that explores

orks

- Welcome to Articulate, the show that explores

ror.

- Welcome to Articulate, the show that explores

ame,

- Welcome to Articulate, the show that explores

speaking of vulnerability, I mean it was really

- Welcome to Articulate, the show that explores

tion

- Welcome to Articulate, the show that explores

ud.

- Welcome to Articulate, the show that explores

And not even American, basically to be brown

- Welcome to Articulate, the show that explores

ry.

- Welcome to Articulate, the show that explores

ance

- Welcome to Articulate, the show that explores

rt.

- Welcome to Articulate, the show that explores

sic)

- Welcome to Articulate, the show that explores

ine

- Welcome to Articulate, the show that explores

♪

- Welcome to Articulate, the show that explores

ees

- Welcome to Articulate, the show that explores

s ♪

- Welcome to Articulate, the show that explores

ves

- Welcome to Articulate, the show that explores

dia.

- Welcome to Articulate, the show that explores

sic)

- Welcome to Articulate, the show that explores

♪

- Welcome to Articulate, the show that explores

- [Jim] "Holding it Down" explores the aftermath

- Welcome to Articulate, the show that explores

ns.

- Welcome to Articulate, the show that explores

ic)

- Welcome to Articulate, the show that explores

aq

- Welcome to Articulate, the show that explores

ied

- Welcome to Articulate, the show that explores

s ♪

- Welcome to Articulate, the show that explores

LA

- Welcome to Articulate, the show that explores

♪

- Welcome to Articulate, the show that explores

in

- Welcome to Articulate, the show that explores

- We felt like we had to not just make something

- Welcome to Articulate, the show that explores

about the war but make something with veterans.

- Welcome to Articulate, the show that explores

In particularly veterans of color,

- Welcome to Articulate, the show that explores

d us

- Welcome to Articulate, the show that explores

ught

- Welcome to Articulate, the show that explores

ry,

- Welcome to Articulate, the show that explores

ars.

- Welcome to Articulate, the show that explores

ting

- Welcome to Articulate, the show that explores

more to the enemy than to your superiors.

- Welcome to Articulate, the show that explores

- [Jim] On his latest record, "The Transitory Poems"

- Welcome to Articulate, the show that explores

ute

- Welcome to Articulate, the show that explores

ces,

- Welcome to Articulate, the show that explores

or.

- Welcome to Articulate, the show that explores

ic)

- Welcome to Articulate, the show that explores

Vijay Iyer is constantly stretching, forever pushing

- Welcome to Articulate, the show that explores

its.

- Welcome to Articulate, the show that explores

ance

- Welcome to Articulate, the show that explores

his

- Welcome to Articulate, the show that explores

ter.

- Welcome to Articulate, the show that explores

- There's always someone who is like, doing more than you.

- Welcome to Articulate, the show that explores

ike,

- Welcome to Articulate, the show that explores

ow?

- Welcome to Articulate, the show that explores

rus,

- Welcome to Articulate, the show that explores

like a sort of affliction or something that

- Welcome to Articulate, the show that explores

to,

- Welcome to Articulate, the show that explores

le.

- Welcome to Articulate, the show that explores

ion

- Welcome to Articulate, the show that explores

ow?

- Welcome to Articulate, the show that explores

e...

- Welcome to Articulate, the show that explores

ing?

- Welcome to Articulate, the show that explores

ah.

- Welcome to Articulate, the show that explores

tely

- Welcome to Articulate, the show that explores

ife

- Welcome to Articulate, the show that explores

versus me person who makes art?"

- Welcome to Articulate, the show that explores

more

- Welcome to Articulate, the show that explores

eed?

- Welcome to Articulate, the show that explores

ext

- Welcome to Articulate, the show that explores

me.

- Welcome to Articulate, the show that explores

Let alone thirty or forty you know?

- Welcome to Articulate, the show that explores

That's also I get to work with people who

- Welcome to Articulate, the show that explores

me.

- Welcome to Articulate, the show that explores

And that's humbling and also inspiring and...

- Welcome to Articulate, the show that explores

ge.

- Welcome to Articulate, the show that explores

ngs,

- Welcome to Articulate, the show that explores

and to aspire to be as alive, as active, as engaged,

- Welcome to Articulate, the show that explores

as inspired in thirty years,

- Welcome to Articulate, the show that explores

ow?

- Welcome to Articulate, the show that explores

der

- Welcome to Articulate, the show that explores

ing,

- Welcome to Articulate, the show that explores

now?

- Welcome to Articulate, the show that explores

- Well, we'll hope we'll be back here in thirty years

- Welcome to Articulate, the show that explores

ugh.

- Welcome to Articulate, the show that explores

uch.

- Welcome to Articulate, the show that explores

en.

- Welcome to Articulate, the show that explores

ure.

- Welcome to Articulate, the show that explores

you.

- Welcome to Articulate, the show that explores

ic)

- Welcome to Articulate, the show that explores

(loud clapping and cheering)

- Welcome to Articulate, the show that explores

- [Tori] The National Book Award winner

- Welcome to Articulate, the show that explores

s to

- Welcome to Articulate, the show that explores

eas.

- Welcome to Articulate, the show that explores

ng,

- Welcome to Articulate, the show that explores

ble.

- Welcome to Articulate, the show that explores

Each of her narratives are an interrogation.

- Welcome to Articulate, the show that explores

t of

- Welcome to Articulate, the show that explores

out

- Welcome to Articulate, the show that explores

a crisis in the way power is being used.

- Welcome to Articulate, the show that explores

- [Tori] Choi's celebrated 2008 novel "A Person of interest"

- Welcome to Articulate, the show that explores

ough

- Welcome to Articulate, the show that explores

Lee,

- Welcome to Articulate, the show that explores

tion

- Welcome to Articulate, the show that explores

ity.

- Welcome to Articulate, the show that explores

- "I'm telling you the truth, if that's the case

- Welcome to Articulate, the show that explores

aid.

- Welcome to Articulate, the show that explores

The howl in Lee's ears ebbed away like the tide rushing out.

- Welcome to Articulate, the show that explores

tly.

- Welcome to Articulate, the show that explores

A lie detector test?

- Welcome to Articulate, the show that explores

son

- Welcome to Articulate, the show that explores

ng.

- Welcome to Articulate, the show that explores

or.

- Welcome to Articulate, the show that explores

raph

- Welcome to Articulate, the show that explores

ell.

- Welcome to Articulate, the show that explores

A lie detector test implies the person being tested is

- Welcome to Articulate, the show that explores

nt.

- Welcome to Articulate, the show that explores

poke

- Welcome to Articulate, the show that explores

gly.

- Welcome to Articulate, the show that explores

time

- Welcome to Articulate, the show that explores

nic.

- Welcome to Articulate, the show that explores

on,

- Welcome to Articulate, the show that explores

it."

- Welcome to Articulate, the show that explores

- [Tori] Choi employs caution and objectivity

- Welcome to Articulate, the show that explores

es.

- Welcome to Articulate, the show that explores

ints

- Welcome to Articulate, the show that explores

ed"

- Welcome to Articulate, the show that explores

le?"

- Welcome to Articulate, the show that explores

day,

- Welcome to Articulate, the show that explores

ach.

- Welcome to Articulate, the show that explores

ence

- Welcome to Articulate, the show that explores

ore,

- Welcome to Articulate, the show that explores

ter

- Welcome to Articulate, the show that explores

way

- Welcome to Articulate, the show that explores

was

- Welcome to Articulate, the show that explores

at.

- Welcome to Articulate, the show that explores

ming

- Welcome to Articulate, the show that explores

how.

- Welcome to Articulate, the show that explores

But since making her award winning debut with

- Welcome to Articulate, the show that explores

ce.

- Welcome to Articulate, the show that explores

us,

- Welcome to Articulate, the show that explores

ial.

- Welcome to Articulate, the show that explores

A fictionalized re imagining of Patty Hearst,

- Welcome to Articulate, the show that explores

ped

- Welcome to Articulate, the show that explores

0's.

- Welcome to Articulate, the show that explores

A romantic relationship born in the classroom

- Welcome to Articulate, the show that explores

ent.

- Welcome to Articulate, the show that explores

And in her most recent novel, 2019's

- Welcome to Articulate, the show that explores

ise"

- Welcome to Articulate, the show that explores

s of

- Welcome to Articulate, the show that explores

man.

- Welcome to Articulate, the show that explores

t as

- Welcome to Articulate, the show that explores

ion.

- Welcome to Articulate, the show that explores

- [Susan] "By contrast with the first time they'd met,

- Welcome to Articulate, the show that explores

fact

- Welcome to Articulate, the show that explores

ugh

- Welcome to Articulate, the show that explores

een

- Welcome to Articulate, the show that explores

all.

- Welcome to Articulate, the show that explores

not

- Welcome to Articulate, the show that explores

tion

- Welcome to Articulate, the show that explores

all.

- Welcome to Articulate, the show that explores

ght

- Welcome to Articulate, the show that explores

ip."

- Welcome to Articulate, the show that explores

The character of Karen struggles with the fact

- Welcome to Articulate, the show that explores

old,

- Welcome to Articulate, the show that explores

an.

- Welcome to Articulate, the show that explores

the

- Welcome to Articulate, the show that explores

ole

- Welcome to Articulate, the show that explores

her

- Welcome to Articulate, the show that explores

deep disadvantage in trying to be the partner

- Welcome to Articulate, the show that explores

of this person who was so much older,

- Welcome to Articulate, the show that explores

as.

- Welcome to Articulate, the show that explores

Something about that "May December romance" as

- Welcome to Articulate, the show that explores

o me

- Welcome to Articulate, the show that explores

I think because a large part of my young womanhood

- Welcome to Articulate, the show that explores

rful

- Welcome to Articulate, the show that explores

ive.

- Welcome to Articulate, the show that explores

ly,

- Welcome to Articulate, the show that explores

went

- Welcome to Articulate, the show that explores

ably

- Welcome to Articulate, the show that explores

man.

- Welcome to Articulate, the show that explores

day.

- Welcome to Articulate, the show that explores

- [Tori] Susan Choi doesn't simply write to entertain.

- Welcome to Articulate, the show that explores

ics

- Welcome to Articulate, the show that explores

res.

- Welcome to Articulate, the show that explores

can

- Welcome to Articulate, the show that explores

aim

- Welcome to Articulate, the show that explores

ers.

- Welcome to Articulate, the show that explores

ing

- Welcome to Articulate, the show that explores

ns.

- Welcome to Articulate, the show that explores

- [Jim] For more Articulate, find us on social media

- Welcome to Articulate, the show that explores

org

- Welcome to Articulate, the show that explores

On the next Articulate,

- Welcome to Articulate, the show that explores

ve.

- Welcome to Articulate, the show that explores

nify

- Welcome to Articulate, the show that explores

ng.

- Welcome to Articulate, the show that explores

his!

- Welcome to Articulate, the show that explores

ow?

- Welcome to Articulate, the show that explores

- [Billy] This is it, this is you.

- Welcome to Articulate, the show that explores

ut.

- Welcome to Articulate, the show that explores

nity

- Welcome to Articulate, the show that explores

in,

- Welcome to Articulate, the show that explores

ved.

- Welcome to Articulate, the show that explores

hat

- Welcome to Articulate, the show that explores

ly.

- Welcome to Articulate, the show that explores

who

- Welcome to Articulate, the show that explores

ion.

- Welcome to Articulate, the show that explores

- [Jim] And the award winning writer Ming Peiffer

- Welcome to Articulate, the show that explores

en.

- Welcome to Articulate, the show that explores

ions

- Welcome to Articulate, the show that explores

day.

- Welcome to Articulate, the show that explores

n't

- Welcome to Articulate, the show that explores

hat.

- Welcome to Articulate, the show that explores

- [Jim] I'm Jim Cotter, join us for the next Articulate.

- Welcome to Articulate, the show that explores

- [Announcer] Articulate from Jim Cotter is made

- Welcome to Articulate, the show that explores

rom

- Welcome to Articulate, the show that explores

on.

- Welcome to Articulate, the show that explores